Hello friend! It's Furniture Fixer Uppers Day again, and my blogging friends and I have some pretty amazing makeovers to inspire you. I'm kicking things off with this thrifted dresser that I actually painted a couple years ago, but I decided to keep it and change the look, so we're going to talk about how to repaint a dresser today.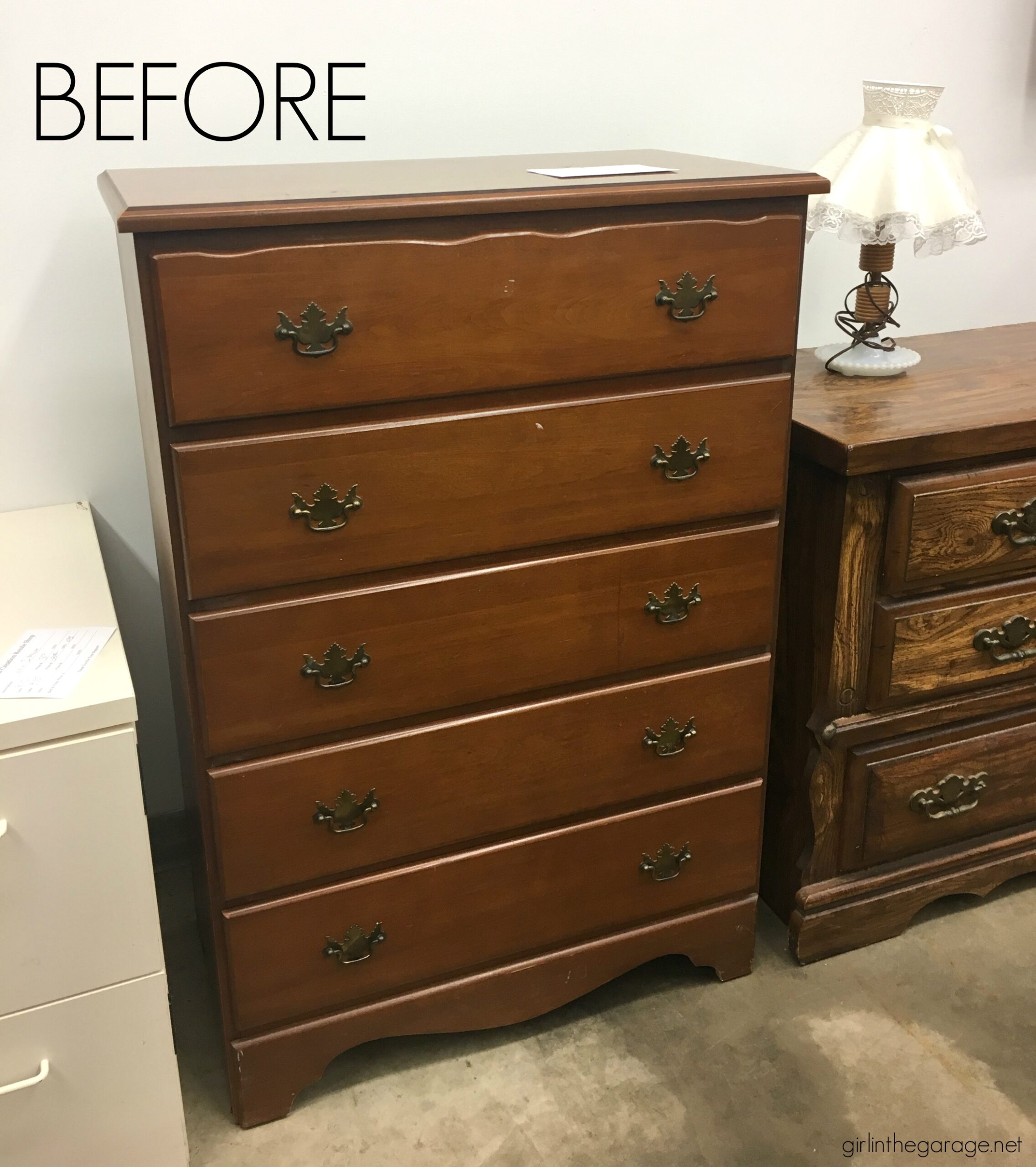 This post contains some affiliate links so you can easily find the products I use and recommend. Discover all my favorite brands and tools for doing DIY makeovers here.
I'm also calling this makeover "Jen's French Dresser." 🙂
Here's how the first makeover turned out in 2020 (read the full tutorial for how to paint stripes on a dresser here):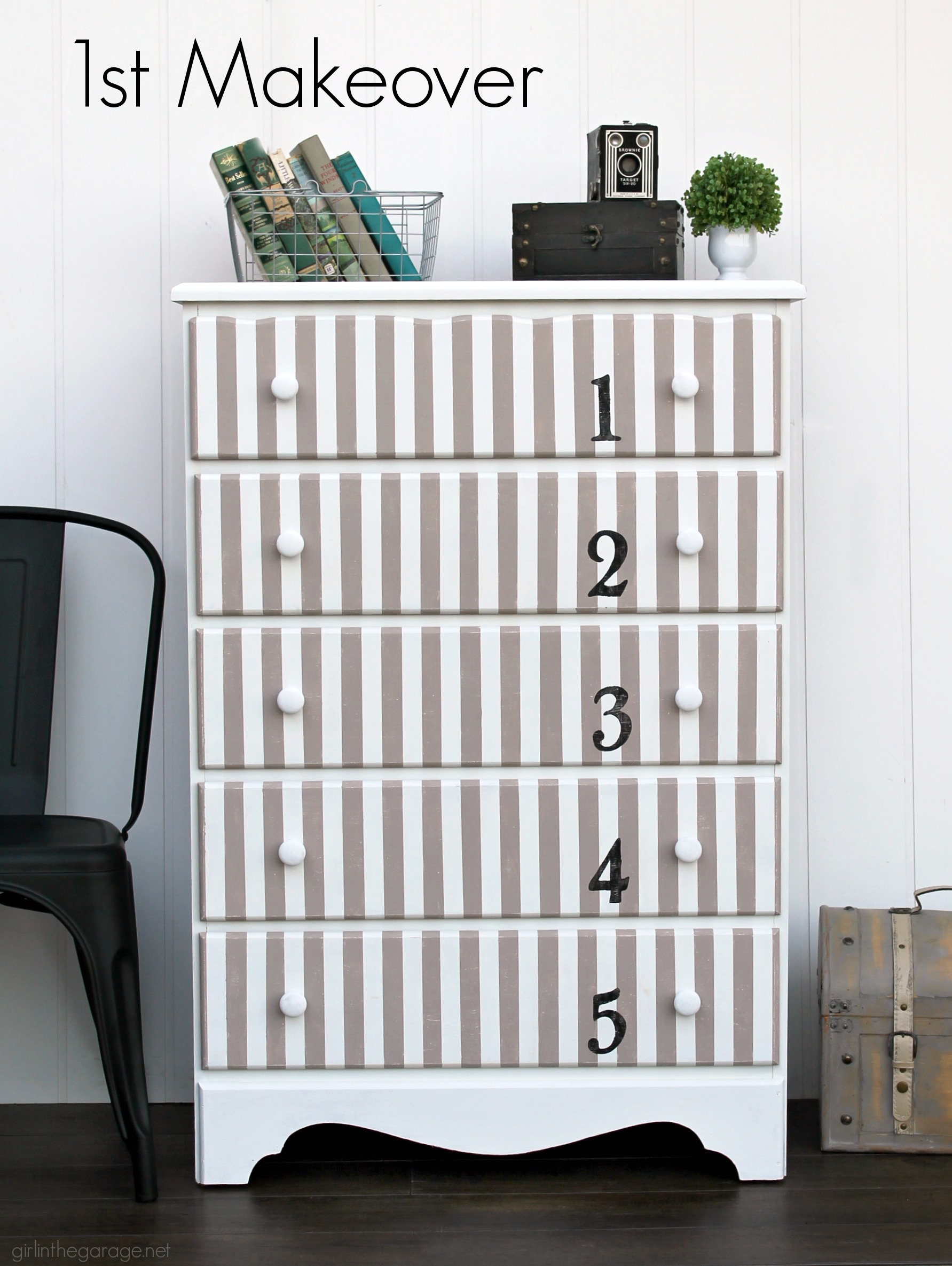 I really did love that look. I didn't intend to keep this but I never tried to sell it, and when we moved into our new house recently, I decided to keep it for my closet – and wanted a more muted look.
So here's what you need to know about how to repaint a dresser…
First, decided which areas (if any) that you want to keep the original paint. I only wanted to repaint the drawers on this piece.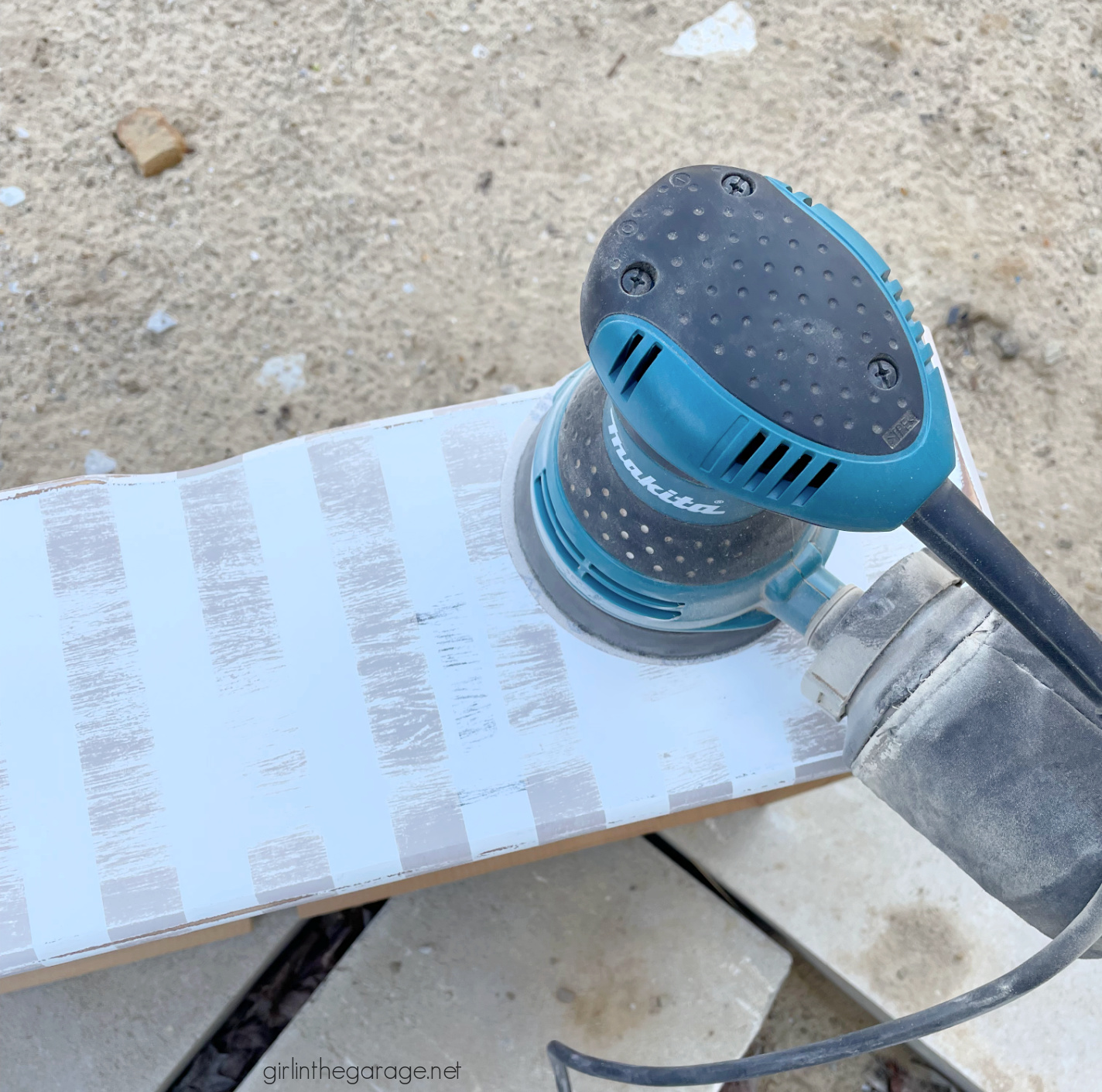 If there are any contrasting colors or patterns, you'll want to sand the area smooth so the former paint and texture doesn't show through the new paint. I love my Makita electric sander which also has a handy storage case when I'm not using it.
You don't have to sand down to bare wood – since we just moved, I could only find my 80-grit sanding sheets, but anything 100-220 would've been better. (If you're planning to repaint with a light color, you'll probably want to prime first before painting. That will block any bleed-through and give you a nice even base coat.)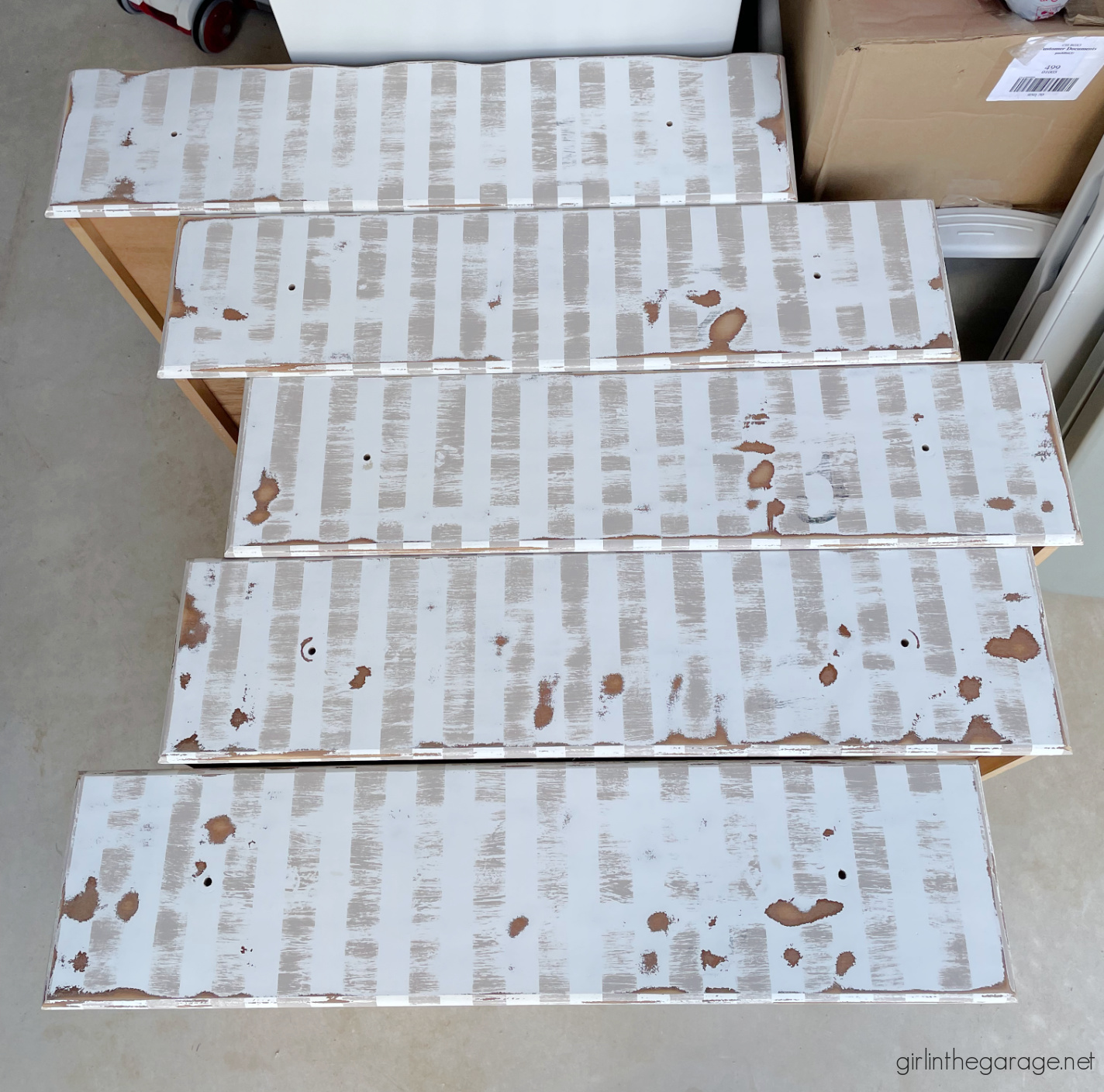 Next, repaint in the color of your choice. Usually 2-3 coats is good. I chose Rustoleum Chalked Paint in Aged Gray and used one of my favorite Purdy paint brushes. This paint color is light gray with purple undertones, very similar to Paris Grey or Chicago Grey Chalk Paint by Annie Sloan. Learn a lot more about Rustoleum Chalked Paint in my honest review here.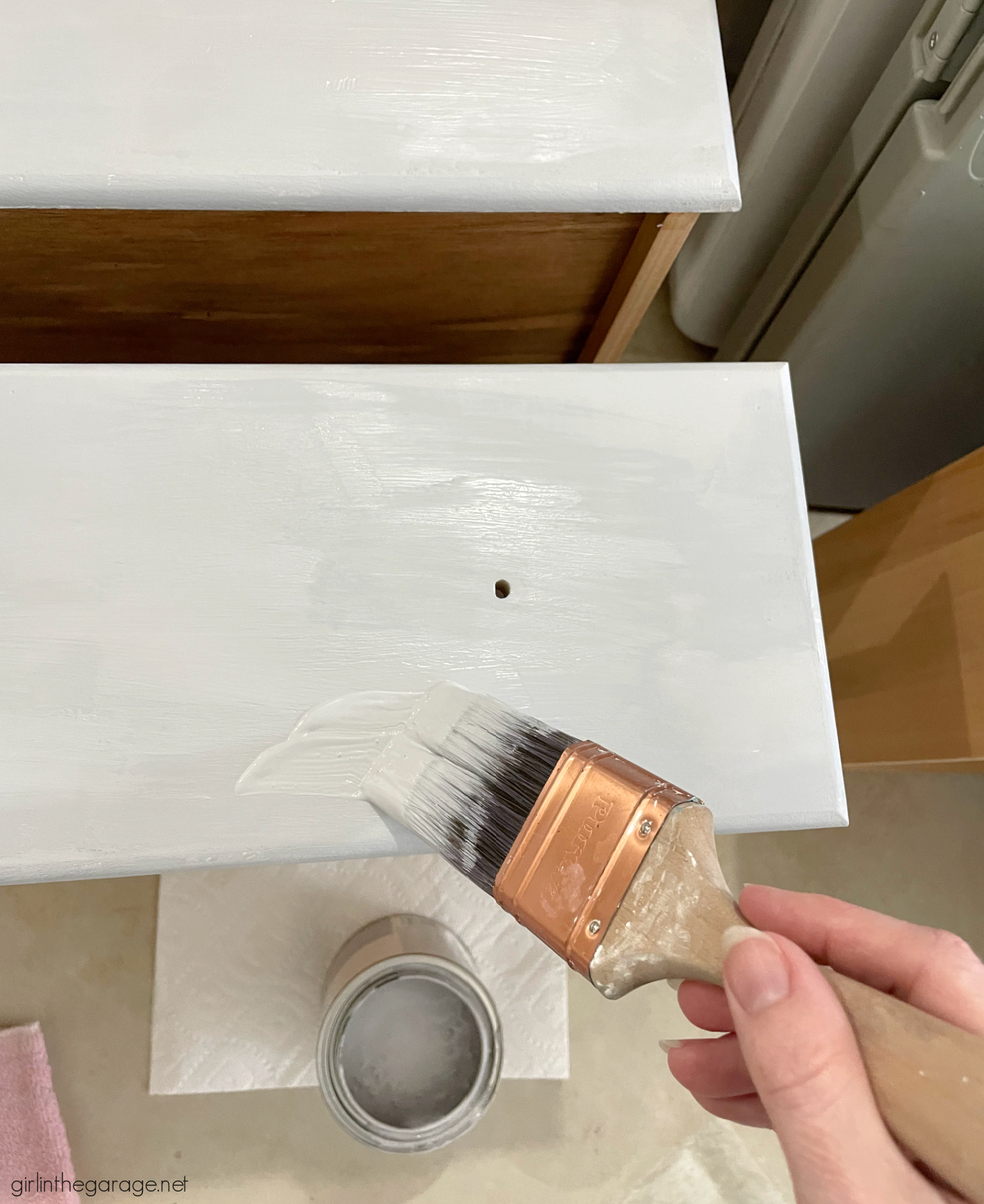 I also painted the wood bars between the drawers since I wanted the entire front area to be the same color.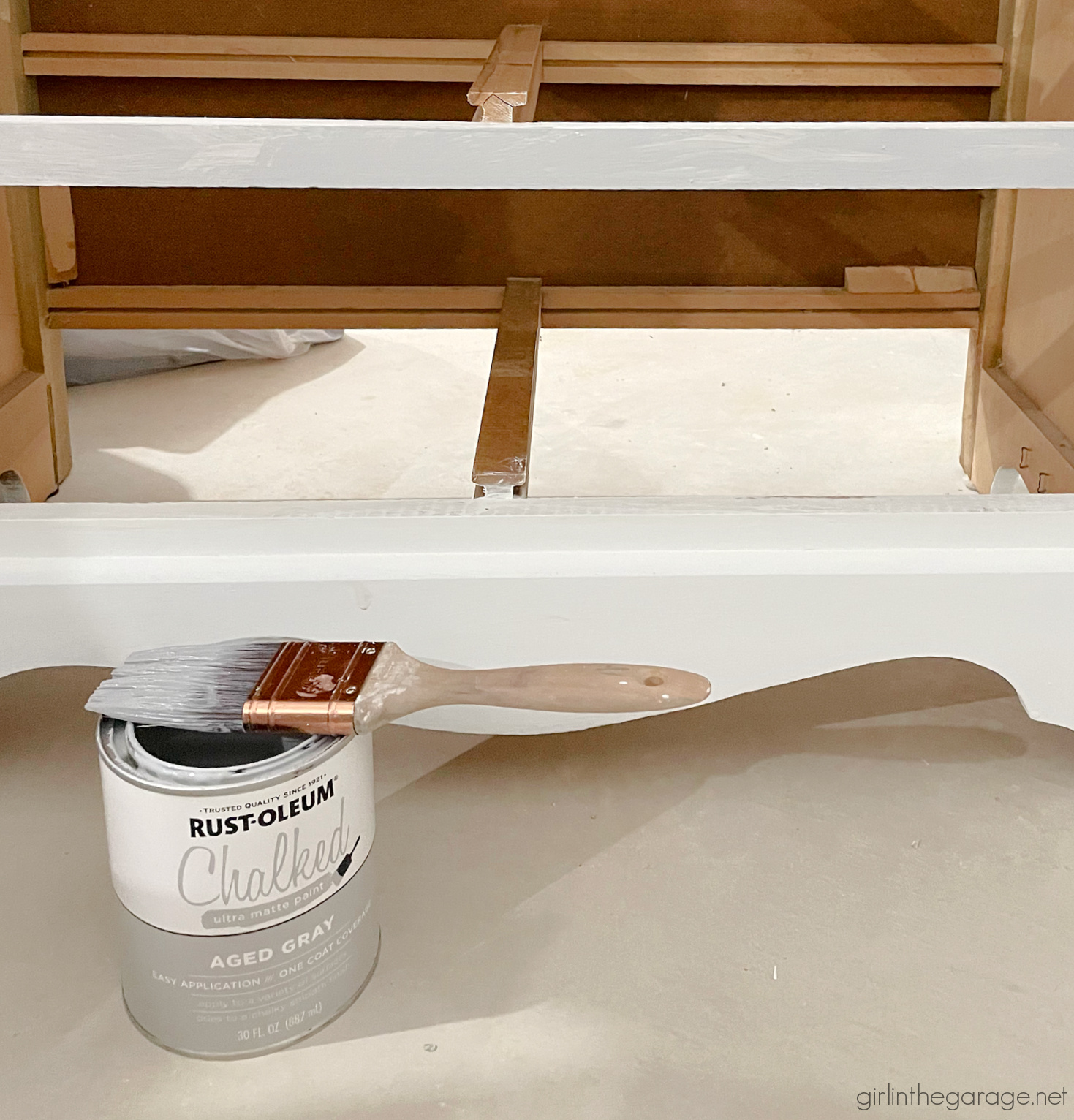 And I painted the wood knobs to match also.
The drawer sides got a little sweet surprise thanks to some leftover FrogTape Shape Tape I've been hanging onto. Unfortunately I don't think they sell the scalloped anymore, but here's a fun zig-zag painter's tape.
Painting the sides or adding a stencil or decoupage inside doesn't take much extra time but it can really take your piece to the next level. Plus it's fun to be creative there.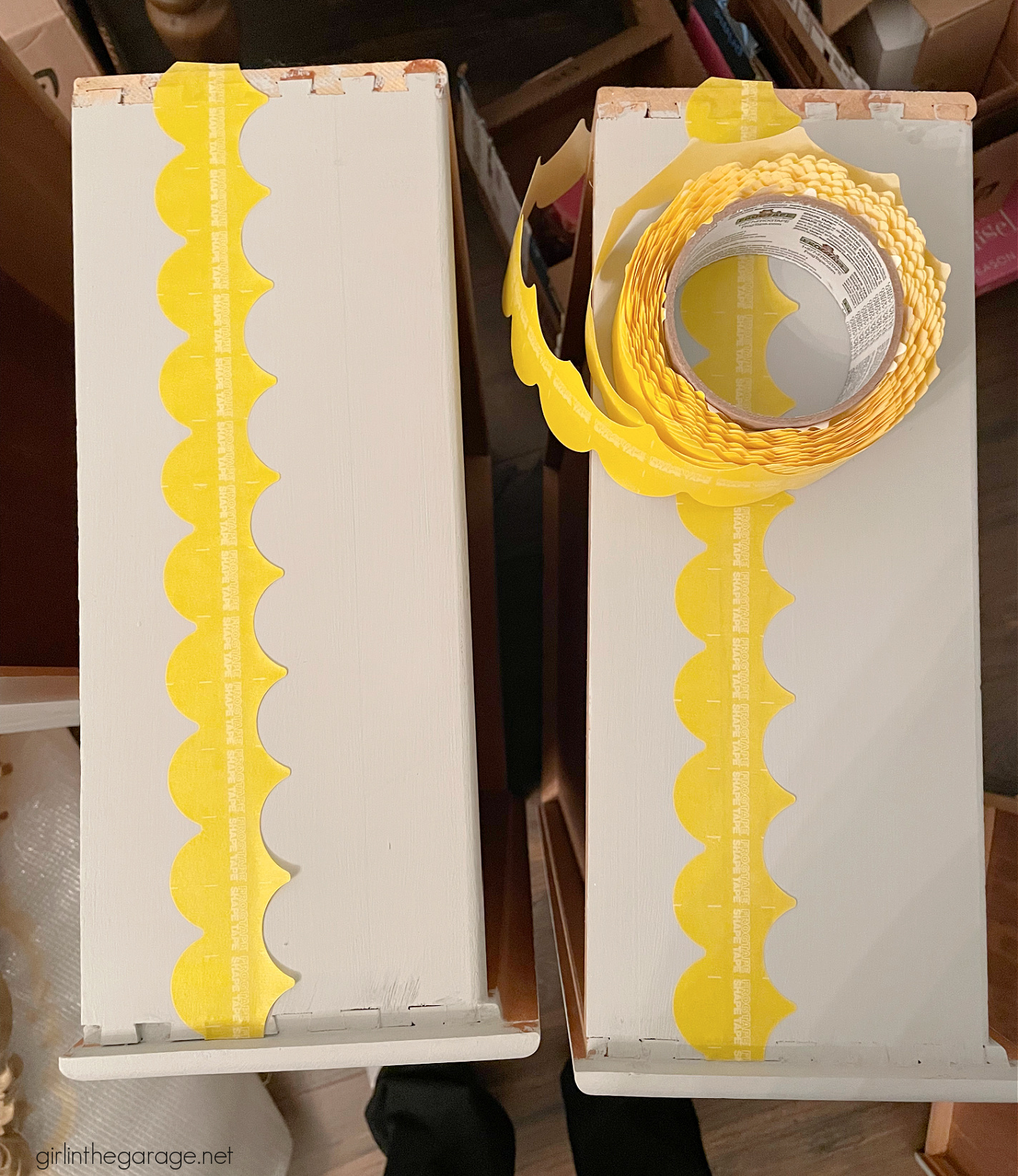 Lastly, add something creative to the front of the dresser if you'd like. I chose this Iron Orchid Designs image transfer that I've been hanging onto for years (sadly I don't think it's available anymore either but here are other gorgeous styles) – I knew I wanted to use it on a personal piece and finally found the right one.
Since there are 5 drawers, I planned ahead and marked which parts would fit on each drawer. And then I just cut the transfer into those sections.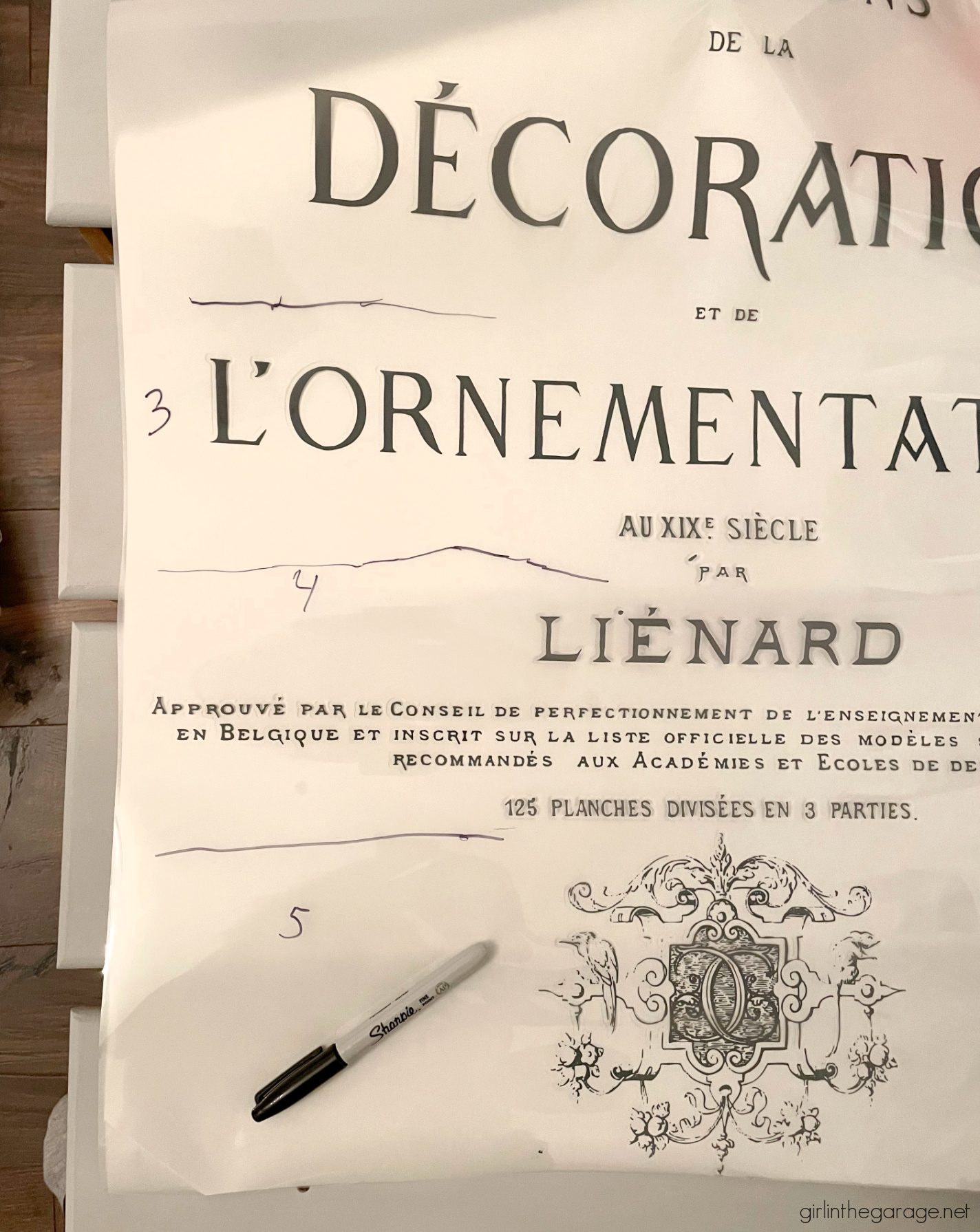 You're probably familiar with image transfers by now, but just in case: Learn all about how to add rub-on image transfers to furniture here. Make sure you get everything centered and work slowly – it takes a little time but it's worth it!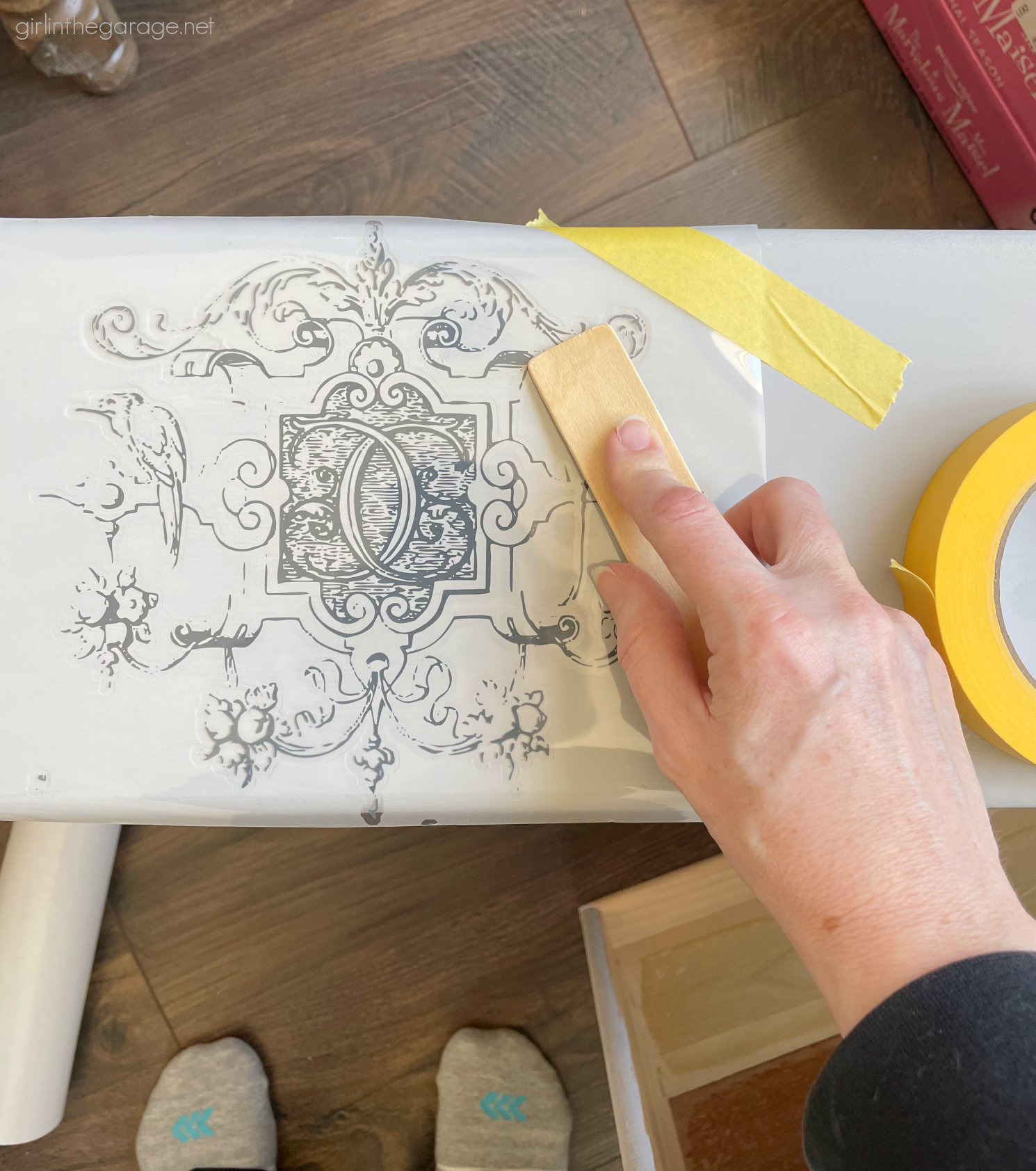 When you're finished, protect your piece with a clear topcoat that doesn't yellow. I prefer clear furniture wax by Annie Sloan, applied with a lint-free cloth. And of course add the knobs back on.
And here is my little French beauty (photos taken in my brand new office/workspace which I am loving!)…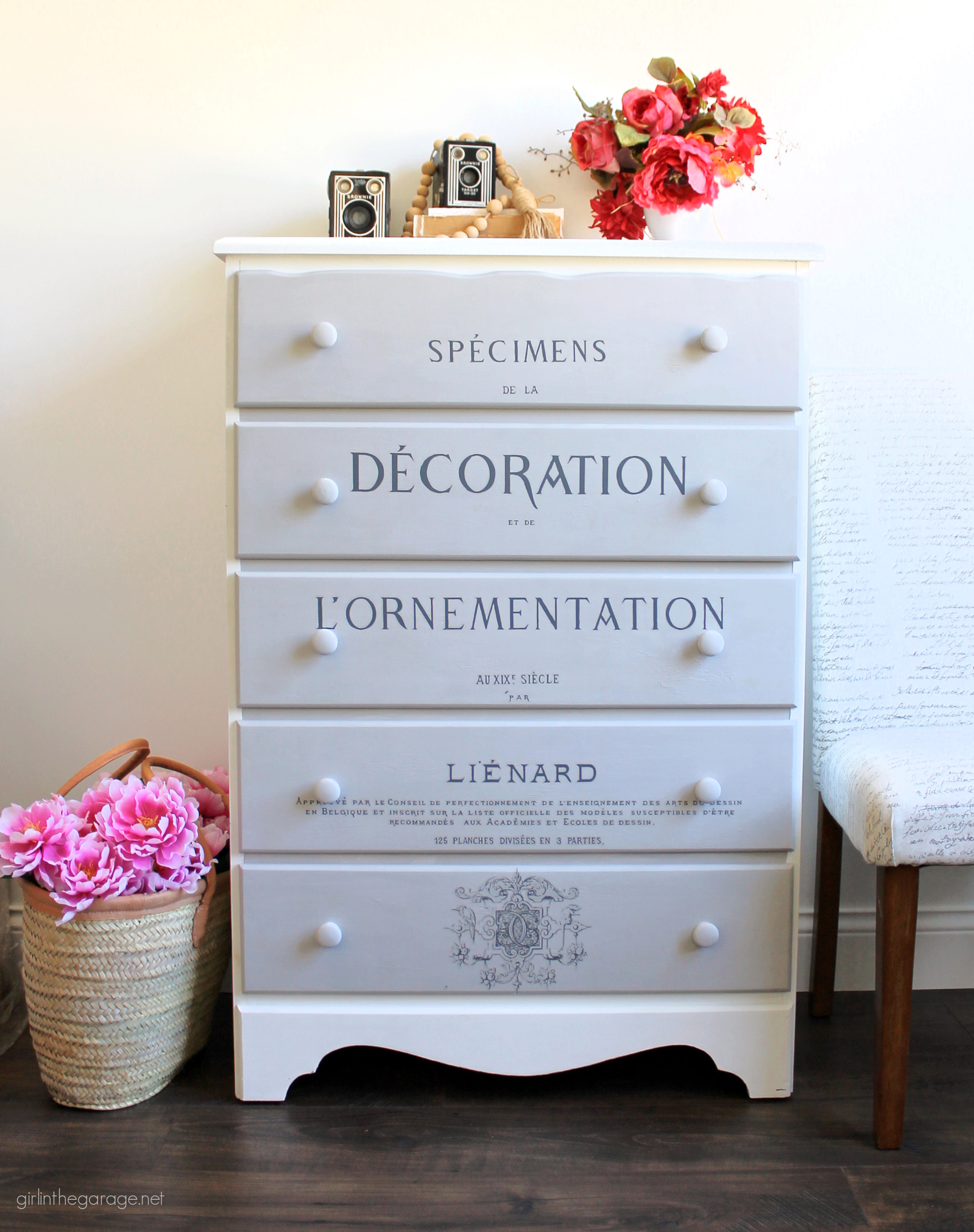 I know it's pretty simple but it will look perfect in my closet for extra storage.
And for you readers who look closely, you'll notice I applied the gray paint with a heavy texture. I was debating adding some dark wax for drama but I'm not sure if I will now.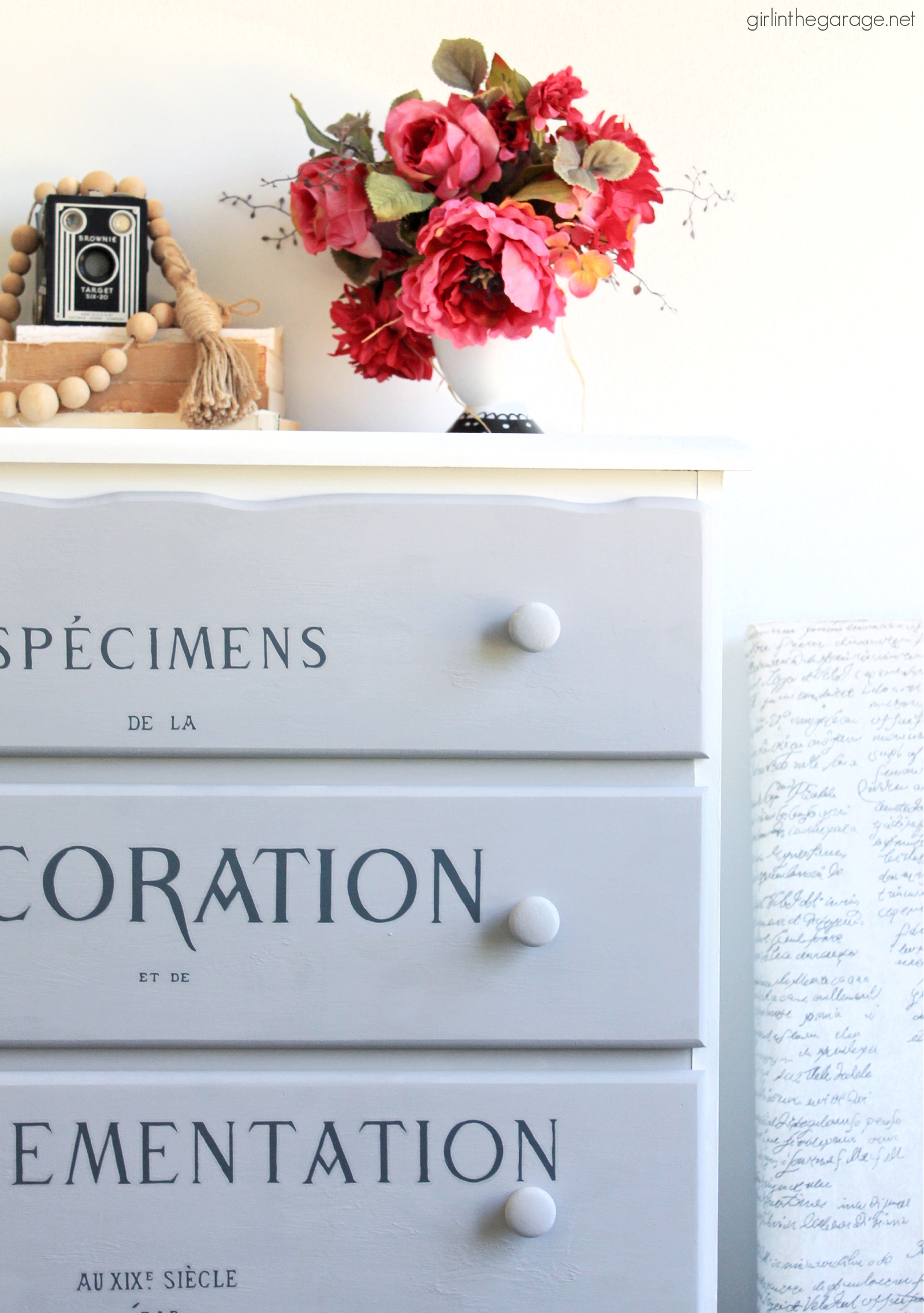 Those scalloped sides are just a sweet little touch.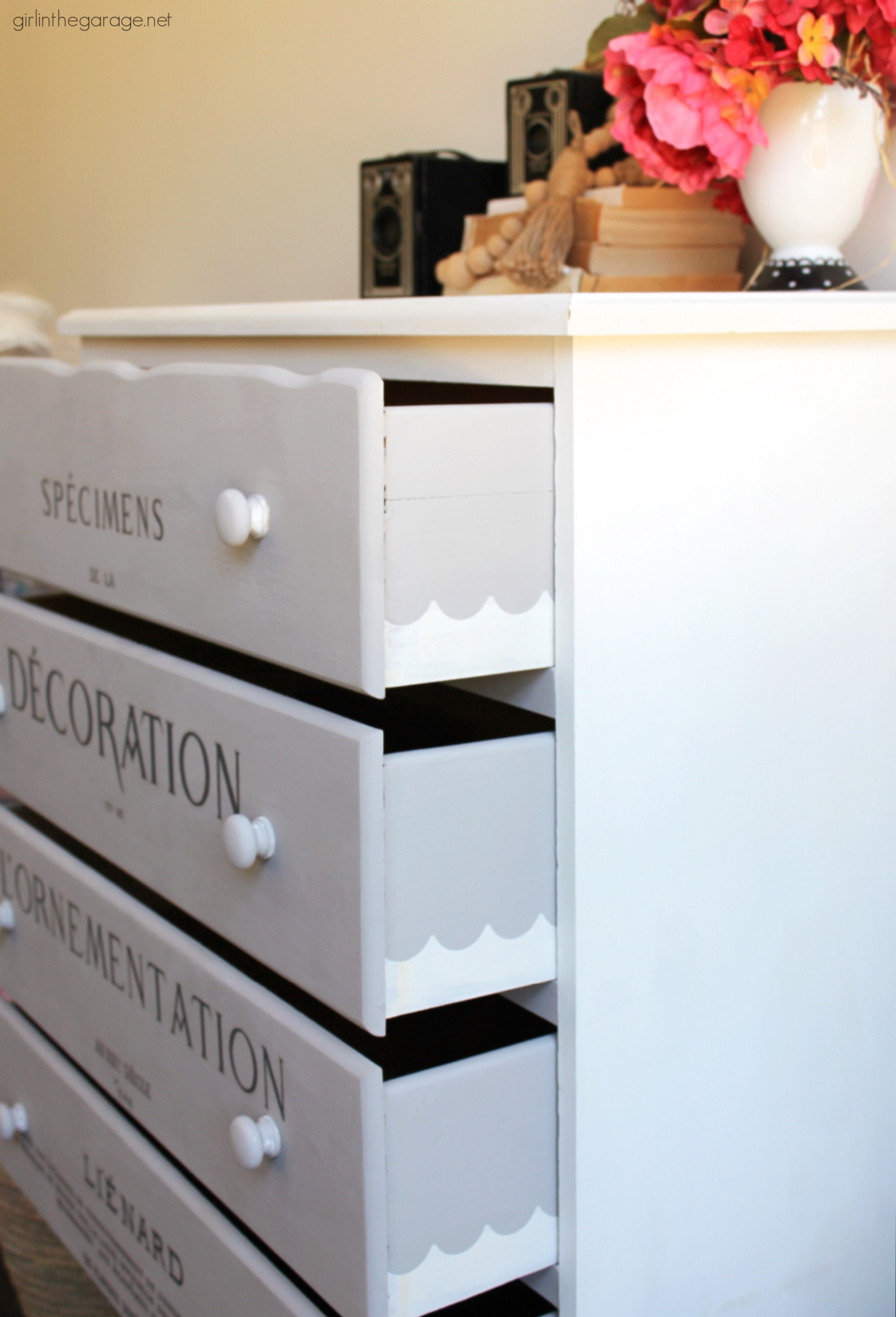 This dresser is more my style and I'm also happy to have finally used the image transfer I was saving for so long.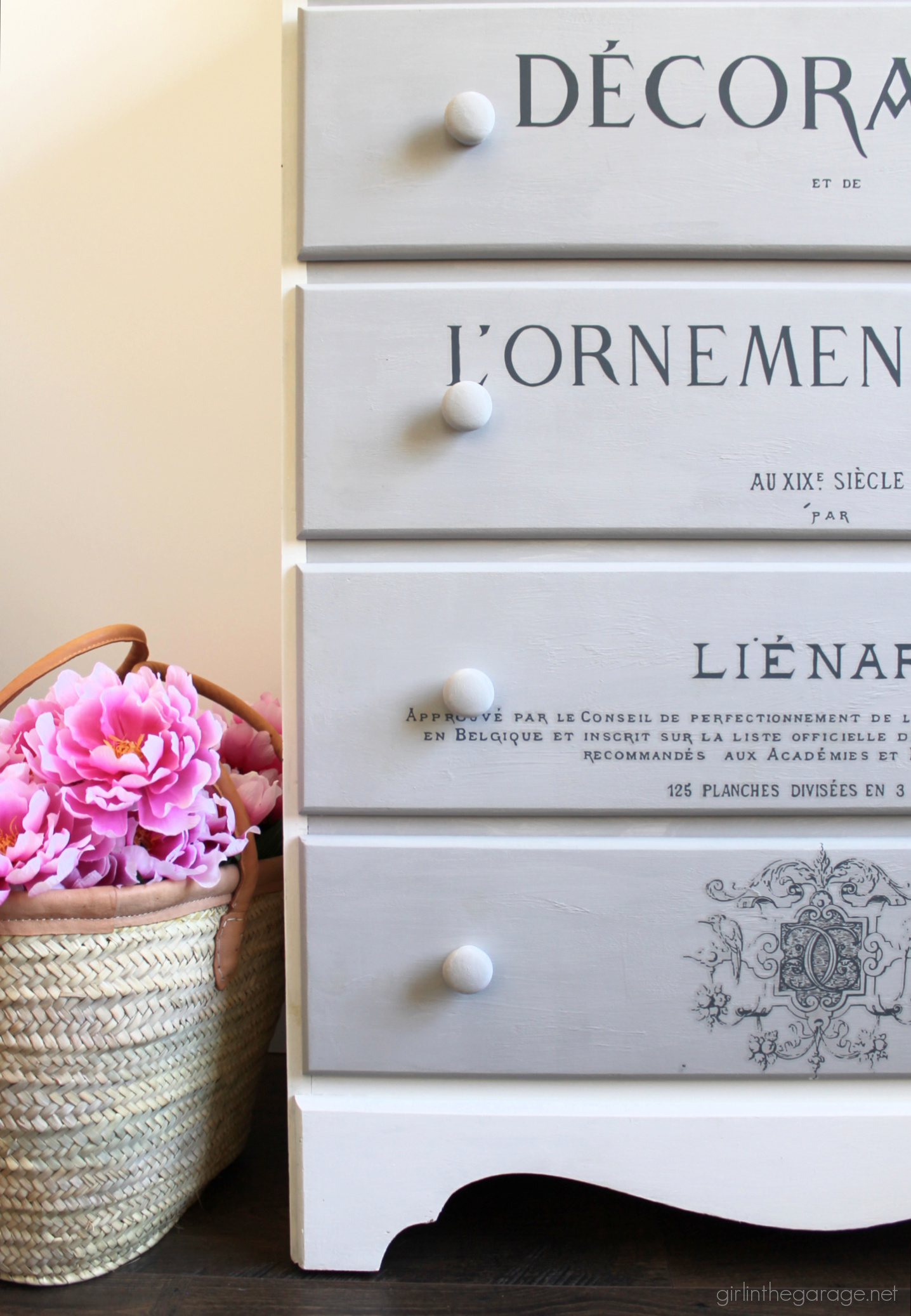 Friend, feel free to share this project or Pin any of these images to easily find this tutorial again later.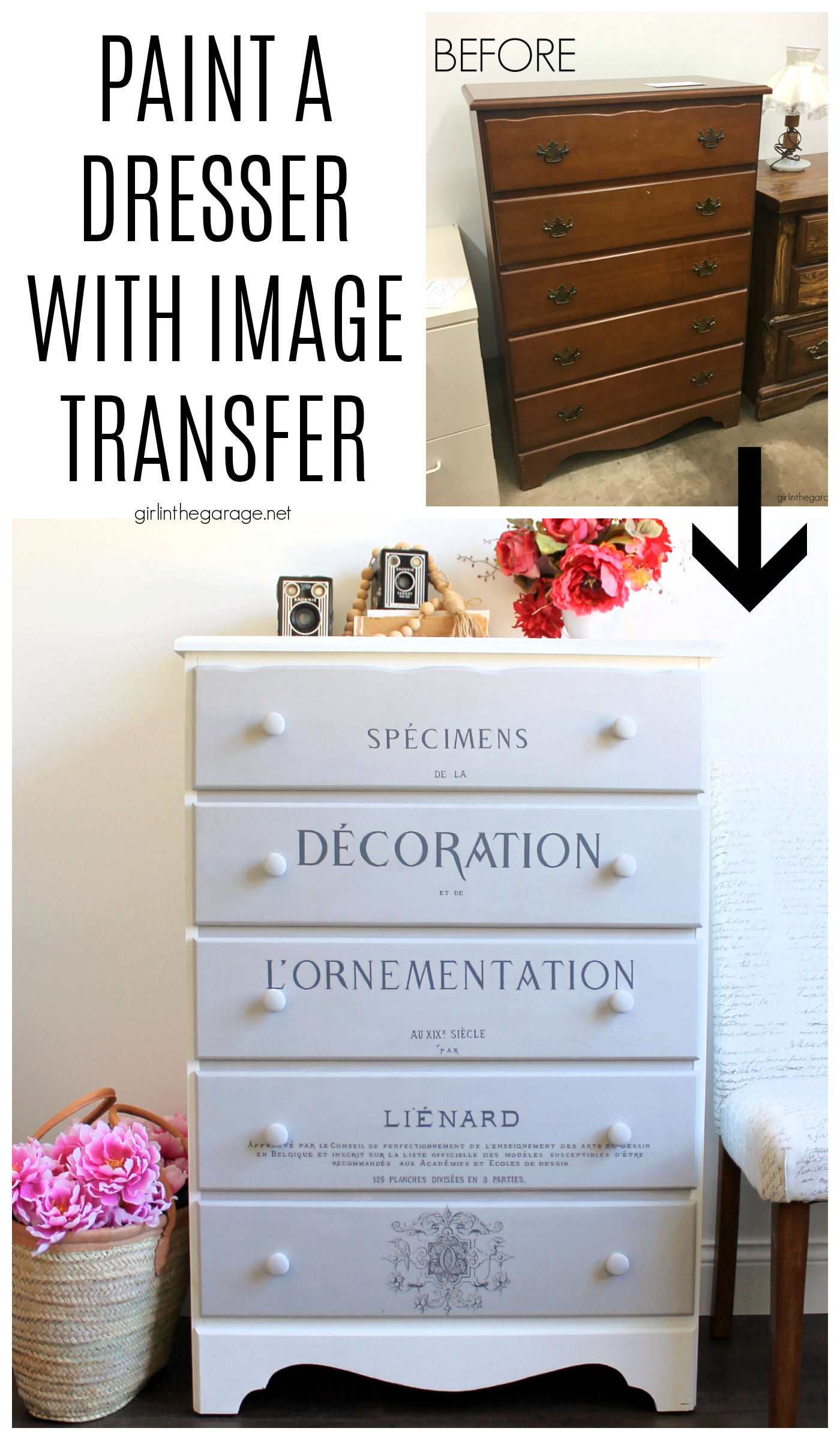 I'm curious, which painted dresser idea below do you prefer?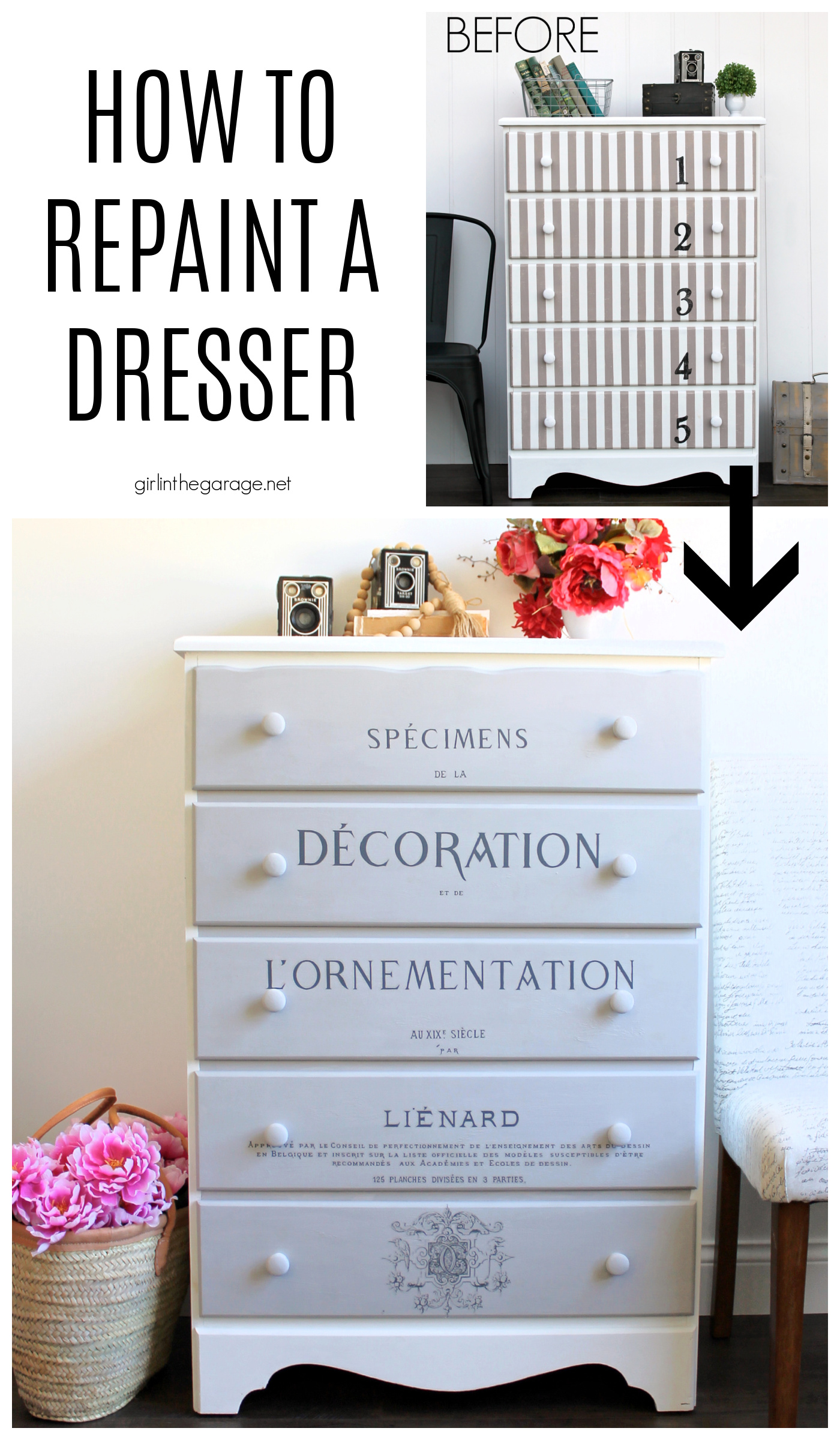 Now it's Furniture Fixer Upper time, when 5 of us each share a new furniture makeover tutorial for you.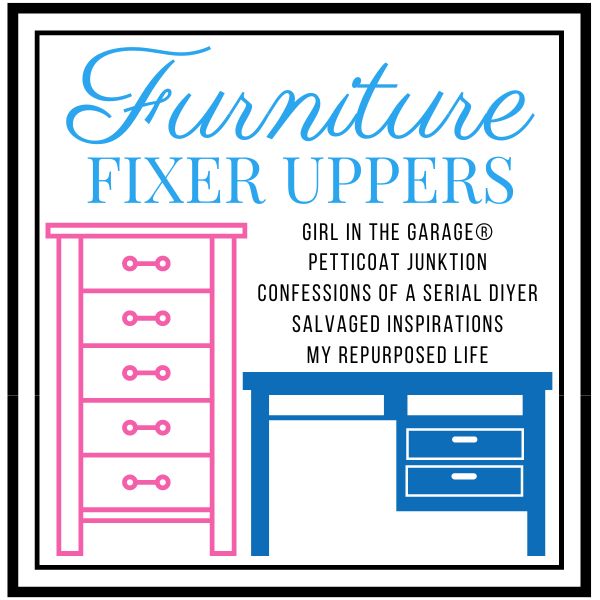 Below are the Before photos – visit the links underneath to see the amazing Afters and to learn how they did it: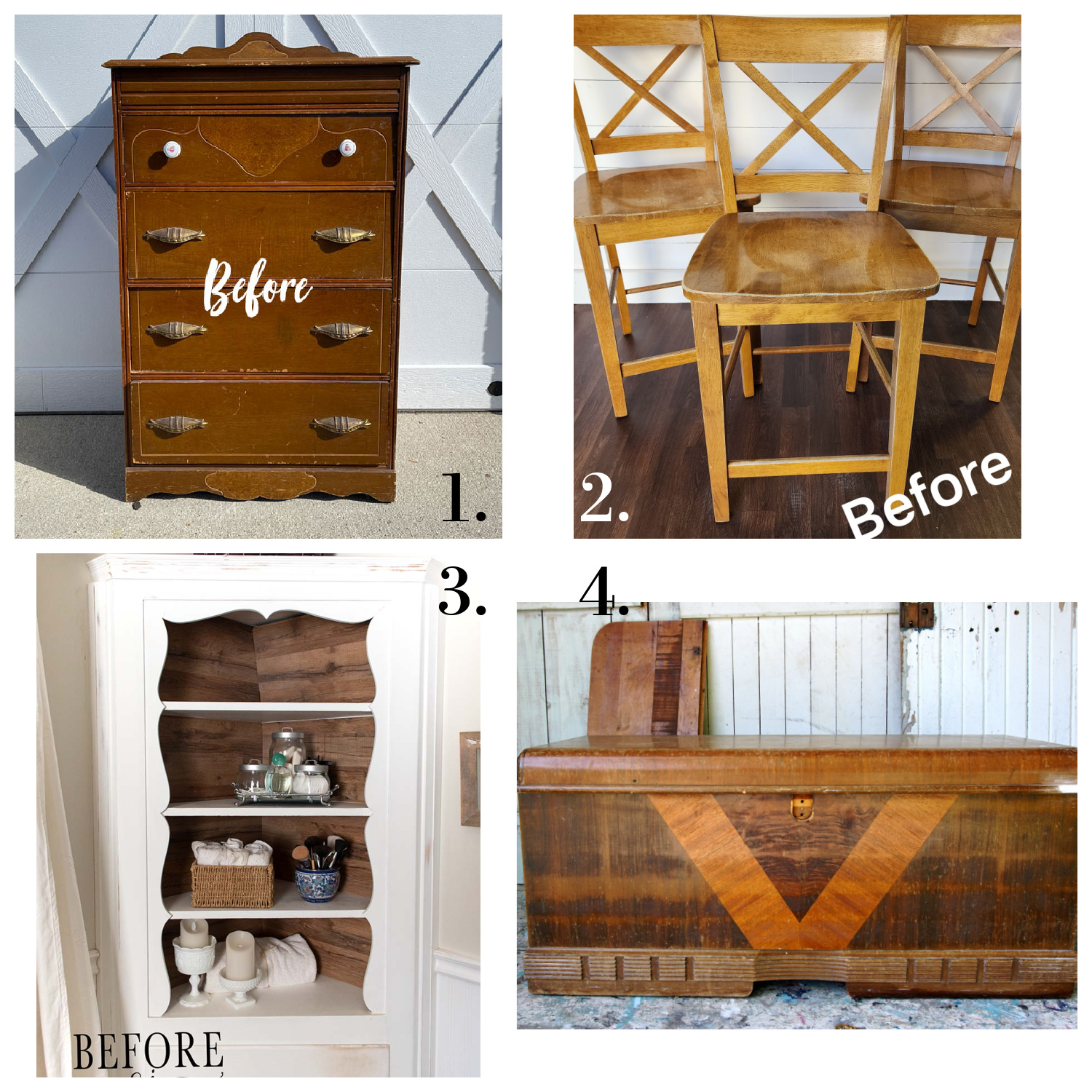 1. Confessions of a Serial DIYer
2. My Repurposed Life
3. Salvaged Inspirations
4. Petticoat Junktion