Hello again, my lovely friend! It's Trash to Treasure day again – I've skipped the past few T2T months while we were purging and packing 12 years of stuff, moving into our new home, and then getting our old house ready to sell. (And thankfully it sold this weekend after 2.5 days on the market!) It's been crazy busy and I'm so relieved to be doing new creative projects again (which helps keep me sane) and sharing them here with you.
Today I'm sharing a makeover for this plastic mirror that I bought way back in 2015. I loved the style but the bright gold plastic was really bad. Also, I originally thought the flower was painted on, but later was relieved that it was only a window decal, ha. Today, in this tutorial I'll show you how to paint something to look like wood (and it will look soooo much better).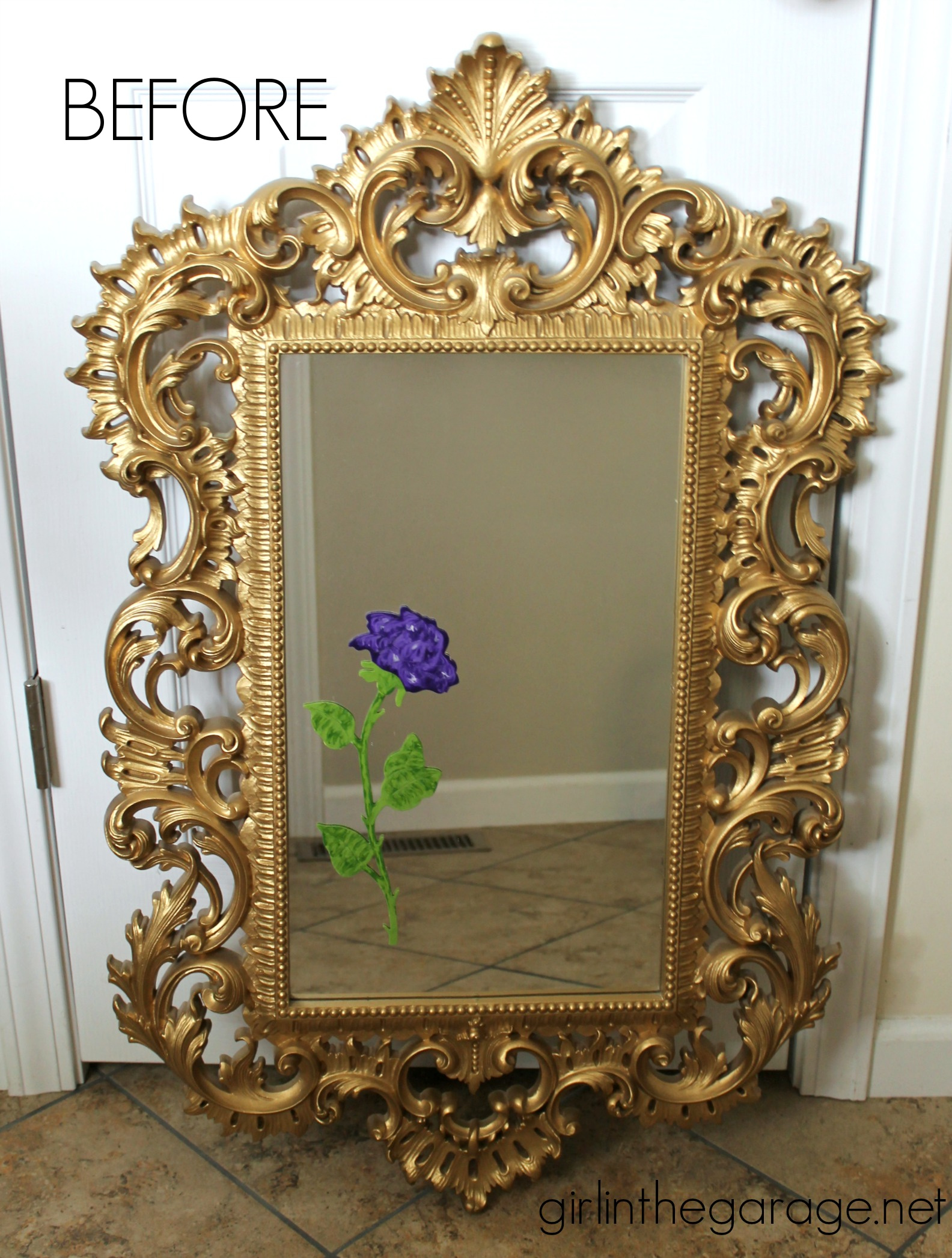 This post contains some affiliate links so you can easily find the products I use and recommend. Discover all my favorite brands and tools for doing DIY makeovers here.
If I were painting over a plasticy or laminate piece of furniture, I would use primer first to help give the paint something to grip to. However, this is a wall mirror that shouldn't be seeing any rough usage, so I just started with paint first. Find all my best tips for how to prep furniture for painting here.
When you want to paint something to look like wood, start with a base color that is tan or brown, depending on the look you're going for. I chose Country Chic Paint in the color Road Trip which is a light tan and resembles raw unfinished wood. This was one of the many colors I used on this stenciled bookcase last year.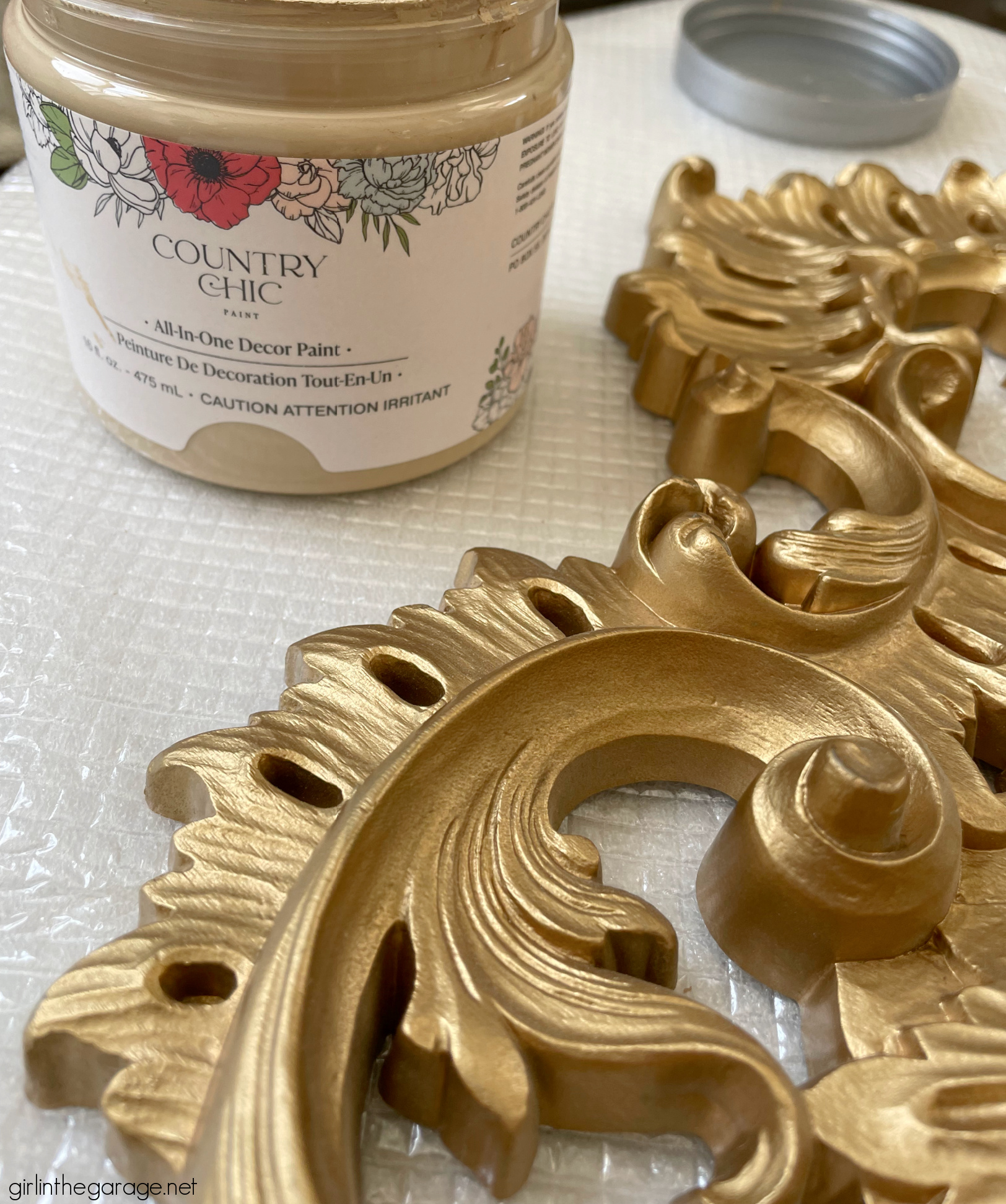 I recommend using a good quality brush like Purdy paint brushes – I've used these for 10 years and they really are the best. Then get comfortable, because it will take some time getting into all those nooks and crannies!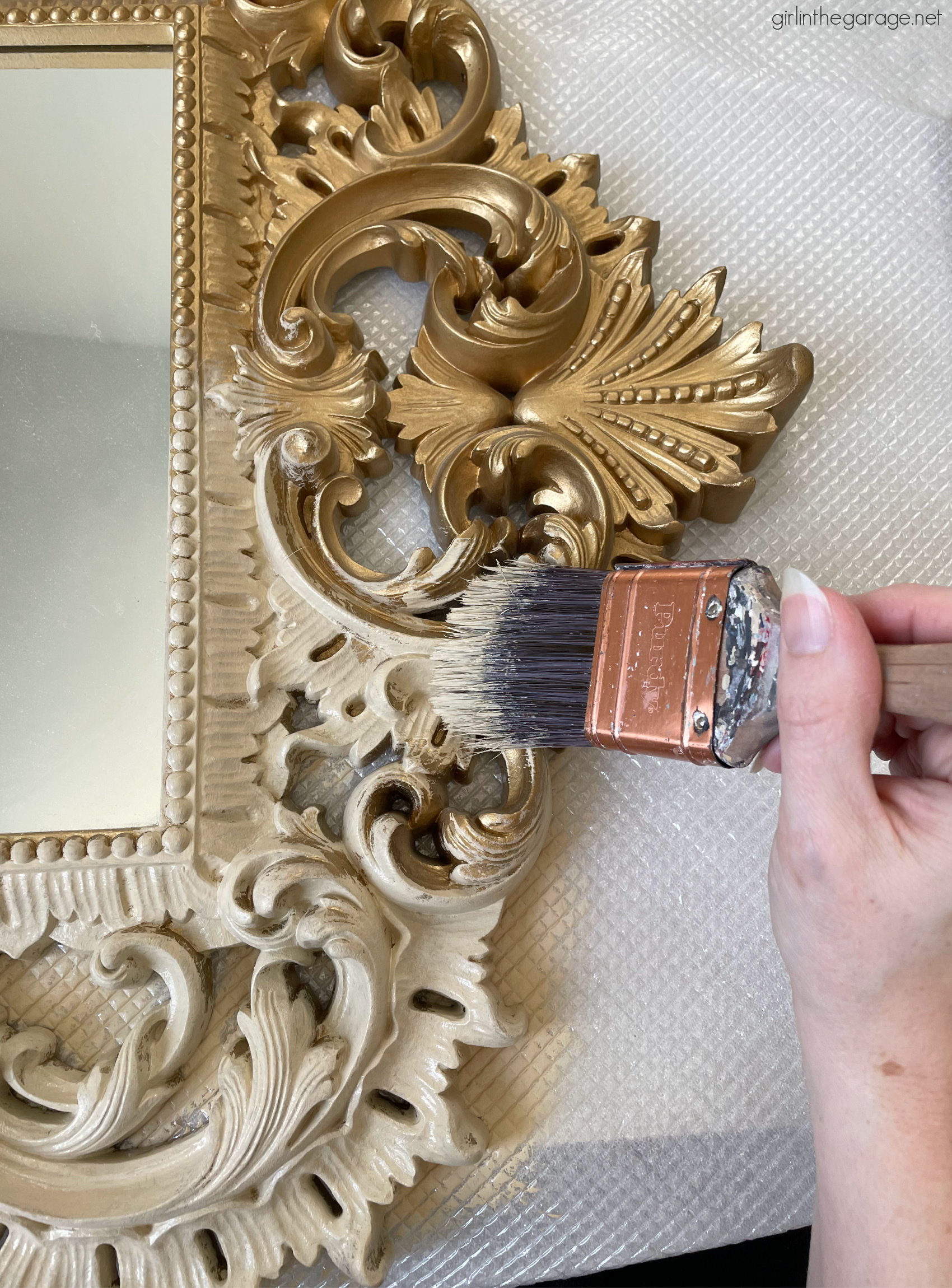 I painted one full coat and then went back and touched up any areas that needed it.
Use painter's tape to protect the mirror when you paint the inner edge.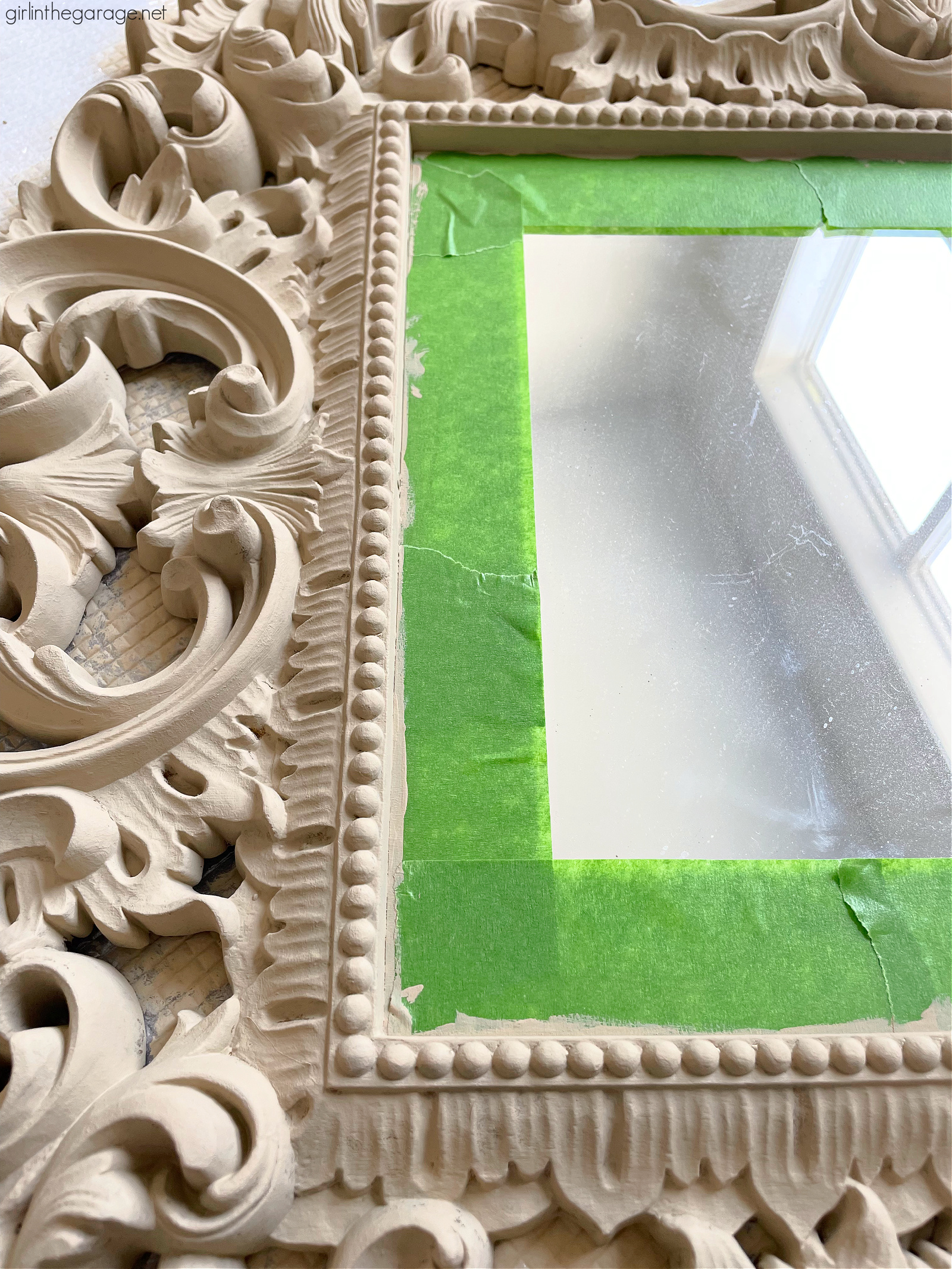 Here it is after being painted with Country Chic Paint in Road Trip. Doesn't it look like the color of unfinished wood?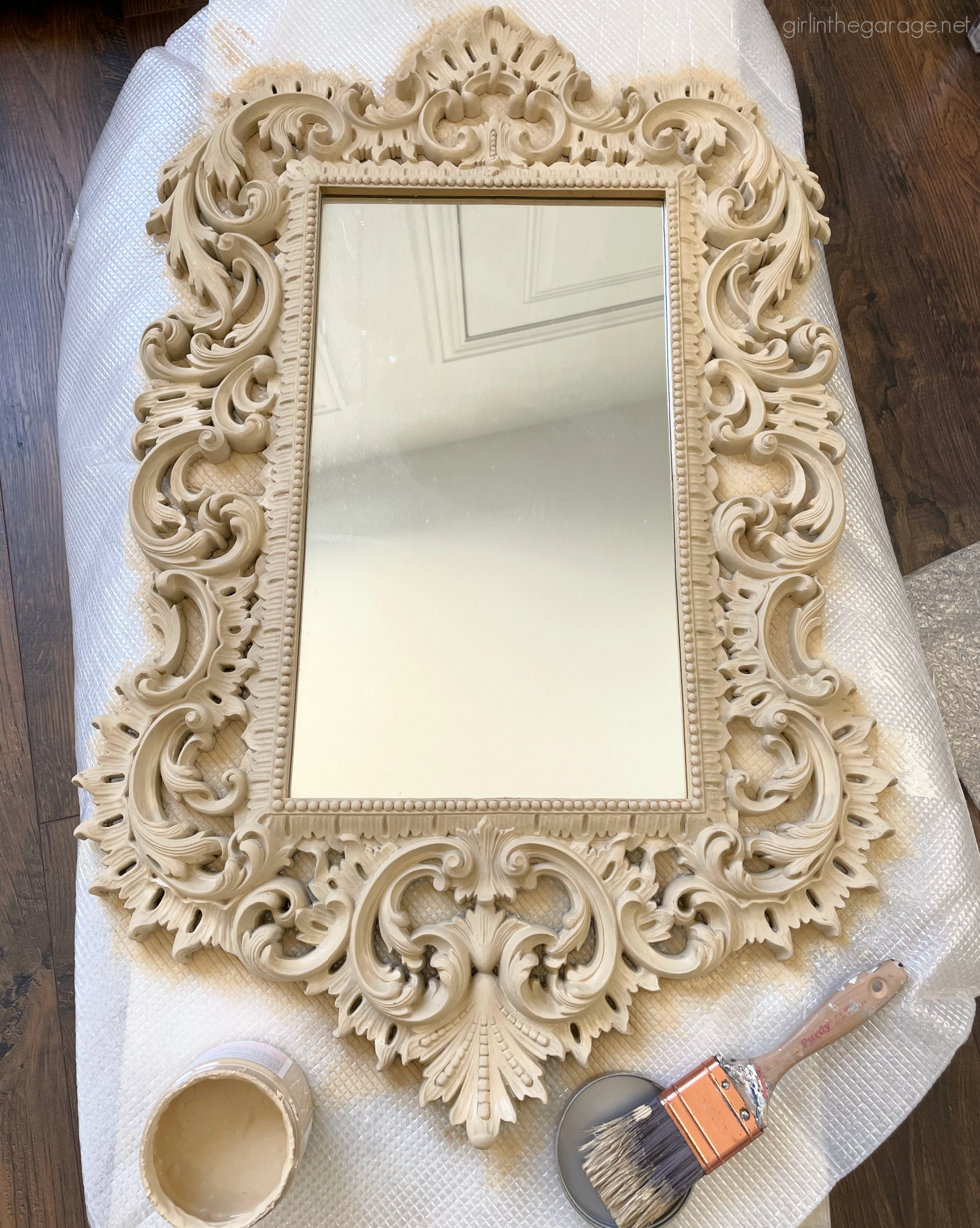 Let the paint dry for several hours (overnight preferably) before the next step.
Next use a brown tinted wax (I used Annie Sloan's Dark Wax) and a stiff brush to apply wax all over the painted surface. Get a little on the brush at a time. This is also time consuming! But take your time and push the wax into all the little details. Don't leave any clumps of wax behind.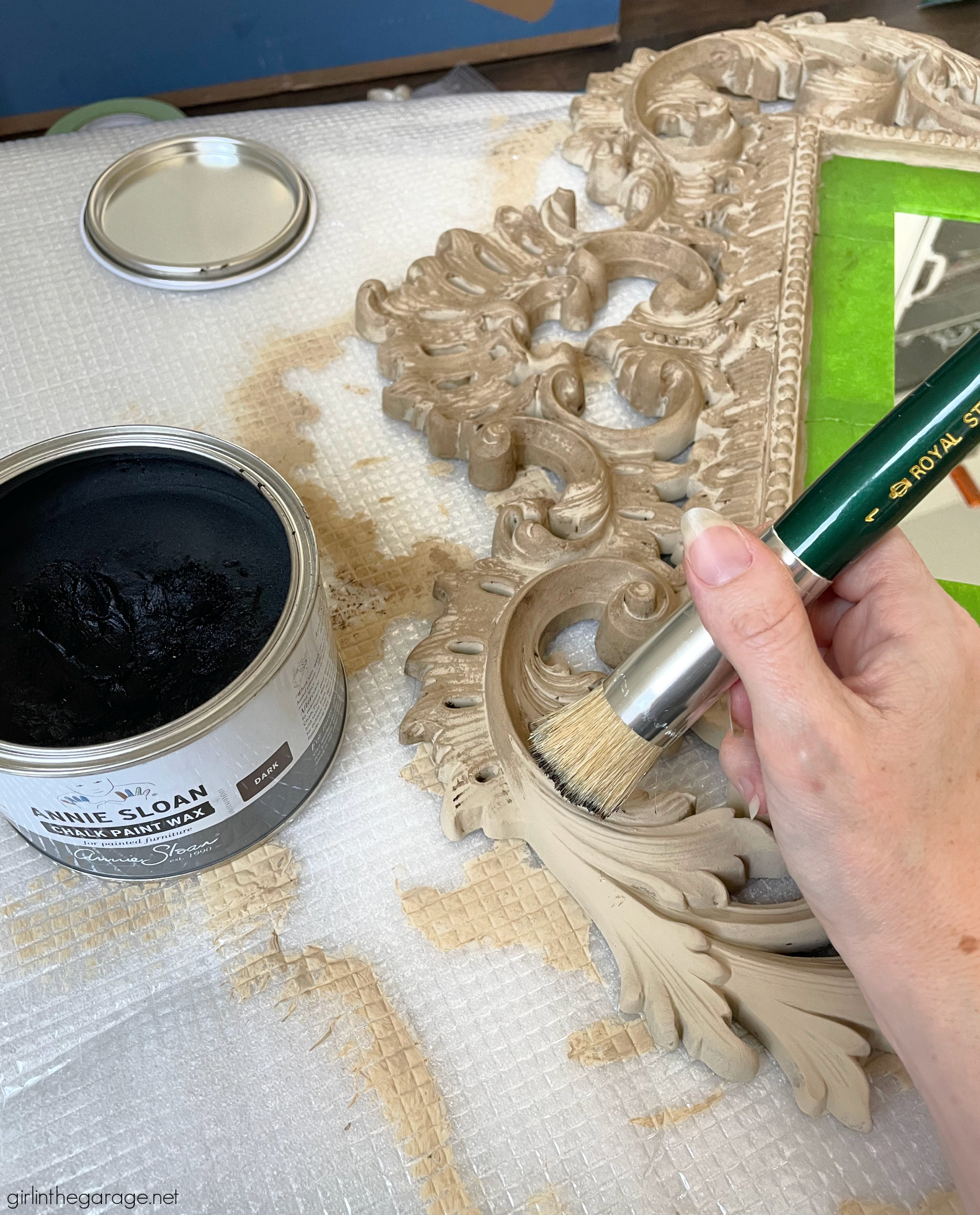 Tip: If you're using dark wax on furniture, it's recommended to apply clear wax first with a lint free cloth, so you can control the dark wax better. I actually tried that here first but realized it would take forever and wasn't really necessary on this mirror. So I applied the dark wax directly and love the results!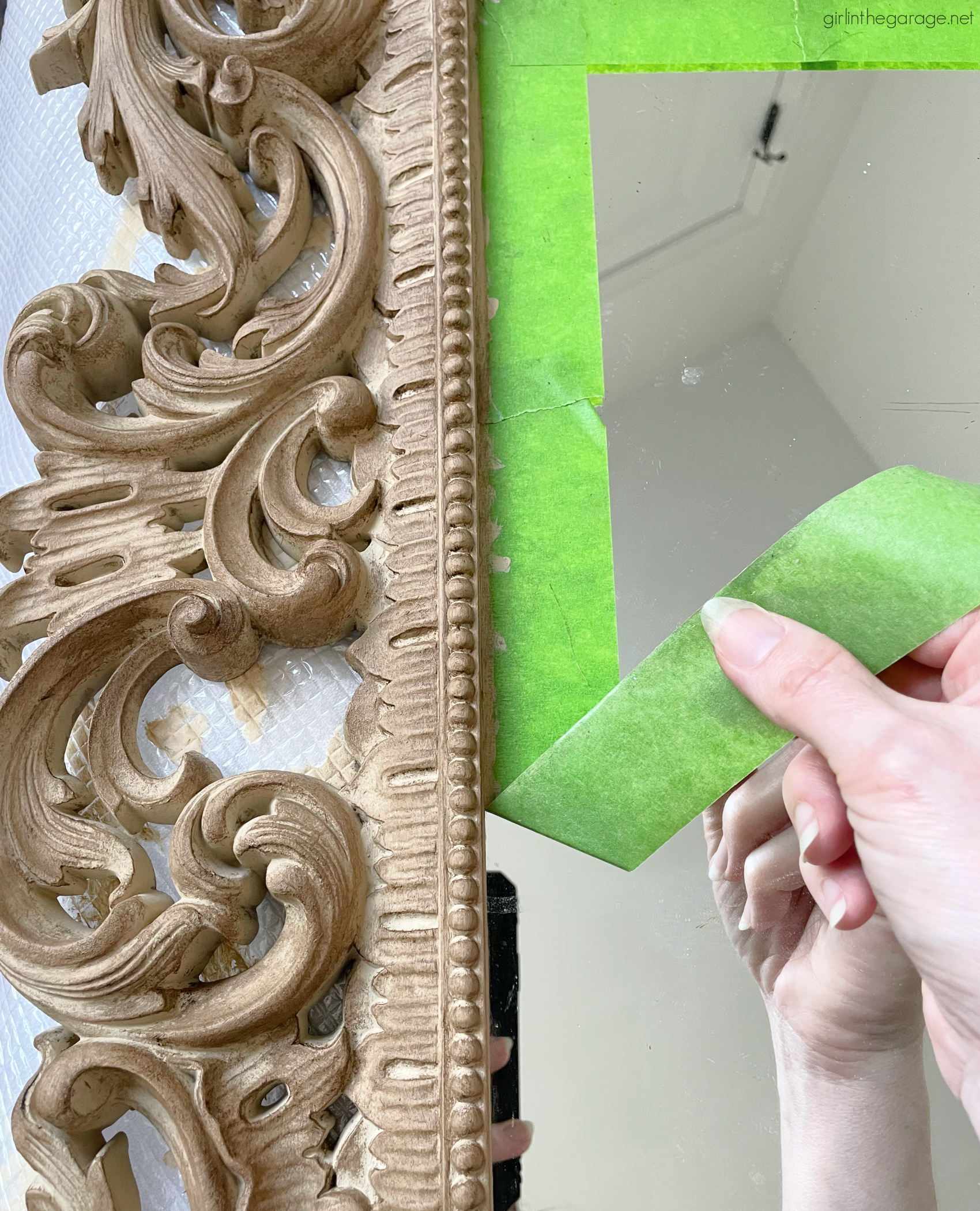 Finally, remove the painter's tape and let the piece sit while the wax dries and starts to cure.
I'm still figuring out the lighting for photos at our new house, and I took these After photos outside right before sunset… but here is the plastic mirror painted to look like wood: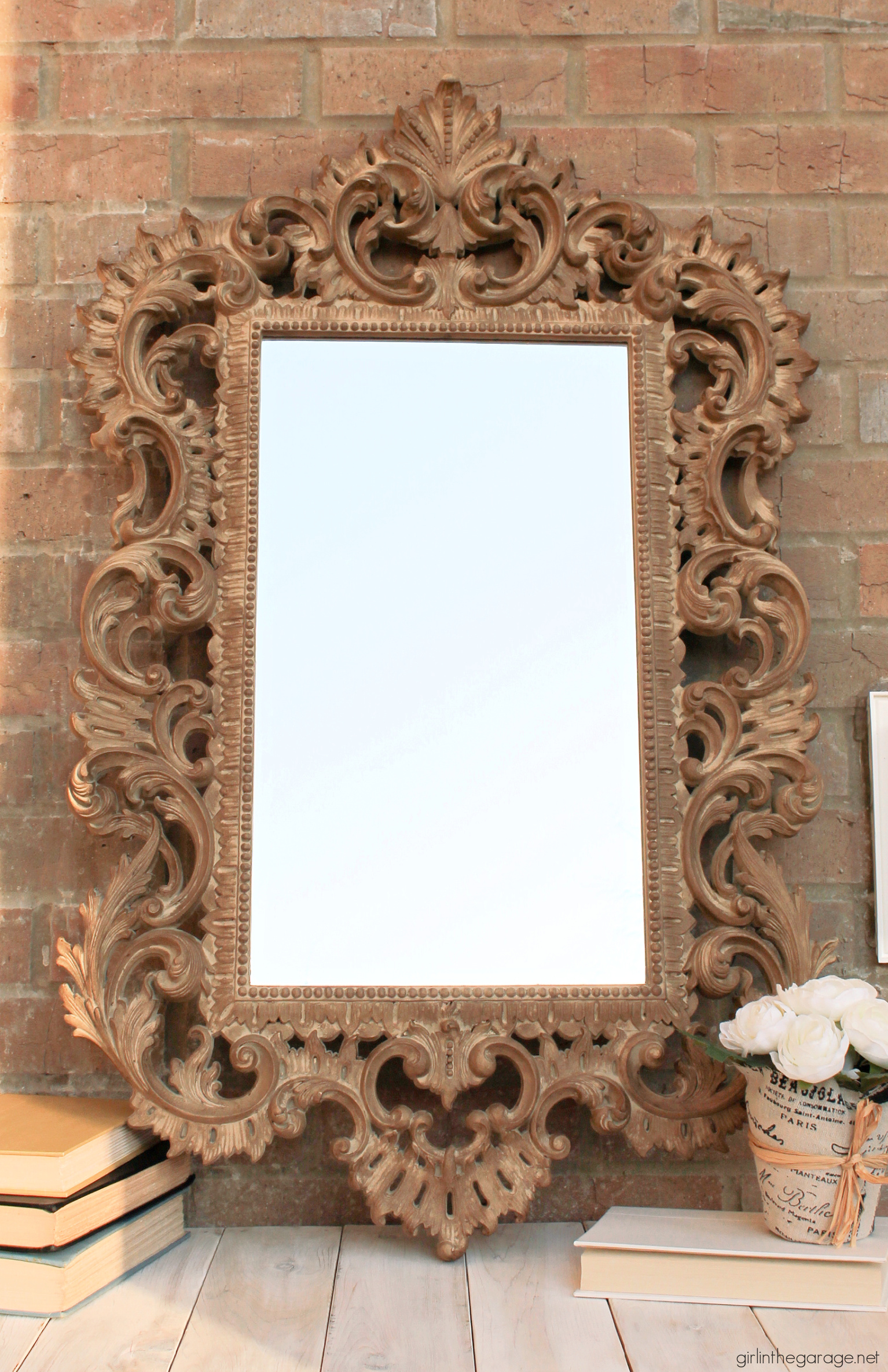 That evening sunshine can be a little deceiving, so the two photos below are a really good representation of the colors and finished look.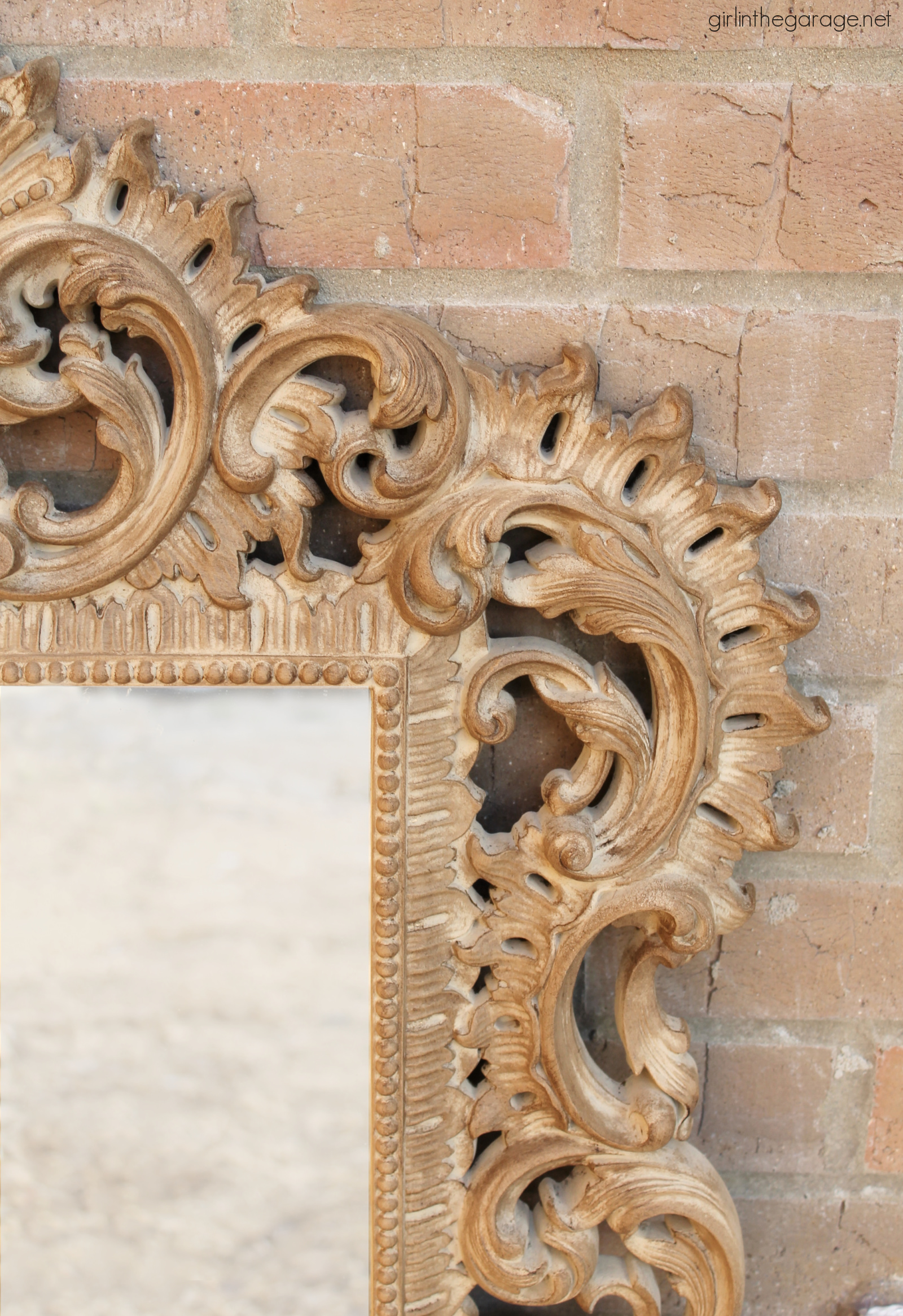 I think it's absolutely stunning and although I was planning to sell it, I might have to find a spot for it! I have several antique wooden mirrors and this one could fit right in with them honestly.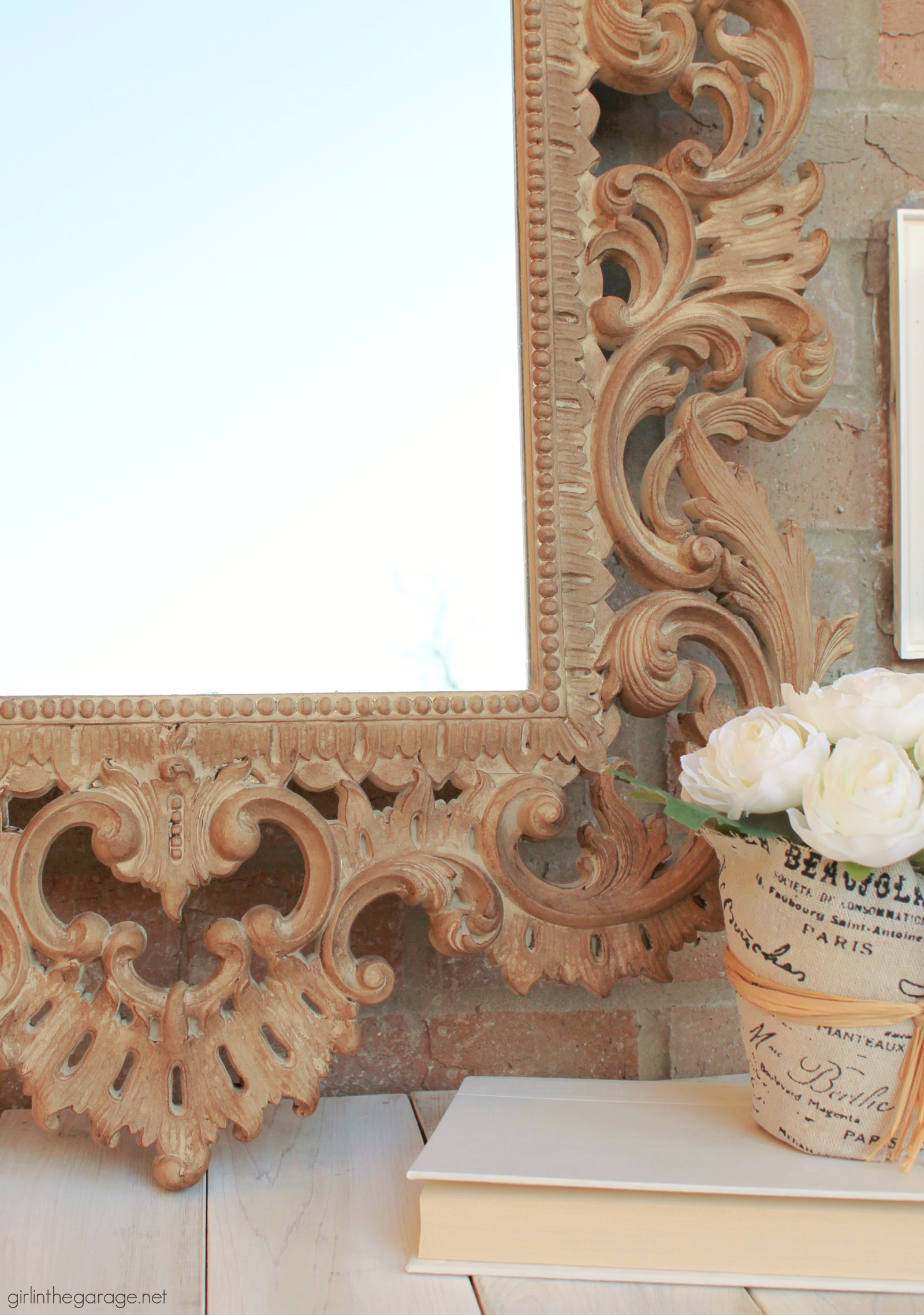 I hope you guys enjoyed today's Trash to Treasure tutorial for how to paint something to look like wood. And it's so good to be back here with you again!
Feel free to Pin or share this project with someone else who might enjoy it.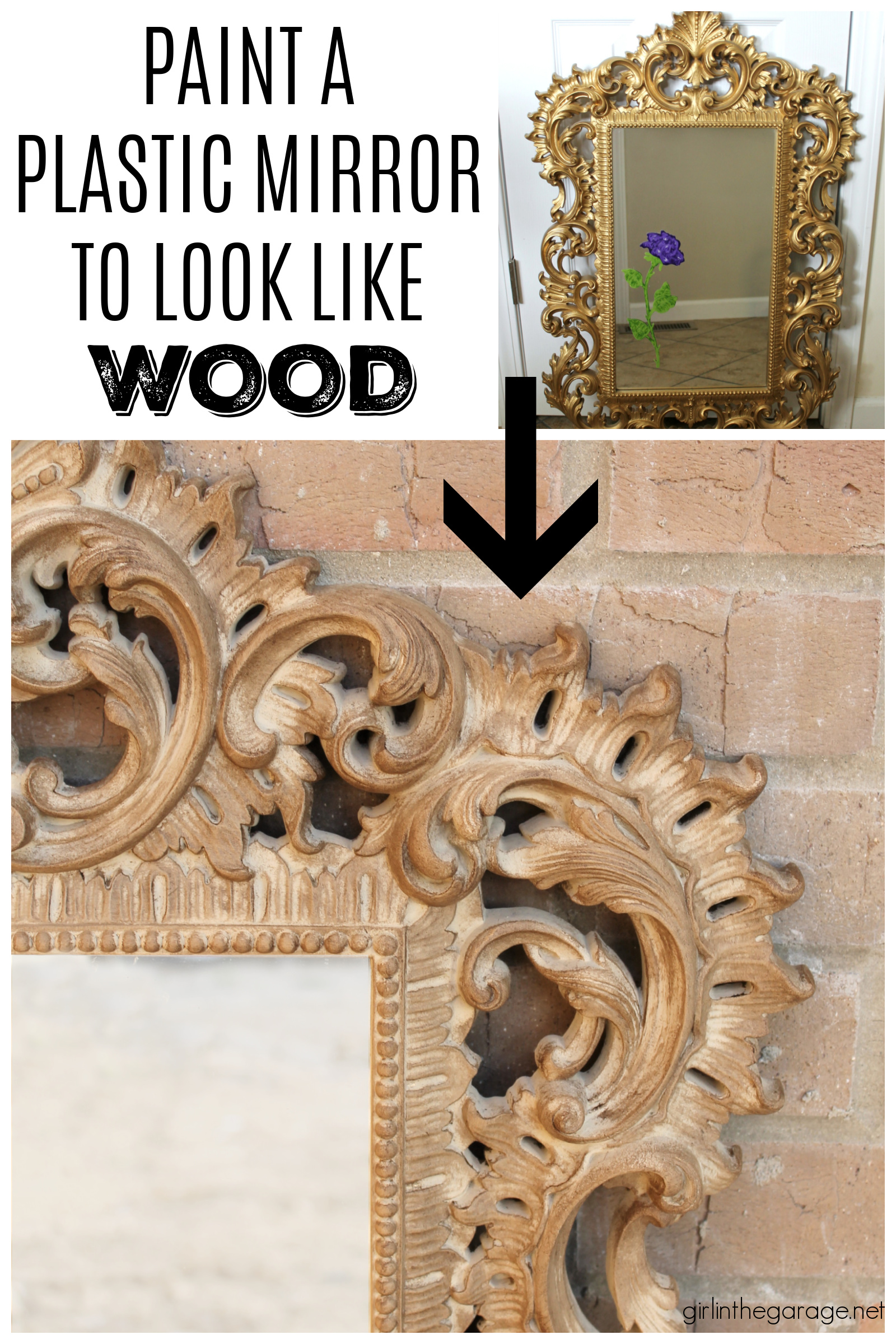 And if you prefer the darker look of wood, see how I painted a laminate dresser to look like an antique printer's cabinet in this project from my book Amazing Furniture Makeovers: Easy DIY Projects to Transform Thrifted Finds into Beautiful Custom Pieces: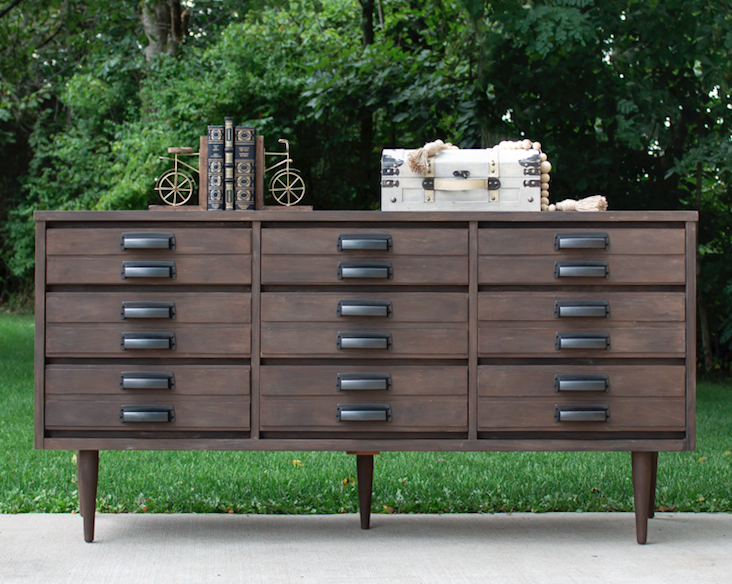 Now let's see what my Trash to Treasure friends are up to!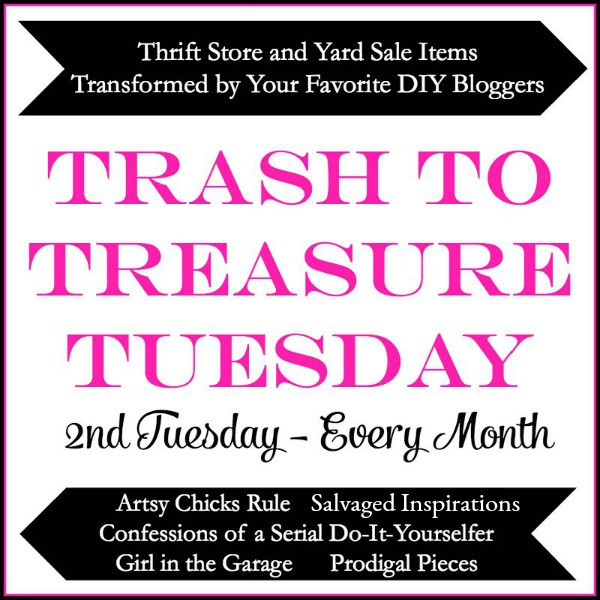 Below are their Before photos – visit the links underneath to see the amazing Afters and to learn how they did it: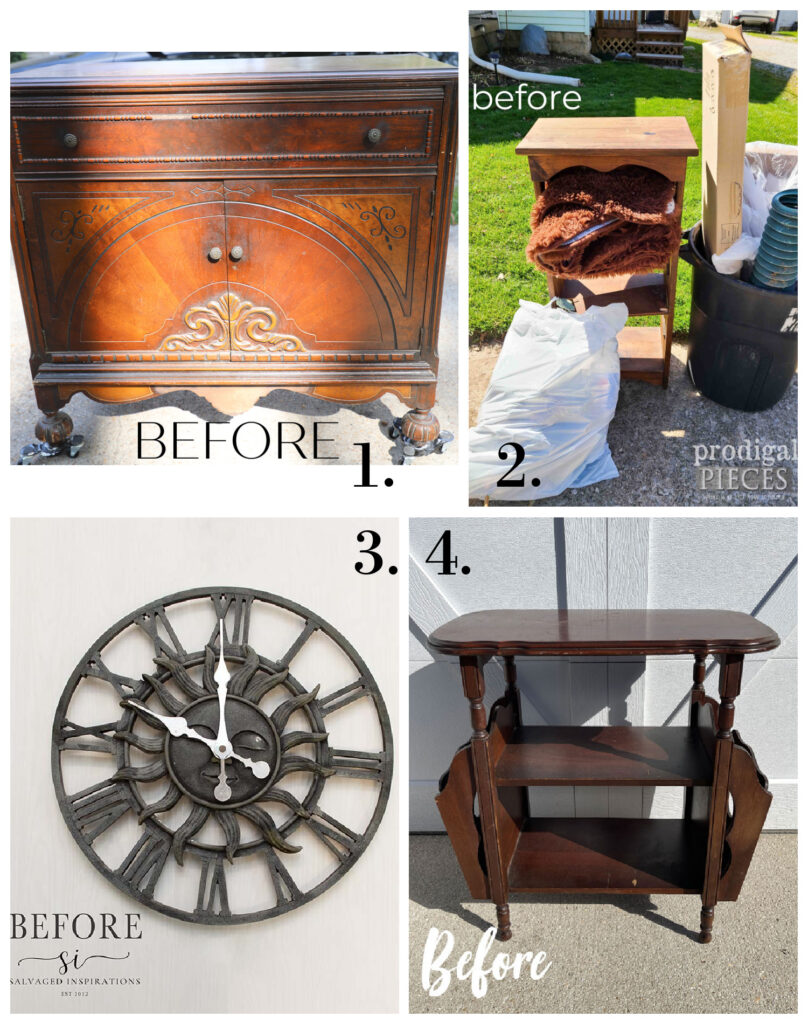 1. Artsy Chicks Rule
2. Prodigal Pieces
3. Salvaged Inspirations
4. Confessions of a Serial DIYer