Welcome back, beautiful friend! Today I'm celebrating Furniture Fixer Uppers day (a week early this month) by sharing this thrifted dresser makeover. It was plain but had a lot of potential.
It had quite the transformation, and I'll show you how to paint stripes on a dresser to give it a punch of personality. (There's also a short video tutorial included AND a fun giveaway below!)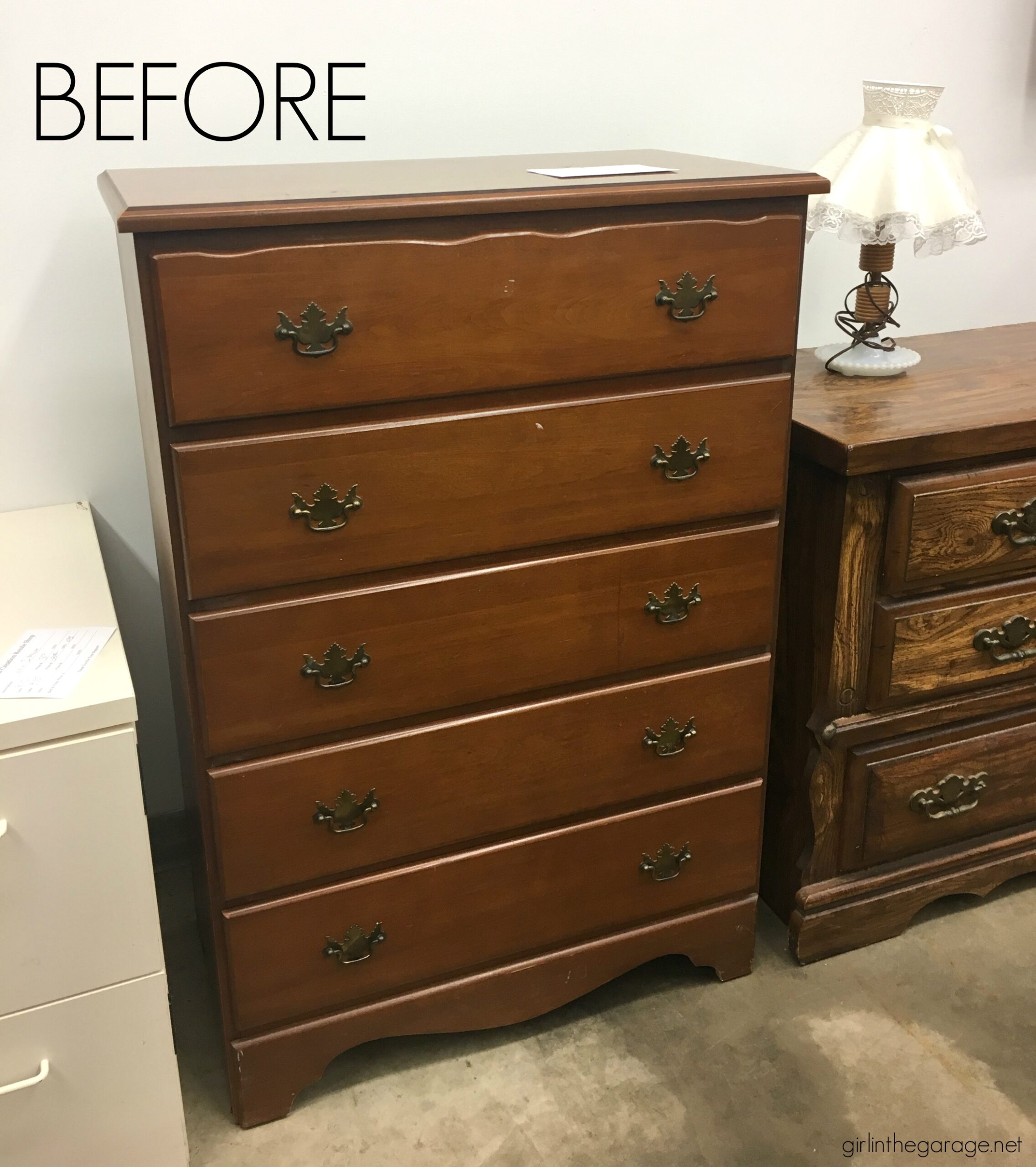 First, make sure you clean and prep the dresser for painting. You can read all my tips for How to Prep Furniture for Painting here.
Prep the Dresser for Painting
Since this dresser was a little glossy, I lightly sanded it with 220 grit sandpaper so the paint would stick better.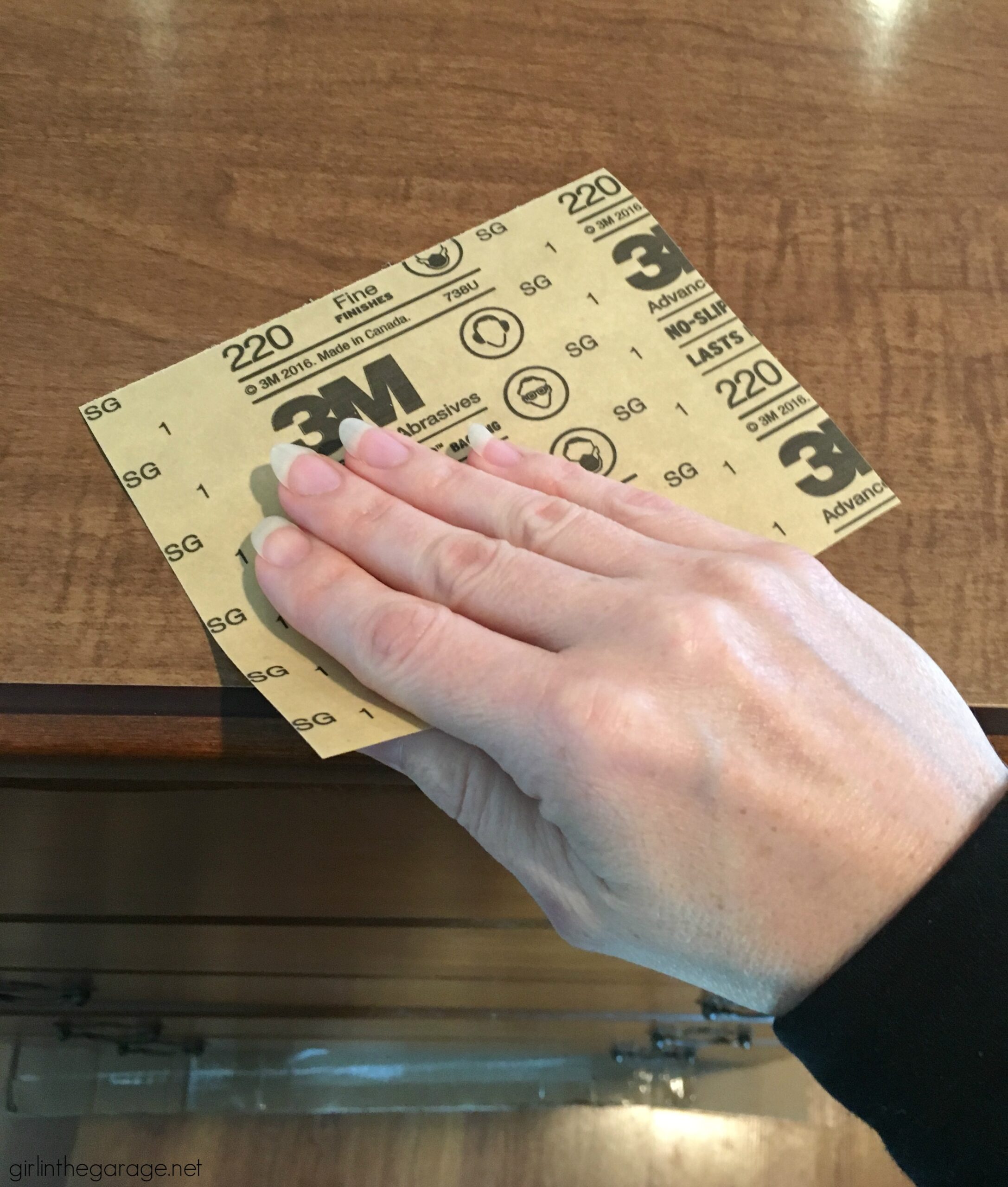 Then, all the drawers had this faux-wood-looking contact paper inside. Thankfully it pulled up pretty easily, and the drawers were in great condition underneath! (Learn how to easily remove sticky contact paper here.)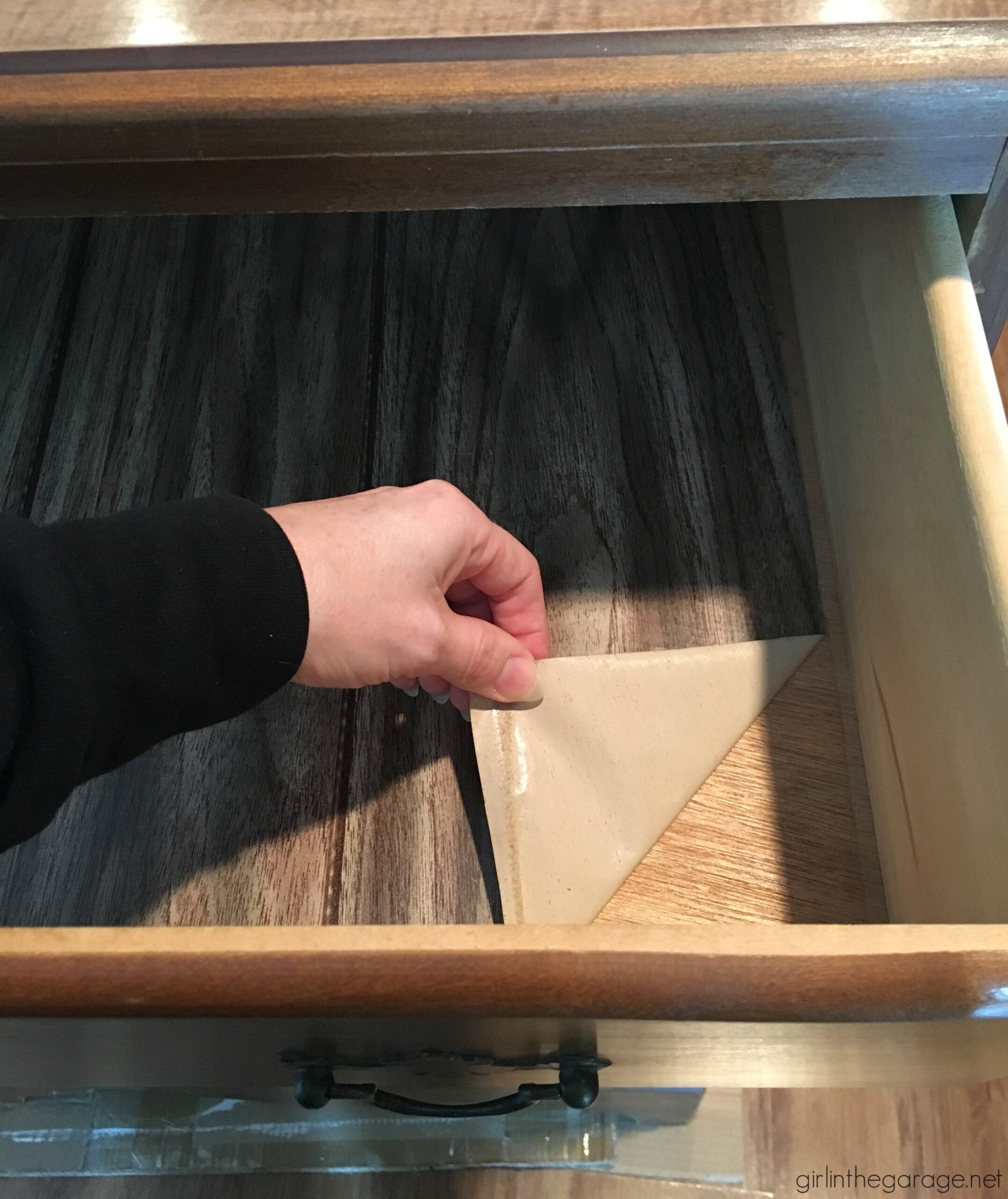 Next, pull the drawers out and number them on the back so you know where they go. (Sometimes drawer sizes are slightly different and you might have trouble getting them back in place if you switch them.)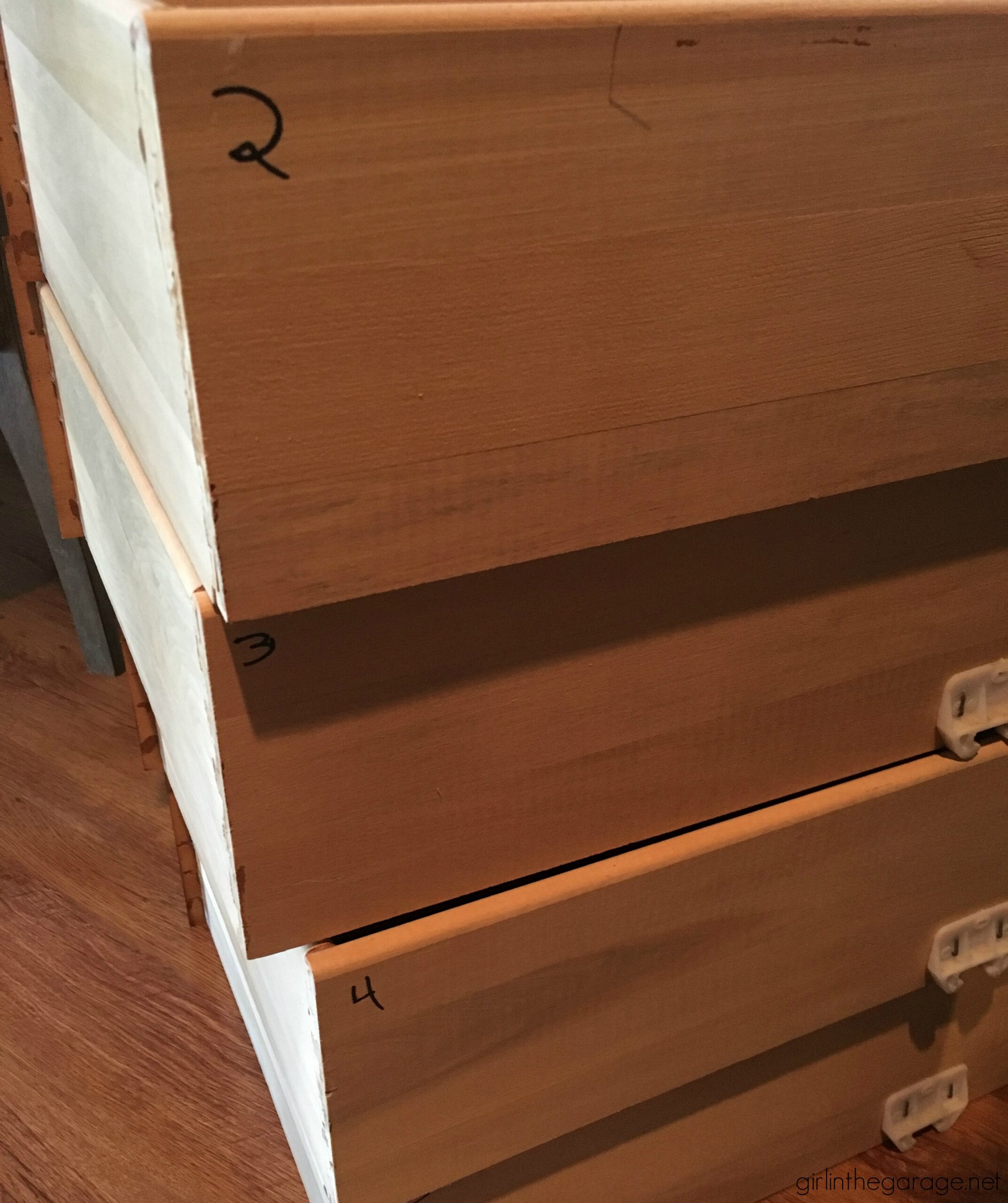 One more tip: Tape the inside of the handle holes so that paint won't drip through inside.
For this dresser, I did end up filling one hole on each side with wood filler before replacing the pulls.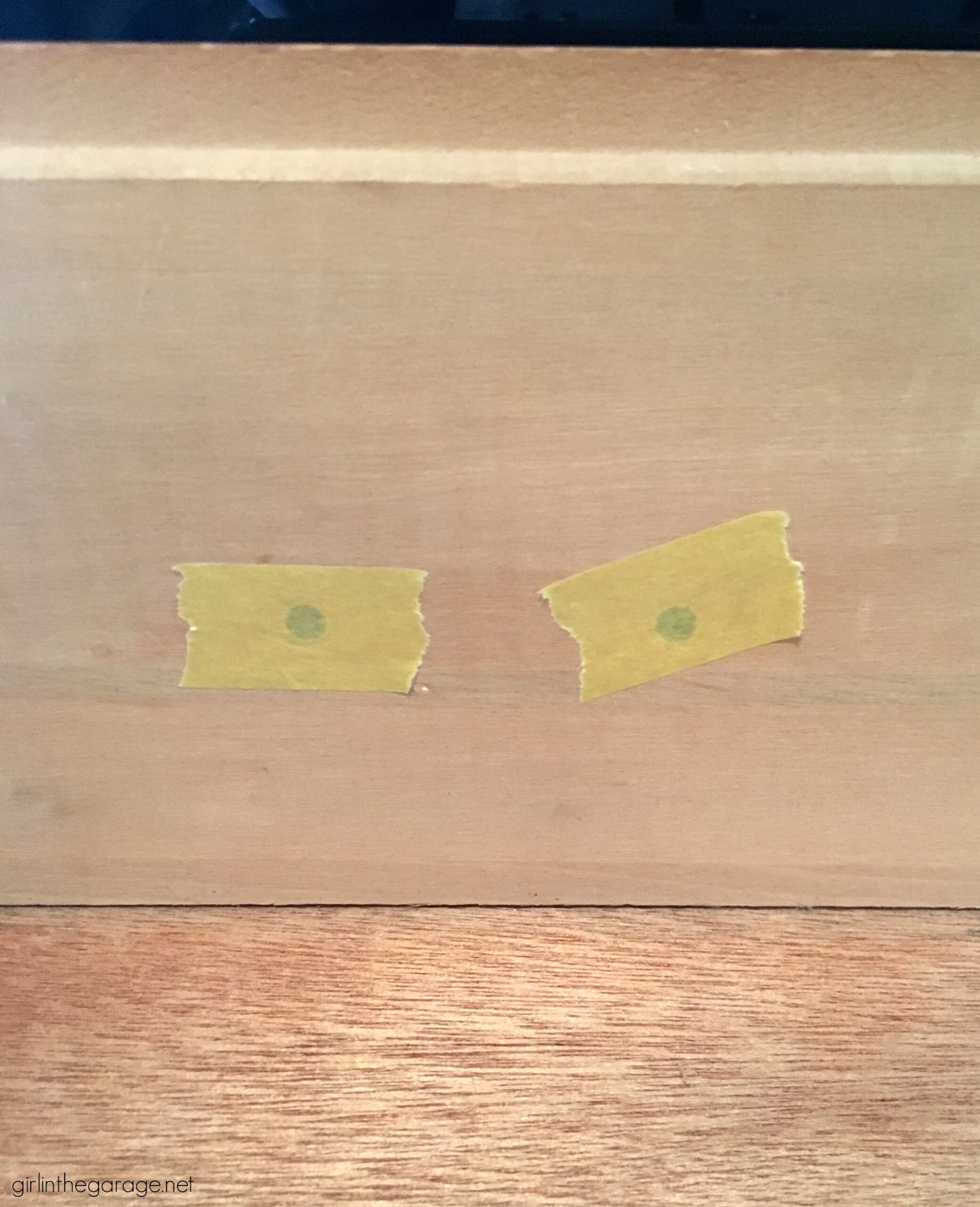 Before we continue, I must thank Purdy for sponsoring this post. I've used Purdy brushes for many years and they are definitely my favorite! They were founded in 1925 in Portland, Oregon, and are trusted by both professional painters and home-based DIYers.
*Click here to learn more about The Purdy Difference and Purdy products.
Products used:
Purdy Clearcut Elite paint brush

Dutch Boy Dura Clean in White

Dutch Boy Dura Clean in Snuggled

Dutch Boy Platinum Plus sample size in Black

Painter's tape for stripes

Stencil for numbers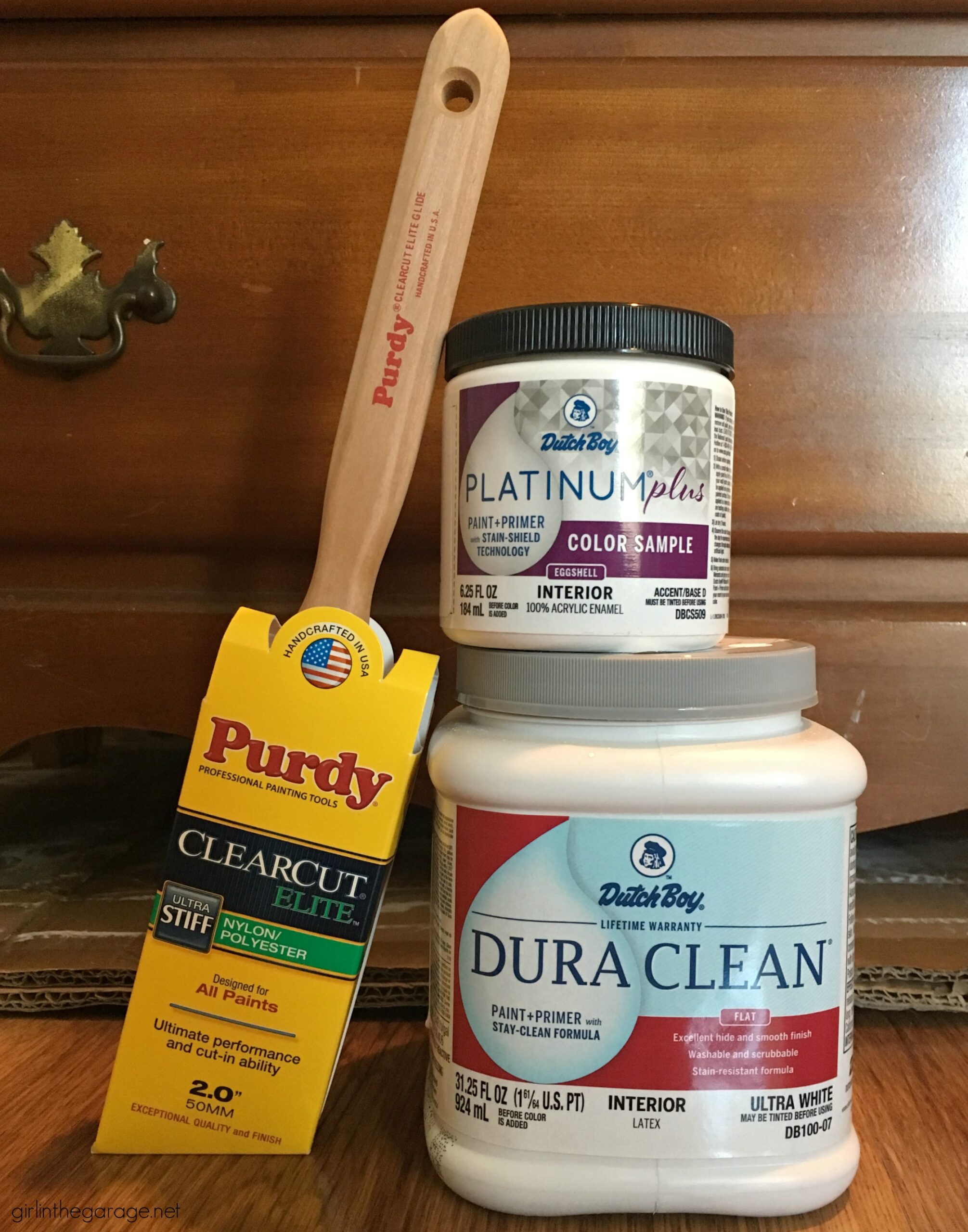 The Purdy ClearCut Elite brush helps you cut in with crisp lines (great for trim, corners, and ceilings so you don't need to tape off edges). Also, you can see below that every Purdy brush is handcrafted and then "signed" on a sticker by the person who made it, proving they're proud of their work. Pretty neat!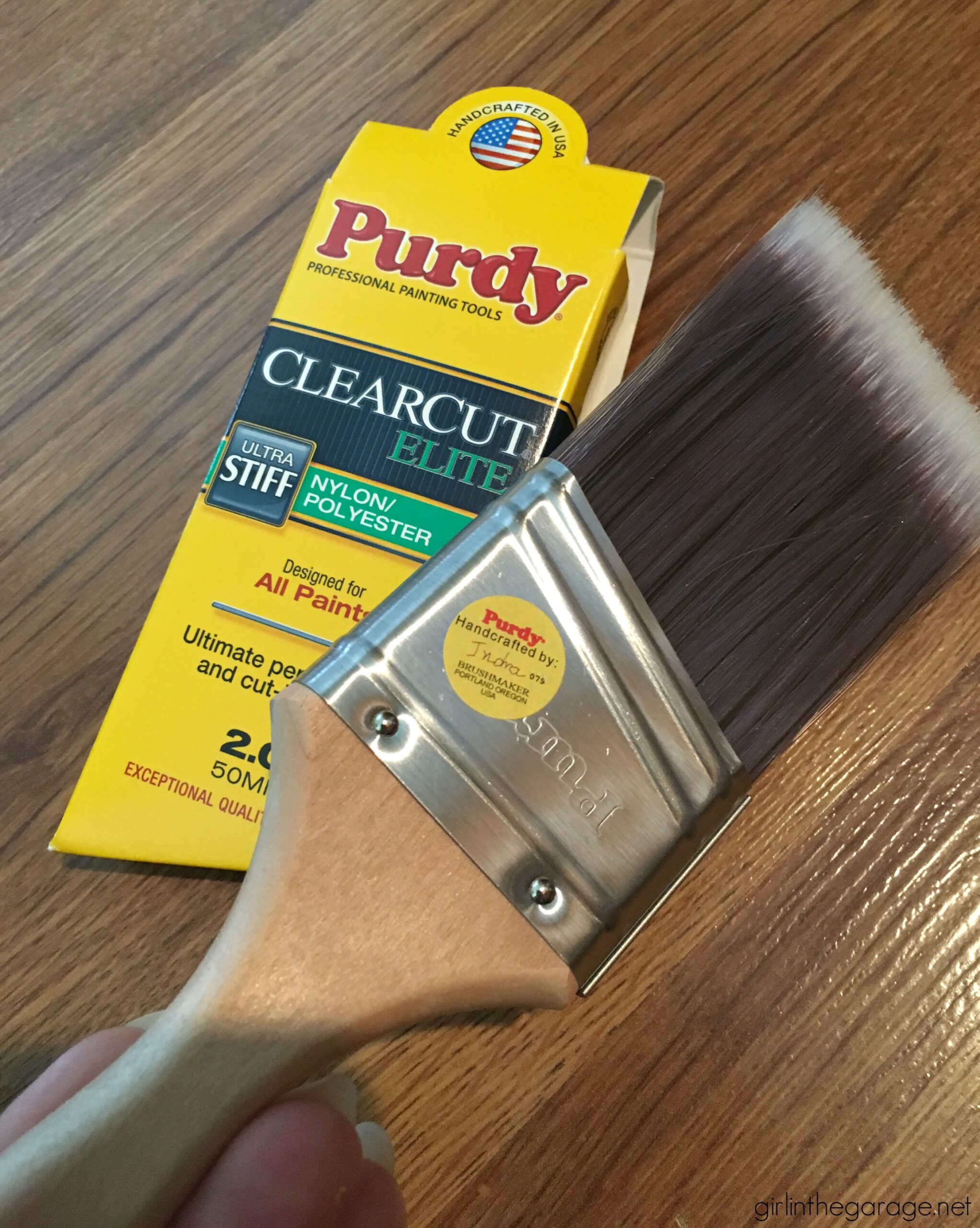 Paint the dresser in your base coat – in this case, white. You might need to do 2-3 coats for even coverage. Lightly sand as needed for smoothness.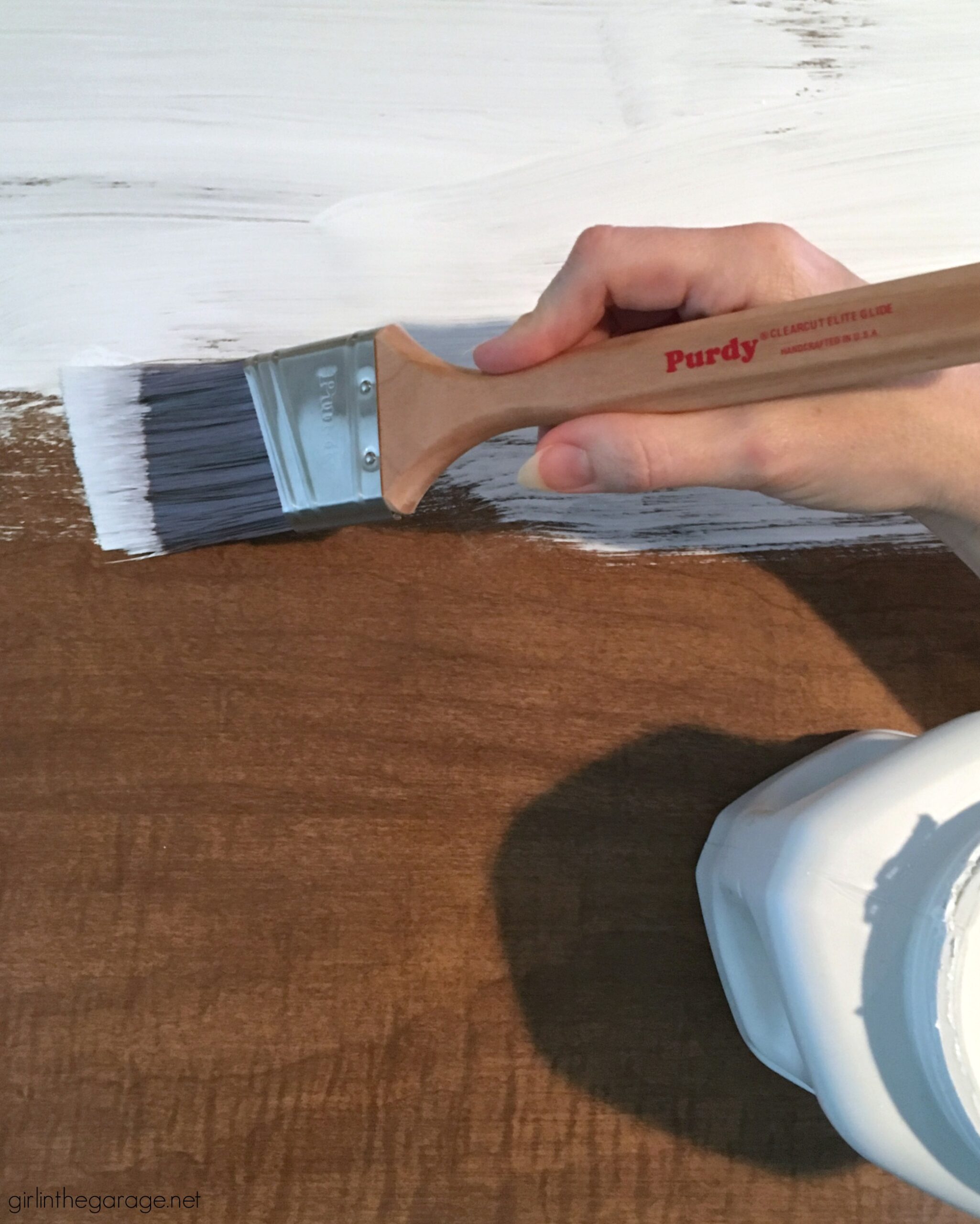 How to Paint Stripes on a Dresser
Next, tape stripes on the drawers with painter's tape. Try to center the drawer pull holes in the middle of a stripe. Use a shorter piece of tape as a placeholder for where to lay the next piece of tape (see below). Experiment with the placement to try to make everything evenly spaced and symmetrical.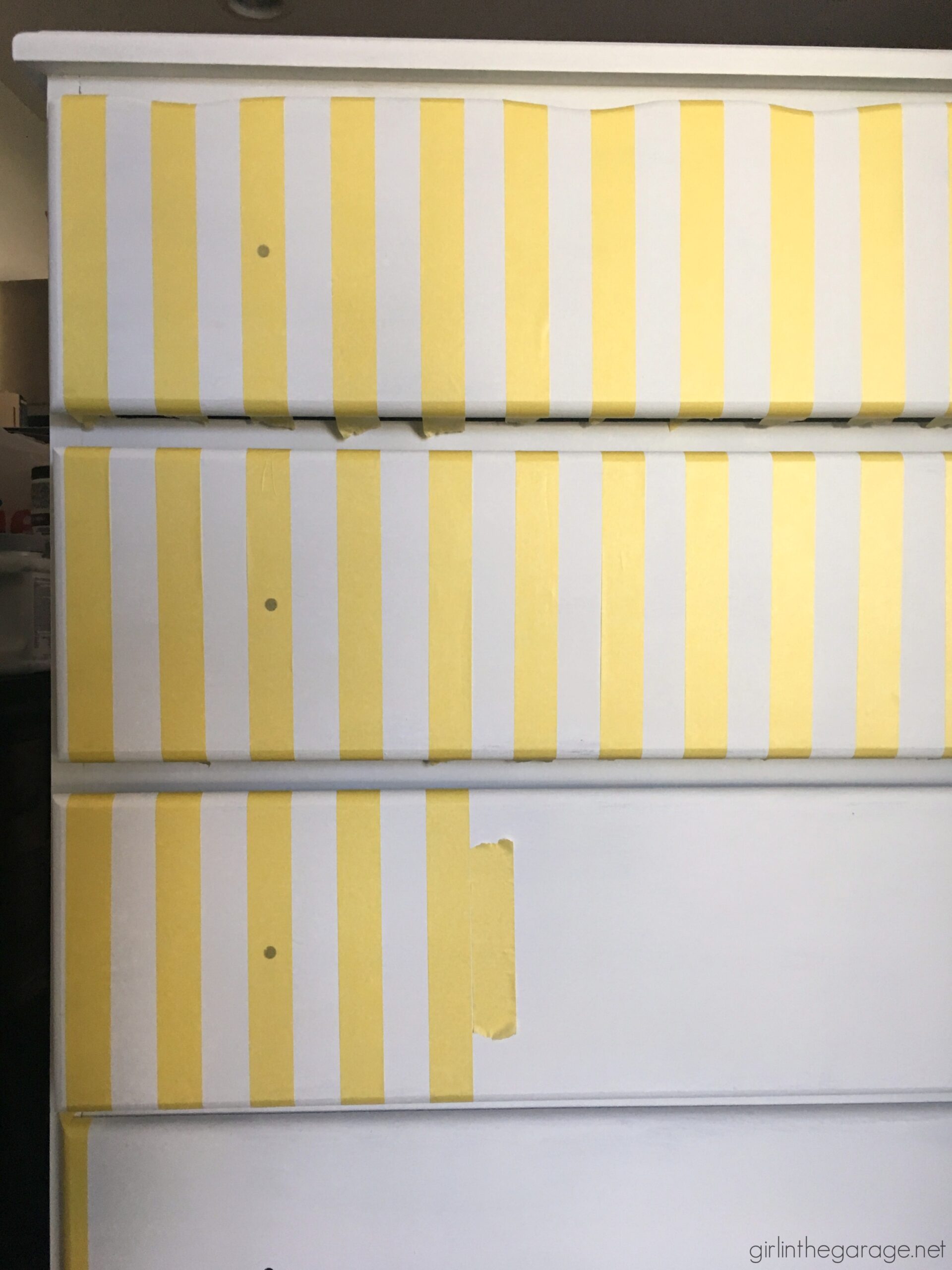 Paint over the untaped areas on the drawers with taupe paint ("Snuggled"). Don't use too much paint or it might glob up under the tape – or make the tape harder to remove later.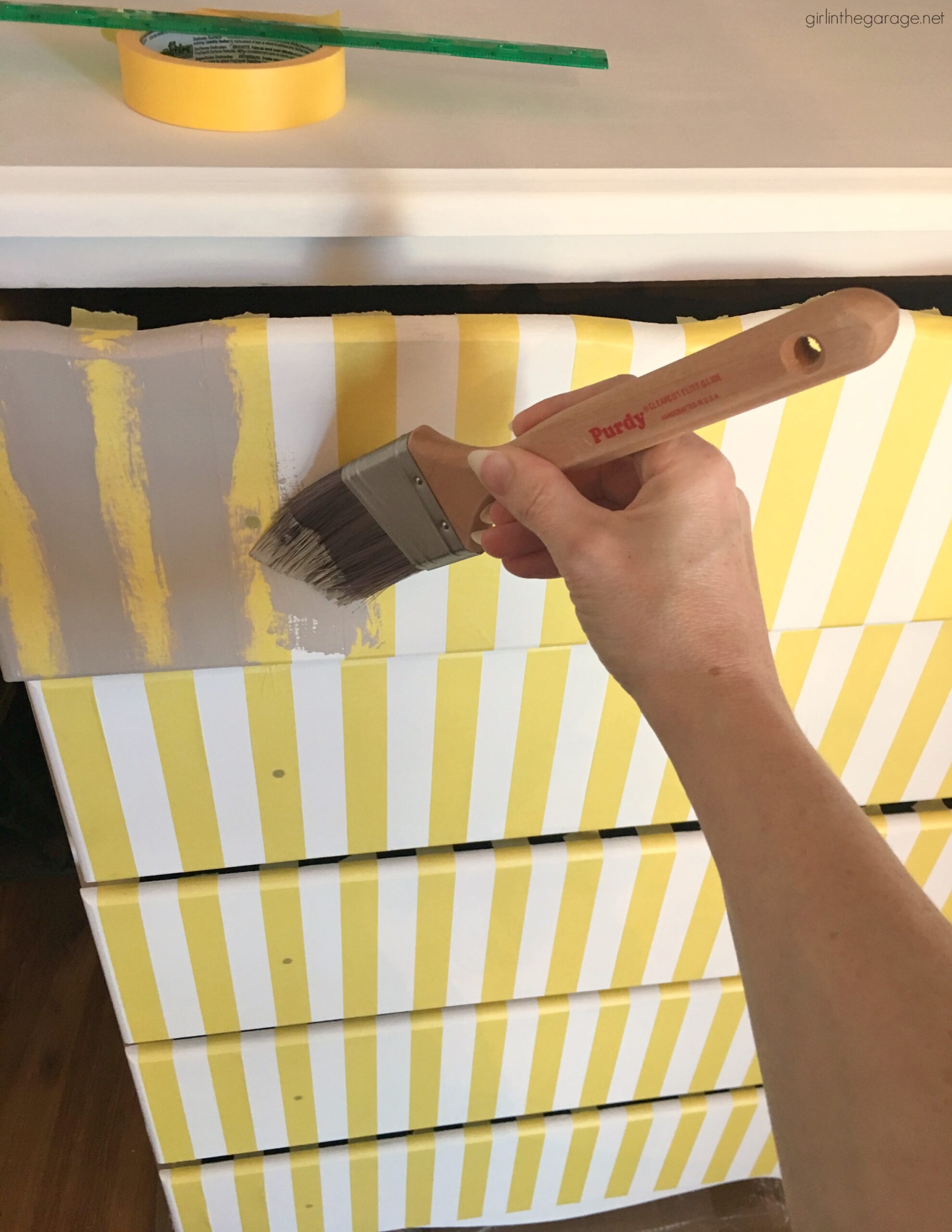 Apply a second coat of paint as needed.
Don't let the paint sit too long before removing the tape – right when I was finished painting, I started pulling the pieces off. Even my boys helped! There's something satisfying about removing the tape and seeing crisp stripes appear.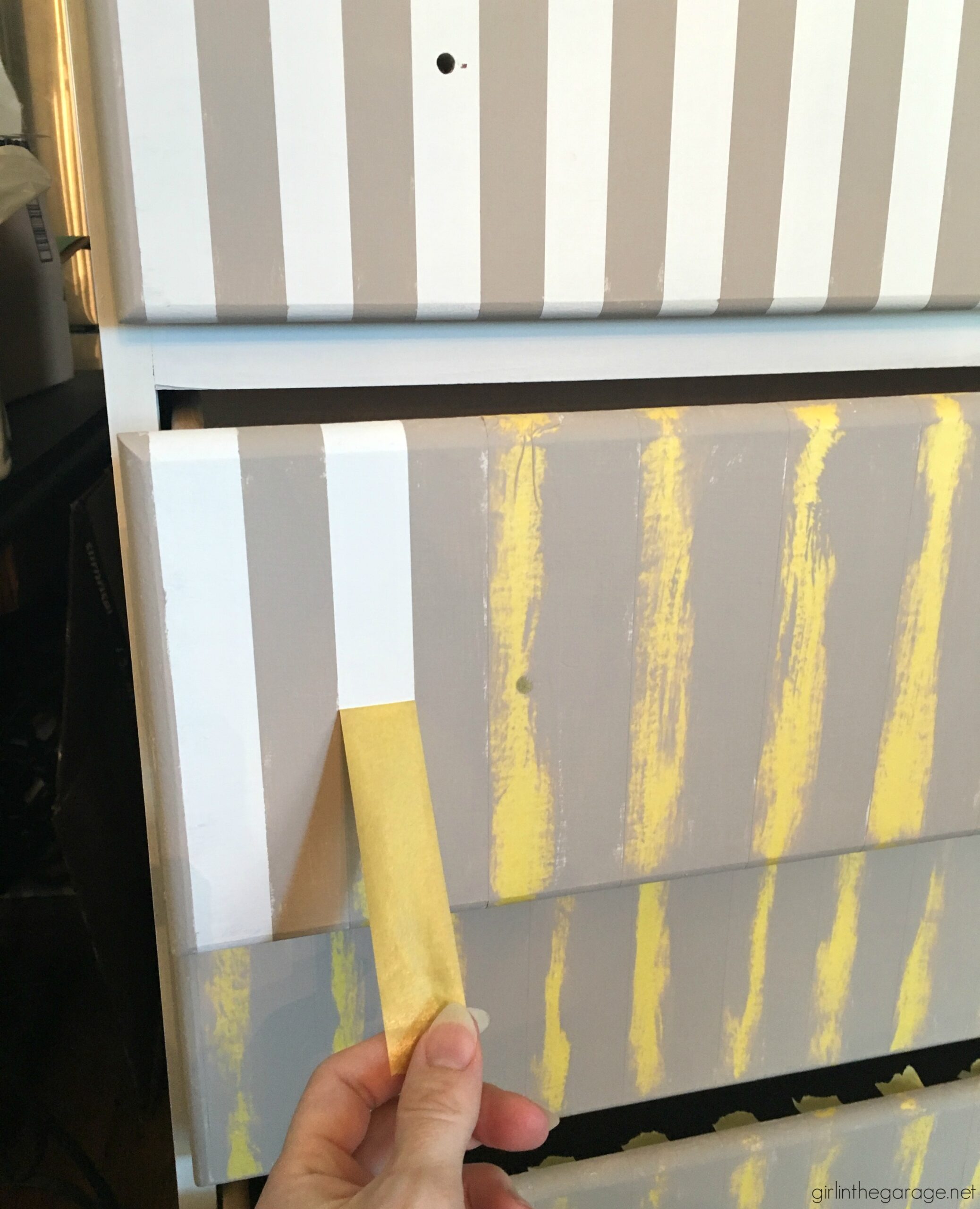 Then I lightly sanded over the drawers with 320 grit sandpaper for an imperfect, vintage look.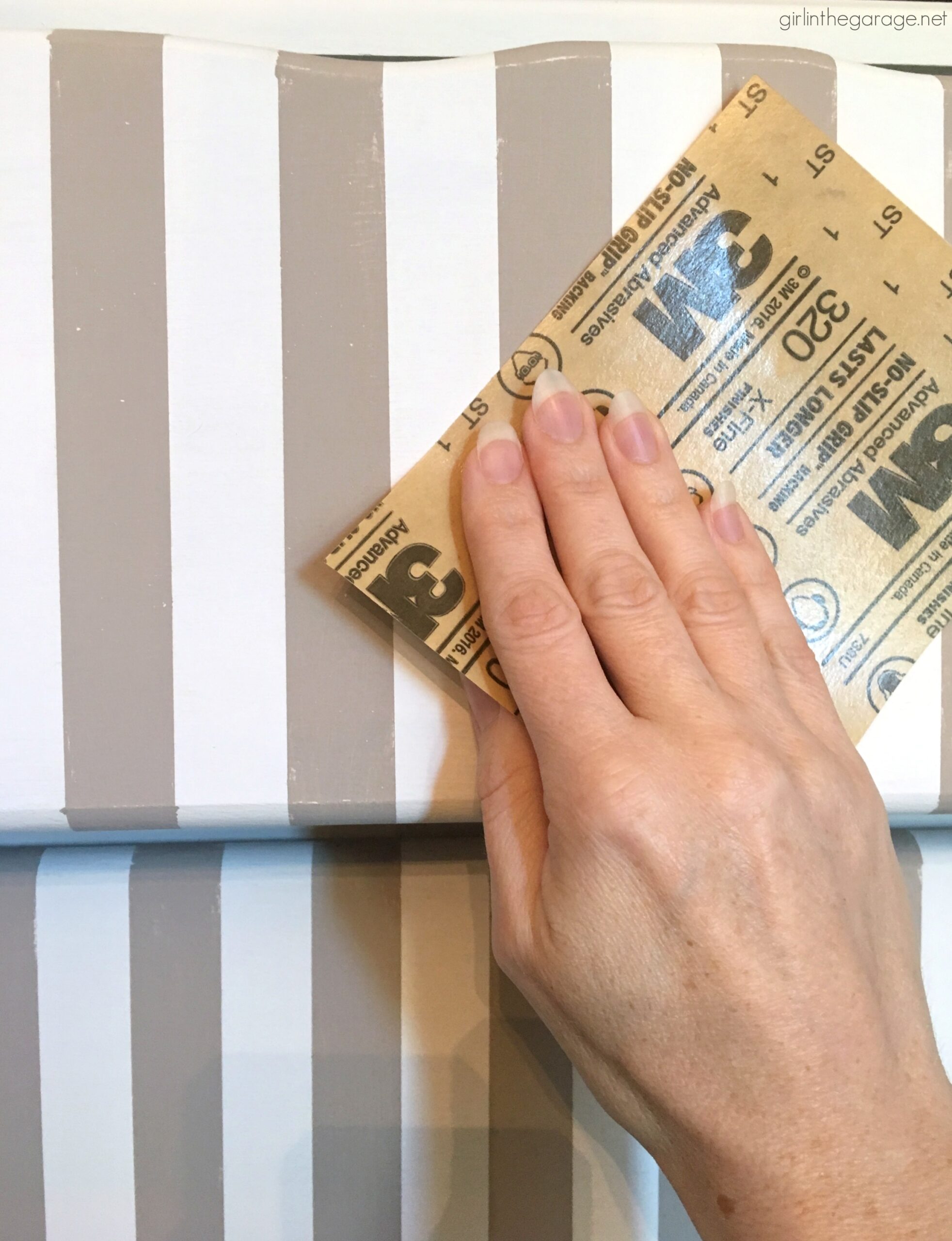 I also bought plain wood knobs and painted them white to match the stripes.
Finally, I stenciled black numbers on the drawers for a little something extra. I sanded over them also to keep with the slightly-worn vibe.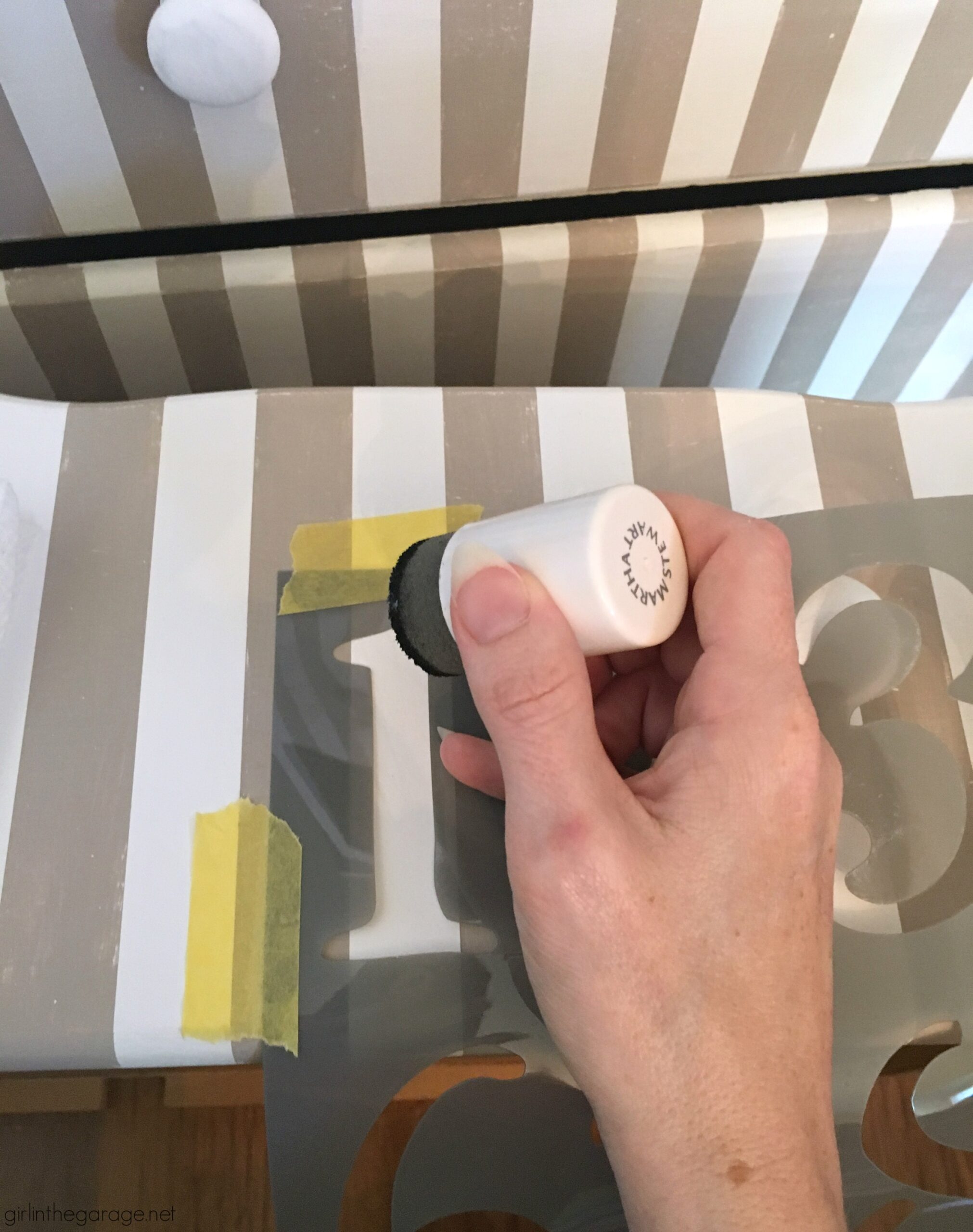 And here's how this thrifted dresser looks now…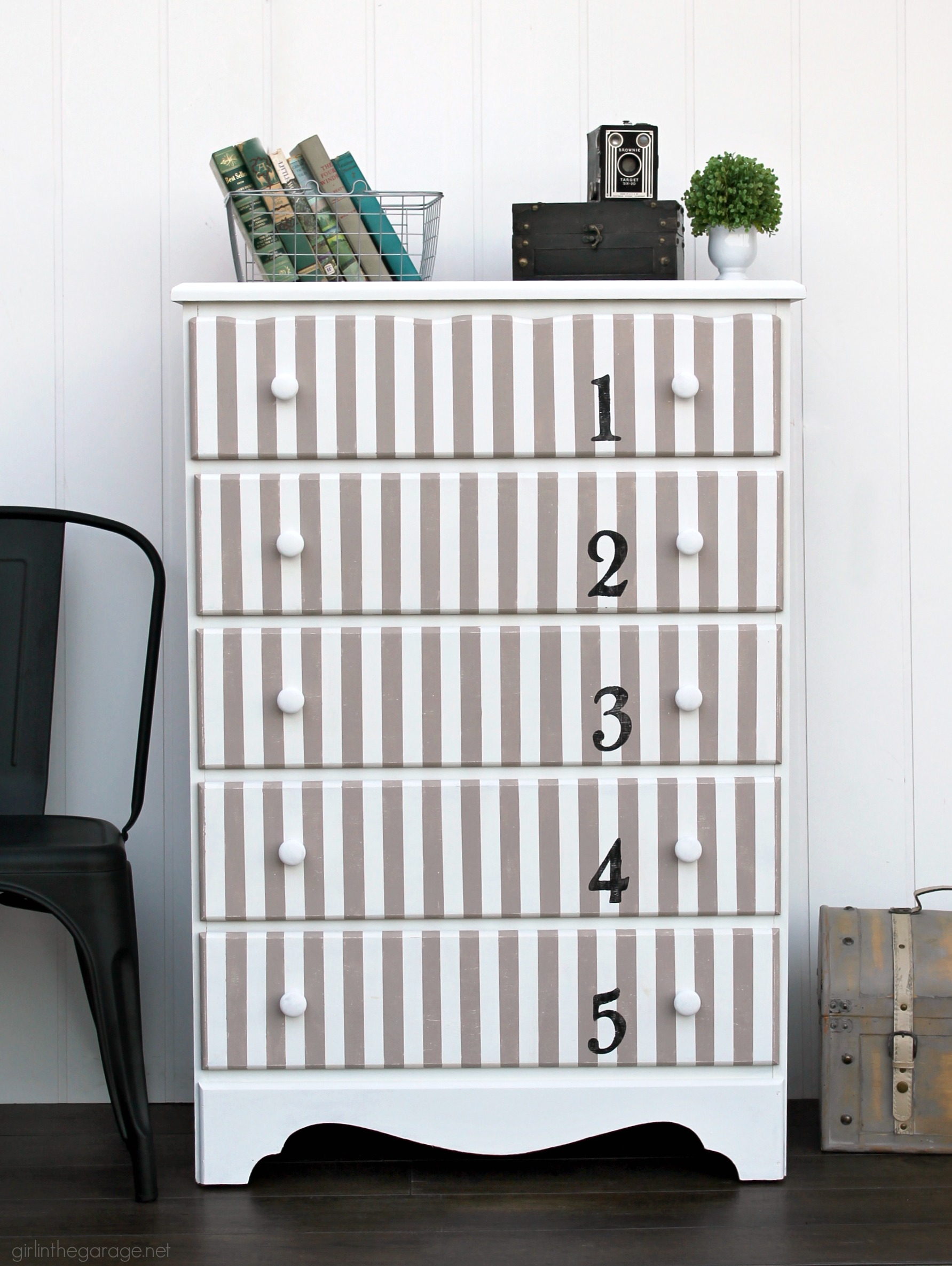 Honestly I had a few doubts when I brought this home because it started pretty ugly, but I love it now!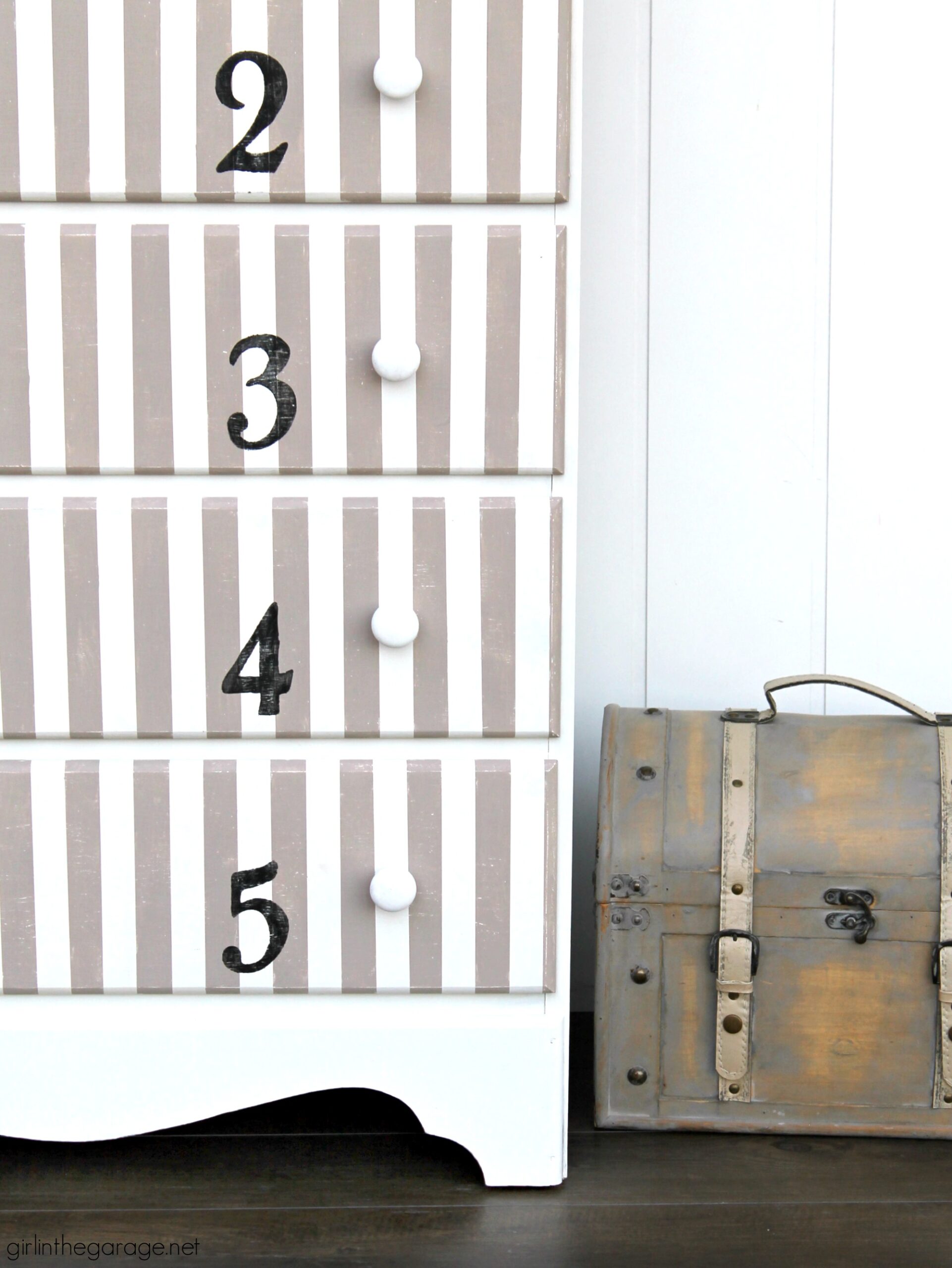 The curves on the top drawer make it kind of feminine, but I think with the painted stripes it can probably go either way now.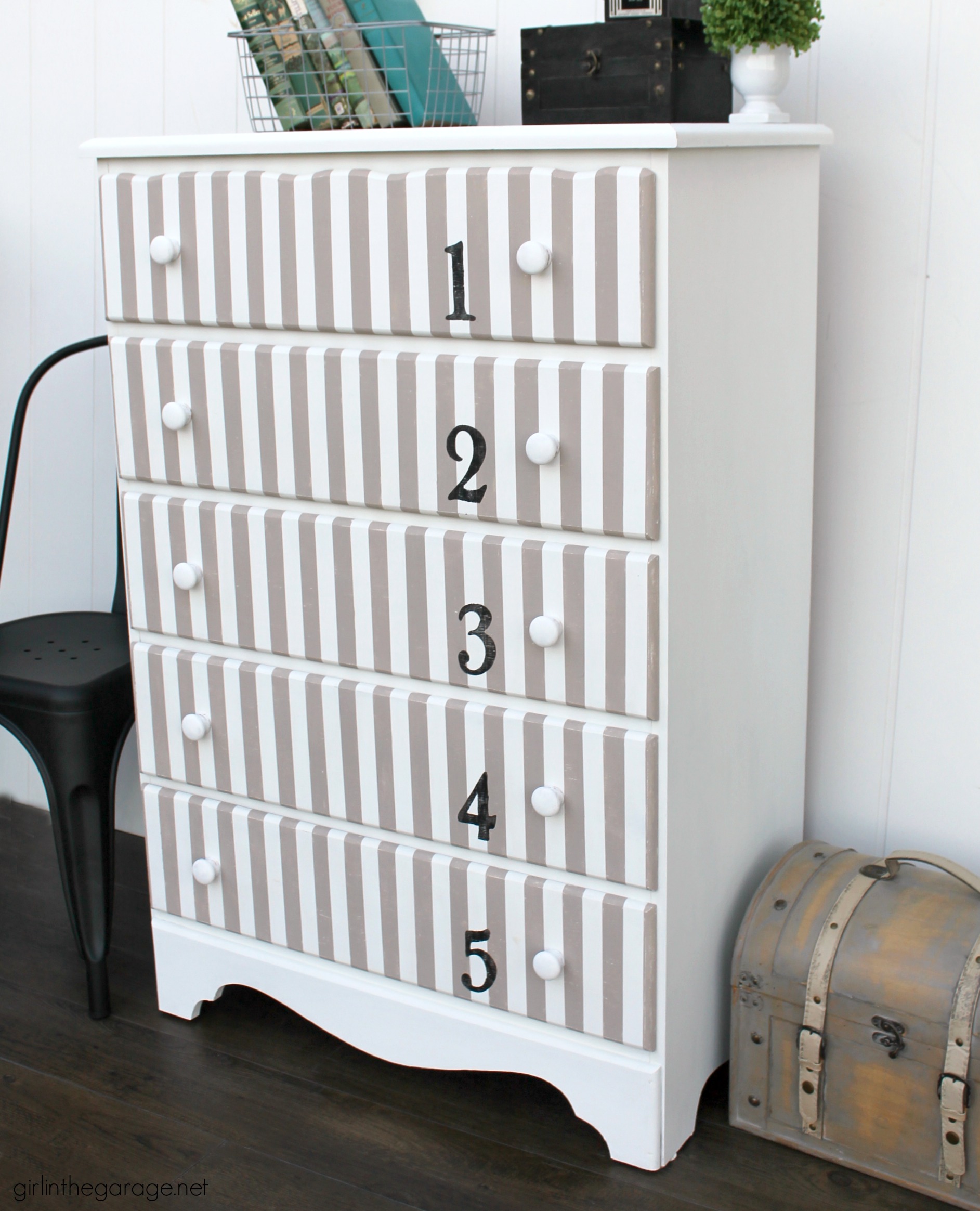 Friend, I hope you've enjoyed this tutorial for how to paint stripes on a dresser. It can really give a fun punch of personality to a plain piece.
Please feel free to pin or share any image in this post to bookmark it for later.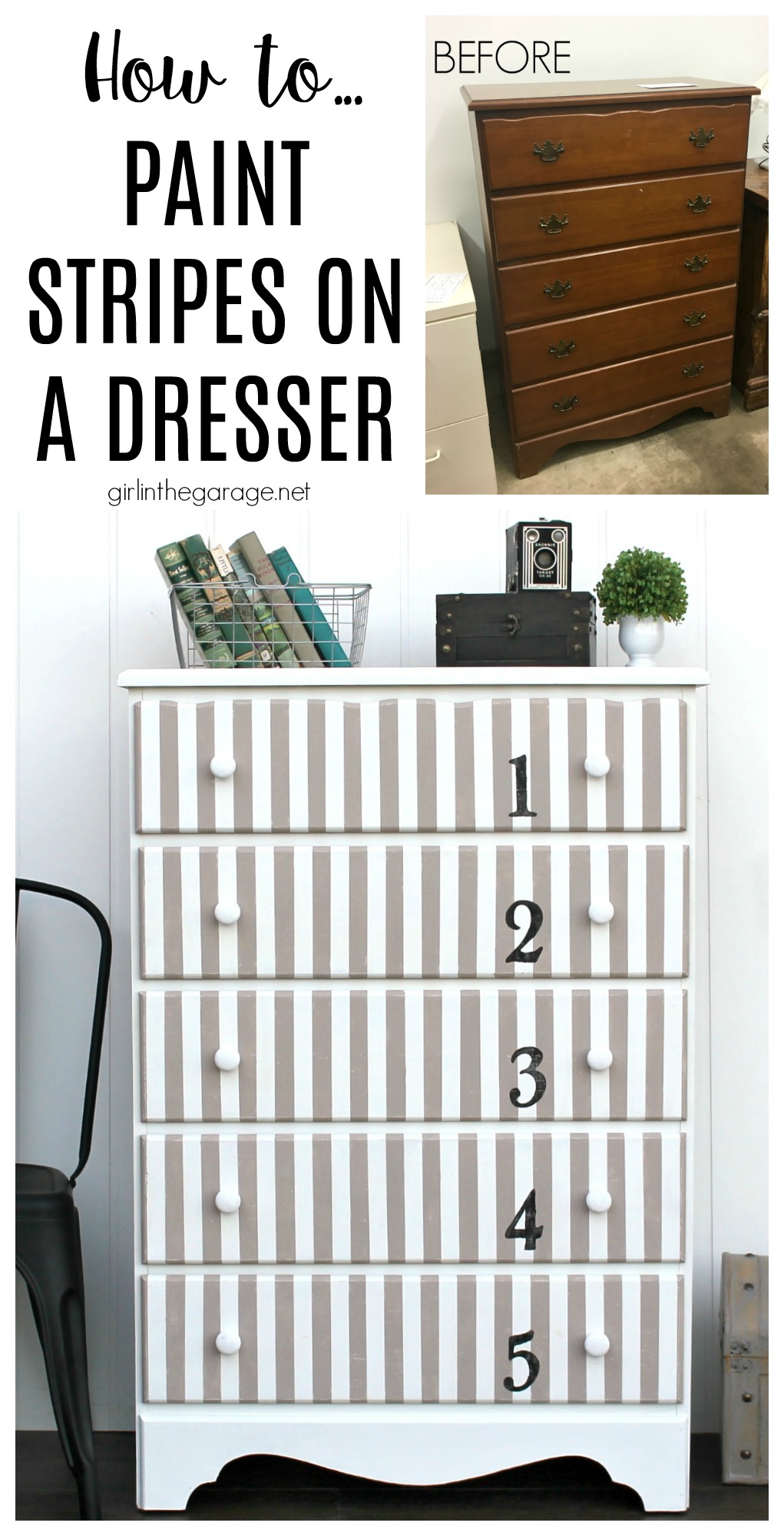 And now it's time for a giveaway!
One lucky person will win a 3-pack of Purdy paint brushes for upcoming painting projects.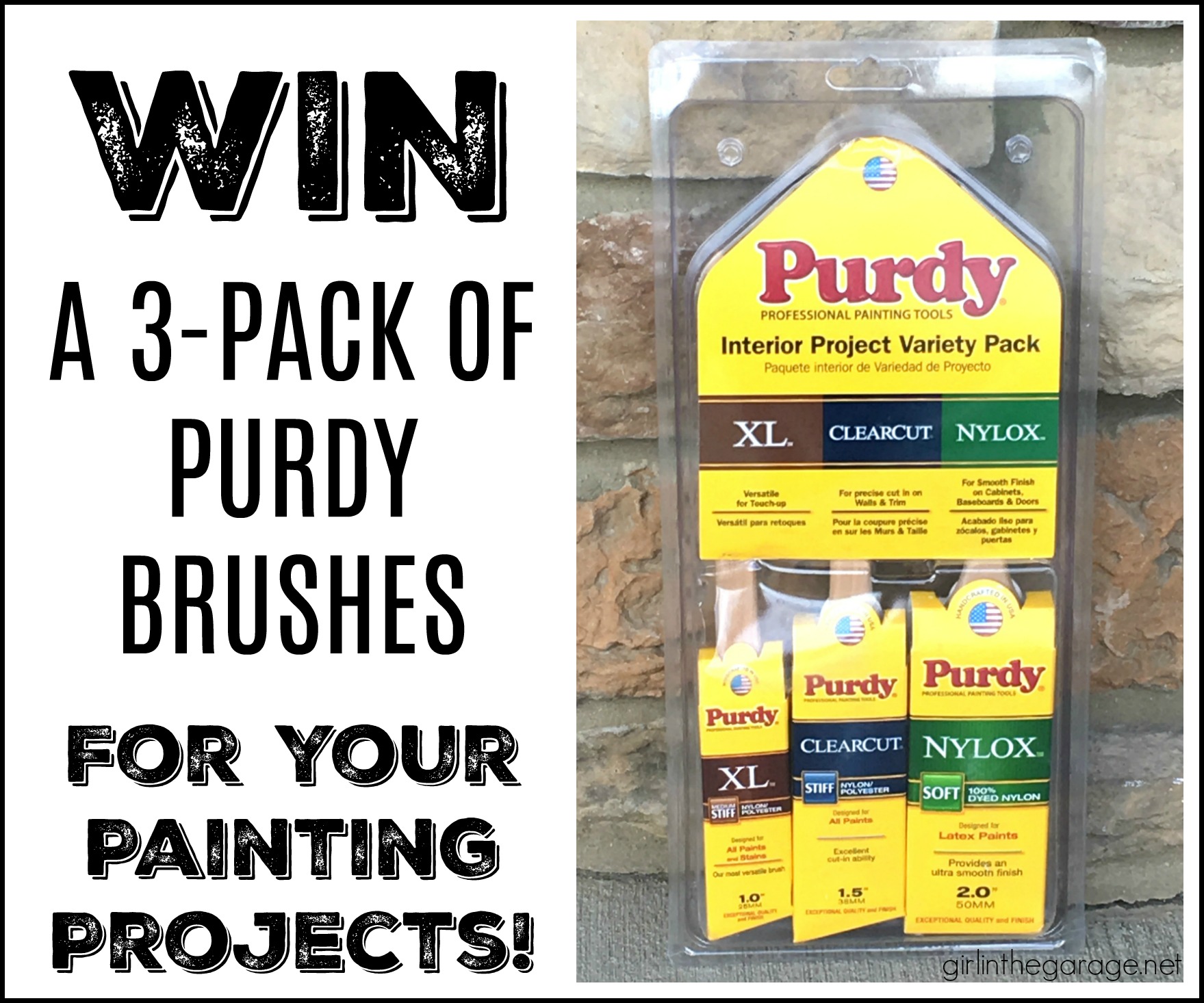 Giveaway open to US residents, 18 years and older.
Good luck!
Next let's have some Furniture Fixer Upper fun with my friends…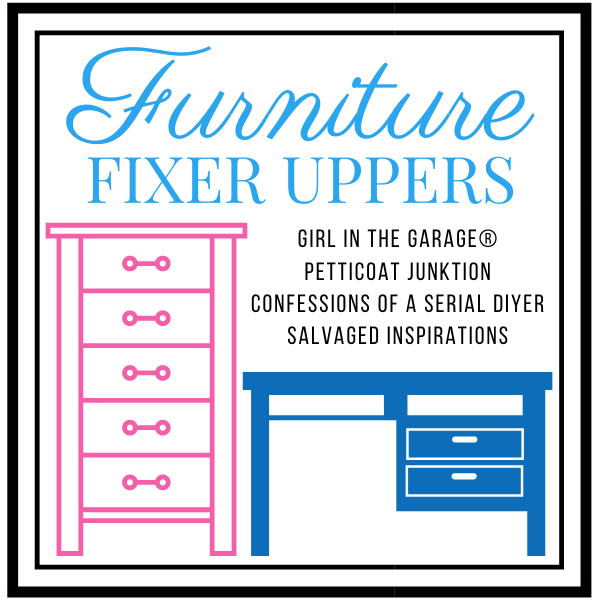 Below are the Before photos – visit the links underneath to see the amazing Afters and to learn how they did it: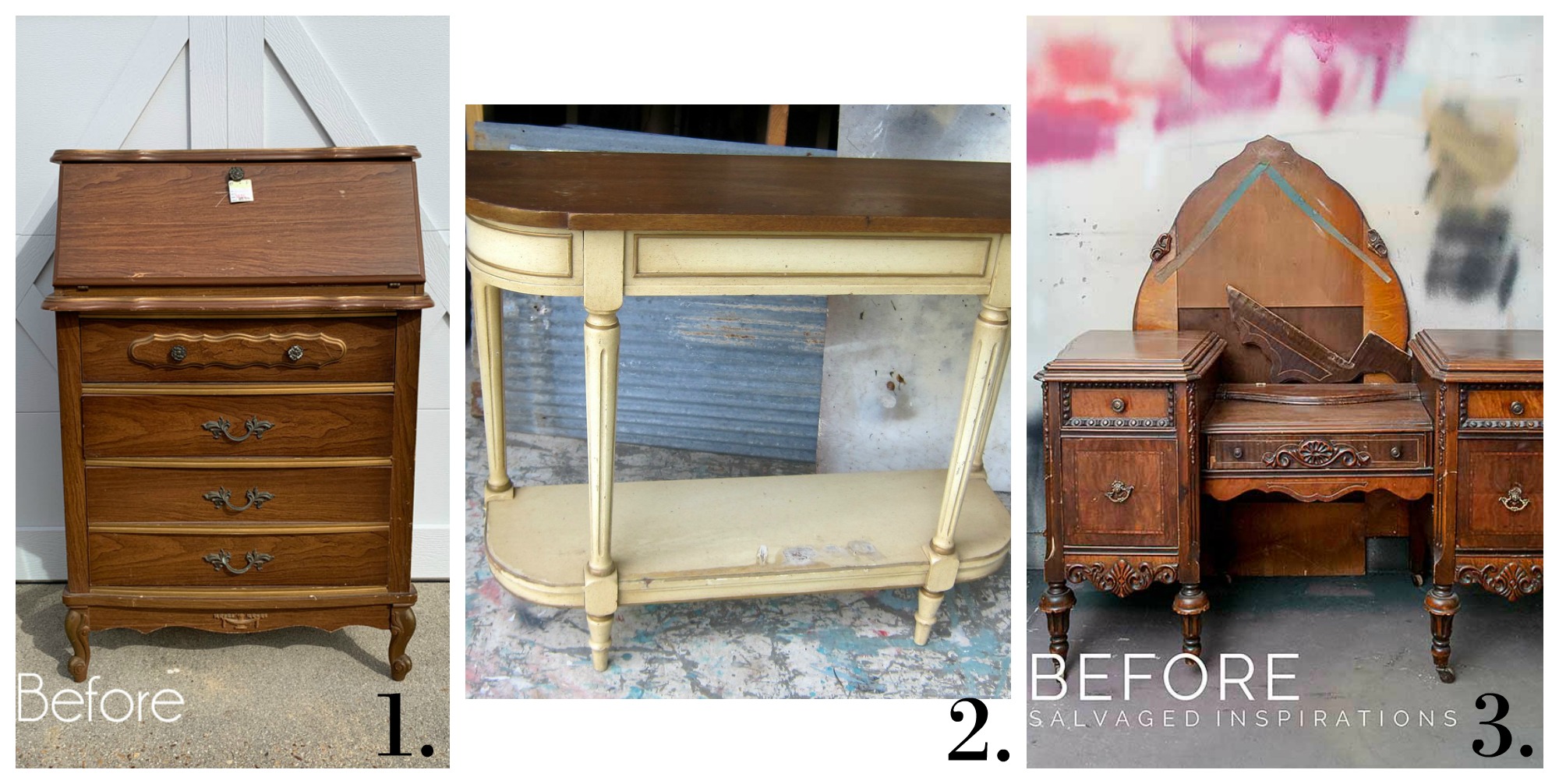 1. Vintage Secretary Desk – Confessions of a Serial DIYer
2. Two Color Furniture Makeover – Petticoat Junkion
3. Antiquing with Glaze – Salvaged Inspirations