Welcome back, friend. Today I'm excited to share a new tutorial for this small nightstand that I found at an estate sale last weekend for only $10.
My first thought was "card catalog!" – but I do a lot of faux card catalog makeovers, so instead I went with something a little different and more industrial. For this project, I'll show you how to create a vintage trunk painted nightstand – AKA how to transform the piece below into a faux steamer trunk. (Plus there's a short helpful video too.)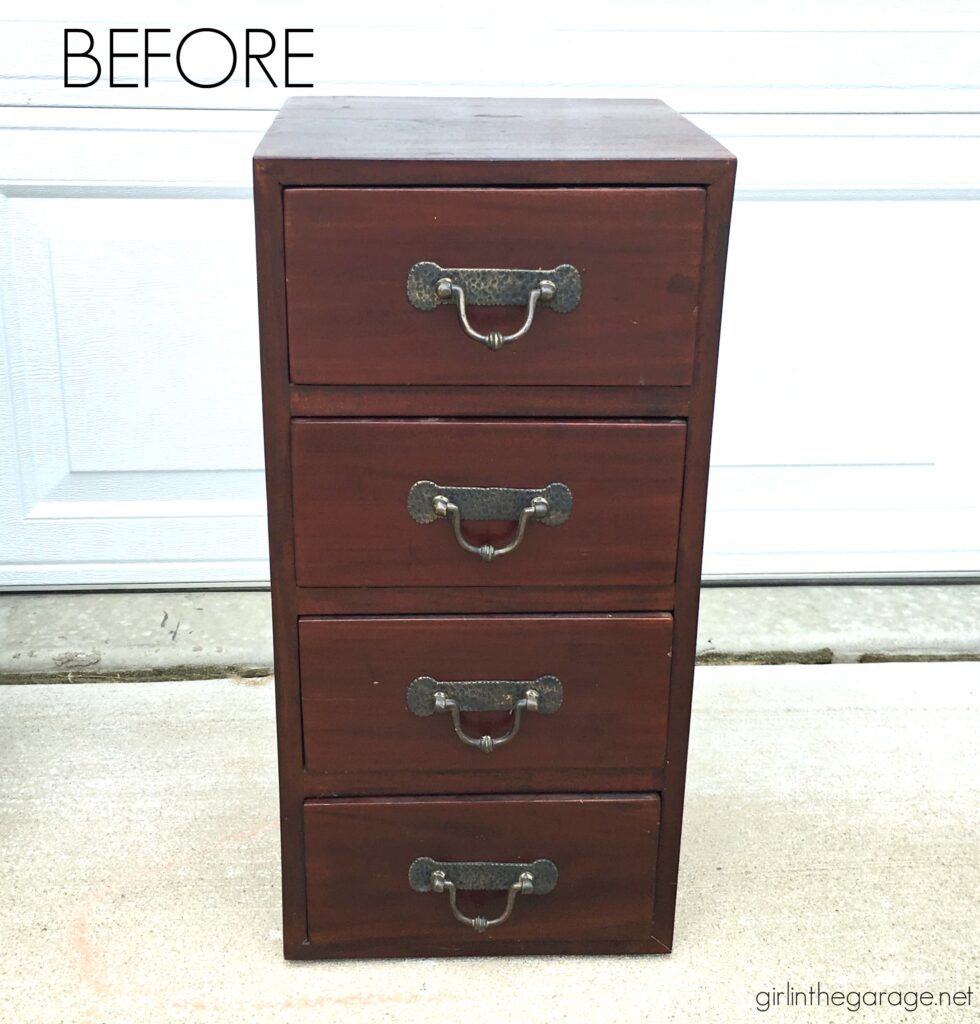 The photo below is how it was staged at the estate sale. 🙂
It didn't have a price tag, so when the worker said $10 I practically snatched right it up! (There were so many dishes on it)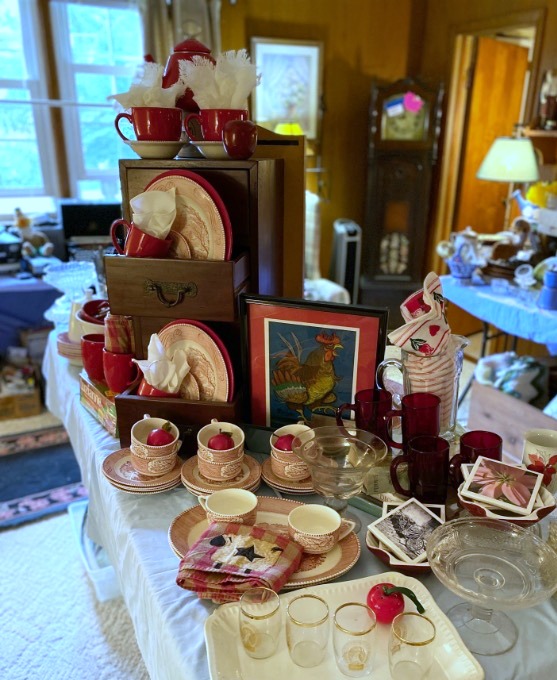 *This post contains some affiliate links so you can easily find the products I use and recommend. Discover all my favorite tools and brands for doing DIY makeovers here.
It's a sturdy wooden piece (I'm calling it a small nightstand) with a sticker on the back that said "Made in Indonesia." It reminds me of The Bombay Company.
The first step was to gently clean it. Then remove the old hardware and fill the holes with wood filler to prep for new pulls.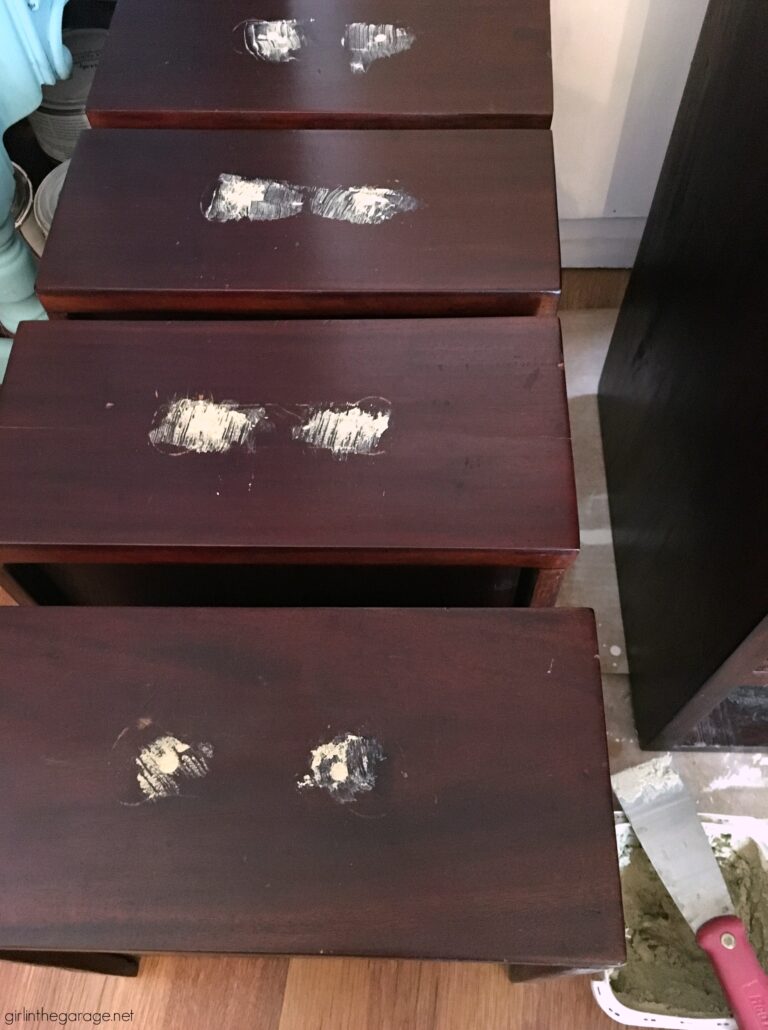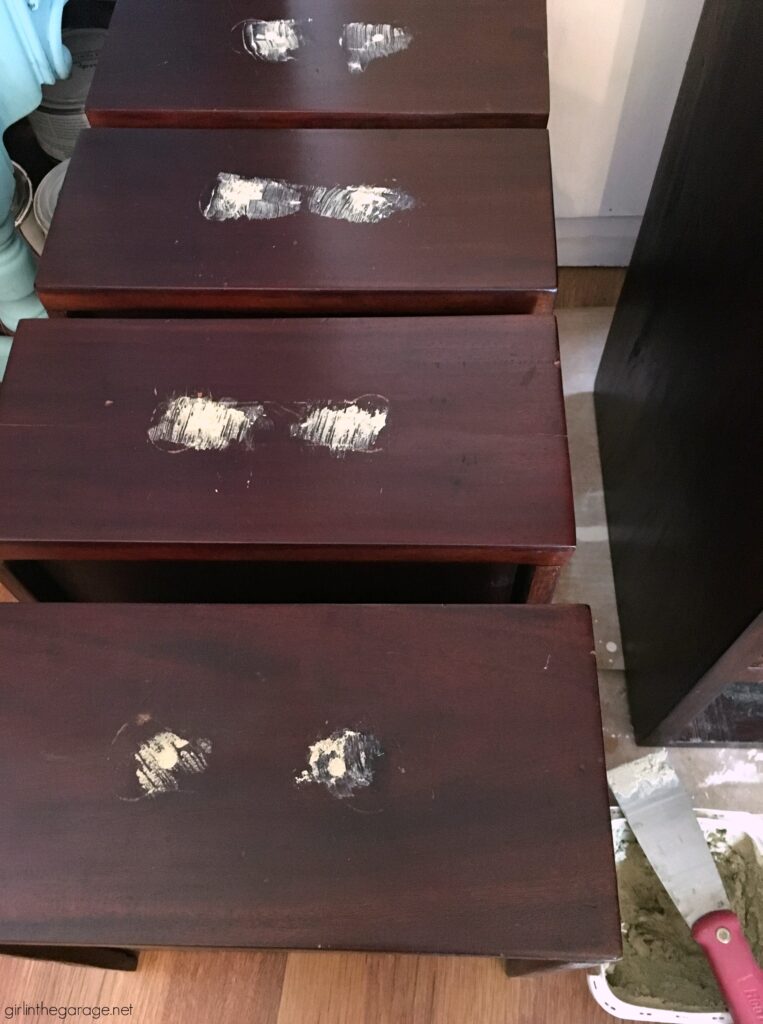 If I was going to paint this a light color, this red-toned wood would definitely need a couple coats of shellac primer to avoid bleed through – but this piece is going dark, so no need for primer. Read more about How to Prep Furniture for Painting here.
Next the nightstand was painted in Graphite Chalk Paint by Annie Sloan (it's dark gray – like a chalkboard) with one of my favorite Purdy paint brushes (I've used the same ones for years – they last forever).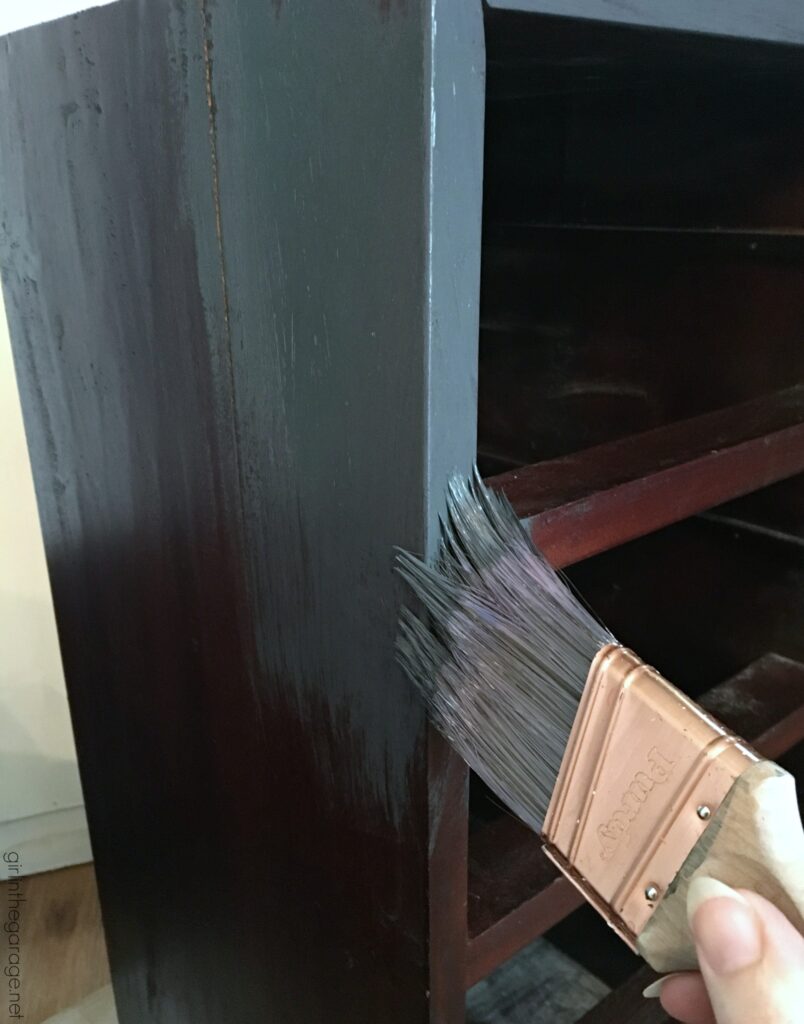 It's just a base coat, so no need for perfect coverage.
When the paint was dry I went back and sanded over the dried wood filler with 220-grit sandpaper.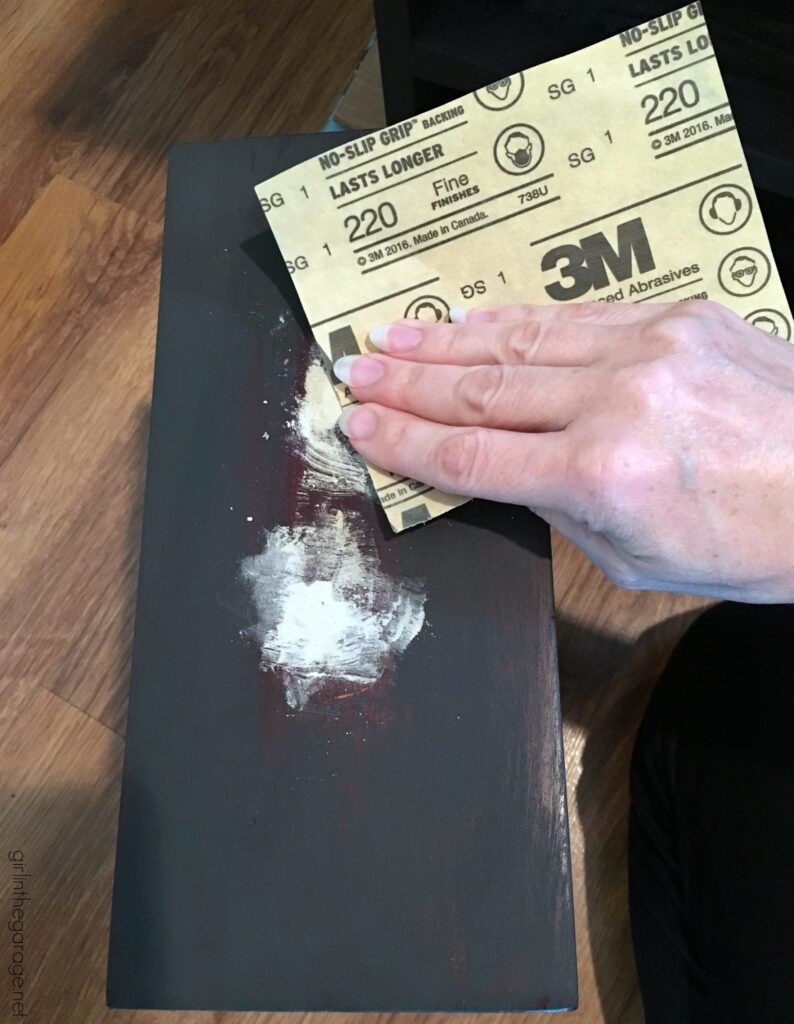 The next layer was Chalk Paint in Honfleur (brown).
The goal was to make the nightstand look like a faded leather steamer trunk with lots of character.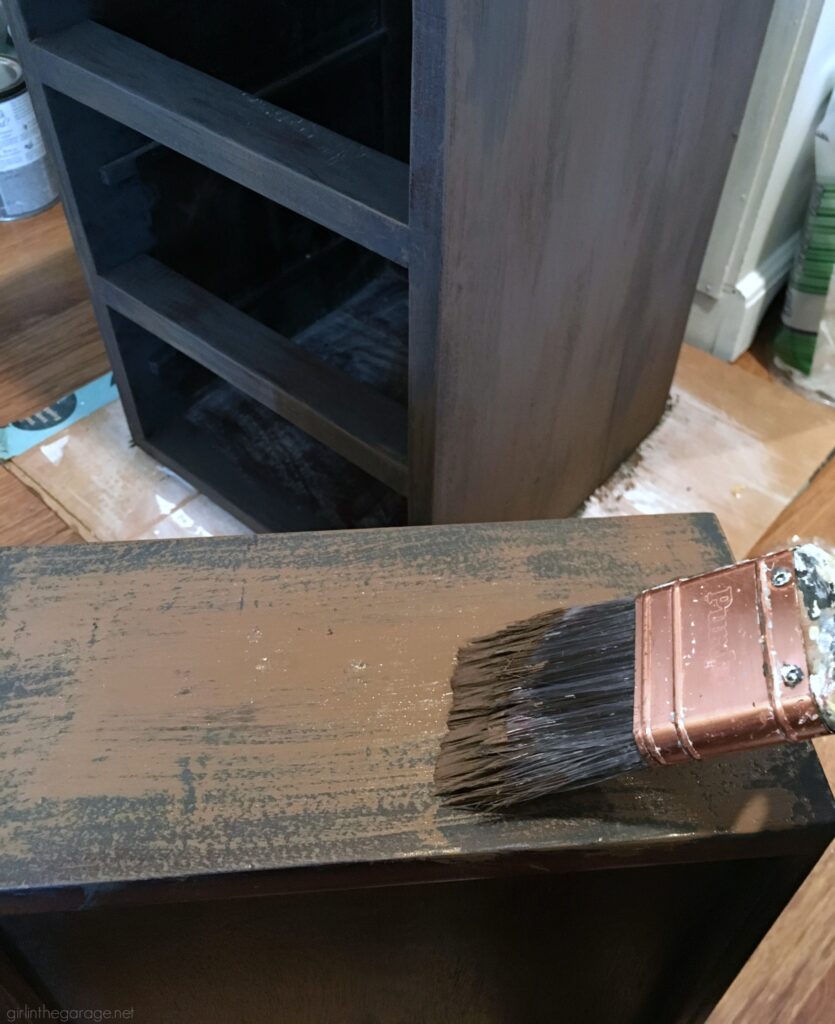 Finally I added another layer of Graphite over the Honfleur, making sure to let the brown peek through in many areas.
You can also achieve this layered look by distressing, but I wanted a textured finish instead of a smooth finish, so I didn't do any sanding after the paint dried.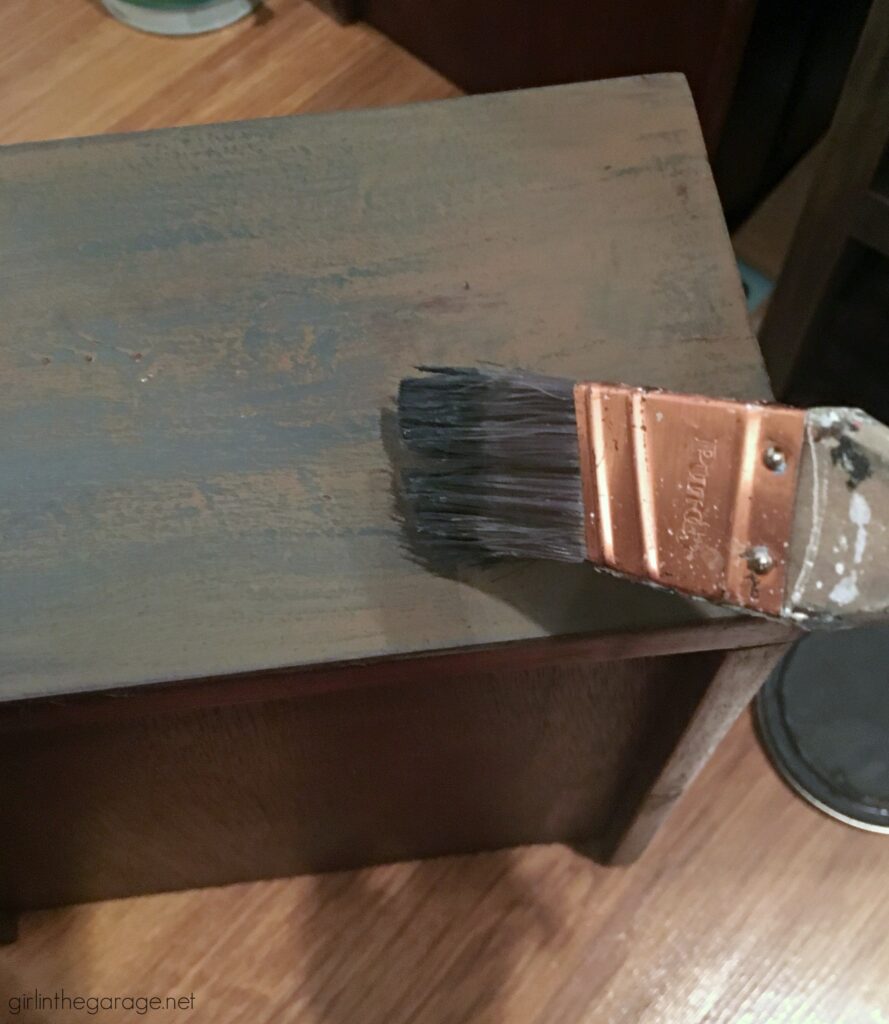 Next it was time to add upholstery tacks around the drawer fronts. I love using upholstery tacks to add something special to makeovers (this nailhead vanity featured in BHG, this vanity, this suitcase dresser) and they're the perfect accessory for a painted trunk nightstand.
Below are the supplies I used. You can find a great assortment of upholstery tacks in various colors here.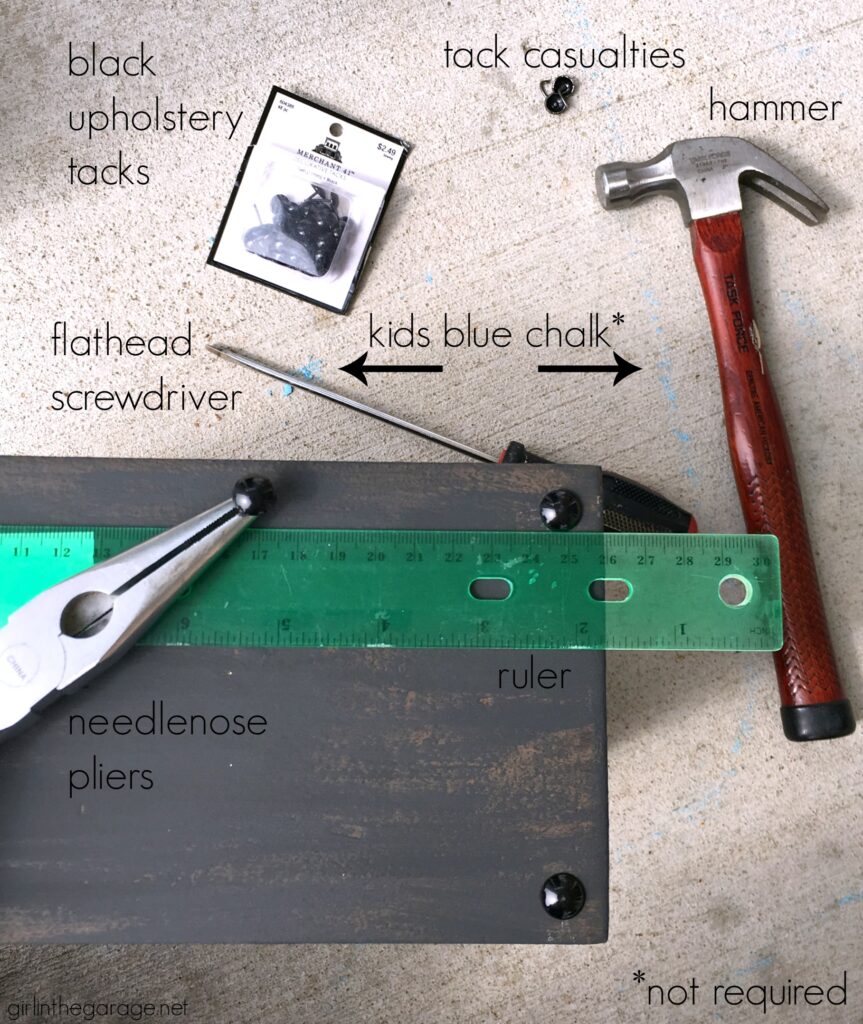 Working with upholstery tacks on wood can be tricky – measure where you want the tacks to go, be careful not to hammer your fingers, use needlenose pliers to hold the tack in place until it's secure, and hit the hammer as straight as possible on the head.
Without fail, I always have a few mishaps and have to pull out a wonky tack – the flathead screwdriver, pliers, and hammer come in handy for that too.
I found these amazing leather pulls on Amazon – a 6-pack for less than $9. You can't beat that! They also come in brown, so I'm definitely going to order more for future projects.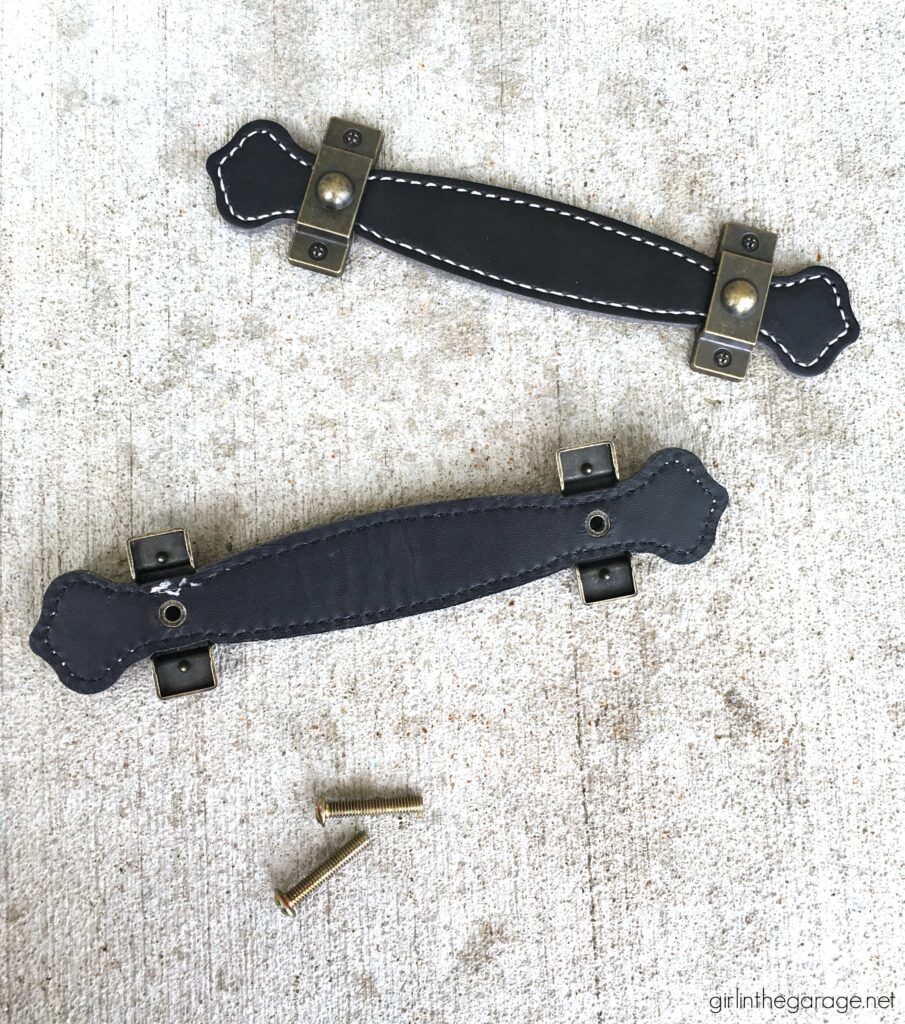 With these pulls, you get to decide where you want the holes to go. You want the leather to curve enough so your hand can comfortably open the drawer without your knuckles bumping into it.
Mark the spots and then drill new holes. (My drill/driver takes care of this easily.)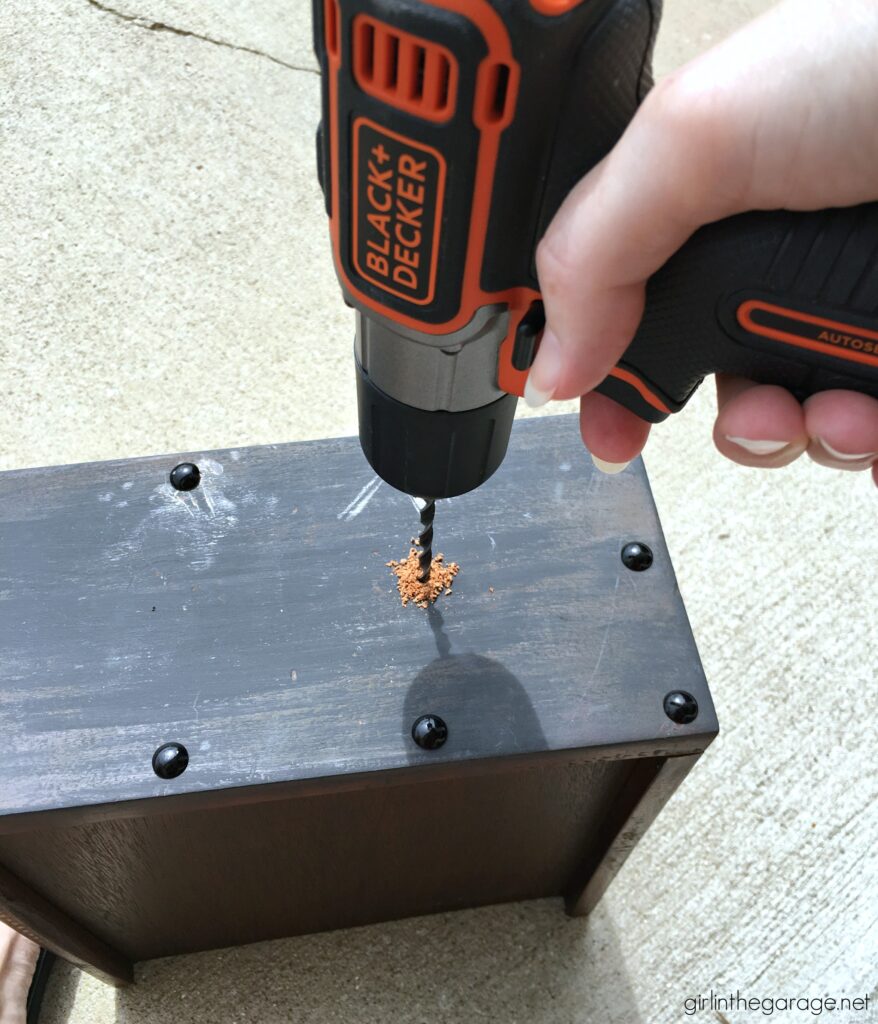 Finally, I found some decorative metal brackets at Hobby Lobby and added two to give it more of that vintage steamer trunk look. Plus they were already black and brown, yeay!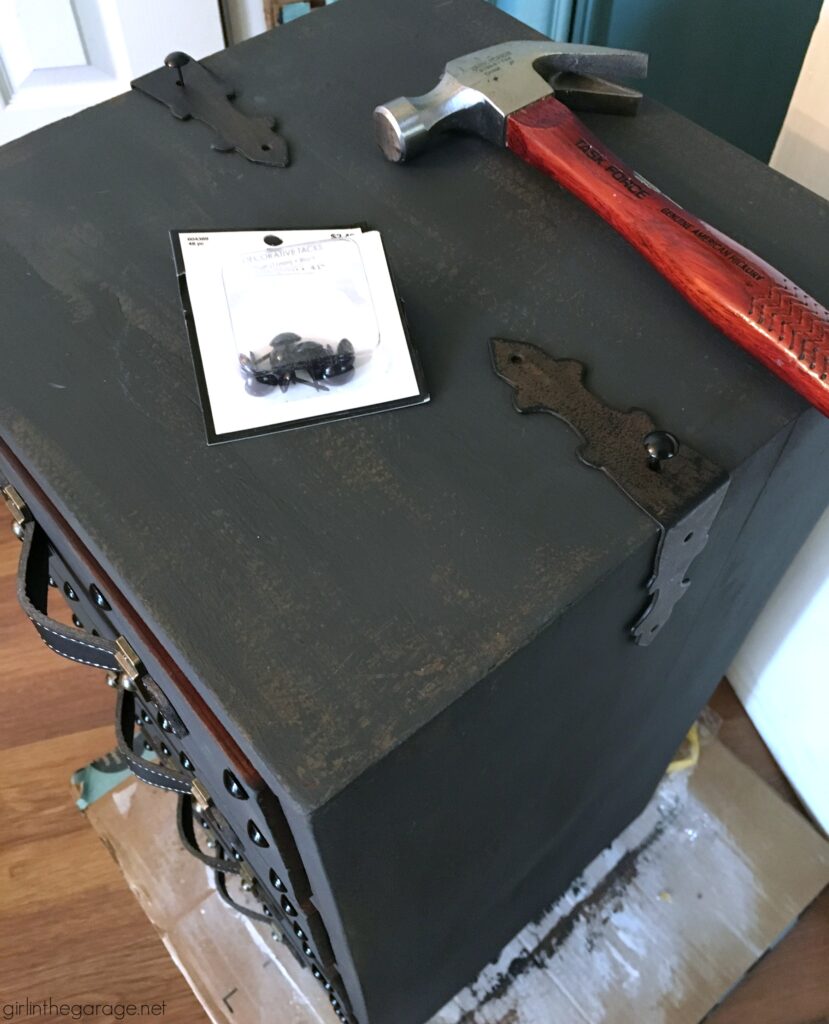 And now for the final result of the painted vintage trunk nightstand…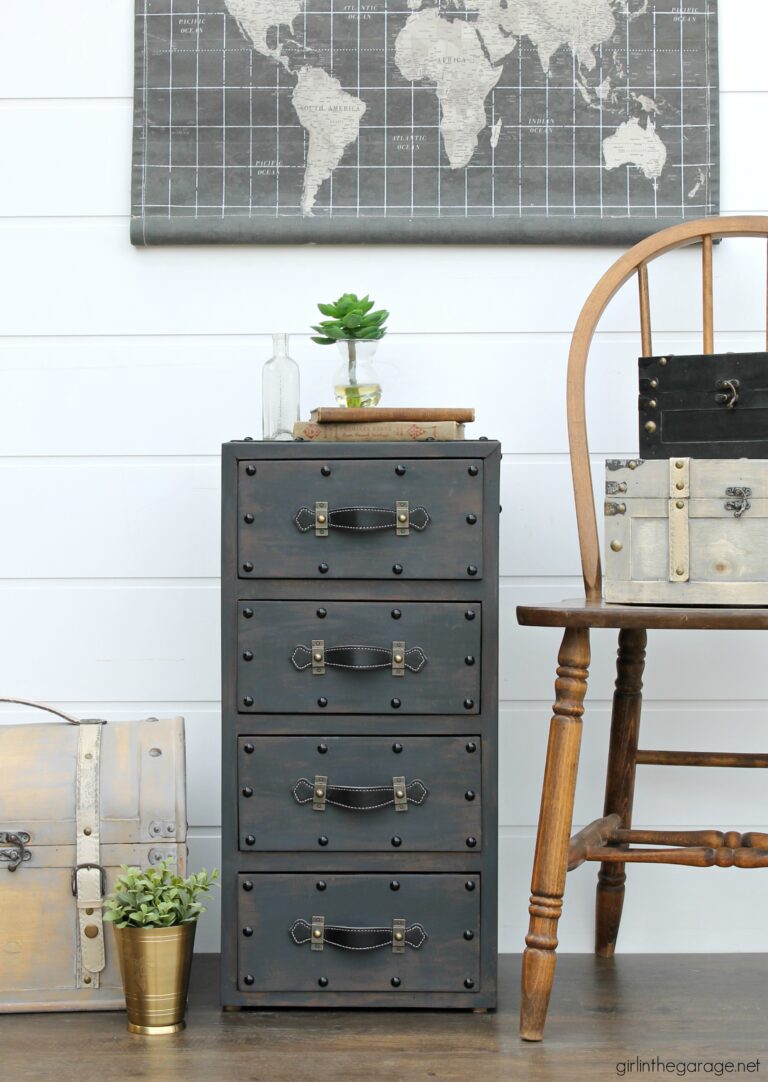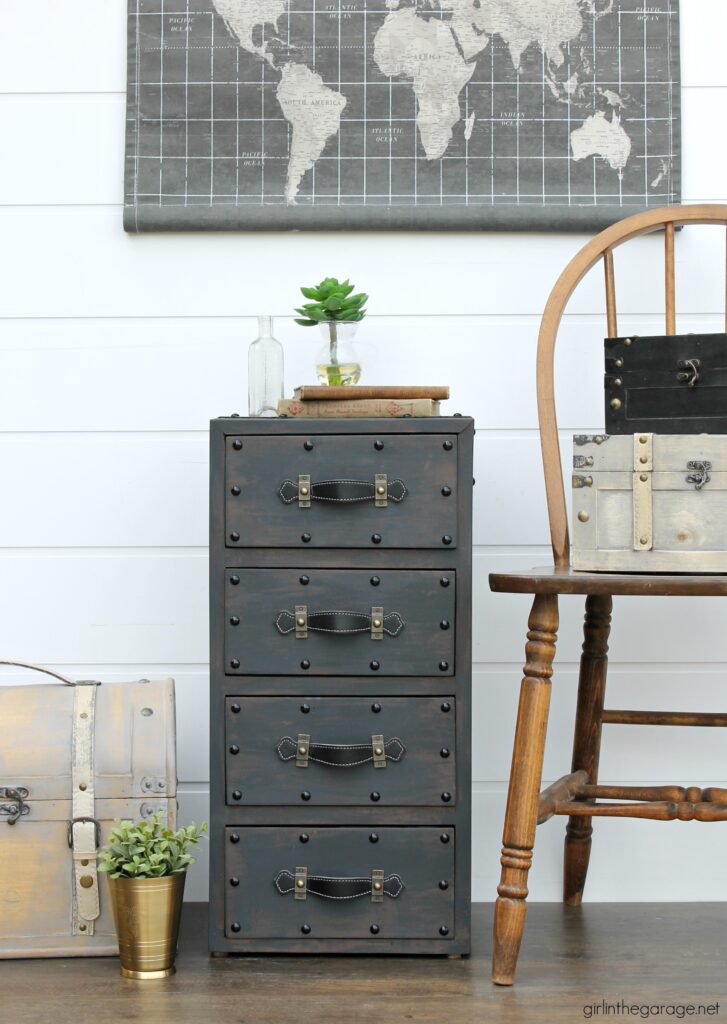 I had a vision of this project and it turned out almost better than I imagined – it's definitely one of my new favorites!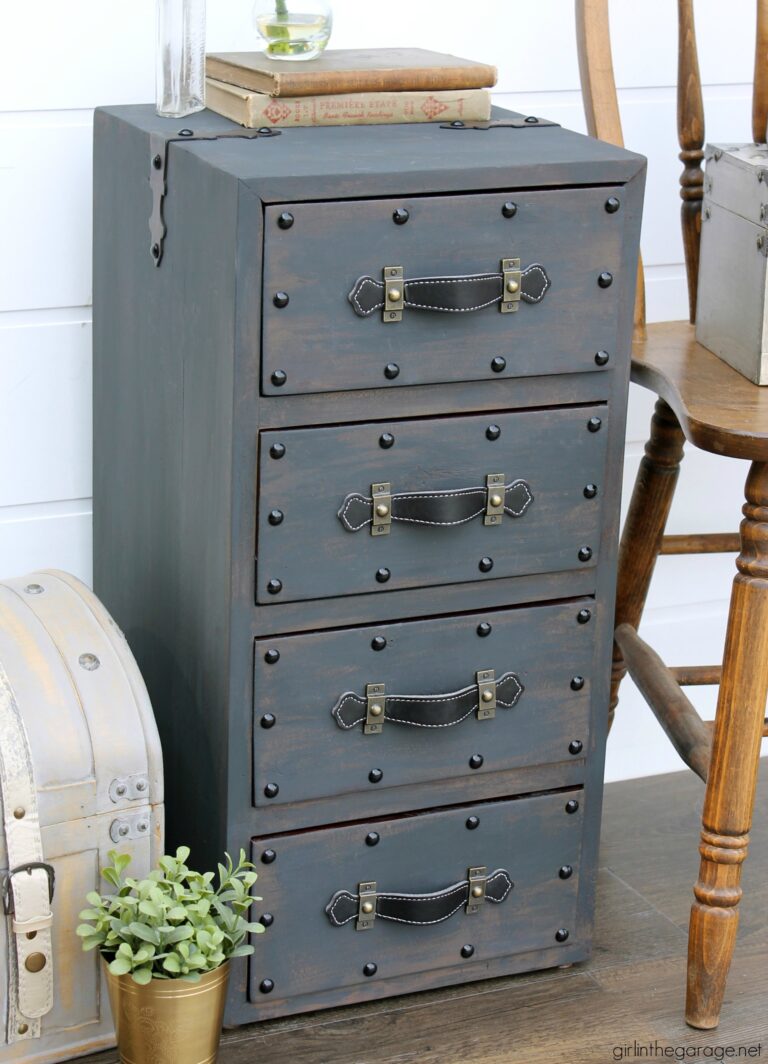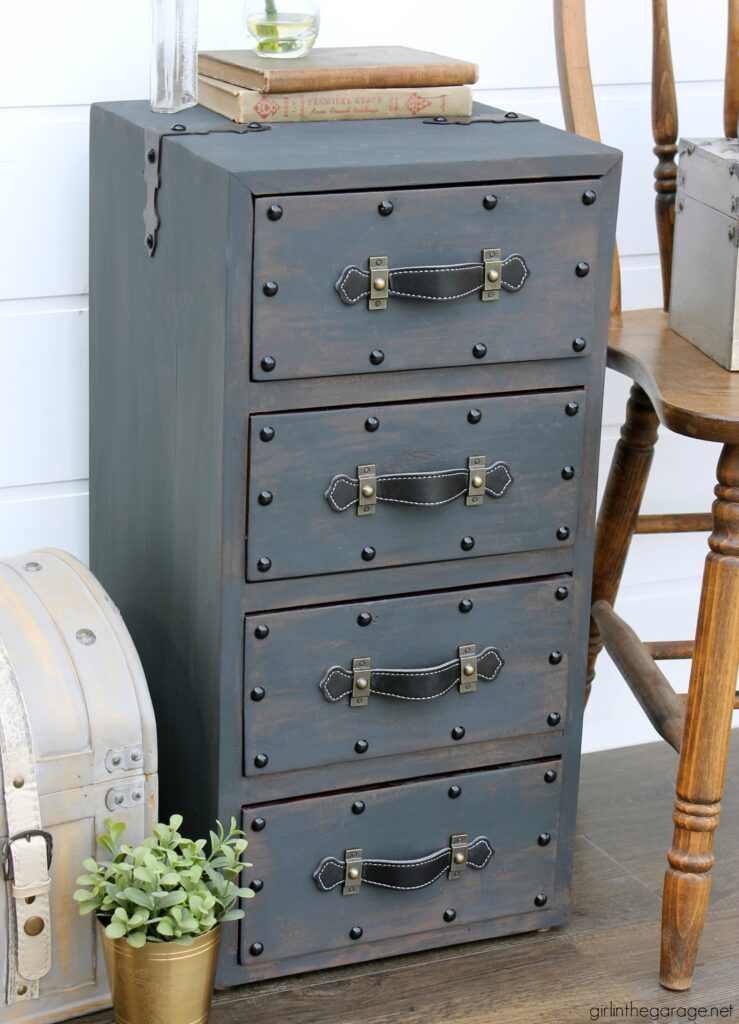 Do you think it looks like an antique steamer trunk? I can't decide if it looks more like leather or metal to me.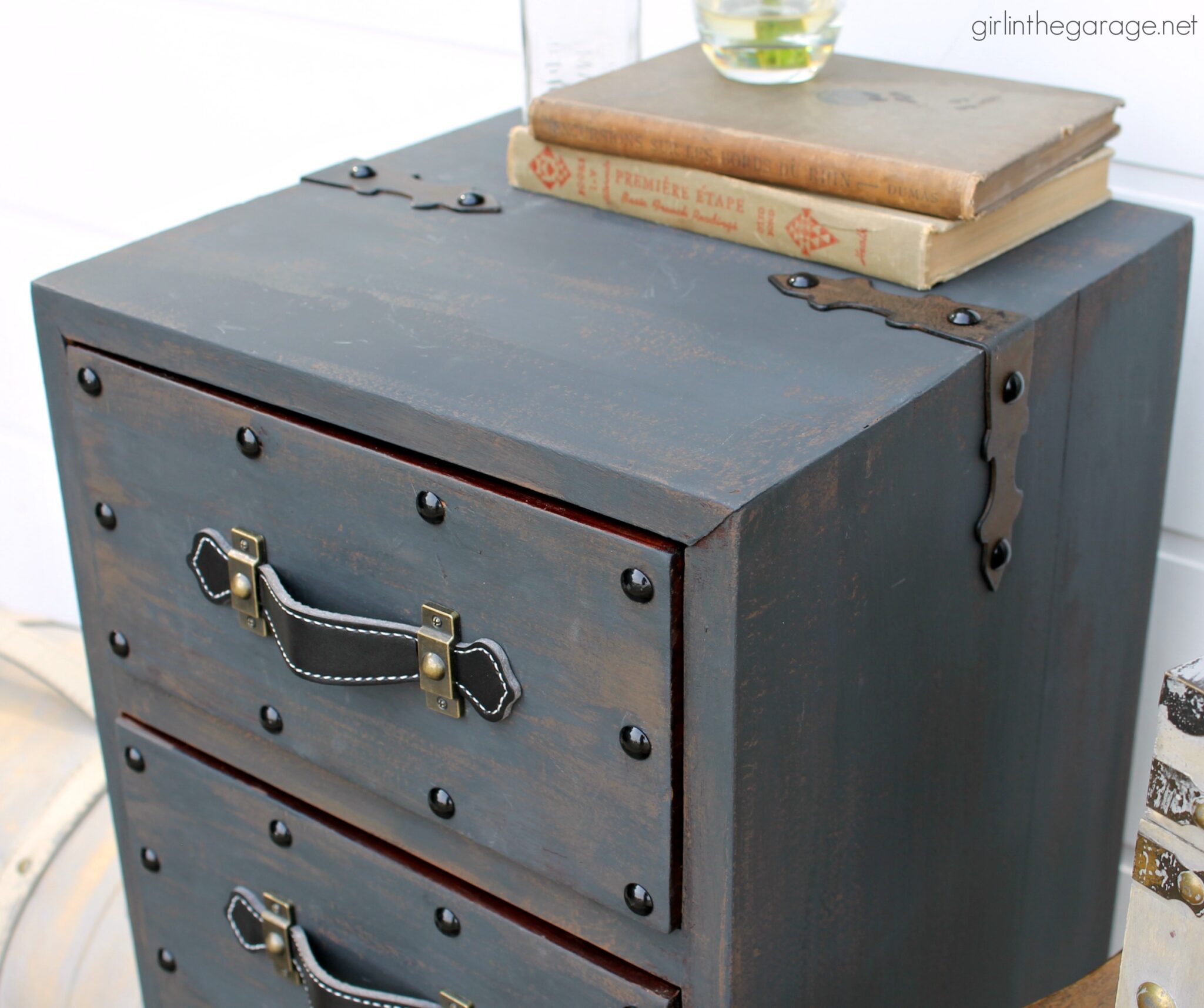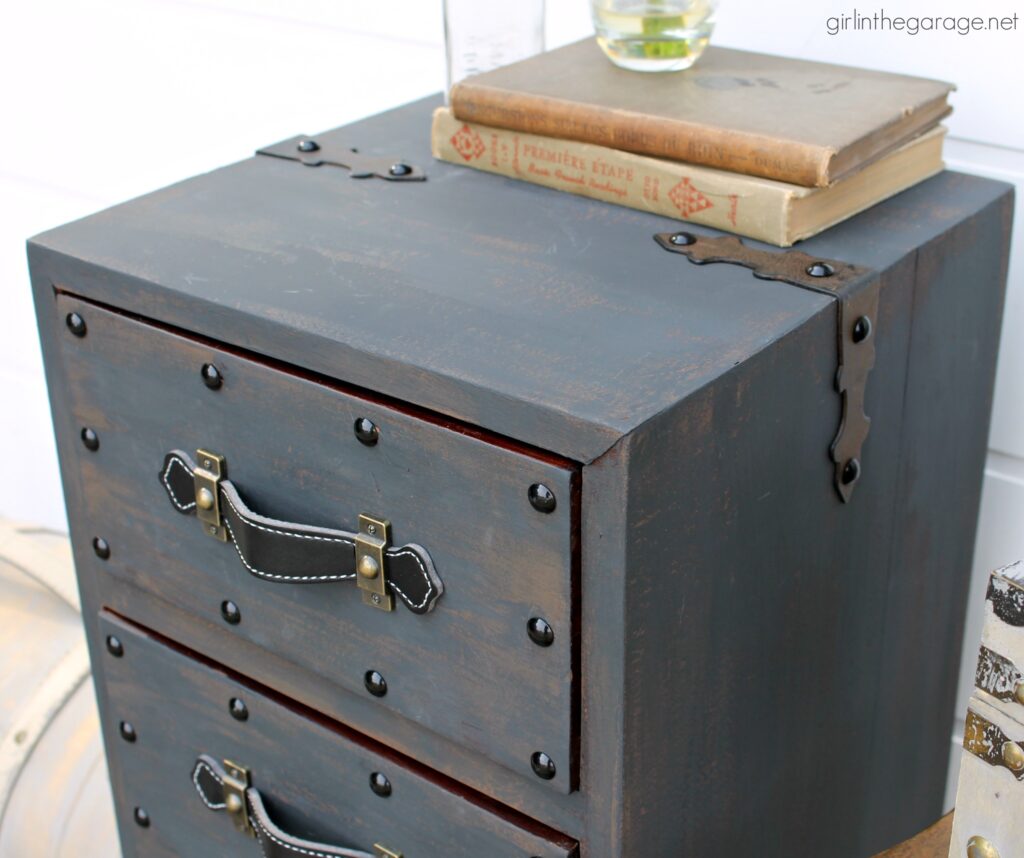 Either way, I love it – and I hope you like today's tutorial too. I'd love to know your thoughts!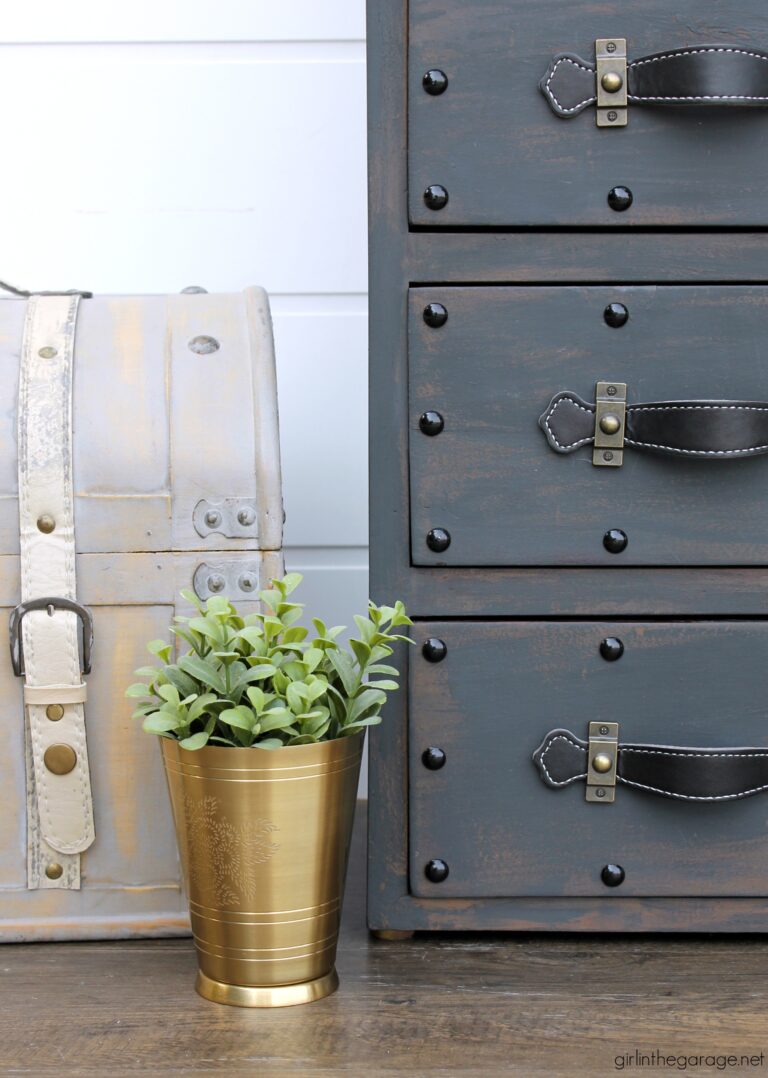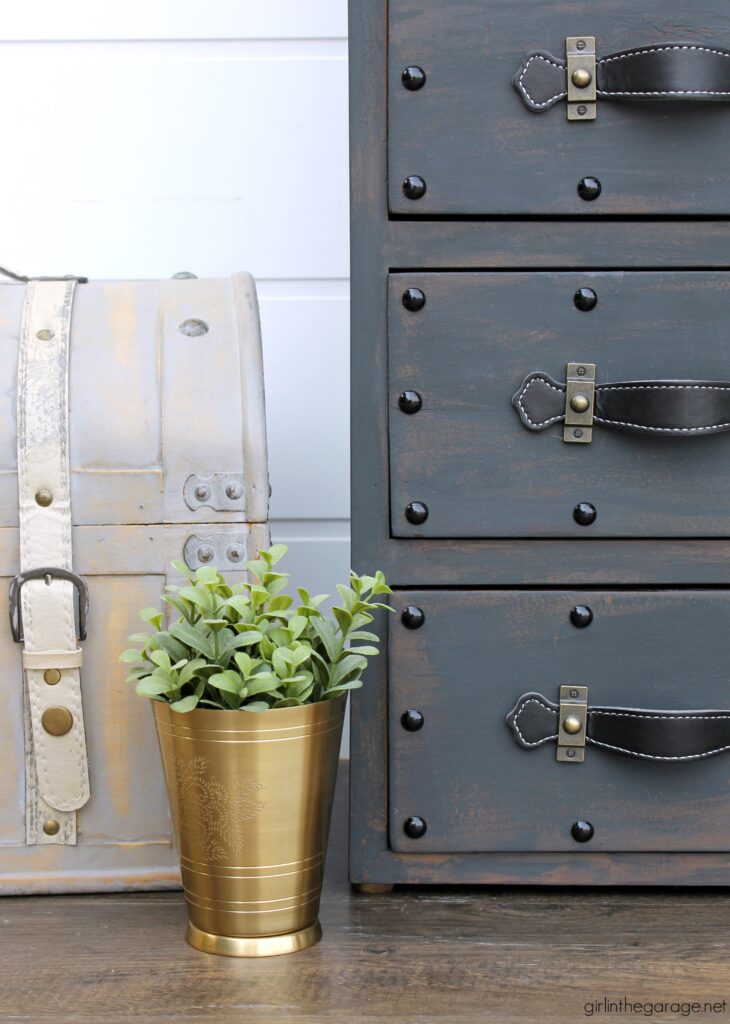 As always, feel free to Pin or share this project to find it easily later. I appreciate you!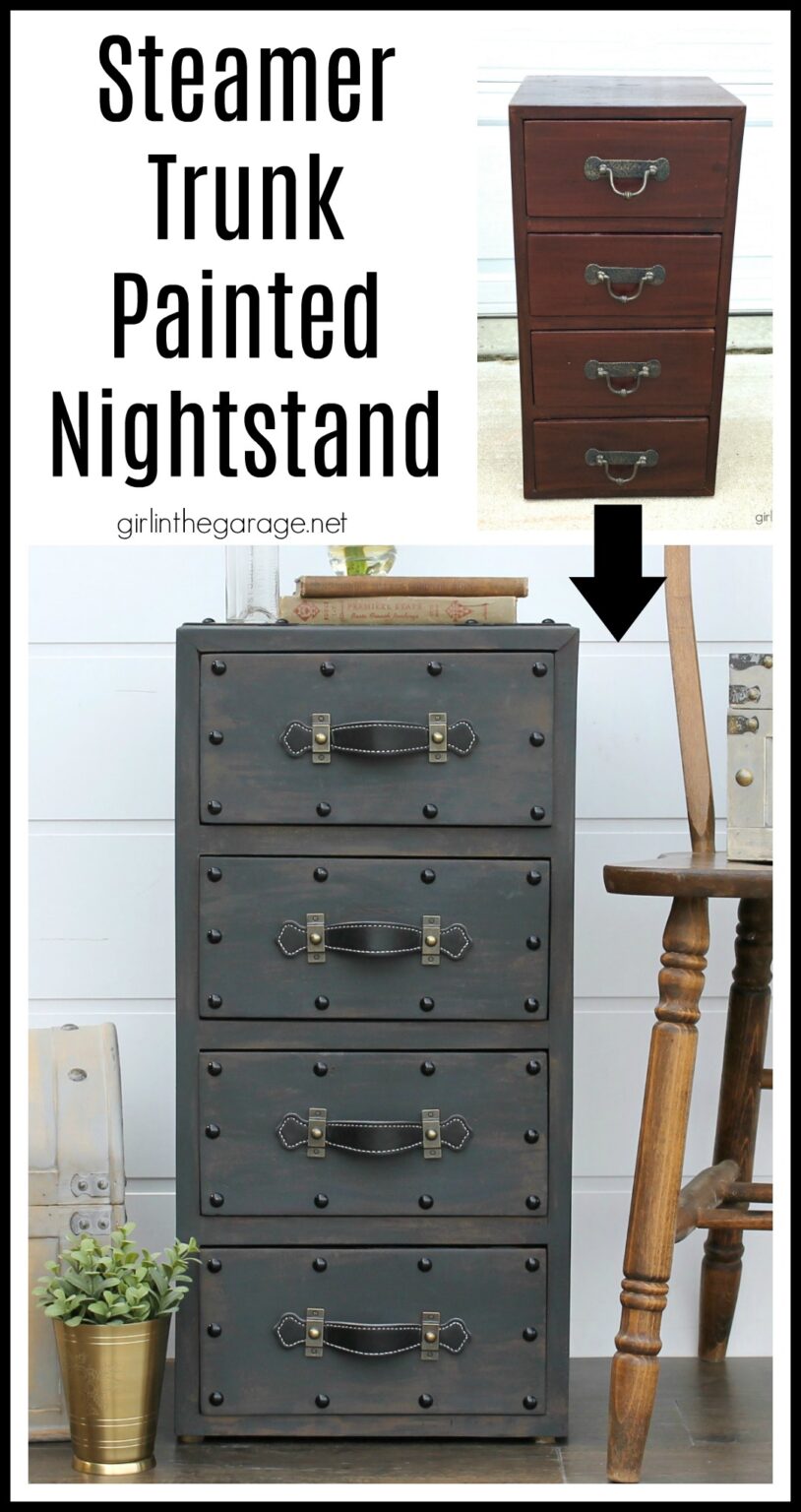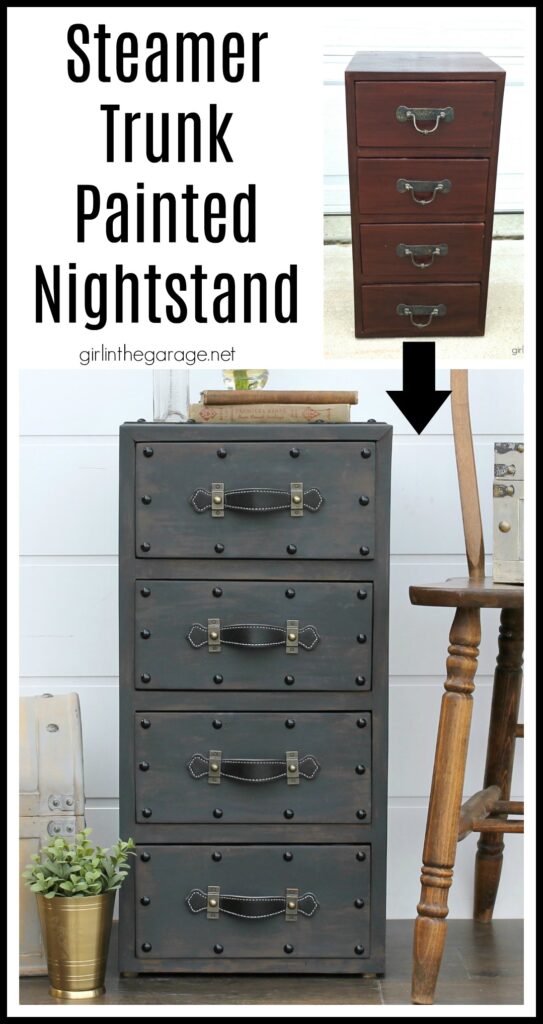 Here are a few more Trash to Treasure makeovers from my creative blogging friends – I'm always amazed at the ideas they come up with. Below are the Before photos – visit the links underneath to see the Afters and to learn how they did it: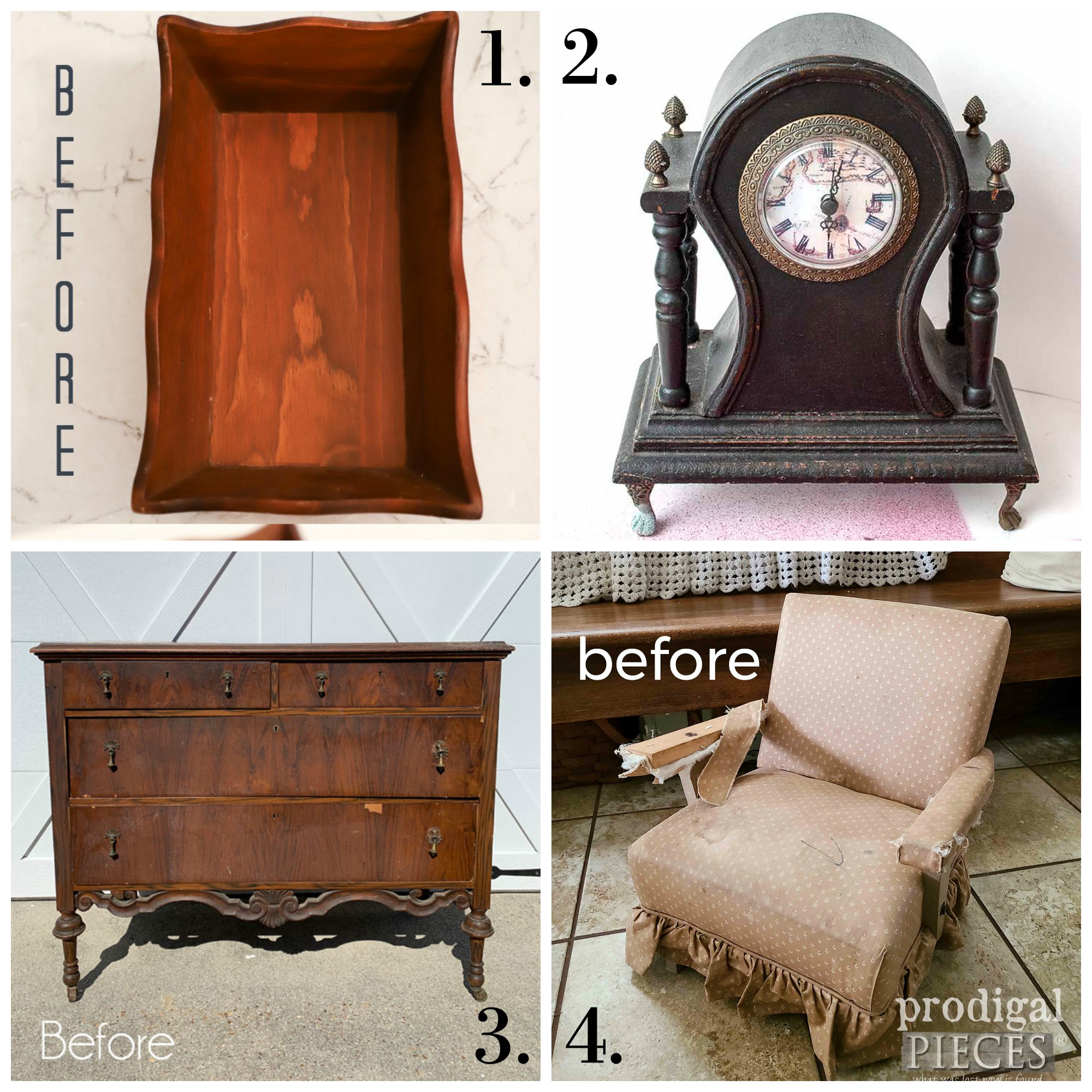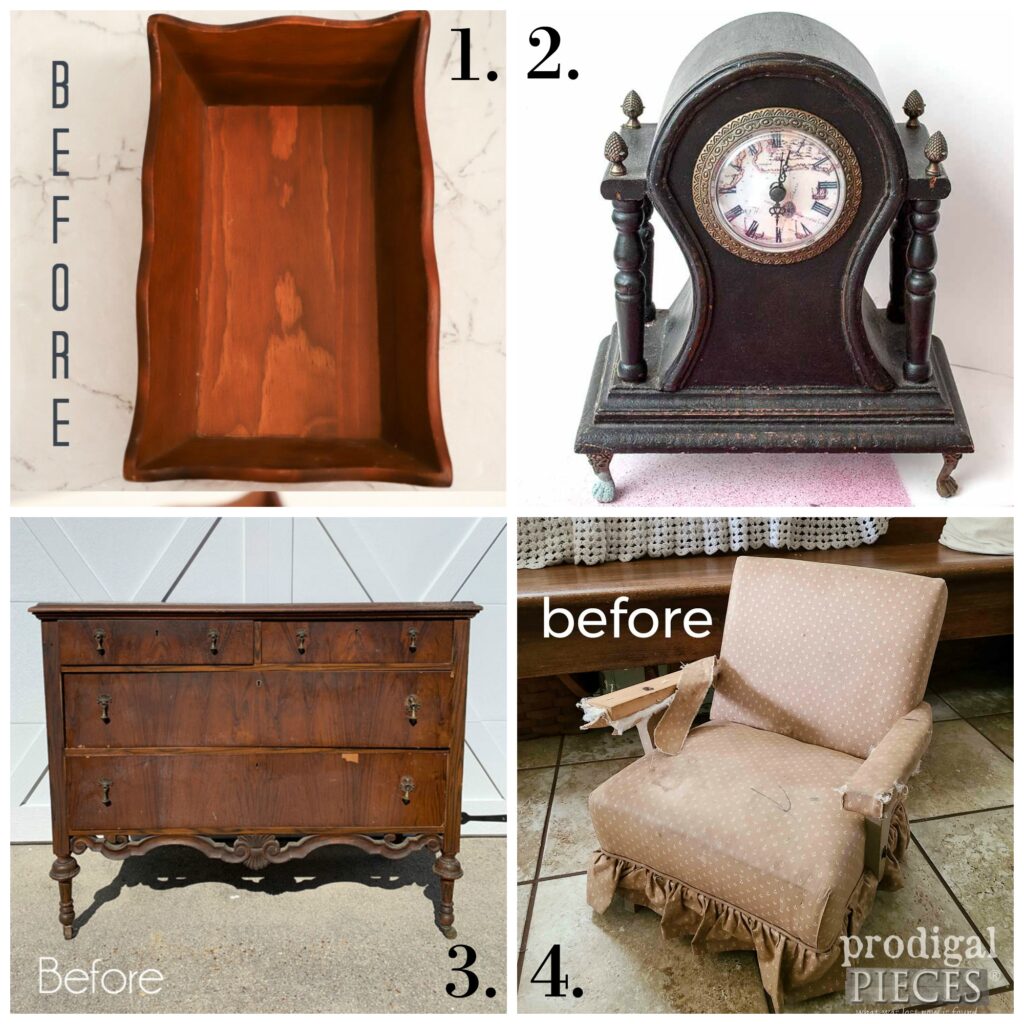 1. Artsy Chicks Rule
2. Salvaged Inspirations
3. Confessions of a Serial DIYer
4. Prodigal Pieces