This post is brought to you by Decor Steals. All opinions are 100% my own.
Update: I am so honored to have this vanity appear in the October 2016 issue of Better Homes and Gardens magazine! Read more about the feature Here.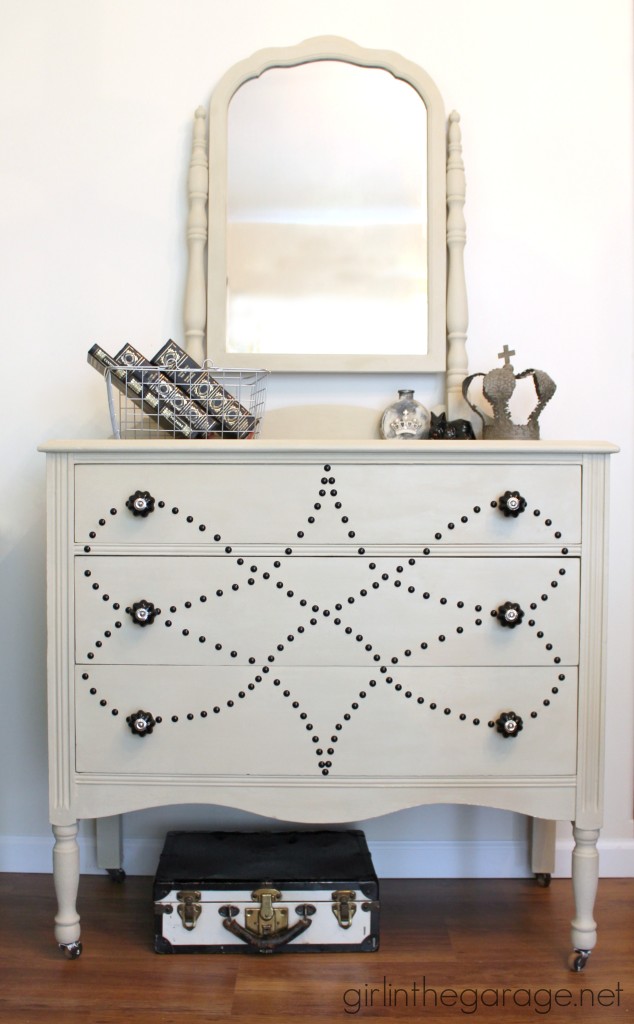 Hey guys, guess what – I survived birthday week! My sons' birthdays are six days apart – add in a big party on a different day and a couple of school celebrations, and it makes for one crazy (but fun) week! I'm happy to be getting back to a normal routine…
Today I have an awesome makeover to share with you guys – not only because the Before and After are so totally opposite but because you can go buy the knobs I used on this vanity makeover TODAY ONLY at Decor Steals, the fabulous daily deal site! I'm honored to be a featured blogger over there showcasing these lovely black drawer pulls. <3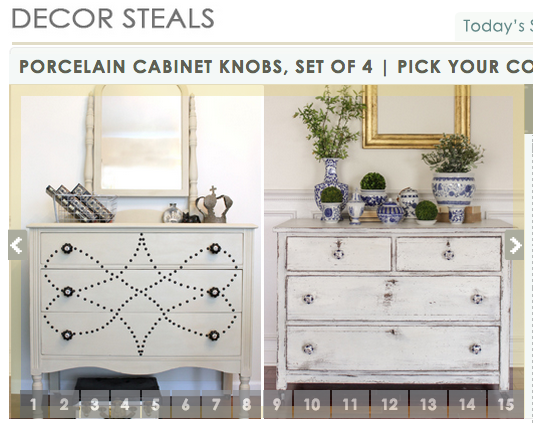 Also featured are two lovely dressers from Shades of Blue Interiors (the one on the right above and the pink one below) – click HERE check out Rachel's projects too!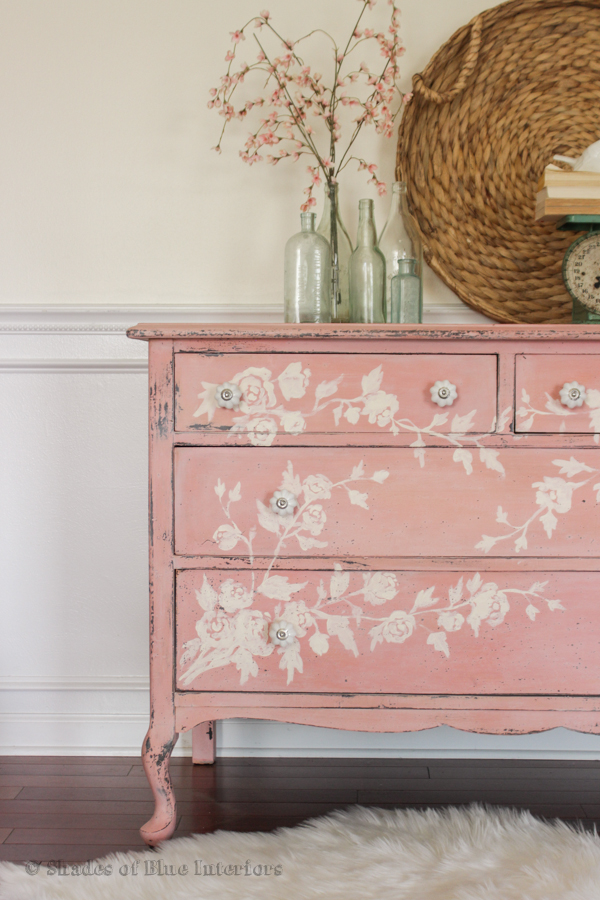 So do you remember this piece from my last Treasure Hunting post?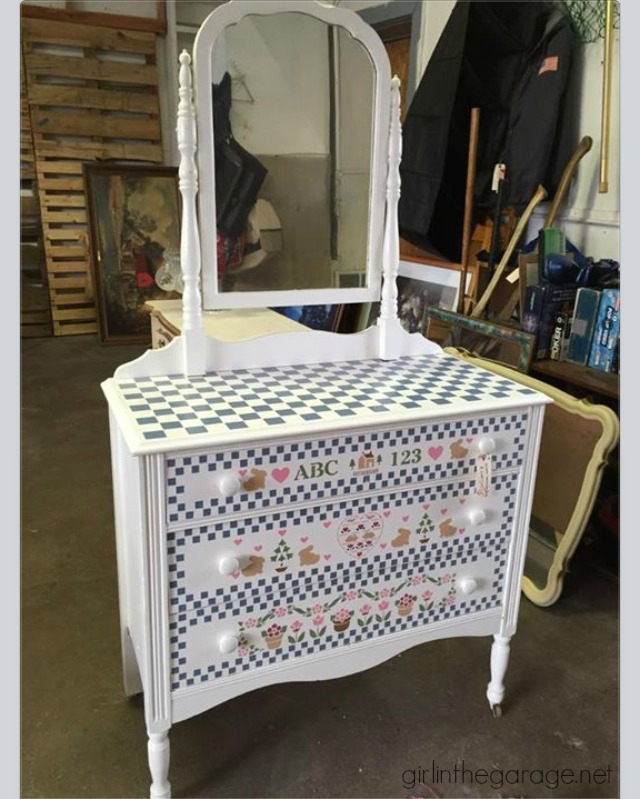 I really didn't know what I wanted to do with it. Seriously, it looked like a lot of work to undo all those squares and bunnies and flowers, and I wasn't looking forward to it.
Then these black drawer pulls entered my life and I knew I wanted a more high-end look for the vanity. I decided on upholstery tacks (aka nailhead trim) – similar to this vanity I made over (which was dated 4/23/14… almost exactly one year ago!).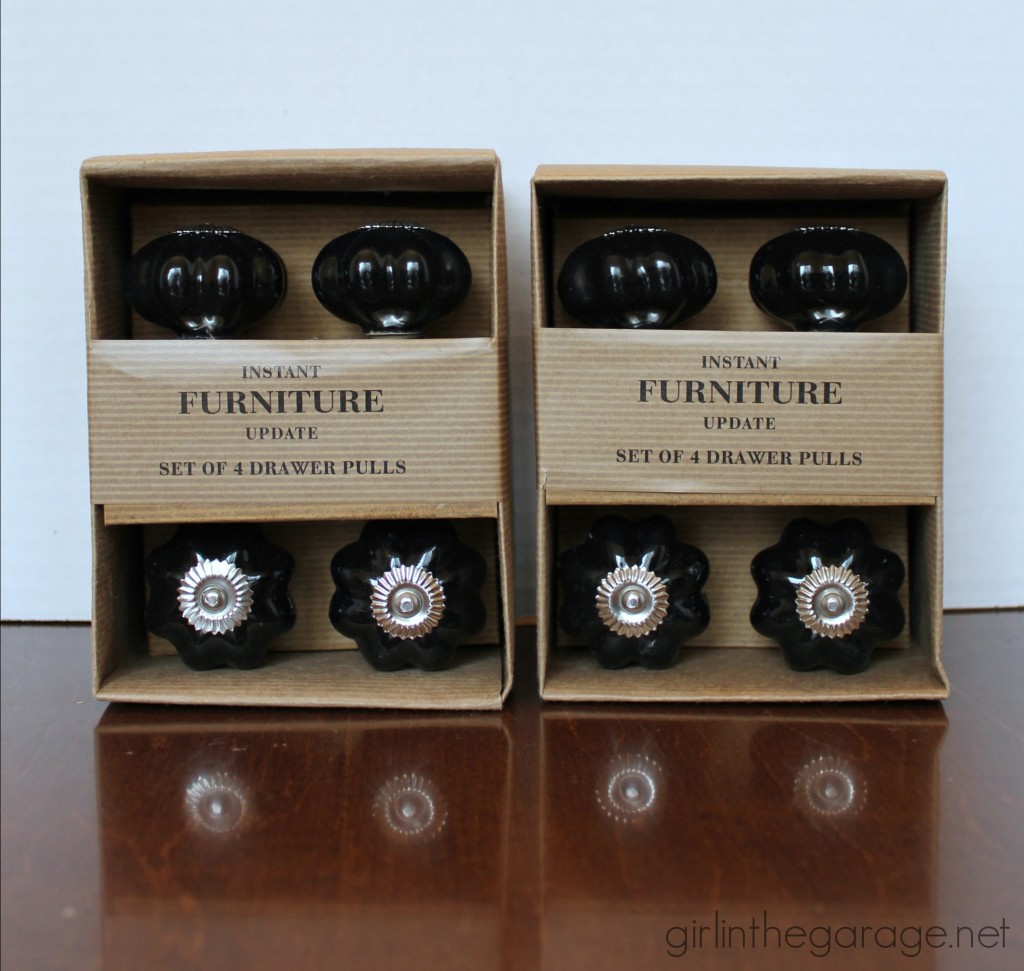 I was worried about the colors bleeding through so I sanded it by hand and then slapped on two coats of Annie Sloan Chalk Paint in Country Grey just to test the coverage. It DID cover the colors, but unfortunately the texture of the shapes was so thick that it still looked pretty bad. So I had to attack it with my electric hand sander (which took off all the paint I had just used… boo) and then I repainted the whole thing.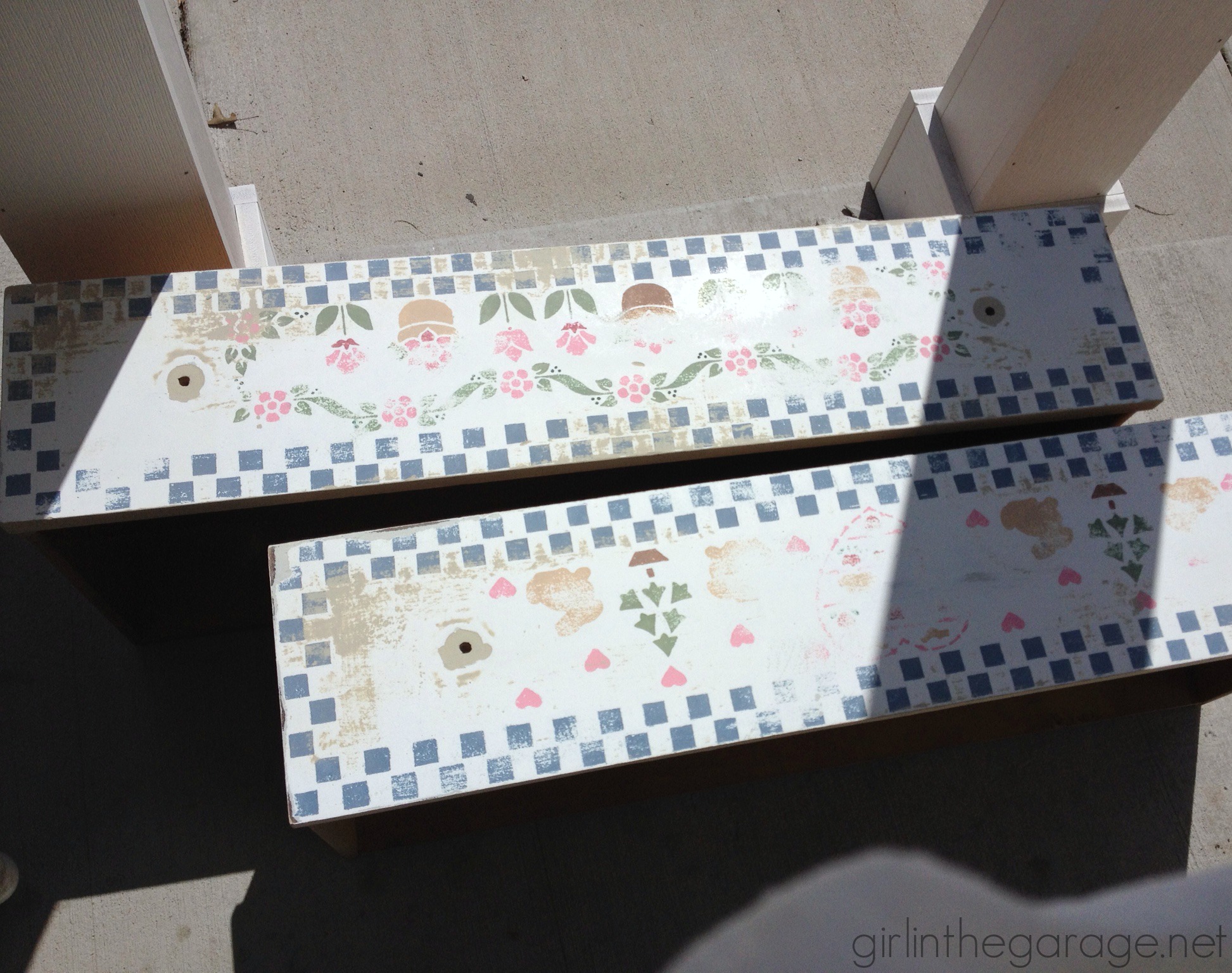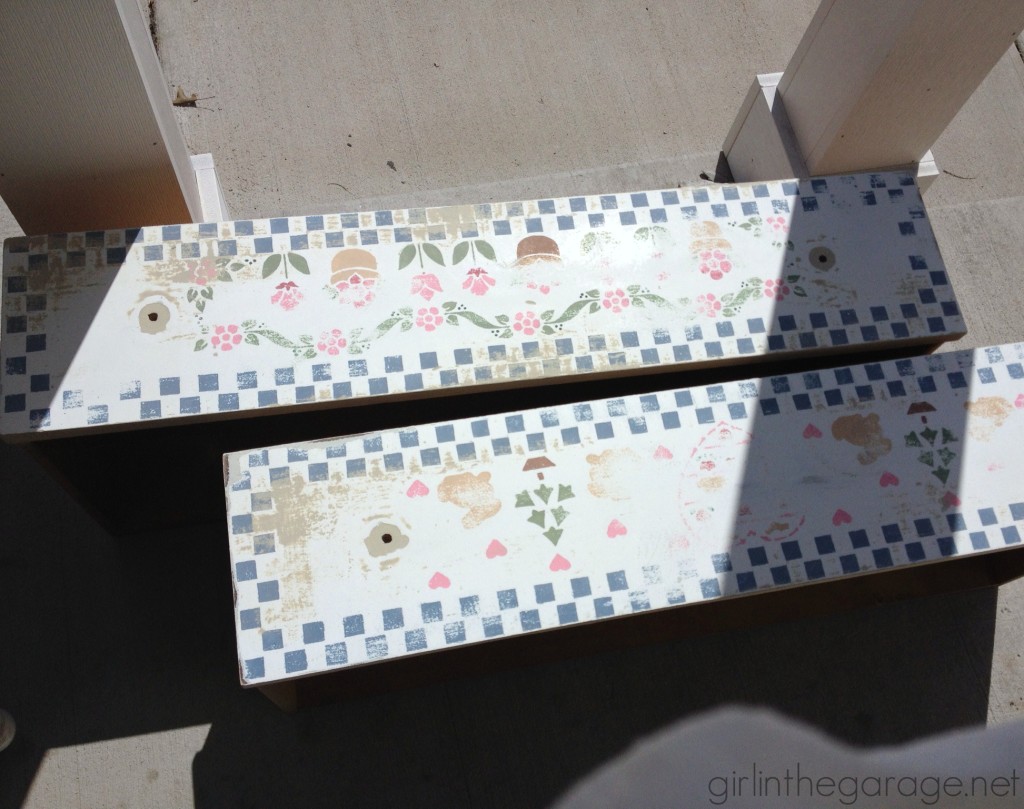 I added some clear wax and it was looking good! But plain.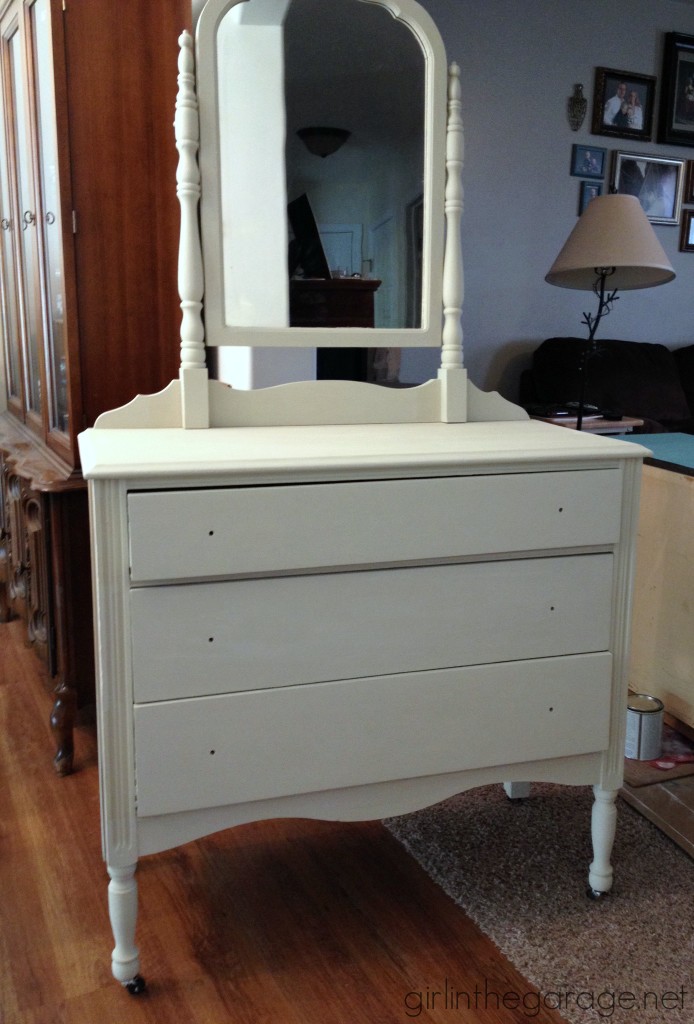 Then I sketched out about 10 different designs for the tacks and this was the winner (I'm sure this art will be worth a fortune someday): 😉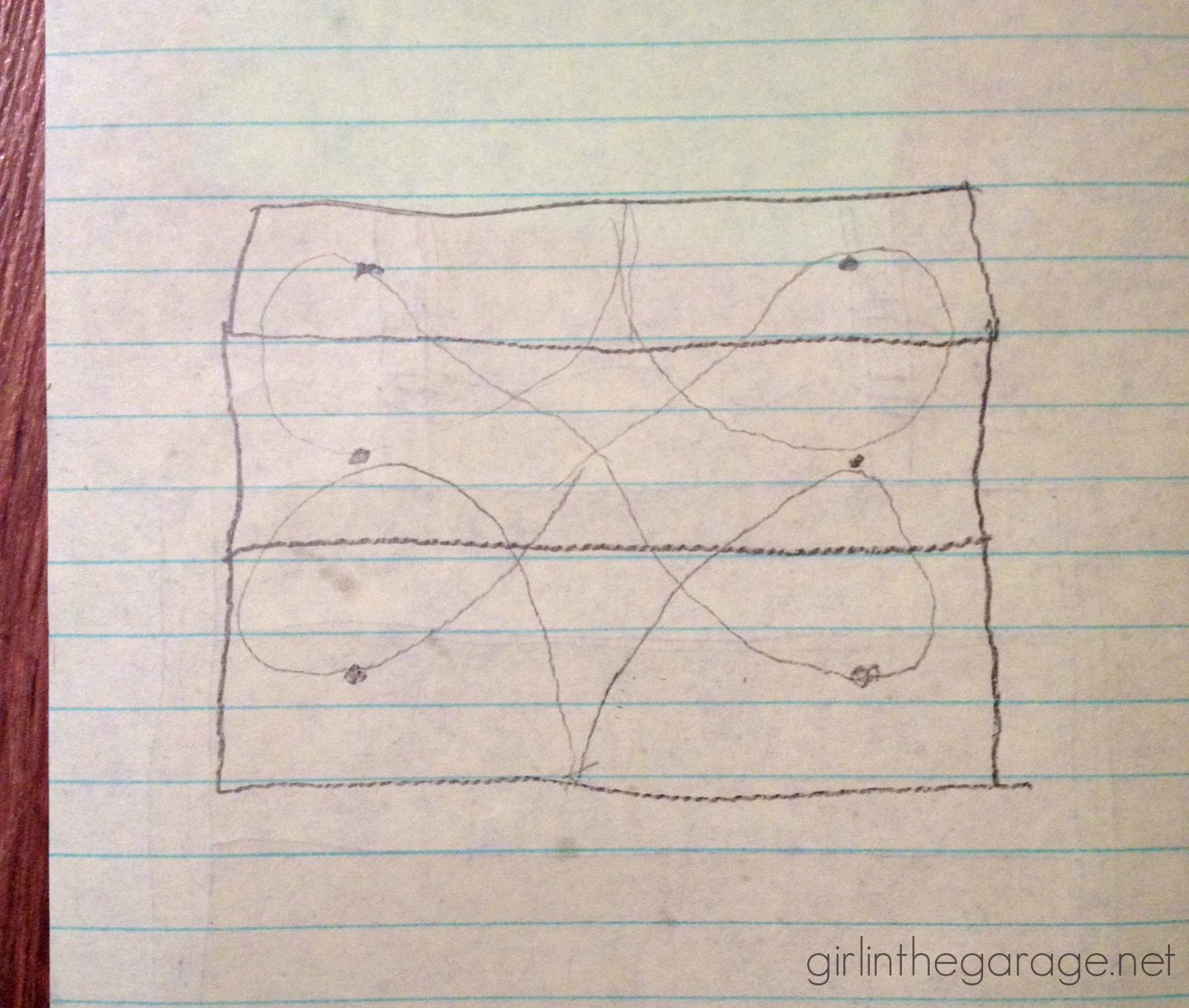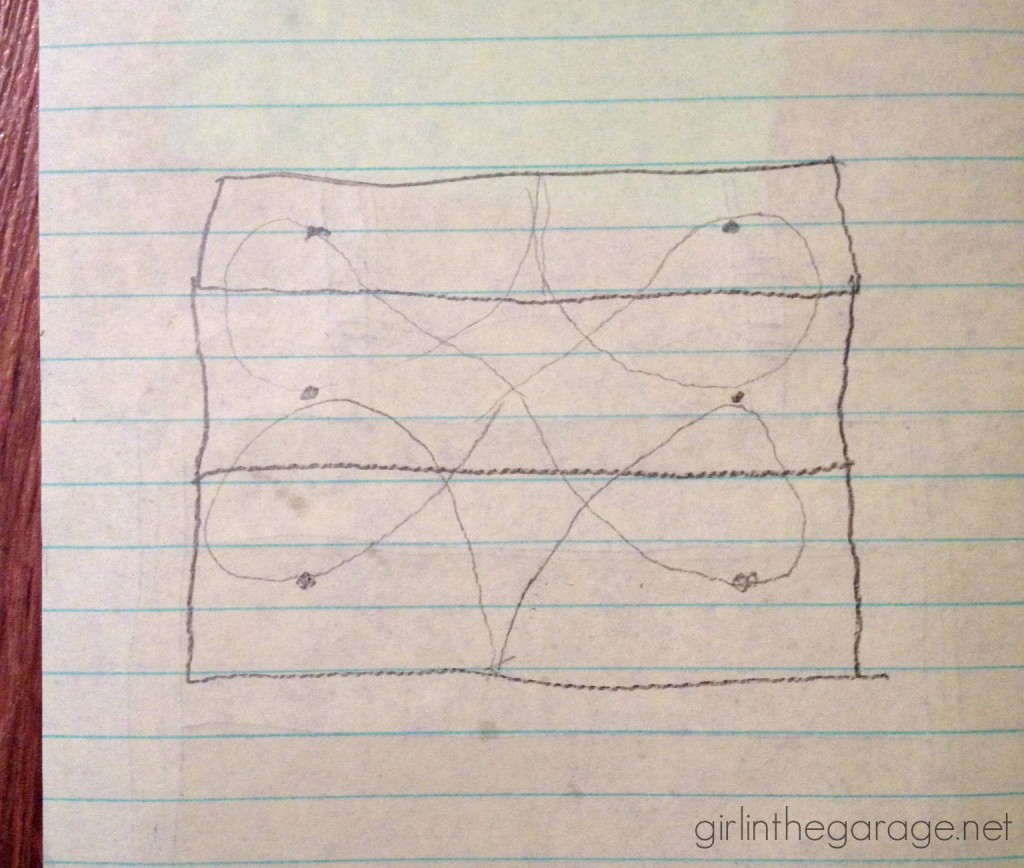 So I measured about a million times and made tiny dots with a pencil all over the drawers. Then I pulled each drawer out and hammered the tacks over the dots. After the last nailhead vanity I did, some readers suggested that I use pliers to grip the tack while hammering – a much better option than using your fingers! And it went much much quicker this time.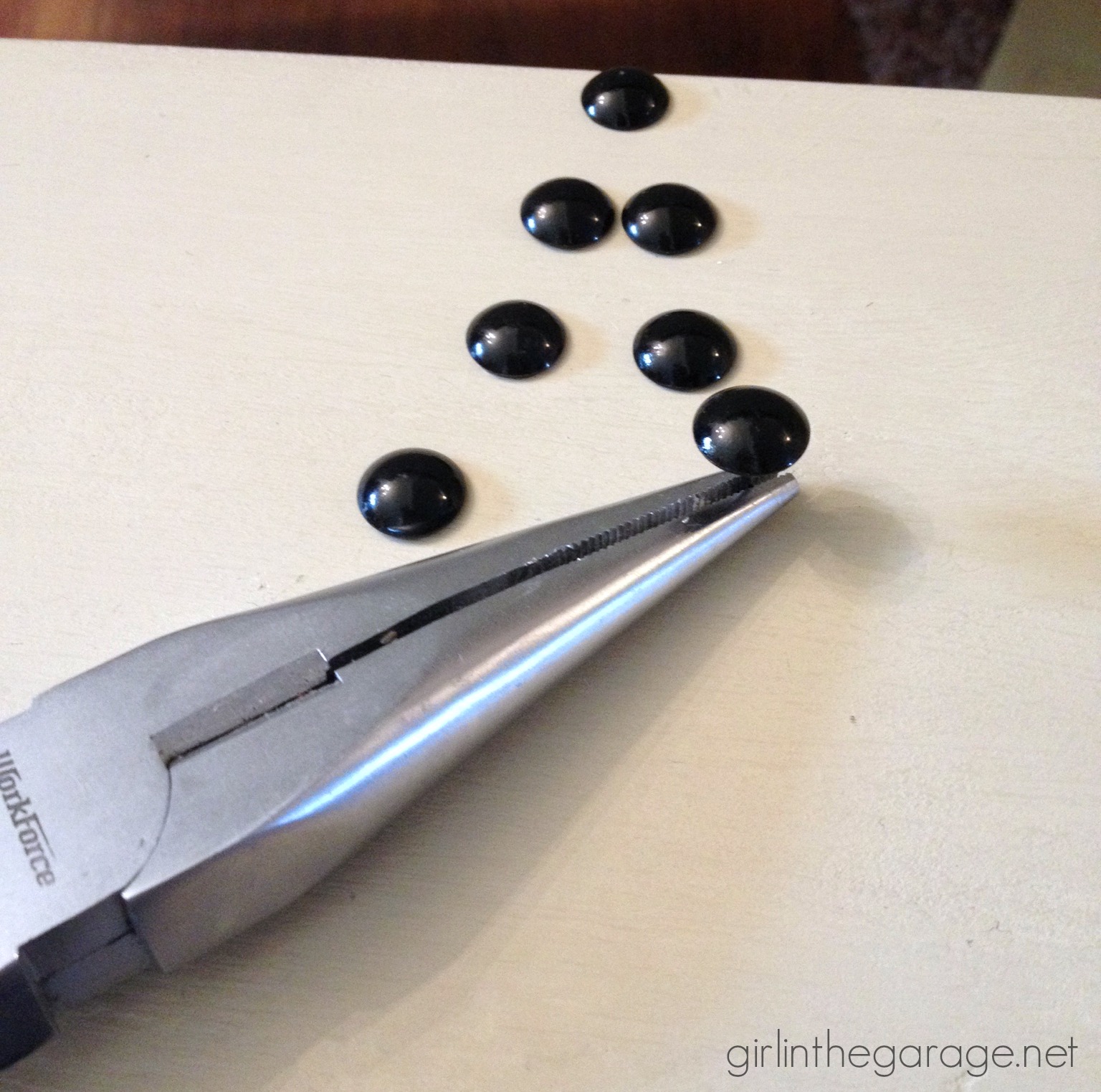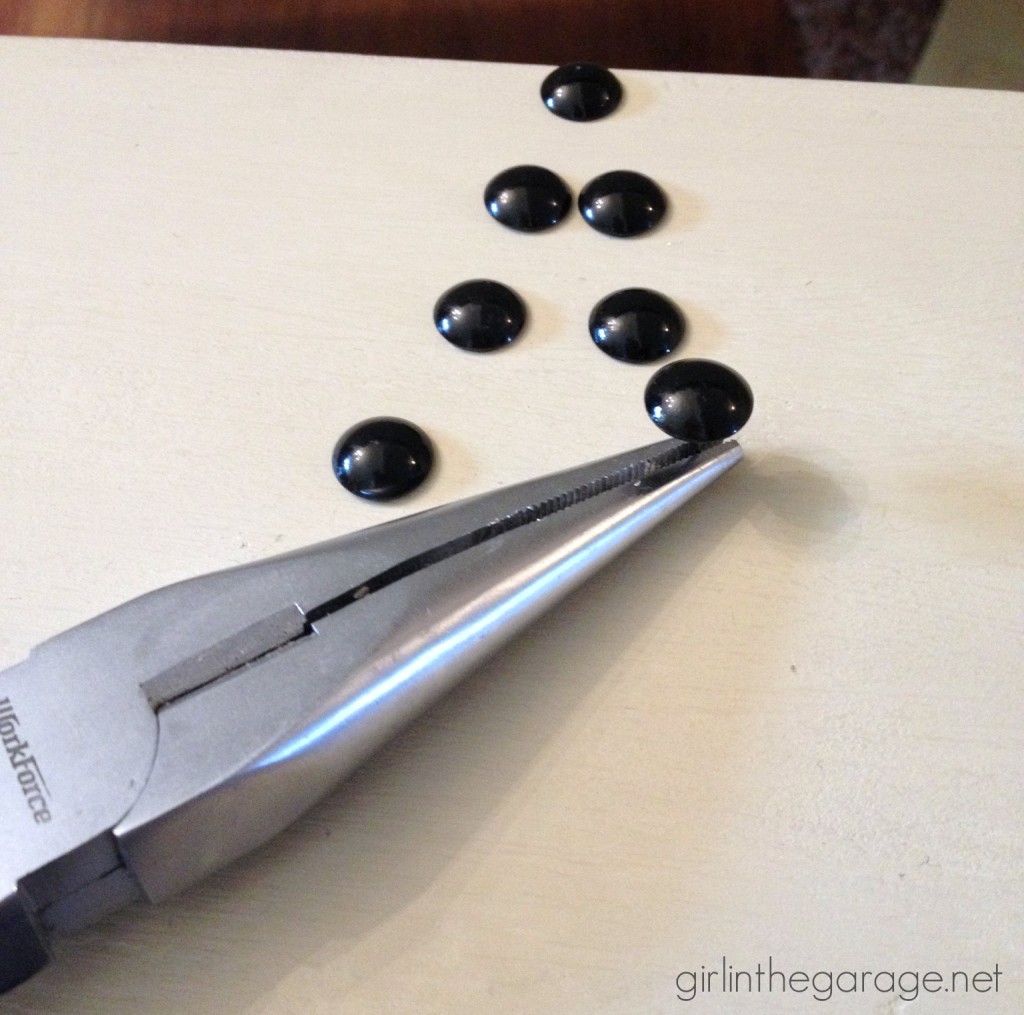 Here's the first drawer finished: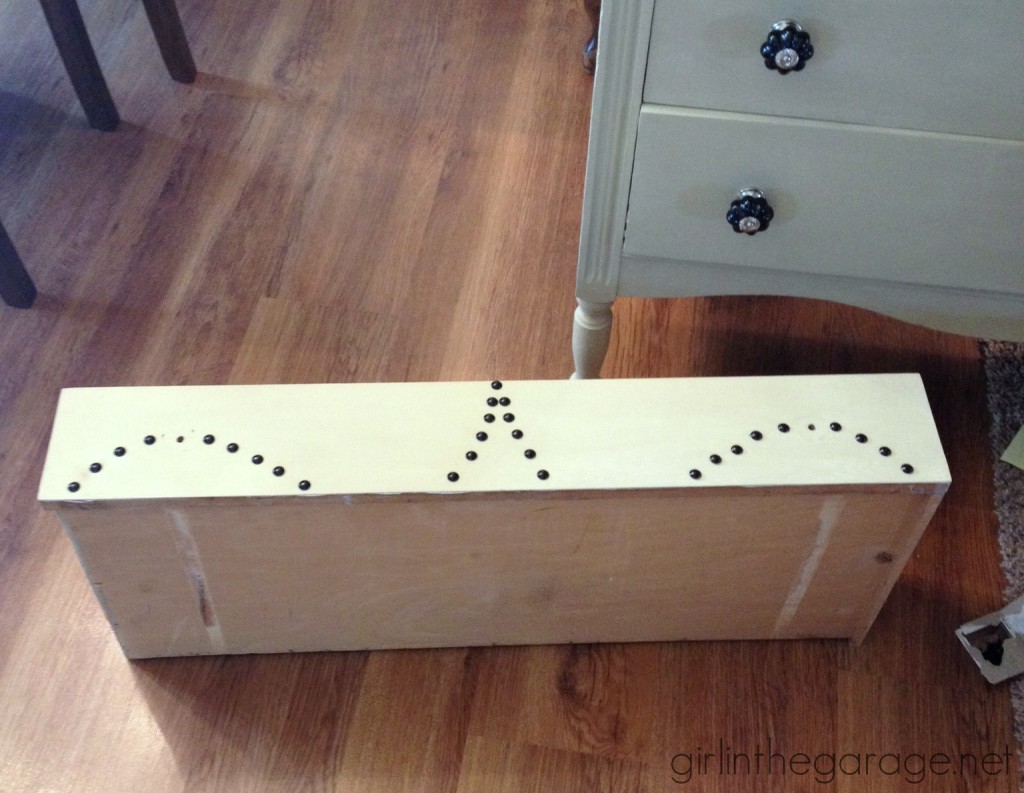 And here's all three together: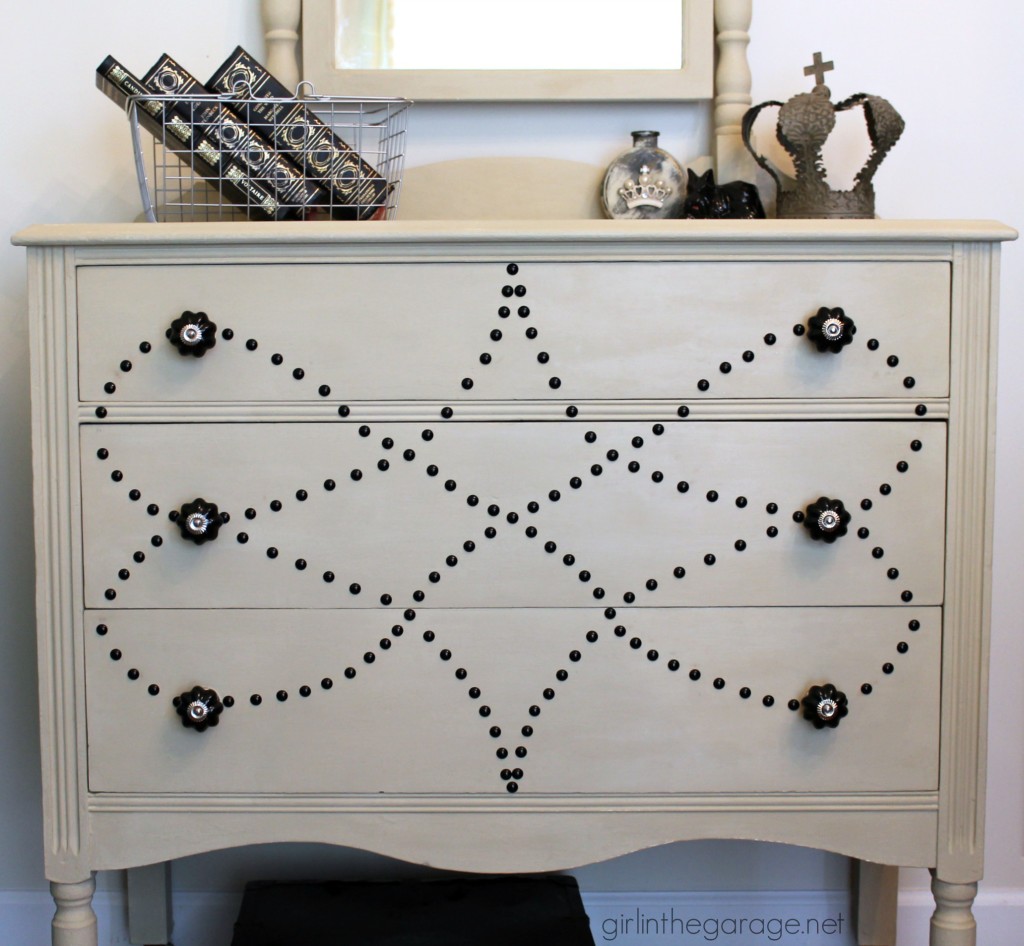 Don't the tacks look so pretty with the porcelain pulls from Decor Steals?
Click HERE to buy these pulls (or other color options) today 4/20/15 from Decor Steals while supplies last.
I styled it with some of my favorite home accessories…
Here's a handy Before and After comparison: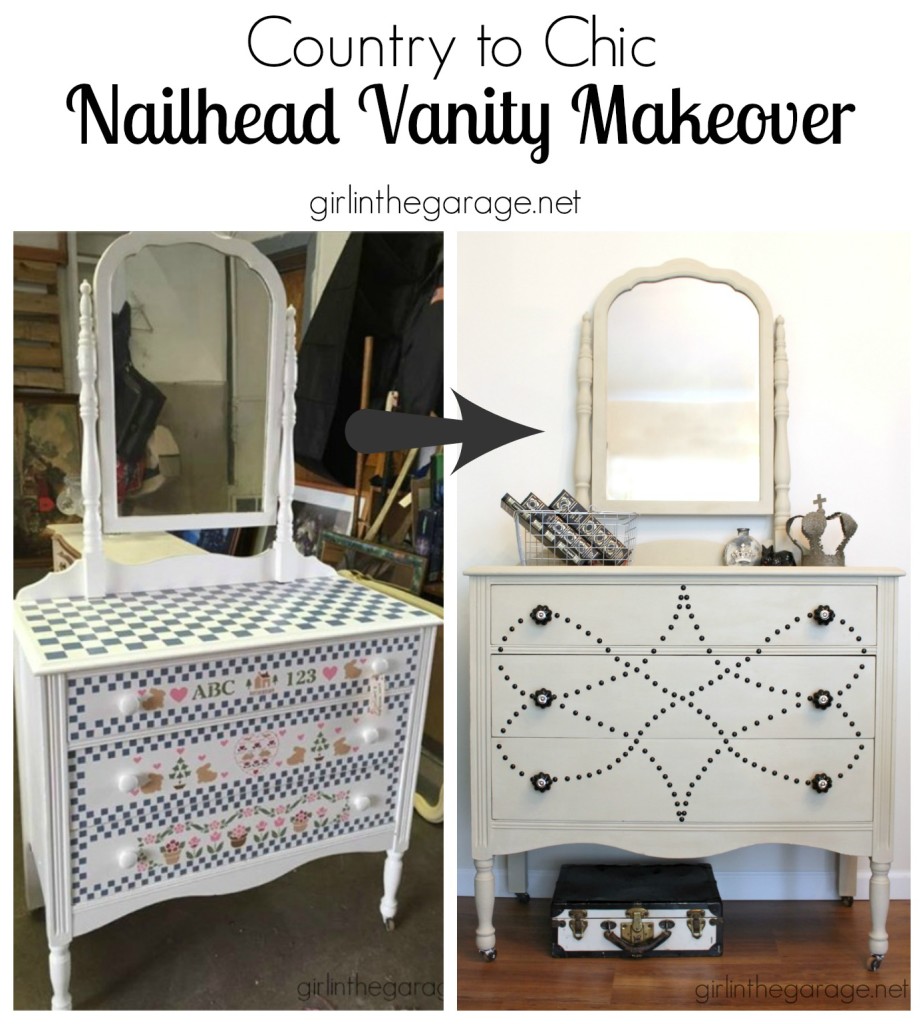 What do you think of this vanity makeover?
Head over to Decor Steals today to order these knobs before they sell out!
Jen
P.S. Today is the absolute last day to enter to win a copy of the book Annie Sloan's Room Recipes for Style and Color – don't miss out! Go HERE to enter.
Also – come back on Thursday for Themed Furniture Makeover Day!