I'm super pumped about today's IKEA dresser hack makeover!
It's also my first piece from IKEA, since the closest store is an hour and a half away. (Bummer)
I've been wanting to recreate a suitcase dresser for a long time, ever since I pinned this Trenton Suitcase Chest from World Market on Pinterest ages ago: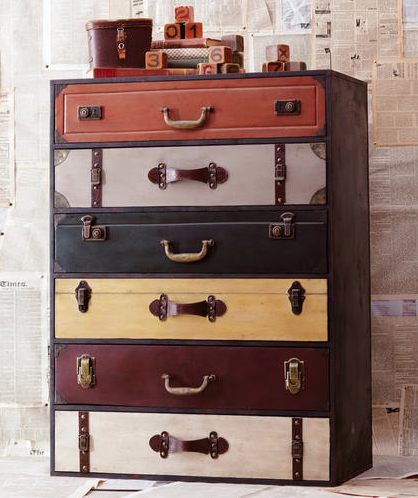 Isn't it amazing?
It's regularly $549.99, on clearance for $124.98 – but sold out everywhere as far as I can tell…
Here's how I made my version with the $34.99 IKEA RAST:
Supplies Needed to Paint a Suitcase Dresser:
How to Paint a Faux Suitcase Dresser
First, start with an IKEA Rast Chest or a similar piece.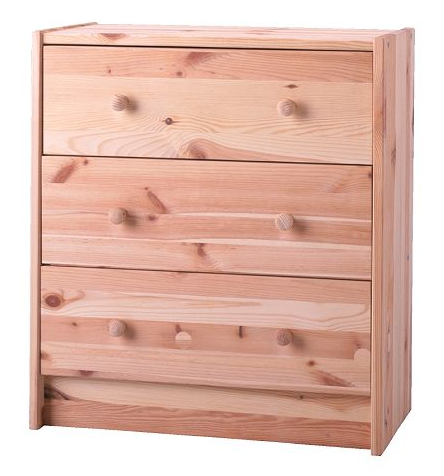 After assembling, leave the drawers out.
Stain everything with the Minwax Cloths except for the drawer fronts. This was my first real experience with staining, so I won't give you any tips here except that it's difficult to fix any mistakes you make. Also, you might want to practice on some scrap wood first.
Next for this IKEA dresser hack, paint the drawer fronts with your chosen colors. This will be going in my 5-year-old son's bedroom so I chose basic colors that will match almost anything- especially since I'm planning on redecorating his room this year.
After painting, protect your hard work. I used clear and dark wax on the top drawer to make it look aged (tutorial HERE) and only clear wax on the other drawers.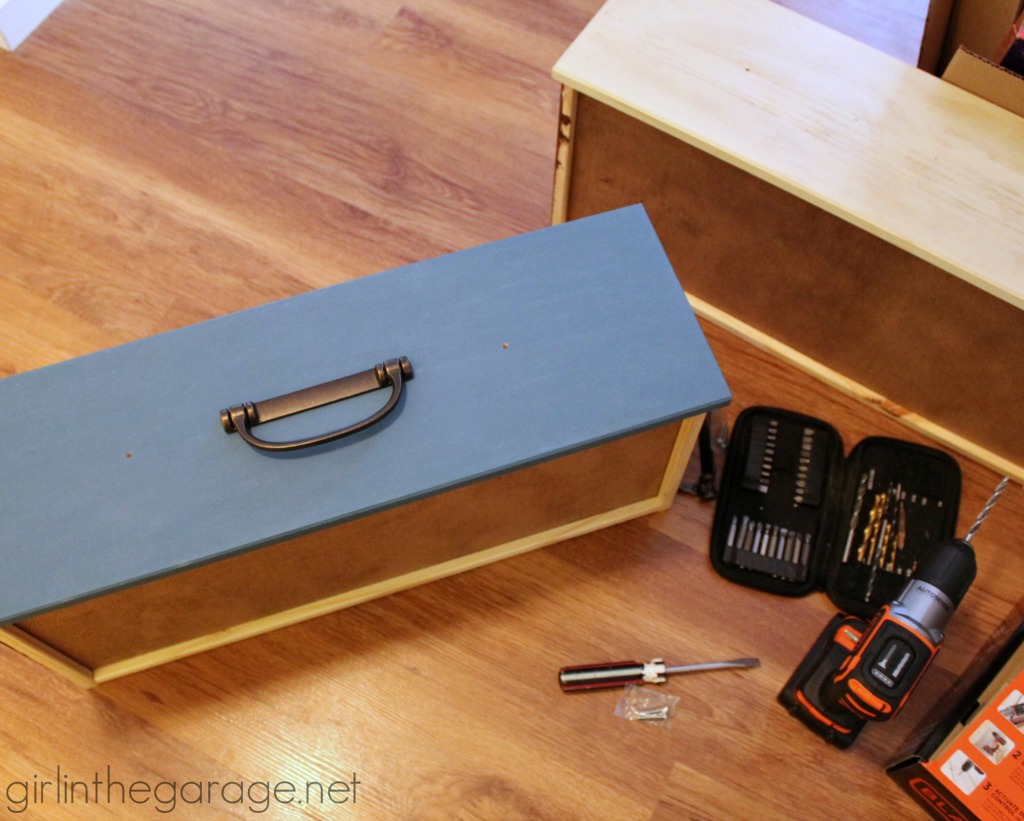 Depending on your dresser, you may need to drill new holes for hardware.
The really fun part is choosing which hardware and accessories will go on which drawers for your IKEA dresser hack!
I played around with the design and then cut leather strips for two of the drawers, applying Mod Podge to glue them on. (I also added upholstery tacks to the strips on the blue drawer.) Update: Now I would use super glue like E6000 instead of Mod Podge to glue these pieces on.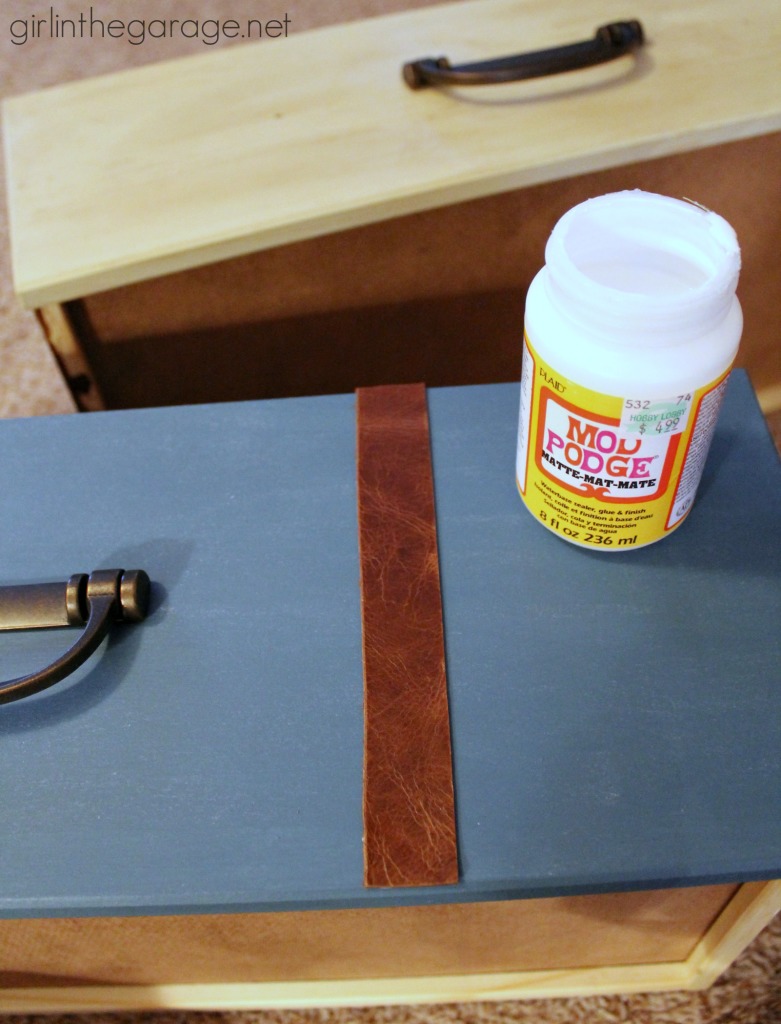 I drew on the red drawer with a Sharpie.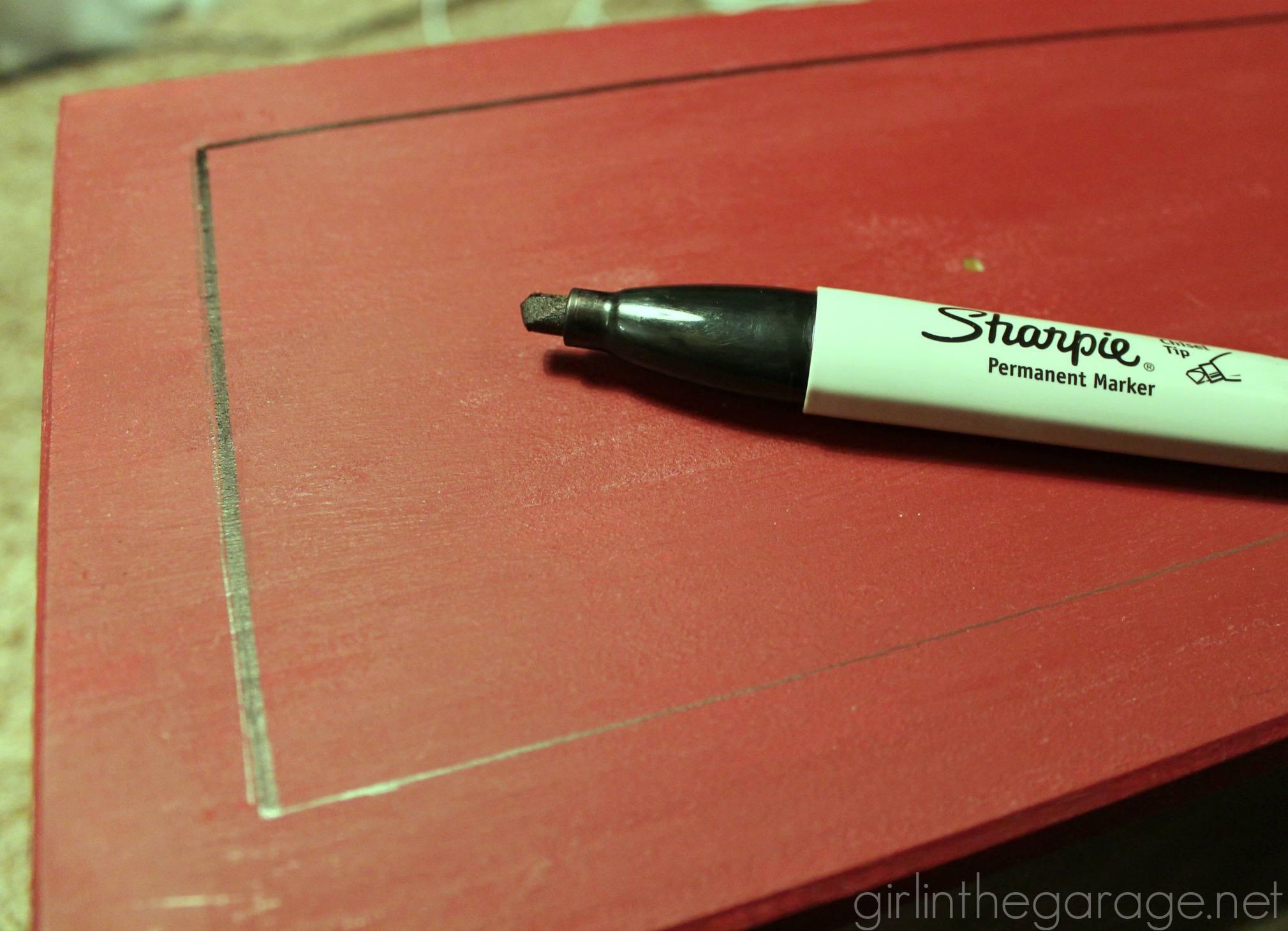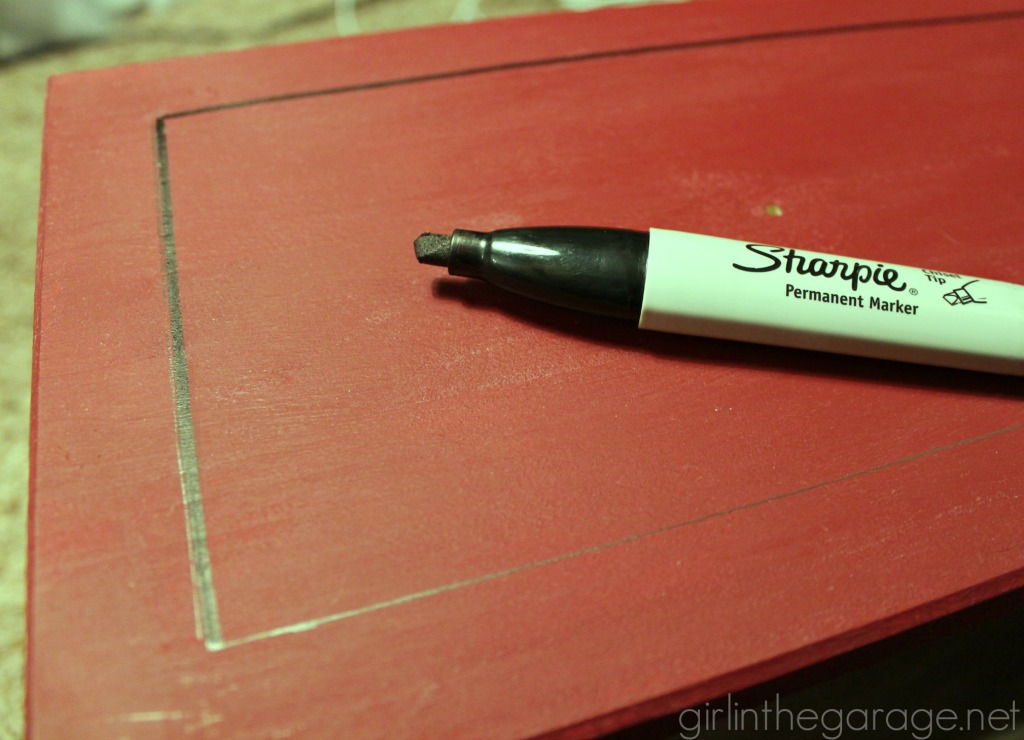 Then I added more awesome hardware and upholstery tacks…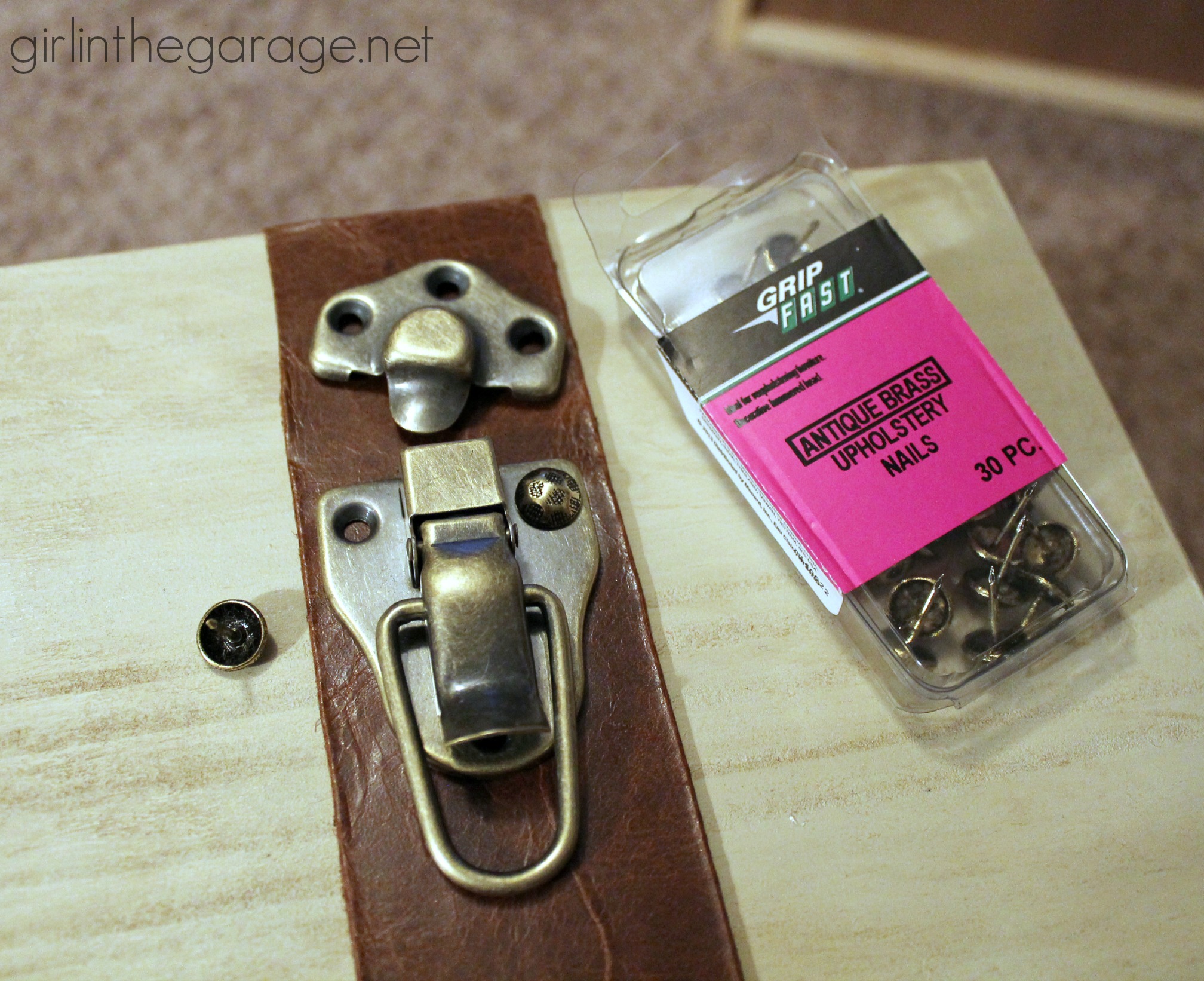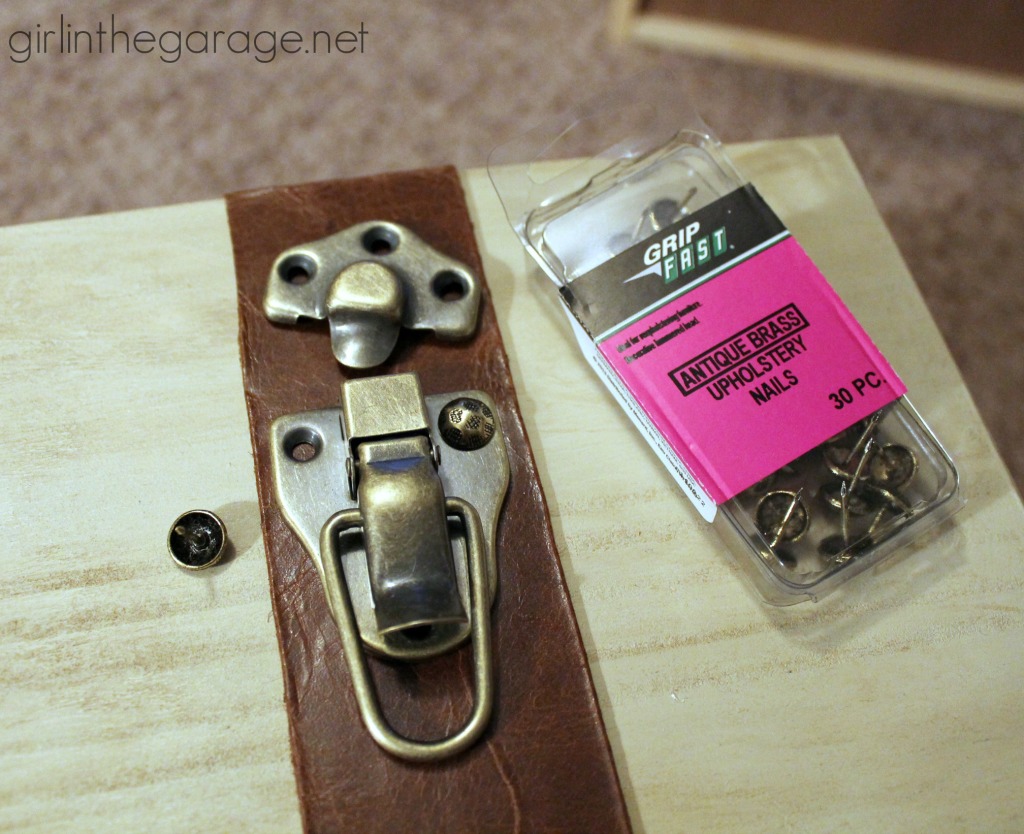 And here's the finished suitcase dresser, aka IKEA Rast dresser hack: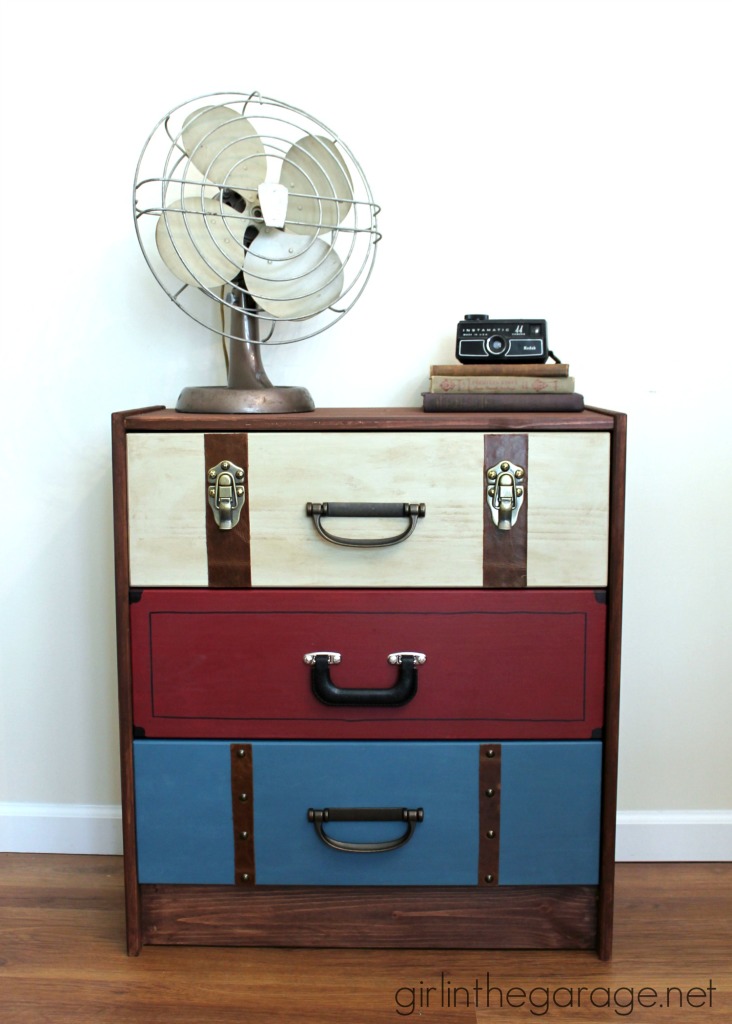 LOVE!
And I think it will look fabulous in my son's room, especially when it's redecorated.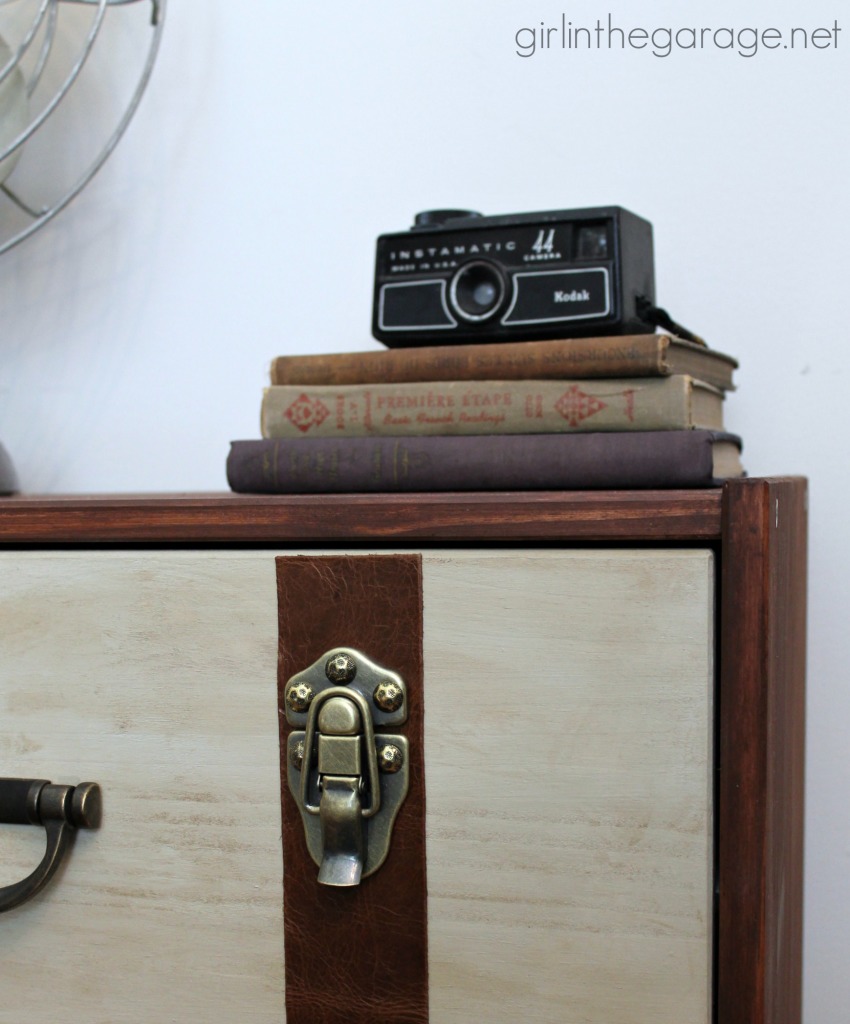 The pulls from Hickory Hardware (on the top and bottom drawers) are perfect for this piece – a little rustic, masculine, and a bit vintage/industrial.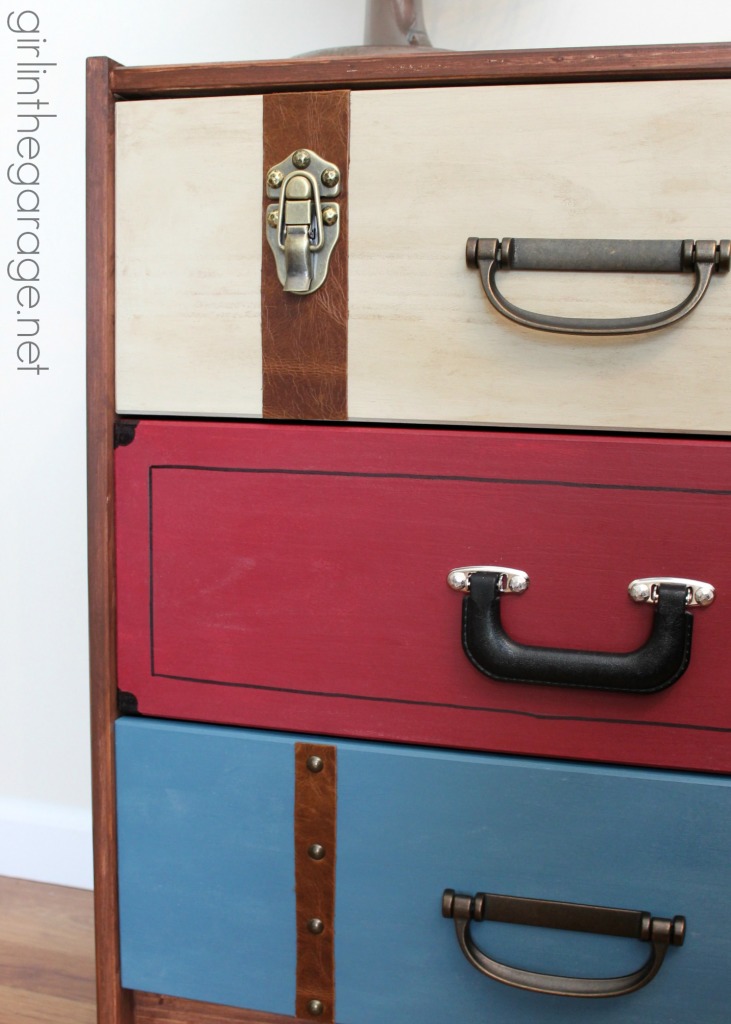 It's styled with a vintage fan, camera, and old books – some of my favorite things to collect. 🙂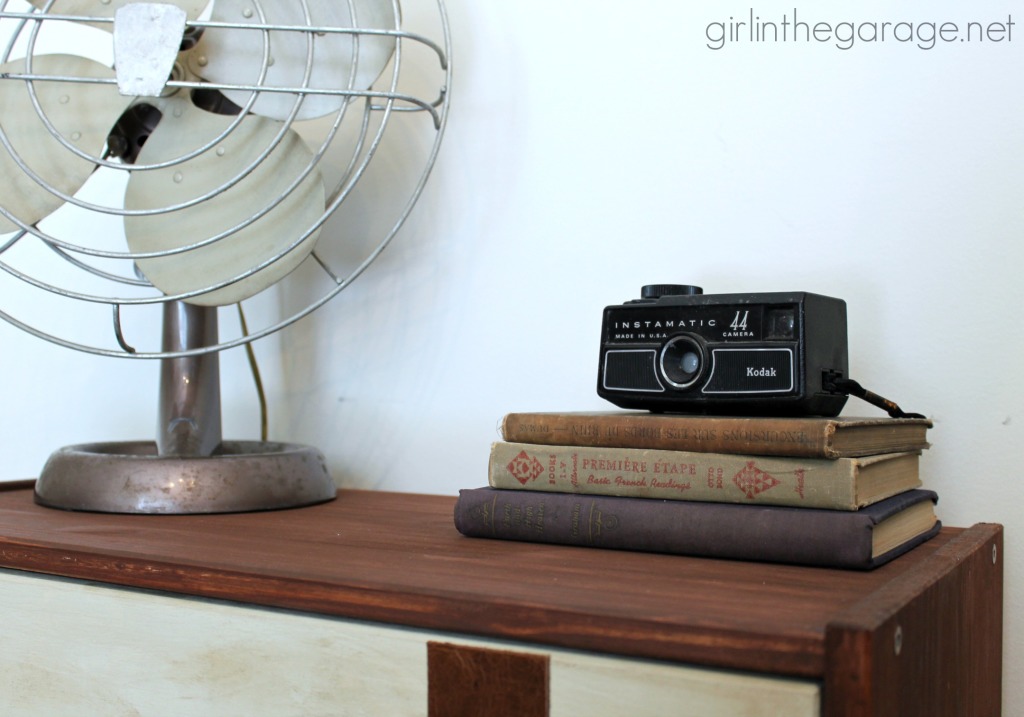 I'm very pleased with how this IKEA dresser hack turned out, and so is my son!
This type of piece can really go in many different types of decorated rooms. Especially if you're a travel lover. 🙂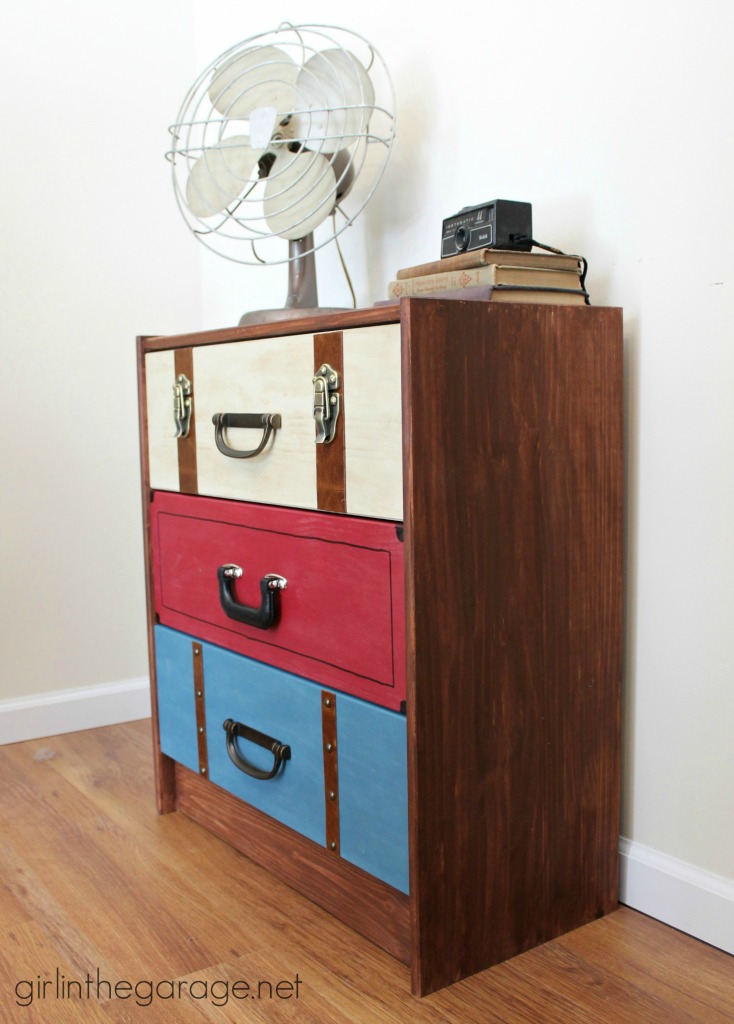 Feel free to share this post with a friend or pin it for easy access later: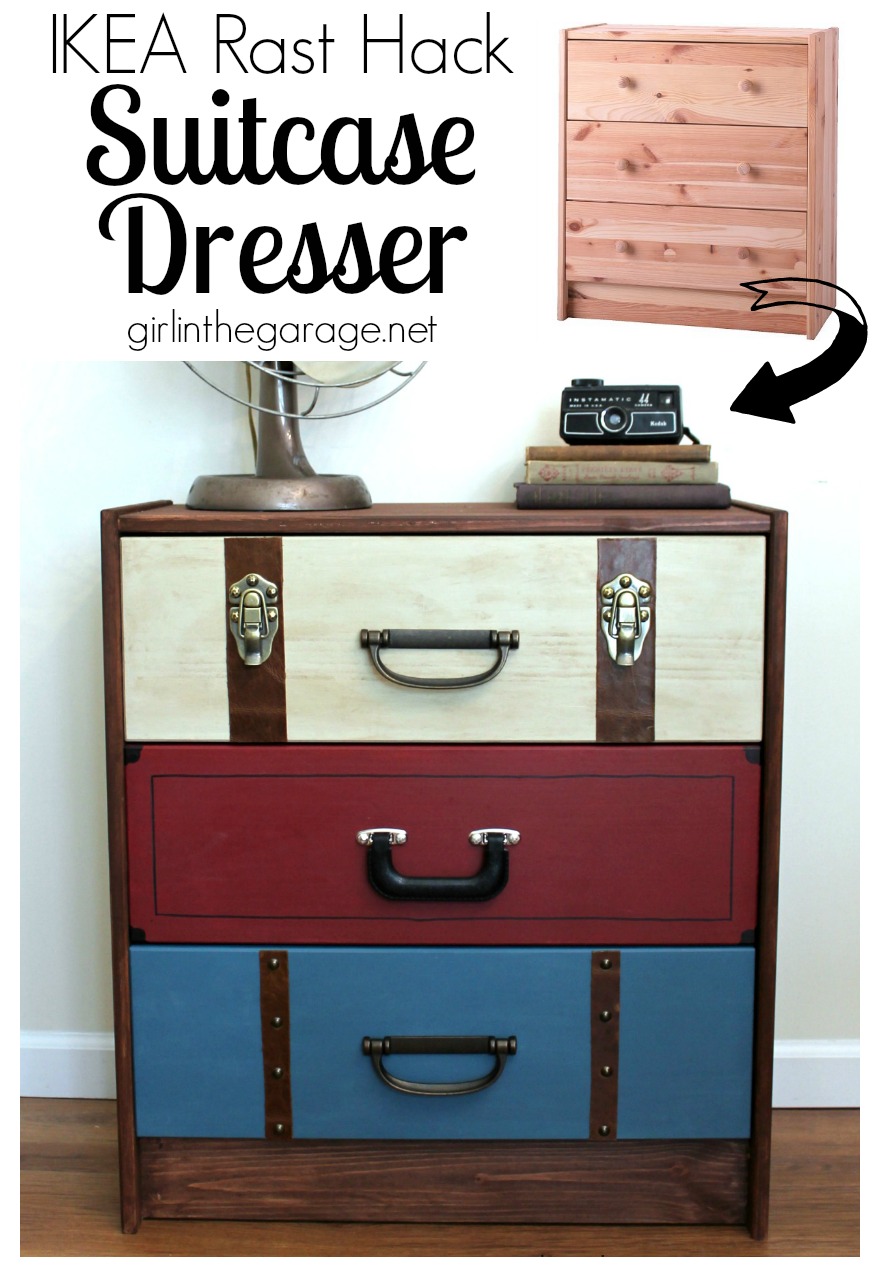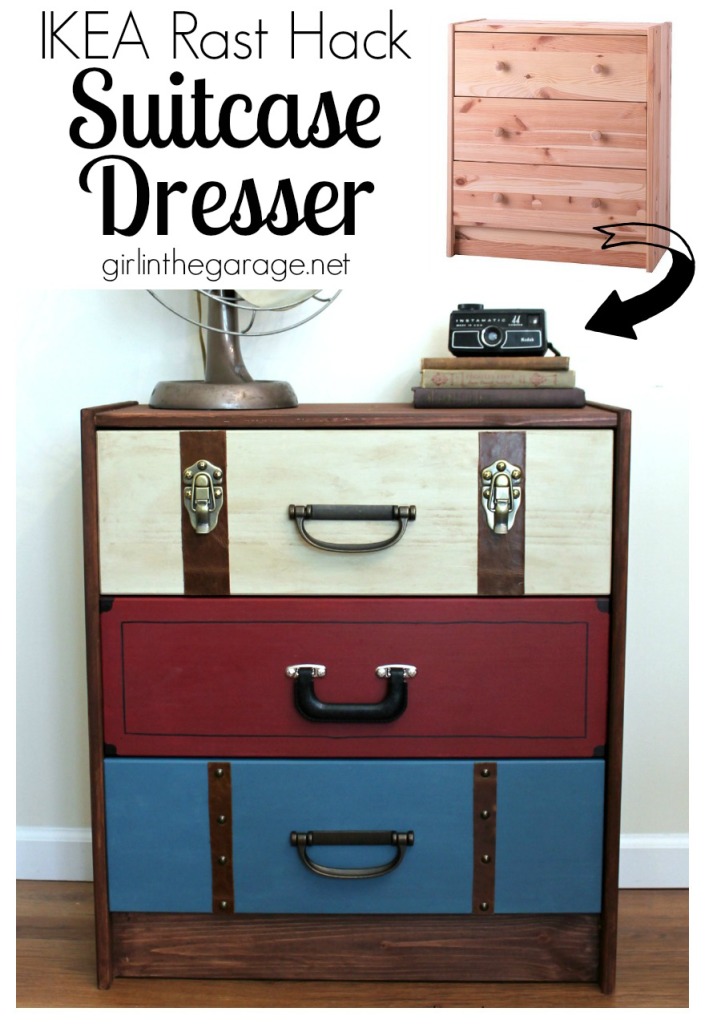 I hope you love my IKEA RAST hack and World Market inspired makeover! Let me know if you decide to recreate this project yourself – send me a photo or tag me on social media.
-Jen
You might also love this suitcase dresser project from my new book: