Merry Christmas friends!  Okay- I know it's not really Christmas for another 2 weeks but today's my turn to share my home with you as part of the 12 Days of Christmas Tour.  Let's get started, shall we?
When you arrive at my house you'll be greeted on the porch by my mason jar lid banner wishing you a Joyeux Noel.  (If you're new here, I have a bit of an obsession with all things French…)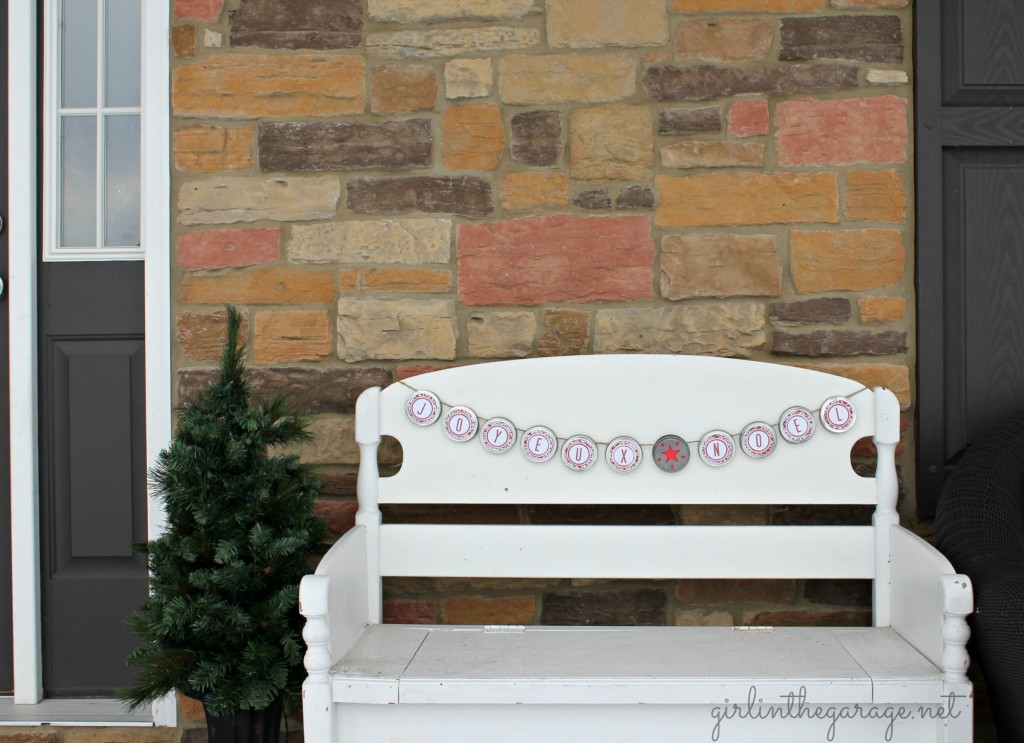 Step inside and there's a beautiful shimmery bouquet on a chippy white table (not my work- I bought this one a long time ago!).
Turn to the right and you're standing in my awkward entryway in which hangs our advent calendar.  The boys actually have been really great about taking turns moving the snowflake every day.   😉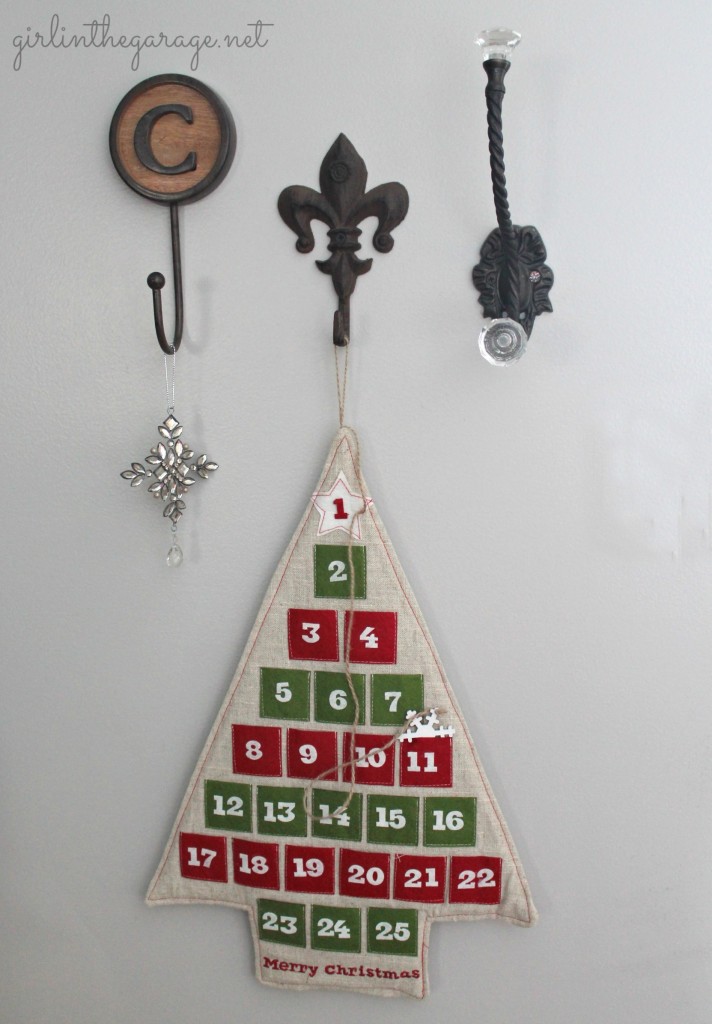 Walk a bit further and you will see our Christmas tree.
Most of my Christmas decor is red, white, and metallics.  In our former house, all of the decor was red and white- my couch and loveseat were even red.  I just love those colors together!
And on the hutch is the M&M Joy Art I made a few weeks ago.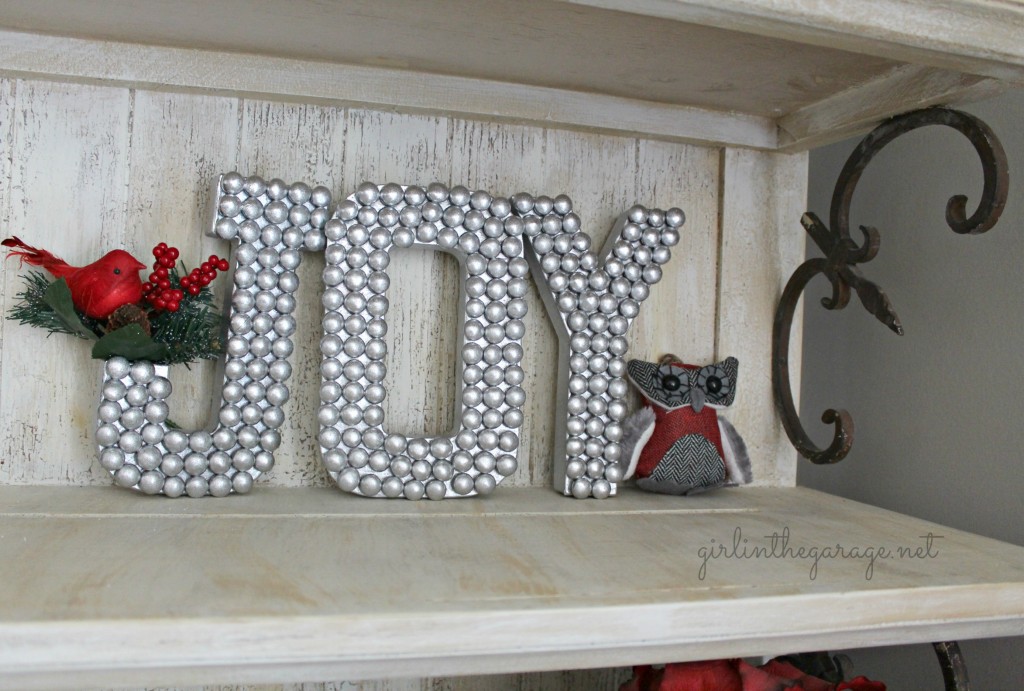 Turn around and you'll be facing my mantle which is nestled in the corner – and yes, that is a Christmas village below.
I'm a newbie to chalkboard art so I'll have to do a little more practicing – go ahead and giggle… it's okay.  😉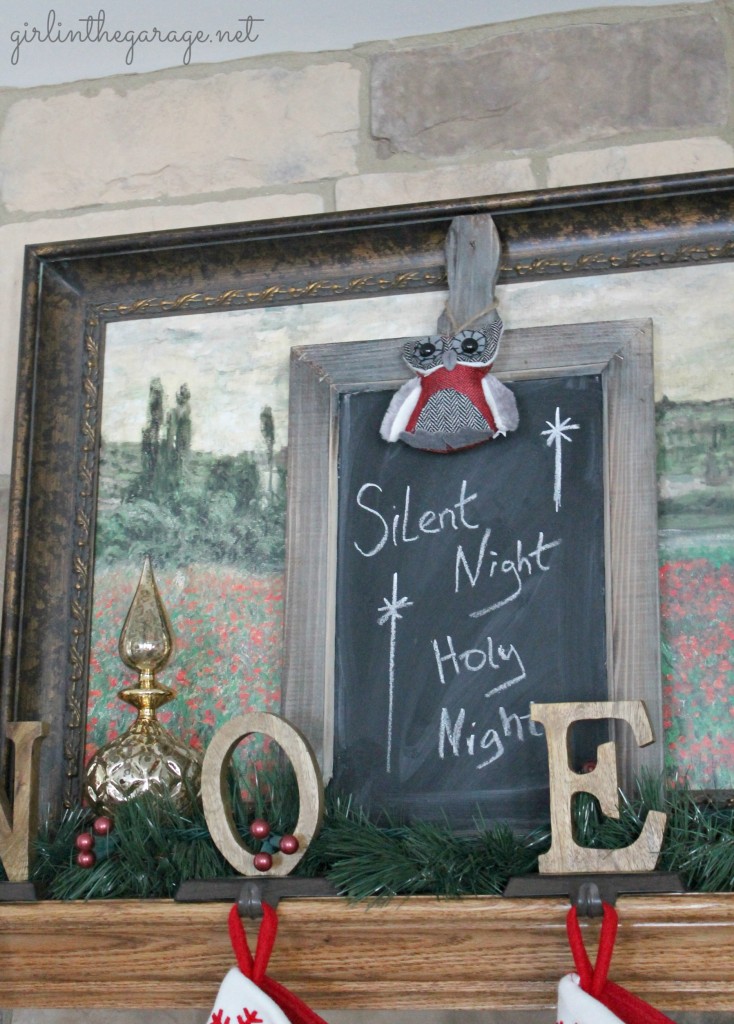 This snowman was one of my very first Christmas decor purchases – there's a spring inside so when you touch the top half he kind of dances.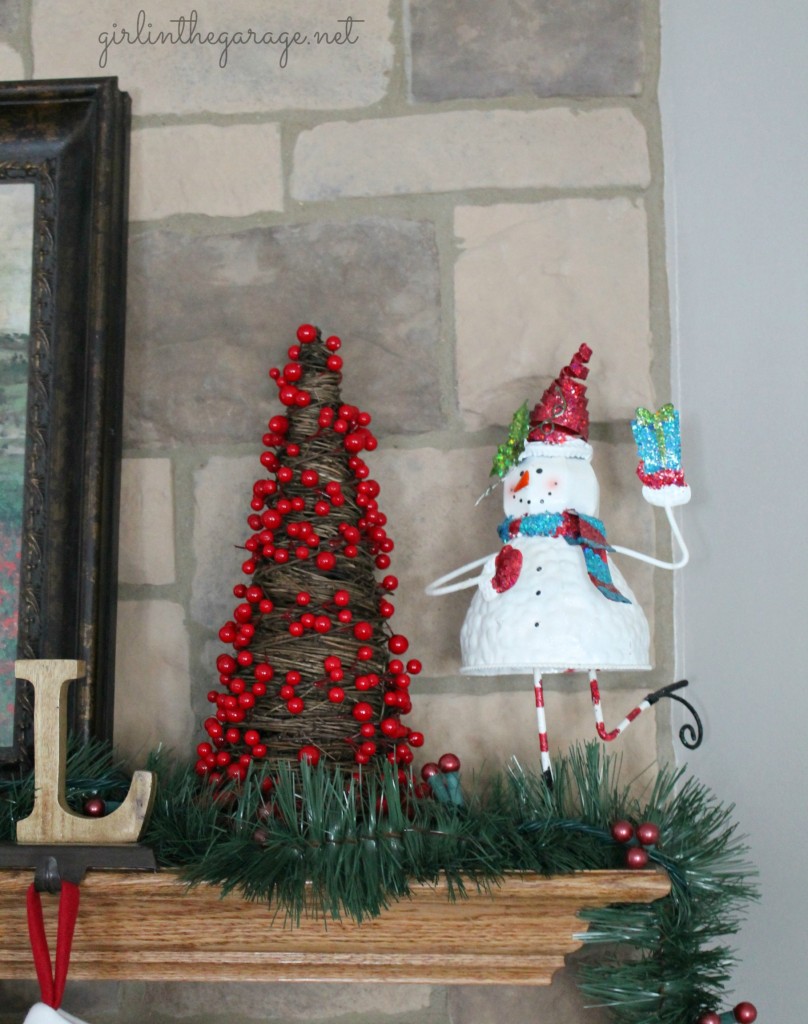 And here is my village.  For as long as I can remember, when I was a kid I always loved going to my grandmother's house on Christmas Eve- she has the largest and most elaborate "village" and I always joked that it was more of an entire state than a village.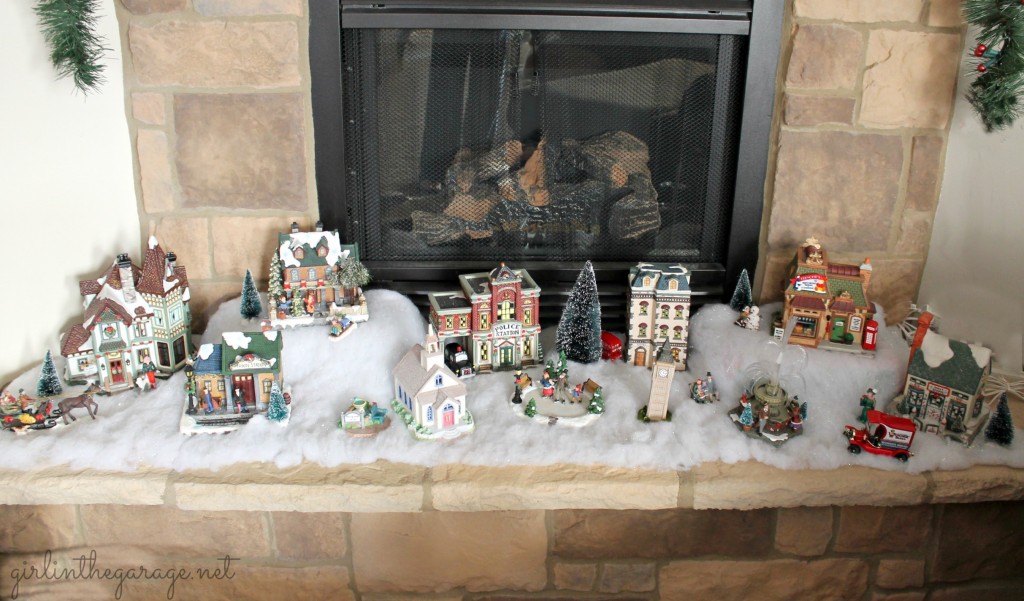 Those memories have always had a special place in my heart, so last year I decided to start my own village.  I had 3-4 buildings last year, and then I bought several pieces at yard sales and another new one this year.  It has grown pretty quickly in the past year!
I added a few reminders of our trip to London; did you notice them?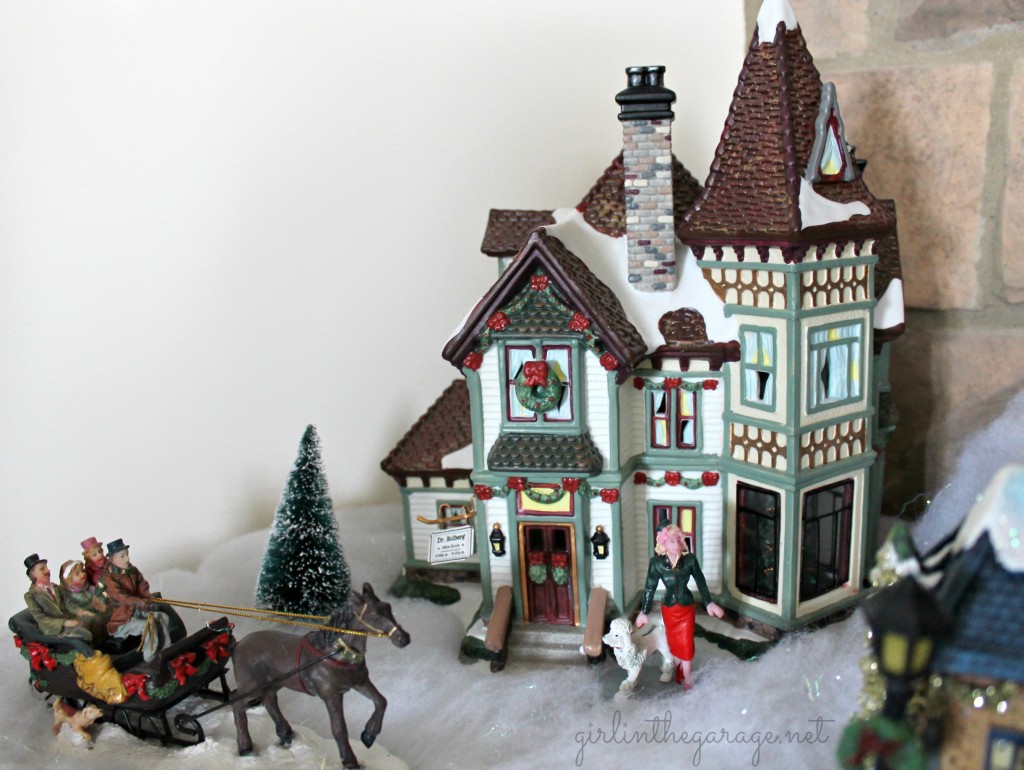 The boys LOVE it.  I hope it brings them the same joy and wonderment that I felt staring at my grandmother's village for hours on end.
Then on a nearby bookshelf you will find my sequin ornaments in this bowl…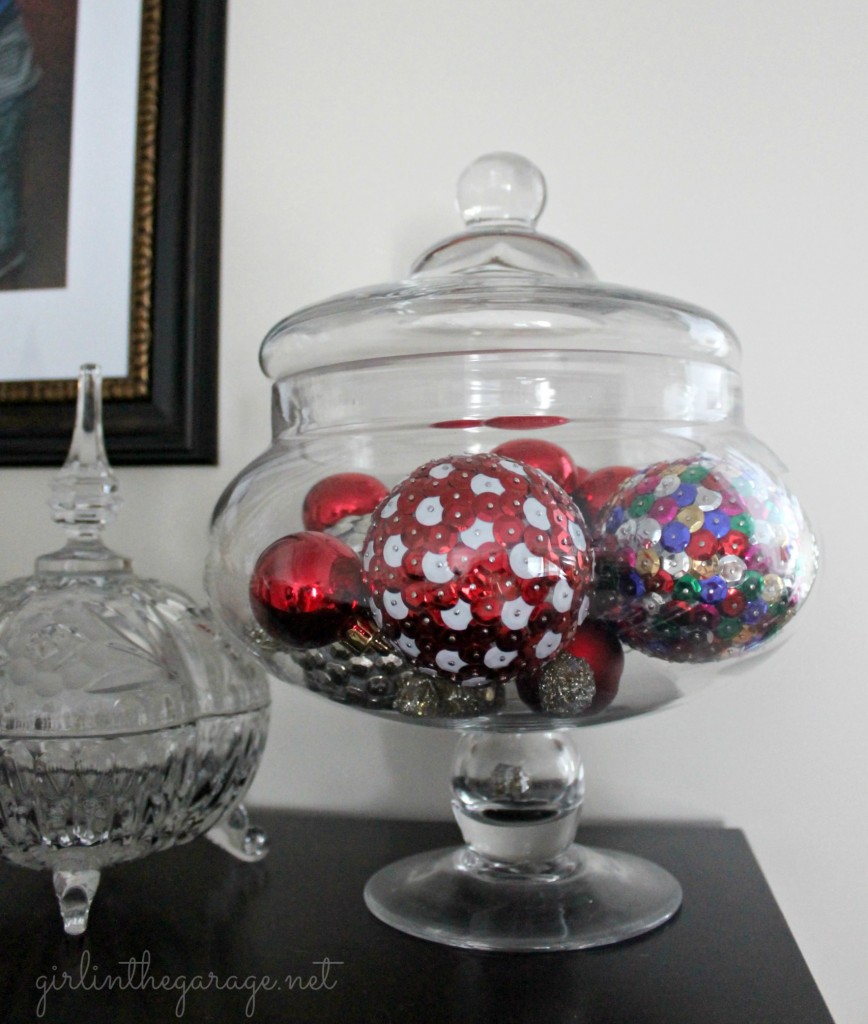 And one of my favorite keep-away-from-the-boys ornaments of the Eiffel Tower.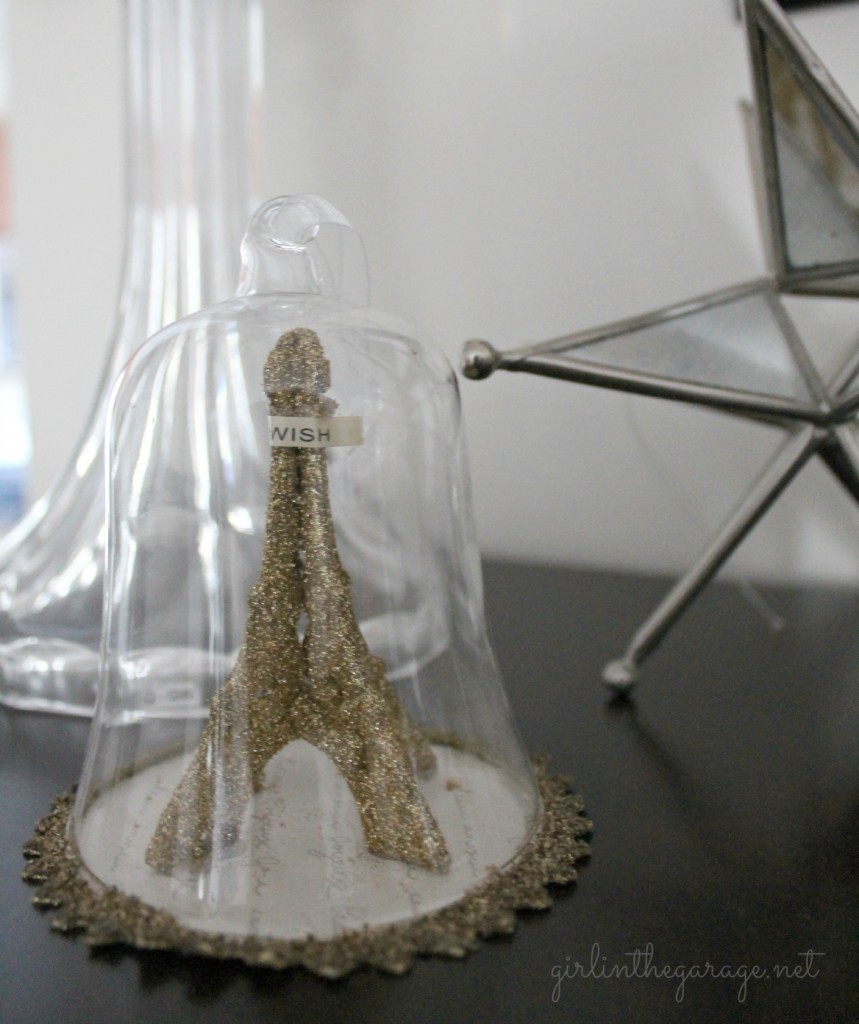 Now let's leave the living room and head into the dining area.
Little metallic ornaments take the place of candles for this event.
The table is set for Christmas Eve dinner!
This will be the third year that we've hosted for my parents and my sister and her family.
The decor is ready but I guess I better start working on the menu… oops!
This is my wedding bouquet; it has been living on this pedestal for awhile now and I thought it would make the perfect centerpiece.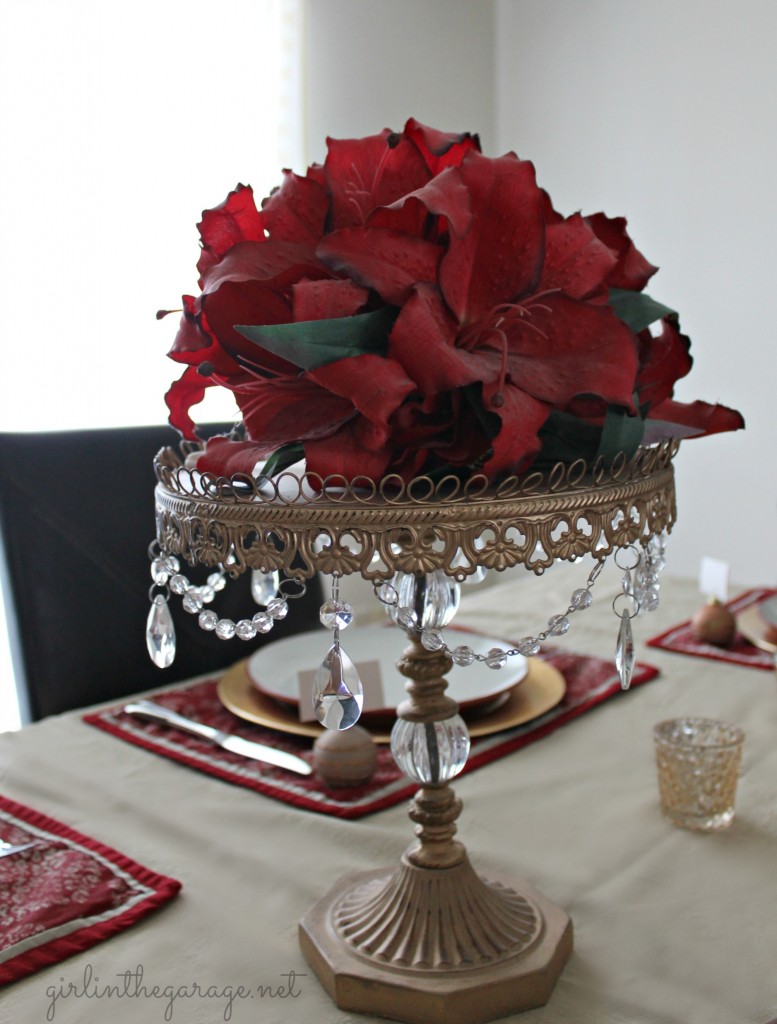 After leaving the dining area, head over to the fridge (more white sparkling grape juice anyone?) and nearby you'll find this display which includes the DIY Christmas trees I made last year and a glass ornament – which is also a keep-away-from-the-boys item.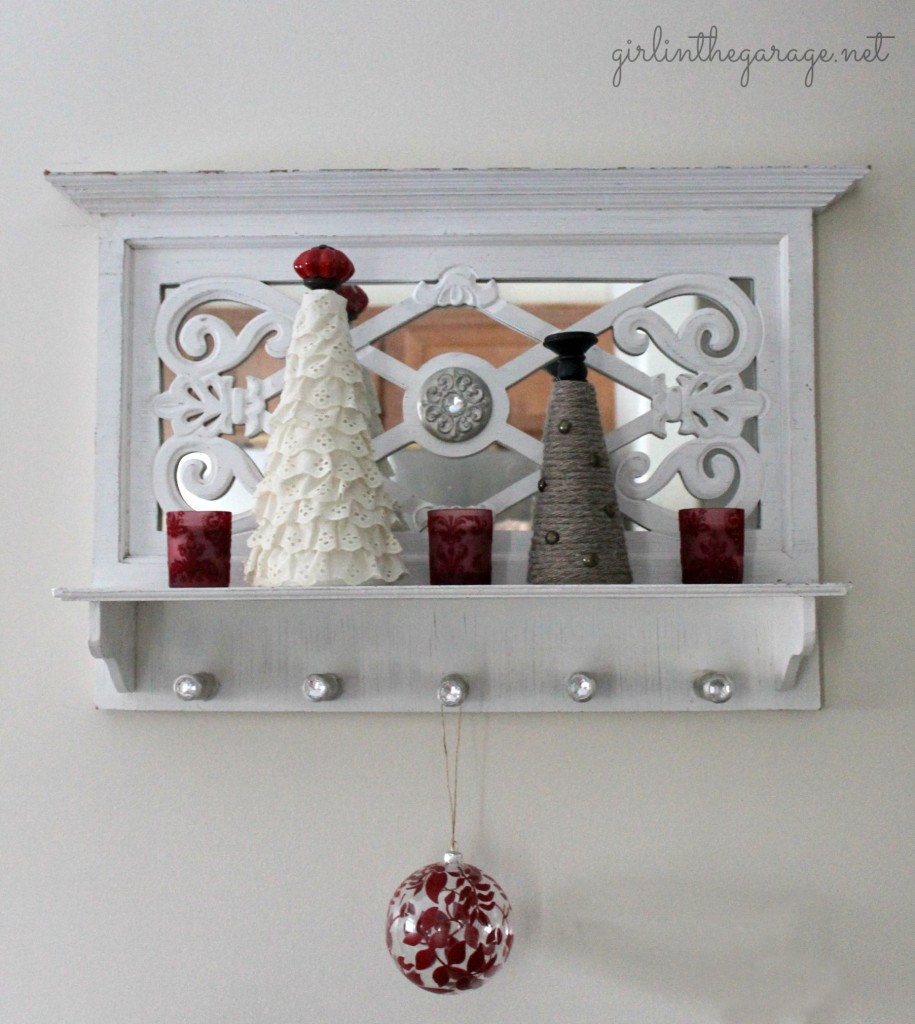 Thanks so much for visiting my home today, come back again soon!
Be sure to visit all of the other stops on the 12 Days of Christmas Tour!
xo Jen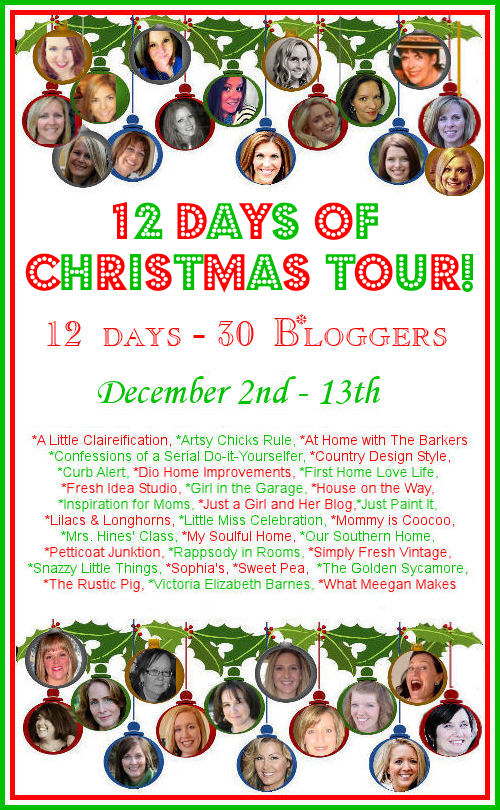 Monday DEC 2nd
Tuesday DEC 3rd
Wednesday DEC 4th
Thursday DEC 5th
Friday DEC 6th
Saturday DEC 7th
Sunday DEC 8th
Monday DEC 9th
Tuesday DEC 10th
Wednesday DEC 11th
Thursday DEC 12th
Friday DEC 13th
**Don't forget to enter the $750 cash giveaway through Dec. 22!**