Hello again, friend! For today's project I dug out this old desk drawer that's been in my garage for several years. I repurposed it into a DIY wreath hanger and I'm thrilled with how it turned out! Follow along and I'll show you exactly how I did it.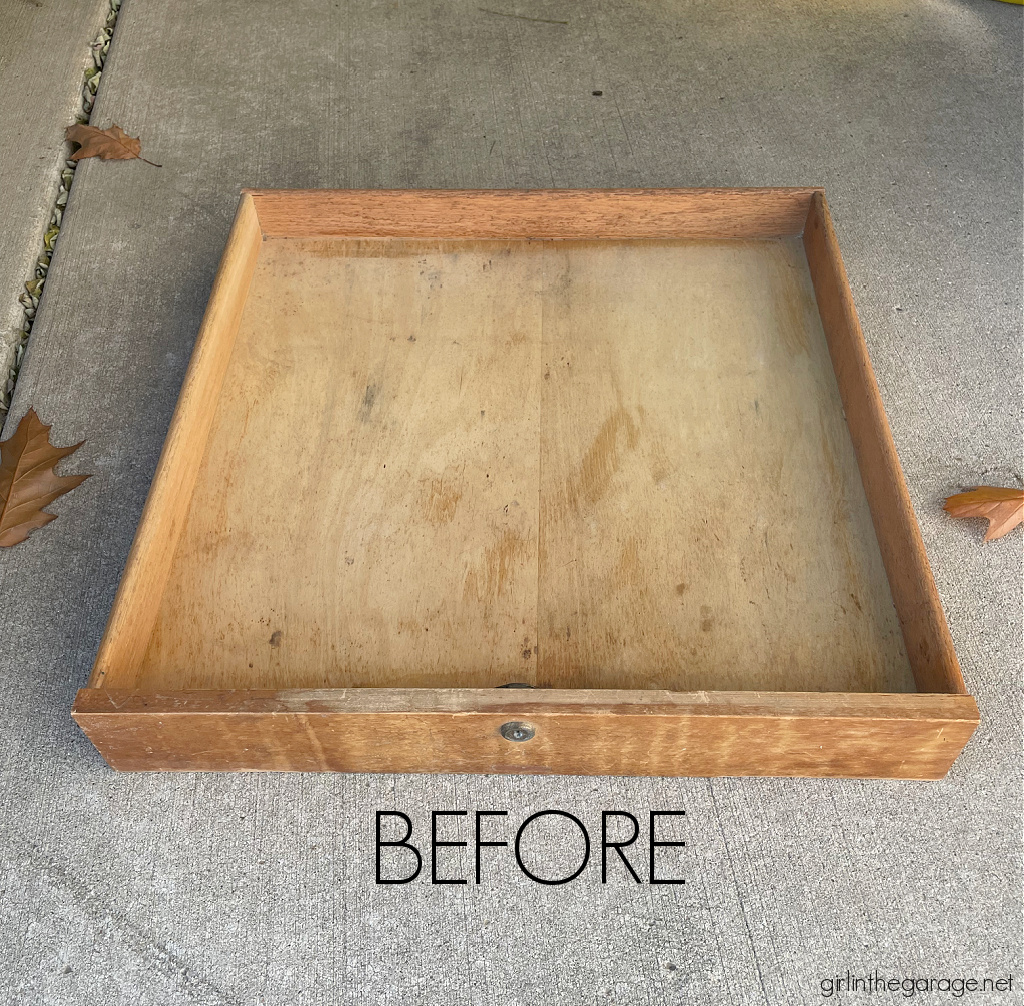 *This post contains some affiliate links so you can easily find the products I use and recommend. Discover all my favorite DIY tools and brands here.
After cleaning the dust and cobwebs away, I chose to paint the sides of the drawer white. I was out of Annie Sloan's Pure White and my stockist wasn't open, so I ran over to the local home improvement store to buy Rustoleum Chalked in Linen White.

I wrote a whole Rustoleum Chalked paint review after using Sage green on a cabinet (read the review here). I didn't have any complaints about this type of paint, but I have to admit after trying Linen White for the first time, I prefer Annie Sloan's Pure White. I've used ASCP Pure White maybe 100 times so I'm very familiar with it, and it's much thicker and has better coverage than this Rustoleum Linen White. One coat definitely wouldn't have been enough on this drawer – you can see it below.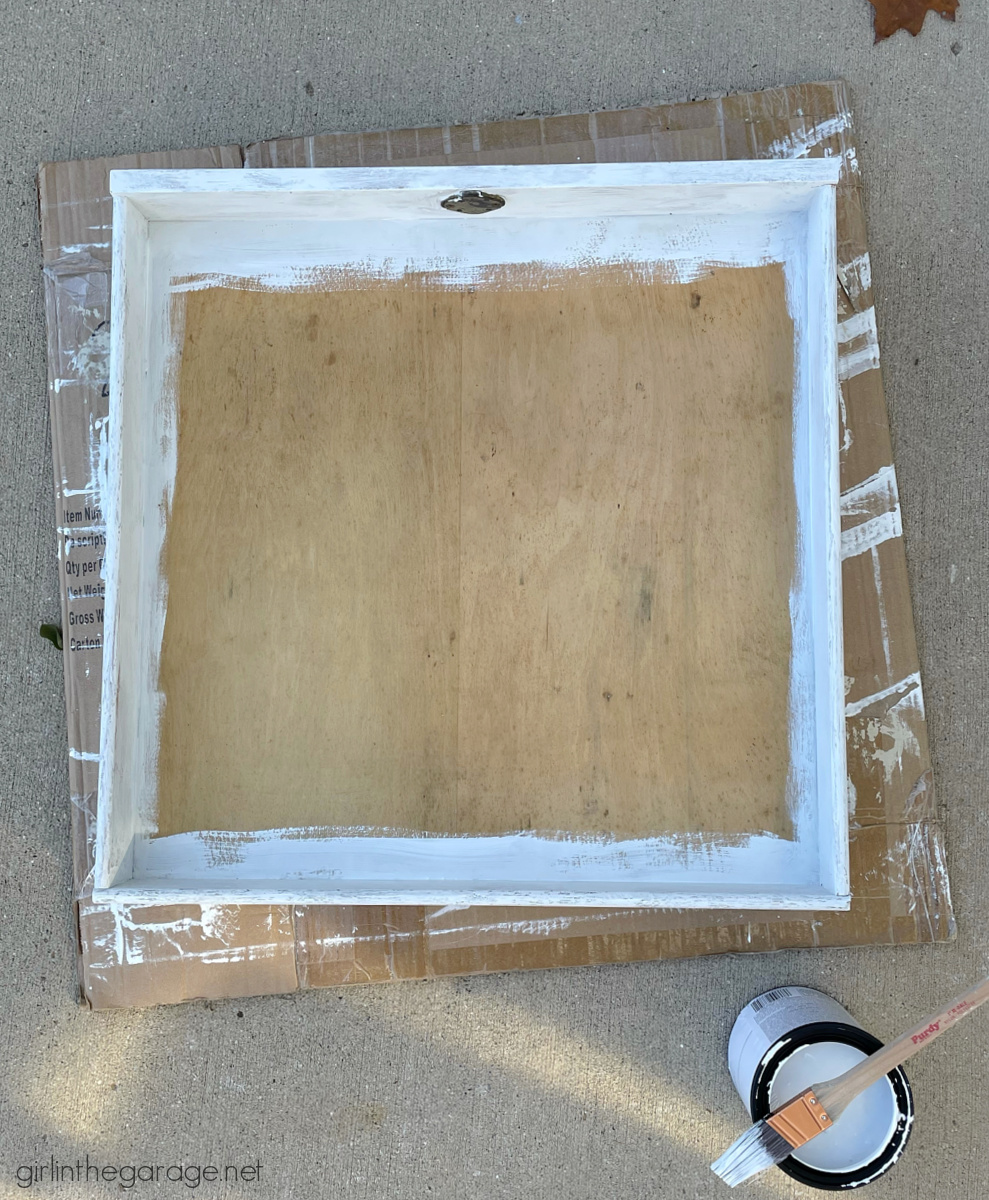 Overall I still like Rustoleum Chalked, just be prepared that it may not have "One Coat Coverage" like the can states. Two coats worked well though, and after it dried I sanded it with 320 grit sandpaper to smooth it and lightly distress.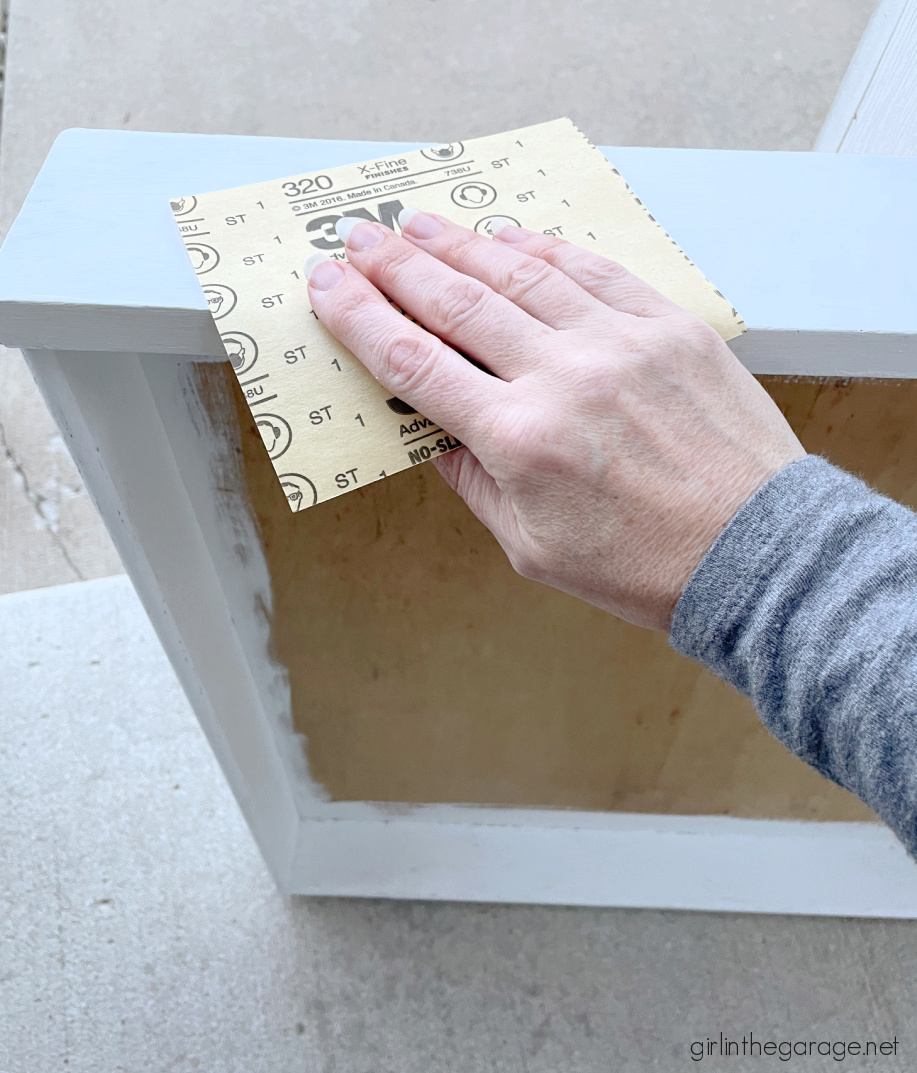 Next I found some thin craft plywood in my stash (3mm thick) to use as wood planks on the back of the drawer. I measured and marked approx. 3 inches for most of the planks, and some are about 2.5 inches.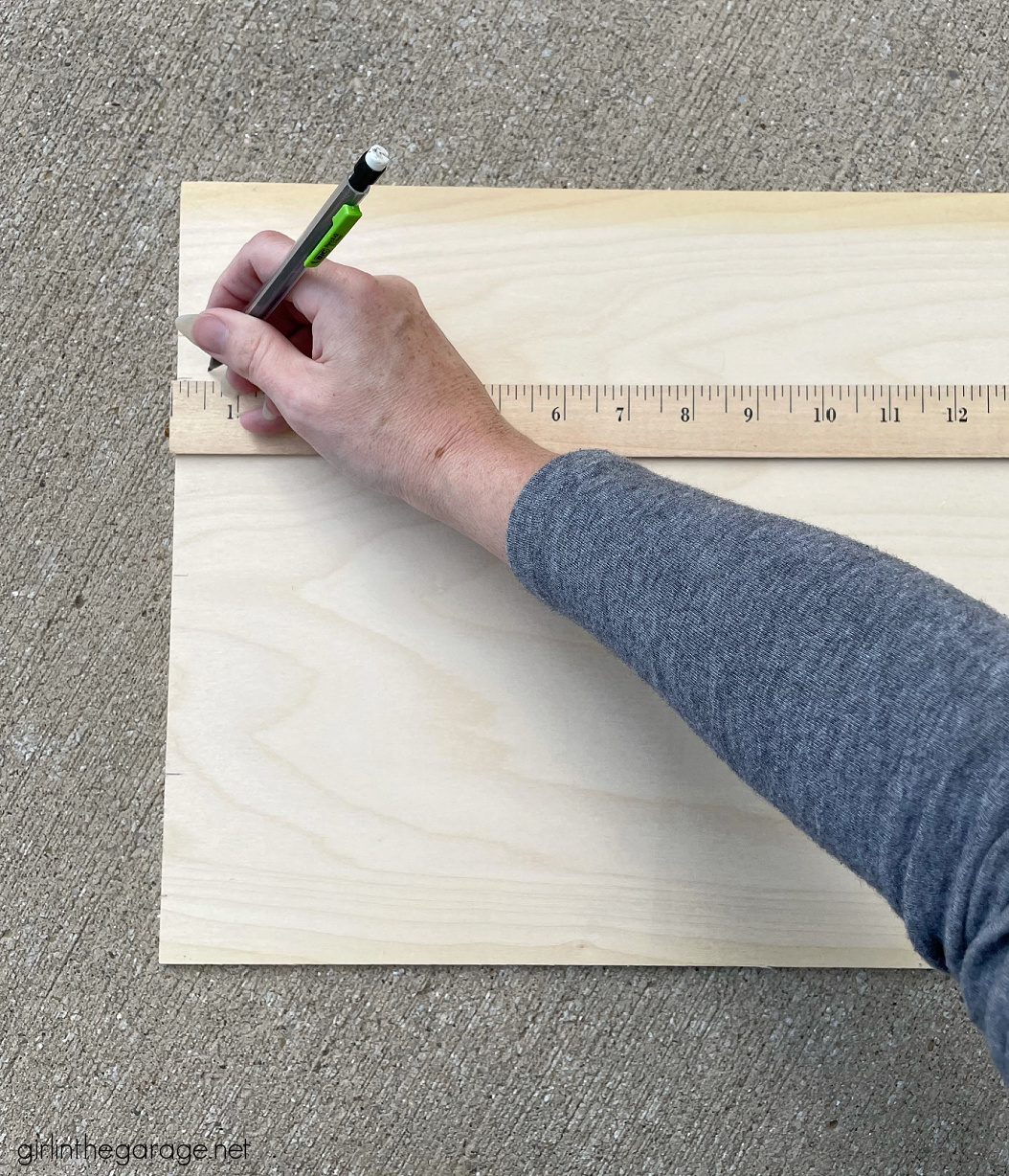 Mr. GITG (aka Guy in the Garage) helped by cutting the boards with our folding table saw. Remember to always use the proper safety gear and follow directions when using power tools.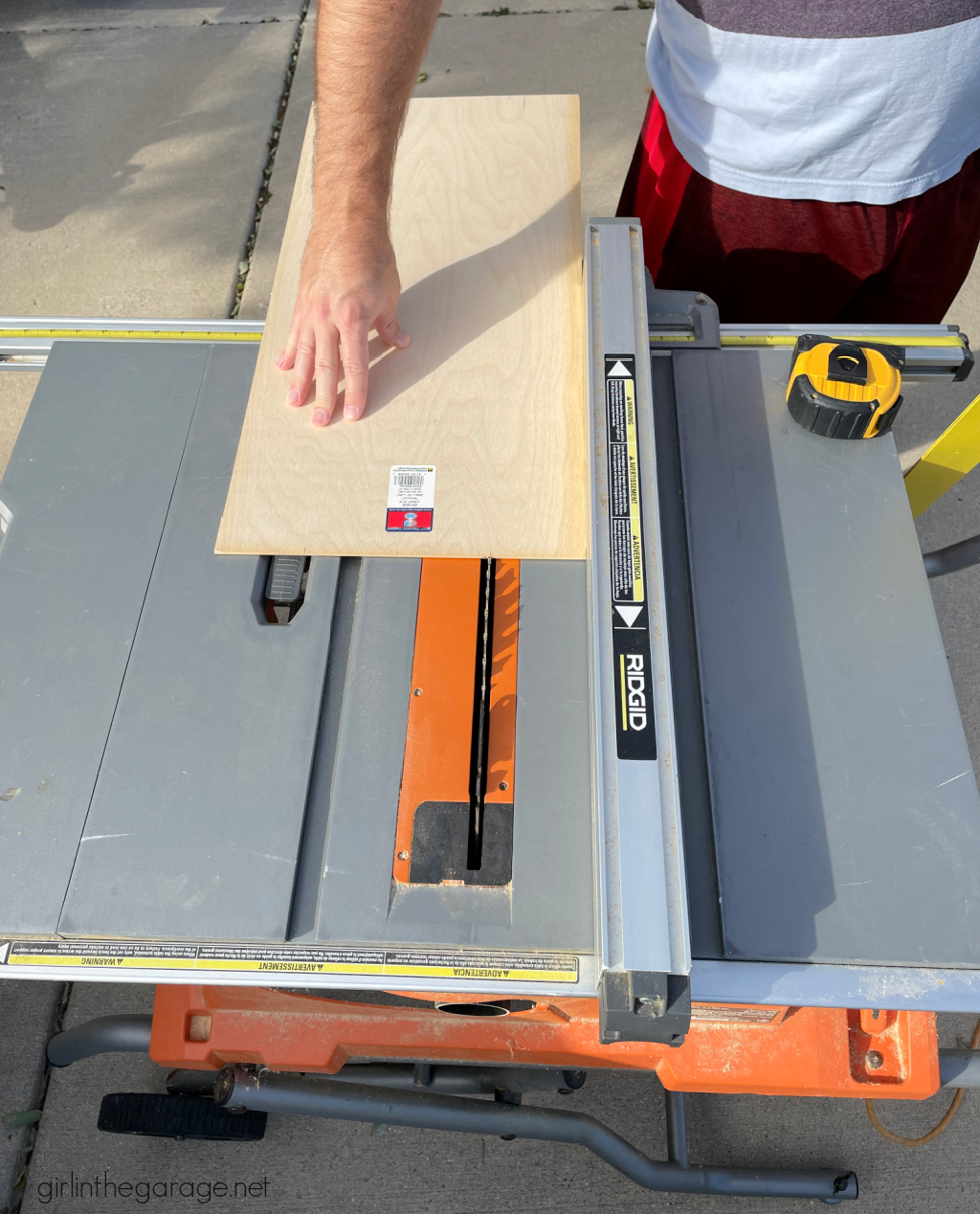 Below you can see I laid out all the boards to make sure they fit before cutting the ends smaller.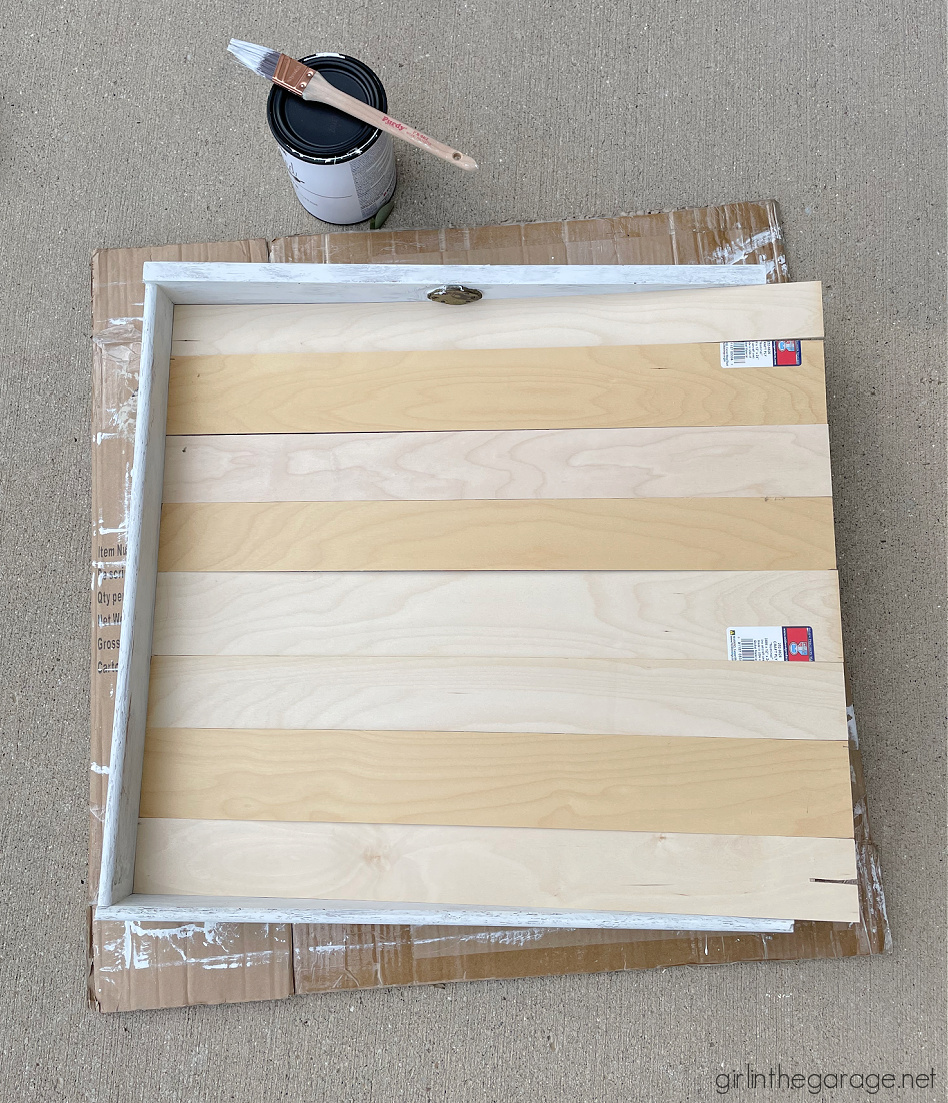 Once all the cuts were made, I sanded the edges smooth with 220 grit sandpaper.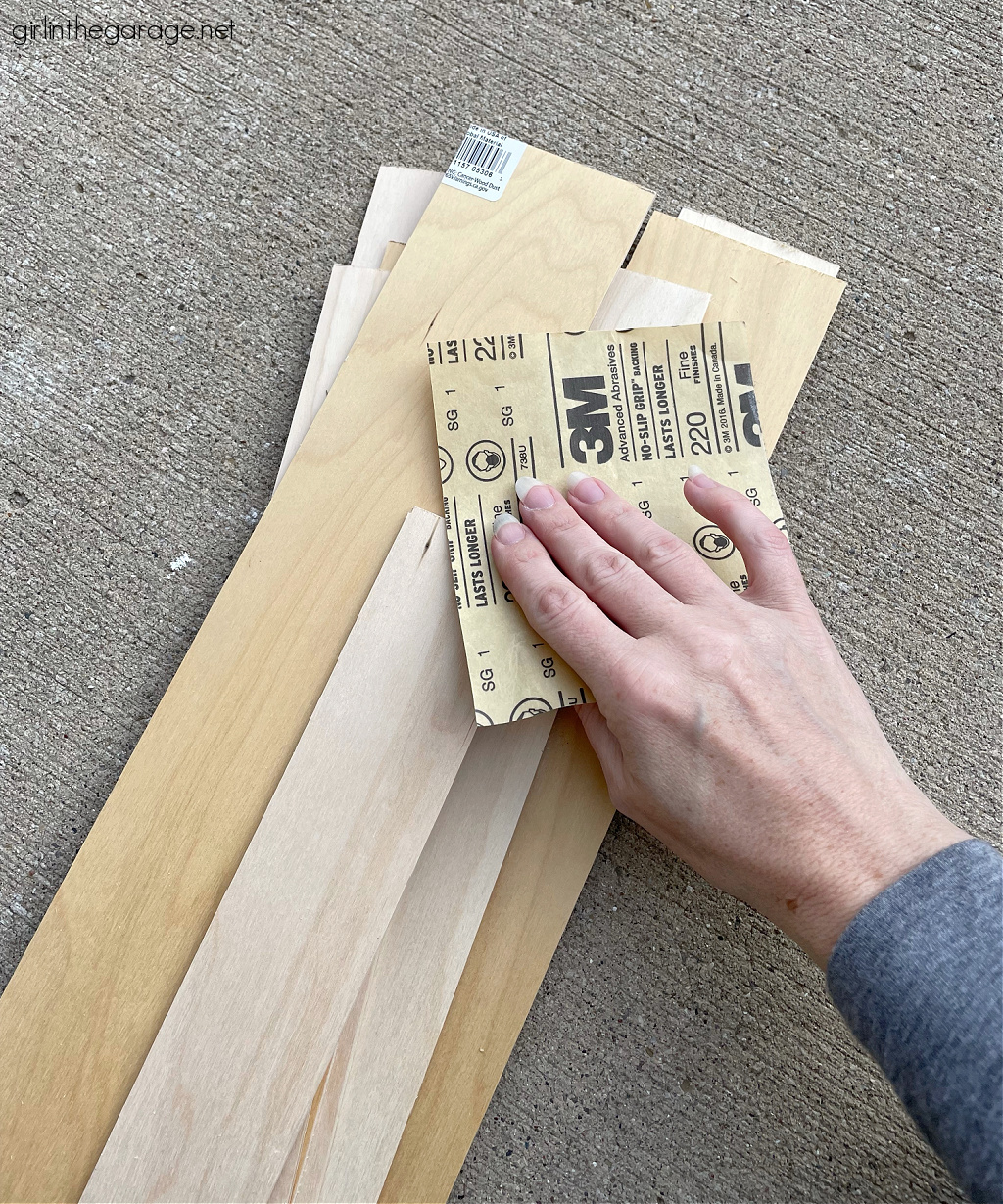 Then I arranged the wood planks inside to vary the wood grain patterns and the board widths.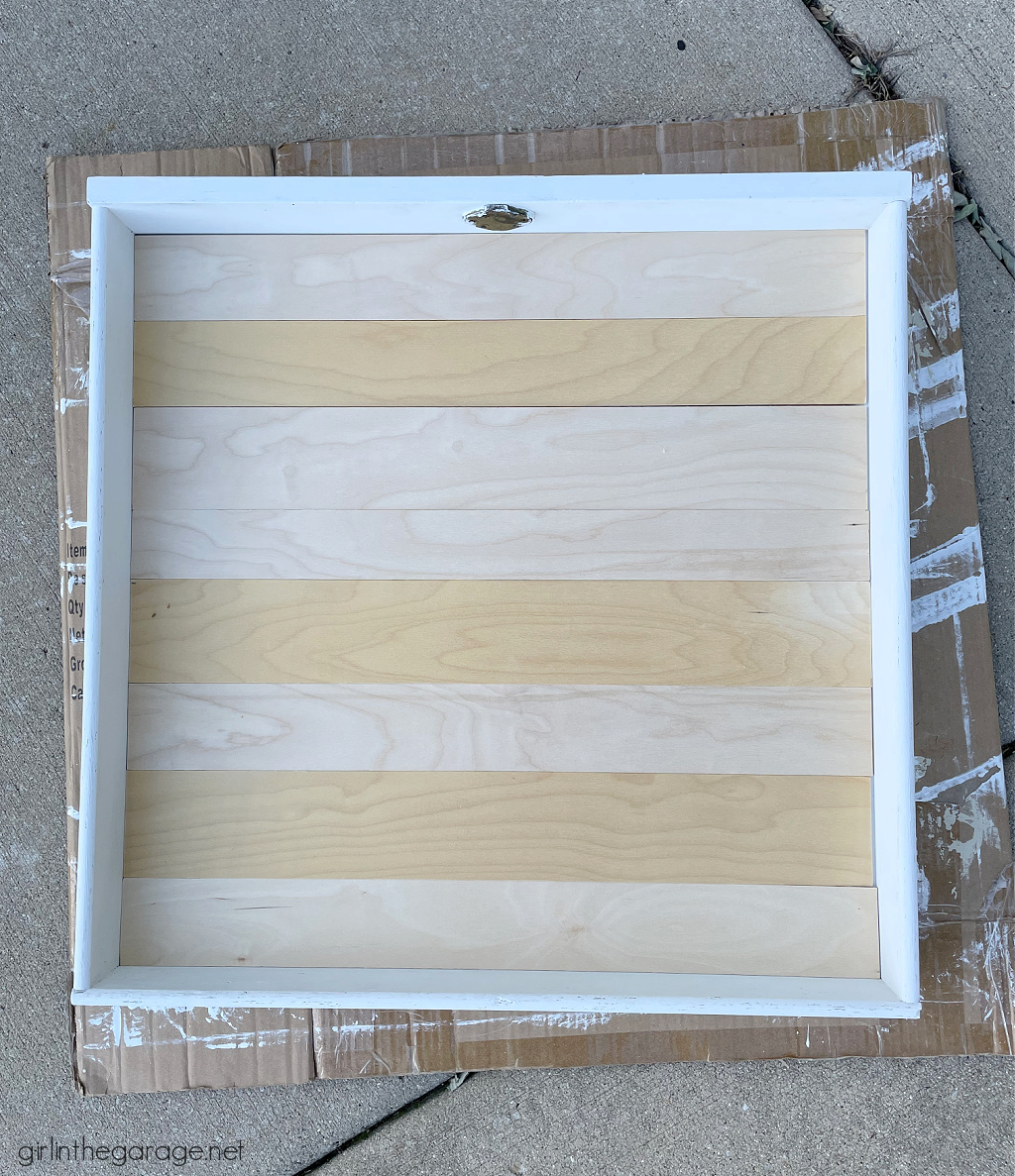 The boards were transferred over to cardboard (keeping them in the same order) in order to stain them. Make sure you have good ventilation when using stain – ideally, use it outside.

Since the wood will be a background for my wreaths and isn't going to be getting bumped or scratched, I didn't use wood conditioner first or a polyurethane topcoat after. Learn all about how to properly stain wood here.
I did however apply two coats of Minwax Wood Finish Stain in Special Walnut with a lint free cloth.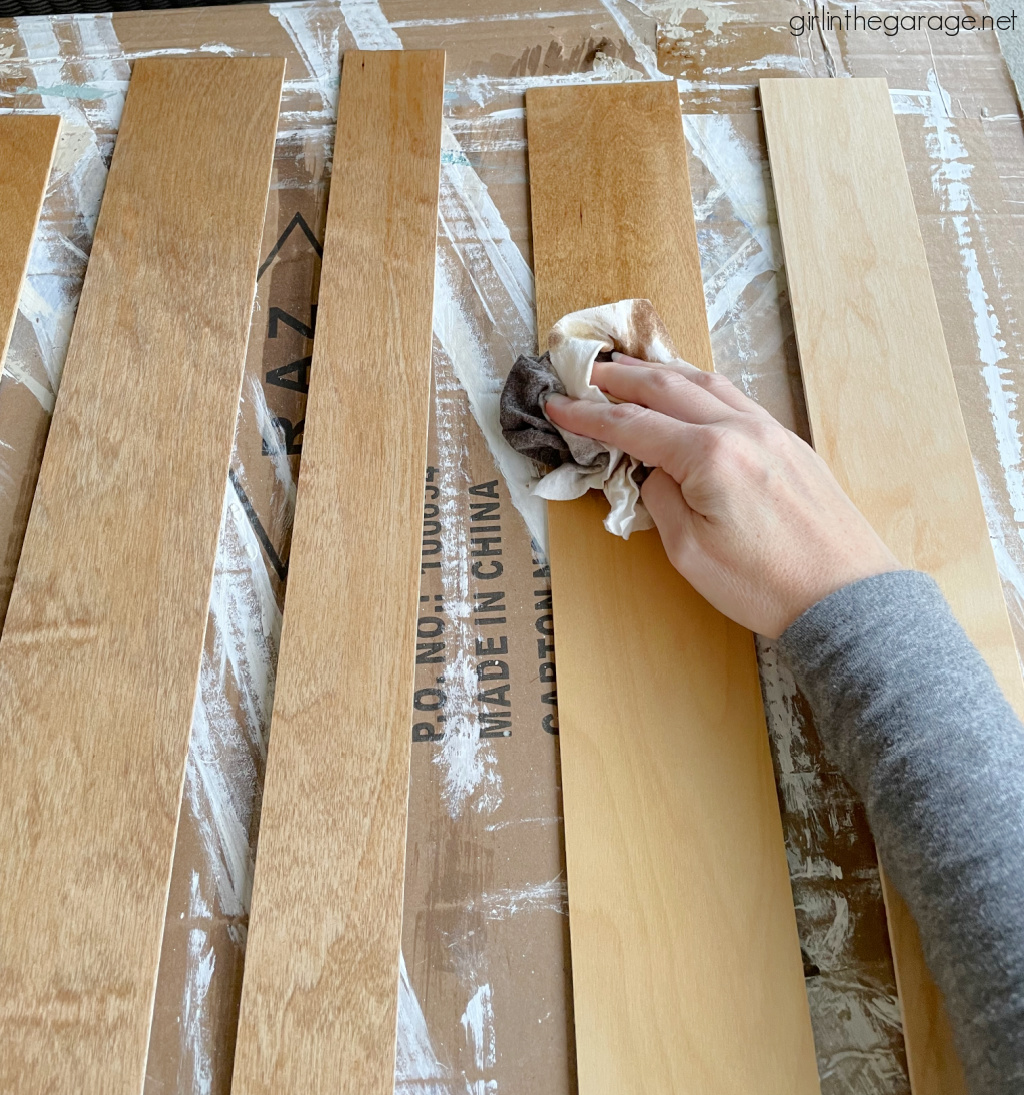 When the stain was dry, I applied E6000 glue to the back and glued the wood pieces inside the drawer.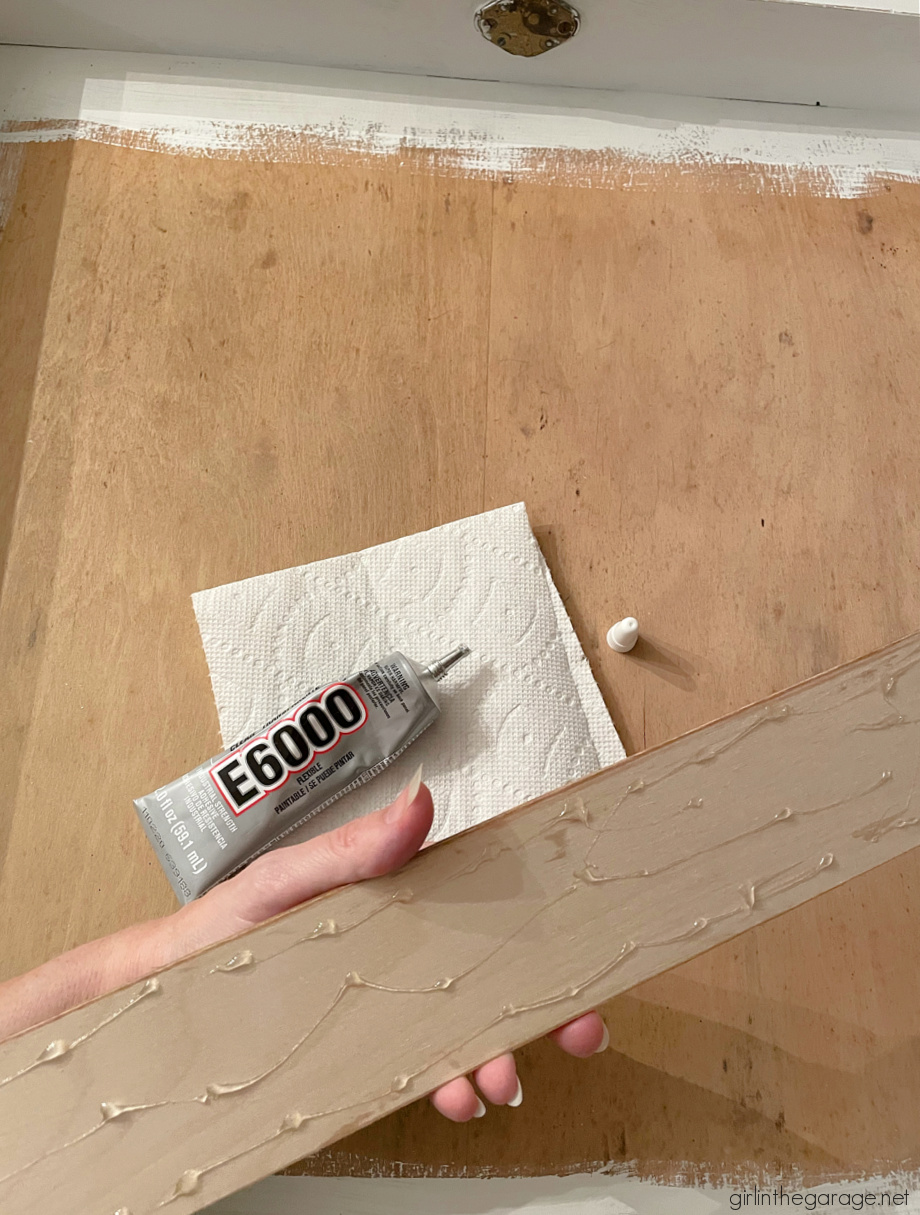 After they were all in place, I left the wood weighed down overnight while the glue dried.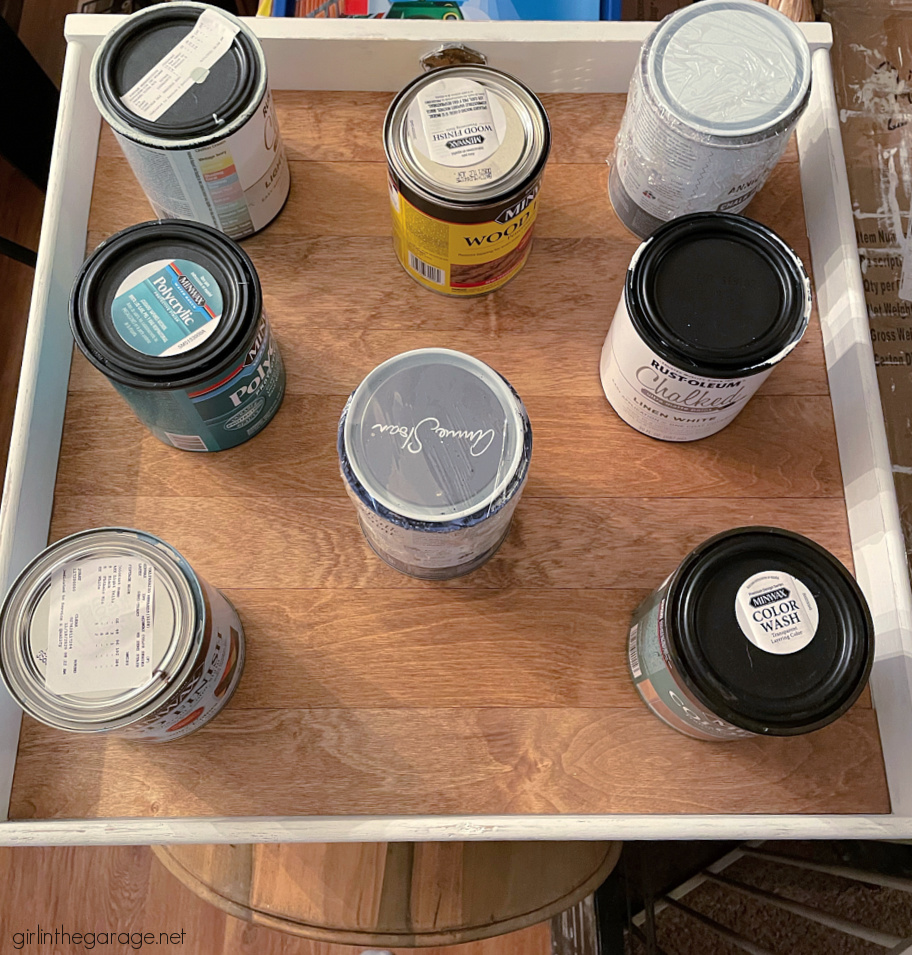 Almost done! Then I found the perfect hook at Hobby Lobby for 50% off to hang my wreaths from. I marked inside the holes so I wouldn't lose its place.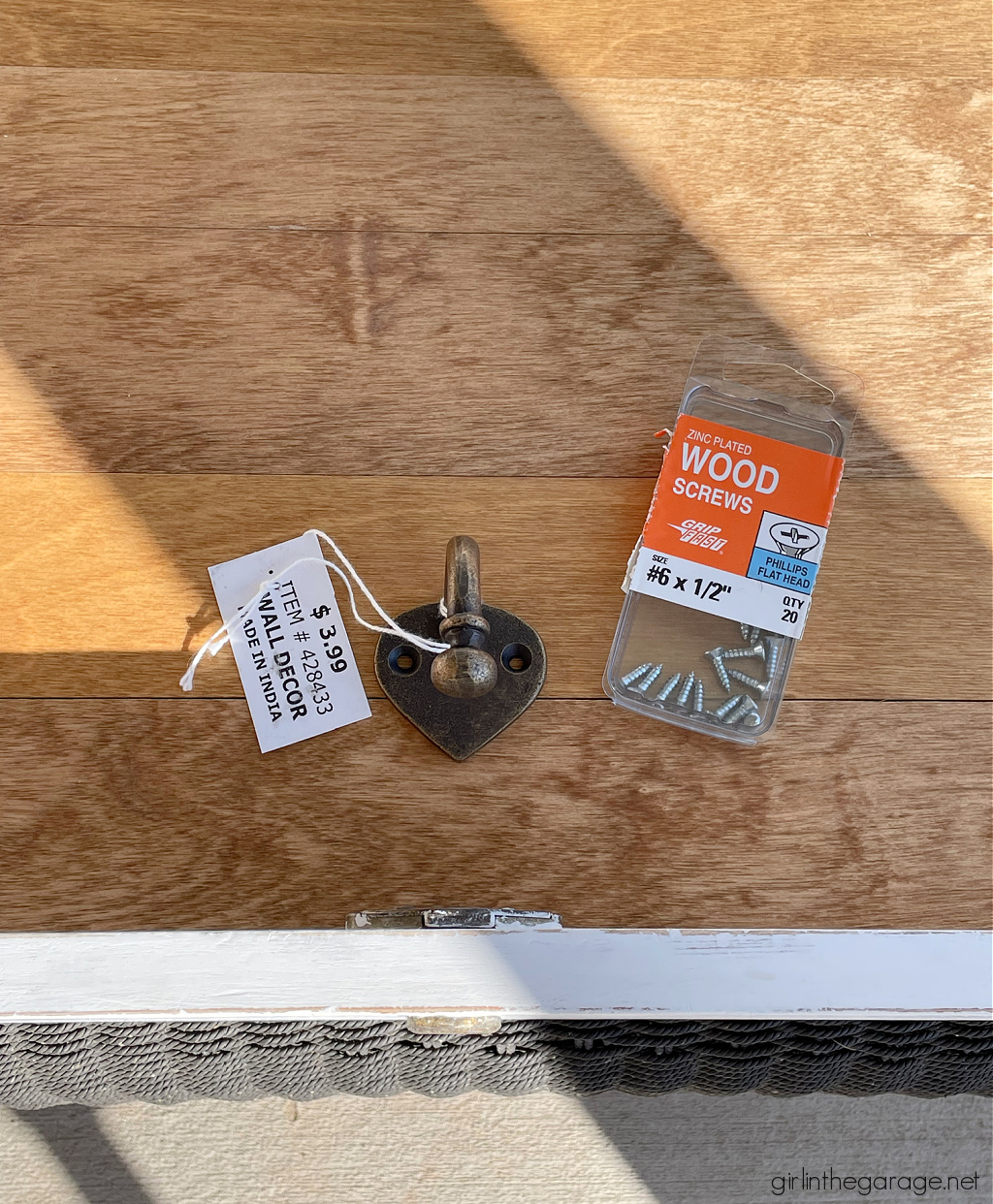 Then I used my handy drill/driver combo to secure the screws and attach the hook.
And that's all! I could've just easily painted the whole drawer but I'm so glad we did the extra work and added the stained wood planks.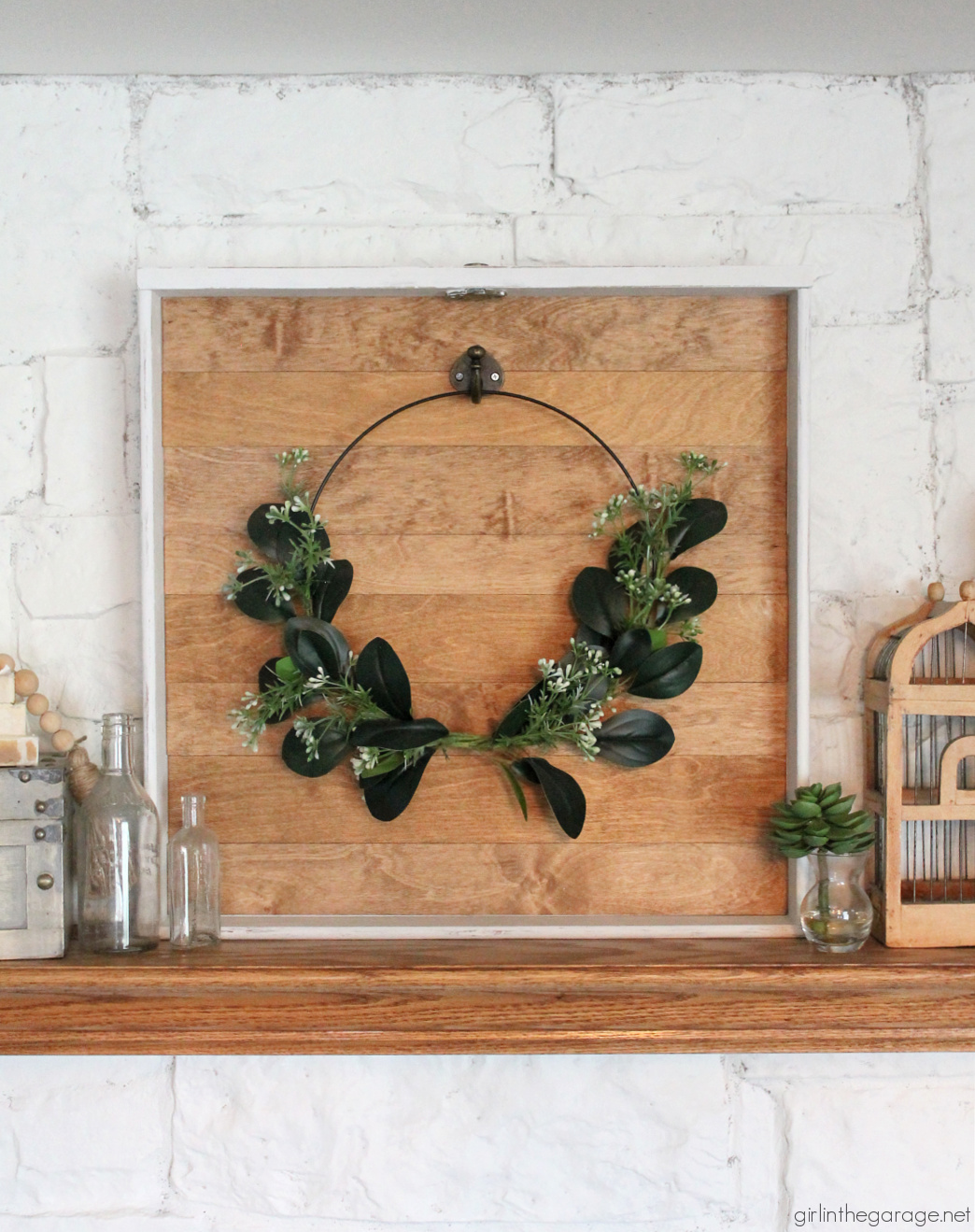 (The silver screws bother me a little, so I'll probably just go over them with a marker or a little paint.)
I moved another sign off my mantel to take photos of this DIY wreath hanger, and now I think this will stay right where it is! It already looks so good with everything else on my mantel.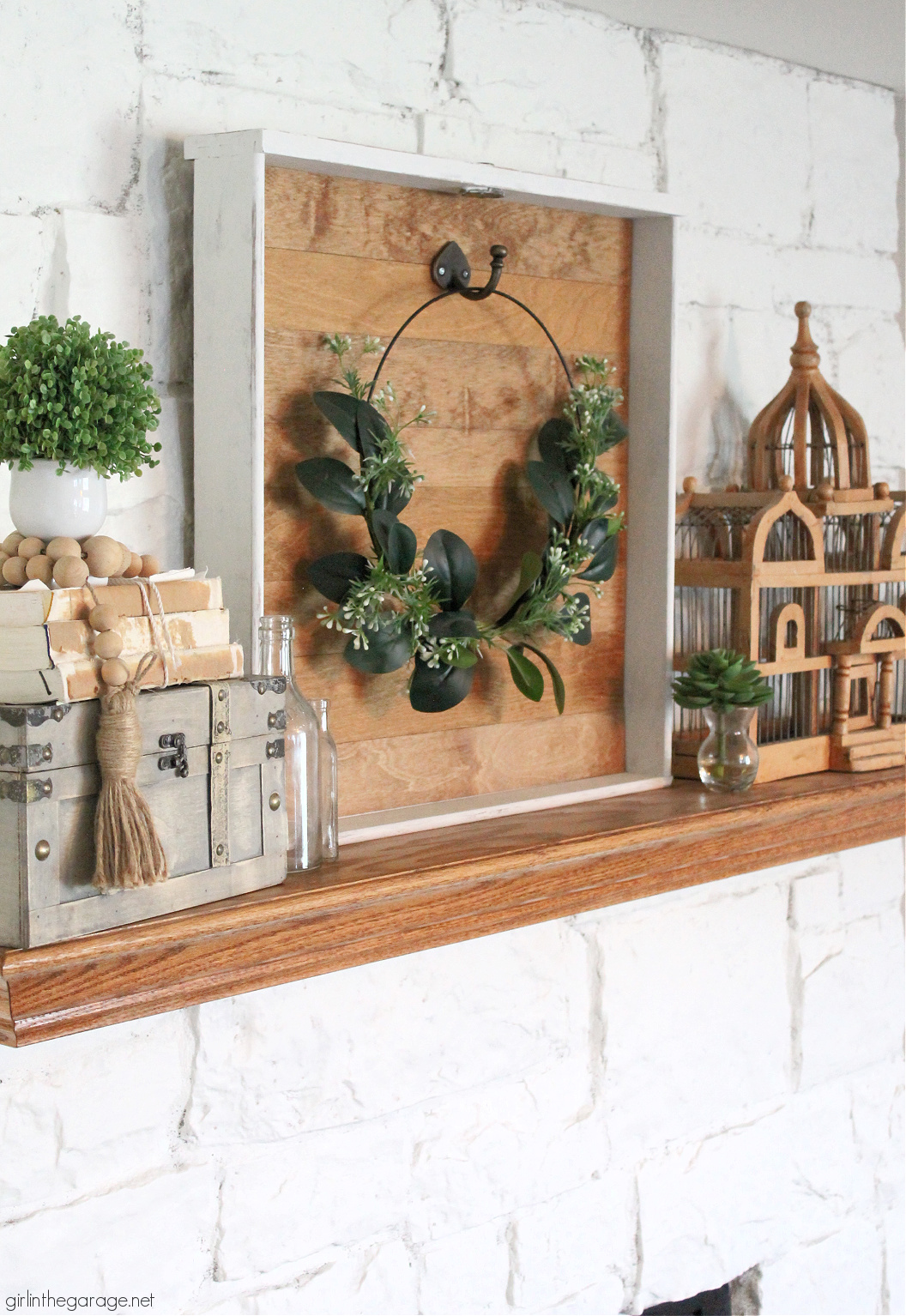 This drawer is sturdy enough to stand on its own, but you might want to add another piece of wood across the bottom as extra weight. Or you can skip the repurposed drawer entirely and just build a similar box yourself from wood pieces.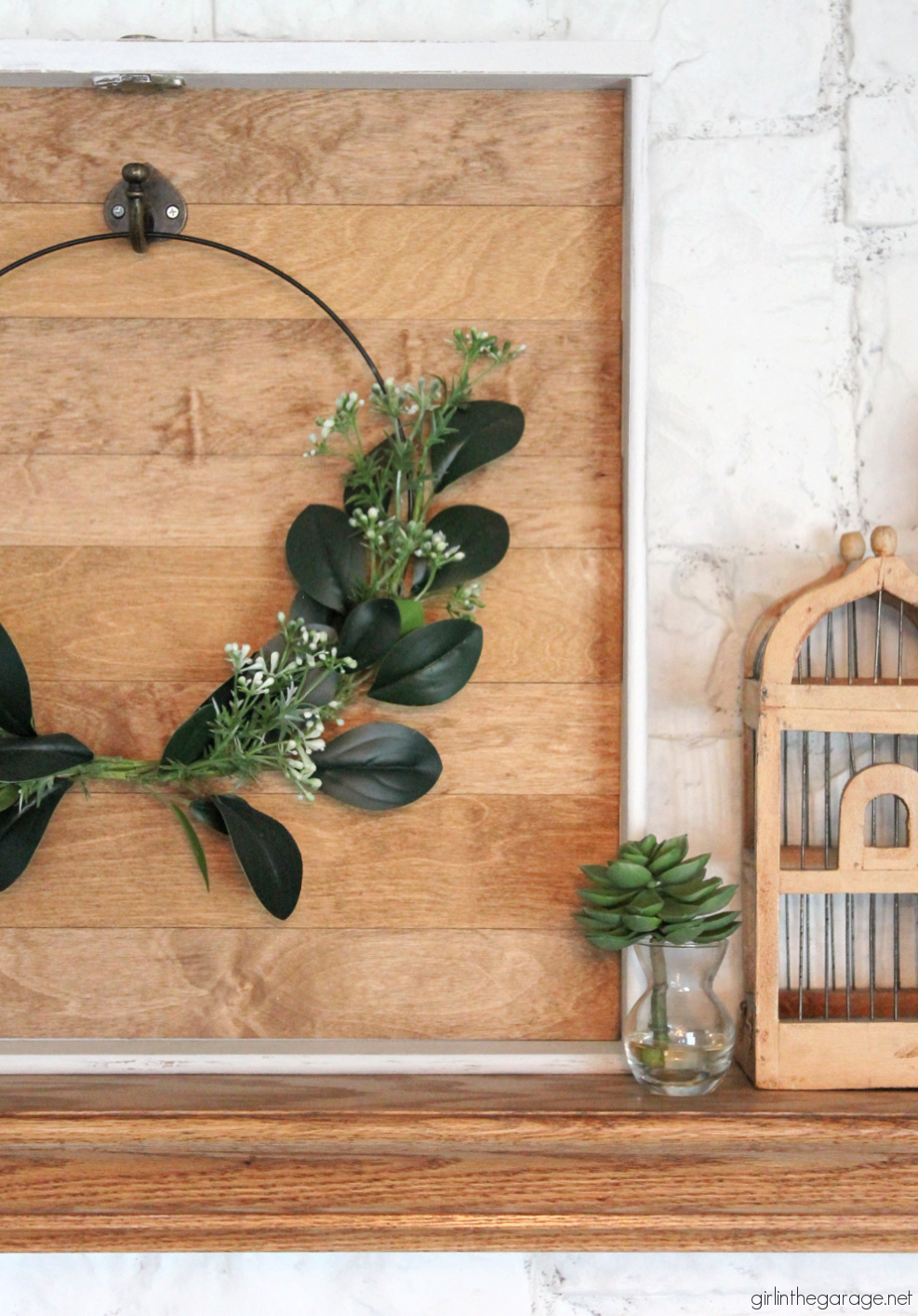 I painted our stone fireplace white last year and I'm still so happy I did it – you can read all about how to do it here.
I've always struggled with how to hang wreaths above our mantel, and in the past I've hung them from an empty vintage frame. But I'm really excited now to use my new wreath hanger for the holidays too!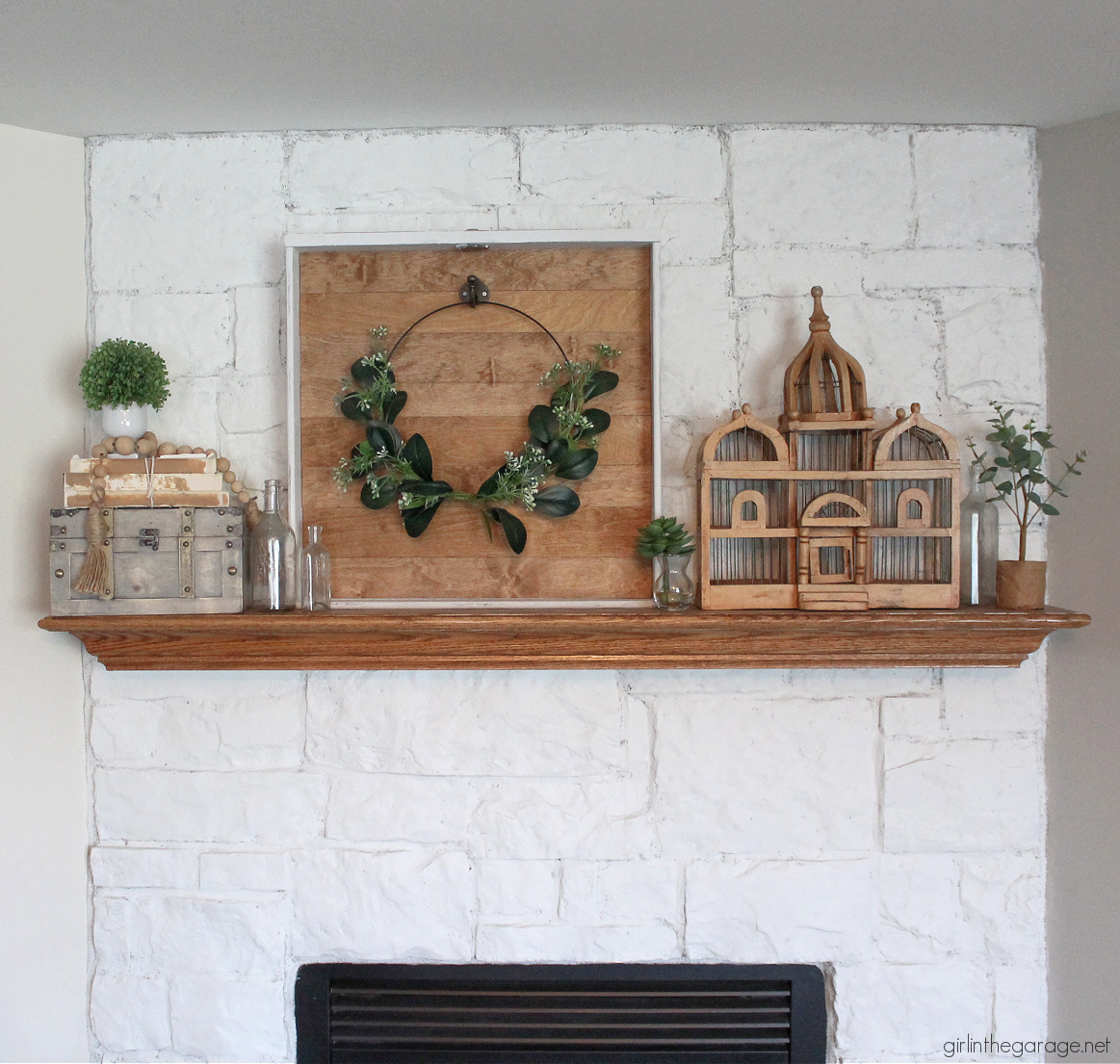 This Trash to Treasure project turned out even better than I expected – it's definitely a keeper. I hope you like it too! Let me know what you think in a comment below.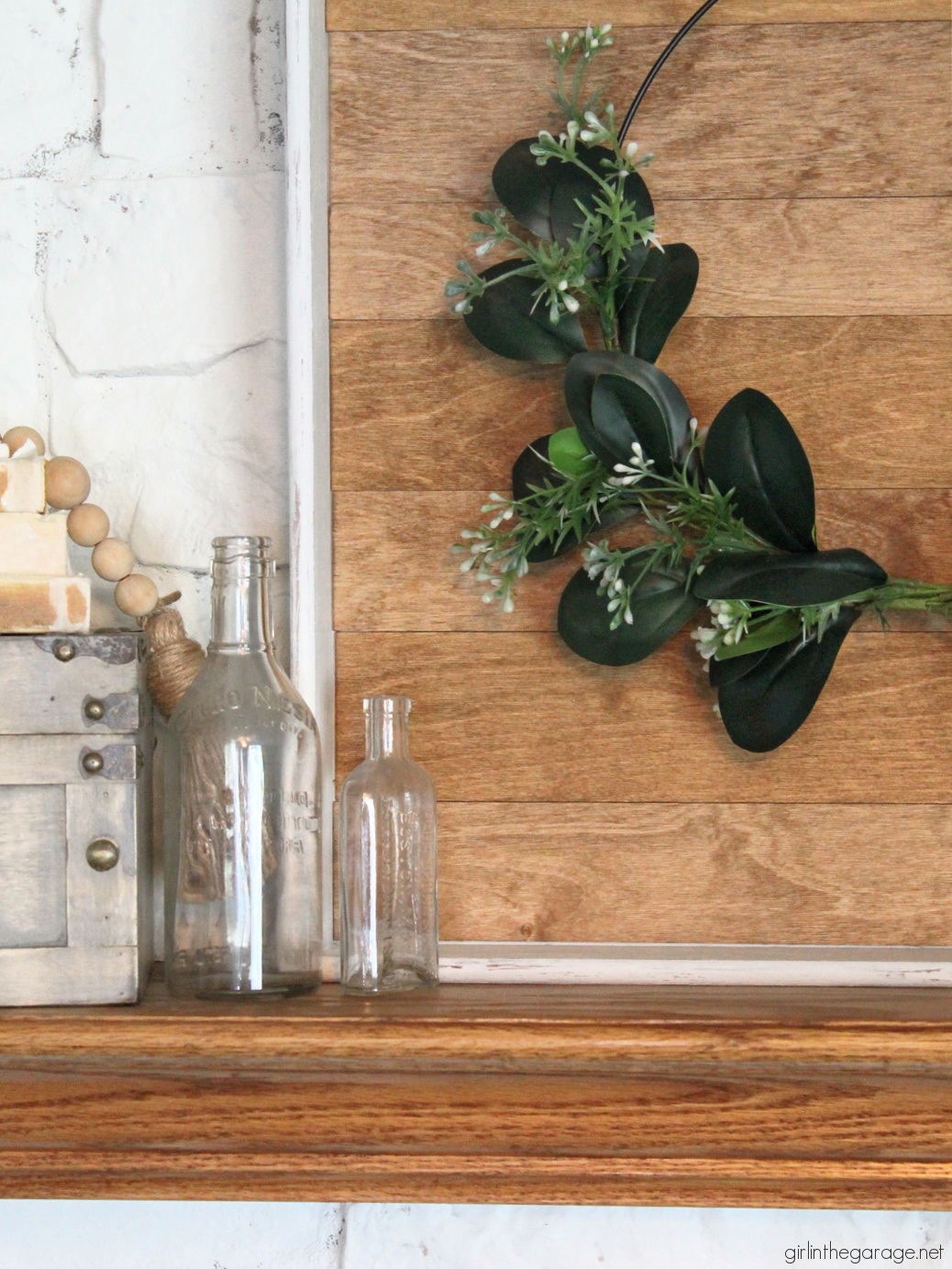 Please feel free to share this DIY wreath hanger tutorial with someone else who might enjoy it, or Pin it for easy access later.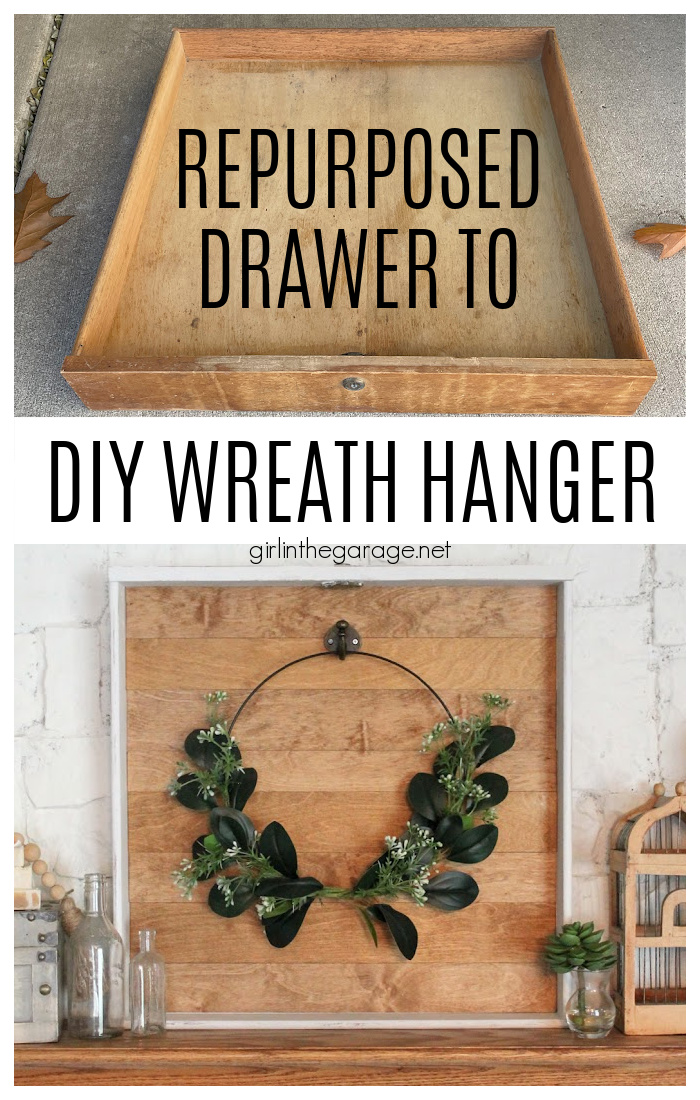 Discover many more creative upcycled drawer ideas here: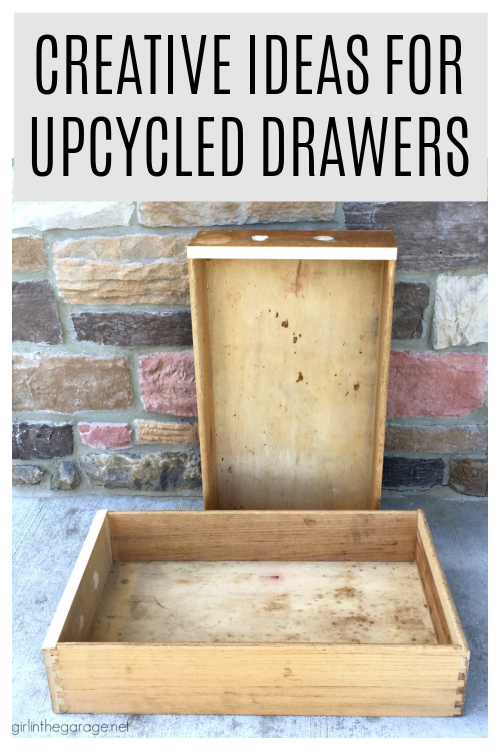 Now it's time for some Trash to Treasure makeover fun! Below are my friends' Before photos – visit the links underneath to see the amazing Afters and to learn how they did it!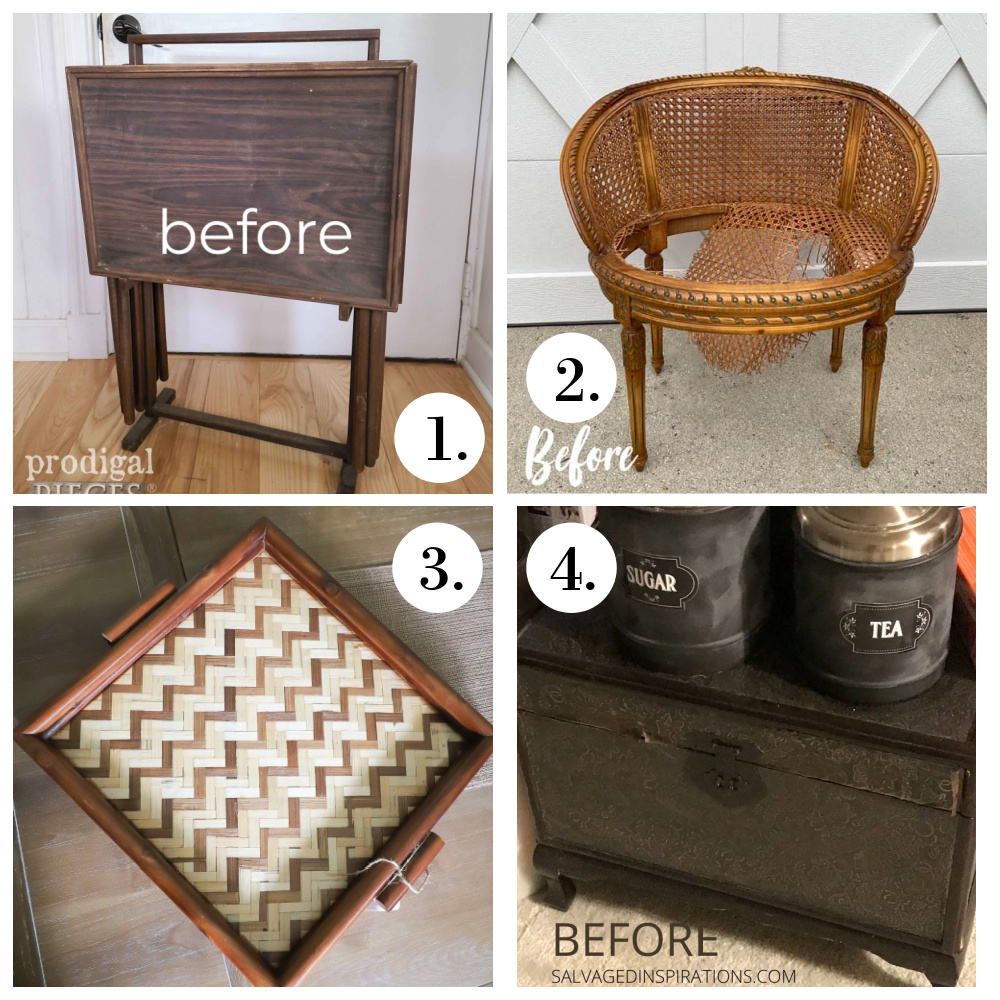 1. Prodigal Pieces
2. Confessions of a Serial DIYer
3. Artsy Chicks Rule
4. Salvaged Inspirations