Friend, today's project for Furniture Fixer Uppers day has me feeling a bit festive and bold. I scored this thrifted end table for $20 – a little high, but it has nice curves and bones.
I decided to use a color I haven't used in years – bright red. Annie Sloan Chalk Paint in Emperor's Silk is an amazing bold red and perfect for getting in the holiday spirit. Below, watch how this project becomes a gorgeous red painted table with Chalk Paint and clear and black wax for a little extra drama.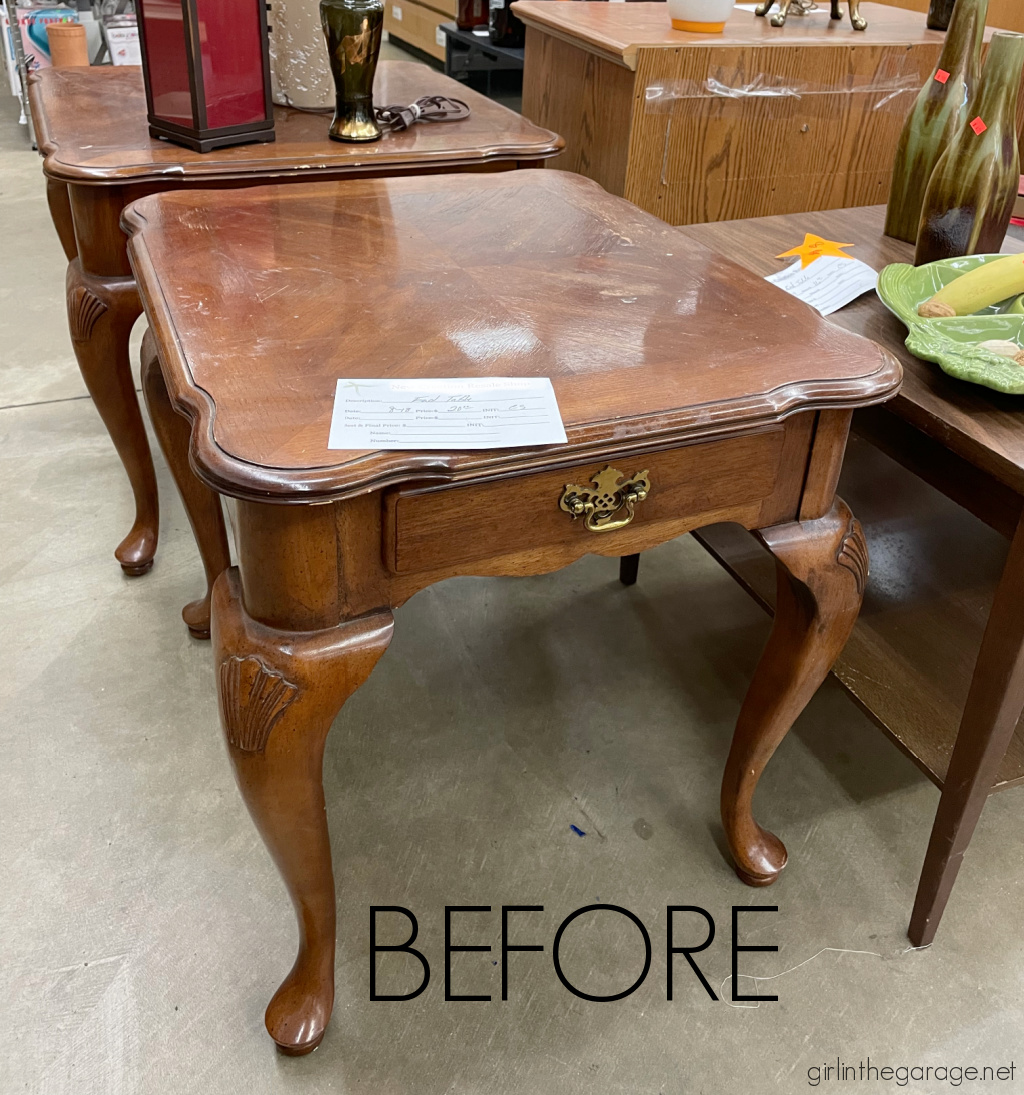 This post contains some affiliate links so you can easily find the products I use and recommend. Discover all my favorite brands and tools for doing DIY makeovers here.
First, I cleaned the cobwebs off the wood table and then lightly sanded all over with 220 grit sandpaper. There were some uneven areas on top that I wanted to smooth, and also the finish was glossy so I wanted to scuff it up a little so the paint would stick better to the surface.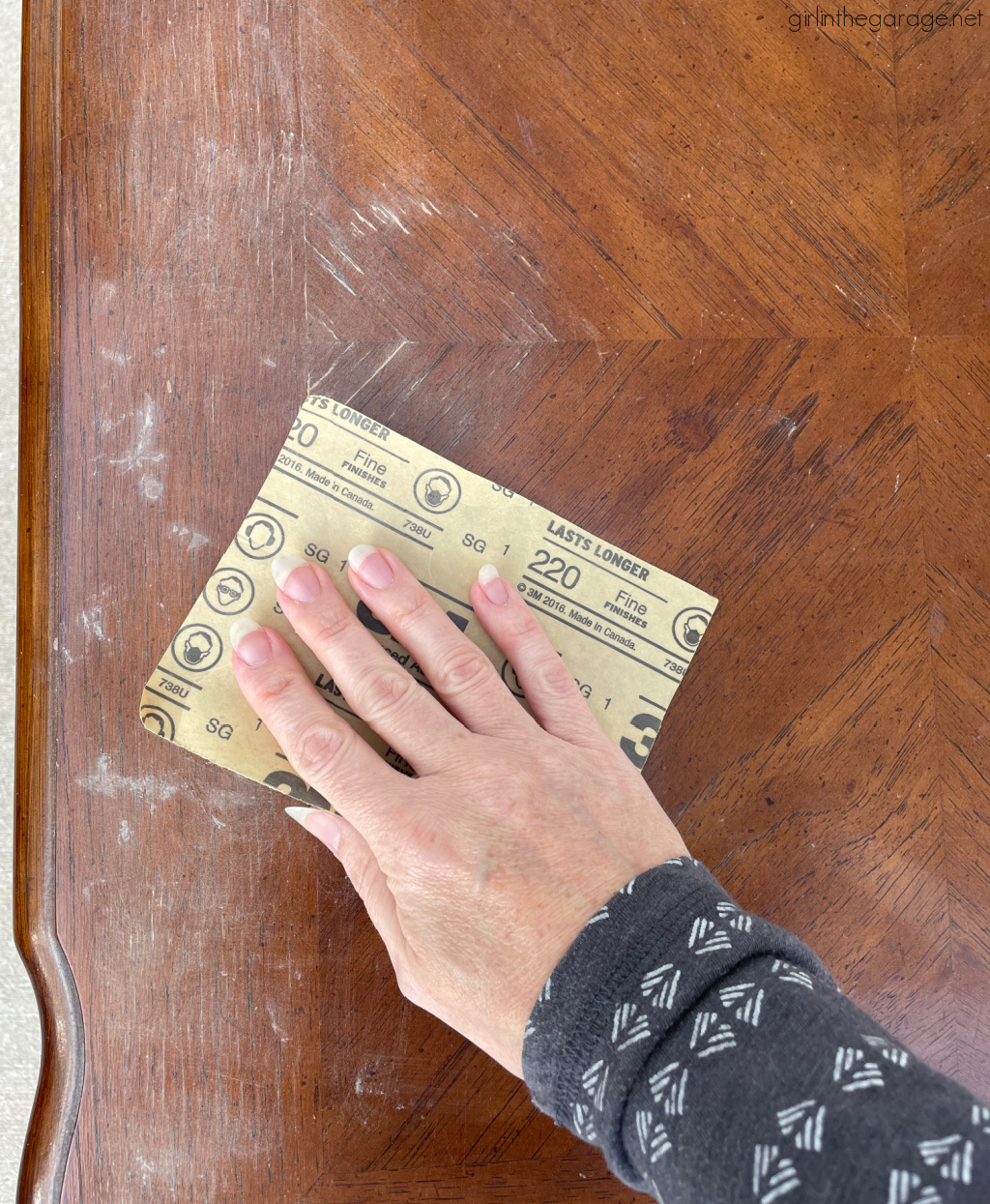 Afterward, wipe away the sanding dust before painting.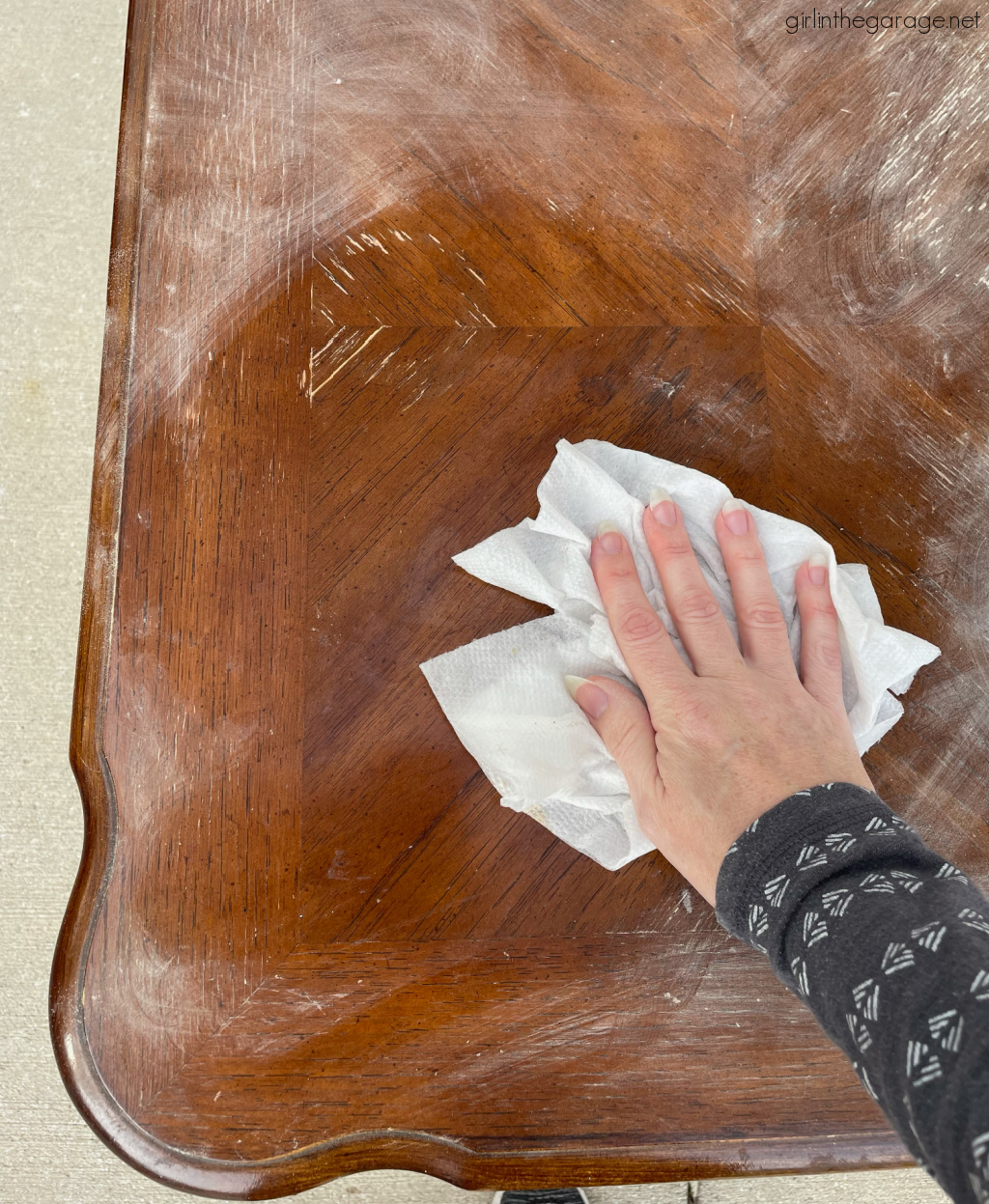 I knew I wanted to paint this table red, but with an overall dark finish. If I wanted to do a lighter finish, I would've primed the table before painting to prevent bleed-through in the lighter areas you can see below.
However, I painted a base coat of Athenian Black Chalk Paint first.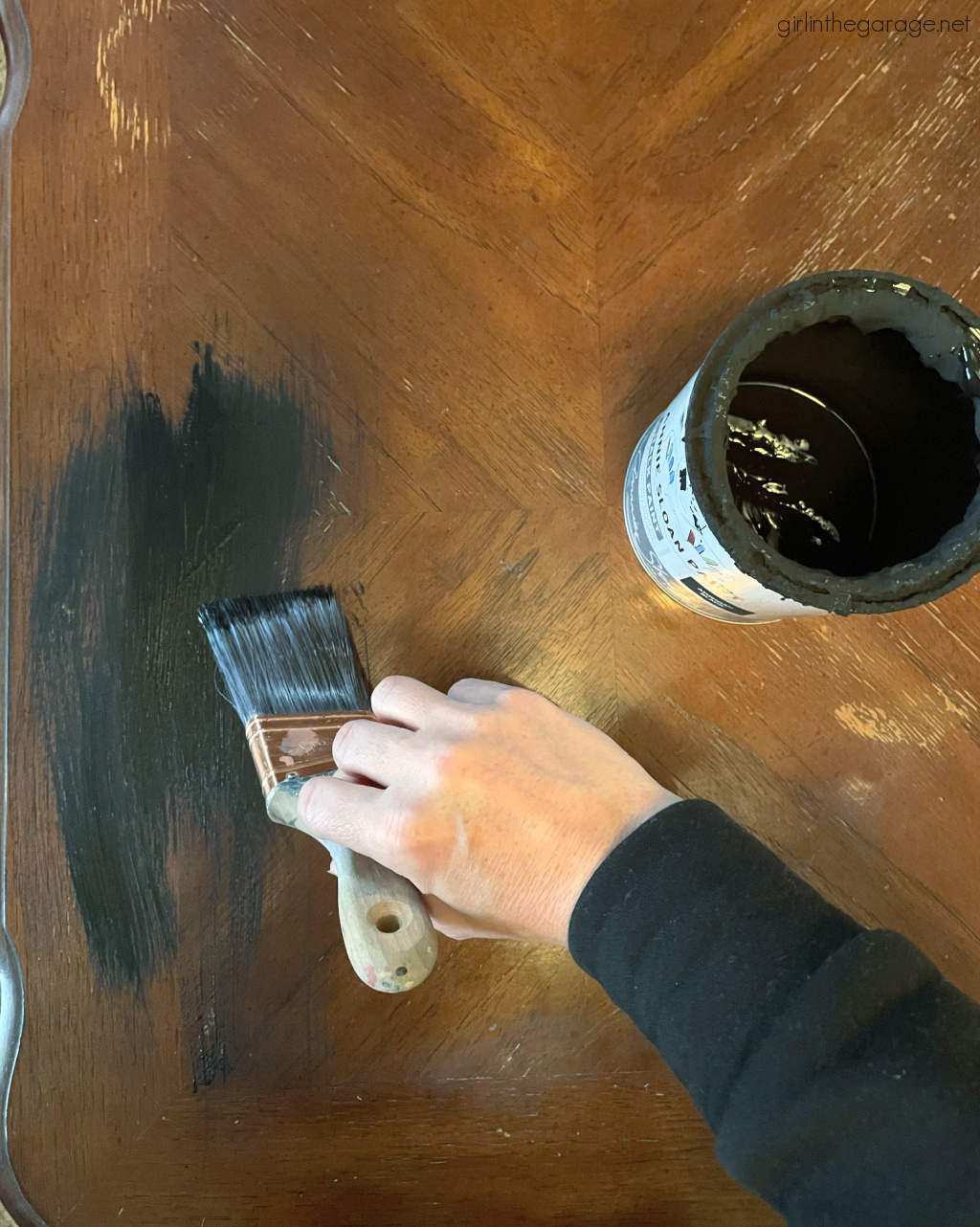 While that was drying, I measured and marked the center of the drawer for a new pull.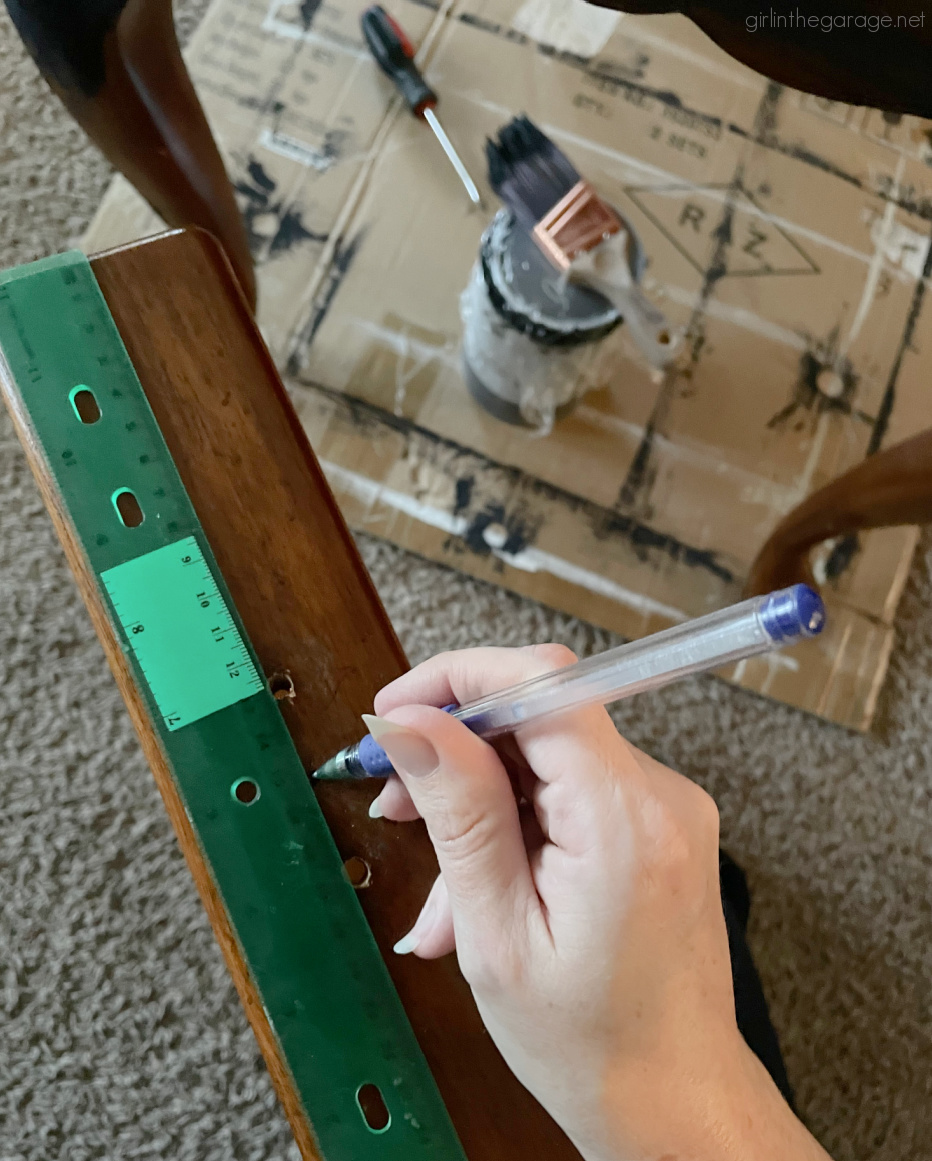 Then I used my trusty drill/driver to quickly make the new hole…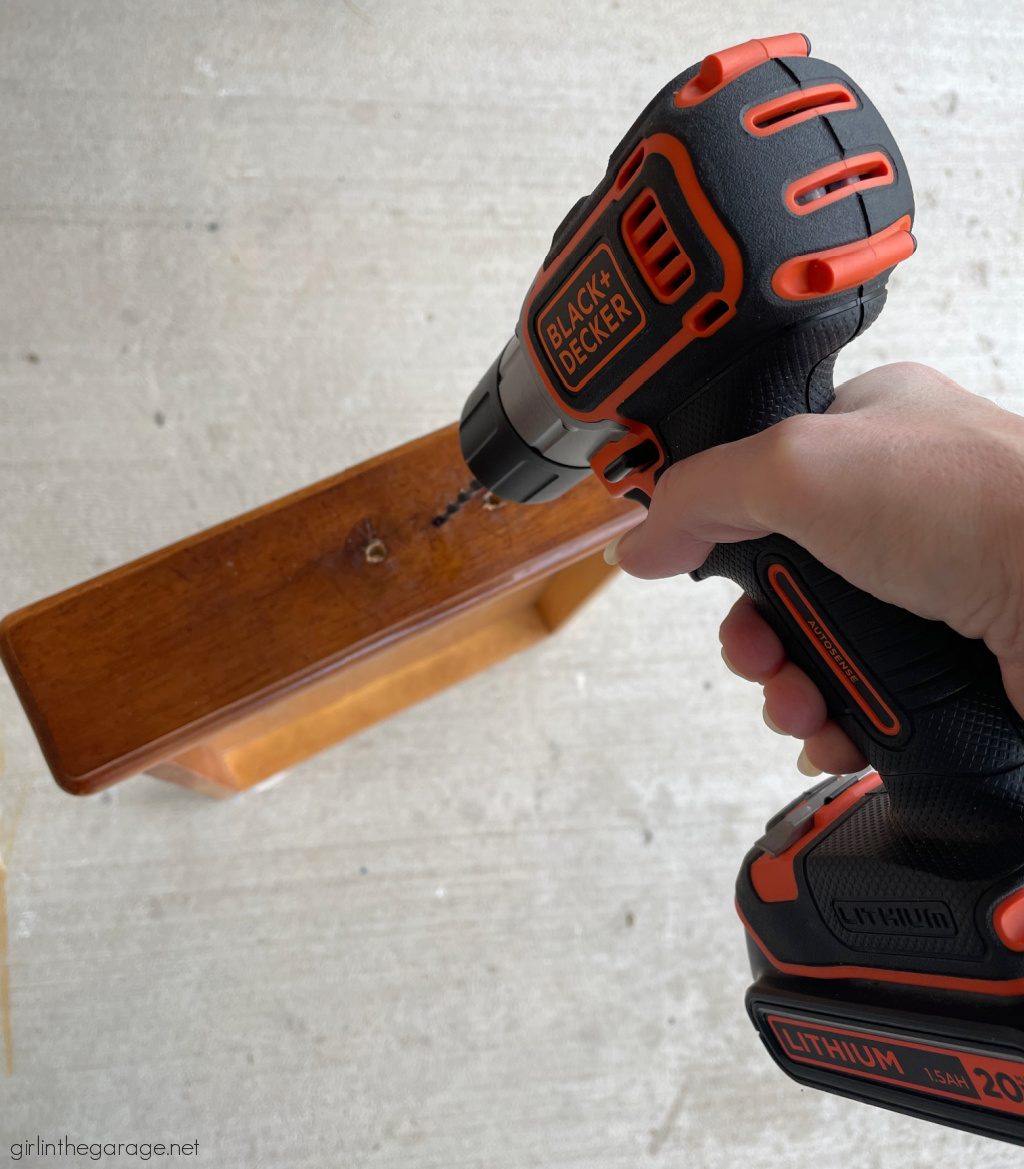 and I filled the old holes with wood filler and let them dry. After a few hours I sanded the areas smooth with sandpaper.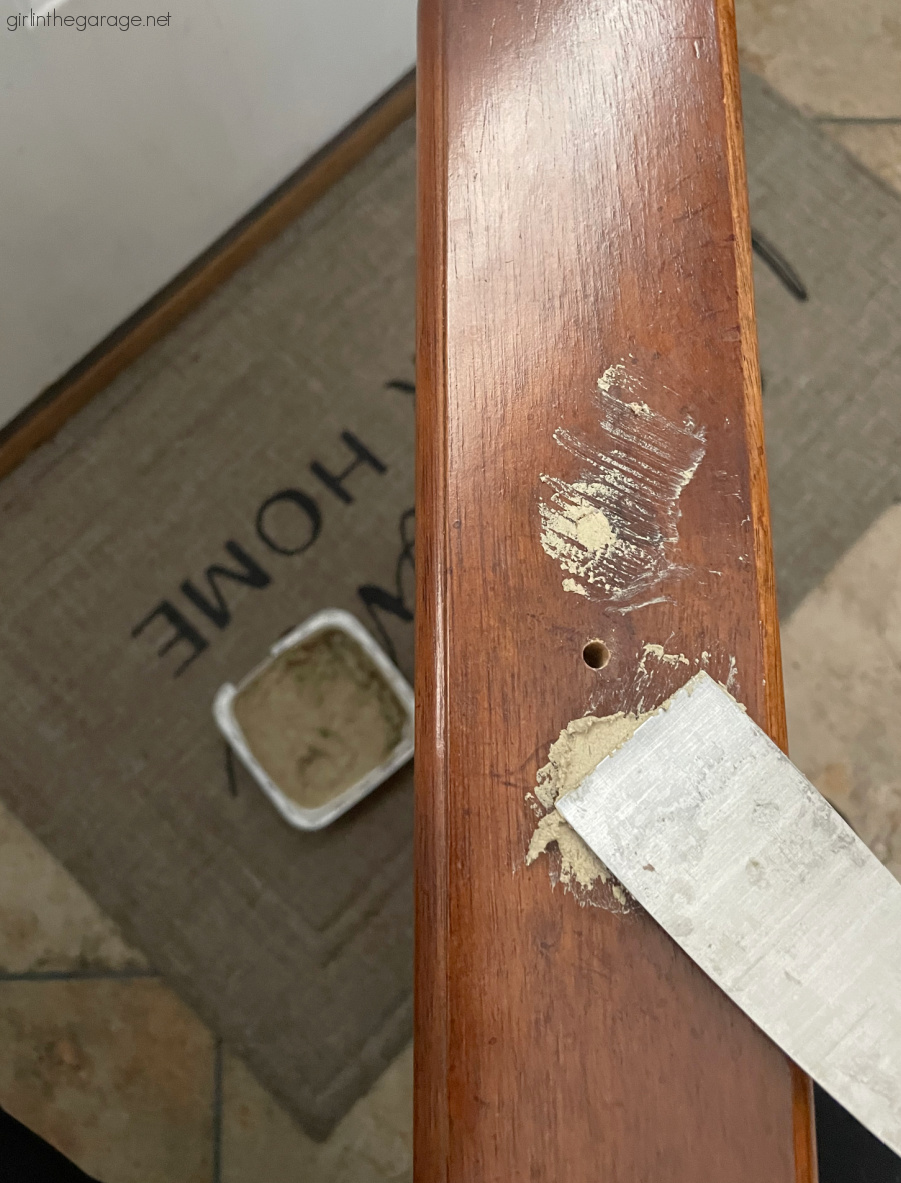 Then luckily I found a knob in my stash which I hoped would be perfect. I like to buy a few knobs whenever I see them on clearance just so I always have some to pick from at home. And you can't beat that price!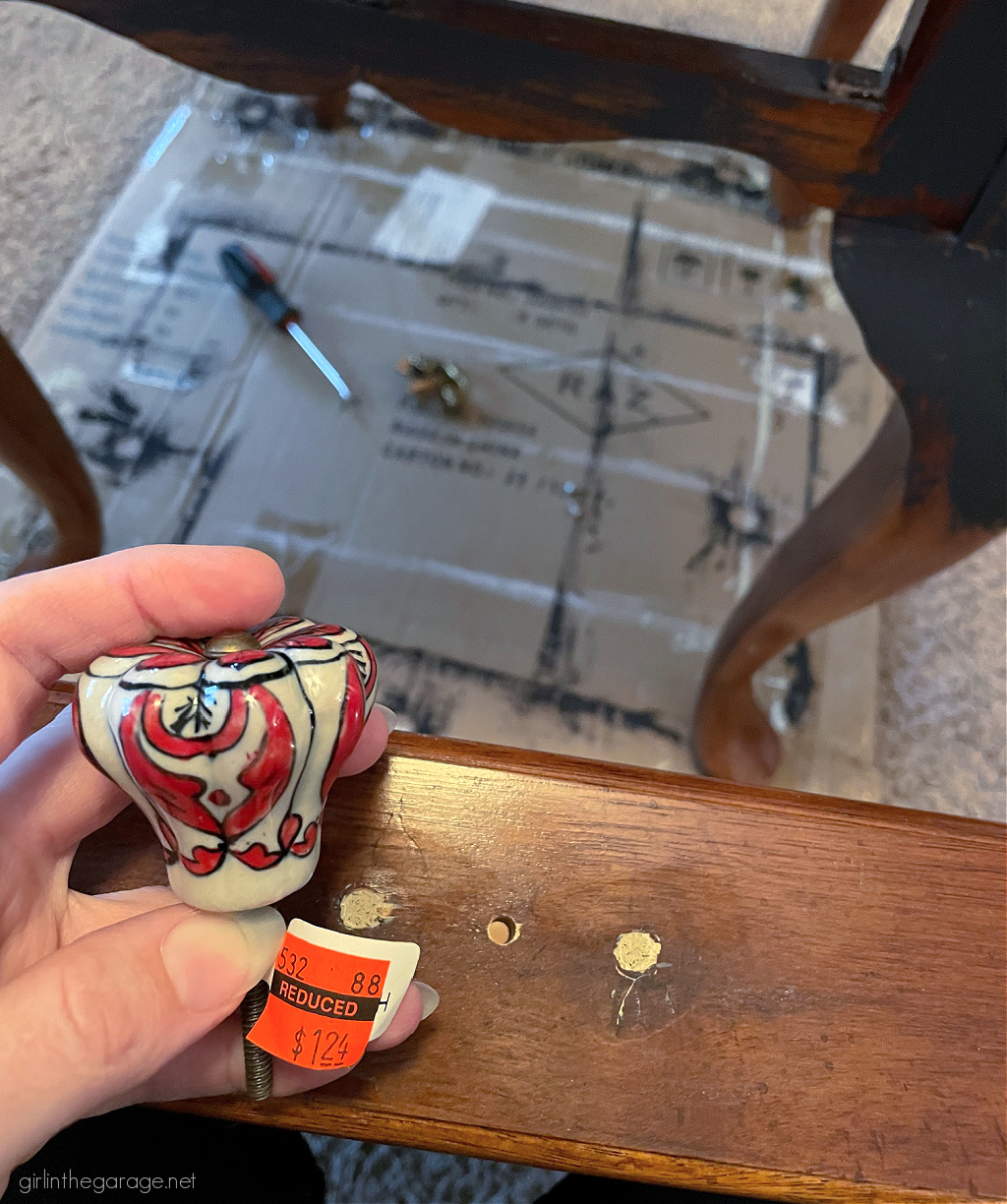 Next I painted the table with 2 coats of Annie Sloan Chalk Paint in Emperor's Silk using one of my favorite Purdy paint brushes. The can is old and the paint that was left was thicker than usual. I added a little water to thin it out, but I still ended up with a lot of texture when I painted.
Learn all my best tips for how to Chalk Paint furniture here.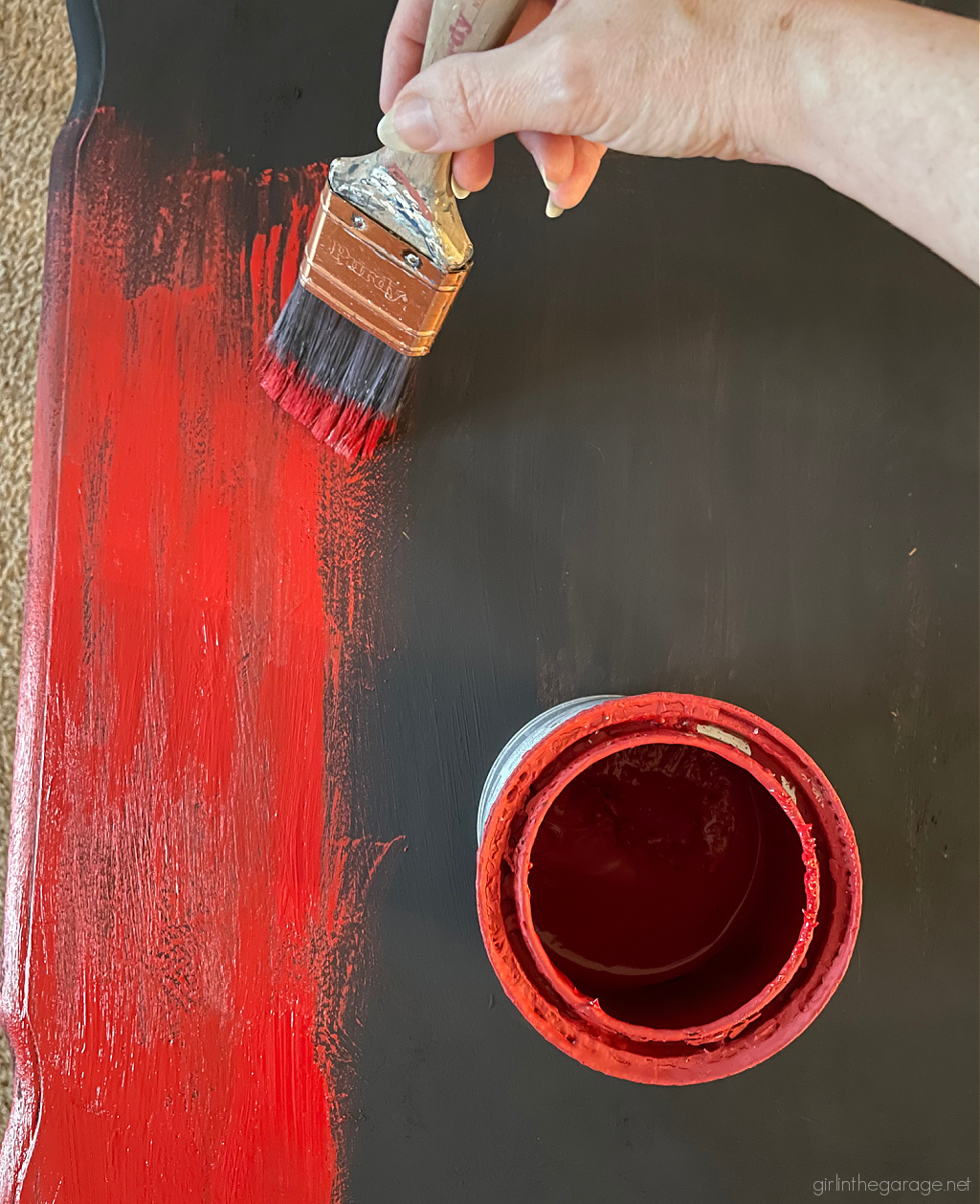 When the red paint was dry, I sanded all over to smooth the surface and lightly distress it. My hope was to see the black underneath the red, which worked out really well in some of the detailed areas.
When you're sanding medium or dark colors of Chalk Paint, you might have this "ghosting" effect that lightens the surface which you can start to see happening below. That is normal and has always been fixed when I apply the topcoat later.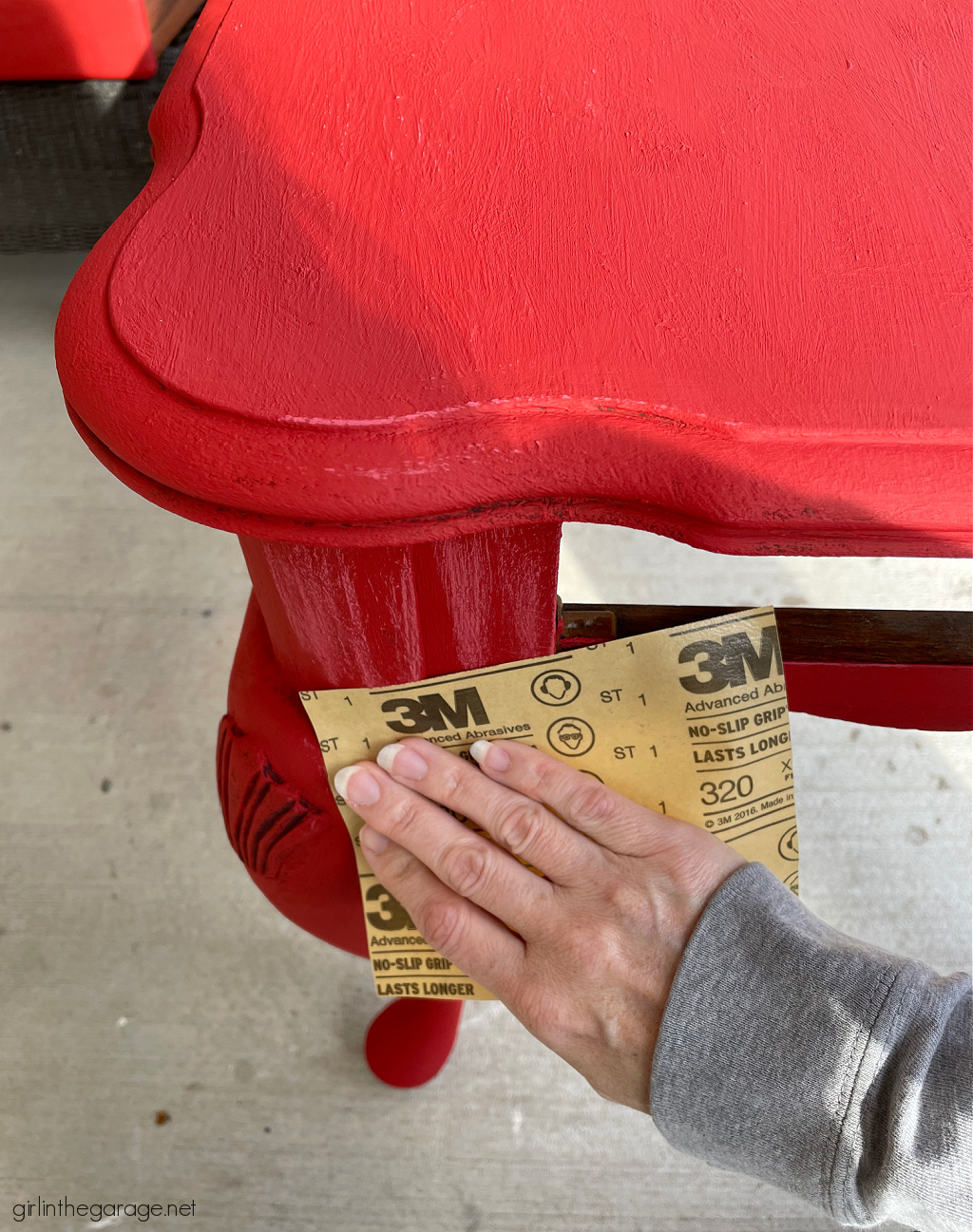 I said I wanted a dark effect for this table and not just a bright cherry red. I worked in sections, applying Annie Sloan's clear wax with a lint free cloth first…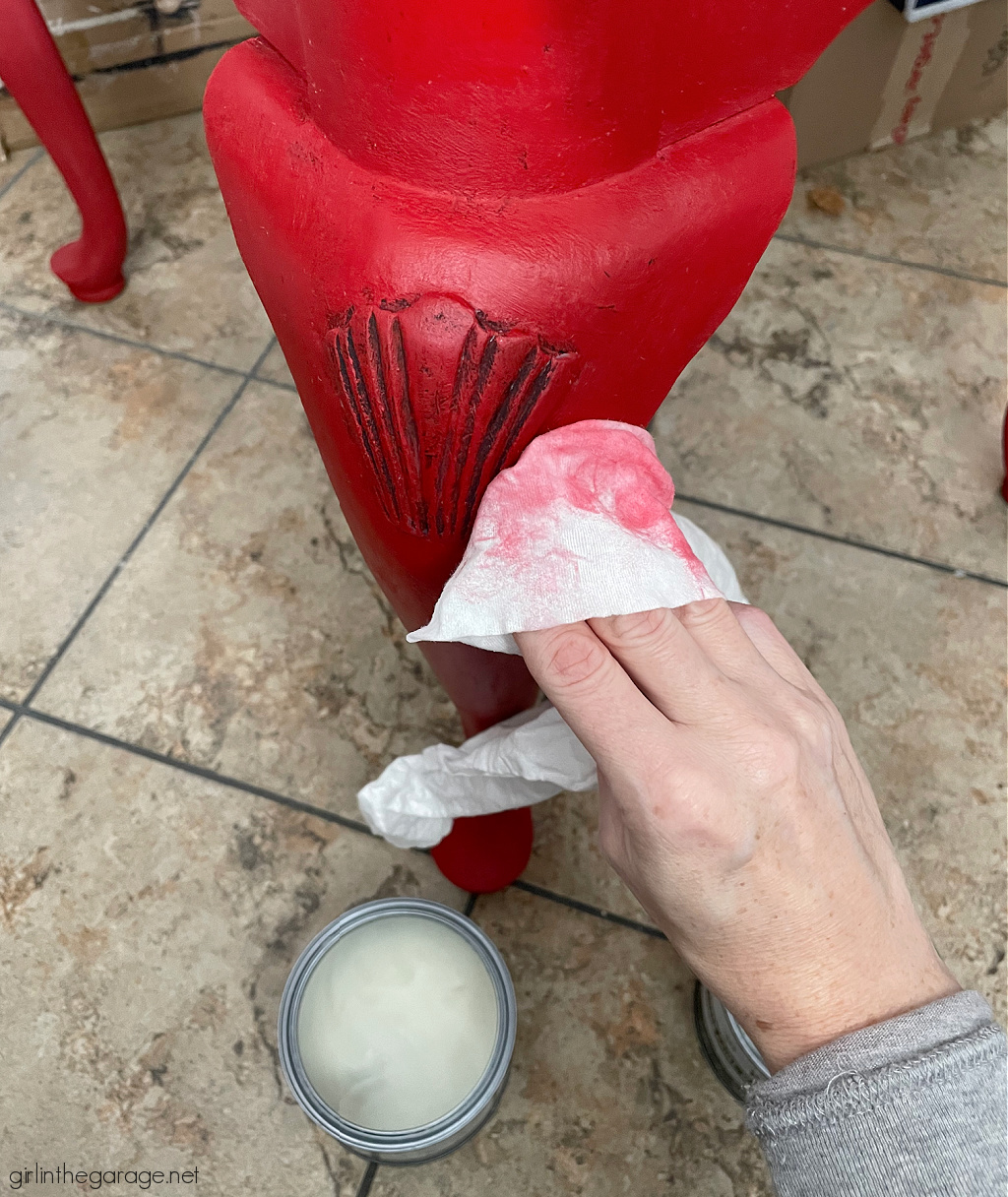 and then immediately applying black wax over the clear with a different cloth. By using the clear wax first, it acts as a slight barrier so you can control how much black you use. Then wipe on a little more clear wax to remove some of the excess black. Take your time and you can end up with really nice, dramatic results.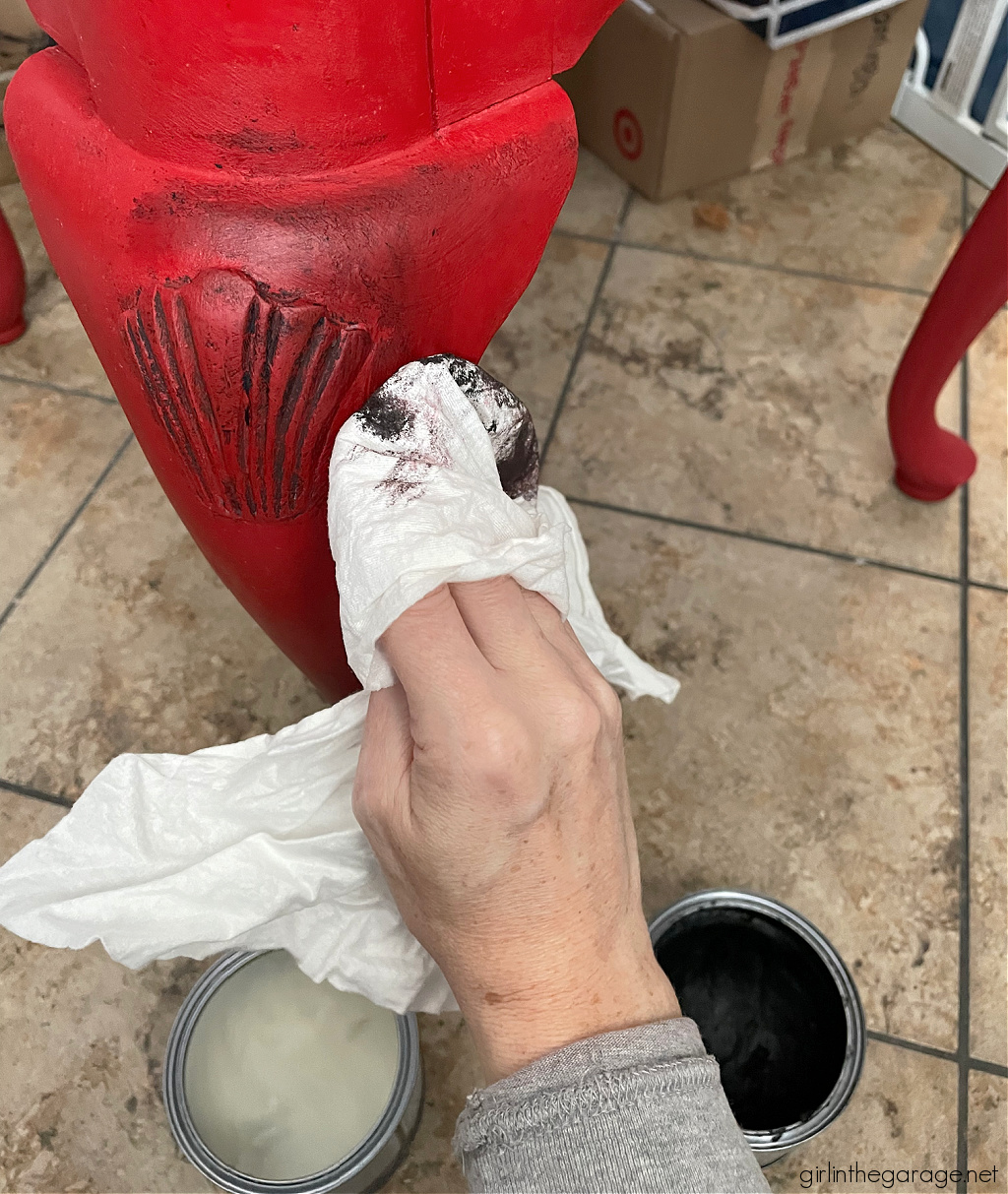 Just be careful not to dip your cloth in the wrong wax! I actually pushed the one I wasn't using further away to avoid any accidents. And always remember to apply clear wax first if you're planning to use black or brown wax on furniture.
Below you can see the difference between the sanded red top with the ghosting and the front leg which has the clear and black wax applied.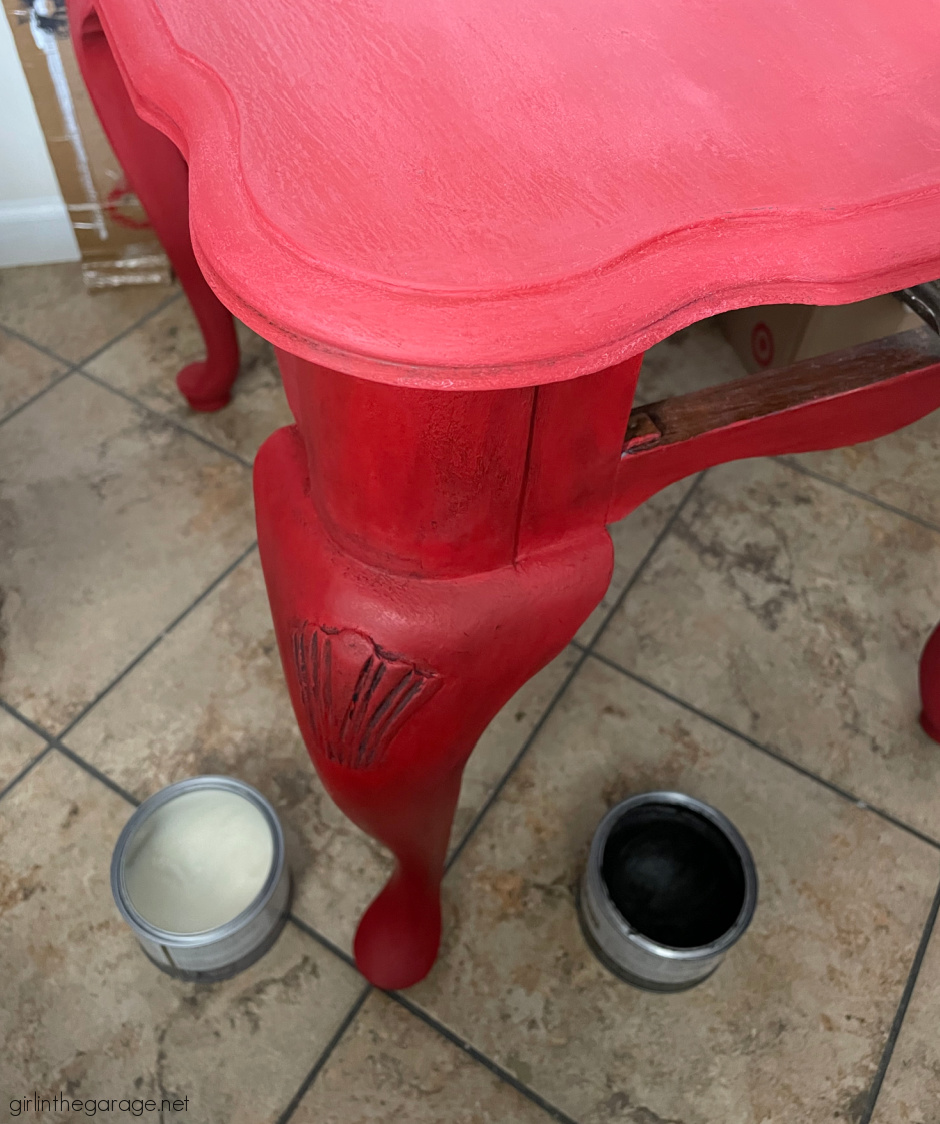 Once you've finished waxing the table, add the new pull and you're good to go! But remember that wax takes up to 30 days to fully cure, so be gentle with your furniture for the first several weeks.
Here's how this thrifted red painted table looks now: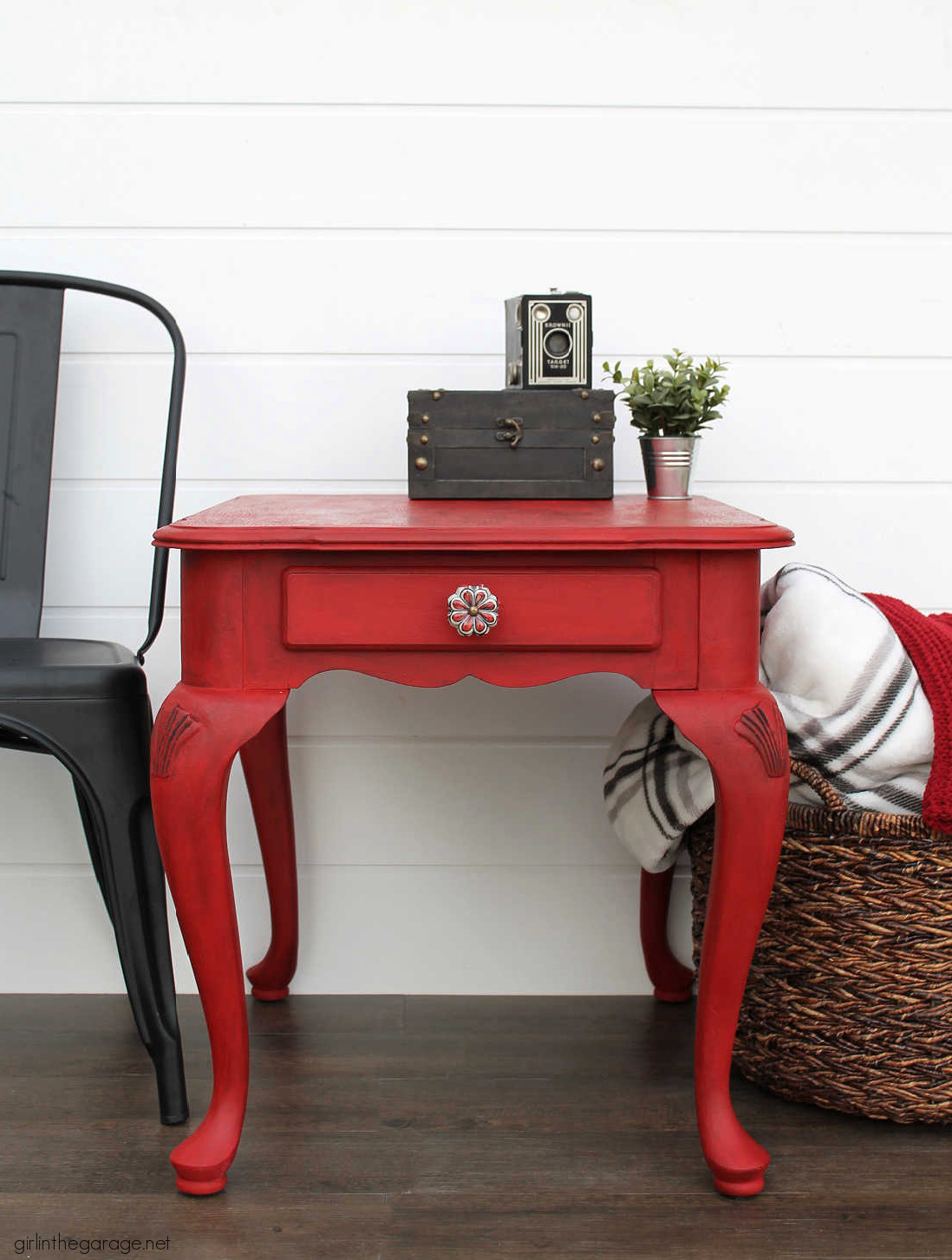 Red is my favorite color, so I'm surprised I don't use it on more furniture makeovers. But I think it looks gorgeous on this wood end table!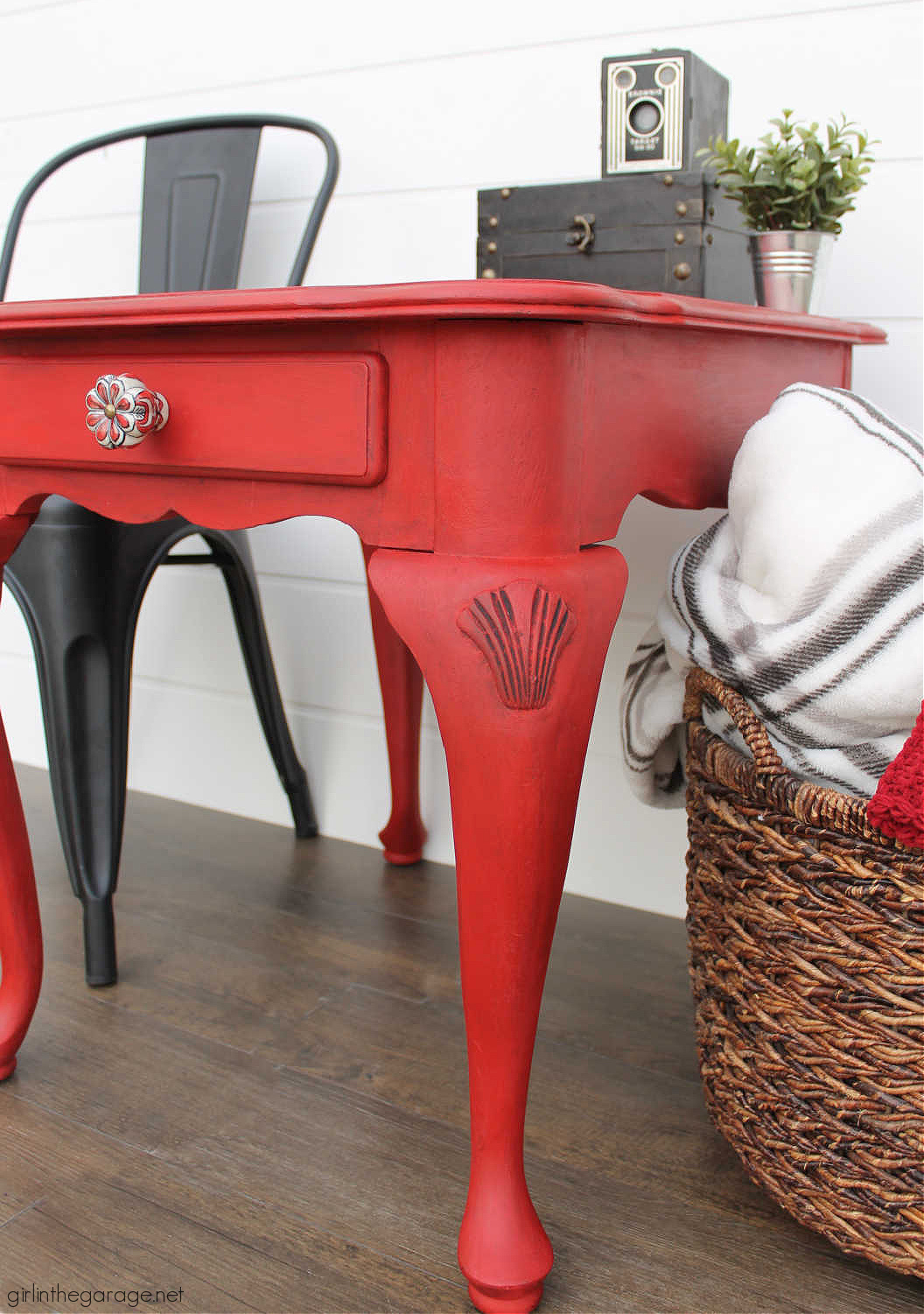 And that new knob is a match made in heaven. Here are some colorful ceramic knobs that are similar in style.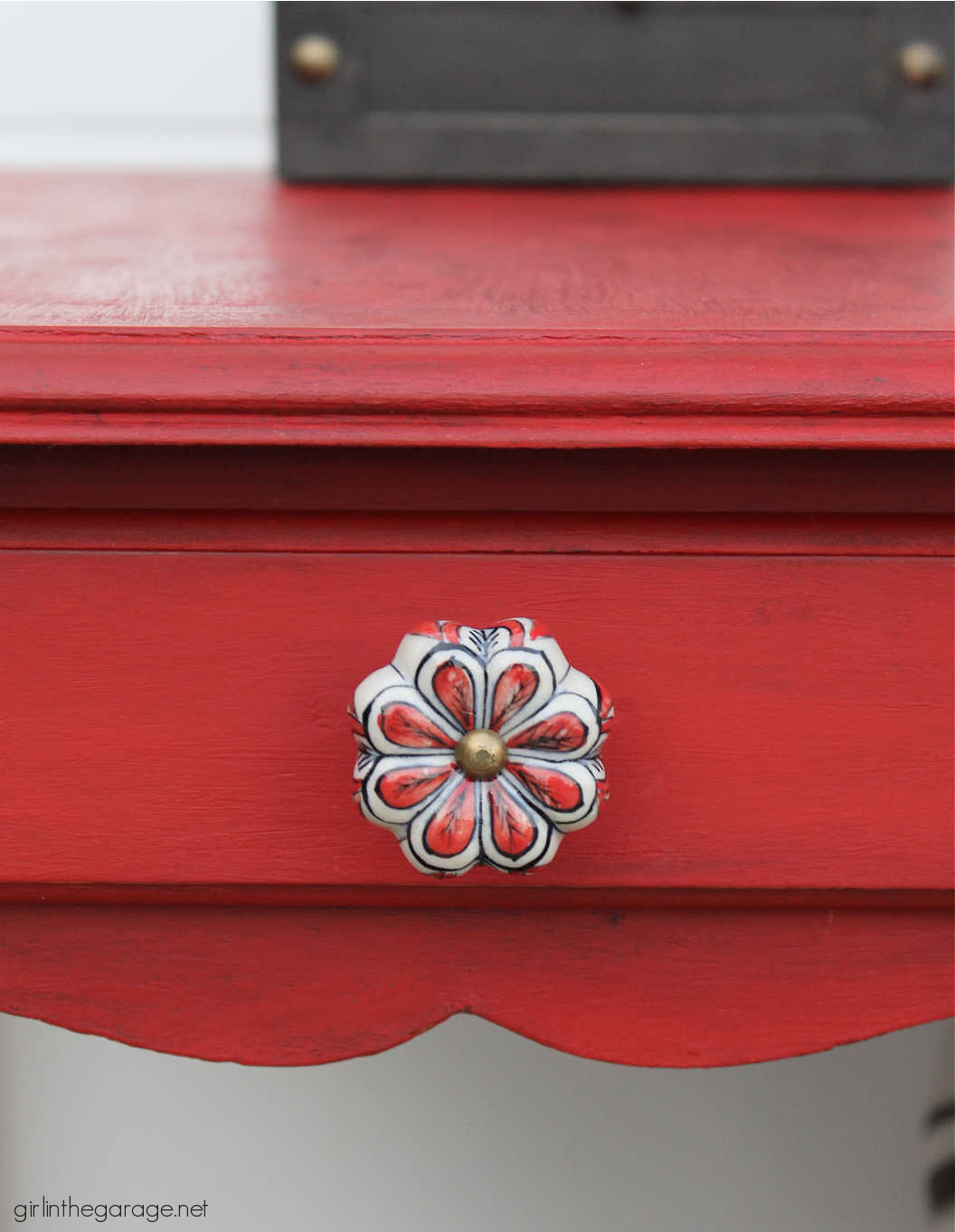 The black wax adds so much more depth to this project. If I had only used clear wax, or maybe white wax instead, the results would've been completely different.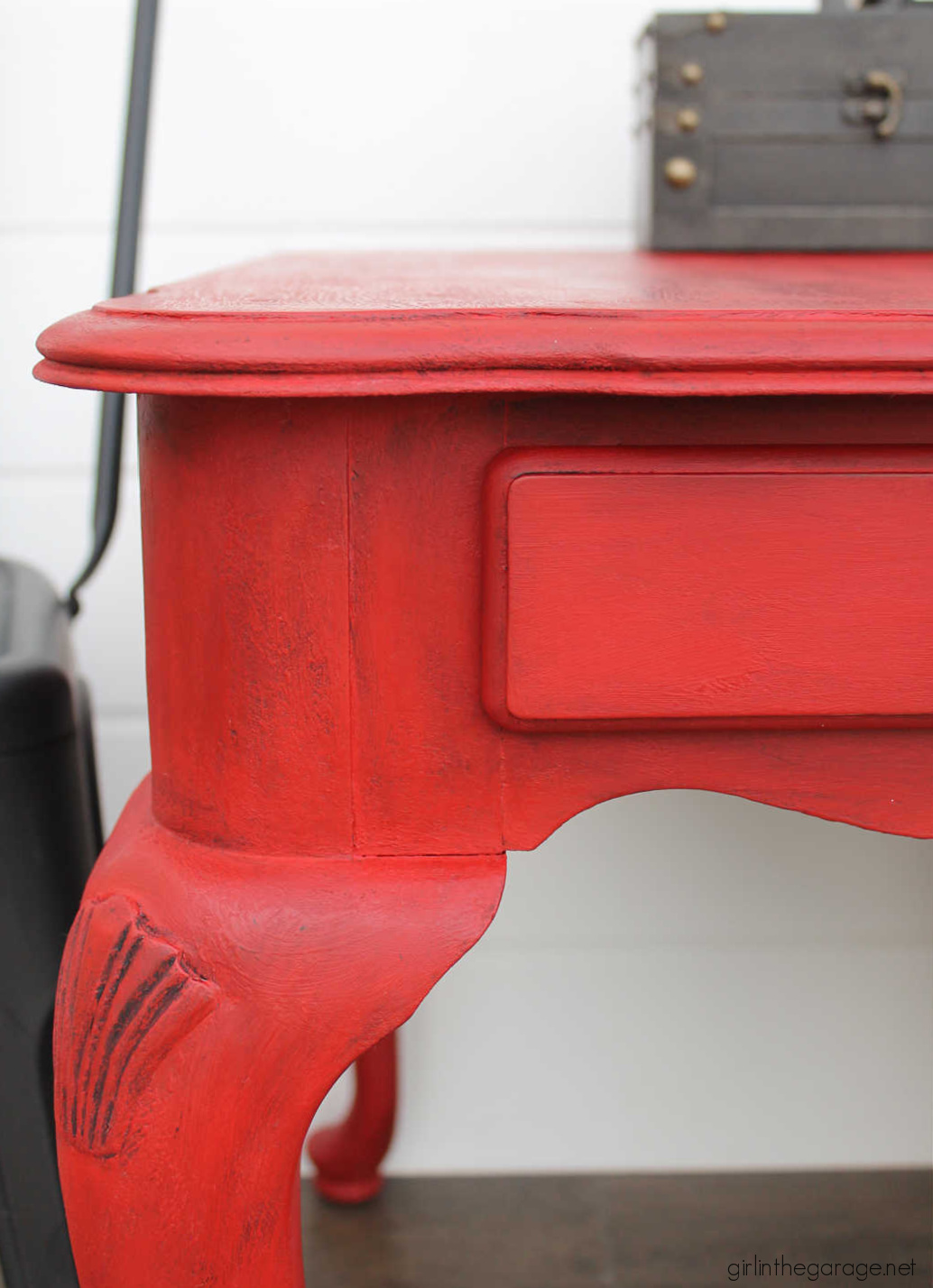 It certainly looks festive and cozy in these photos, don't you think?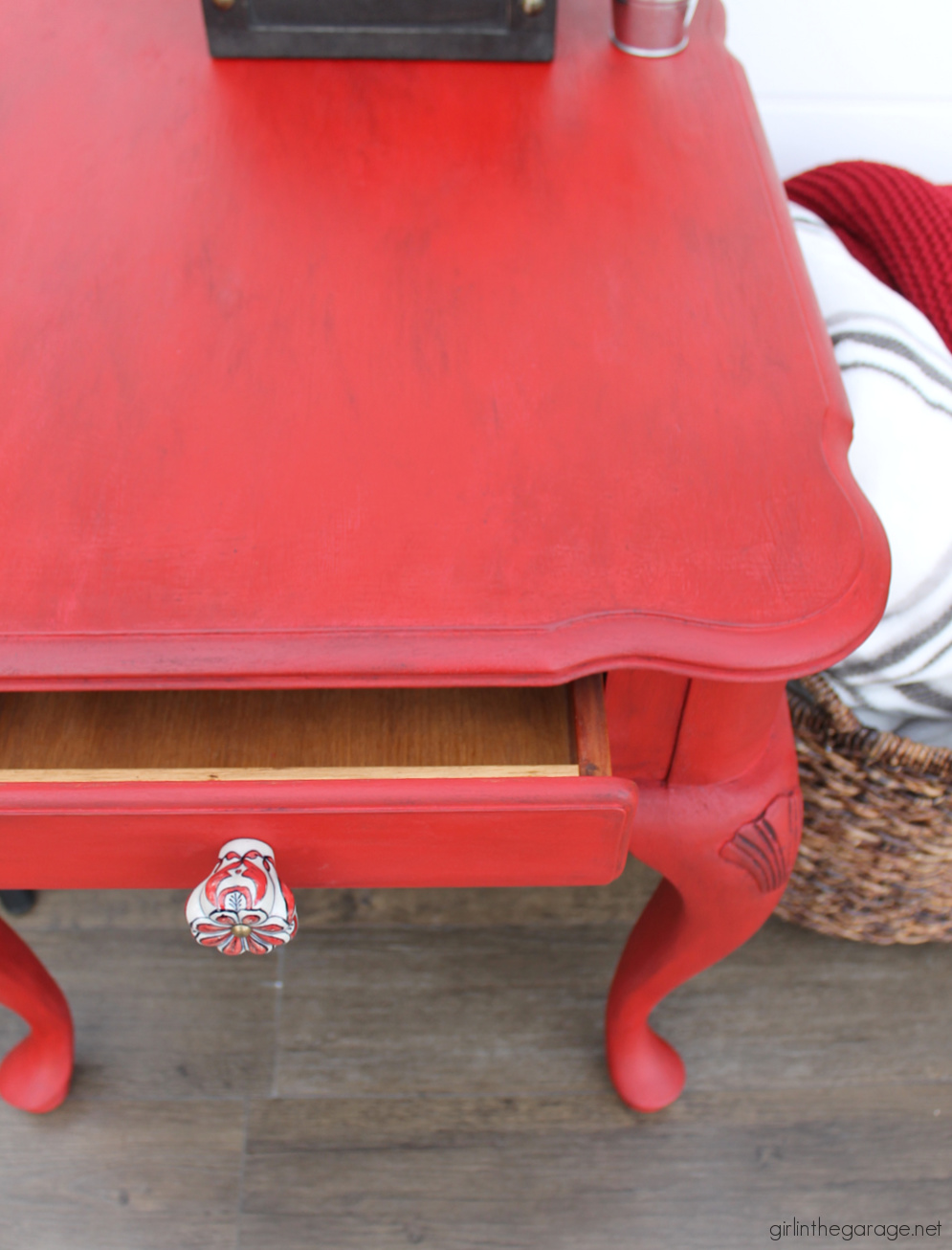 Feel free to share this project with a friend or Pin it to easily find it again later.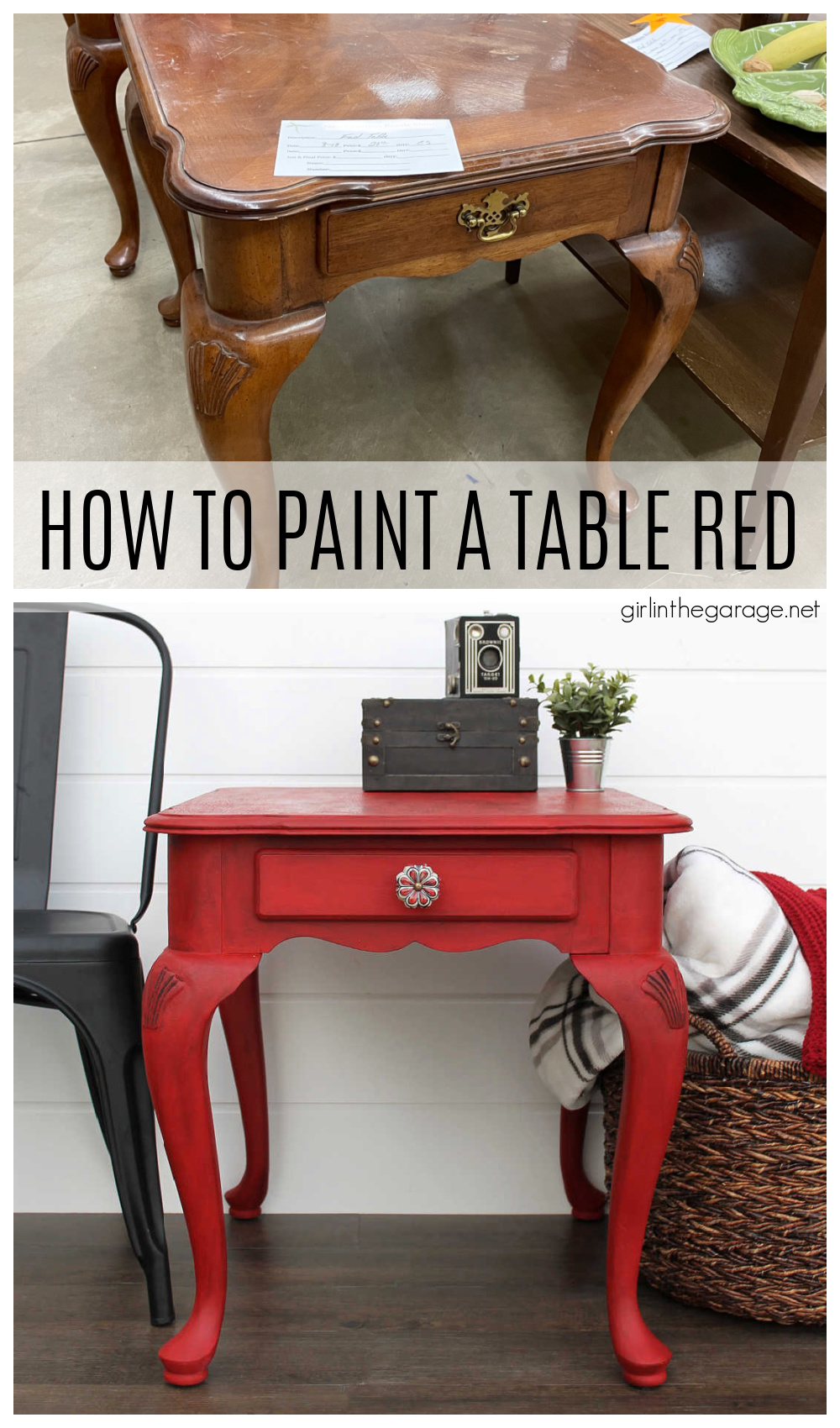 And of course I'd love to know what you think of this red painted table in a comment below. I appreciate you! – Jen
Next there are some amazing Furniture Fixer Upper projects from my blogging friends!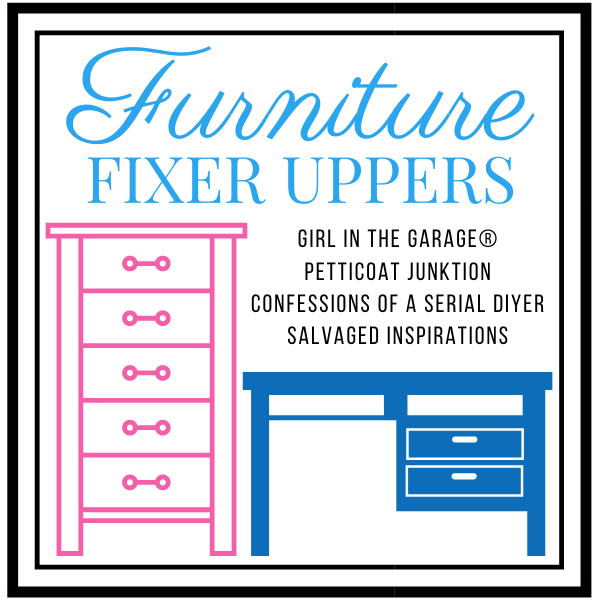 Below are the Before photos – visit the links underneath to see the creative Afters and to learn how they did it: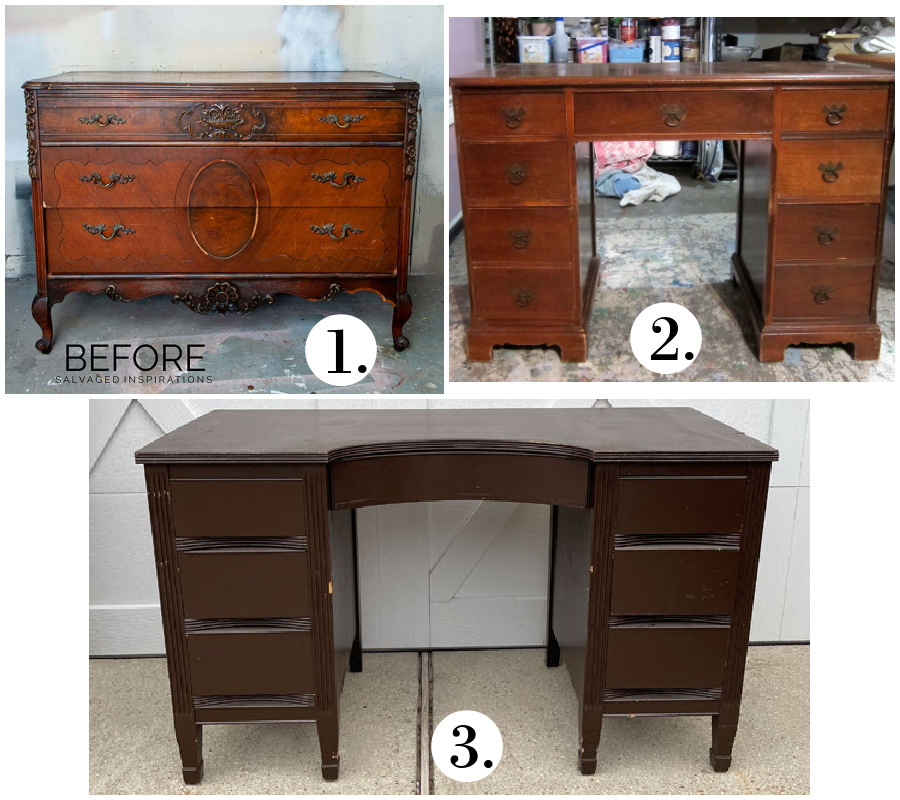 1. Salvaged Inspirations
2. Petticoat Junktion
3. Confessions of a Serial DIYer