Friend, I've seen so many abandoned drawers from desks and dressers while thrifting, and I can't help but bring them home. There are so many creative ideas for upcycled drawers!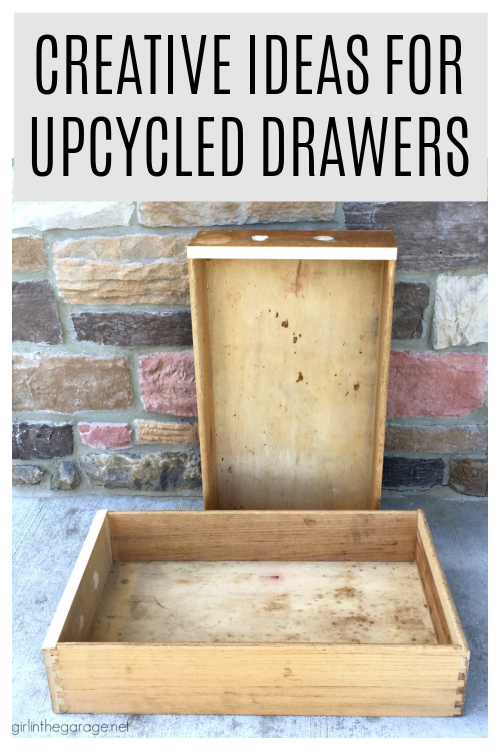 First, I'm going to do a quick rundown of one of my favorite repurposed drawer projects I've done, and then I'll share several other ideas to inspire you. Also – it's Trash to Treasure Tuesday, which means you can find even more thrifty projects from my friends at the bottom of this post. Don't miss them! 🙂
How to Upcycle Drawers into Decoupage Shelves
First, I started with these old drawers. There were actually 3 of them, and I'll show you how I updated the third one a little further below.
I cleaned them really well and then filled the handle holes with wood filler (these didn't come with any handles).
Next I painted one with a couple coats of white paint and the other with off-white paint. This is one of the first times I tried Fusion Mineral Paint (see the full original tutorial for this project here). FMP is great for a smooth finish – it's self-leveling and doesn't usually require a topcoat, unless the piece is going to get a lot of heavy use.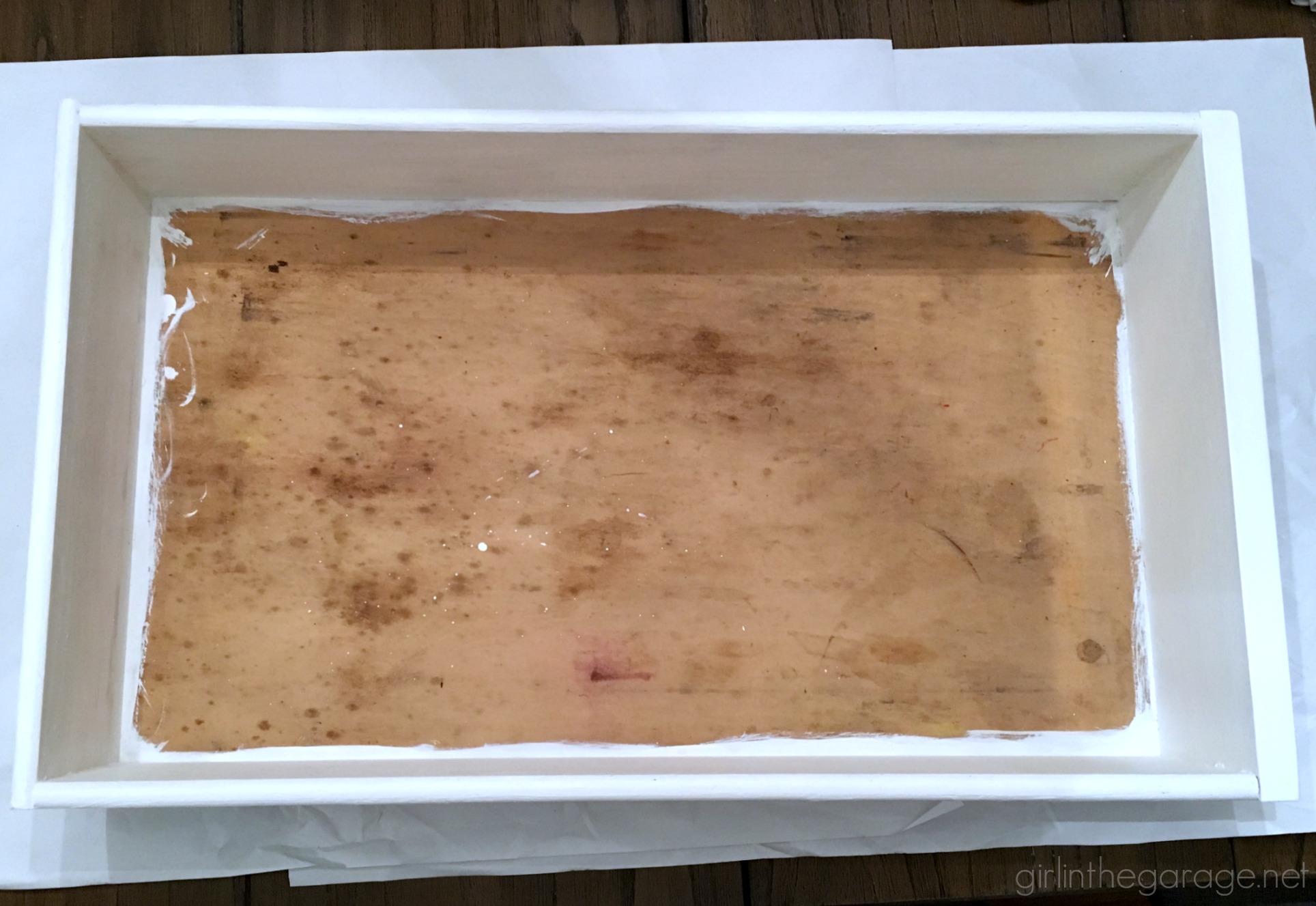 I didn't paint the back because I planned to decoupage paper inside anyway. If your paper is thin and see-through, you might still want to paint a light color behind it to not see any stains from the wood.

I chose colorful scrapbook paper with flowers and dots for one drawer, and pretty map paper for the other drawer. I brushed some matte Mod Podge onto the drawer back before laying the paper down, carefully pressing for a few minutes to smooth out wrinkles or bubbles.
Finally, Mr. GITG cut a few boards to use as shelves and I attached them with small L brackets – just make sure the wood is thick enough for the screws to go into without poking through the other side.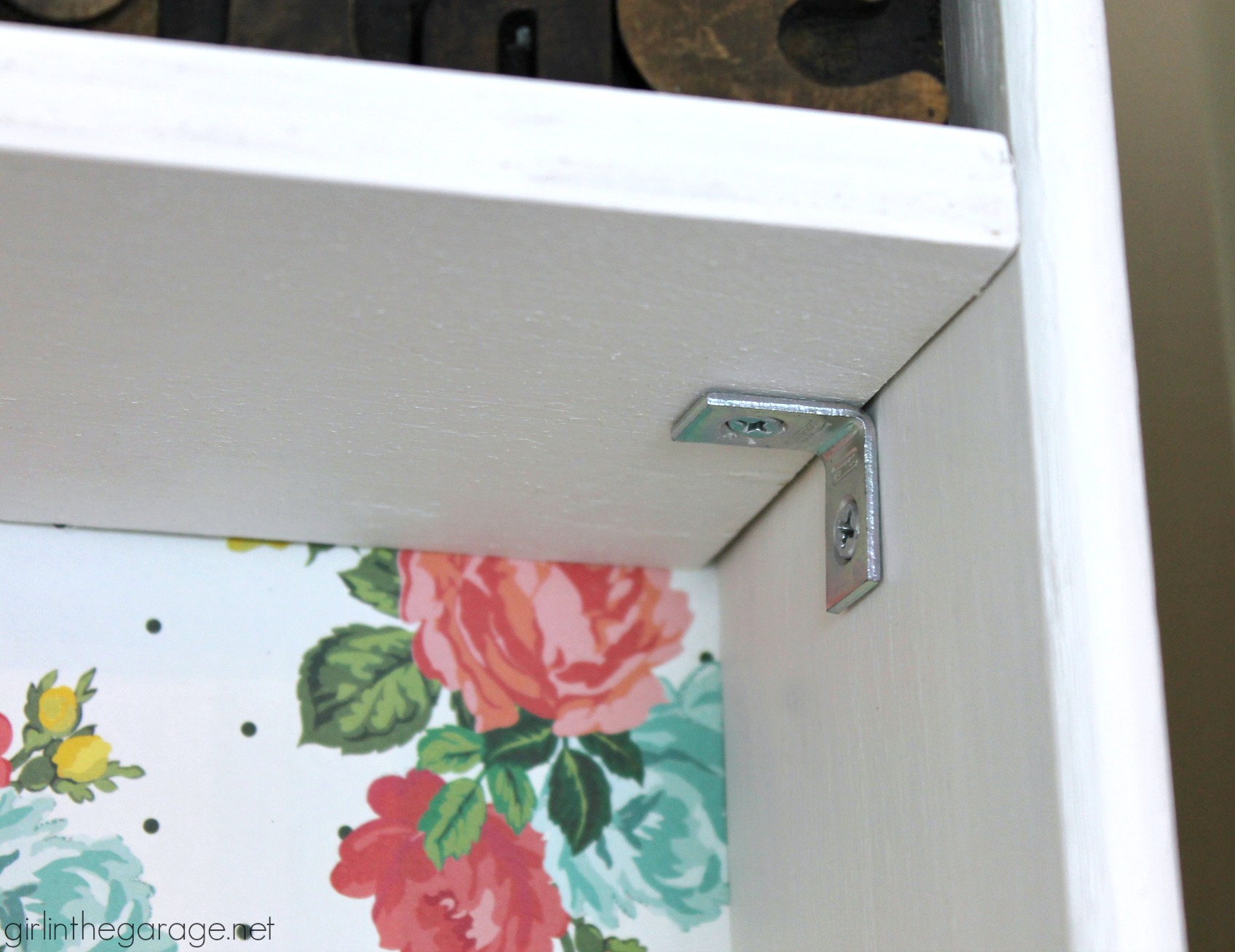 And here are those old upcycled drawers – looking so amazing now!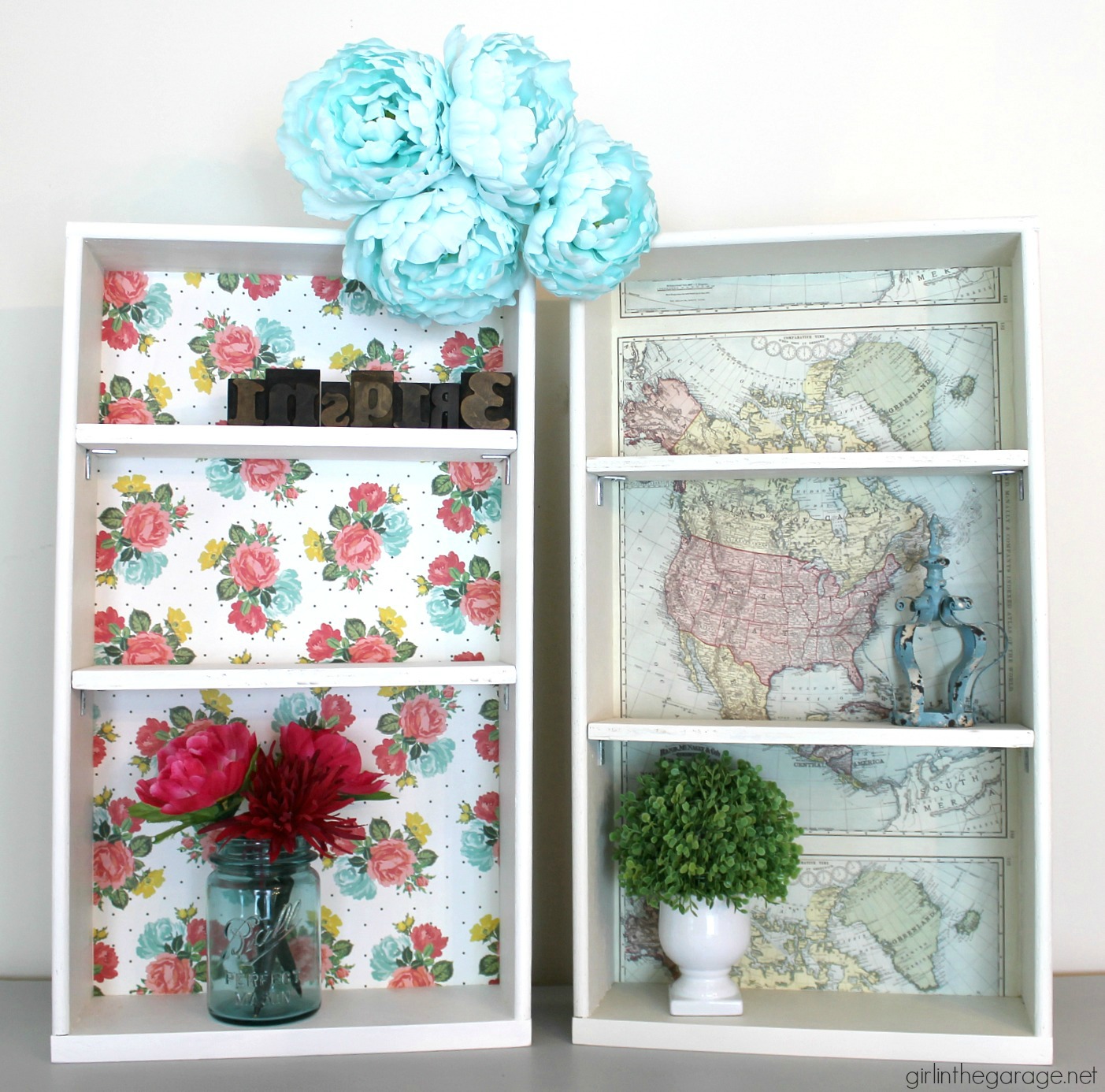 These are actually a decent size and can fit all kinds of goodies on the shelves.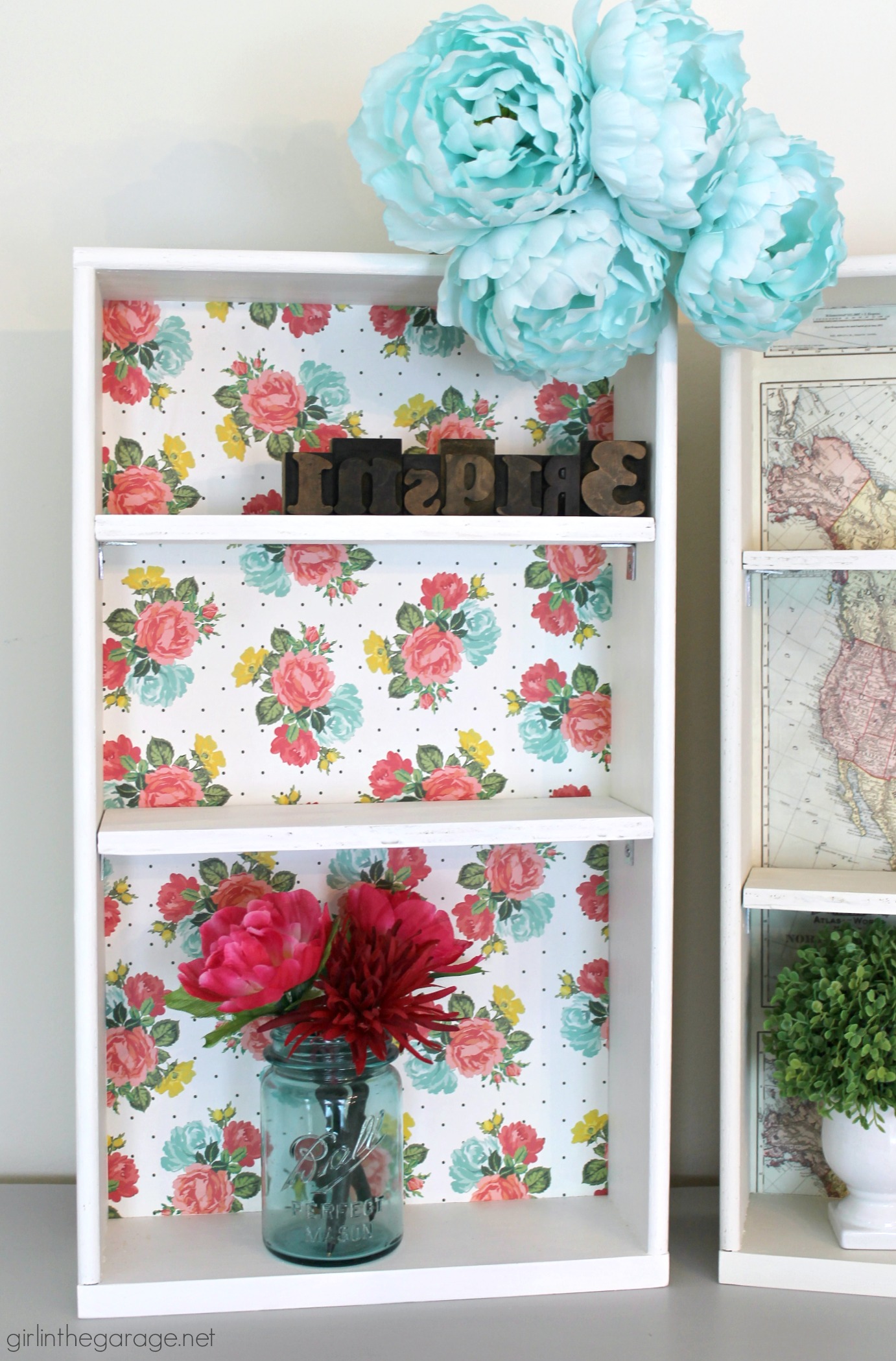 Here's a Before and After if you'd like to share or Pin this decoupage drawers project to easily find it later: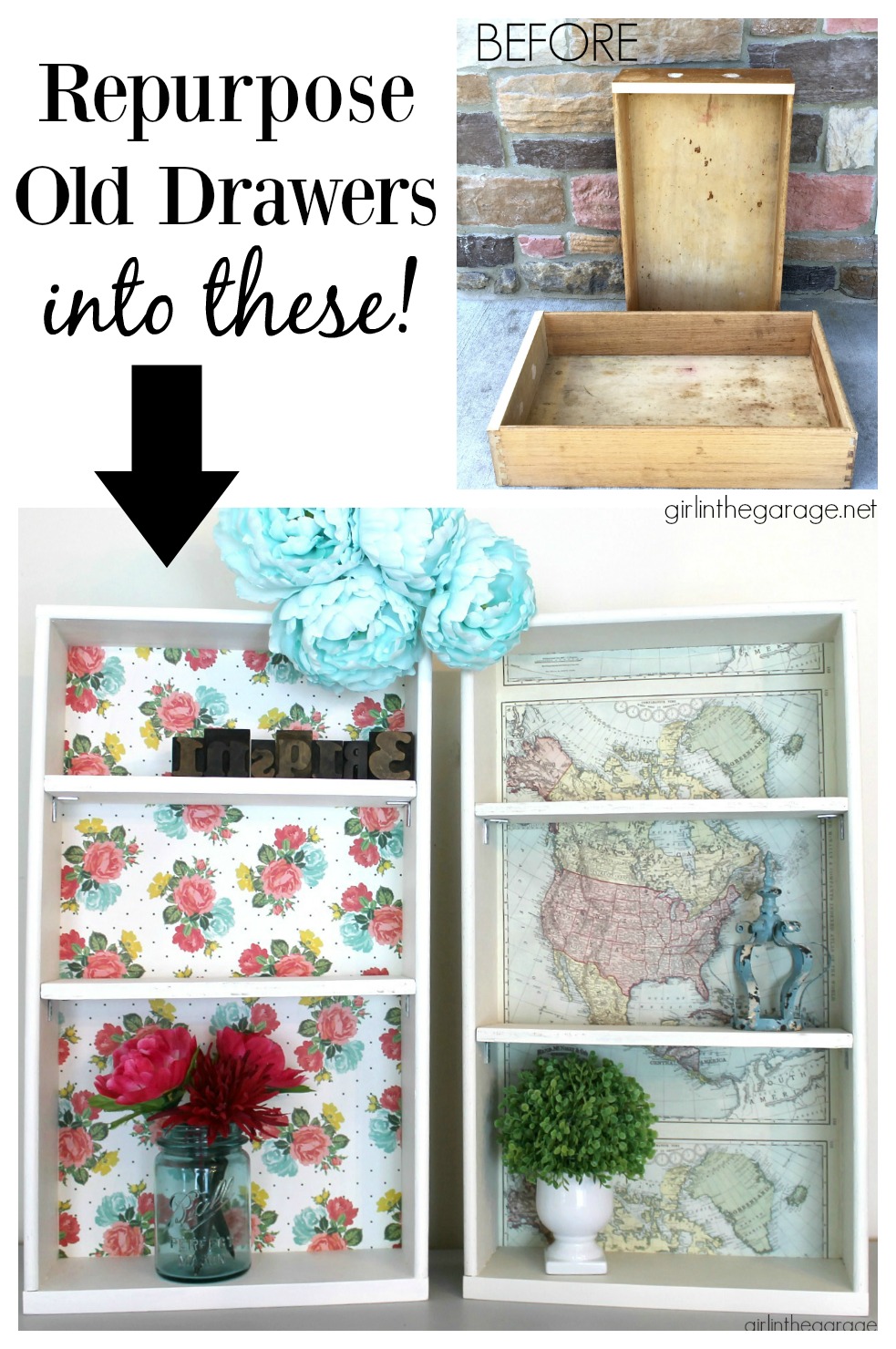 More Creative Upcycled Drawers Ideas
This is what I created with the third drawer from above – I added shelves again but also added a hinged door on the front and painted a lovely French advertisement. Learn about this upcycled drawer to cabinet here.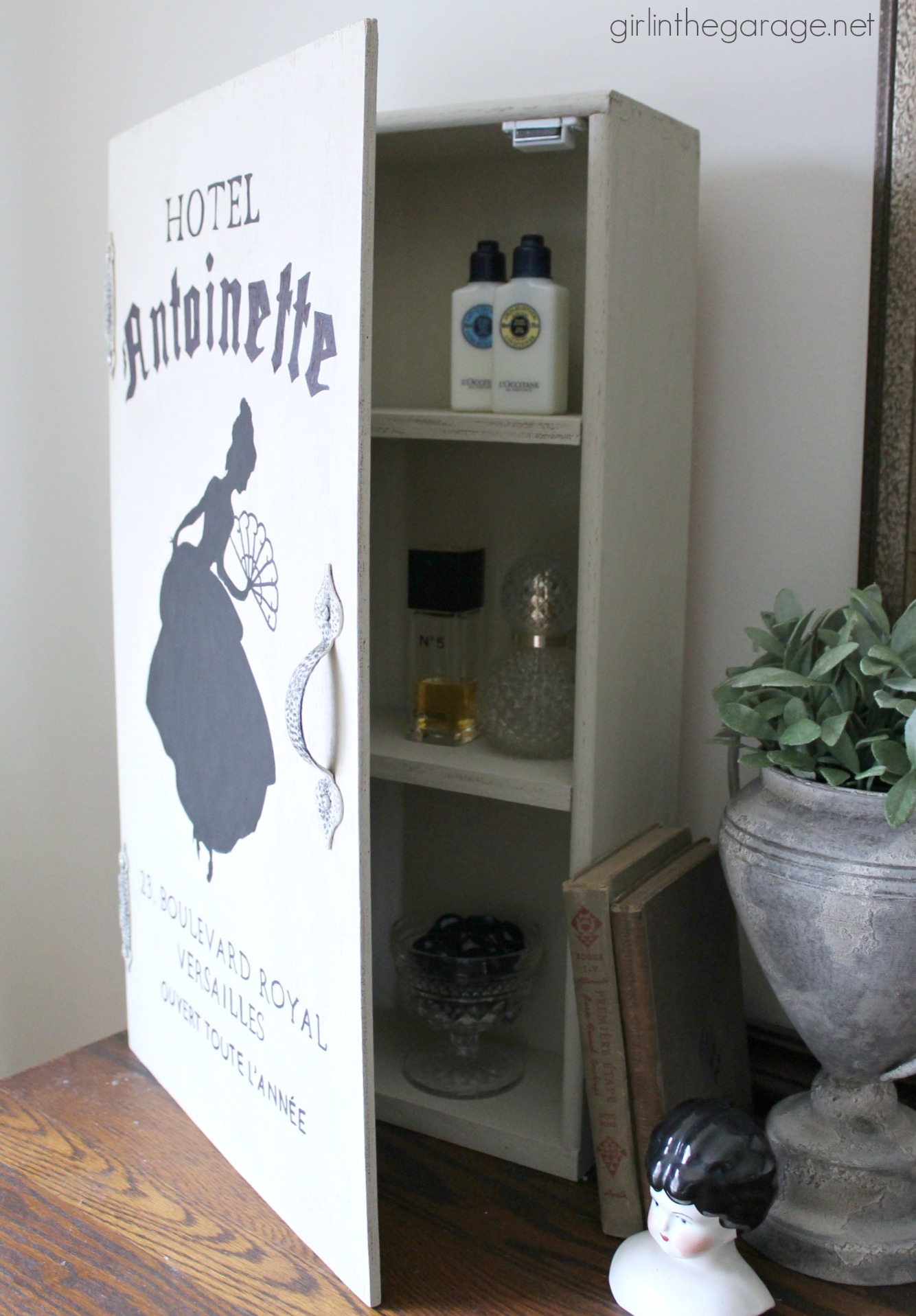 Below is another example of old drawers with decoupage paper and an added shelf inside. These are very old and HEAVY, and came with the original cup pulls. See this project here.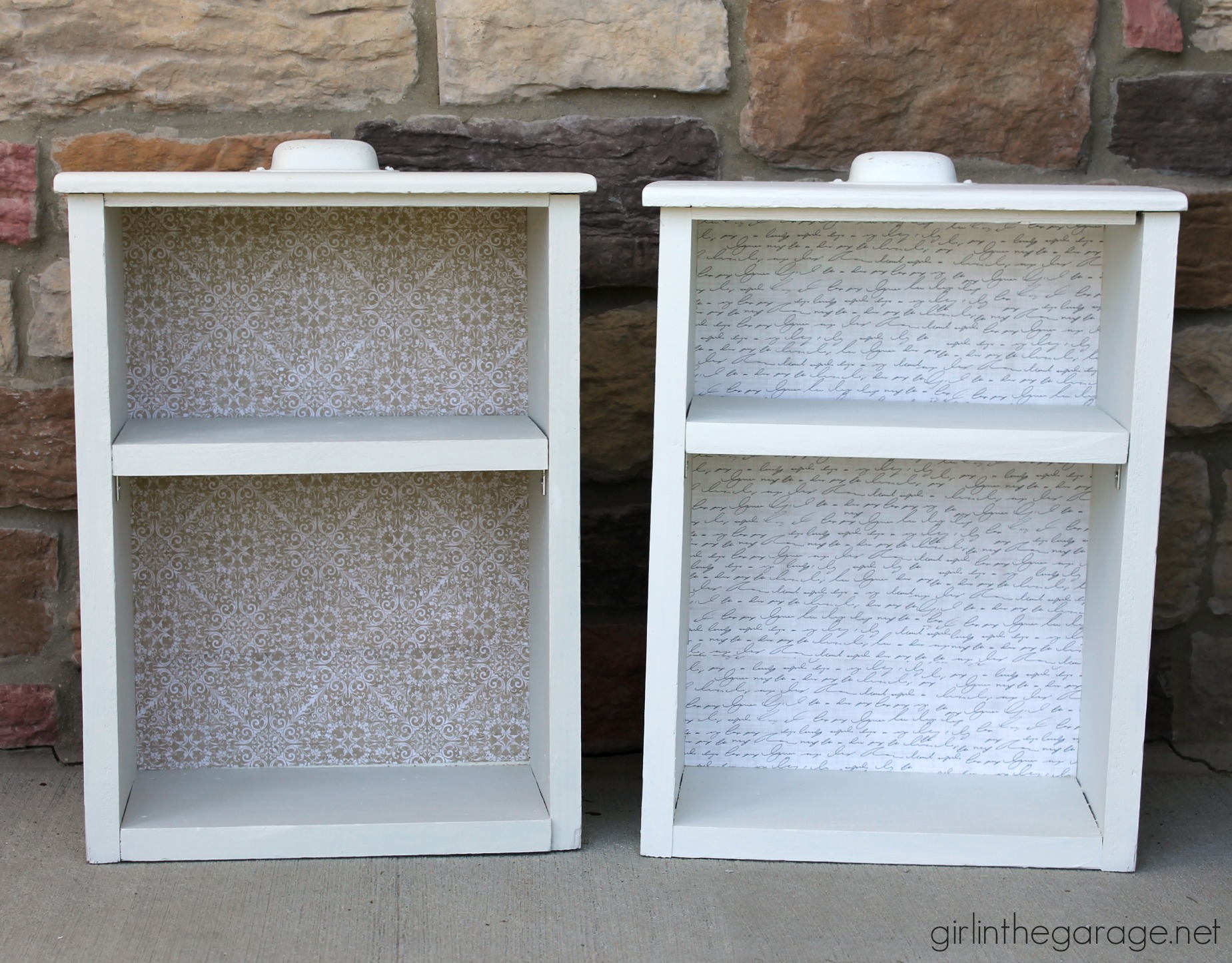 Many, many years ago when I started blogging, I found this neat piece made from old sewing machine drawers. It was already so unique and all I did was paint the surrounding parts pale yellow. See this project here.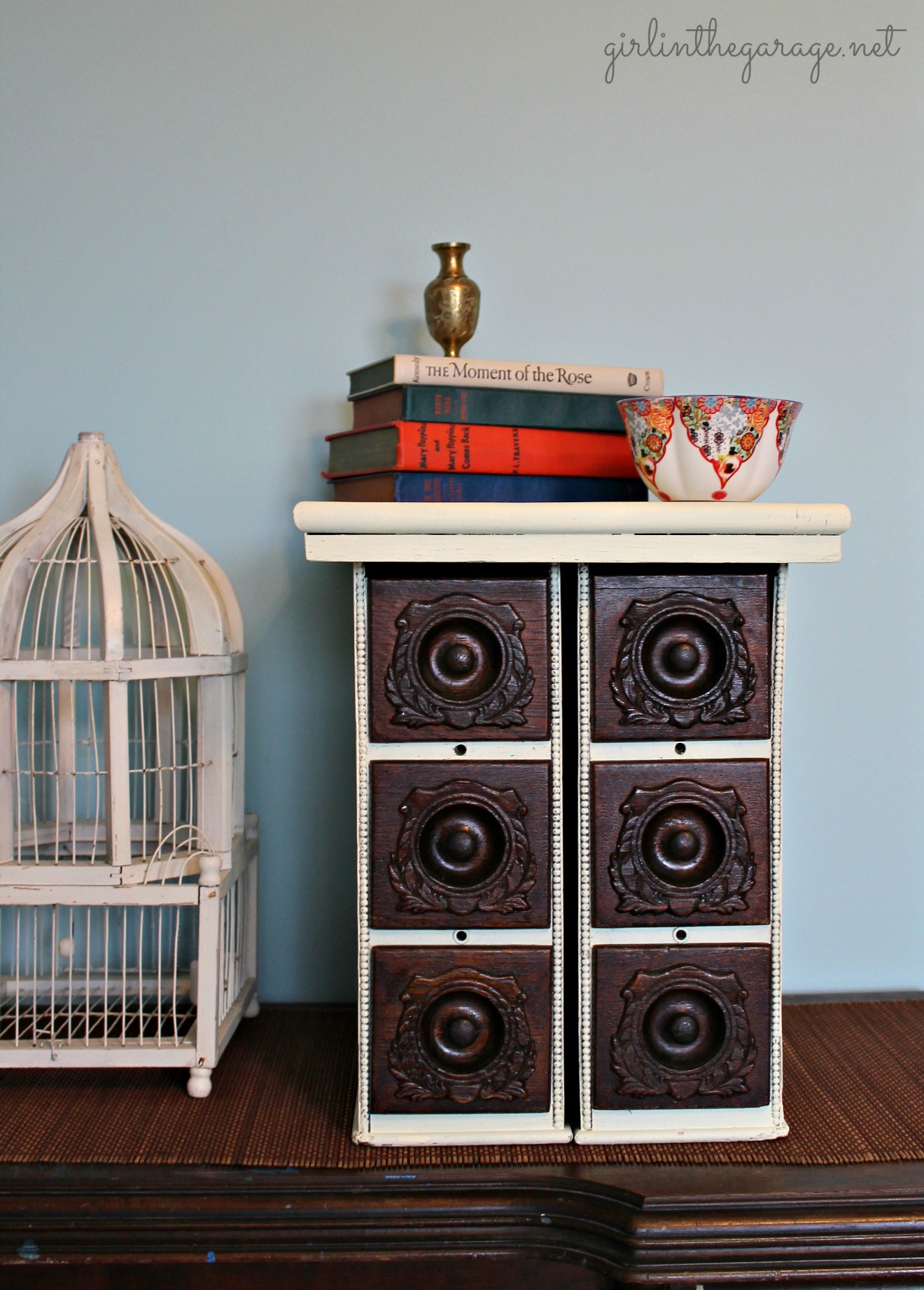 Now I'm going to share a few more upcycled drawer projects from other bloggers. Click the pink links below to see the whole makeover process.
First, we have this cute drawer-turned-book-storage from Confessions of a Serial DIYer: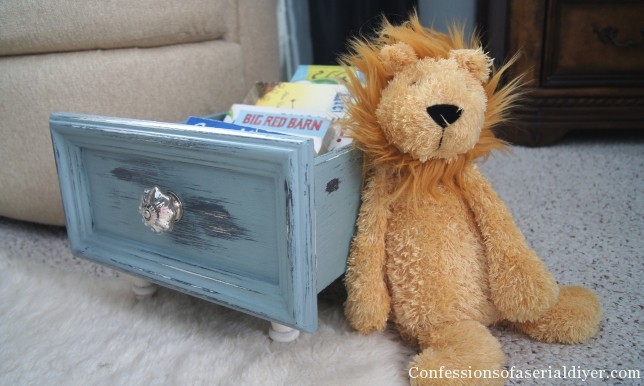 Next, Recreated Designs repurposed four drawers into an ombre blue bookcase: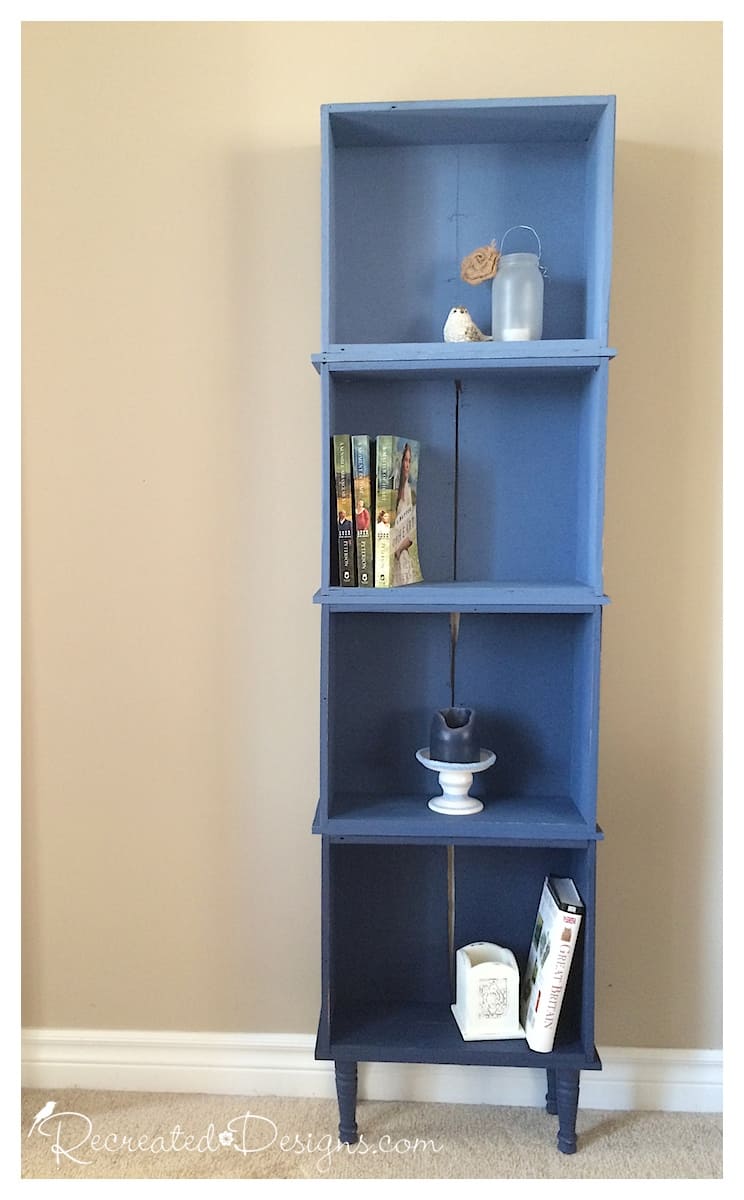 Anika's DIY Life made an amazing DIY bar cart from old drawers: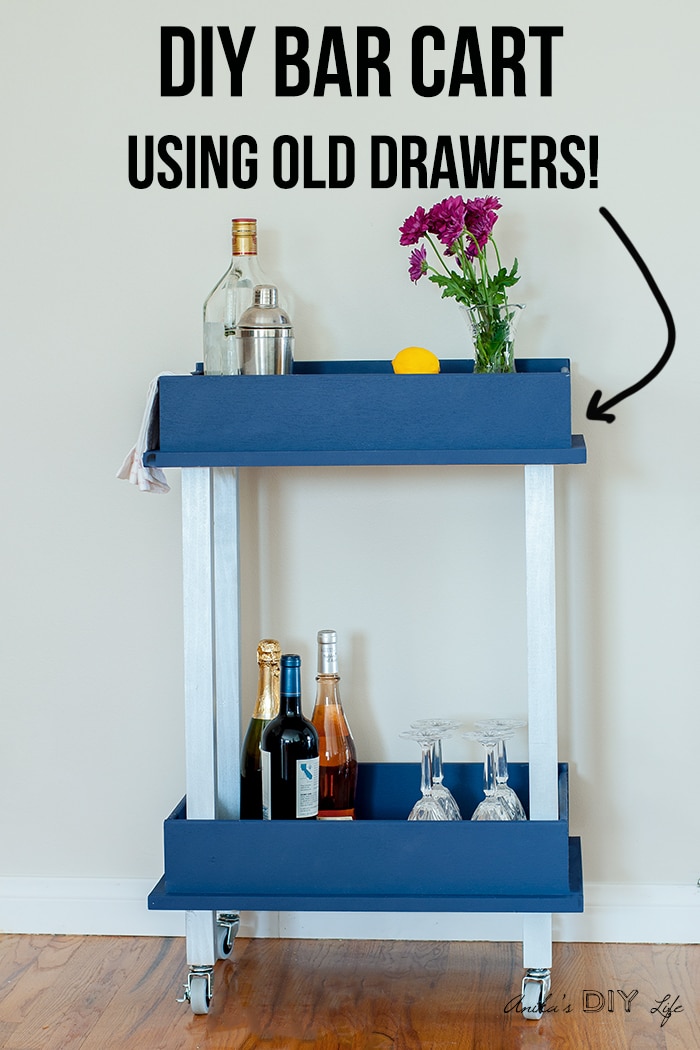 Next, Homeroad turned an antique drawer into a super stylish chalkboard: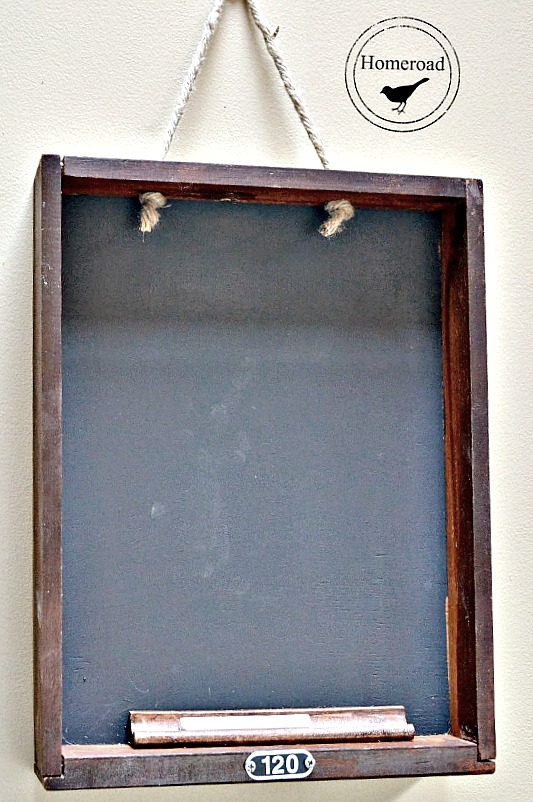 Lastly, MyLove2Create made this sweet cubby organizer from two large drawers: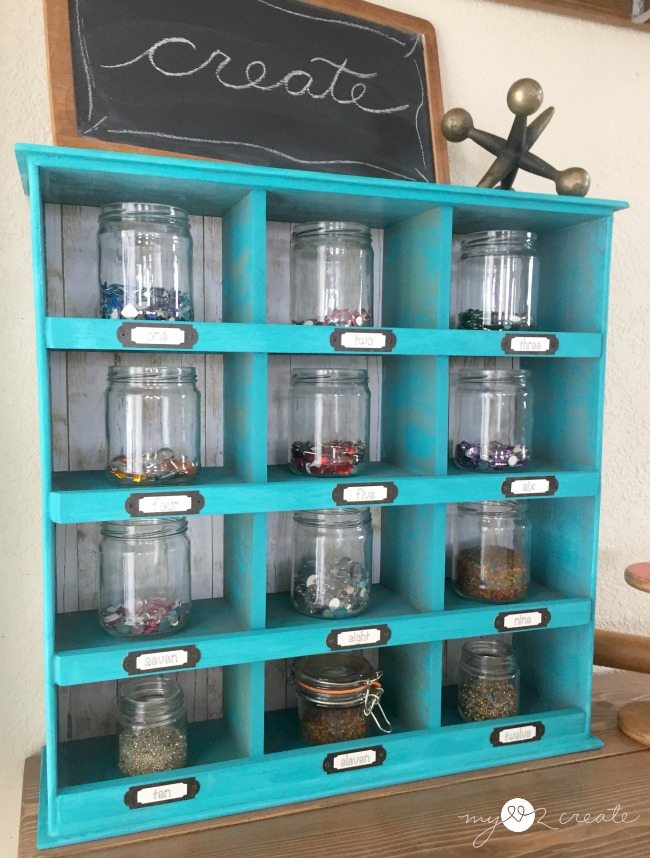 I know there are so many ways to upcycle drawers – let me know which of these you might try, and if you have any other ideas! -Jen
Now it's time for Trash to Treasure Tuesday with my friends, where we all share budget-friendly projects.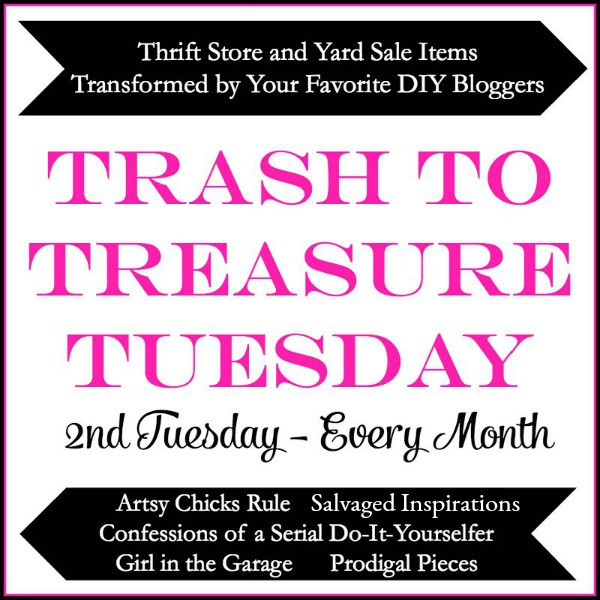 Below are the Before photos – visit the links underneath to see the creative Afters and to learn how they did it:
1. Confessions of a Serial DIYer
2. Prodigal Pieces
3. Artsy Chicks Rule
4. Salvaged Inspirations