Friend, today's makeover almost didn't happen – I bought this French Provincial style dresser a couple years ago to be a project for my book (Amazing Furniture Makeovers), but it didn't make the cut. It's replica FP furniture from the 70s or 80s – and it's part laminate, part wood inside, and part particle board. It had a few issues and it's not a great quality piece, so I almost dropped it off at the thrift store a couple weeks ago. But at the last minute I decided anything would make it look better than its current condition!
So hang out with me today, and I'll teach you how to paint laminate furniture with Chalk Paint.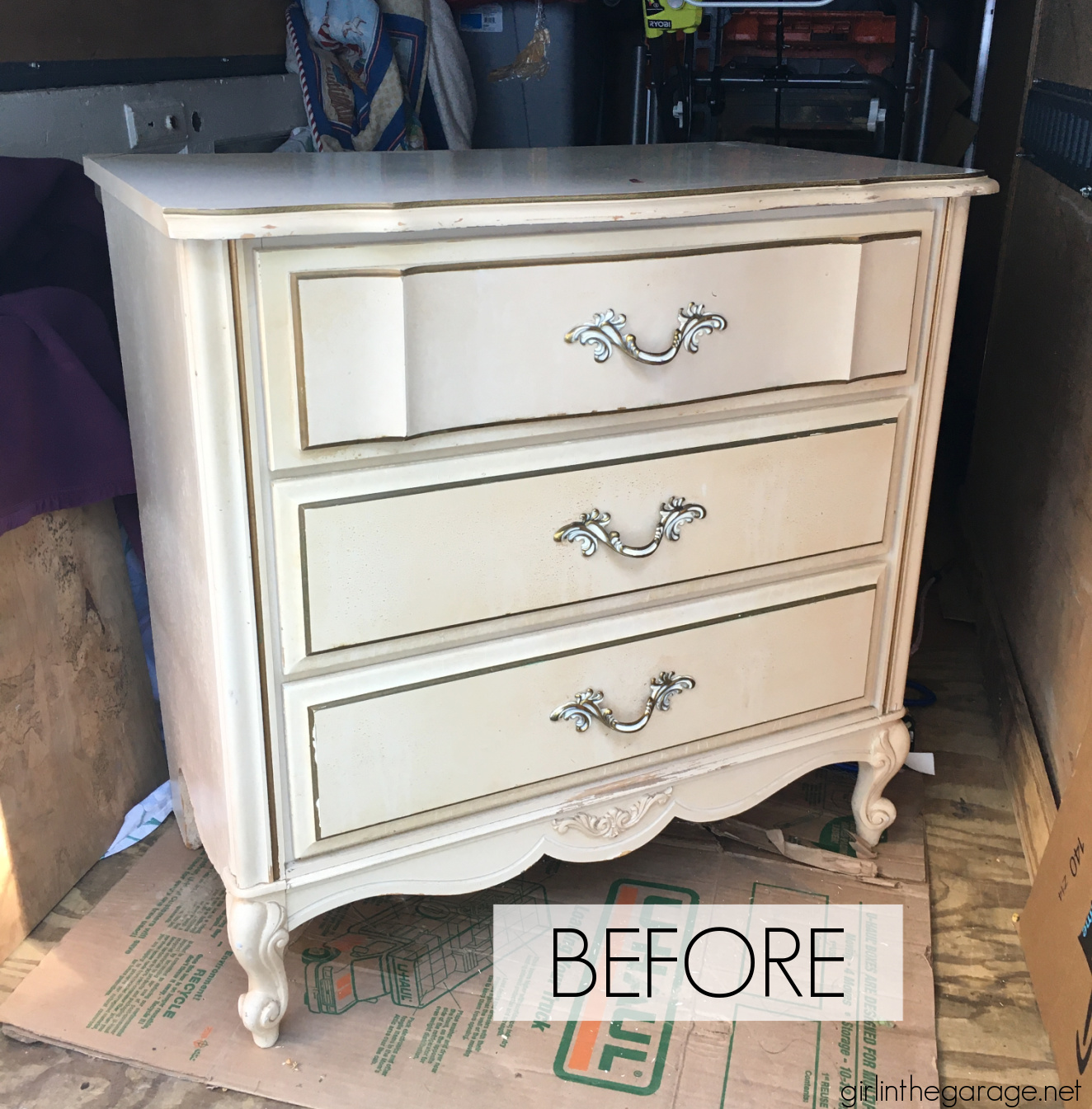 This post contains some affiliate links so you can easily find the products I use and recommend. Discover all my favorite brands and tools for doing DIY makeovers here.
You might be wondering: Can you really paint laminate furniture? The answer is yes – you have to do things a little differently than you would with real wood furniture, but it's definitely possible and can even turn out really beautiful.
How to Prep Laminate Furniture for Painting
First, the prep work is really important. This thing was pretty grimy and neglected – and it's been in my little trailer for ages just taking up space. I pulled the drawers out, removed the hardware (keeping the pieces in a bag for safekeeping), and cleaned everything really well.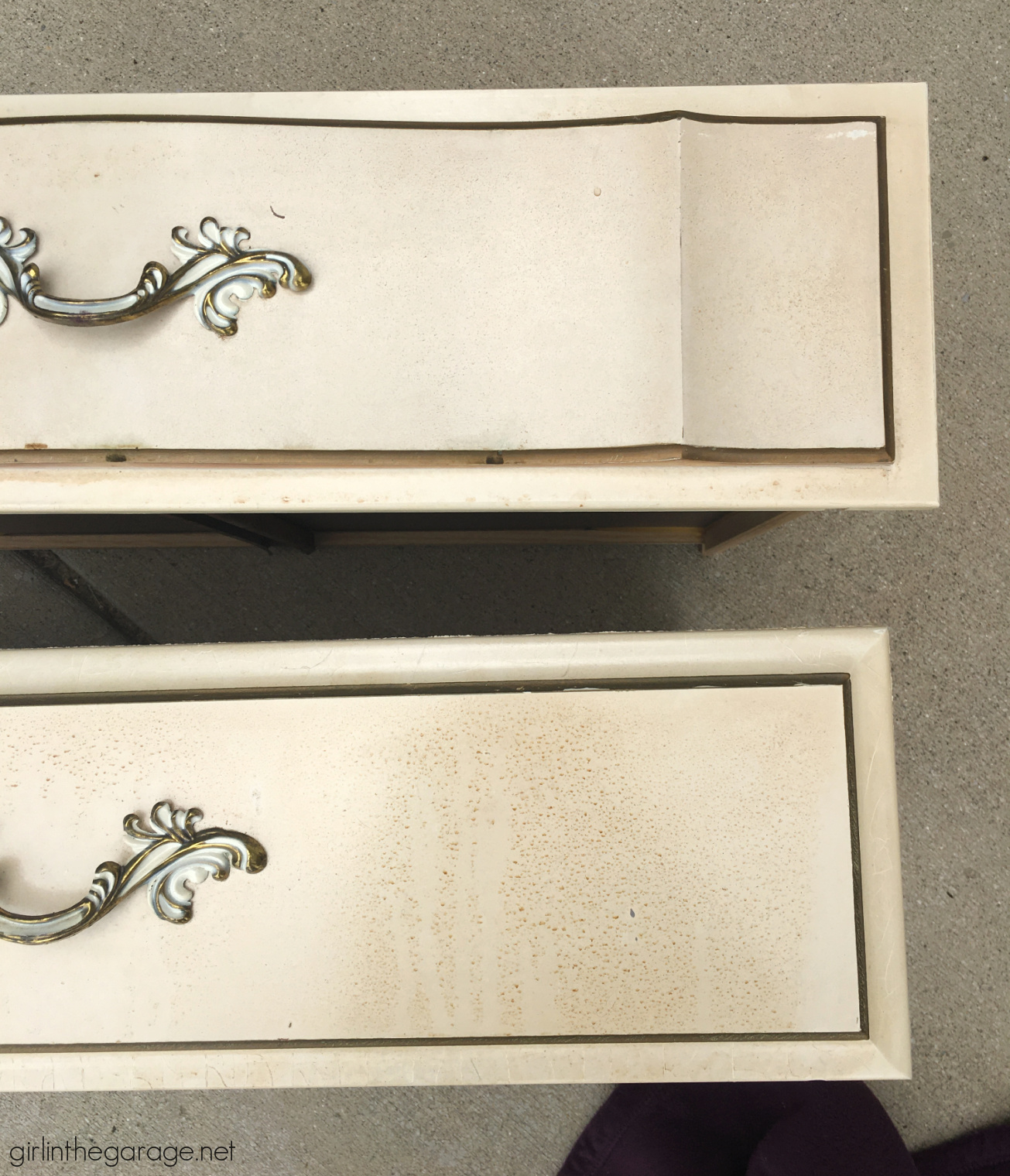 I definitely planned to reuse the original hardware.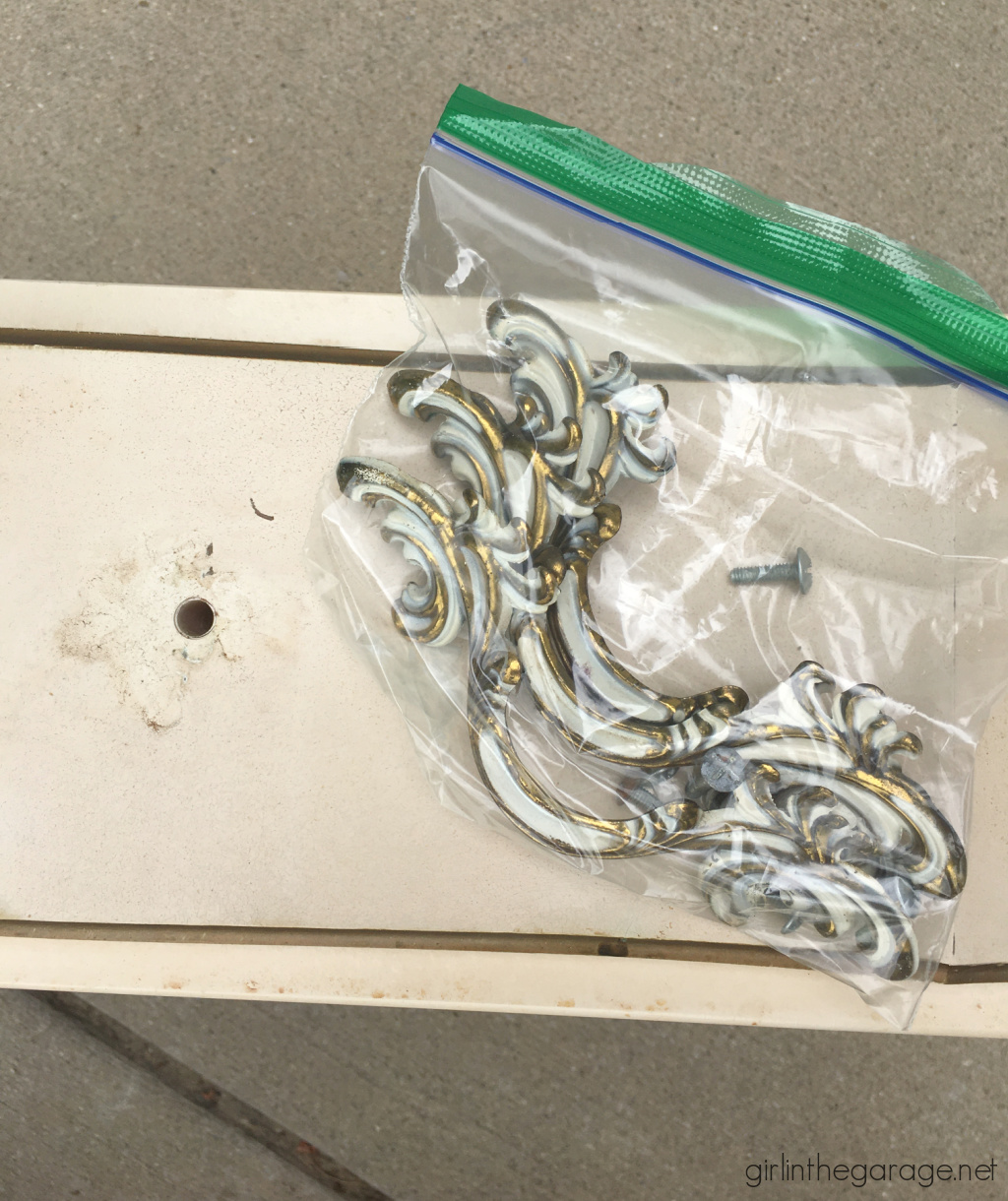 There were a couple sticky parts on top of the dresser that I cleaned up with some Goo Gone and a paper towel.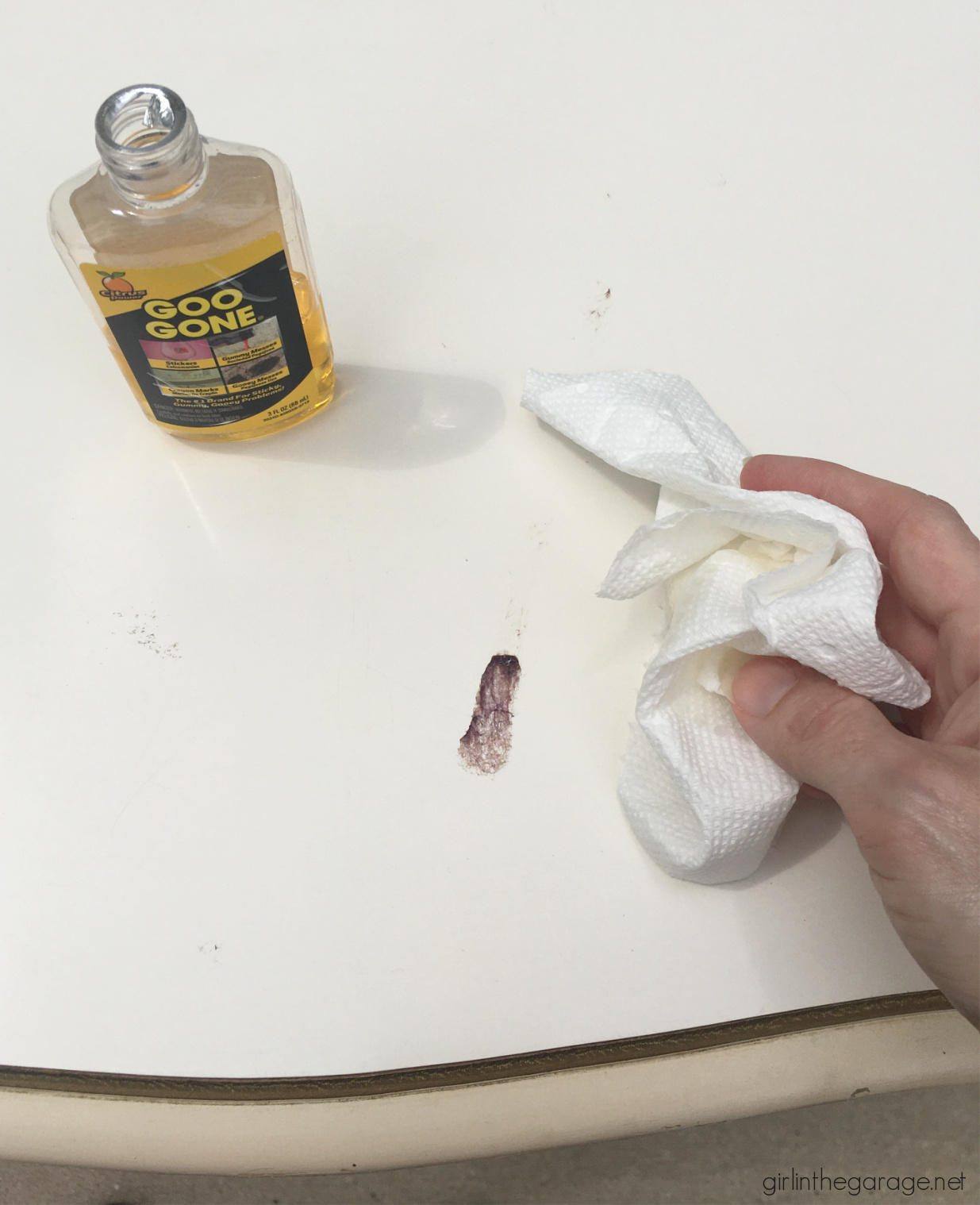 After the drawers were removed, I noticed that there were pieces of cardboard underneath the tracks held in place by a couple staples – kind of ugly and not really necessary anyway!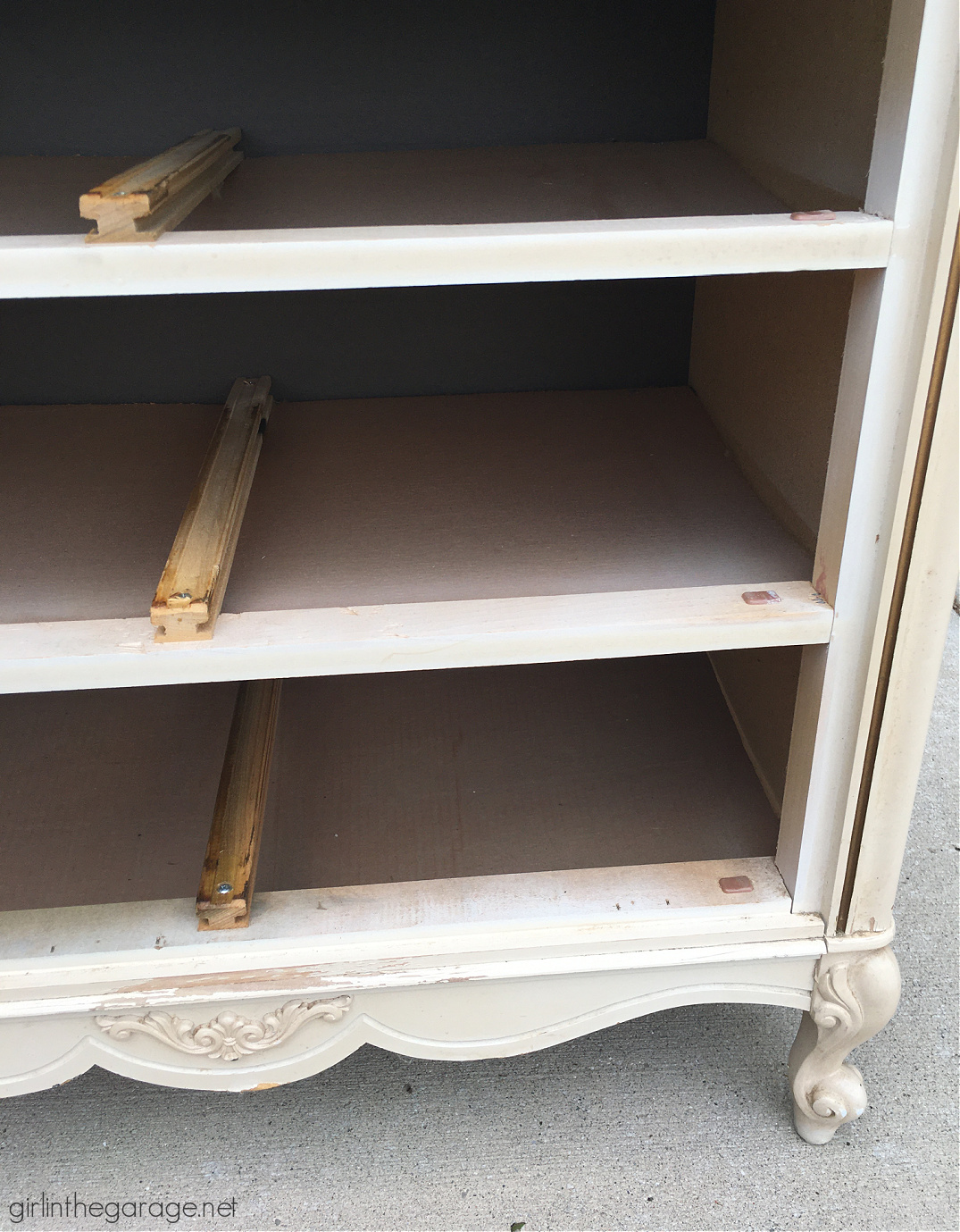 So out the cardboard went. Then it was much easier to clean inside.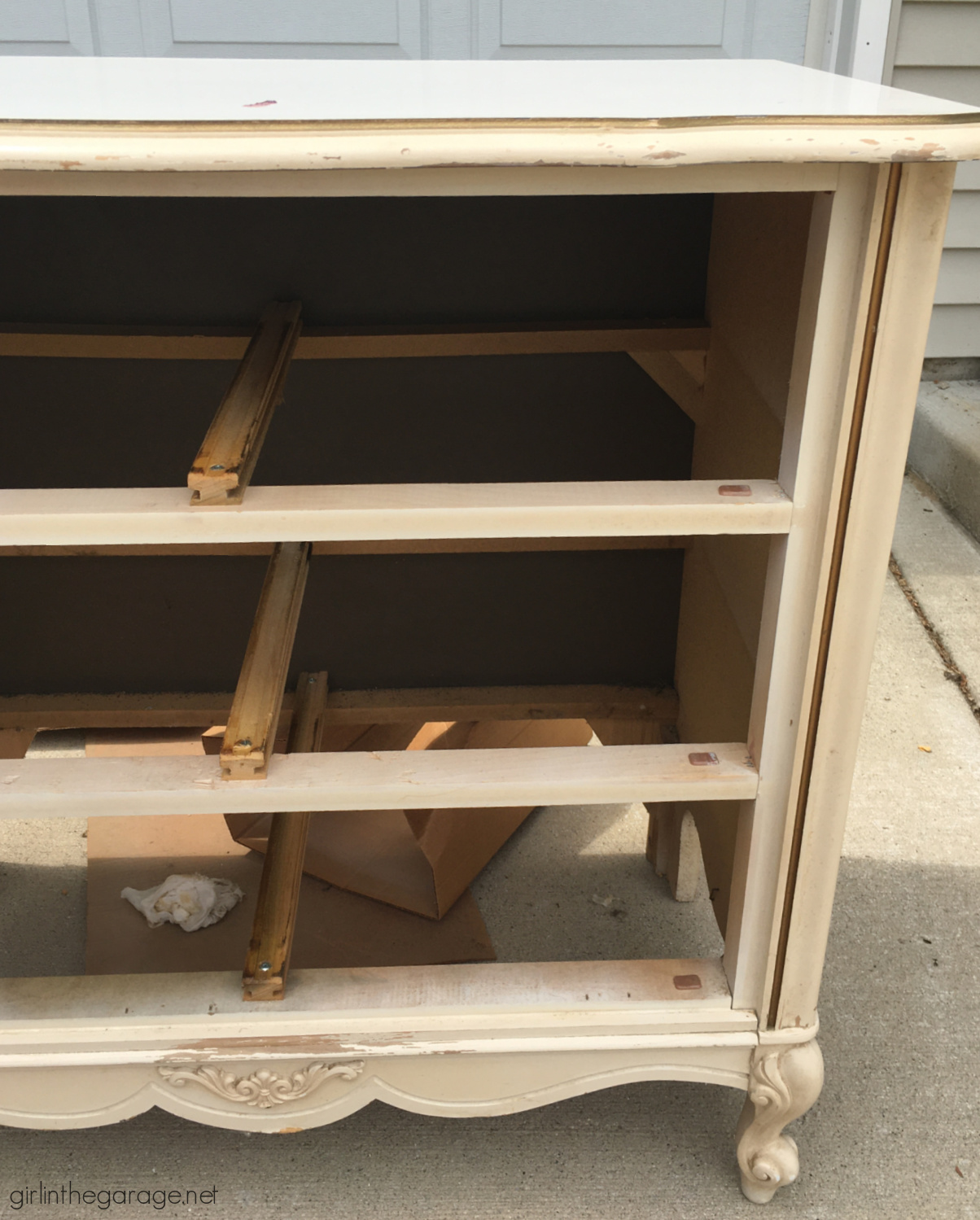 You can't really sand laminate furniture like you normally could with wood furniture (no electric sanders!), but you can lightly sand by hand. I used 220-grit sandpaper to gently smooth out some areas where the finish was uneven.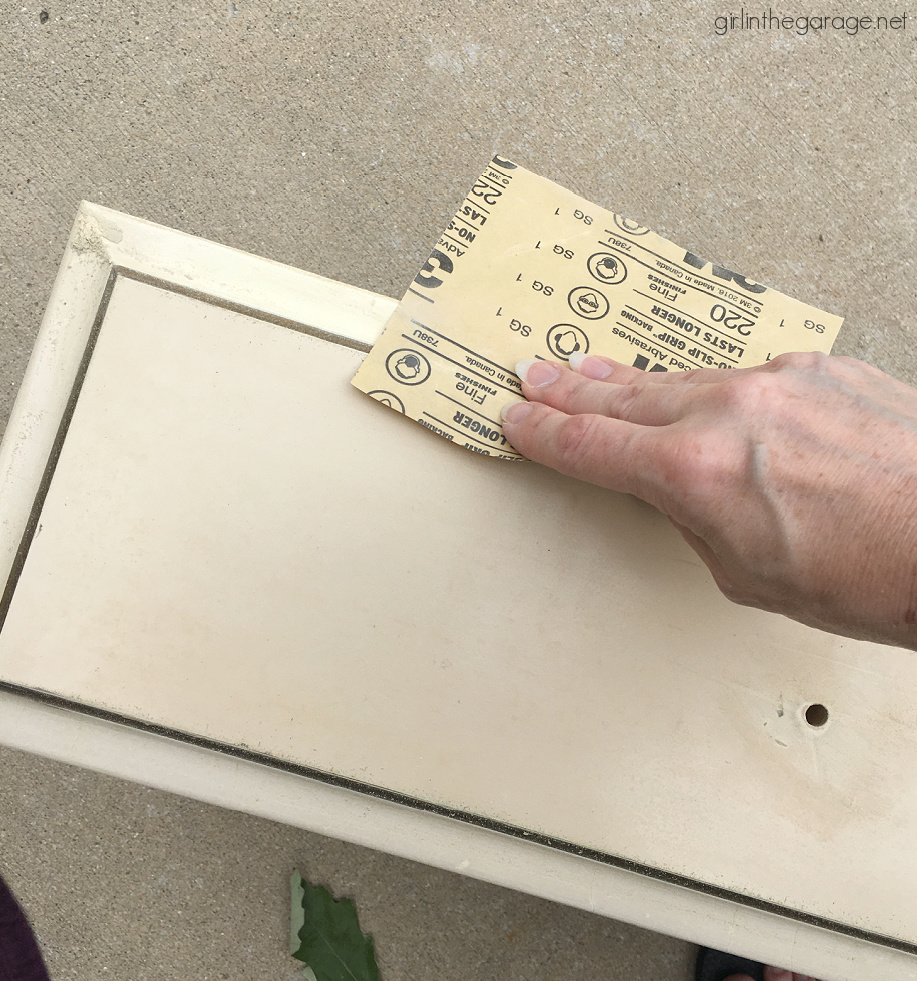 Next, I placed some painter's tape over the inside of the drawer pull holes so primer and paint wouldn't drip through.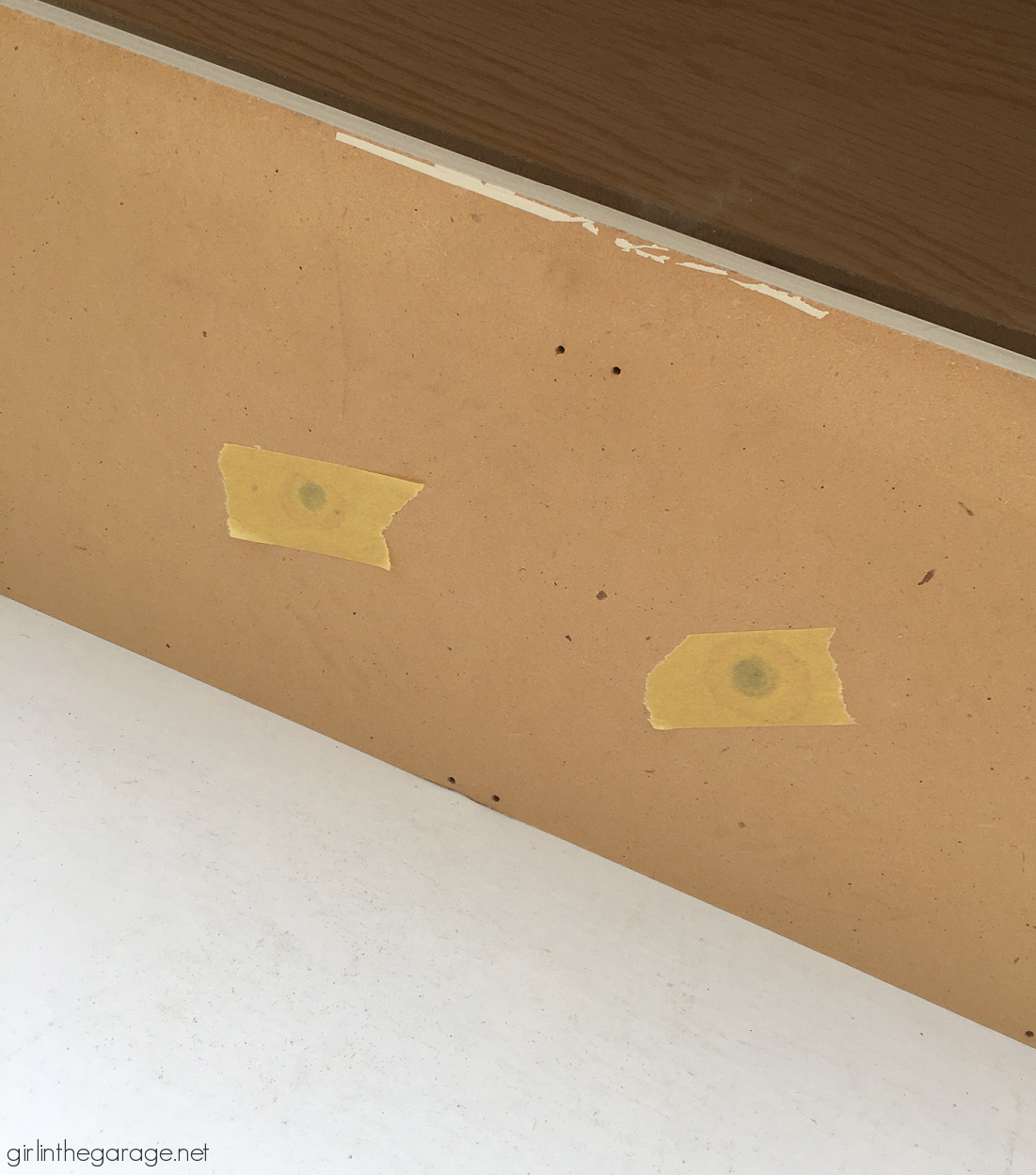 How to Prime Laminate Furniture
My favorite go-to primer is BIN shellac and it works great on laminate furniture. I also use one specific brush that I only use for primer. I applied about 2 coats of primer, letting it dry between each coat. For extra smoothness, lightly sand between coats also.
The combination of sanding and priming laminate furniture helps gives the paint something to grip to.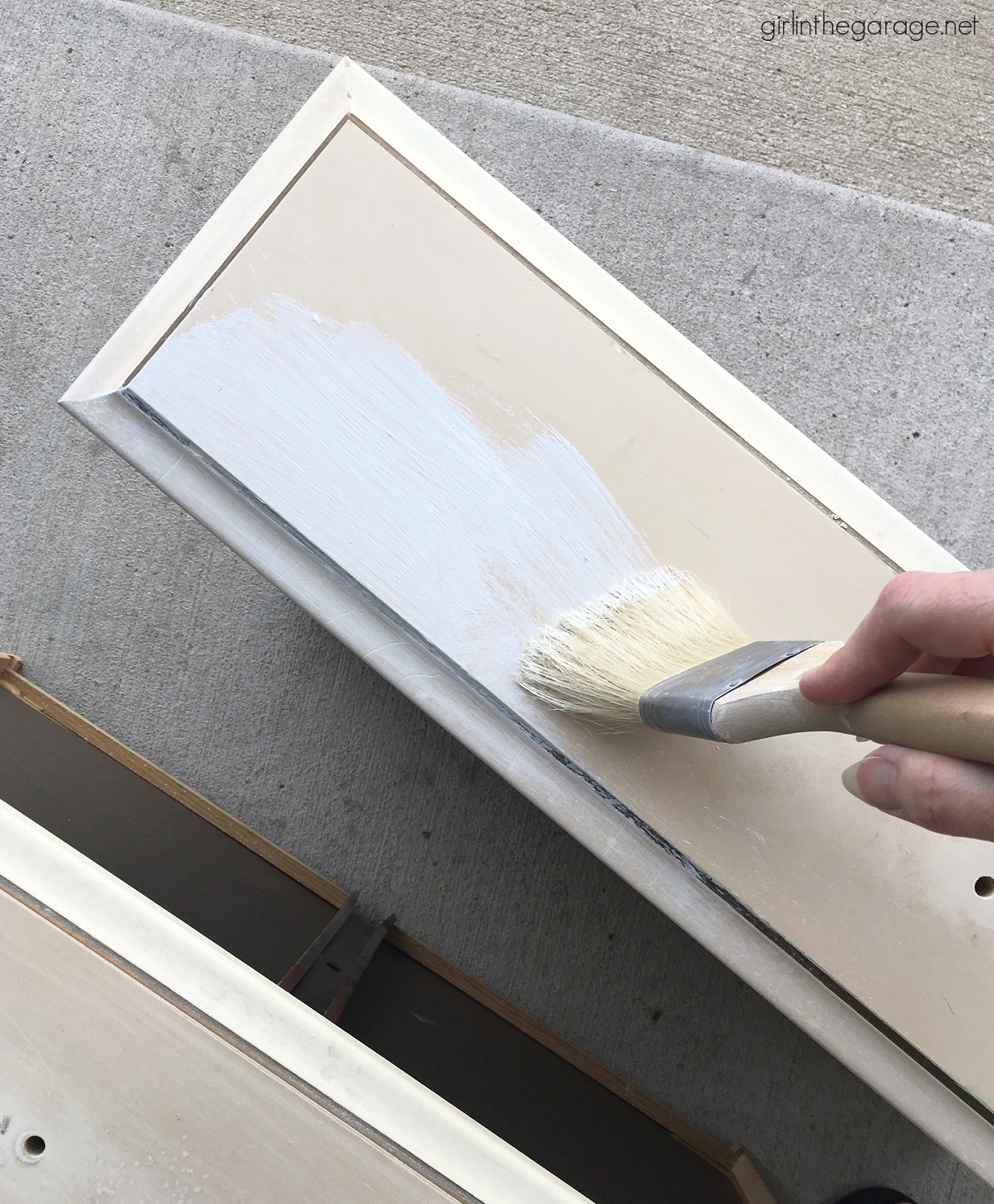 How to Paint Laminate Furniture with Chalk Paint
After the primer has dried at least overnight, it's time to paint the dresser. I chose Annie Sloan Chalk Paint because it's my favorite paint (learn all about how to Chalk Paint furniture here), and because you can use it on almost any surface.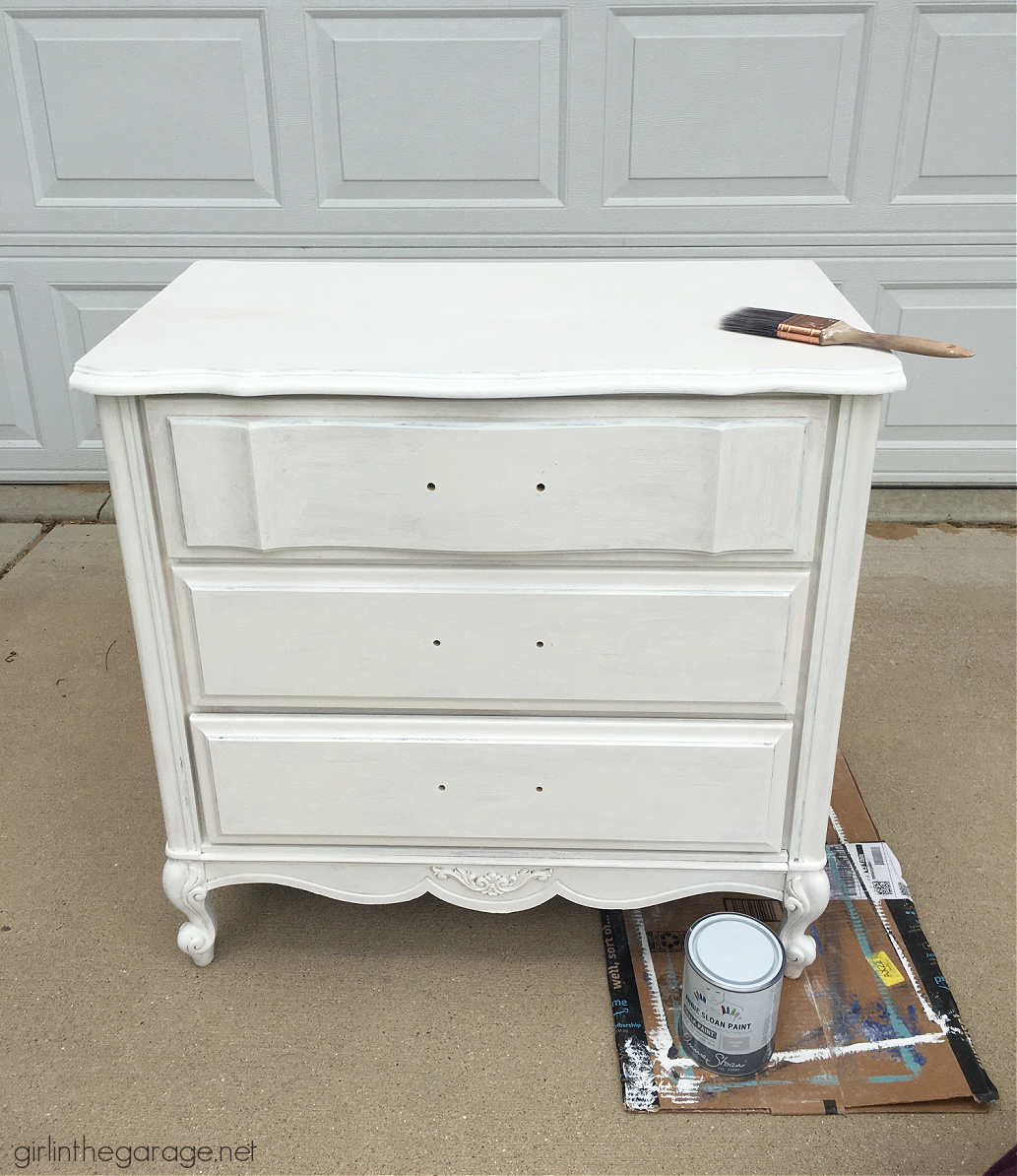 Normally Chalk Paint doesn't require much prep work, but with laminate furniture, you really do want to sand and prime first like I said earlier (it's a really important step!). For this French Provincial dresser, I picked up a new can of Chicago Grey paint. This is almost identical in color to the original ASCP Paris Grey color that was manufactured in the U.S. until a few years ago. (The Paris Grey that's sold now worldwide is a bit darker.)
Even though Chicago Grey is a light gray, it isn't too light – you can see the difference below versus the white primer on the drawer.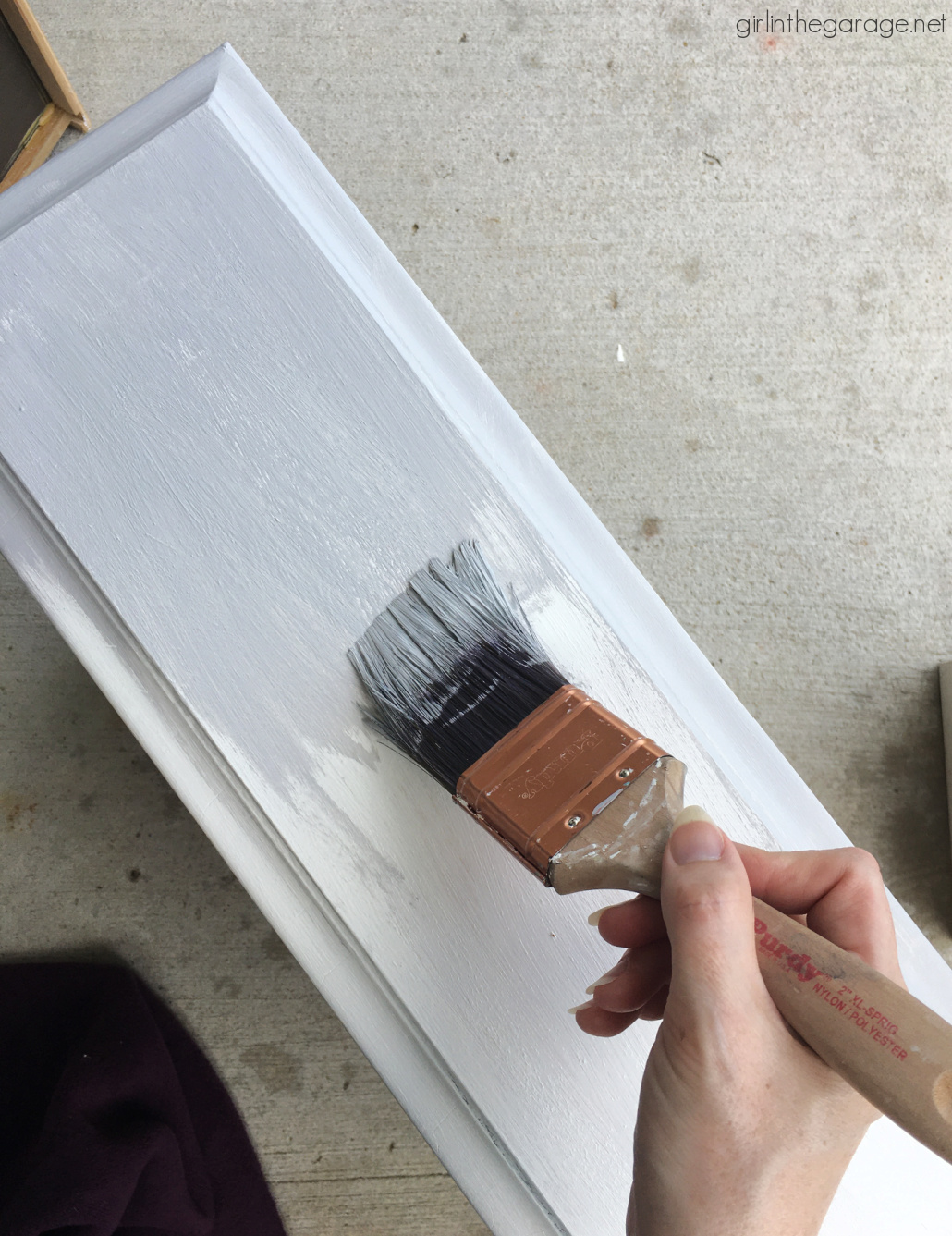 As always, I used my favorite Purdy paint brushes for painting the dresser. I applied about 2-3 coats of Chalk Paint as needed.
Since this is a French Provincial style dresser, I gave it some subtle glam with metallic paint in the grooves and on the curvy details. A small artist's brush works well for those tiny areas.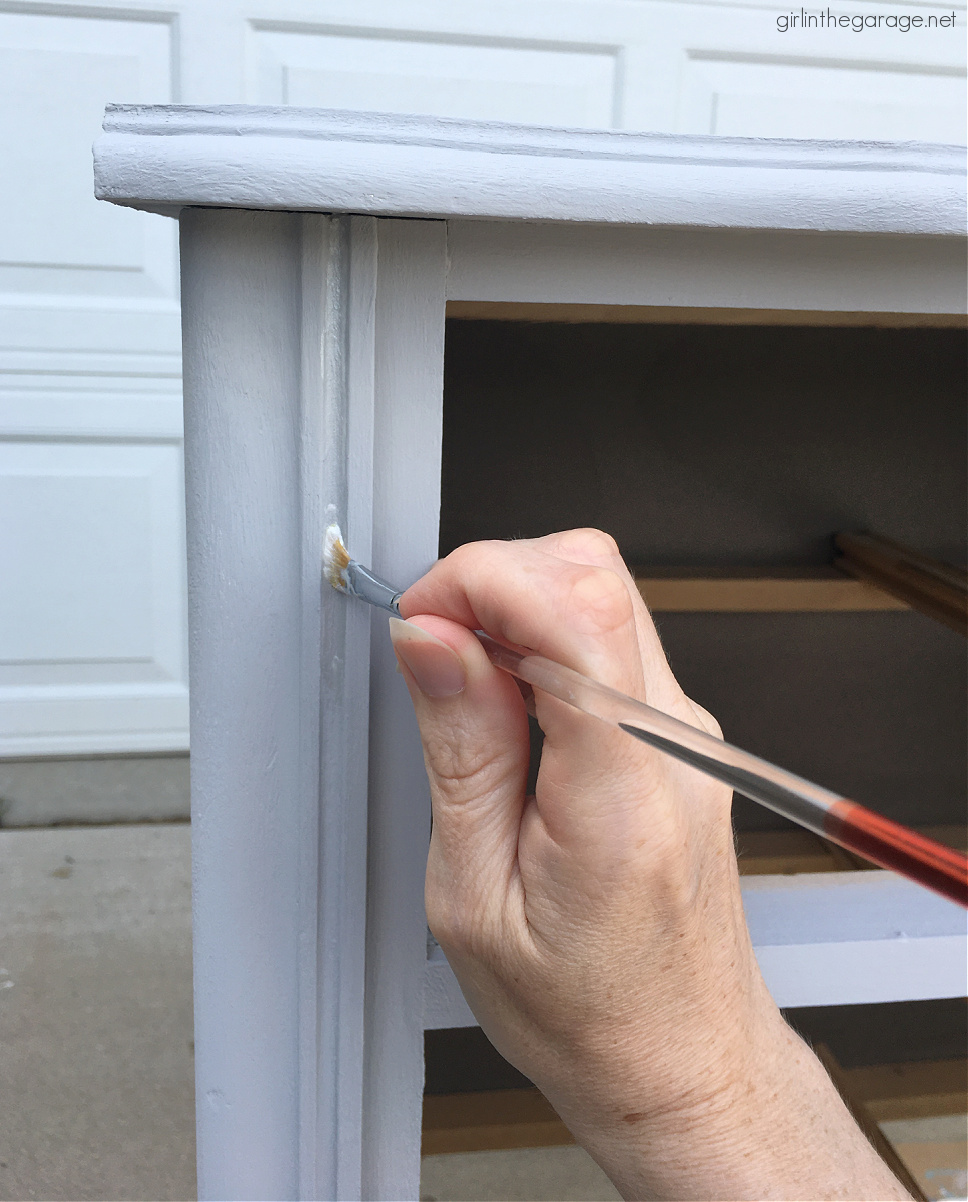 I also painted the drawer pulls in Chicago Grey Chalk Paint and added a layer of the sheer metallic paint on top.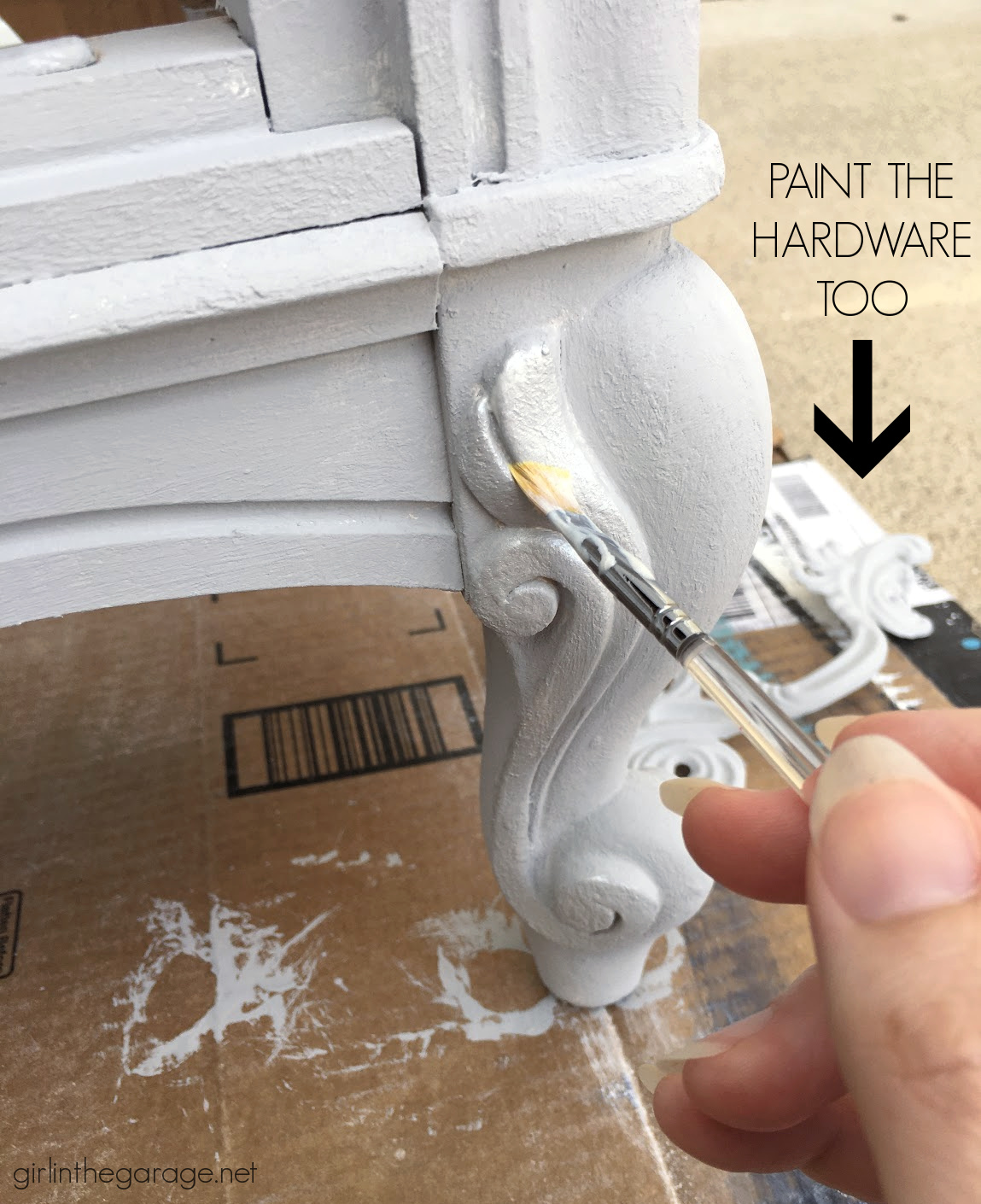 Very lightly sand the dresser all over for smoothness and wipe away any sanding dust.
For protection, apply at least 2 coats of Annie Sloan's clear wax with a lint-free cloth, letting the wax dry overnight between each coat. The wax takes up to 30 days to fully cure, so be careful with the surface for at least the first few weeks.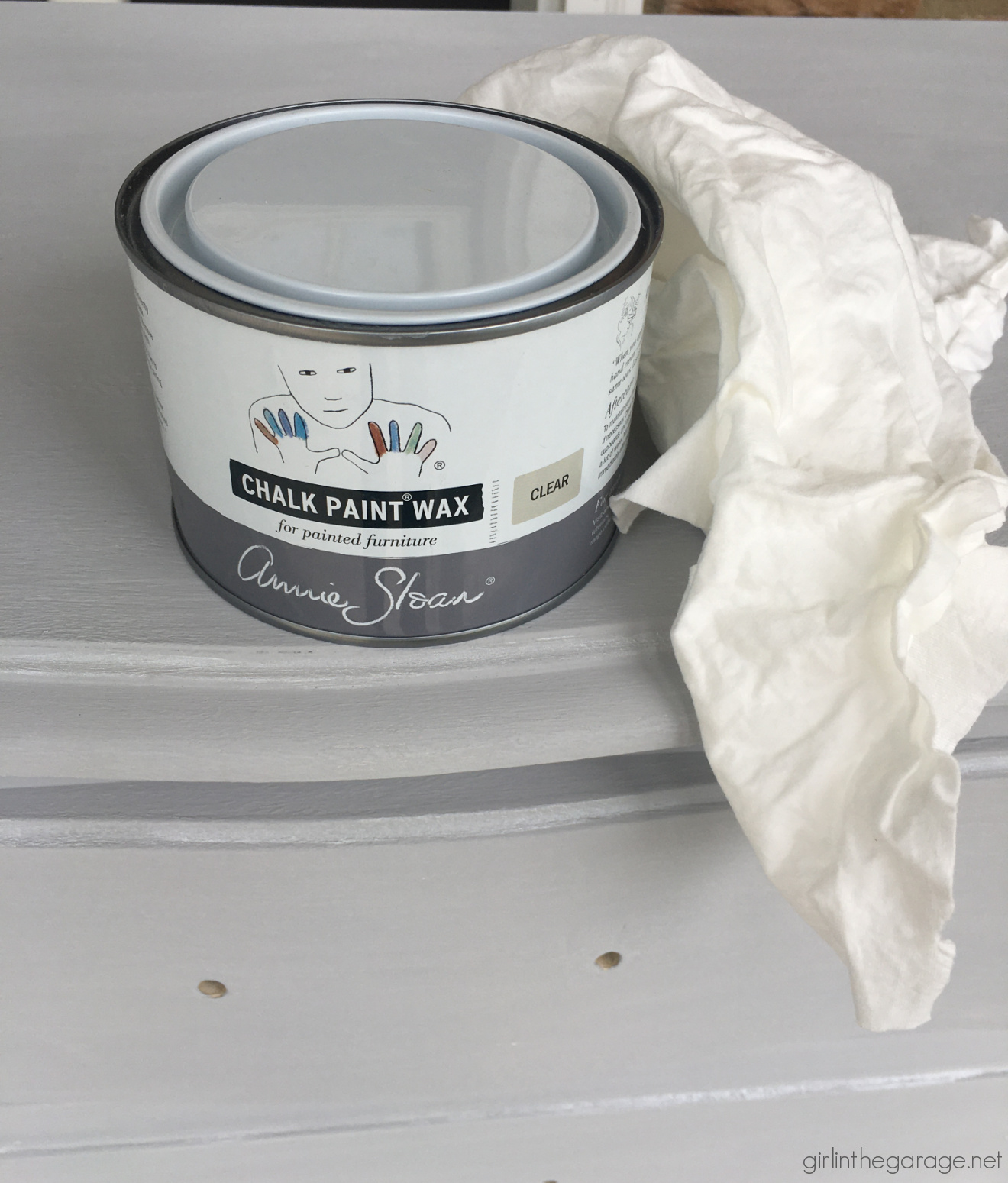 For the final touch, I cut patterned poster board to line the inside of the drawers. The drawers weren't in bad condition, but since the outside got a fancy new look, the inside looked a little plain.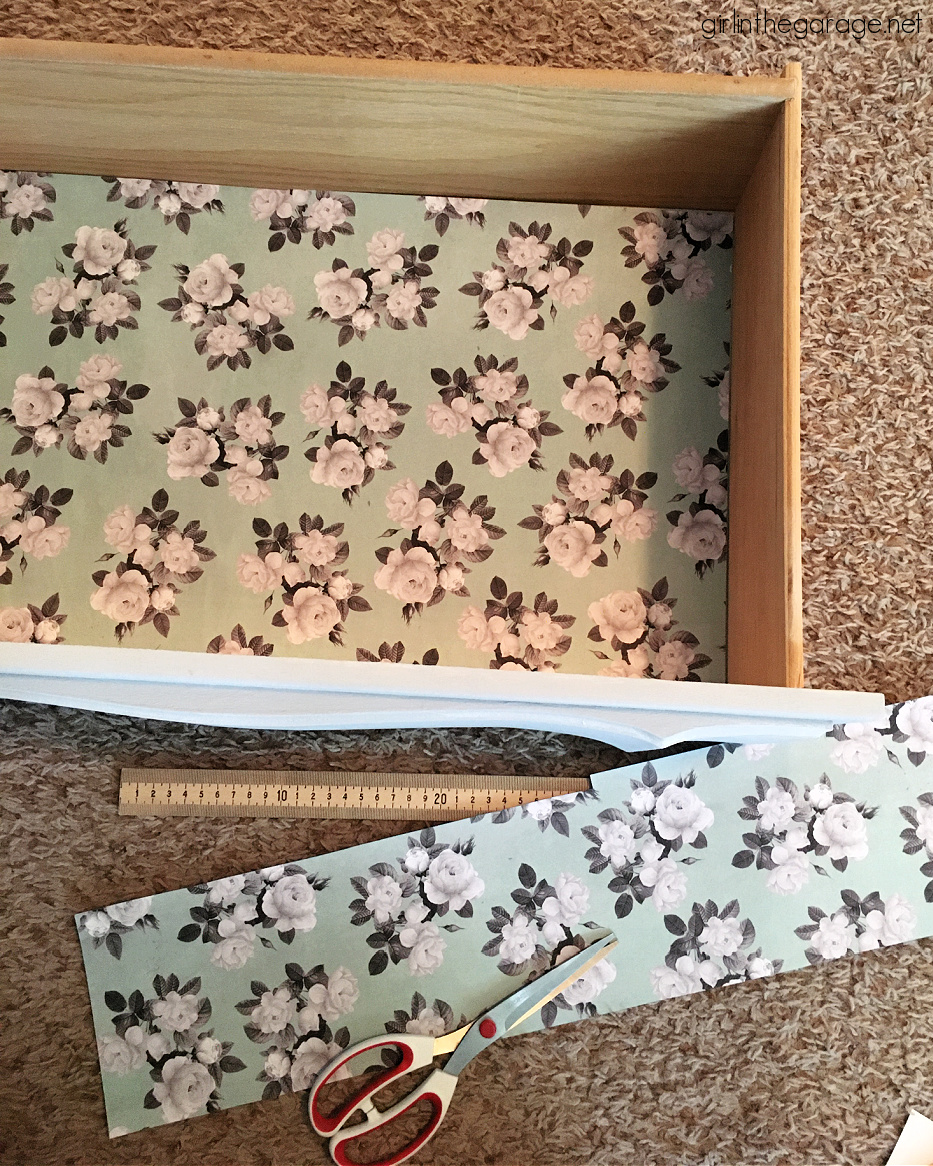 The poster board was from Hobby Lobby but unfortunately I don't think they carry this specific style anymore.
And finally, here is how the old laminate dresser looks now…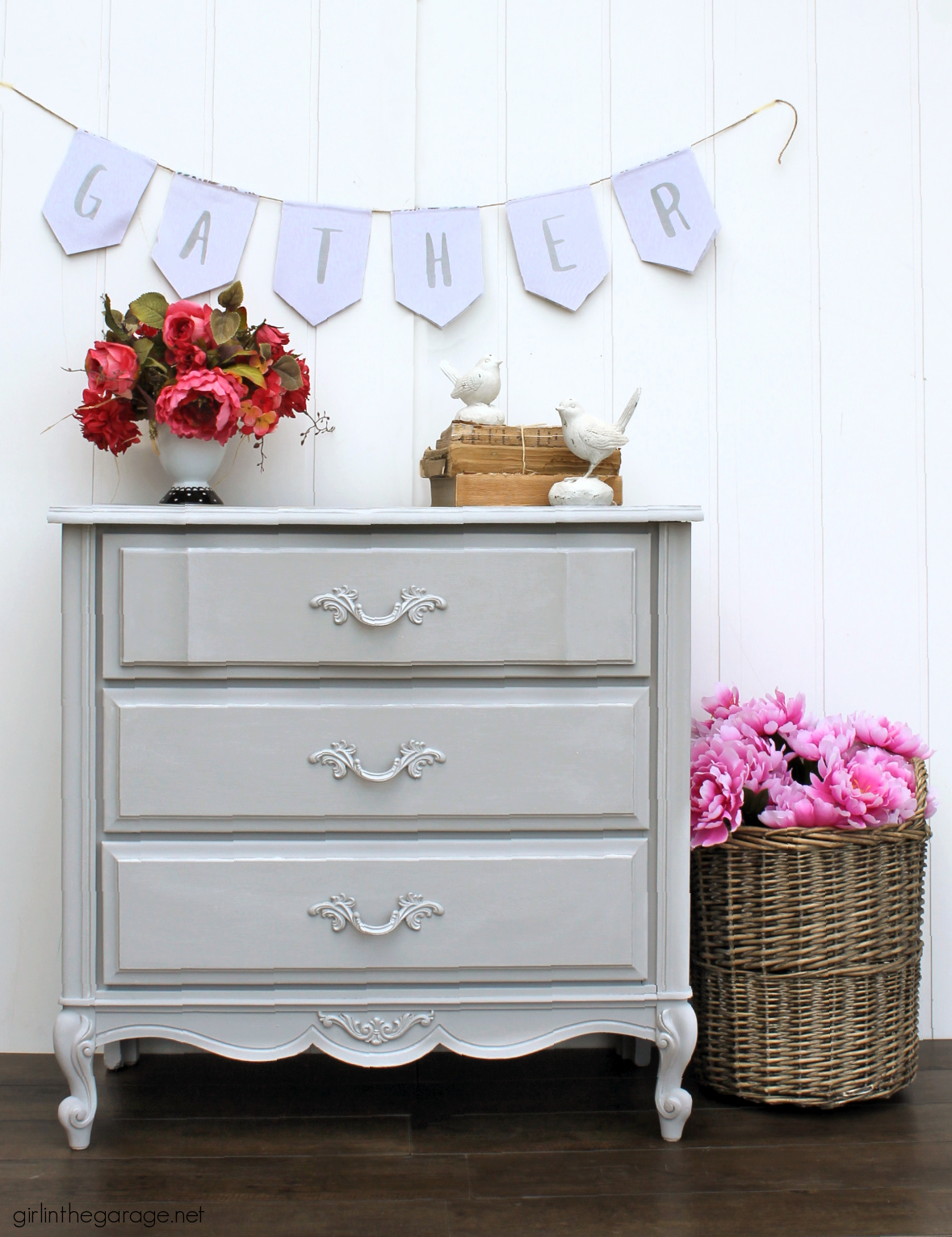 The metallic shimmer is so soft but you can see it when the light hits – and it really helps the handles shine.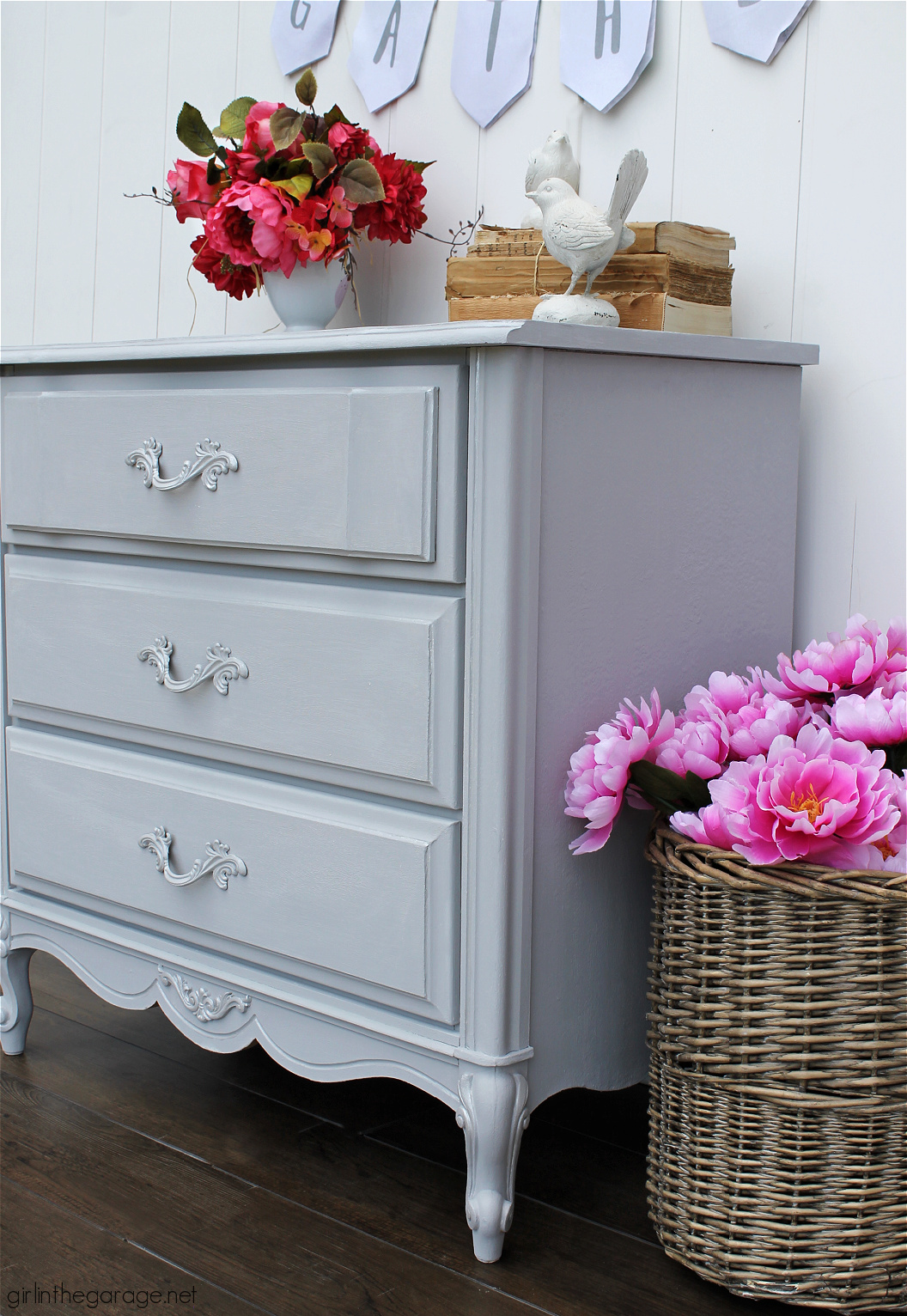 Here's how the drawers look all prettied up with the poster board (way easier to cut and glue than regular paper):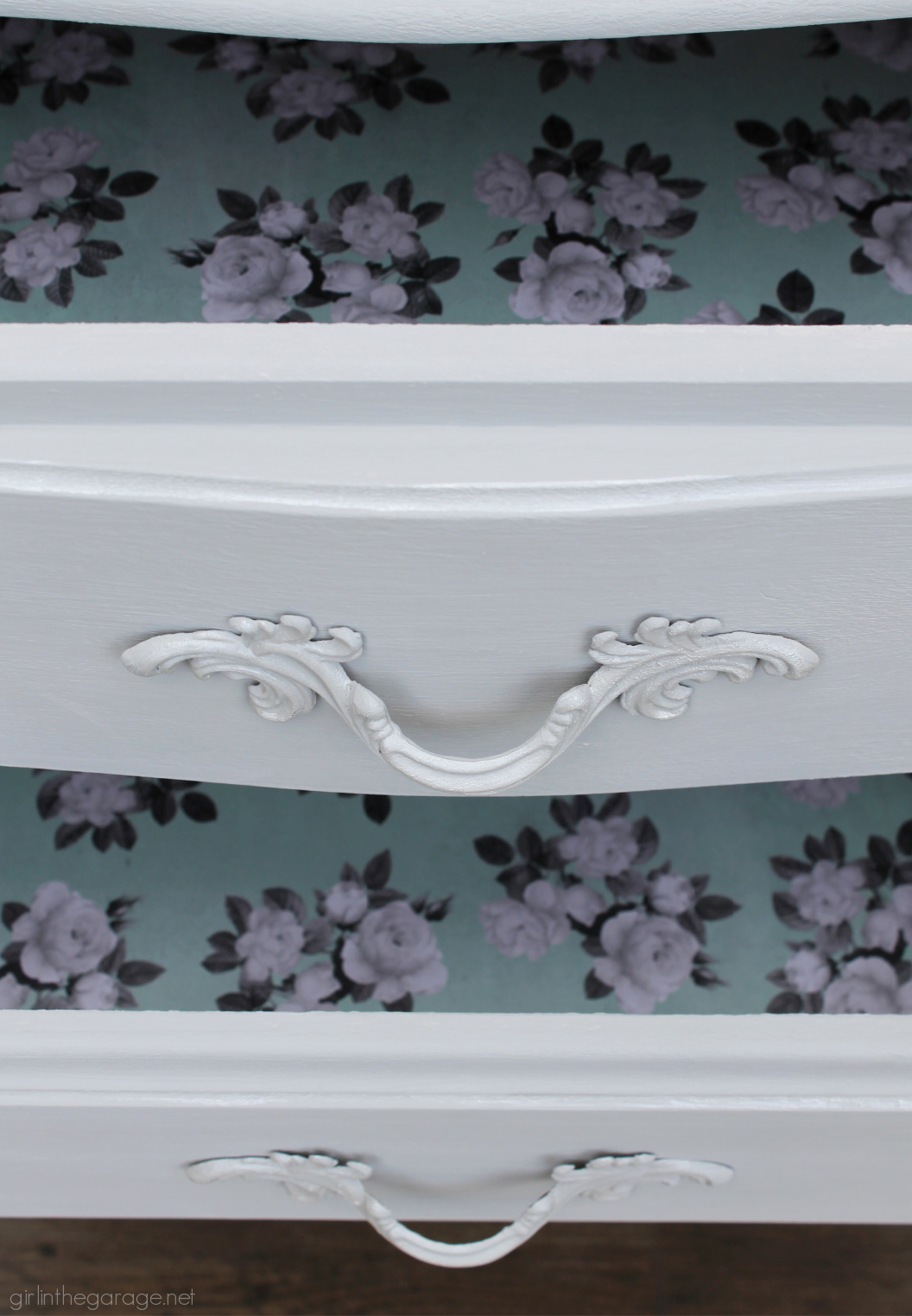 And to think I almost donated this piece to the thrift store a couple weeks ago!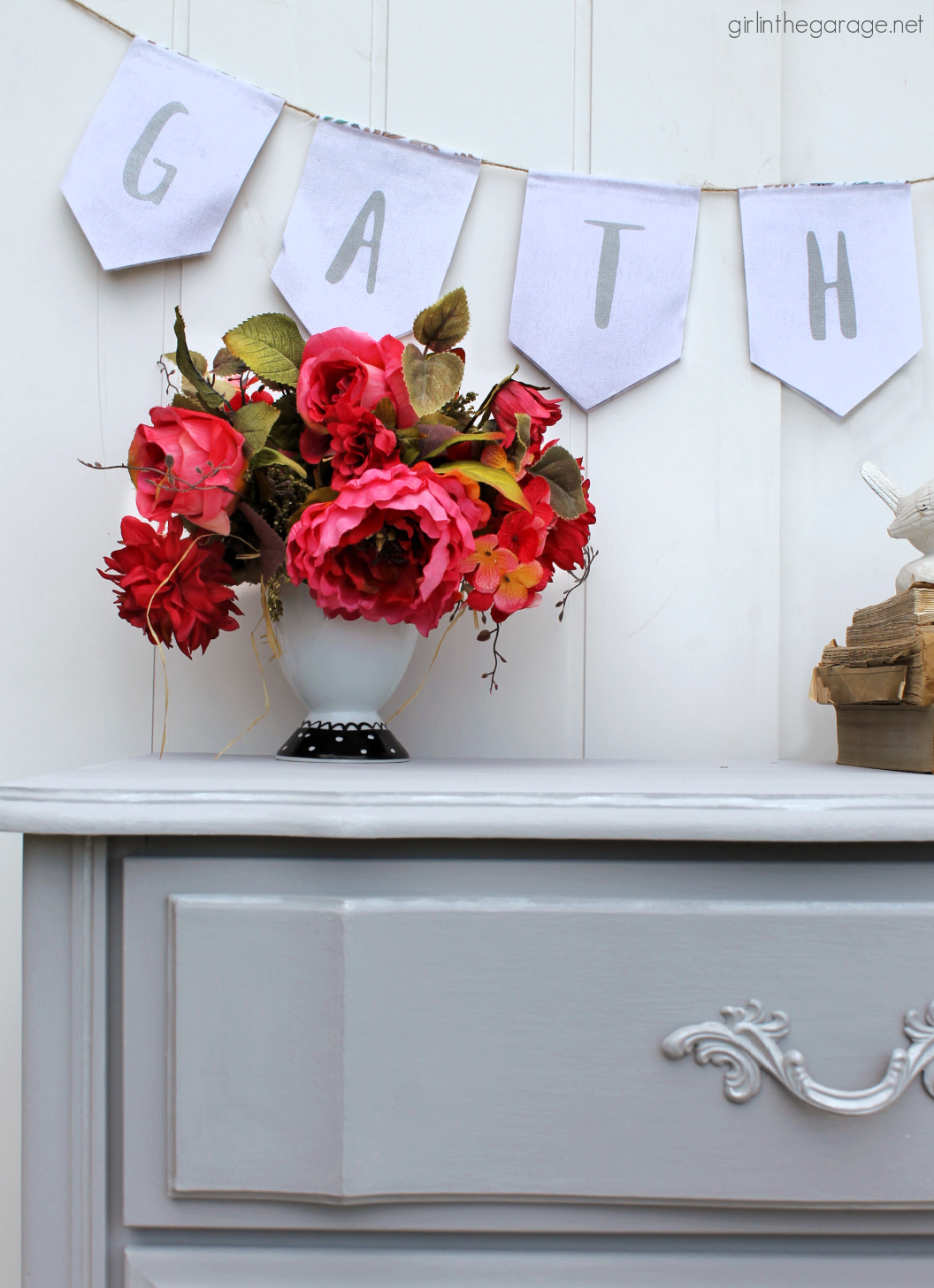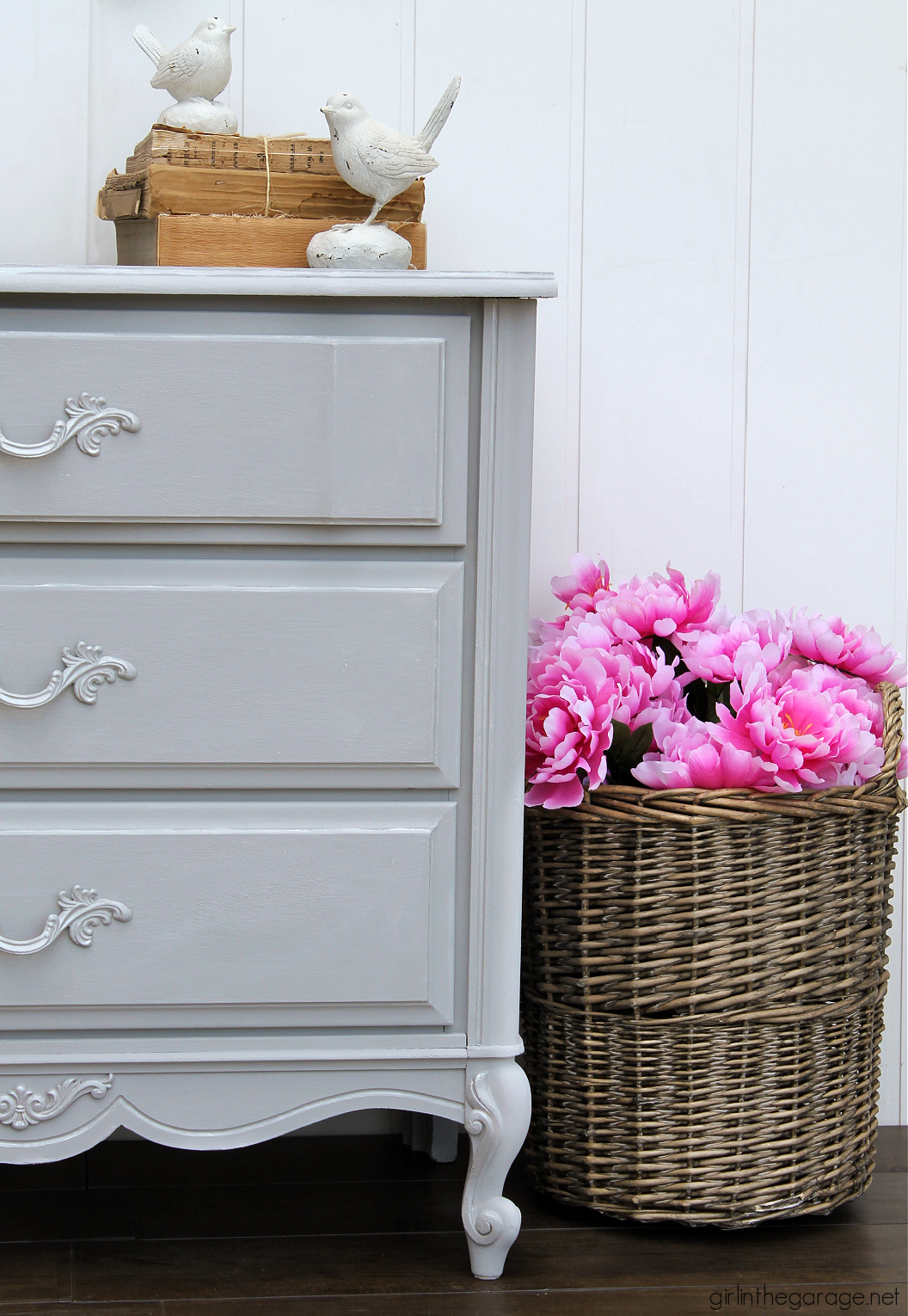 Friend, I hope you feel more confident with knowing how to paint laminate furniture with Chalk Paint now. Feel free to Pin this post to easily find it again later, or share it with someone else who might learn from it.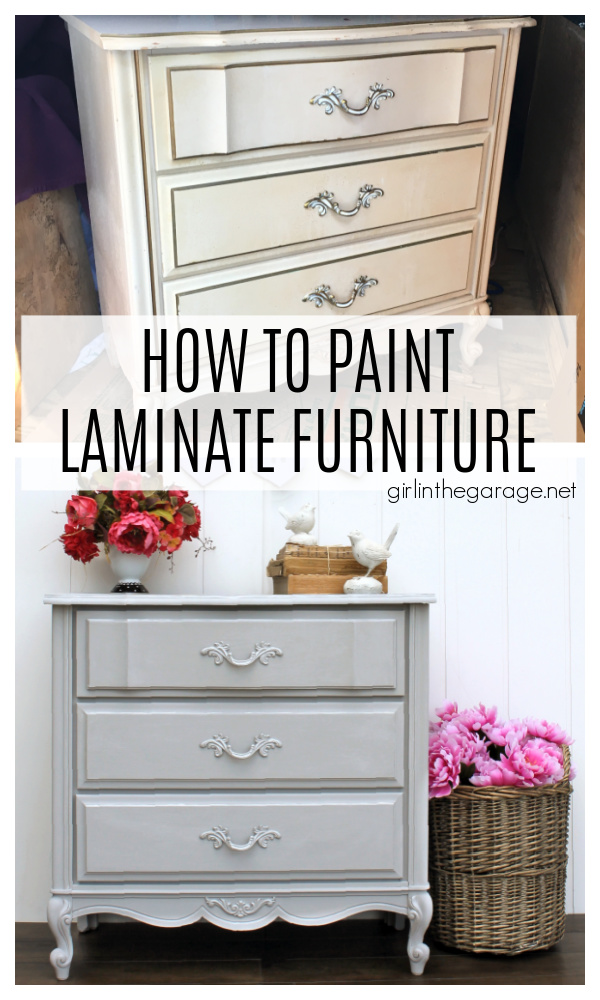 I appreciate you! – Jen

Now it's time for Furniture Fixer Uppers with my talented blogging friends. We each share a furniture makeover technique that you can try at home. Below are the Before photos – visit the links underneath to see the Afters and learn how they did it: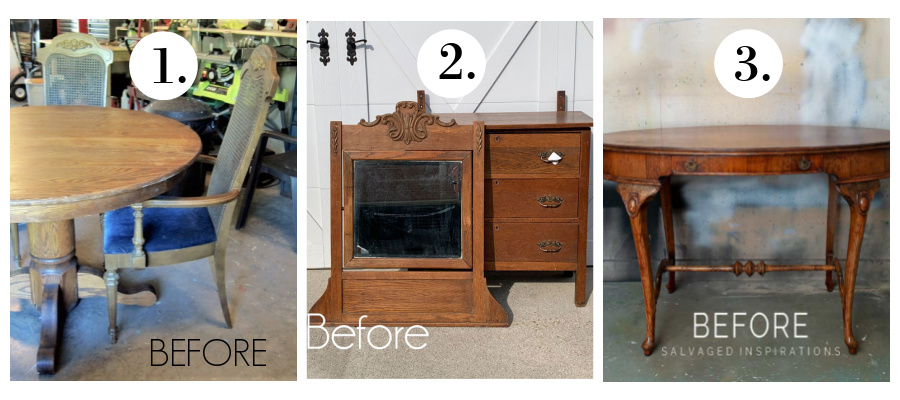 1. Petticoat Junktion
2. Confessions of a Serial DIYer
3. Salvaged Inspirations