Welcome back, friend! Today is Furniture Fixer Uppers day, and I'm sharing some past mistakes and lessons learned. Occasionally I'm asked the question: What's a project you regret doing? And while there's not an easy answer because I don't dwell on regrets, I definitely would have done things differently with this six-legged antique parlor table.
I originally painted it in 2016, and was never happy with the results. In fact, I unpublished the blog tutorial awhile ago because I wasn't proud of it. The table has been in storage because I planned to redo it eventually – and its time has come! I'll show you how to refinish an antique parlor table (Take #2) and tell you about the mistakes I made the first time.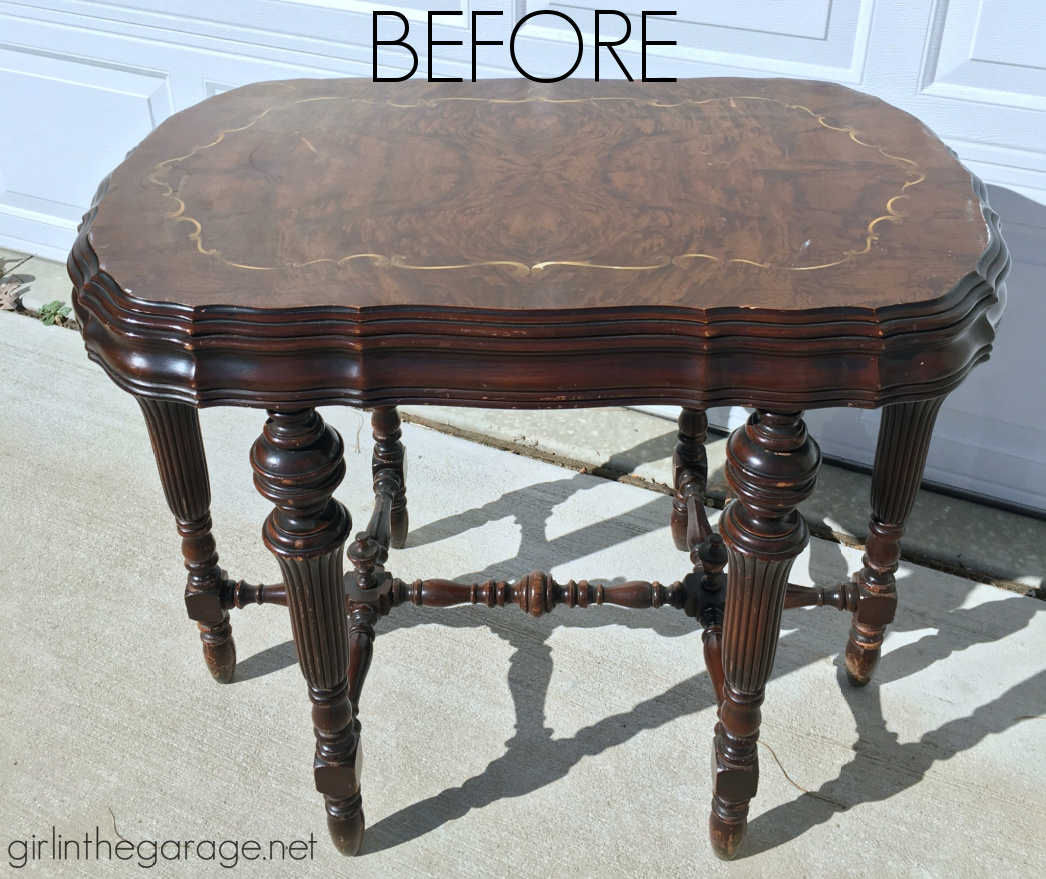 I don't remember where I originally got this table or how much I paid for it. It doesn't have any markings about who made it. But it had a lot of dings and scratches, which you can't tell easily from the photo.
Attempt #1 from 2016: I painted the parlor table in French Linen and Pure White Chalk Paint by Annie Sloan for a two-tone look. Then I applied a General Finishes topcoat for protection. This is how it turned out:
*This post contains some affiliate links so you can easily find the products I use and recommend. Discover all my favorite brands and tools for doing DIY makeovers here.
There are a few big mistakes I made that you might have already realized from my brief project description above, but in my defense this was many years ago and I still had a lot to learn. (You can also read through my list of 6 Mistakes New Furniture Painters Make here.)
I didn't use any primer on the dark brown stained table before painting it a light color. There are definitely a lot of tannins in that antique wood. I should've applied a couple coats of shellac primer first.
I used a topcoat that yellowed over the light paint (see photo below). This is partly due to the fact that I didn't use primer first, and partly because it just wasn't the right type of topcoat. In my original tutorial, I admitted that it had yellowed and vowed to repaint… and it took me 5 years to do it (I hate repainting furniture!). I should've stuck with the correct topcoat for Chalk Paint which is Annie Sloan's furniture wax. It doesn't ever yellow. (Learn all about how to Chalk Paint furniture here.)
Lastly, I regretted painting over the top of the table. It had a pretty burl wood pattern and I wasn't confident in using stain or working with unfinished wood back then. (Learn all about what burl wood is here and how to stain wood furniture here.)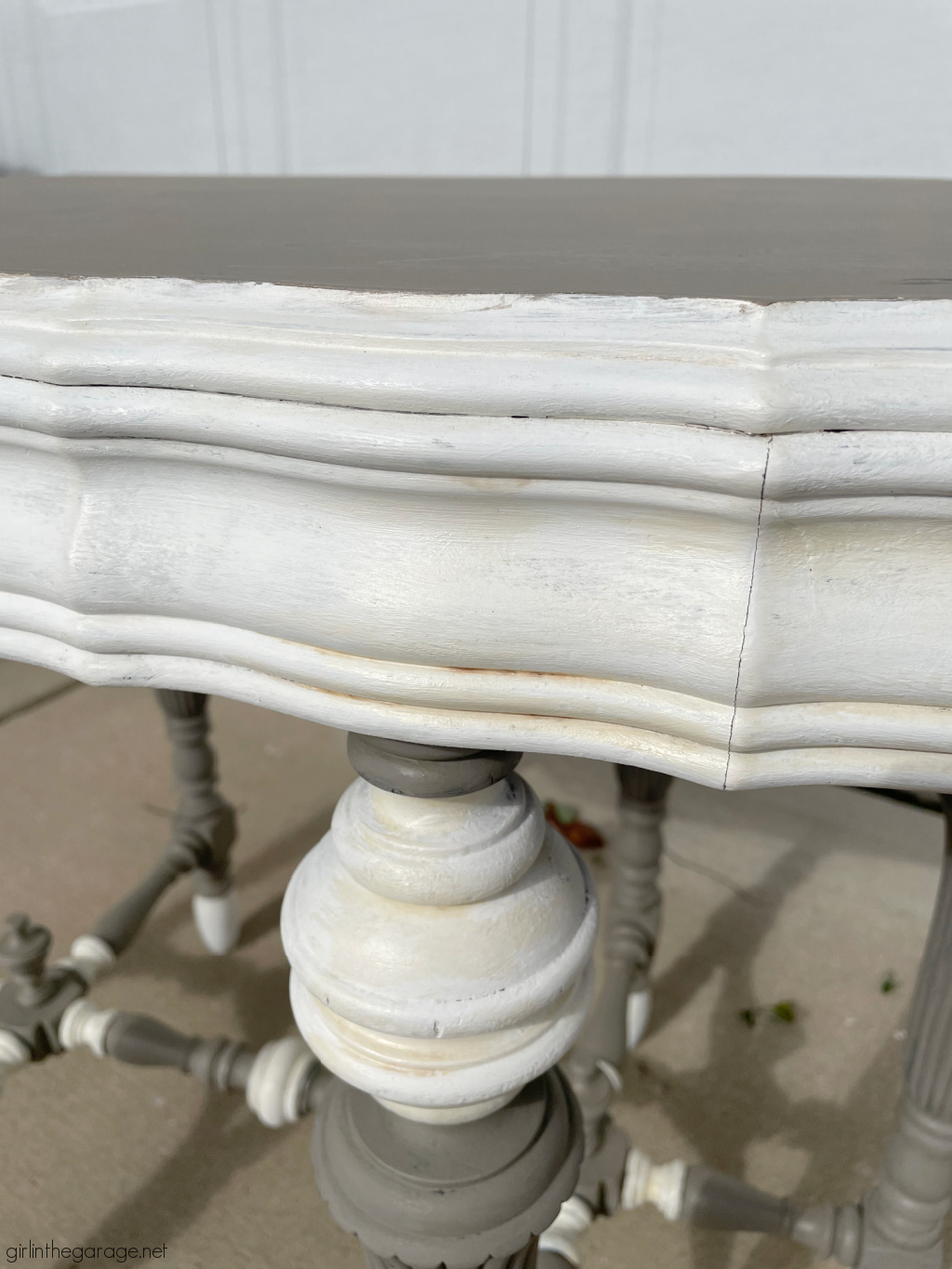 First, I knew I had to refinish the top of the table. I pulled out my wonderful Makita sander (which even comes with its own handy carrying case) and worked through removing the GF poly topcoat, then the Chalk Paint, then the original topcoat, and then the original stain. My arms still hurt!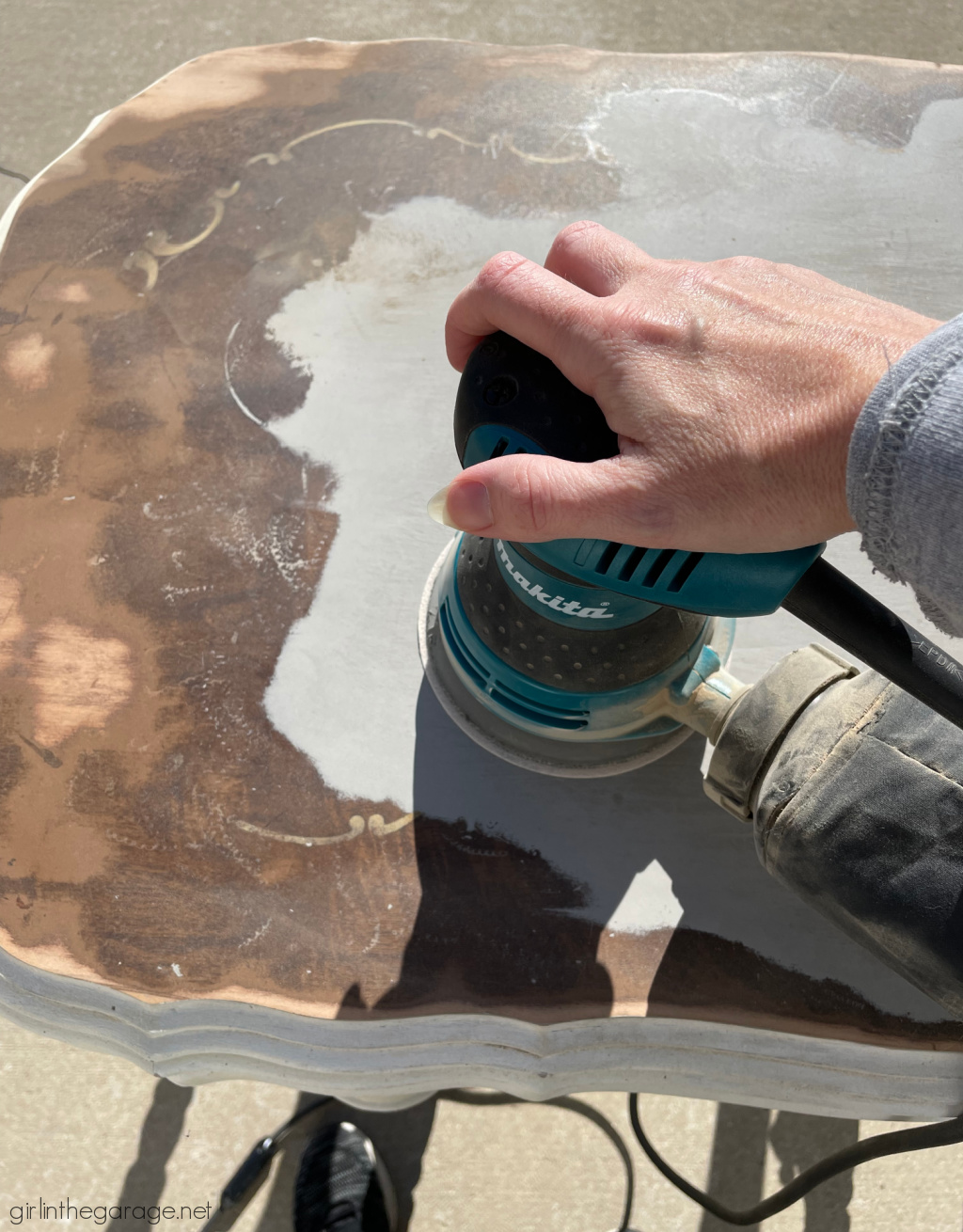 I had hoped to reveal the burled wood underneath, but unfortunately the gold scrolls that I thought were inlaid and the burl wood pattern disappeared when I sanded the layers away. Apparently they were some kind of faux finish all along.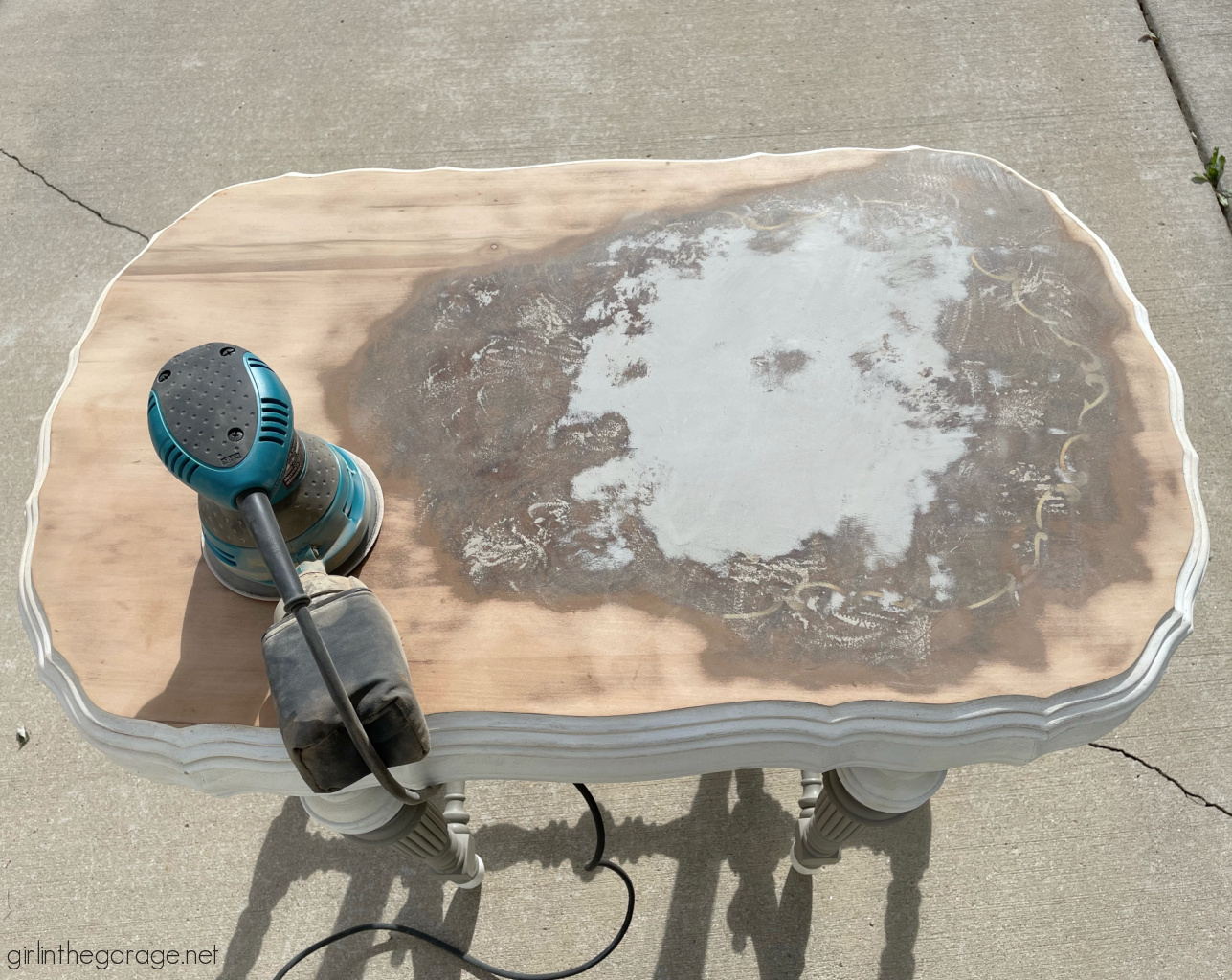 Although it's not what I expected, there was still a very pretty natural wood top just waiting to be shown off.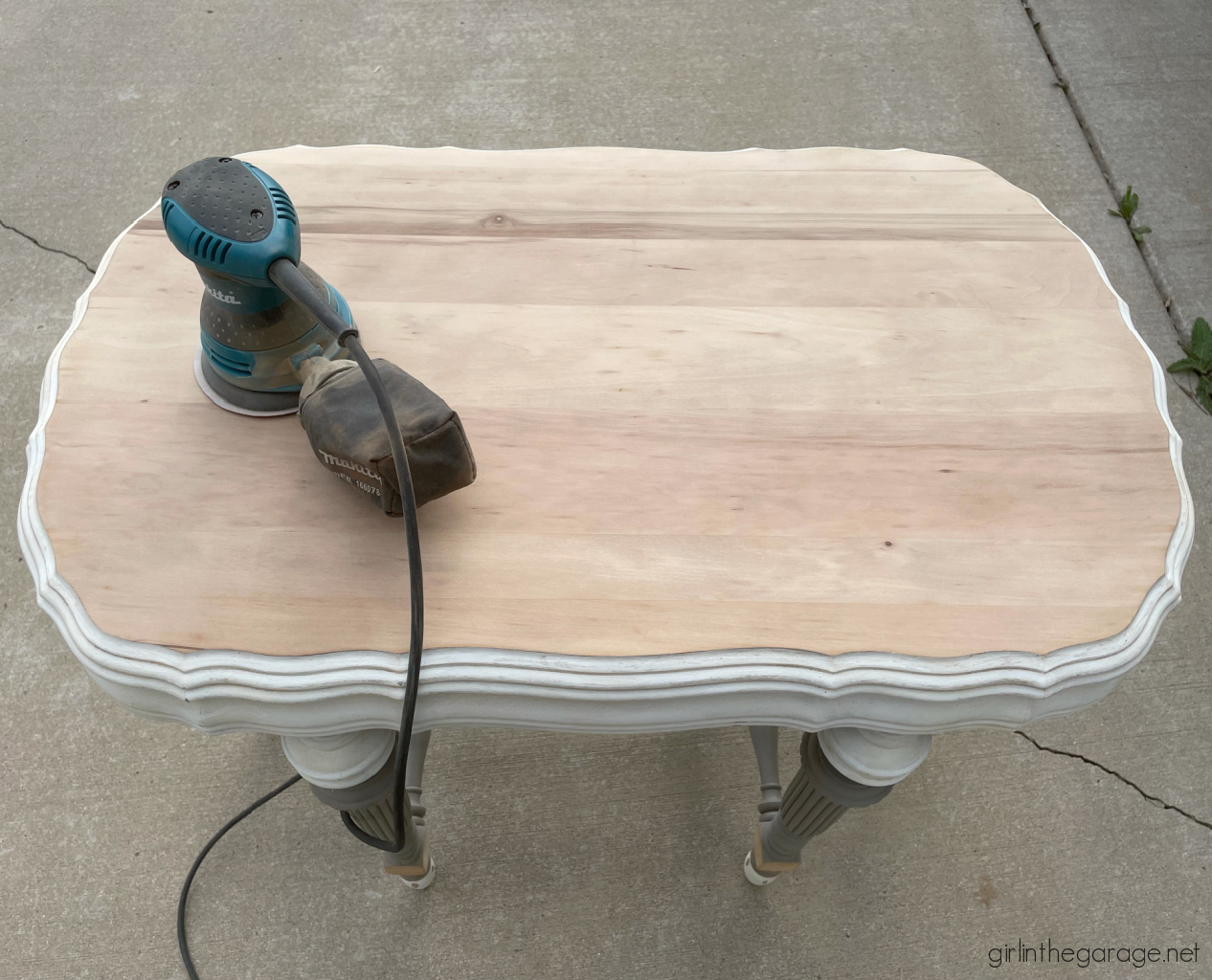 There was no easy way to remove the paint from the bottom, and I didn't want to mess with priming and white paint again and the bad memories of the previous bleed-through… so I ultimately opted for the ease of using Athenian Black Chalk Paint.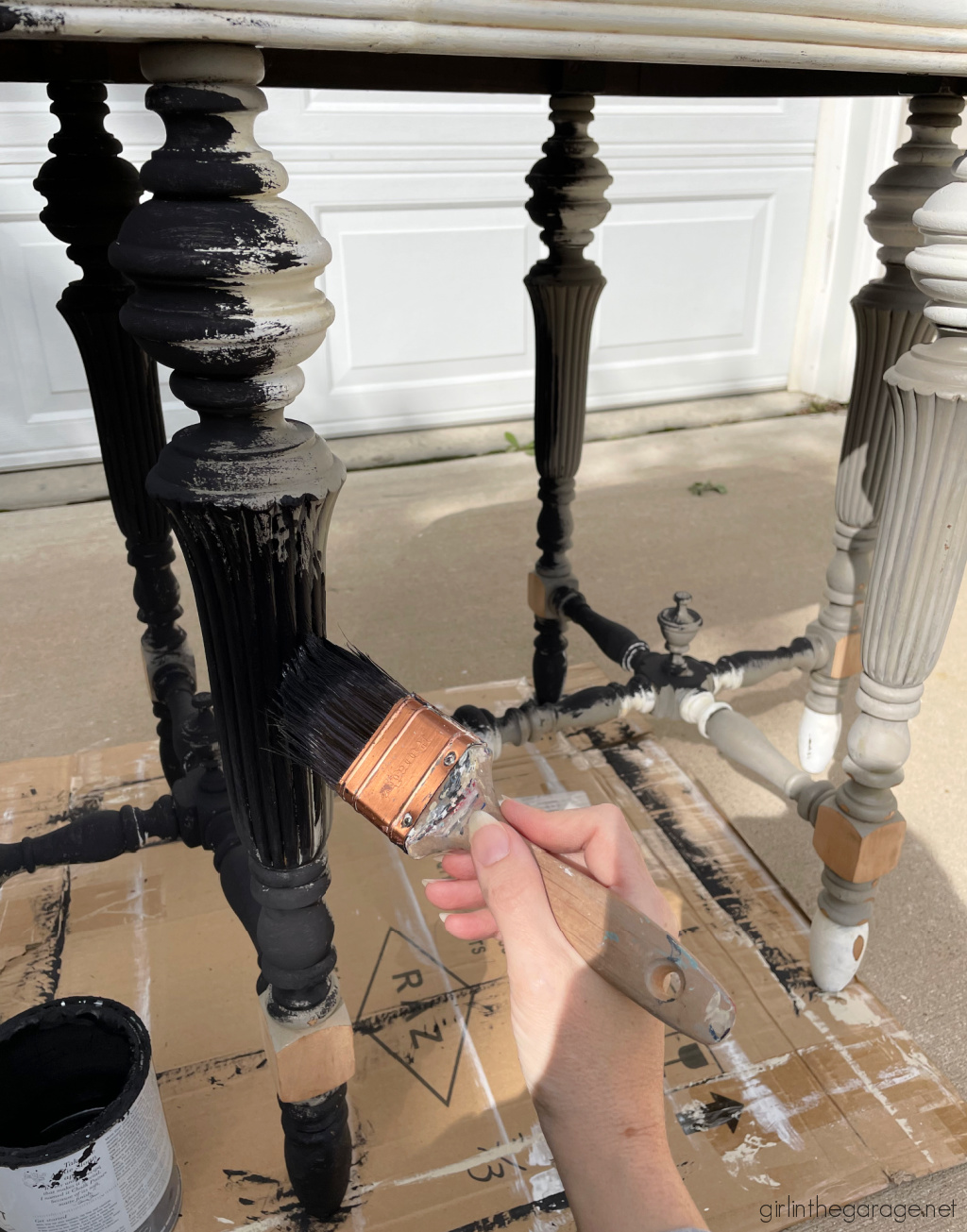 I thought the black would be a nice contrast with the light colored wood top.
A small artist's brush was perfect for completing the edges near the top.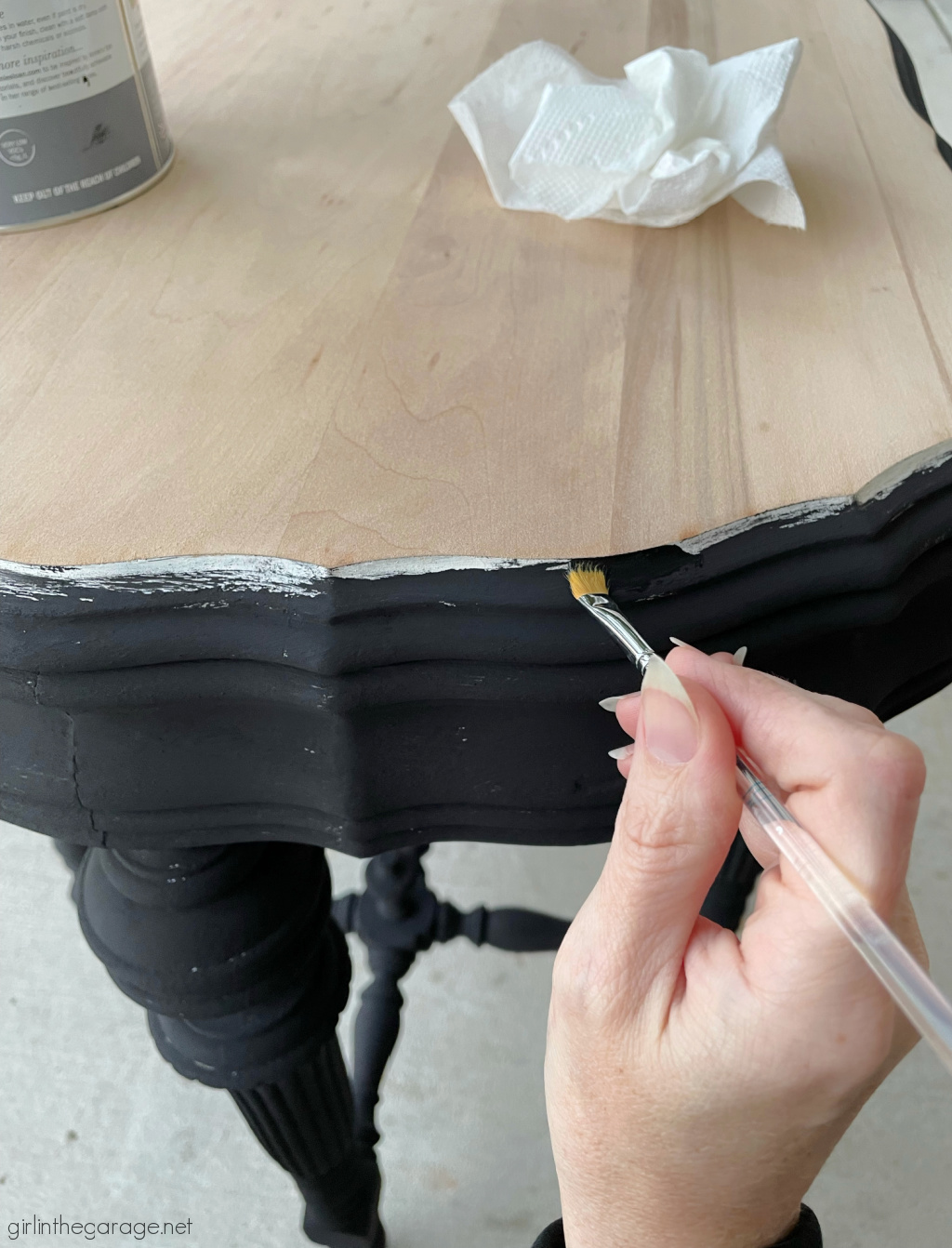 Although I loved the sanded top, it seemed just a little plain so I added a simple stencil for some extra character.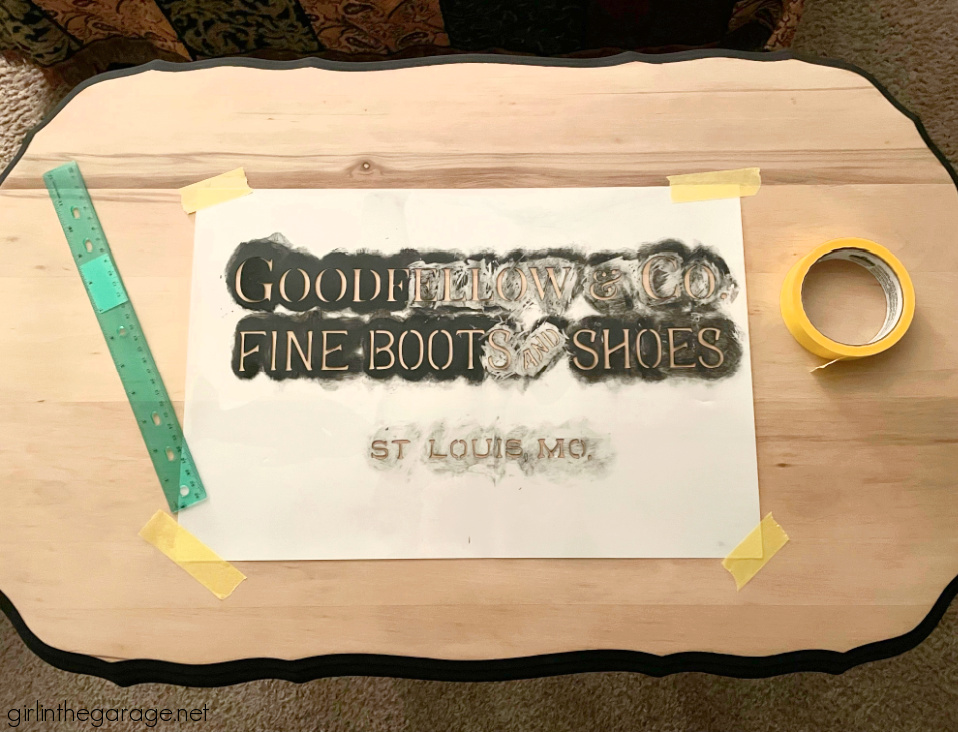 I got this stencil years ago from another blogger who was making and selling different designs, and sadly she doesn't make them anymore.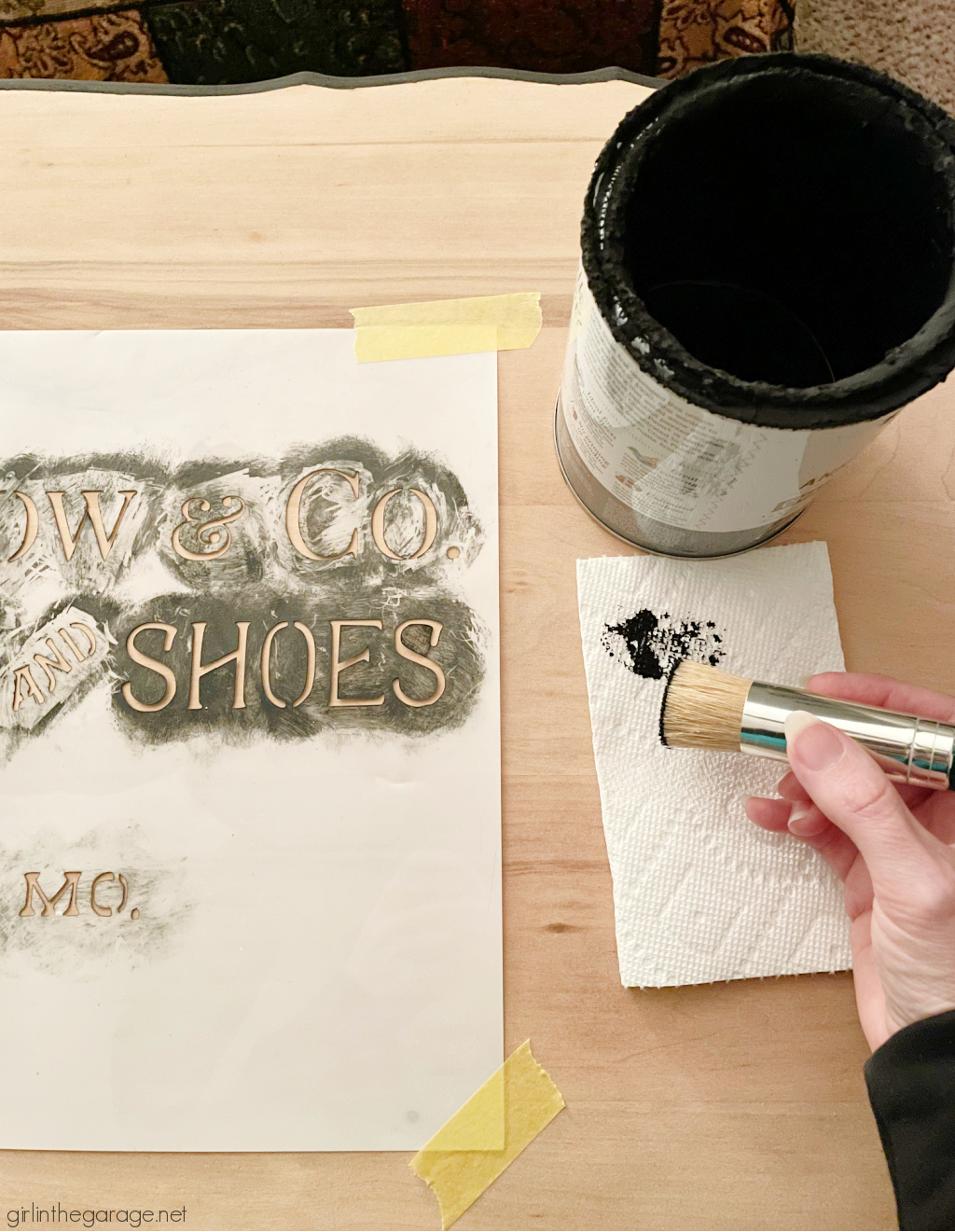 After stenciling, fill in the gaps with a small brush so the letters look complete.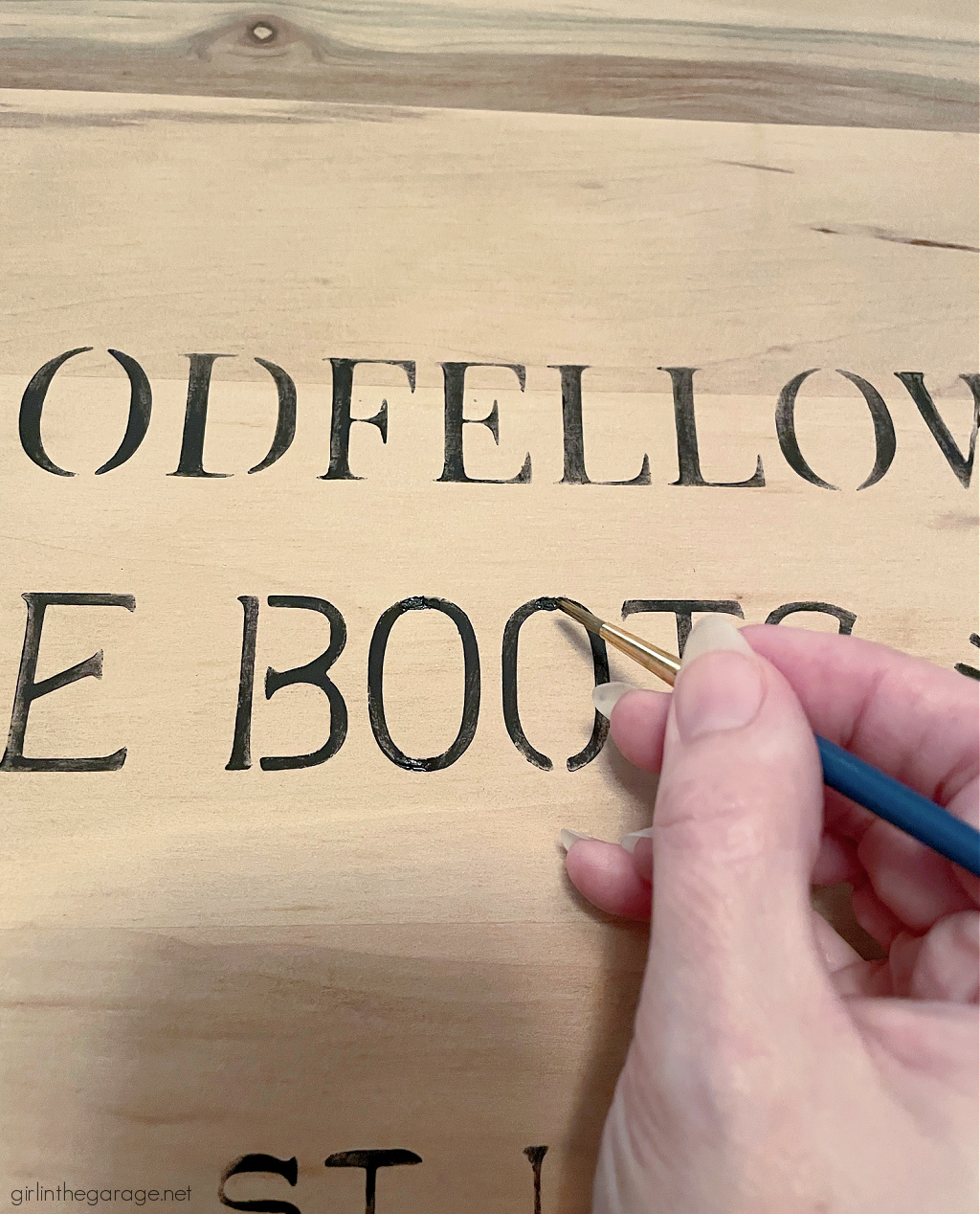 The painted words were too fresh looking, so I lightly sanded over them to make them look worn. Just beware if you do this that the dust from the black paint might get into the grooves of the raw wood. Carefully wipe it with a damp cloth or re-sand around the letters as best you can.
I applied Annie Sloan's white wax over the table top with a lint free cloth for protection. I thought the white might be slightly more obvious on top, but it dried practically clear on the unfinished wood.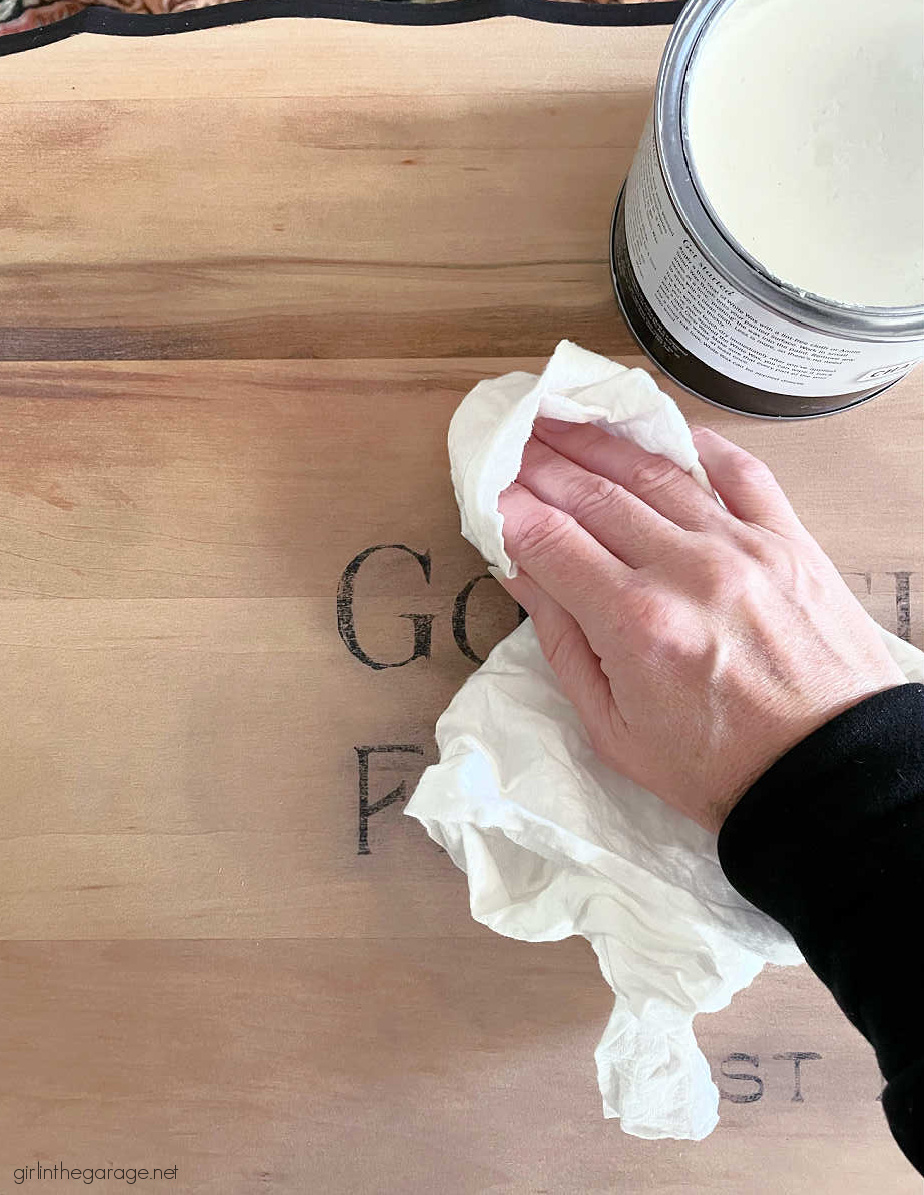 Finally, the bottom was protected with Annie Sloan's black wax to deepen the look of the black paint.
Whew that was a long explanation, but I like to be thorough so you guys aren't confused or guessing why I did something a certain way. 😊
Here's the refinished antique parlor table now: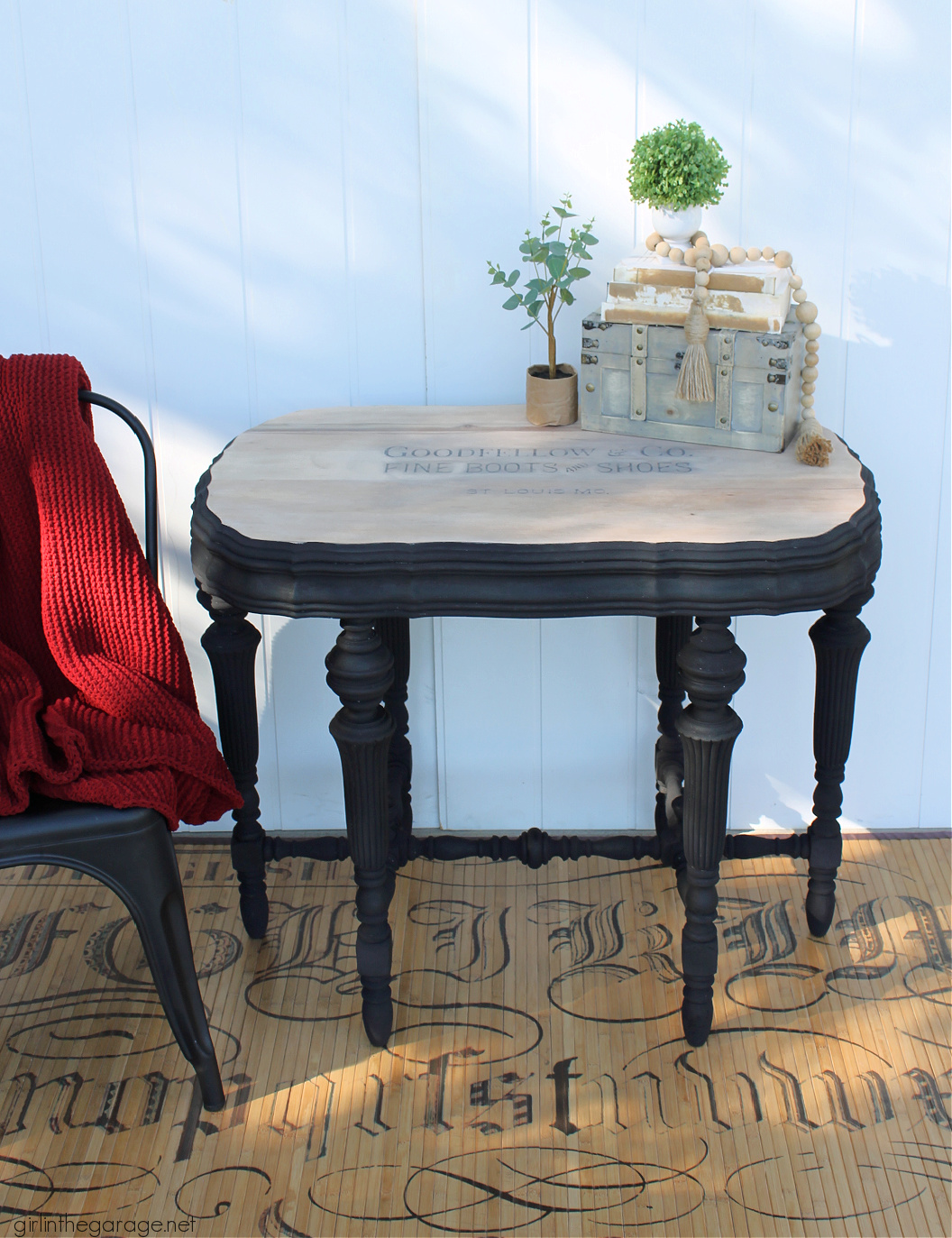 The sunlight was being a little wonky so that's why a few areas look lighter on top.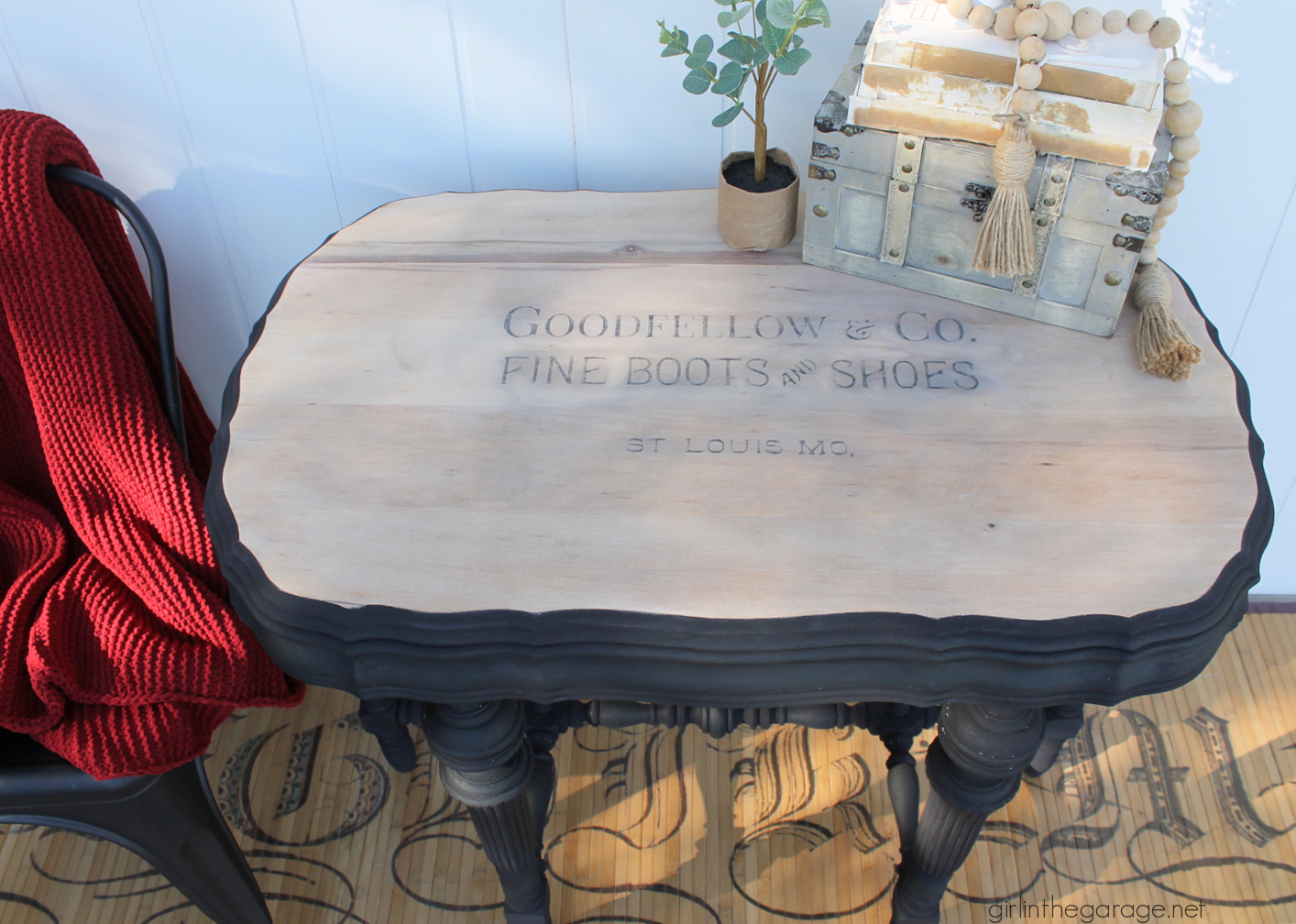 I'm much happier with the results this time, and I hope you can learn from my past mistakes and skip ahead to the correct way of how to paint furniture!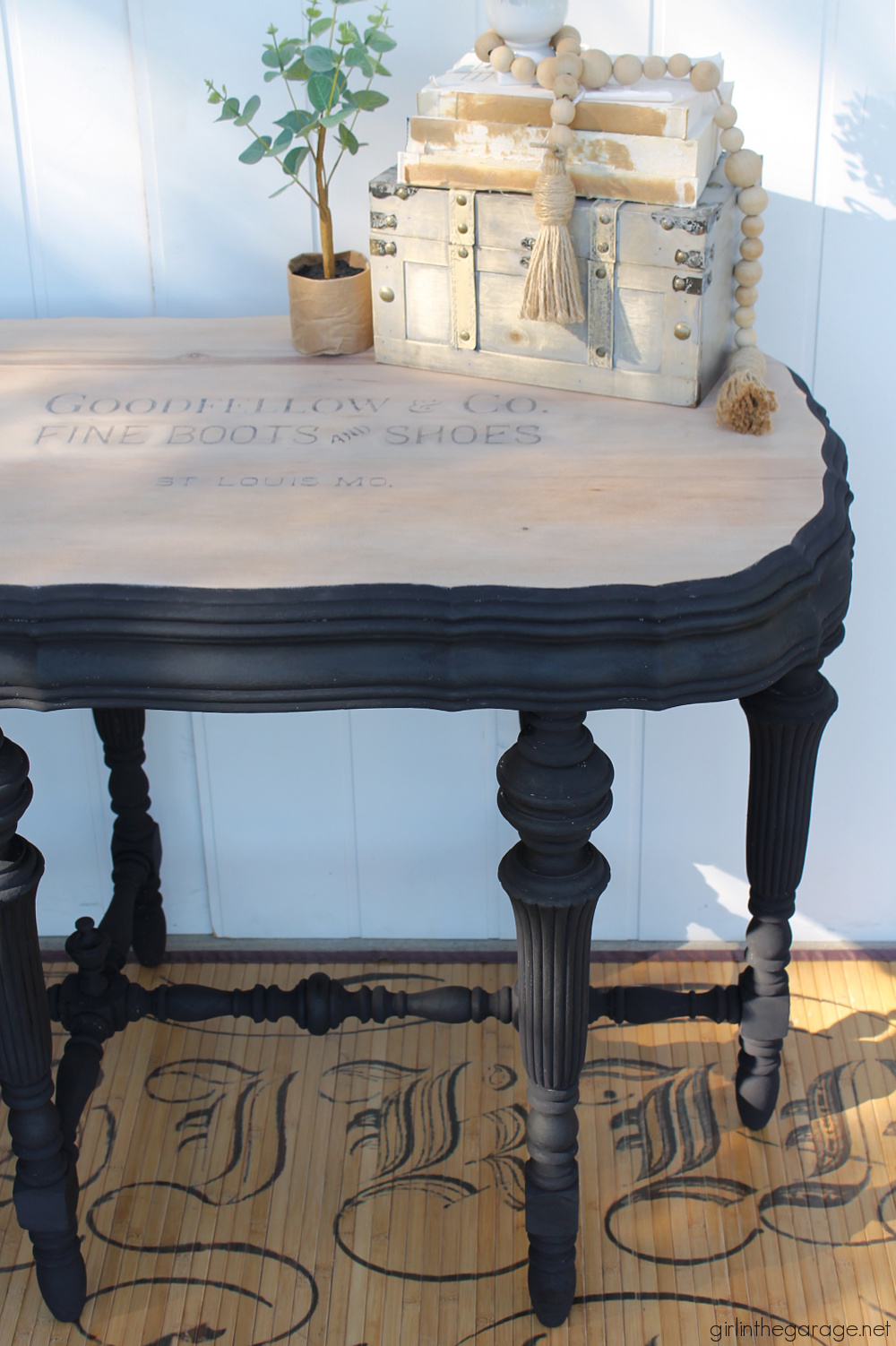 The spindles and details are really amazing on this piece!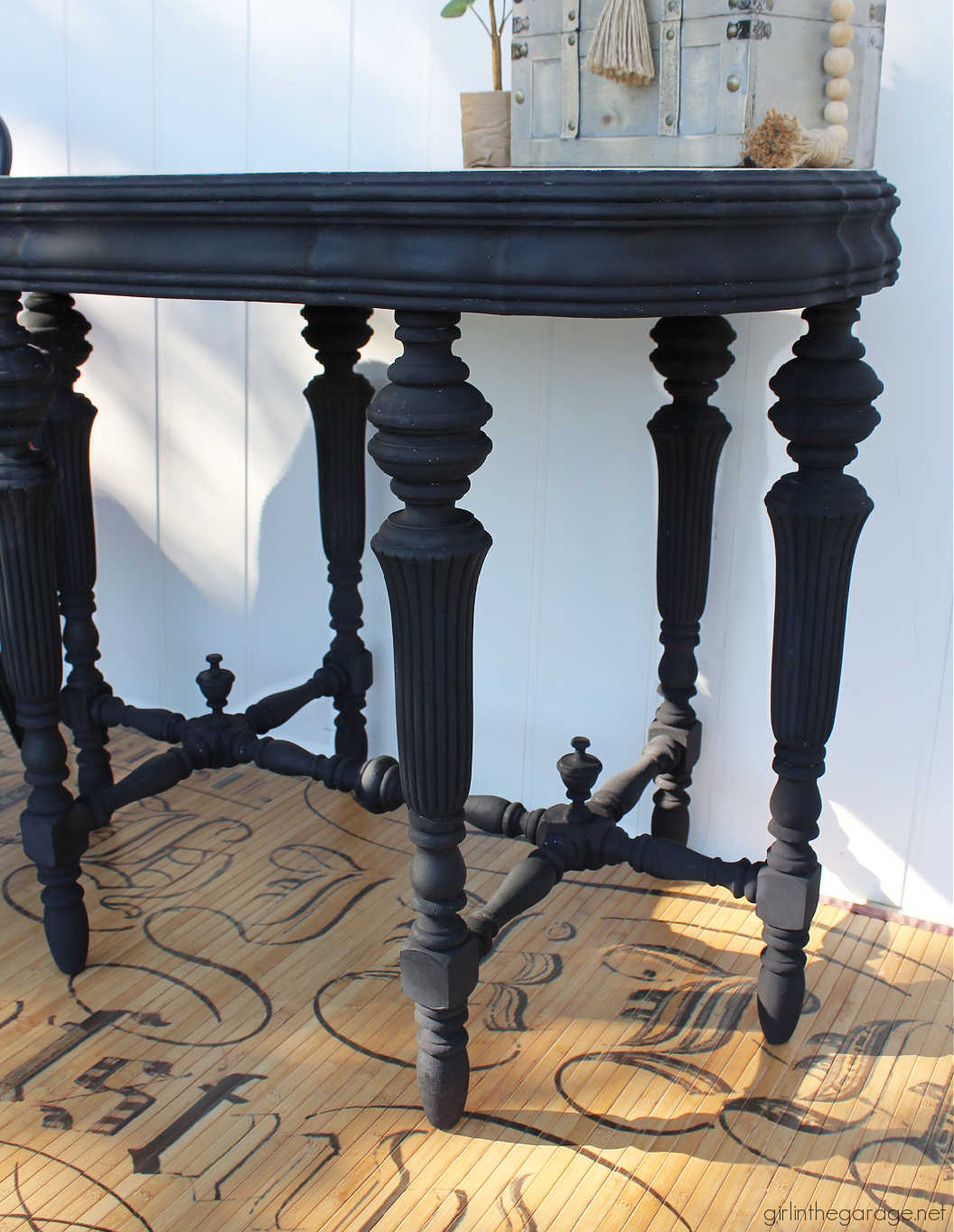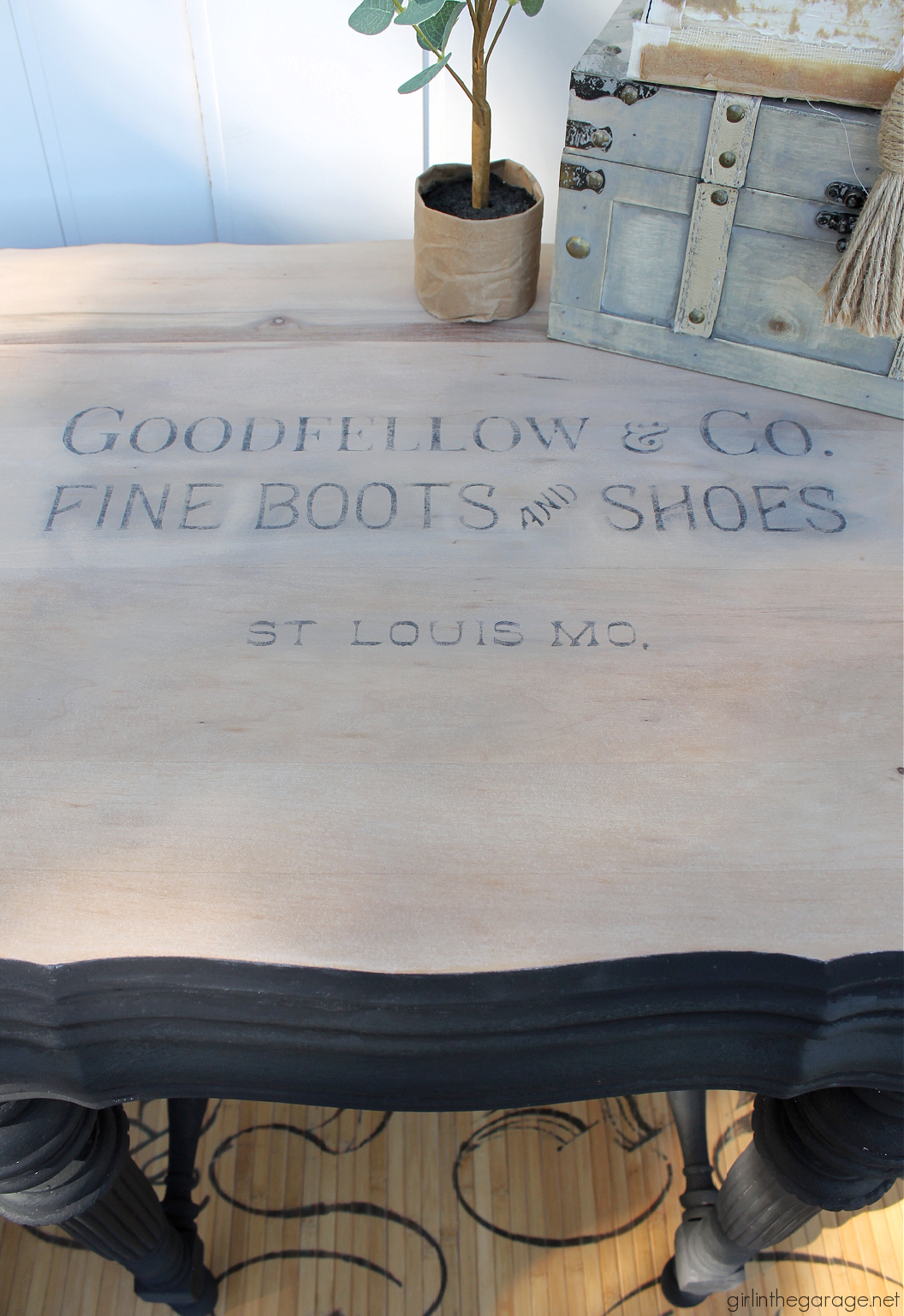 Please feel free to Pin this refinished antique parlor table tutorial or share it with a friend.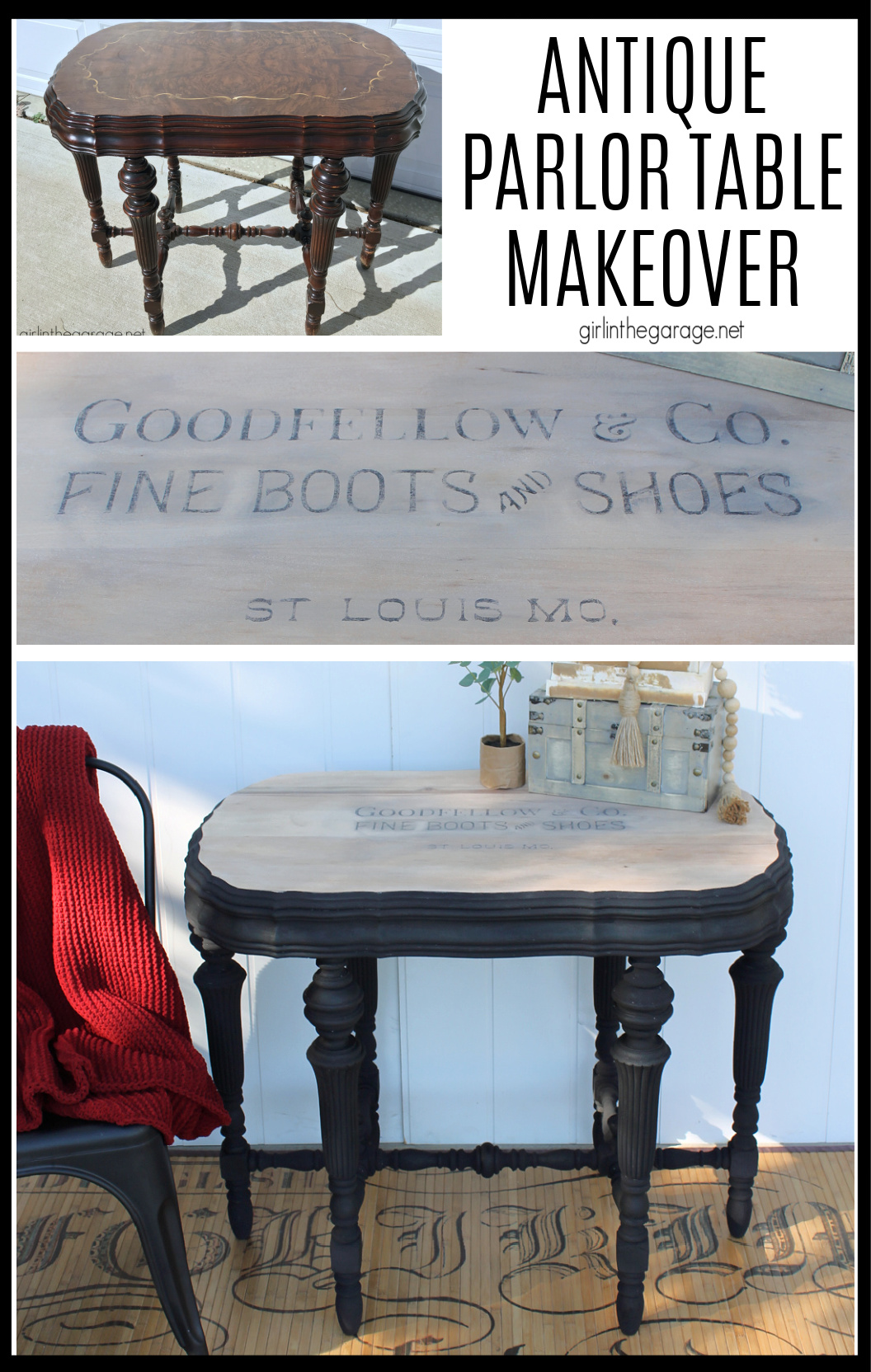 Also, I'd love to know your thoughts in a comment at the end of this post. Have you done any projects that you regretted?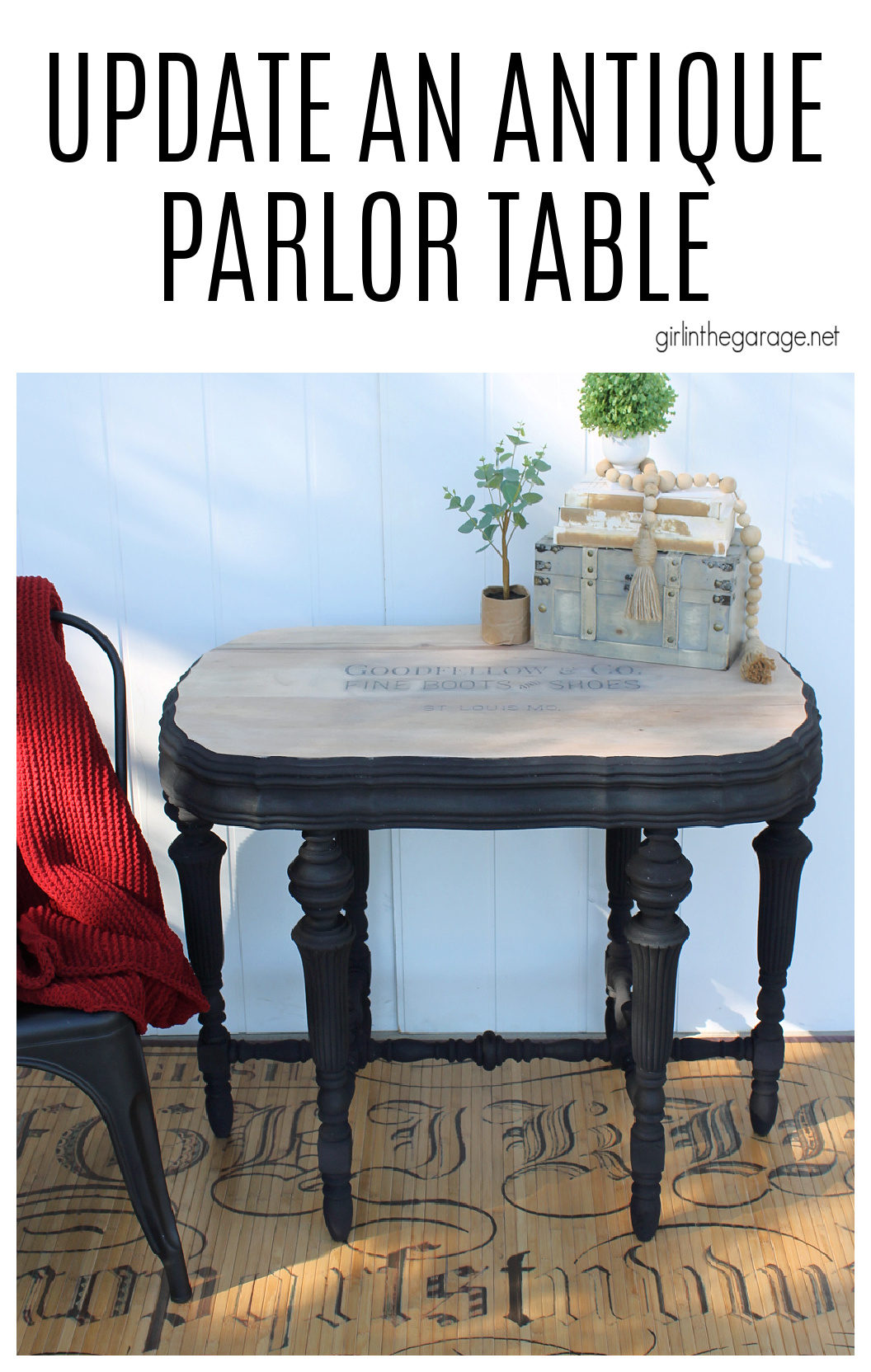 Now it's Furniture Fixer Uppers time with my talented blogging friends – let's see what they've been working on this month: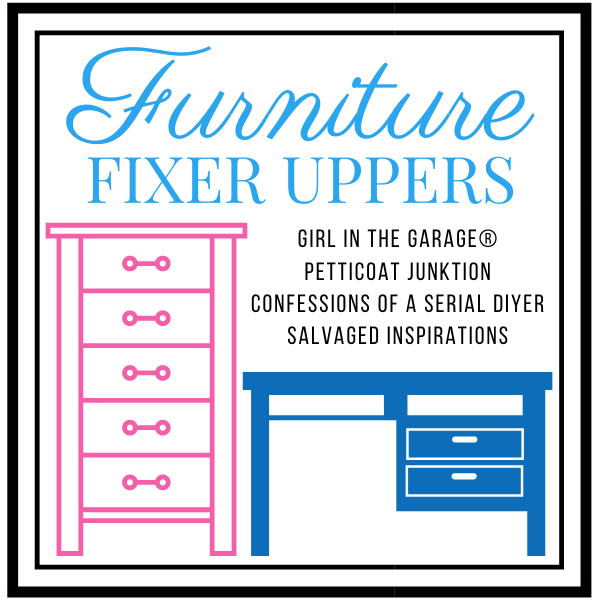 Below are the Before photos – visit the links underneath to see the amazing Afters and to learn how they did it: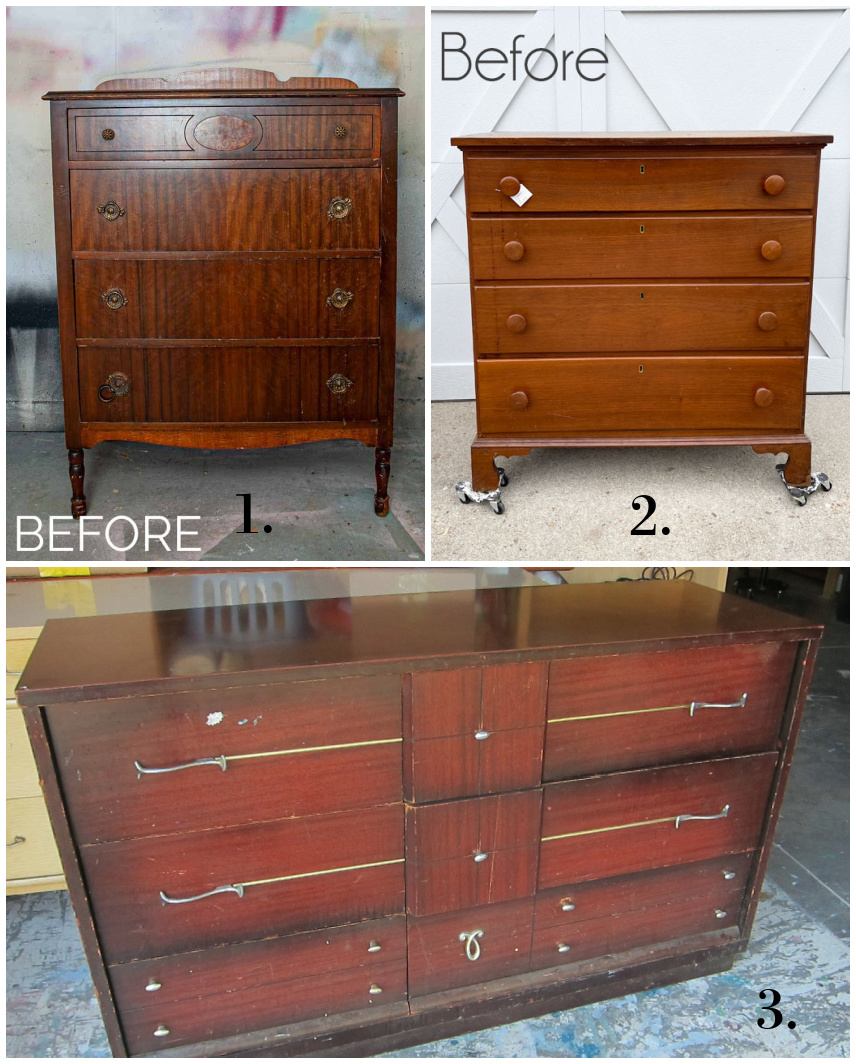 1. Salvaged Inspirations
2. Confessions of a Serial DIYer
3. Petticoat Junktion