Happy Furniture Fixer Uppers day, my friend – where every month my blogging friends and I share thrifty furniture makeovers. Since this has been a crazy month in the GITG house, my project might be considered simple but it's definitely still charming!
Stick around and I'll show you how to upcycle a mirror into chic French style decor. ❤️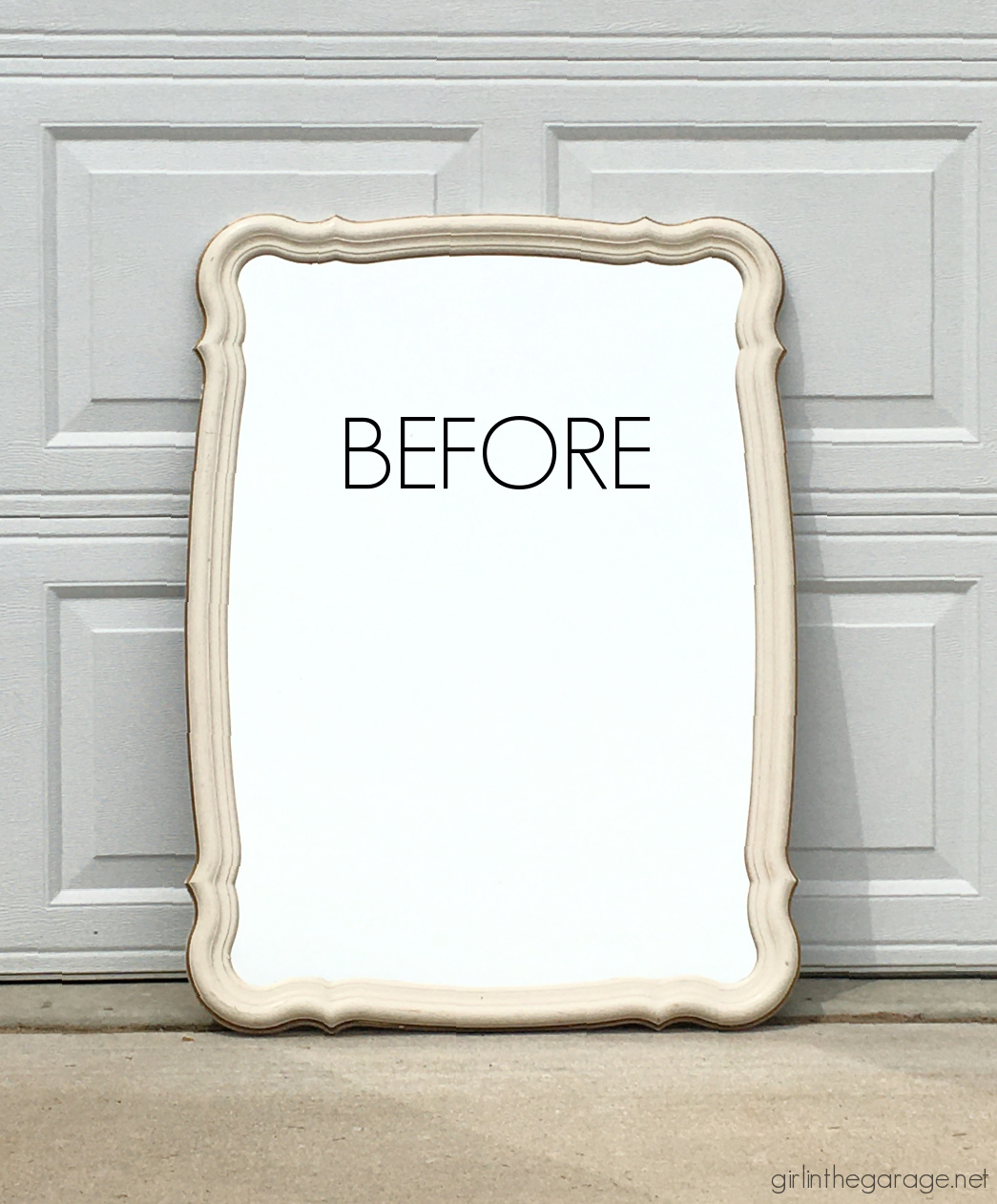 I've had this mirror for several years, and it was definitely showing its age. I believe it's from those popular French Provincial bedroom sets that many girls had when they were younger.
This post may contain some affiliate links so you can easily find the products I use and recommend. Discover all my favorite brands and tools for doing DIY makeovers here.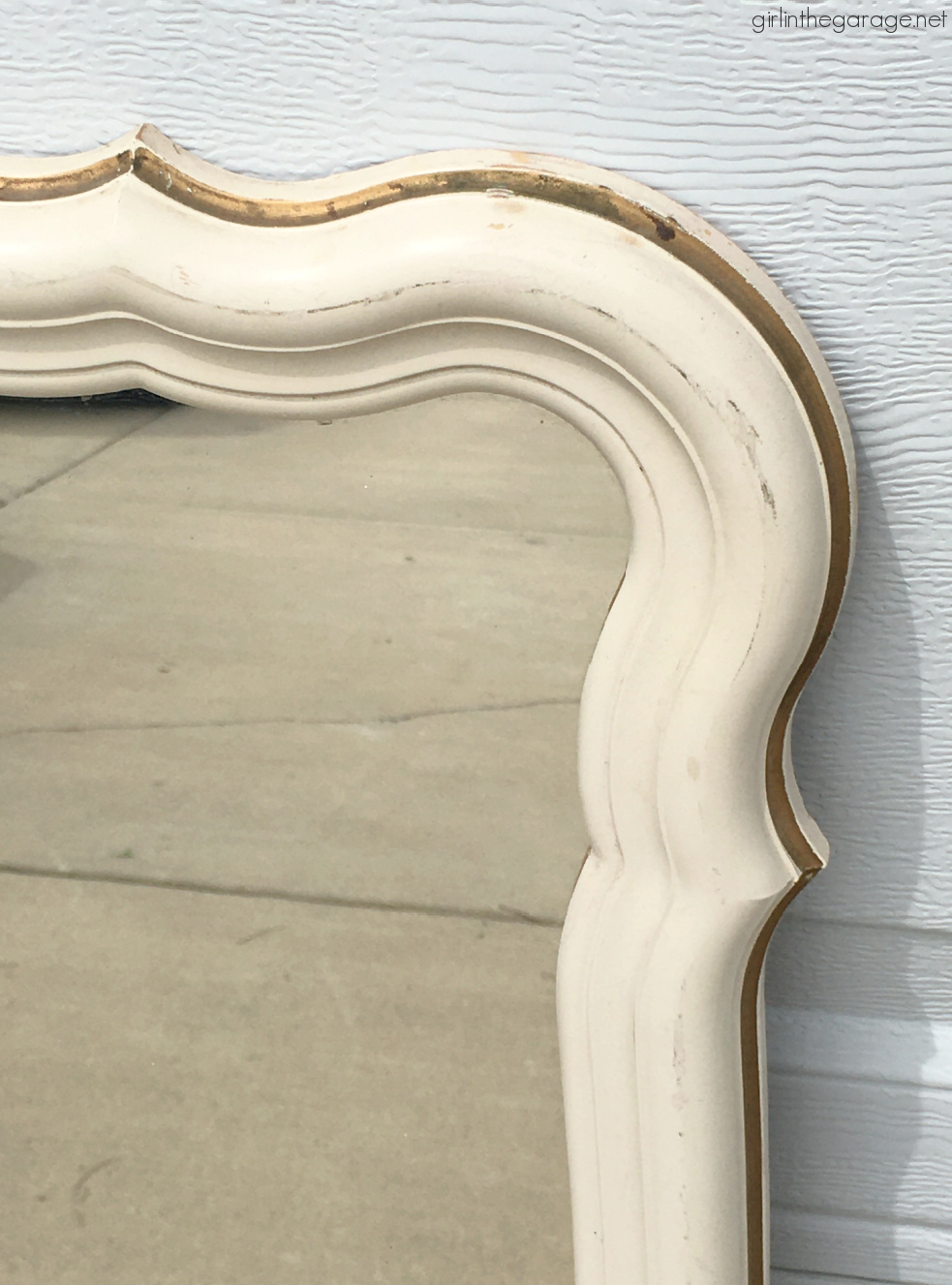 Since this is a mirror that won't get as much use as a regular piece of furniture like a dresser, and I'm using Annie Sloan Chalk Paint which doesn't usually require much prep work, I just cleaned up the mirror and got to work.
Learn all about how to prep furniture for painting here.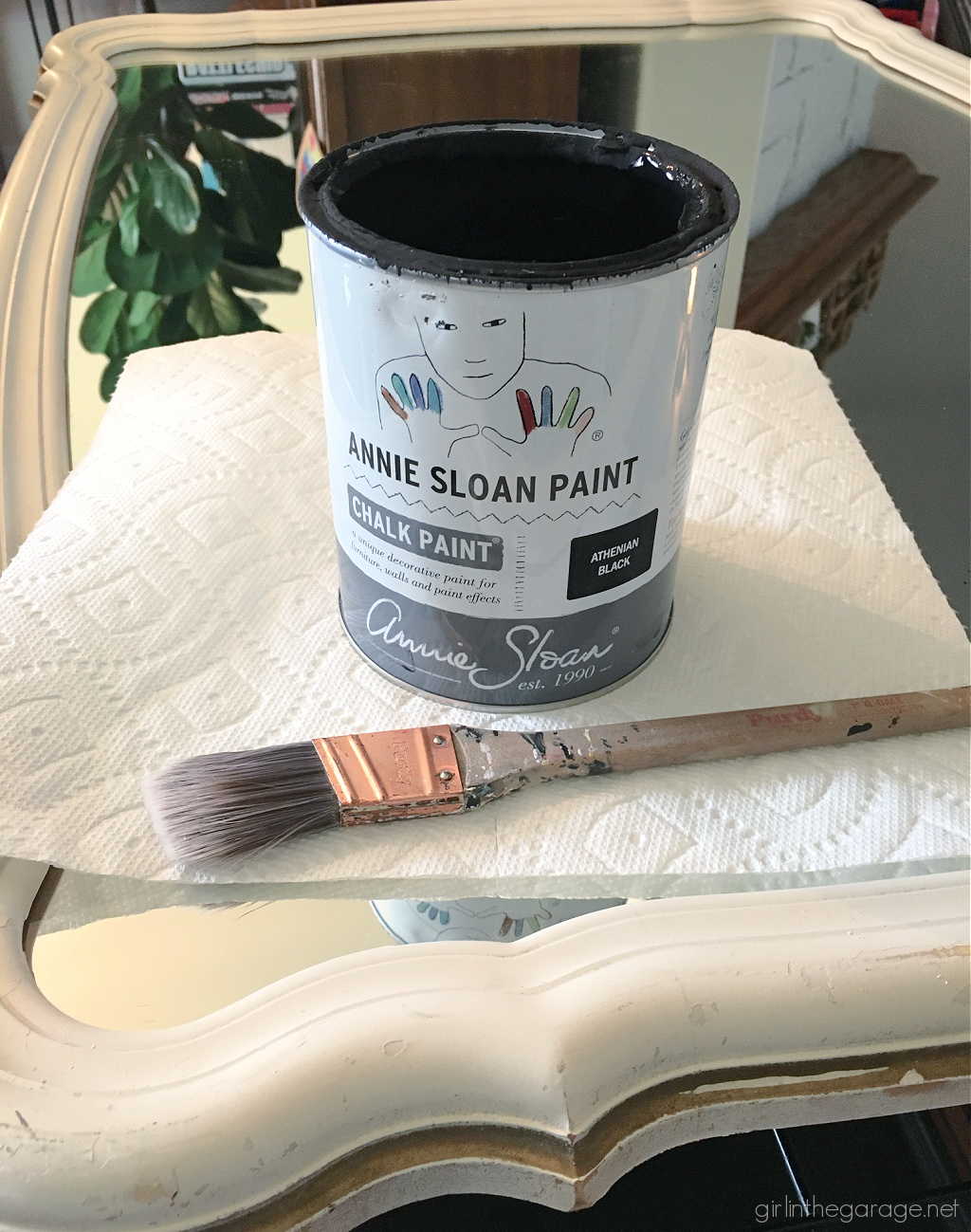 How to Paint a Mirror Frame
First, you can either remove the mirror temporarily or slide some paper along the frame to catch the excess paint. I used to use painter's tape on mirrors but one time the tape actually removed some finish off the mirror and it was very obvious. So now I just use scrap paper or really thin cardboard instead.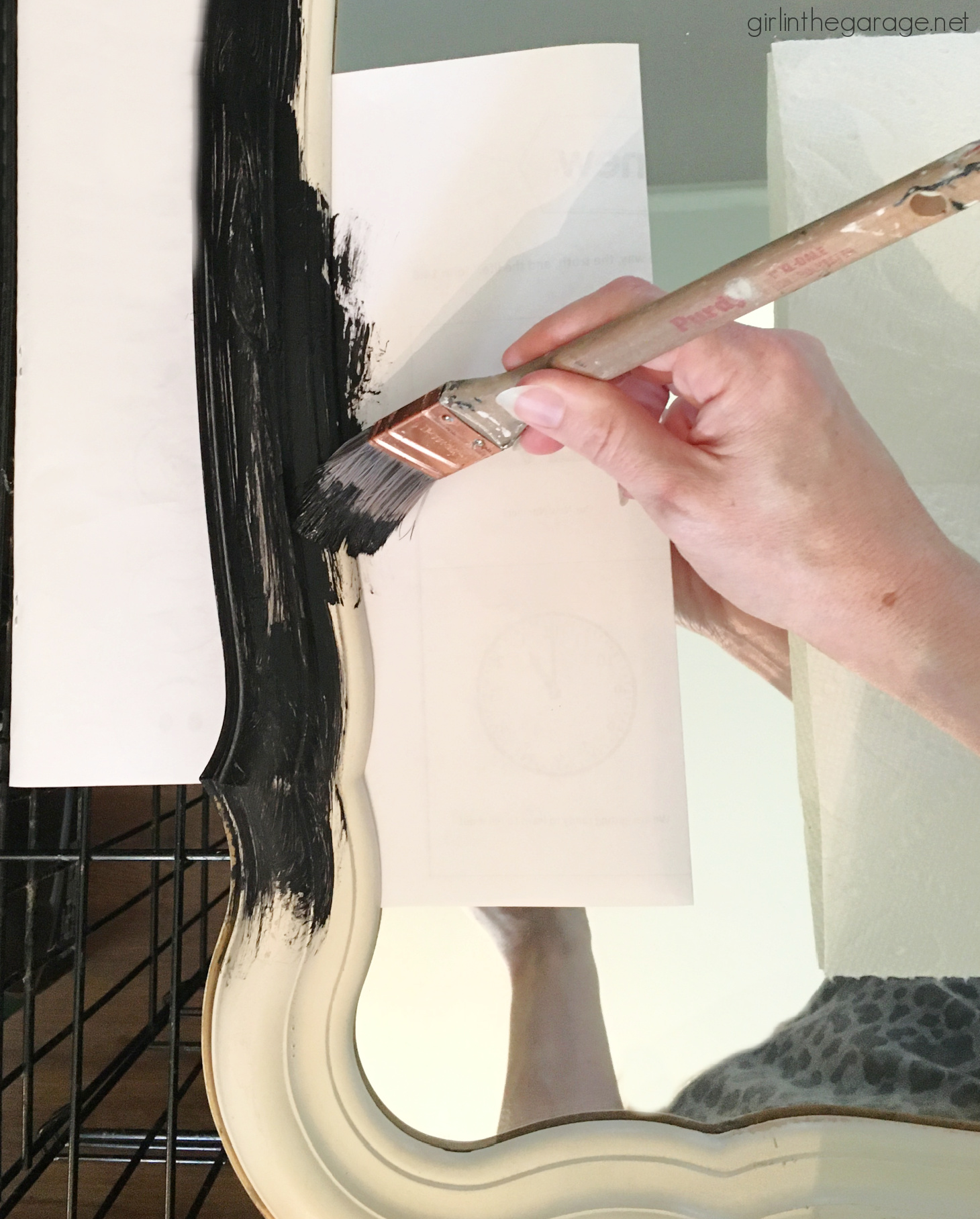 I used a Purdy paint brush and Annie Sloan Chalk Paint in Athenian Black, applying about two coats.
Read through my ultimate beginner's guide to Chalk Painting furniture here.
How to Upcycle a Mirror with a French Style Transfer
Next I chose to apply a rub-on transfer from Iron Orchid Designs. I cut just a piece of the "Specimens" transfer (I bought mine a long time ago and I don't think it's available anymore, sadly). However there are lots of other transfers to pick from, by Iron Orchid Designs and also Prima Marketing. Discover some of the gorgeous available rub-on transfer options here.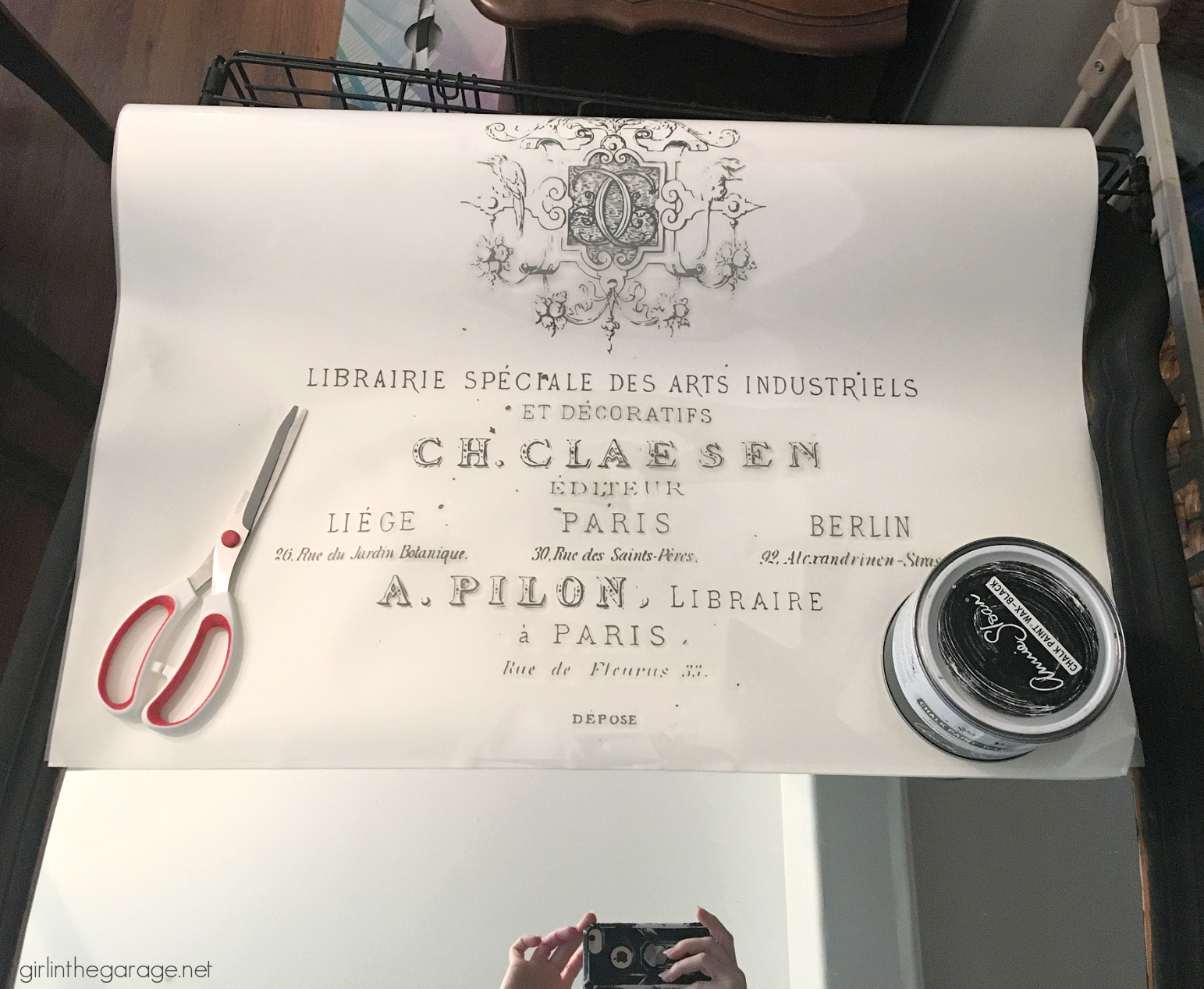 Carefully lay out the transfer with the paper backing still attached, and center it exactly where you want it. Hold one end down with something heavy and slowly curl the paper backing away, rubbing over the words with the included stick to adhere them to the mirror.
Learn more about how to apply transfers to furniture here (and see an estate sale vanity I updated). You can also see another smaller mirror makeover with image transfer here.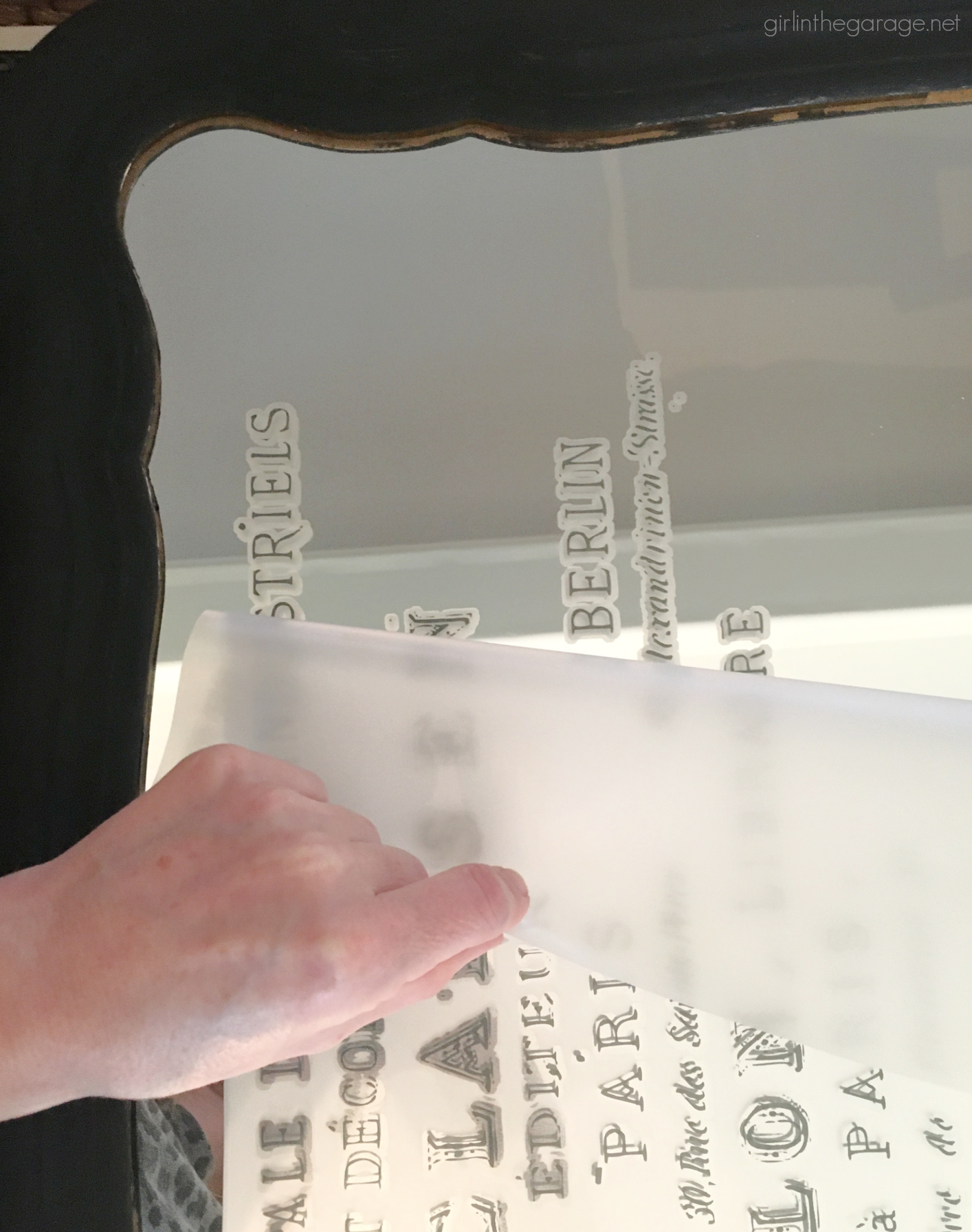 Carefully peel away the top plastic layer, making sure the words have been completely transferred onto the mirror. You may want to add a topcoat over the words when using on furniture, but you don't need to when using on a mirror.
Just be careful when cleaning that part of the mirror where you've applied the transfer – try to avoid chemicals.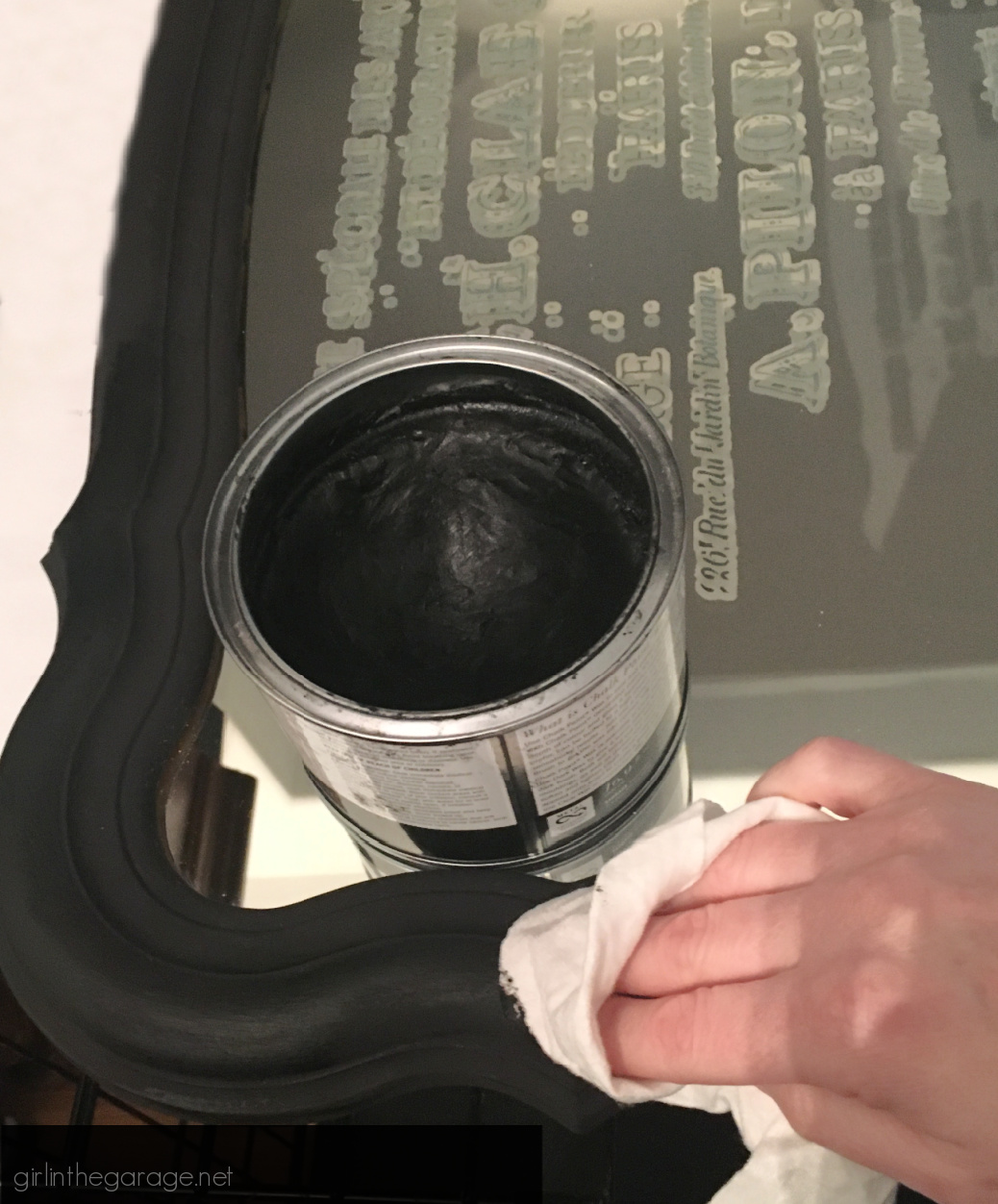 Finally, I protected the black Chalk Painted mirror frame with black wax from Annie Sloan, applied with a lint free cloth. I only did one coat since the frame shouldn't be getting a lot of bumps or scratches.
Upcycling a vintage mirror is an easy way to get a chic updated look for much less than buying new. And I love it in black!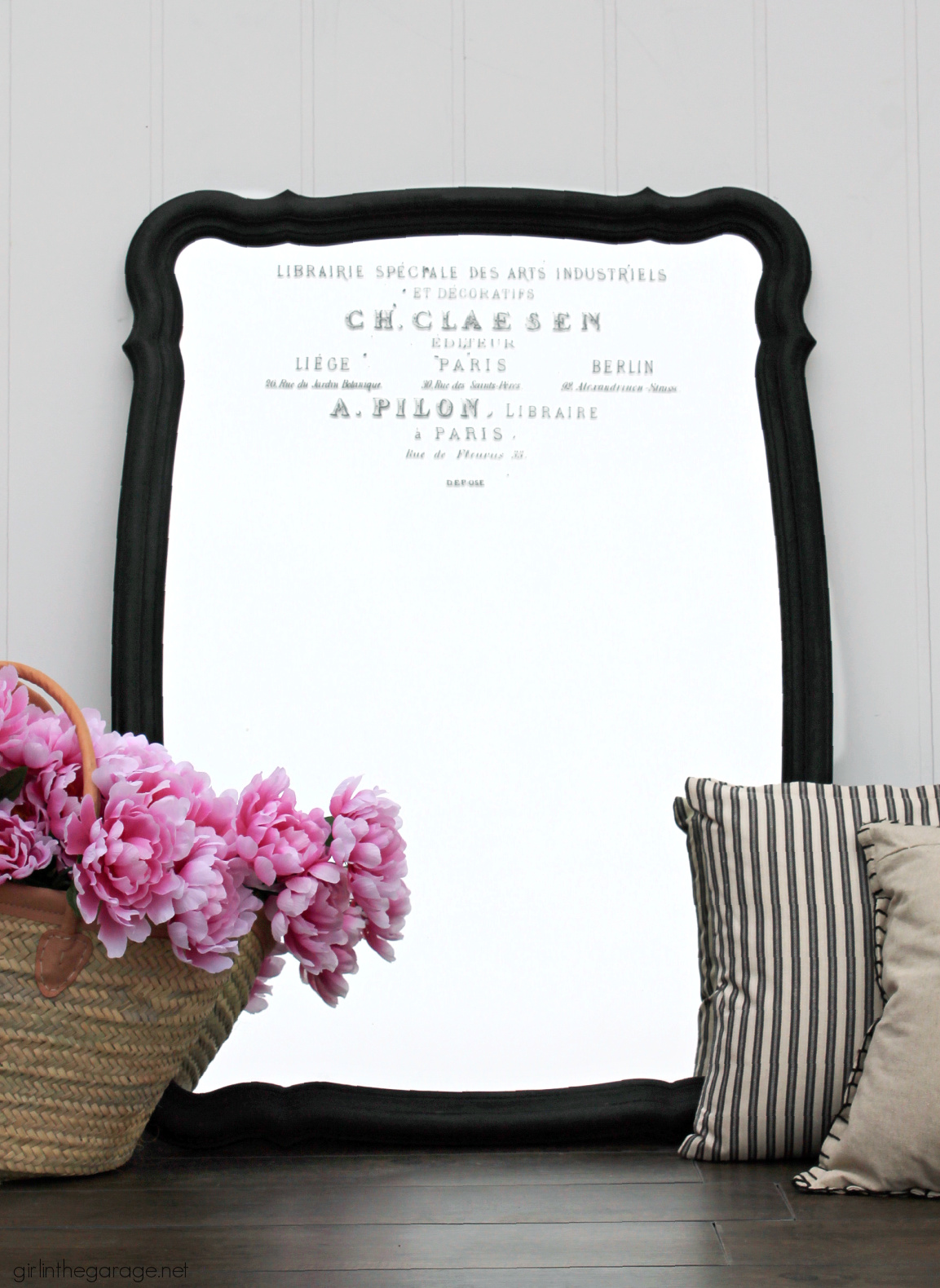 This French style upcycled mirror is stylish but also functional – since the words are only near the top, the mirror can still be used every day in a bedroom or entryway.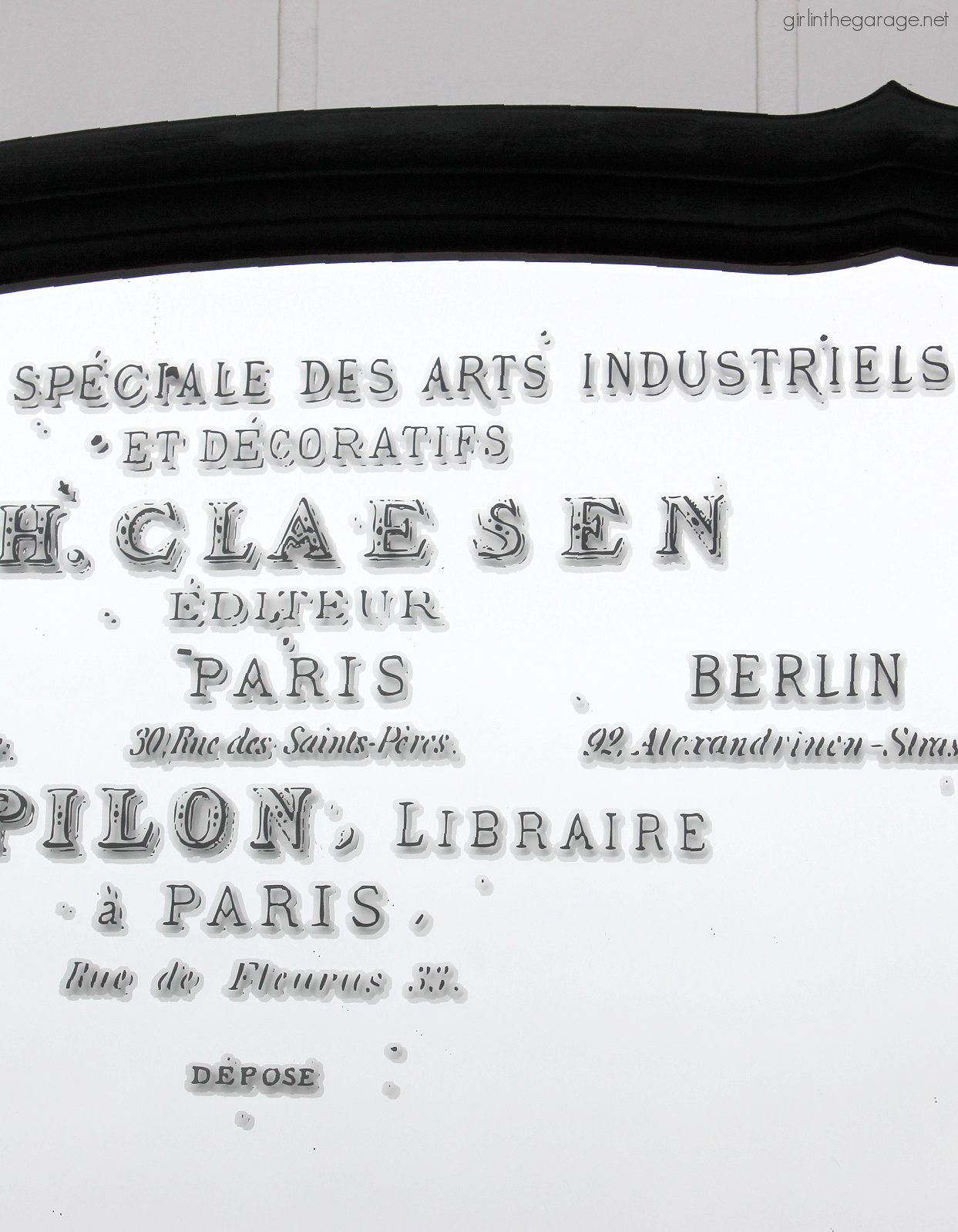 I've always had a soft spot for French decor – I'm a Francophile at heart, and you can see some of my other DIY vintage French decor ideas here.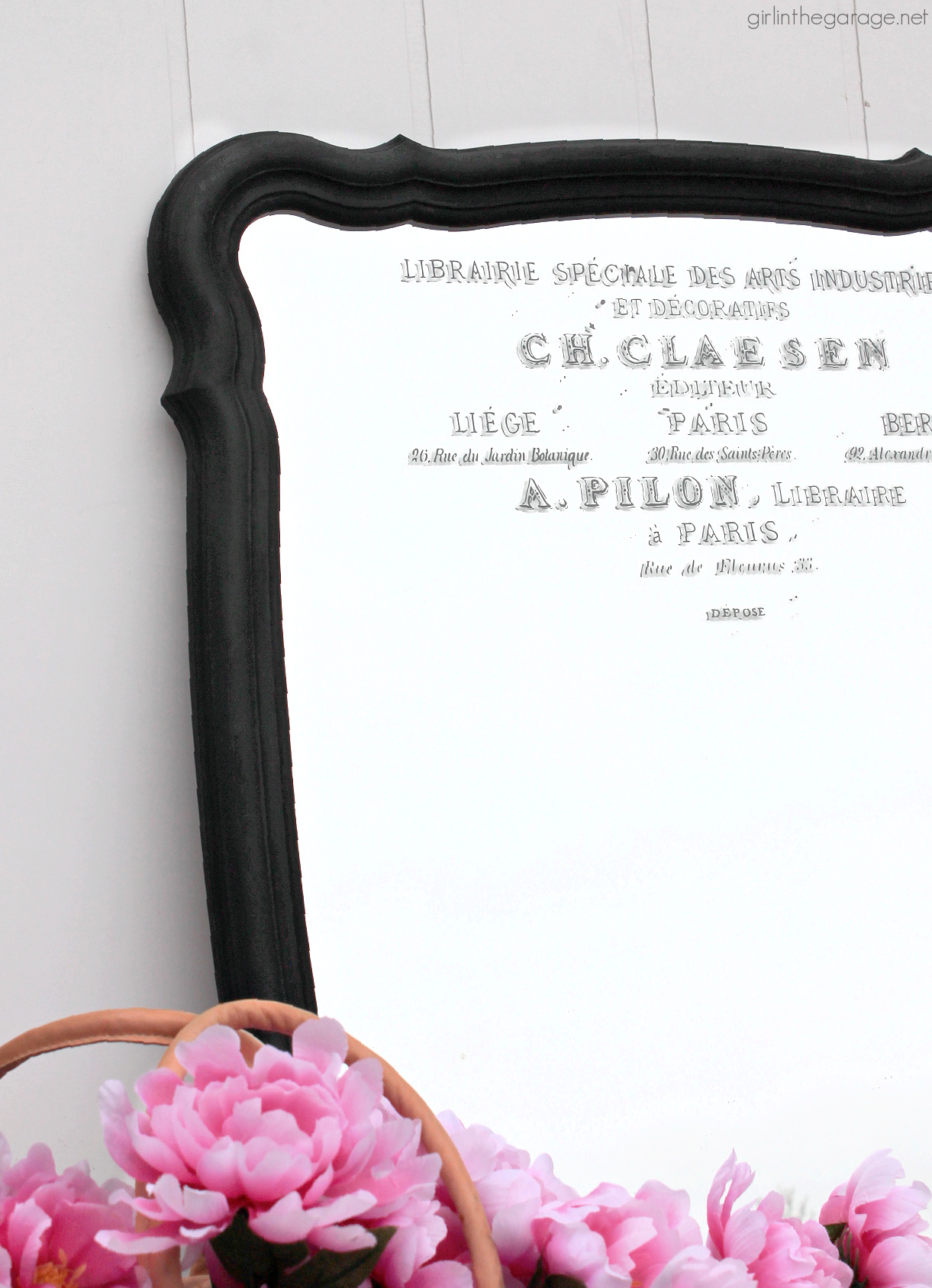 Friend, I would love it if you'd share this upcycled mirror tutorial with someone else who might enjoy it or Pin this to easily find it again later. I appreciate you!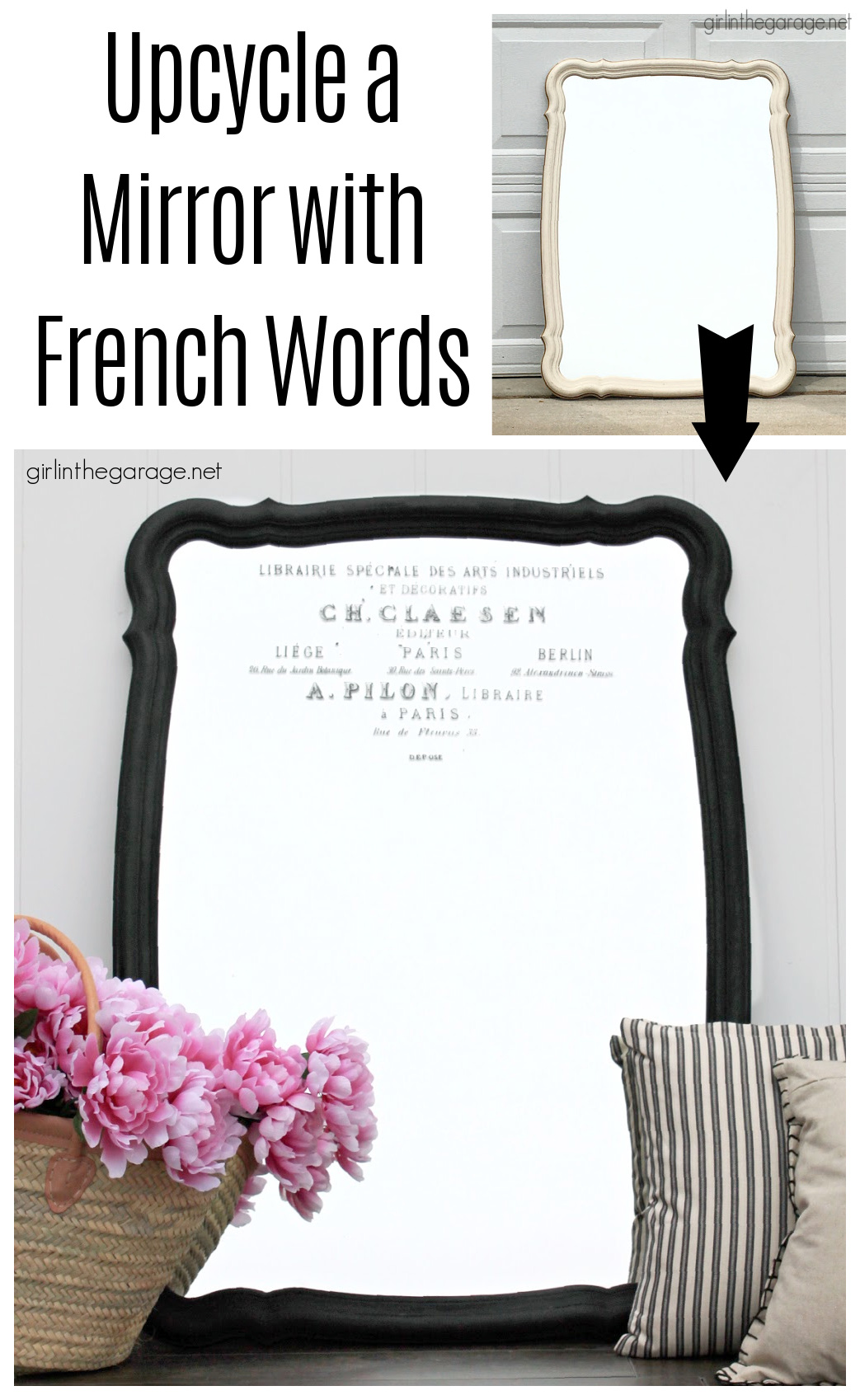 Finally, here are a few other painted mirror ideas I've shared before:
Now it's time for Furniture Fixer Uppers day! I can't wait to see what new projects my friends have to share.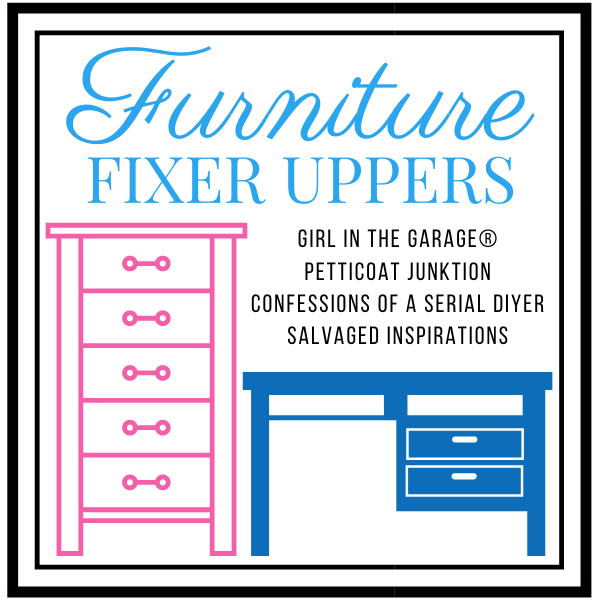 Below are the Before photos – visit the links underneath to see the clever Afters and to learn how they did it: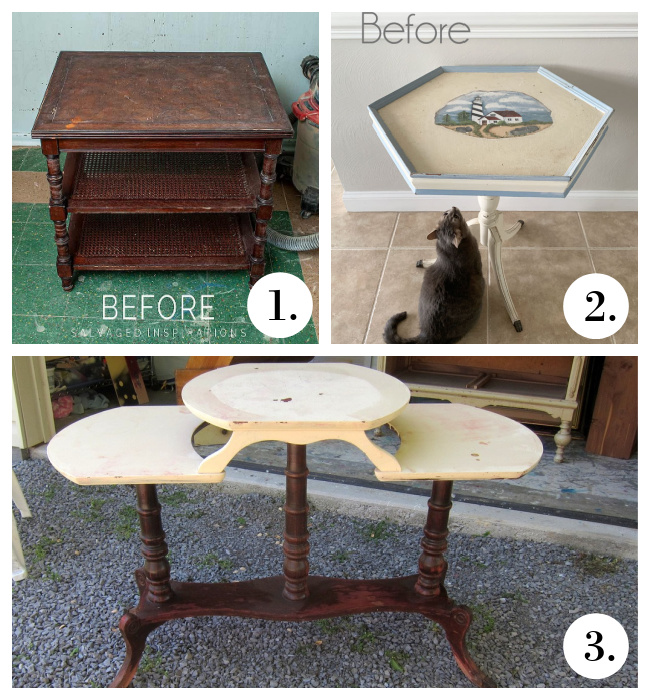 1. Salvaged Inspirations
2. Confessions of a Serial DIYer
3. Petticoat Junktion