Hello again, friend! I hope you're having a wonderful week so far. I have another thrifty makeover to share with you!
Several years ago, my parents updated their kitchen and this was one of the old cabinet doors that I claimed for a future project. Today I'll show you how to make a cute DIY laundry room sign – to make a never-ending chore hopefully a little better with new repurposed decor.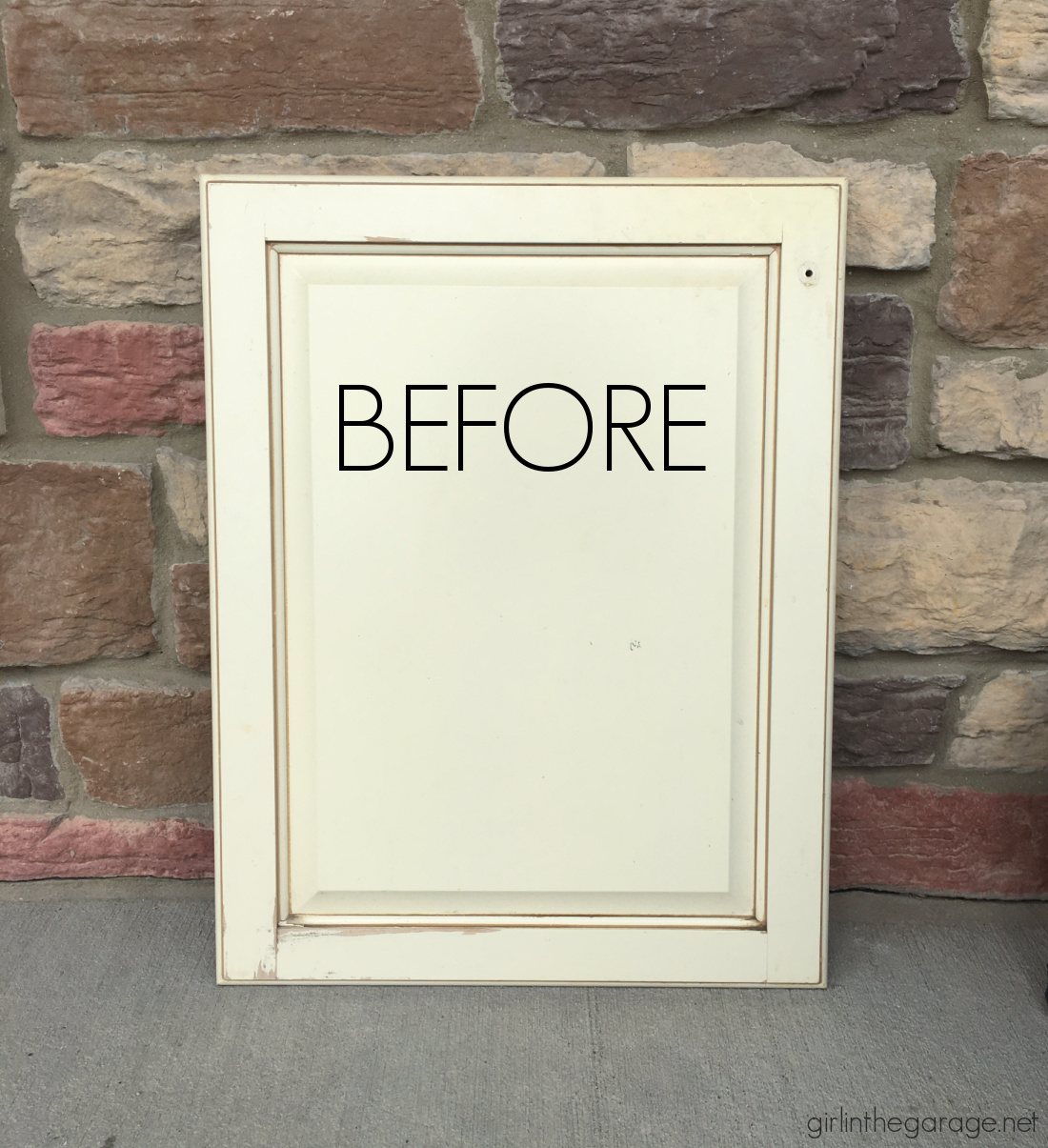 *This post contains some affiliate links so you can easily find the products I use and recommend. You can also discover all my favorite brands and tools for doing DIY makeovers here.
I've also had these wooden "Wash & Dry" letters for awhile now that I bought from Etsy. First I had to make sure they'd fit on the cabinet door. Of course you could also do this project with stenciled words (there are some really cute laundry stencils here).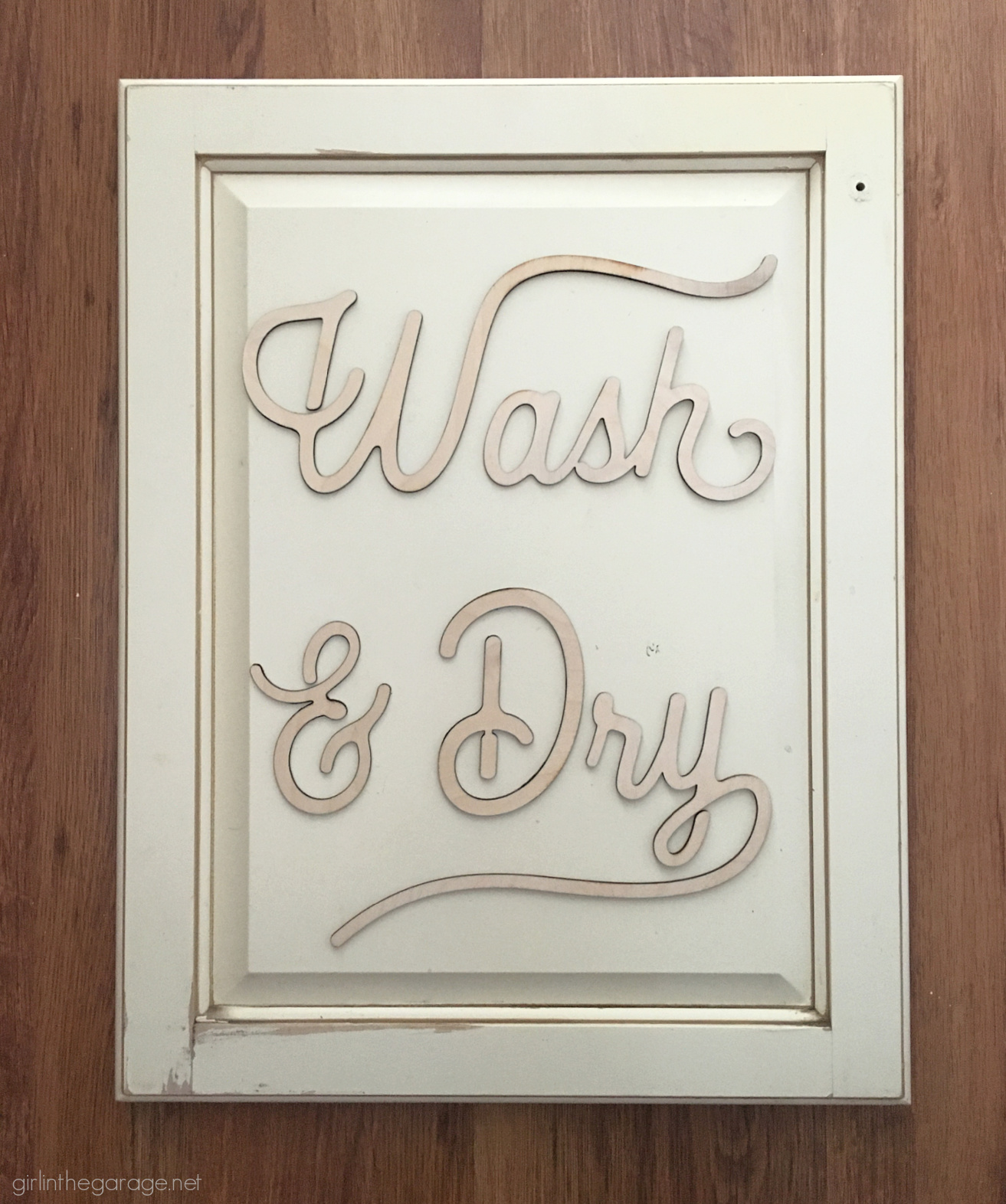 Prep the Old Cabinet Door
Clean the door well – make sure there aren't any greasy splatters or you might have a hard time getting the paint to stick. (If so, you might need to apply shellac primer before painting.)
Fill the hole where the door pull used to be. I used this wood filler and a putty knife. Let it dry and then lightly sand.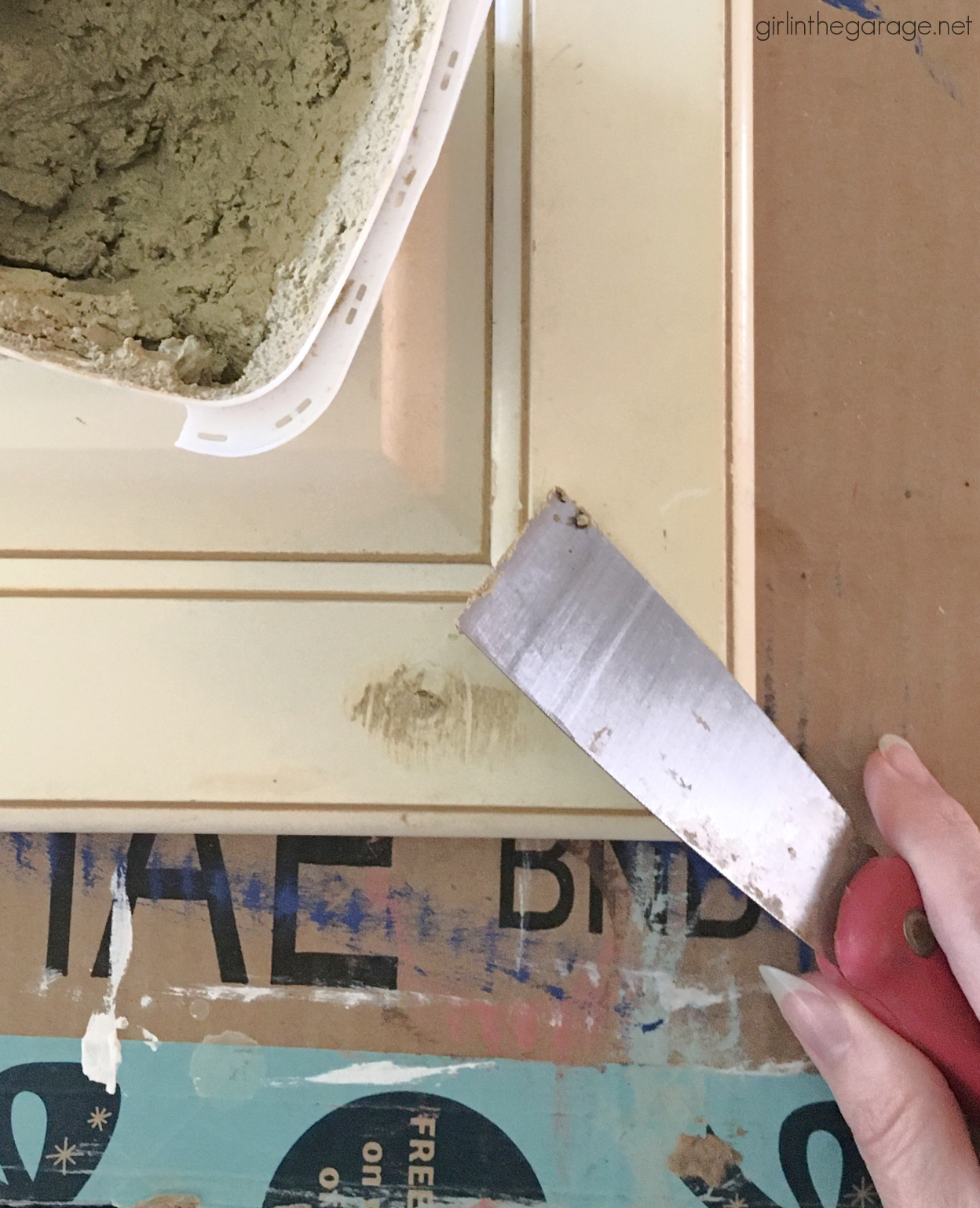 Paint the Cabinet Door
Next I painted the back of the door with two coats of Annie Sloan Chalk Paint in Old White using one of my favorite Purdy brushes. (I wanted to paint the back because there were a bunch of marks that wouldn't come off just by washing it. You might not need to paint the back of yours.)
After that dried, I flipped the door over and painted the front side with two coats of Old White.
*Click here to read all my best advice for how to Chalk Paint furniture.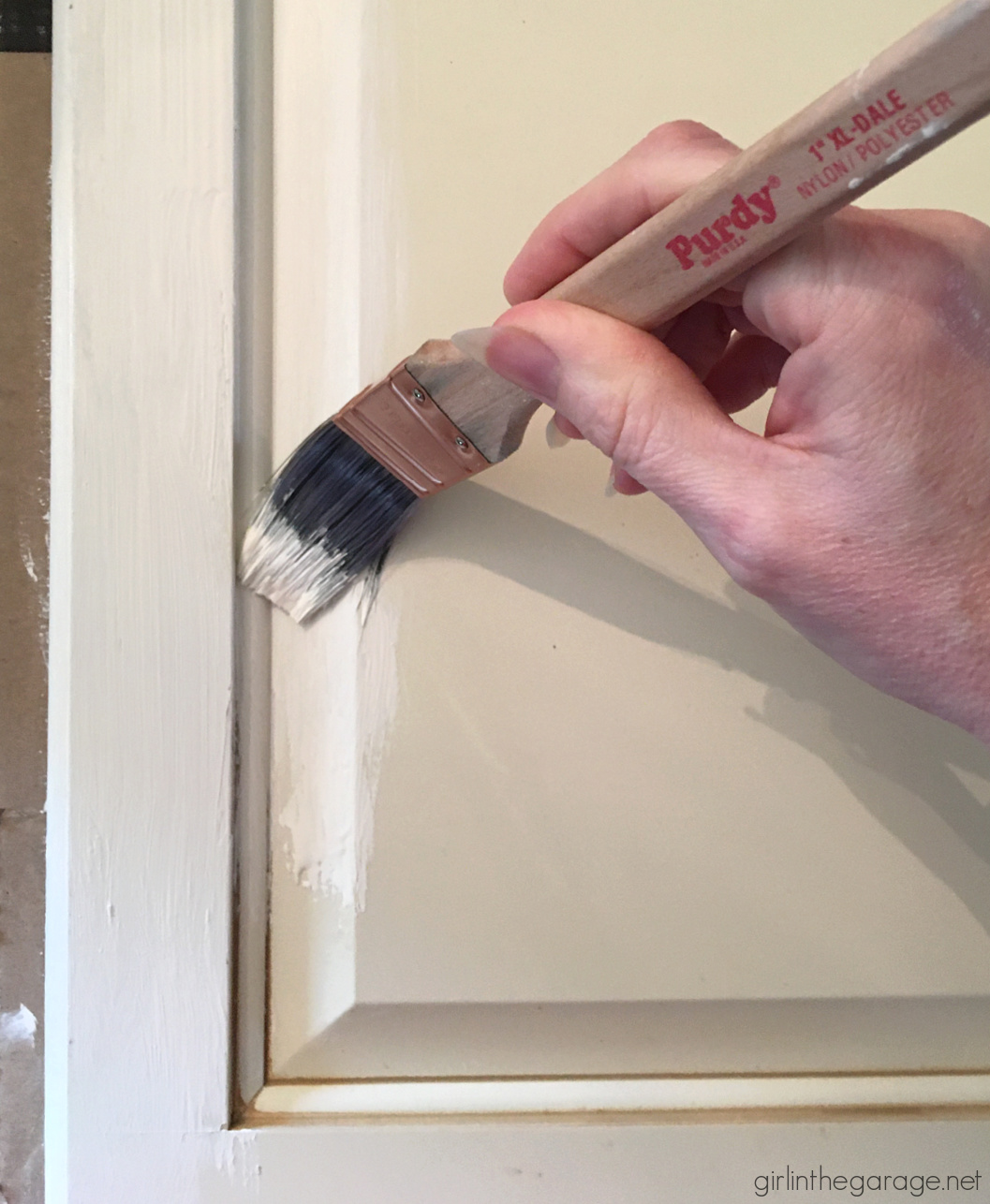 Once the front was dry, I lightly sanded all over with 320 grit sandpaper to make it smooth.
Paint Grain Sack Stripes on the Cabinet Door
You can use a grain sack stripe stencil or just measure and lay down painter's tape to create stripes down the center of the door. (FYI the door is turned sideways below, and I'm working at night.)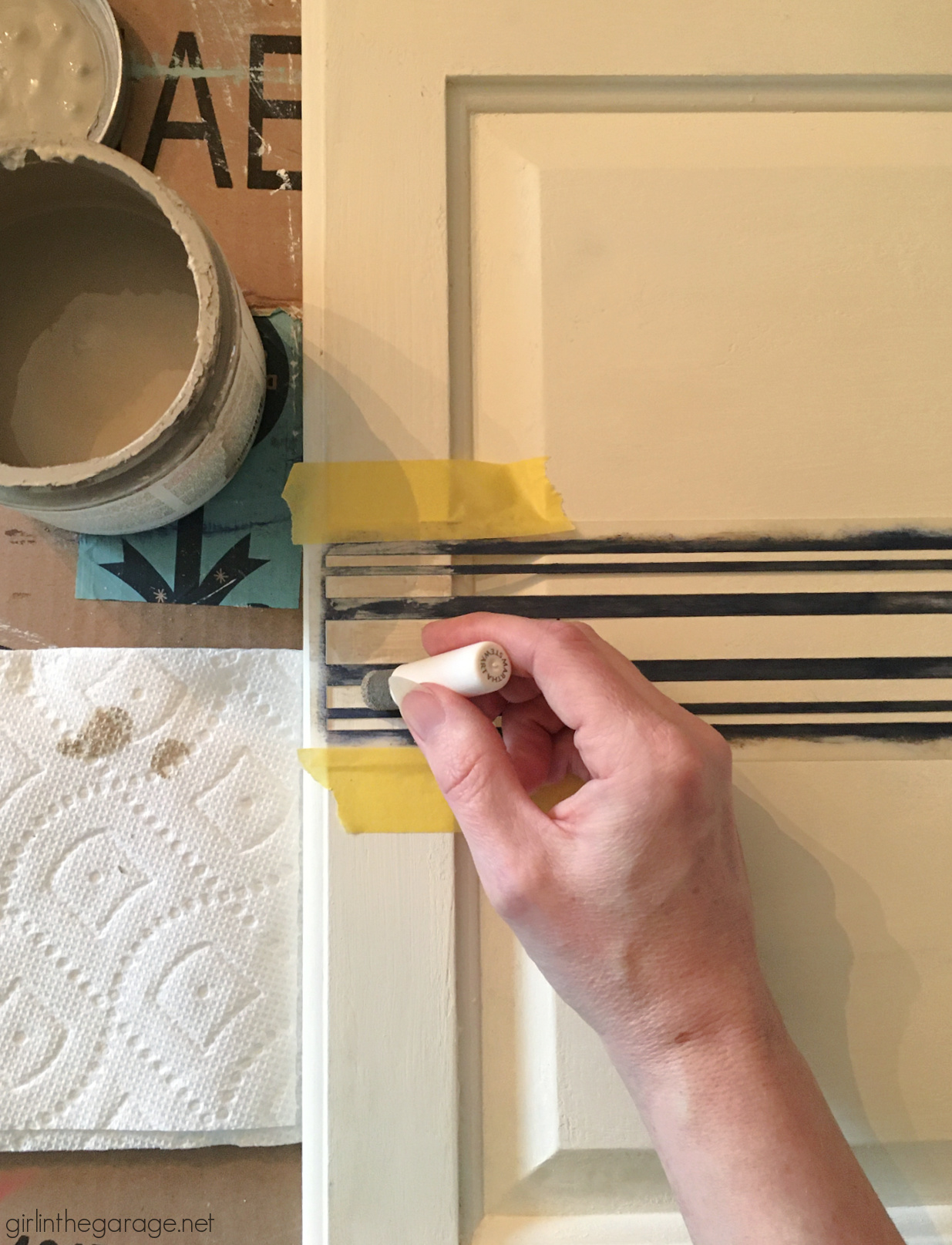 Use a foam pouncer and lightly blot the paint on a towel before rubbing over the stencil. This is a taupe color paint.
The stripes help give it a charming farmhouse style look. My stencil isn't very long, so I had to move it down to continue painting.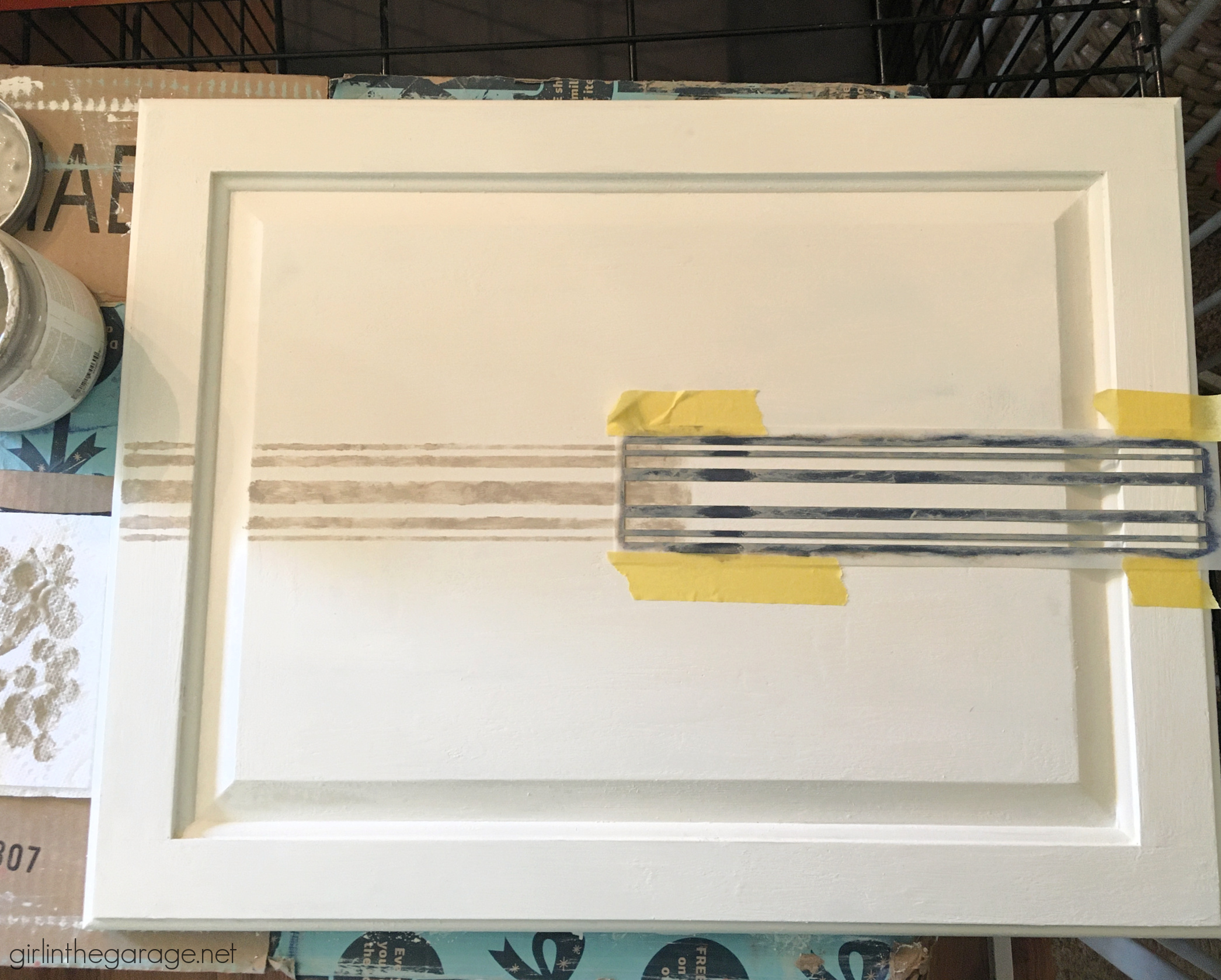 For the little grooves, use a small artist brush and fill in the rest of the stripes.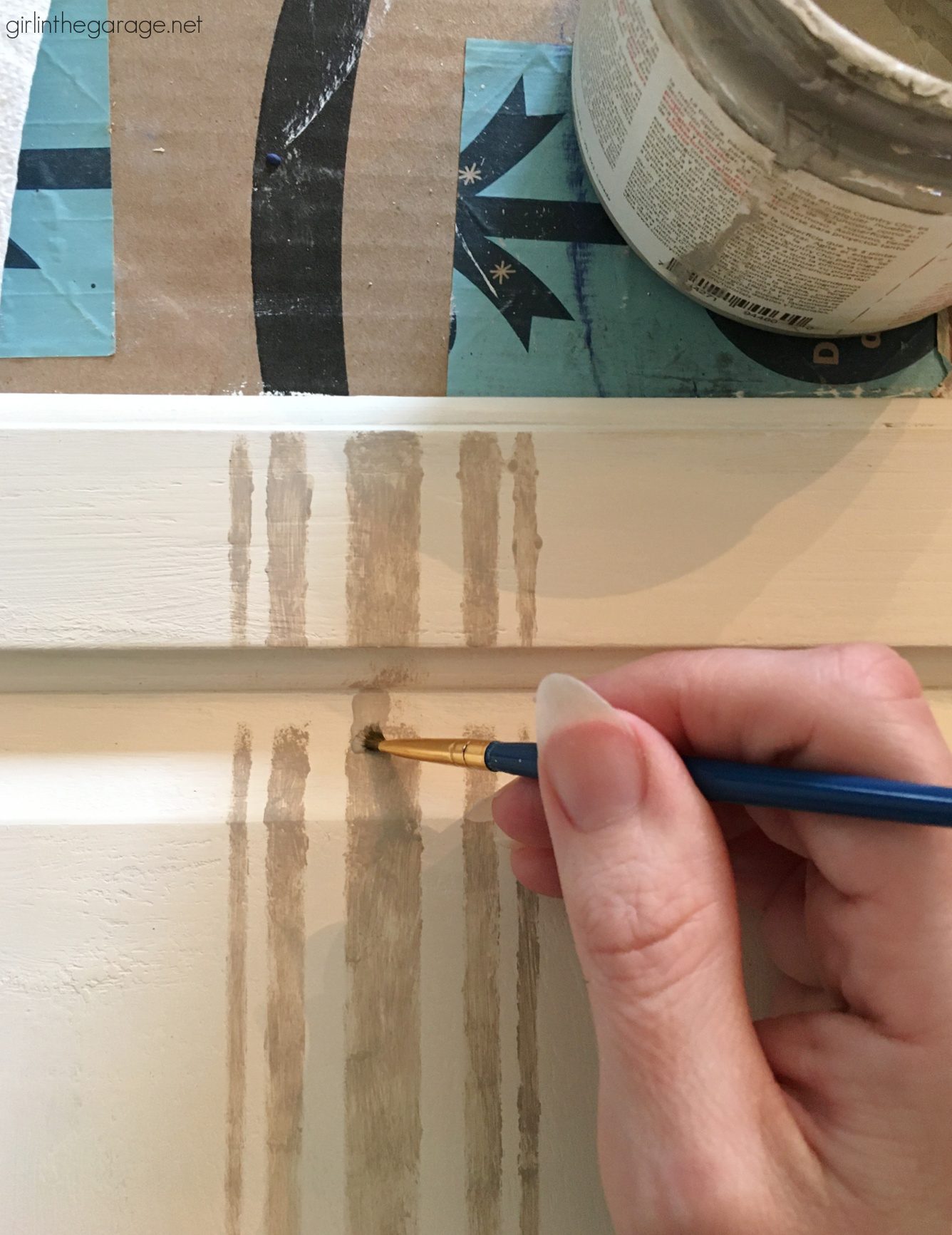 After the paint is dry, lightly sand over the stripes for a faded grain sack appearance.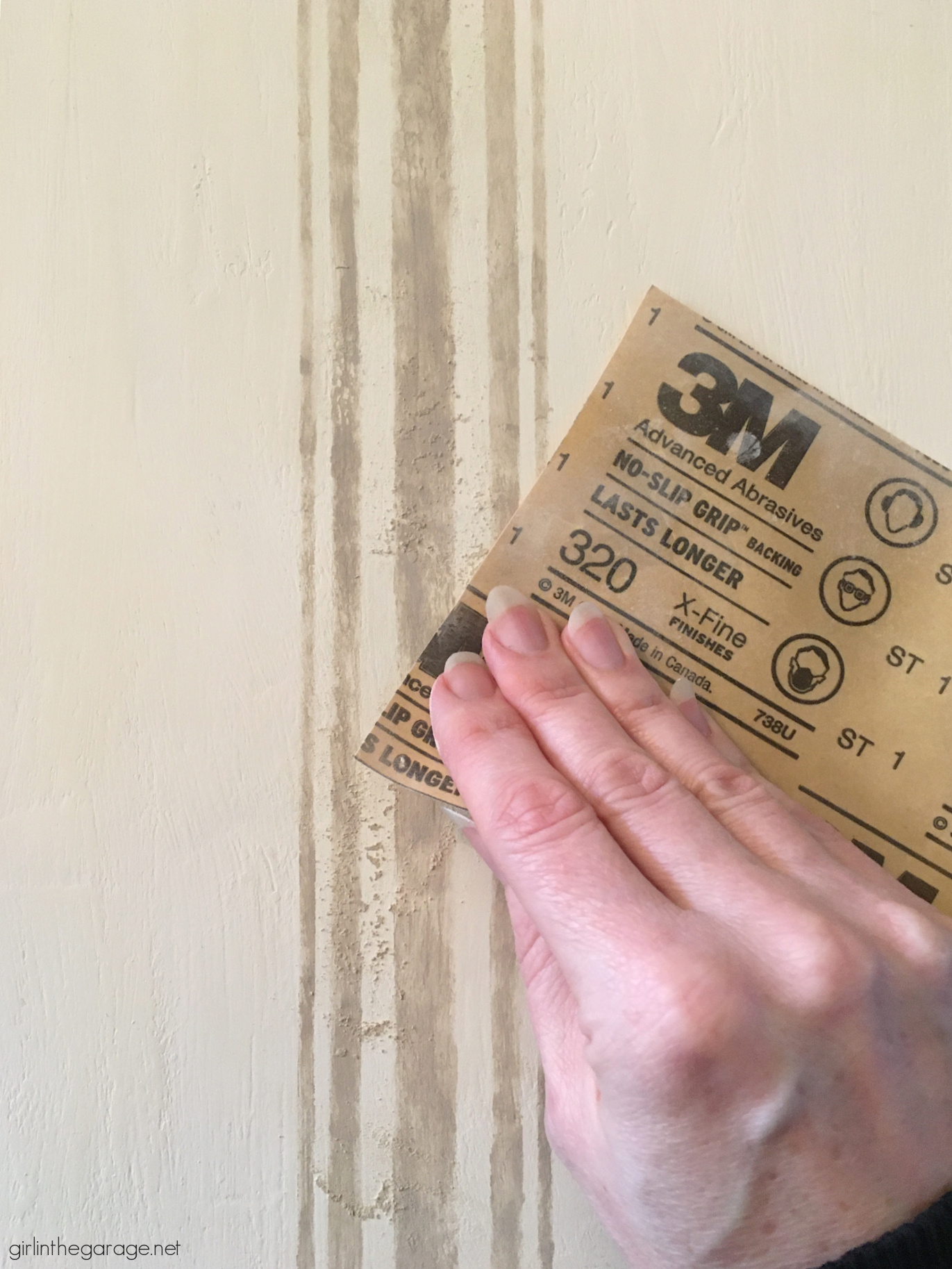 Around this time you'll probably want to attach some hanging hardware like these sawtooth hangers on the back – before the words are glued onto the front.
If your door is heavy like this one, make sure your hanging hardware can hold that amount of weight.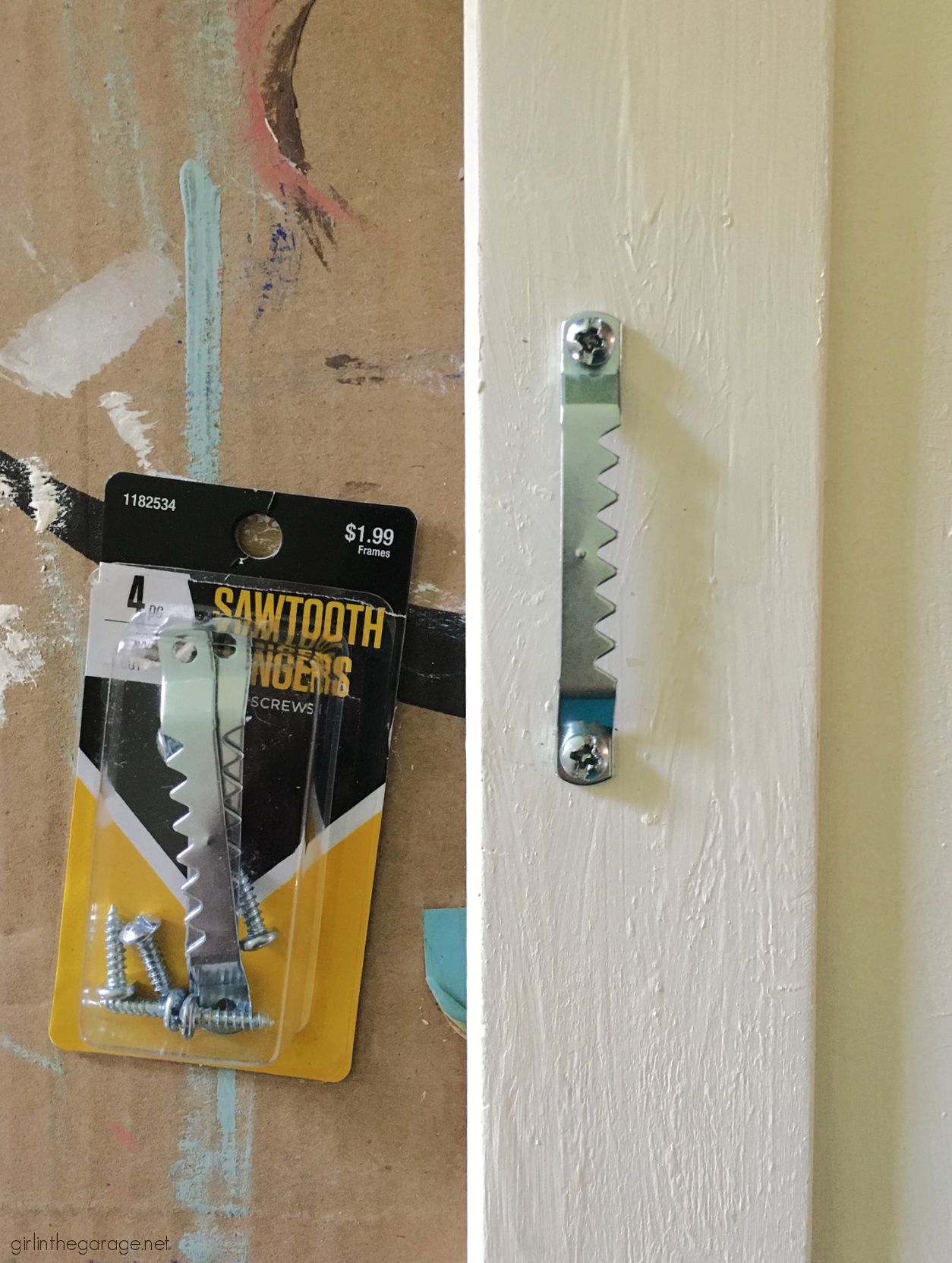 Paint Wooden Words for the Laundry Room Sign
Next it's time to paint the wooden "Wash & Dry" from earlier. I chose brown (Honfleur Chalk Paint by Annie Sloan) with a small brush.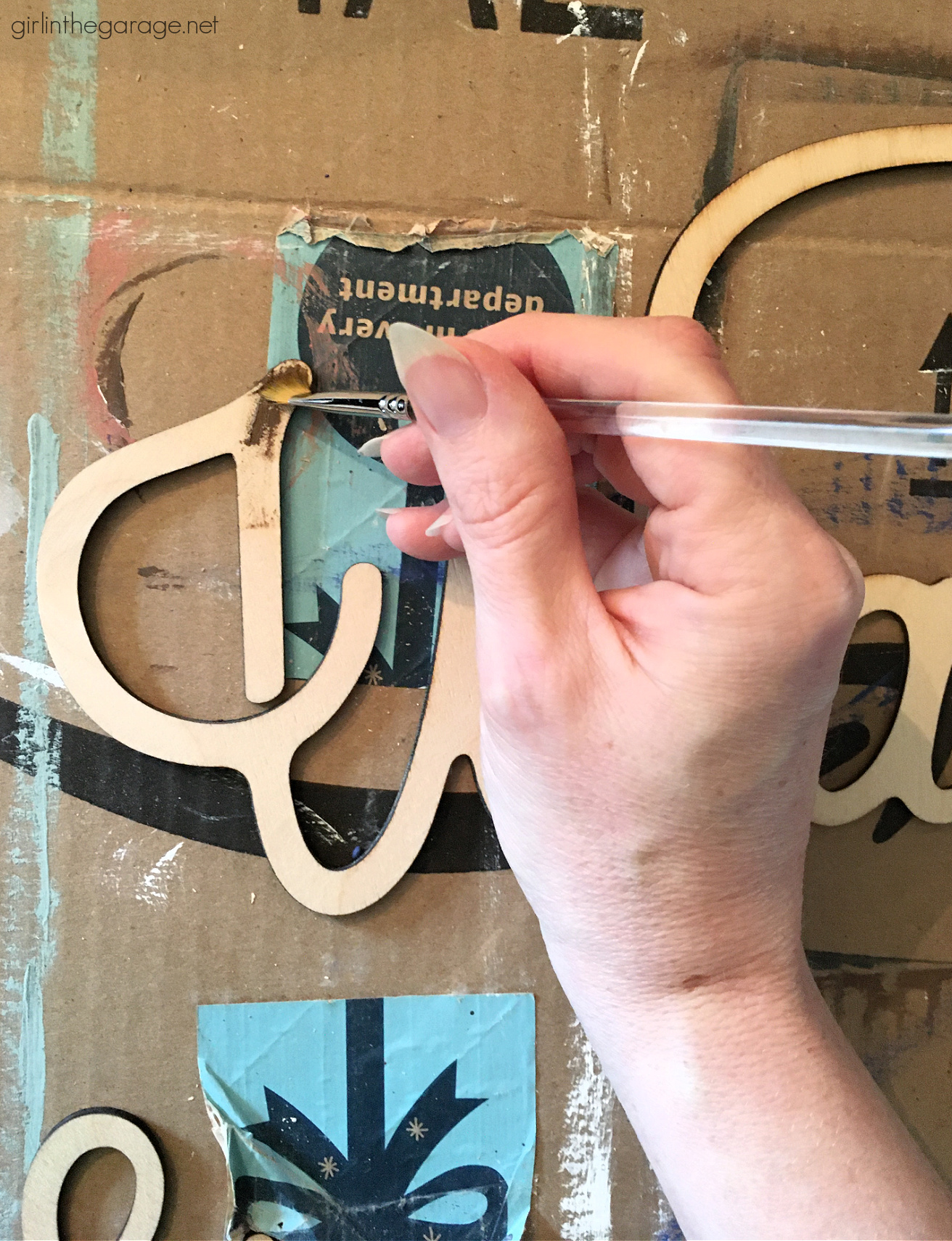 Don't worry about getting them perfect. Next they're going to be distressed.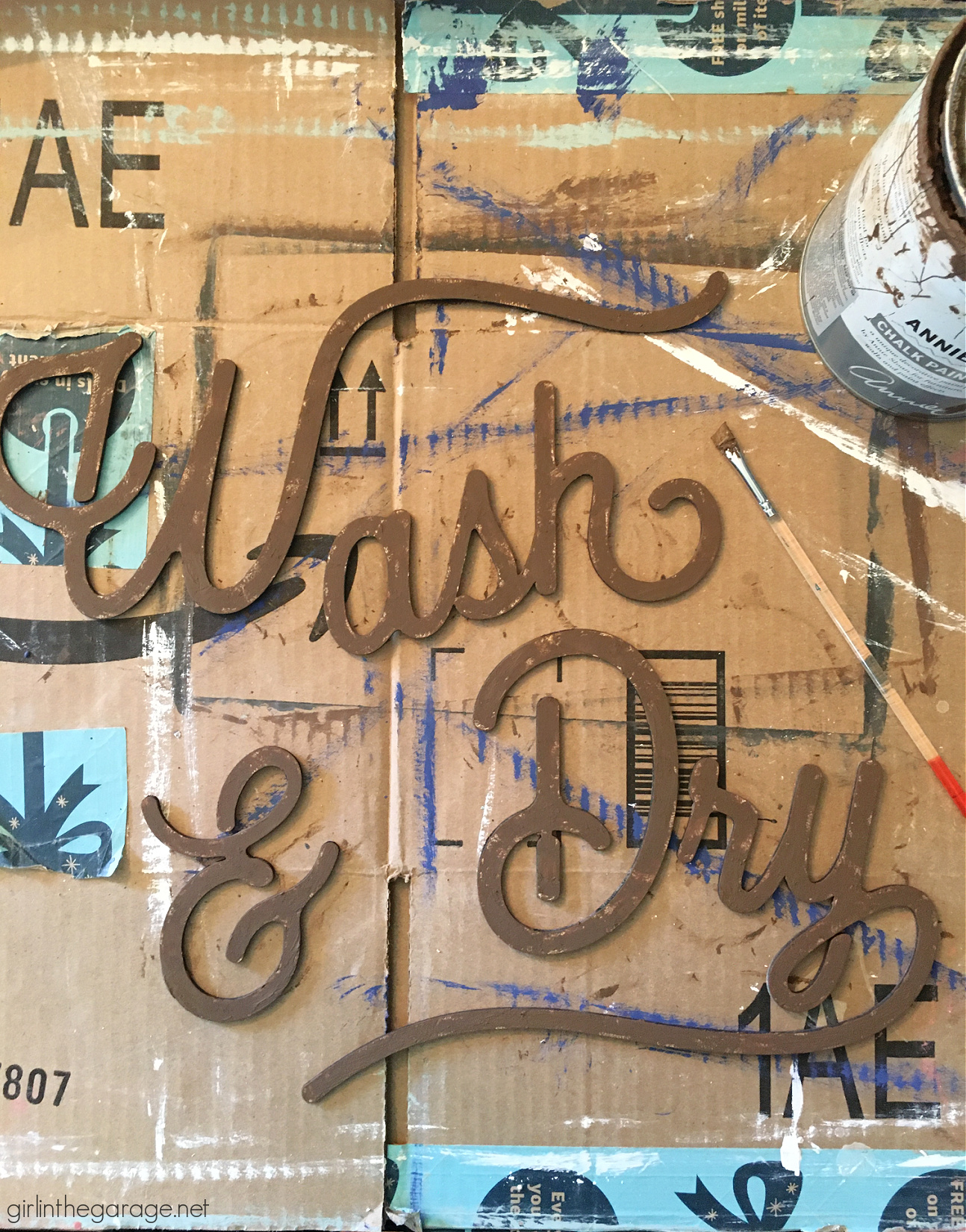 Lightly sand over the words with 320 grit sandpaper. Smooth the paint and remove a little near the edges. After sanding, wipe clean with a damp cloth.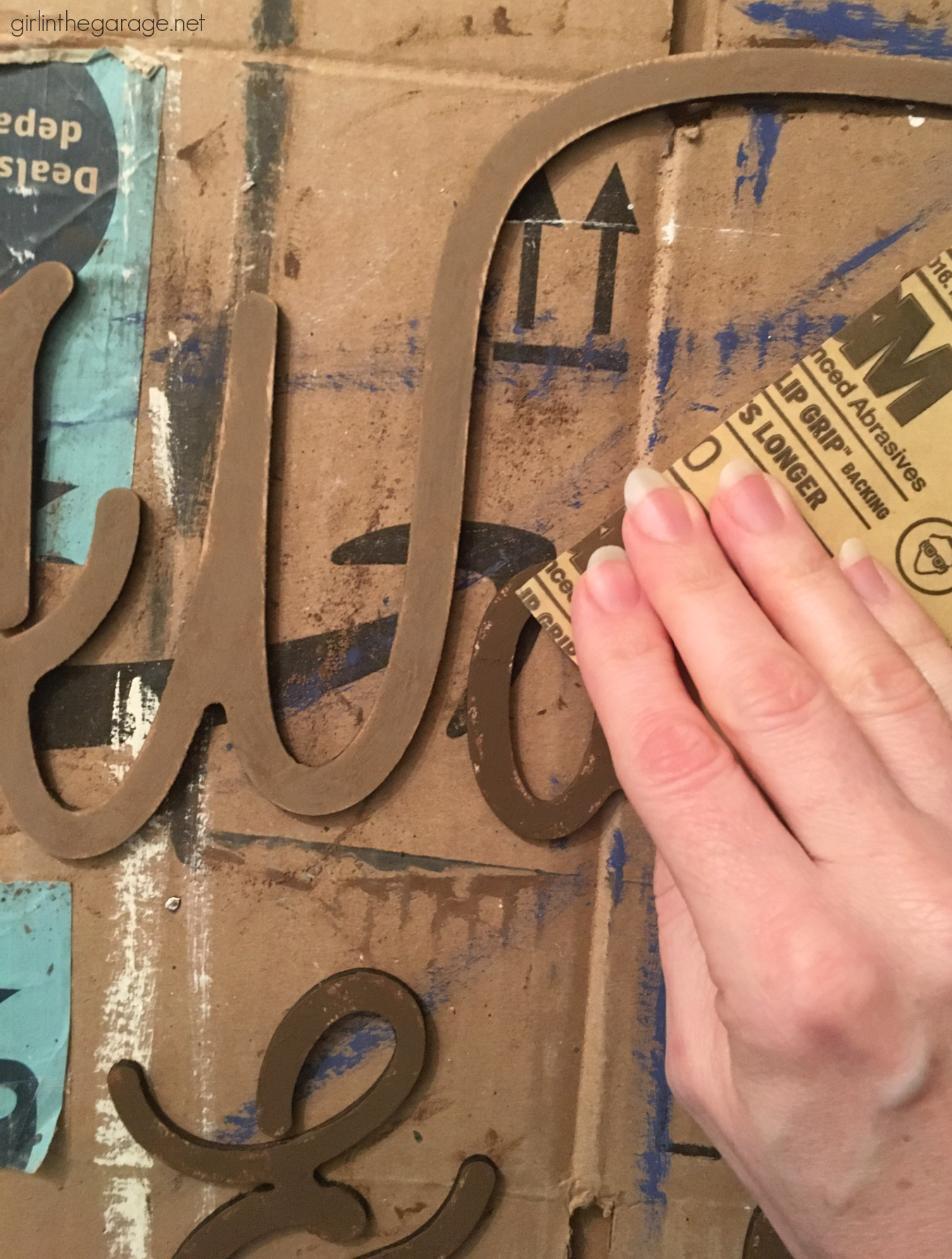 Finish the DIY Laundry Room Sign
Lay the words in place on the cabinet door. Pick up one section at a time and run a thin line of super glue along the back. Press down and let it all dry overnight. You may want to lay a few books on top while the glue is drying.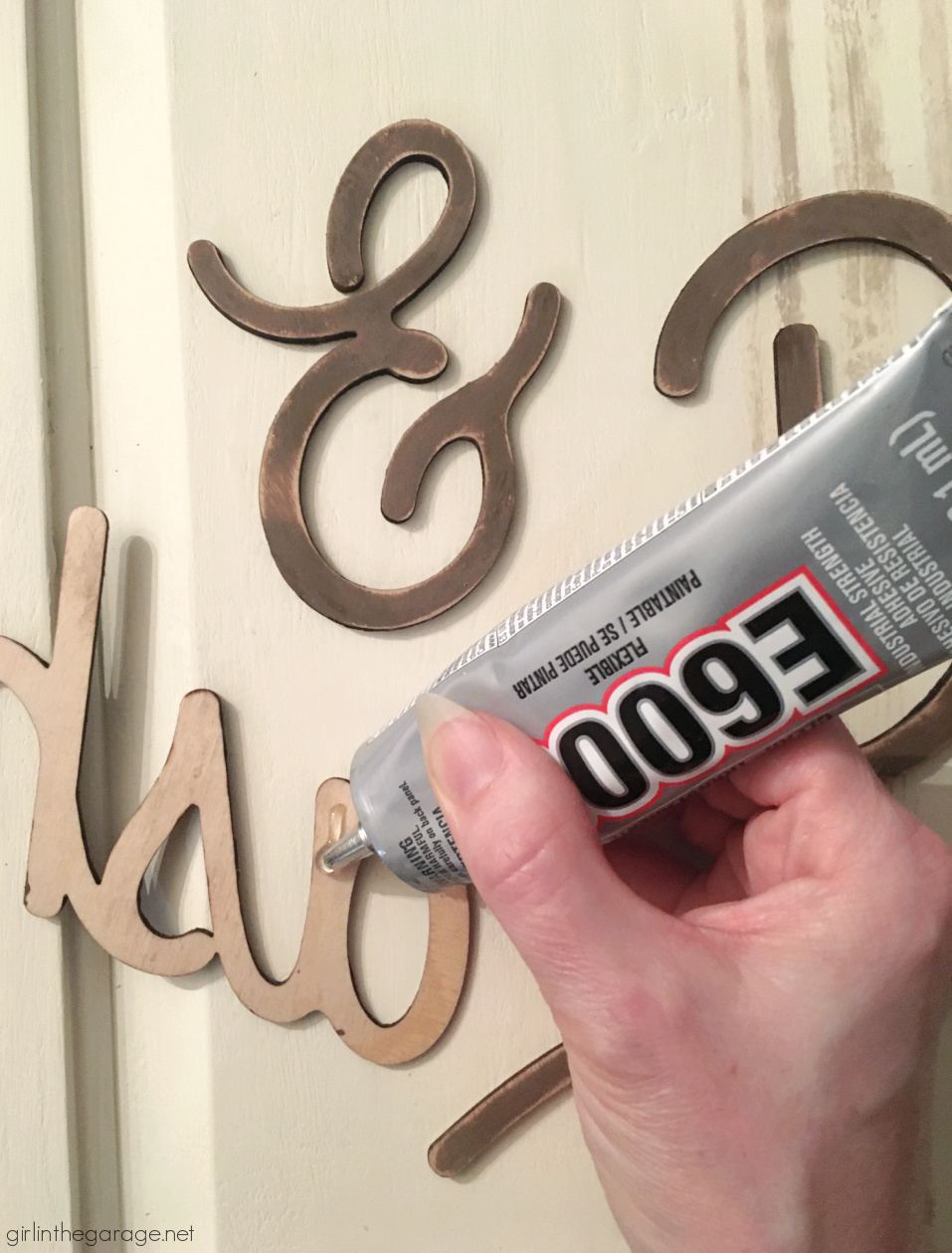 And here is the repurposed cabinet door to DIY laundry room sign: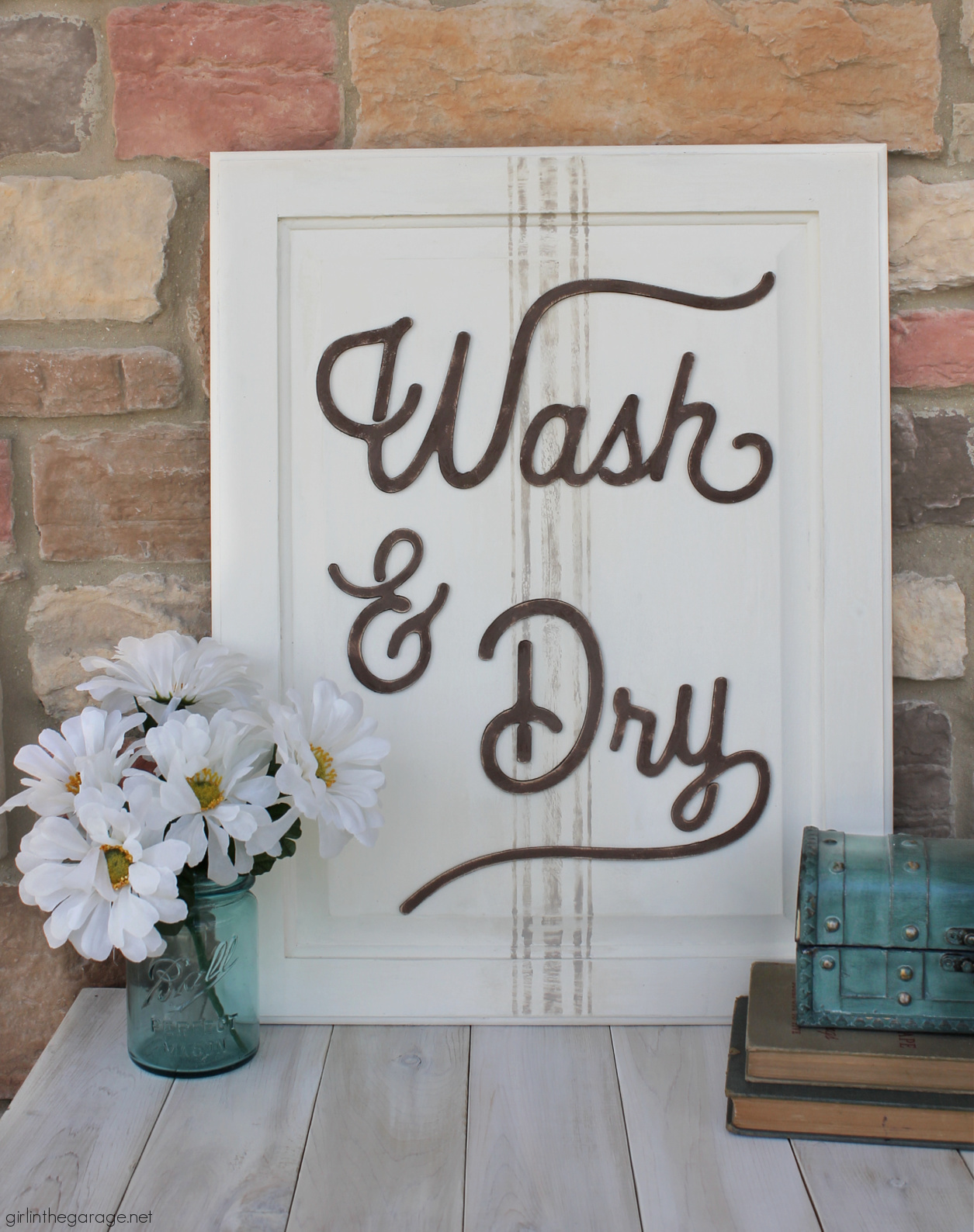 I think it turned out adorable! And I can't believe it took me so long to repurpose that old cabinet door.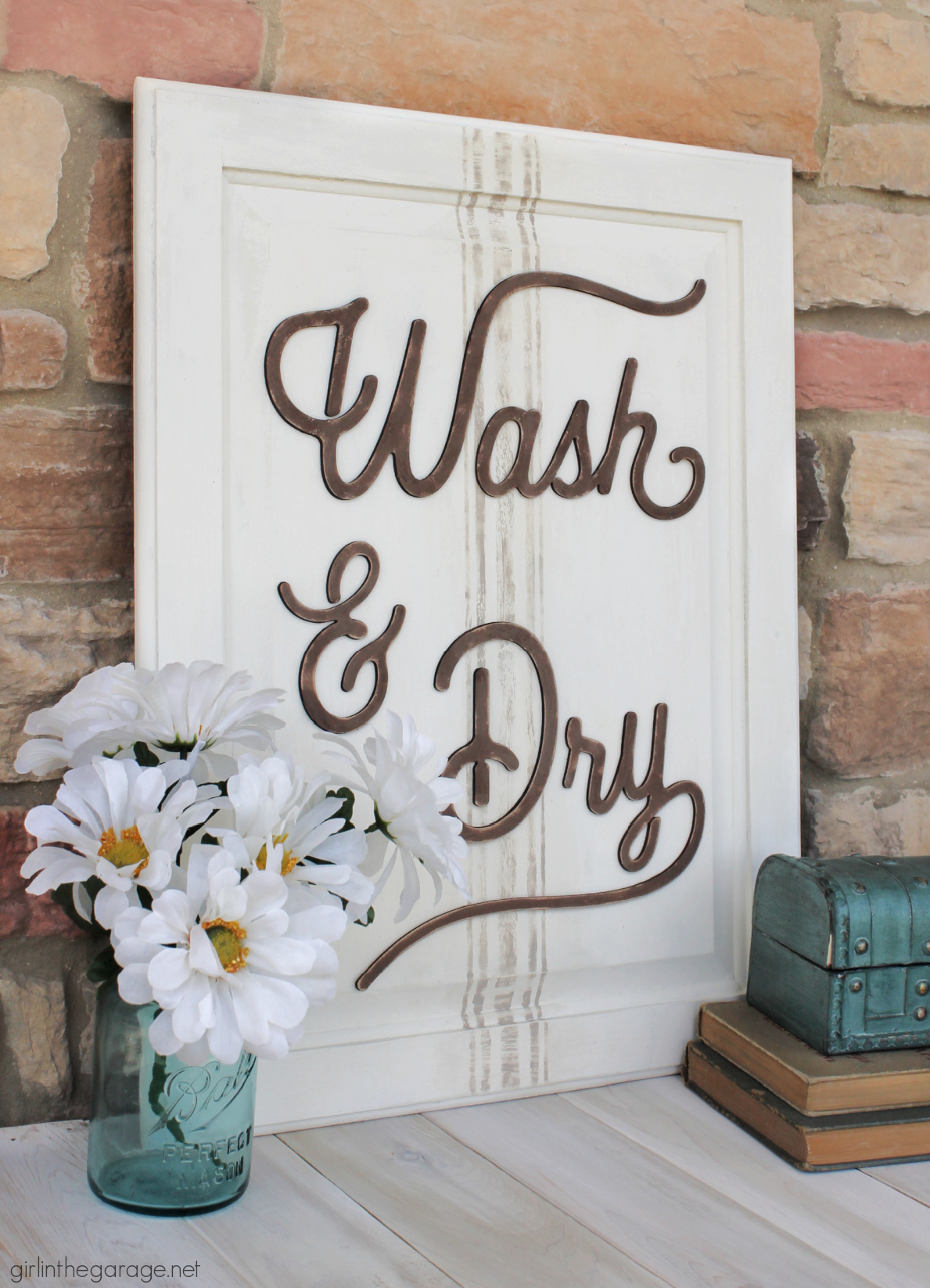 Friend, do you have any cute signs hanging in your laundry room? (Bonus points if you made it yourself 🙂 )
Please feel free to Pin this project to easily find it later, or share it with a friend who might like this idea.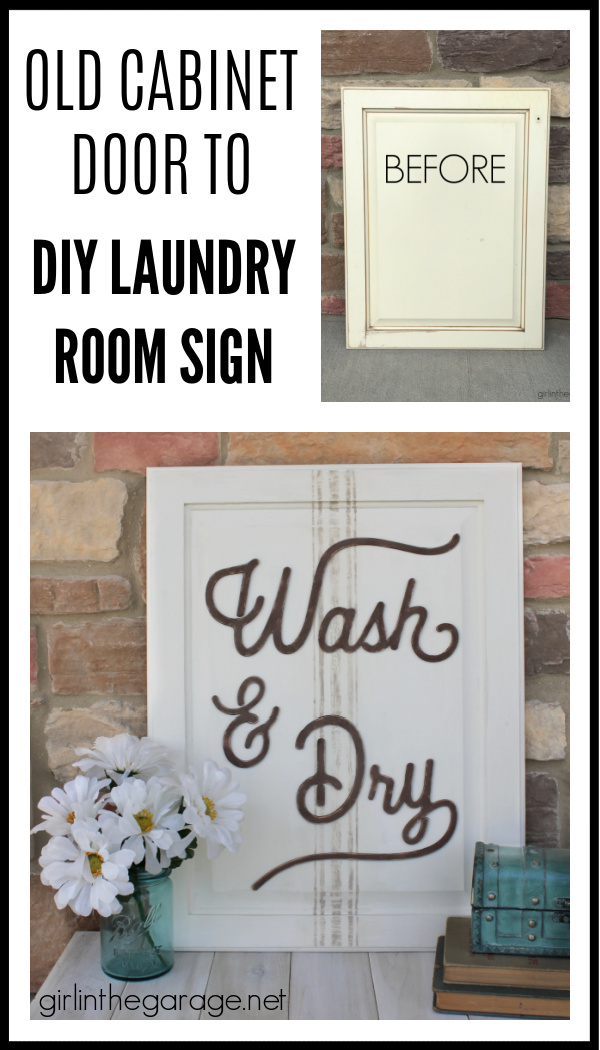 Now it's time for more thrifty makeovers with my friends! I can't wait to see what budget-friendly makeovers they've created. Below are the Before photos – visit the links underneath to see the amazing Afters and to learn how they did it: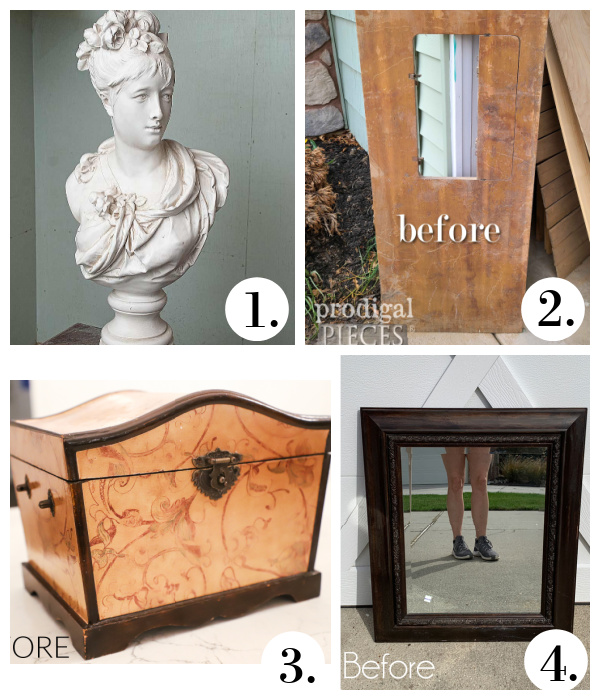 1. Salvaged Inspirations
2. Prodigal Pieces
3. Artsy Chicks Rule
4. Confessions of a Serial DIYer