Are you a fan of the beach? I've lived most of my life within 20 minutes of Lake Michigan's southern shore and the beautiful Indiana Dunes. That means countless trips to play in the sand, splash in the water, and hike the trails and dunes. And on a clear day, you can see Chicago's skyline far off in the distance.
One bonus activity of spending time at the beach is exploring nature's creations like interesting pieces of driftwood. What is driftwood? Simply put, it's pieces of branches that have been washed up and dried out by the sun. The wood is straight or sometimes curved, and often light tan or gray. There's even a local Indiana maker who collects pieces of driftwood around Lake Michigan and turns them into one-of-a-kind art and home decor (see Drifted Art Design's creations here).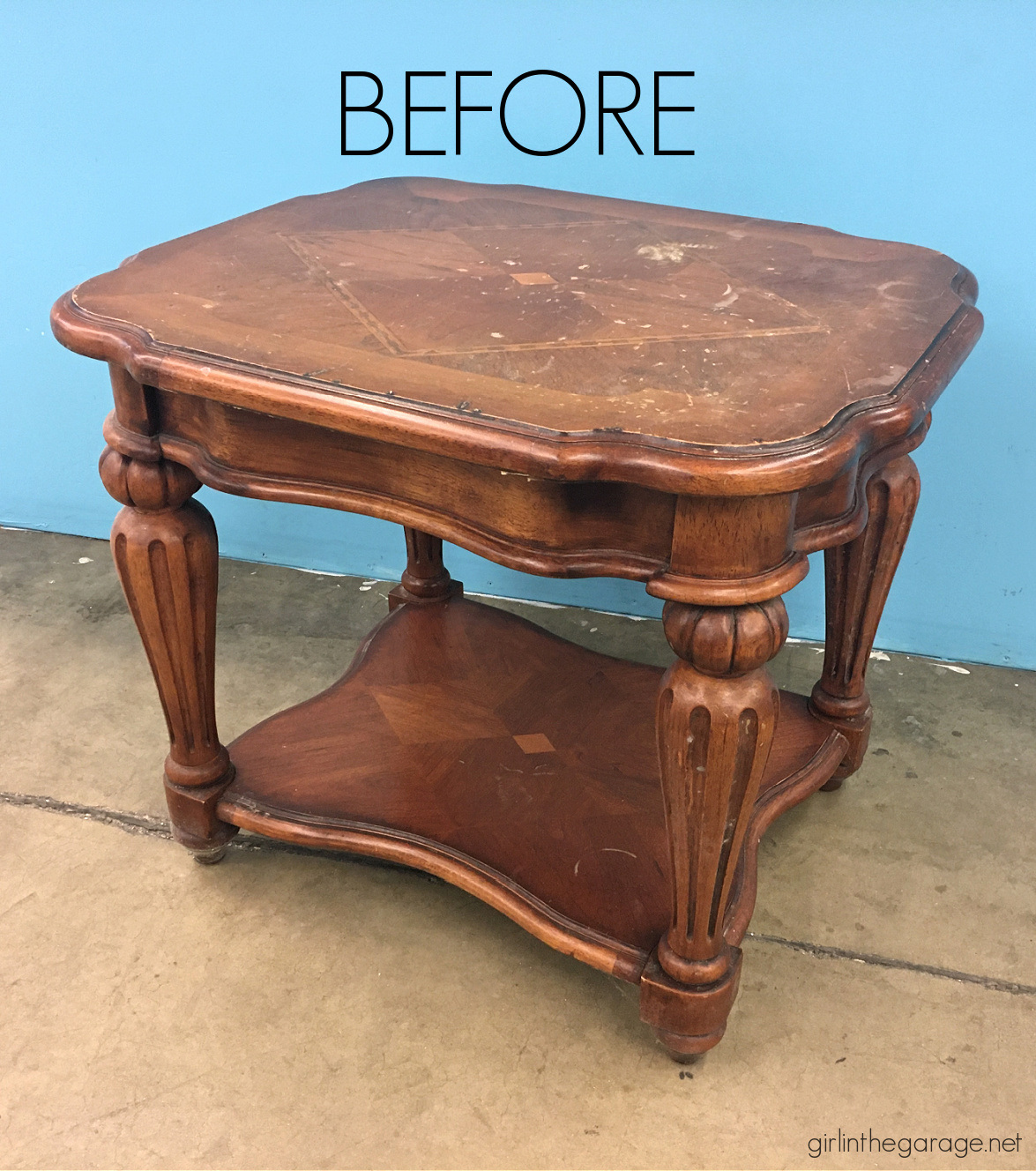 After scoring this wooden end table for $20, I really wanted to stain and paint a driftwood finish on it as an ode to the Indiana Dunes. But unfortunately, the top wasn't in great condition and I actually regretted buying it.

*This post contains some affiliate links so you can easily find the products I use and recommend. Discover all my favorite brands and tools for doing DIY makeovers here.
First I cleaned the table and then sanded the top with the new random orbit sander I got recently (I've been really impressed with it!). Remember to always follow directions when using power tools and wear the proper safety gear.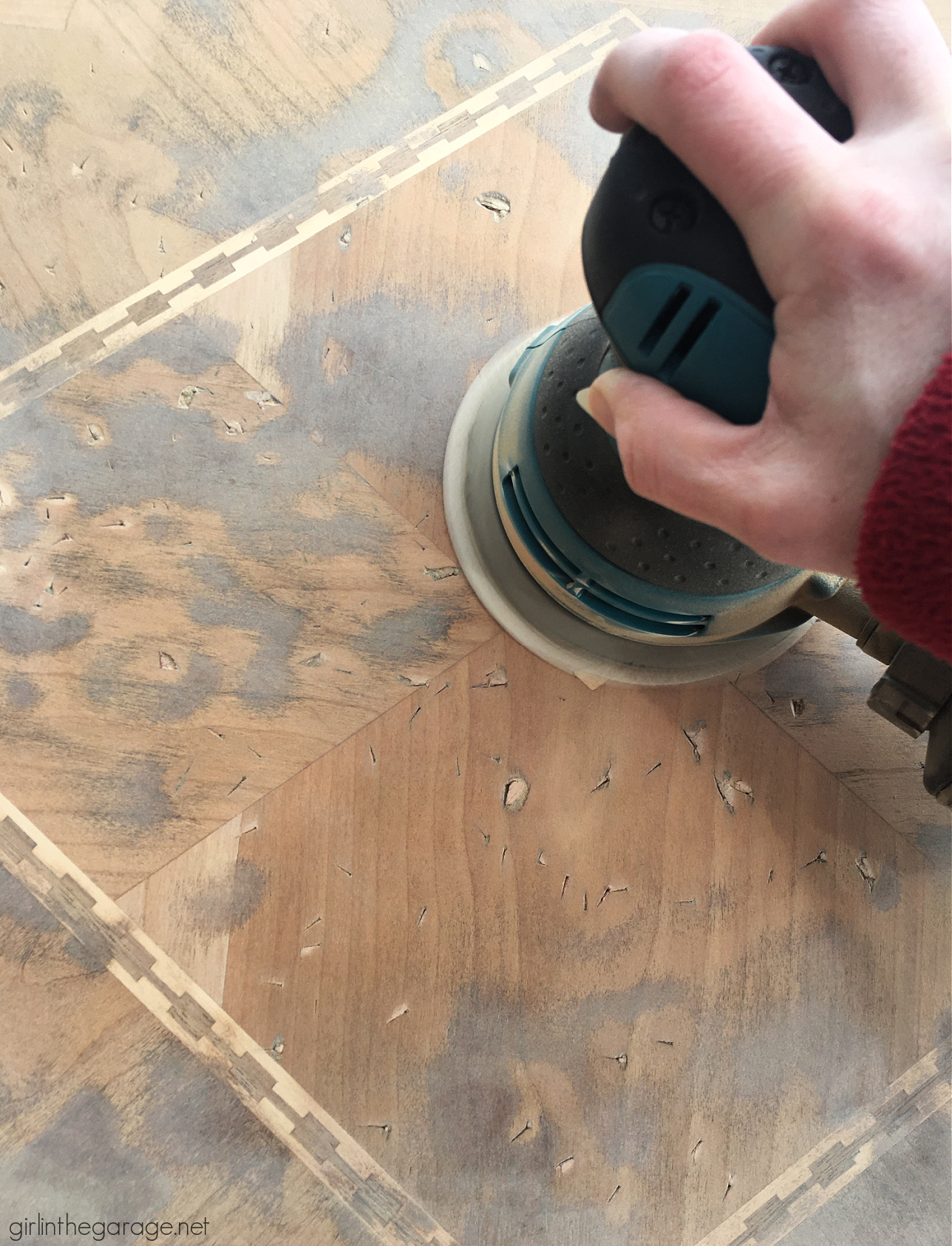 The wood pattern on top was so beautiful – but you can see all the cuts and gouges even after sanding. I'm pretty certain that someone used this table as a base for chopping firewood.
Even if I filled all the nicks with wood filler, it wouldn't match up well enough to restain the top. So as sad as it is, painting was really the best option.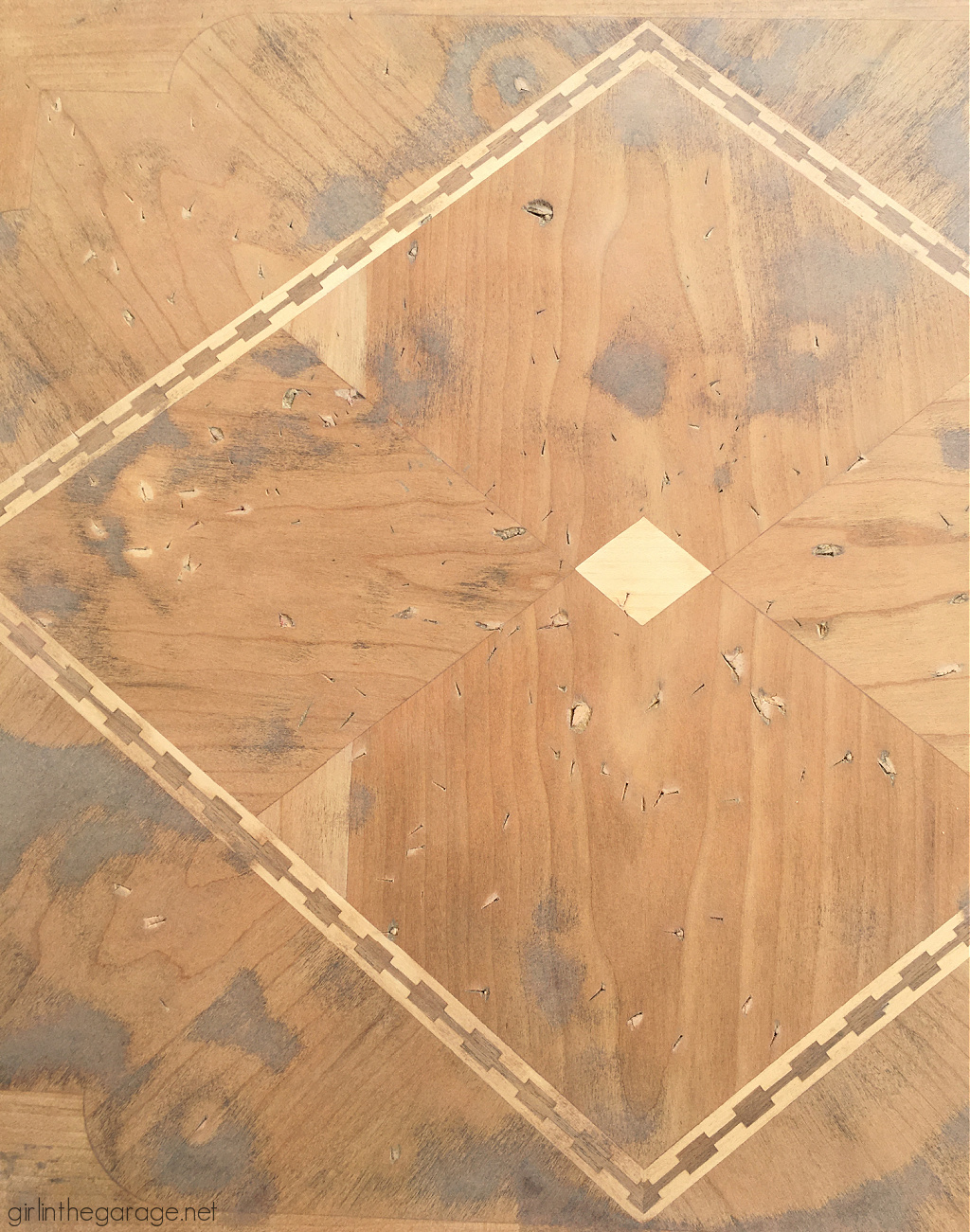 How to Paint a Driftwood Finish with Chalk Paint
First I applied Annie Sloan Chalk Paint in Country Grey as a base, using one of my favorite Purdy paint brushes. Click here to learn about how to choose the right paint brush for your project. Country Grey is an off-white with a cream/gray undertone.
If your piece seems like it will bleed through, you should prime before painting. Learn all about how to properly prep furniture for painting here.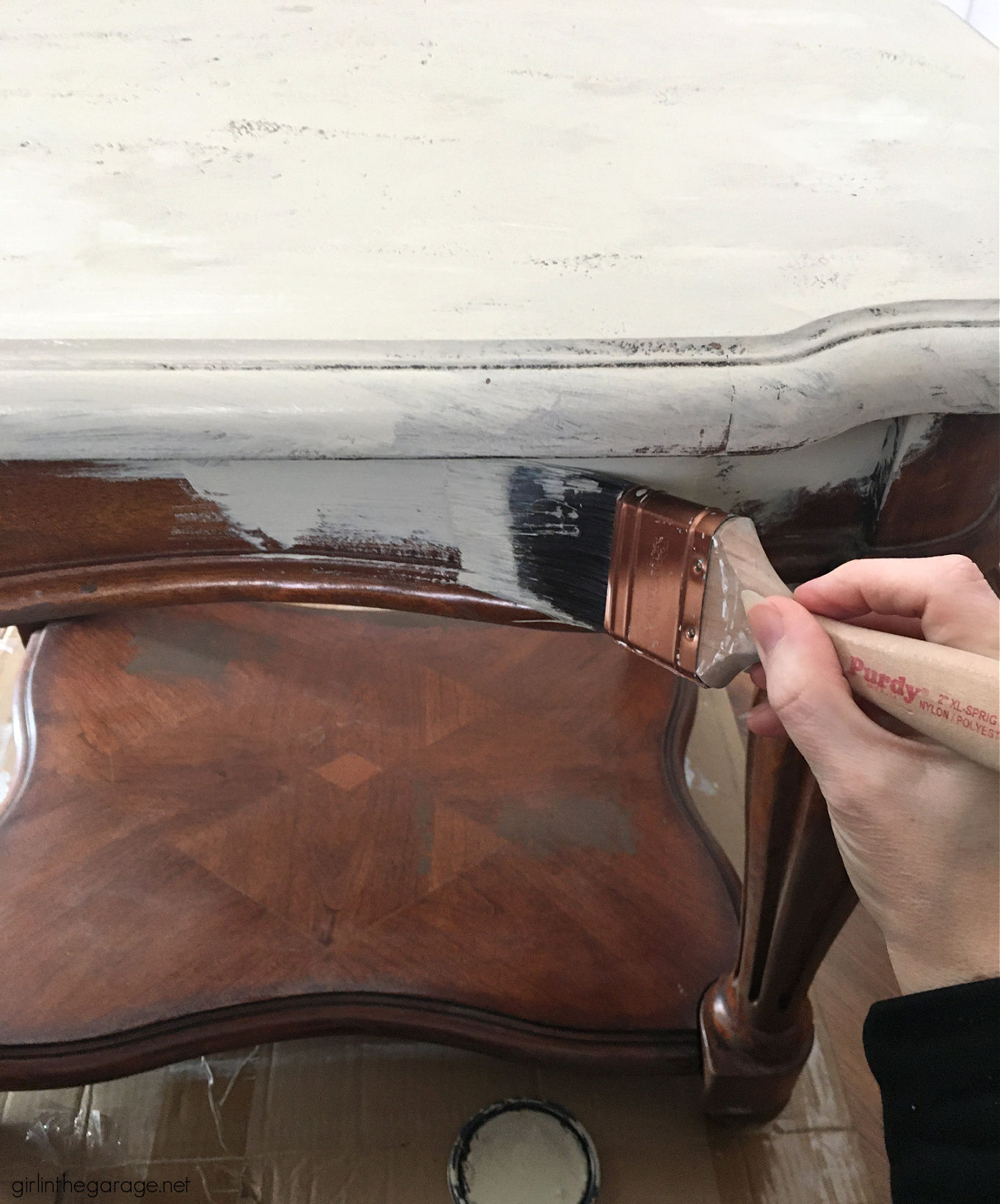 Apply 2-3 coats of paint as needed and then let it dry.
How to Graywash Wood for a Driftwood Paint Finish
For the next layer, I decided to do a graywash (maybe it's gray wash?) over the Country Grey color. Graywashing is just like whitewashing, but with gray paint. Read about how to whitewash wood furniture here.

You'll need a spray bottle of water and a few clean, lint-free cloths. Mist some water either directly onto the surface (if it's a large area like a table top) and then spread it around with the cloth – or you can spray it directly onto the cloth and then wipe.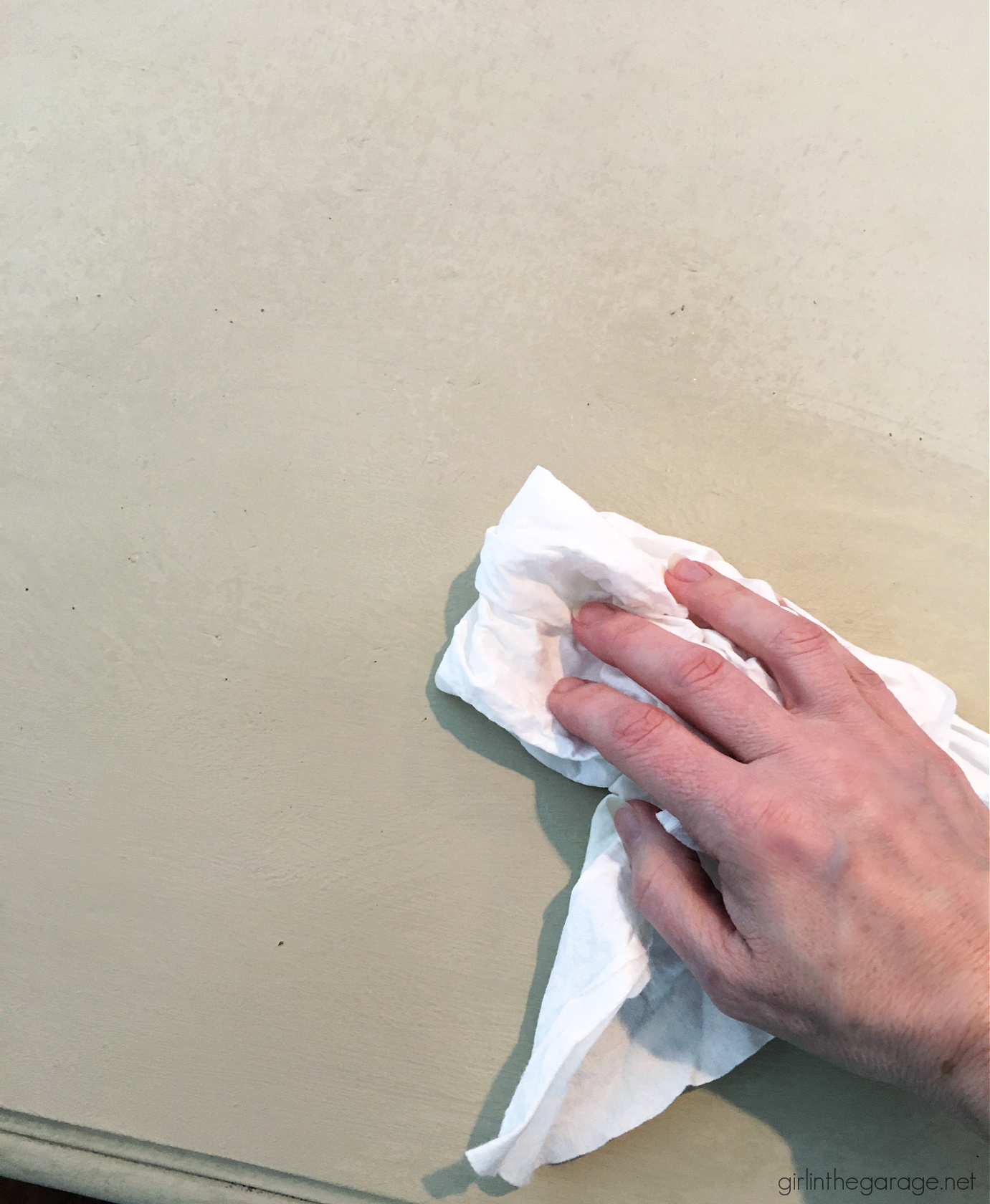 Next, brush the gray paint onto the wet area. I used French Linen Chalk Paint by Annie Sloan which is a medium shade of gray. I also used another Purdy brush.

The wet surface will thin out the gray paint a little – and then use the cloth again to wipe away some of the excess paint. It creates a subtle layer of gray color, i.e. a graywash.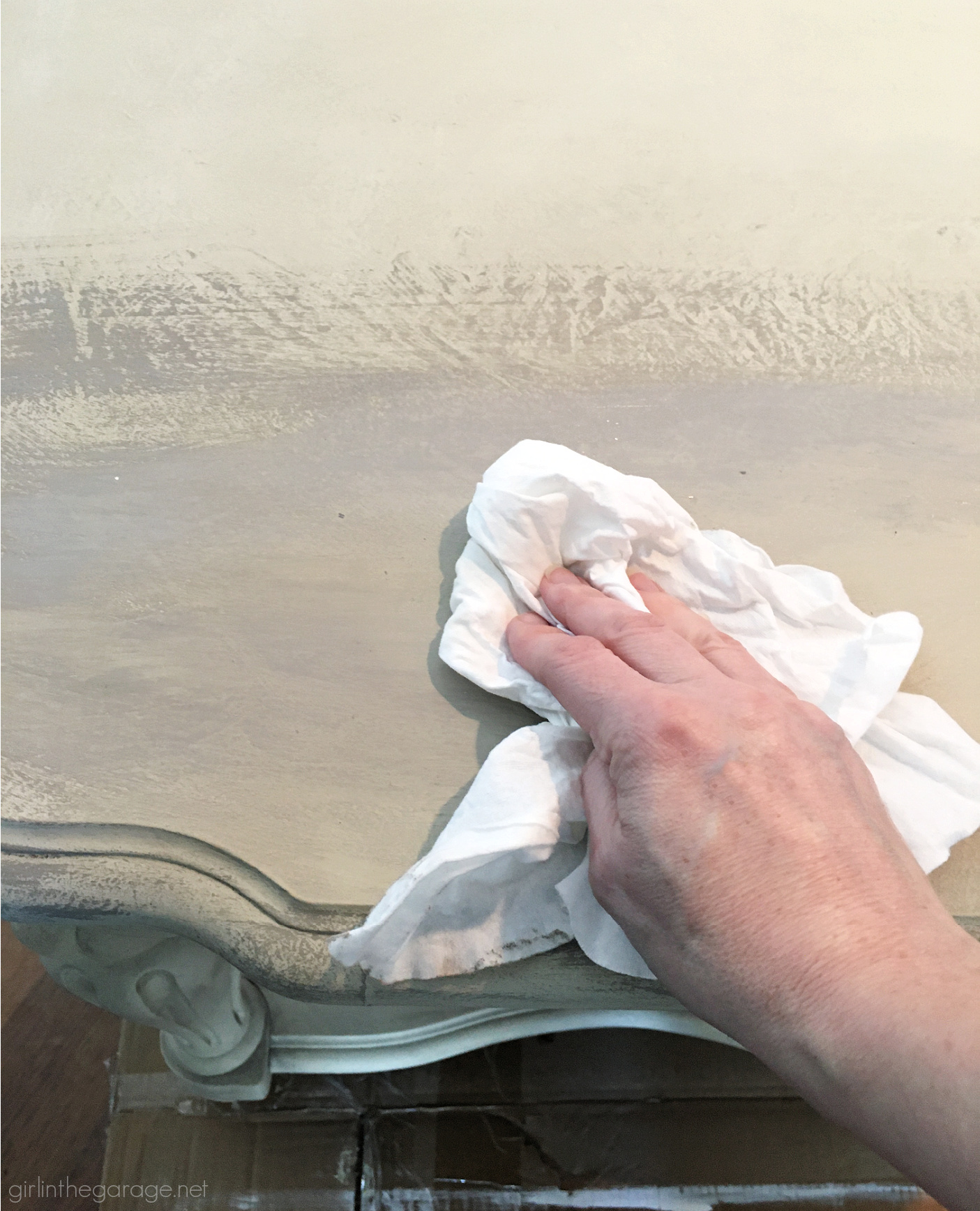 Repeat all over your project. The more you wipe away, the less you'll notice the gray. I like to get it into some of the grooves to give them more definition.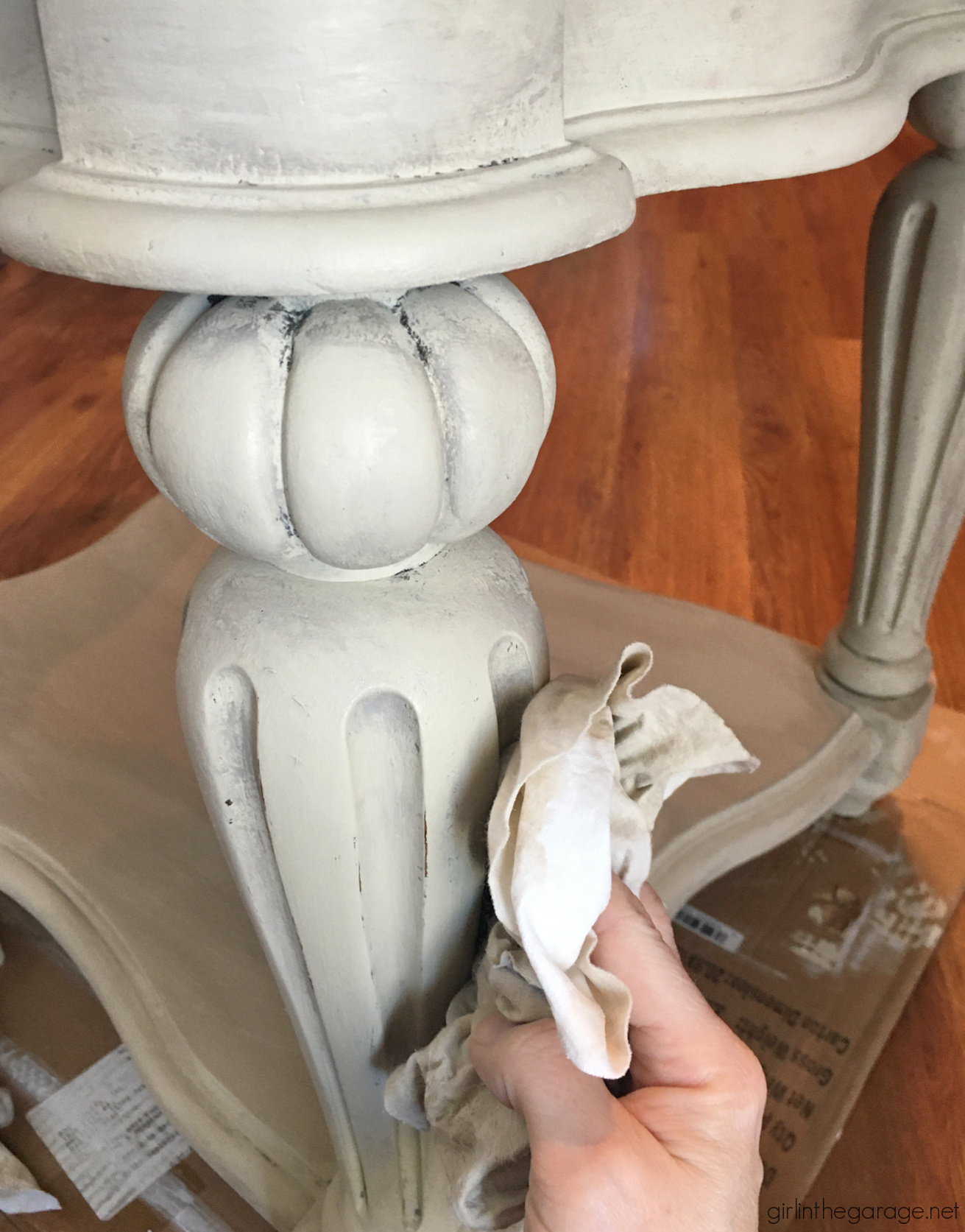 After the paint has dried, do a little hand sanding for smoothness and to distress the edges. I was careful not to do too much, because the style of the table is still elegant, even if it does have a beachy driftwood finish now.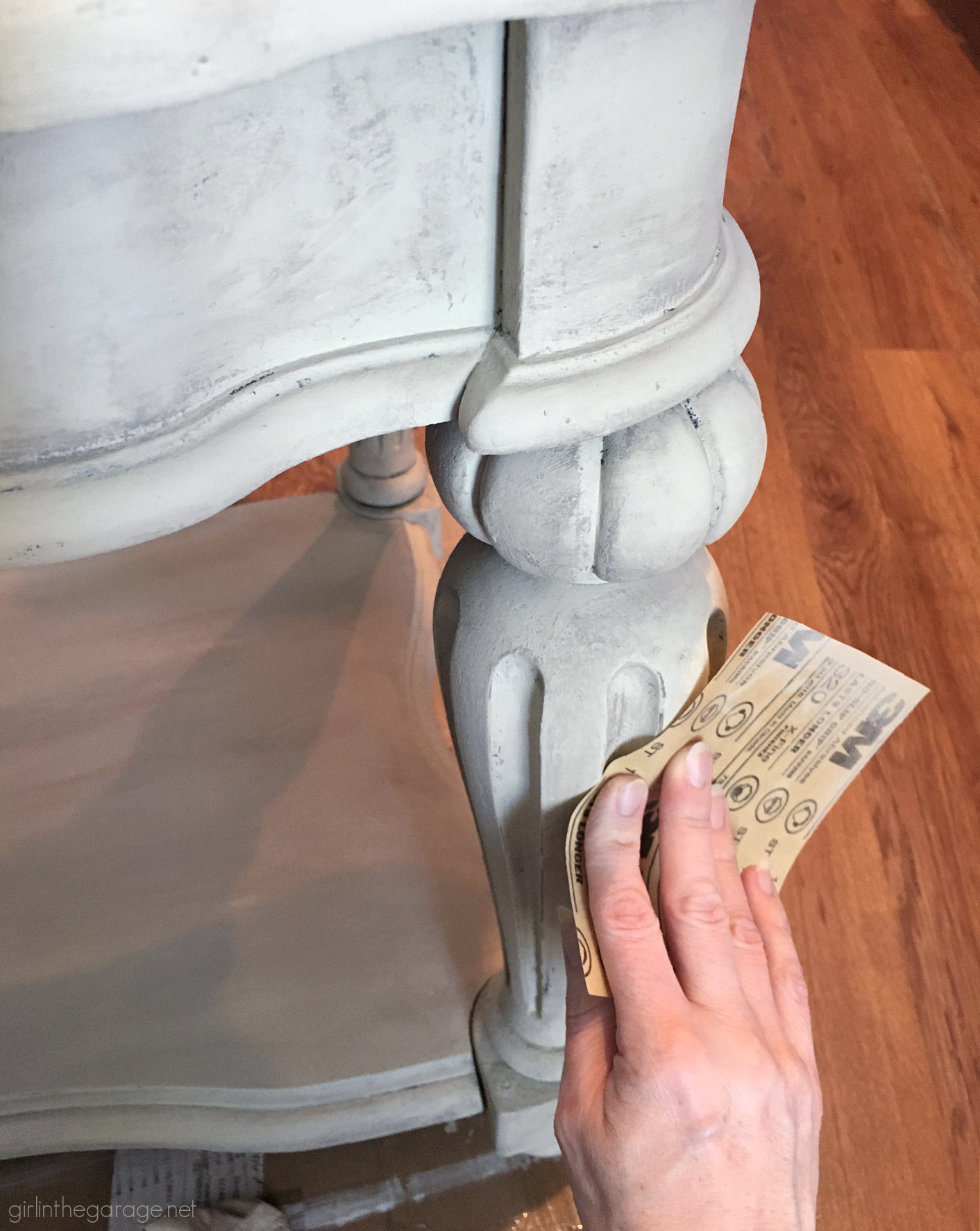 I also went back and dry brushed more of the Country Grey on the top and on some areas where I thought it was a little too dark from the French Linen.
Finally, finish with a protective topcoat like clear wax. Apply 2-3 coats and wait a few days before light use. Wax can take about 30 days to fully cure before regular use.
Ta da! What do you think of my driftwood finish with Chalk Paint? You could probably buy an all-in-one driftwood paint color, but I think the layering and texture really makes it look more authentic this way.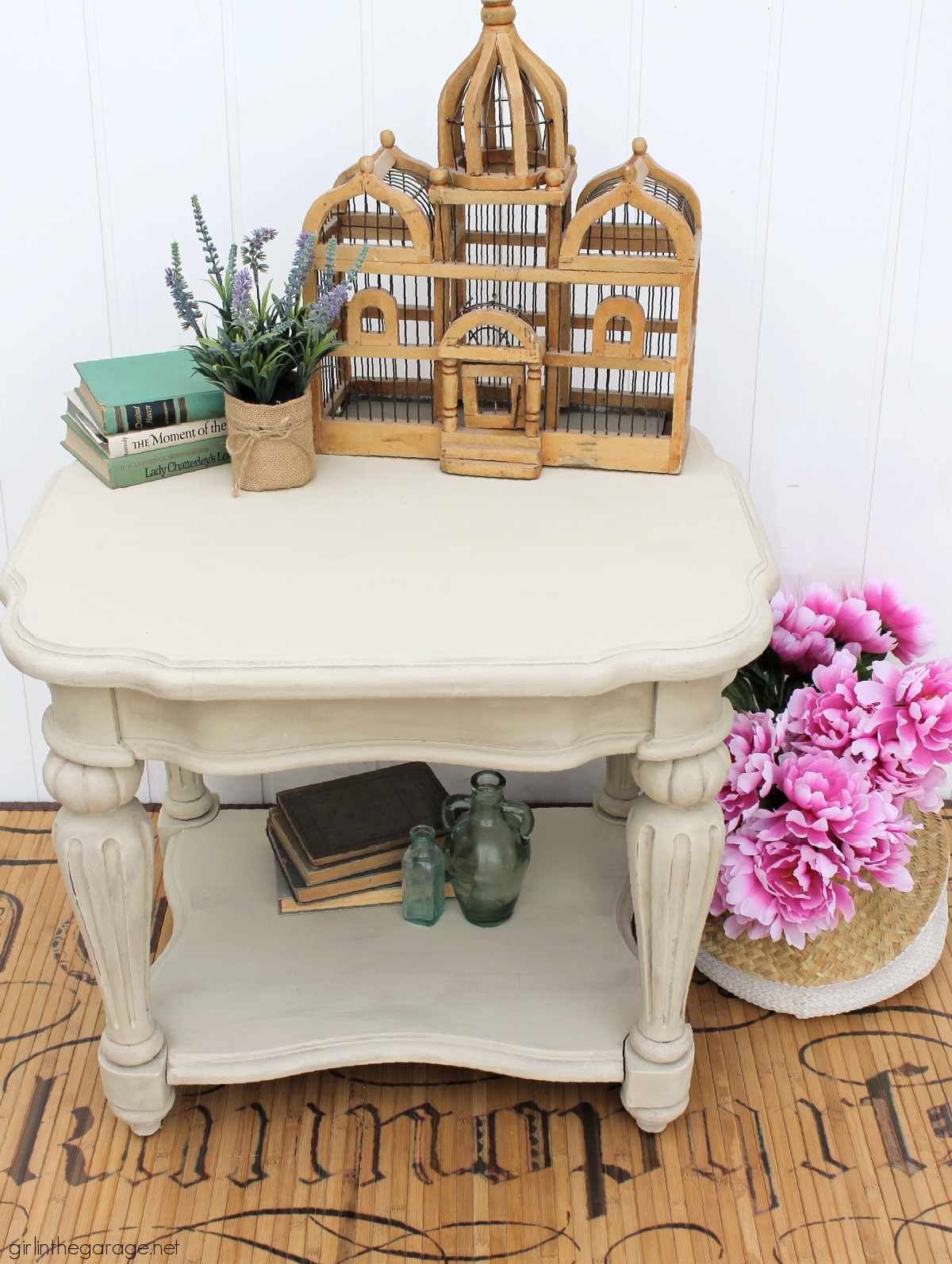 I think the subtleties with the graywash are so pretty.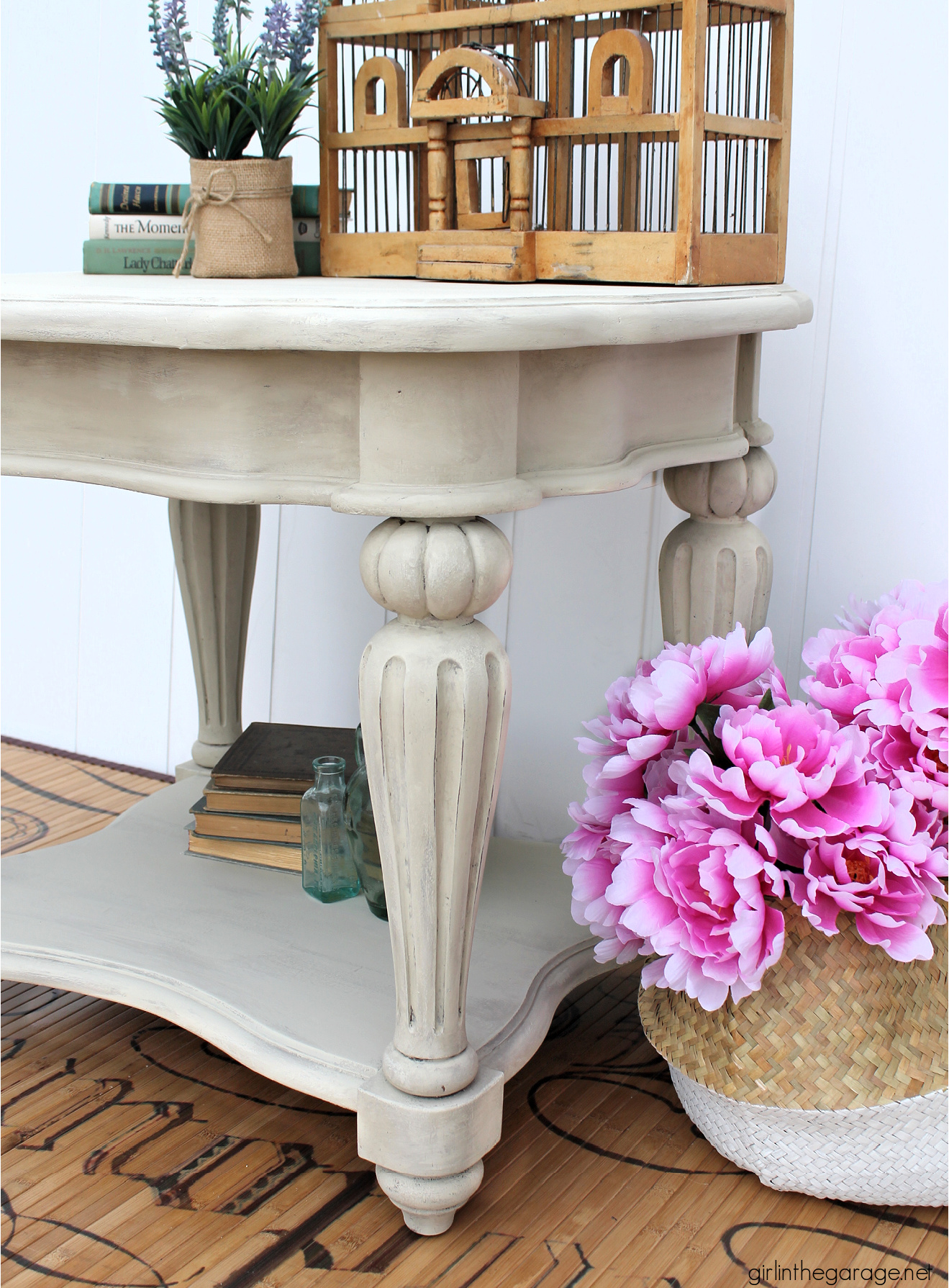 Close up you can really see the variations. Isn't it amazing the results you can create with only two paint colors?
And even though it's a little beachy, it's still neutral enough to look good with so many different decor styles.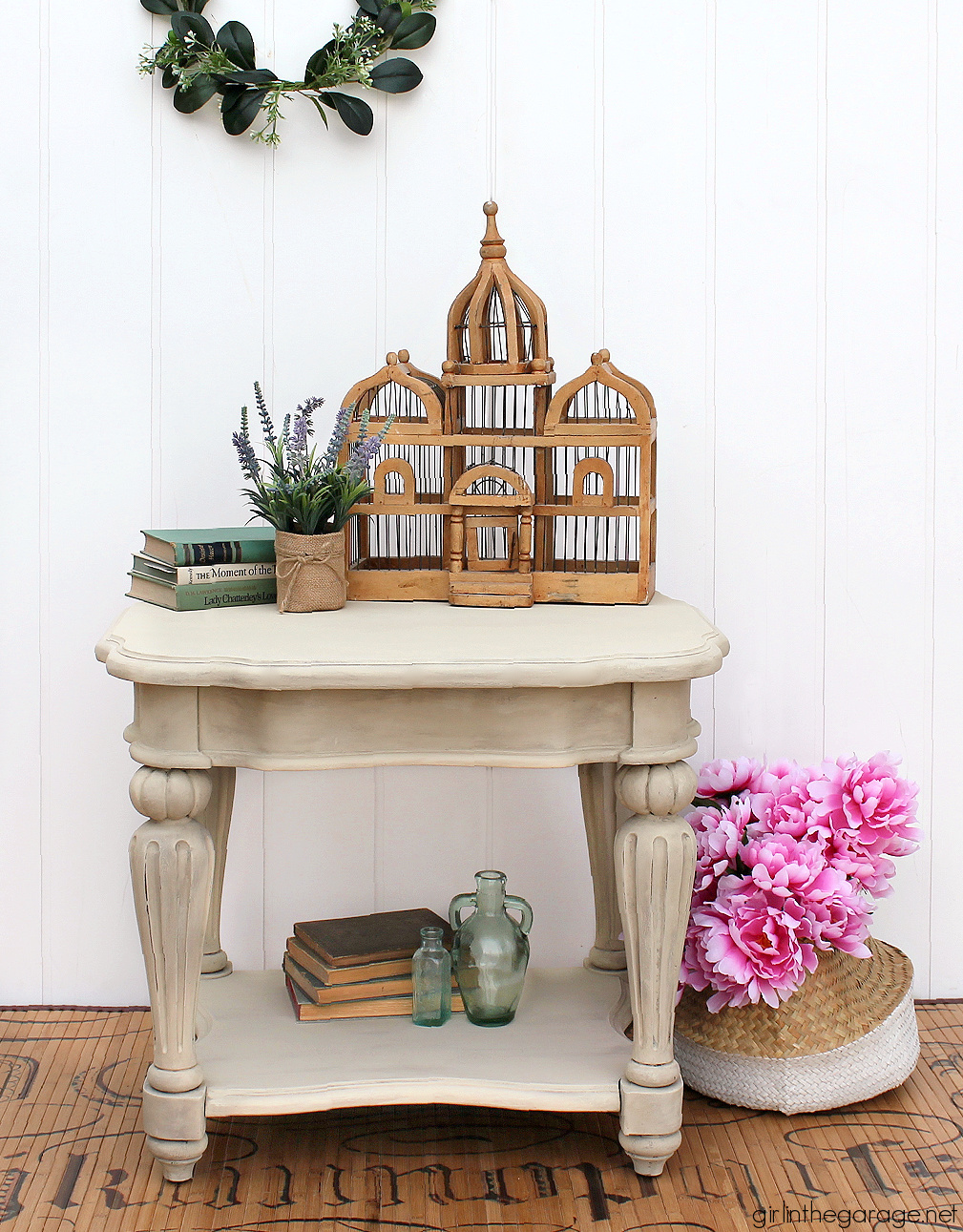 Friend, feel free to share or Pin this project to easily find it again later.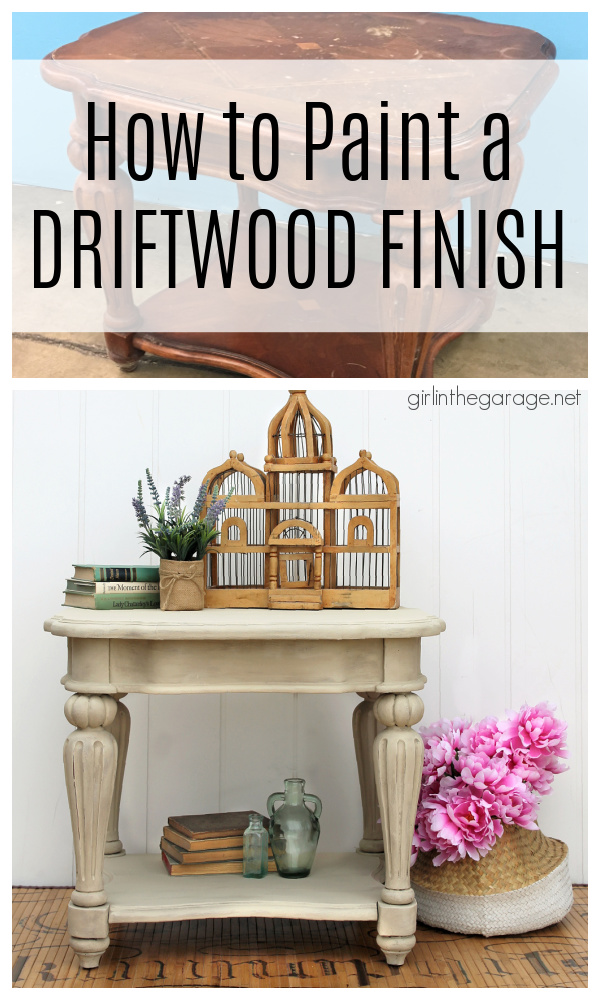 I'd love to know what you think of this faux driftwood finish in a comment below. Thank you! – Jen
Now it's time for Furniture Fixer Uppers again with my furniture painting buddies. Below are the Before photos – visit the links underneath to see the creative Afters and to learn how they did it:
You may also like… How to Chalk Paint Furniture: Beginner's Guide to Chalk Painting