I've bought, fixed up, and sold hundreds of pieces of furniture over the years. During this time I've learned that some people have very strong opinions about what furniture they think should or shouldn't be painted – especially when it comes to some of the rarer pieces like burl wood furniture.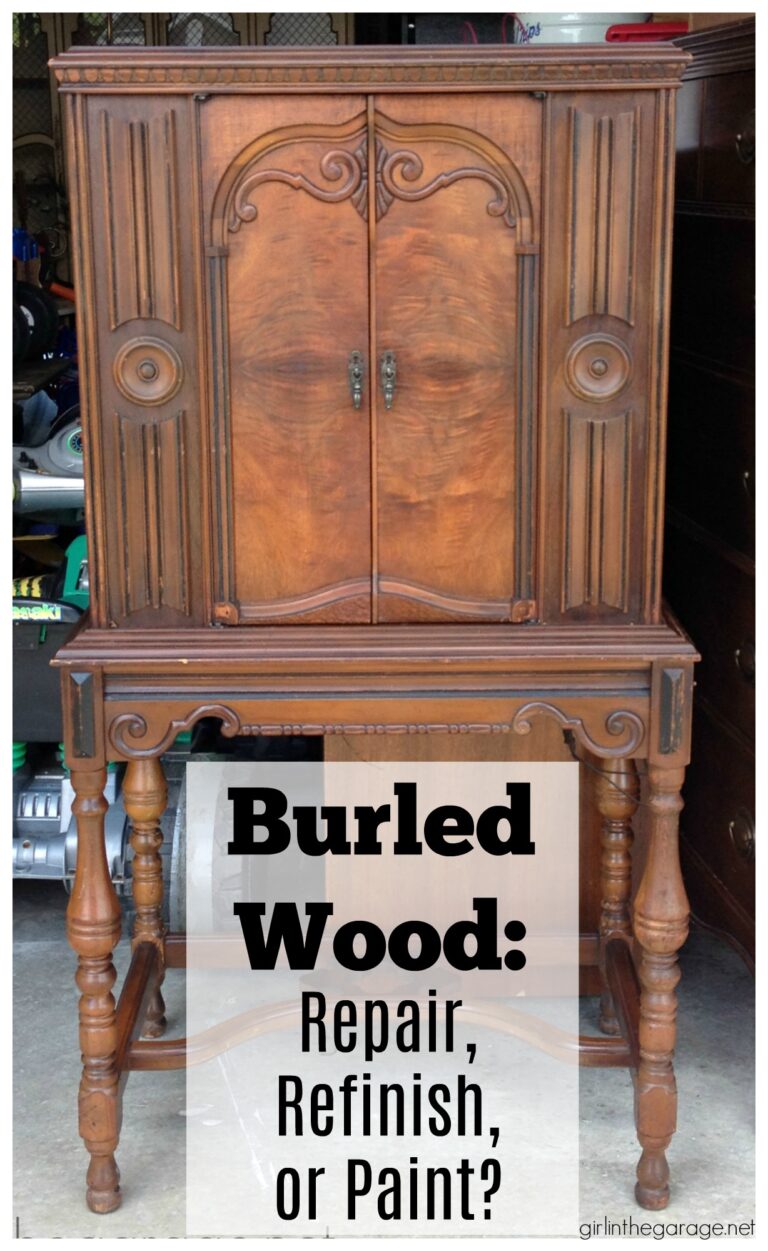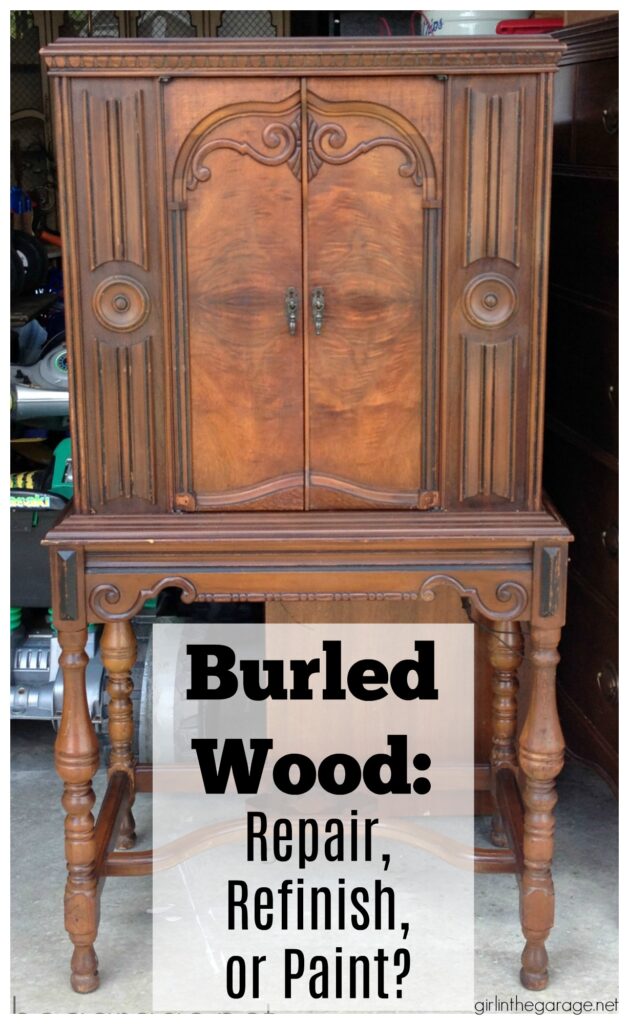 What is Burl Wood (aka Burled Wood)?
Burl wood happens when a tree has a growth or deformity due to infestation or illness (some kind of stress). It sounds odd, but it's actually quite rare and special. Learn more and see examples in this post: What is Burl Wood and Why is it Valuable?
So this begs the question… if you have burl wood furniture that is damaged, how do you repair it – and should you ever paint it?
How to Refinish or Repair Burl Wood Furniture
If you plan to repair and refinish the piece, you have a few options.
You could hire a professional to make any big repairs for you.

If you're too nervous to try any major repairs yourself, you could clean it up with some refinishing wood cleaner and learn to embrace the imperfections.

You can glue and clamp loose veneer back into place.

If small areas of the veneer are chipped, you can add wood filler and then attempt to paint just that area to match the rest of the woodgrain. It's helpful if you have patience and also knowledge about different painting techniques (frottage is one technique that comes to mind).

If one area (like the top) is too damaged for repair, consider carefully removing the veneer and using pieces to fill other areas like on chipped drawers. That brings me to the next option…

If some of the burl wood is in great condition but some is damaged, you could paint part of the piece (like the top or the body) and leave the rest unpainted for a two-tone look. Here are examples:
And if you're an experienced painter and/or feeling particularly brave, you could attempt to paint a faux burl finish like below (although it might be difficult to match the design to another area).
Should you paint over burl wood?
I've never been one to stand on a soapbox and tell other people what to do (unless it's my three ornery boys). If you own furniture then you're entitled to do what you want with it. But there's a huge community of people out there who will transform into an angry mob if you even mention thinking of painting burled wood, so consider yourself warned.
Let me know in a comment below – have you come across secondhand burled furniture, and would you rather refinish or paint part of it?
Please share your experience so we can all benefit! And feel free to Pin or share this post so others can be educated about burl wood furniture too. I appreciate you! – Jen, Girl in the Garage