Sometimes I love to share new furniture makeovers with you guys and other times (like today) I like to dig around my home and find an old household item and give it a fresh new look. So for this new tutorial, you'll learn how to paint a cork board. You might even have one just like this at home too.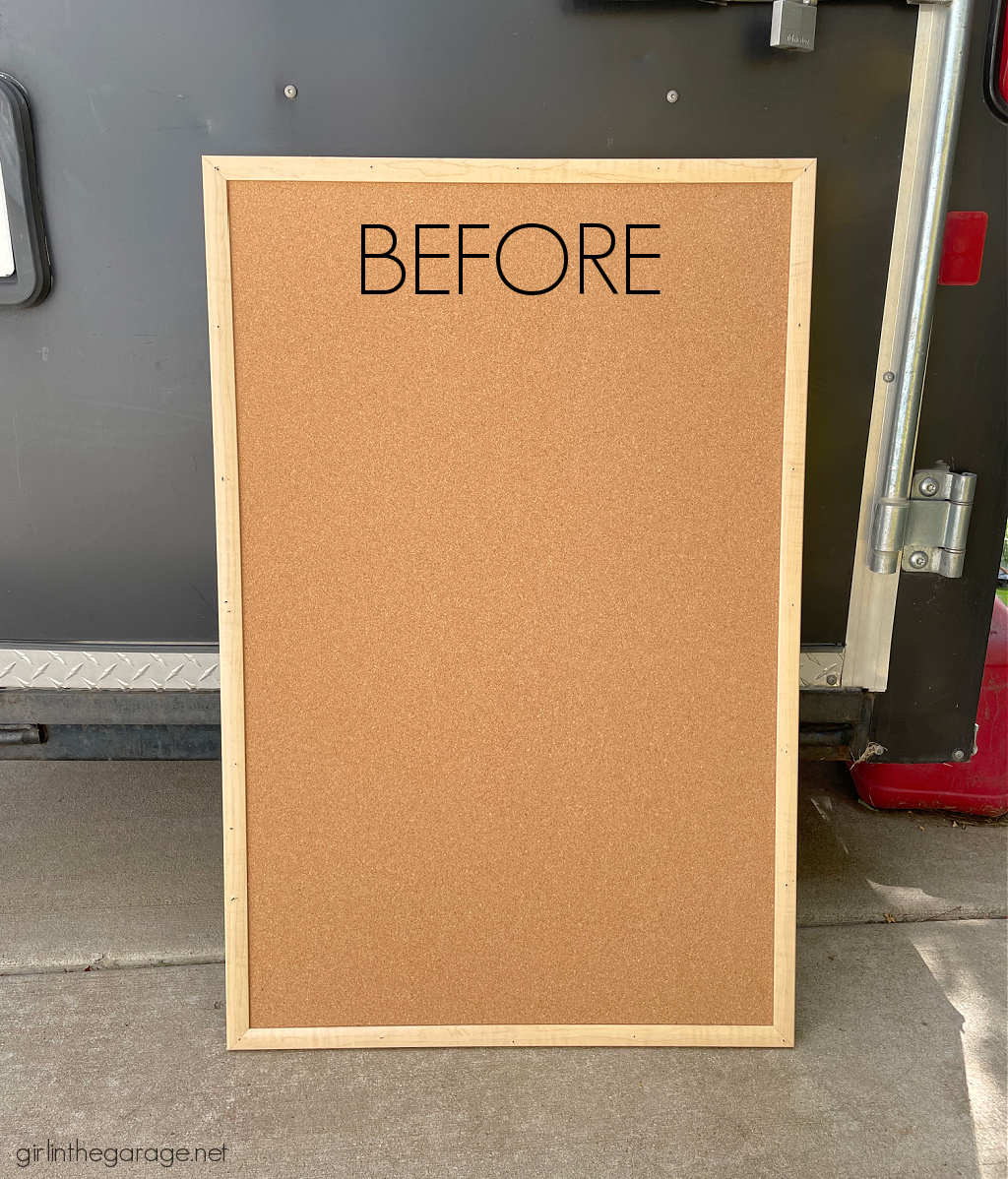 *This post contains some affiliate links so you can easily find the items I use and recommend. Discover all my favorite brands and tools for doing DIY makeovers here.
Can You Paint Cork Board?
Yes, you can paint cork board – it's actually pretty easy and looks fabulous! I painted and stenciled an old cork board and I'll show you exactly how I did it.
How to Paint Cork Board
First, get an old cork board or you can buy an inexpensive plain one from the store.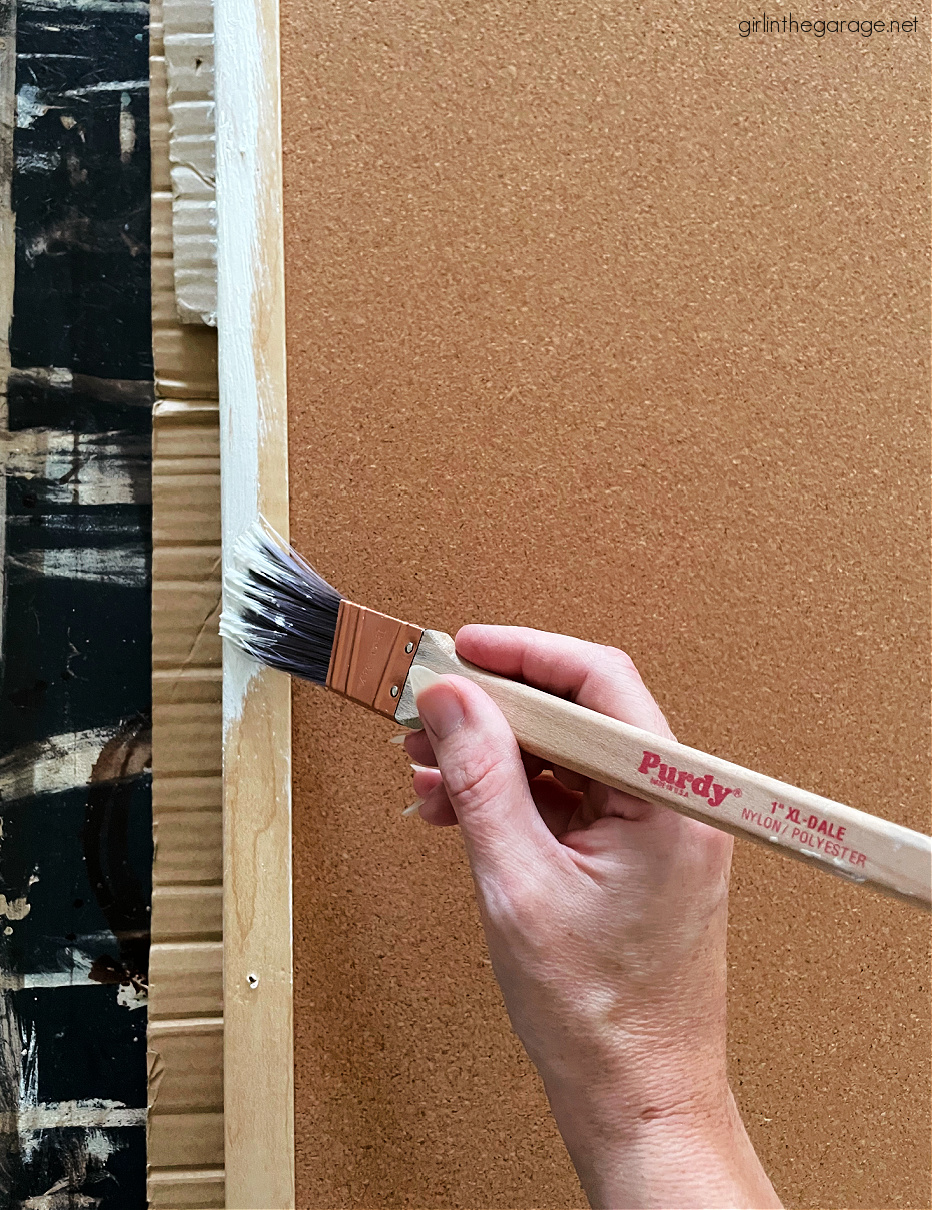 I used one of my favorite Purdy paint brushes and Pure White Chalk Paint by Annie Sloan to paint the surrounding frame. (Any type of paint will probably work on cork board, as long as it's not too runny.) Then I filled in the areas near the cork board with a smaller artist's brush.
I chose the Lisboa Tile Stencil which is absolutely gorgeous and I've used on several projects before – see them at the bottom of this post. I started by centering the stencil in the middle of the board and measuring to make sure it was accurate.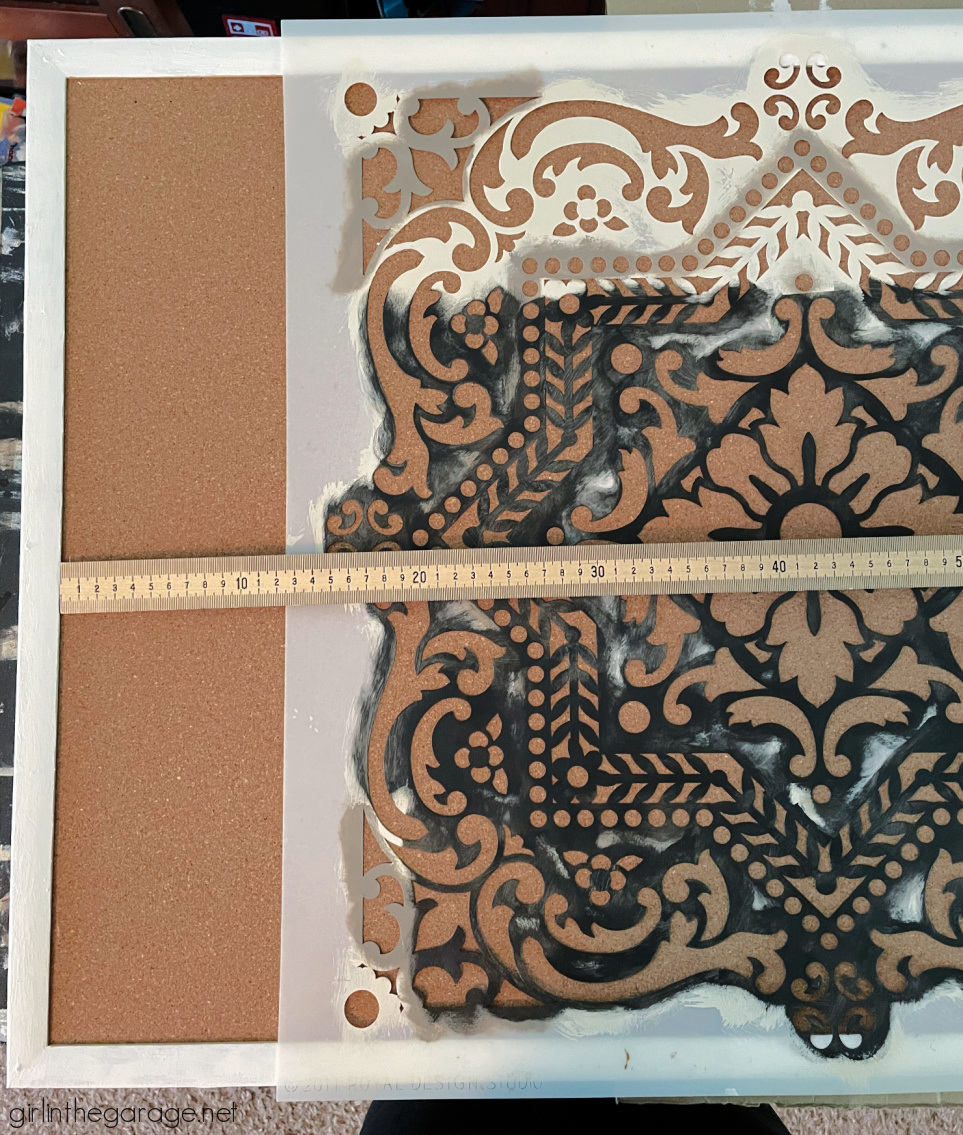 When you're stenciling, it's helpful to pour some of the paint into a bowl or sturdy paper plate. (Here I used a leftover plate from my son's birthday party. 😄) Then use a foam pouncer to dab the paint and blot the excess onto a folded paper towel.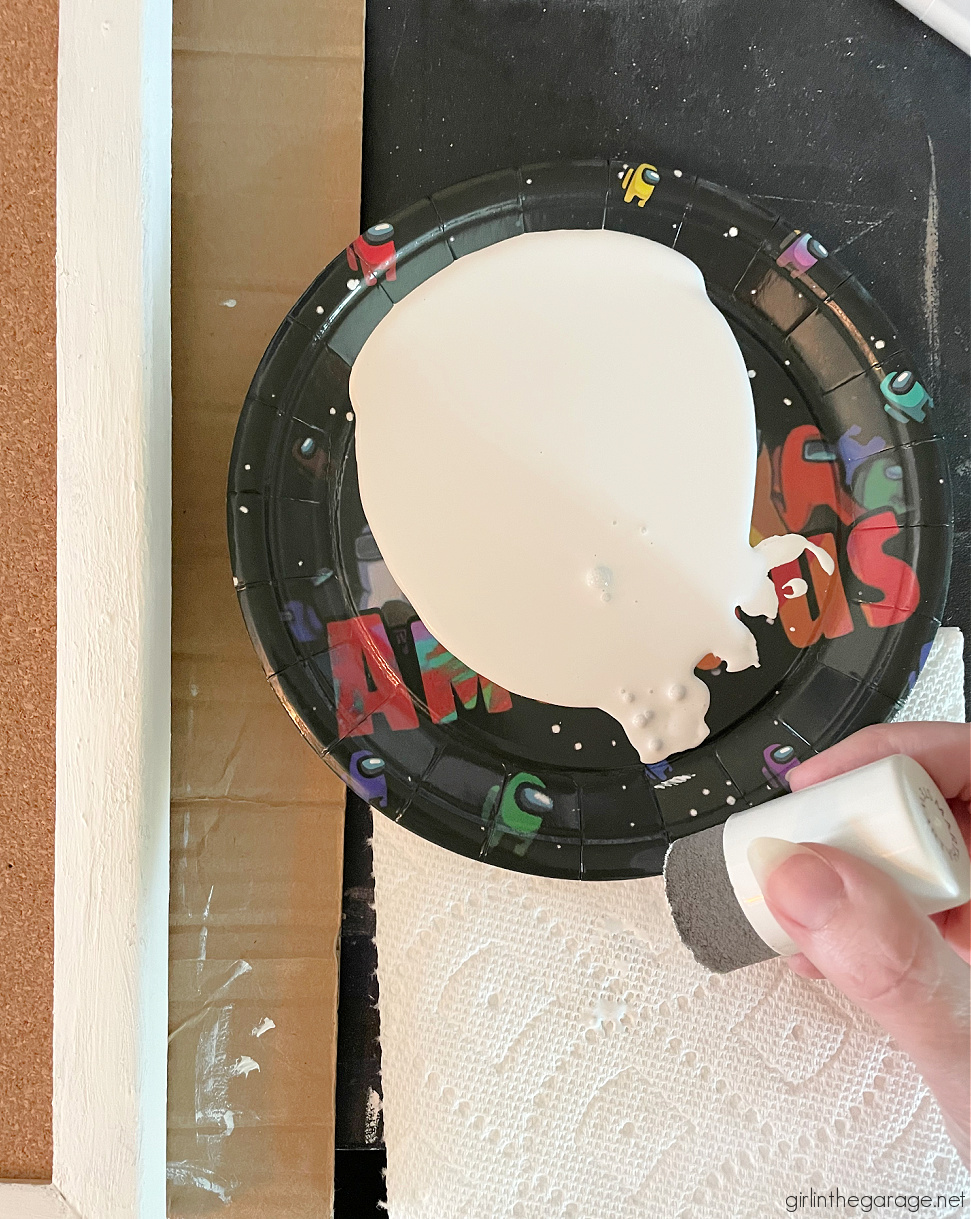 I did not tape the stencil in place since a cork board isn't a slippery surface – but I did hold it down with my other hand while I was applying the paint. Be prepared to dab the pouncer up and down many, many times when stenciling a cork board.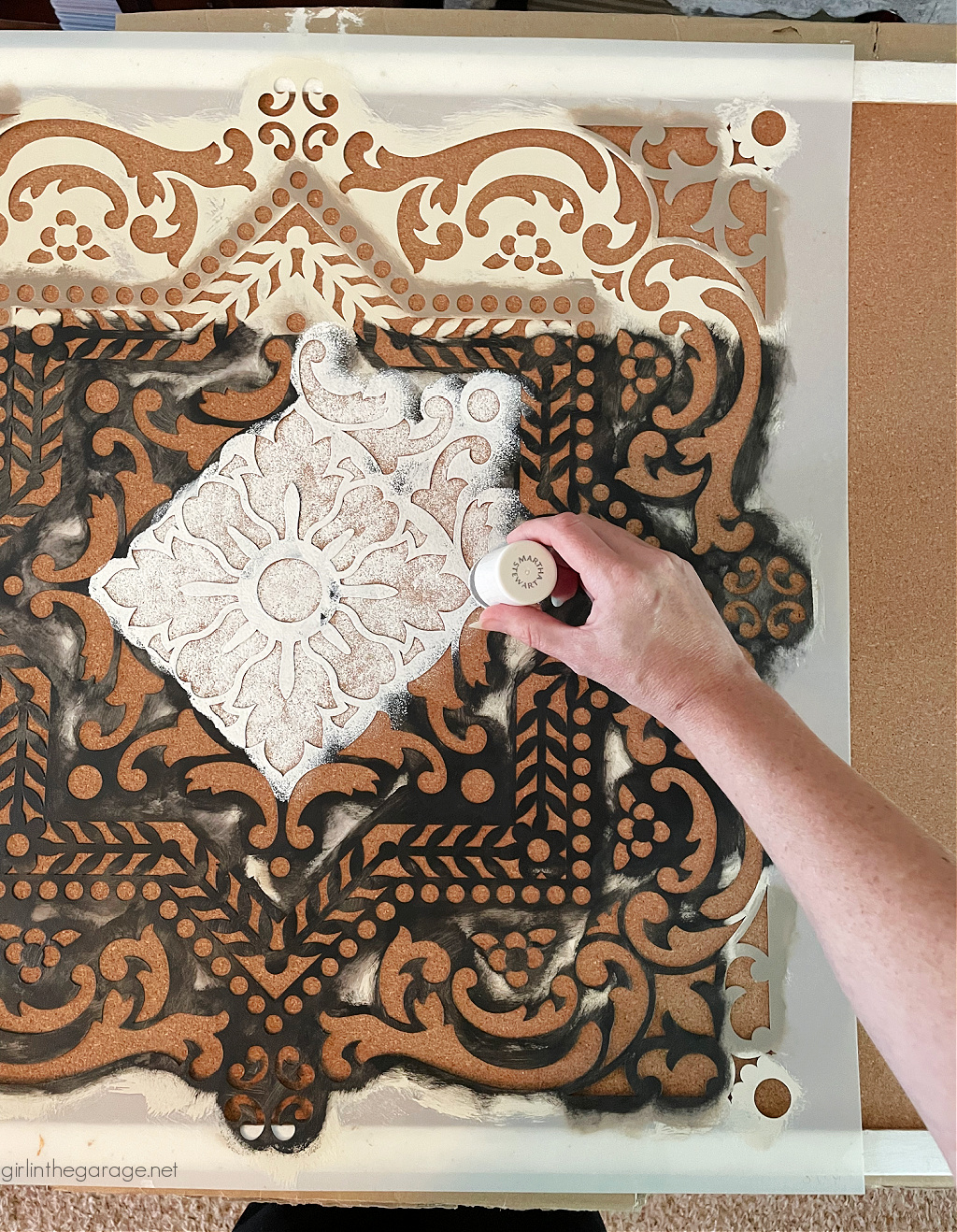 Once the middle section is finished, carefully lift the stencil and move it to either side to finish the pattern. Pay special attention to where it overlaps and how you want the edges to look near the frame.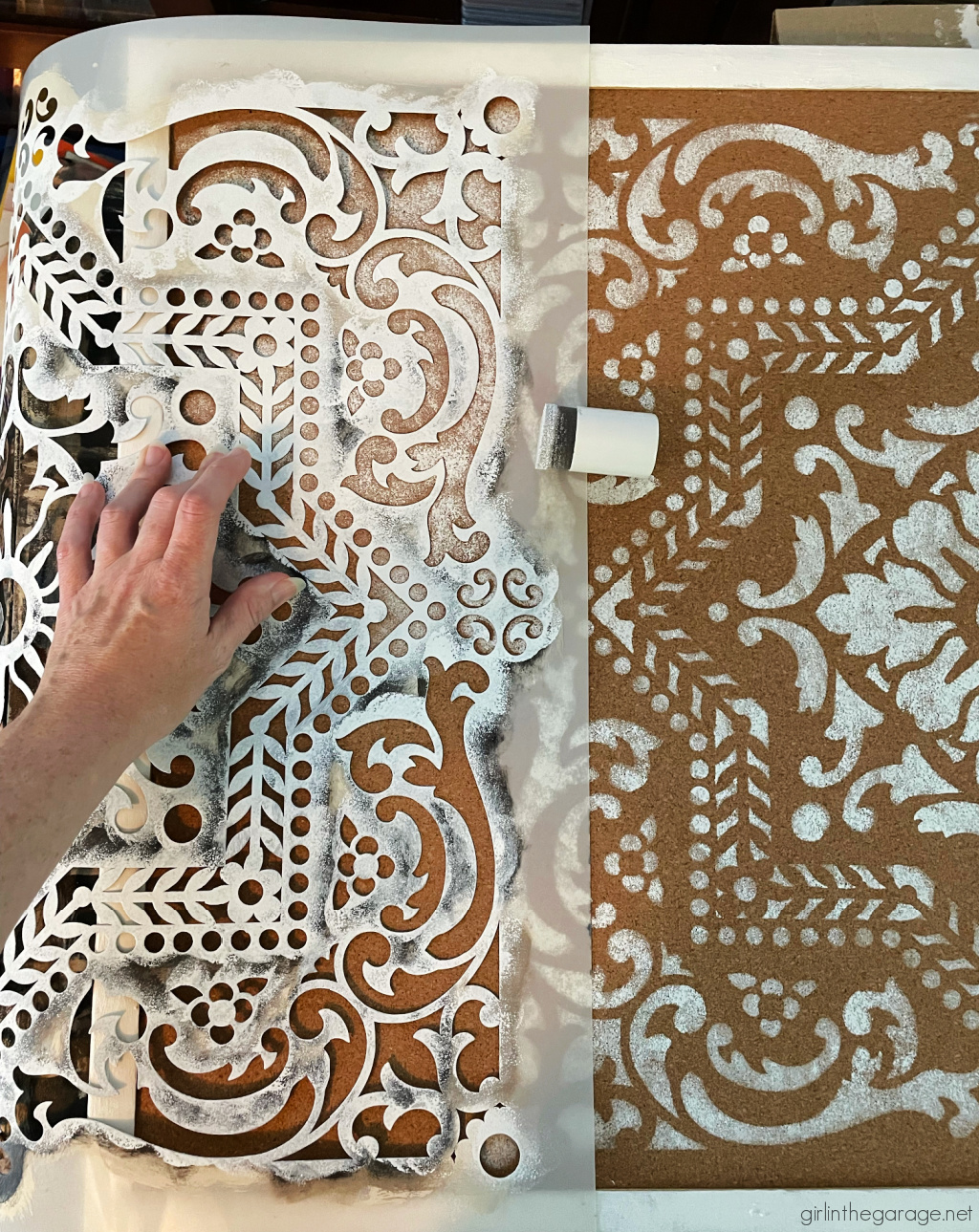 If you only used a thin amount of paint, the cork board should be dry almost immediately. You may also end up with some variations that are lighter and darker in different areas – which I think is pretty neat.
Now instead of just an old boring cork board, you have a functional piece of art for your home!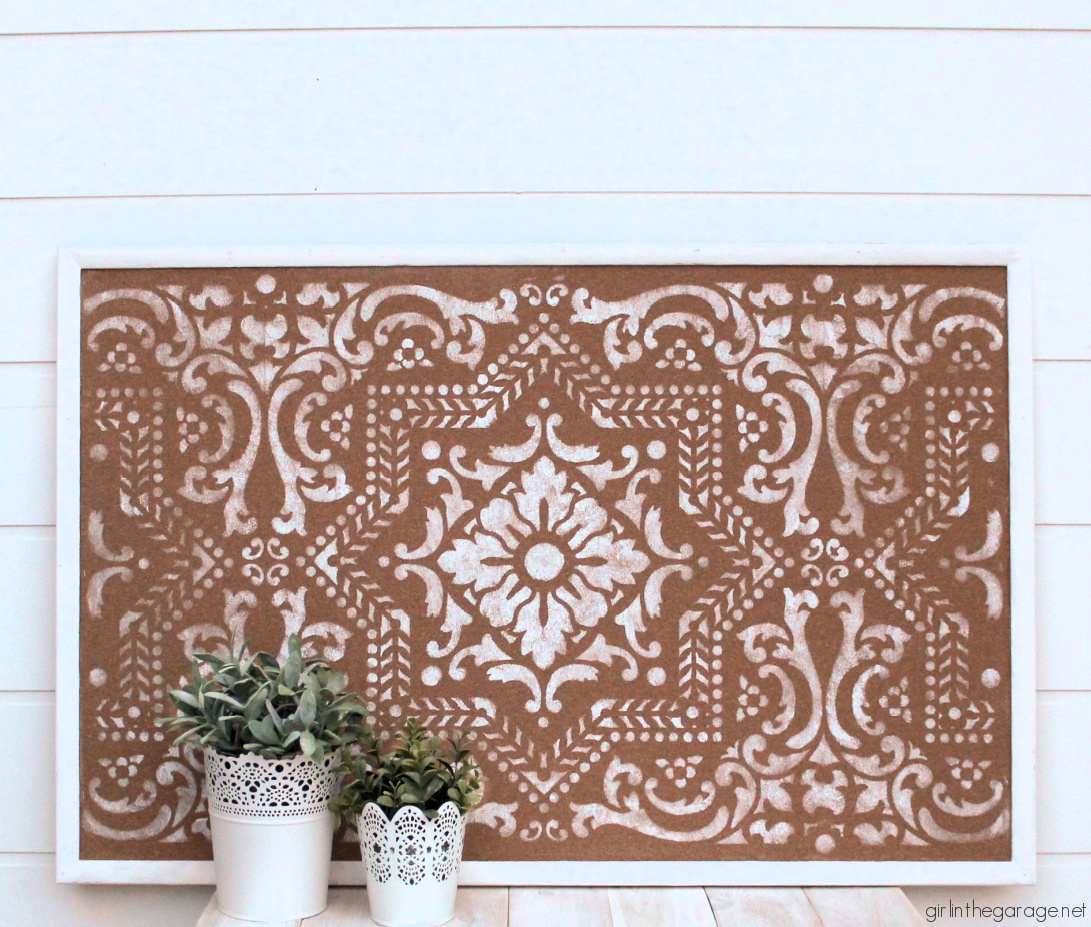 Just imagine painting a cork board in bright colors to make your home office more fun – or maybe adding an inspirational quote for motivation.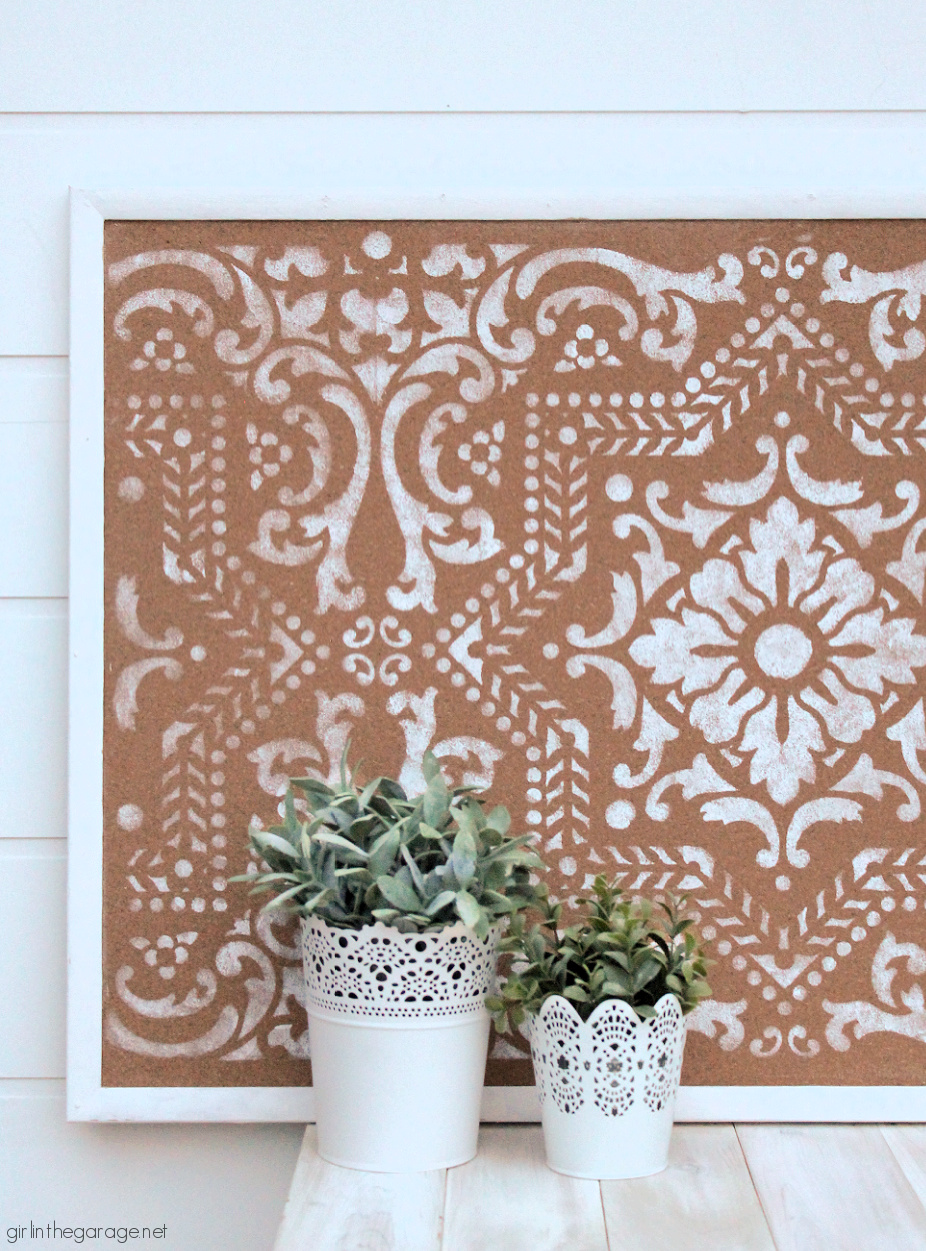 Friend, now that you know how easy it is to paint a cork board (or maybe you call it a bulletin board?), I'd love to know if you'll try this project yourself. Also, please Pin or share this makeover with a friend who might like it. I appreciate you! -Jen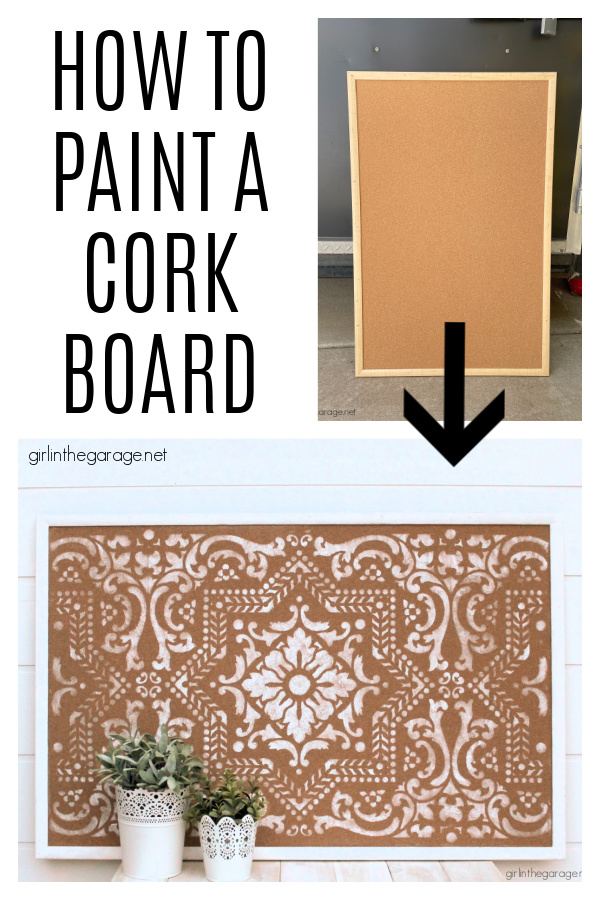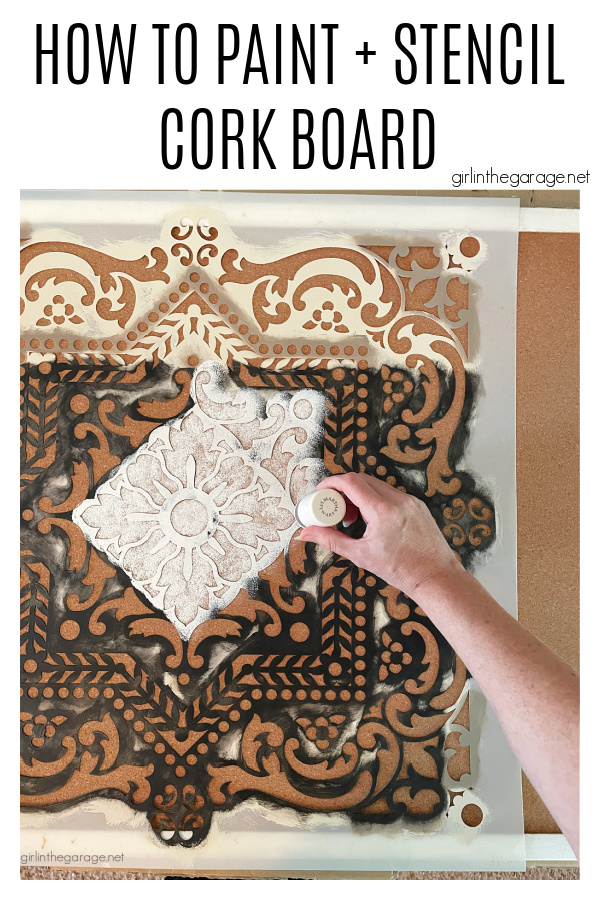 Here are a few other projects I've done with the Lisboa Tile Stencil: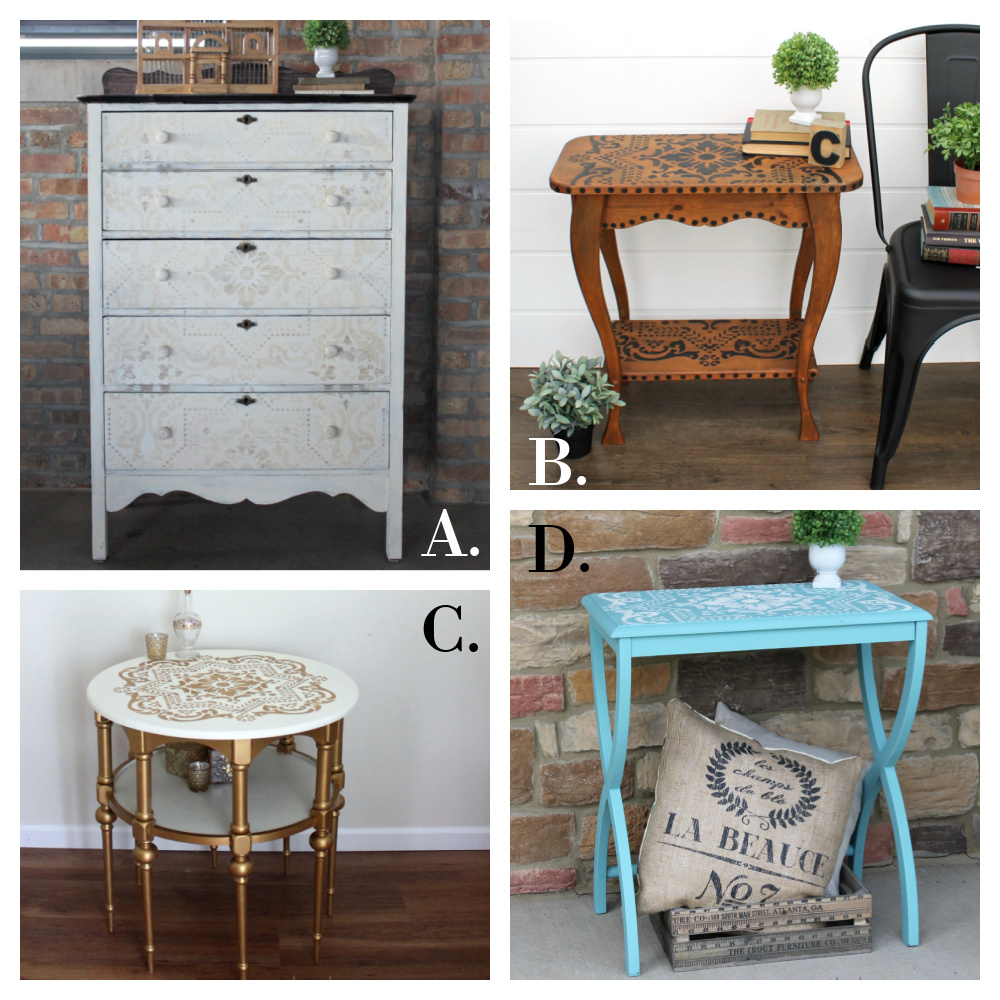 A. Rustic Stenciled Antique Dresser
B. How to Stain Wood Black with Furniture Wax
C. Gold and White Stenciled Table
D. Provence Stenciled X Table
Now it's Trash to Treasure time with my blogging buddies!
Below are their Before photos – visit the links underneath to see the creative Afters and to learn how they did it: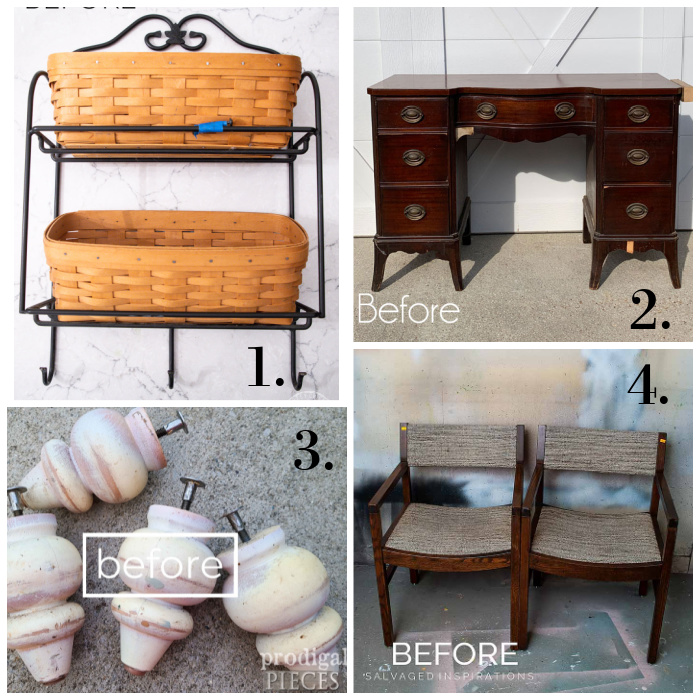 1. Artsy Chicks Rule
2. Confessions of a Serial DIYer
3. Prodigal Pieces
4. Salvaged Inspirations