Friend, it's a beautiful day for a new furniture makeover! I cannot even remember when or where I got this old table, or how much it was. It's been in my garage for a long time. I'm trying to work through my existing stash though, so I decided to finally tackle it. Today I'll show you how to repurpose a sewing machine table – into a hall table or even a space-saving desk.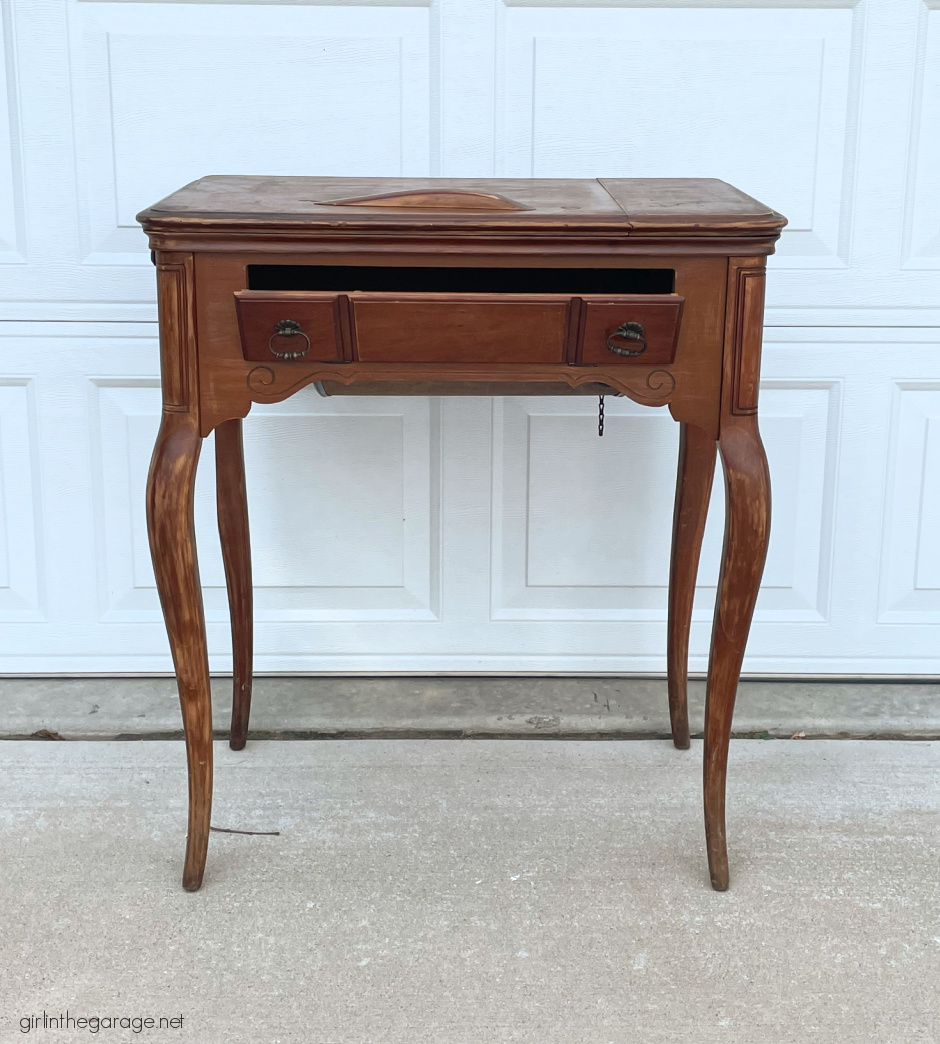 There are lots of Before photos because this table had a whole lot going on – so many pieces and screws! It was already missing the sewing machine when I got it.
This post contains some affiliate links so you can easily find the products I use and recommend. Discover all my favorite brands and tools for doing DIY makeovers Here.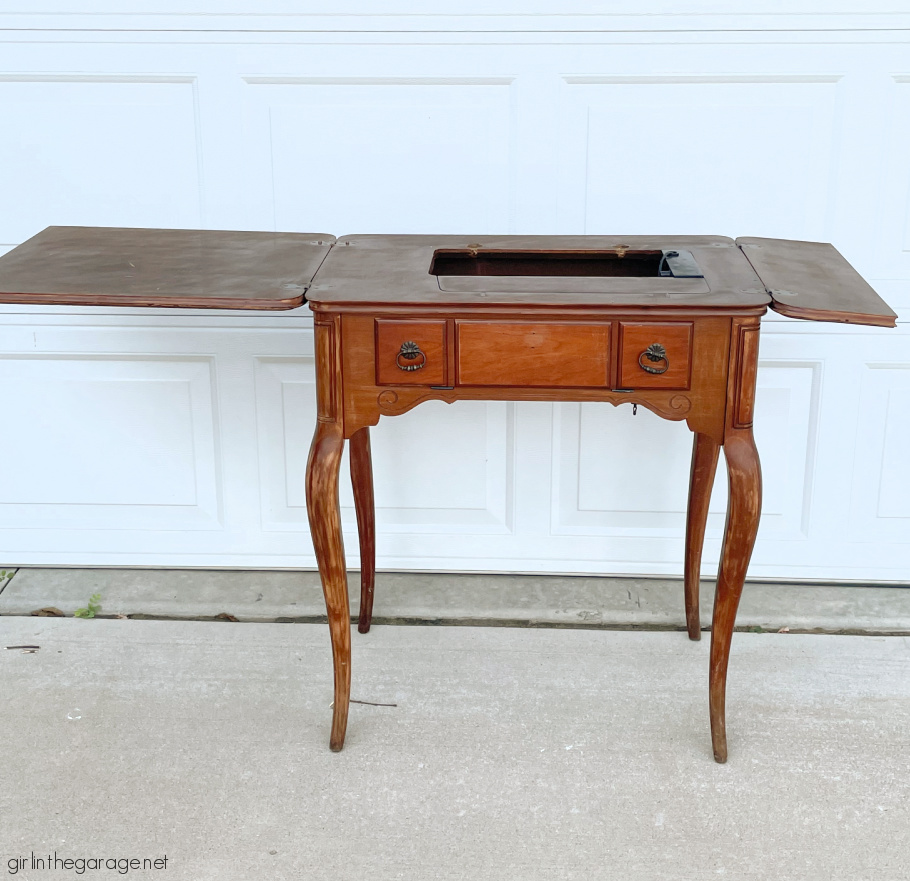 You've probably seen many of these tables before while thrifting. After a good cleaning, I planned to remove all the random bits and unnecessary hardware.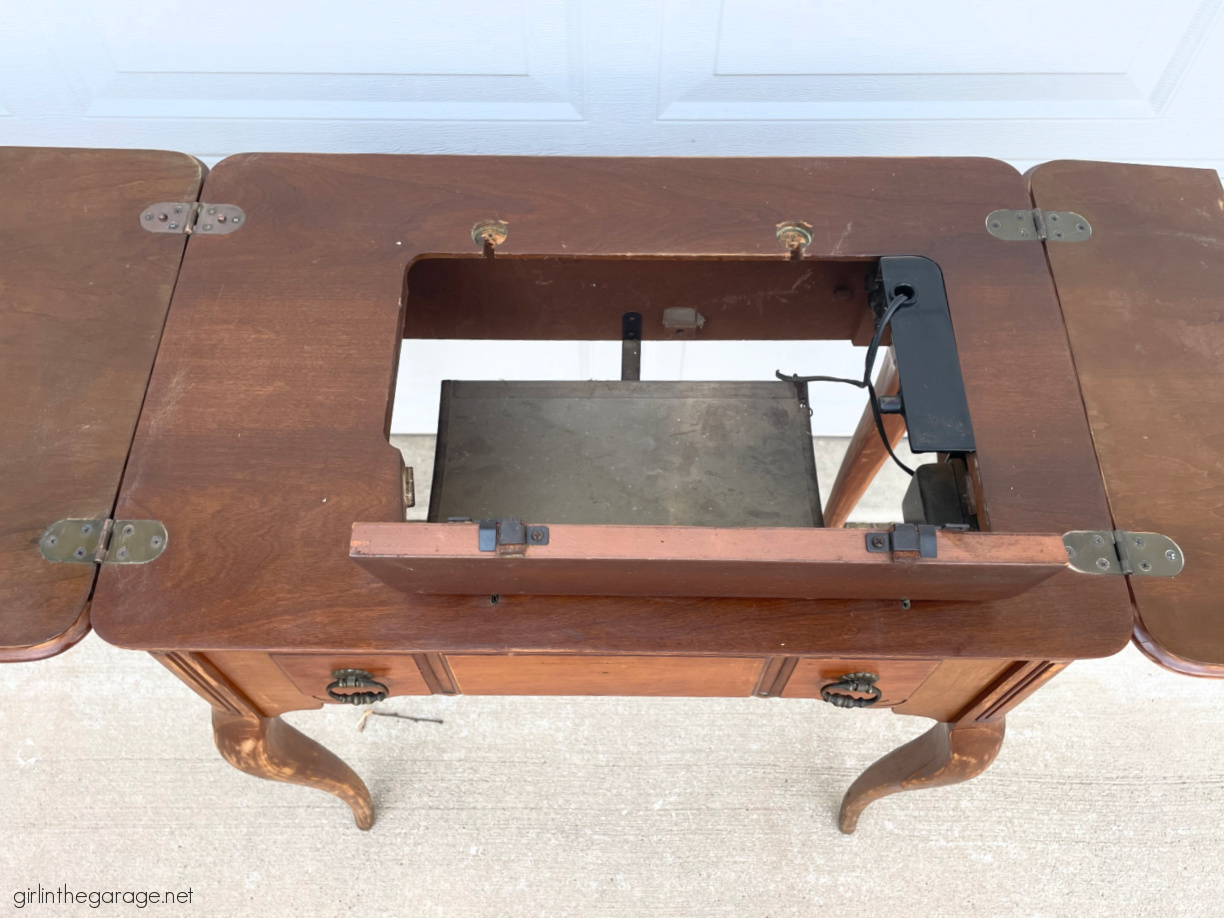 There was also the issue of the metal arm (below) and the curved piece of leg that had come off.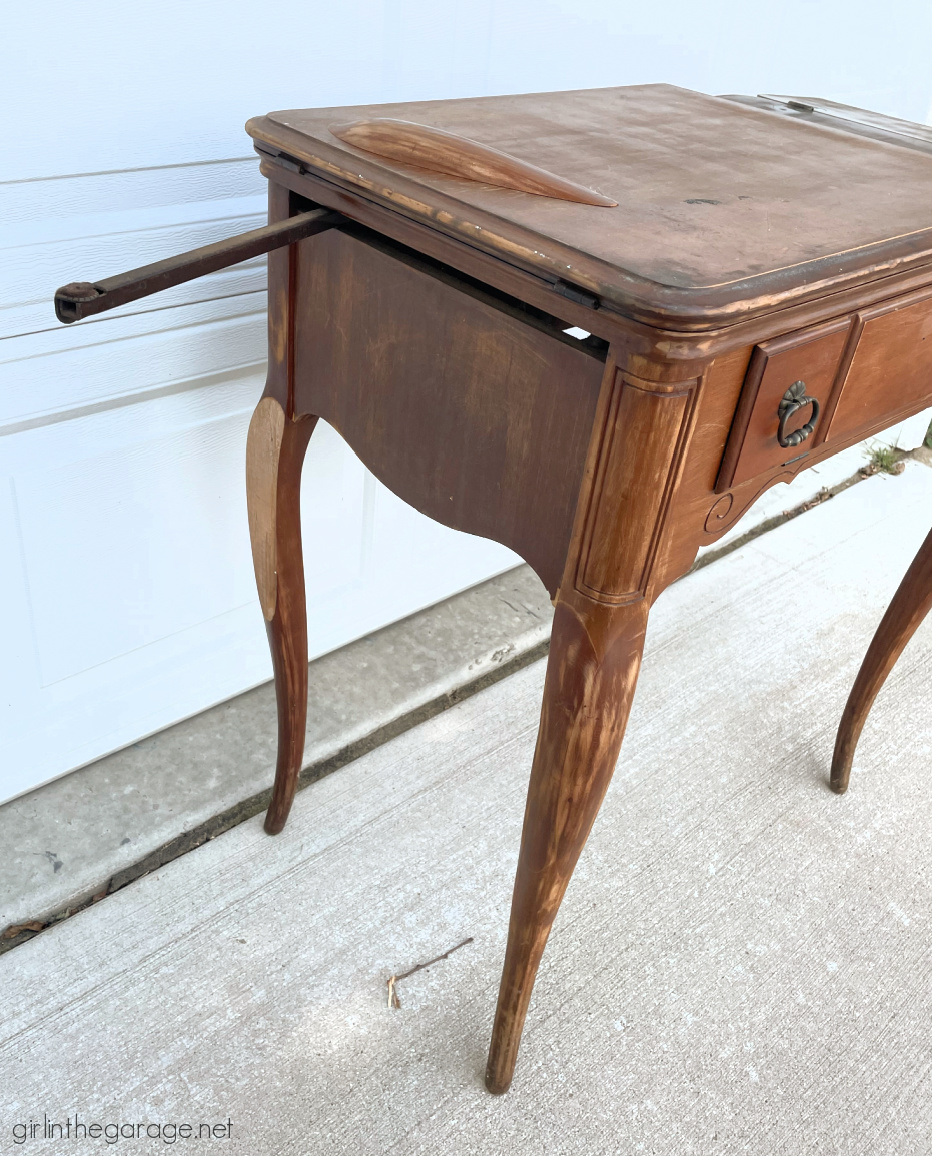 How to Repurpose a Sewing Machine Table
The easiest way to remove all the old parts was to flip it upside down. It took two different types of screwdrivers and a bunch of patience.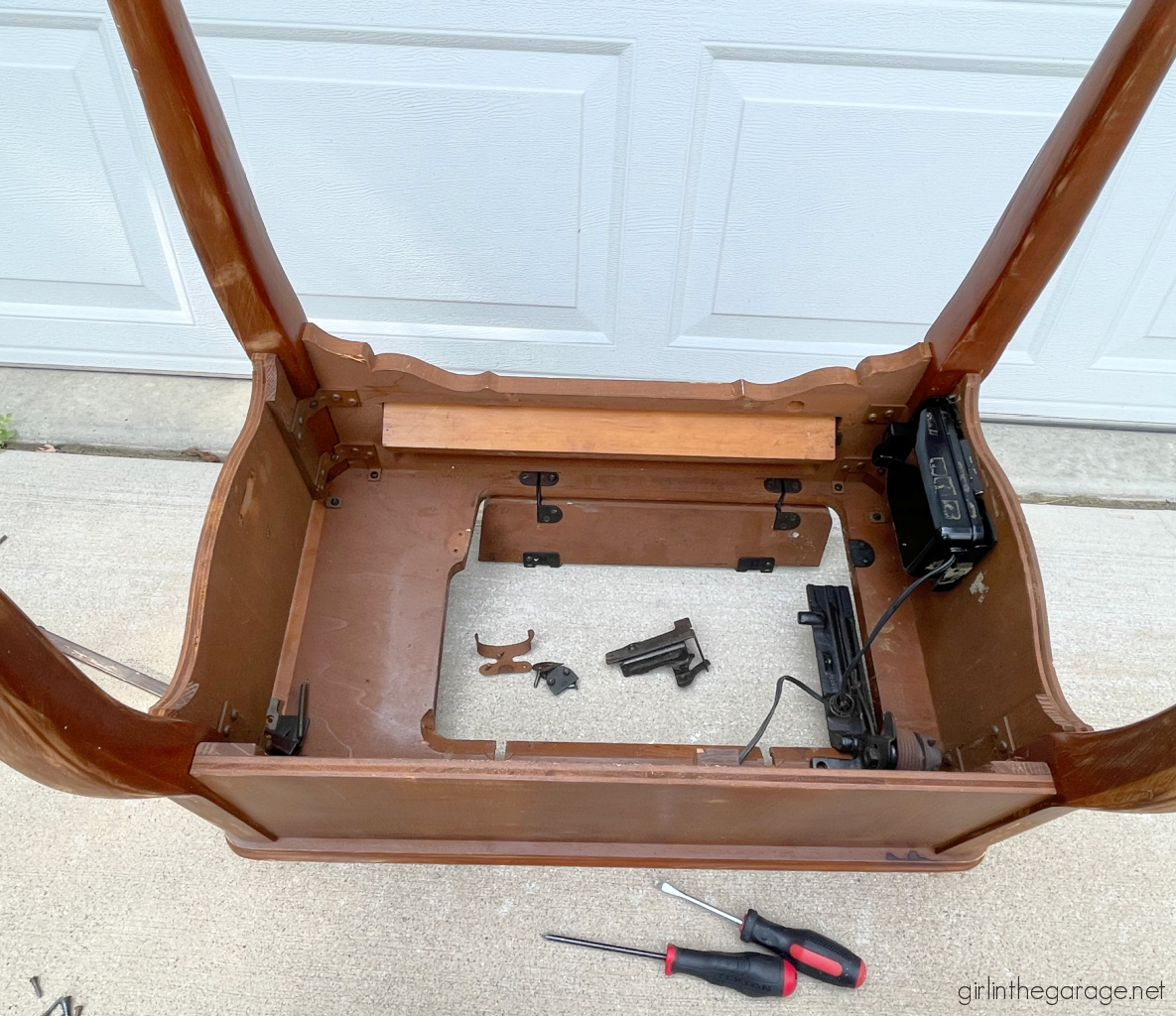 To reattach the back leg piece, I used strong super glue and a couple of tiny finishing nails and then clamped it overnight.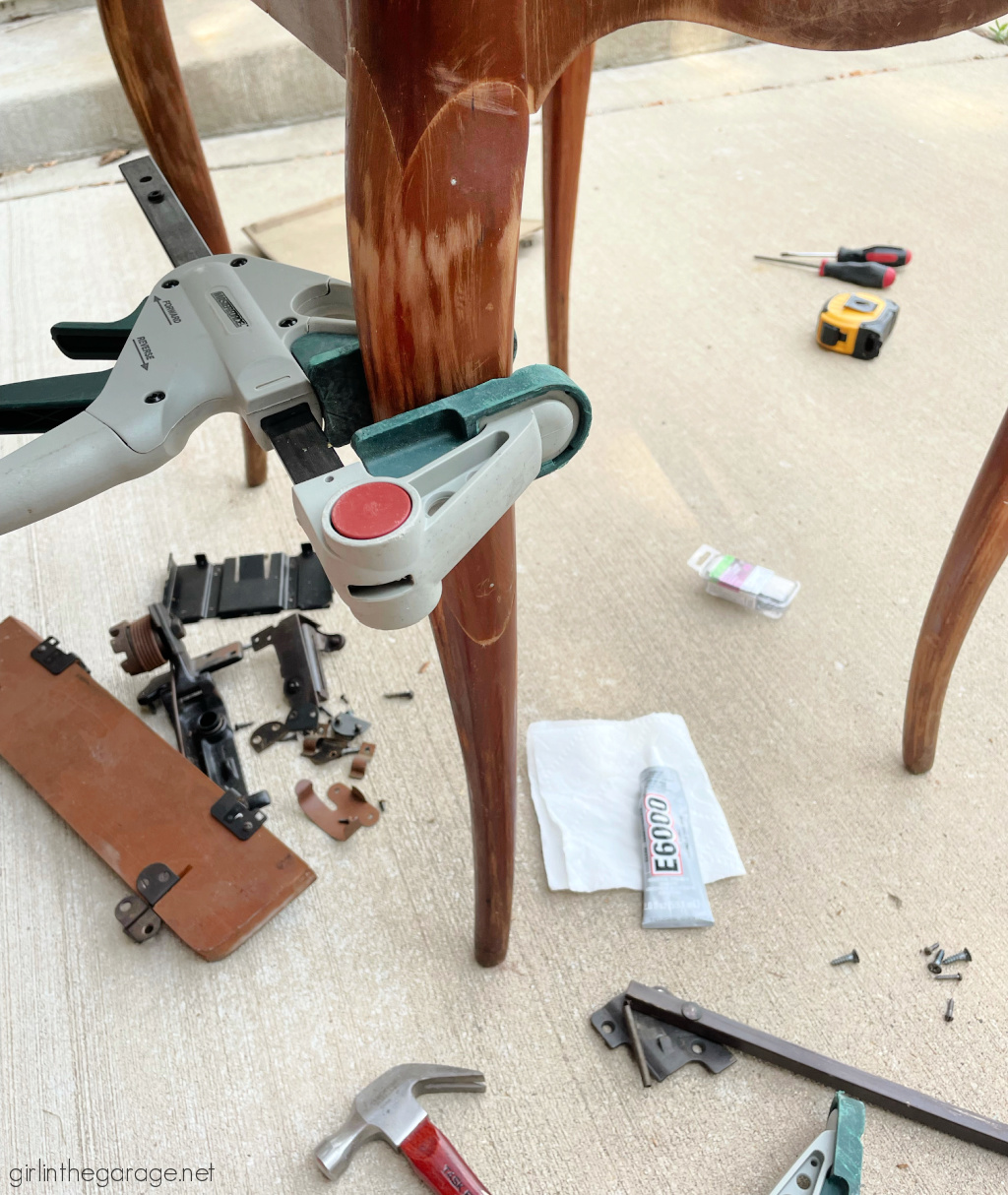 Below you can see some of the screws that were removed – not even including the top piece yet!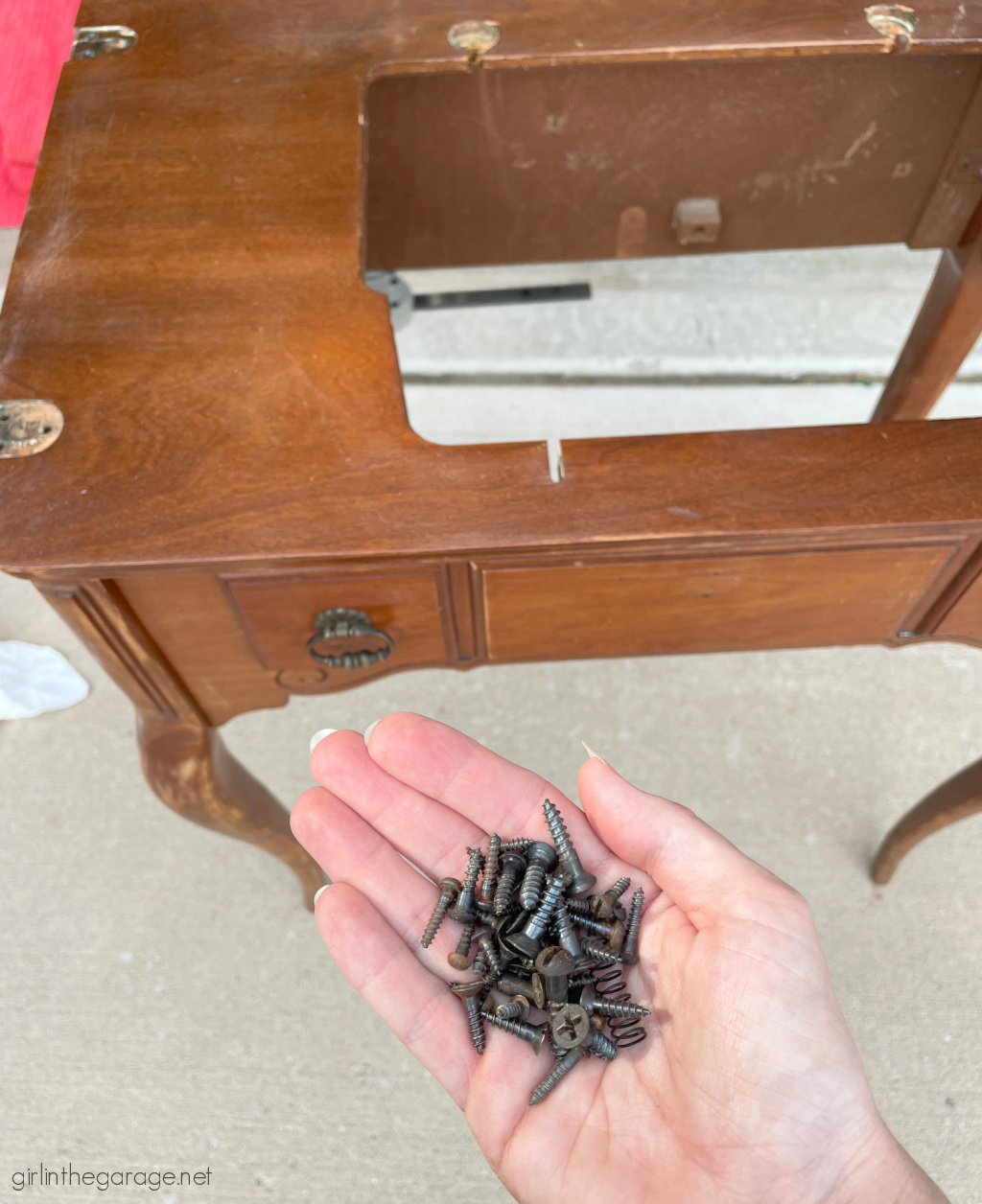 There were also a few small chips in the veneer, which were fixed with a little wood filler.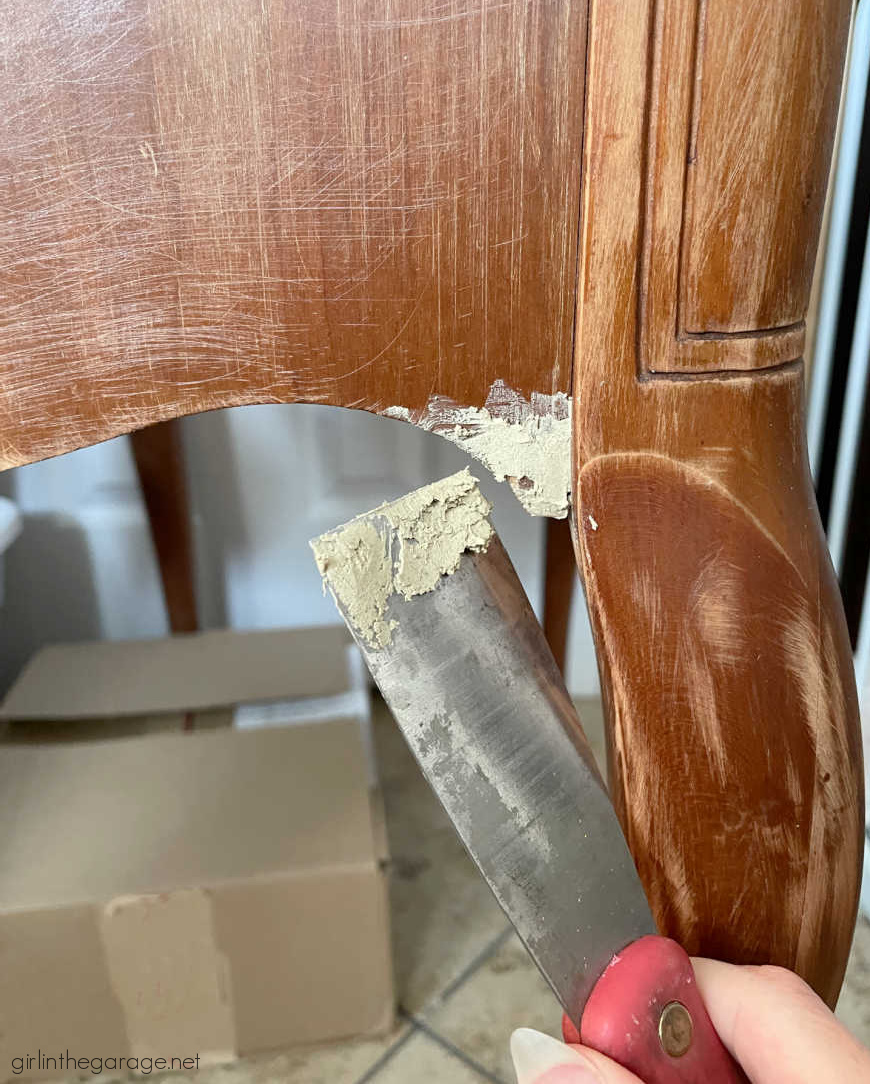 How to Make a New Wood Table Top
I bought a piece of 1″ x 24″ x 3′ Edge Glued Pine, measured, and then Mr. GITG cut the new wood top. The pine was a little steep at $25, but there's still a large piece leftover for a future project.
This is the table saw we have. It's kind of pricey, but we've used it a lot over the years and it's easy to move around and folds for storage. Remember to always follow proper safety guidelines when using power tools.
Of course I sanded the wood really well for smoothness and made sure the edges didn't have any splinters.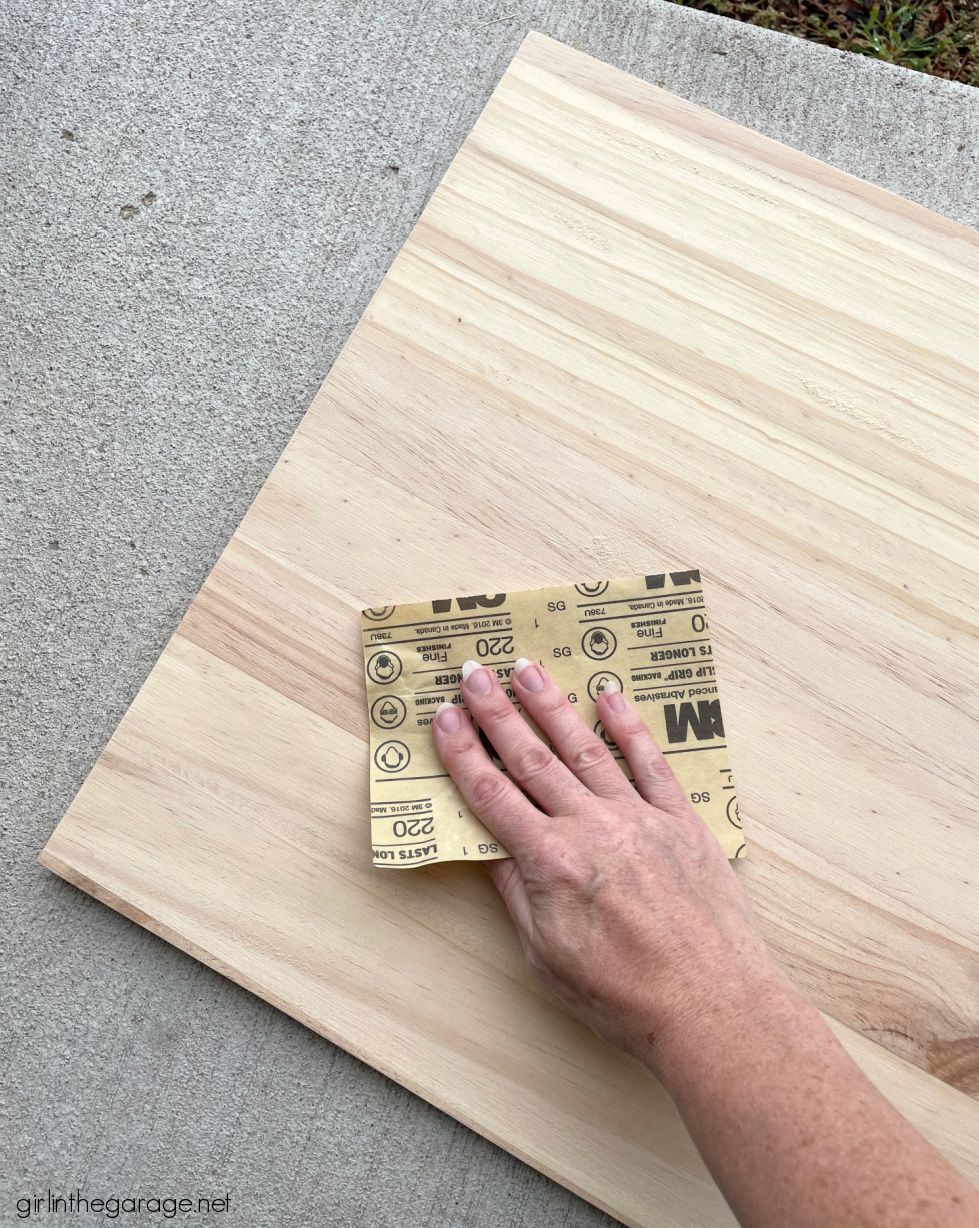 Last time for Furniture Fixer Uppers day, my friend Christy from Confessions of a Serial DIYer repurposed a sewing machine table and she shared a trick to cover the big hole where the metal arm used to be. I didn't know why I didn't think of that myself, but her project inspired me to finally tackle this one. Christy's table turned out very glamorous and you can see it here. (FYI The new top isn't attached yet in the photo below.)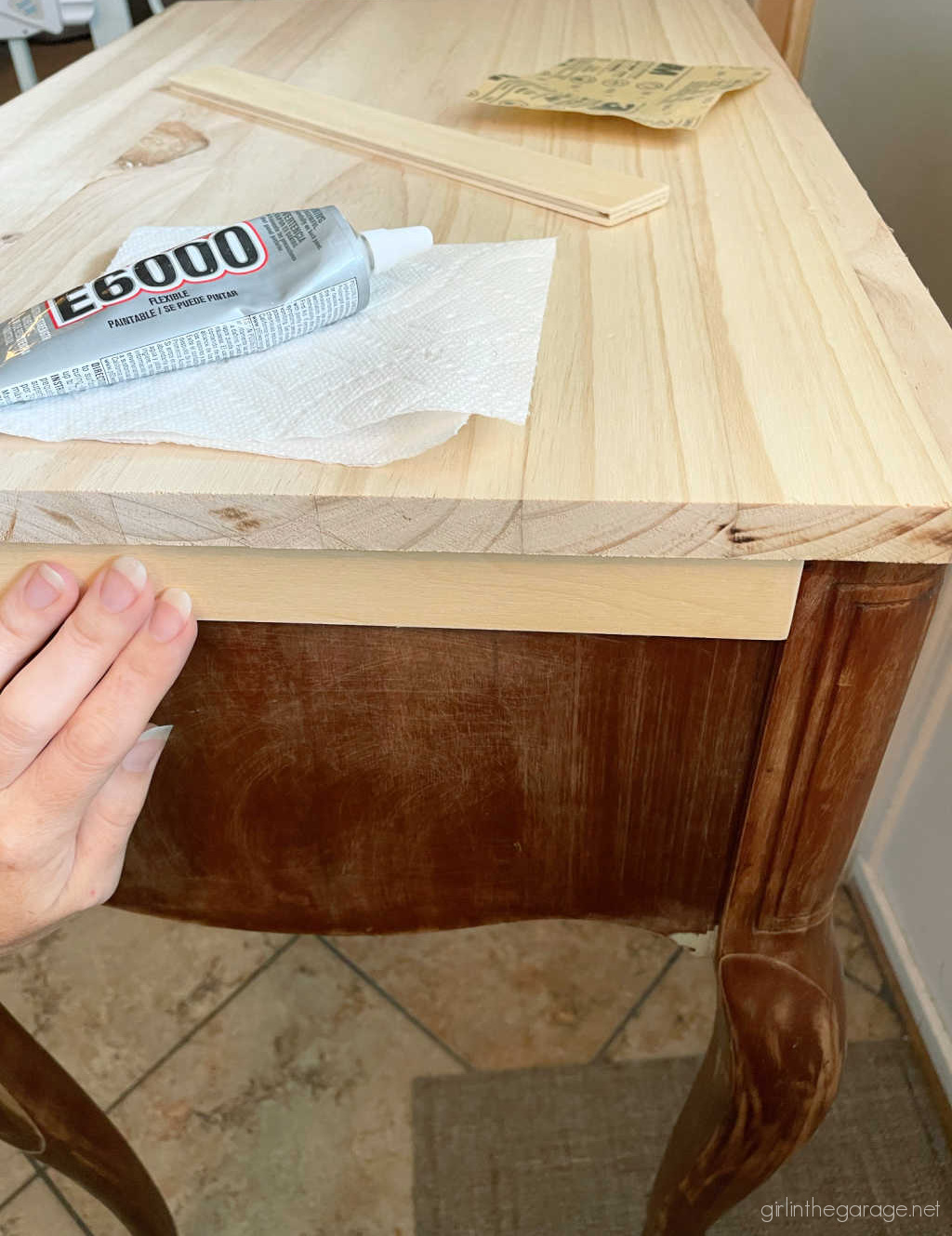 I stained the wood top with Minwax Wood Finish in Espresso which I already had. I used a lint-free cloth and applied 2 coats of stain, letting it dry well.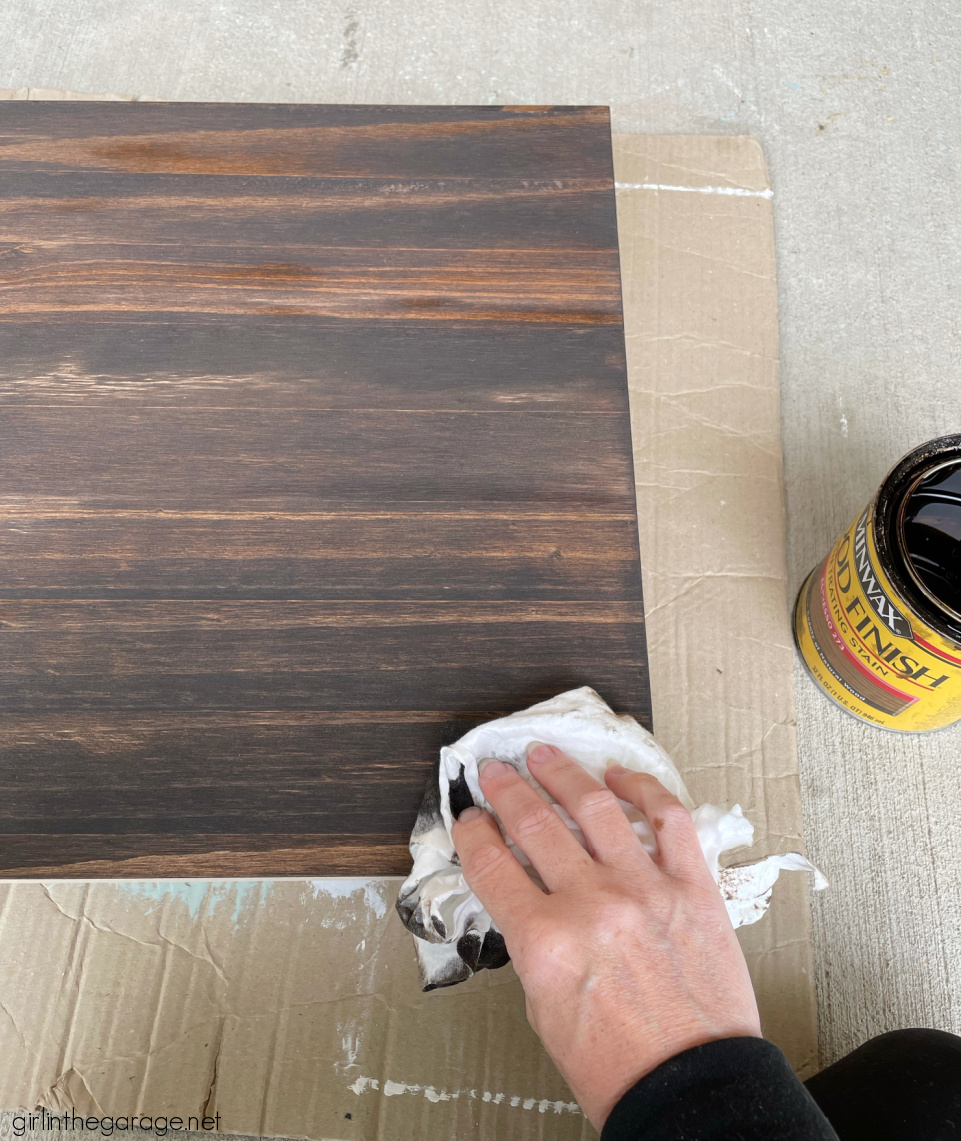 The table was painted in Annie Sloan Chalk Paint in Country Grey which I also already had. I used one of my favorite Purdy paint brushes and applied 2-3 coats. I also painted the bottom side of the new wood top. (By then it was pouring rain outside, so I had to work inside… you gotta be flexible sometimes!)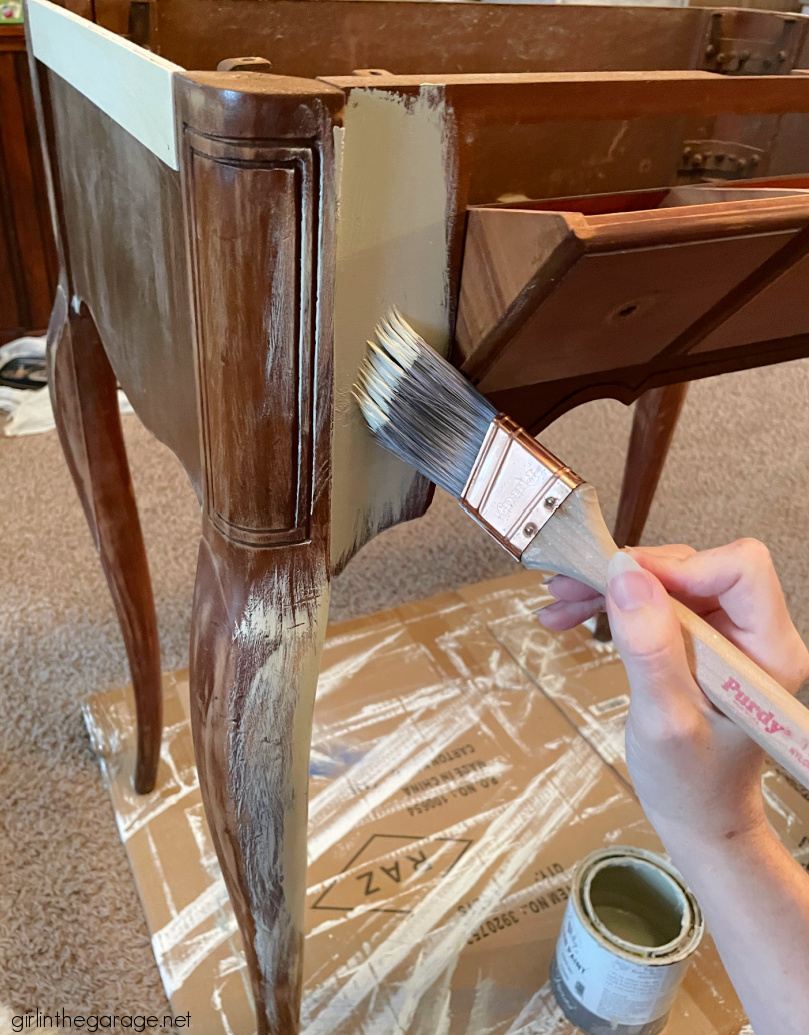 After drying, I sanded the paint smooth and gently distressed it with sandpaper. Then I attached the new top with screws similar to how the old top was attached.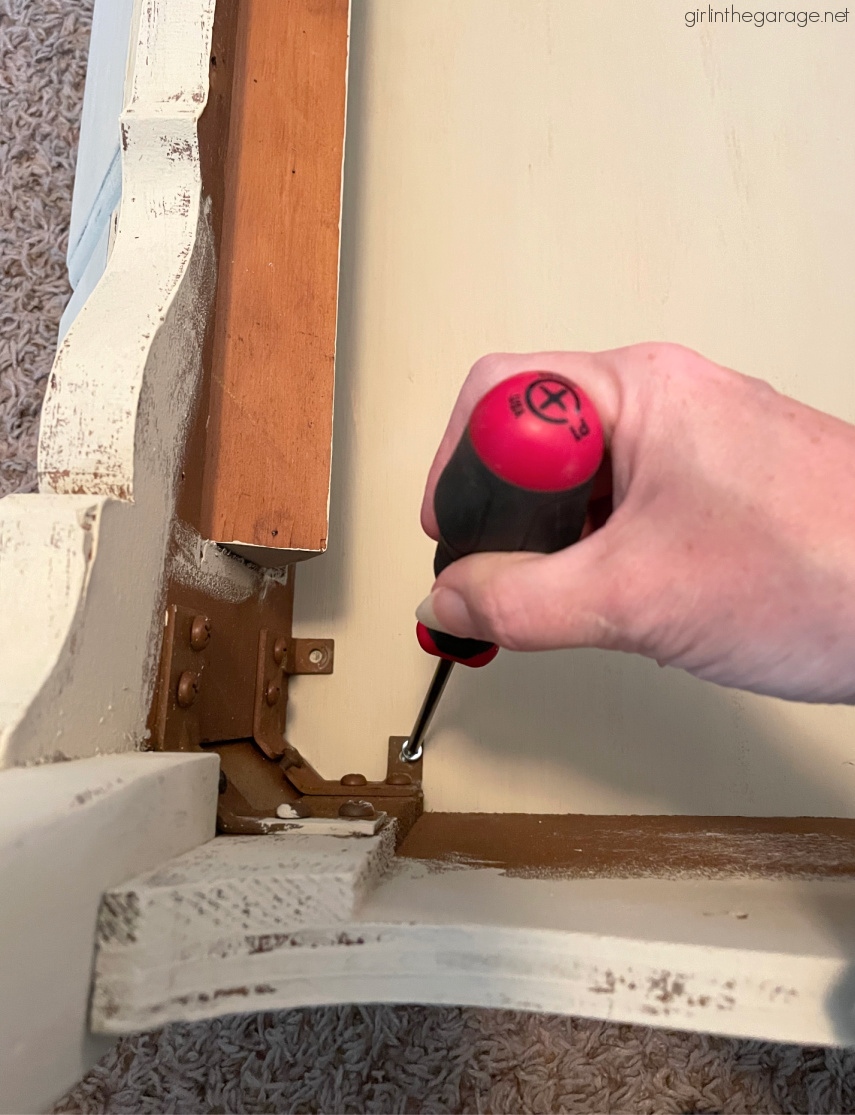 Now I should mention that stained wood furniture should be protected with polyurethane – I like matte because it isn't too shiny. Also, Chalk Painted furniture should be protected with wax – I used Annie Sloan's clear wax and a lint-free cloth.
Learn all my best tips for how to Chalk Paint furniture here.
I added clearance pulls from Hobby Lobby and now here's the final result…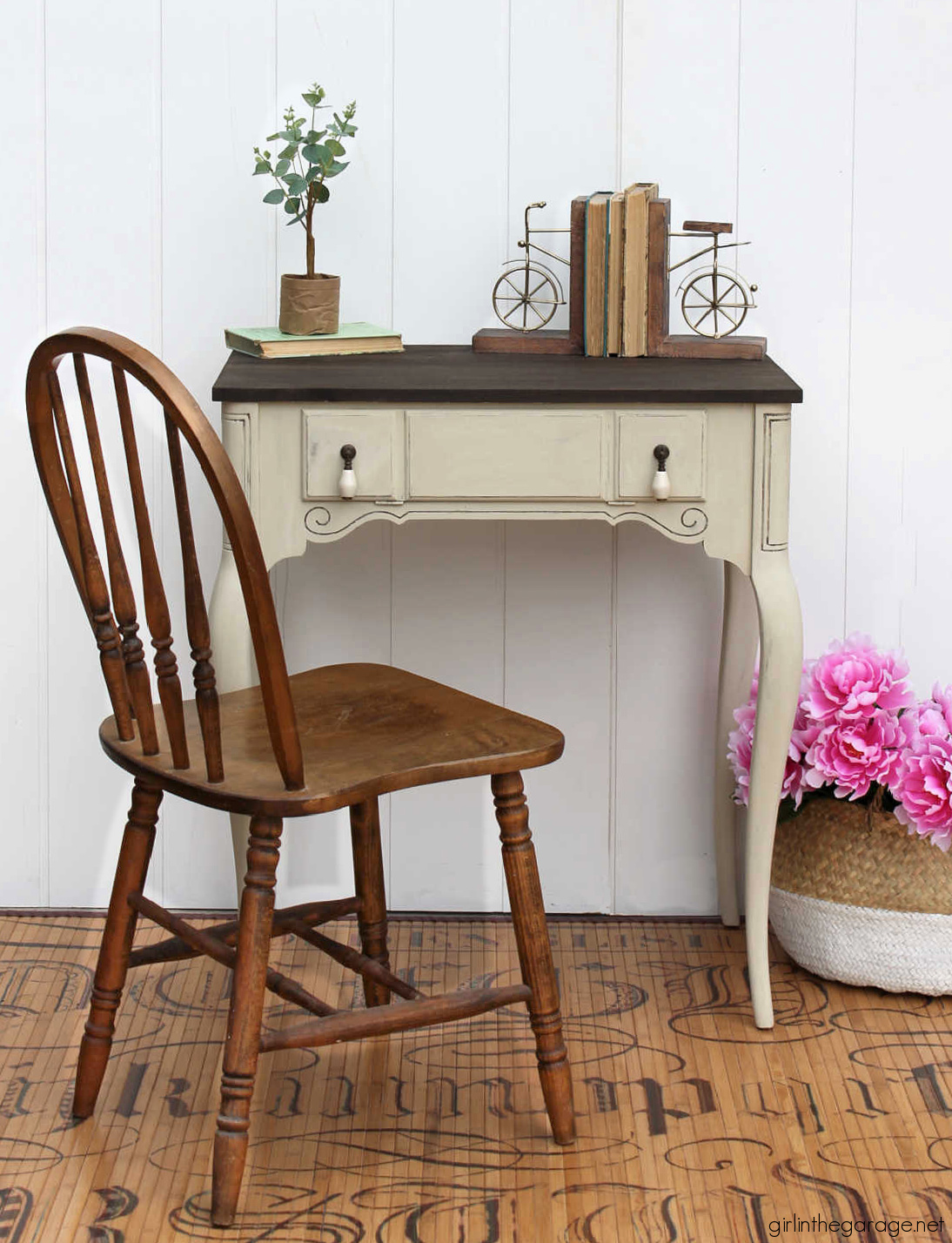 I can't believe I waited so long to do this project!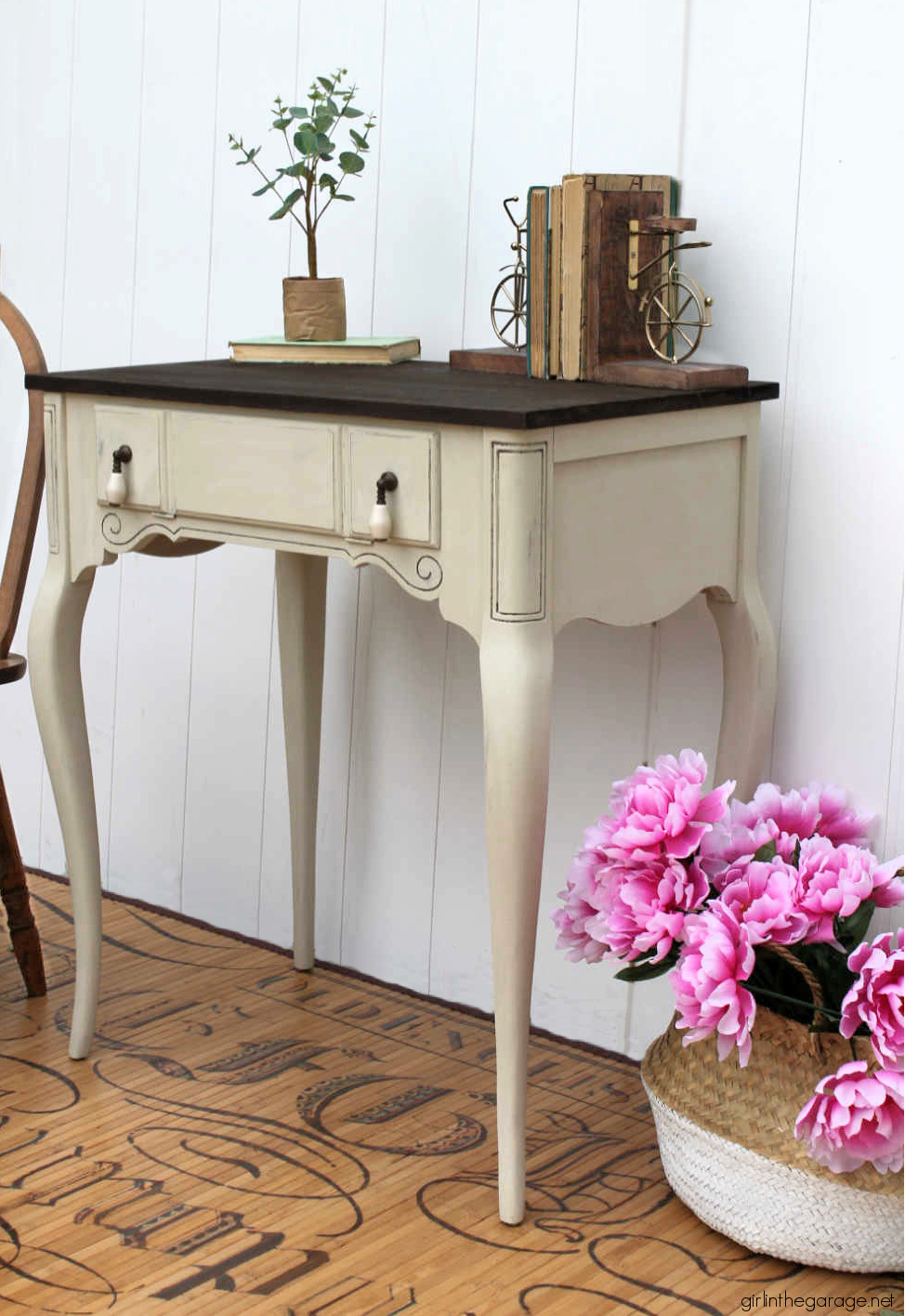 This repurposed sewing machine table has great curves and a sweet new stained top.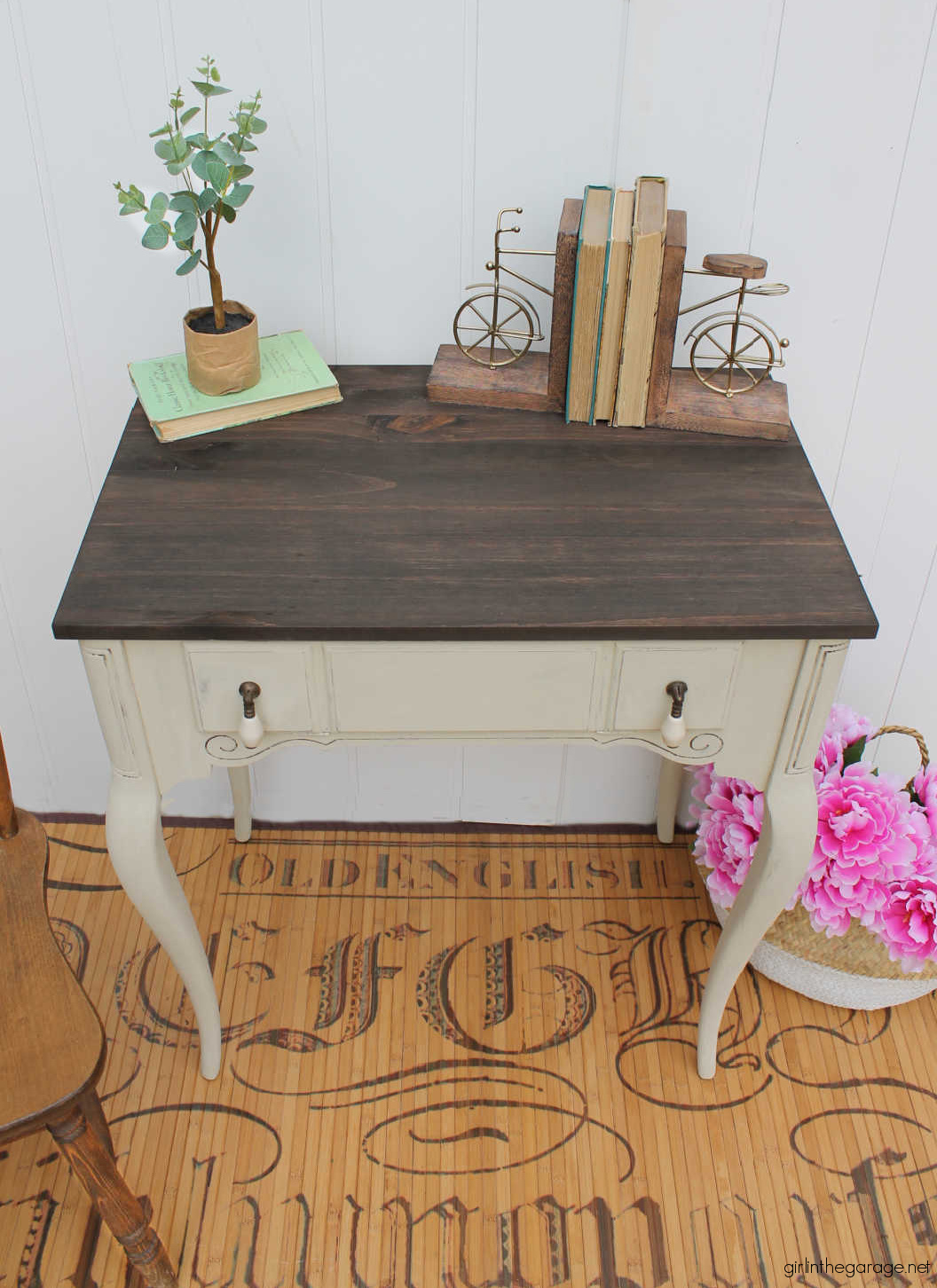 This table could also be used as a space-saving desk – the little drawer is perfect for pens, paper clips, etc.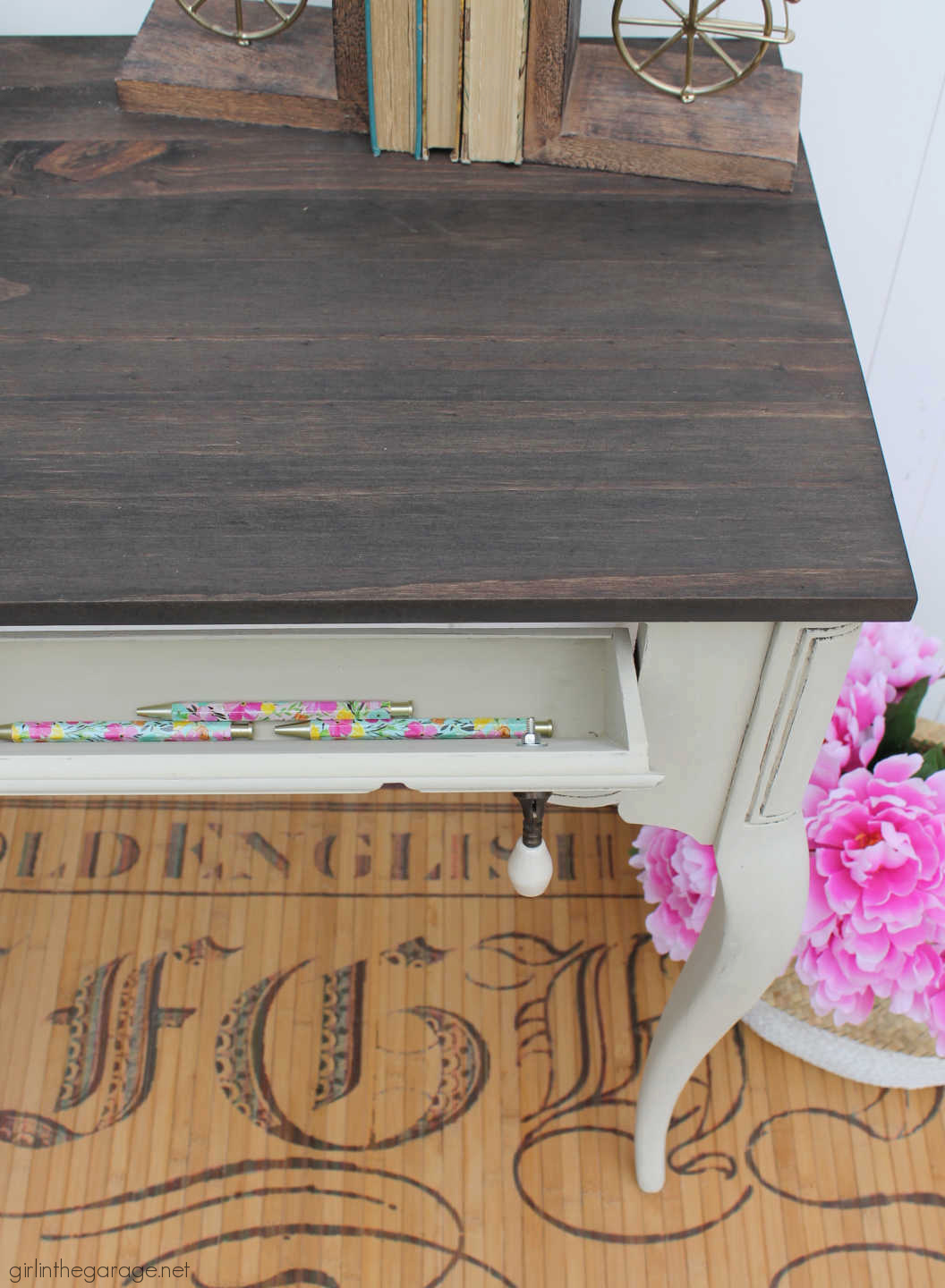 The wood piece that was added to cover the gap looks like it was there all along, don't you think?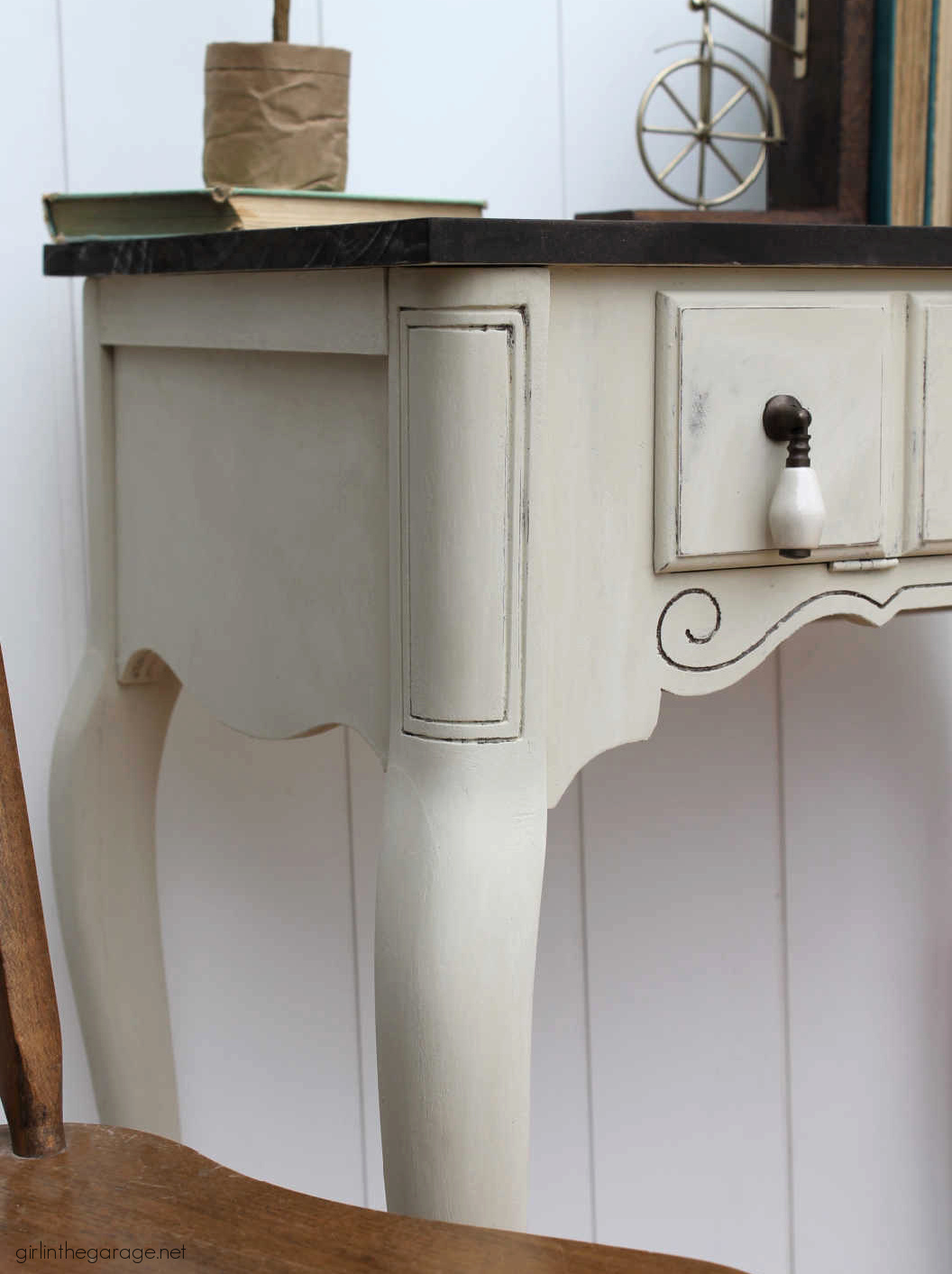 Here's a reminder of the Before and After of this upcycled project. Please Pin or share this project with someone else who might like it.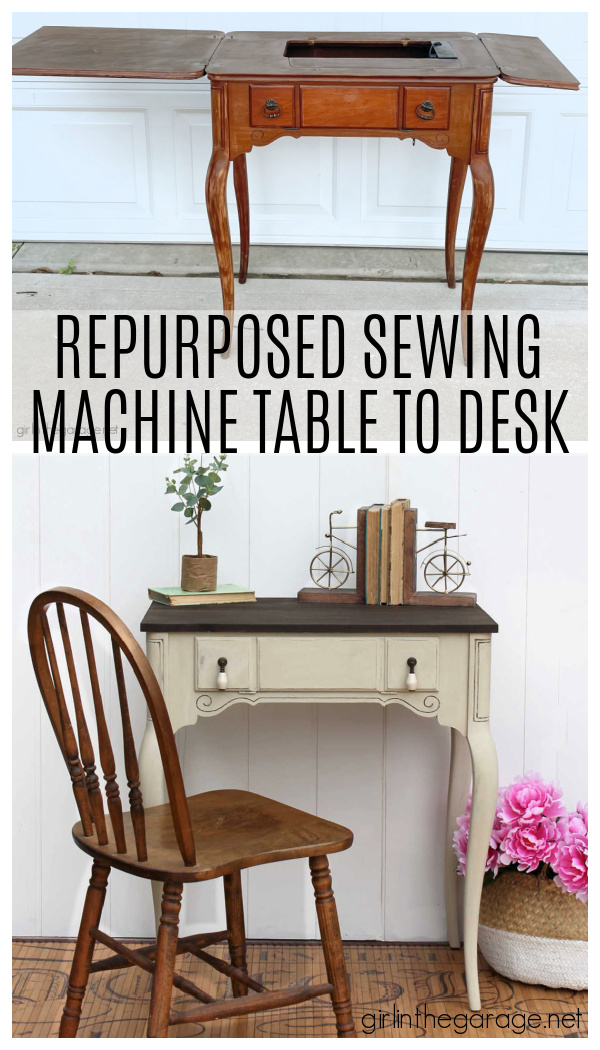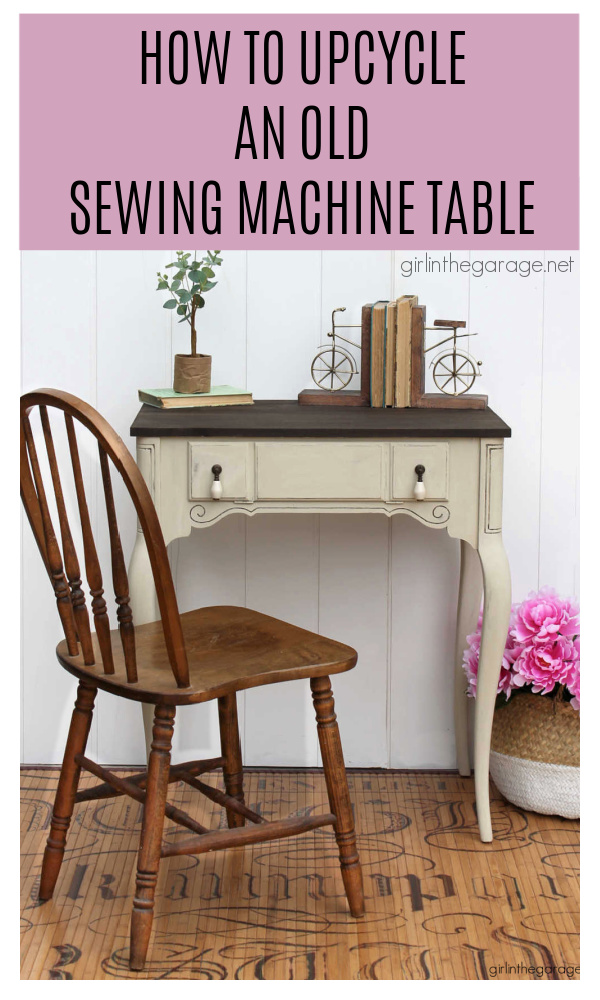 Let me know your thoughts in a comment – I always read all of them! And now it's time for Furniture Fixer Uppers with my creative blogging friends. Below are the Before photos – visit the links underneath to see the amazing Afters and to learn how they did it: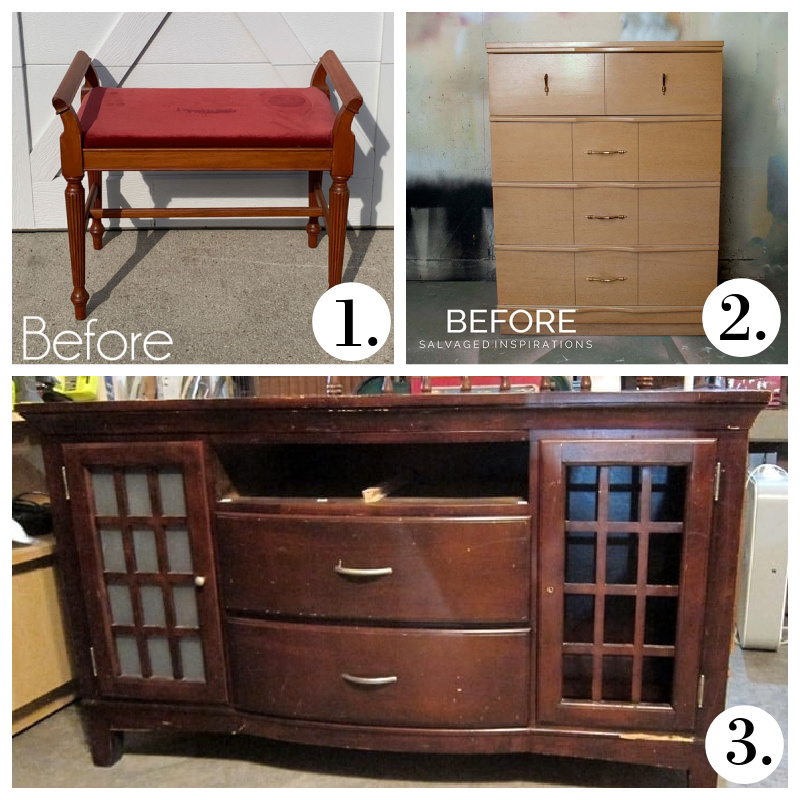 1. Confessions of a Serial DIYer
2. Salvaged Inspirations
3. Petticoat Junktion
P.S. Here's another repurposed sewing machine table project I've done, from my book Amazing Furniture Makeovers: