This organizer
is the kind of thing you see often at yard sales, except they're usually cracked somewhere or missing a drawer or two. Even if you found one in decent condition you probably wouldn't consider buying it unless you really needed a place to store a bunch of nails and screws.
I bought this one anyway and let it sit in my garage for a couple months until I knew exactly what I wanted to do with it. Hey, sometimes inspiration happens immediately and sometimes it takes awhile! This is what it looked like when I bought it (minus the paint splatter, which was courtesy of another one of my projects. Oops!):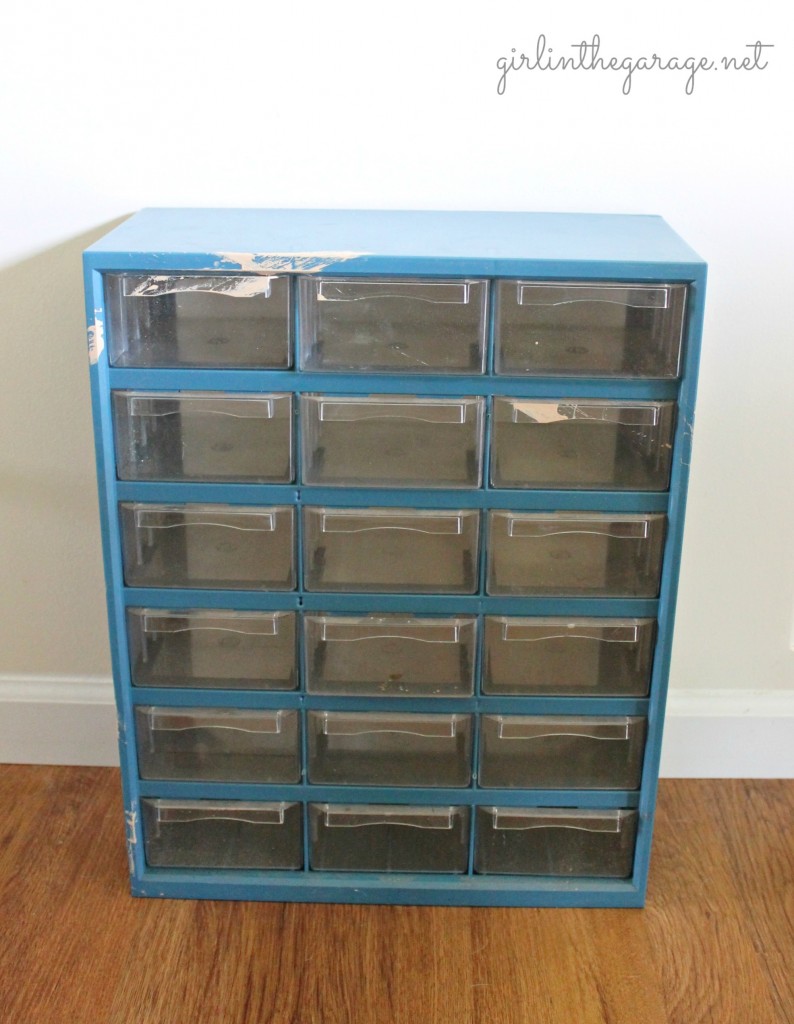 I took the drawers out, got rid of the dead bug, and cleaned it all up. Then I took the case outside and painted it with black Rustoleum spray paint.
I went through my stash of scrapbook paper
and picked out three sheets that coordinated. I cut out six pieces from each sheet to fill the drawer fronts. Since the front of the drawer wouldn't be see-through anymore, I thought it would be good to number each one. Otherwise it might be maddening to search through 18 different drawers to find what you need! I used Wide Latin for the font in Microsoft Word and printed the numbers on off-white card stock.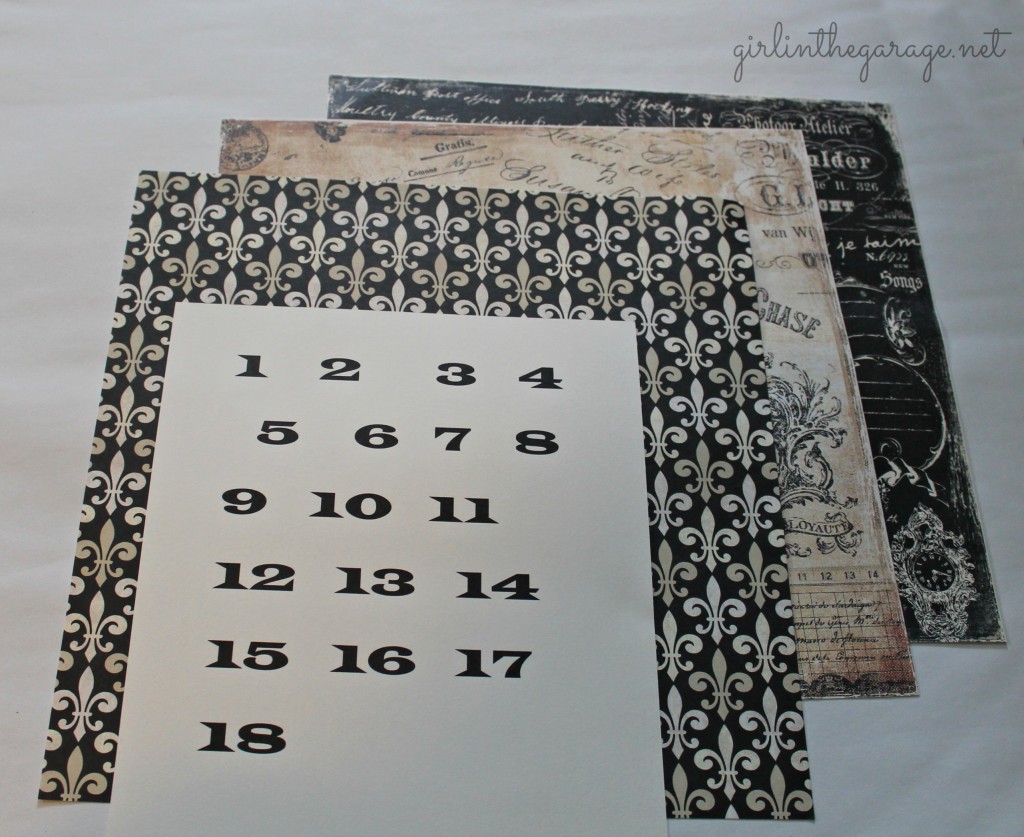 After lots of cutting, I laid out the papers and numbers for each drawer.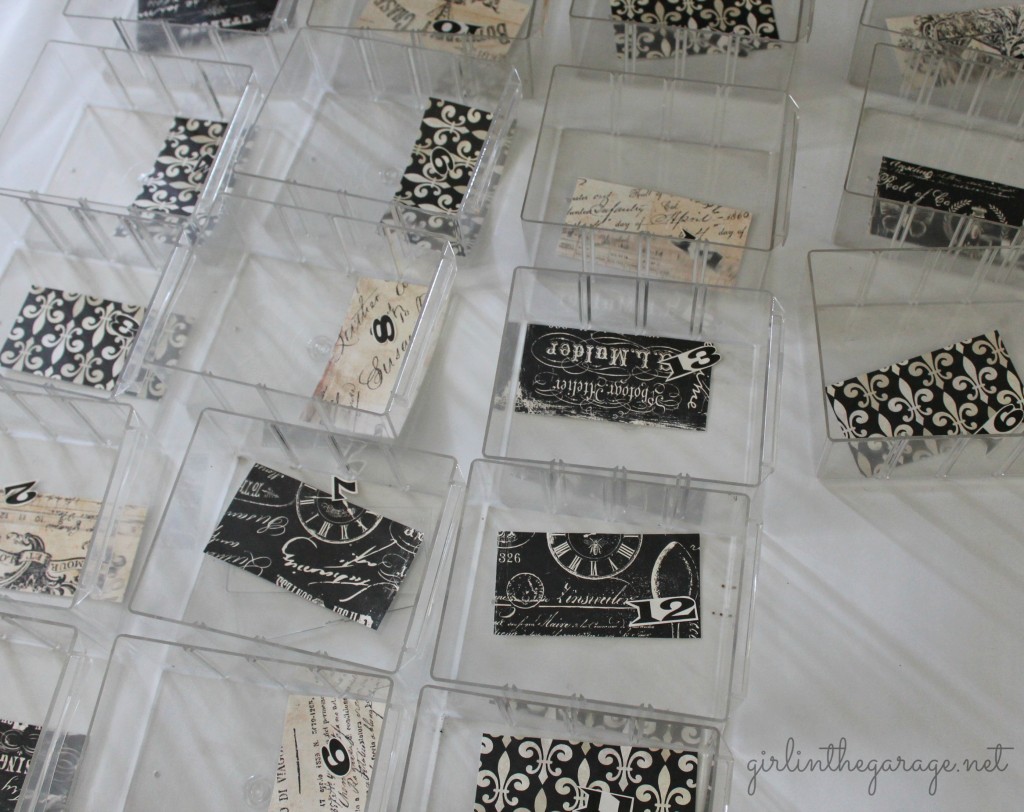 Then I used Mod Podge
and a thin paintbrush to glue the numbers to the scrapbook paper. When that was done I spread a thin line of Mod Podge
across the top and sides on the front of the paper and slid it into the drawers, pressing for about 30 seconds.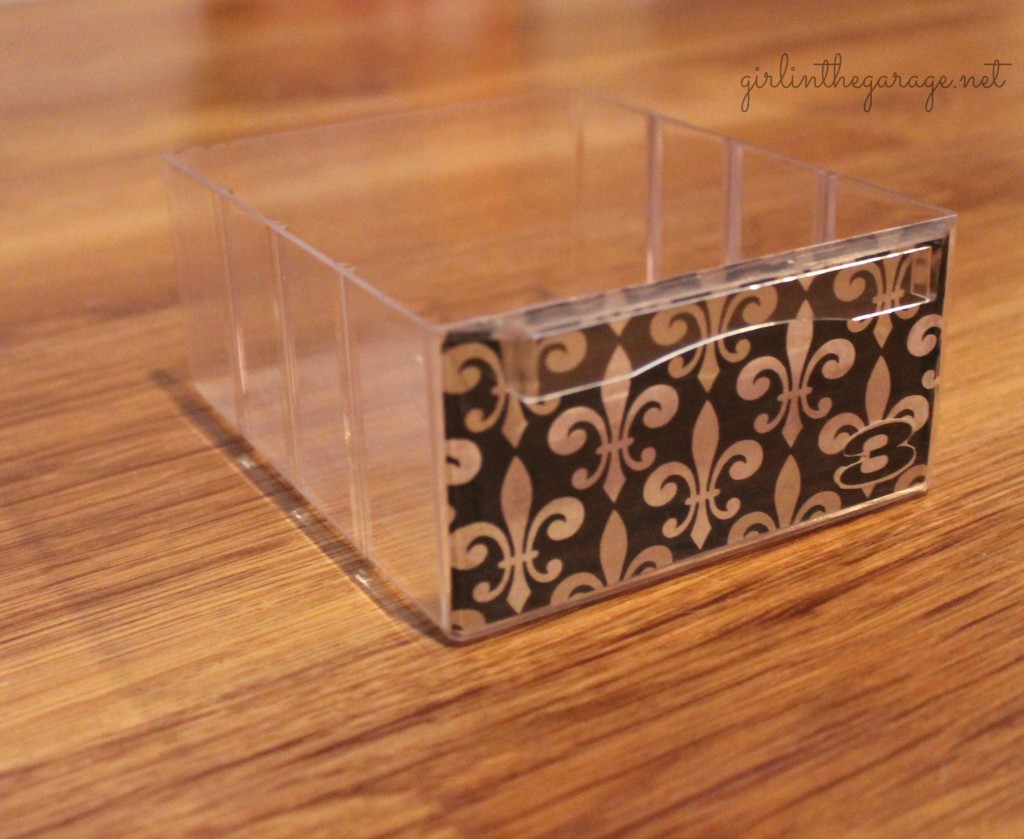 When all 18 drawers were done I slid them back into the case.
Now I have an organizer for trinkets… or jewelry… or keys and miscellaneous items by the front door… or…?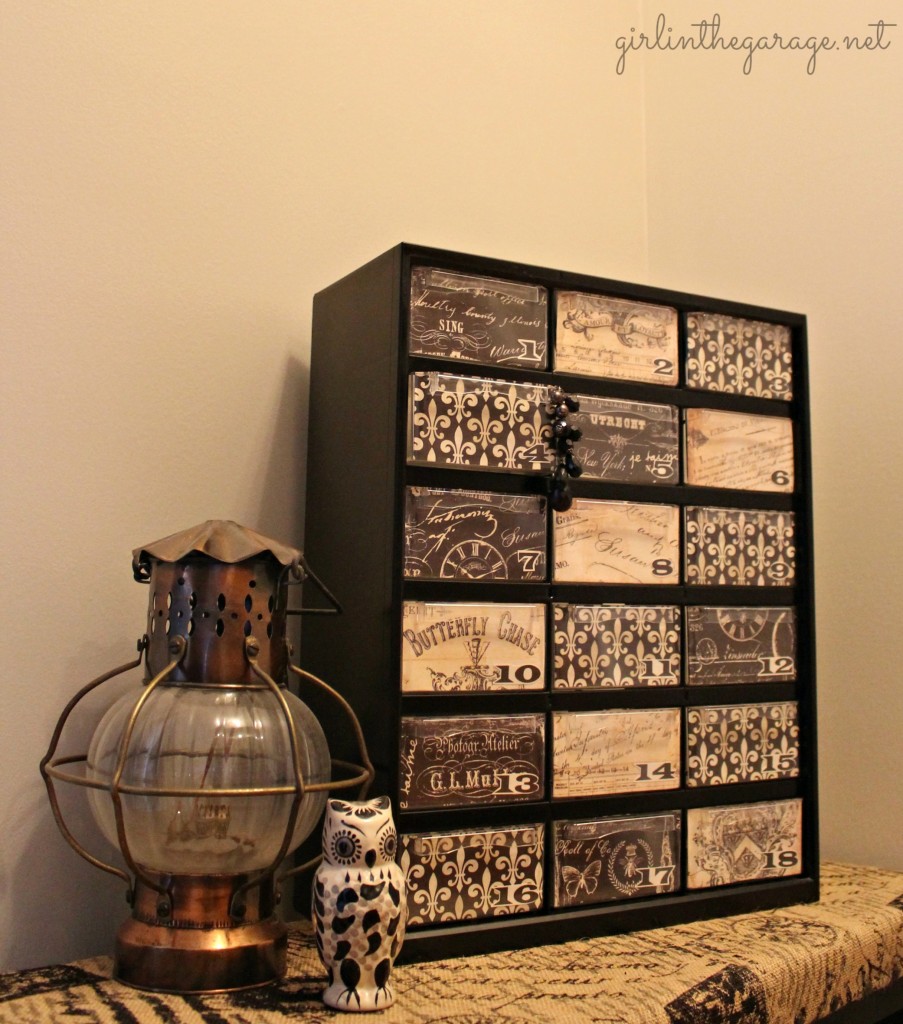 It would also be good for craft storage; buttons, thread, beads, washi tape…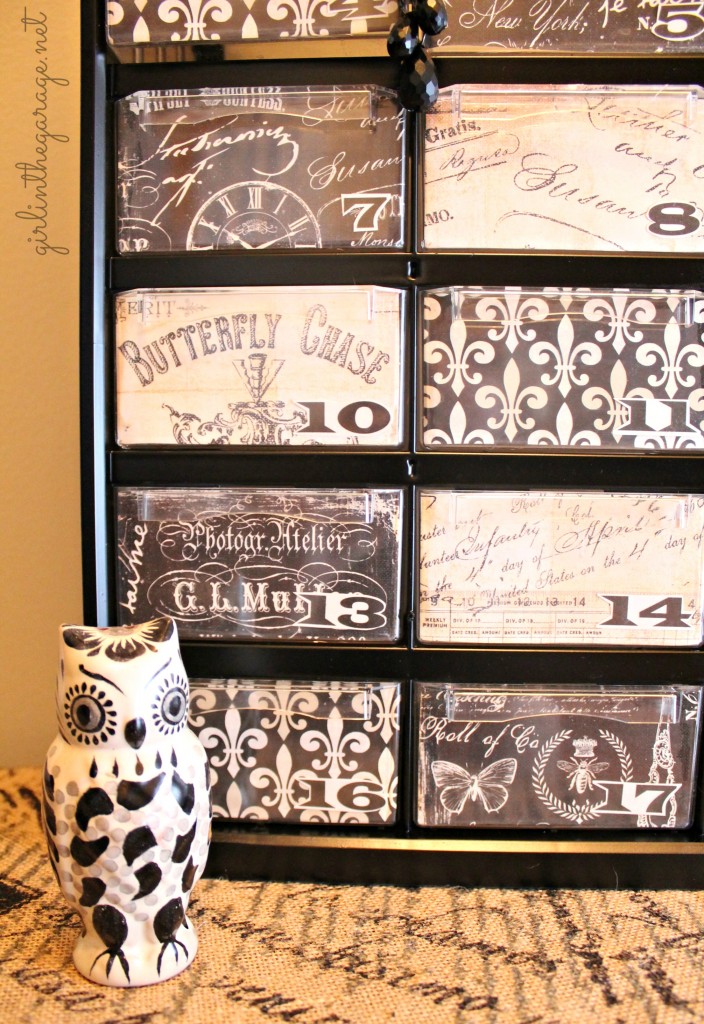 I bought this owl on my last trip to Anthropologie – it's actually one half of a salt and pepper shaker set but I got it on clearance because the other owl was missing. Lucky me!
I love this paper; I'm a sucker for anything with a French or vintage theme. (French and vintage? LOVE!)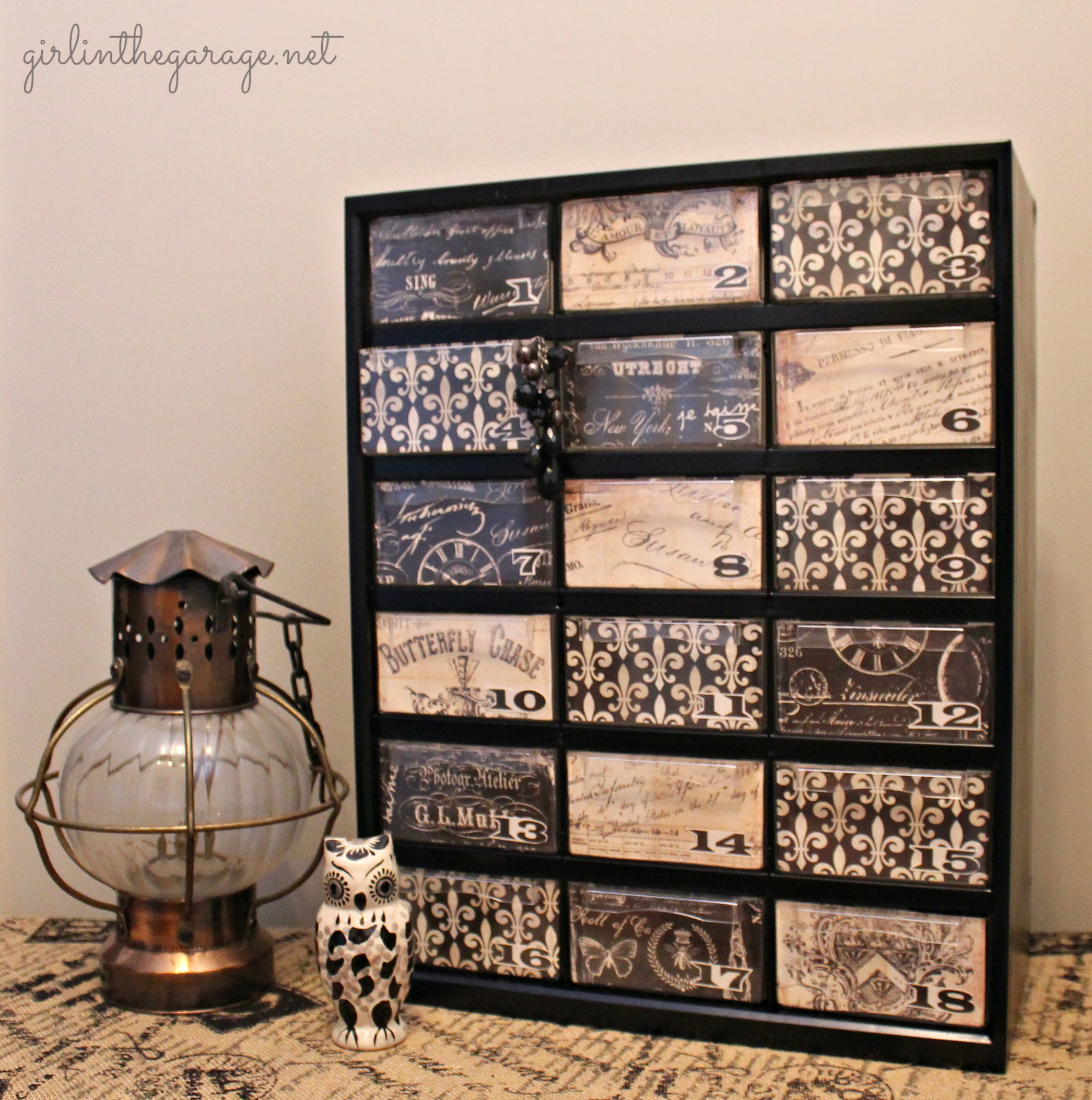 Let me know what you think! Would you have scooped up this dirty garage organizer?
– Jen, Girl in the Garage