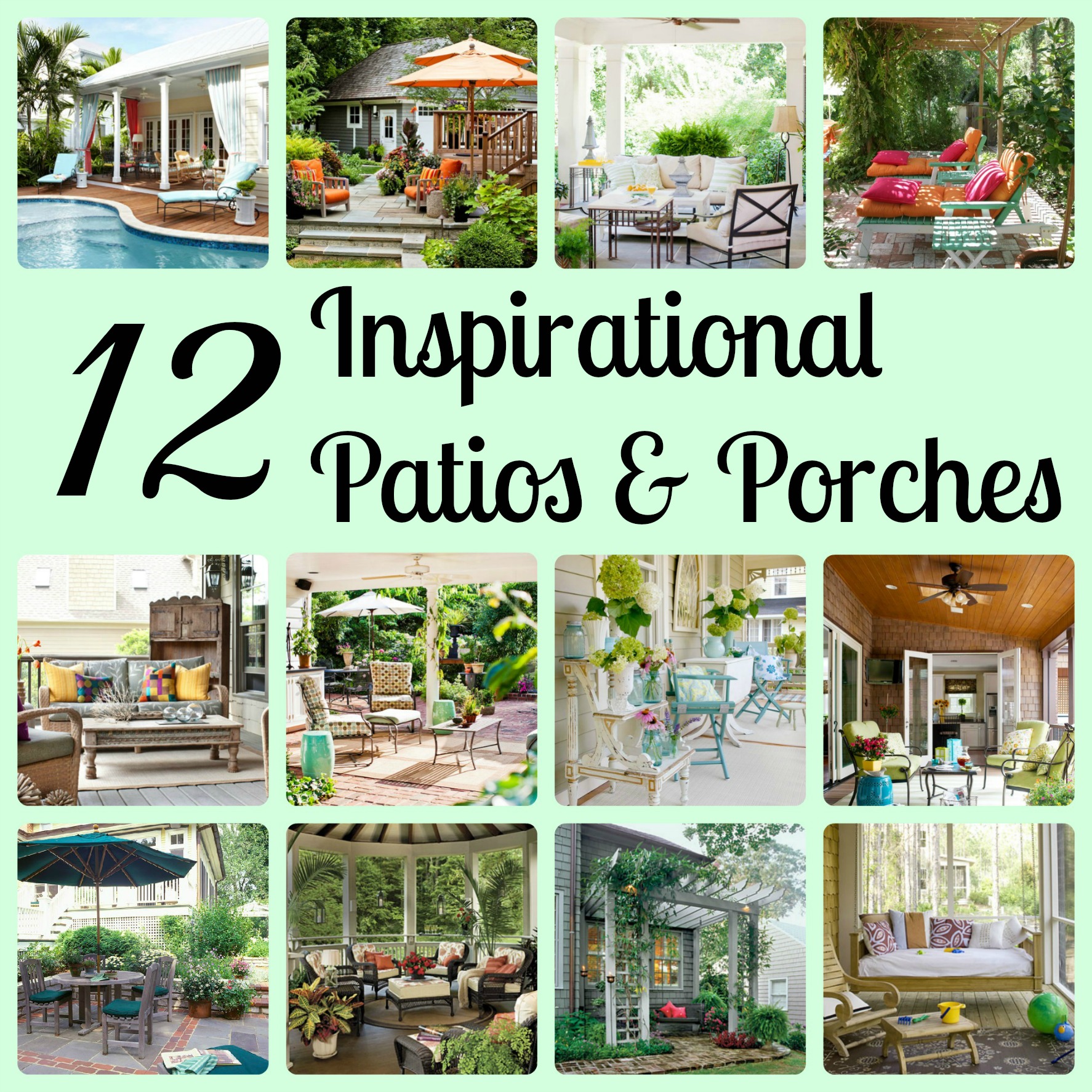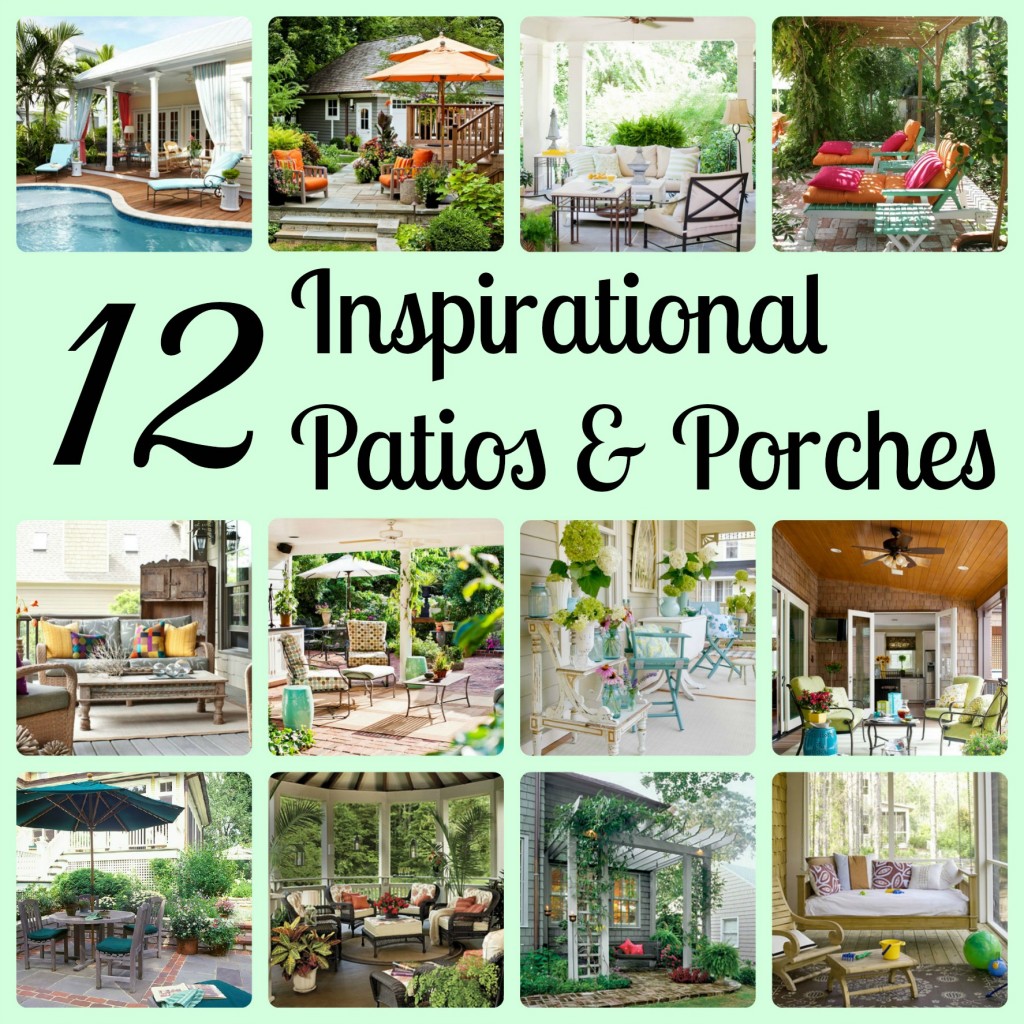 With spring upon us I've been dreaming of beautiful porches and backyard escapes.  Would you like to dream with me for awhile?
1.  I would absolutely love to lounge on these chairs on this brick patio (image via Danny Seo)…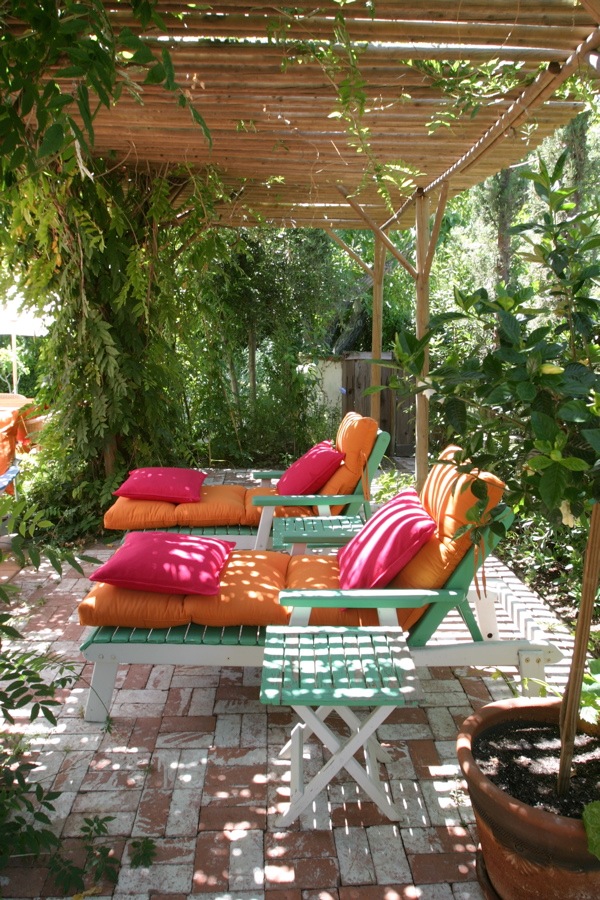 2.  Take a relaxing swing under this pergola…  (Image via Southern Living)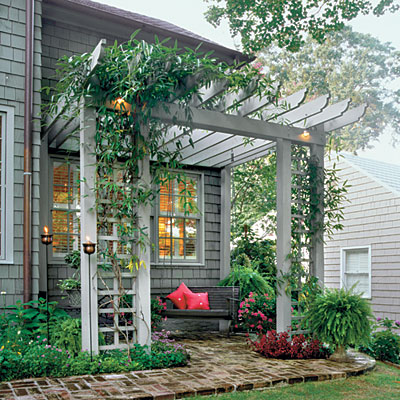 3.  Or read a book on this swing on a screened-in porch which looks kid-friendly; big plus!  (Image via Southern Living)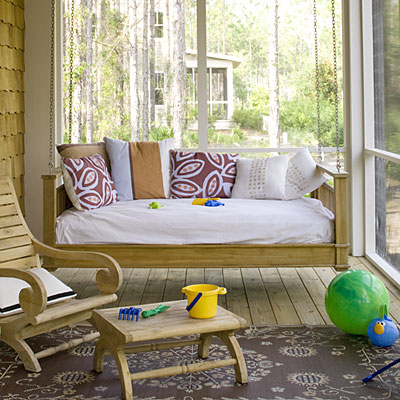 4.  This space from Southern Living is perfect for entertaining a few friends; I imagine the candles lit in the evening would be lovely.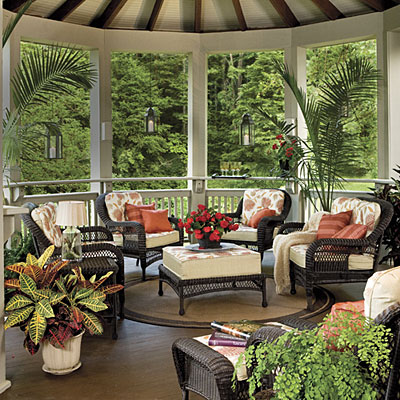 5.  I simply adore the creams and blues paired with all the flowers in mason jars and vintage vases on this cottage porch via BHG.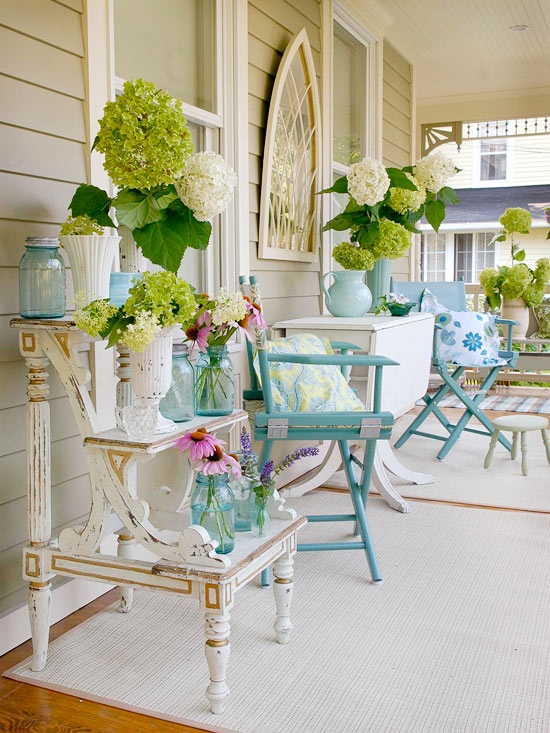 6.  This cozy patio would please even my husband, with the flat-screen TV!   (Image via BHG)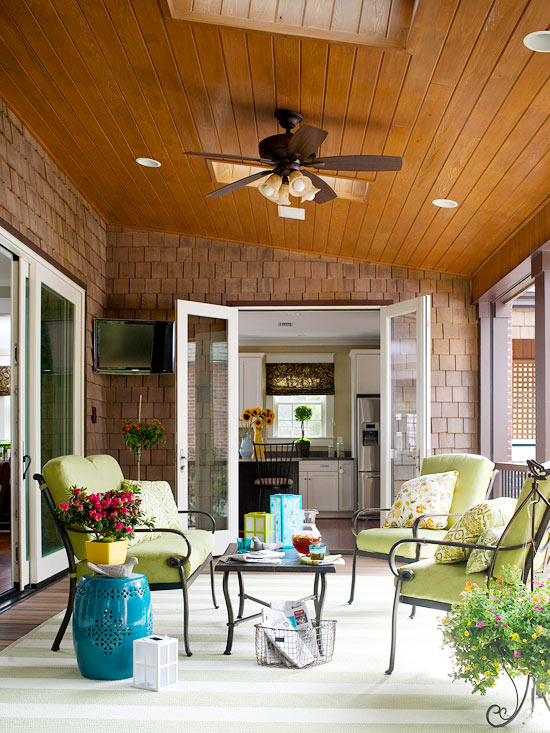 7.  I love the stone flooring and architectural details of this outdoor area (via BHG).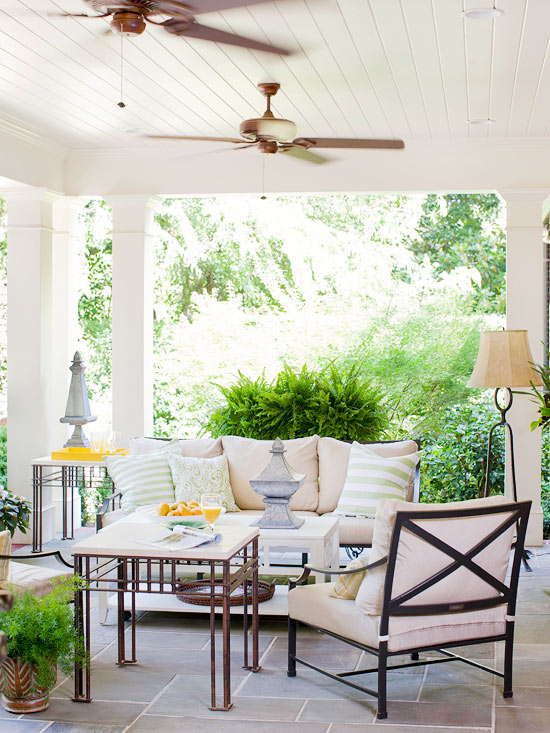 8.  This space seems simple enough to create even if you don't have a huge budget… the sunken seating area and the brick and stone together are very eye-pleasing.  (Image via BHG)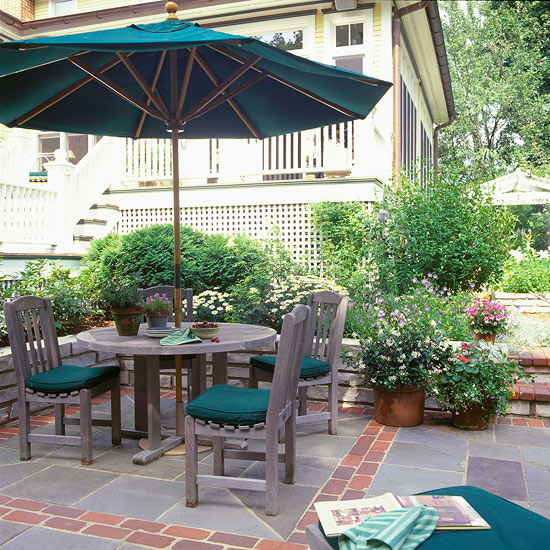 9.  More beautiful brick… it reminds me of a cobblestone street with luscious greenery – or my own "secret garden." (Image via BHG)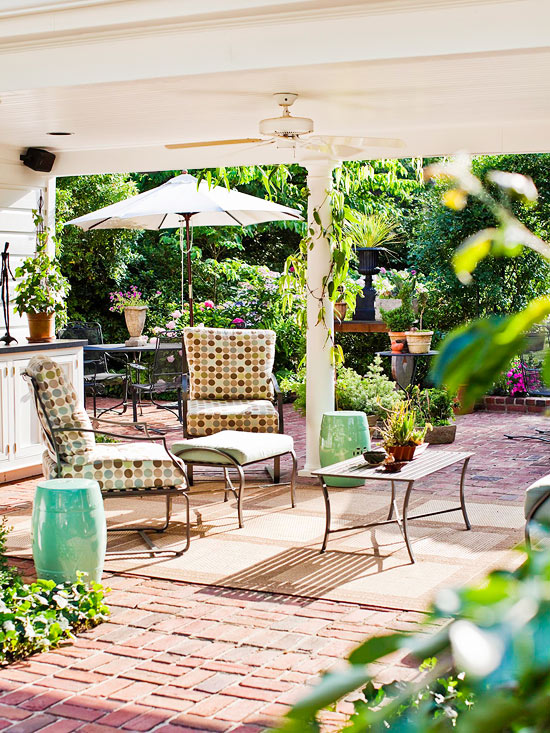 10.  Something about the weathered, old-world style furniture caught my eye.  (Image via BHG)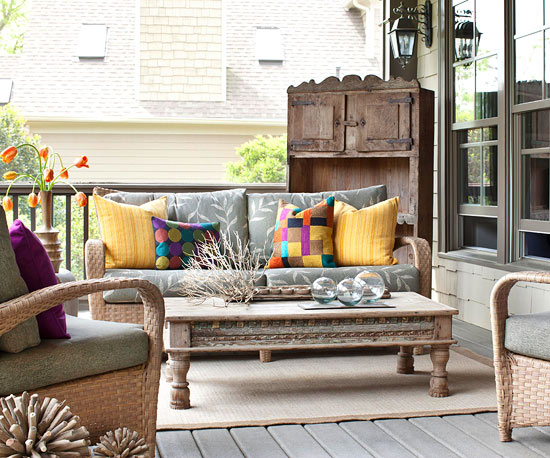 11.  I don't have a pool, nor do I even know how to swim, but I know I would enjoy relaxing here while watching my family swim or even entertaining friends with all the available seating.  The curtains add a delicate touch while offering some privacy.  (Image via BHG)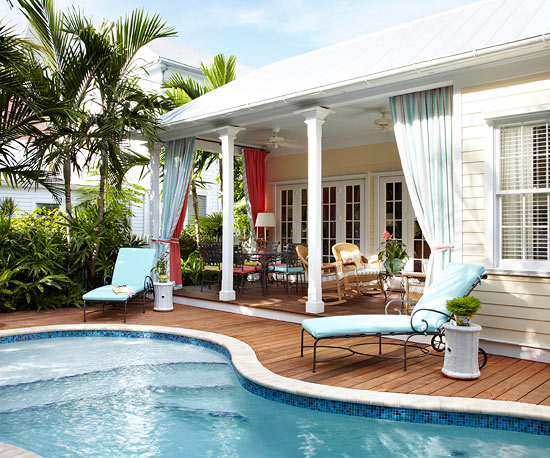 12.  Lastly, a tiered deck and patio area might be the best of both worlds.  You have room for extra seating, and the variety of materials used makes this space visually stimulating along with the vibrant pops of color.   (Image via BHG)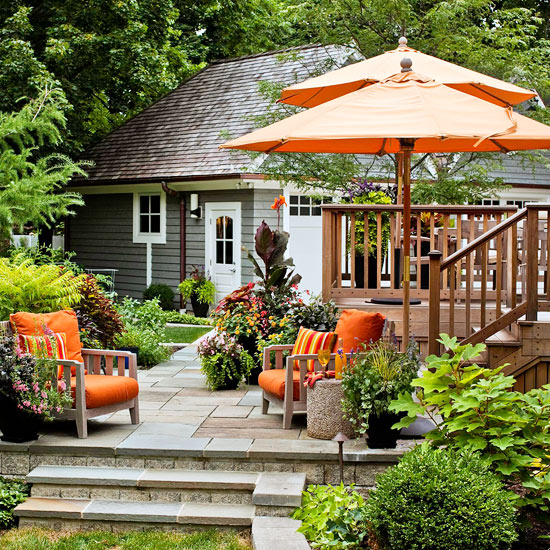 I have more beautiful outdoor inspiration on my Pinterest boards– I'd love for you to follow me!
All this inspiration has led me to some conclusions…
1.  We need to finally build an outdoor space this year.
2.  I'm leaning toward a stone or brick patio.
3.  There will be comfortable seating and colorful accents!
Are you dreaming of -or- planning to create a backyard escape this year?  What design elements will you include?
Jen
Other Awesome Posts:
12 Absolutely Beautiful Bathrooms
10 Ways to go BOLD with your Furniture