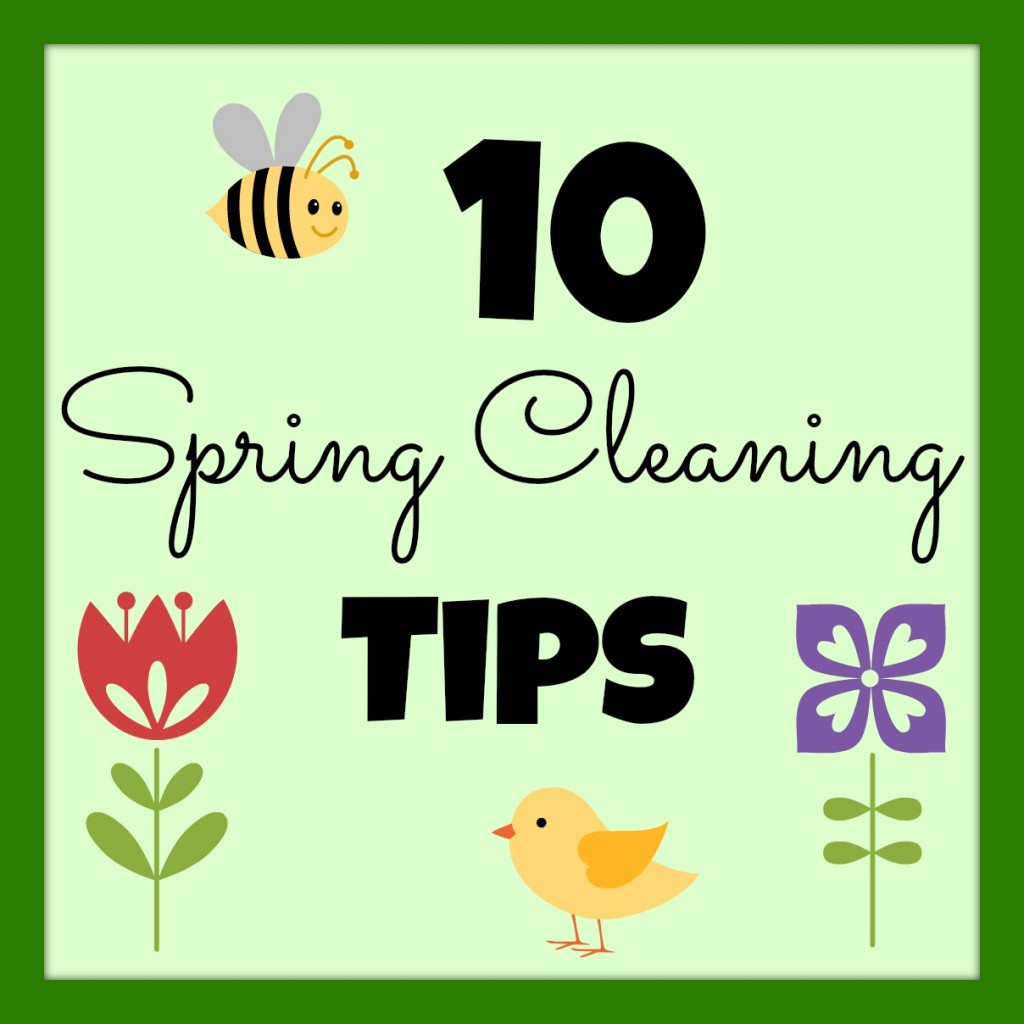 I've gathered some of the best spring cleaning tips out there (including some from GitG readers!) to help you get your home spic-and-span in no time.  Then, once it's clean, you'll have more time to get outside and actually enjoy the beautiful weather!  So here they are, in no particular order:
1.  Reader Dana says, "I have a laundry basket that I take with me from room to room as I clean. Anything that doesn't belong in the room I'm cleaning gets tossed in the basket- that way I'm not running back and forth and can get a room done without leaving it and getting distracted somewhere else."
2.  Renea, who blogs at Cupcake-n-Bake, has a great suggestion about using vinegar to help get the dishes in your dishwasher sparkling clean.  You can read her full post about it here.
3.  Reader Robin suggests, "If you haven't used it in ____ (pick your magic time frame), toss it, donate or give it away. You won't miss it."
4.  Pull out your seasonal clothes that you've packed away before the weather actually starts to change.  Otherwise, you might forget what you already own and be tempted to buy too many new items!  (From Jen)
5.  Jaime, who blogs at Like a Bubbling Brook, uses a homekeeping binder/household planner to stay organized with cleaning tasks, menu planning, calendars, budgeting, etc.  This is the perfect time of year to start a binder, which will prove very useful once our schedules become more hectic with spring and summer activities!  Read all about it here.  (Martha Stewart also offers a helpful cleaning checklist in PDF format here.)
6.  Reader Susan reminds us that since winter is now over, it's a good time to head outside and give your windows a good wash.
7.  This is also a great time to deep-clean your bathroom, and Rebecca from the blog Soap Deli News has a recipe for a DIY after-shower spray and window cleaner that you can read about here.
8.  If it's been a while, shampoo your carpets to get rid of all the salt that may have been tracked in during the winter.  Borrow a machine from a friend or you can rent a machine reasonably from some super centers and also hardware stores such as Lowe's.  (From Jen)
9.  Anna from Ask Anna has a blog dedicated to helping you clean and organize your home, with tons of ideas!  One tip that I love involves using vinegar and bleach to clean your washing machine- how often have you thought to do that?!  Read all about it here.
10.  Lastly, don't stress!  Take it one room at a time.  Enlist the help of your kids and try to make it fun.  Or get a friend to come over and help if you return the favor, or just buy her lunch.  🙂   (From Jen)
Do you have any tips not mentioned here?  I'd love to hear them!
Happy Spring (cleaning)!
Jen