Welcome back! Today is a great day for a quick and easy fall basket idea to use as mantel decor. You'll also find more fall basket ideas and inspiration below, and my friends are also sharing Trash to Treasure makeovers at the end of this post.
Find lots of gorgeous fall mantel decor ideas here.
I found this basket for $3.99 at Goodwill among a few other treasures which will also have makeovers soon.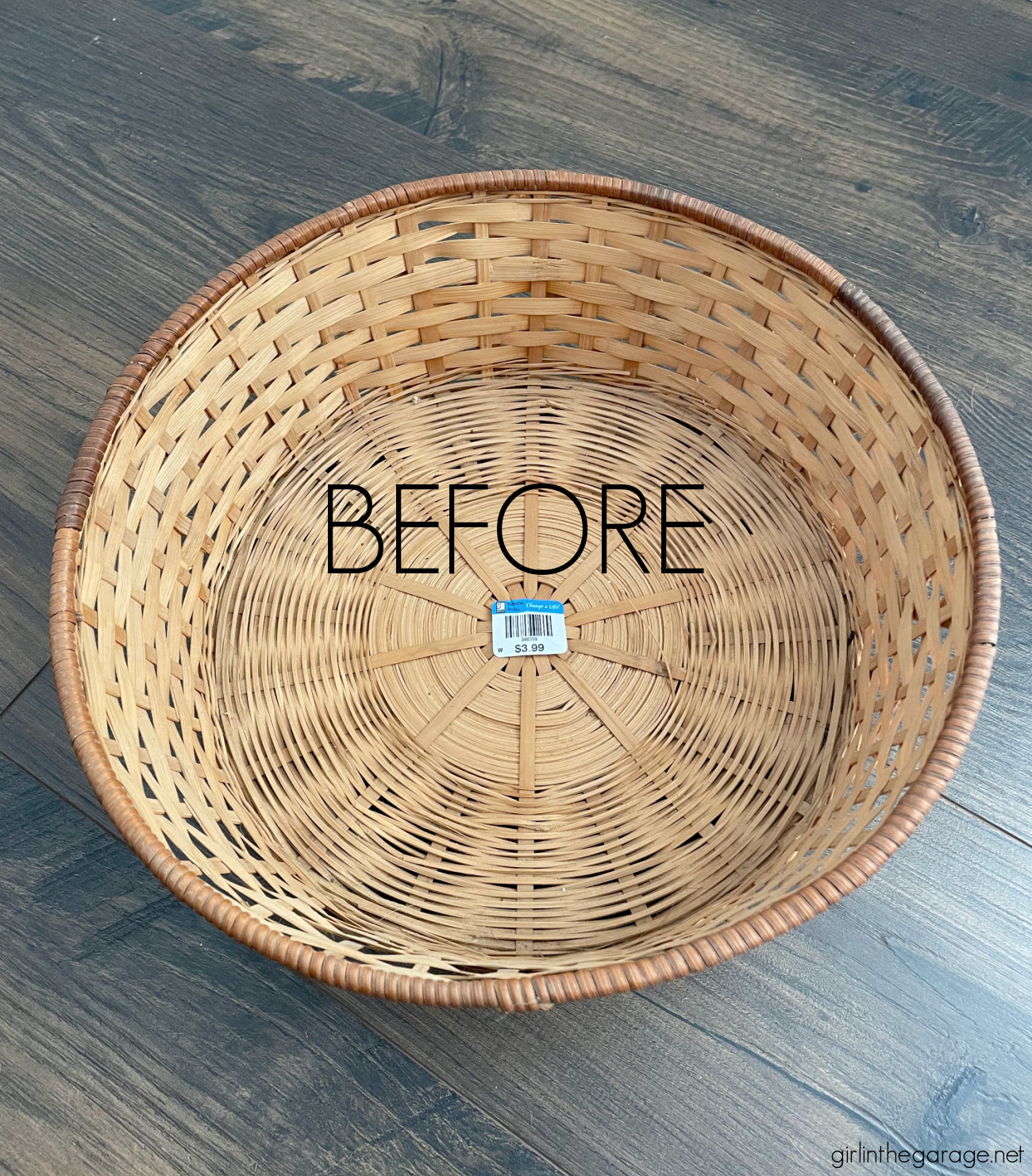 I searched through my fall decor stash and found a mix of sprigs, berries, leaves, and pumpkins. You can also find these items at craft stores like Hobby Lobby – and similar little pumpkins are at Target every fall.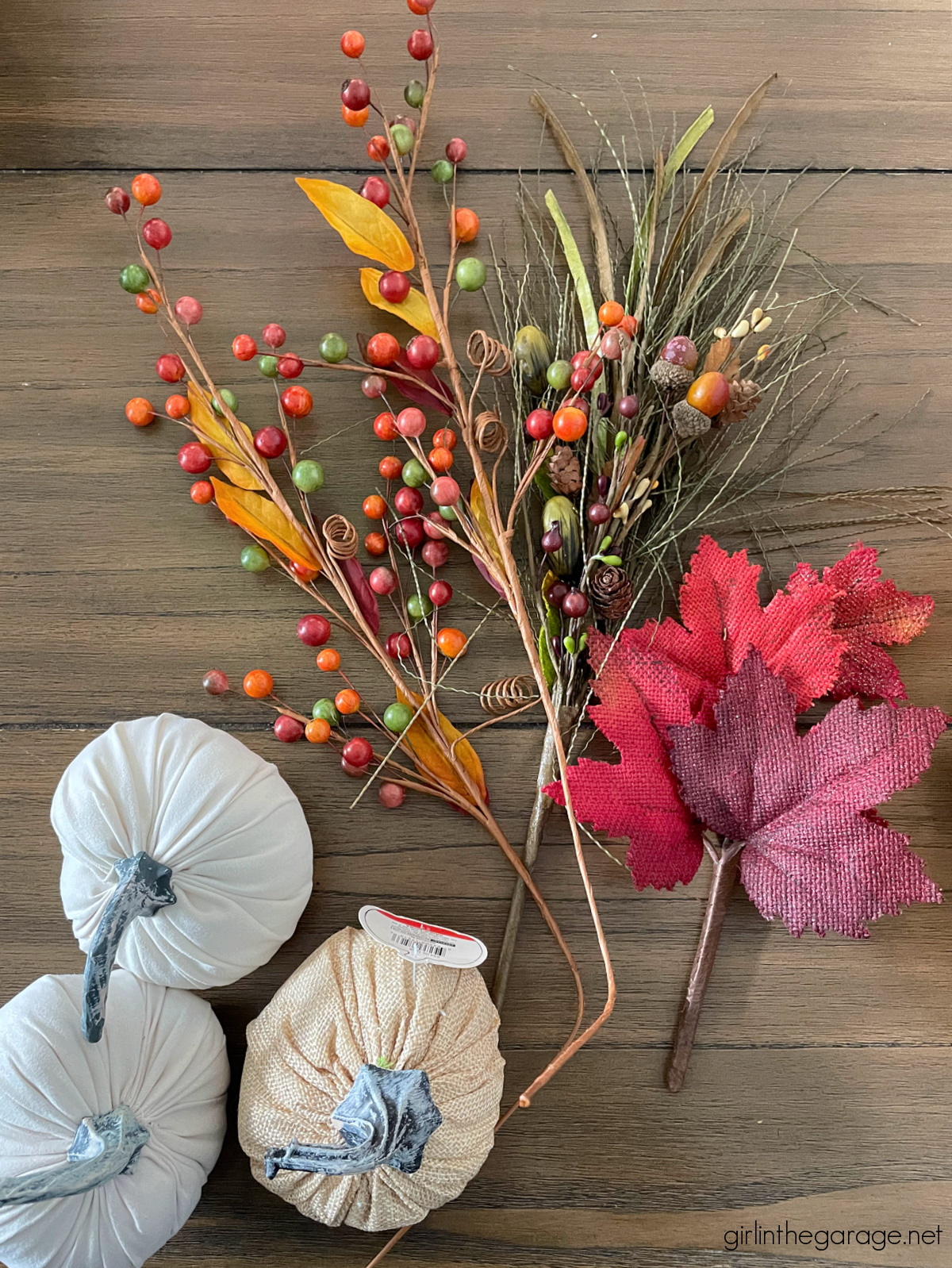 When I started making this fall basket project, I planned on making a wreath. I went in a little different direction, but you can easily add ribbon or jute rope to hang this basket as a wreath.
The idea here is to create new decor from existing pieces, and then be able to reuse the pieces later in different ways if I want to. I love how versatile decor can be in that way! And for that reason, I decided to leave the basket as-is and not paint it. Also, I chose not to permanently glue the pieces into place.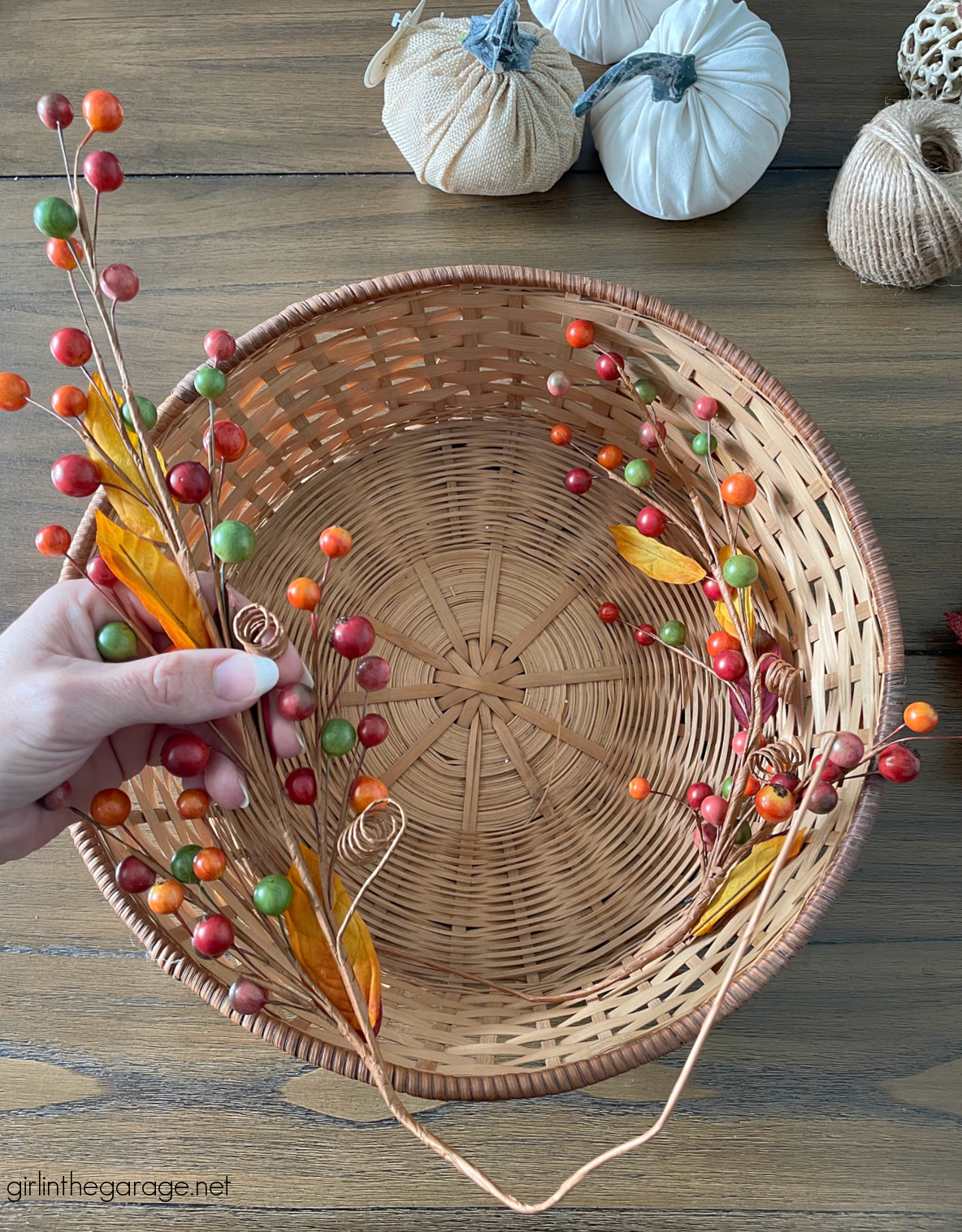 I bent the wires to fit inside the curves, "fluffing" them into place. I added all the pieces I had while overlapping and trying to make it look natural and interesting.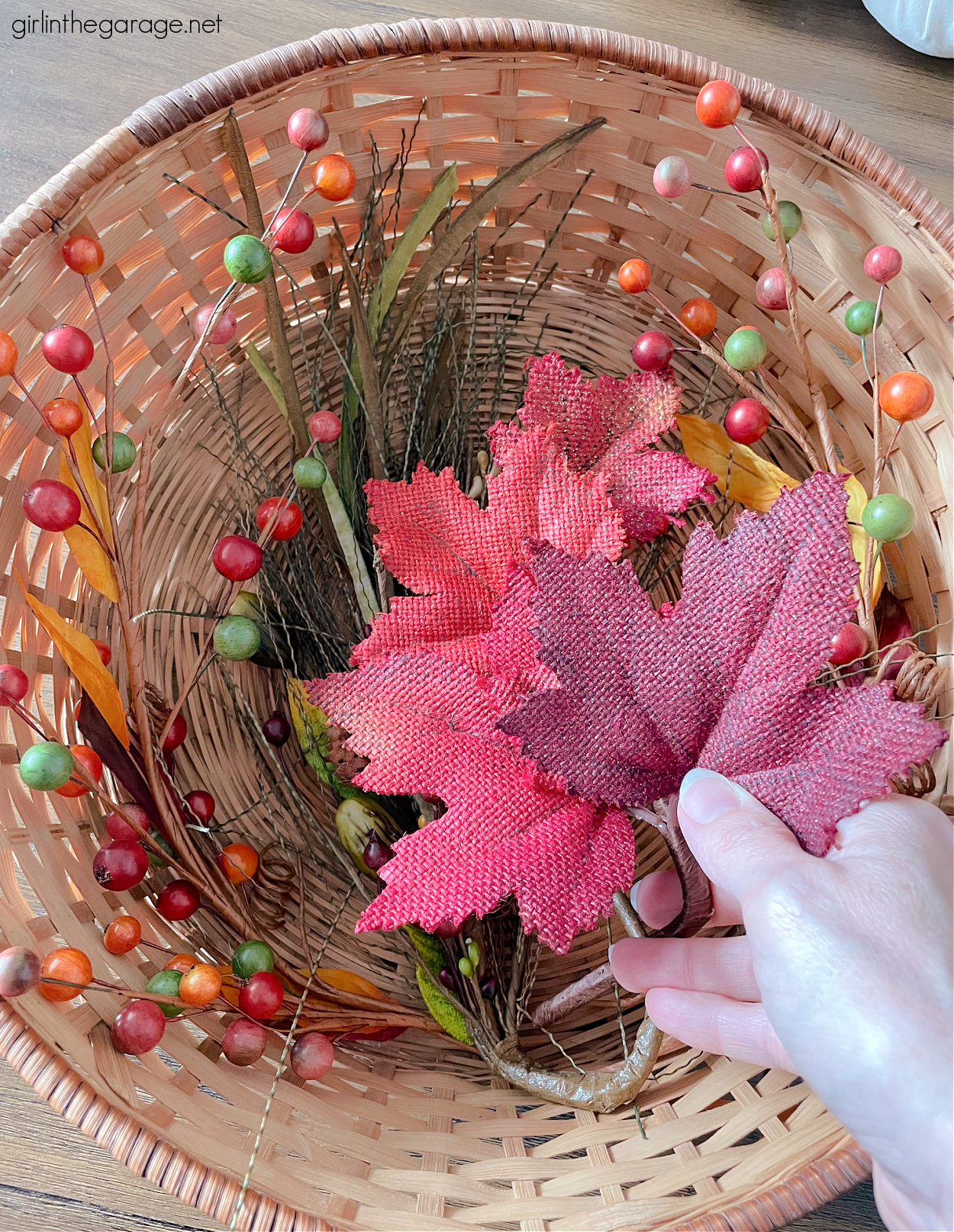 Finally, I set one small pumpkin inside and gave my new fall basket decor a temporary home on my mantel.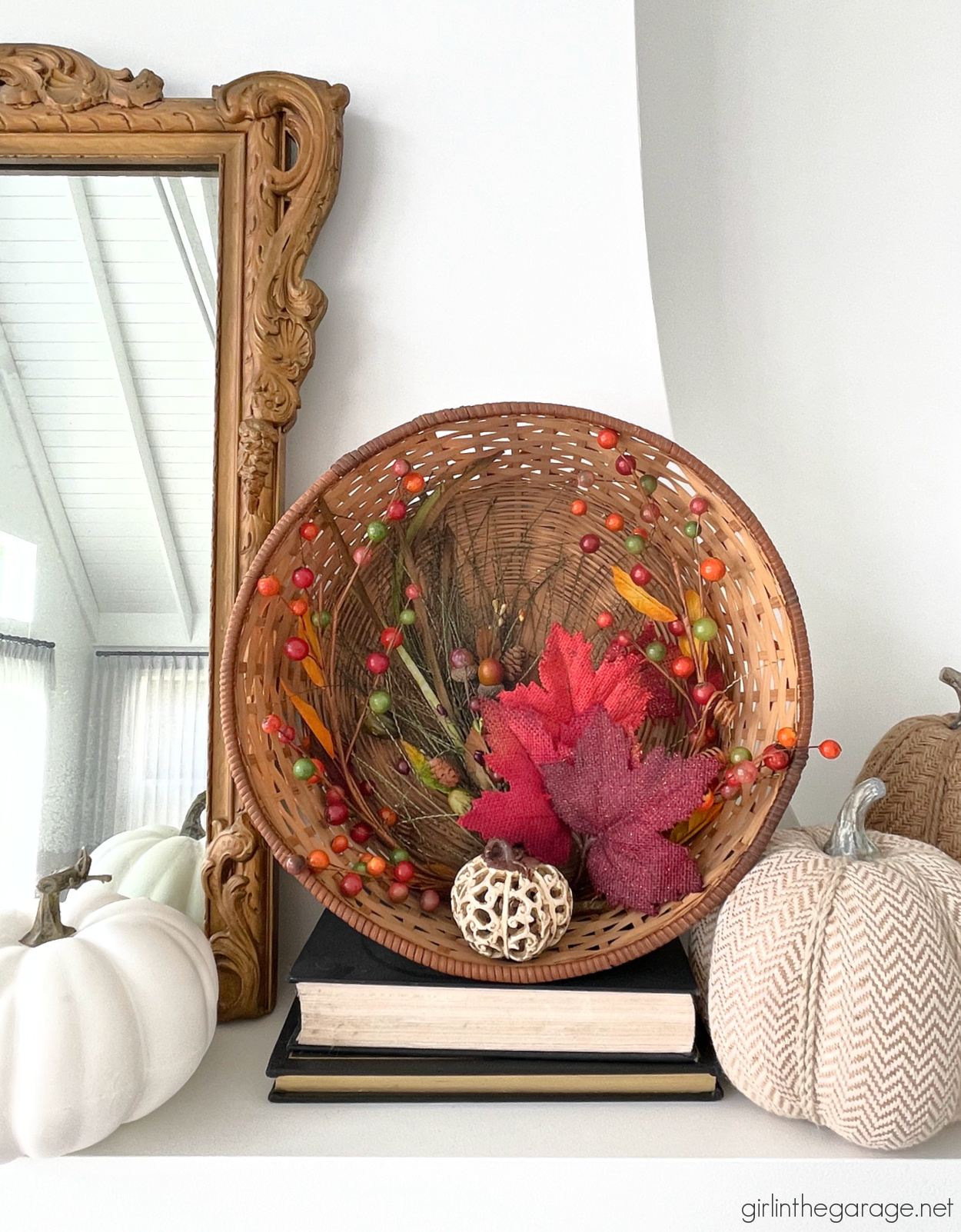 Here's the fireplace in our new home, if you missed it when I shared photos before. (I'm still in love with how this design turned out!) This area, and many of the walls in our home, is painted in Sherwin Williams Pure White. It's a crisp lovely white that (so far) has cleaned up well from kids' fingerprints and dog slobber. 😉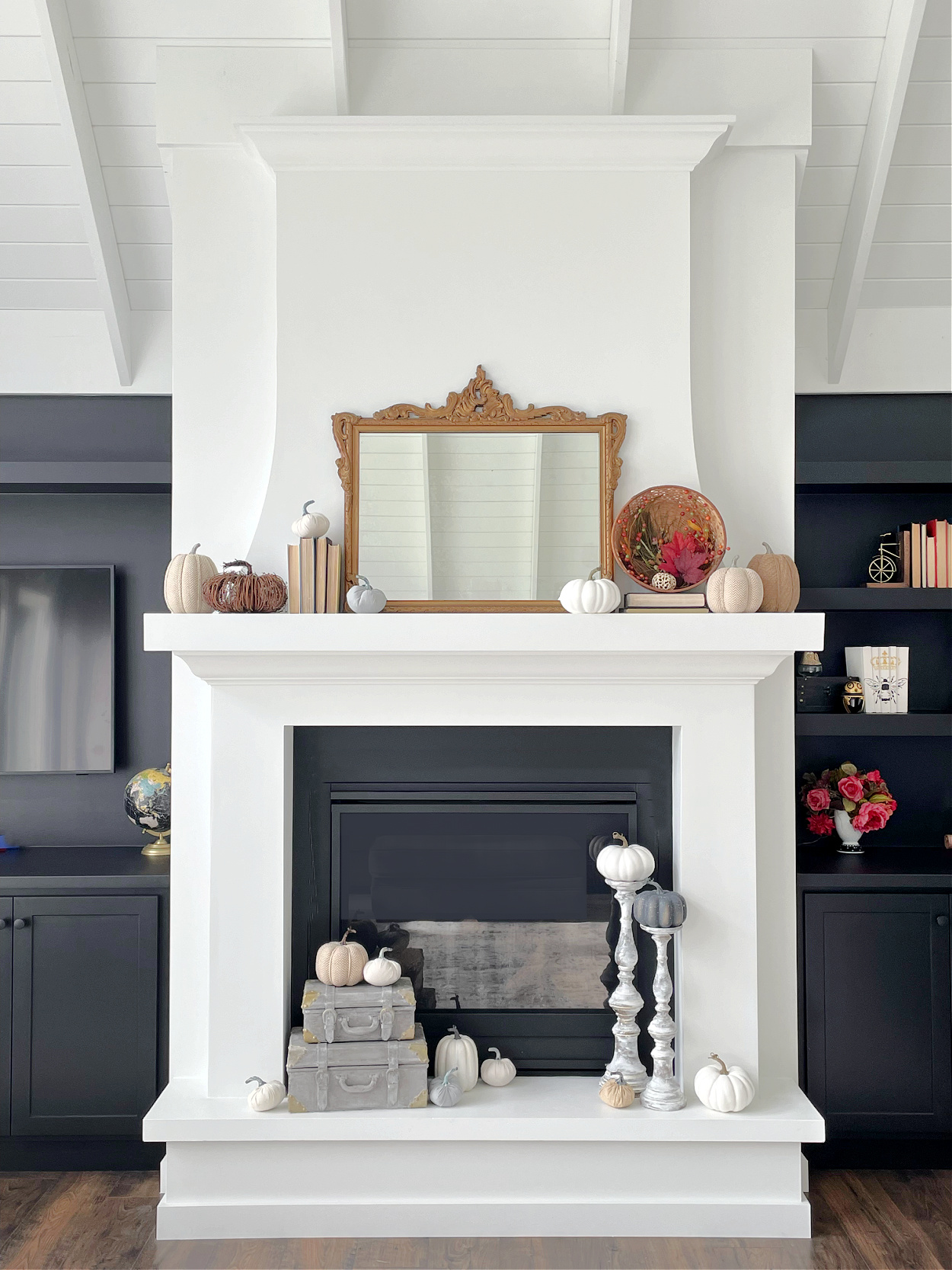 Find lots more gorgeous fall mantel decor ideas here.
Here's a closeup below of how my fall basket "wreath" turned out…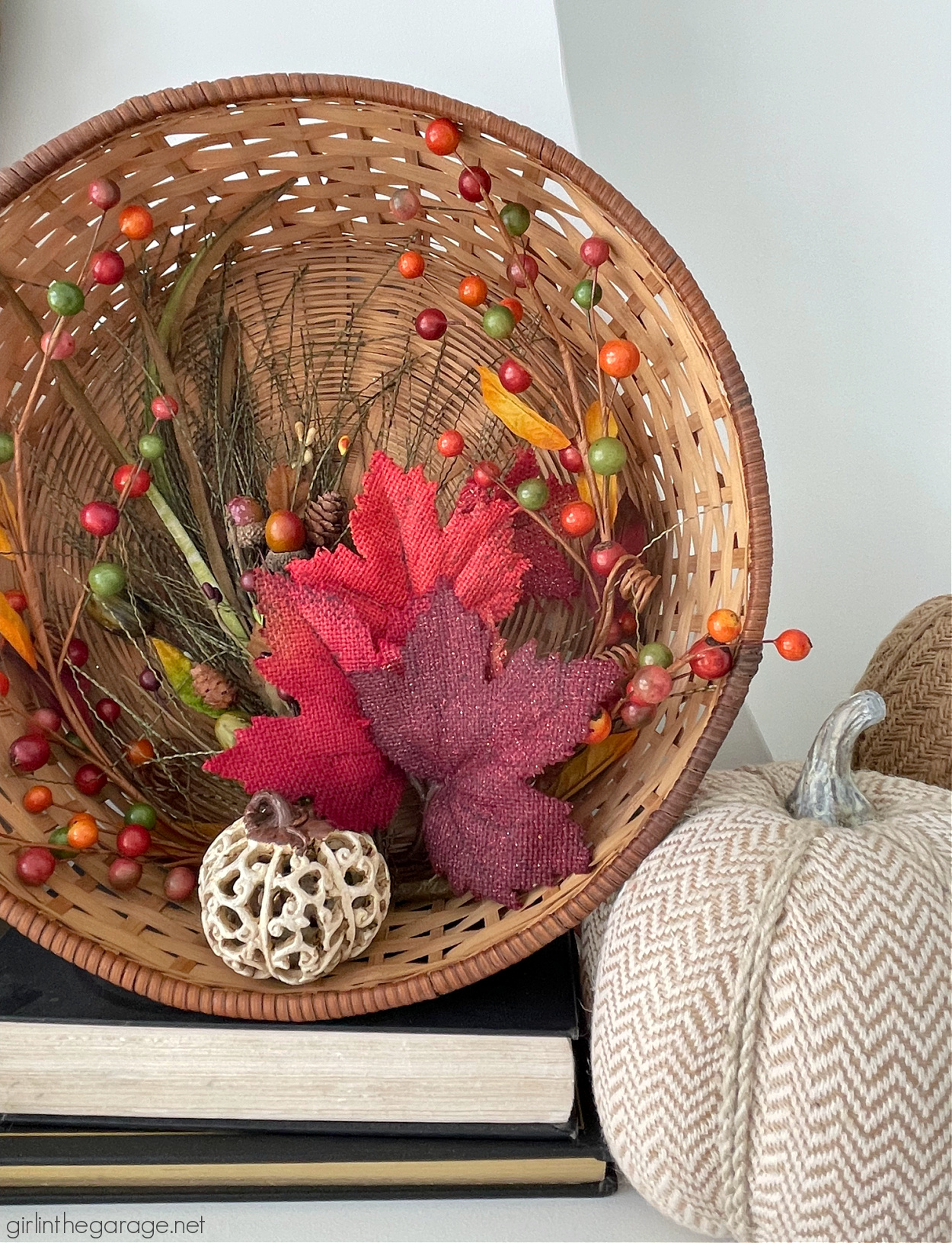 I added more pumpkins to complete my fall mantel decor this year. If you missed it before, you can see exactly how I painted these leather suitcases here.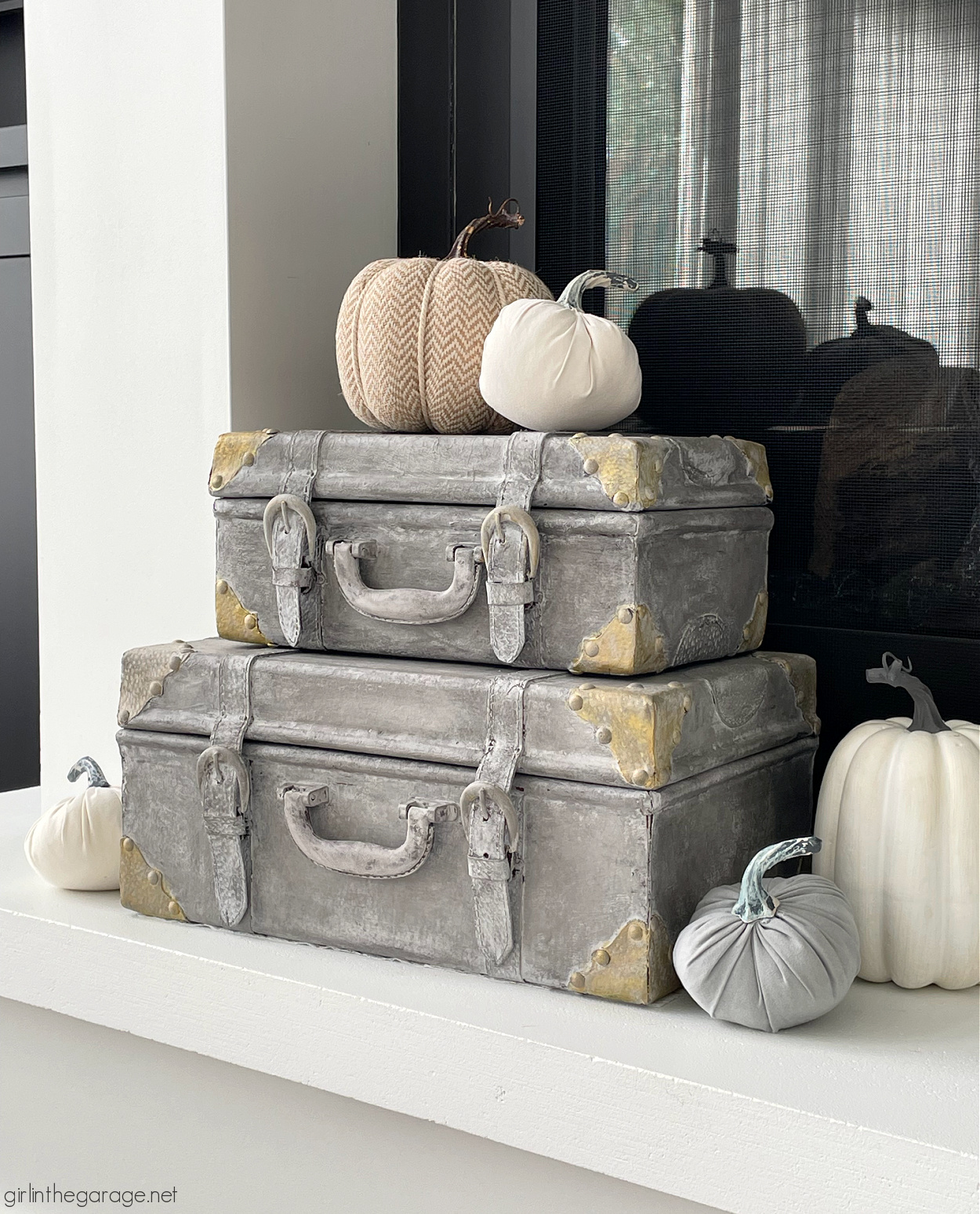 These tall candlesticks were another project years ago- they were very silvery and I added some white paint to tone them down but you can still see some pretty metallic shimmer coming through.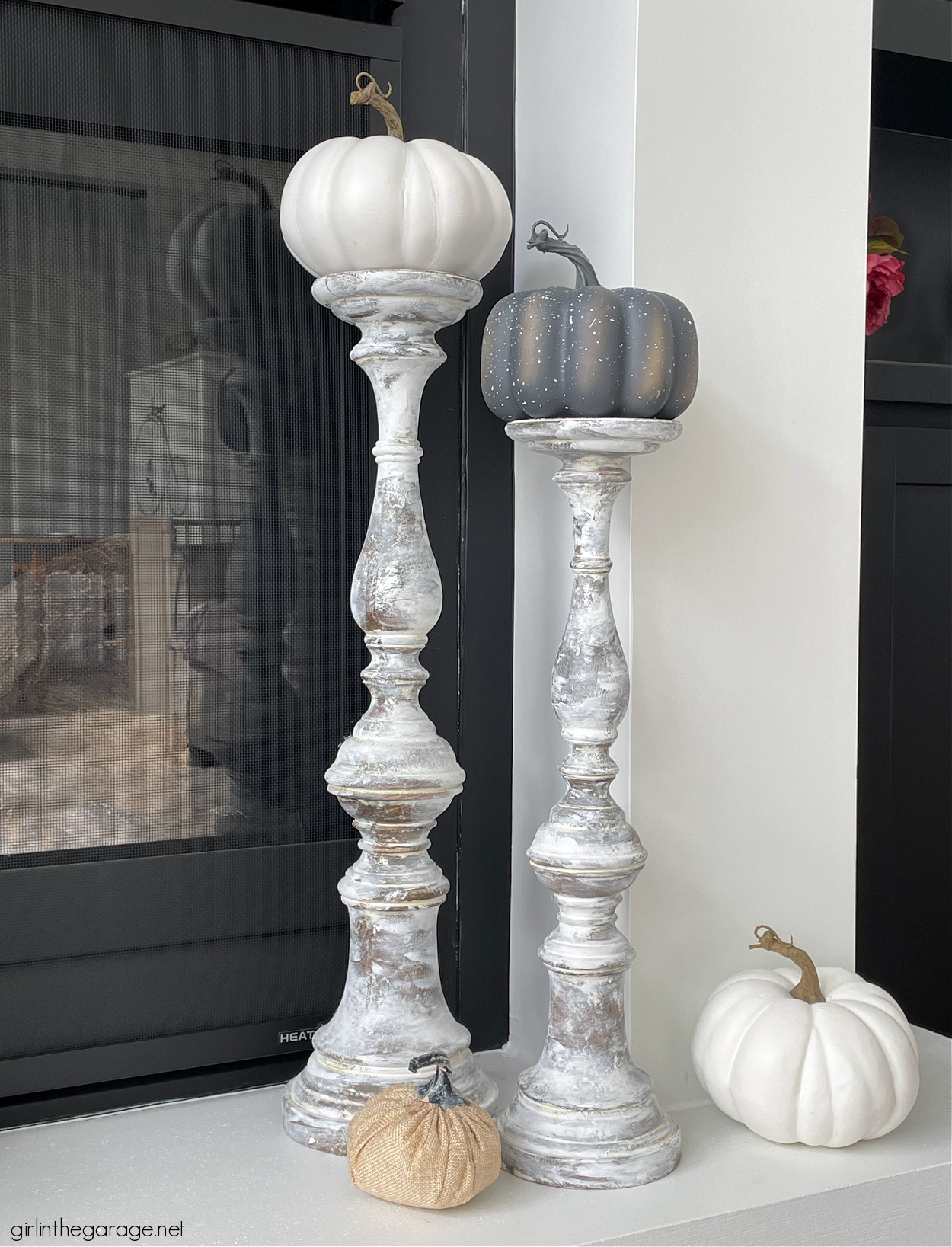 I'm very happy with this quick and easy fall basket idea, it looks great and I can take it apart later and reuse the pieces if I decide to.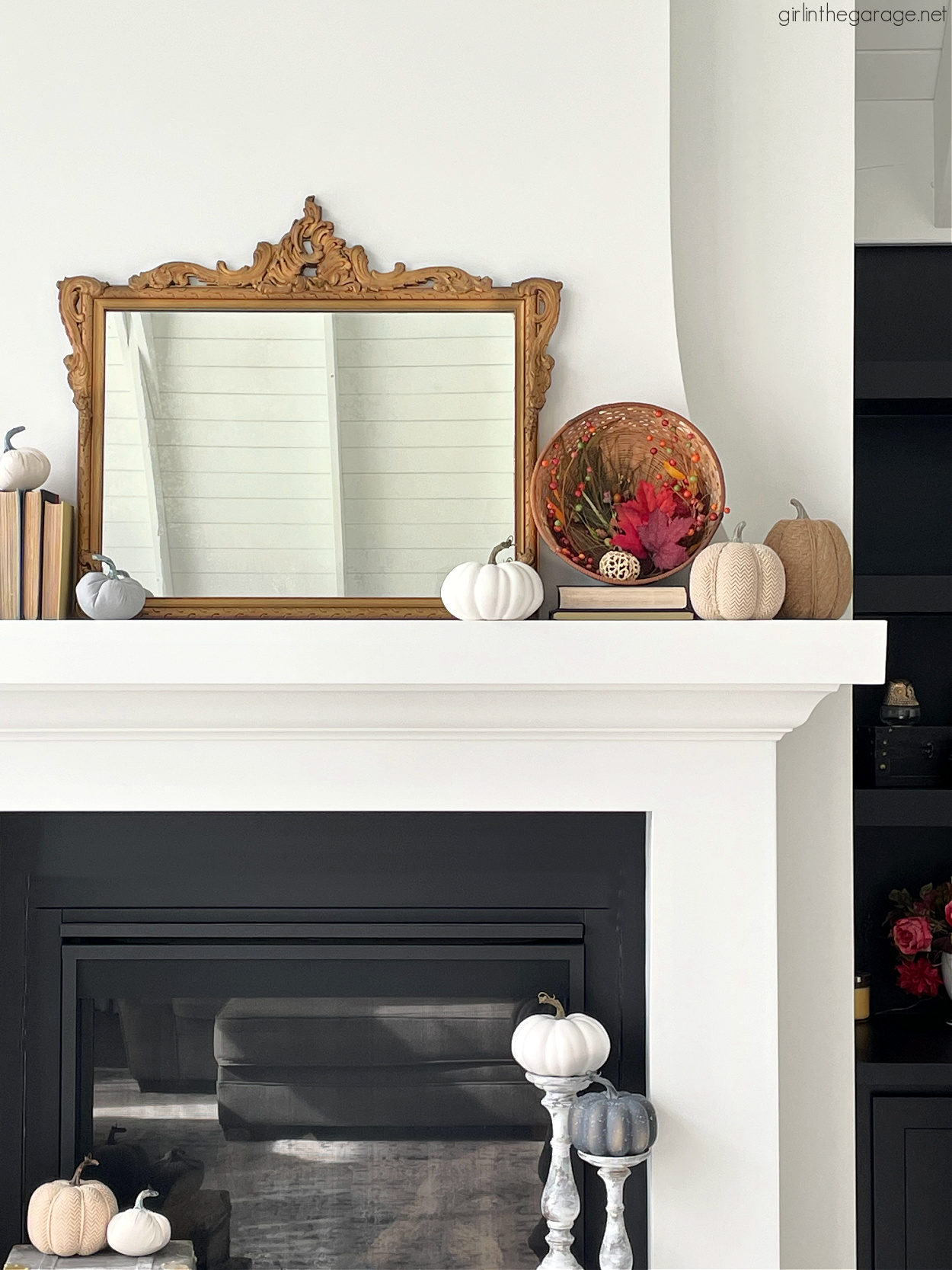 Here's a before-and-after image if you'd like to share or Pin this project.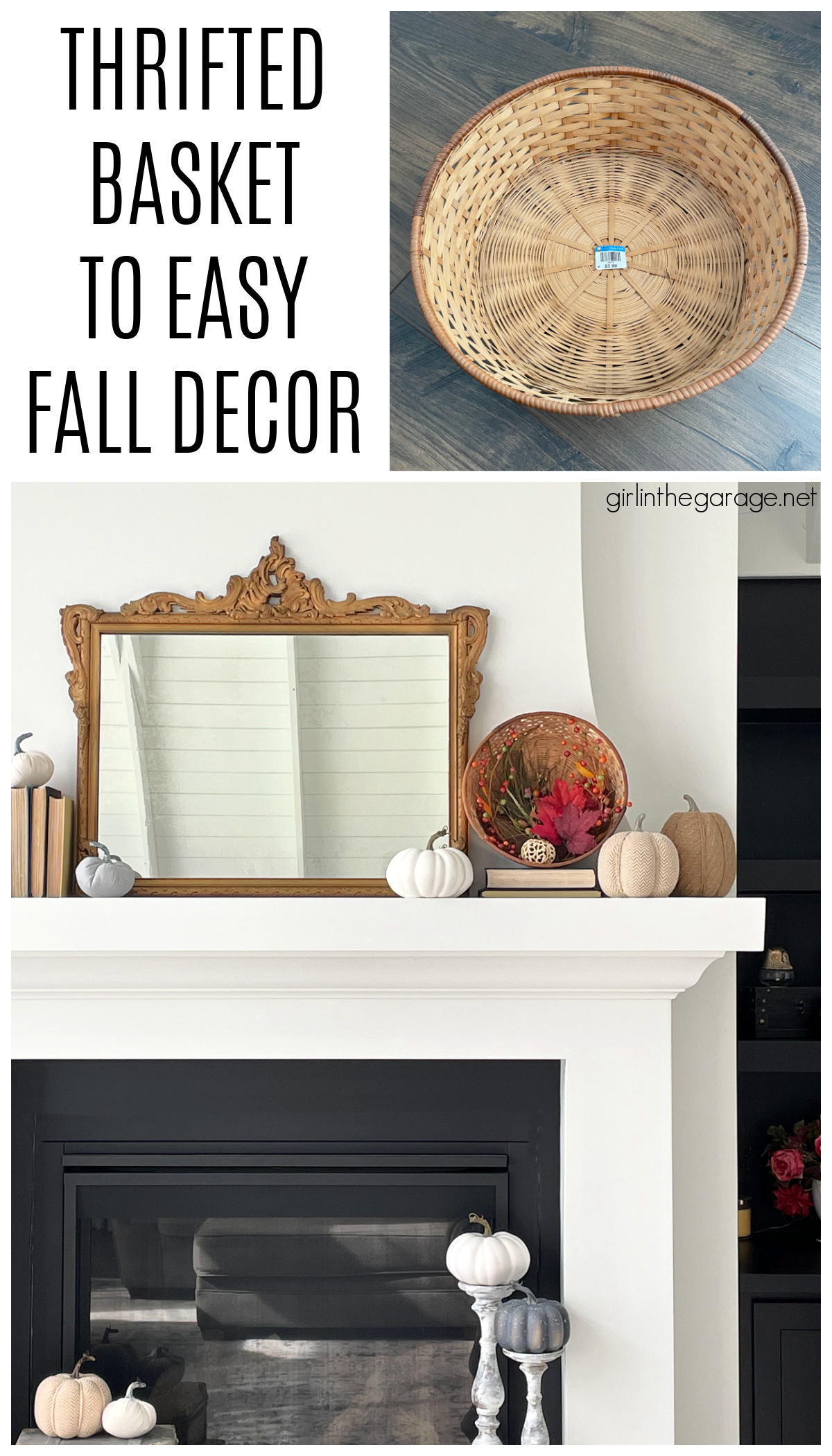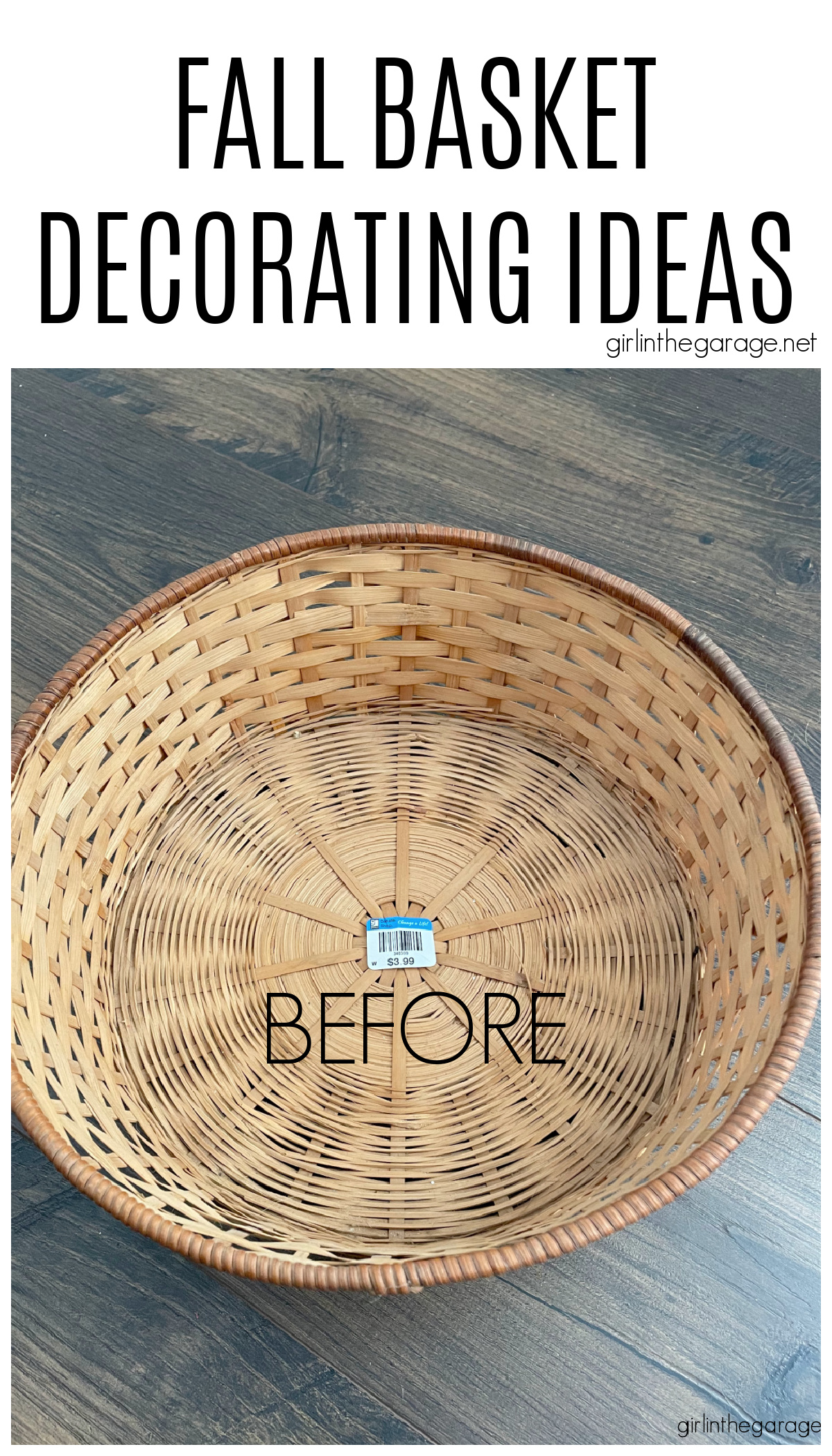 Here are a few more fall basket ideas you might like:
Now it's Trash to Treasure time with my friends!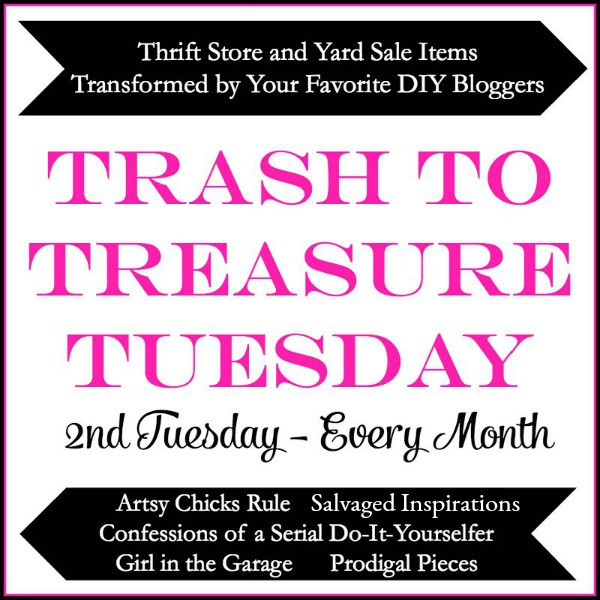 Below are the Before photos – click the links below to see the amazing Afters and to learn how they did it: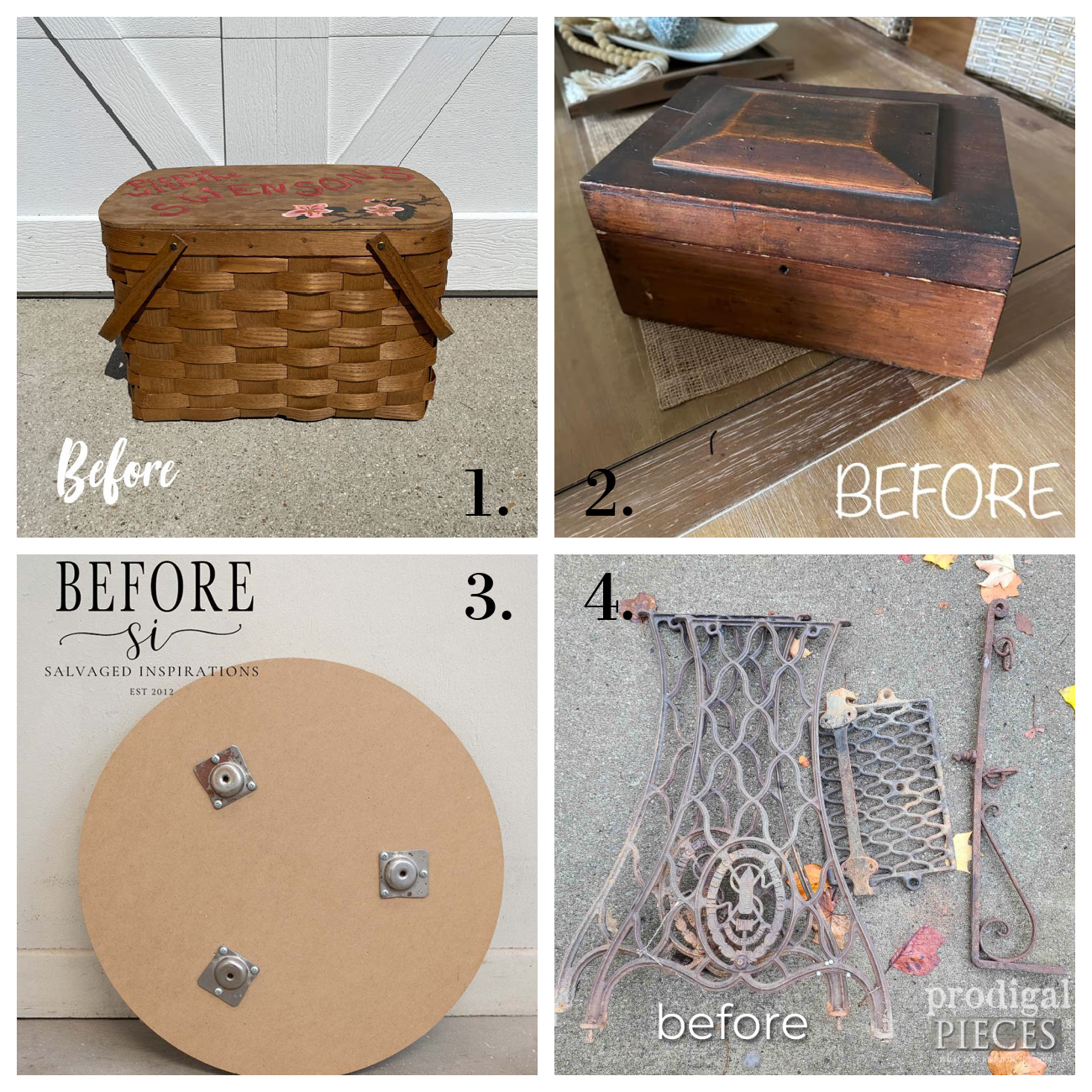 1. Confessions of a Serial DIYer
2. Artsy Chicks Rule
3. Salvaged Inspirations
4. Prodigal Pieces