Friend, welcome back to another Trash to Treasure Tuesday. Today you'll see how the ugly rooster box below was transformed into stylish decor. This storage cube was $9.99 at Goodwill, but the original price sticker on the bottom said $29.99 (I have no idea who would pay that for this!).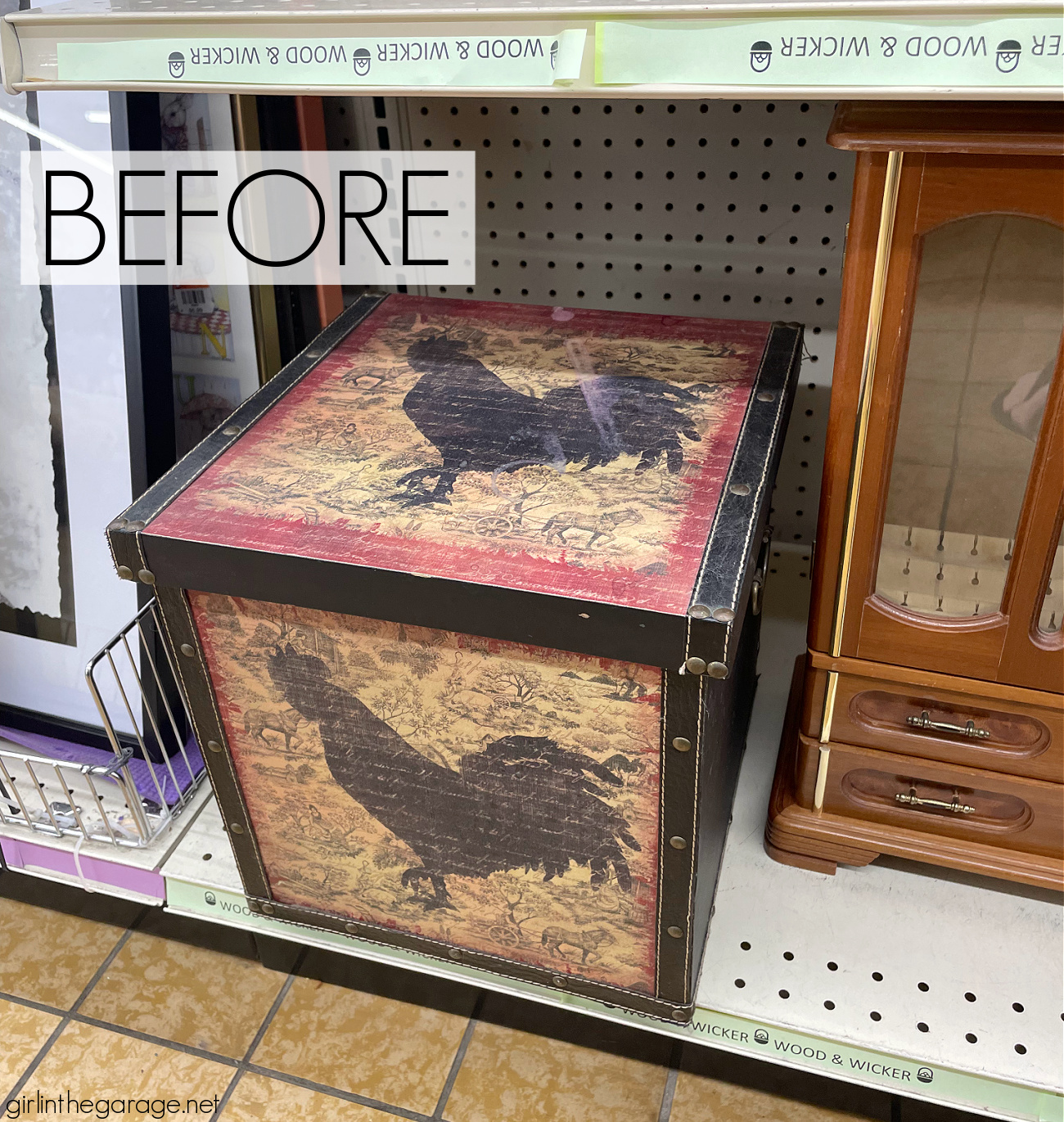 This post contains some affiliate links so you can easily find the products I use and recommend. Discover all my favorite brands and tools for doing DIY makeovers here.
Thankfully the box was clean, so after taping over the leather trim with FrogTape, I was able to start painting right away. I chose Country Chic Paint in the color Road Trip for the base color. I brushed on several coats with a Purdy paint brush – those roosters did not want to disappear easily, ha!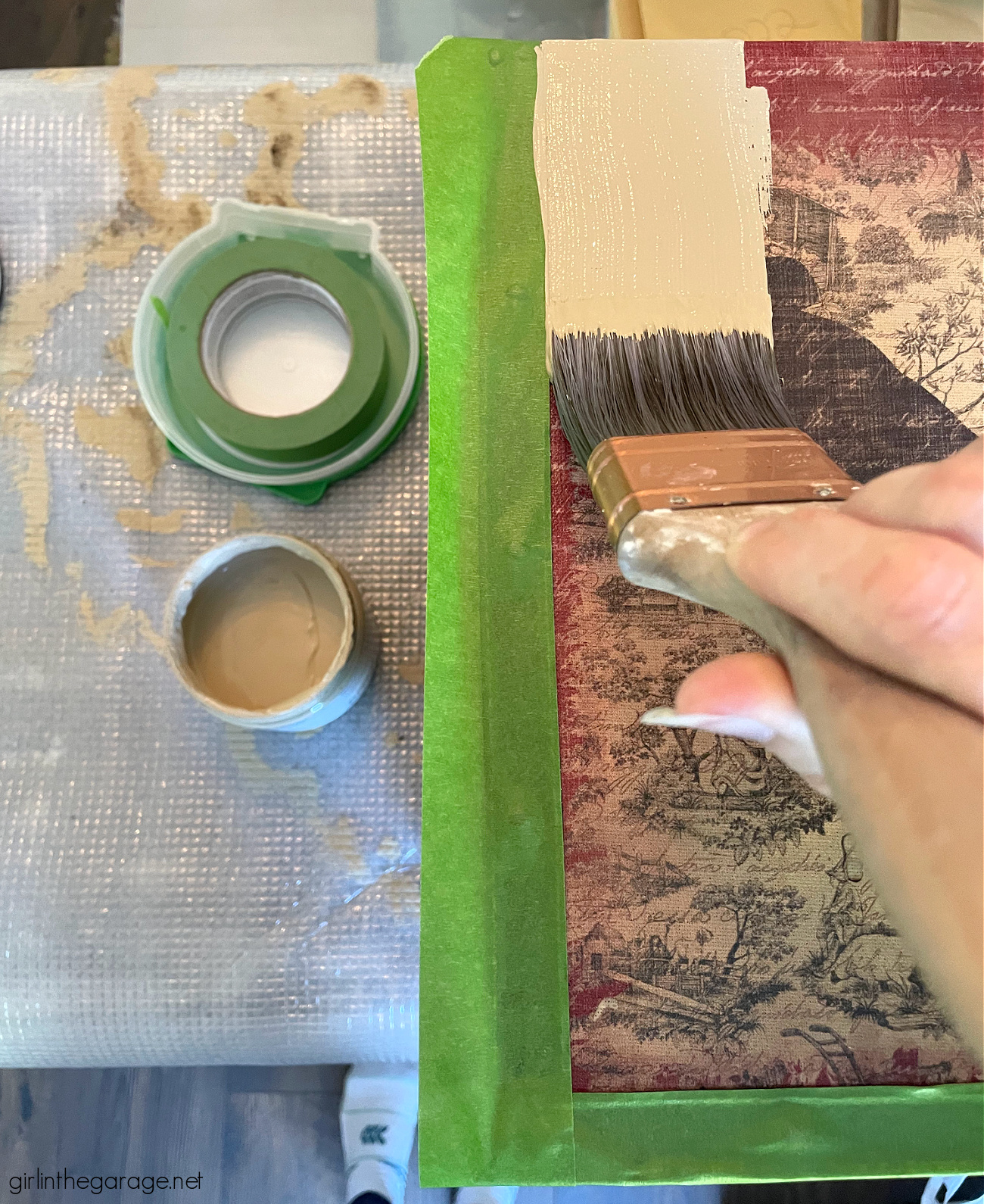 Next I chose a stencil from my stash. I placed this cute Antiques and Curiosities stencil off-center on the front and planned to take it up and over the lid too. Always double check your stencil placement in advance so you don't end up with any awkward areas later. (Unfortunately I can't find this stencil anymore or a similar one to link for you – if you find one, please let me know in the comments.)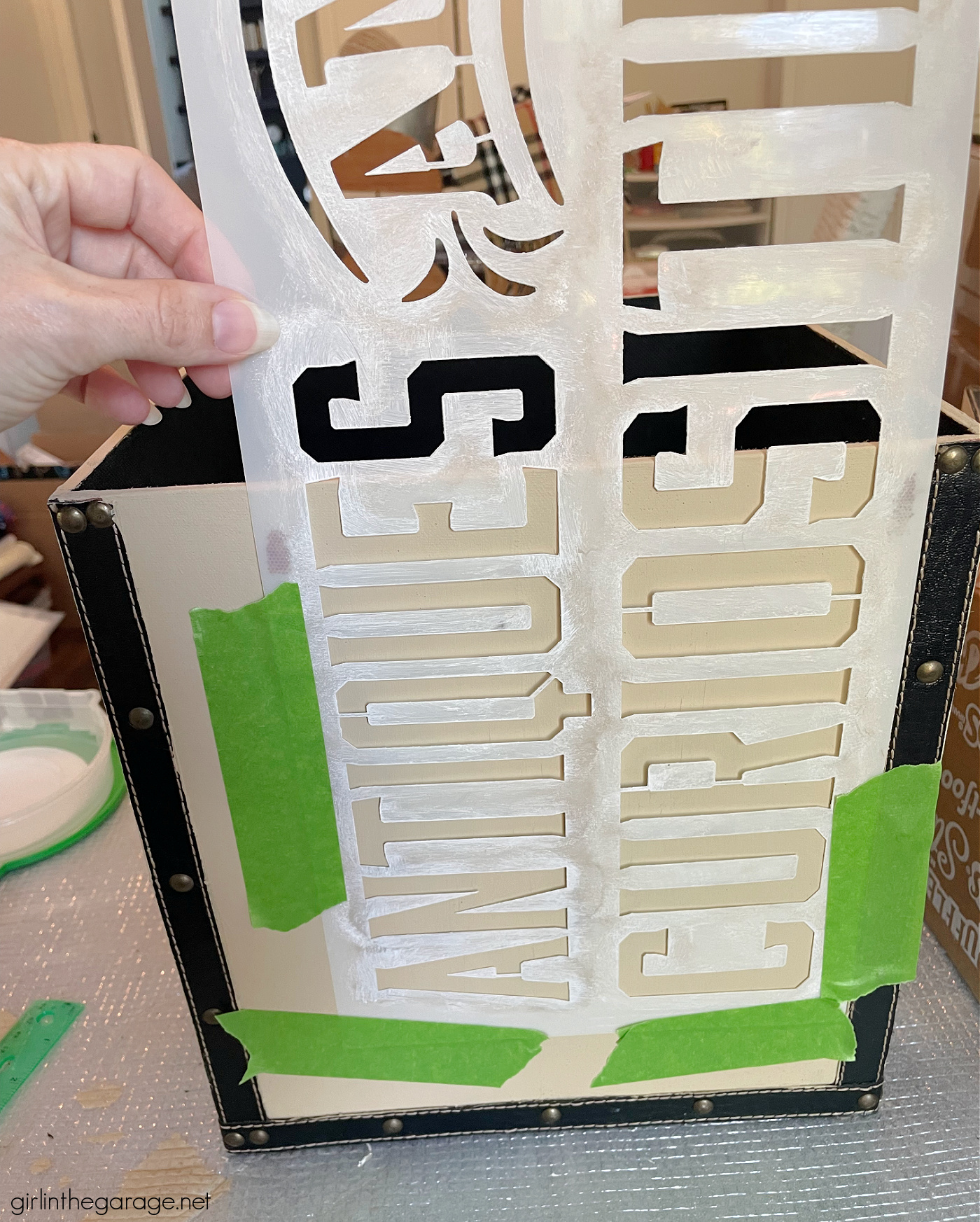 When stenciling, remember to use a foam pouncer and lightly dab it into the paint (Country Chic Paint in Liquorice here) and then blot it onto a towel to remove the excess paint. Apply the paint very thinly over the stencil.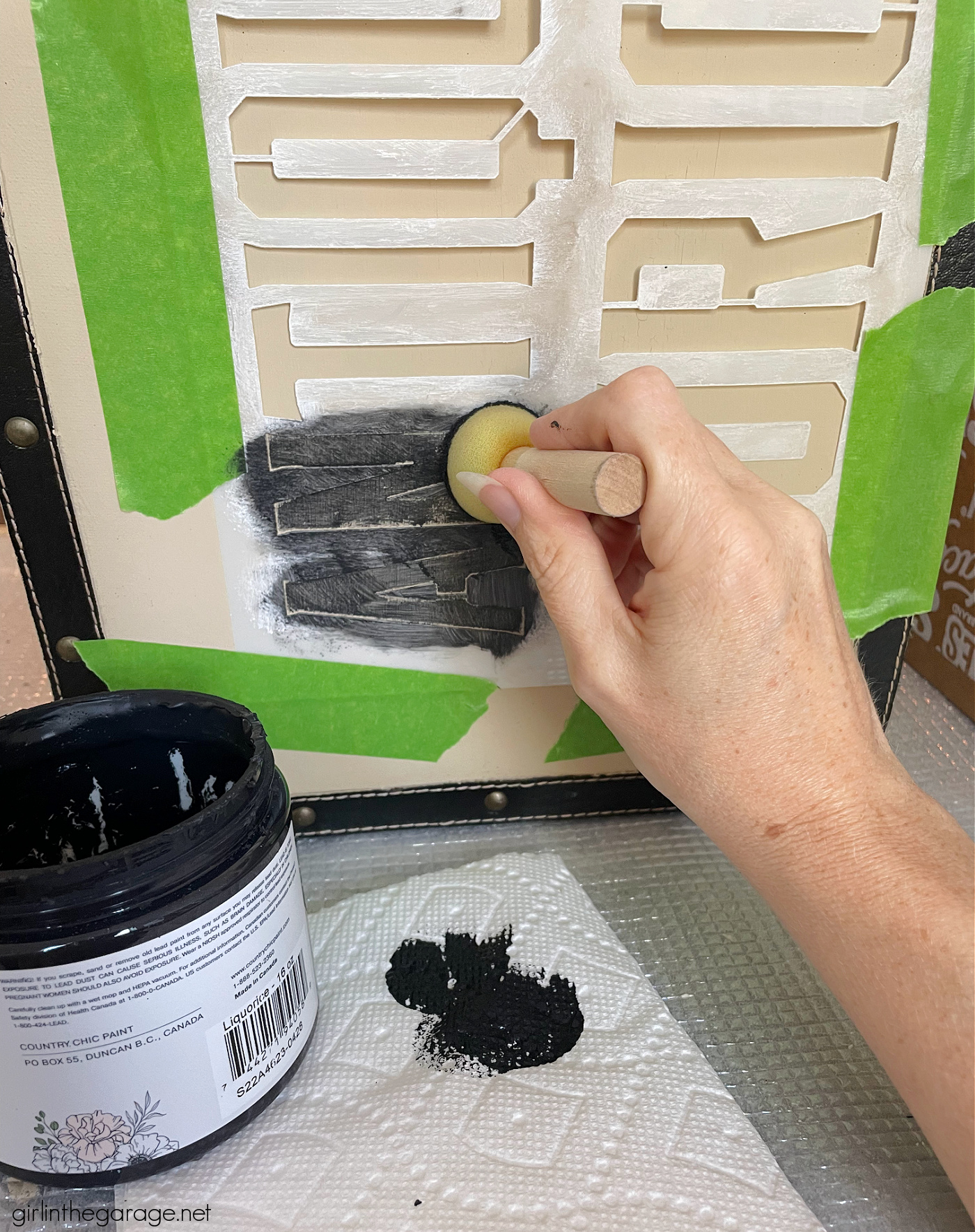 After stenciling all the way up the front, I set the lid back on top and re-stenciled over the side of the lid so all the letters would line up properly.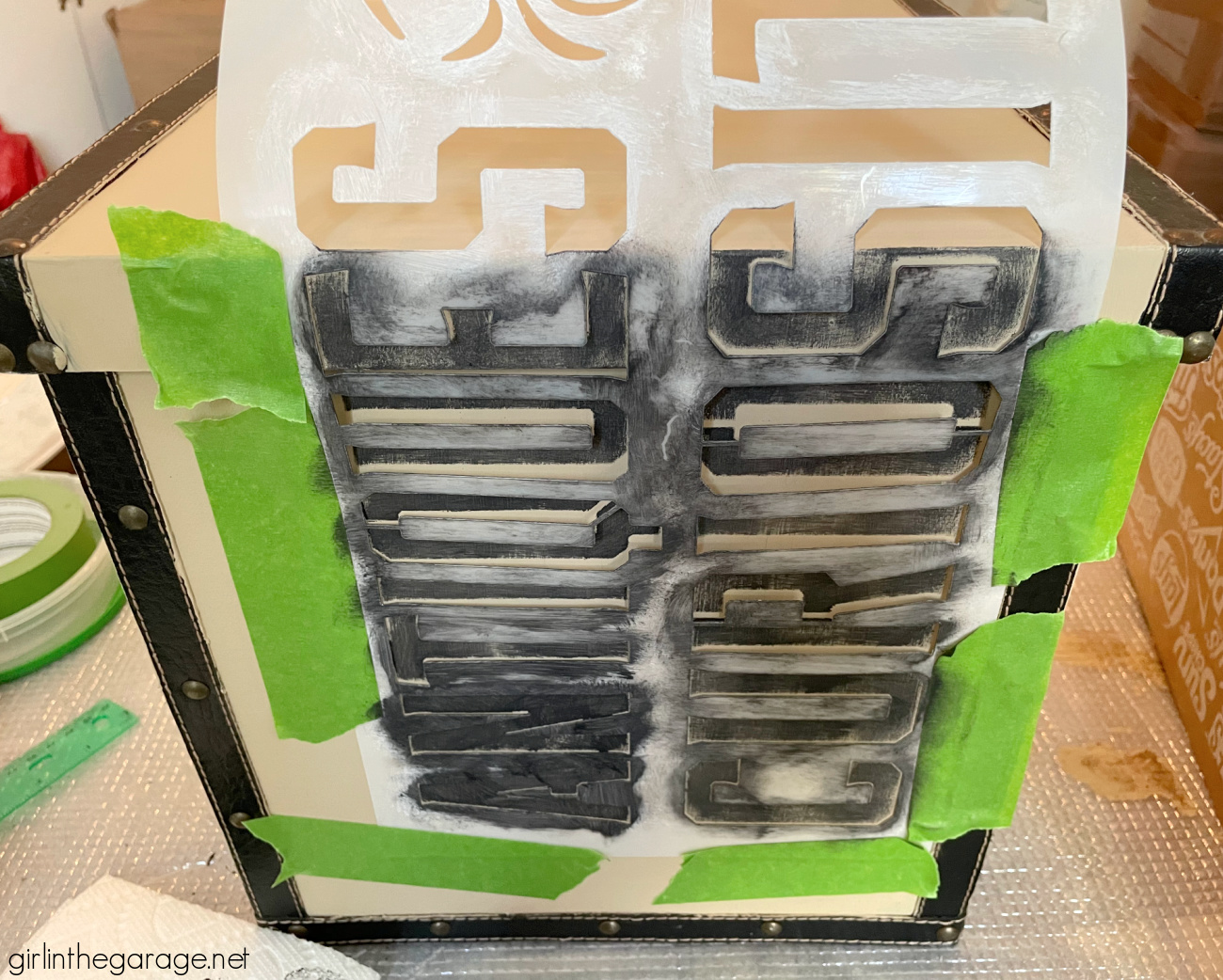 Then I repositioned the stencil on top of the lid and finished that area (see below).
While that was drying, I turned the box on its side and stenciled some faux-stamped numbers. I thought it would help give the appearance of an old crate. This stencil is no longer available, but here is a similar one.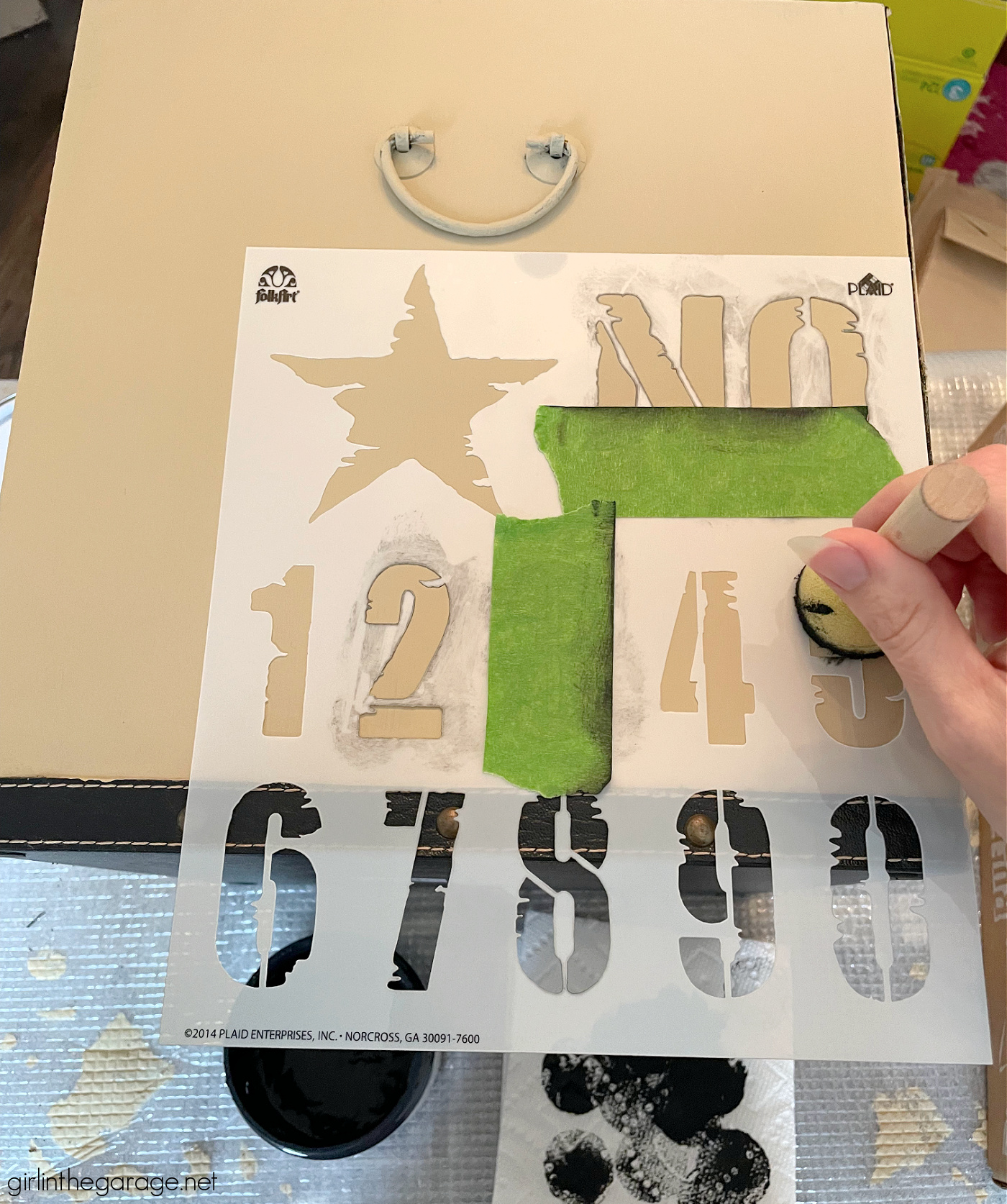 Lastly, I added a couple stripes for more visual interest. The easy way to paint stripes is to line up multiple strips of painter's tape and then remove the middle one – no measuring needed.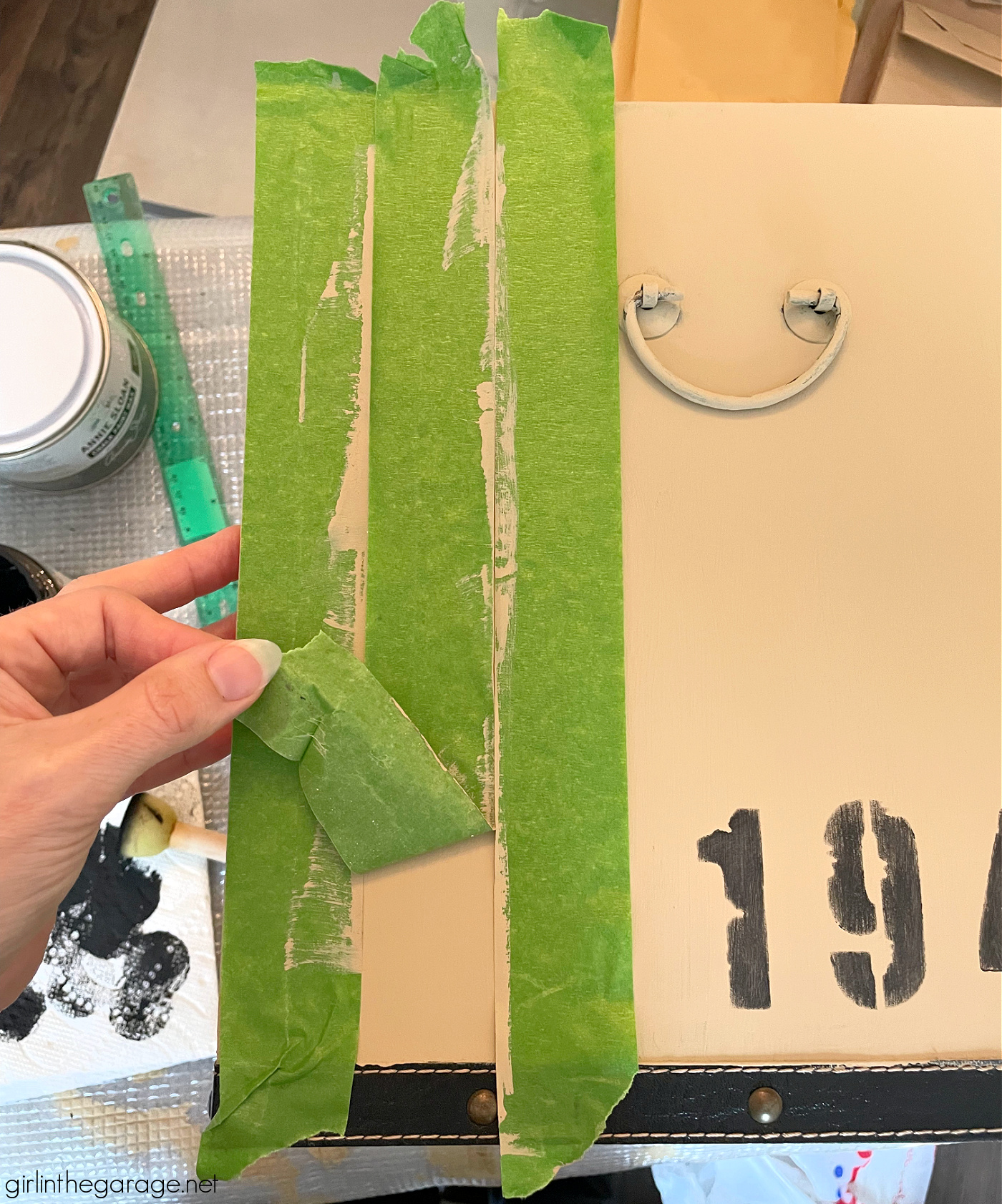 However I didn't have any brown paint, so I improvised – I used Annie Sloan's dark wax (brown) and a lint-free cloth to "paint" the stripes. It worked pretty great!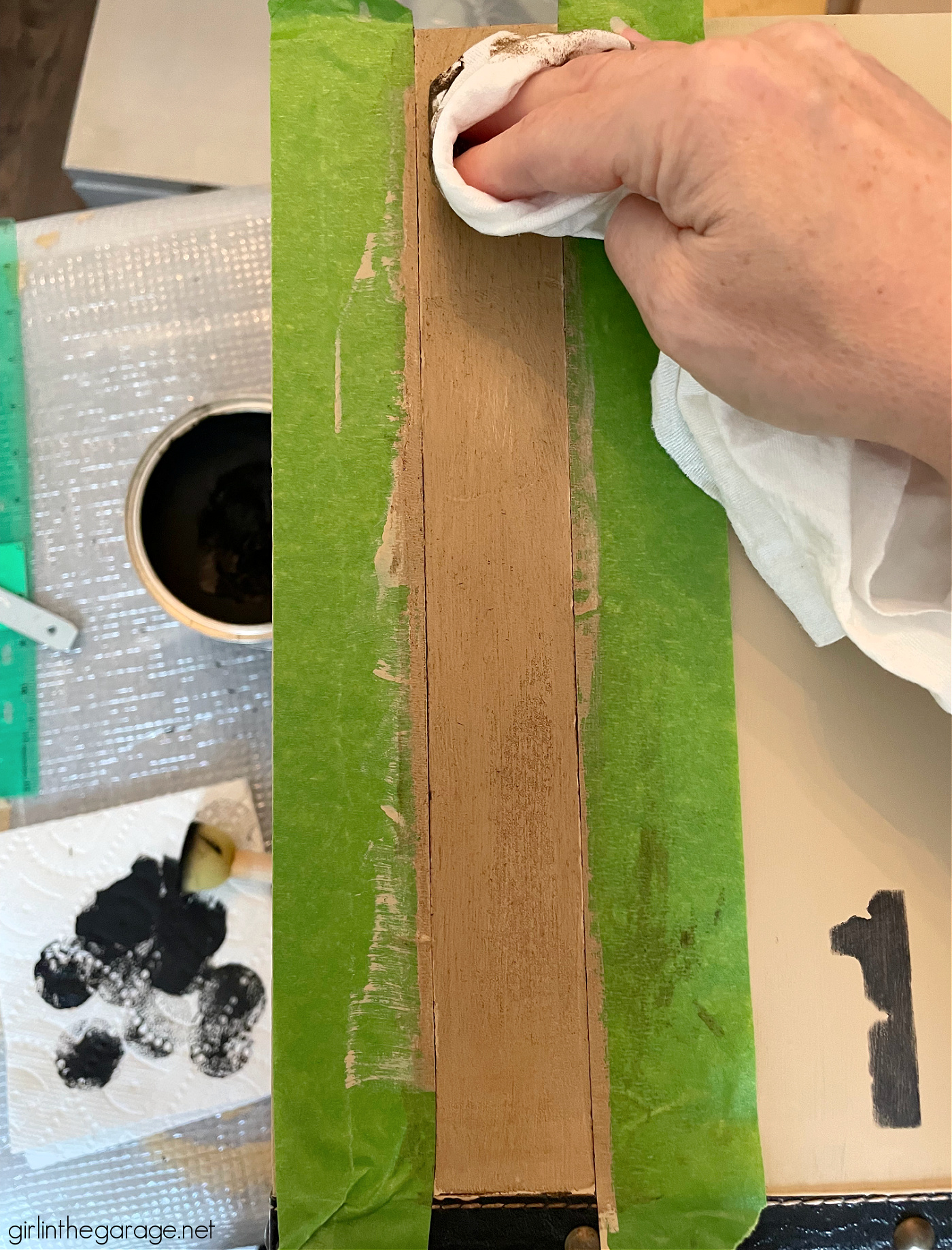 And here's how the Goodwill rooster storage box looks now…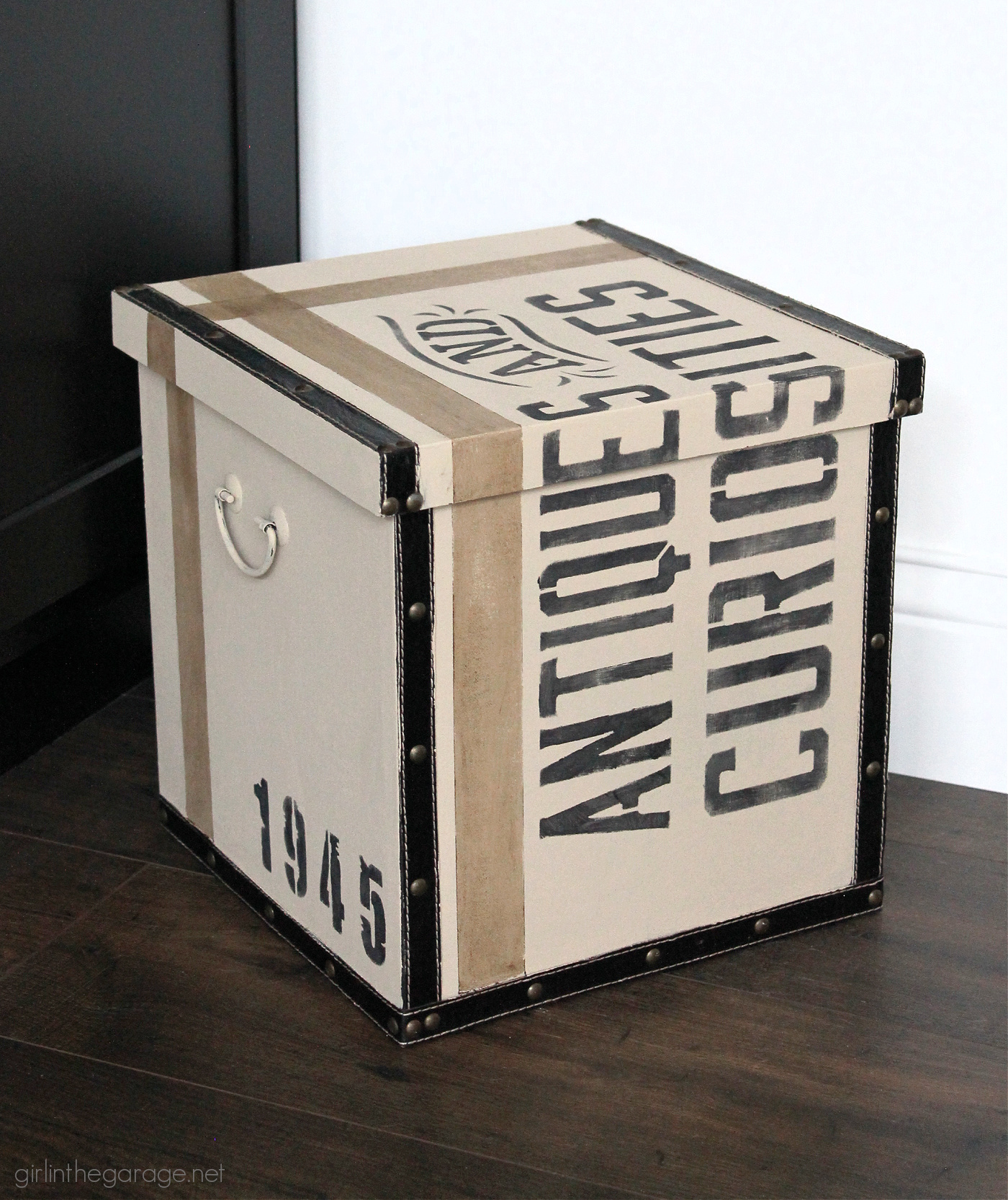 SOOOOO different, right?

I adore the new look and how it has a vintage/industrial vibe now. The original leather trim and tacks work perfectly with the new design.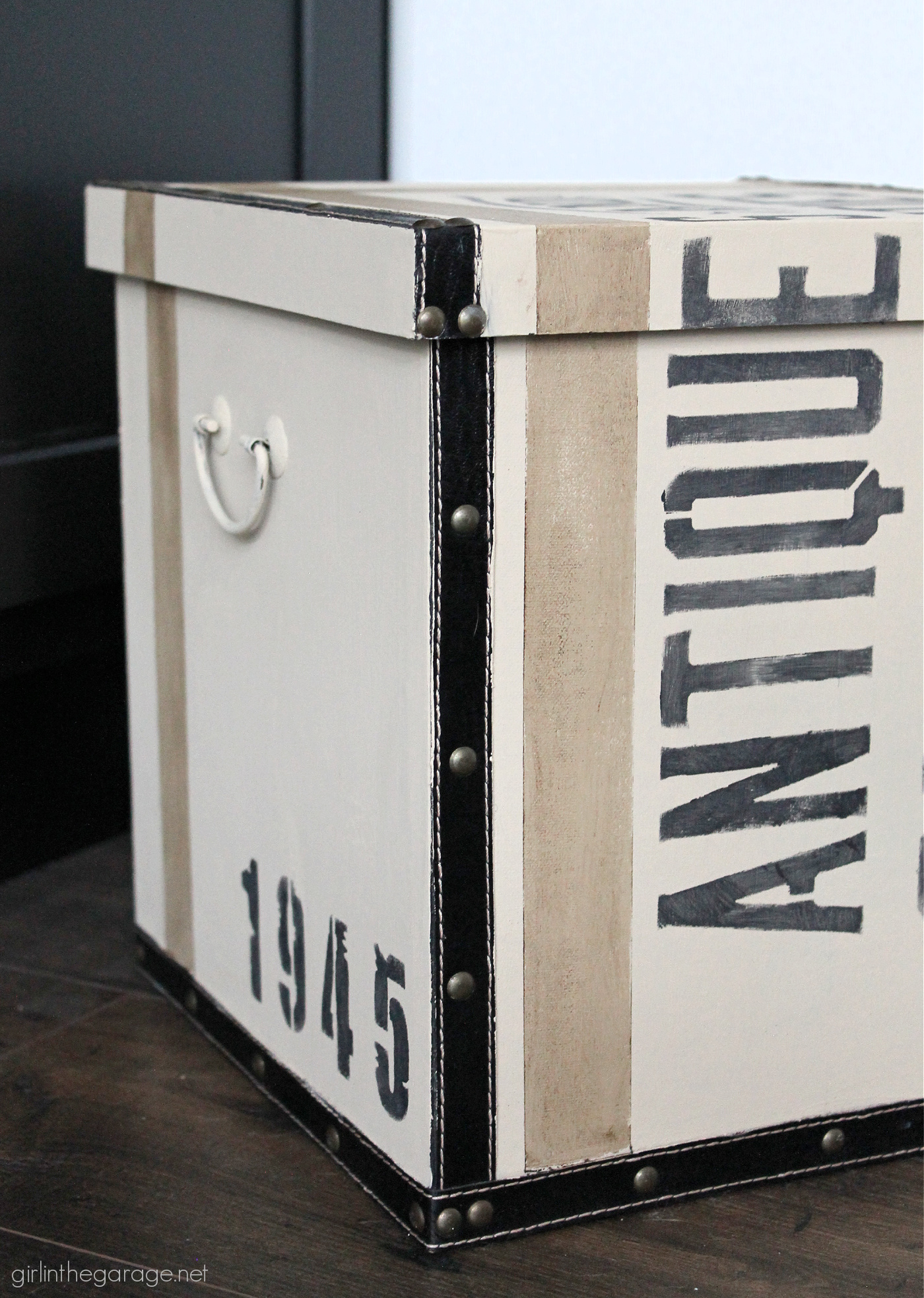 It's not perfect, and it's not supposed to be. I think it's a million times better than those roosters though.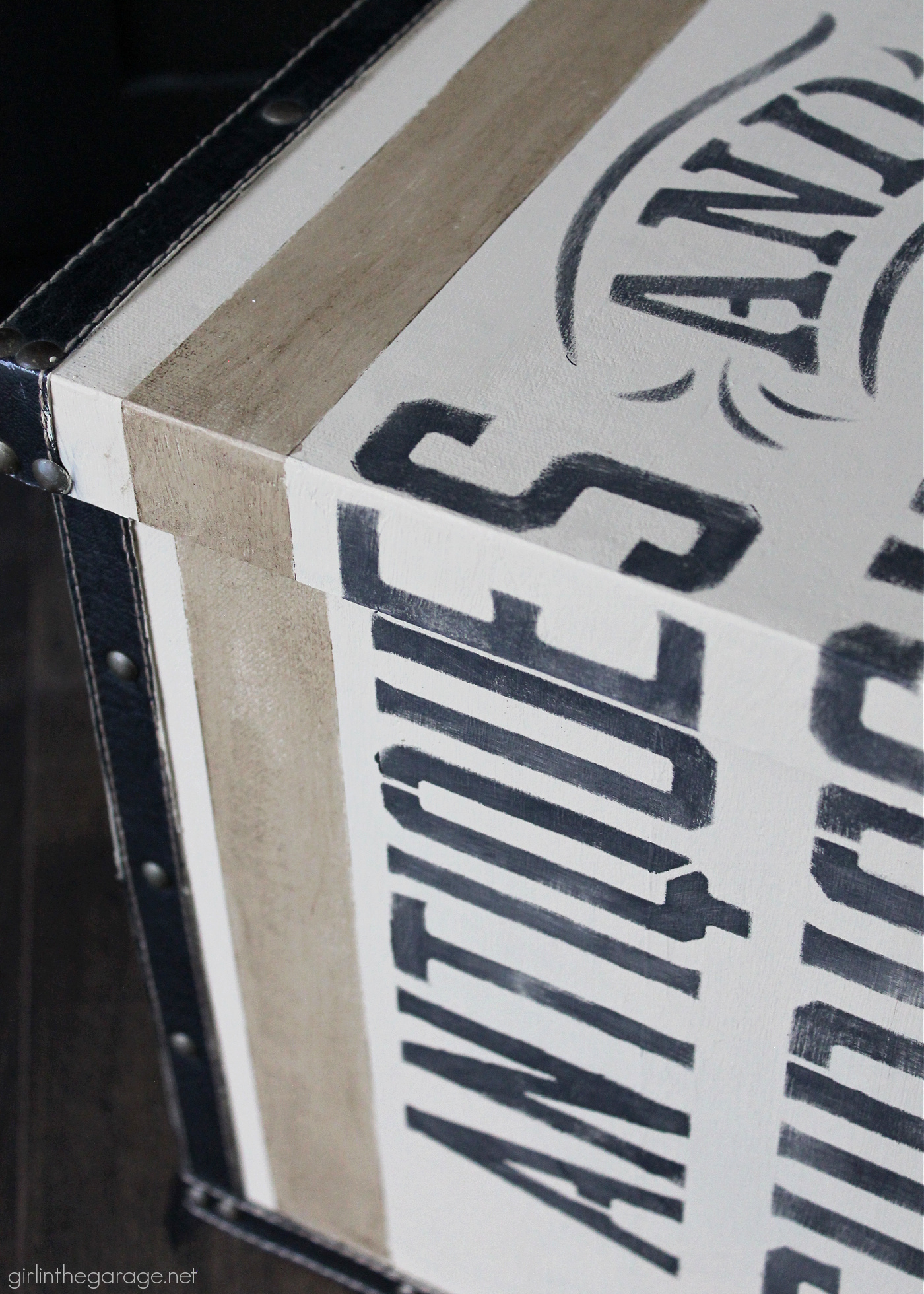 There's not a lot of room for storage inside, but you can fit a couple small blankets or other items you want to stash away.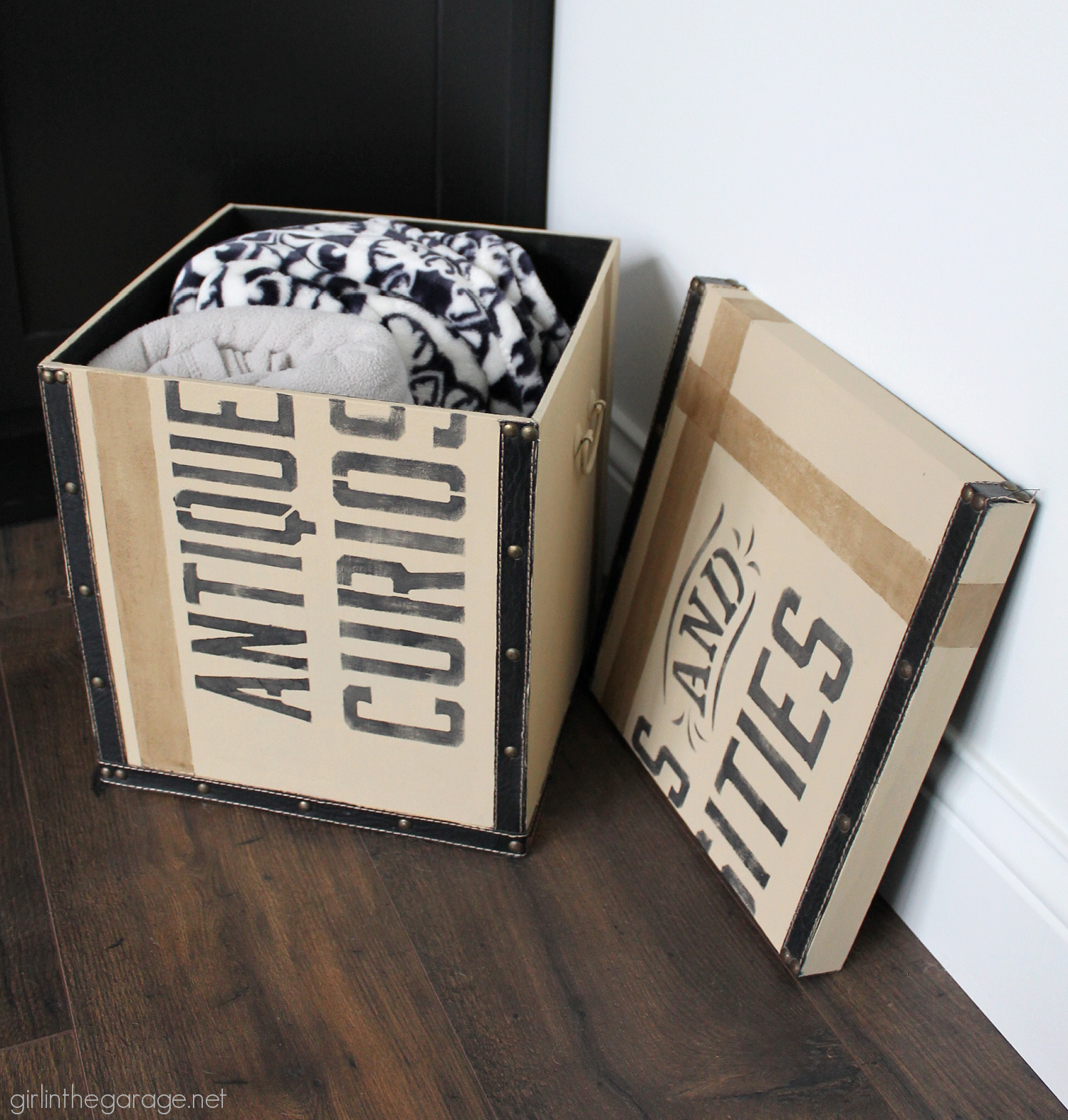 Rosie wasn't being very patient when I was taking photos… she's such a cutie though!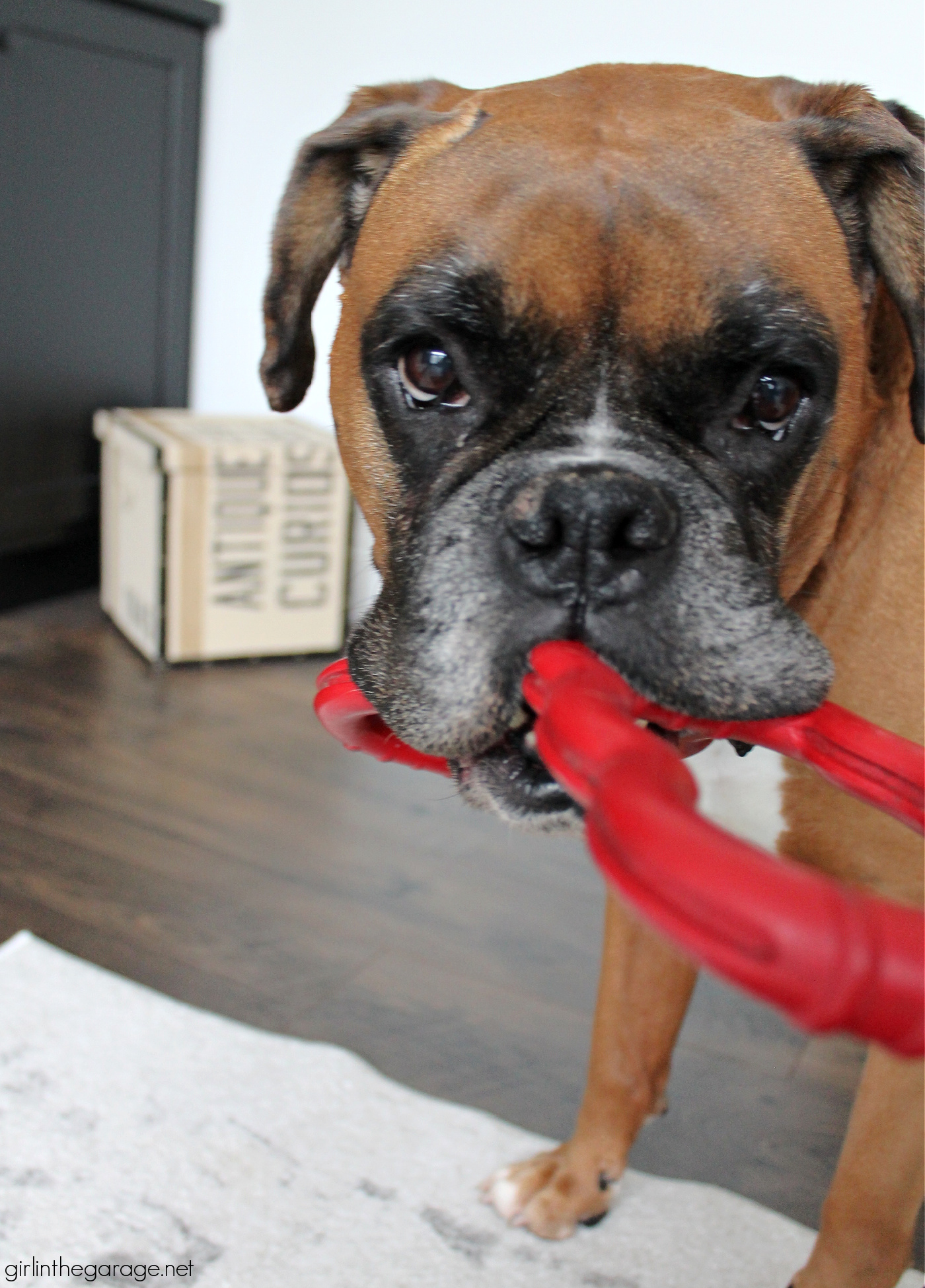 Here's another look at the Before and After of this painted and stenciled storage box from Goodwill. Please feel free to Pin this project or share it with a friend who might like it.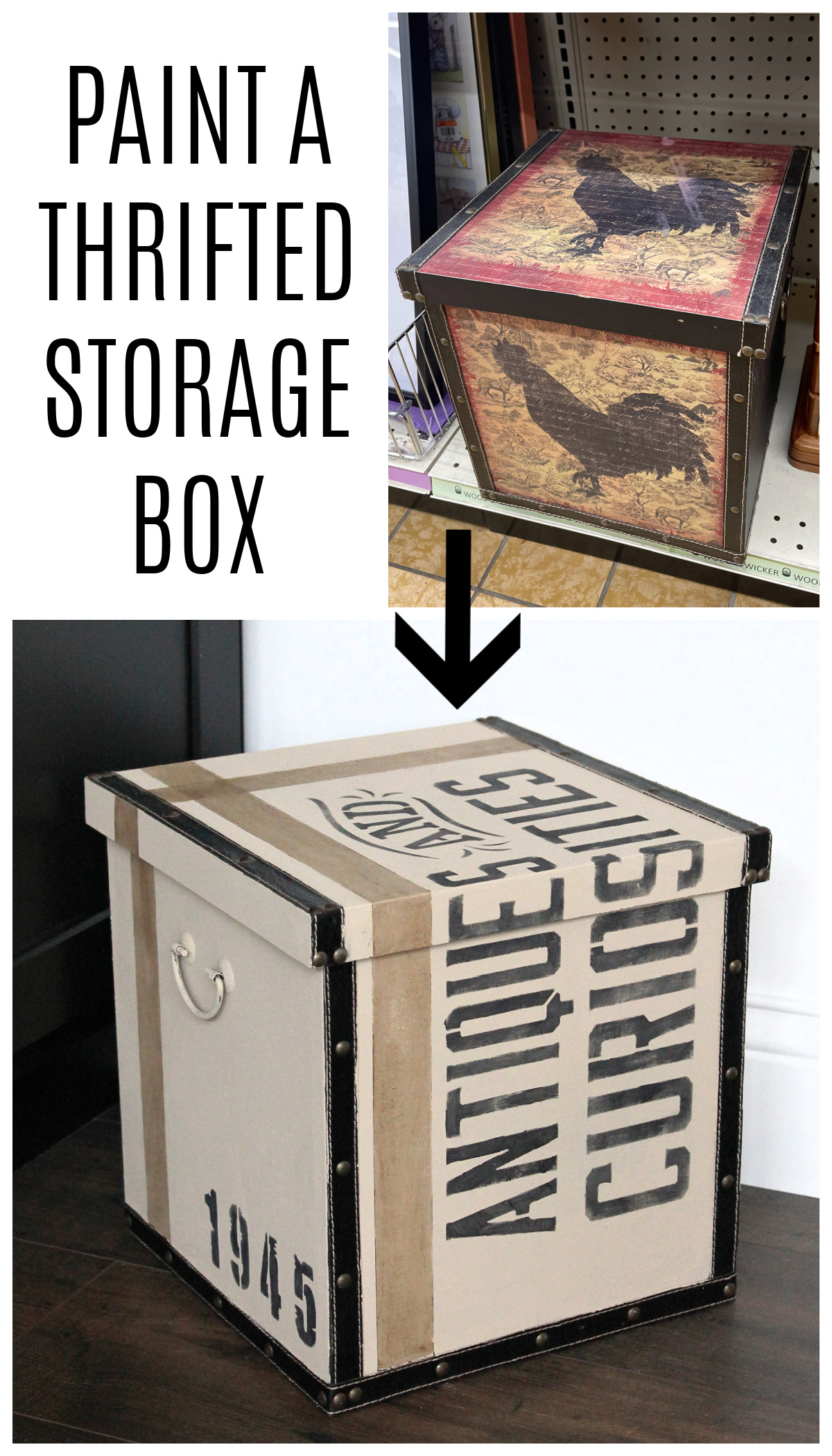 Also, I'd love to know what you think! Let me know in a comment below. -Jen
Now it's time for Trash to Treasure makeovers with my friends…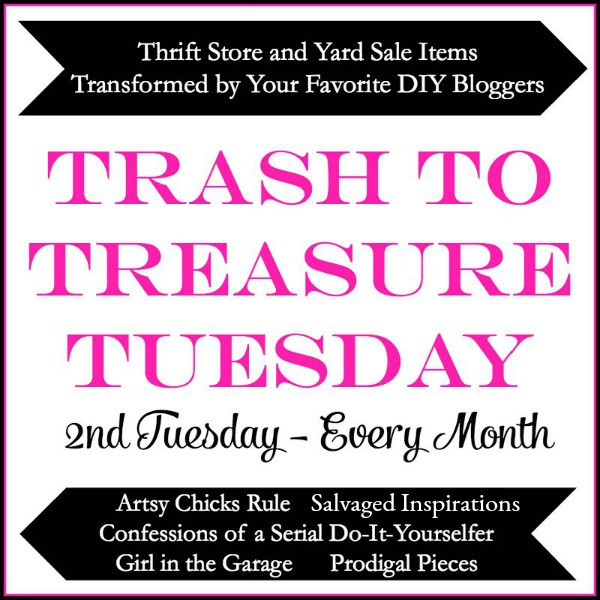 Below are the Before photos – visit the links underneath to see the amazing Afters and to learn how they did it: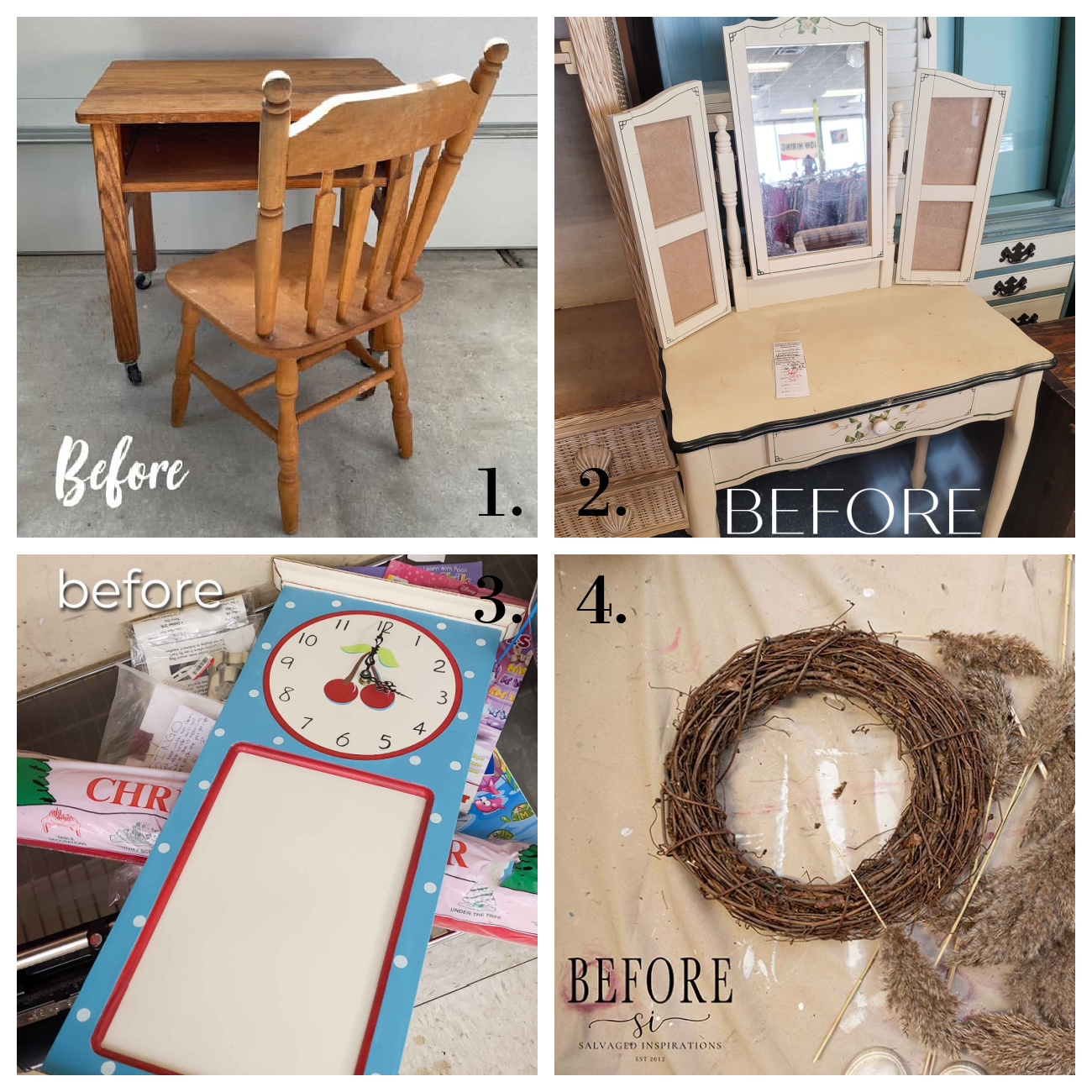 1. Confessions of a Serial DIYer
2. Artsy Chicks Rule
3. Prodigal Pieces
4. Salvaged Inspirations
If you love being inspired by DIY makeovers, my book Amazing Furniture Makeovers has 25 exclusive step-by-step furniture makeovers to inspire and teach you.