Friend, this little antique table has been in my stash forever. It's lightweight but has a nice shape and really pretty legs. It's getting a new look with green paint, but only on part of it. Then I'll also share even more green painted furniture makeovers to inspire you. Keep reading!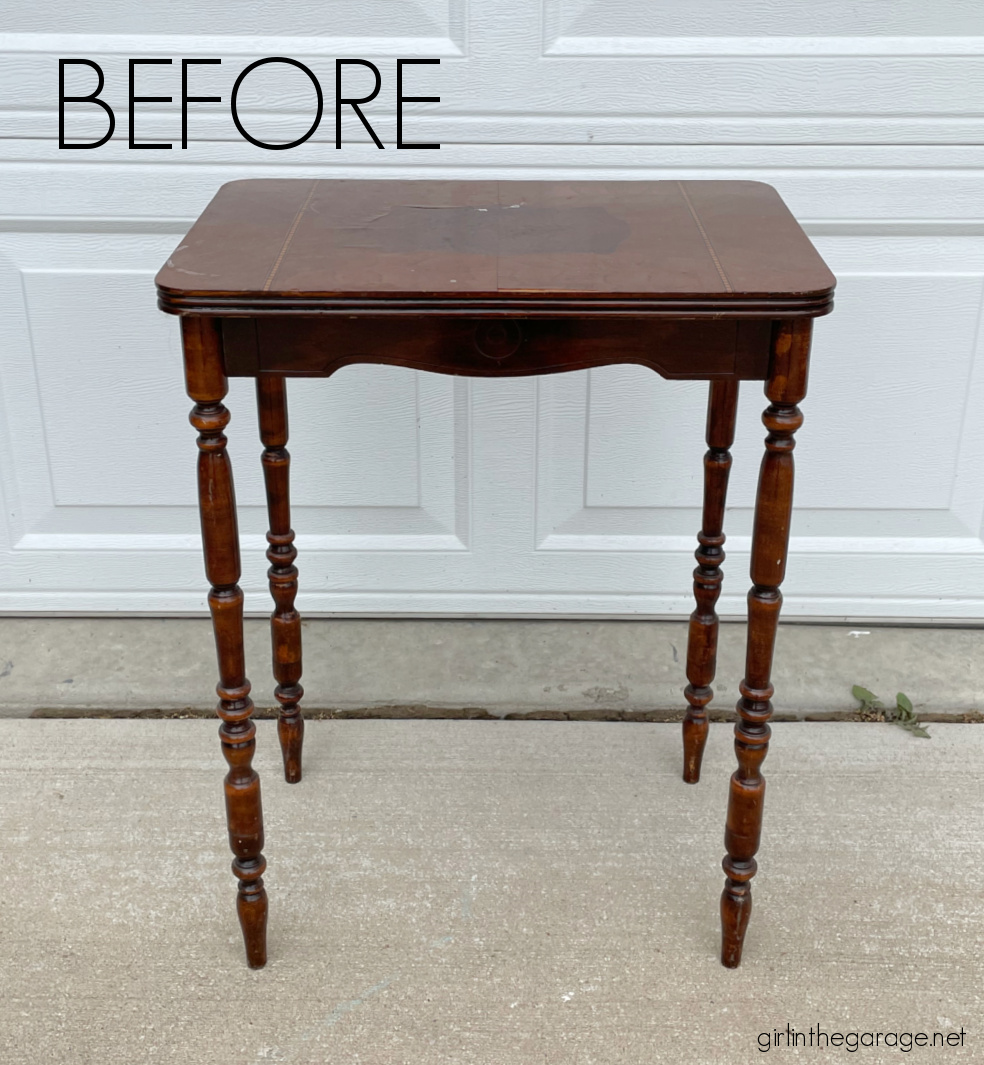 This project contains some affiliate links so you can easily find the brands and tools I recommend. Discover all my favorite products for DIY makeovers here.
Here's a closer look at the damage on top: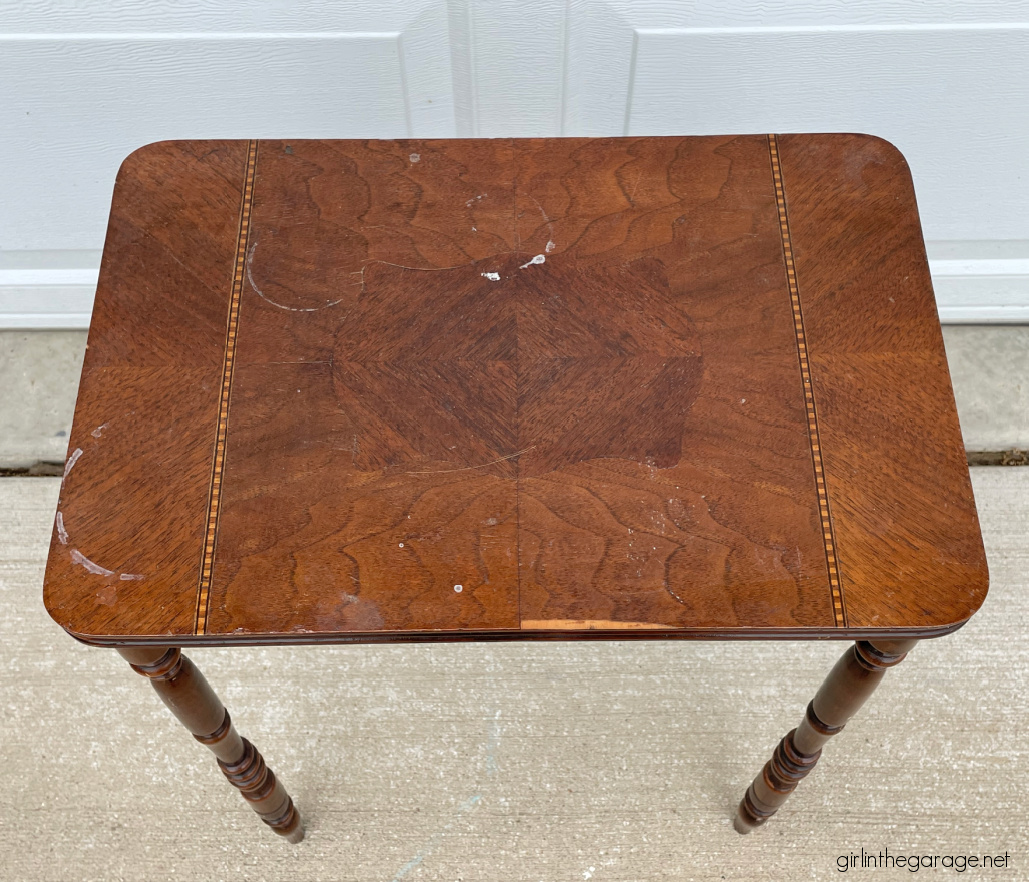 The burled wood is definitely worth saving and I plan to make it look beautiful again. You can learn all about burled wood here.
The top of the table needed to be sanded, so I pulled out my trusty Makita sander (this is the exact one I have). It's not too heavy, fits in my hand well, and has a convenient carrying case.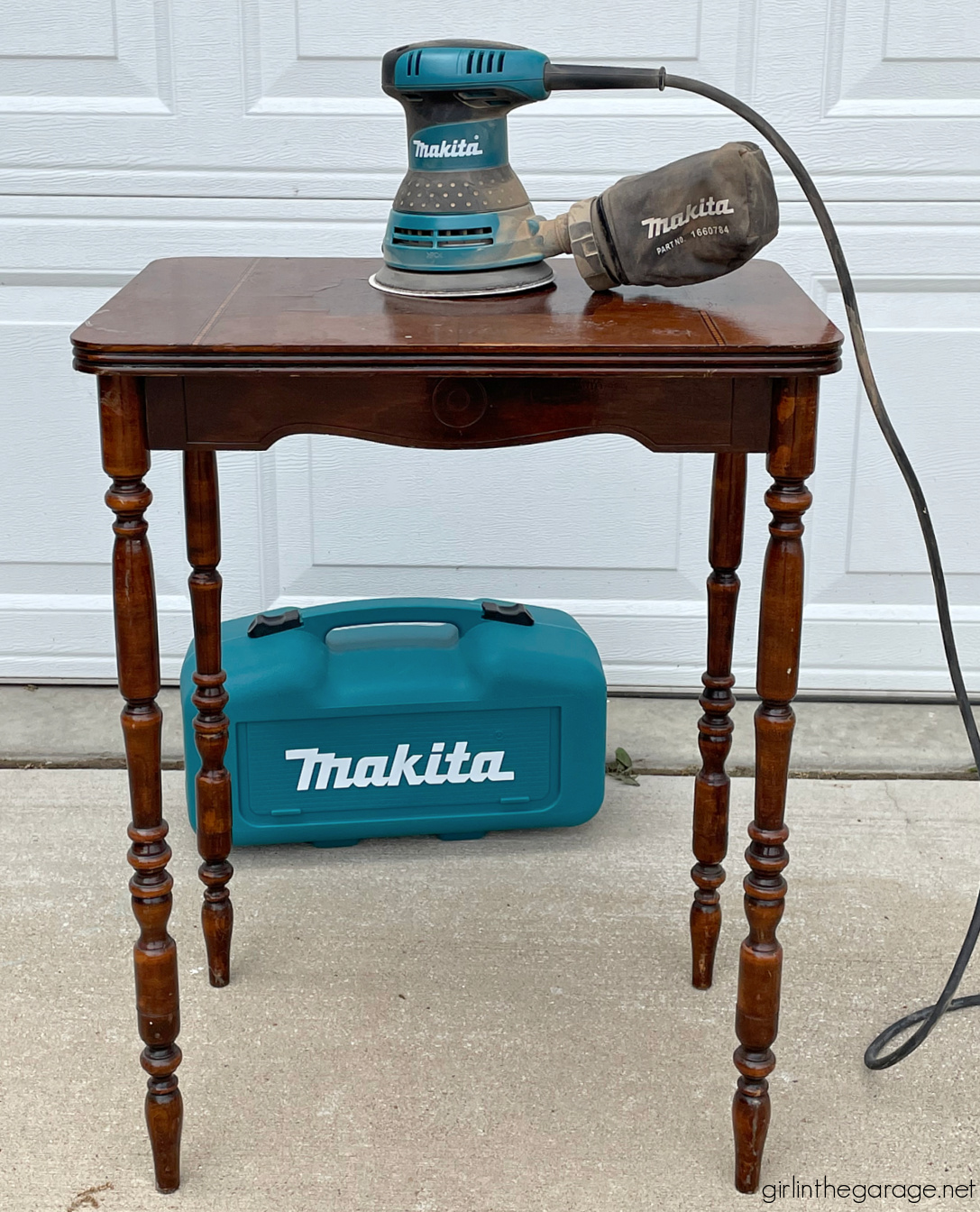 I spent about ten minutes sanding the top with 120 grit sandpaper to remove the imperfections and the dark shiny finish. (Always follow the instructions with power tools and wear proper safety gear.) I left the small area of chipped veneer alone – if I had planned to paint the table top, it could've been filled with wood filler. But it's just a charming imperfection now.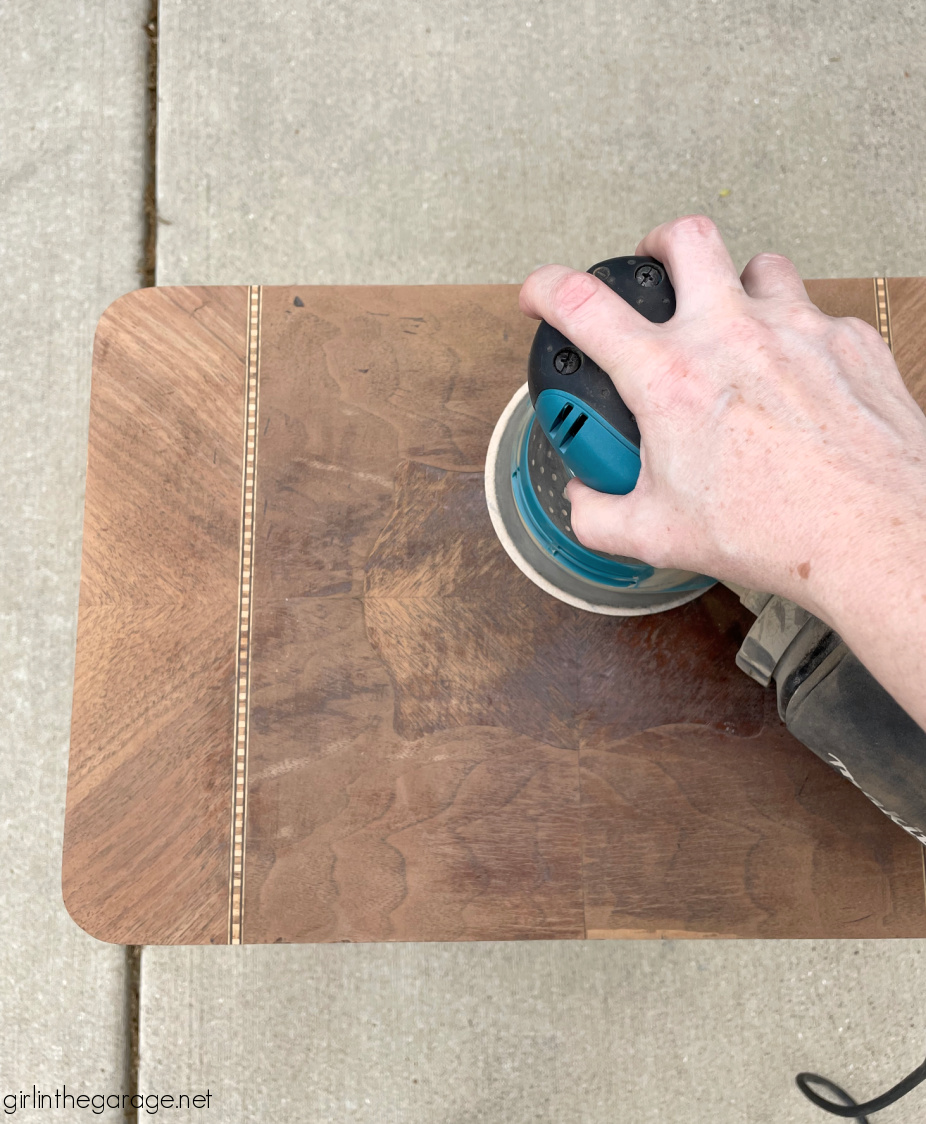 Below is the table top sanded smooth and looking better so far: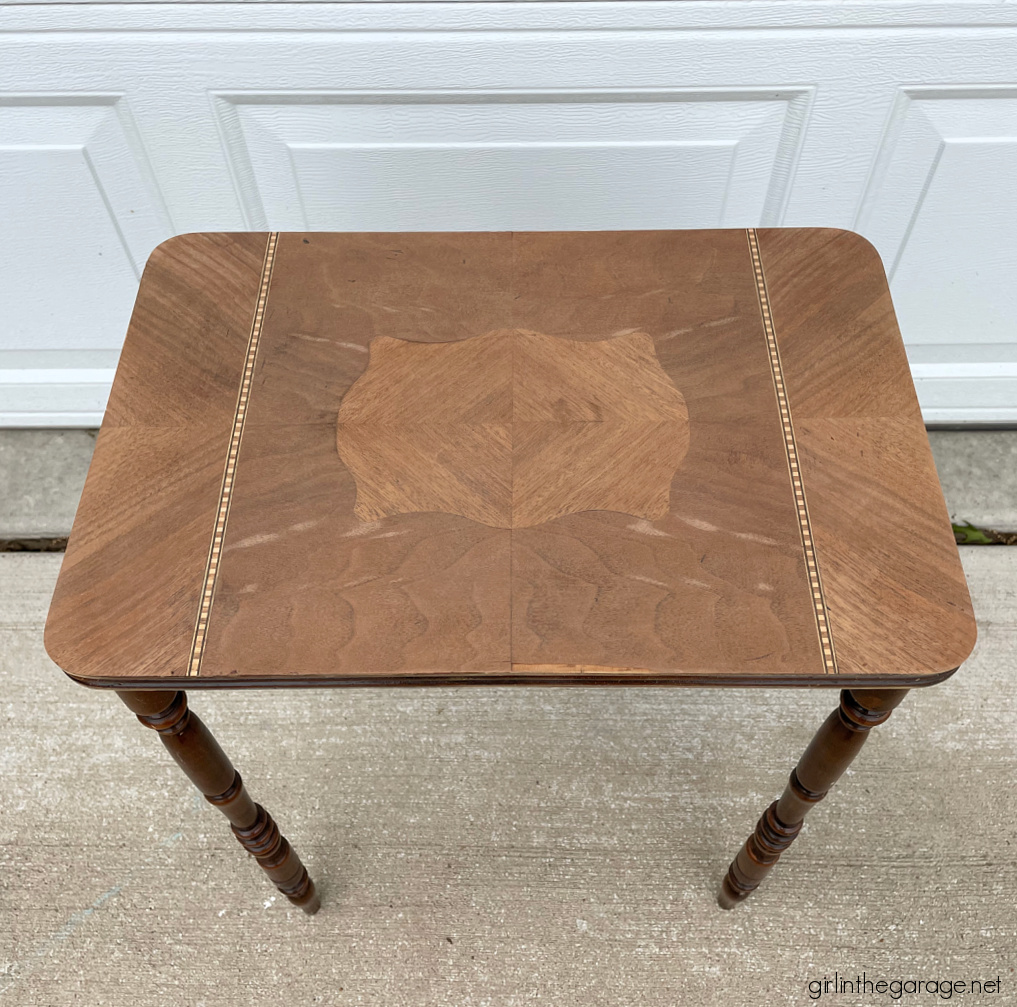 The base was going to be painted green with Country Chic Paint in Hollow Hill. This is a true green, a little on the dark side. This was also one of the colors used on my multi-colored stenciled bookcase for last month's Furniture Fixer Uppers day. You can learn a lot more about Country Chic Paint in that post too.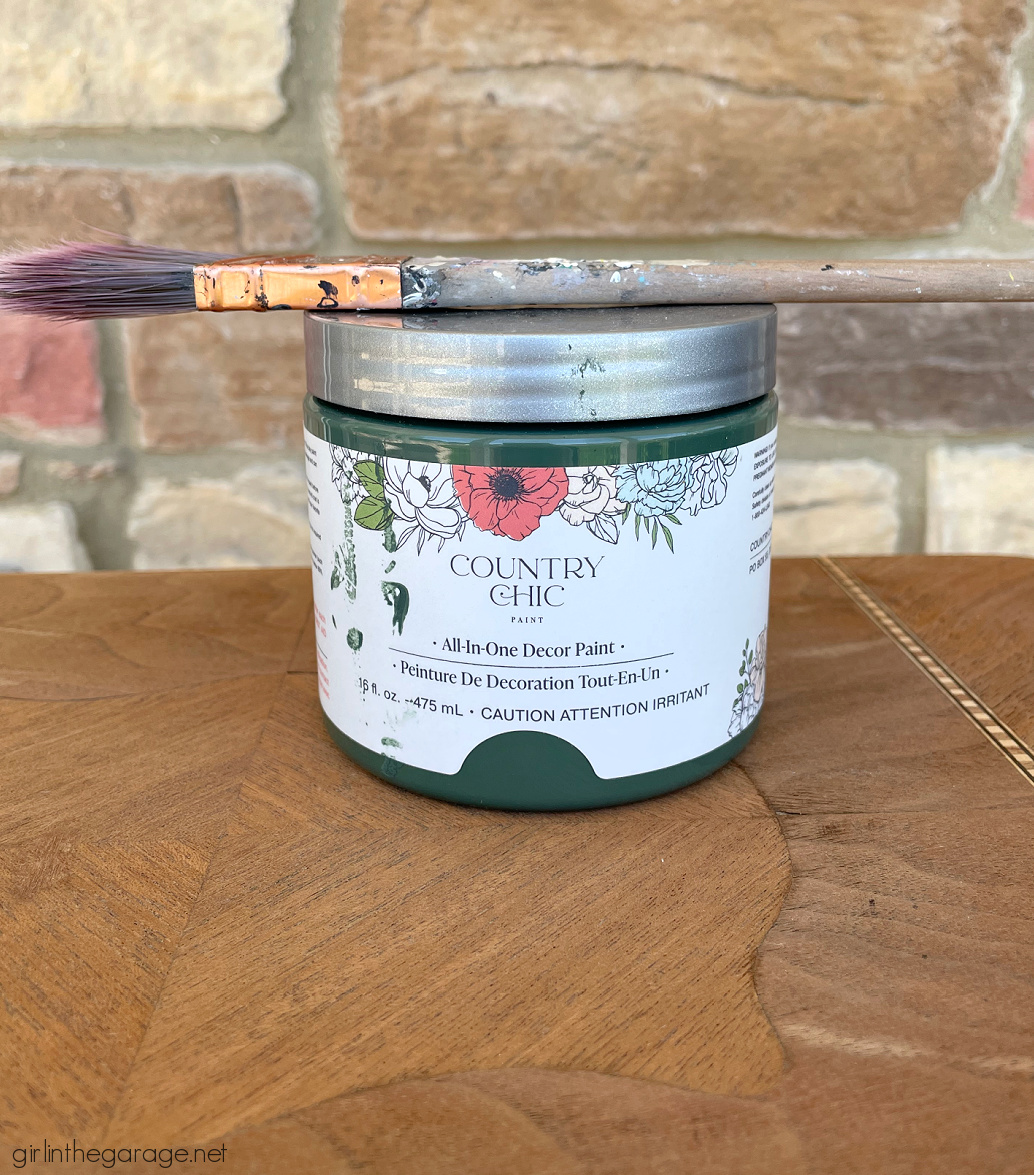 Country Chic Paint has dozens of paint colors and other furniture makeover products, which are all conveniently available on Amazon here. The paint is fairly similar to Chalk Paint and also dries to a matte finish. A topcoat isn't required, but is recommended for certain types of furniture.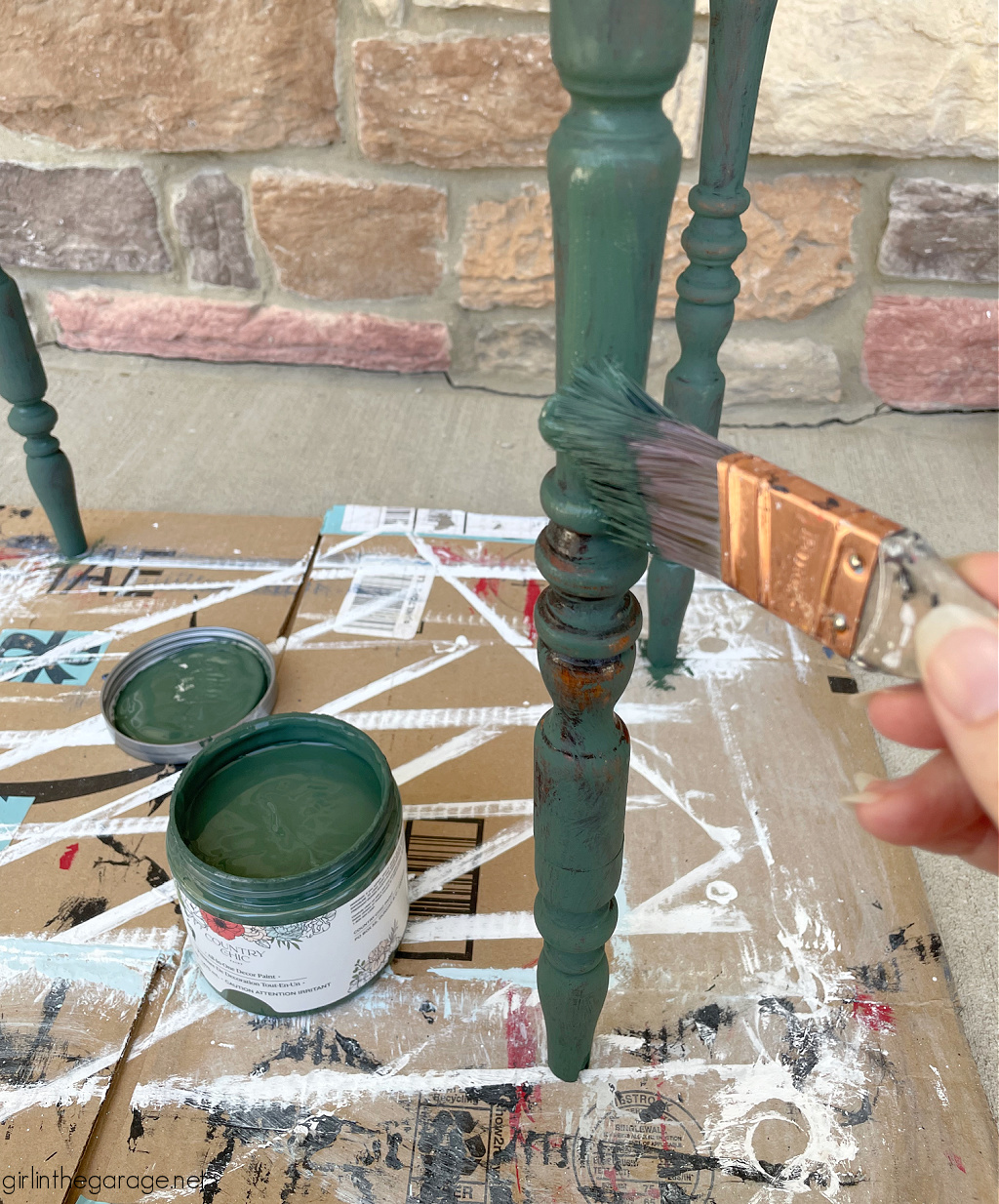 I applied two coats of green paint with a Purdy paint brush. Working with dark colors means you don't have to prime a piece for bleed-through like you do when painting furniture white or a light color. Grab my free guide here for how to properly prep furniture for painting.
After the paint was dry, I lightly sanded over it with 320-grit sandpaper to distress it. It's easier to distress legs and spindles by wrapping the sandpaper around the area and moving back and forth like below. Then wipe the piece down to remove the sanding dust.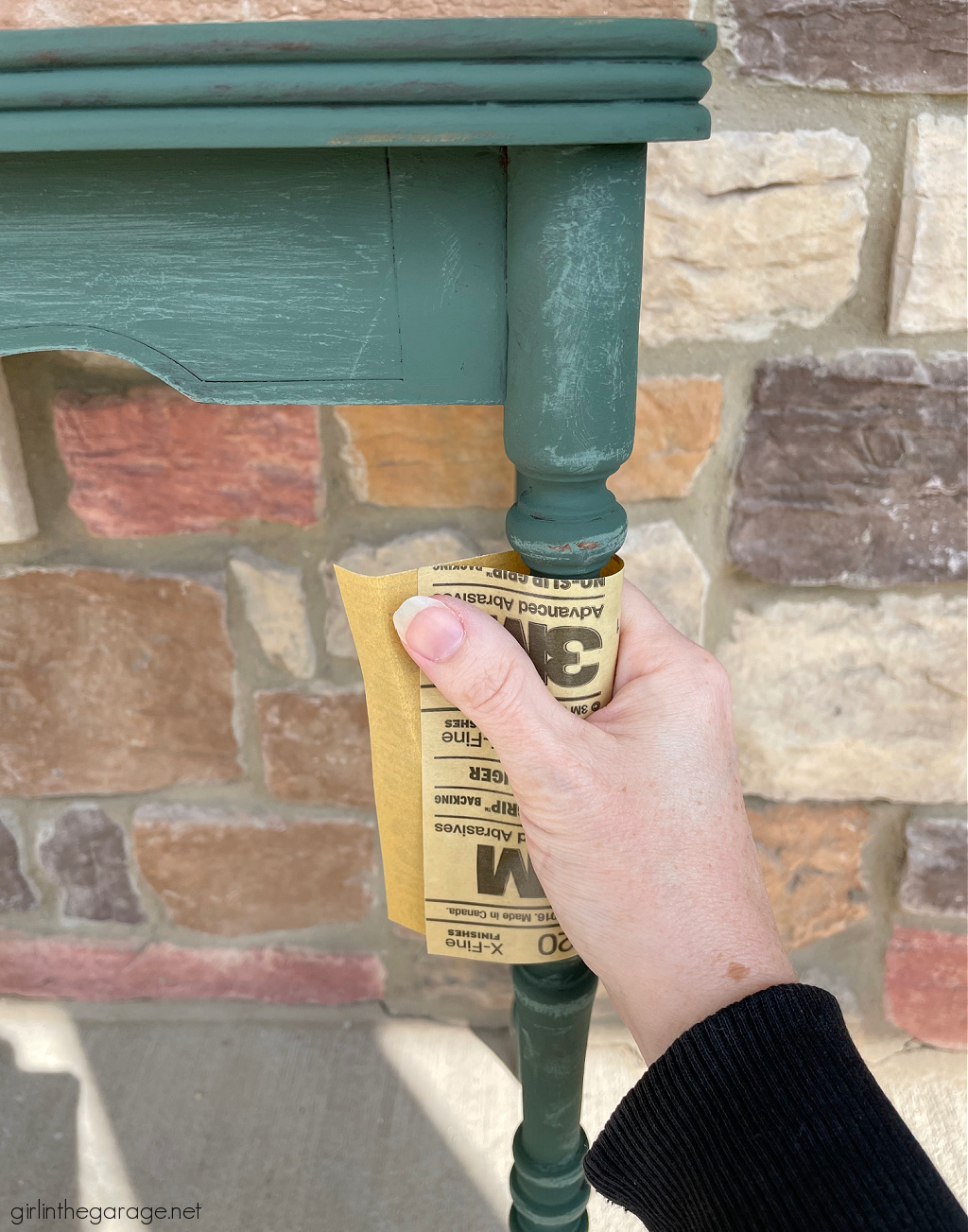 Since I removed the original finish on top, I opted to protect the table with Country Chic clear wax for furniture, using a lint-free cloth. This was my first time using this product.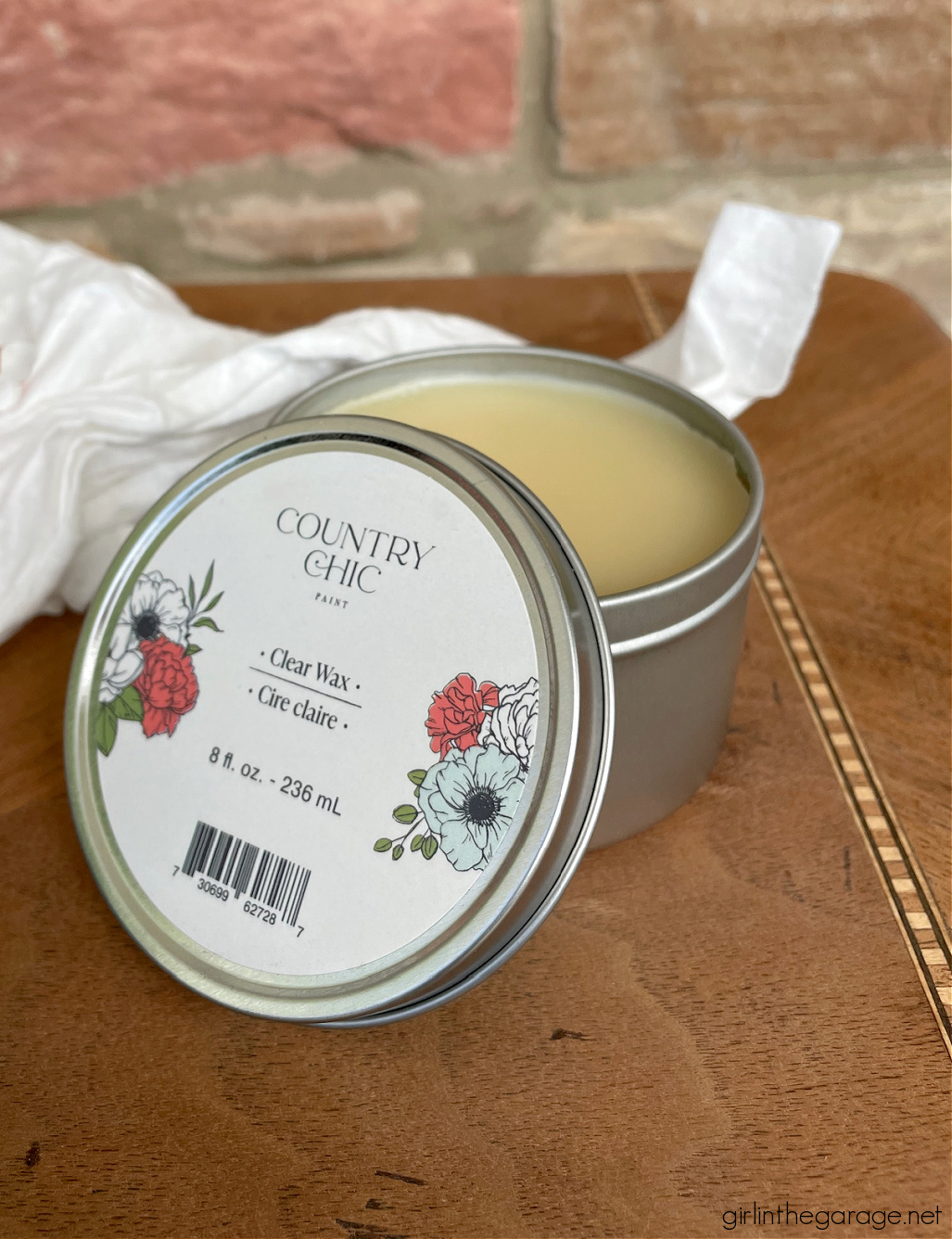 Country Chic clear wax is different than Annie Sloan's because it's not as soft, so you have to dig a little to get some on your cloth. Also, this wax is all natural – it's made from beeswax and natural tree nut oils. It's also odor-free!
You can see below where the wax was applied in the upper corner vs. the rest of the table top.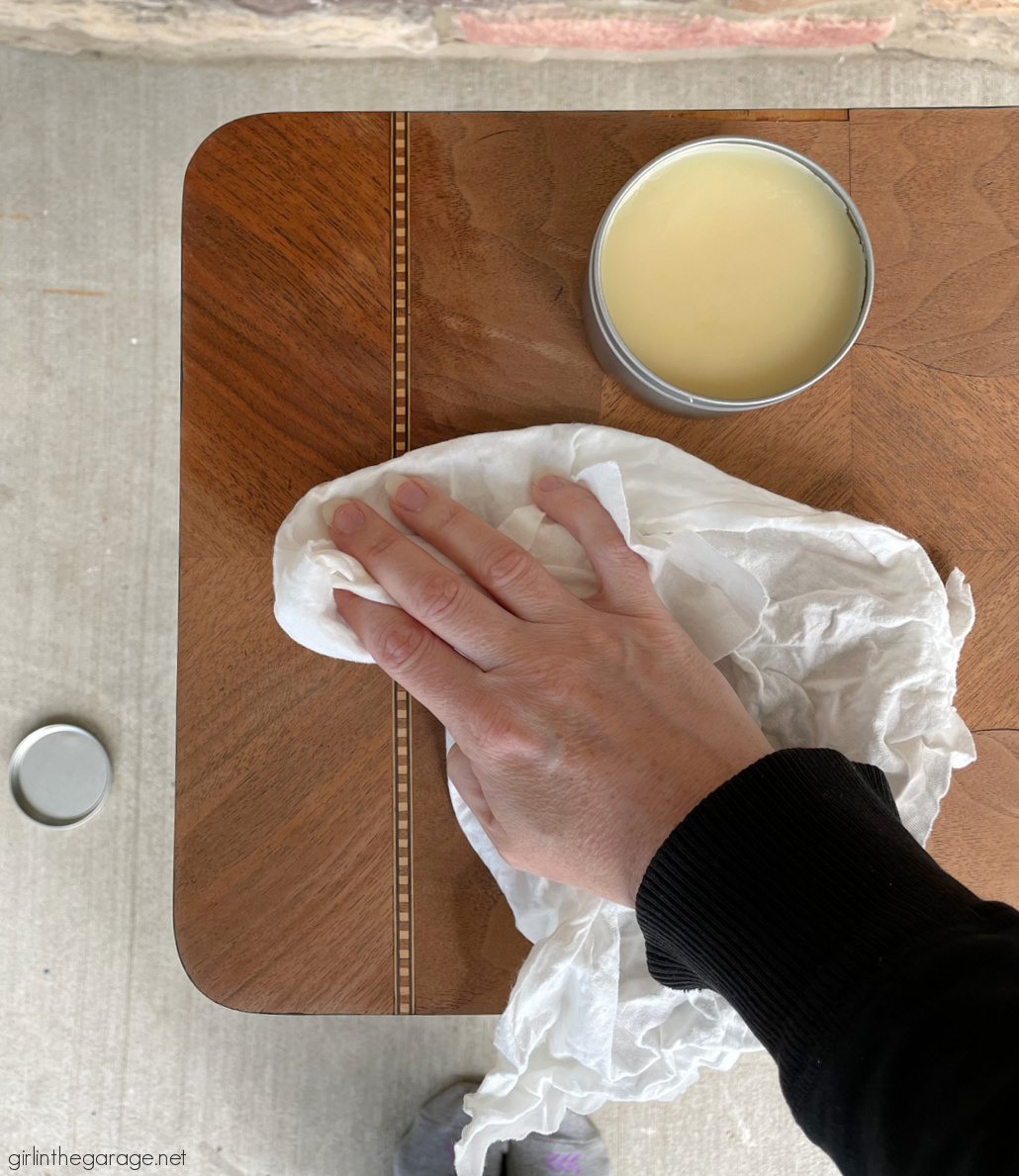 And here's how this gorgeous green painted table turned out…

Hollow Hill is a lovely shade of green, which I plan to use on more pieces.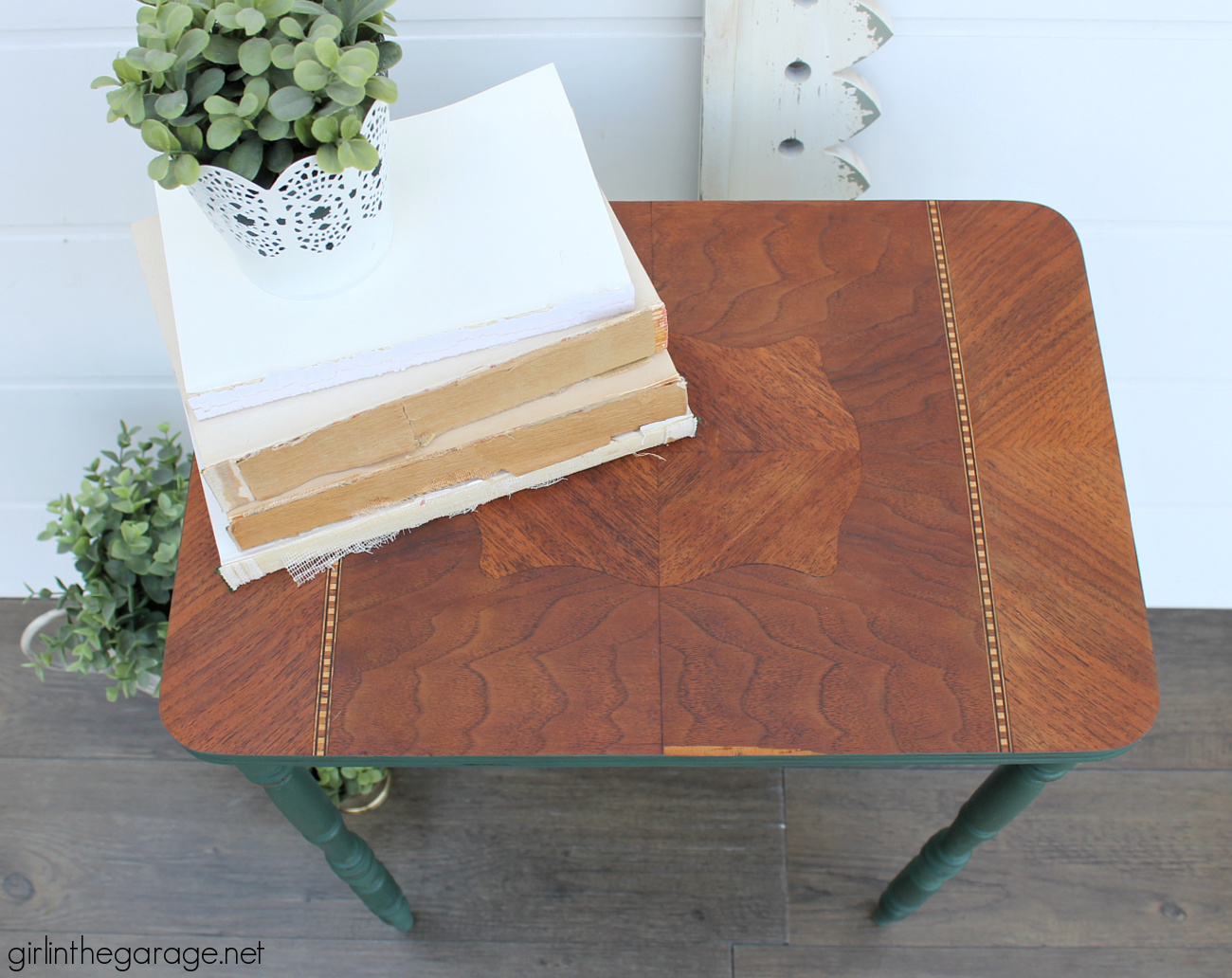 And the top looks so much better after being sanded and waxed, don't you think?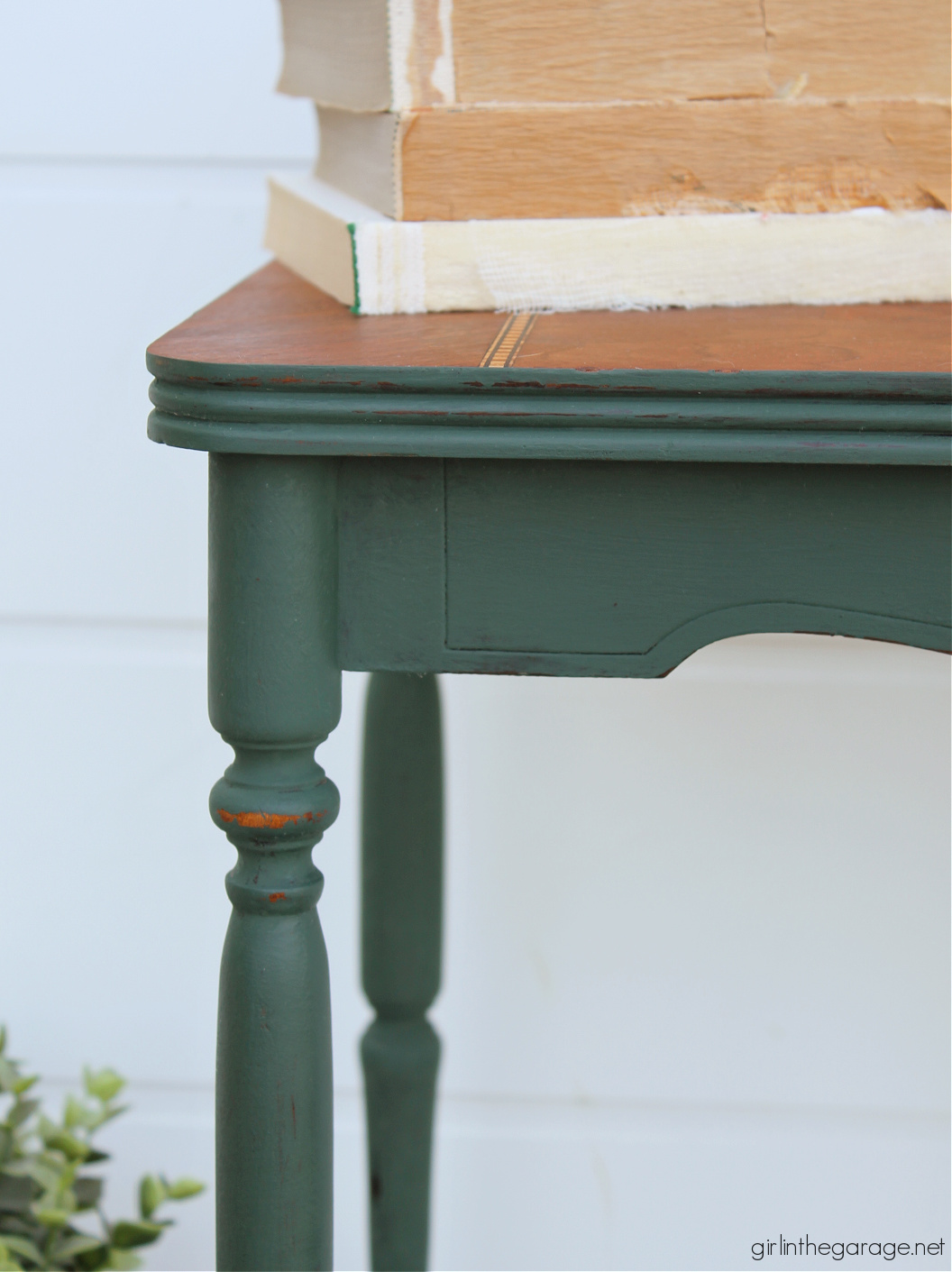 I think the distressed details are perfect for this antique piece.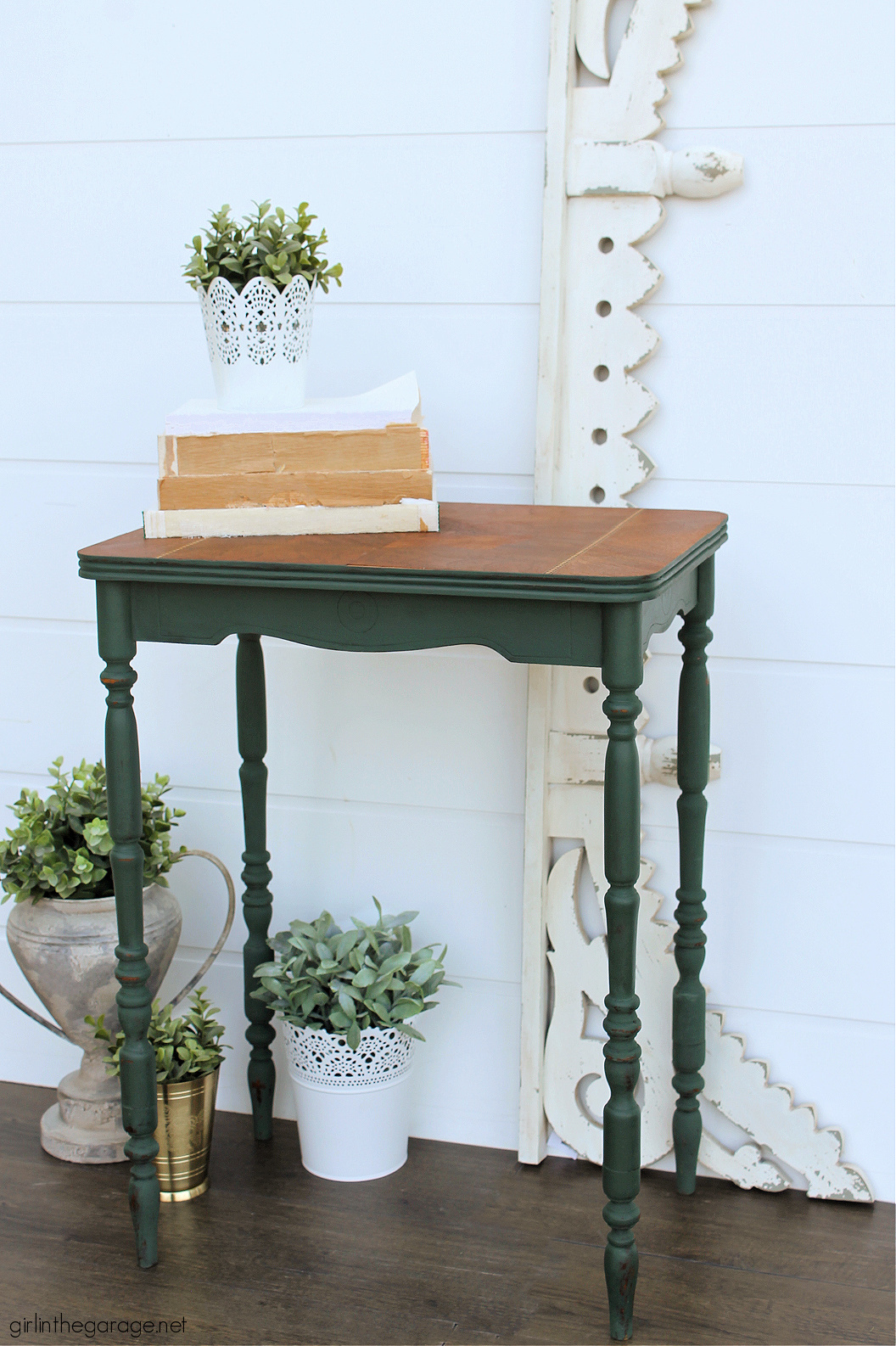 Please feel free to share this post with a friend or Pin it for easy reference later.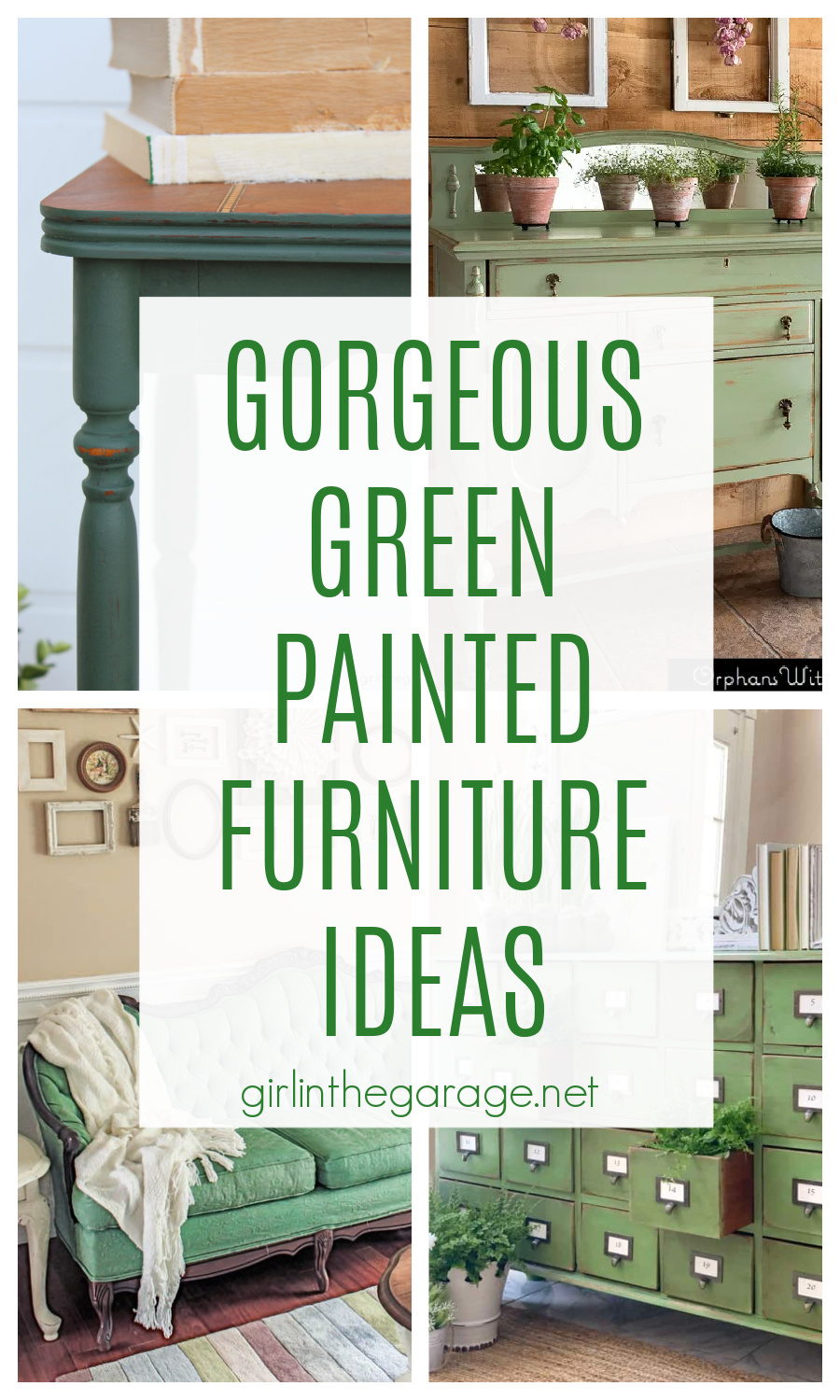 Here are more gorgeous green painted furniture ideas for you:
Weren't those some fantastic green painted furniture ideas?
And now it's time for more furniture makeover fun with my blogging friends!
Below are the Before photos – visit the links underneath to see the amazing Afters and to learn how they did it: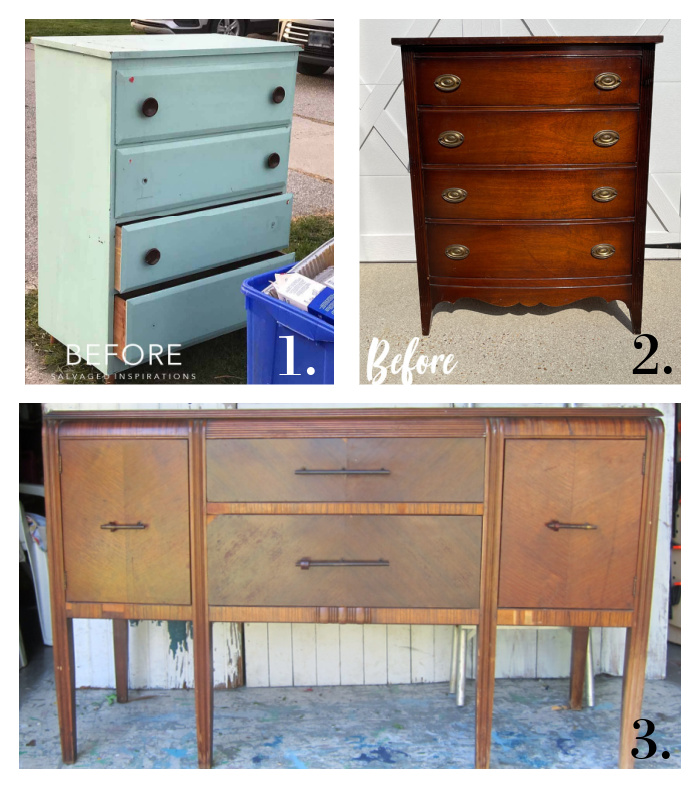 1. Salvaged Inspirations
2. Confessions of a Serial DIYer
3. Petticoat Junktion