Well hello again, friend! For today's new Furniture Fixer Upper makeover, I tried a new-to-me color of Rustoleum Chalked Paint. You may remember that I first tried this brand of paint last year and wrote an honest review of Rustoleum Chalked here and also compared it to Annie Sloan Chalk Paint (which I've used for years). This time, see how I updated the old vintage cabinet below with a soft shade of blue paint.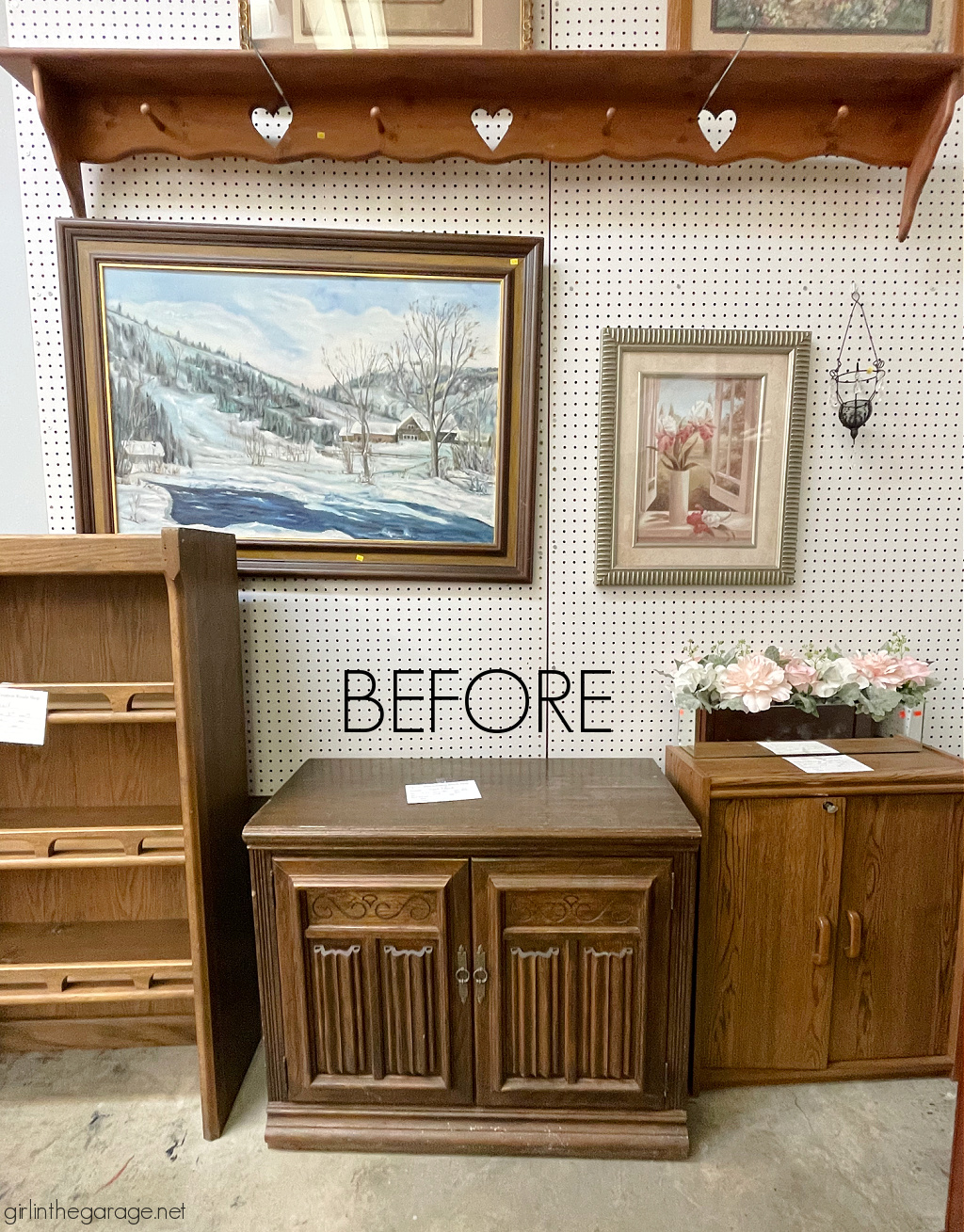 I almost struck out on my thrifting adventure – either the options were really cheap quality, way too expensive, or just too large for my work space right now. I wasn't thrilled with this cabinet at first either, but the charming details grew on me. It just needed a fresh new look!
This post contains some affiliate links so you can easily find the products I use and recommend. Discover all my favorite brands and tools for doing DIY makeovers here.
First, I wiped it down to clean it and then filled all the chips and cracks with wood filler.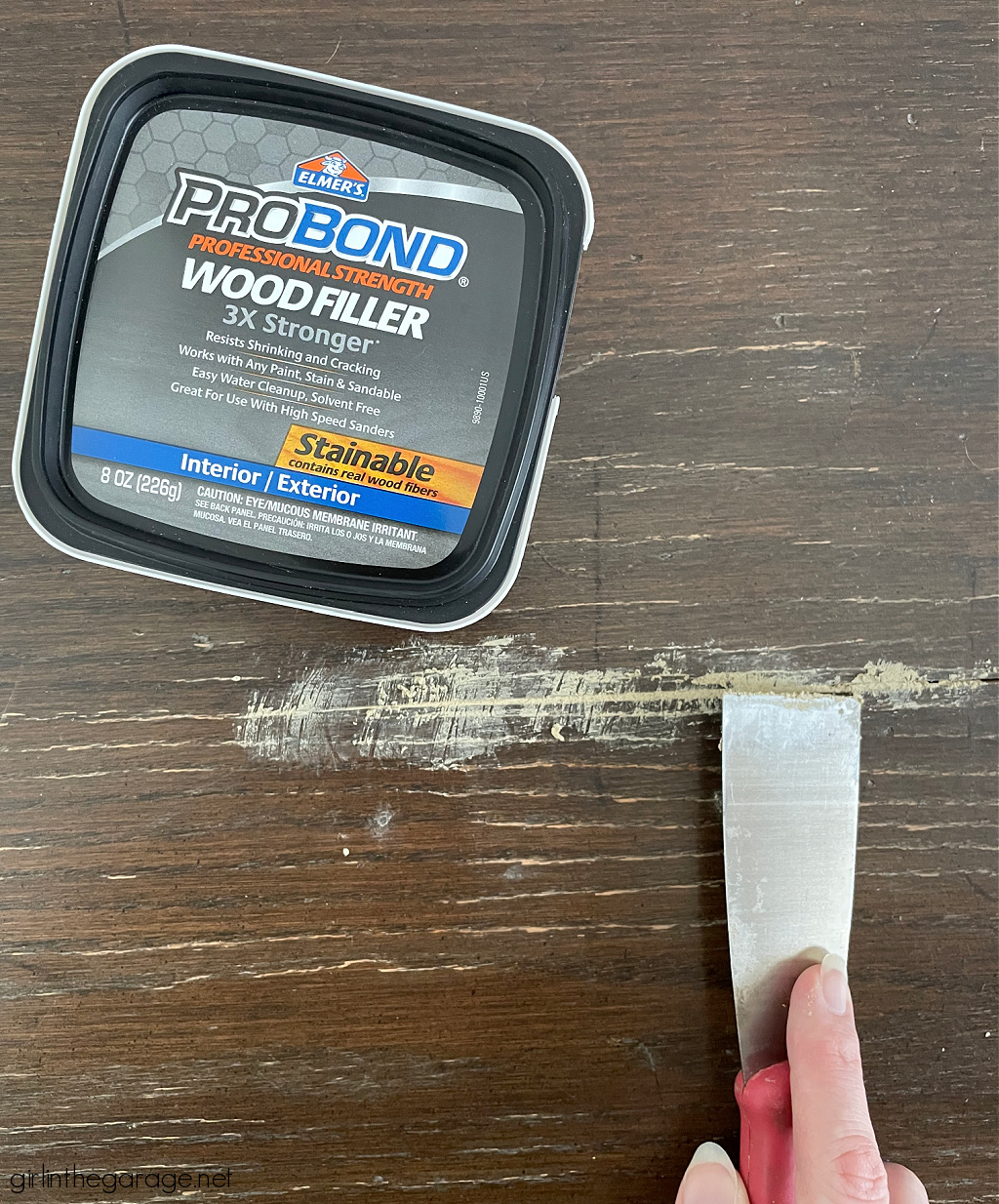 Once dry, I lightly sanded all over with 220-grit sandpaper and wiped it clean again.
Since this piece was pretty dark, I thought it might give me trouble with bleed-through. I pulled out my favorite shellac primer to block those natural wood tannins from coming through. Learn how to properly prep furniture for painting here.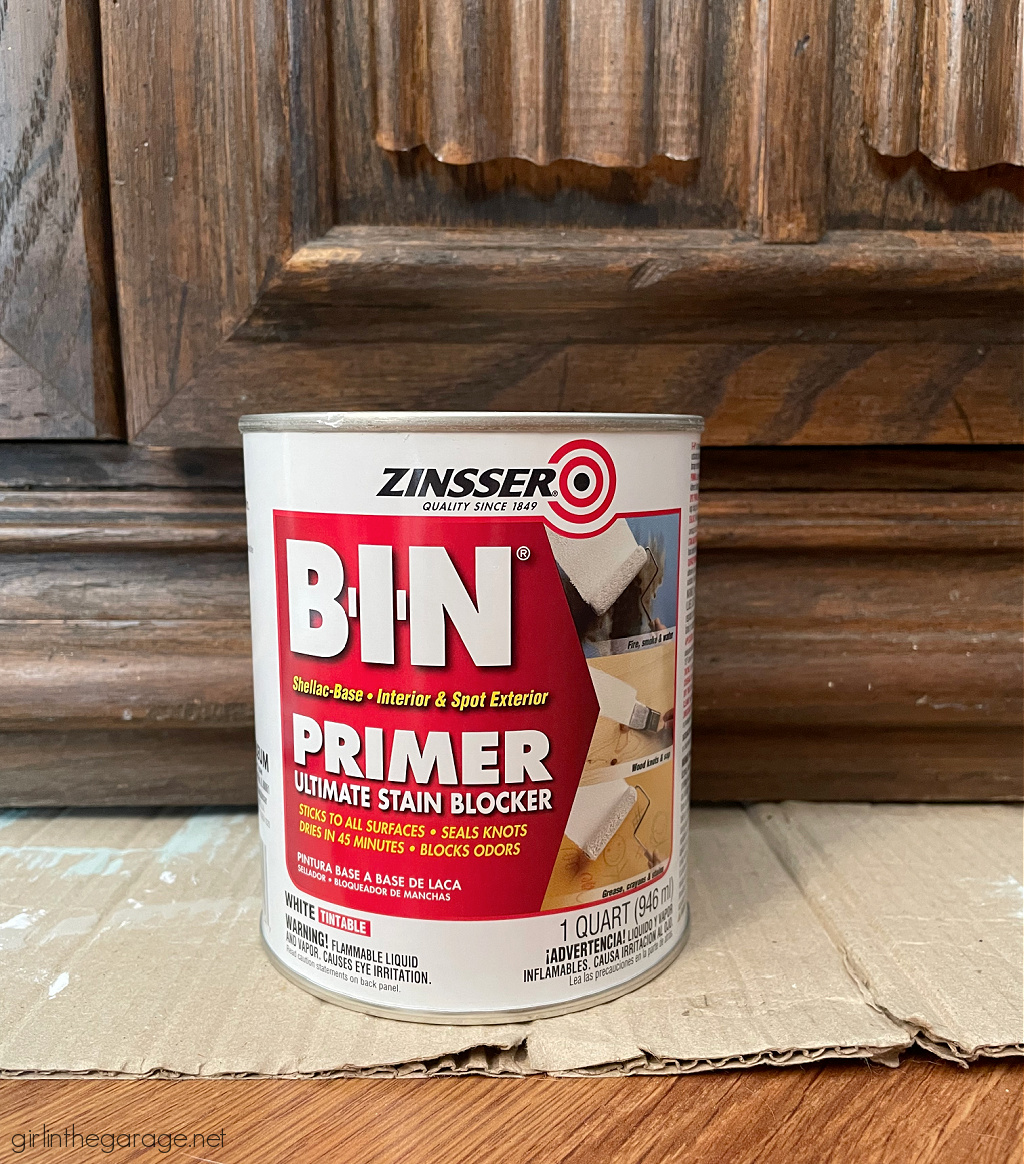 I applied two coats of primer with a separate brush than my Purdy ones I use for painting. After priming, the brush needs to be cleaned with a mix of ammonia and warm water (per the can's instructions). It works well, but the ammonia smells awful!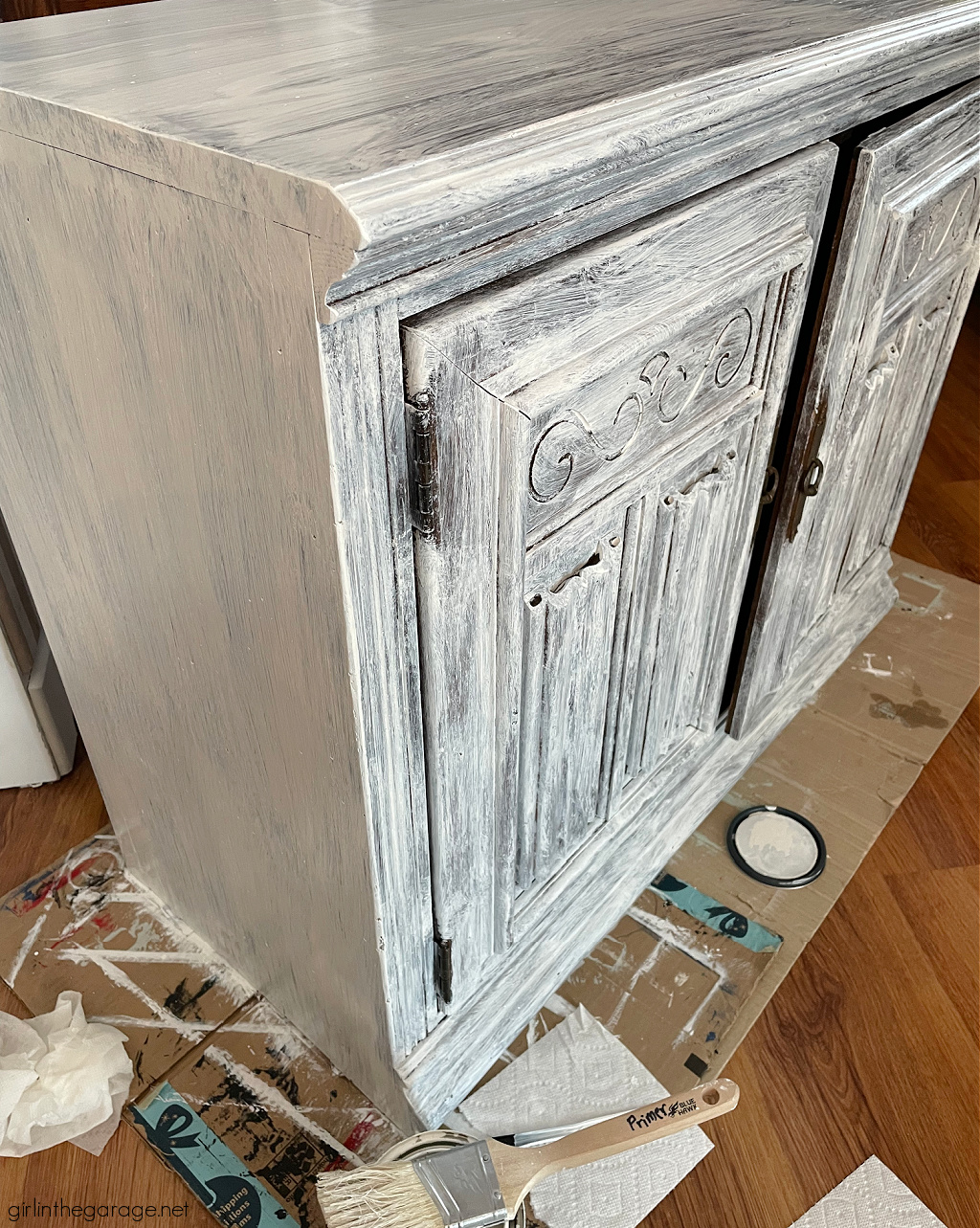 Once the primer was dry (which happens pretty quickly), it was time to paint.
Last summer I tried Rustoleum Chalked Paint in Sensible Sage on a table, and it turned out really pretty. I've also used Linen White a few times now, like on this DIY wreath hanger. This time when I visited the home improvement store, I had them mix Soothing Blue for me. (This is not a sponsored post, I'm just sharing what paint I bought and used myself.)
I explain it in more detail in this post, but Rustoleum Chalked Paint comes in certain colors that are pre-mixed that you can buy off the shelf (or here on Amazon), and then there are lots of other colors that you can have mixed at the paint counter (either with Lint Tint or Dark Tint Base). You can see the color options below for the Light Tint Base. In my experience with the Sage and Blue, the actual paint colors are a little paler than they appear on the can.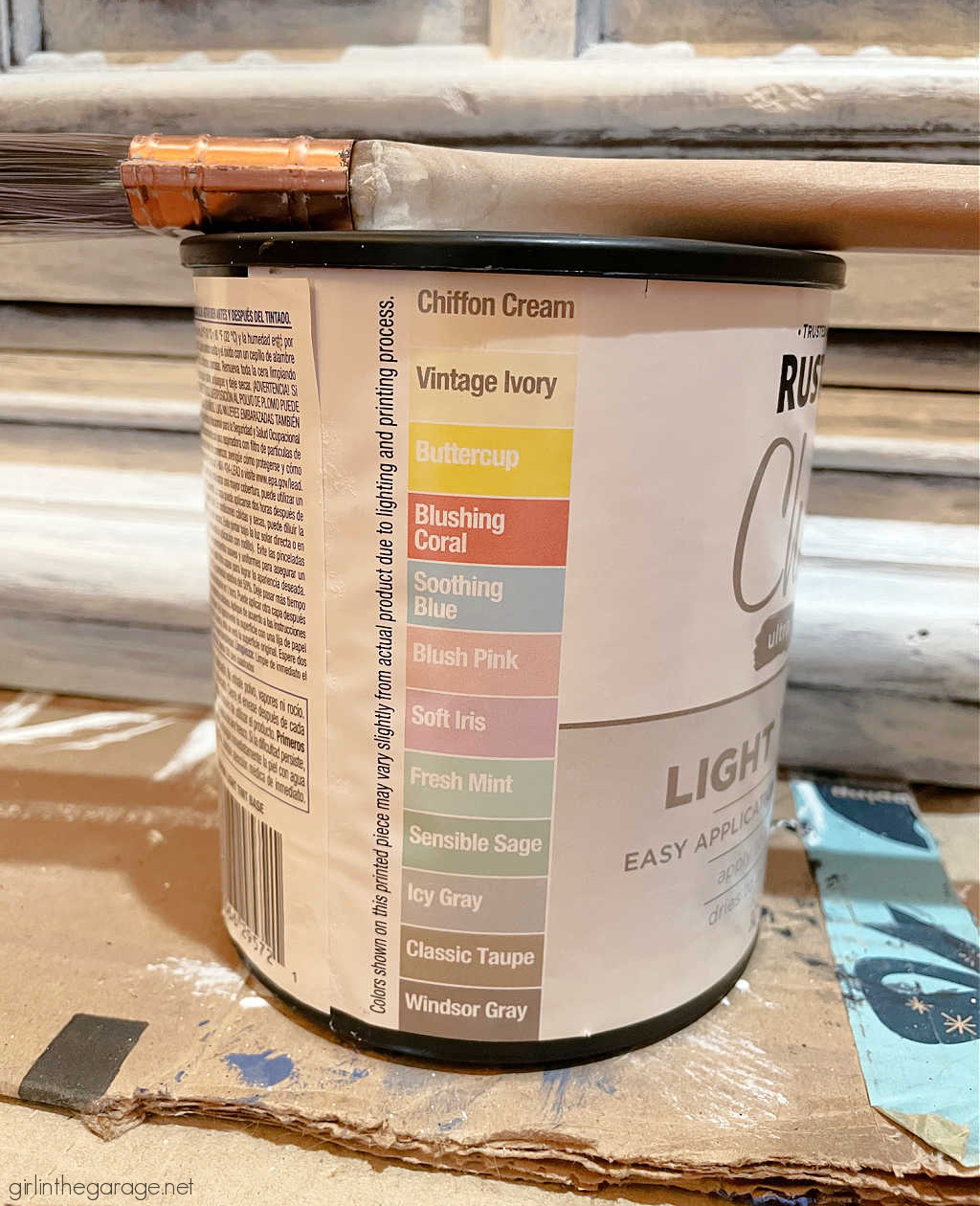 After two coats of paint with my Purdy paint brush, I inspected the piece and found a tiny bit of bleed-through on top of the door. Oops, I guess I didn't use enough primer there – but I was glad I took the extra time to prime in the first place. You don't want to regret not prepping the right way!
Instead of getting the big paint brush out again for such a small area, I used a Q-tip to apply a little more primer over that area. Once dry, I applied another layer of paint and there was no more bleed-through.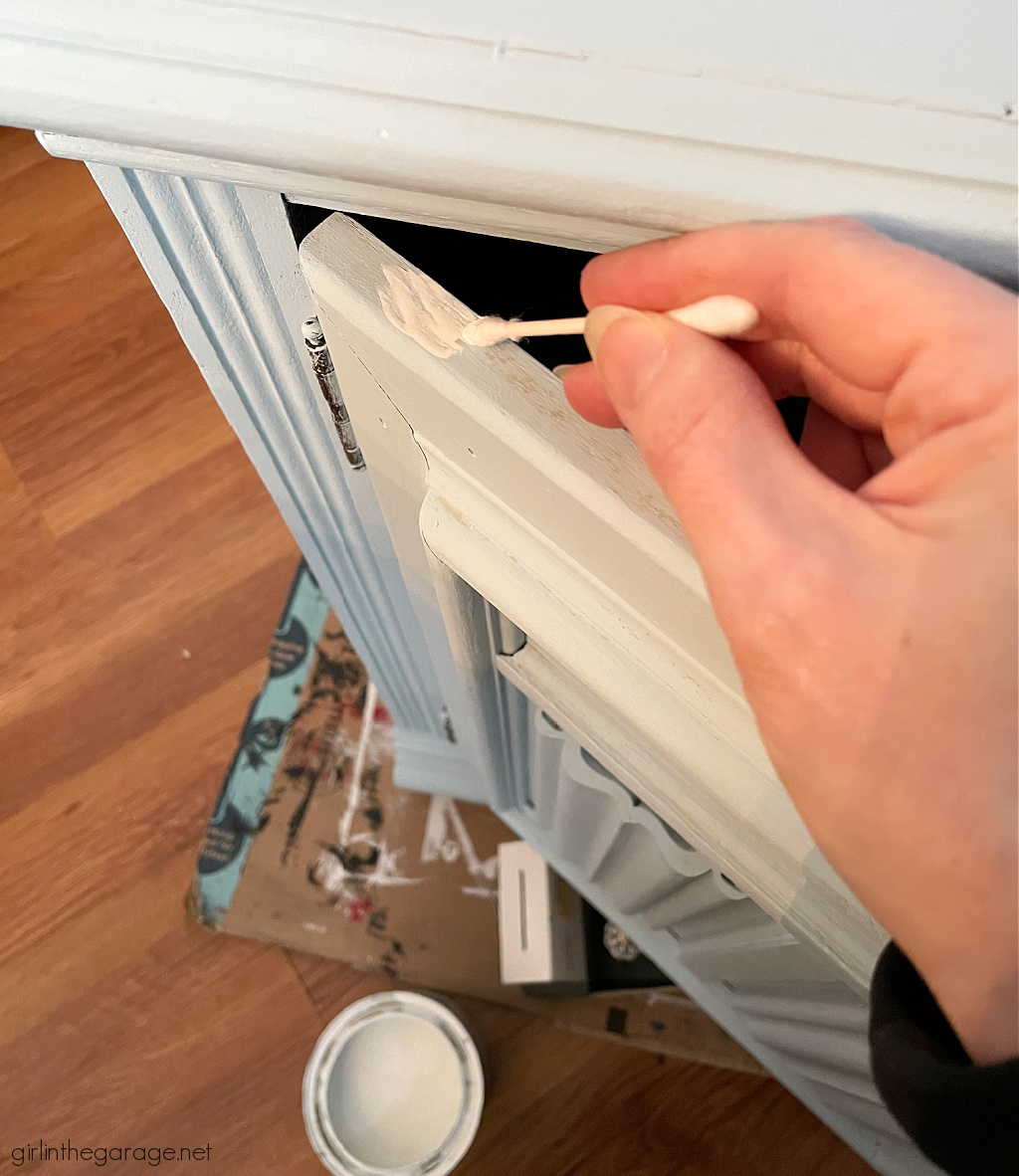 Next, since this piece went from gaudy dark brown to soft and sweet, I wanted to highlight the details by sanding over curves and edges with 320-grit sandpaper.
You'll notice that if you sand a little, the white primer peeks through, and if you keep sanding, the dark wood will show. I didn't mind that look for this piece, but you could also use a clear primer if you don't want to see any white there.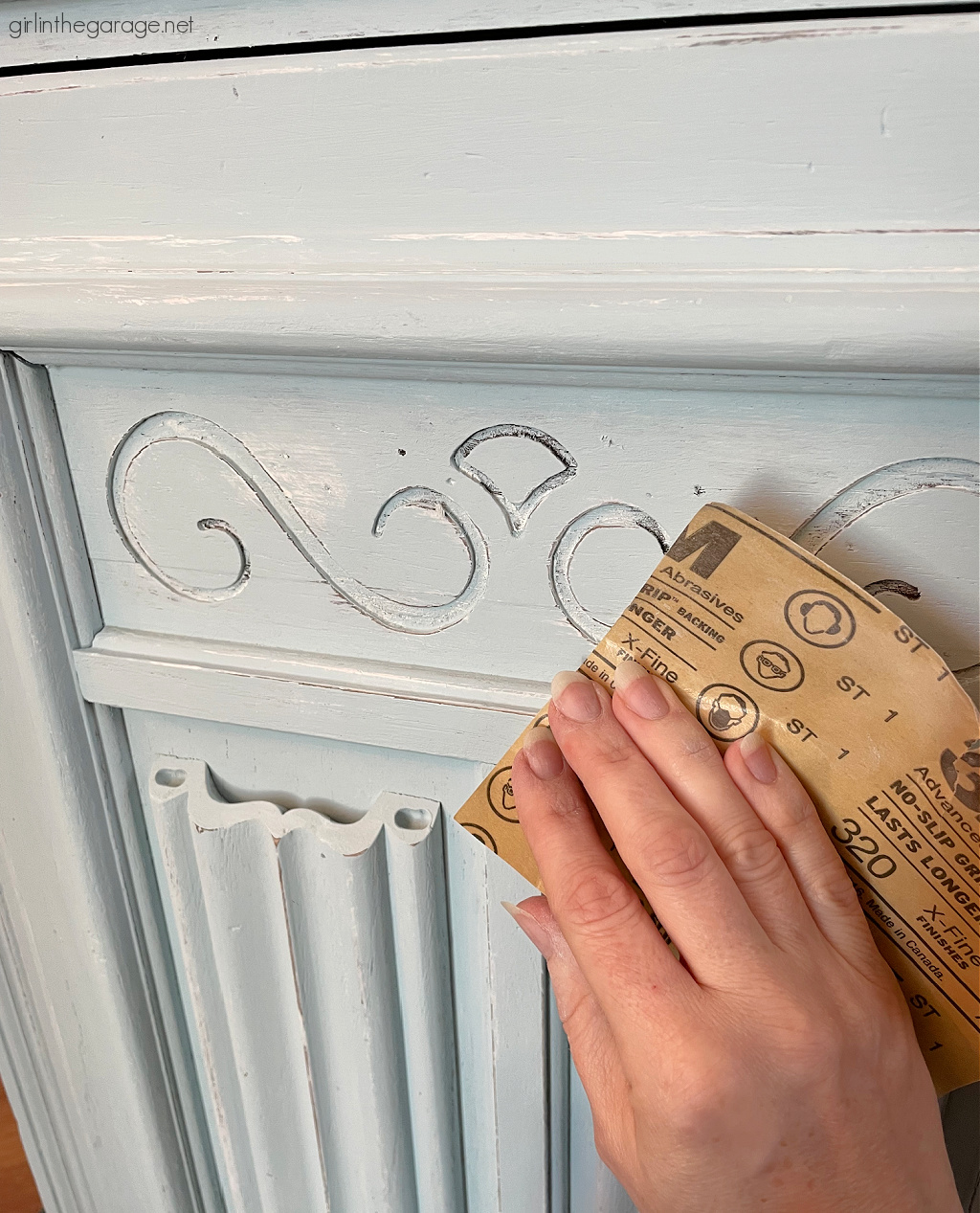 Finally, I applied clear wax with a lint-free cloth for protection. I prefer using wax because it dries matte and doesn't turn yellow like many other topcoats do.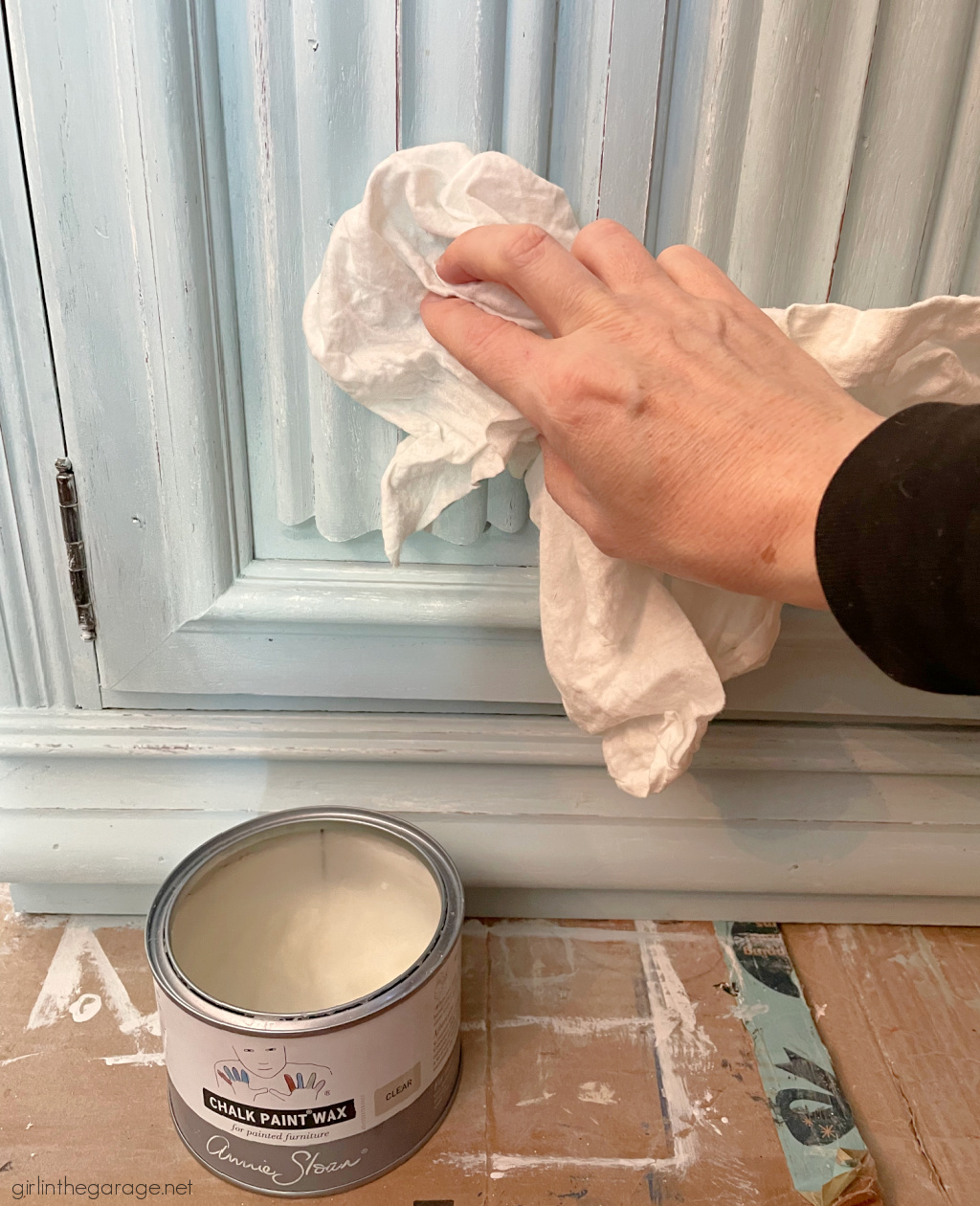 The last step was new hardware. Originally I thought about keeping the old pulls but decided to use these fun, feminine knobs from my stash to make it a bit modern vintage.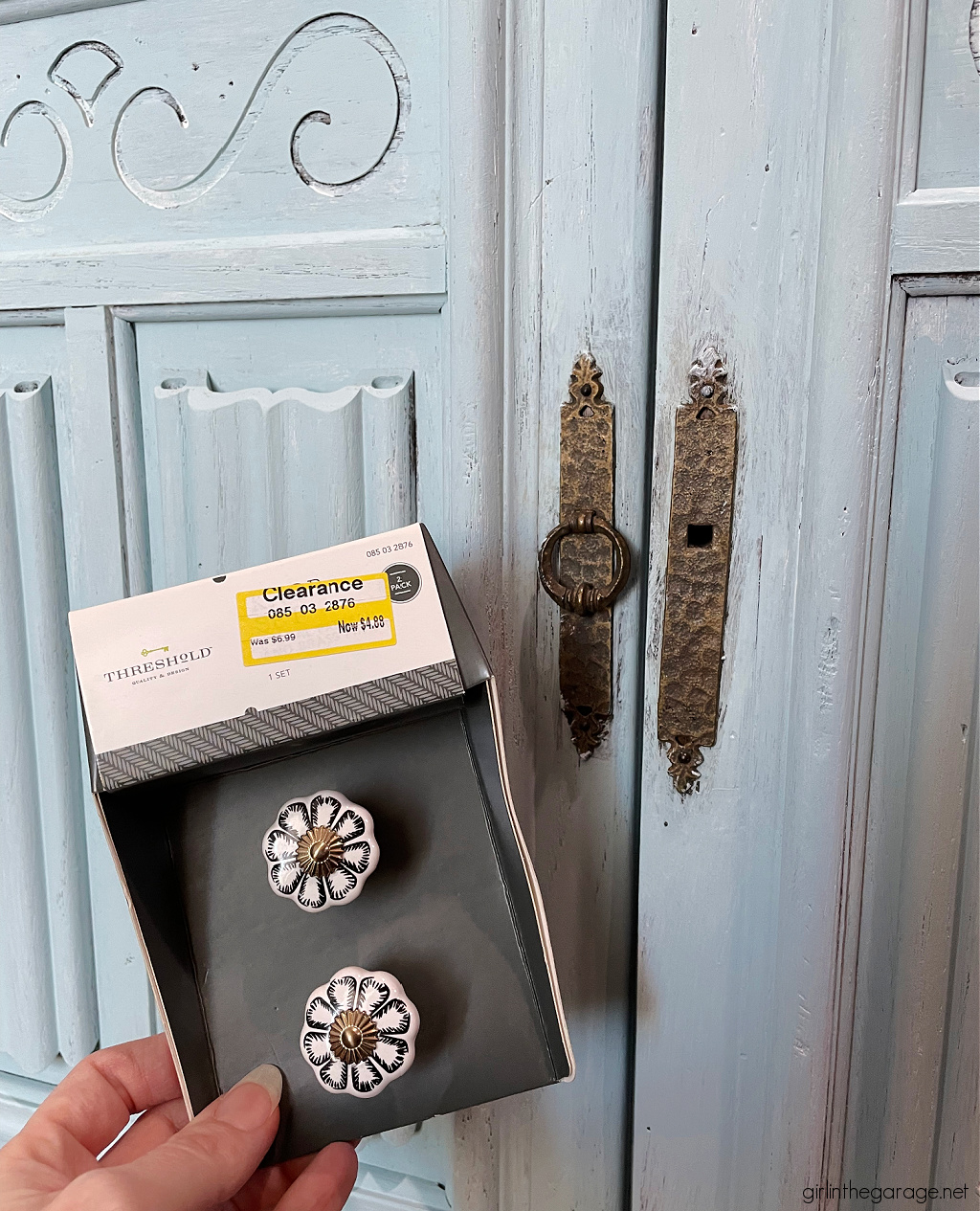 And here's the charming little cabinet now…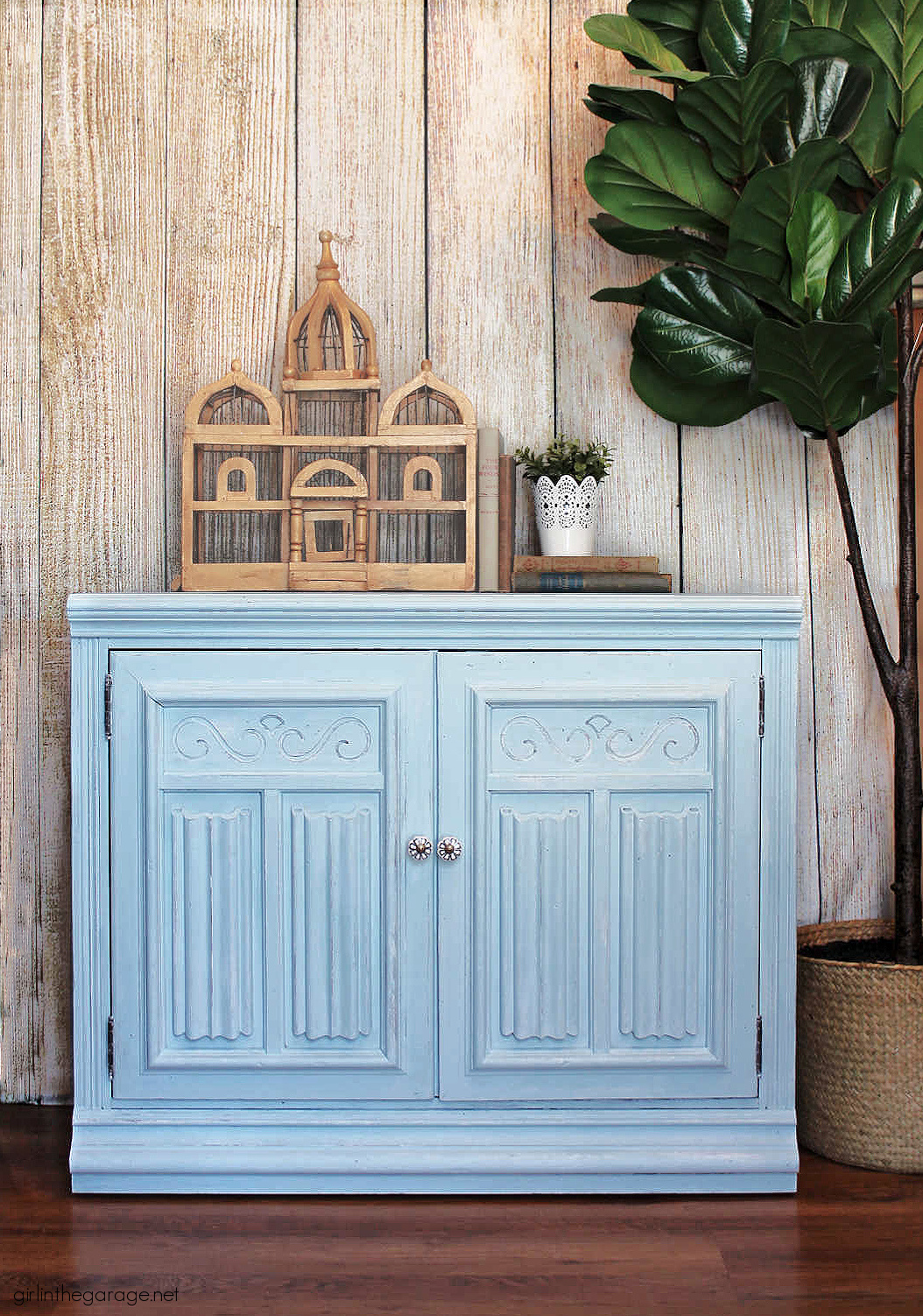 It was a little hard to photograph and edit the color properly, so you might notice it looks slightly different in the photos. It depends on the camera angle and how much light was hitting it at the time. Rustoleum Chalked Paint in Soothing Blue is a beautiful light sky blue color.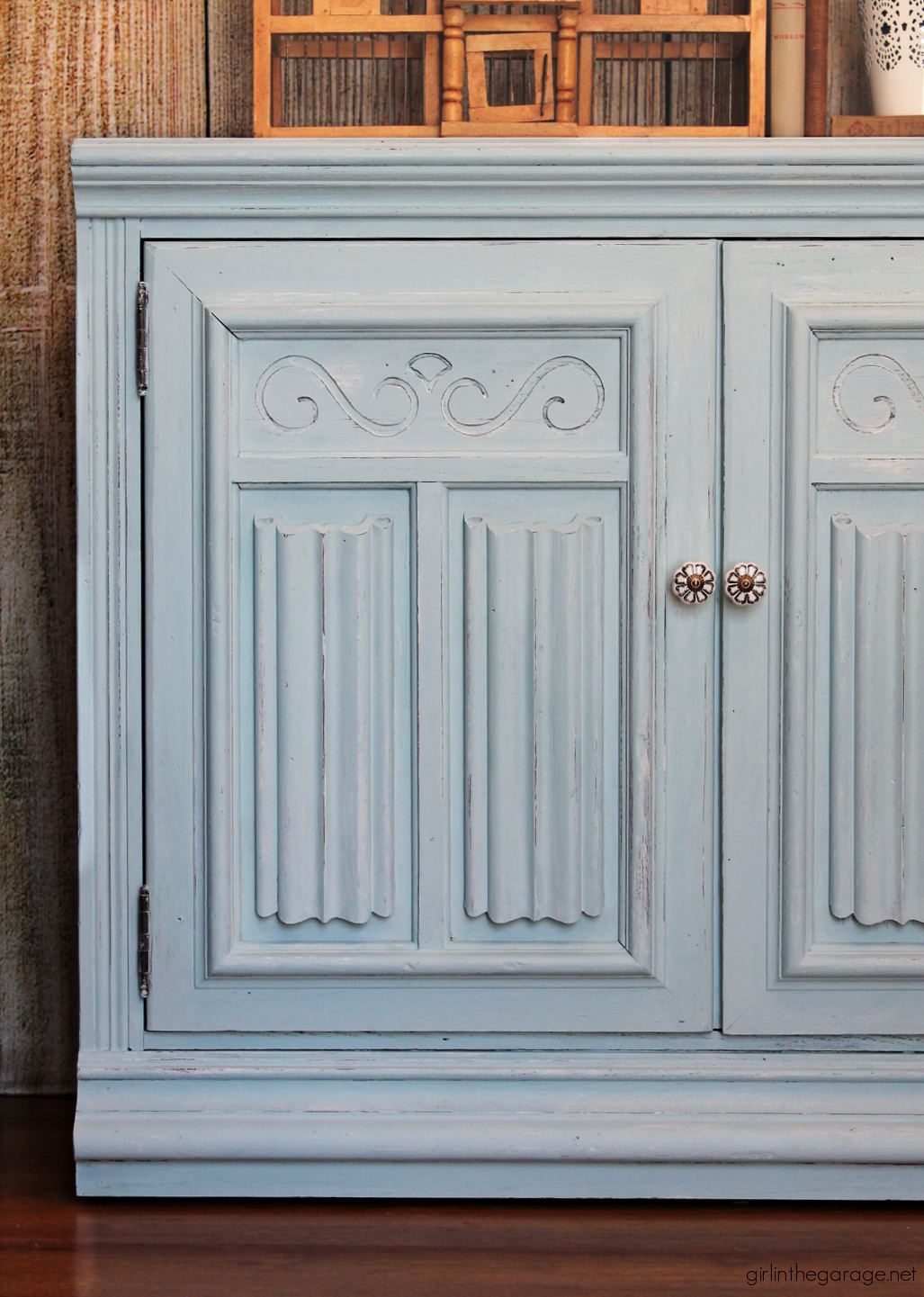 I really love how the black and white knobs look with the distressed blue cabinet.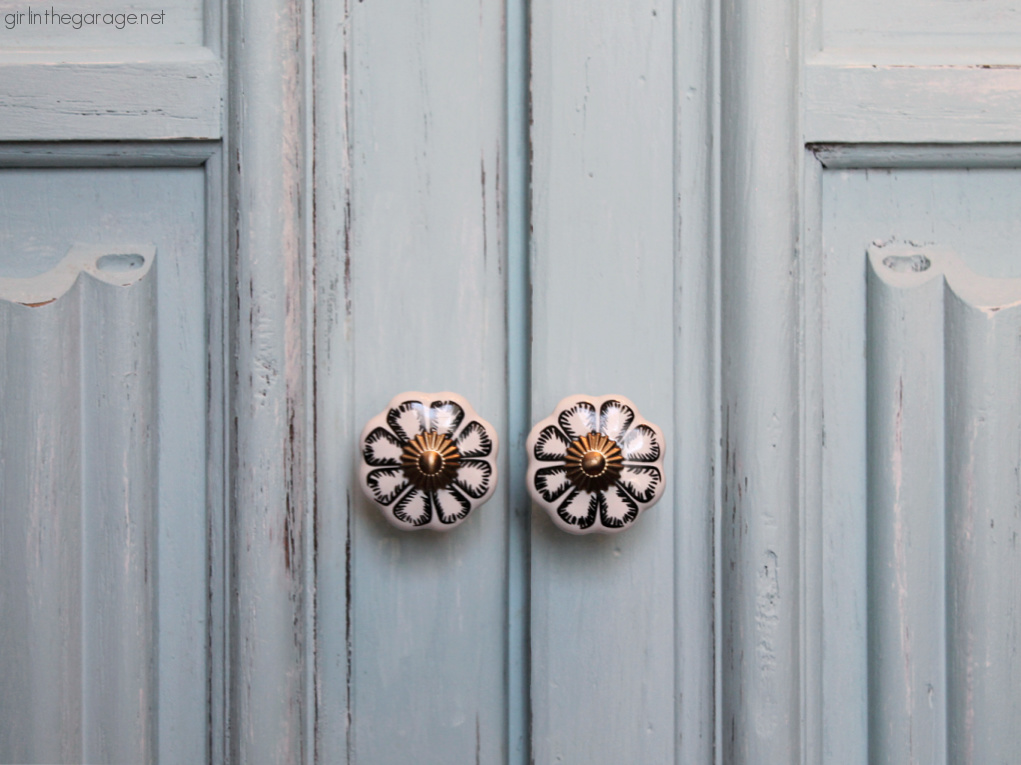 And all the details really stand out now instead of being hidden away in the heavy dark brown finish.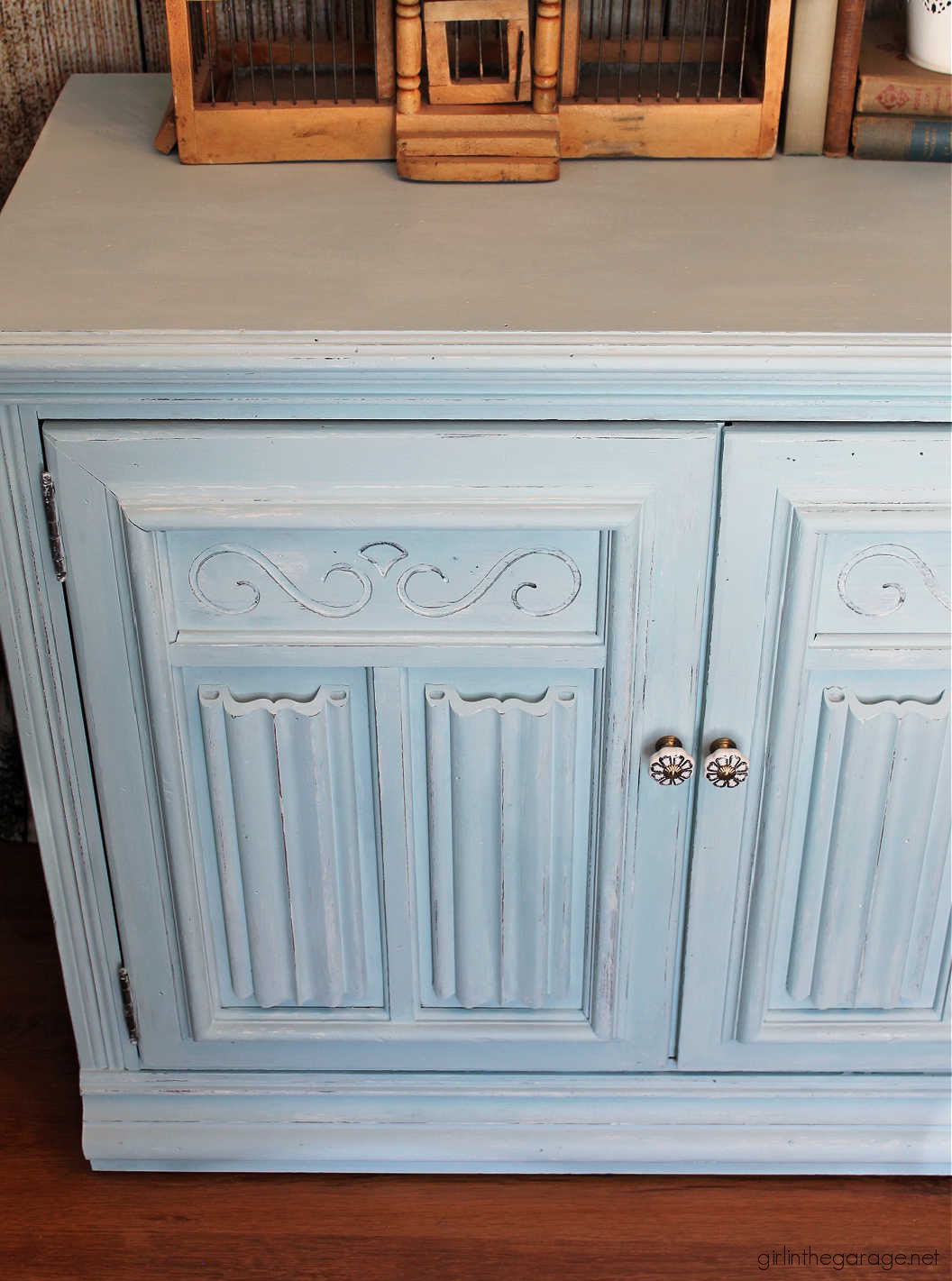 Inside there are two large shelves for board games, movies, or whatever else you want to stash away. 🙂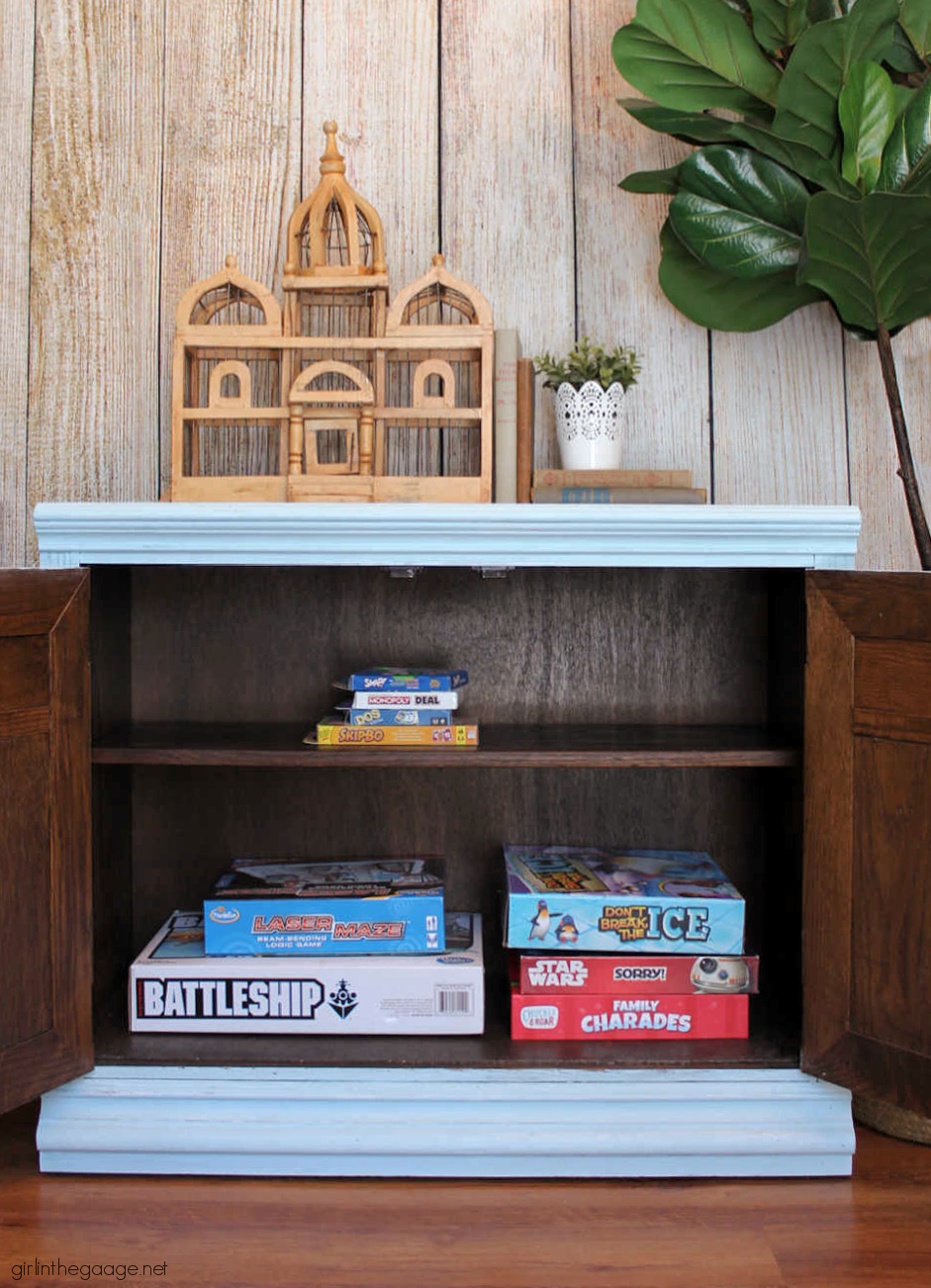 Friend, I hope you've enjoyed this sweet light blue cabinet makeover with Rustoleum Chalked Paint – have you tried it yet?
Please Pin or share this project with a friend – I really appreciate it!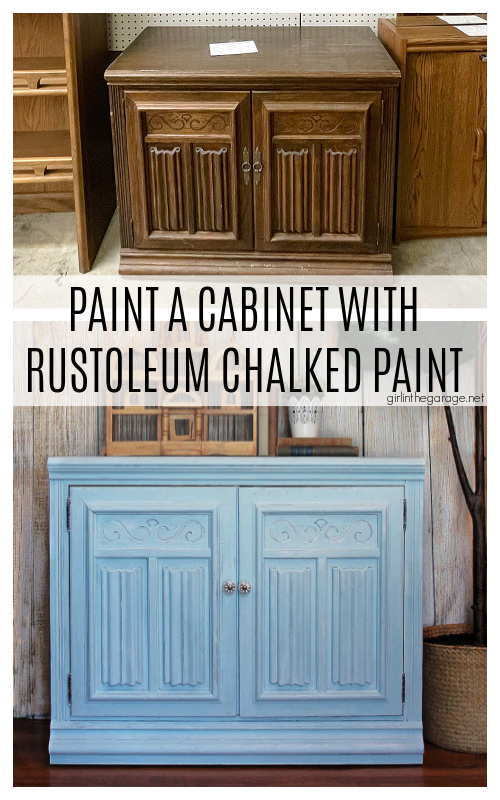 Now it's time for Furniture Fixer Upper fun. Let's see what my girls have been up to – the suspense is part of the fun!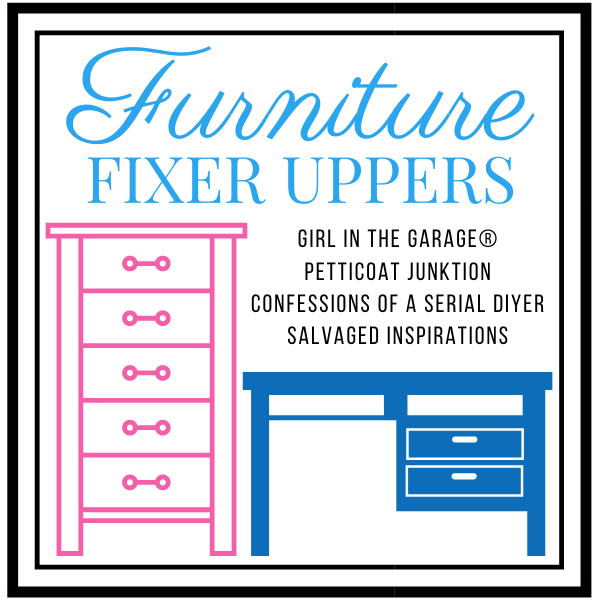 Below are their Before photos – visit the links underneath to see the fabulous Afters and to learn how they did it: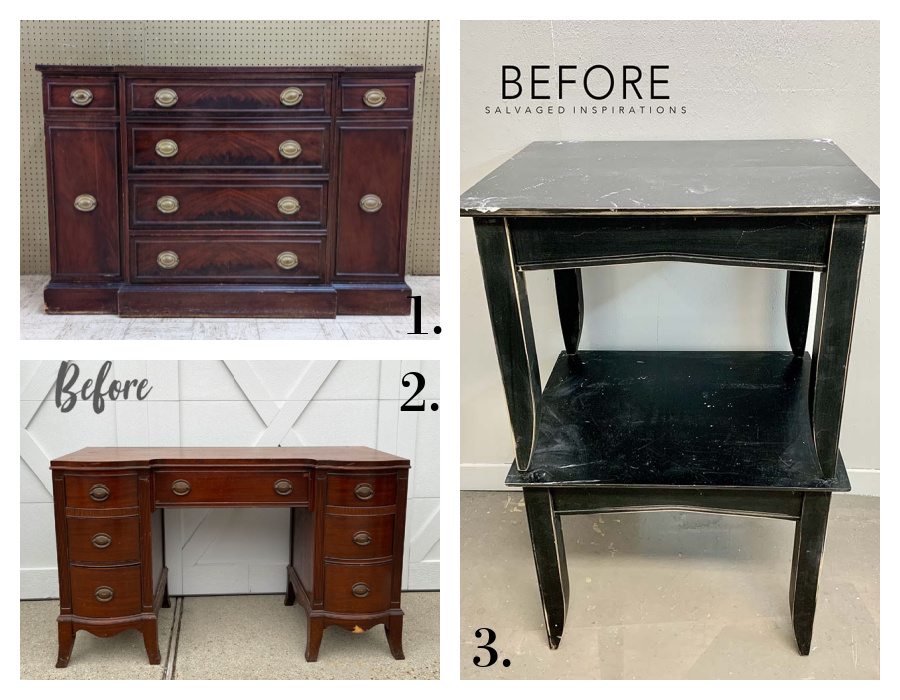 1. Petticoat Junktion
2. Confessions of a Serial DIYer
3. Salvaged Inspirations