Welcome back, friend. Today I'll be showing you tips for painting a basket like the one below, which I got thrifting and it's been in my stash for quite a while. Let's be honest – it looks pretty pathetic, doesn't it?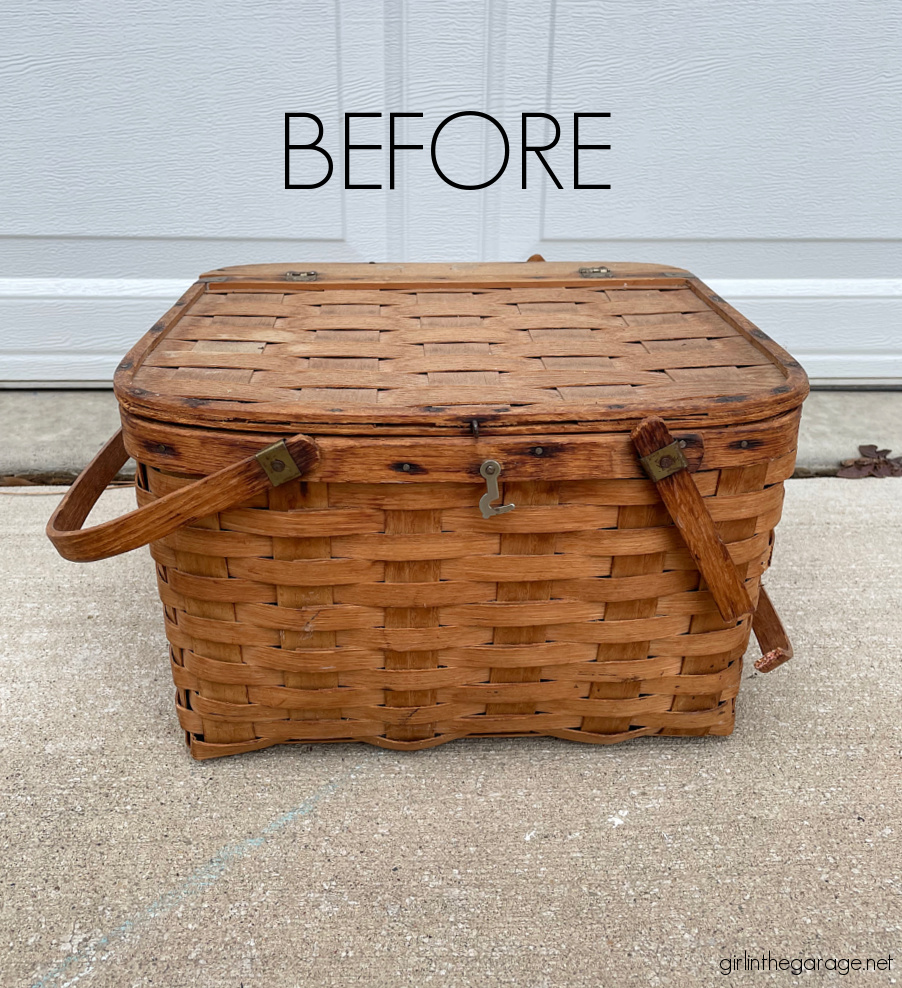 One handle was broken, it was filthy, but the inside was in pretty good shape. It just needed some imagination and a little bit of DIYing.
And before I forget – you can also find four of my friends' thrifty makeovers at the end of this post also.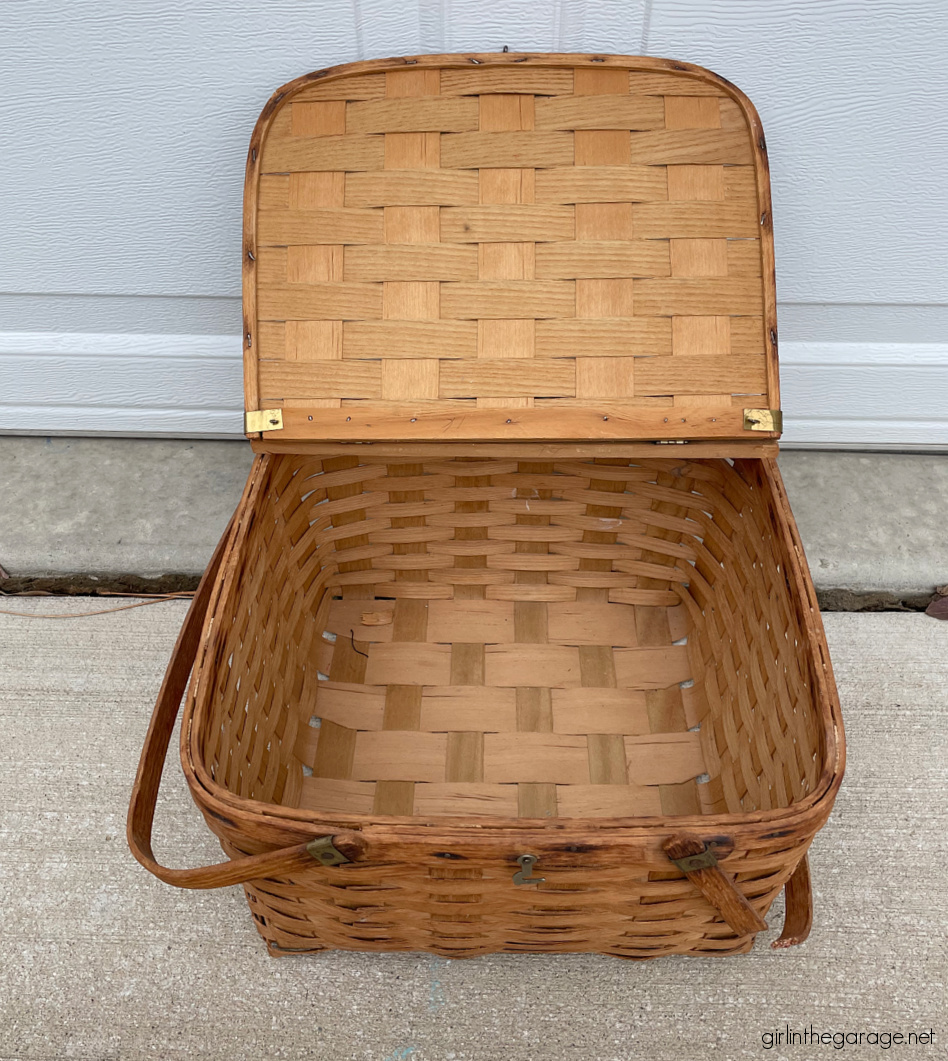 This post contains some affiliate links so you can easily find the products I use and recommend. Discover all my favorite brands and tools for doing DIY makeovers here.
First, I had to take care of the broken handle. I thought about just removing both handles, but decided to glue the wood together again with E6000 glue. I knew it wouldn't look perfect, but that's part of the charm. Plus this basket is just decorative anyway and there won't be much weight in it.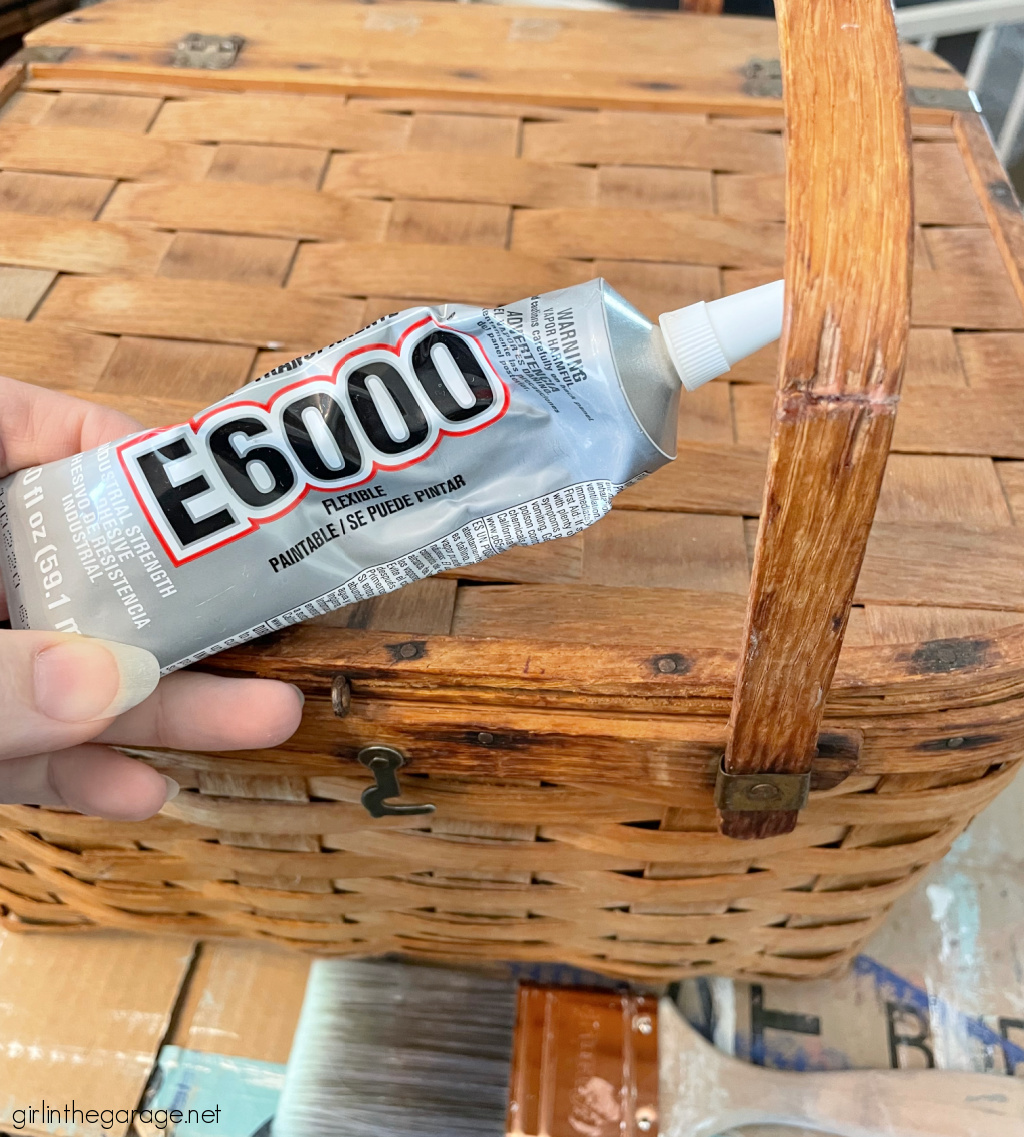 Next, I pulled out the Rustoleum Chalked Paint in Soothing Blue that I used on this recent cabinet makeover. I just love how soft and pretty this color is! I also used one of my favorite Purdy paint brushes.
You can read my honest (not sponsored) review of Rustoleum Chalked Paint here.
When painting a basket, pay attention to the direction of the weaving. Choose one primary direction to lightly brush the paint on, and then go back and fill in any missed areas. It's better to do one thin coat at a time than to have gobs of runny paint. Plus I wanted this painted basket to look vintage and weathered.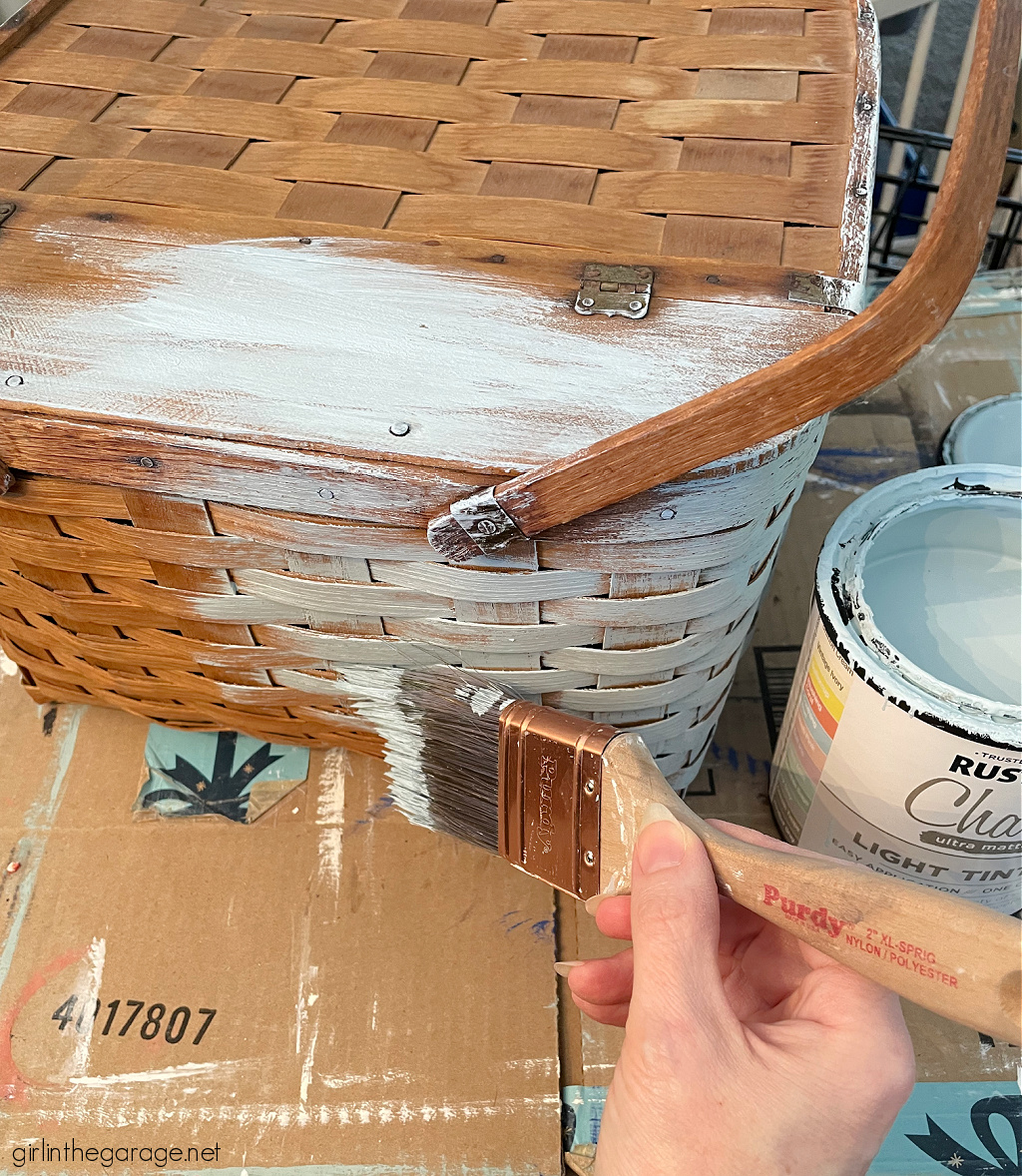 After painting the outside and inside in Soothing Blue, I decided to add a second color.
I used FrogTape Delicate Surface to tape a straight line around the basket.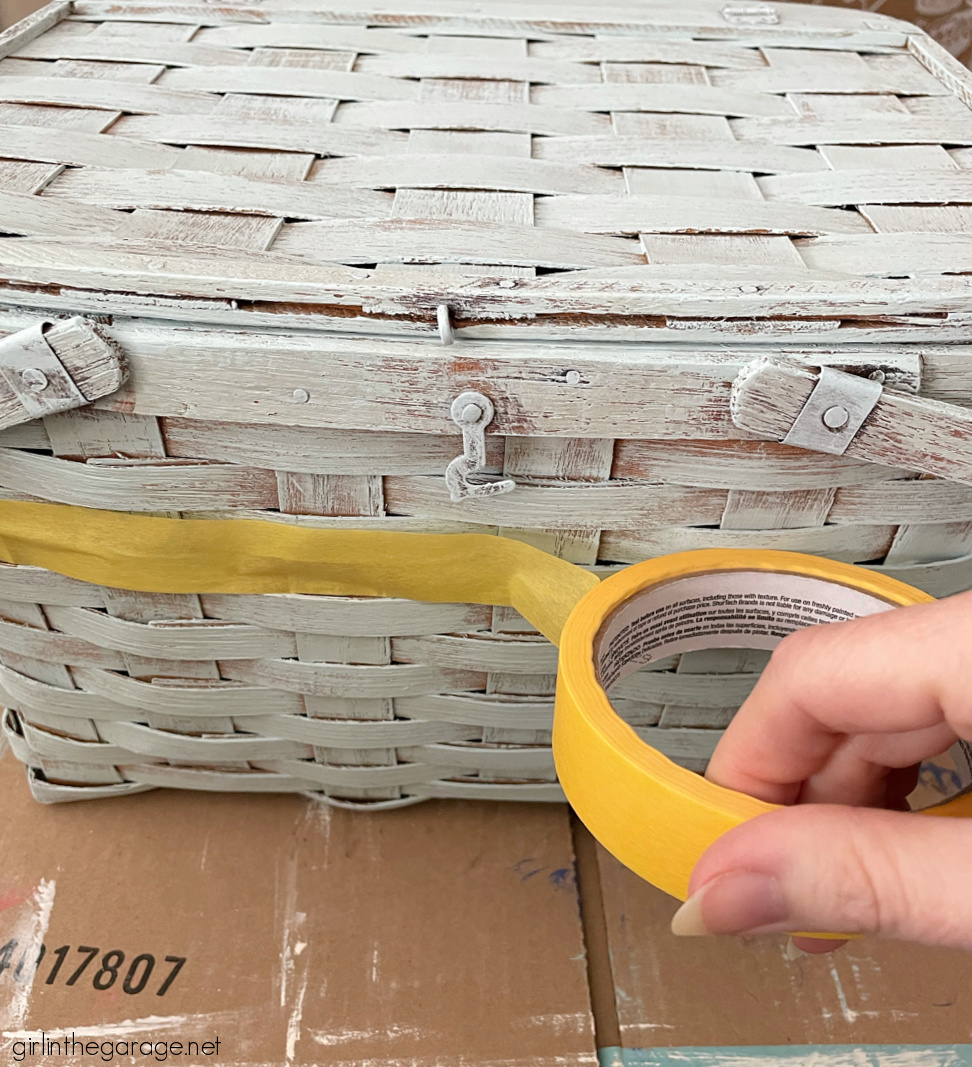 Then I used Rustoleum Chalked Paint in Linen White and lightly brushed the areas under the tape line. (It can help to turn the basket on its side while painting.) I also dry brushed the very top with the white paint.
I love how you can still see the blue in some areas underneath the white.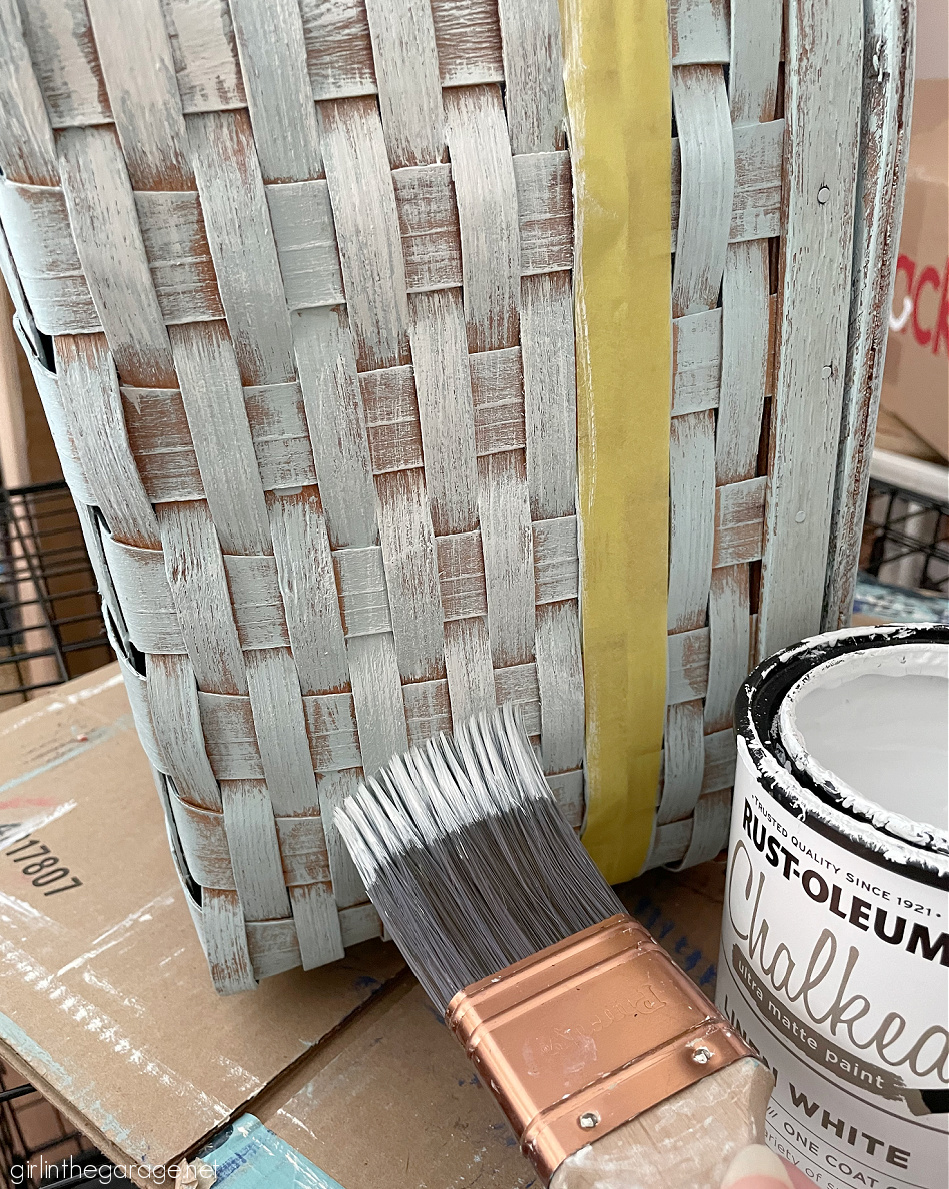 The basket still needed something else, so I added a Fleur de Lis stencil on top with black paint and a pouncer. You can find similar stencils here.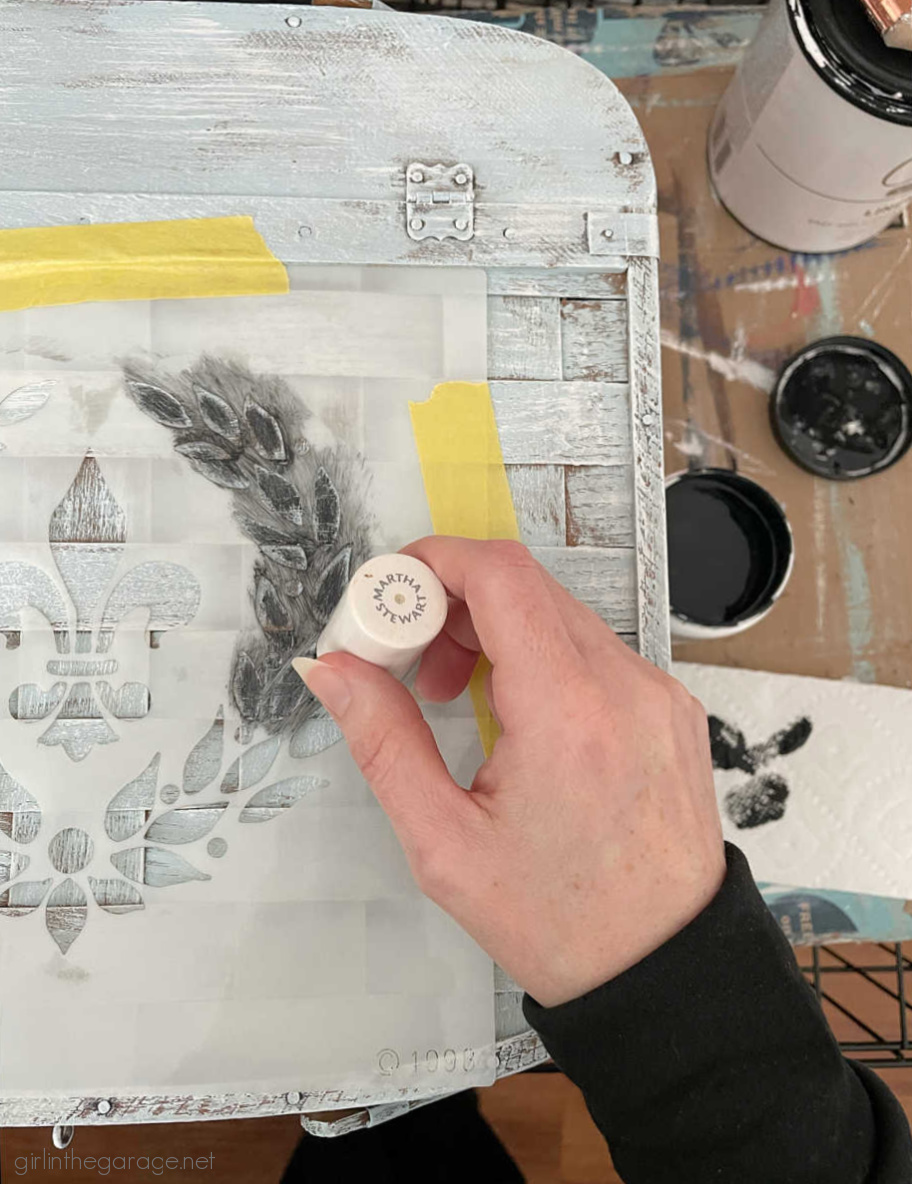 Since this is a decorative piece, I did not use a topcoat.
And here's how the old thrifted basket looks now…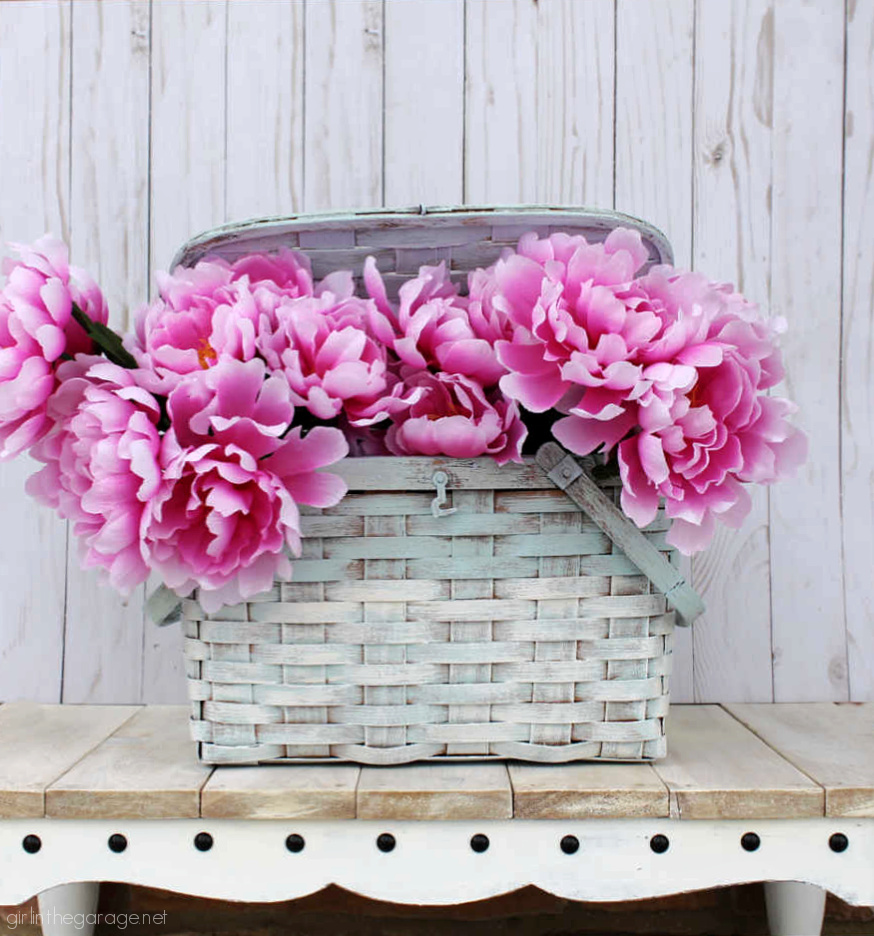 A thousand times better, right?
The soft colors and weathered vintage look are just right for this piece.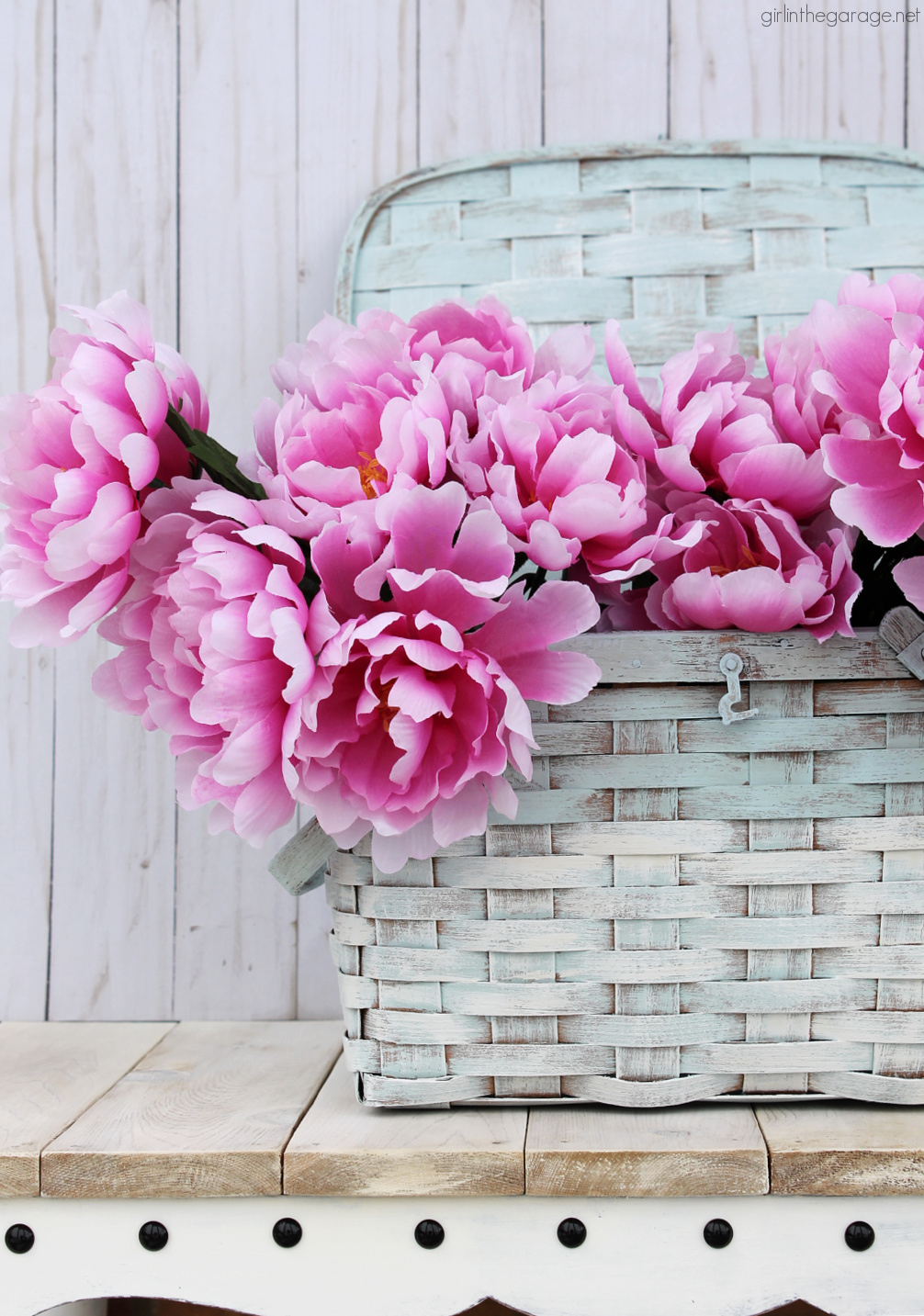 This basket could've easily been thrown in the trash but it's now been given a brand new look that can be enjoyed for years to come. Plus, it was an easy makeover. I call that a win!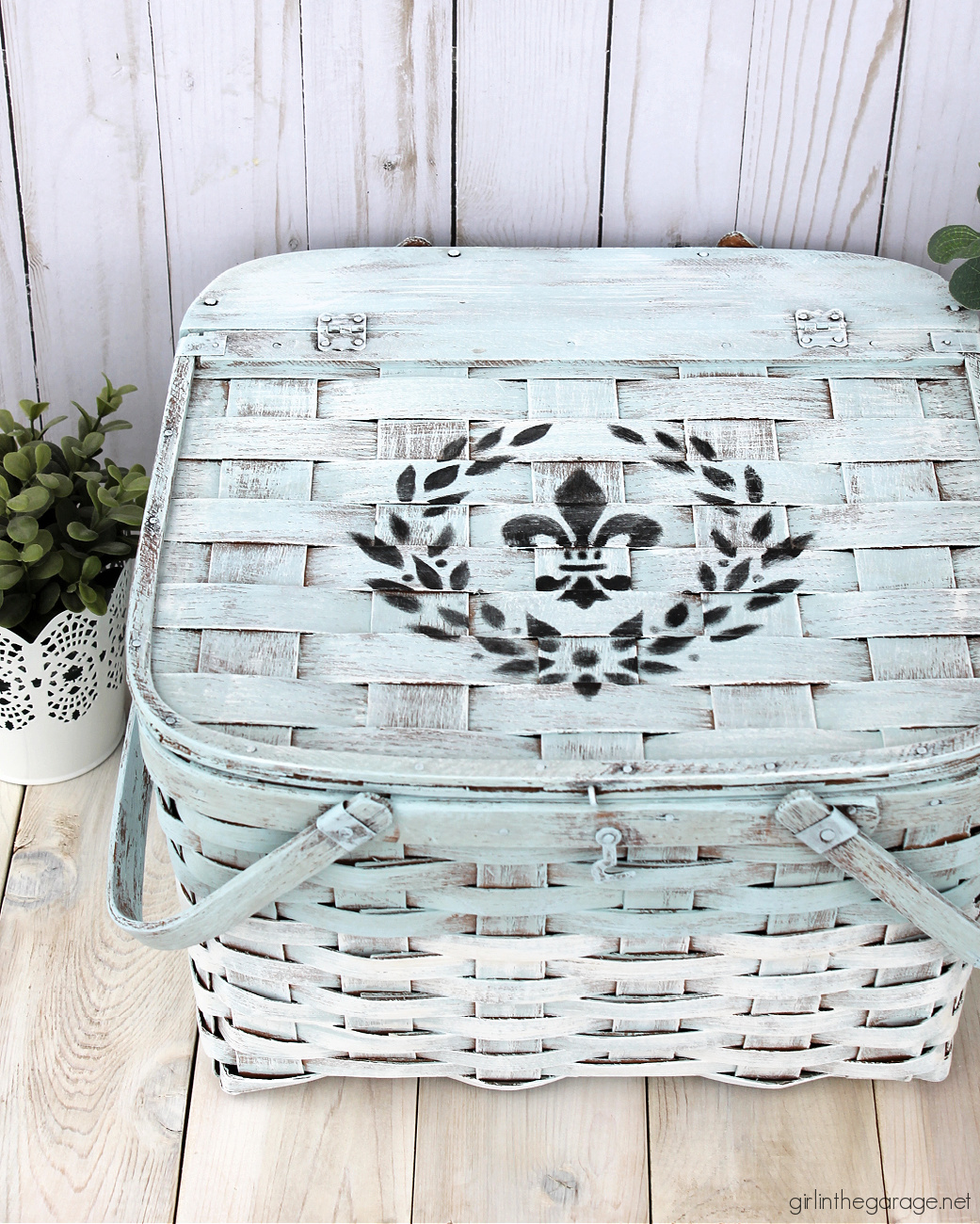 I hope you've found these tips for painting a basket helpful, and you'll remember to snatch up an old basket next time you're at the thrift store. You might also like this painted basket makeover from a couple years ago.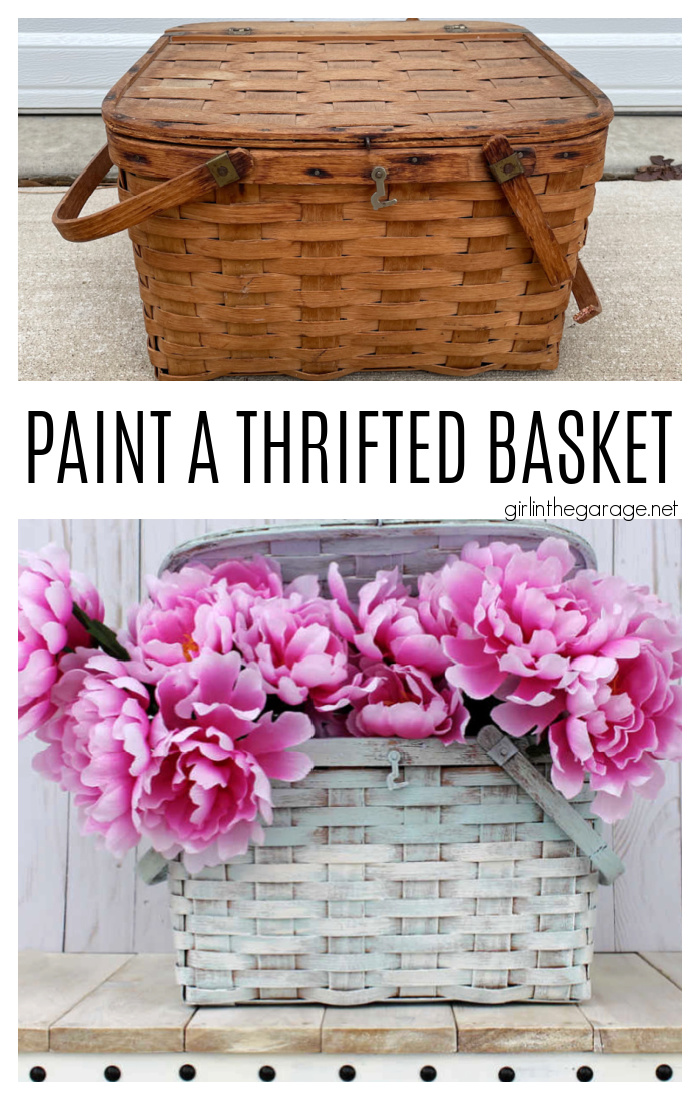 Please Pin or share this post so others can be inspired too. Thank you! -Jen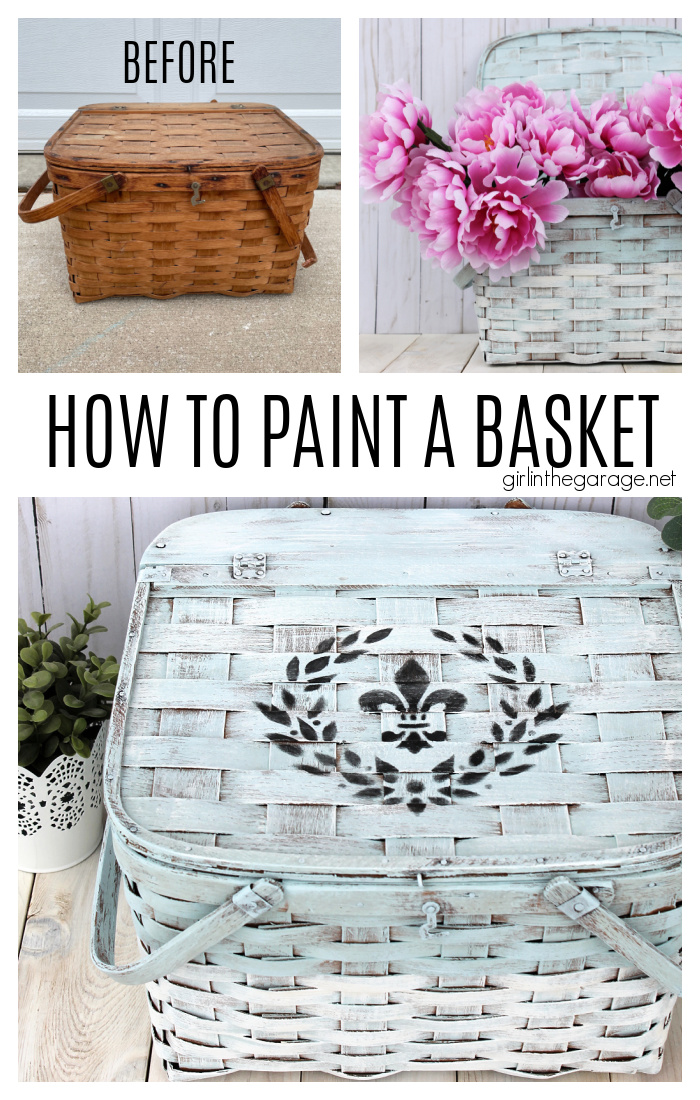 Now it's thrifty makeover time with my blogging friends…
Below are their Before photos – visit the links underneath to see the amazing Afters and to learn how they did it: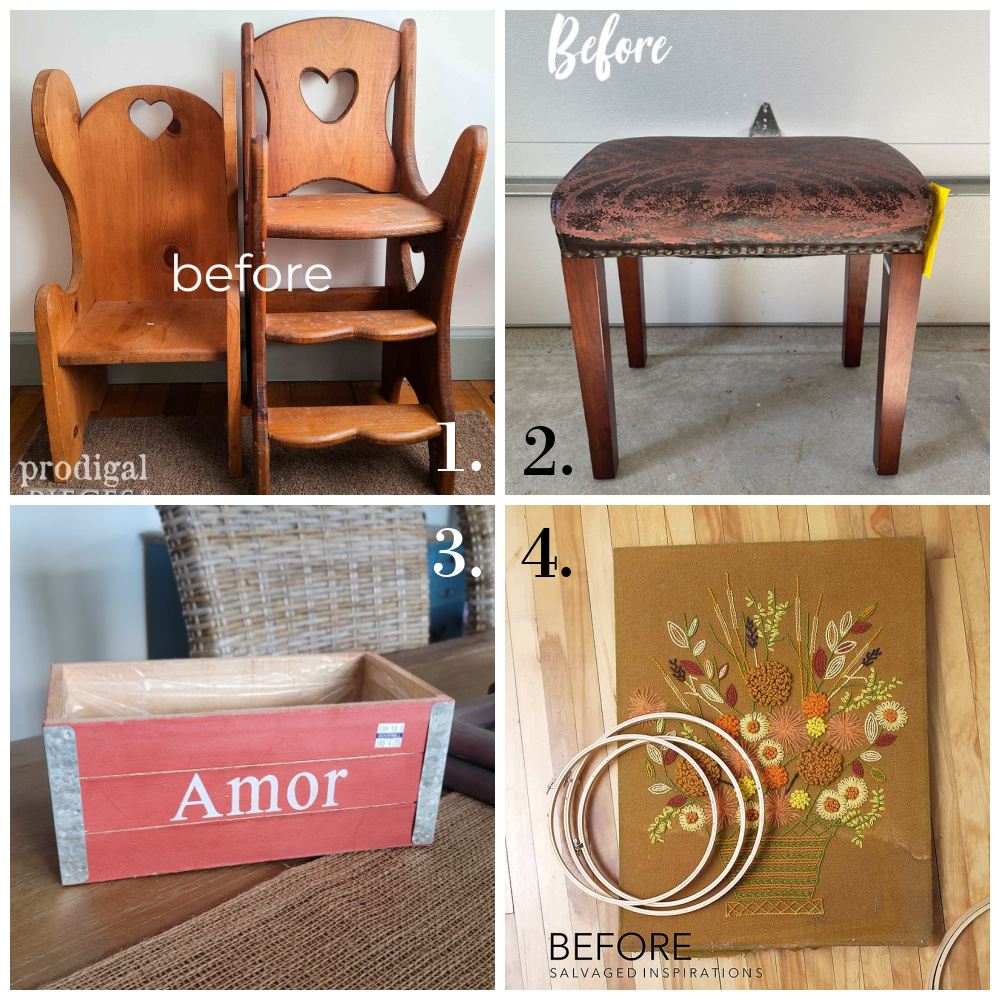 1. Prodigal Pieces
2. Confessions of a Serial DIYer
3. Artsy Chicks Rule
4. Salvaged Inspirations