My friends and I all have new furniture makeover projects for Furniture Fixer Uppers Day today (find theirs at the bottom of this post), and I'm sharing this end table/nightstand from the thrift store. It's a sturdy piece with no maker markings. We'll discuss painting and glazing furniture, which is something I haven't tried before. Let's see how this turns out…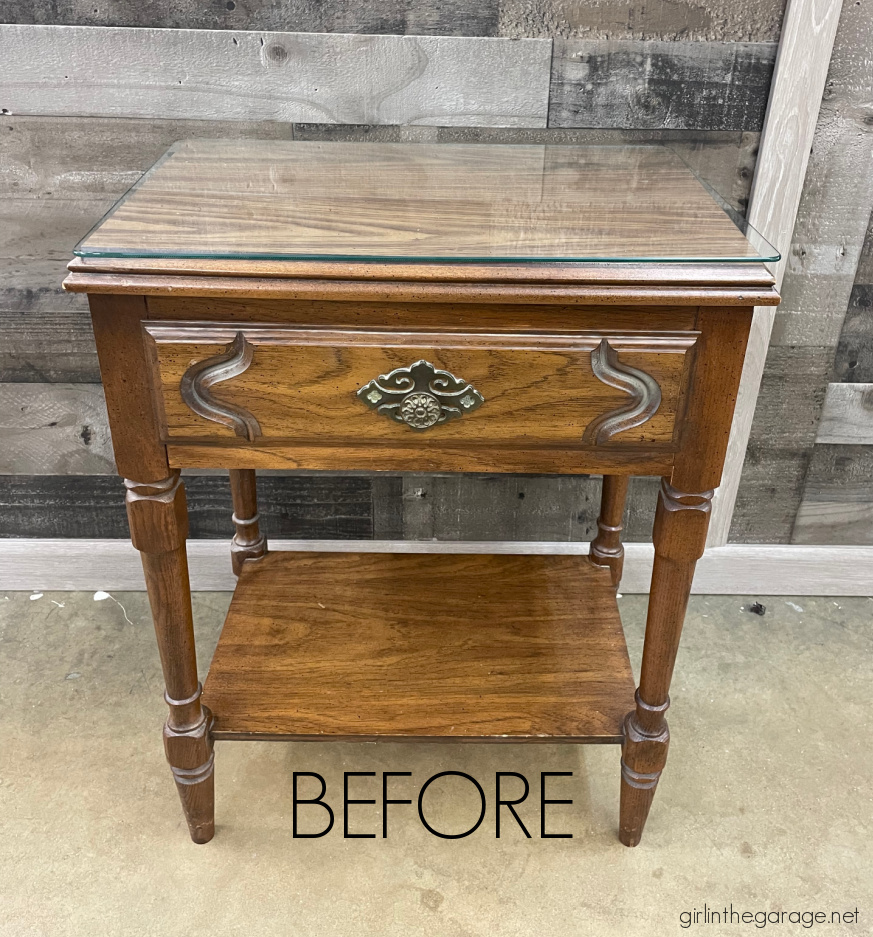 *This post contains some affiliate links so you can easily find the products I use and recommend. Discover all my favorite brands and tools for doing DIY makeovers here.
This piece is a mix of real wood (legs and inside the drawer) and faux woodgrain areas elsewhere. First, I started by sanding it all over with 220-grit sandpaper to give the paint something to grip to, and then wiping it down with a damp cloth. Learn more about how to properly prep furniture for painting here.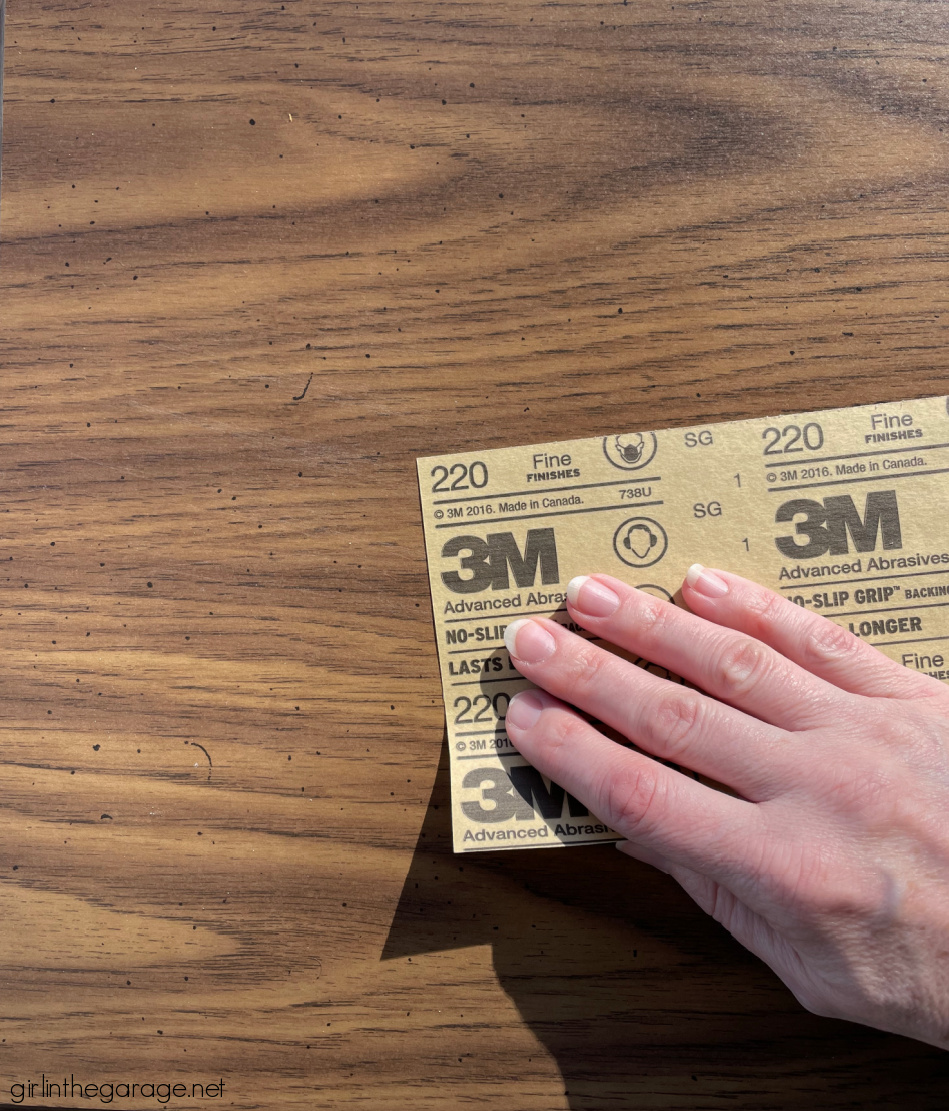 I had a certain idea of how I wanted this table to look, so I started with Rustoleum Chalked Paint in Linen White and also bought Rustoleum Chalked Smoked Glaze to try for the first time. (Note: This is not a sponsored post.)
Another note: If you've been following me for awhile, you know that I use Annie Sloan Chalk Paint frequently. You can even read all about how to Chalk Paint furniture here. Unfortunately, my local ASCP retailer had a change of ownership and they have temporarily closed until they find a new location. This is why I've been using Rustoleum Chalked Paint colors so much the past few months, but honestly I do think it's a decent alternative to ASCP. Read my honest review of Rustoleum Chalked Paint here.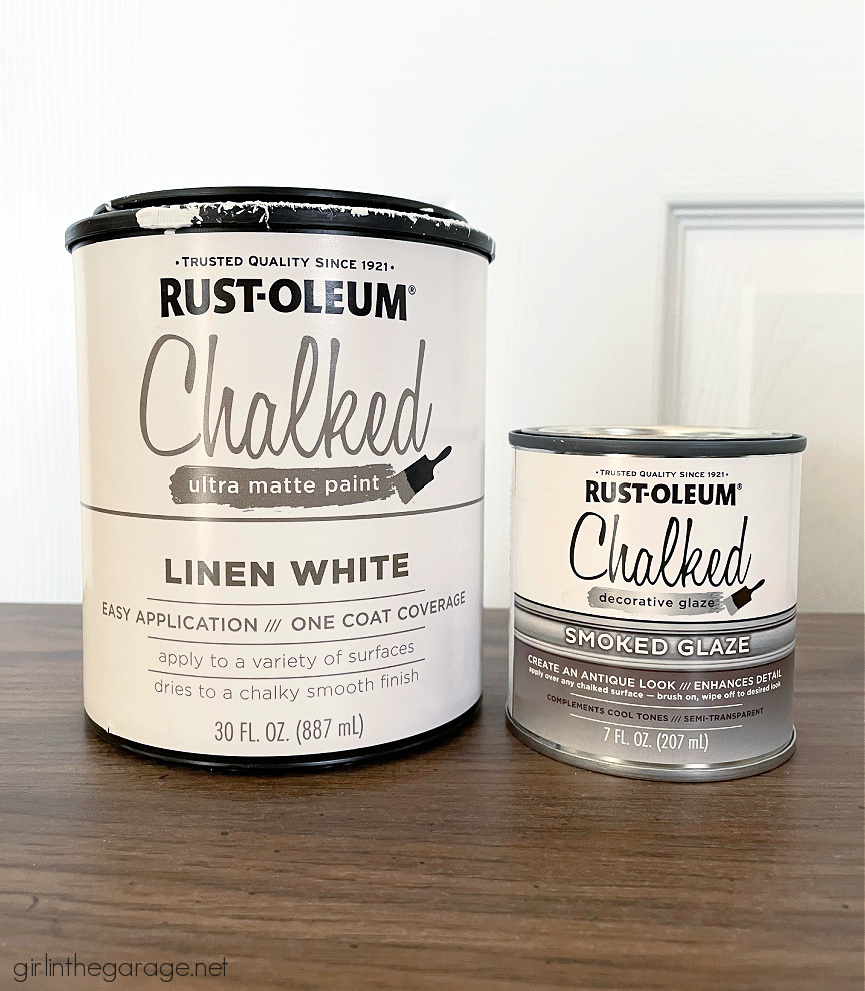 The table was painted in two coats of white paint with one of my favorite Purdy paint brushes.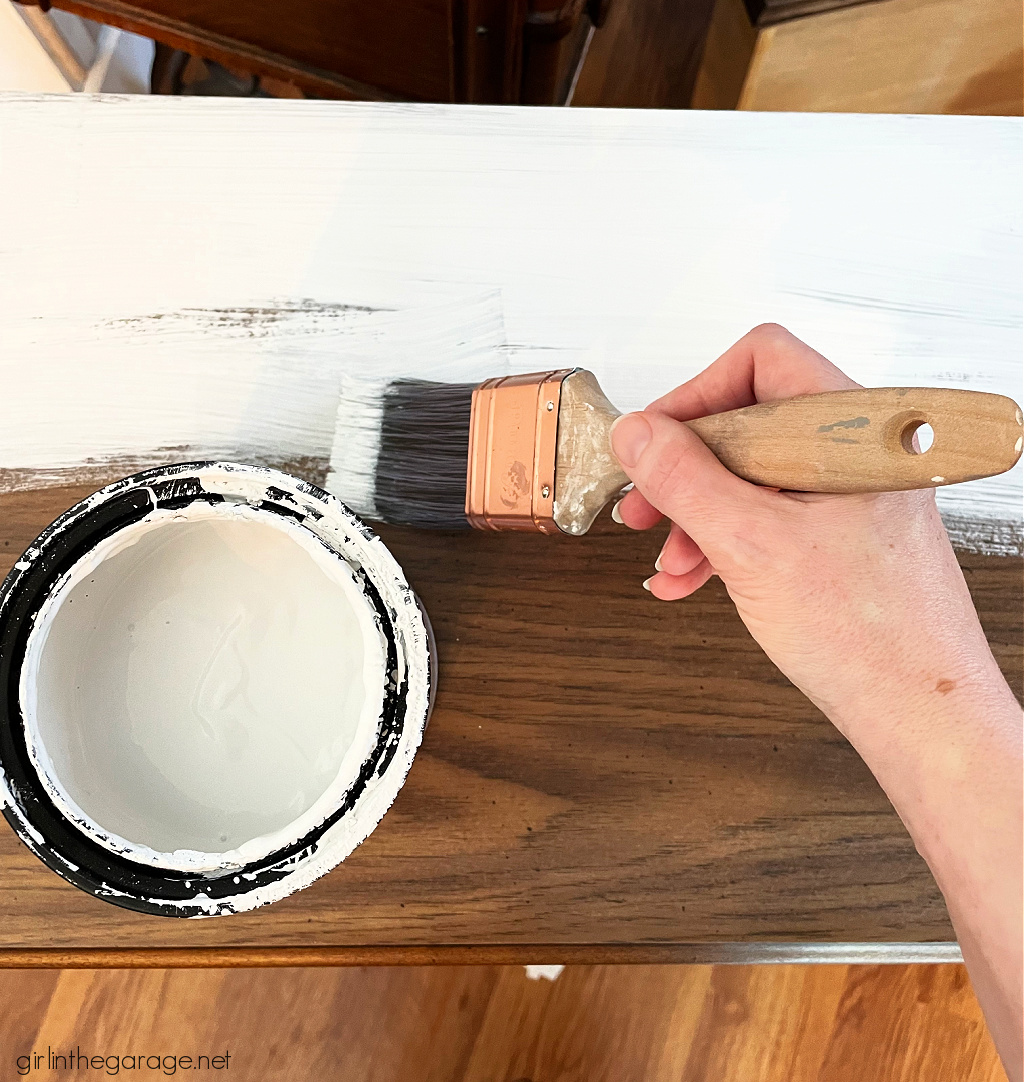 After the paint dried, I lightly sanded the table for smoothness and lightly distressed the edges.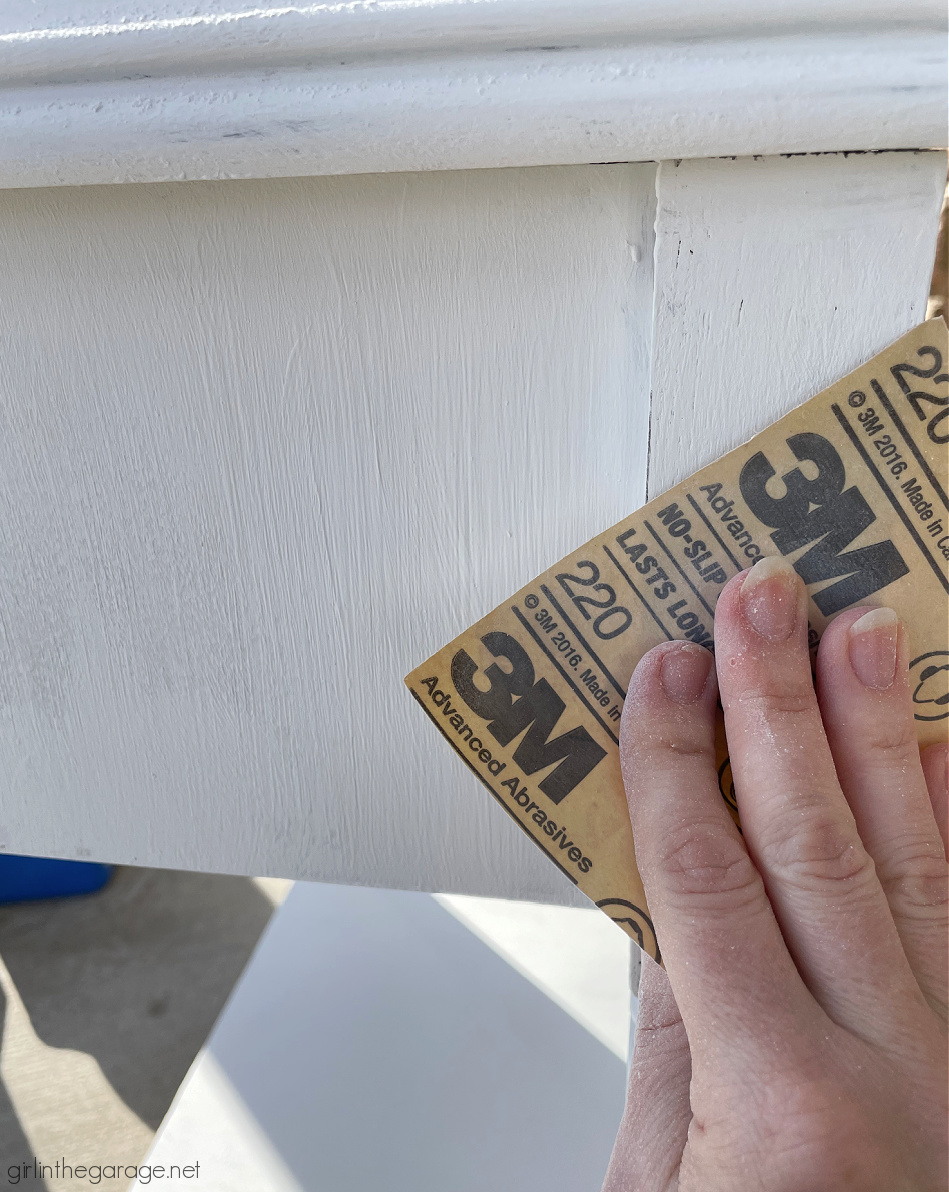 Next it was time for the decorative glaze which gives more depth and an antiqued finish. Rustoleum Chalked has two different tints of glaze: Smoked and Aged. Smoked is more gray and Aged is more brown. I thought I would be adding a light gray glaze over the white table, so I was surprised when I opened the Smoked can and it was dark gray – almost black! (You can learn more about the glaze here on Amazon, but I did have trouble finding it in stock anywhere – finally I found this small can at Hobby Lobby.)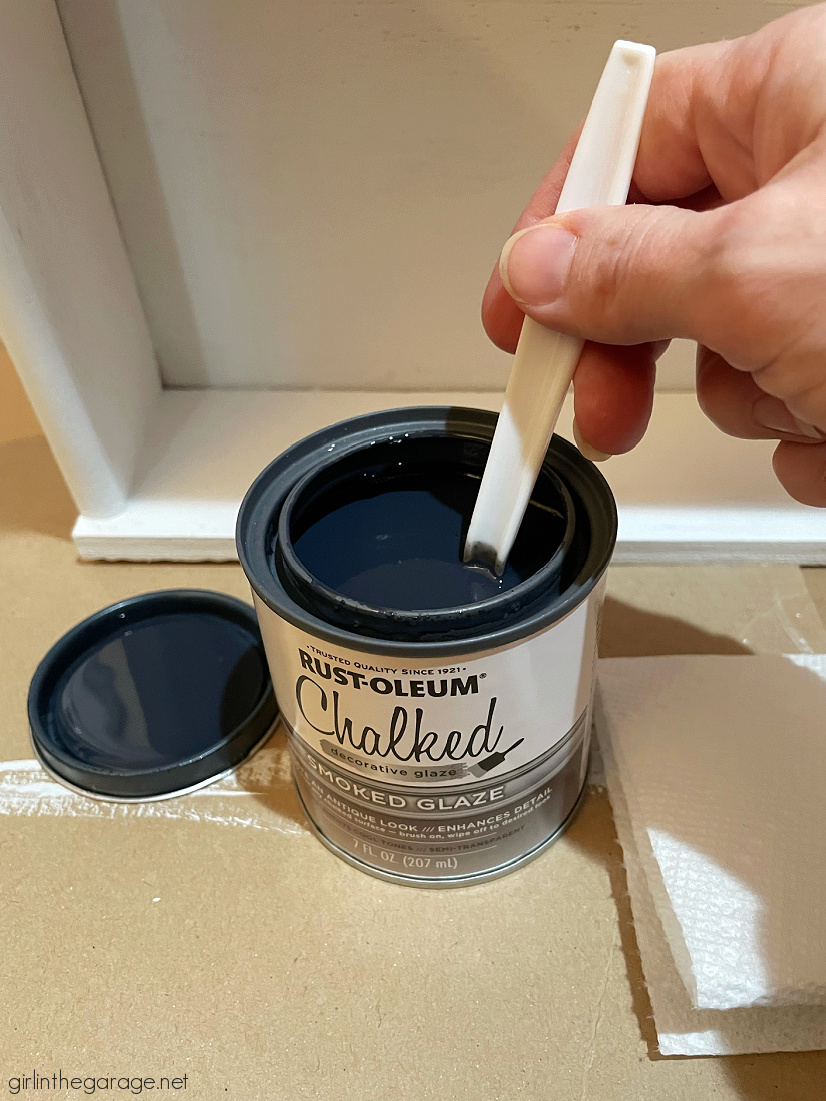 First, stir the glaze to mix it well. This glaze is pretty thin and drippy, but it's water based so it's not difficult to clean up.
The can says to let the paint fully cure for 3-4 days before applying the glaze. I was only able to let it cure for about 2 days, so it might've affected the outcome of this project. I'll explain more in a minute.
Apply the glaze with a foam brush or paint brush, being sure to get it into all the nooks and crannies. Next you're supposed to wipe away the glaze with a cheesecloth or lint free cloth.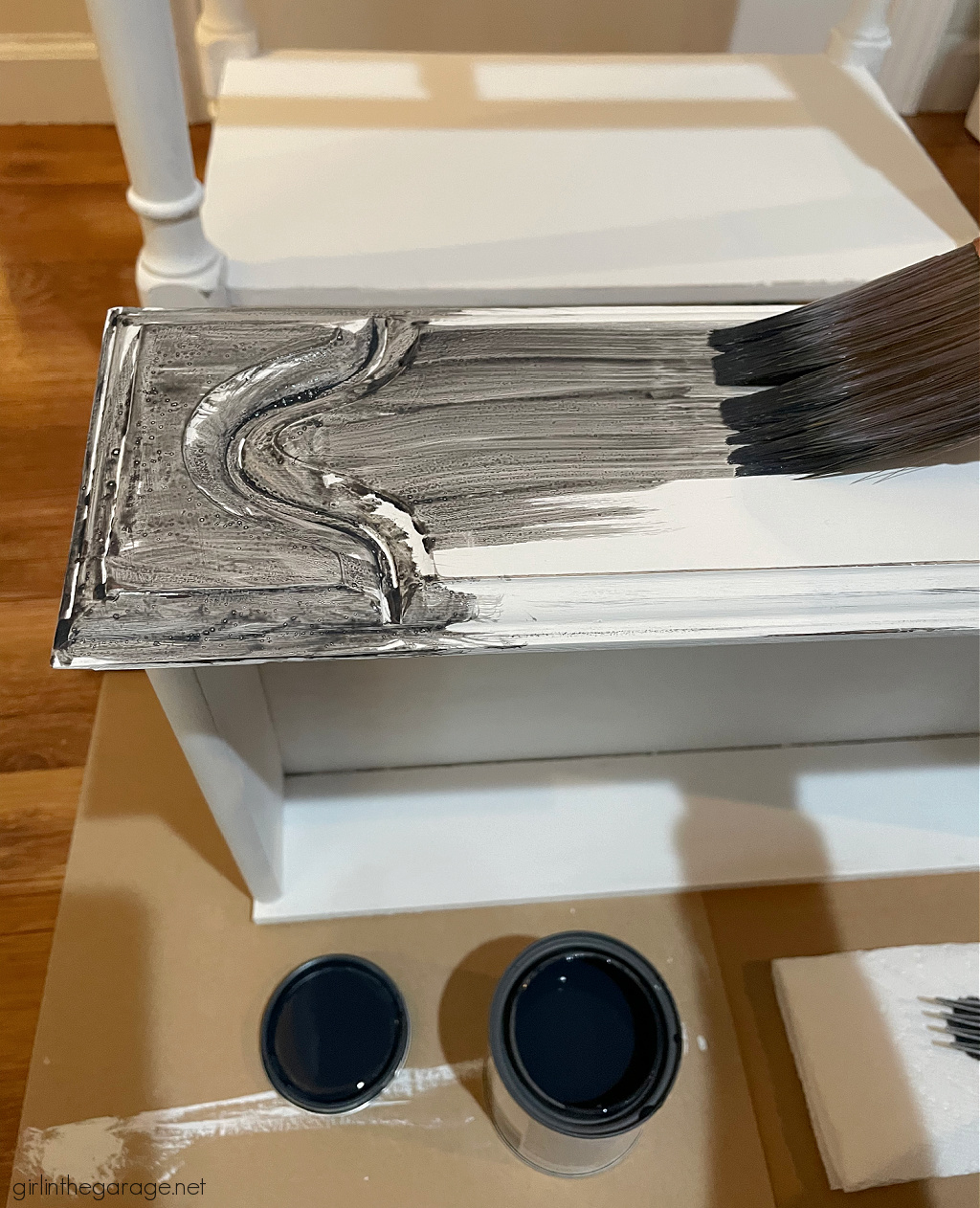 I attempted to wipe away the excess glaze, but this stuff dries really fast! The can says you can use a damp cloth to help wipe it away and control where you want the glaze to be lighter. I dampened the cloth very lightly and rubbed where the glaze was too heavy, and basically it ended up wet distressing some areas of the table and let the original wood peek through. This might've happened because I didn't wait for the full cure time of 3-4 days before glazing.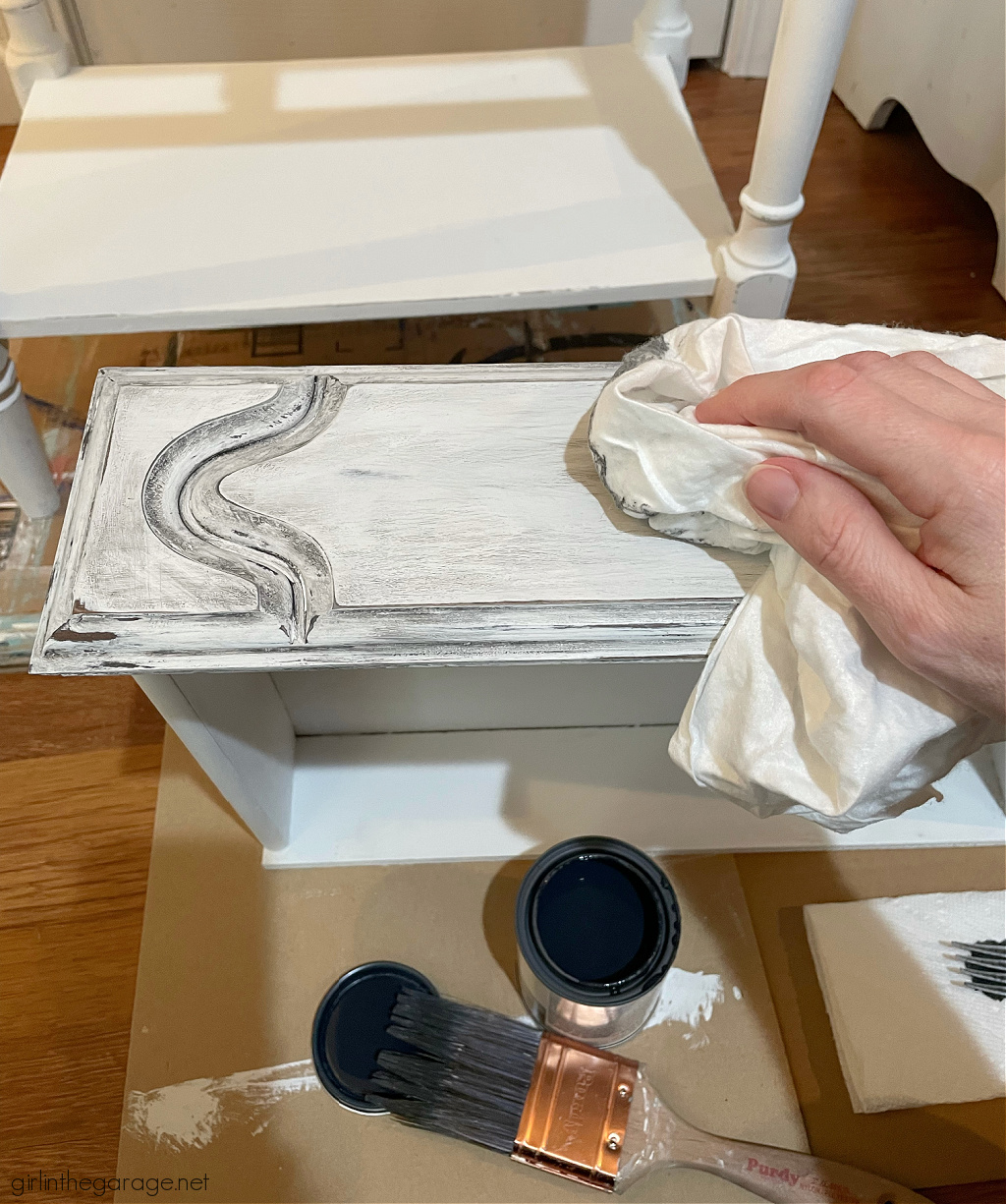 Continue working in one section at a time, brushing on the Rustoleum Smoked Glaze and then wiping it away with a lightly damp cloth. The glaze highlights details and curves and can look amazing on the right piece of furniture. This gray glaze was a lot darker than I anticipated though, so next time I'll probably use it on a different color than white.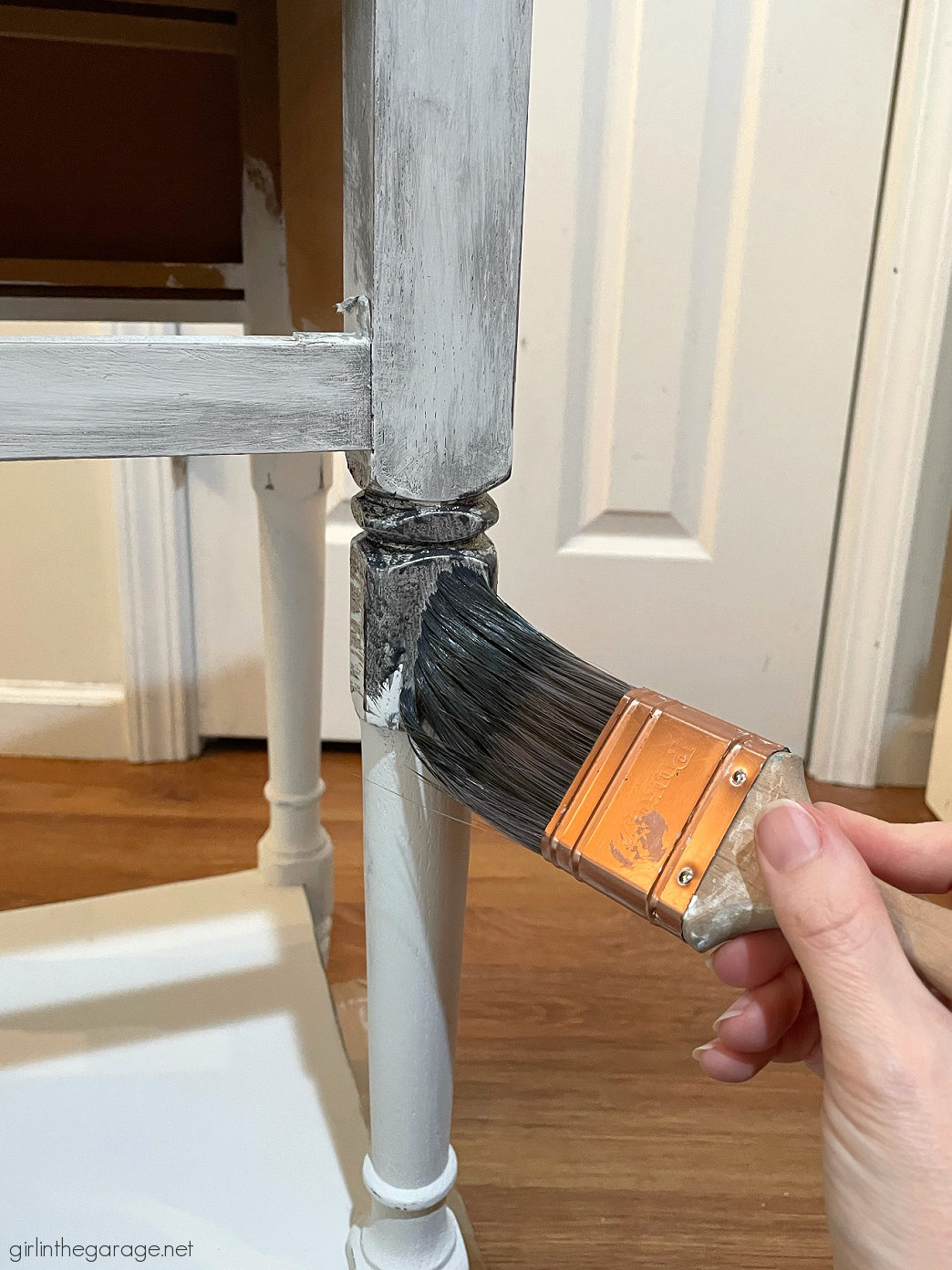 The next step was to add some interesting patterned paper inside the drawer with Mod Podge decoupage glue.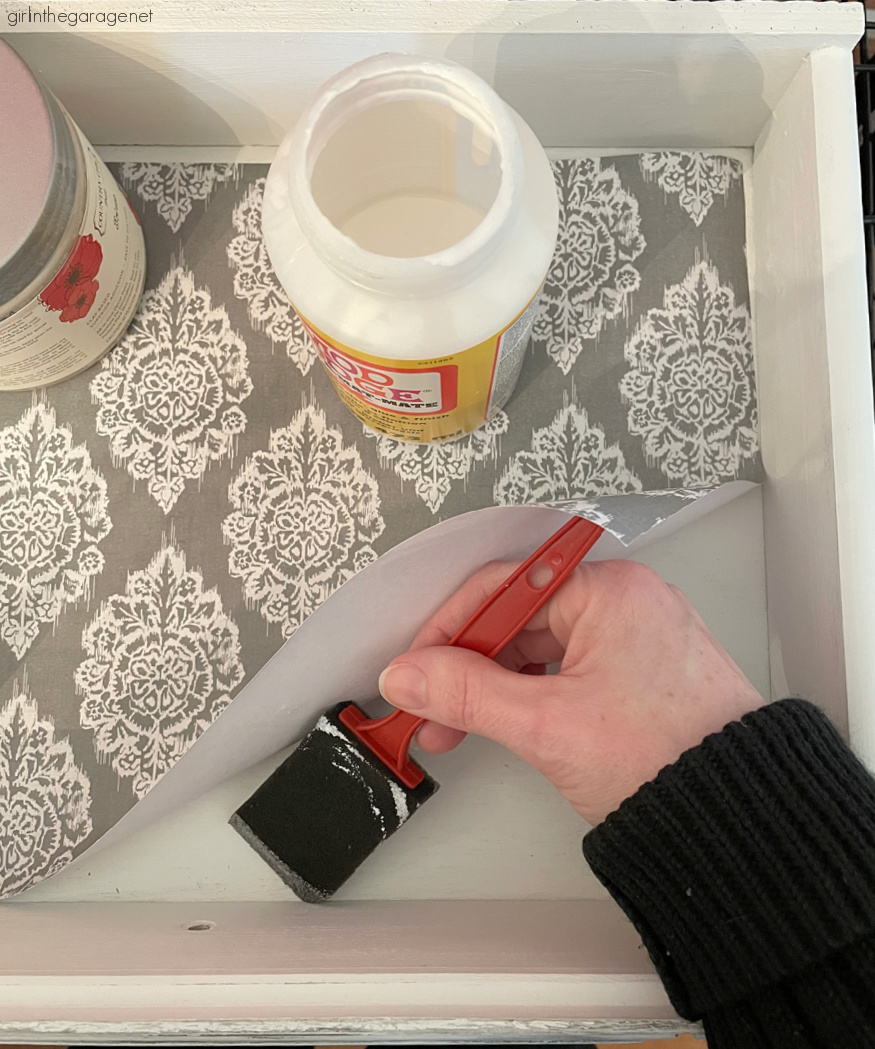 Finally, I added a new gray glass antique-looking pull from Anthropologie (on clearance, from my stash).
And here's what painting and glazing furniture with white and gray looks like…
I didn't add a topcoat yet because I wanted to give the paint and glaze a little more time to fully cure.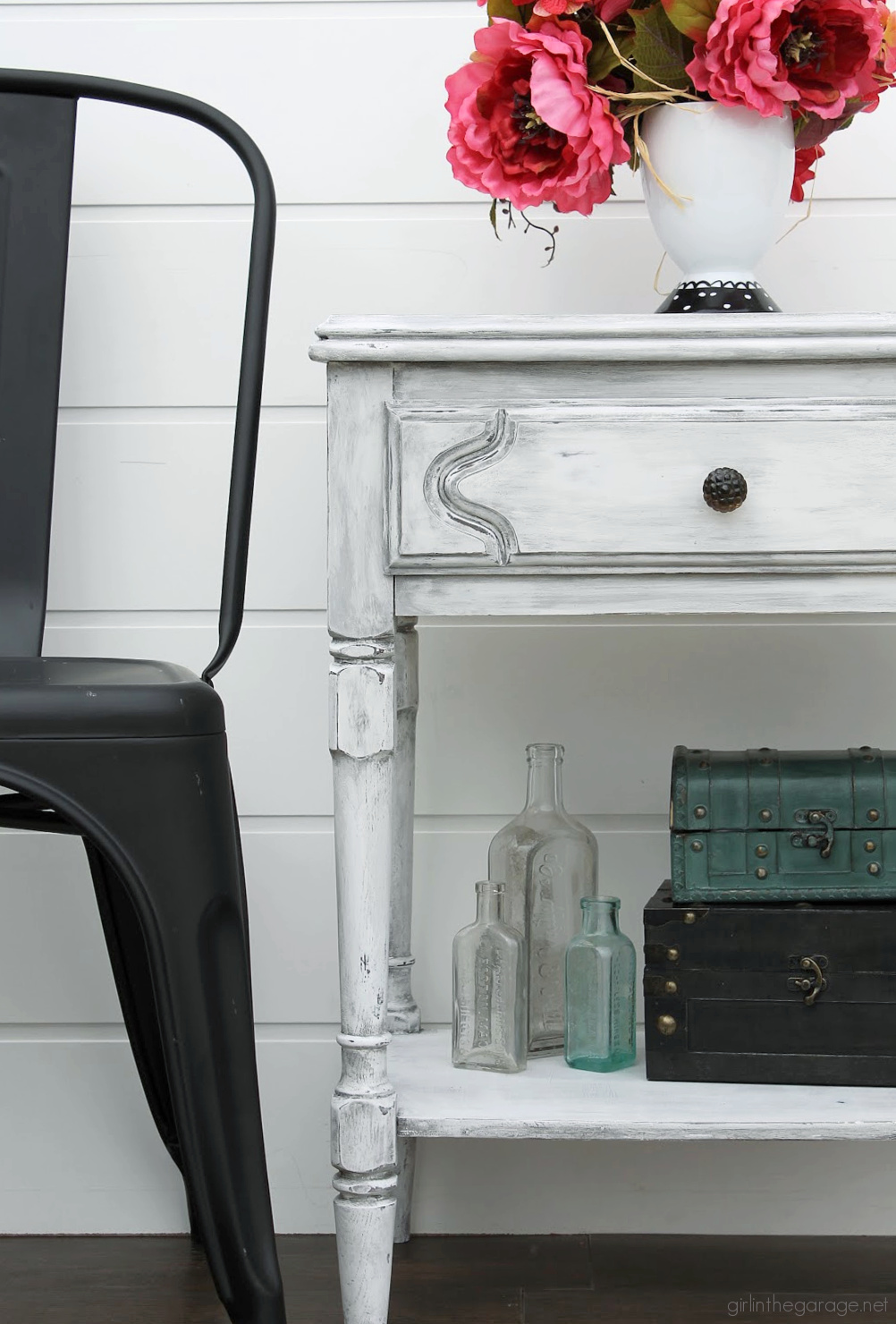 Although I think it's kind of cool, this is more distressed looking than my usual style. I'd love to know what you think! Should I leave it as-is or go back to plain white without the glaze? **UPDATE: I changed the table! See more photos further below.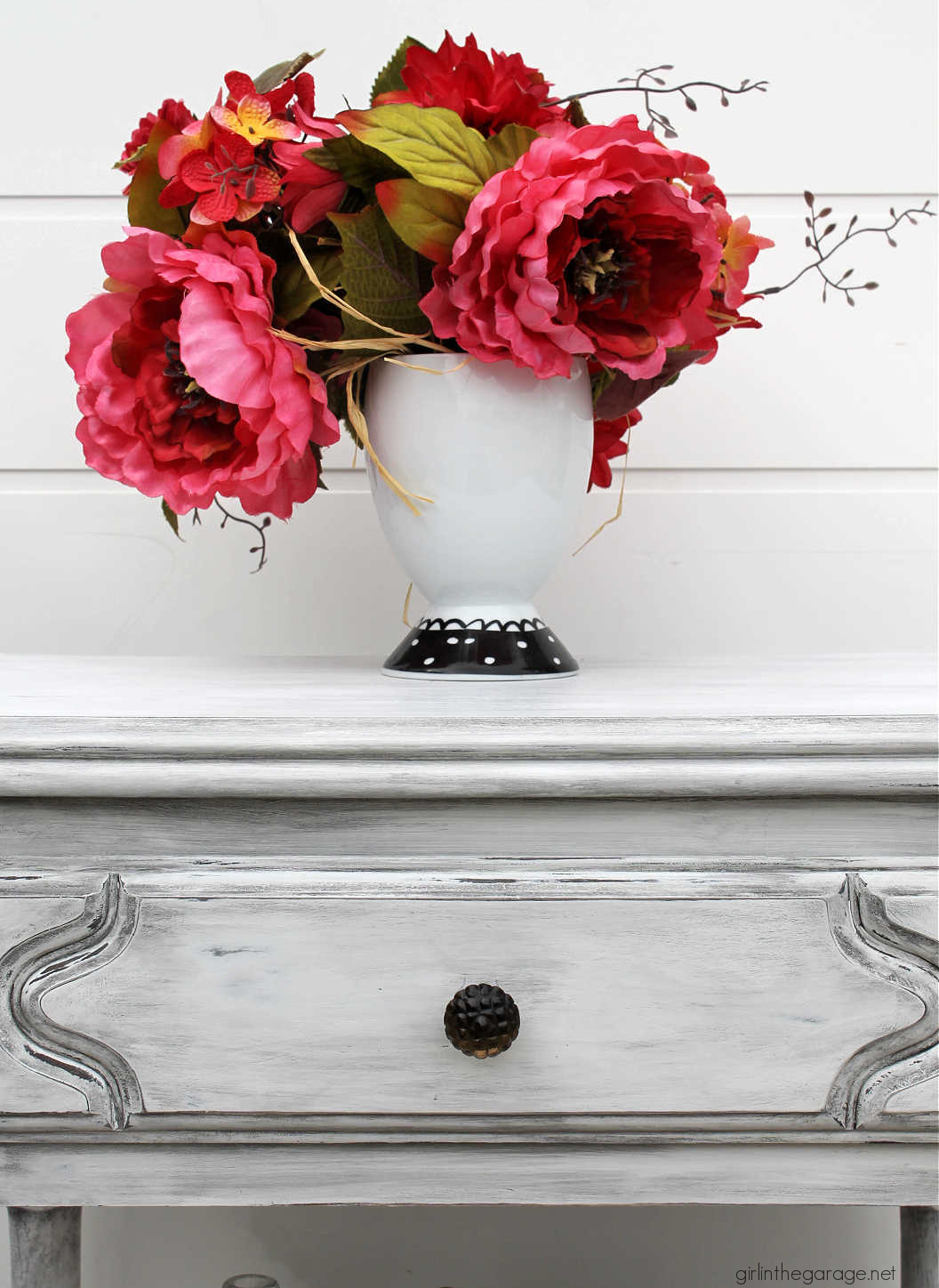 Here's a peek at the pretty decoupage paper in the drawer: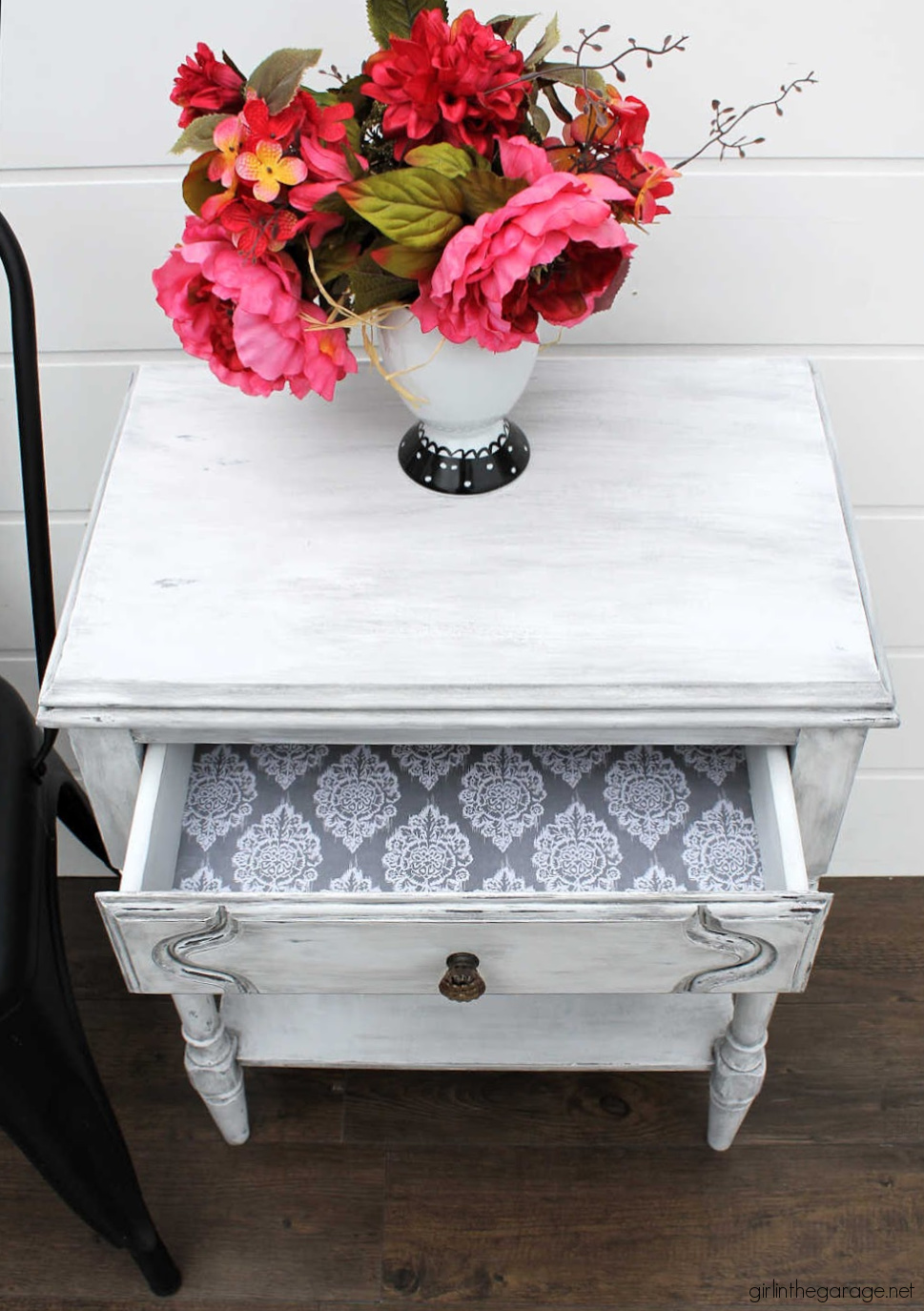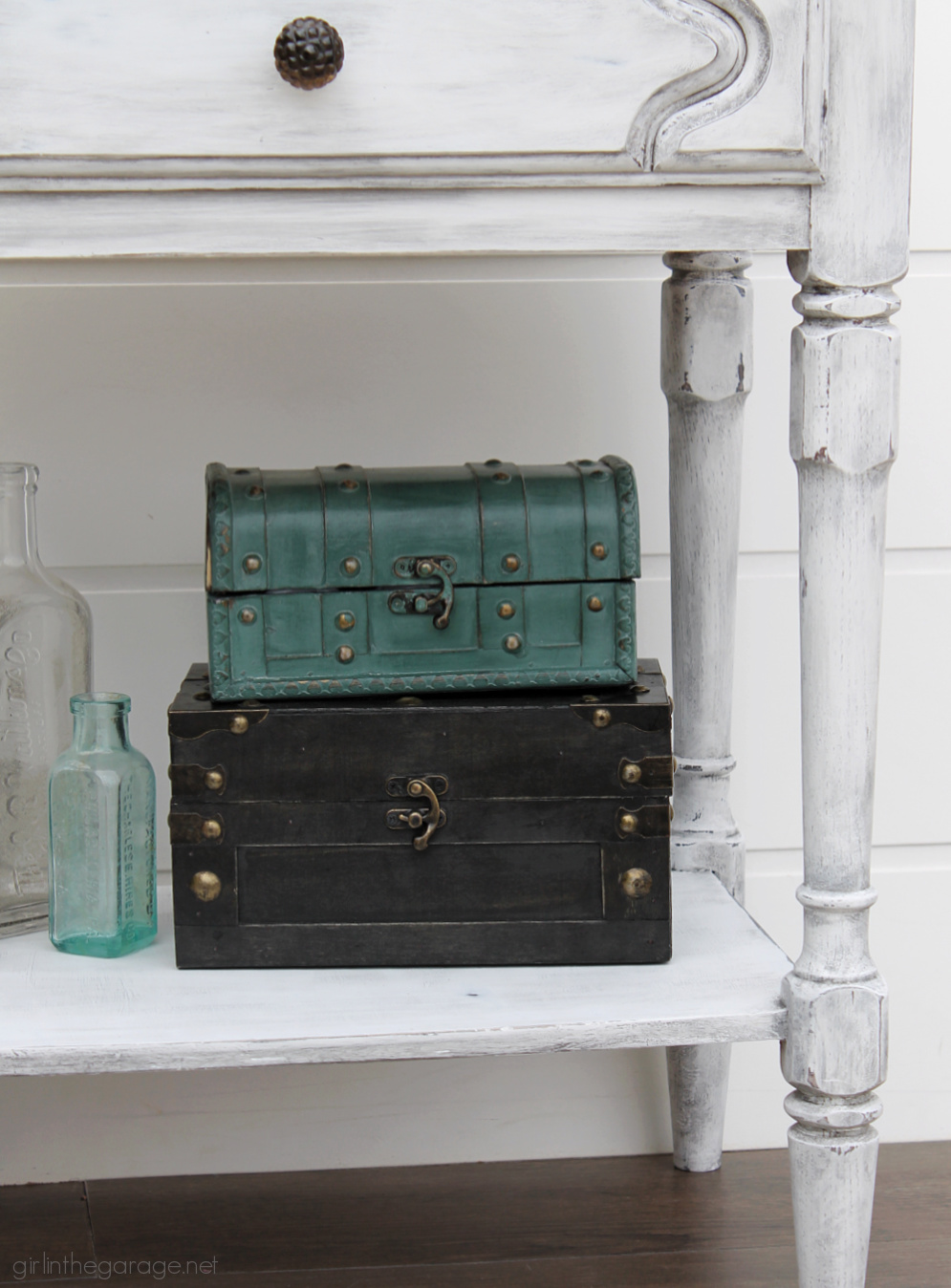 Now you know the lessons I've learned from glazing furniture. I'd love to know if you've used glaze before – maybe another brand works differently? Let me know your thoughts in a comment below.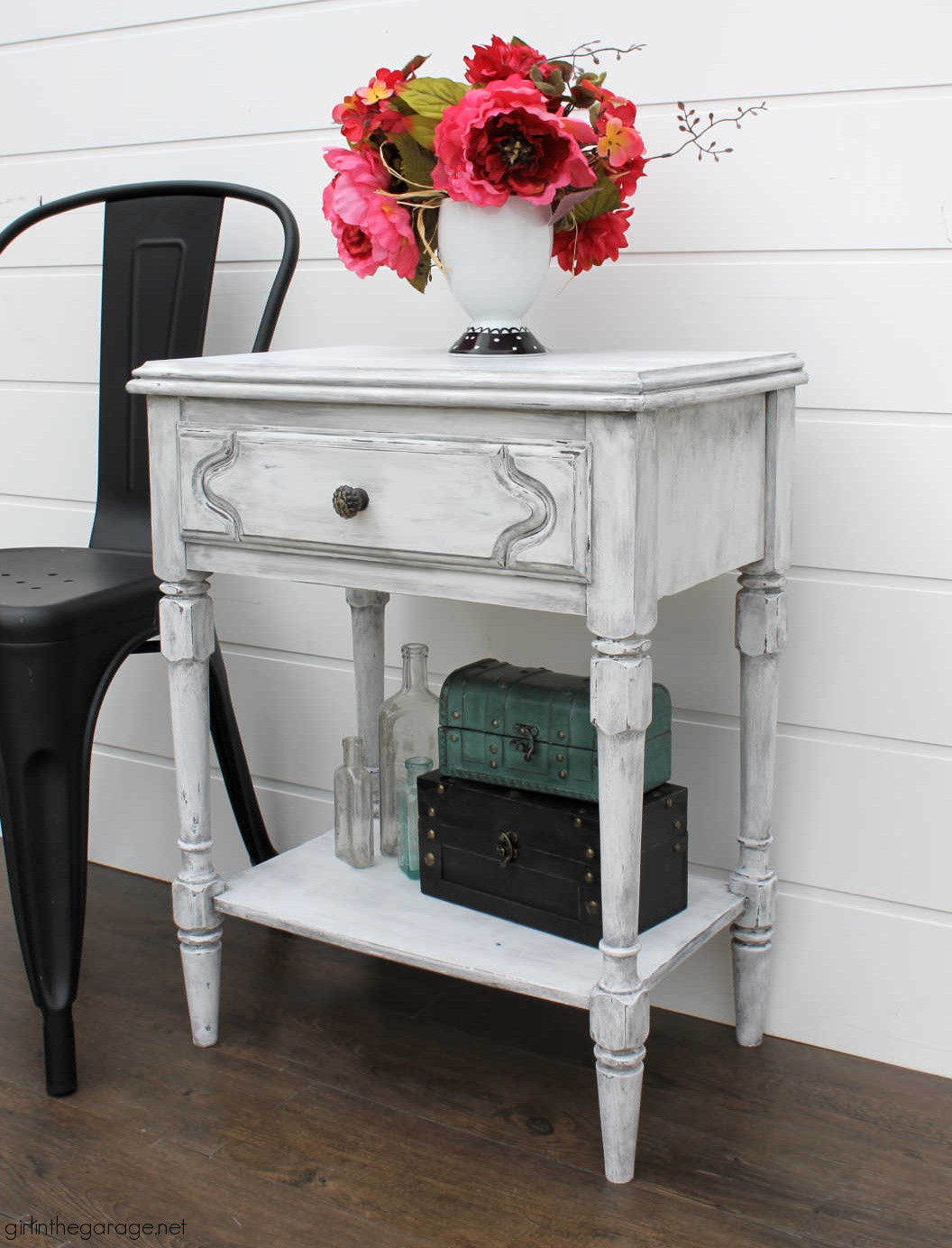 Please feel free to share or Pin this project to easily find it again later.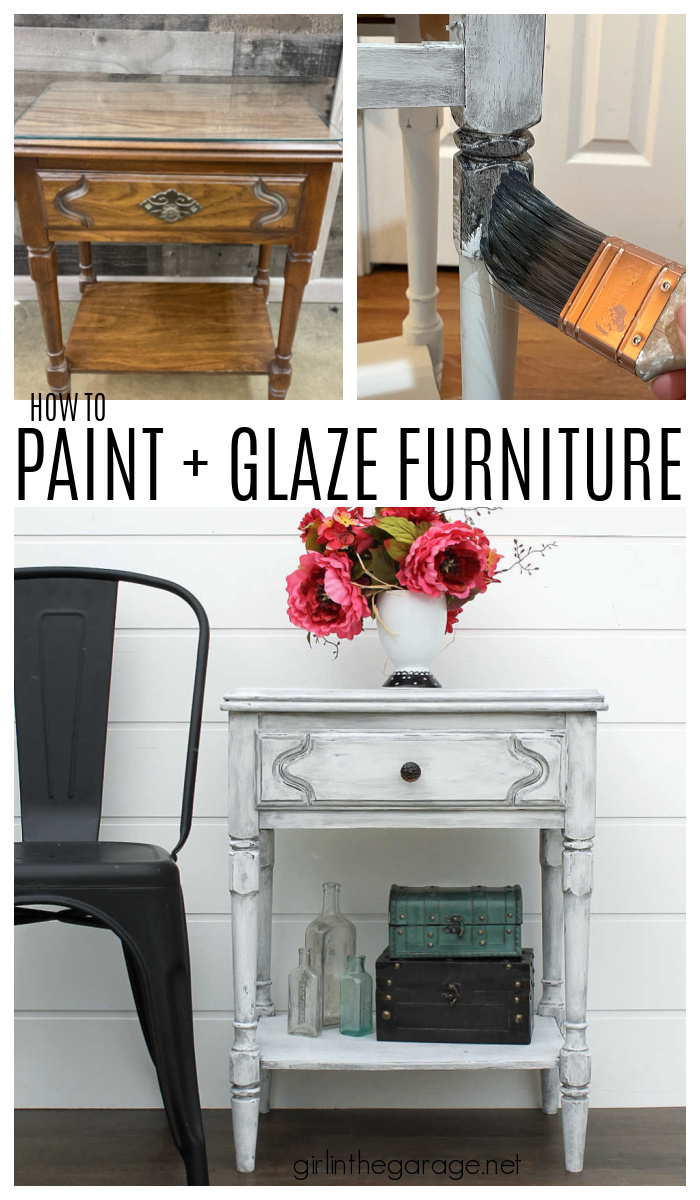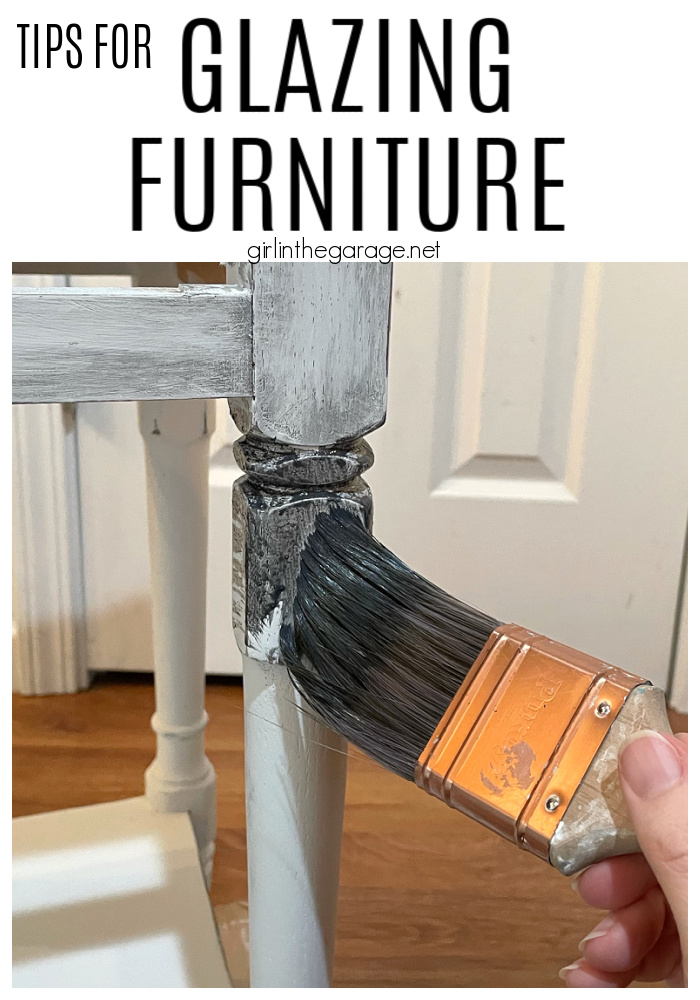 UPDATE: I sat with this table for awhile and finally decided that I didn't love the heavily-glazed look. I went back and brushed more white paint over the table, leaving the glaze in some areas to accentuate the grooves and curves. Then I sanded it smooth but there is still some nice texture – just not as dramatic as before. And here is the updated table now: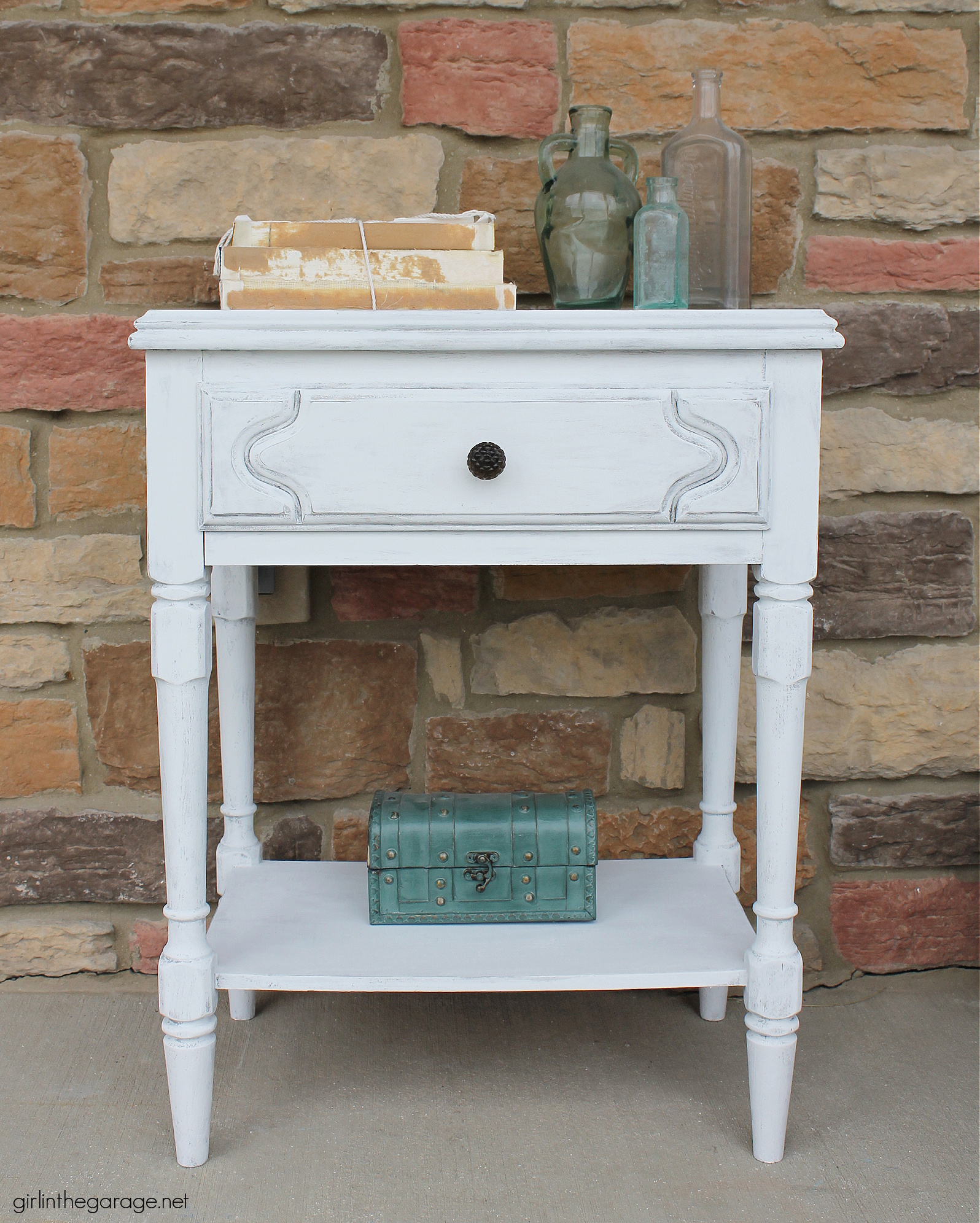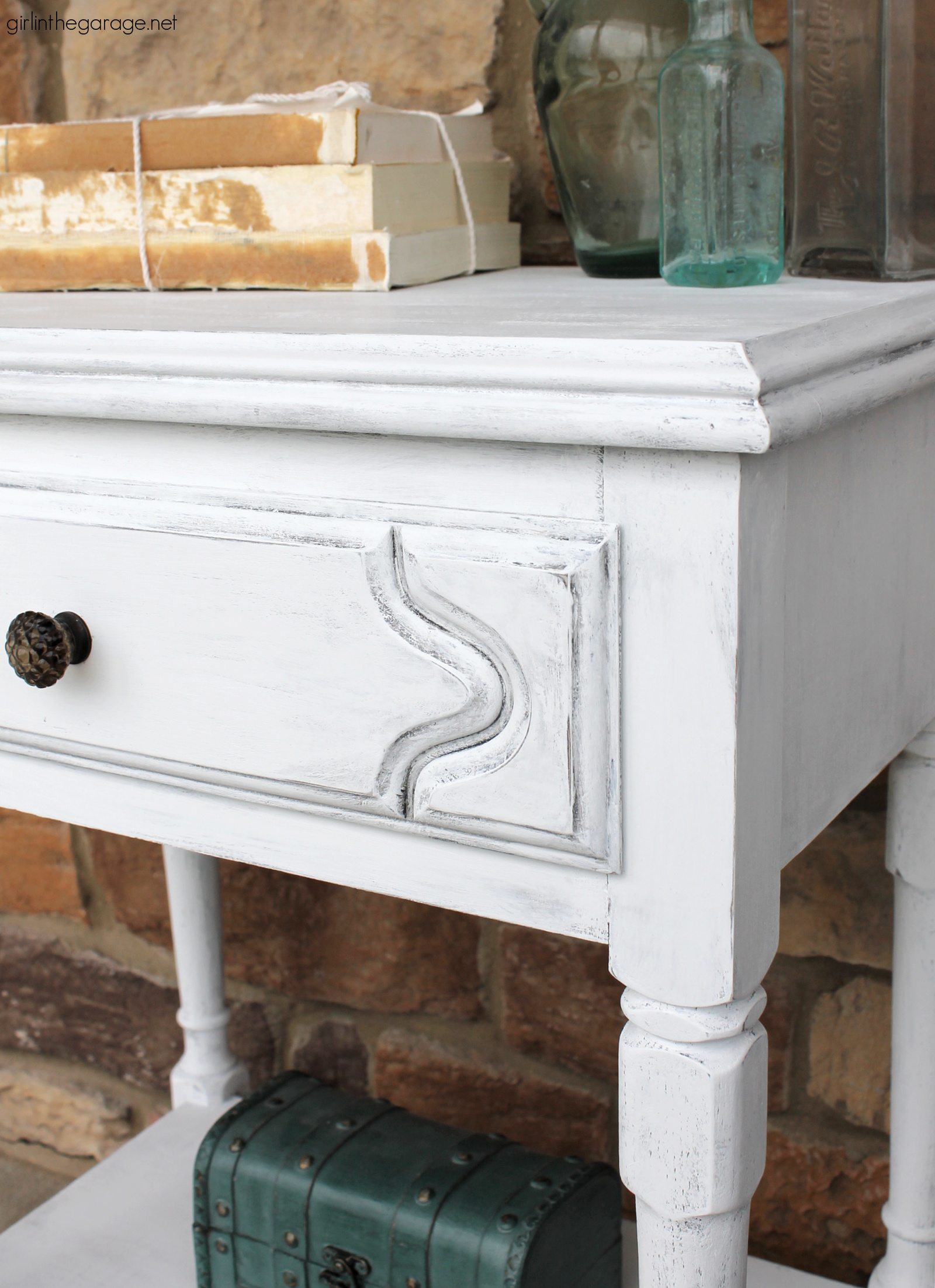 I hope you like the updated table better – I love it now! – Jen
And now it's Furniture Fixer Uppers time with my creative friends.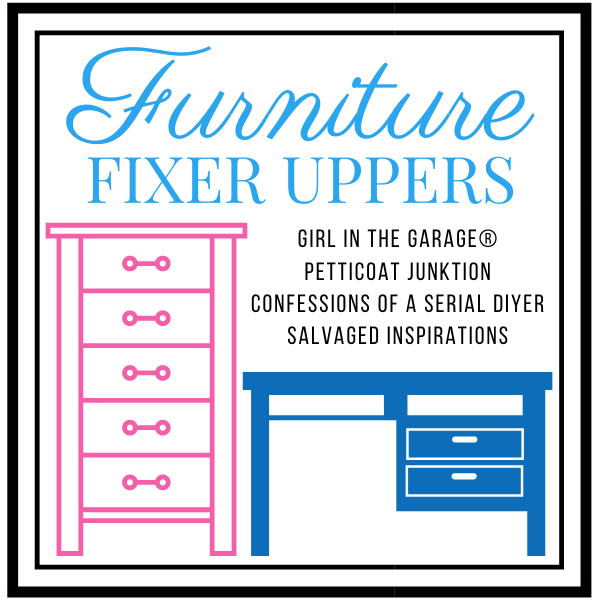 Below are their Before photos – visit the links underneath to see the awesome Afters and to learn how they did it: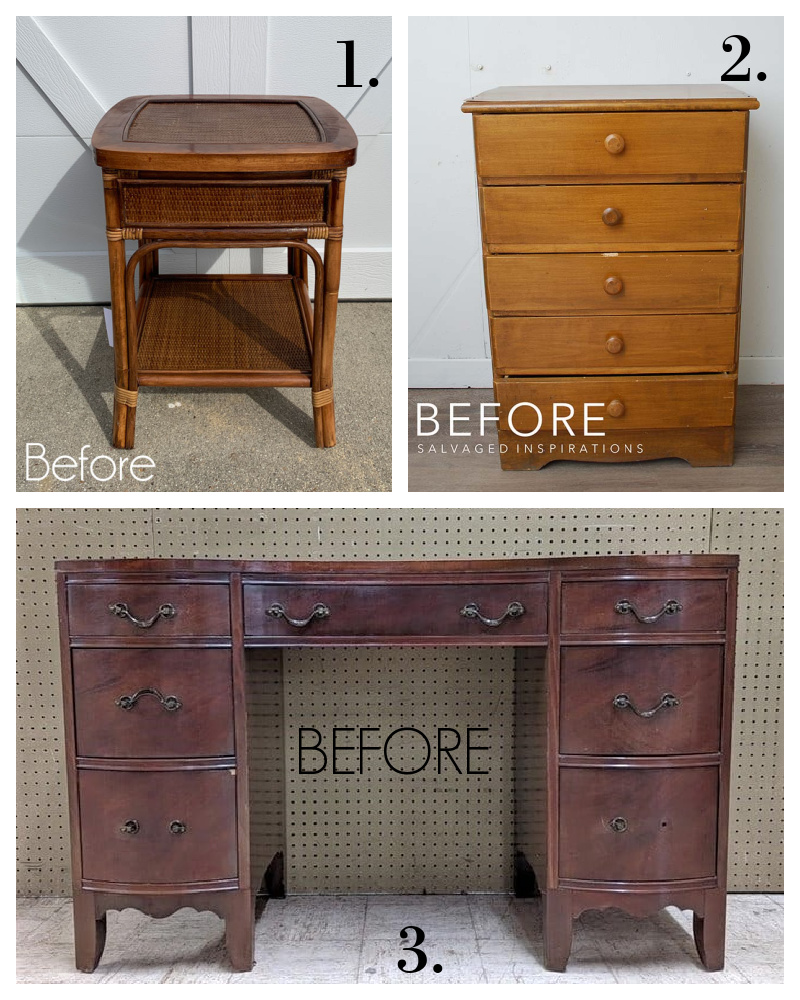 1. Confessions of a Serial DIYer
2. Salvaged Inspirations
3. Petticoat Junktion