Hello again, my creative friend! Today I'm showing you how I updated this charming piece I found at an estate sale and transformed into a DIY farmhouse sofa table. Below is the photo from the online listing: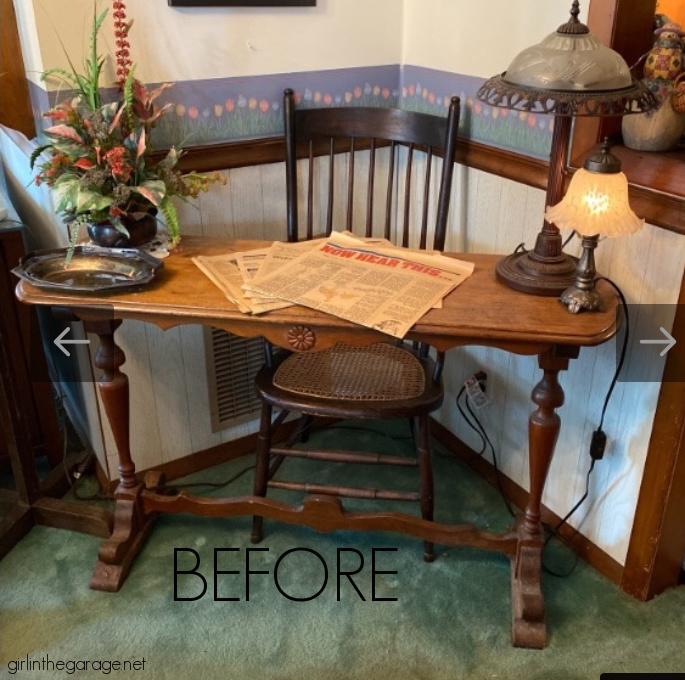 It wasn't priced, and I can't remember exactly how much I paid, but I think we agreed on $20. I got it the same day as the small nightstand I turned into a faux antique steamer trunk if you remember that project (it's a personal favorite of mine!).
Here's a clutter-free Before photo: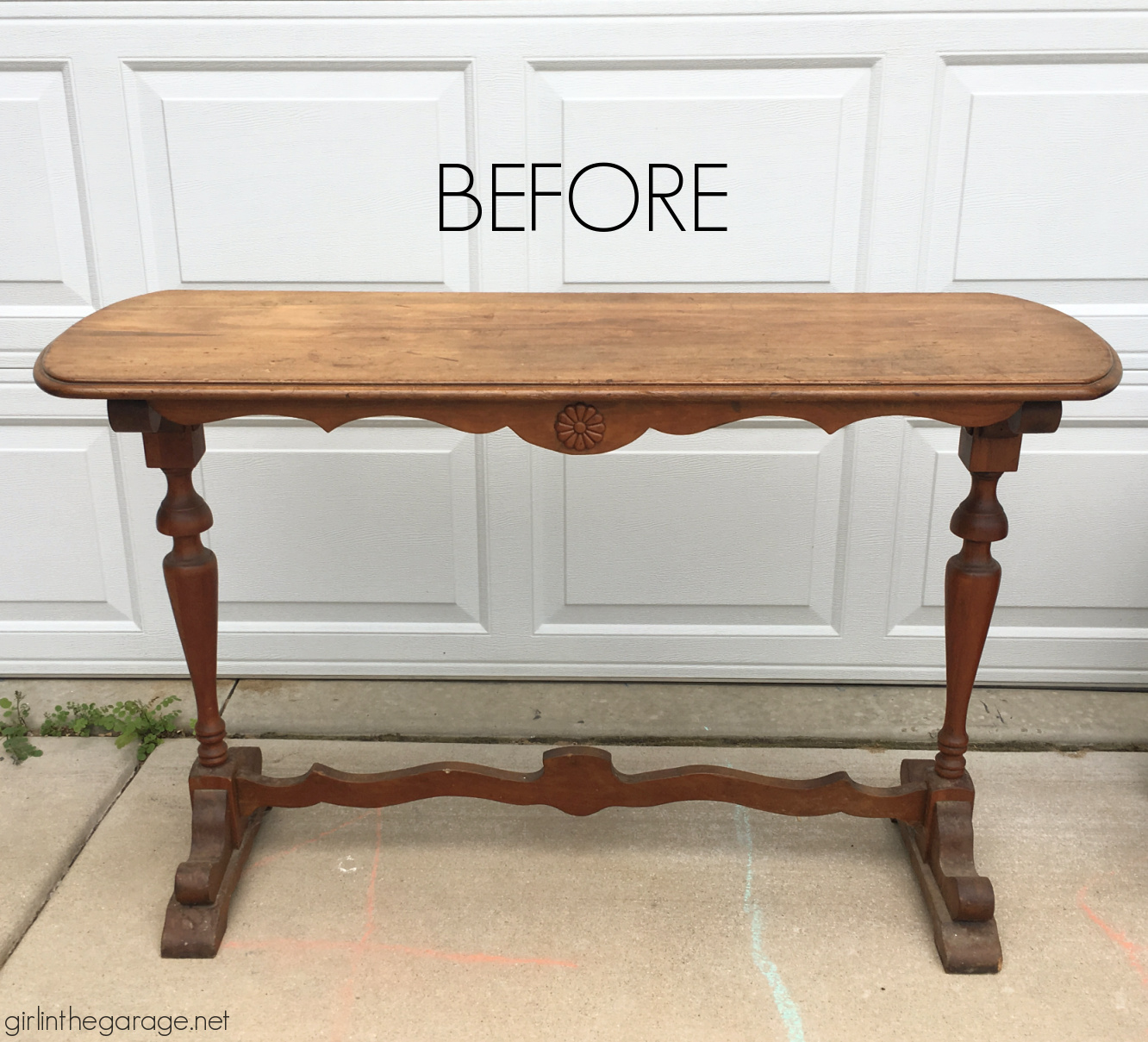 I almost forgot to tell you that it's Furniture Fixer Uppers day. That means you can see 3 more creative furniture makeovers from my friends at the bottom of this tutorial. Also, this post contains some affiliate links so you can easily find the products I use and recommend. Discover all my favorite brands and tools for doing DIY makeovers here.
This wood table had good bones, but the top was scratched up and the feet were SO dirty! I wish I took a closeup photo of the bottom so you could see it better. Here's part of the top: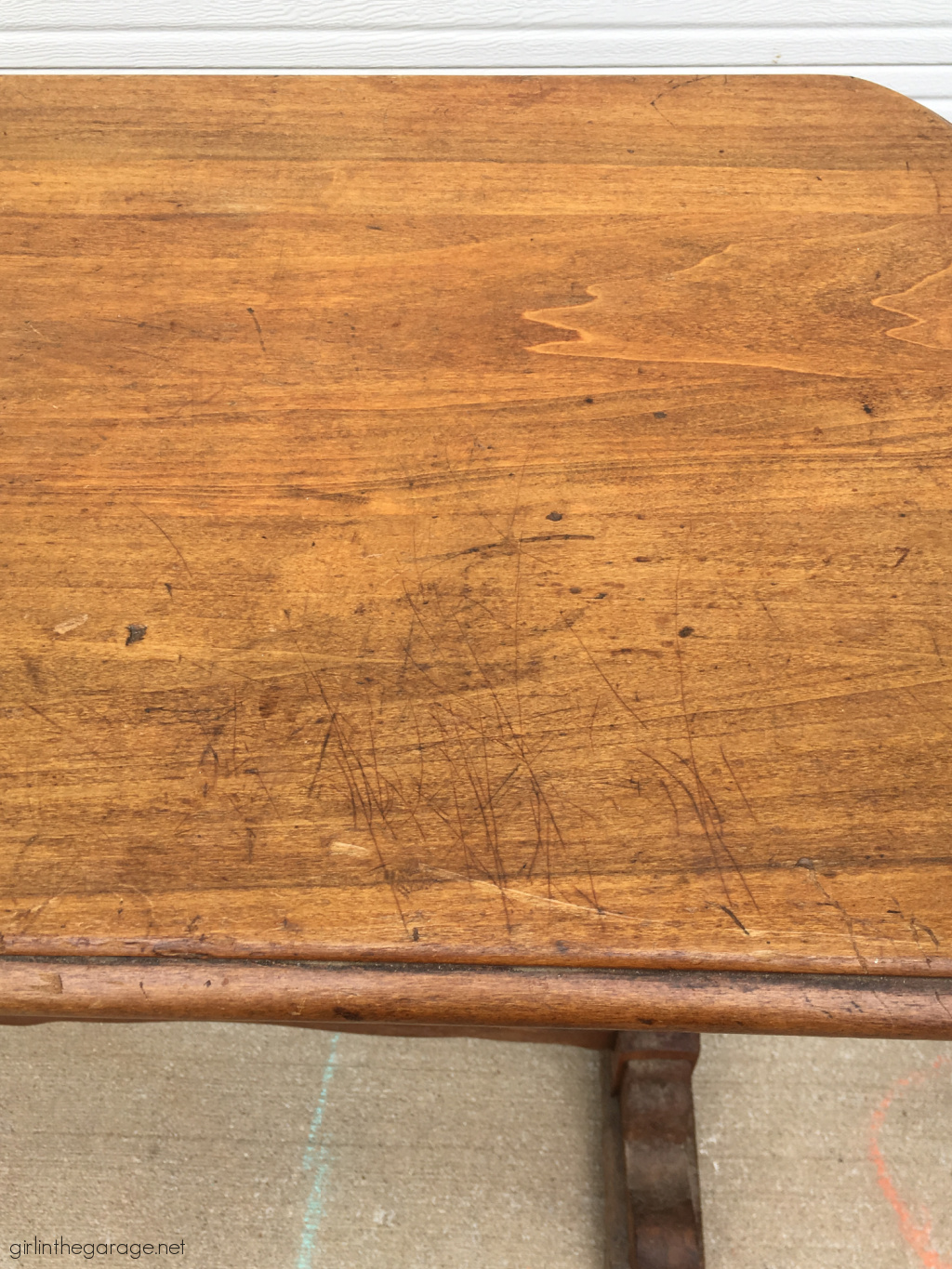 I wasn't quite sure which direction I was going with this project, but I knew it needed to be cleaned and sanded. And I did not want to cover the top with paint.
How to Sand a Sofa Table
I used my random orbit sander on all the flat surfaces to remove the existing finish and smooth out the scratches (I've been very happy with this one and it even comes with it's own storage case). Remember to always wear the proper safety accessories and follow directions when using any kind of power tools.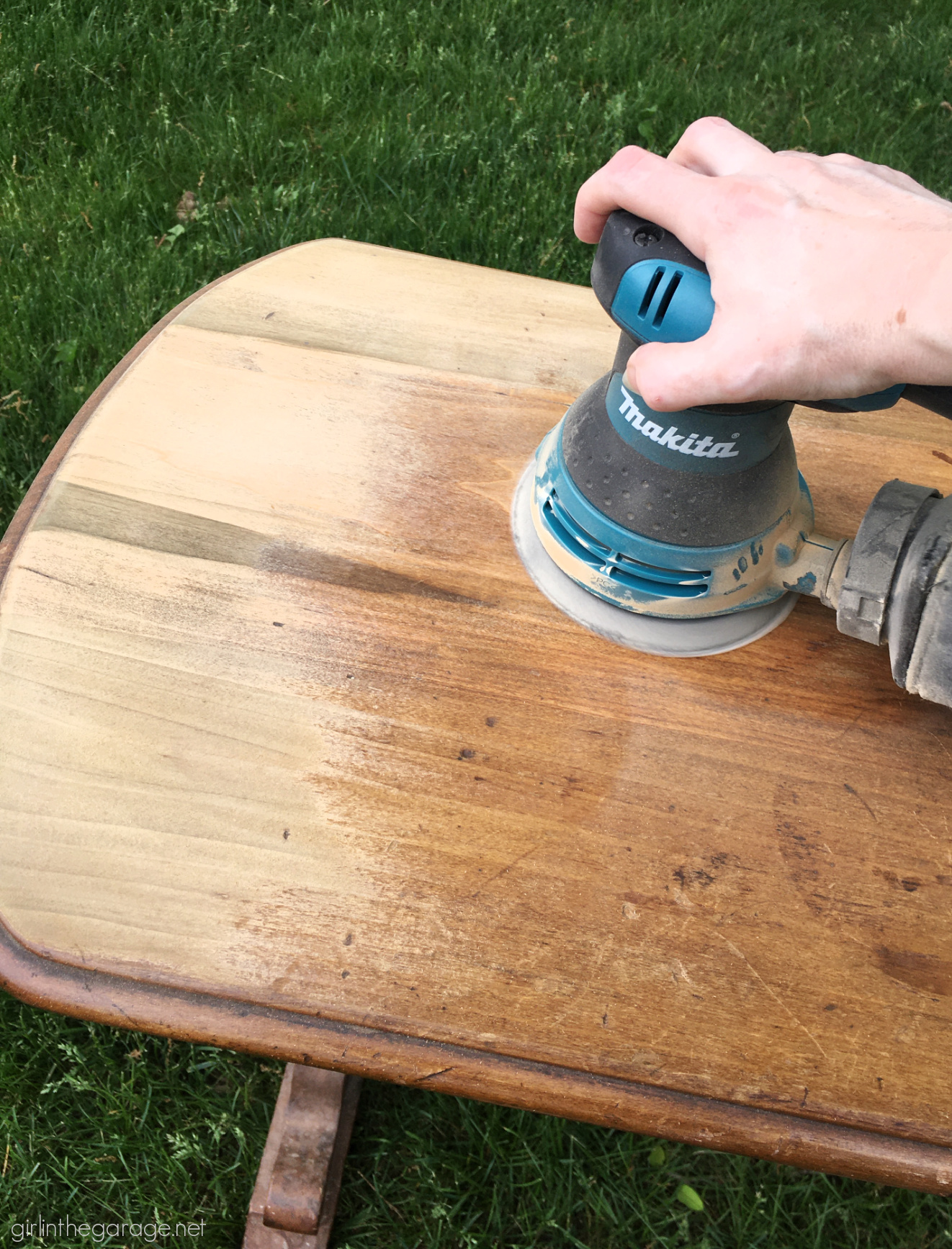 For the hard-to-reach places where a circular sander can't reach, I was excited to finally try out my new detail sander that my in-laws got me for Christmas.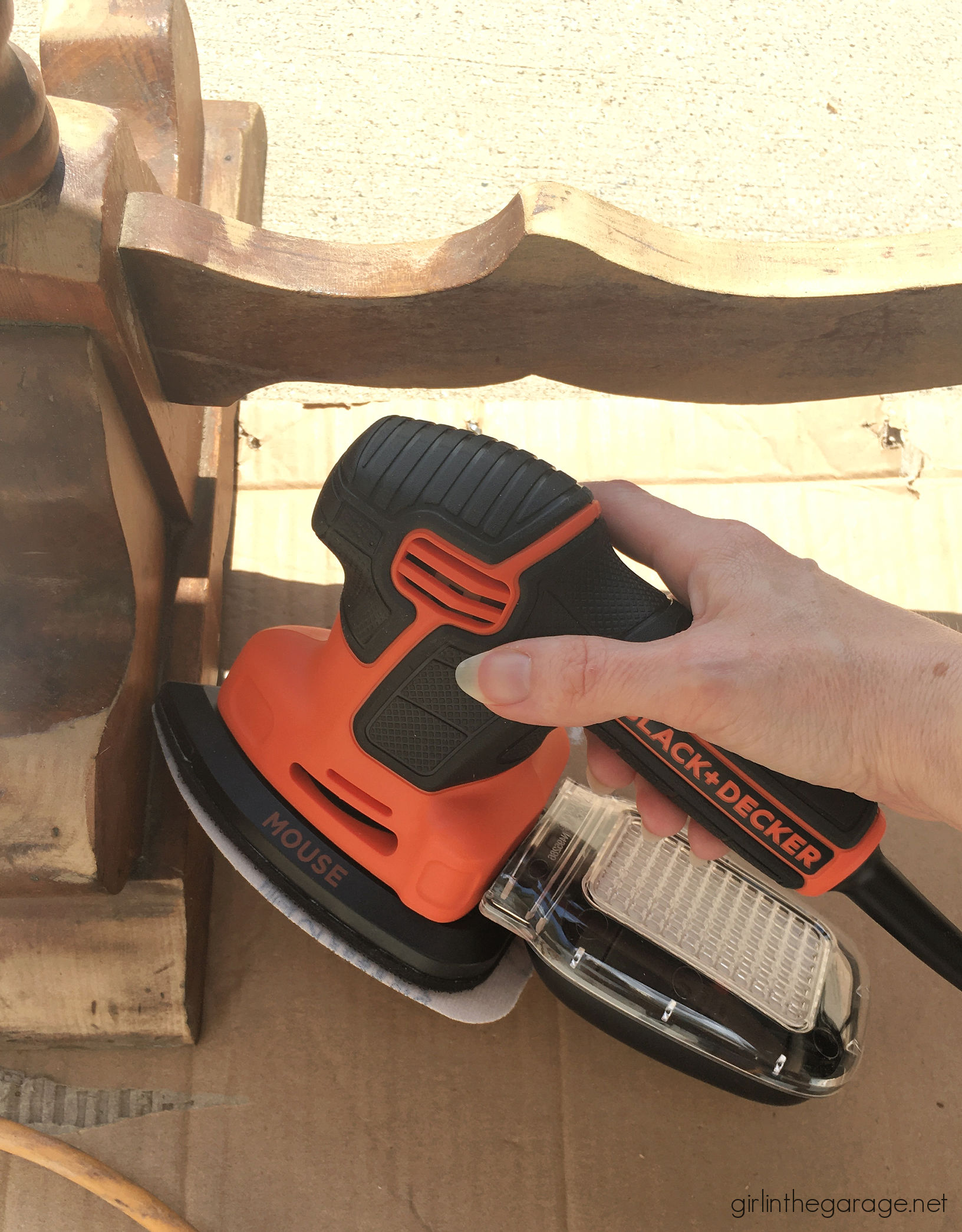 This sander has a vibrating motion, and the front is pointed for corners and tight spots. It even comes with a finger attachment for narrow areas like between spindles on a chair, but I didn't try that part yet. Learn more about the Mouse sander here. I can't wait to use it on more projects.
You can tell how dirty it got while I was using it on this project. I ended up sanding the entire table… it was therapeutic for me because I had some frustrations to get out – Ha! I always say that updating furniture helps keep me sane.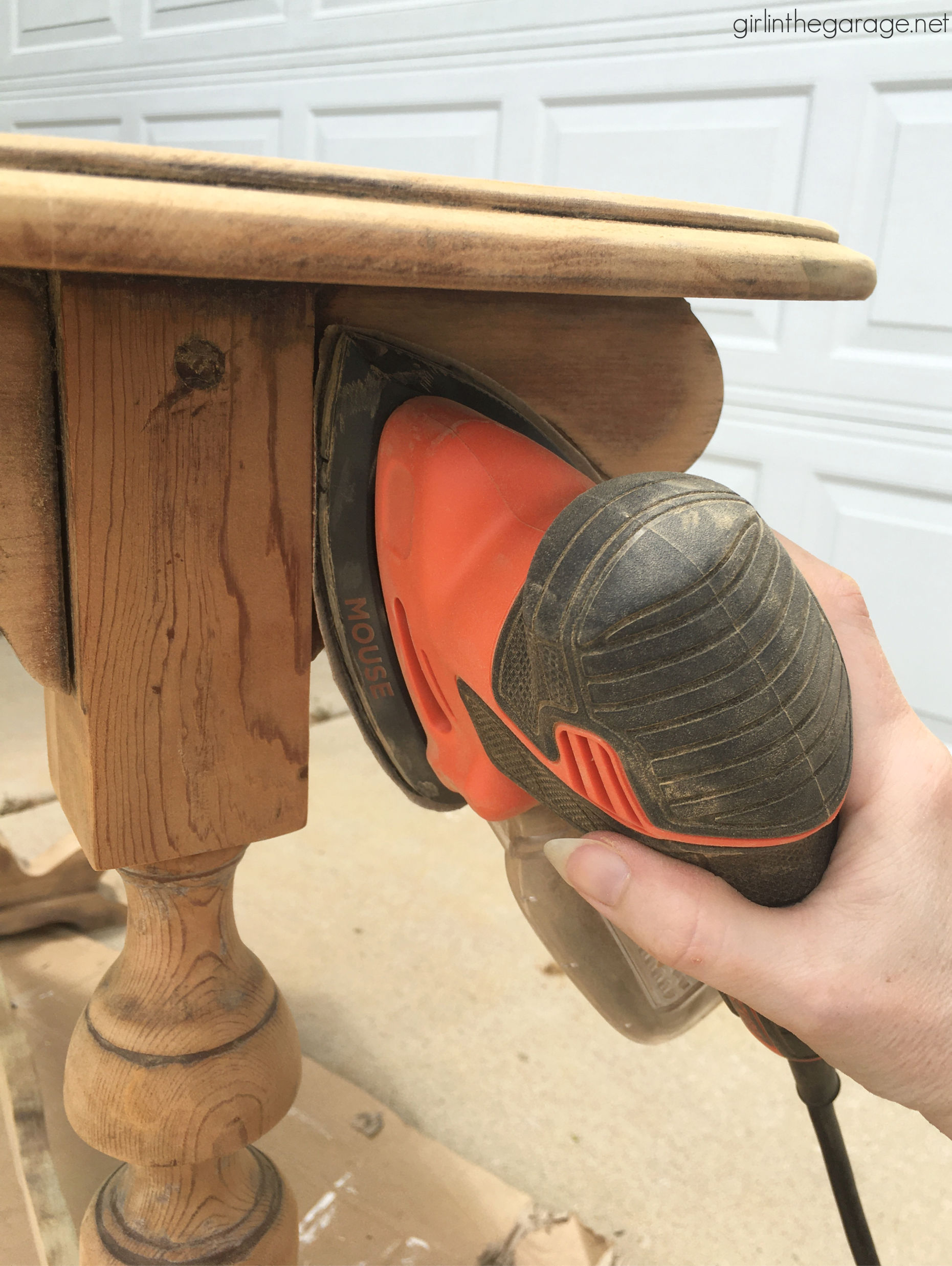 While I was sanding, I also popped off the flower appliques with a flathead screwdriver. It's a quick fix that just makes the table look less outdated.
How to Whitewash a Farmhouse Sofa Table
The next thing I did was whitewash the body of the table with Pure White Chalk Paint by Annie Sloan using a water spray bottle, lint free cotton rags, and a Purdy paint brush. I was so busy working that I totally goofed and didn't take a photo! But it's the same process that I used on this little nightstand that I whitewashed last year. There's even a short video in that post so you can get a better idea how to do it.
Finally, I protected the table with clear wax by Annie Sloan – I even applied it directly to the unfinished wood top.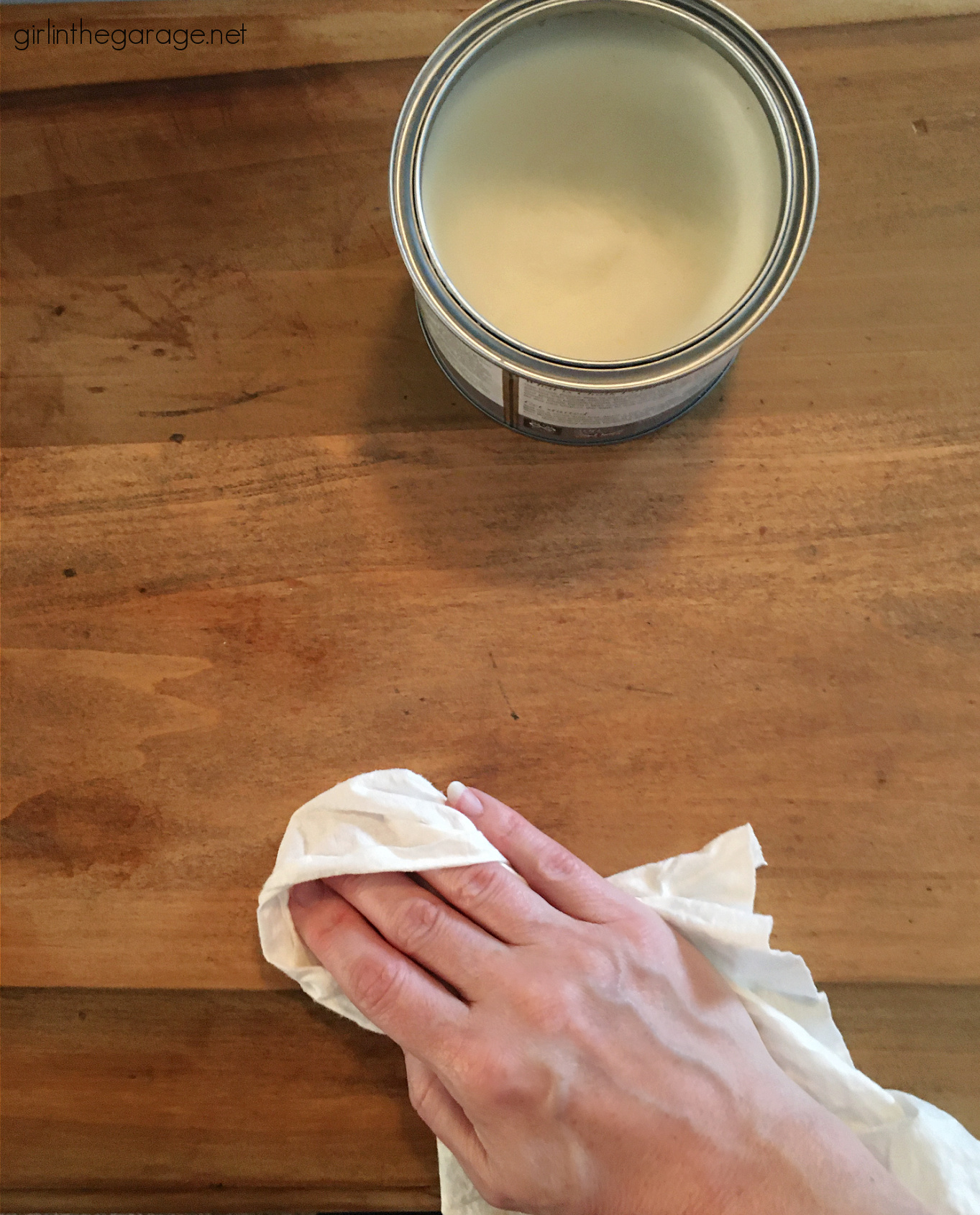 And that's all, folks!
Now you know how to create a DIY farmhouse sofa table like this:
I love how the white isn't too stark bright against the natural wood top.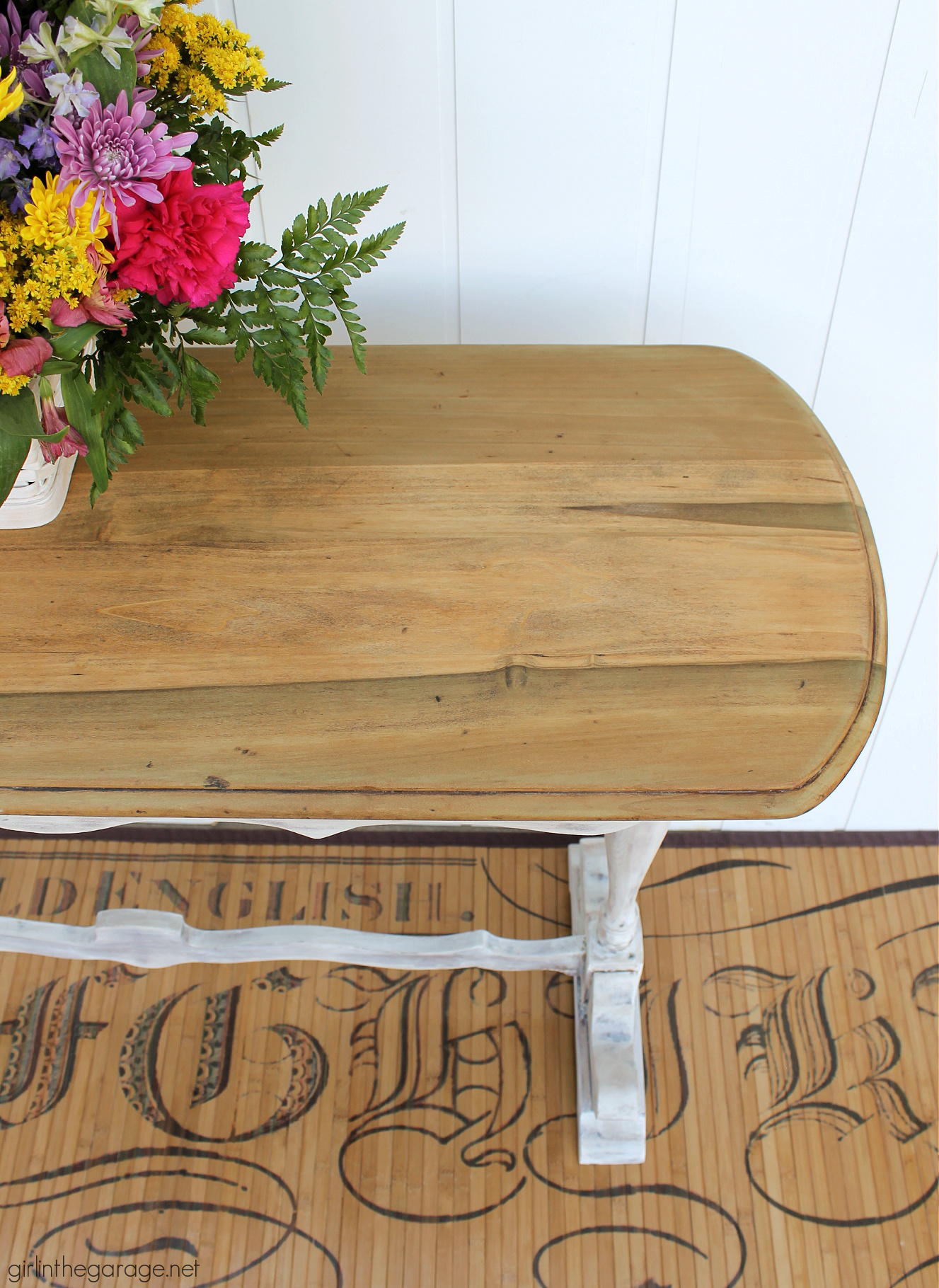 And that sanded top looks soooo much better now! This piece looks very much like it belongs in a charming farmhouse or cottage somewhere.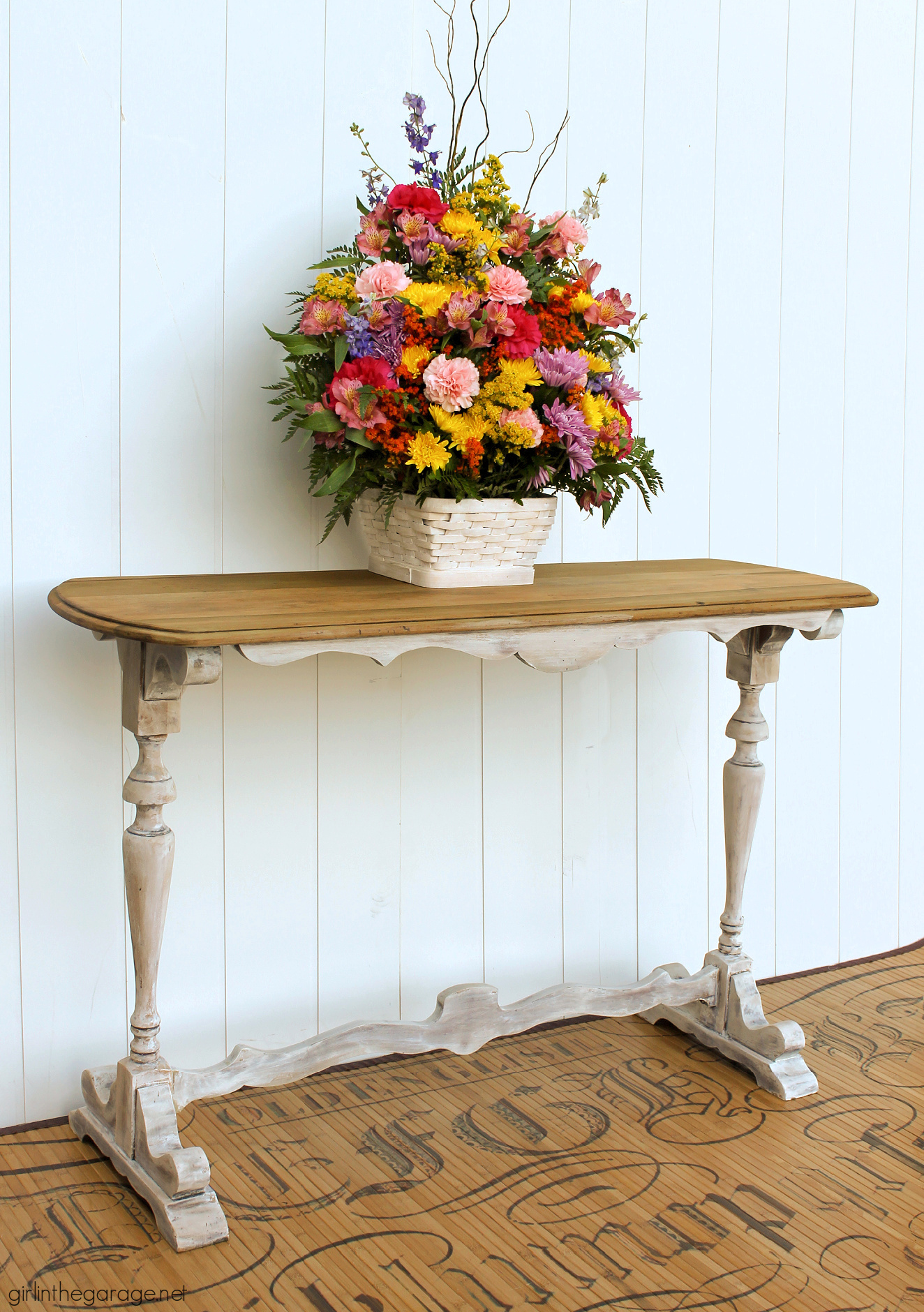 The flowers are from my grandmother's funeral this past weekend. They're so gorgeous, and I wanted to take photos to remember them and in a way, honor her memory too. I'll always think of her when I see these photos now.
One good thing about whitewashing is that it doesn't need to look perfect – there will be some variations in the design that give it character and make it more unique.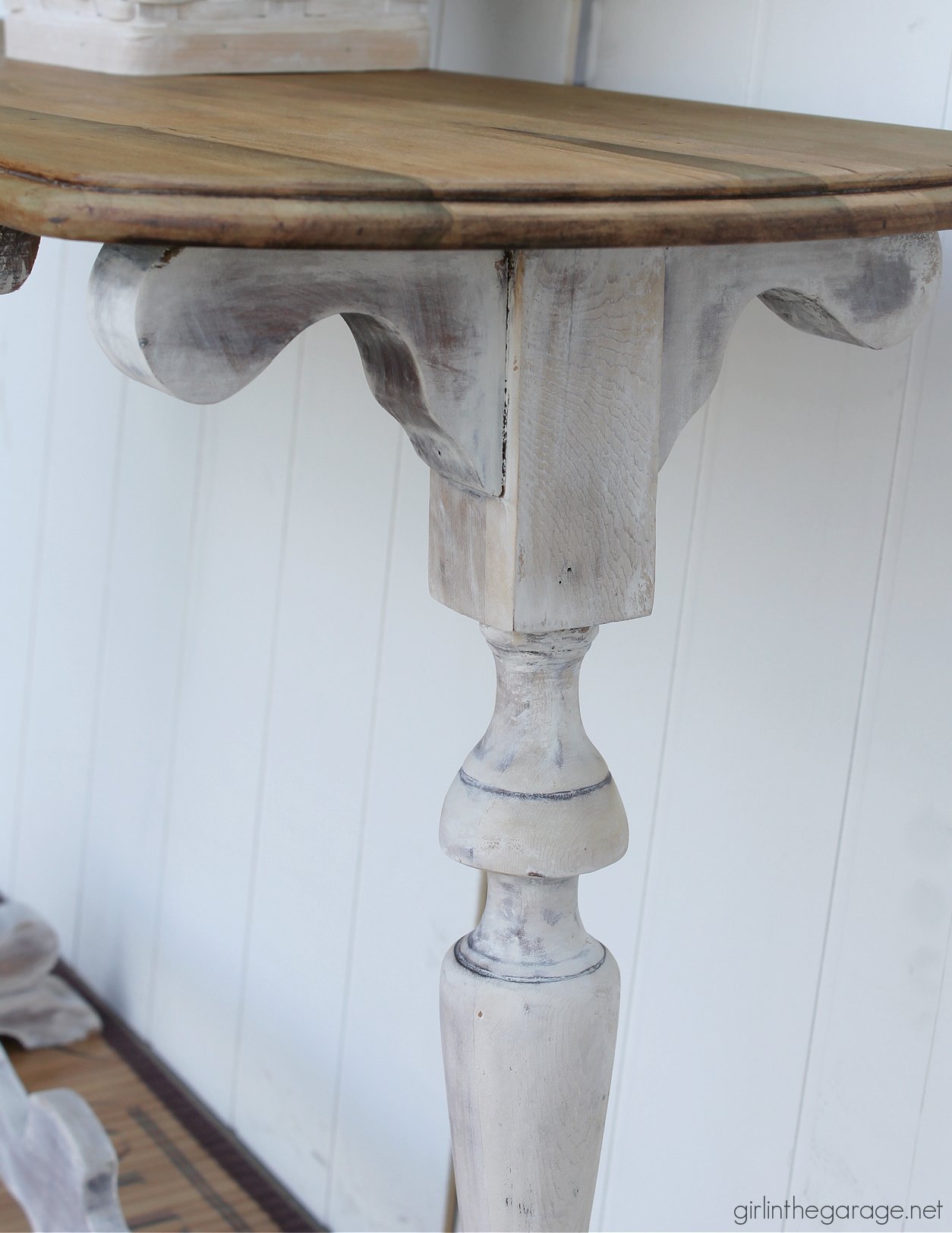 Even though I didn't have a plan when this project started, I'm very pleased with how this DIY farmhouse sofa table turned out and I hope you like it too! Feel free to share this project with a friend or Pin it to easily find it again later.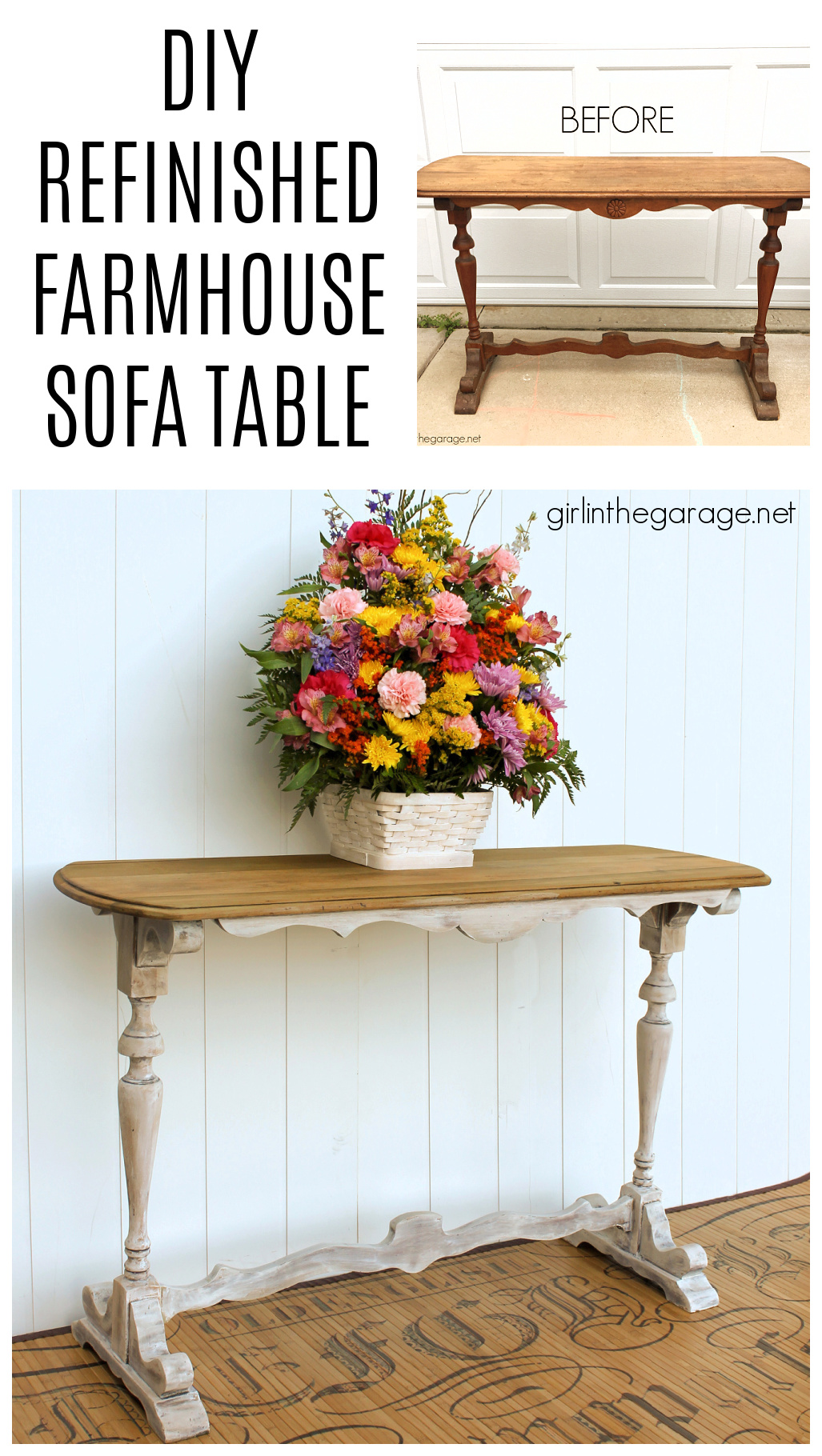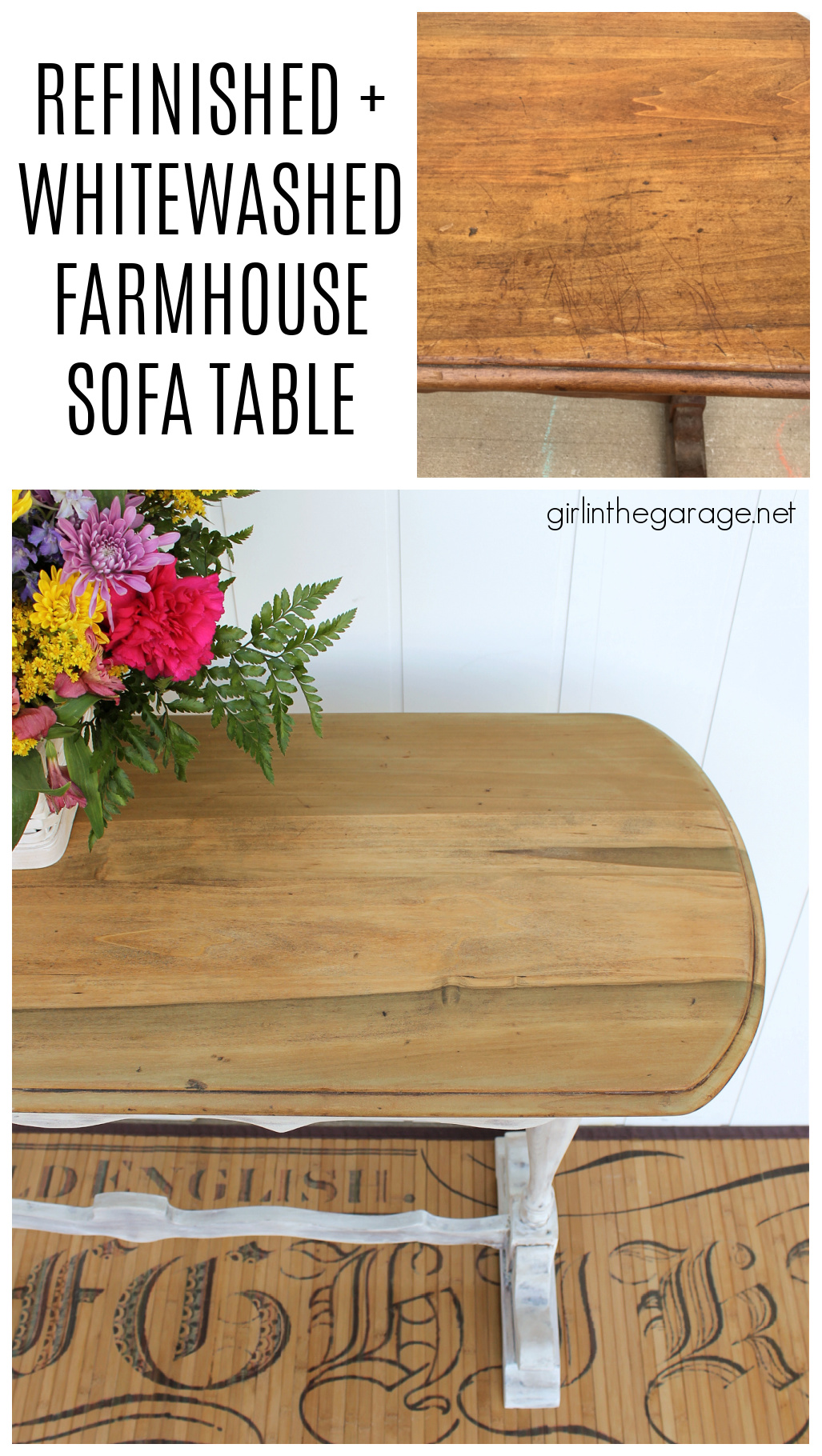 I'd love to know your thoughts. I appreciate you! – Jen
Now it's time for Furniture Fixer Uppers with my blogging friends…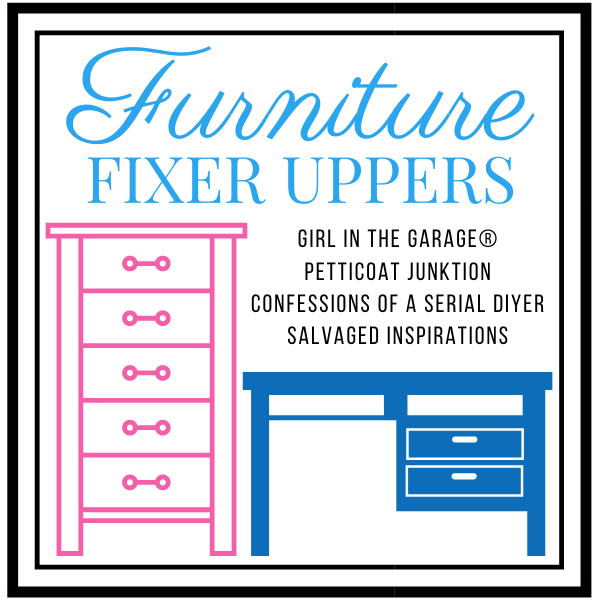 Below are the Before photos – visit the links underneath to see the fantastic Afters and to learn how they did it: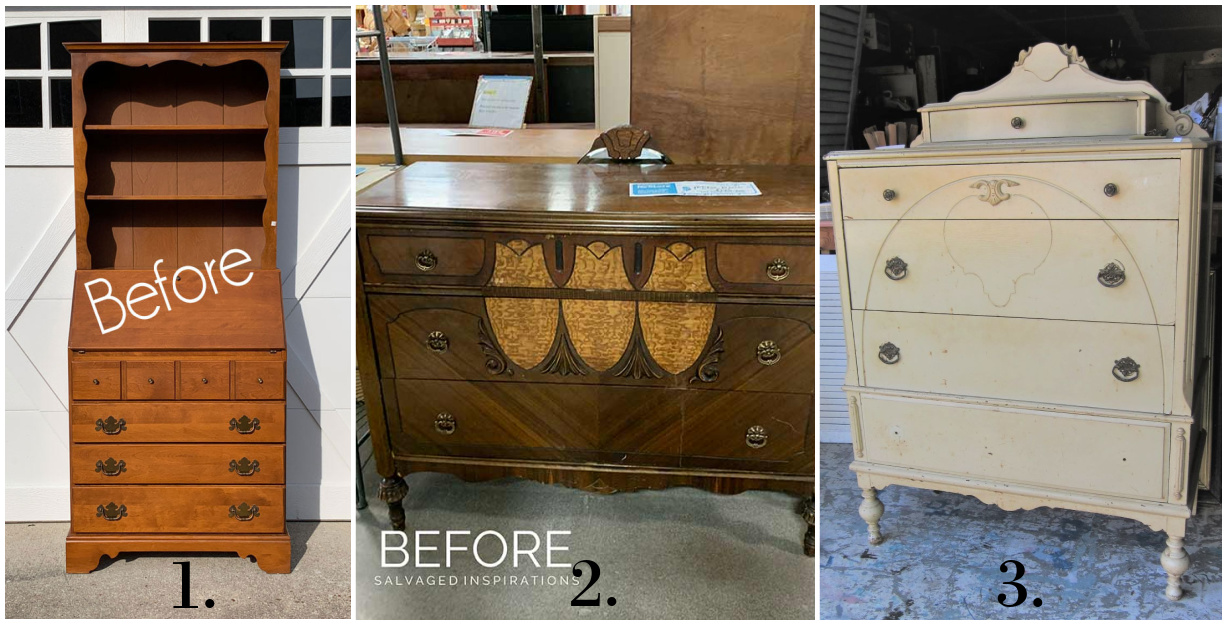 1. Confessions of a Serial DIYer
2. Salvaged Inspirations
3. Petticoat Junktion