If you've been painting furniture for a while, you're probably always looking for new and creative painted furniture ideas. (Maybe that's what brought you here today.) Sometimes doing the same thing over and over gets a little boring, right?
That's what led me to an idea for today's vintage end table makeover. I've seen some incredible wood mosaic wall art at artisan markets I've been a vendor at before, and the little lip around the top of this table made this perfect for a DIY wood mosaic table top.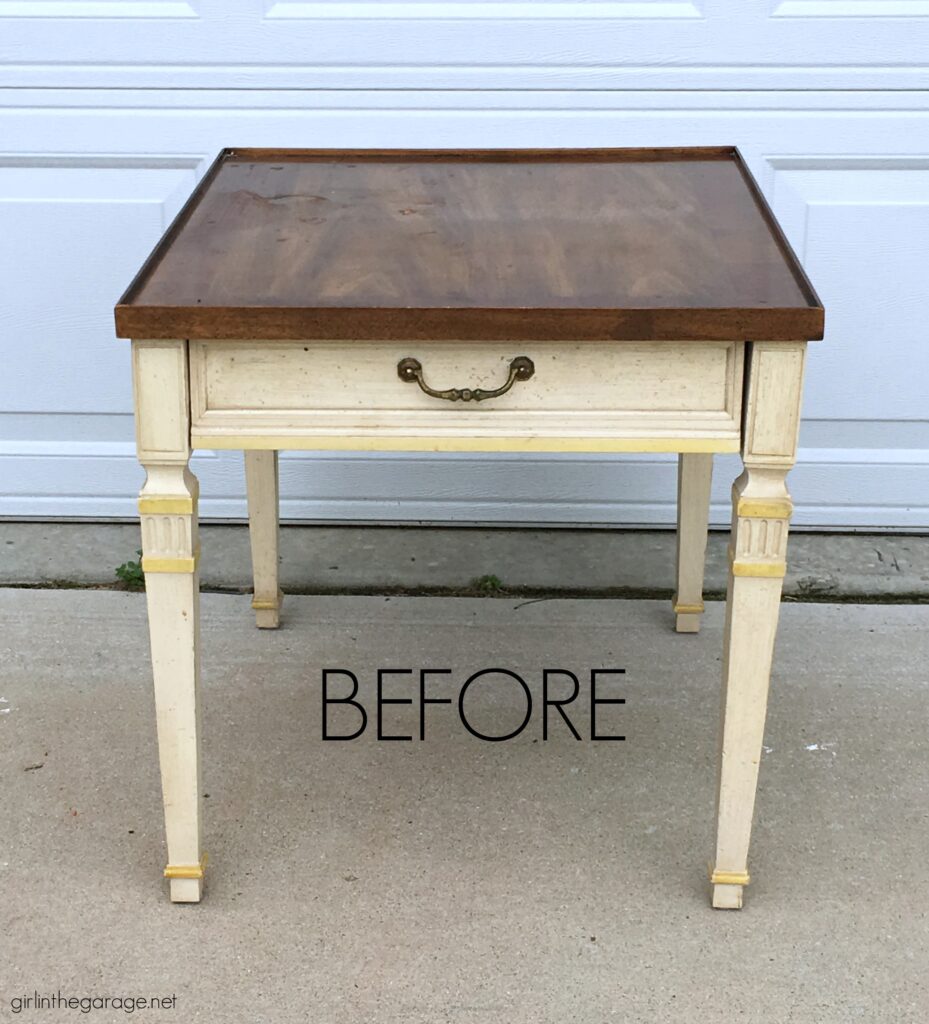 The top was either burned or had some chemicals spilled on it – covering it up instead of sanding it all down and painting it seemed like a good idea.
(P.S. There's also a brief video tutorial included in this post if you want to see all the action.)
*Today is Furniture Fixer Uppers day with my friends! You can see their fabulous makeovers at the bottom of this post. Also, this post contains some affiliate links so you can easily find the products I use and recommend. Discover all my favorite brands and tools for doing DIY makeovers here.
A couple facts before we start:
This table was $13 at the thrift store and had just followed me home the day before.

I designed and measured and painted this project, and Guy in the Garage made all the wood cuts (spread out over three days).

We worked outside when it was a sweltering 90 degrees, and the wasps were very curious what we were up to. Three of them got a little too close to me and my yardstick, and I had to show them who was boss. (Do not mess with me when I'm holding a yardstick… LOL)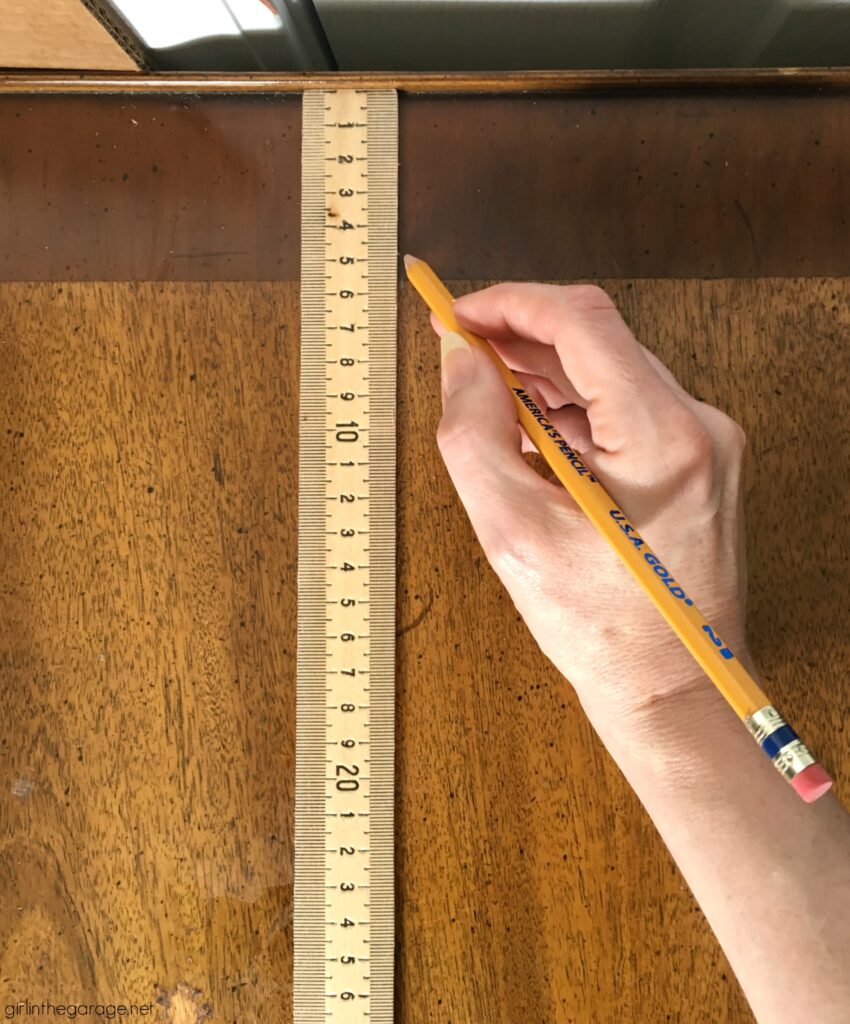 First, clean the table. Then find the center of each side of the table top and mark it. Draw the quadrants with a pencil and then trace over them again with a Sharpie.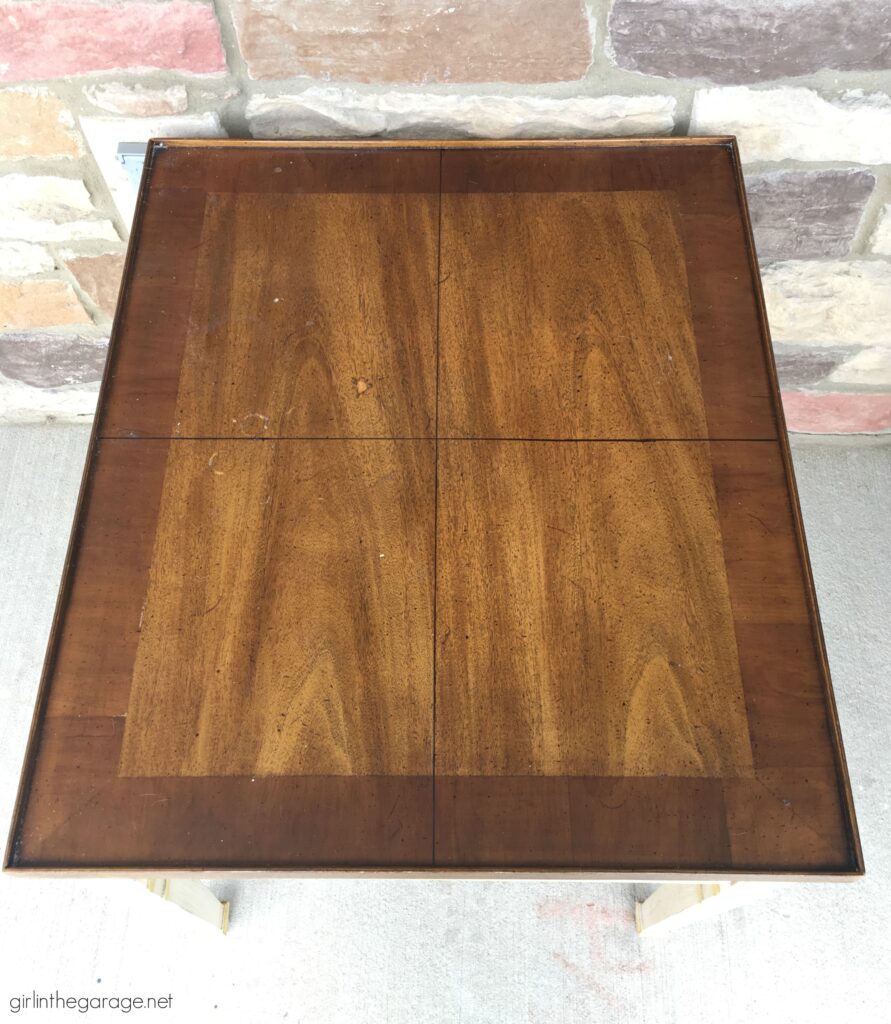 The new drawer pull will only need one hole, so use wood filler and a putty knife to fill the old hardware holes. Let it dry and then lightly sand over the area until smooth.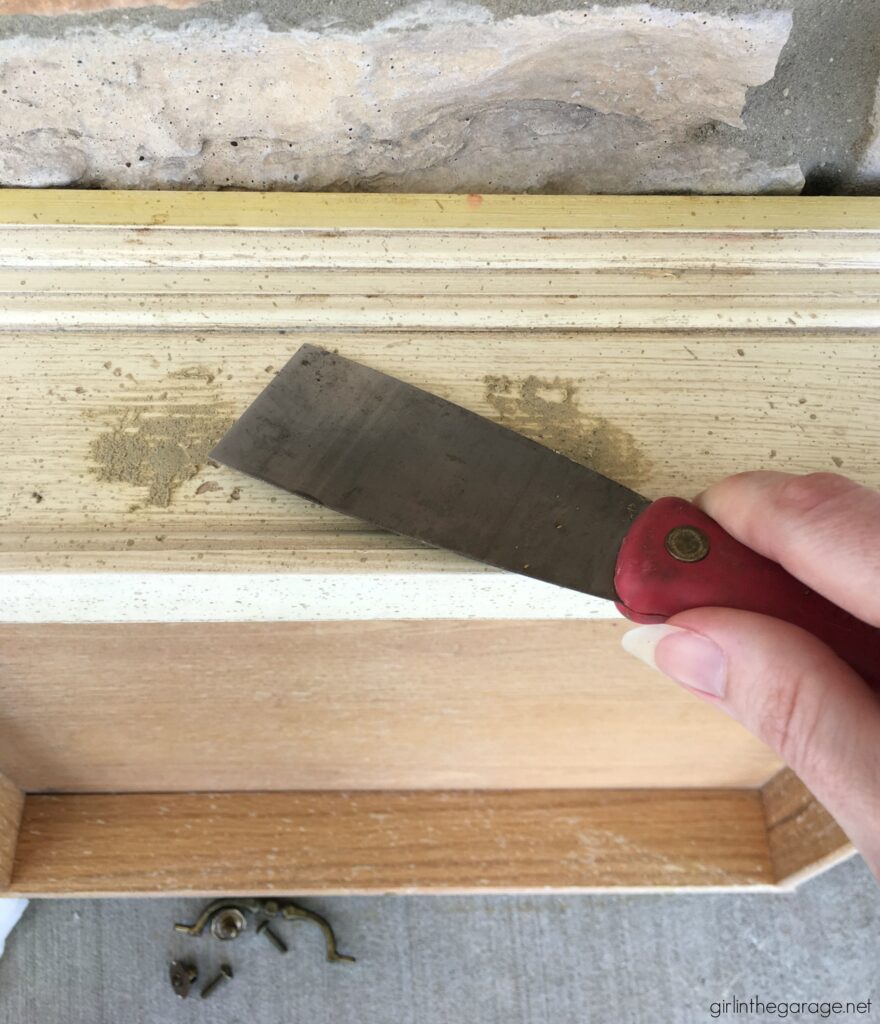 Paint the table
While the wood filler is drying, paint the table white. I didn't have enough of a crisp white paint left over, so first I did two coats of off-white (Old White by Annie Sloan Chalk Paint) and then one coat over that with the last bit of Simplicity by Country Chic Paint (crisp white) that I had.
It was a relief to see that old yellow go!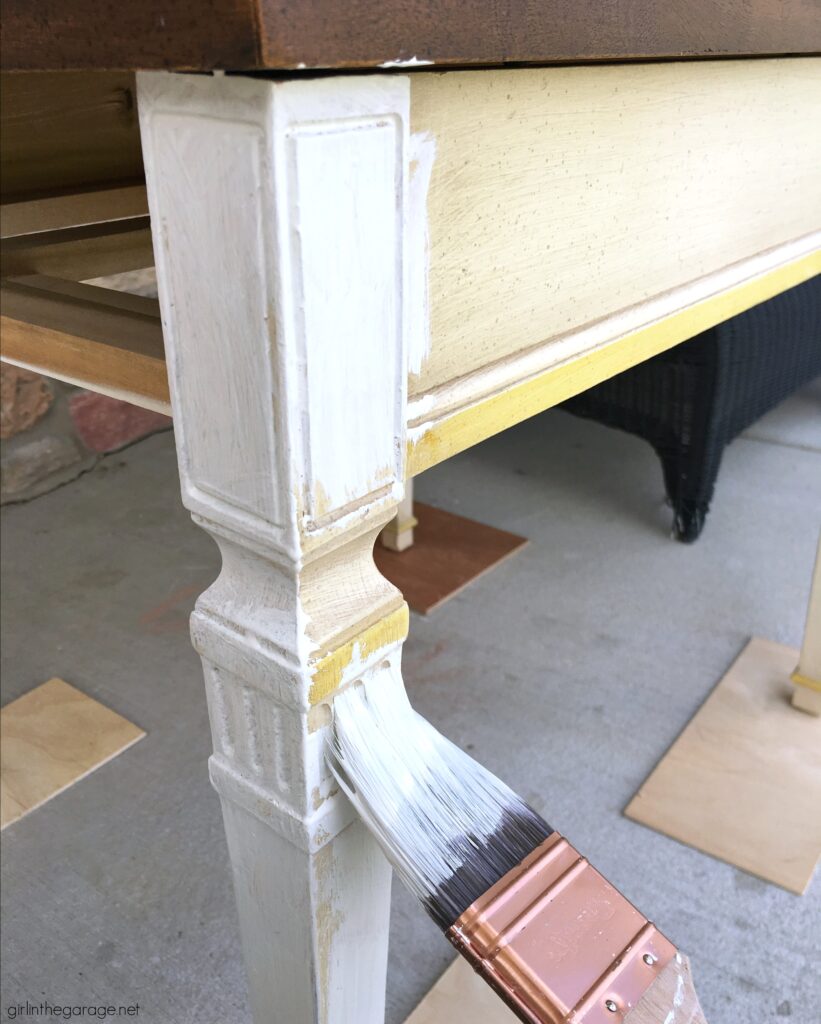 I always use Purdy brushes for painting – I have an assortment of sizes and I've used them for years because they last forever if you take good care of them.
The drawer was also painted white.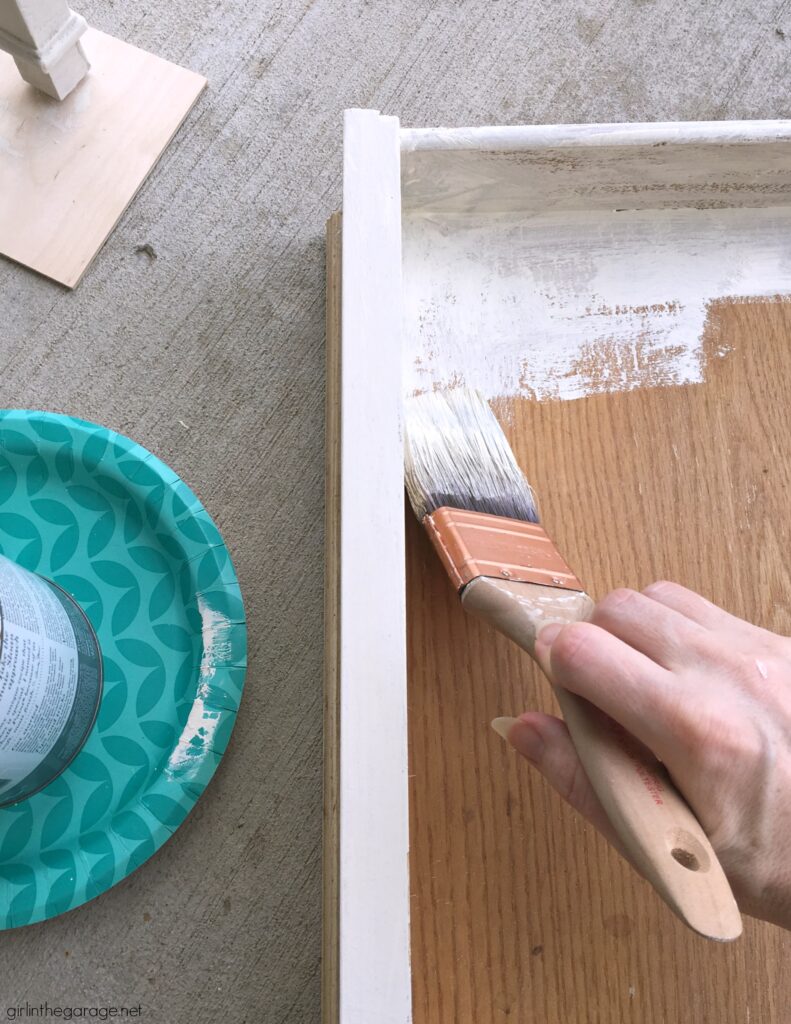 New hardware for the drawer
Once the holes are filled and the drawer is painted, measure and mark the center where the new pull will go.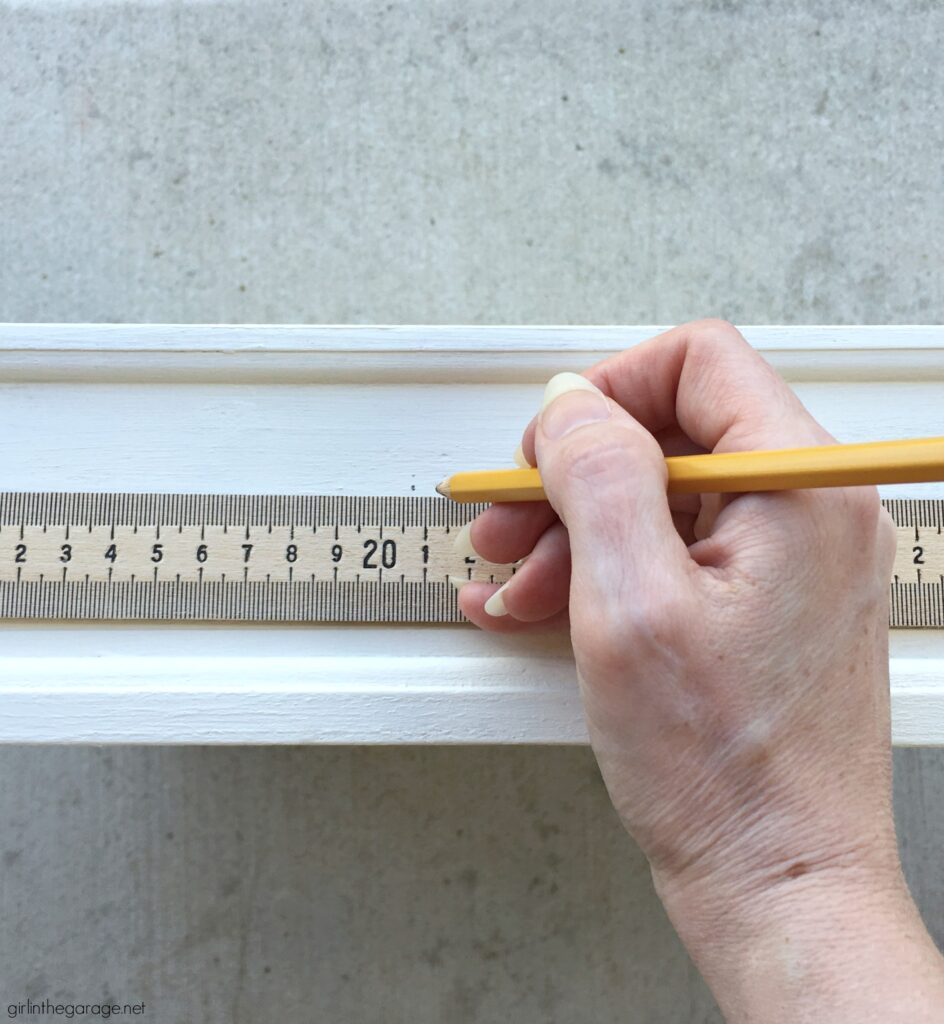 Use a drill to make a new hole big enough so that the bolt will fit through (I love my all-in-one drill/driver).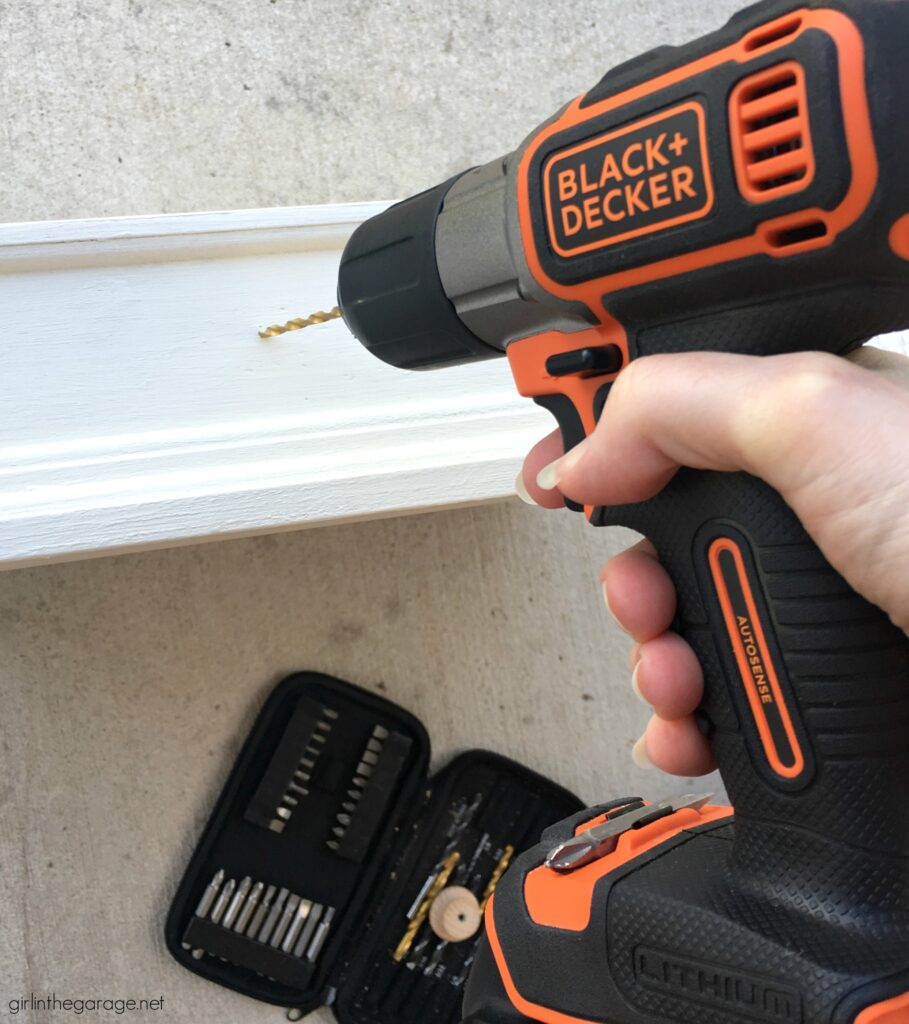 I couldn't find any "nice" pulls in my stash that went with the style I had in mind, so I used an unfinished wood pull and ended up painting it white to match (these inexpensive wood pulls are great to have around for times like this).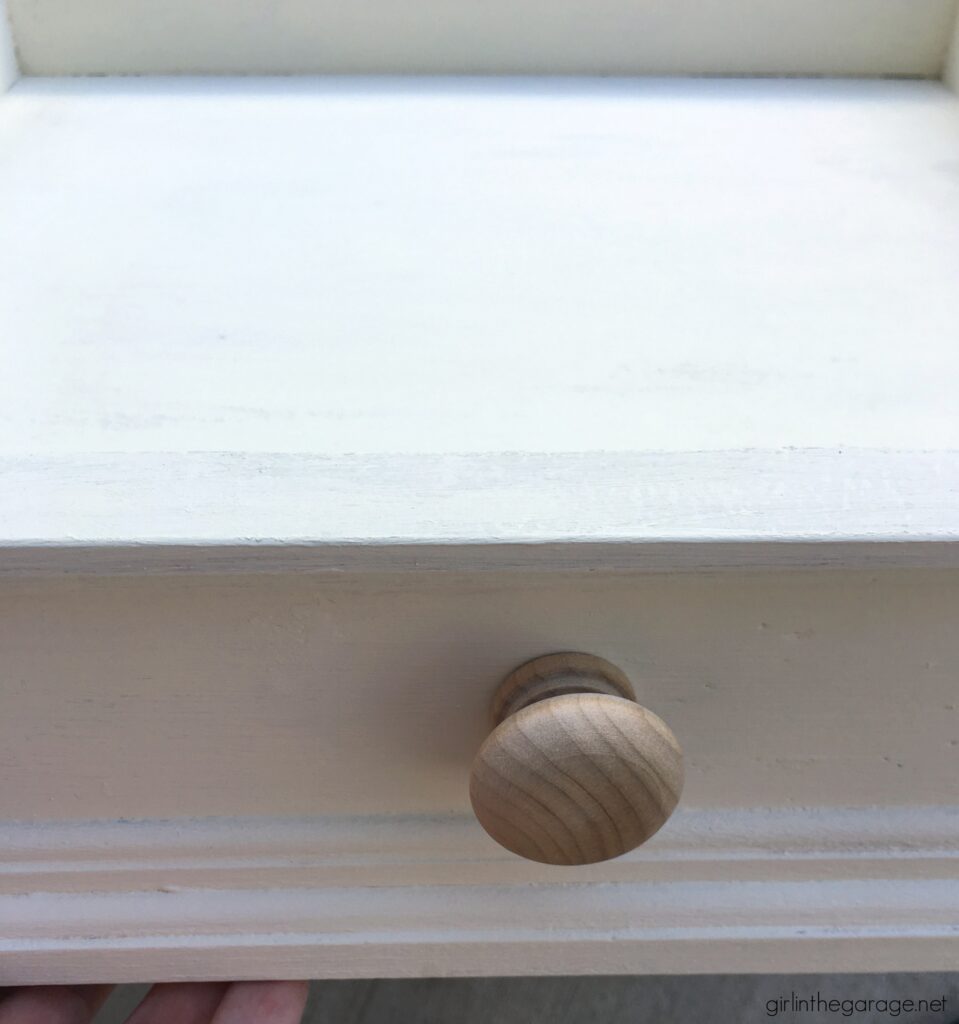 How to make a DIY wood mosaic table top
We had some 1/4 inch thick wood from other projects to use for the wood mosaic. The idea was to use more than one woodgrain, so we used birch (the brown one) and then maple (lighter wood). I have the maple flipped upside down in the photo below (oops), the other side was not so ugly.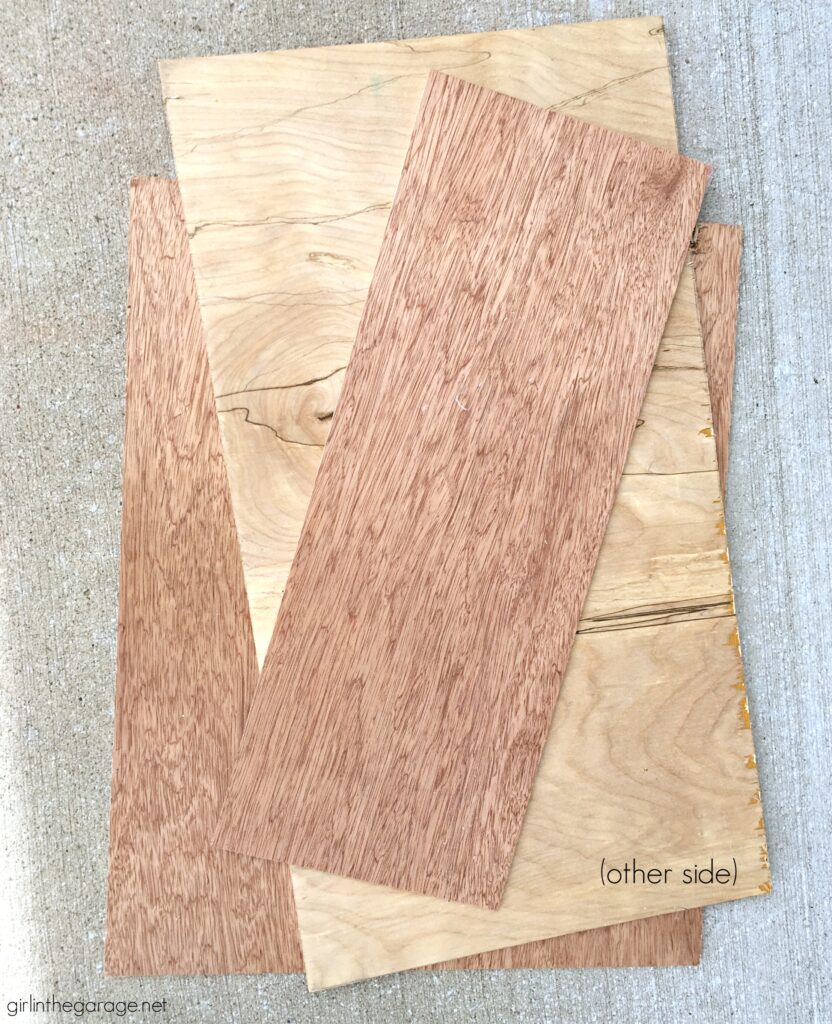 Guy in the Garage used our portable table saw/stand along with a miter gauge for making the angled cuts. (Please remember to always wear protective gear and use power tools responsibly.)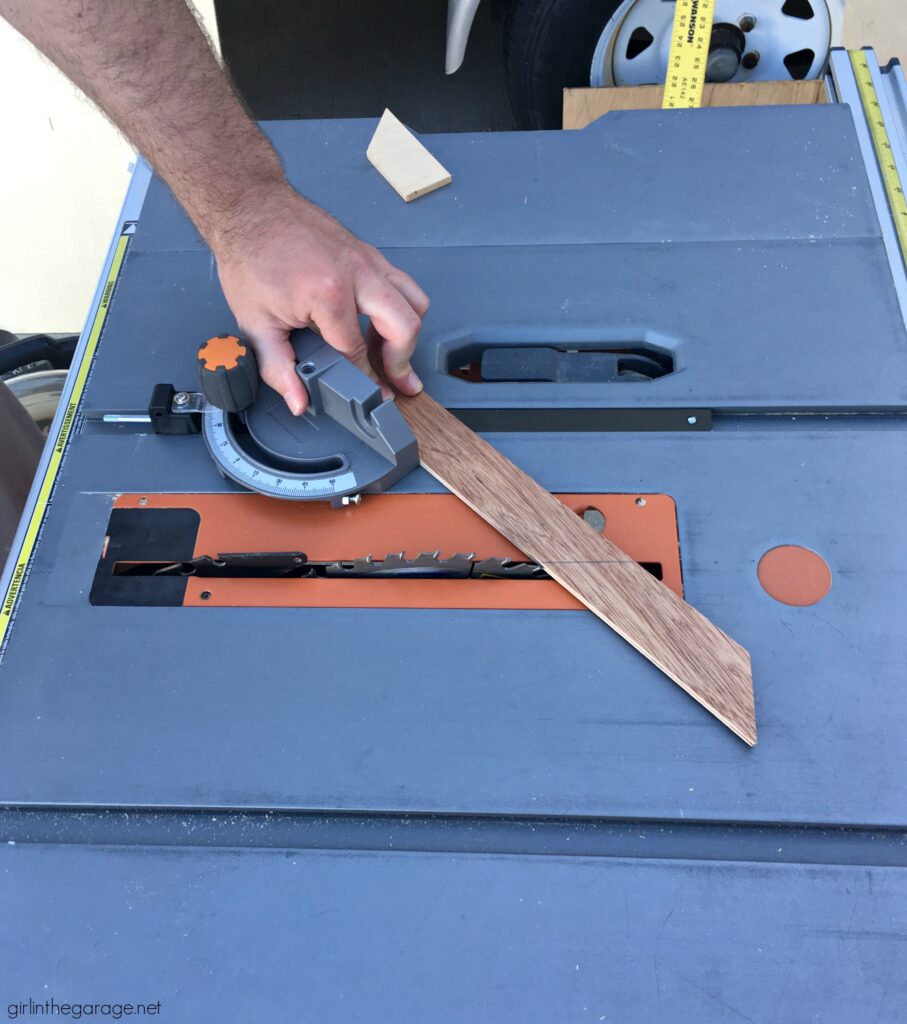 First we made the center pieces for each quadrant, and then made the opposite sides of the X like a mirror image. The width of each wood strip is 1.5 inches.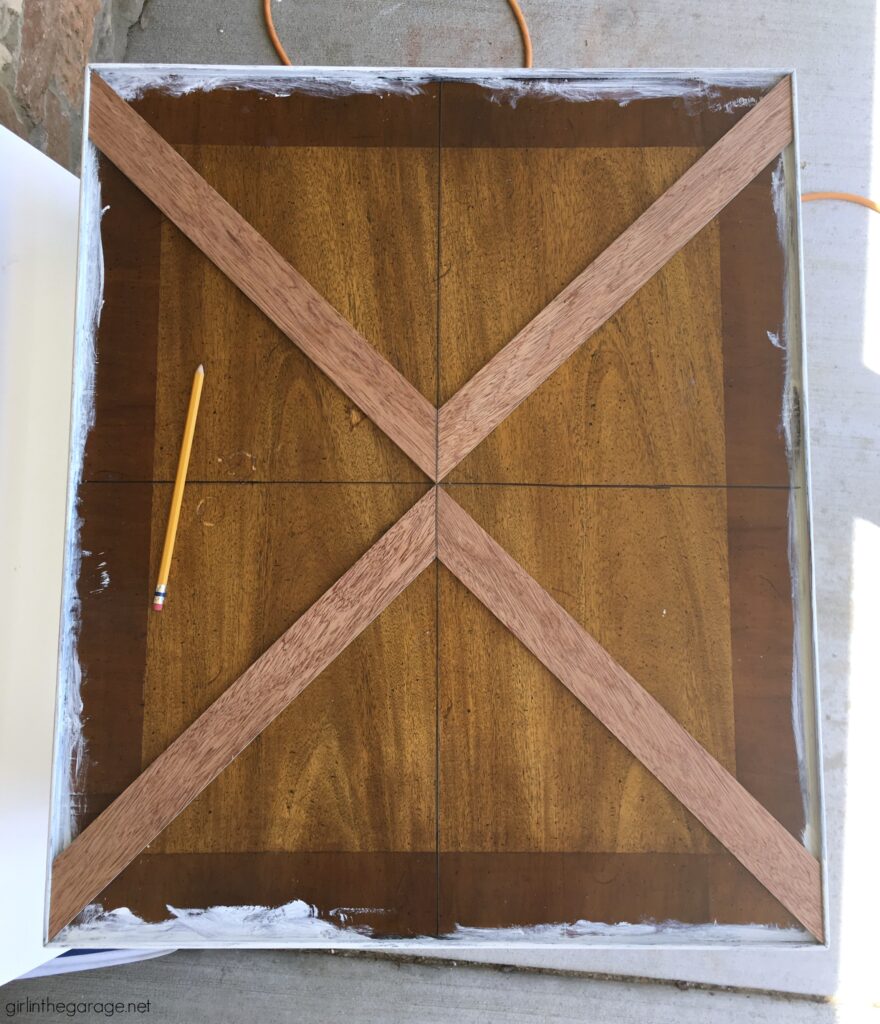 There were lots of measurements taken and lots of cuts…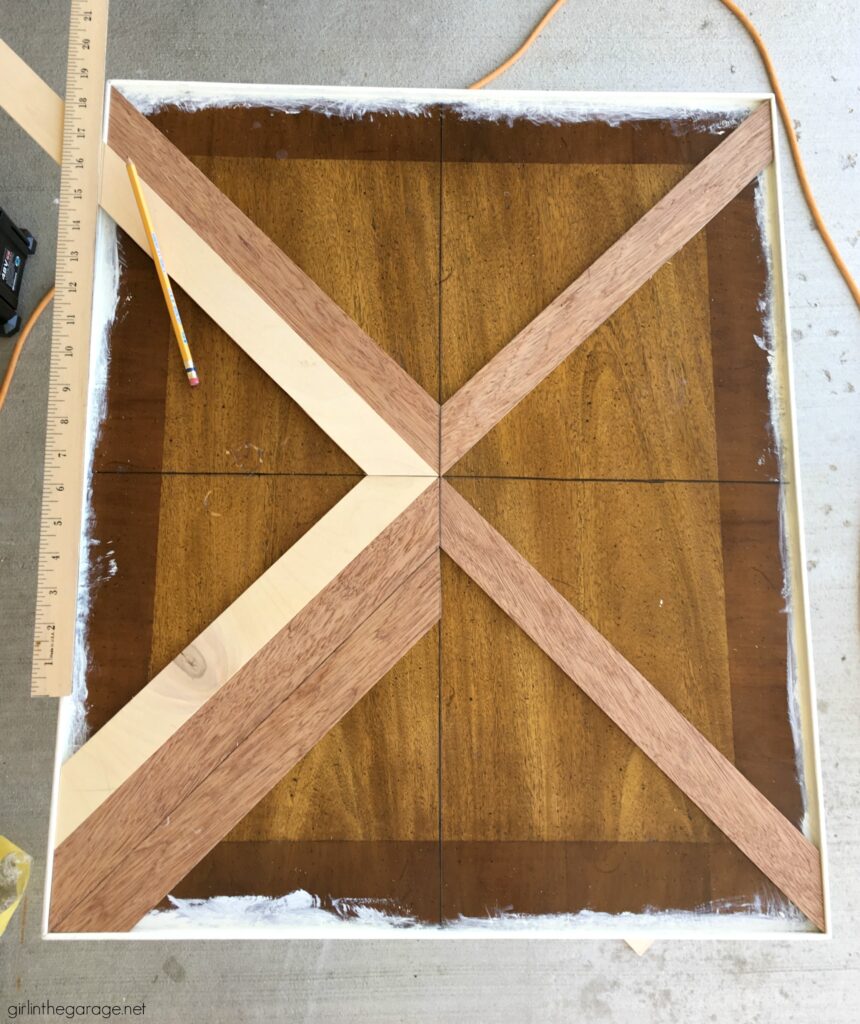 In a perfect world each rectangle would've had the exact same measurements, but I'm human (and definitely imperfect) and the sides were all a teeny bit different. So the pieces were mostly custom cuts and had to be slightly adjusted here and there.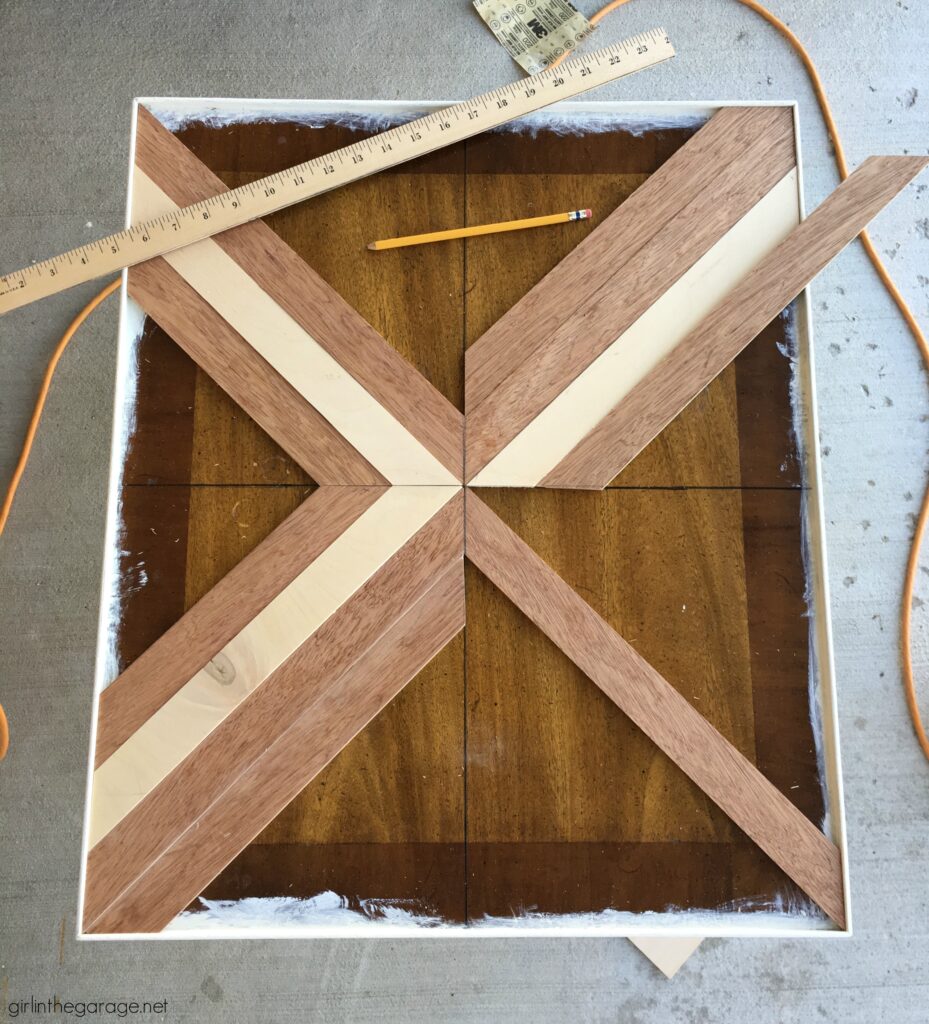 It was really helpful to have those Sharpie lines to guide the design though.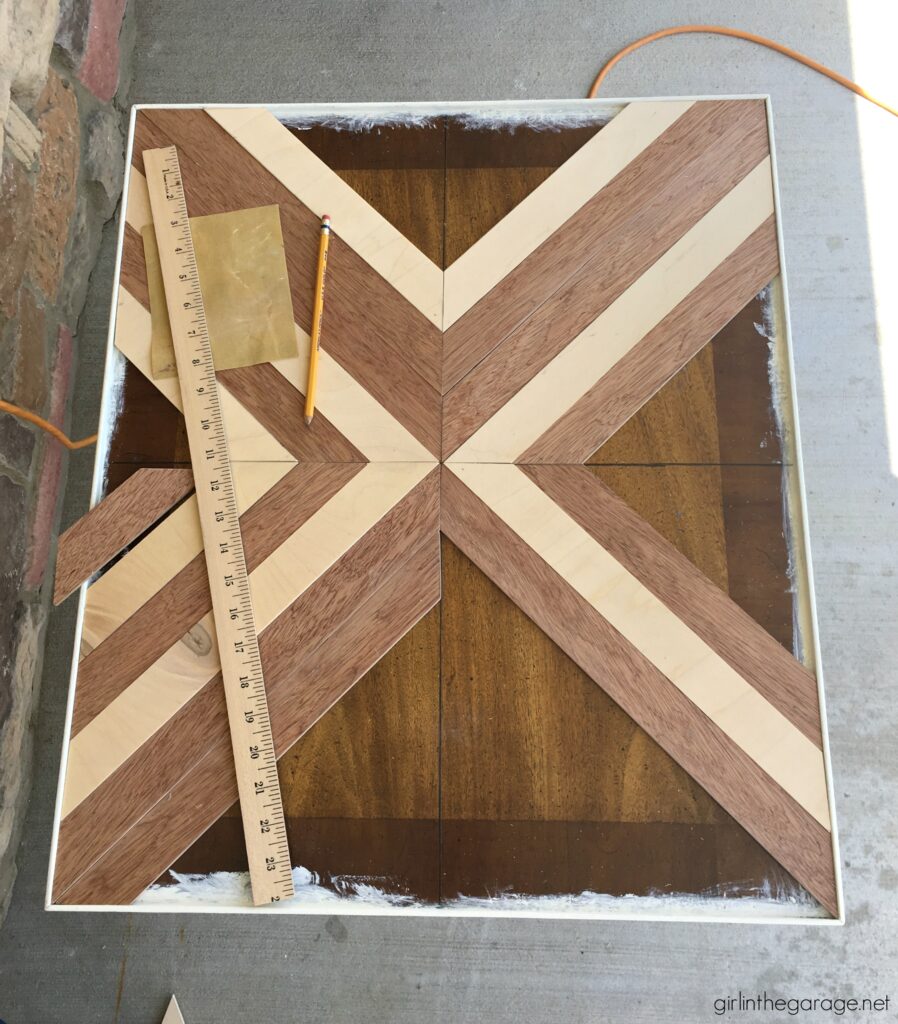 Getting closer…
One thing that helped was to cut one piece and then grab another longer piece (like below) to trace the cut line from the first.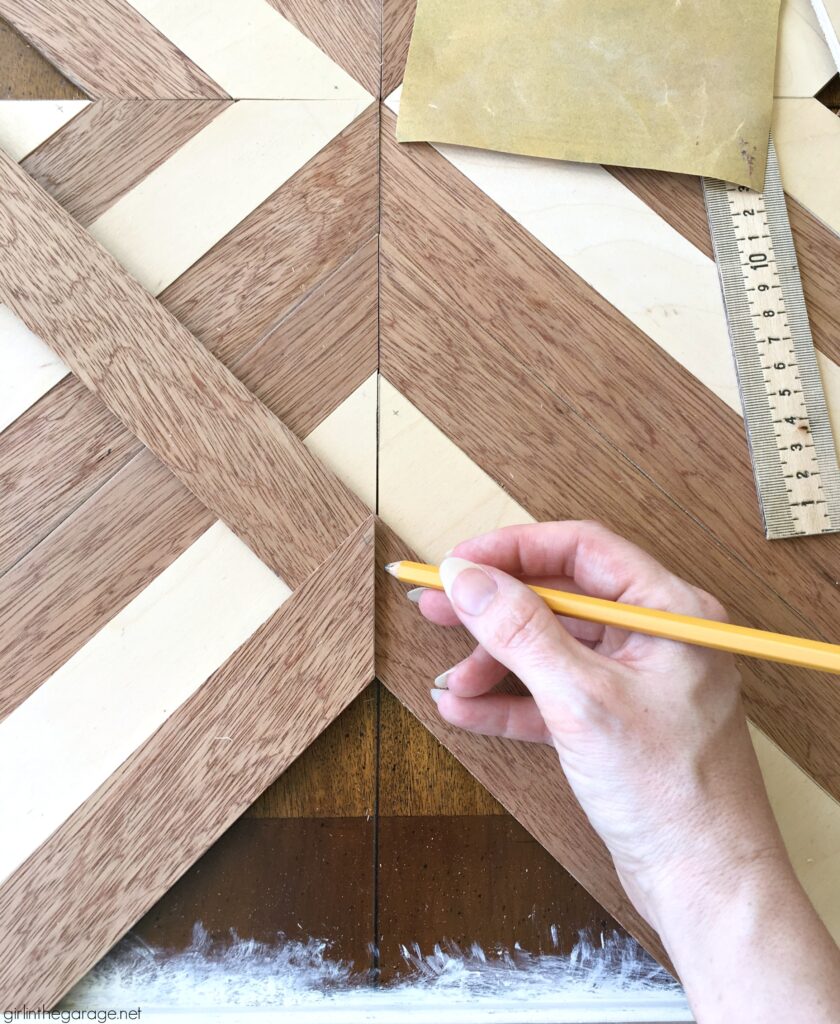 In the end, the pieces were getting smaller and a little too risky to cut with the tools we have (my husband needs all his fingers), so we opted for triangular pieces at the center of each edge (like below).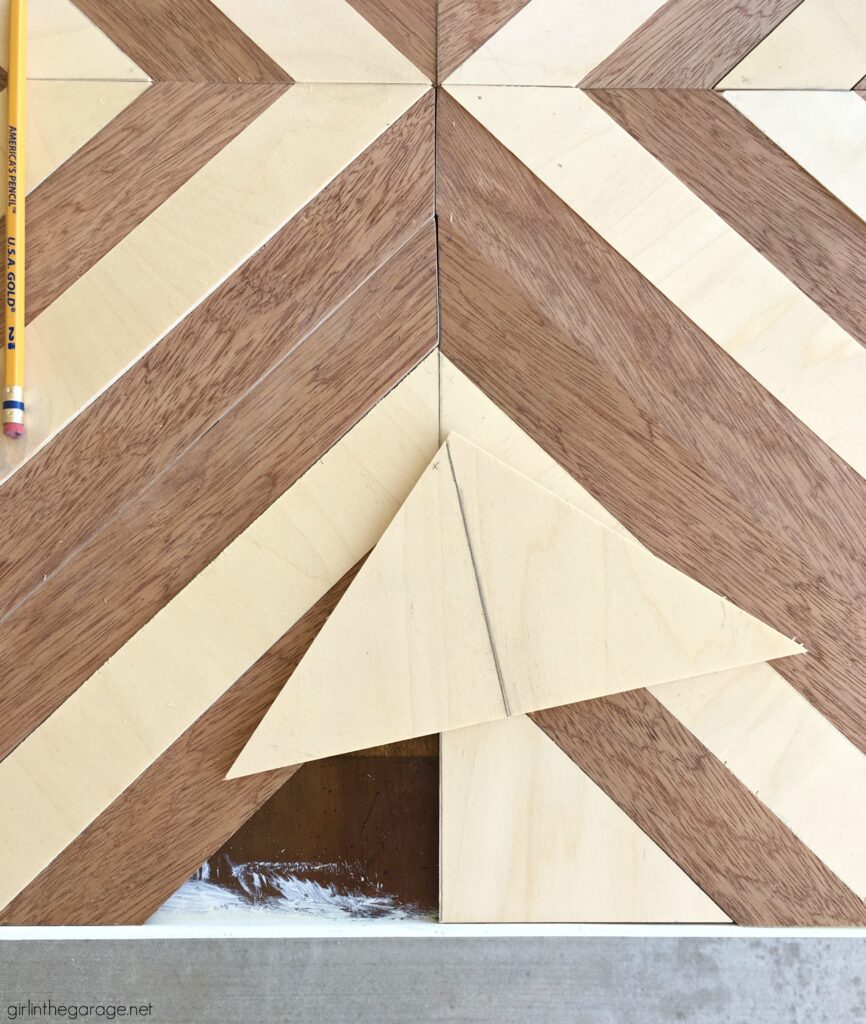 When all the wood mosaic table top pieces were cut, I transferred them onto cardboard being sure not to mix them up. That night I painted them, which is why the lighting is a little wonky on the next several photos (just keeping it real for you!)…
Whitewash the wood mosaic planks
I'll be brief in this whitewashing wood tutorial because I did a whole project and video here showing you every step.
However this time I didn't use a spray bottle because I was inside my house. I got paper towels really damp and wiped each wood plank down, one at a time.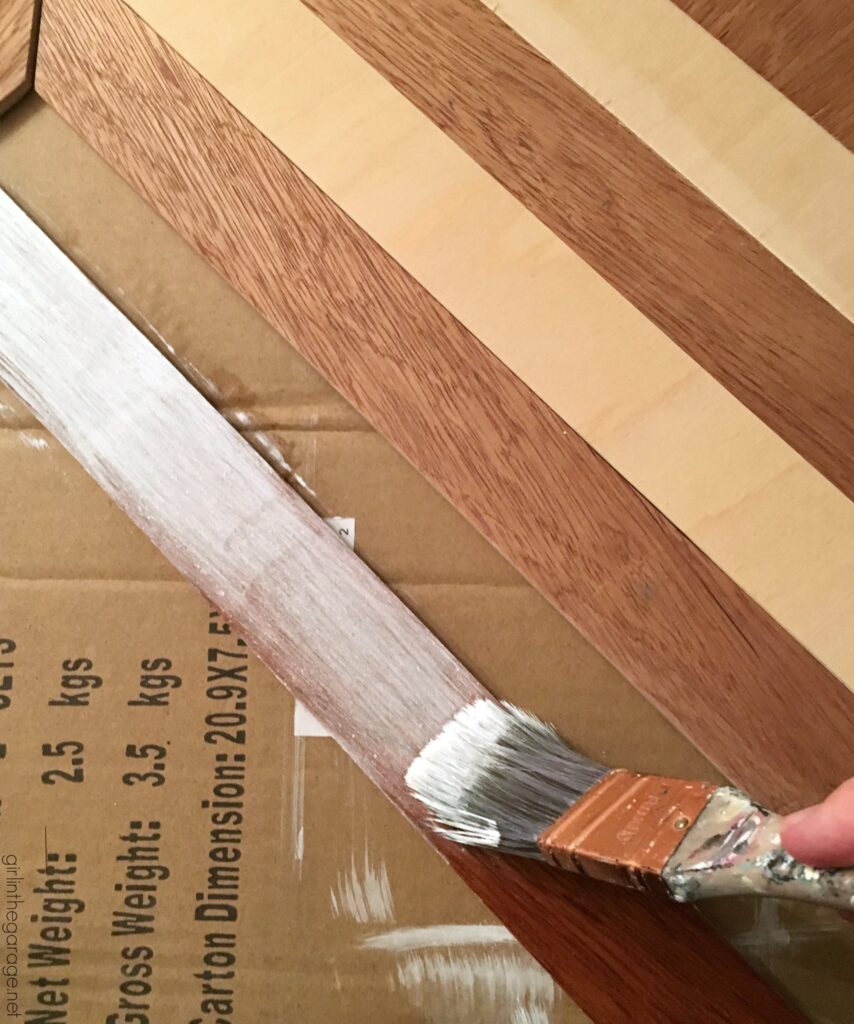 Then I brushed white paint over the wet wood and immediately wiped it off with a lint-free cloth.
The white paint stays there just to tint the wood and give it a whitewashed or limed look, also similar to staining the wood white.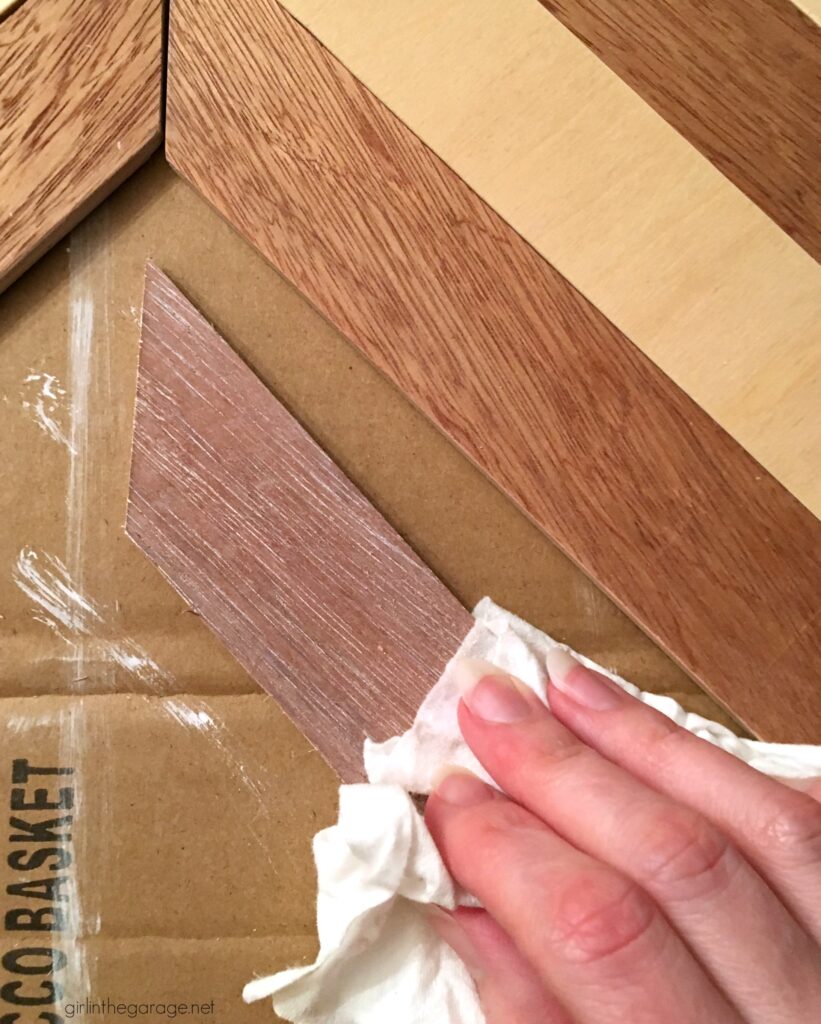 Below you can see some of the wood planks that are finished being whitewashed.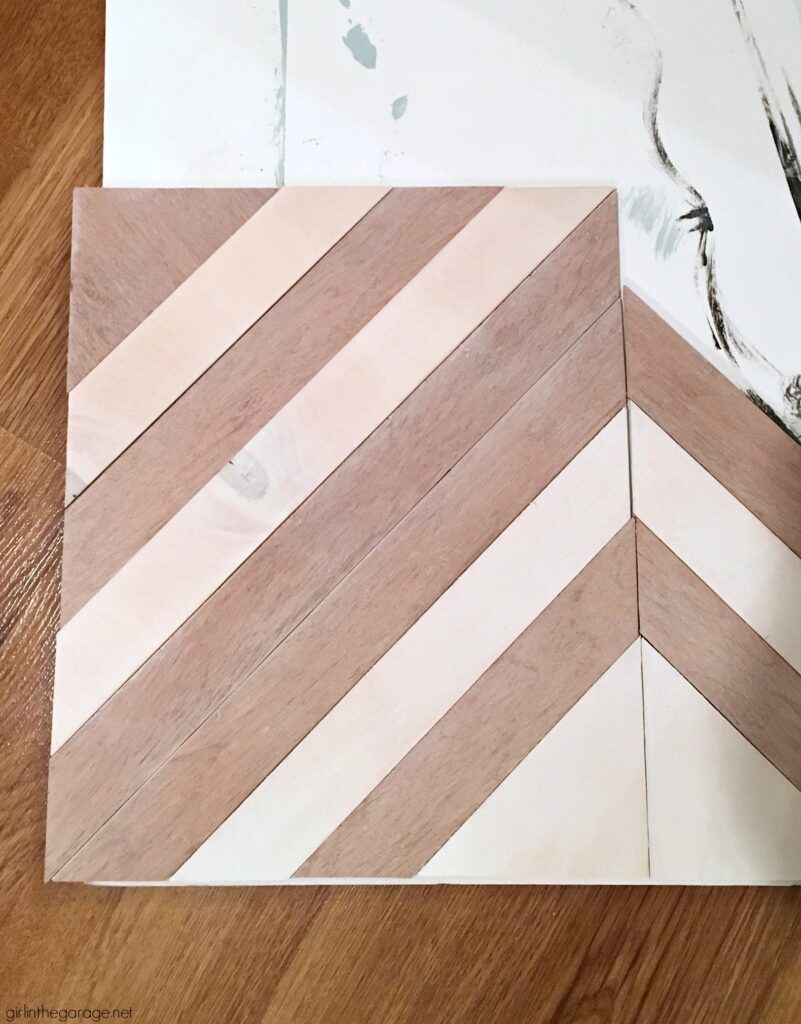 We're almost done!
Next make sure all the wood planks fit back onto the table where they belong. You may have to sand some plank edges if any of the paint dried on the sides and made them a little too thick. Yes that happened to me.
Finally, glue the pieces one by one with a very strong glue and set something heavy on top while it dries. I started with the original center X planks and then worked outward.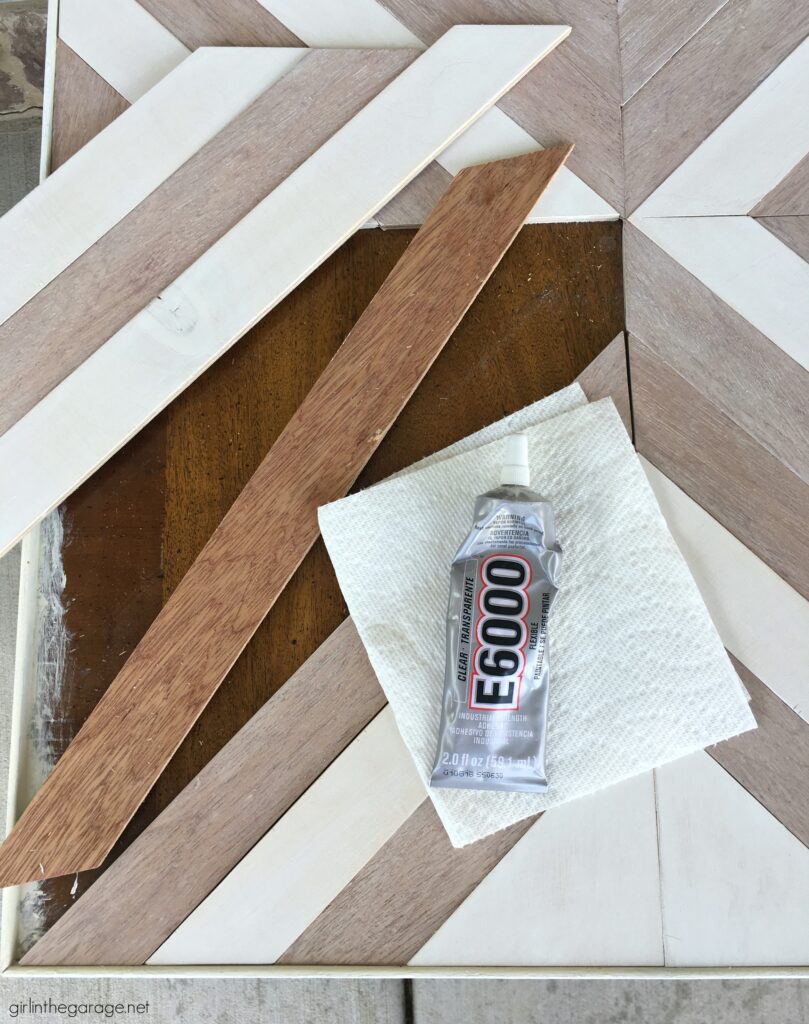 Finally finally finally…
Here is the DIY wood mosaic table top makeover all complete: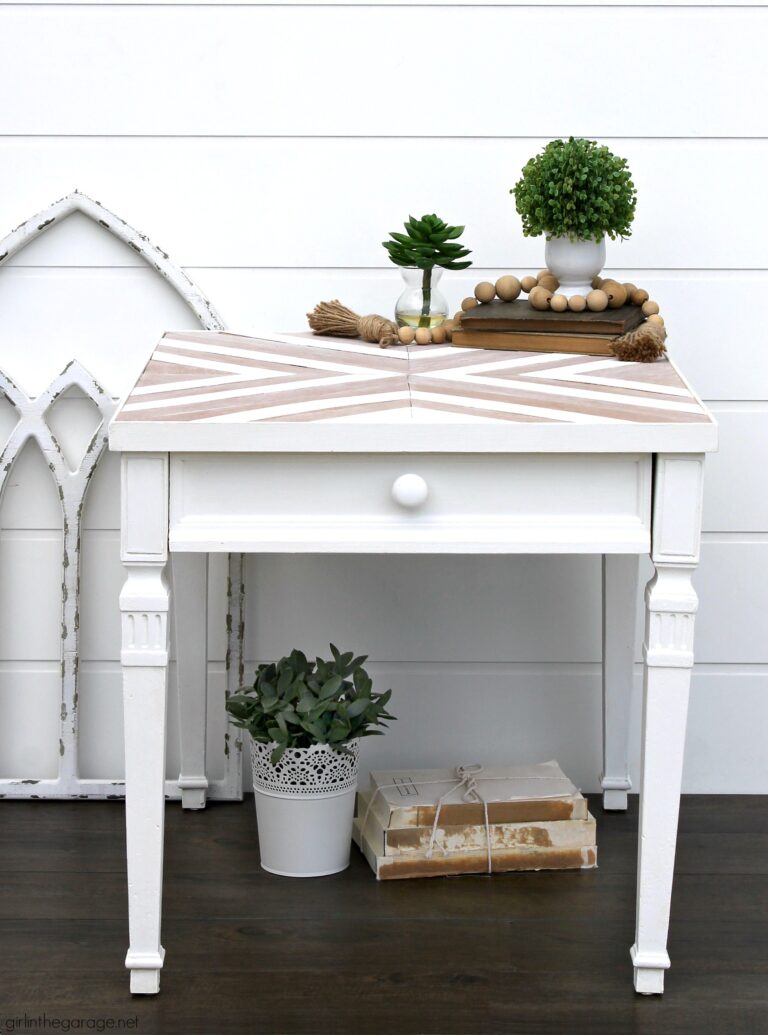 (Actually that's not completely true, I didn't have time to glue every plank down before taking photos – I know someone will ask why there are some bumps. haha)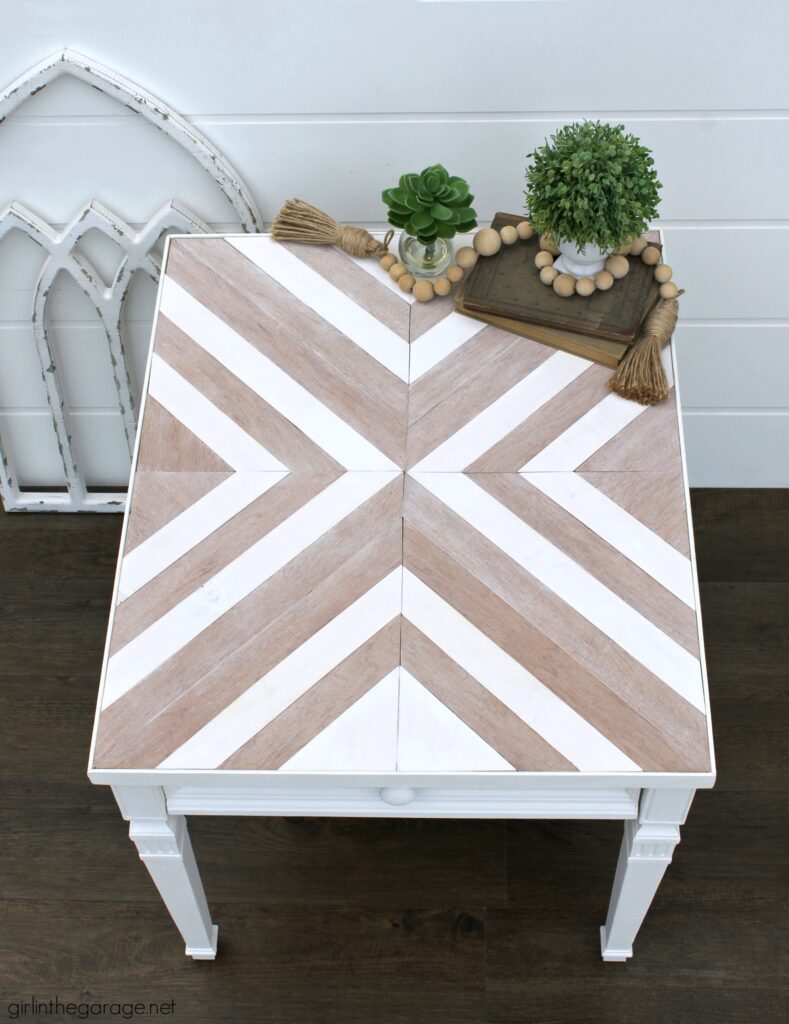 I knew this wood mosaic table would be a lot of work, and I'm thankful I had help with all those cuts.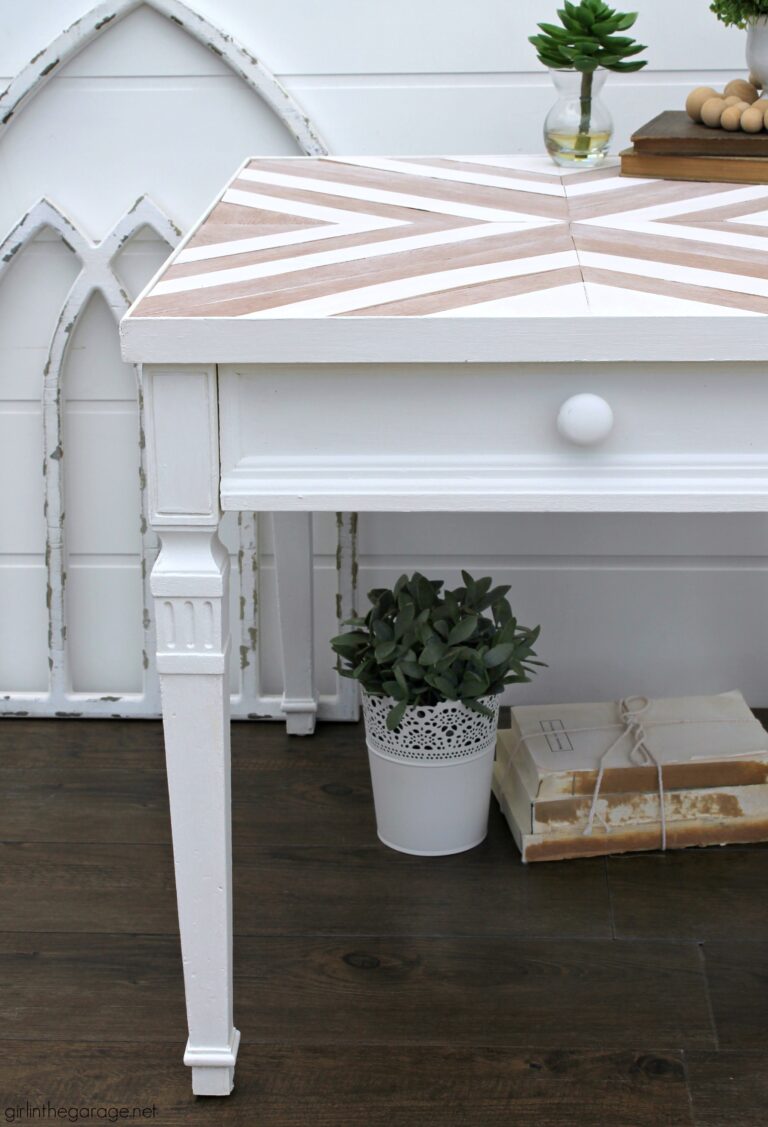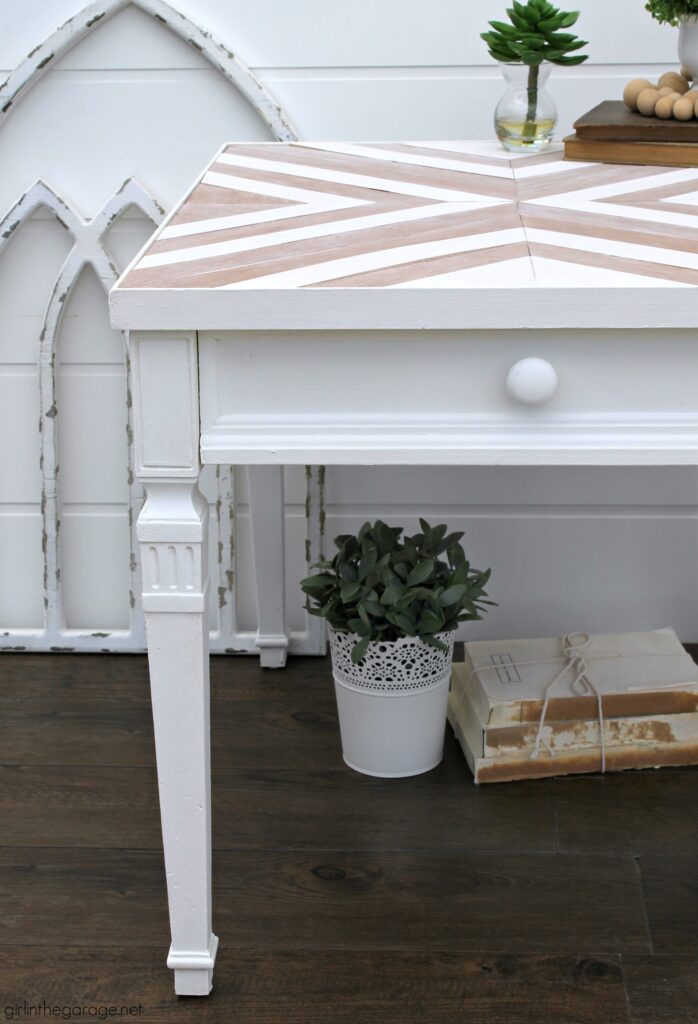 Am I happy with how it turned out? Heck yes.
I had thought of staining the planks different shades of brown before I decided to whitewash – maybe I'll do that next time.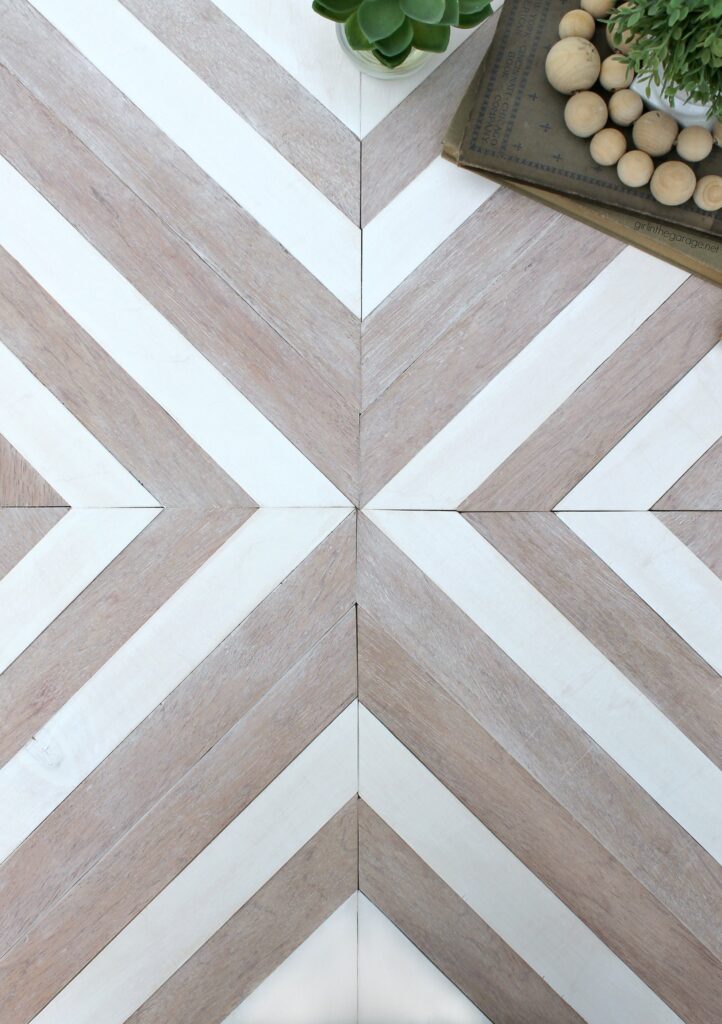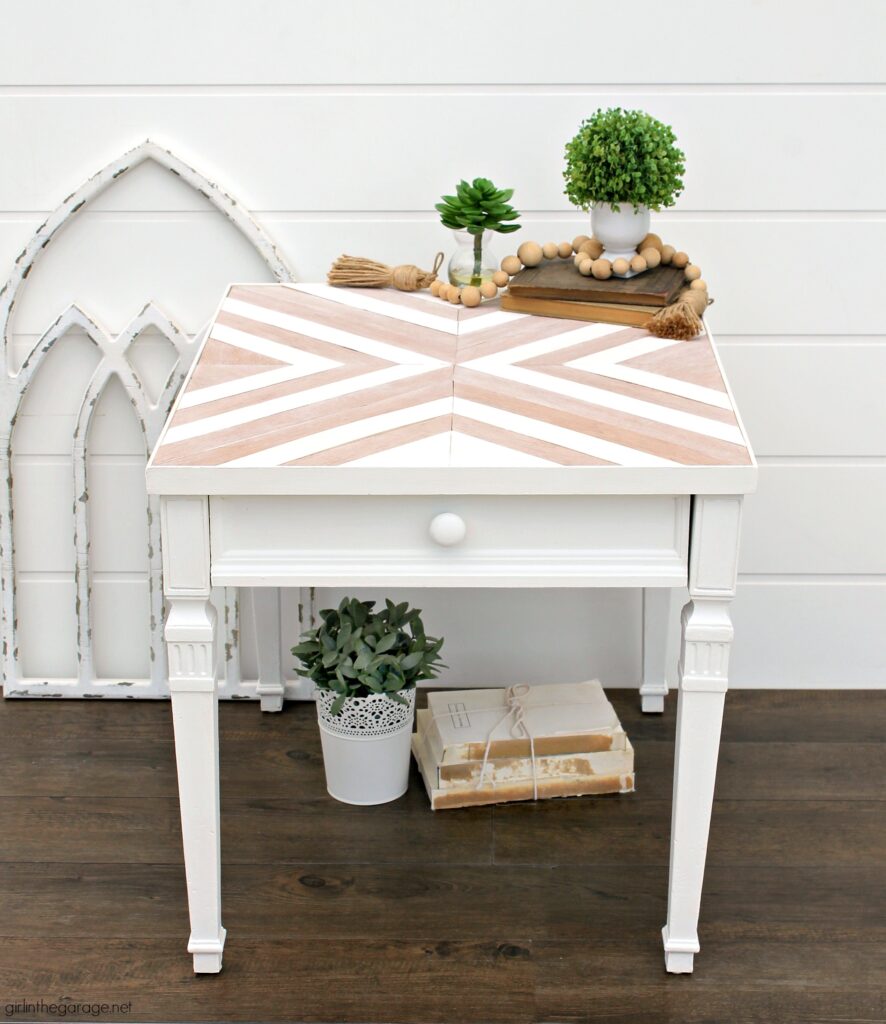 Friend, I sincerely hope this vintage table makeover with wood mosaic top has inspired you! Even if you don't have the power tools or maybe the desire to do it the same way, you can do a similar technique with paint and painter's tape. (See how I painted a barn quilt on a thrifted tray here.)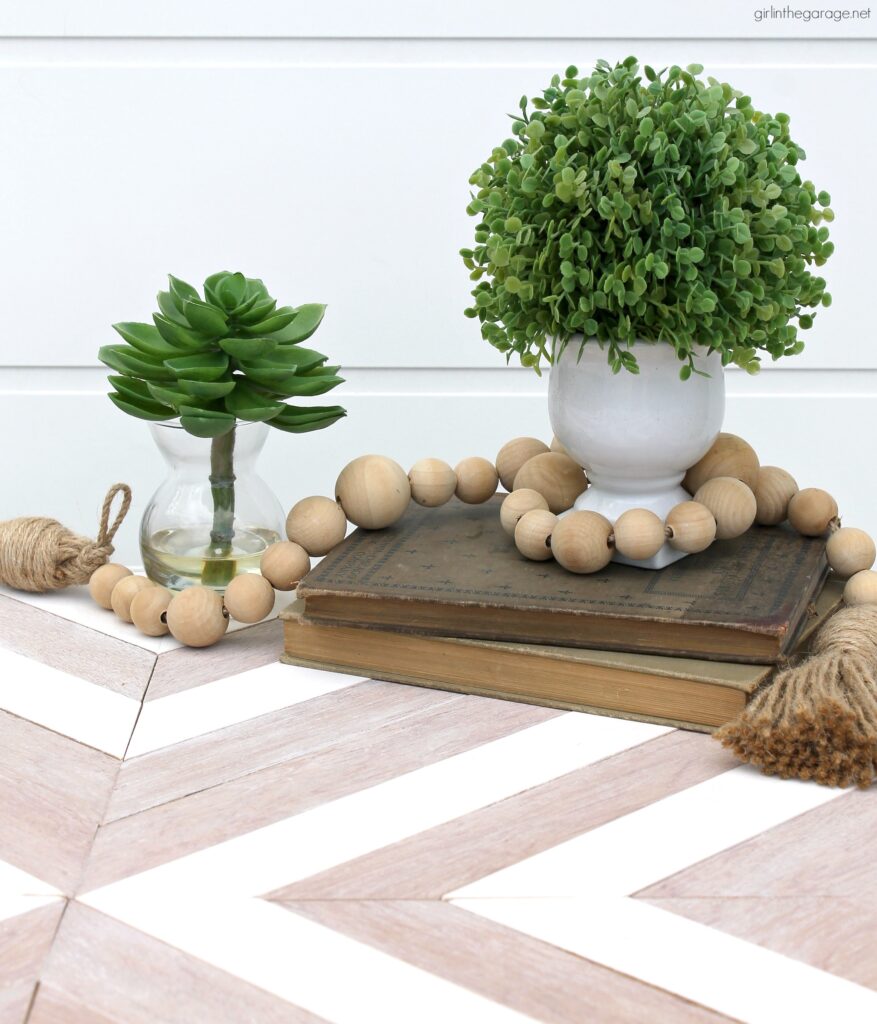 Here are a couple images to save or Pin if you want to share this project with a friend or easily find it later: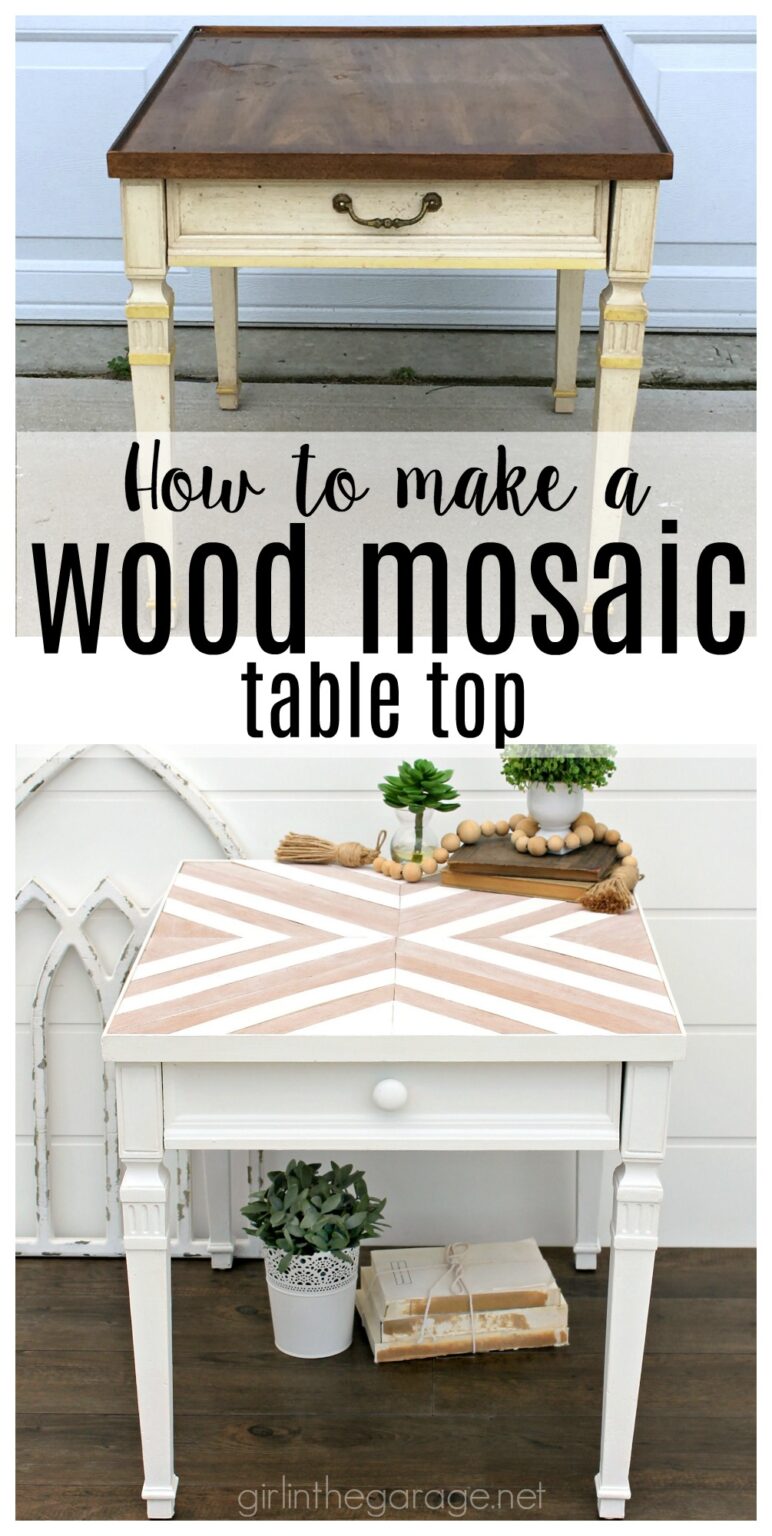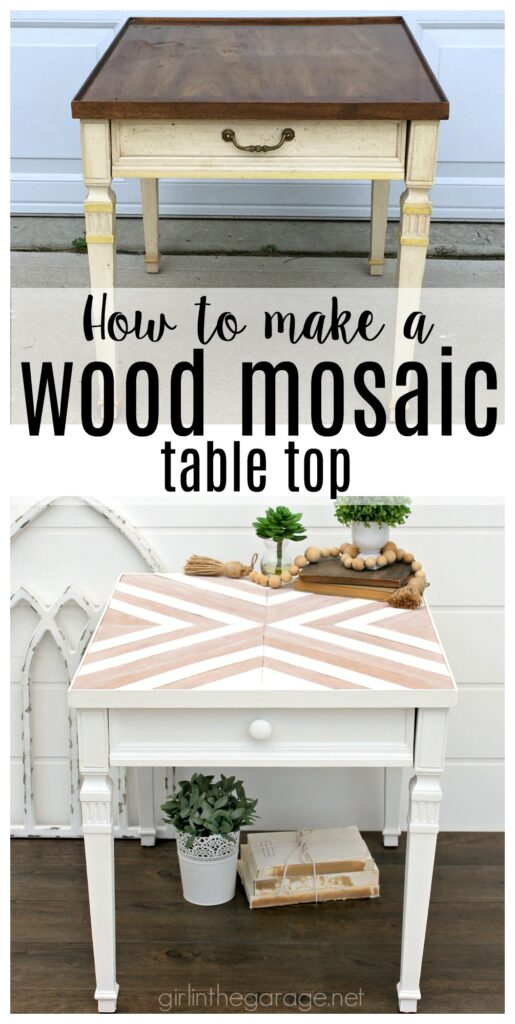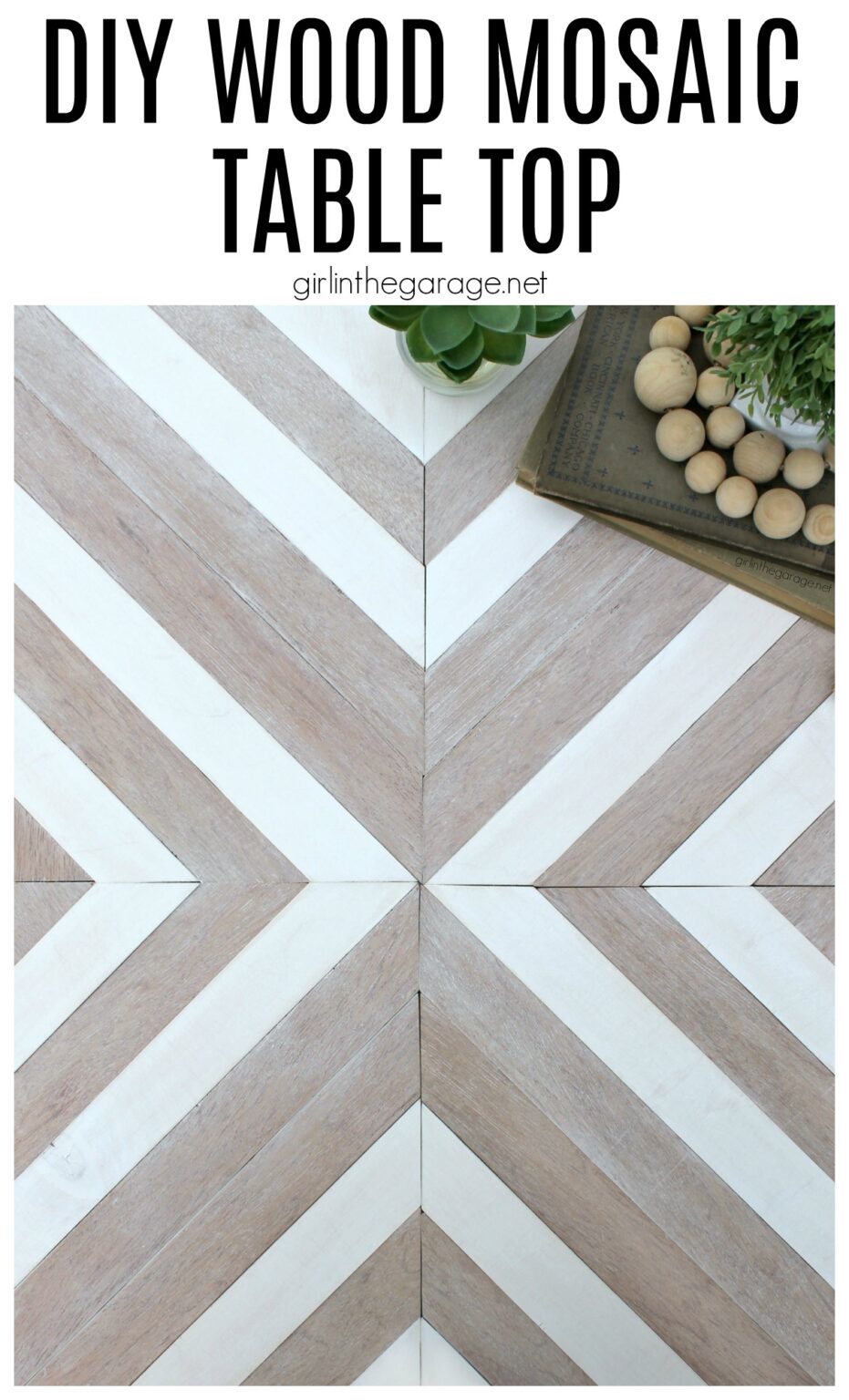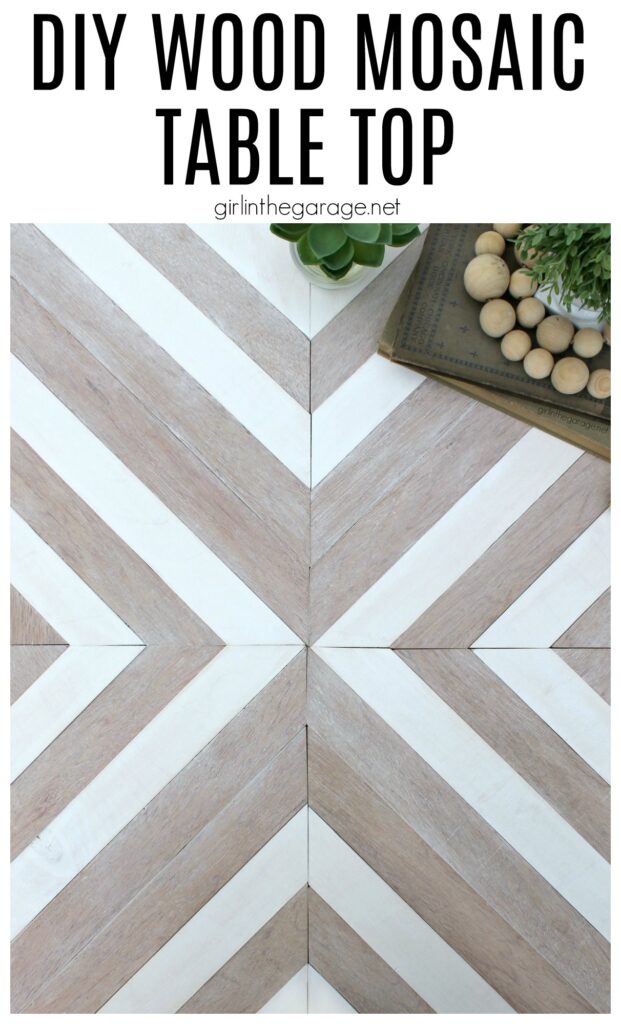 Would you do a wood mosaic project like this? Do you threaten wasps with a yardstick too? I'd love to know your thoughts in a comment below.
If you're more of a beginner furniture artist, you might like these easy painted furniture makeover ideas anyone can do.
Friend, now it's time for Furniture Fixer Uppers with my blogging buddies!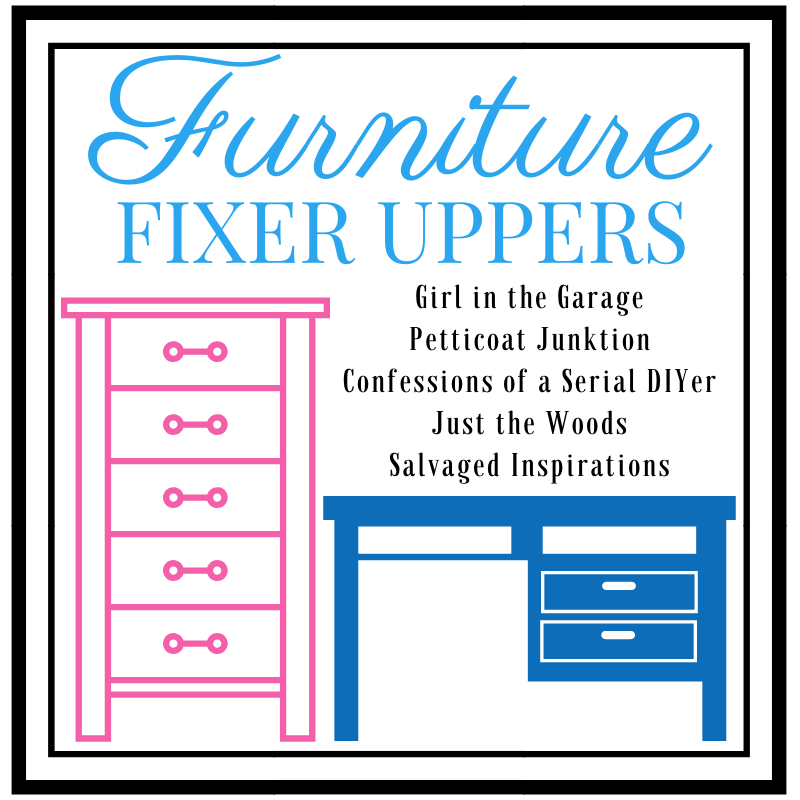 Below are the Before photos – visit the links underneath to see the amazing Afters and to learn how they did it: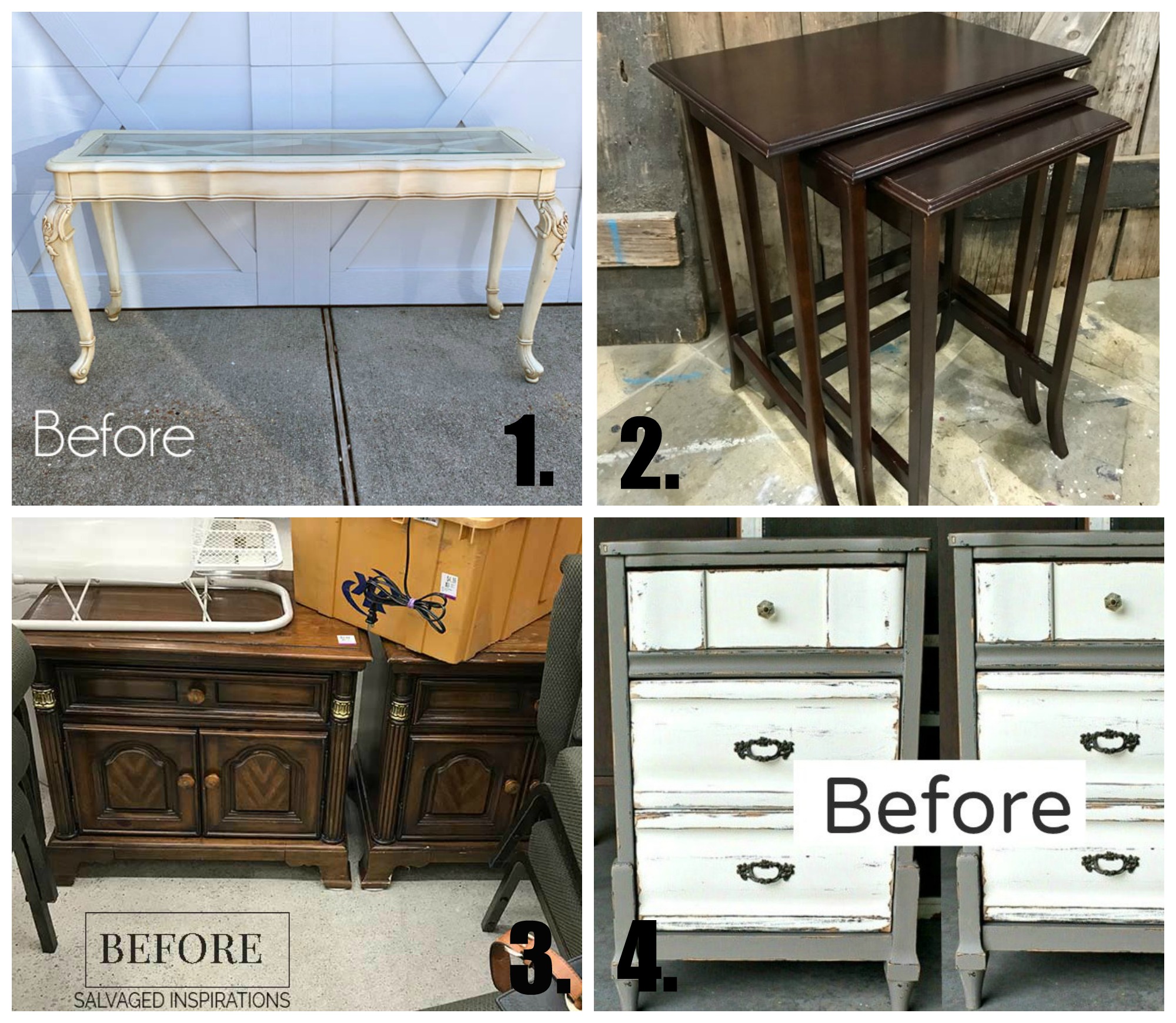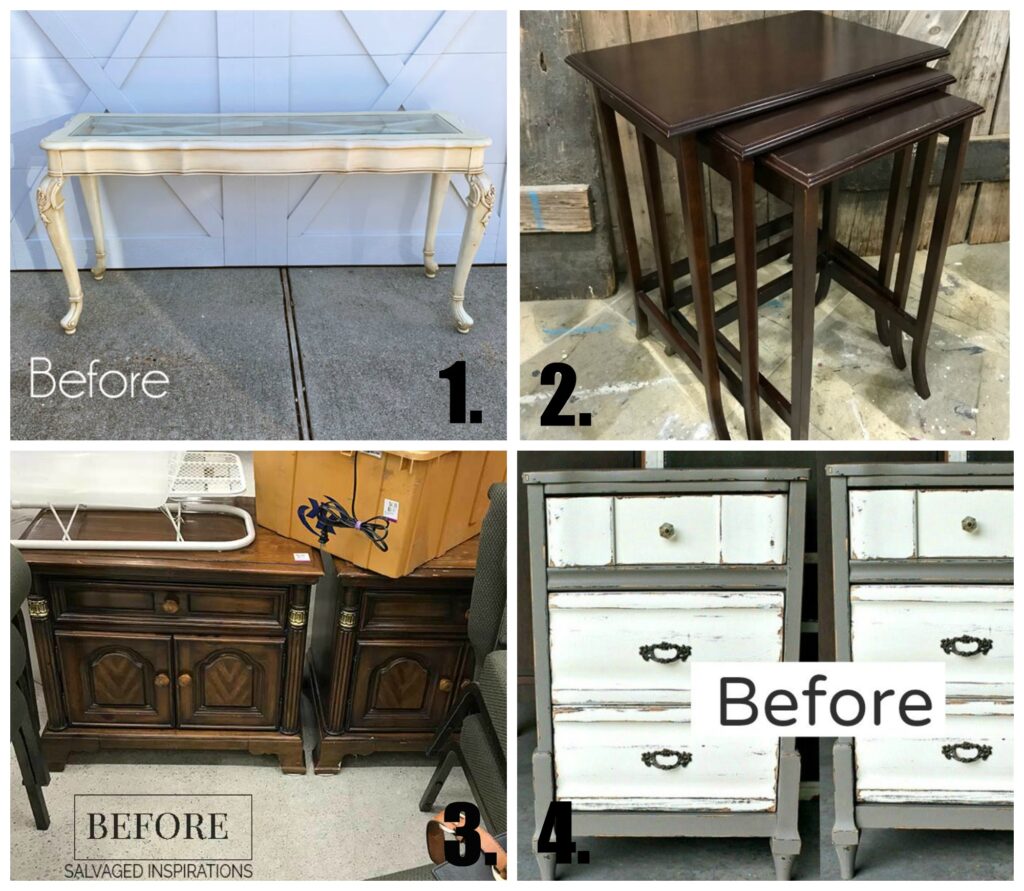 1. Confessions of a Serial DIYer
2. Just the Woods
3. Salvaged Inspirations
4. Petticoat Junktion