Welcome back, lovely friends! Today I'm showing you how to make an easy Christmas tree basket stand (also known as a tree collar) from an old thrifted basket.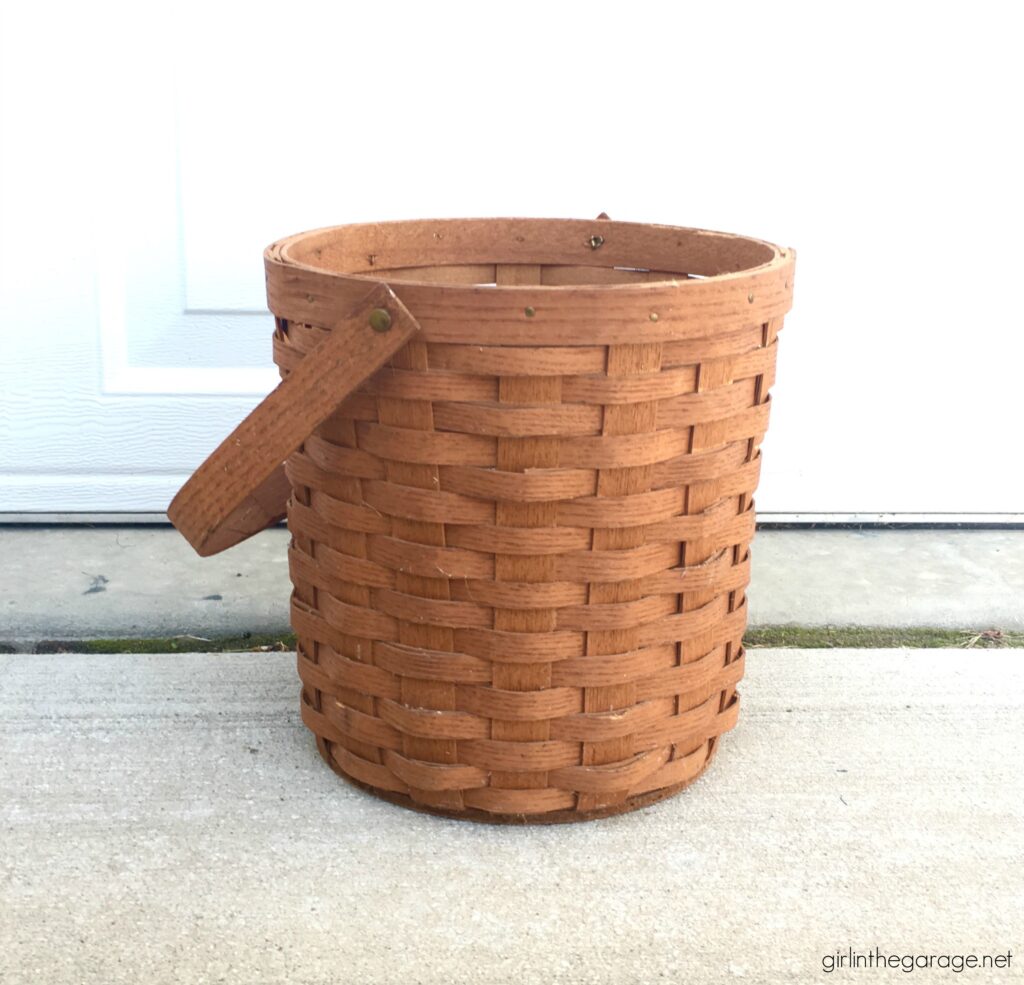 I found this basket in the garage of an estate sale, covered in cobwebs and dirt. I brought it home and cleaned it up, knowing that it would make a good project someday. There are all sorts of wonderful uses for baskets, aren't there?
This post contains some affiliate links so you can easily find the products I use and recommend. Discover all my favorite brands and tools for doing DIY projects here.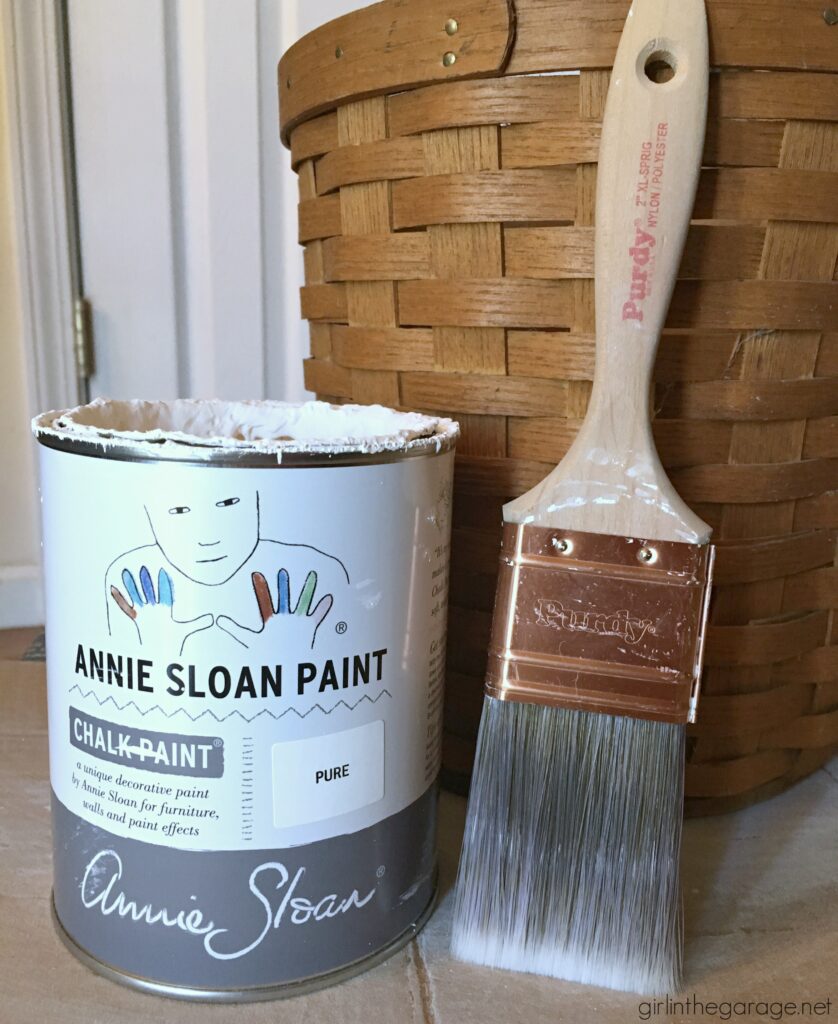 How to Paint a Basket
Painting a basket isn't hard, but it can take some time and patience depending on the type of weaving. I chose Annie Sloan Chalk Paint in Pure White and my favorite paint brush. For this type of project, thick paint works better than thin drippy paint.
Brush the paint on both vertically and horizontally to try to cover every section. Then go back over any smaller areas that were missed the first time around. The basket was supposed to look a little rustic, so I didn't worry about getting paint into every single nook.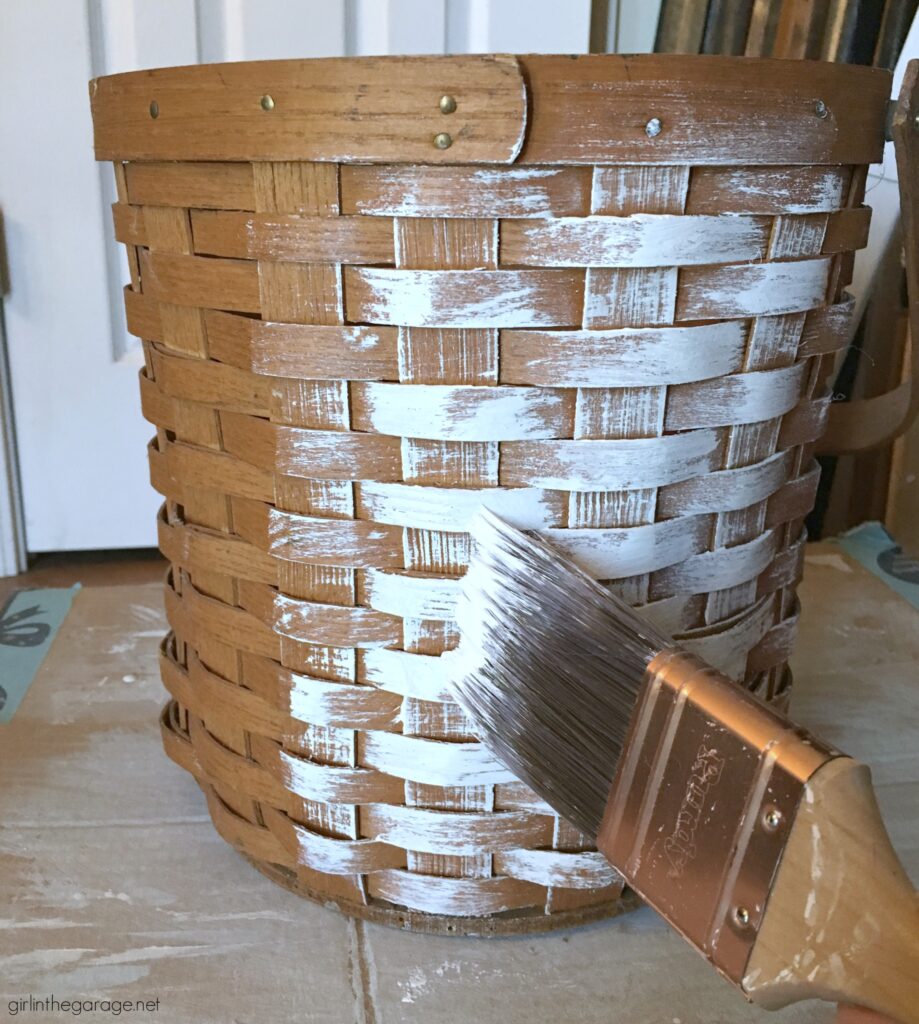 How to Make a DIY Christmas Tree Basket Stand/Collar
The size of your basket matters. Since this basket is narrow, I knew I couldn't put a large tree inside. A small tree would require a boost, so I added an old gift box inside. For standard size trees, it's a good idea to get your tree stand first and then seek out a wide basket that the stand will fit inside.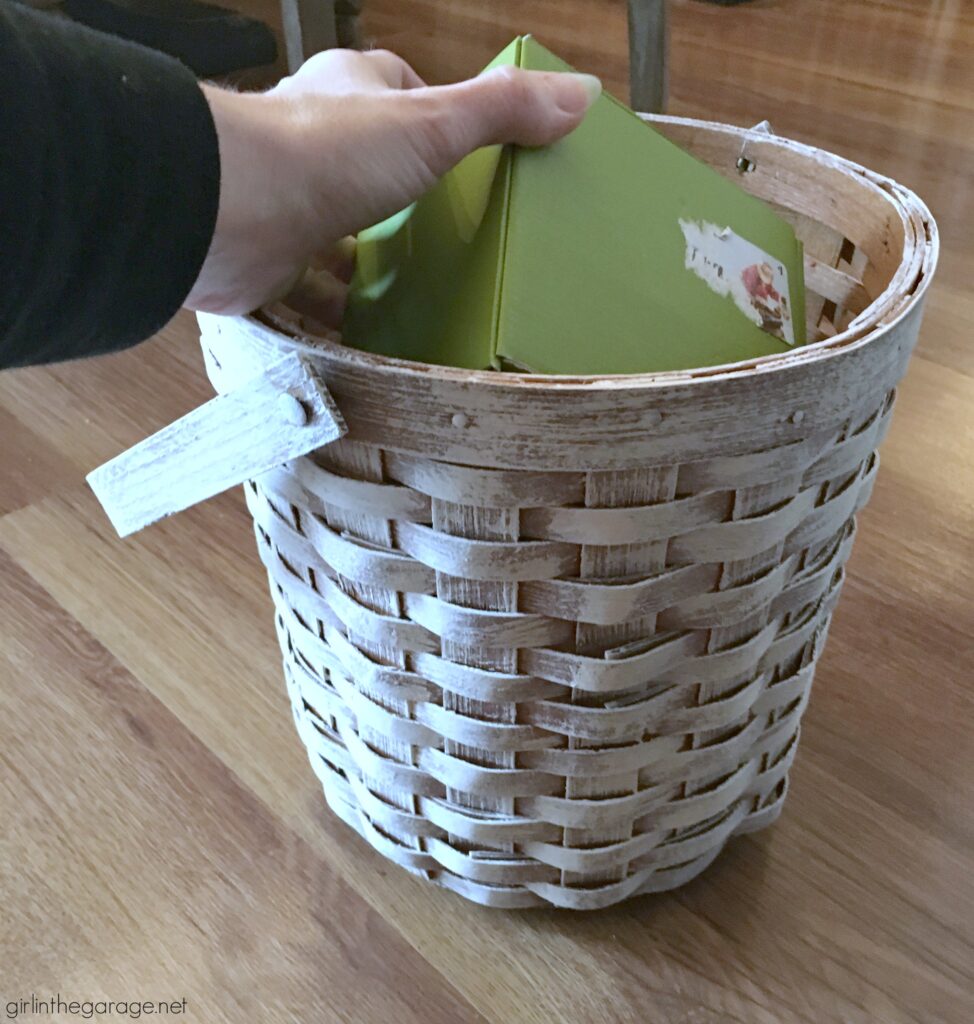 This tree is about three feet tall and has a flat square base. It fits easily inside the basket and on top of the box.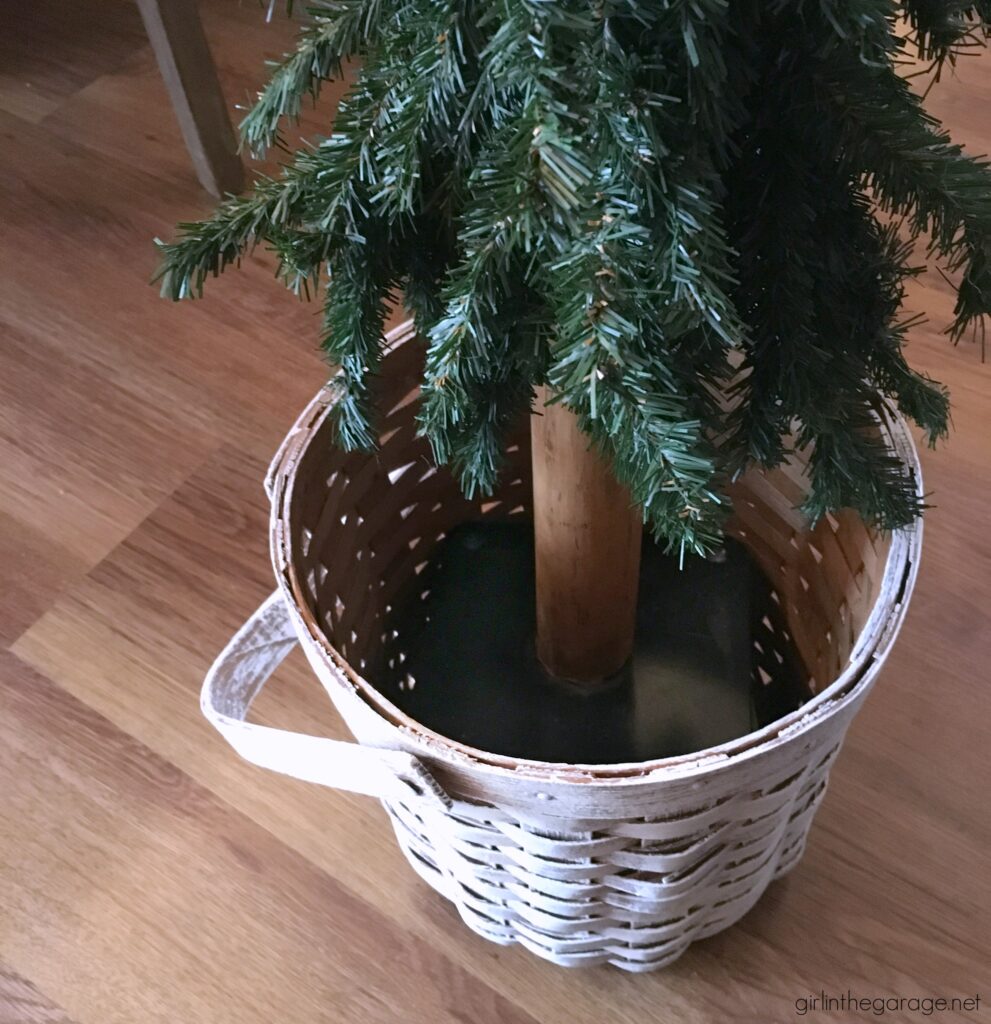 Now the last thing you want is a wobbly Christmas tree, even if it's a small one like this. You'll need to add some kind of filler to keep the tree secure inside the basket.
Thankfully, I had a cozy red throw in my blanket stash. Tuck your blanket in around all the sides and you may need to lift the tree a little to stuff the blanket underneath the branches. Keep it looking fluffy and festive, hanging out of the basket a bit.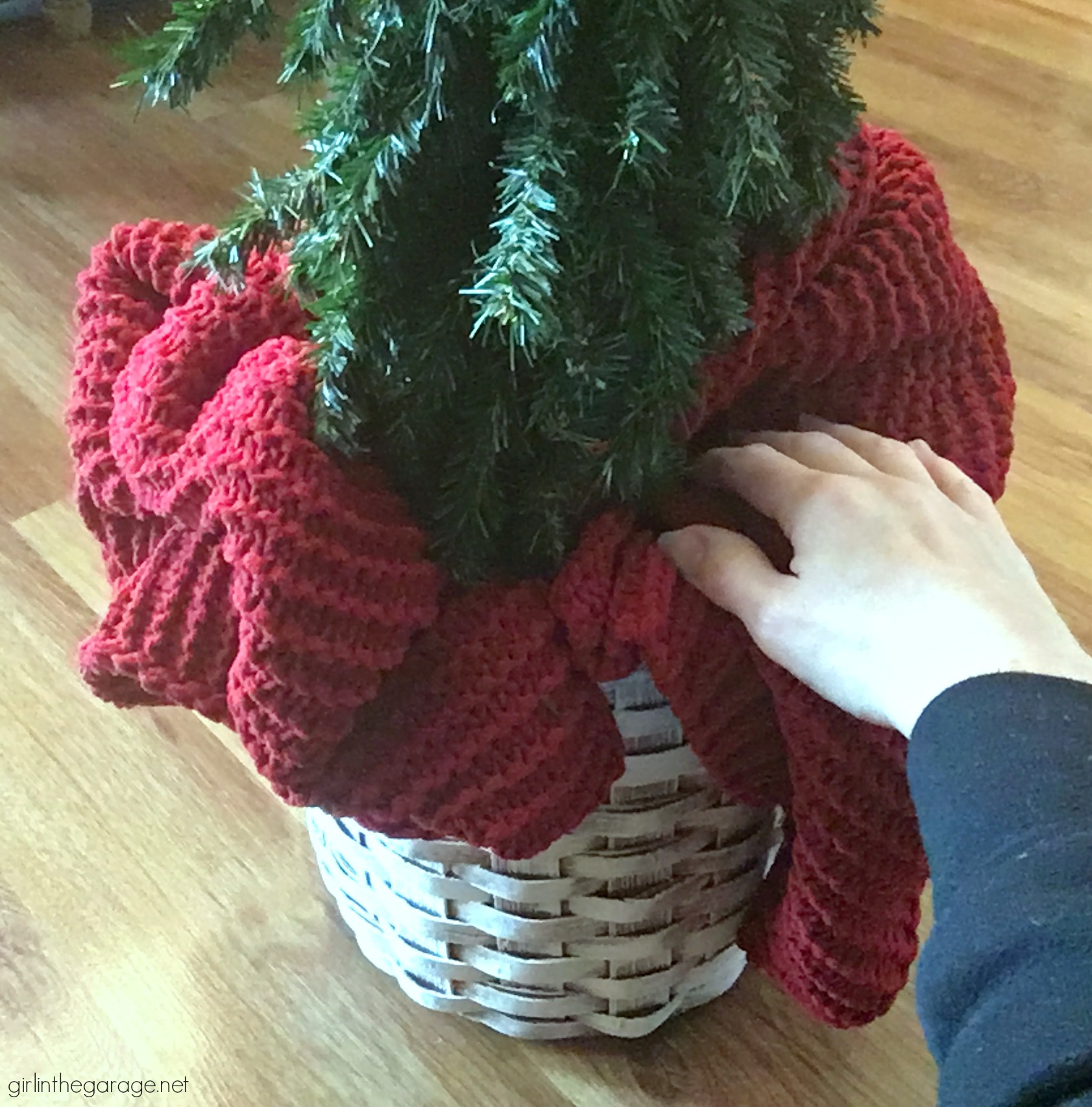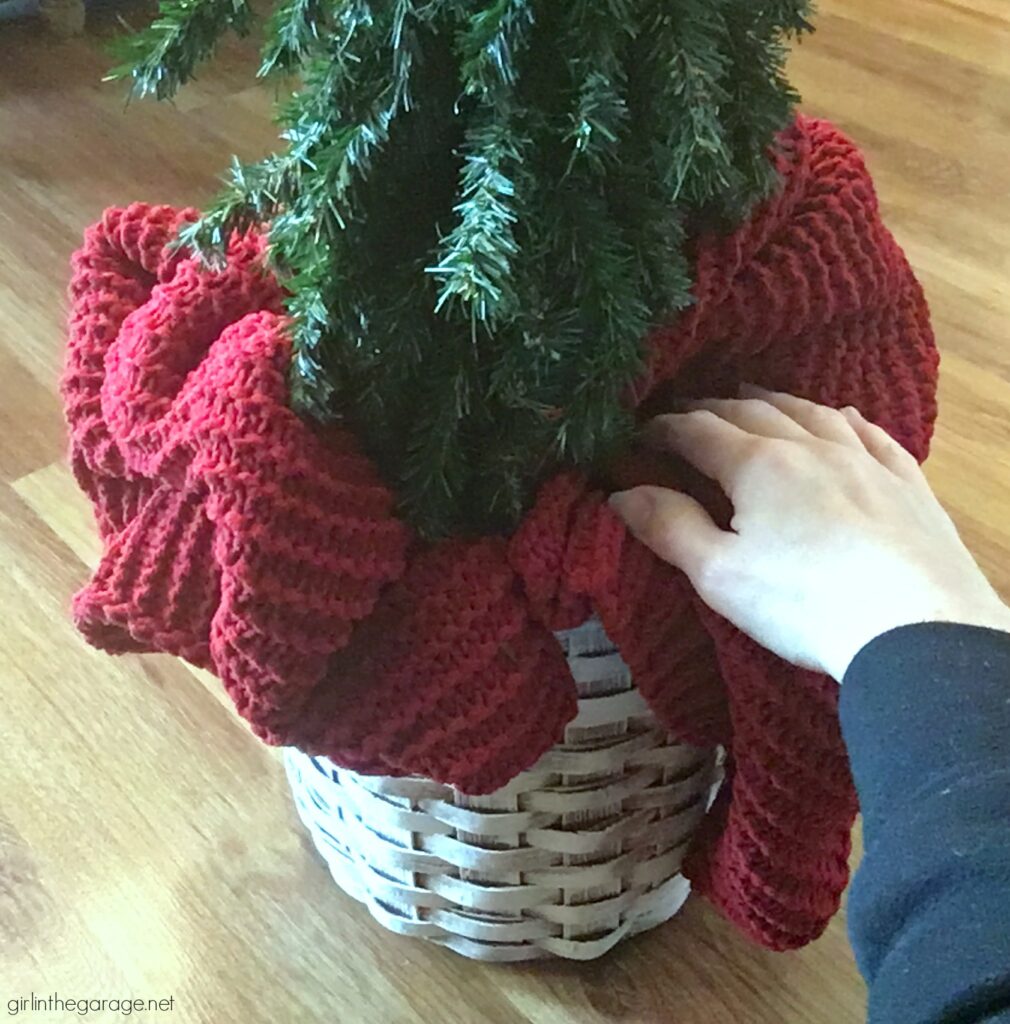 Finally, you can chose to decorate your tree or leave it alone for minimalist decor. Since I haven't actually started decorating for Christmas yet, I'm leaving it like this for at least a while longer. We'll still put up our usual bigger tree after Thanksgiving.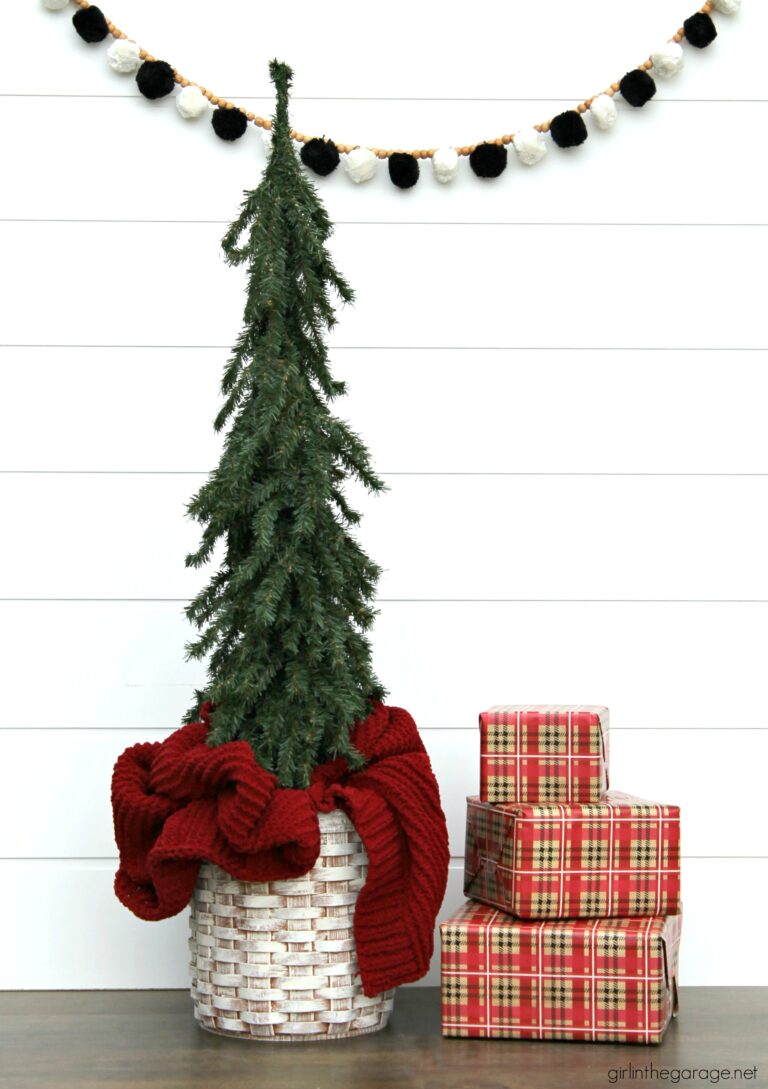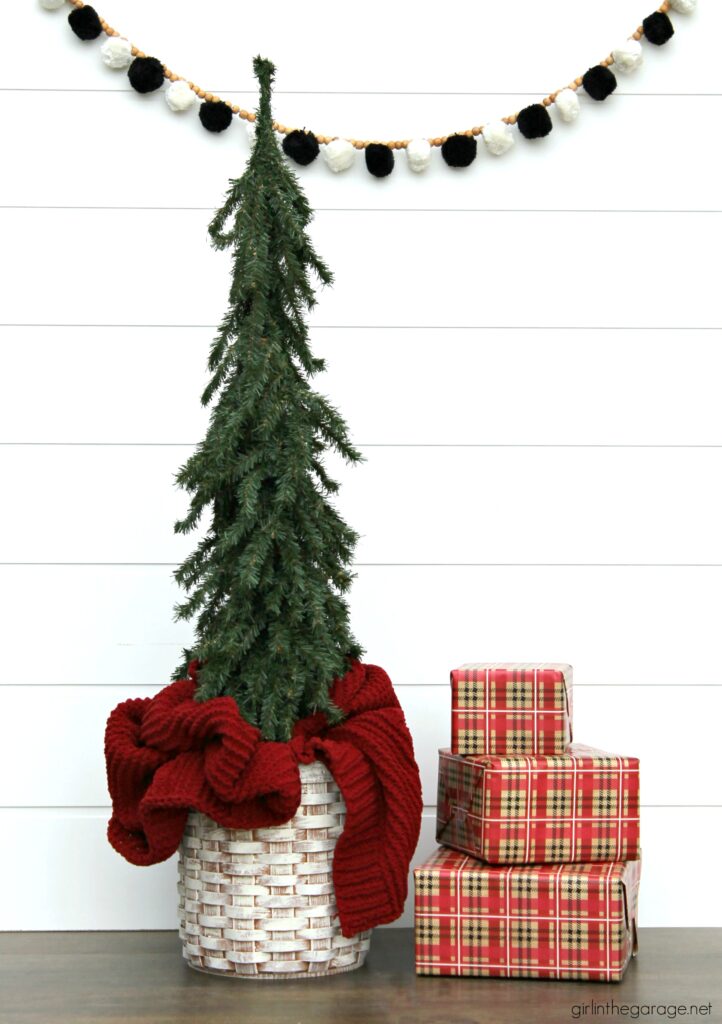 Who knew a filthy estate sale find could become such a pretty Christmas tree basket stand?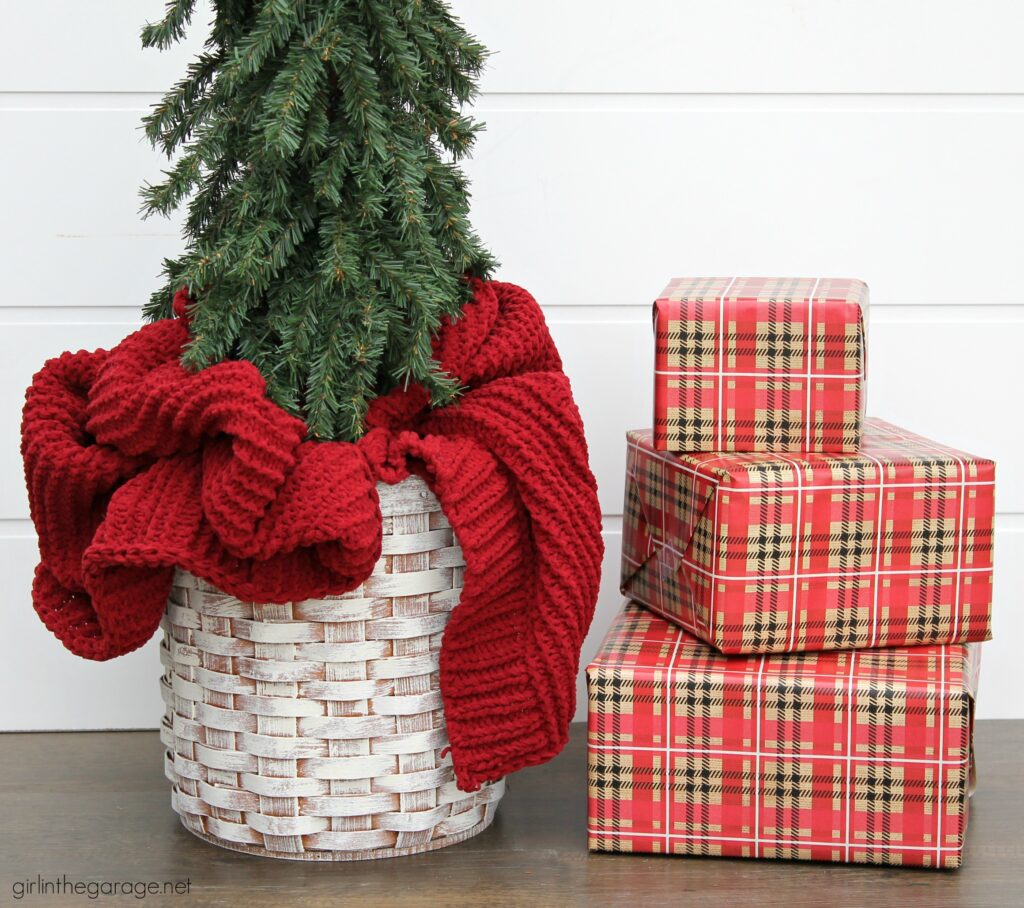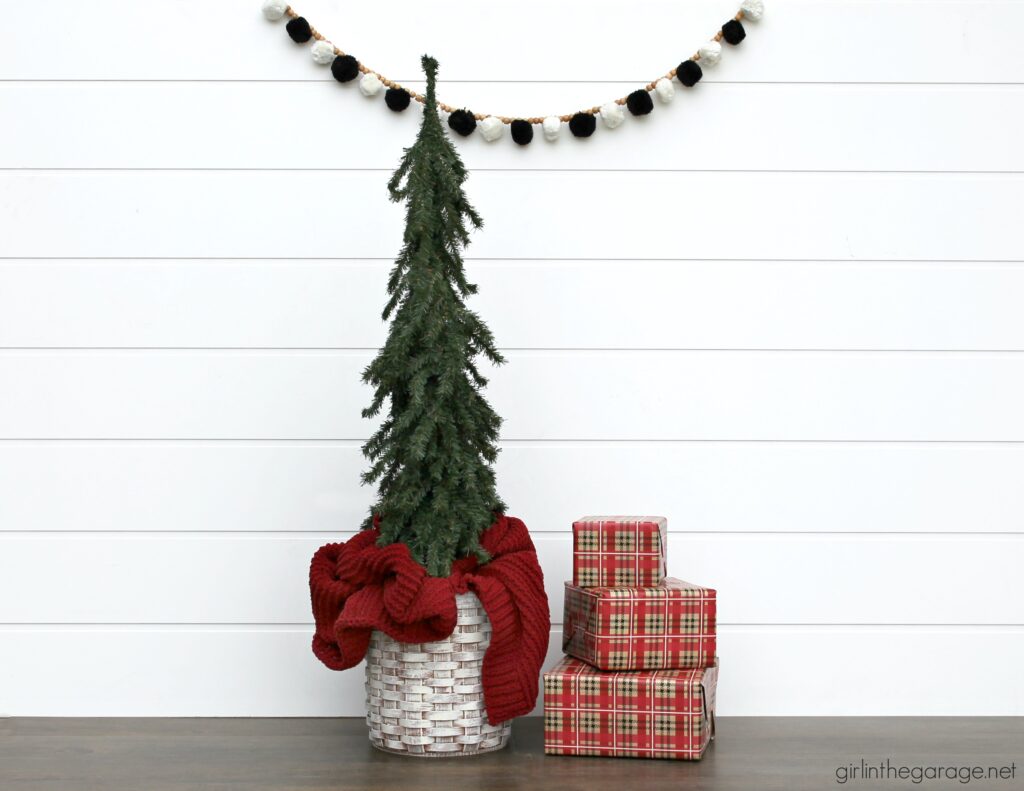 Have you started decorating for Christmas yet, or is it too early for you? I hope I've given you a new idea to use for your Christmas decorating!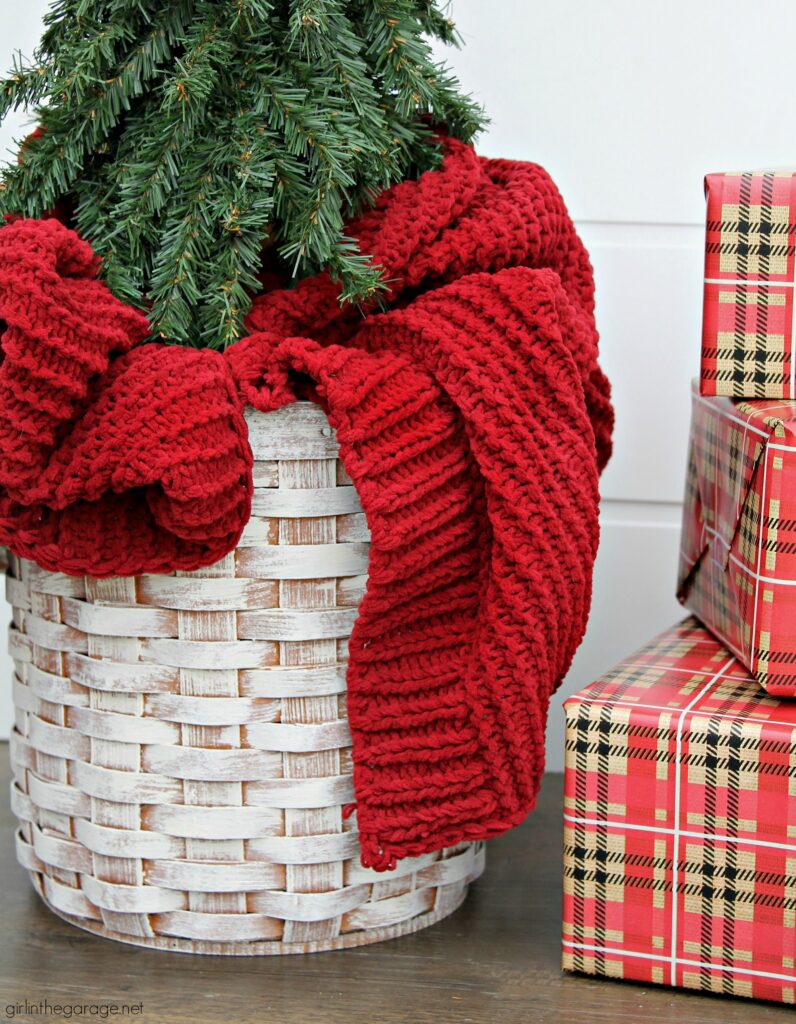 Poor thing – My sweet four-year-old was completely confused by the fake presents I wrapped for the photos. He keeps begging to unwrap them, even though I tried explaining that the boxes were empty inside. (Bloggers' kids have to endure some pretty weird things at home sometimes! haha)
Here's another before and after look at this DIY Christmas tree basket stand (you can Pin it for easy reference later):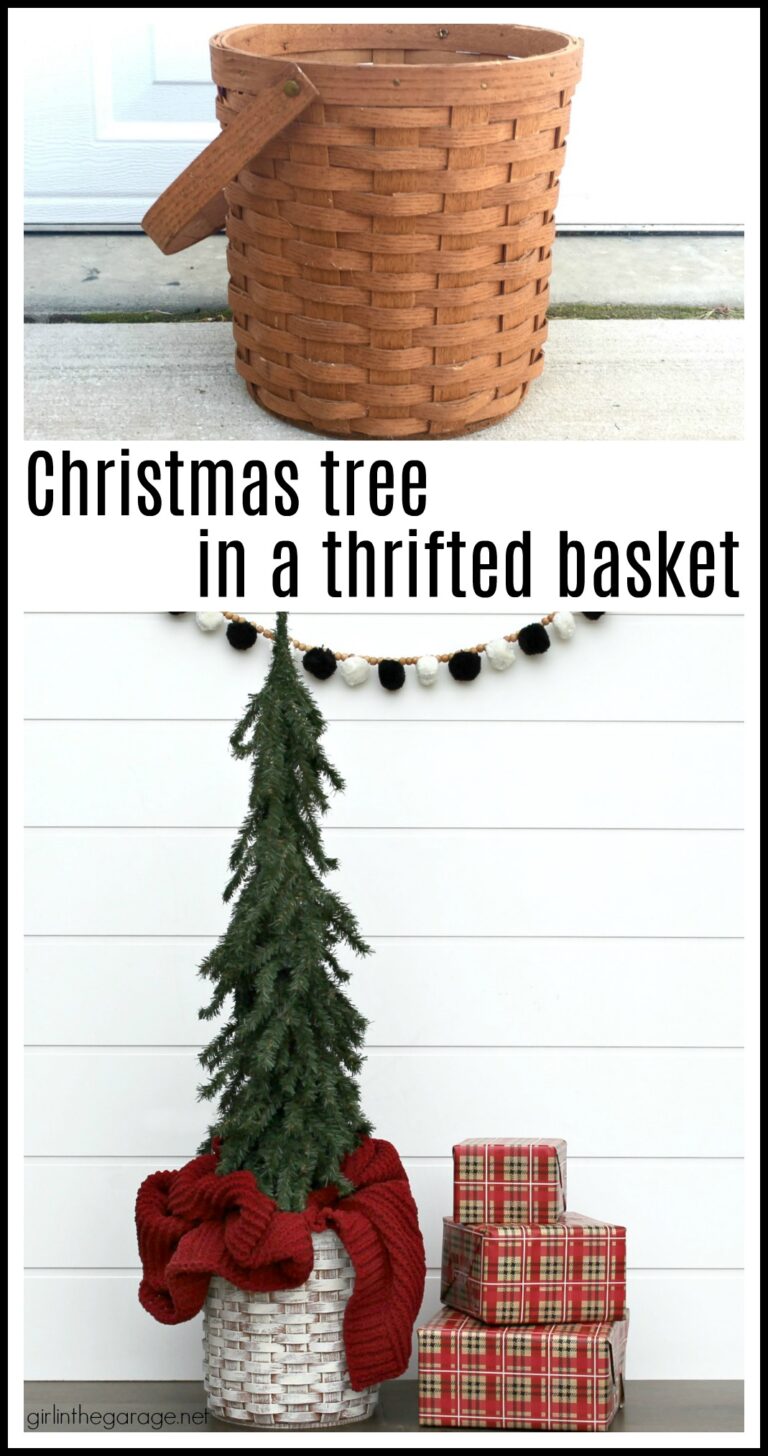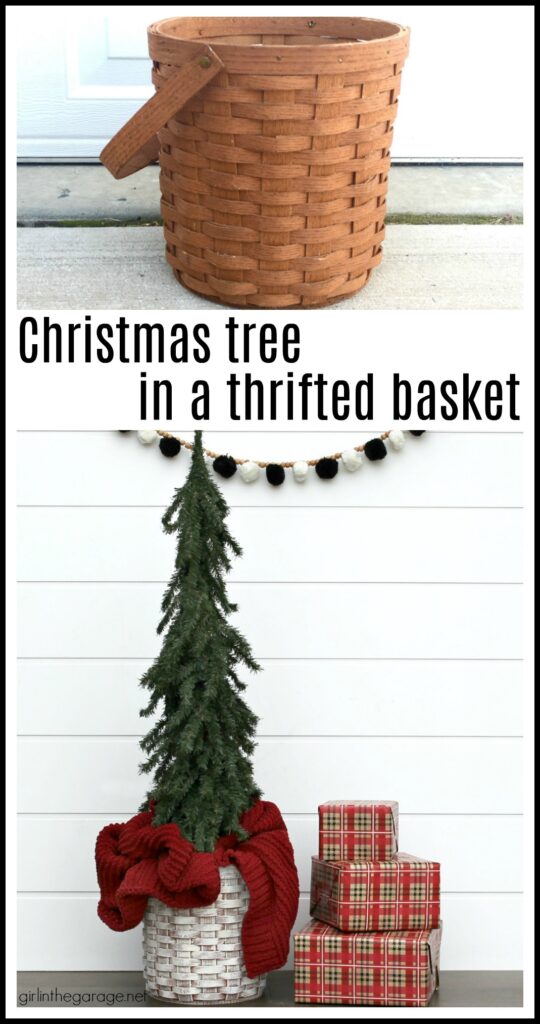 I hope this project has given you some new decorating ideas to think about. Leave me a comment and let me know what other creative ideas you have for repurposing old baskets.
Talk soon, my creative friend! – Jen
Wait, don't go yet. It's time again for Trash to Treasure makeovers from my creative blogging friends! Below are the Before photos – visit the links underneath to see the amazing After and to learn how they did it: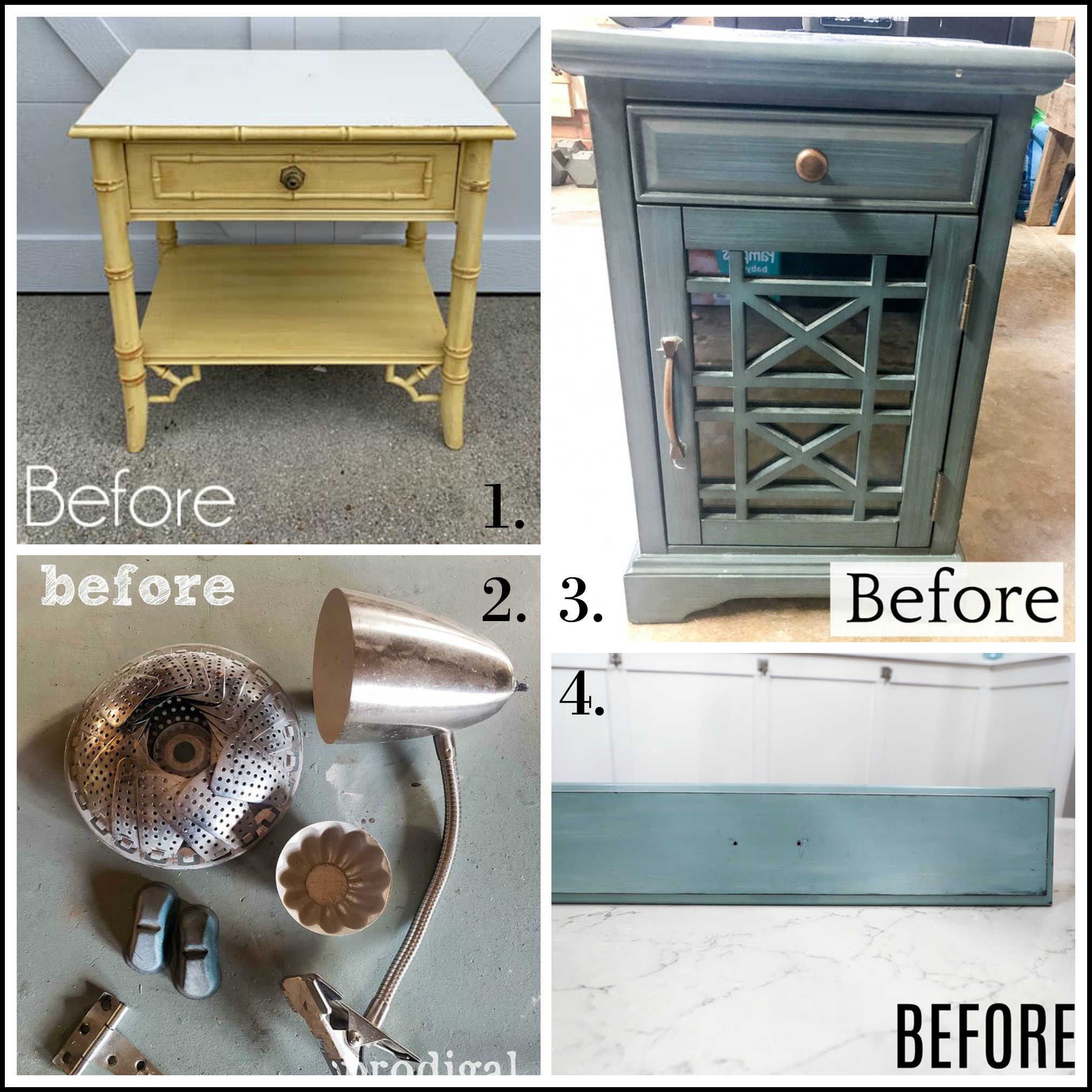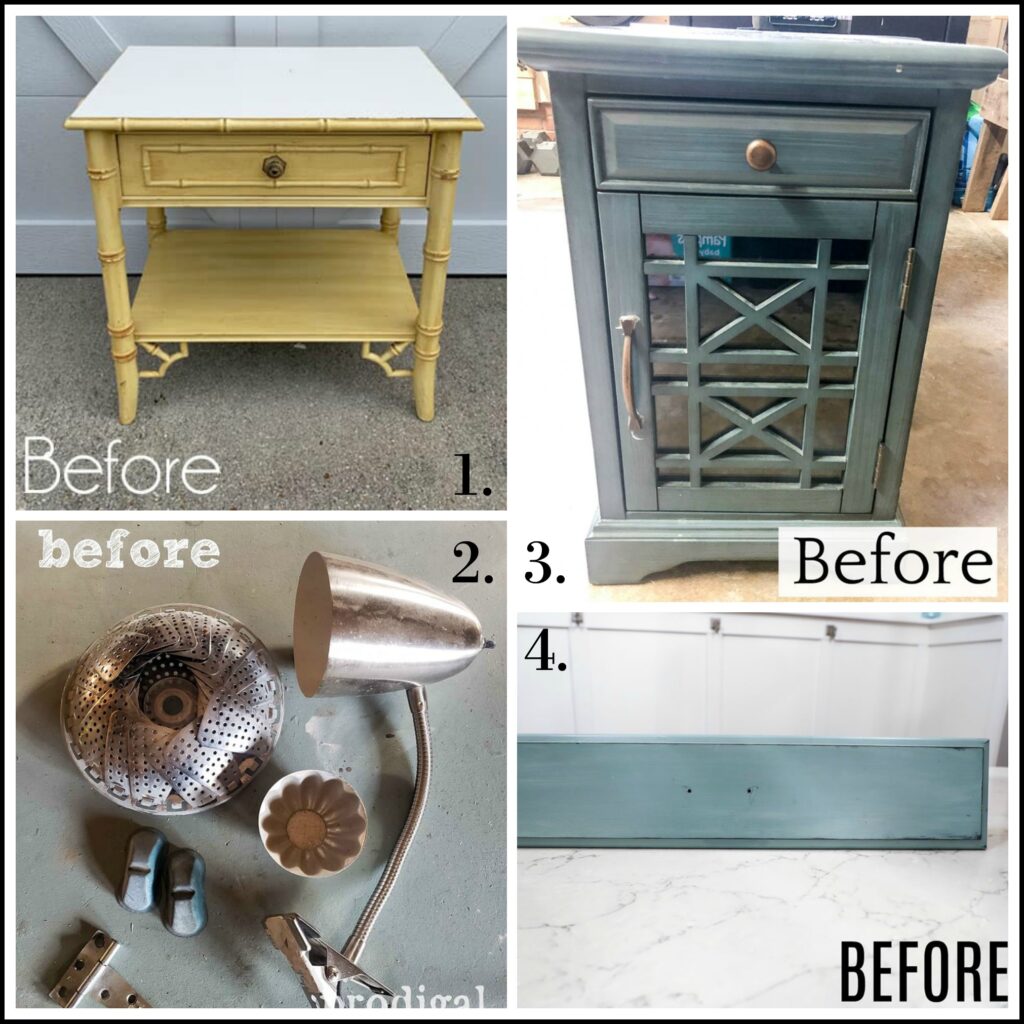 1. Confessions of a Serial DIYer
2. Prodigal Pieces
3. Bless'er House
4. Artsy Chicks Rule
Finally, here are some related projects I've done before: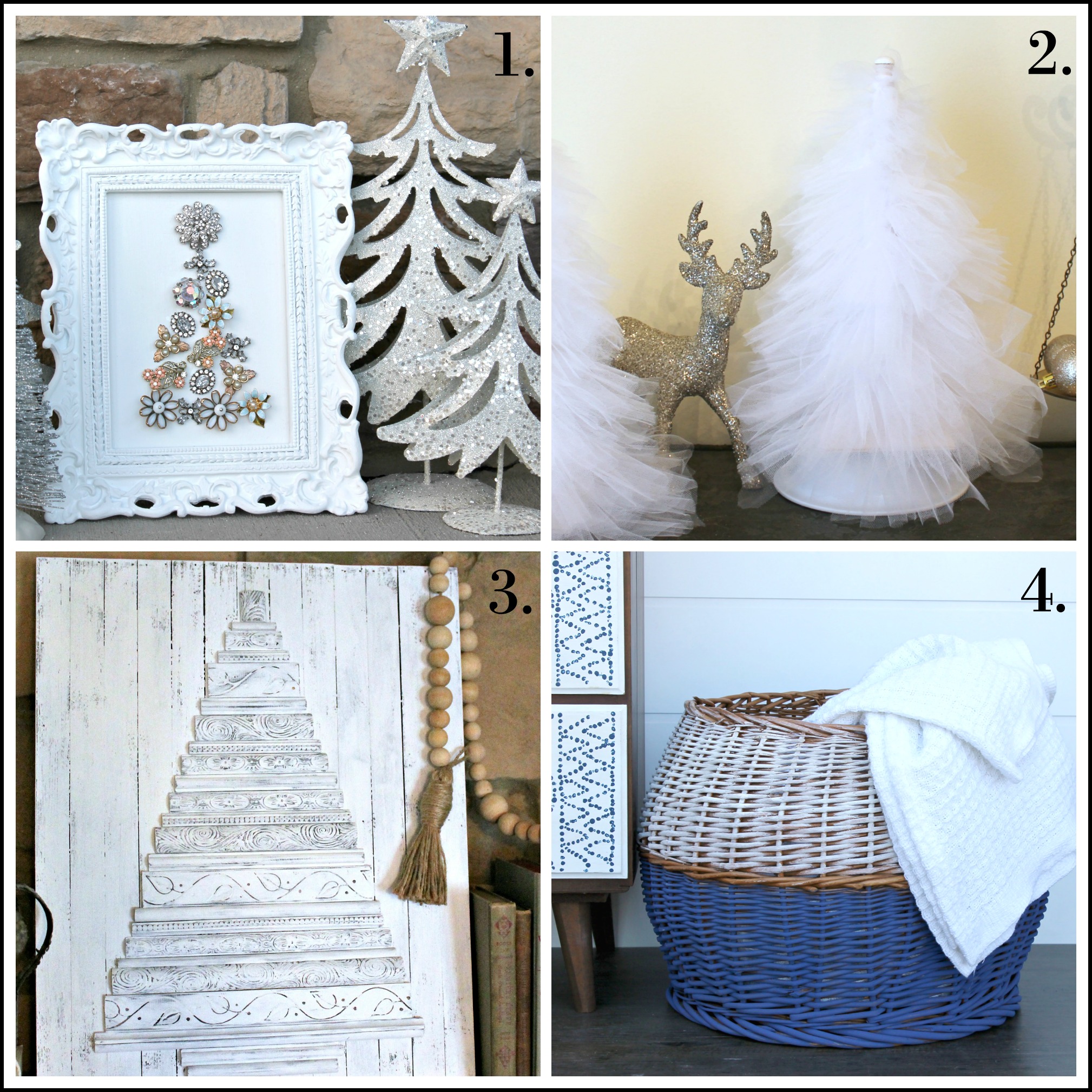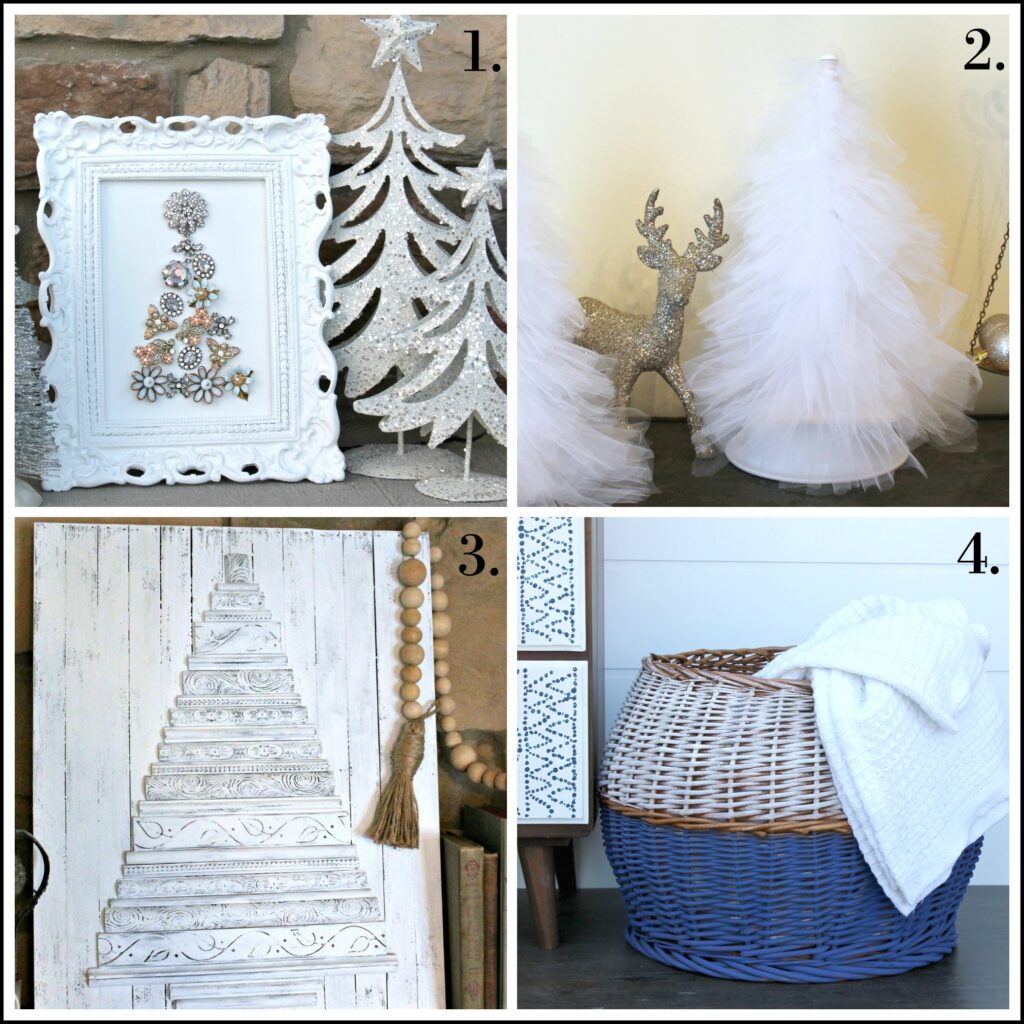 1. Vintage Earring Christmas Tree Decor
2. DIY Tulle Trees
3. DIY Moulding Christmas Tree Art
4. Thrifted Painted Basket Makeover