Hello again, friend!  We've set some snow records for November already, and this winter wonderland outside definitely makes it feel like Christmas will be here before we know it!
I'm teaming up with 24 other bloggers this week to bring you festive Christmas ideas for decorating and celebrating the holidays.  You can see all of them at the bottom of this post.  Today our group is sharing DIY projects – you knew I'd pick that topic, didn't you?
* How to make DIY Moulding Christmas Tree Art *
First I started with all this decorative wood moulding trim…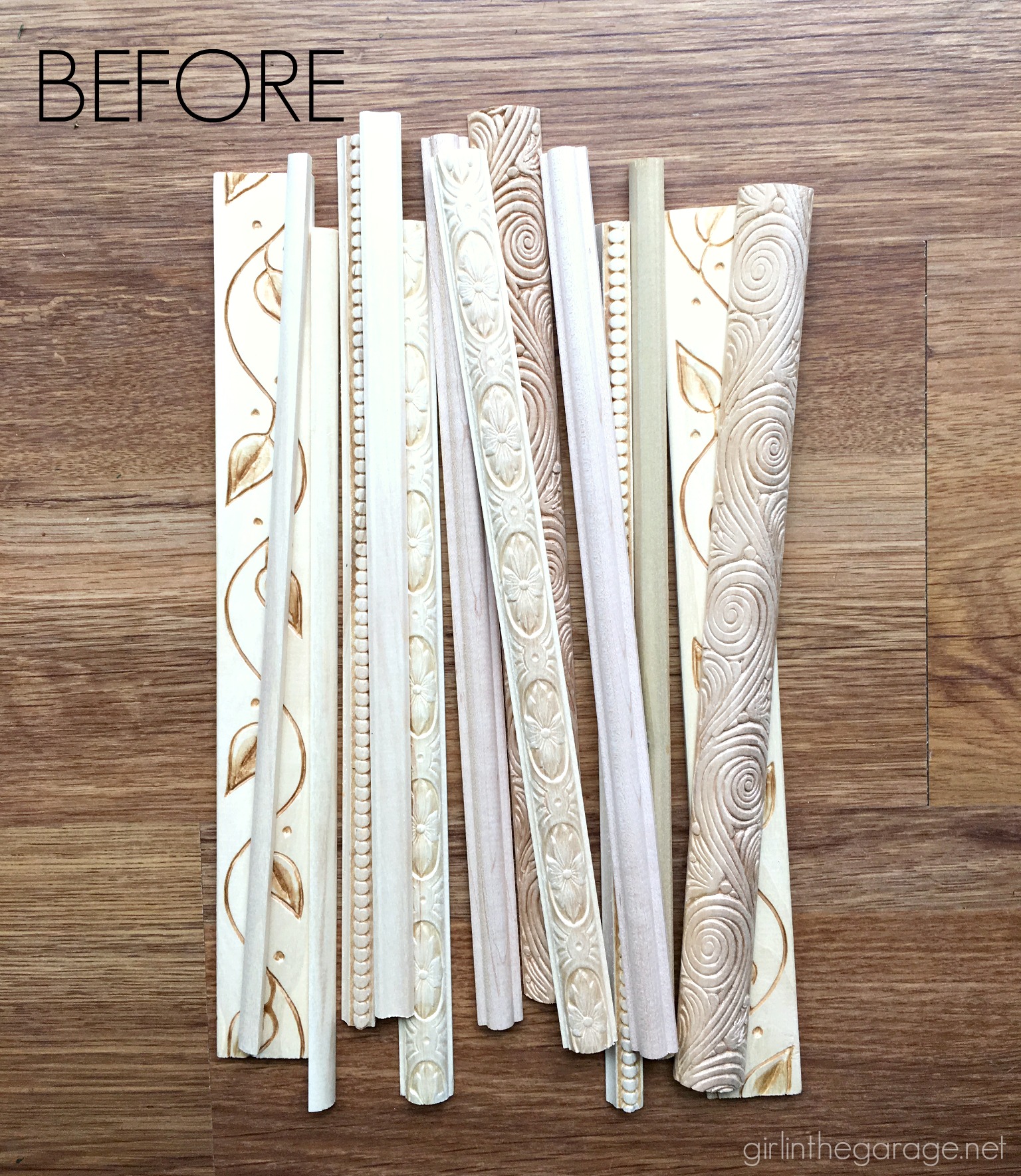 *This post contains some affiliate links so you can easily find the products I use and recommend.  Find a list of all my favorite DIY tools and products Here.
You can use old picture frames, decorative trim, or you can cheat and buy a bag of these pieces from Hobby Lobby.  😉
I also found the wood art piece below (complete with hangers on the back), but you could use an old pretty frame or make your own background from scrap wood.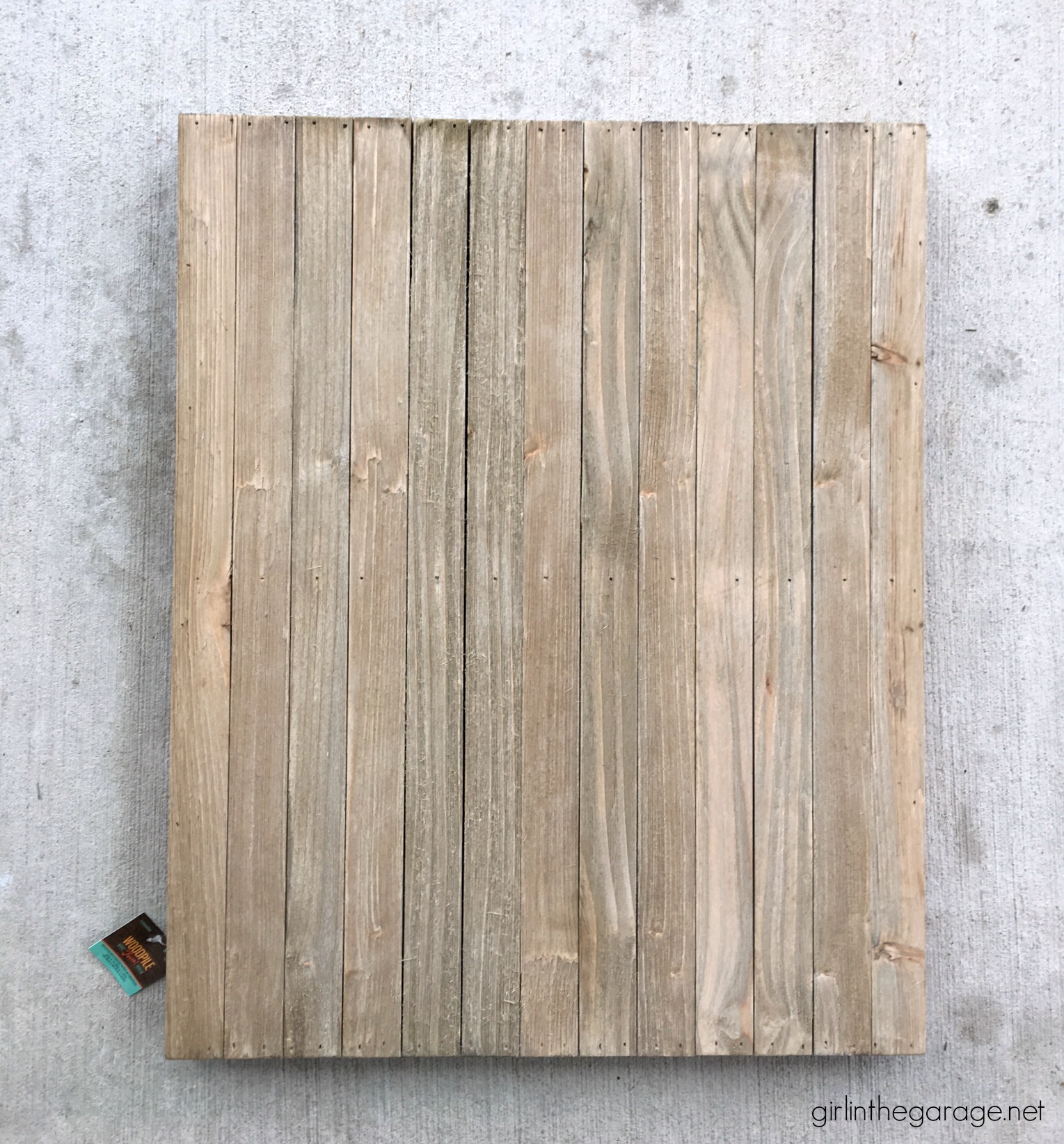 Lay out the pieces to get an idea of what order you want them – stagger the sizes and designs a bit.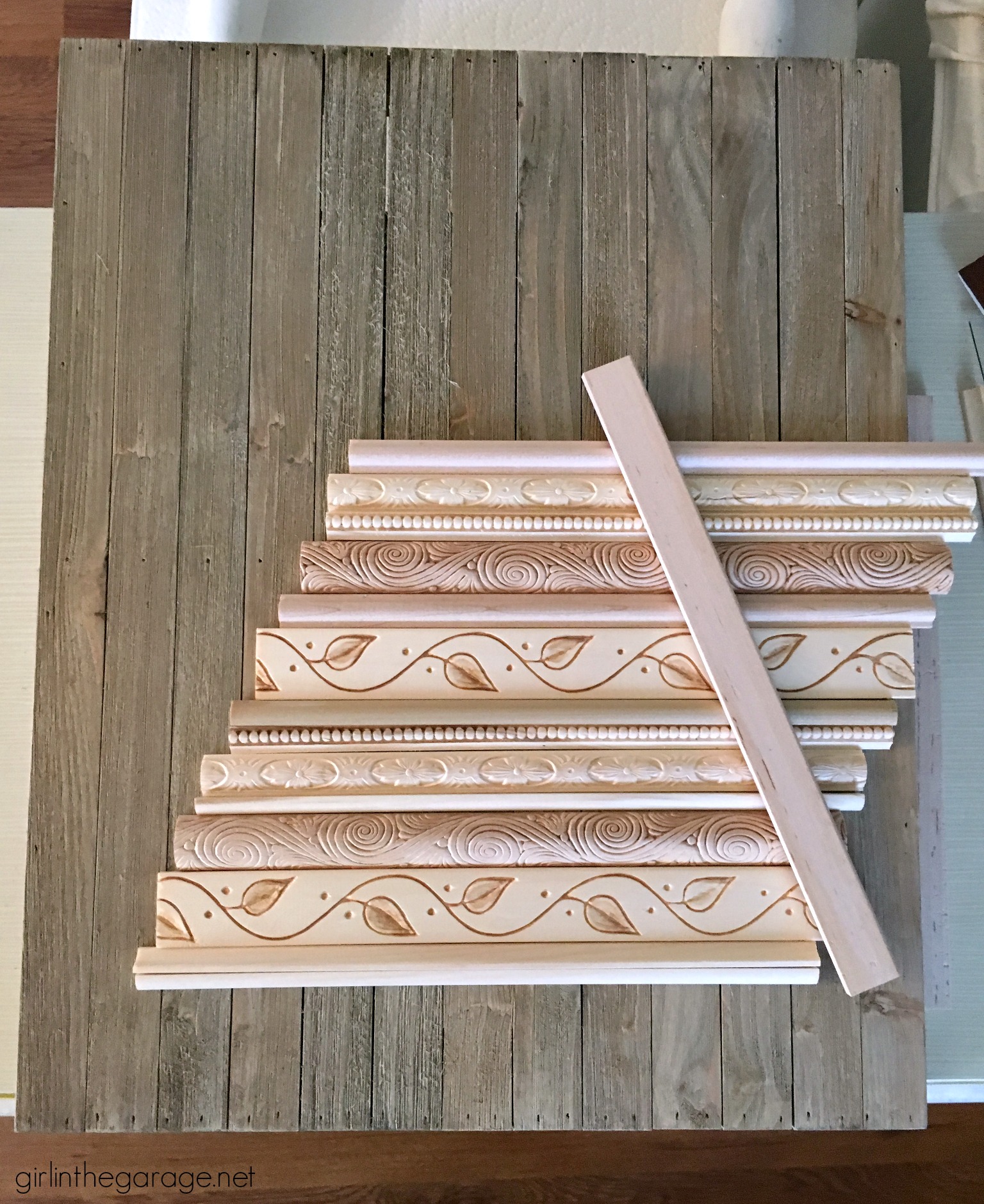 Once you have the order chosen, flip each one over and mark the size that you want.  This was mostly for my husband since he was going to cut the moulding for me.  The pieces are mostly about 1/2 inch shorter as you go further up the tree.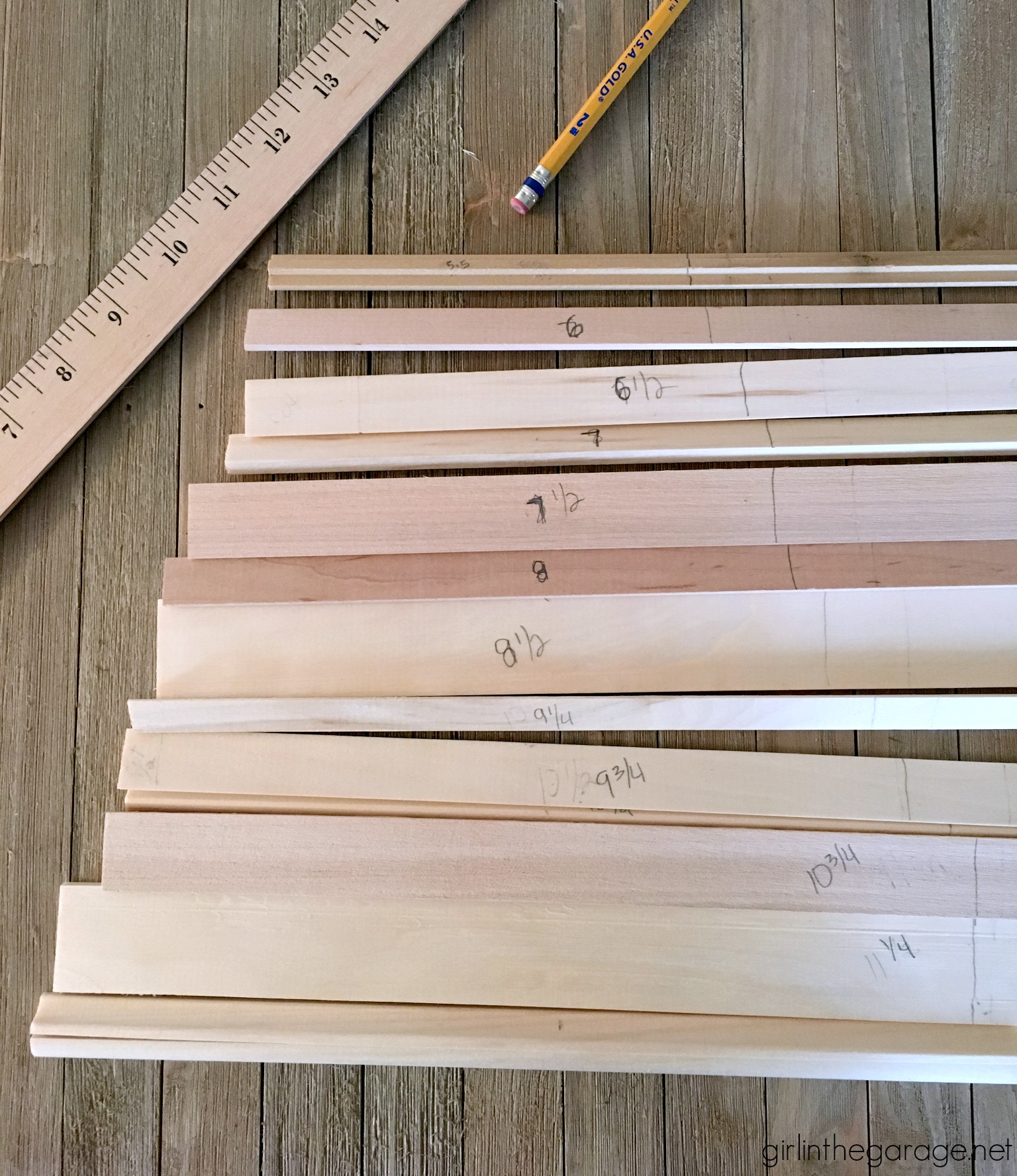 Cut the pieces with a chop saw and sand the edges smooth.  Paint a coat of black over them. (I used Fusion Mineral Paint in Coal Black and Purdy paint brushes.)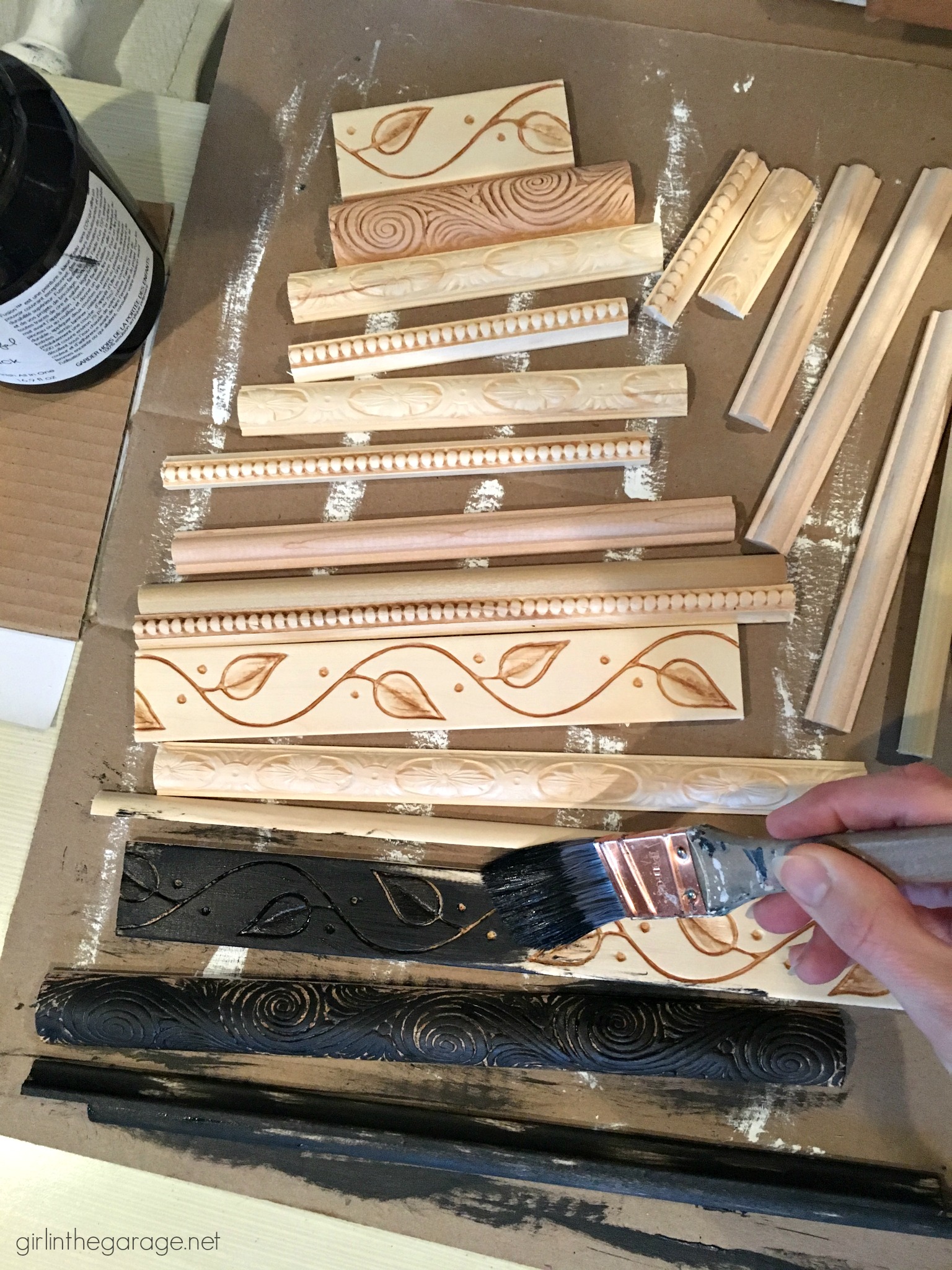 Next, paint two coats of white over the black (I used Annie Sloan Chalk Paint in Pure White).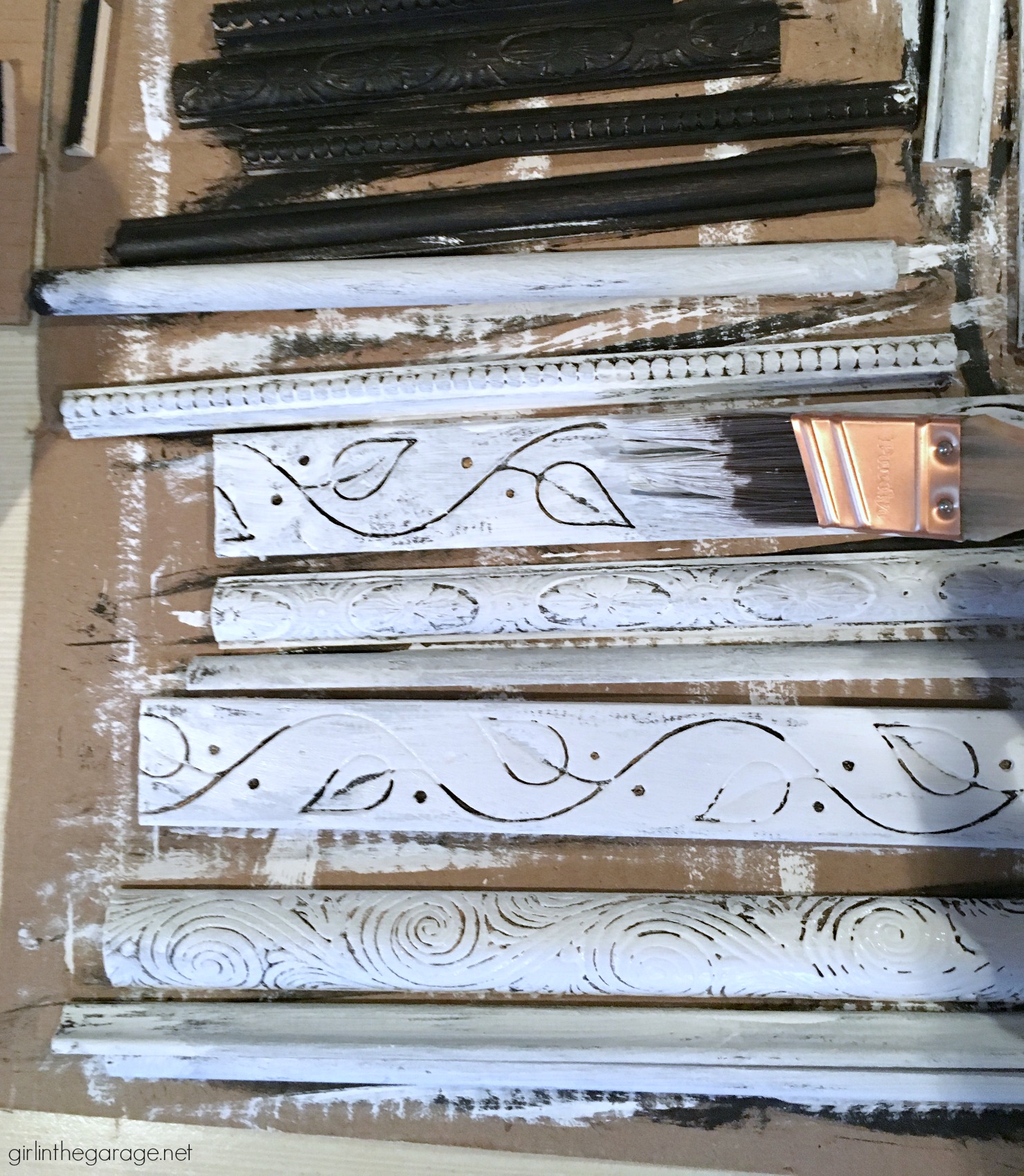 Lightly sand over the pieces with 220-grit sandpaper so the black underneath peeks through and the details pop.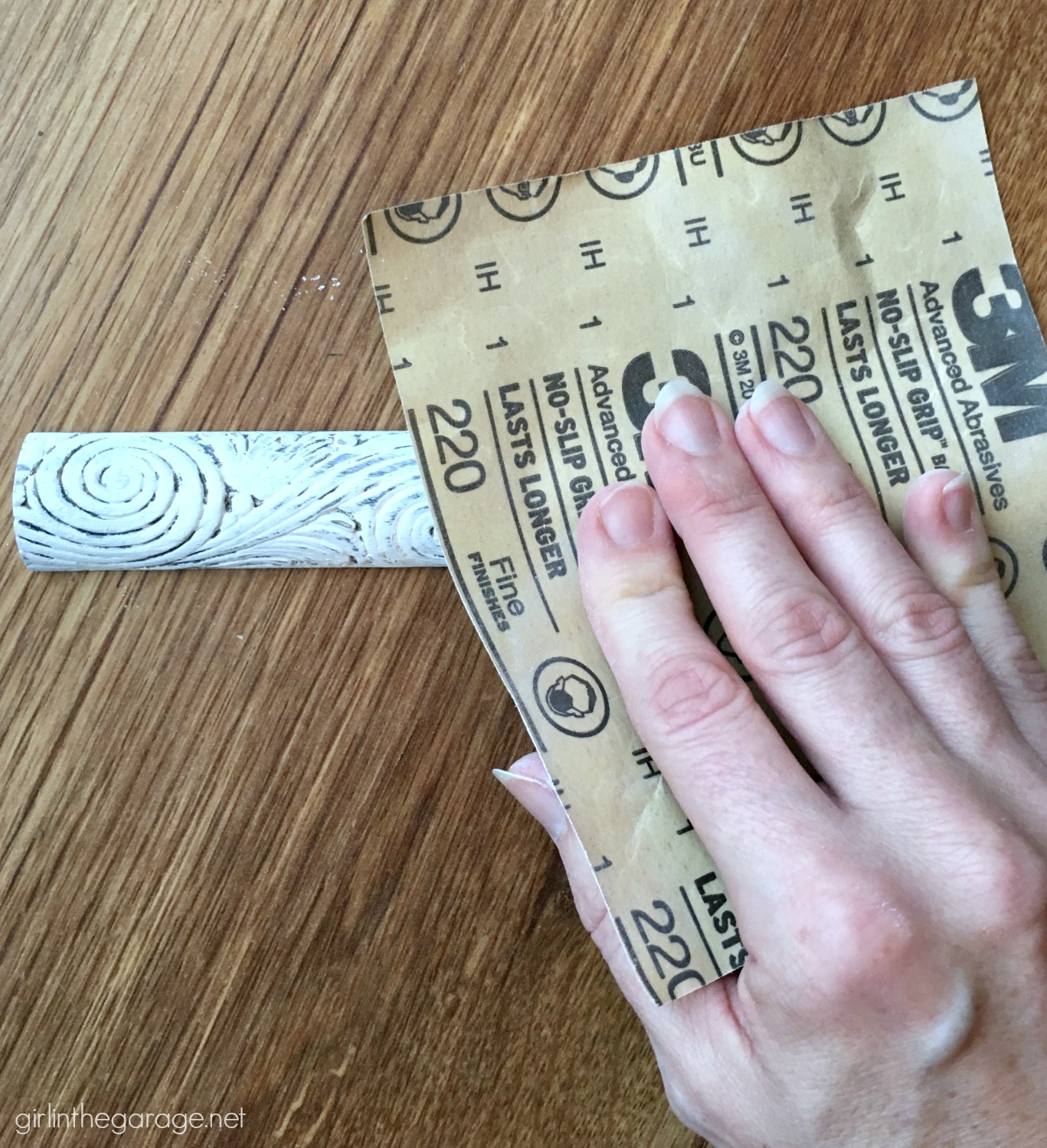 Lay the pieces back in order on the wood background, making sure everything is centered.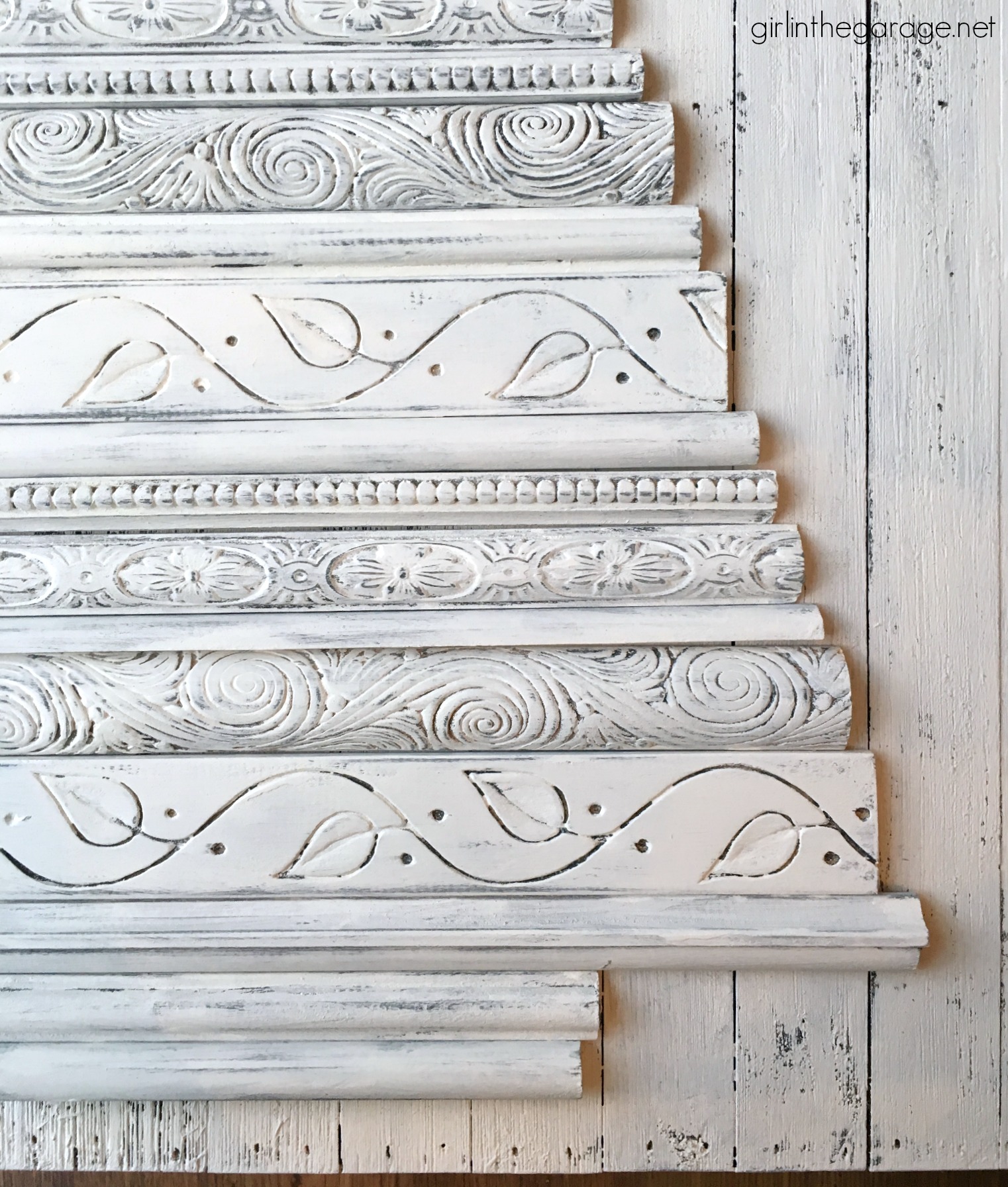 One by one, use E6000 to glue each piece in place.  Press firmly for a minute before moving onto the next piece.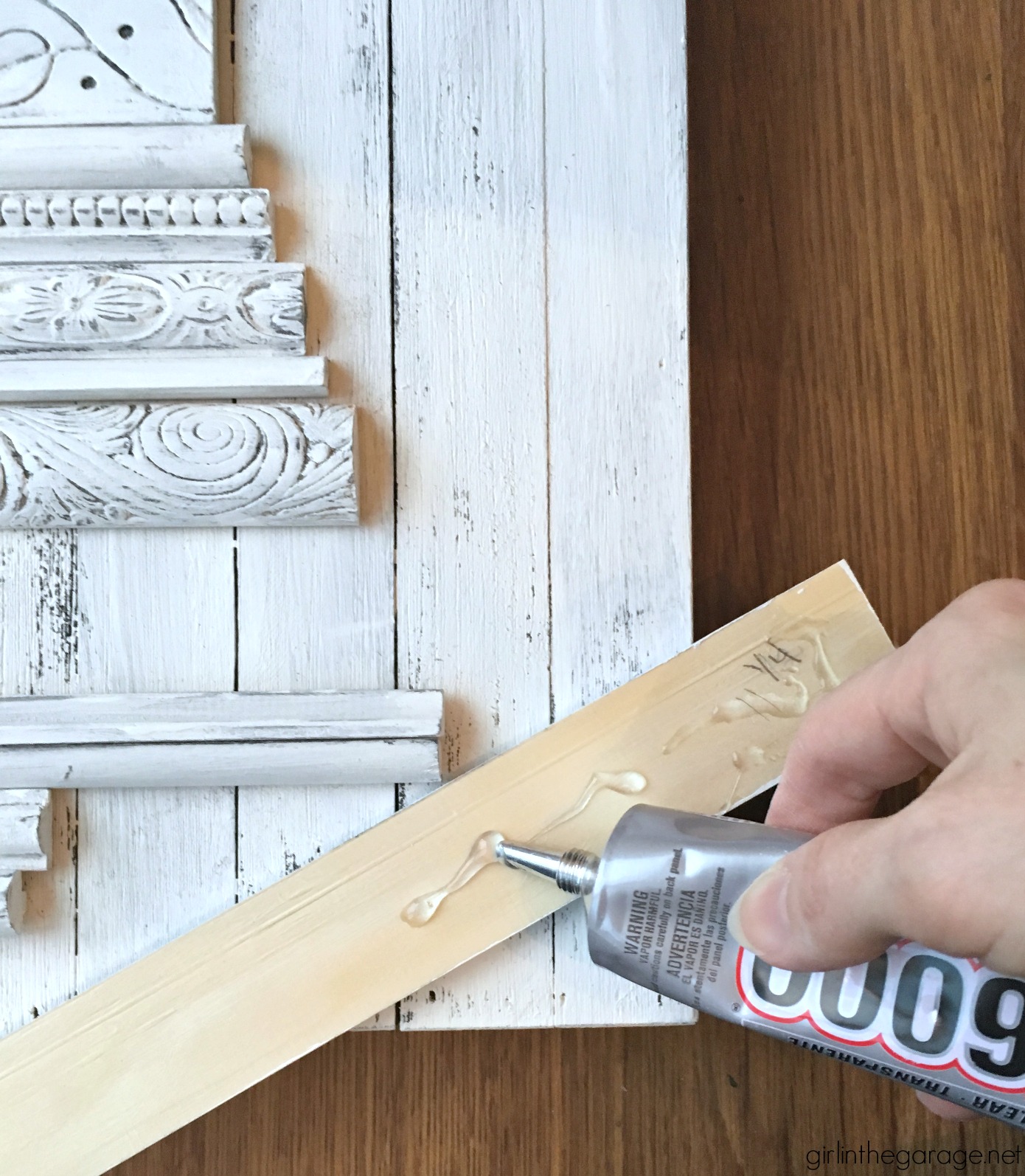 Let the glue dry for about 24 hours, and then put your DIY moulding Christmas tree art on display!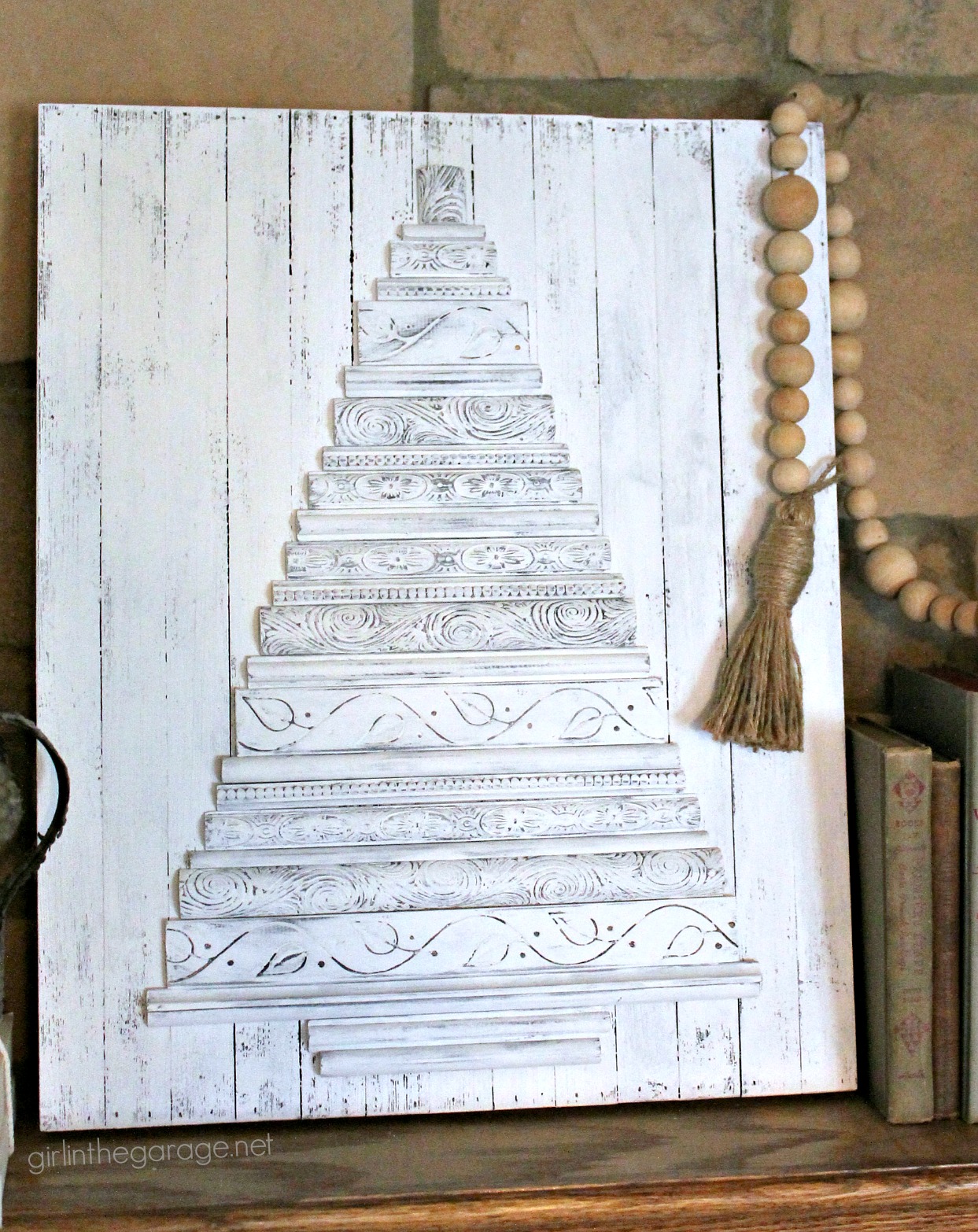 I must confess, we haven't gotten all our decorations out yet.  I do like how the tree looks now on my simple neutral mantel, and it will look even prettier once I add more Christmas decor.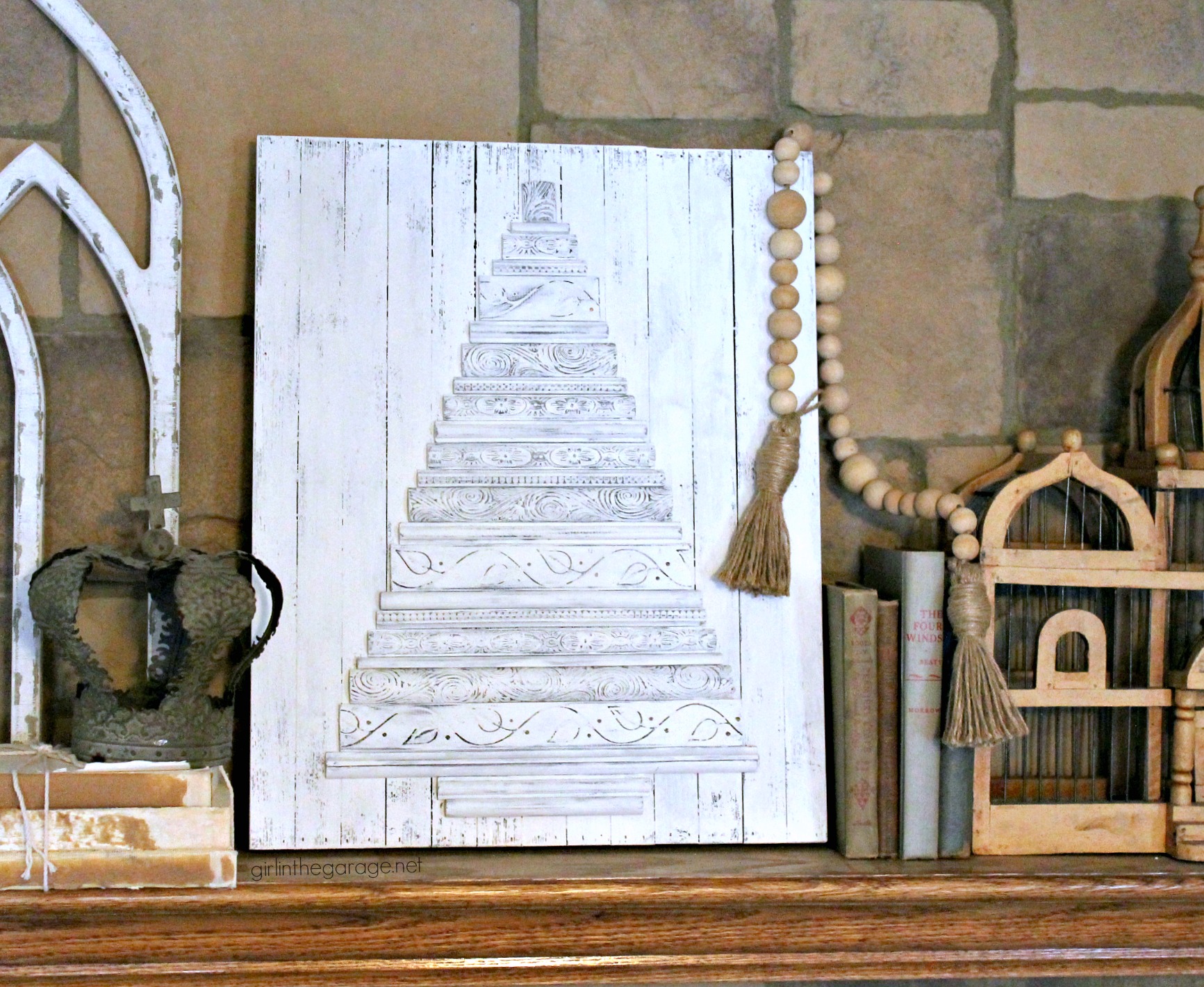 This DIY moulding Christmas tree will be a beautiful addition to our holiday decor every year – and it was actually quite easy to make!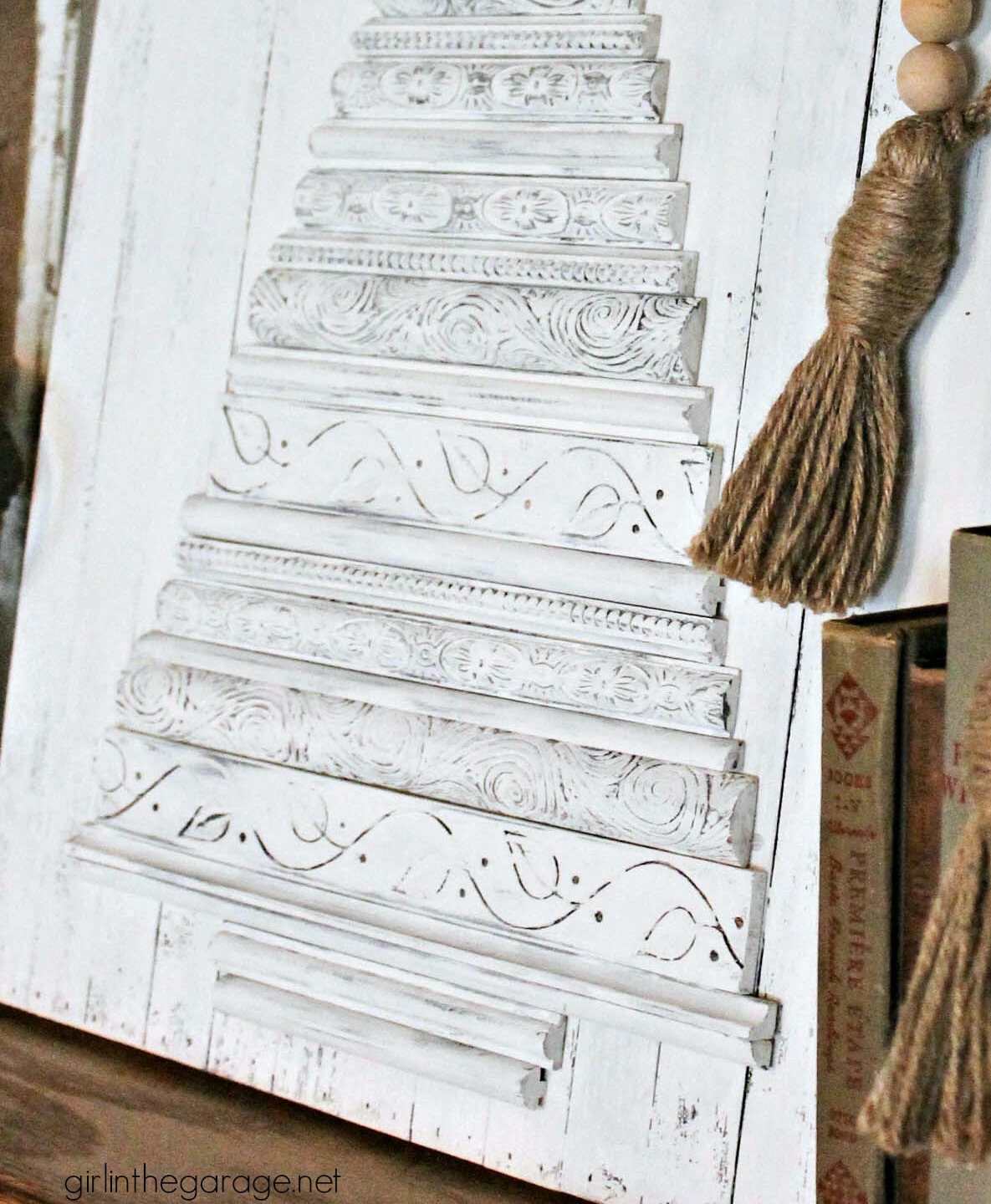 You can Pin the image below to easily find this project later: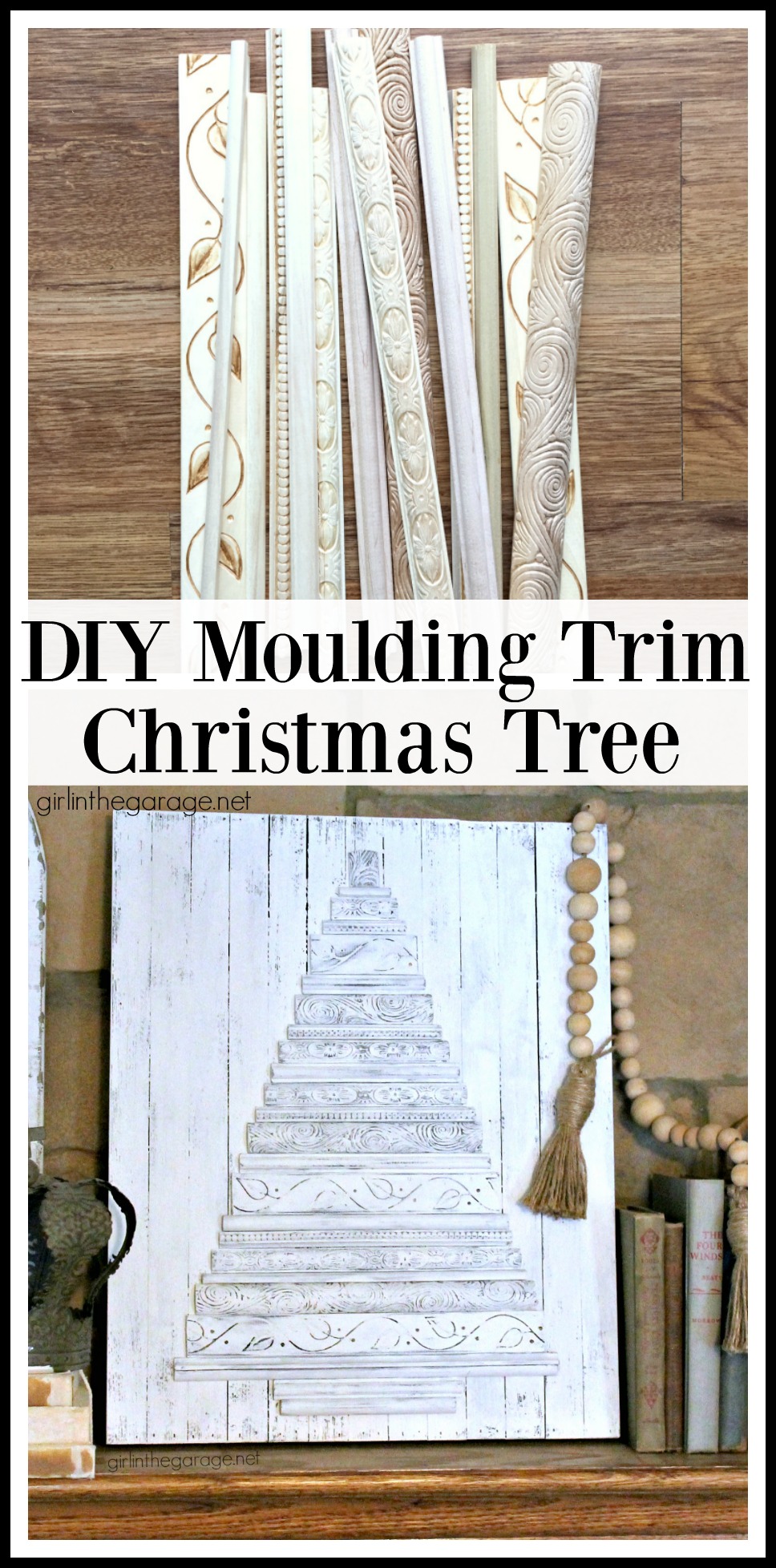 Now it's time to see all the Christmas ideas from these talented home bloggers. Be sure to visit everyone for wonderful Christmas ideas for the whole house. The links for each topic are below the images
.
.
Monday – Christmas Mantel Ideas
Tuesday – Christmas Tablescape Ideas
~
Wednesday – Christmas DIY/Craft Project Ideas
~
Thursday – Christmas Tree Ideas
~
Friday – Christmas Recipes
Domestically Speaking // Inspiration for Moms // Foodie Chicks Rule // Nourish and Nestle // Jenna Kate at Home (not pictured)
.
P.S. If you come back tomorrow you'll see the new look this vanity table got for Furniture Fixer Uppers day <3