Sweet friend, today's project is a fun one!  For a while I was playing it kind of "safe" with my furniture makeovers… not being as creative as I could have been. 
Let me tell you – when you're writing a book with 25 makeover tutorials, you can't exactly play it safe the whole time.  I'm not sure anyone would buy a book about only white painted furniture.  😉
Since all those projects are finished now (woohoo!), I have a renewed feeling of freedom to be more creative again.  And it feels so good!  
So for Furniture Fixer Uppers day with my blogging friends, I'm sharing this updated table: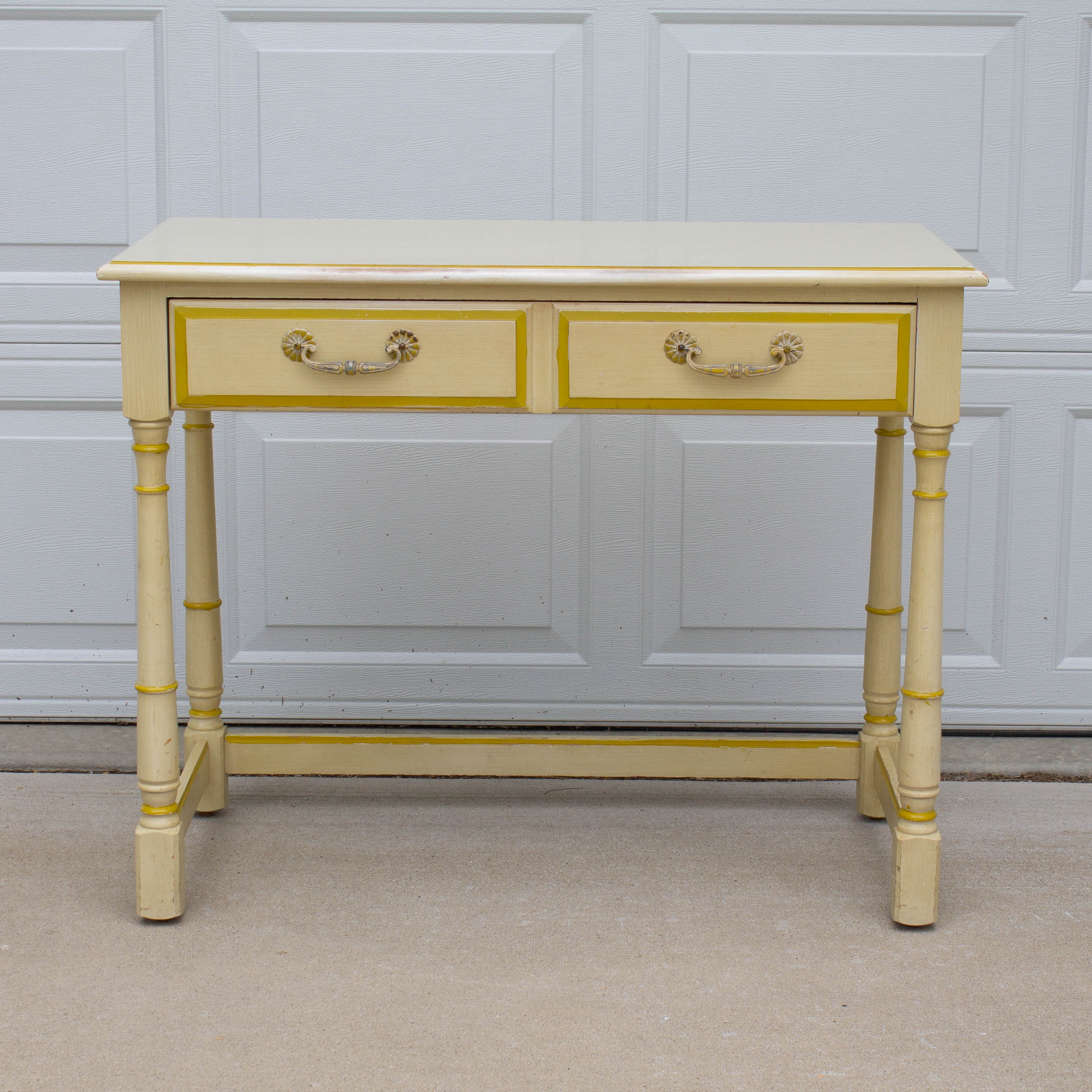 It came with a matching mirror to hang on the wall, so I'm assuming it's a vanity or foyer set, but it could also be used as a desk. 
I originally bought this table as a book project but ended up not using it.  I didn't have any great ideas for updating it at the time – and it all worked out anyway.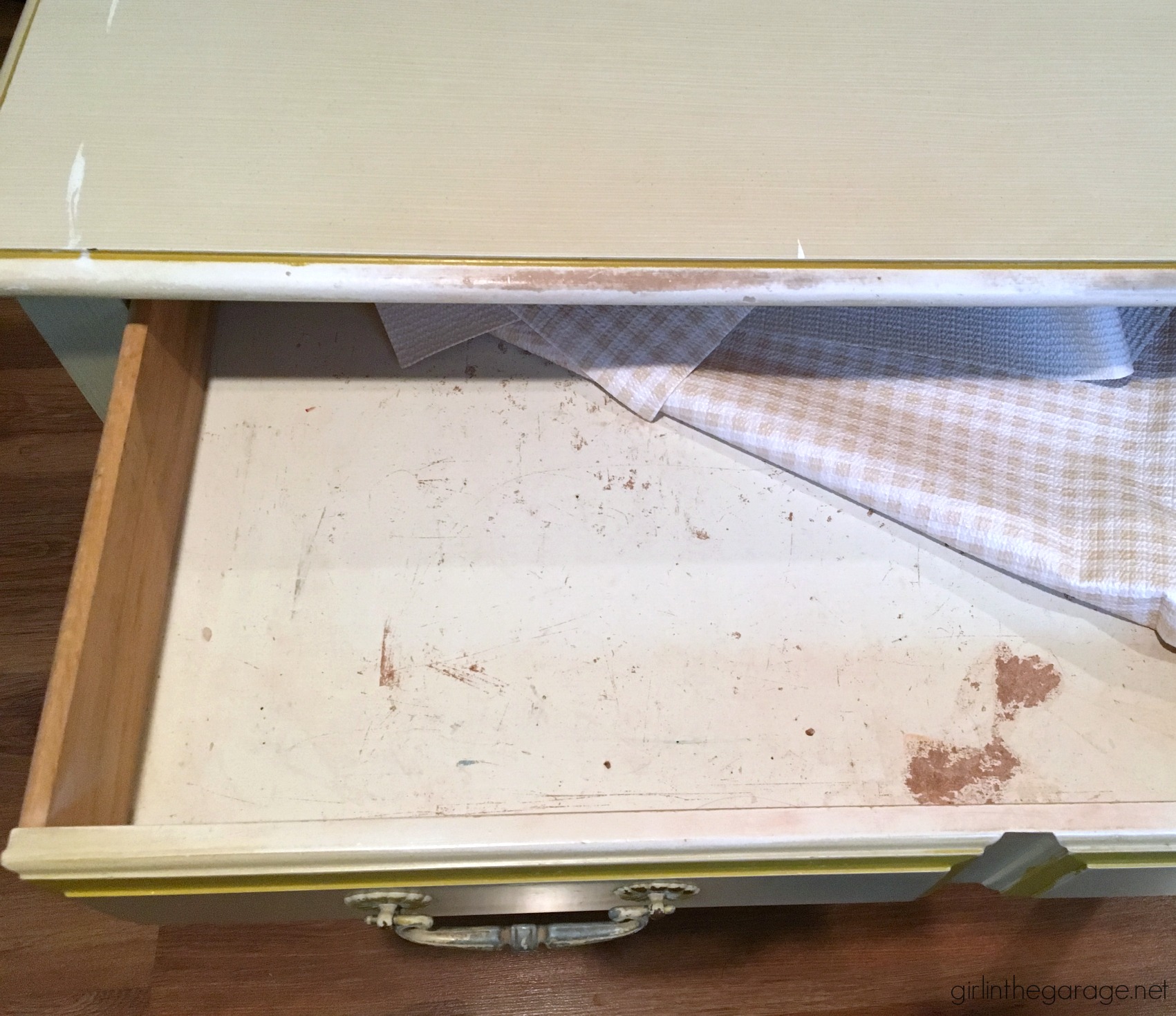 Inside the drawer was an old liner and a lot of scratches.
*This post contains some affiliate links so you can easily find the products I use and recommend.  Learn about all my favorite products and tools for DIY projects Here.
The whole table was painted in Annie Sloan Chalk Paint in Old White.  I also filled all four drawer pull holes with wood filler (I use this kind now) and then measured and drilled one new hole on each side in the center of each panel with my favorite drill/driver.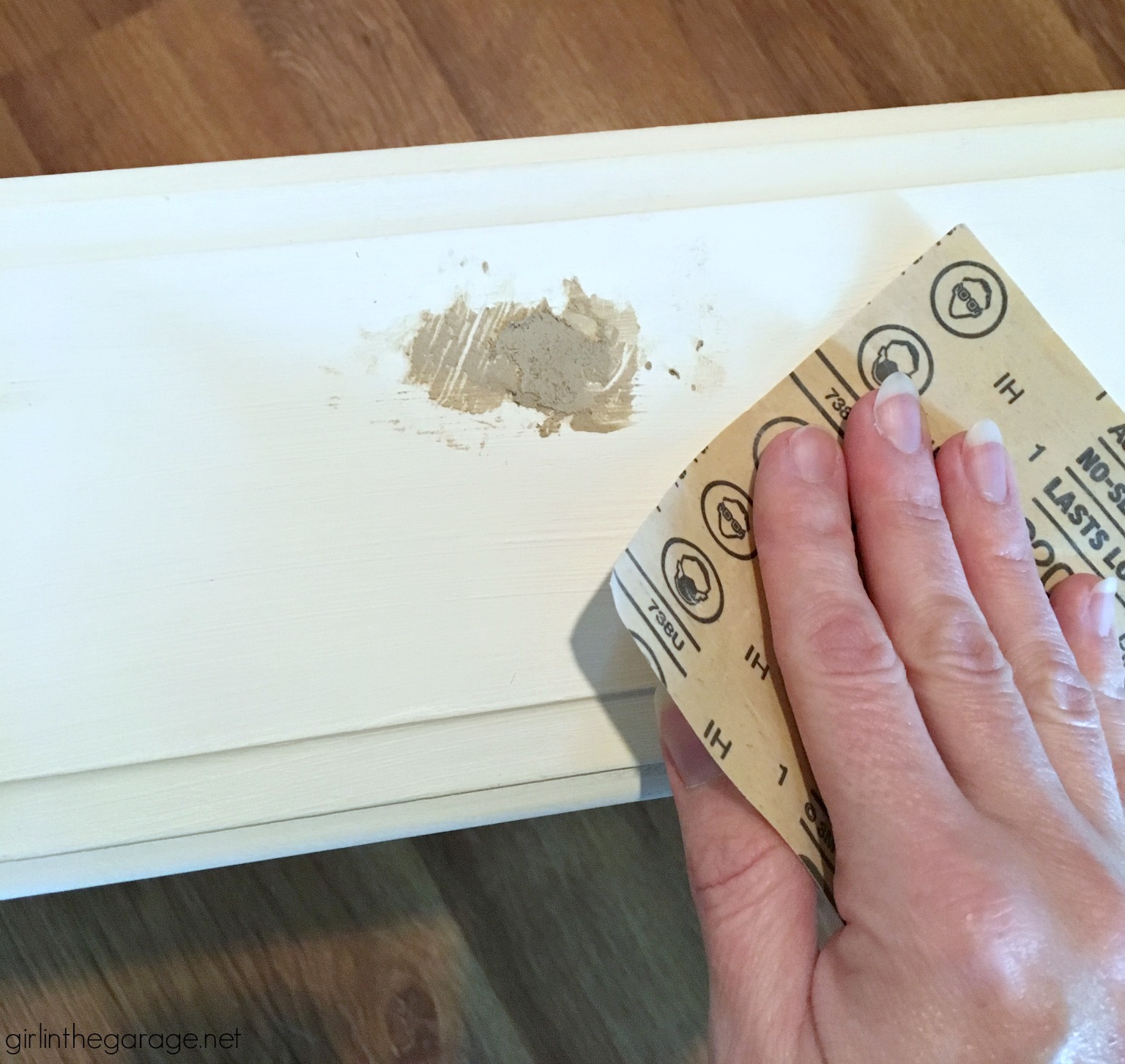 Painting stripes on furniture
Then with Delicate Surface FrogTape I painted stripes on the drawers.  They are about 1.5cm width.  I mostly eyeballed them but I double checked to make sure they were all approx. the same width before painting. 
The stripes were done in Annie Sloan Chalk Paint in Paris Grey.  Be sure to remove the tape while the paint is still a little wet for crisp stripes.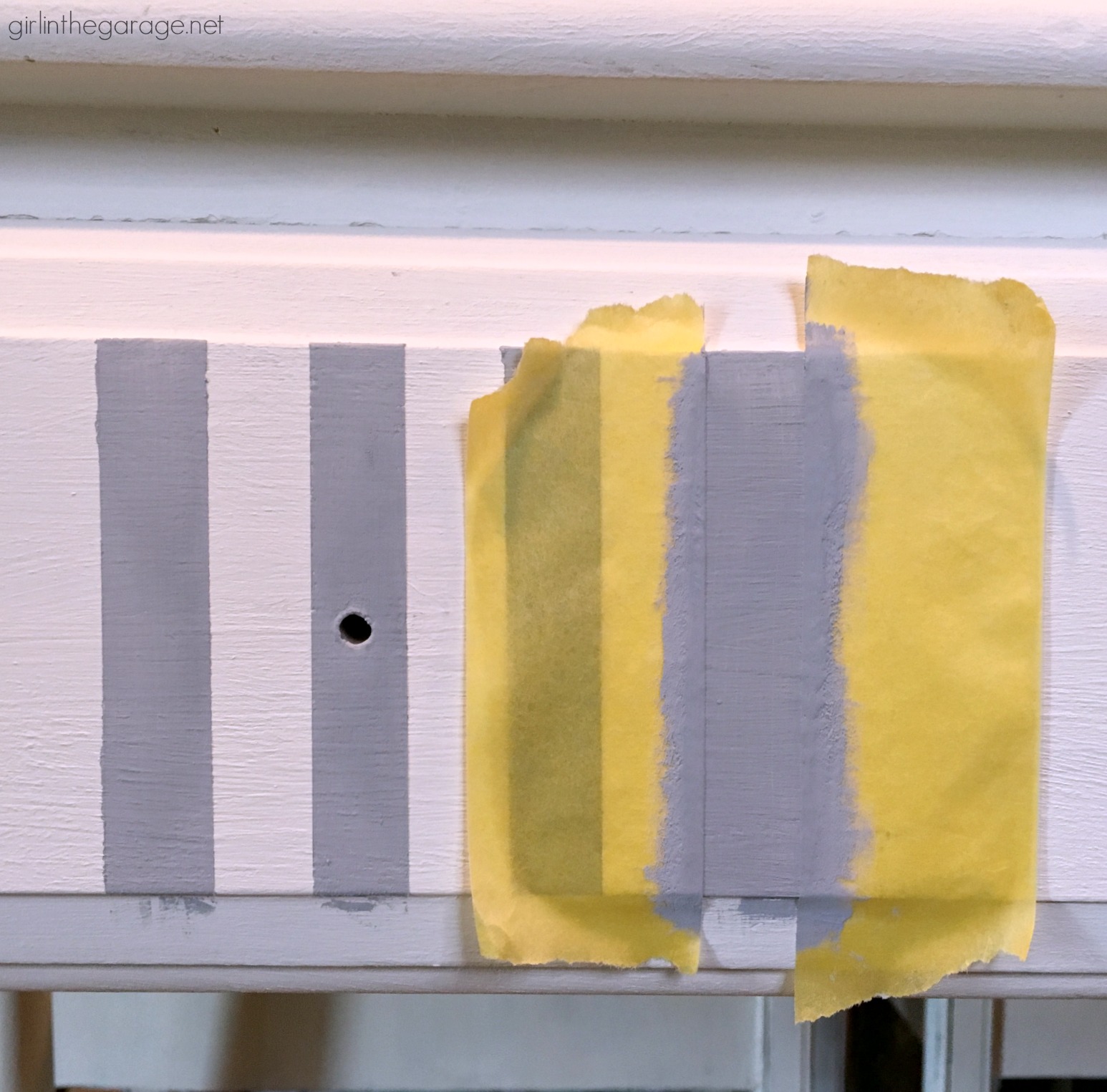 Painting thin stripes can be a little tedious – it's much easier to paint stripes that are the same width as the tape.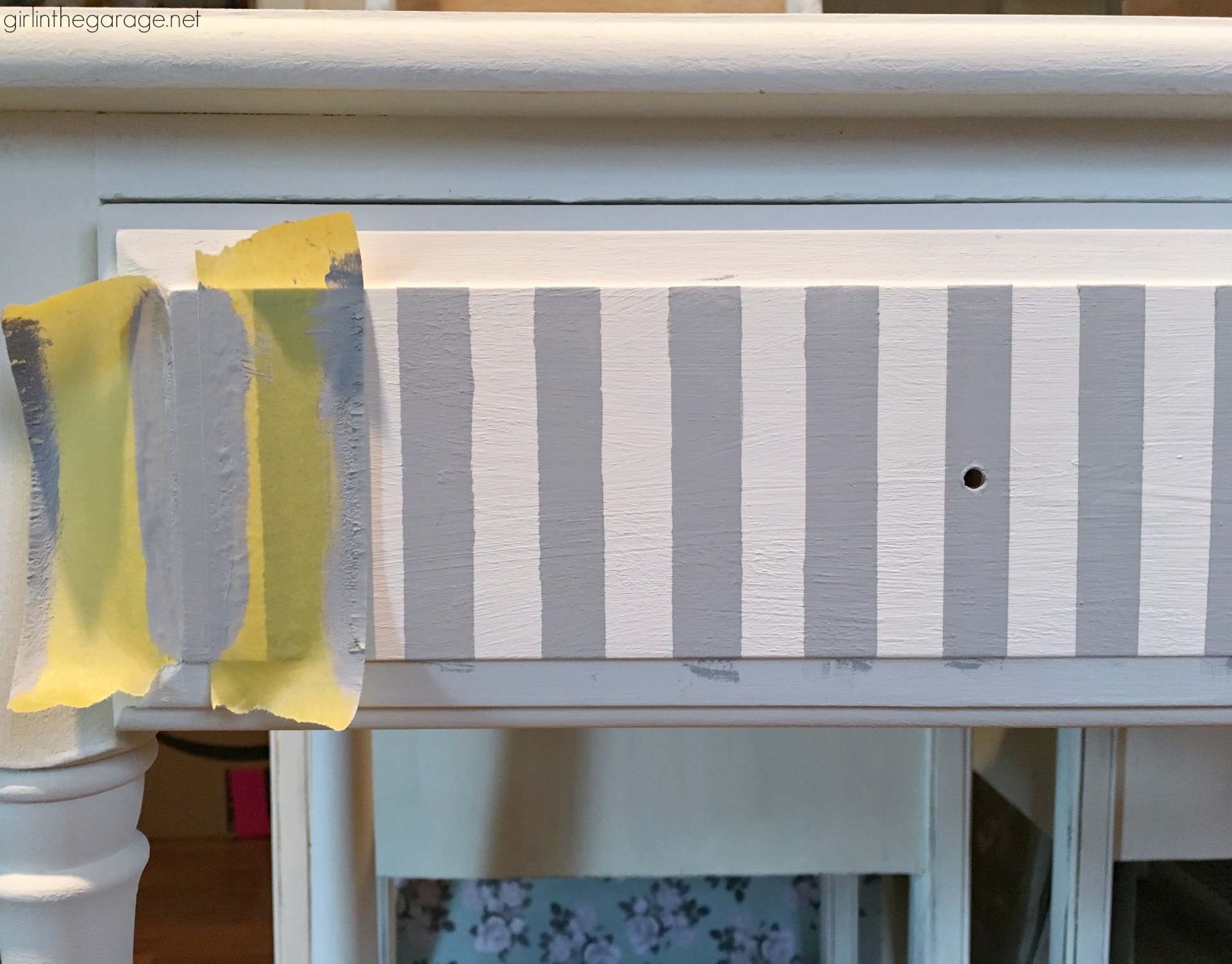 When the stripes were finished, I taped off the framed area around the panels and painted it with Annie Sloan Chalk Paint in Graphite.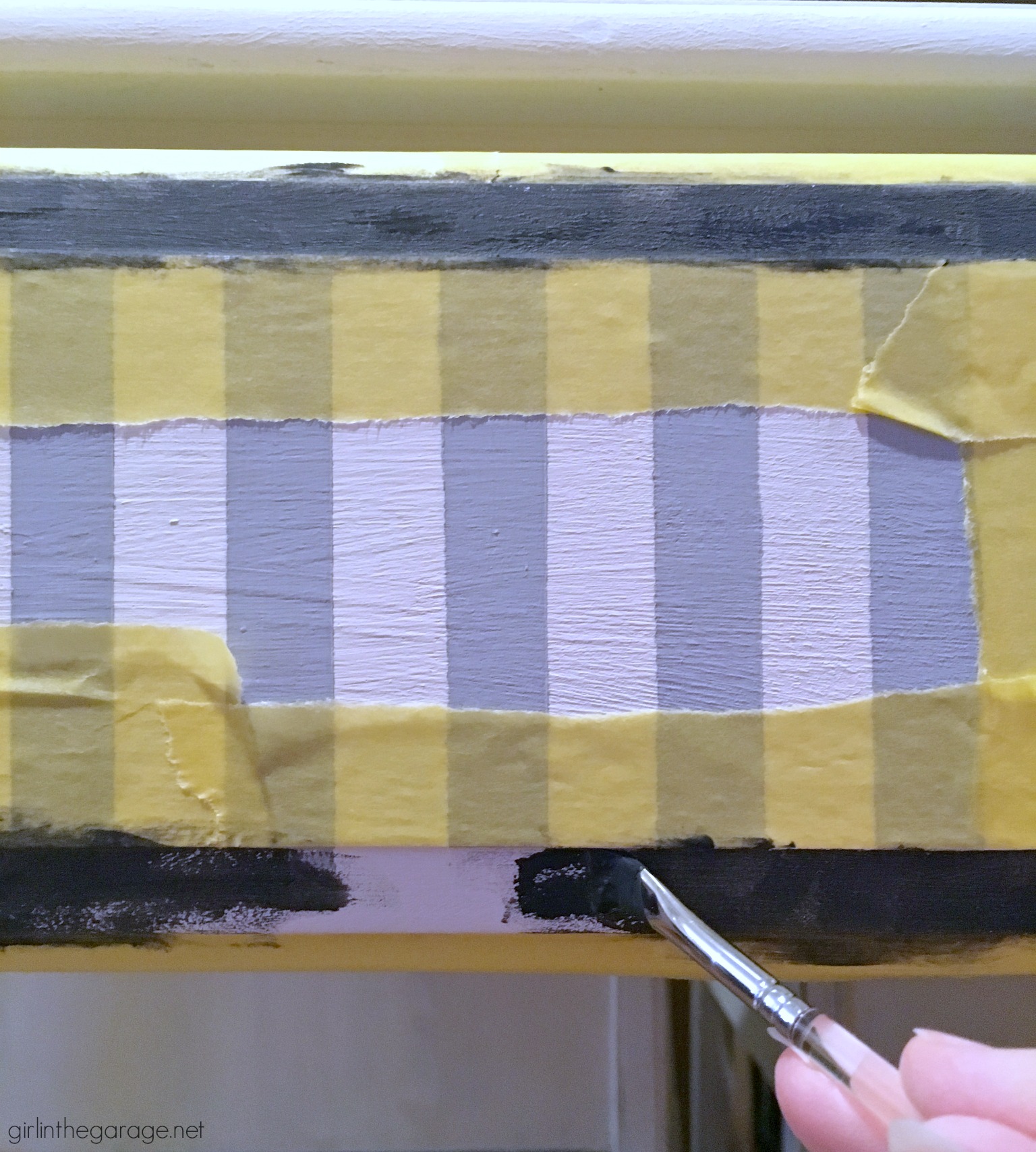 Then for fun I added stripes on part of the legs too.  Each leg has 4 stripes, which I eyeballed when they were being taped but I mostly just made sure they looked centered from each angle before painting.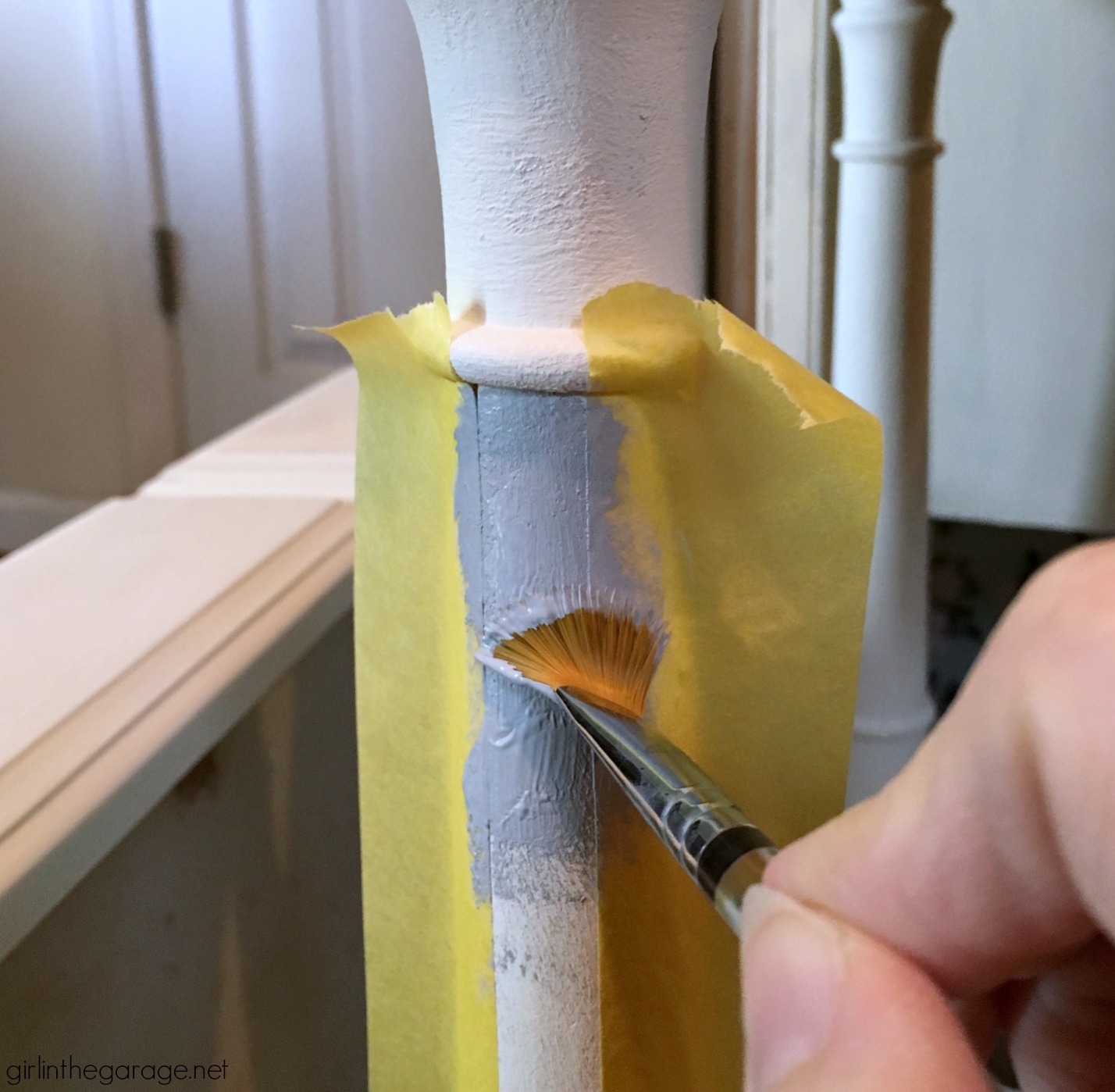 The little rings above and below were also painted in Graphite, like on the drawers.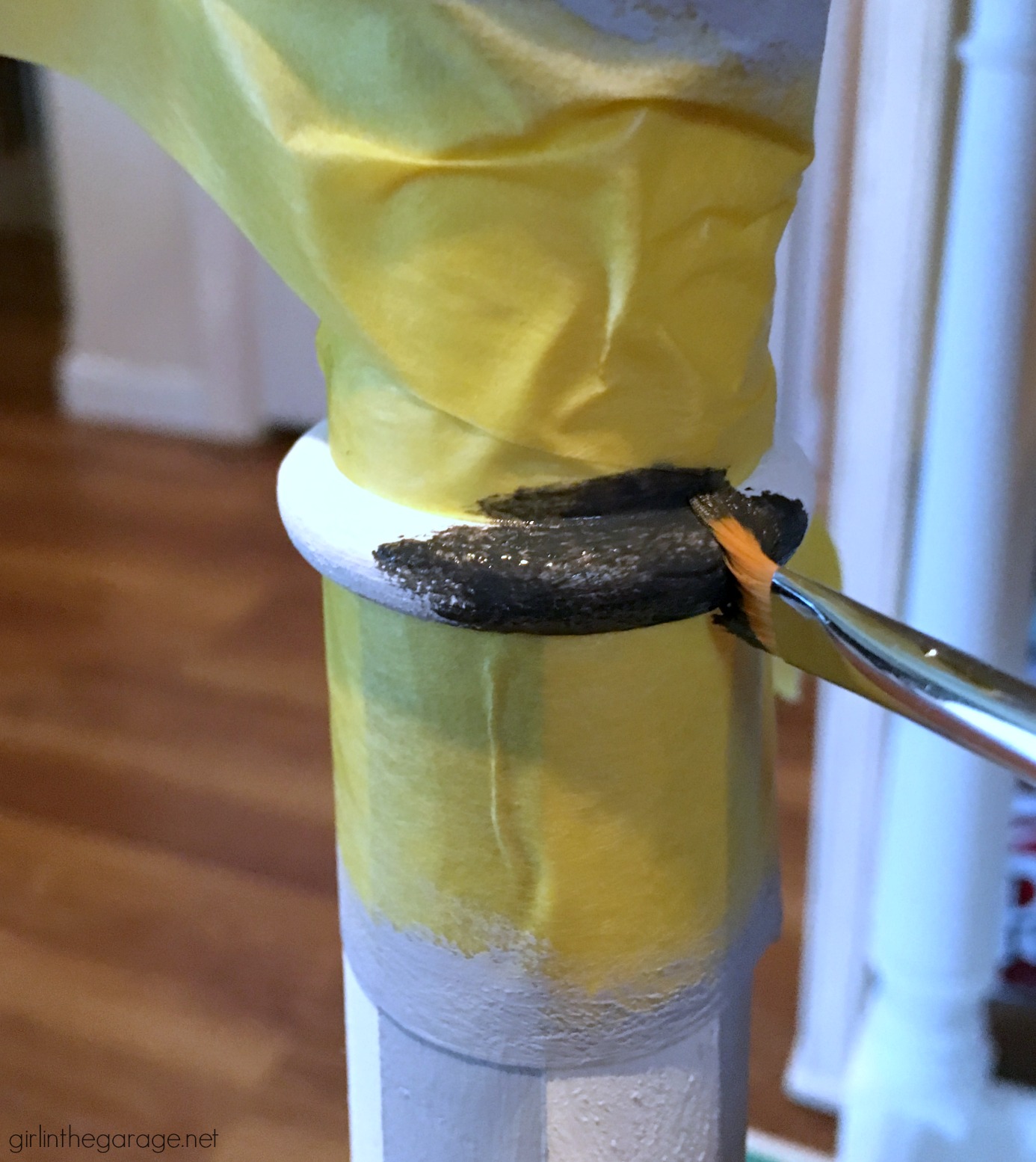 I lightly sanded the table to make it more smooth and to make any bumps in the stripes less obvious. 
How to use Annie Sloan's clear and black wax together
Then to keep the table from looking too crisp and freshly painted, I applied Annie Sloan's clear and black wax.
Wipe on the clear wax in a section with a lint-free cloth, which creates a barrier from the black wax making it too dark. 

Then lightly wipe on the black wax with a different lint-free cloth over that same area.

If you apply too much, just rub over it again with the clear wax and it will remove some of the black to lighten it up.

Continue working in sections until all the painted areas are waxed.

Let the wax cure for about 30 days before any major usage.
I think the table ended up with kind of a "dirty French" look, ha.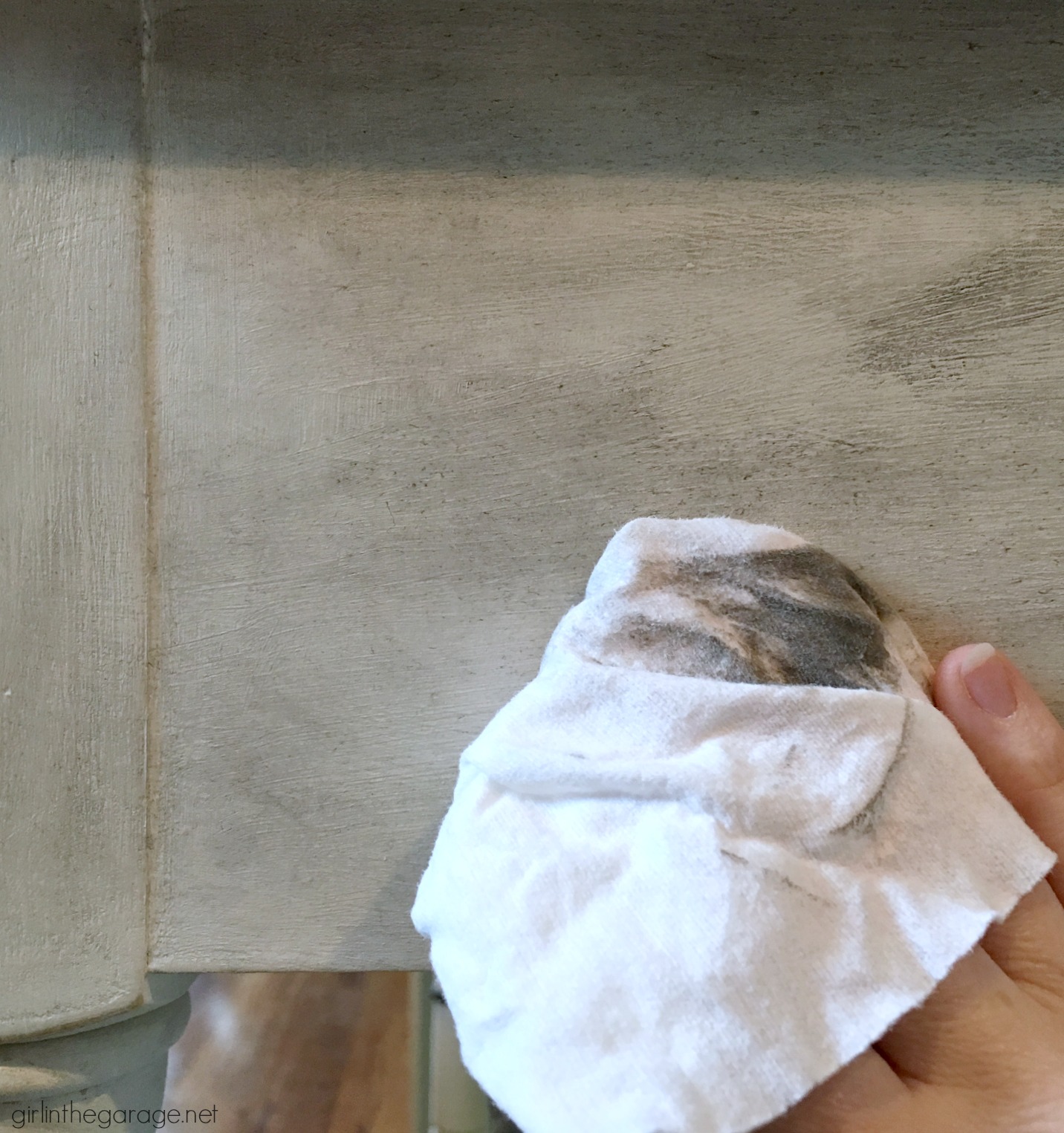 Lastly, since the drawer bottom had some issues, I opted to apply this adhesive transfer paper that I got from Target years ago.  It was super easy to cut and apply, and it adds to that Parisian vibe.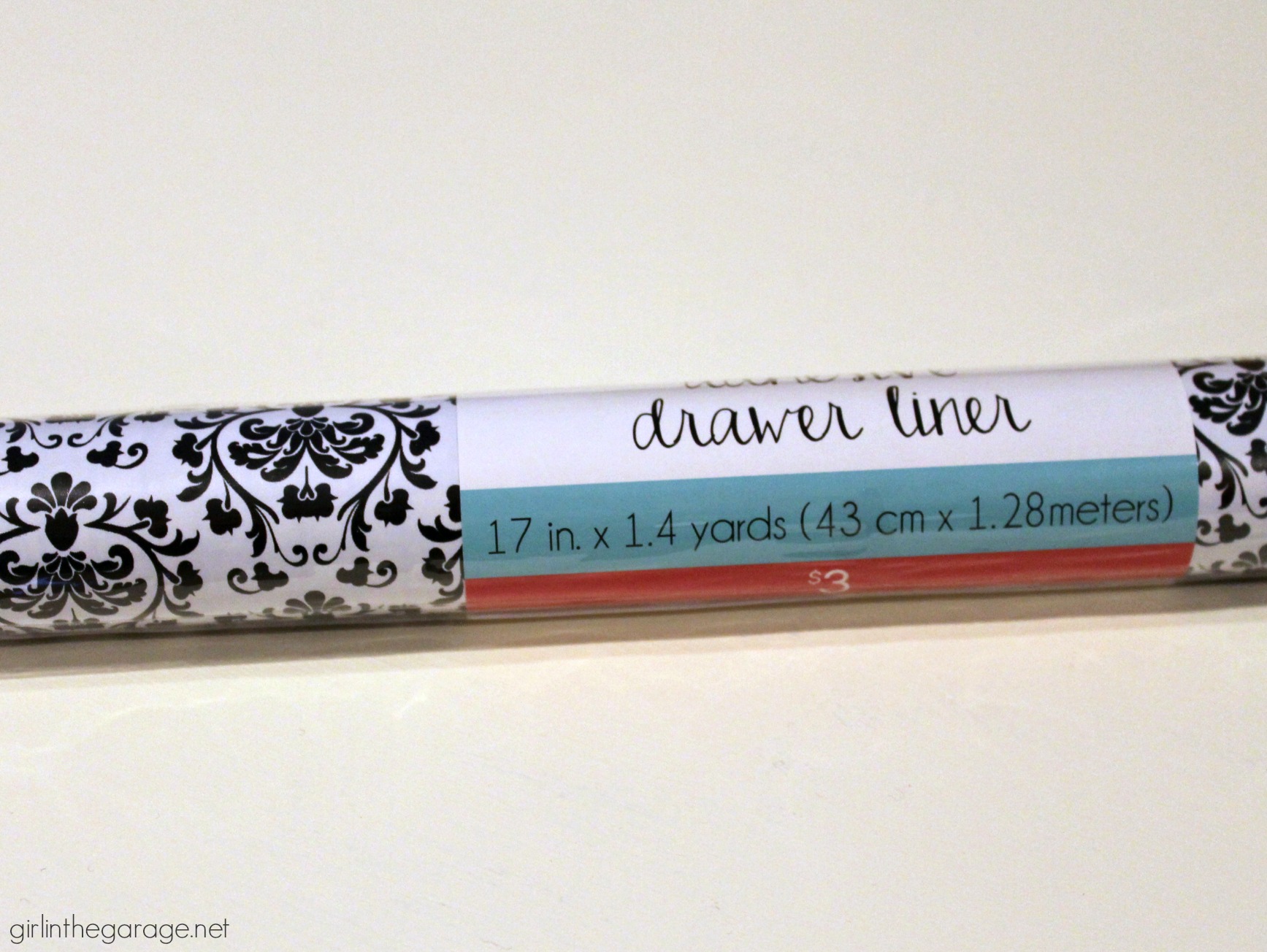 Dun dun dun…..
Here she is, the French striped table makeover: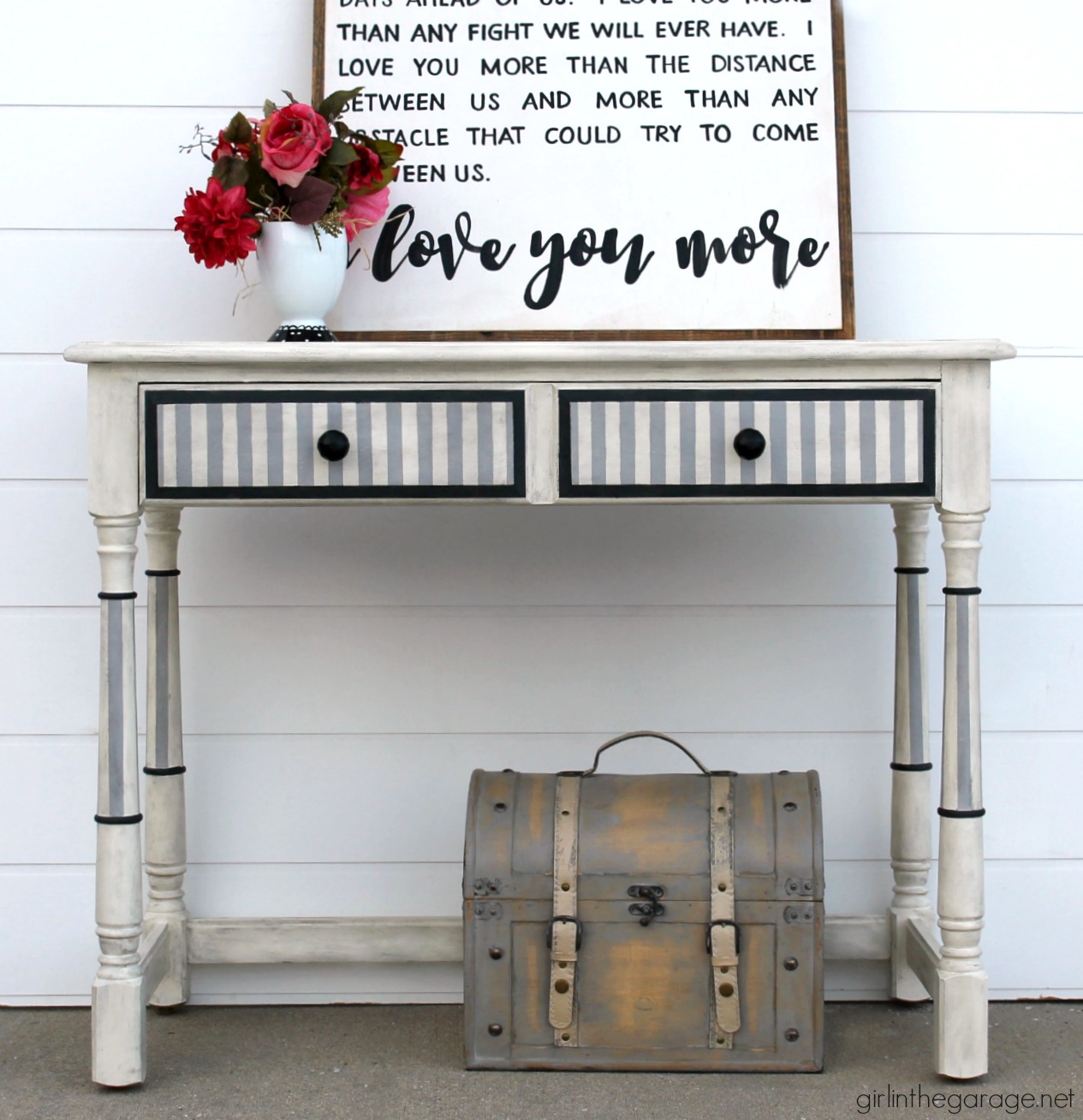 Man, it feels good to let loose and start being more creative again.  Am I the only one who gets stuck in those ruts sometimes?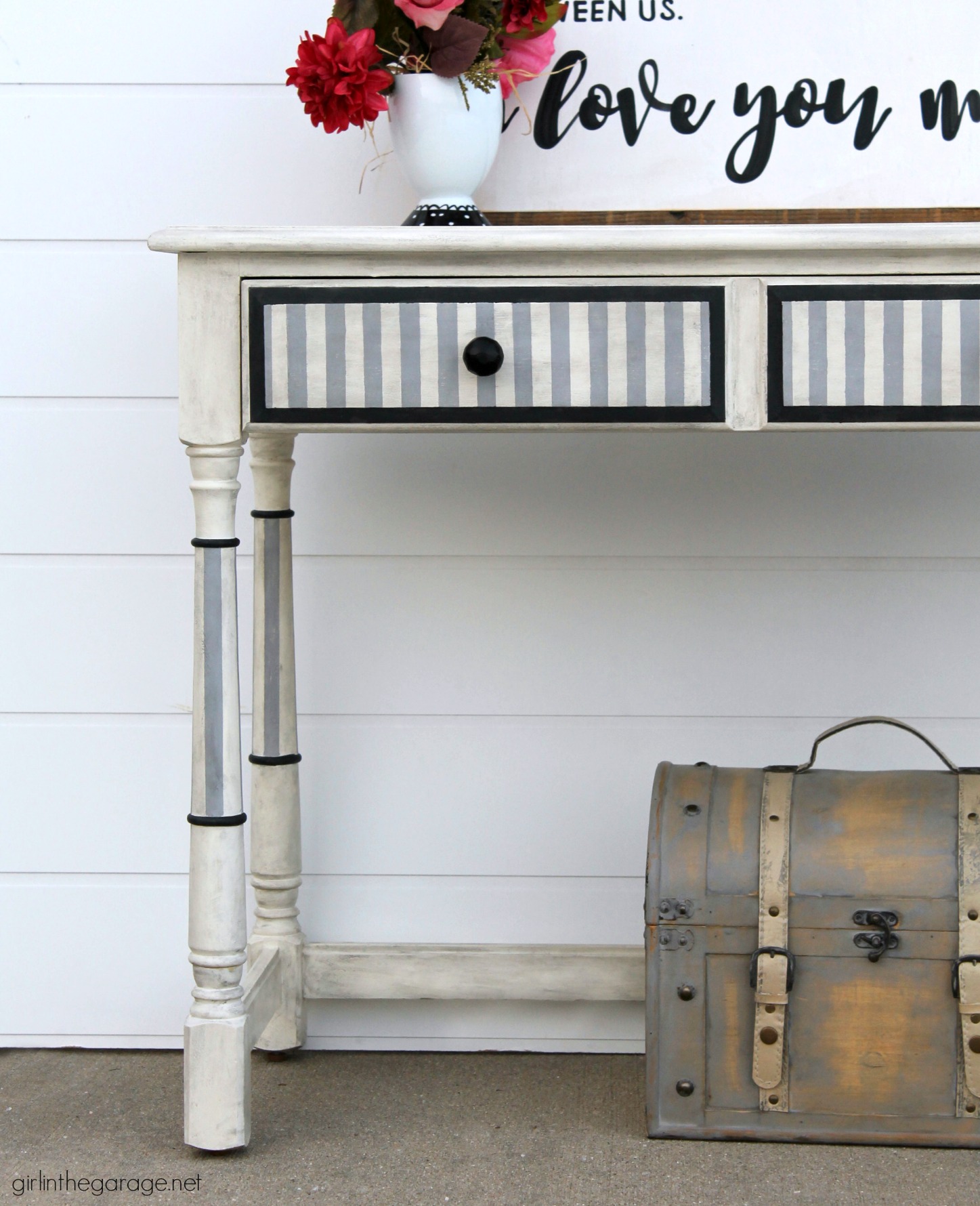 Simple black knobs pull it all together.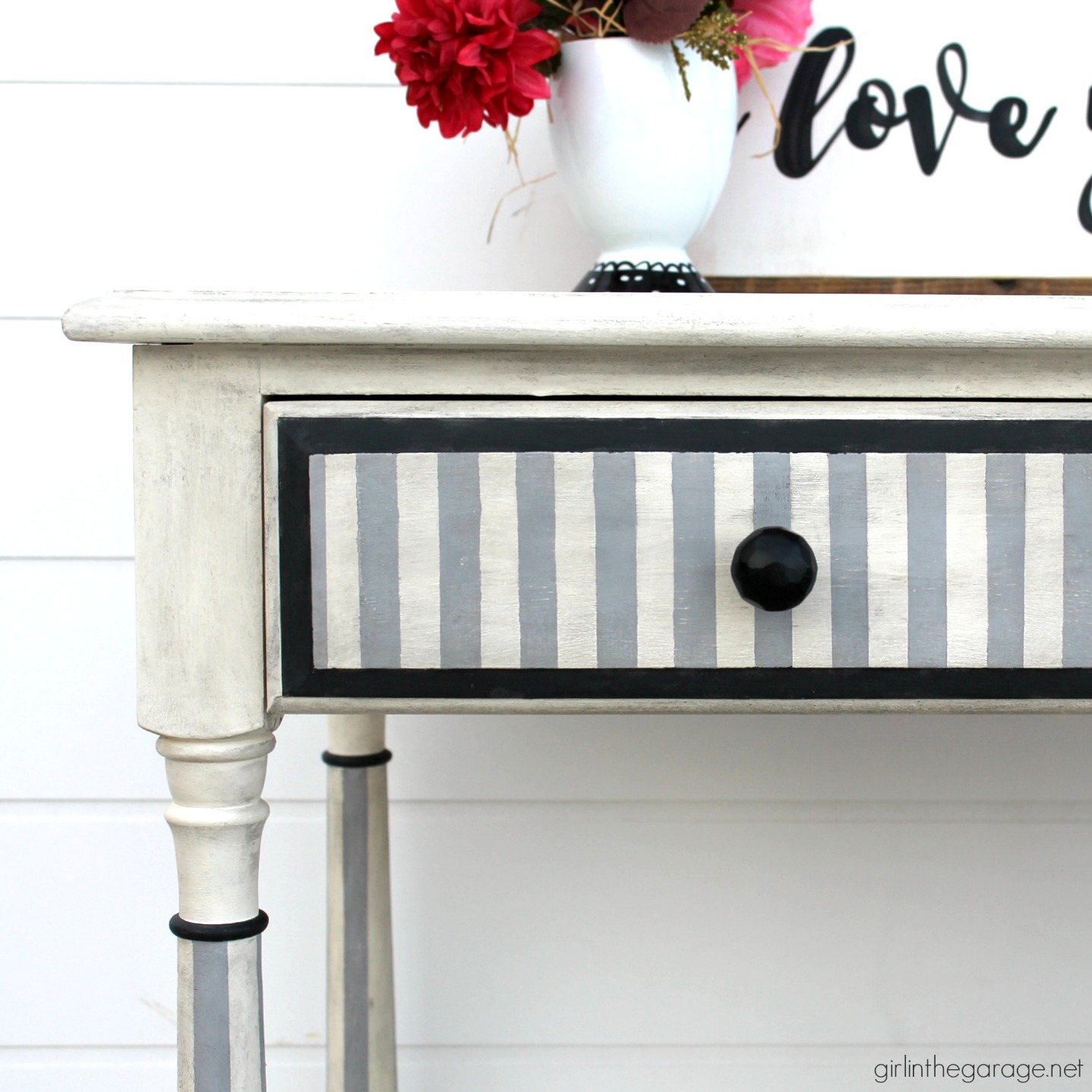 Here's a peek inside the pretty drawer: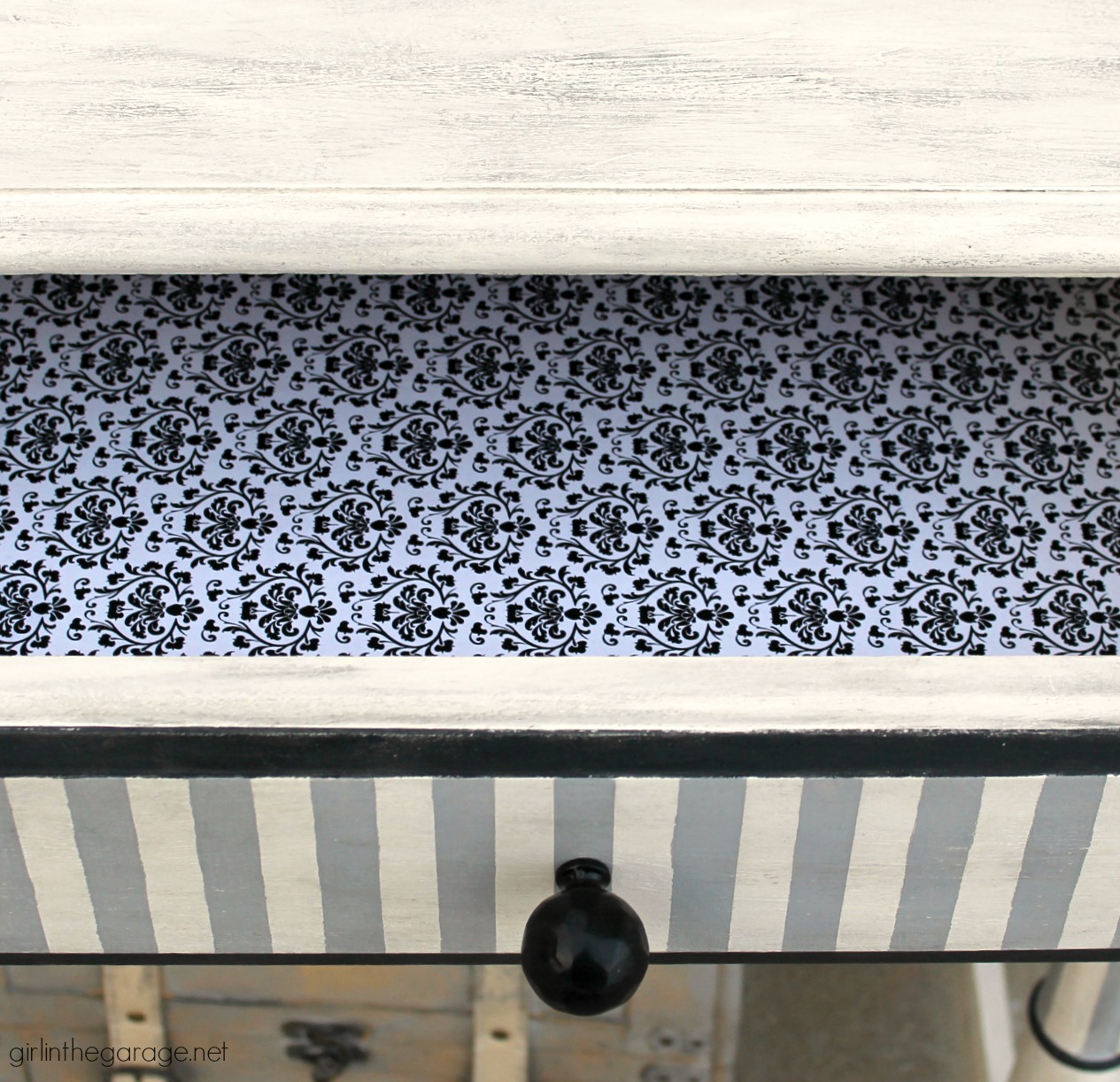 You guys.  I have to stop for a second and tell you about this artwork I got from my friend at Three Mango Seeds a couple years ago.  This beautiful sign lives on my mantel all the time, except for when I have the Christmas decor up.  It's well-made and heavy, and Clydia hand paints all the words without stencils or anything.  She posts videos of herself painting signs on her Facebook page sometimes and it's just fascinating to watch!  Anyway, this isn't sponsored or anything, I just wanted to give a shout out to Three Mango Seeds and tell you to check them out if you're looking for new artwork.  (They're on Facebook here and Etsy here – and they do have this sign available right now on Etsy)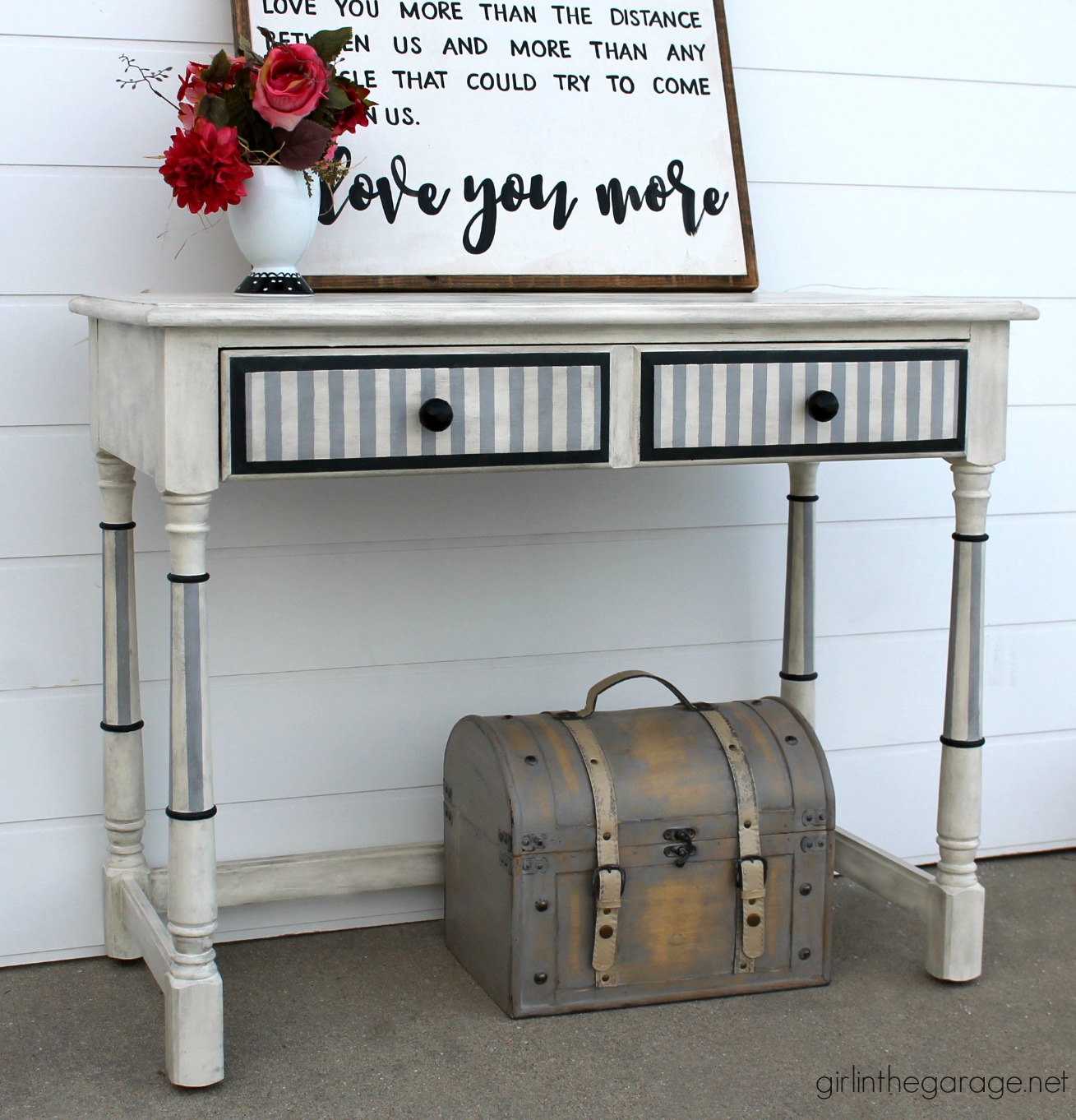 I hope you've been inspired by this DIY striped table makeover – below is a handy graphic that you can Pin to easily find it later: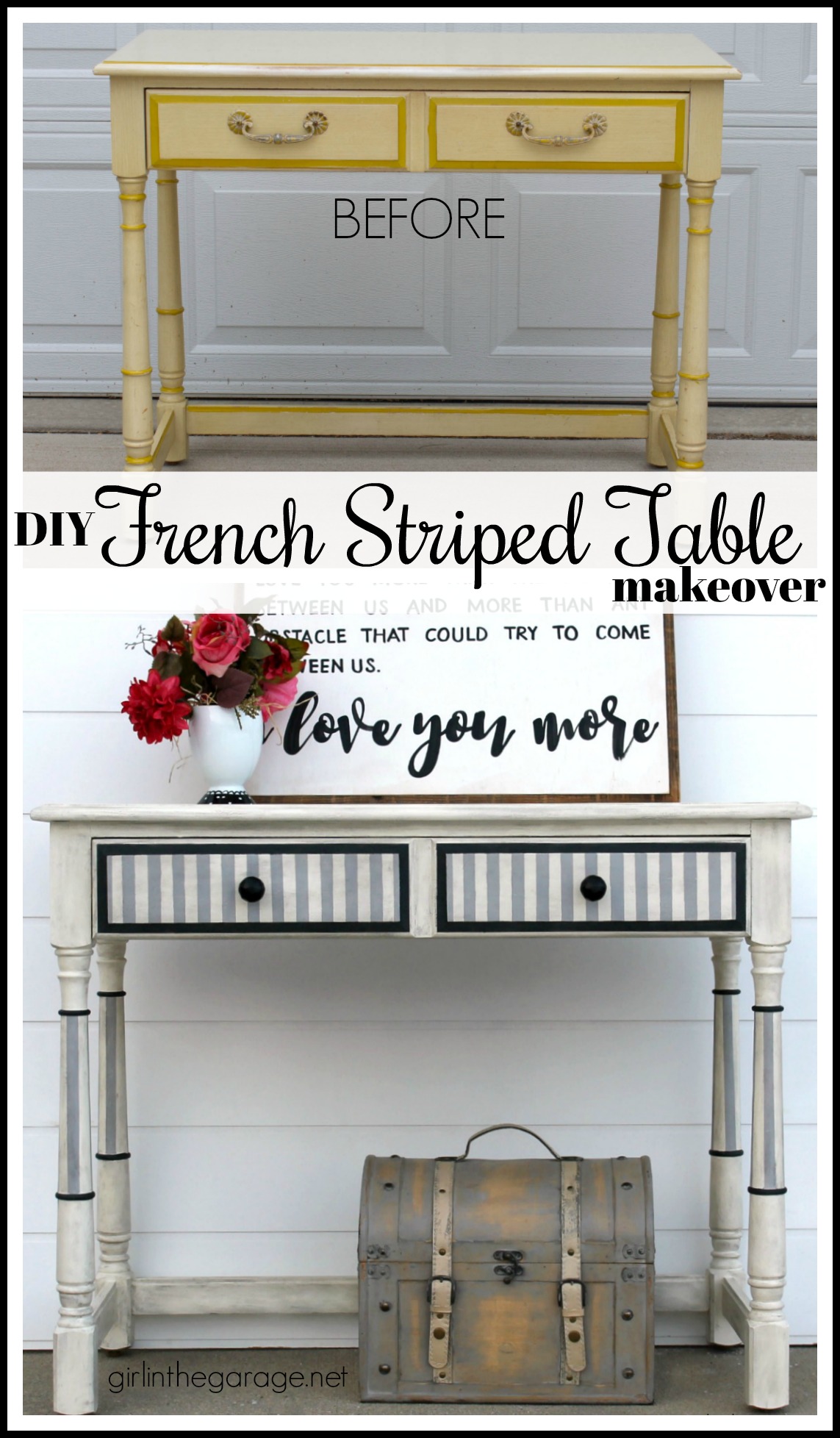 Now it's time again for Furniture Fixer Uppers day with my friends.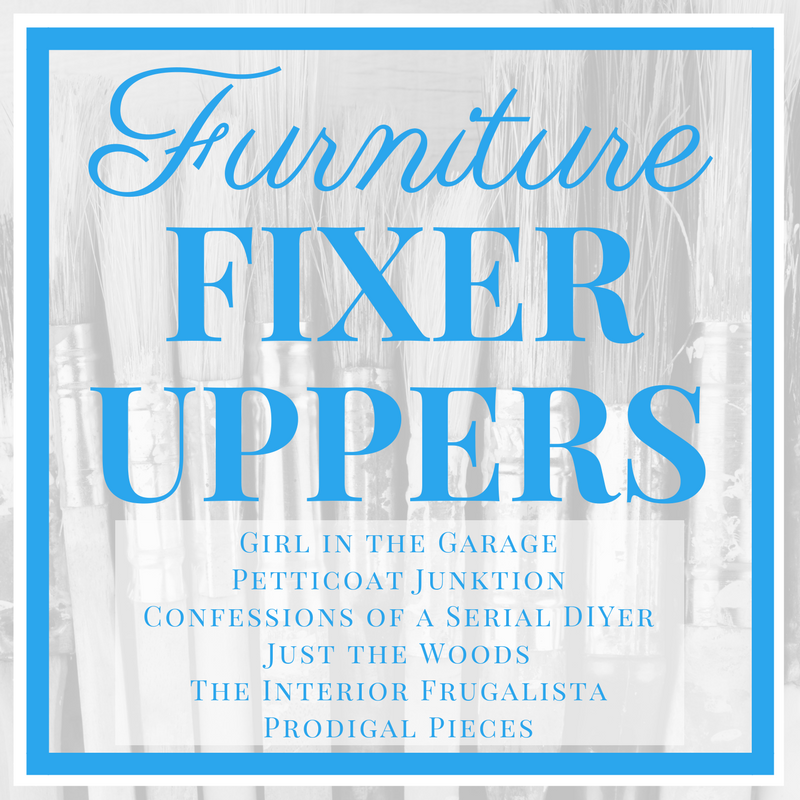 Below are the Before photos – visit the links underneath to see the Afters and to learn how they did it.  They are always so creative!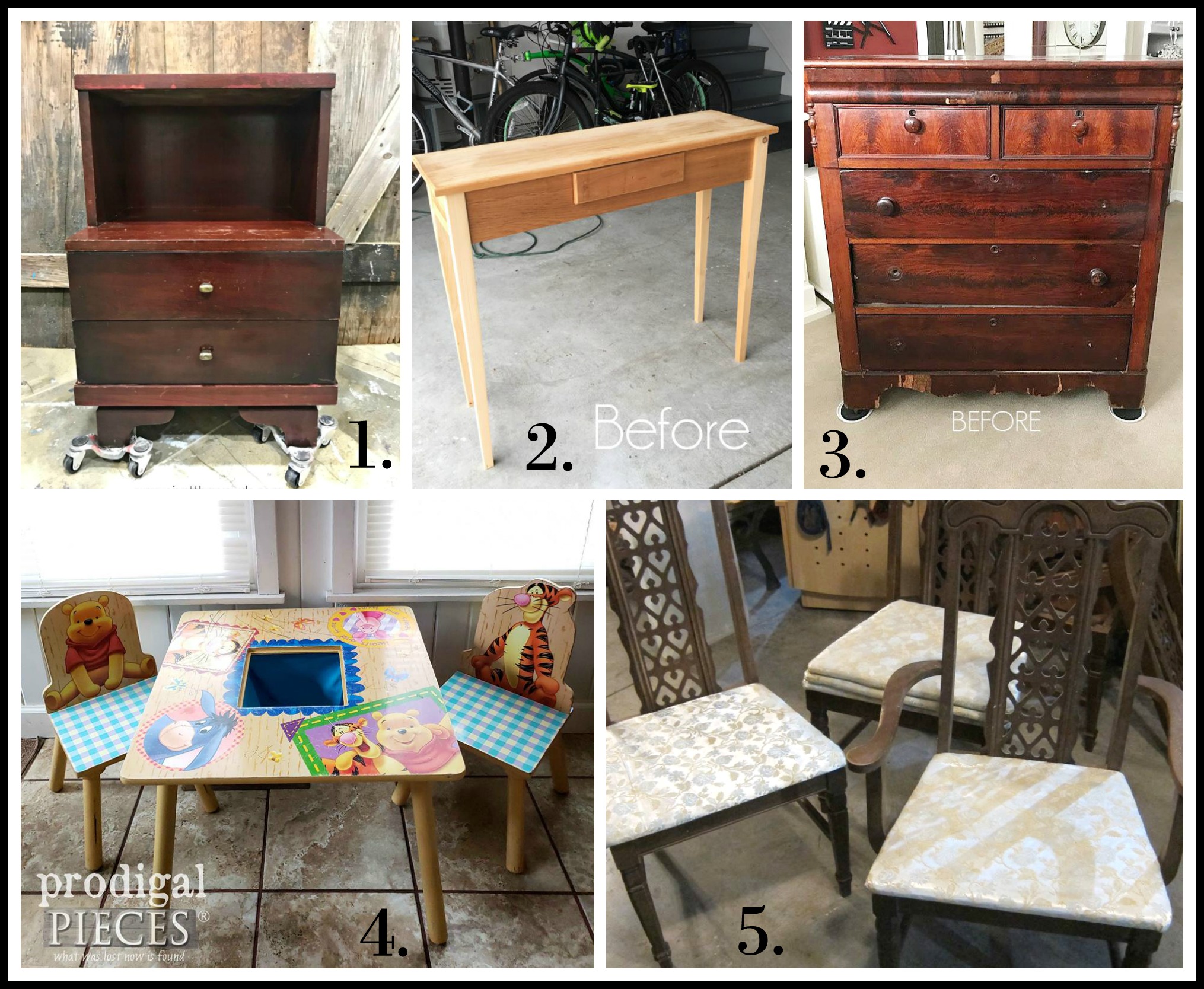 1. Just the Woods
2. Confessions of a Serial DIYer
3. The Interior Frugalista
4. Prodigal Pieces
5. Petticoat Junktion
Please share this striped table makeover with a friend if you like it, and I'd love to know what you think in a comment below. I appreciate you so much! 
– Jen