This past summer I picked up this thrifted art, I think from a yard sale.  I wasn't fond of the flowers but the half circle board would be a good starting point for a future project.
(Pssst… it's Trash to Treasure Tuesday with my friends, so be sure to stick around to see their projects at the bottom of this post!  Also, I've included some affiliate links at your convenience so you can easily find some of the items I use and recommend.)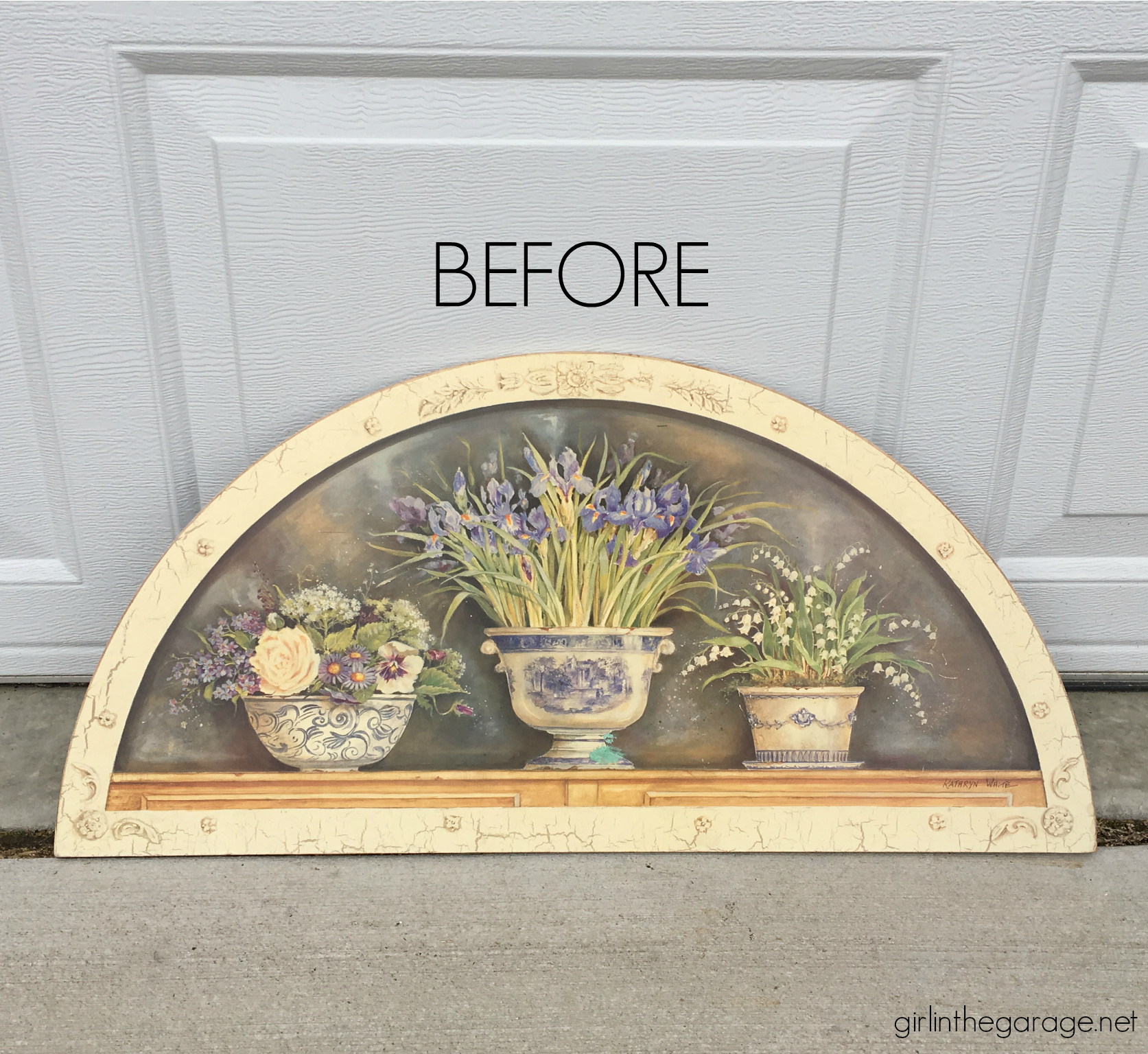 Fast forward to last week, when I remembered that my sweet mom had asked me to make something for her, and I hadn't gotten around to it yet.  She's been such a blessing to my family in many ways, but most recently she's been watching my 3-year-old a lot when I've been working on all the book projects.  She definitely deserves a special gift as a thank you.
Here's how I repurposed this thrifted art to a DIY family birthday calendar:
First, I started by removing the image from the sign.  Unfortunately it was basically thick paper glued onto a board that's not real wood, so removing it got rather messy. 
I thought the orbital sander might be too rough, so I used damp paper towels and a scraper to remove all the paper.  Finally I finished by smoothing it with 320-grit sandpaper by hand.
Next get two 6-packs of 1″ wooden pulls (from Hobby Lobby – see similar on Amazon here) and my favorite E6000 super glue.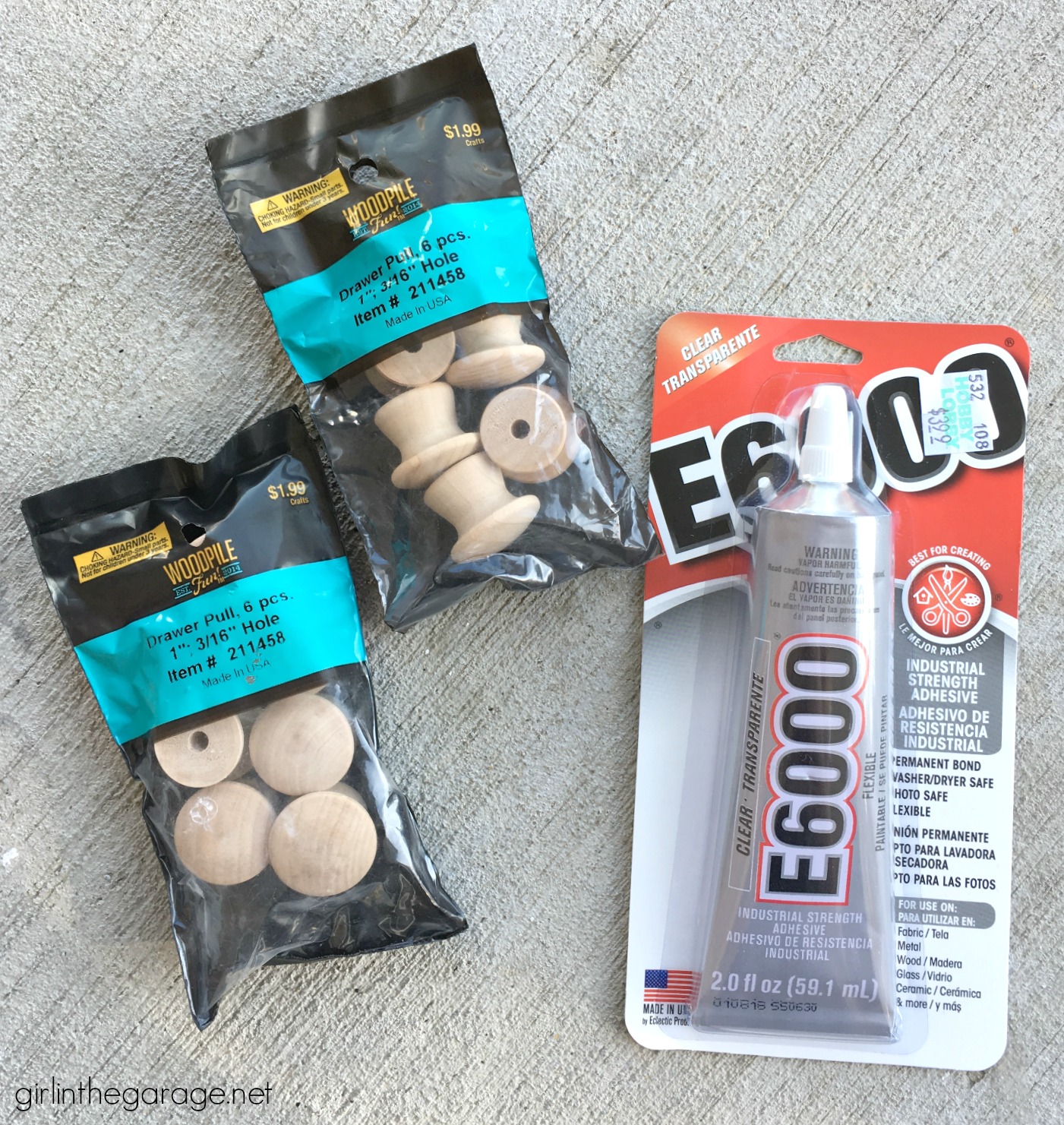 Measure and mark near the bottom of the board where you want the pulls to go for hanging the birthday tags.  You'll need one for each month.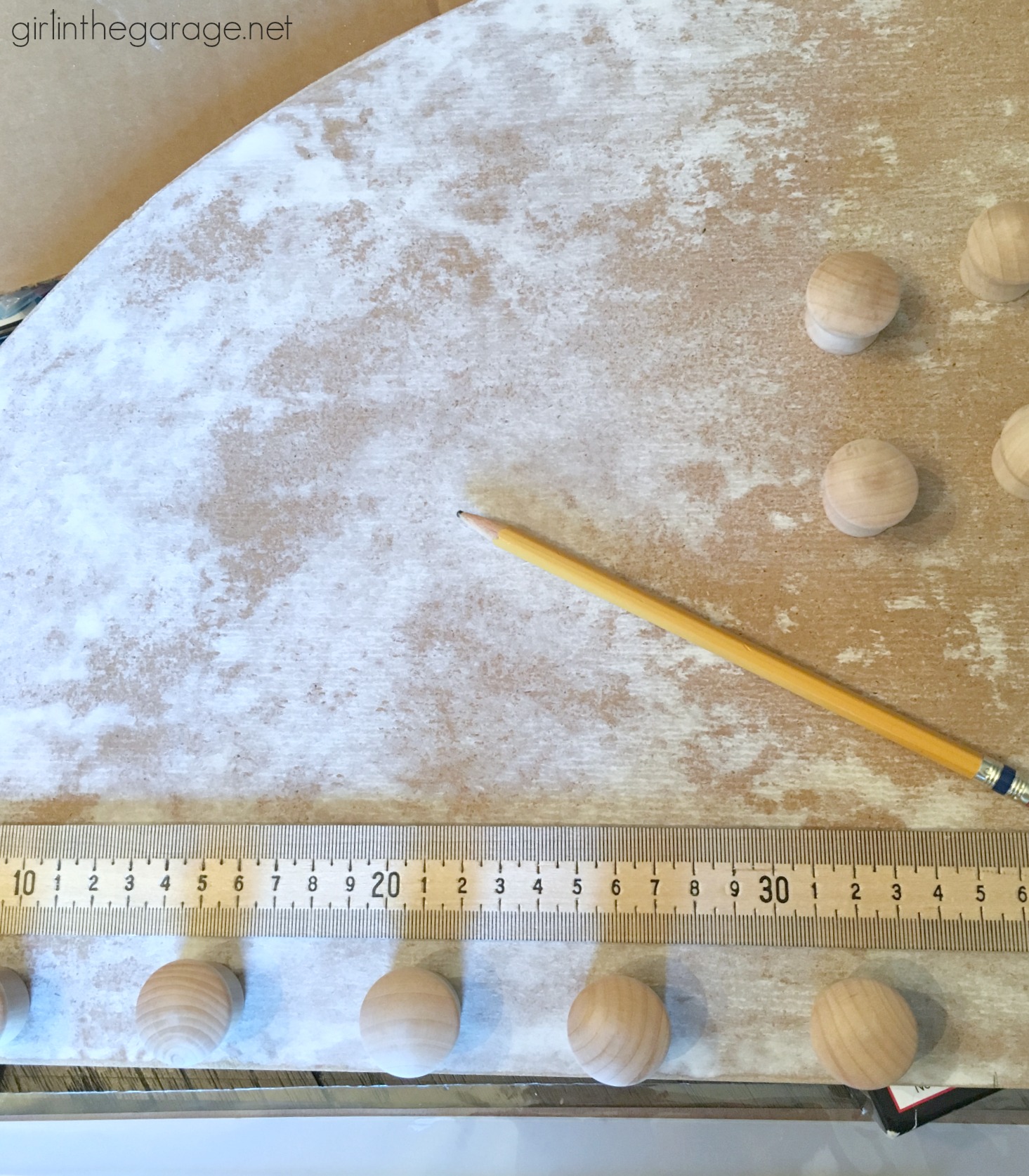 Glue the pulls in place and press tightly for a minute.  Once all the pulls are on, set the board aside so the glue has ample time to dry.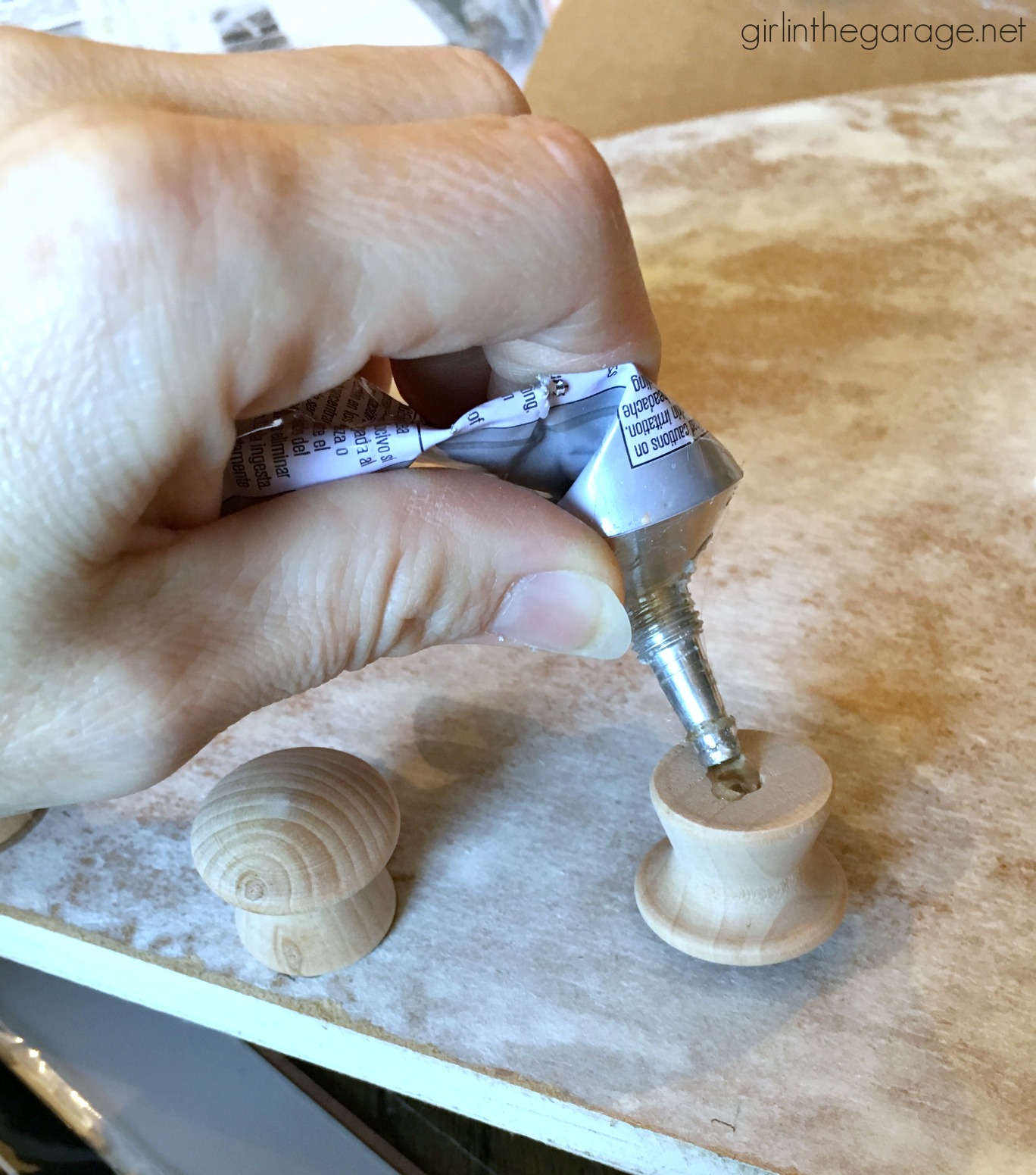 Next you'll need wooden circles like these (see similar ones on Amazon here).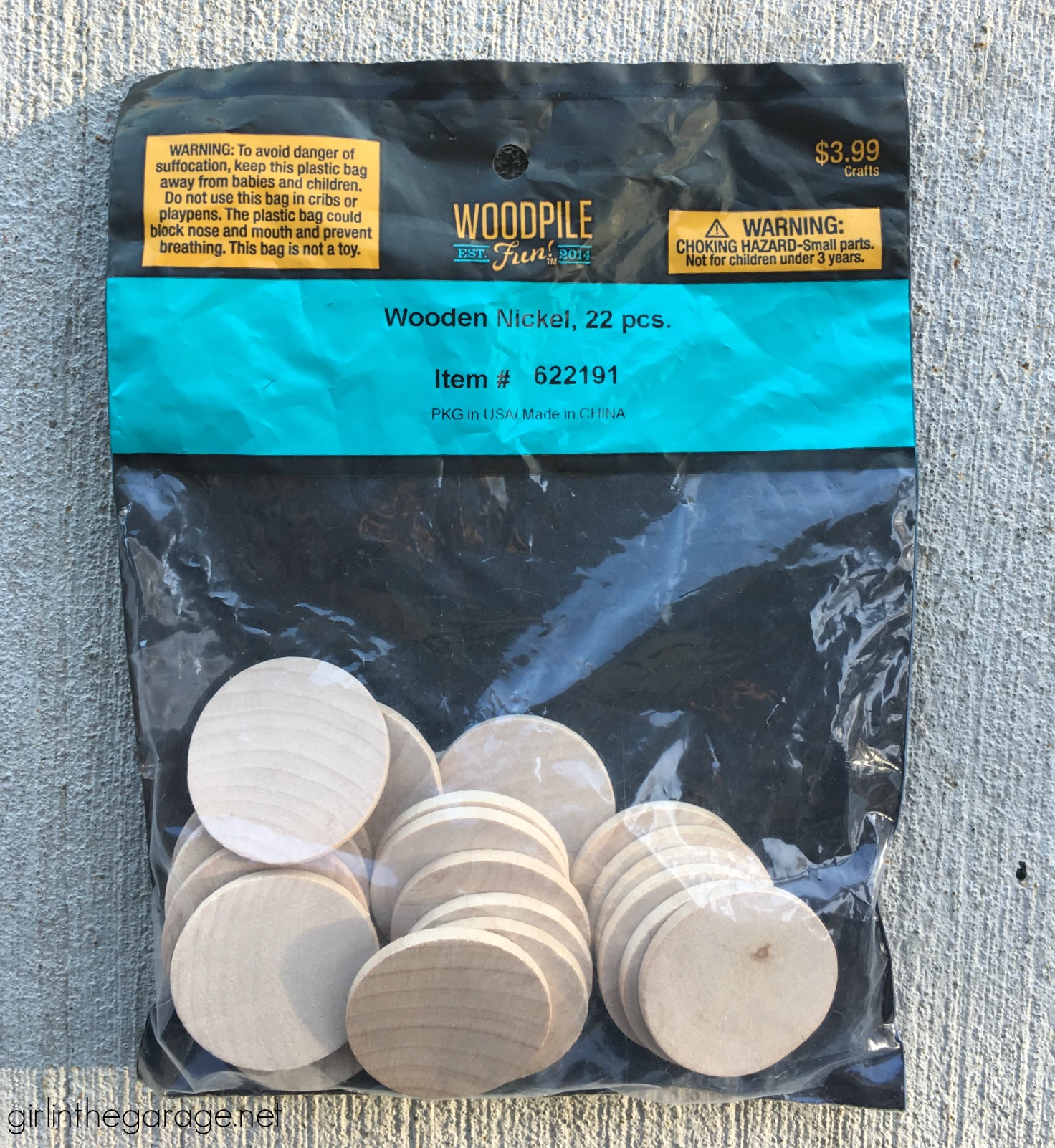 Drill a small hole near the top of each circle (aka "birthday tag").  My Black+Decker drill/driver made this part quick and easy.  Use a piece of scrap wood underneath since you'll probably drill into it several times.  Make sure the hole is large enough for a cord/string to pass through.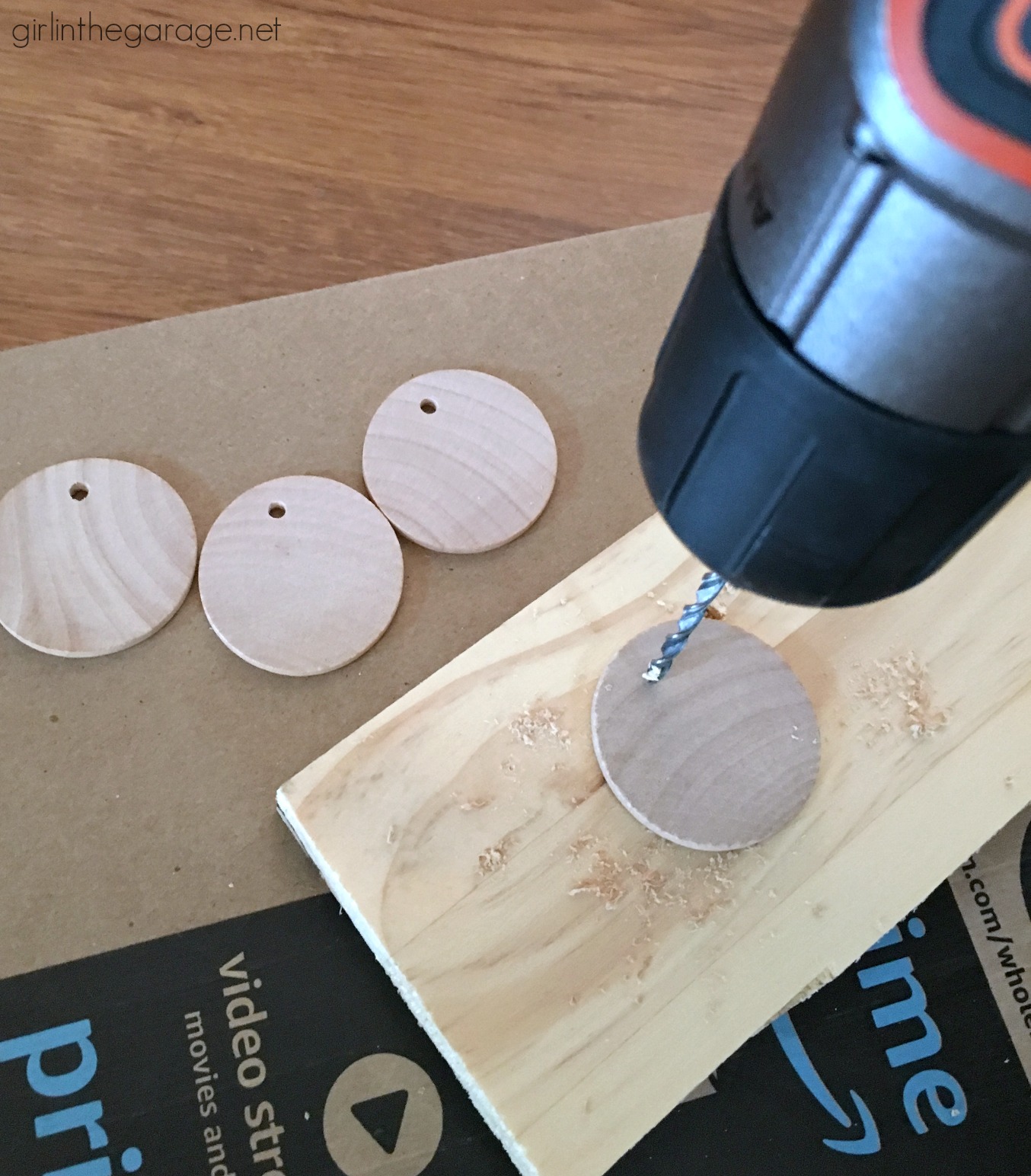 Then paint the board and all the tags (both sides) – I used Annie Sloan Chalk Paint in Old Ochre.  Lightly sand everything.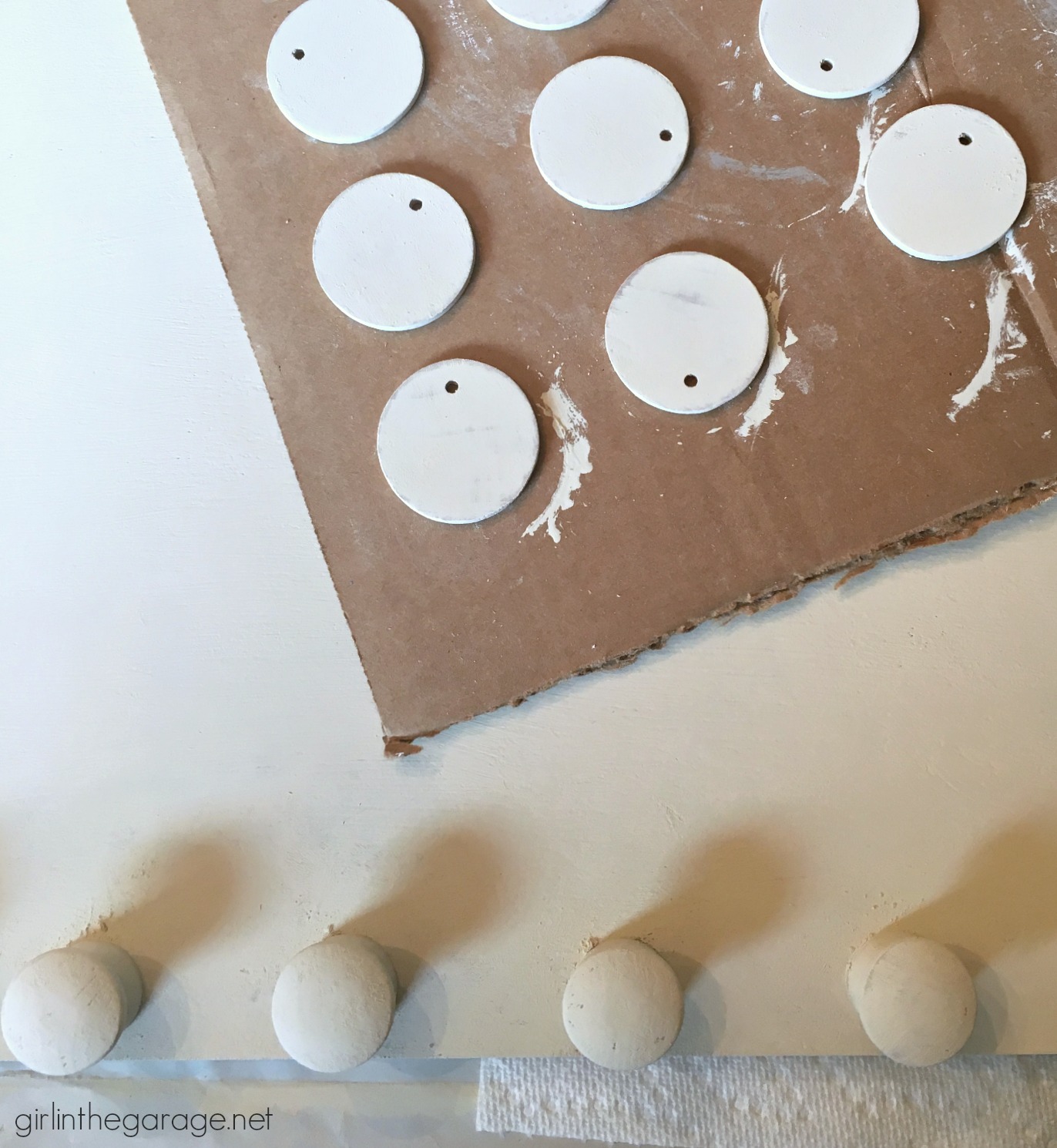 How to make the words for your family birthday calendar:
If you have a cutting machine like a Silhouette or Cricut, this part will be super easy for you.  I have a Silhouette but unfortunately haven't learned it yet, so here's what I did:   
1. Created a page with the words FAMILY: Life's greatest gift in PicMonkey (picmonkey.com), but you can use almost any program. Export it to your computer.
2.  I needed the words to be bigger than a standard piece of paper, so then I went to Block Posters (blockposters.com), uploaded the file I just created, and chose how big I wanted the "poster" to be.  You then hit "Create My Poster" and save it to your computer.  (All of this is free!)  I printed it twice before I got the size I needed.  Sometimes you have to try it a couple times to get it right.  Then you just tape the pages together.  Also, as you can see below, it wanted me to print 4 pages, but since I saved my words near the top of the page in PicMonkey, I got away with only needing to print the top 2 pages instead of wasting more paper.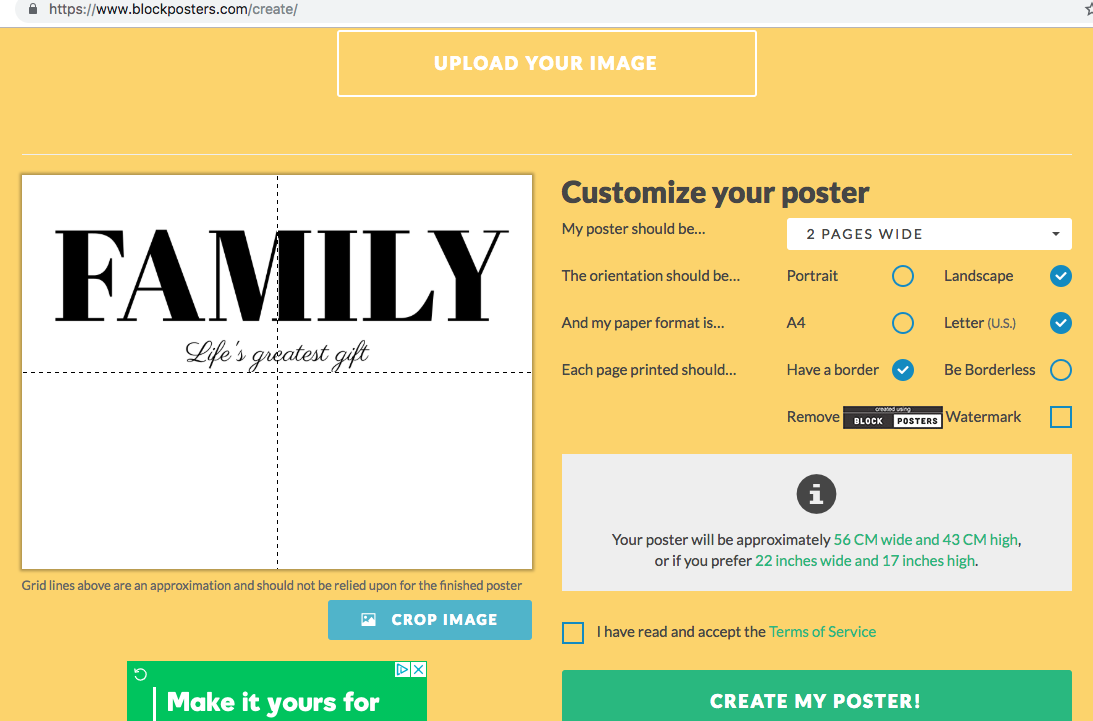 3.  Now create a page (in PicMonkey or elsewhere) with all the month abbreviations, save it, and print it out.  I had to change the size and print it a couple times until I was happy with the size.  Cut the paper into rows with three months on each.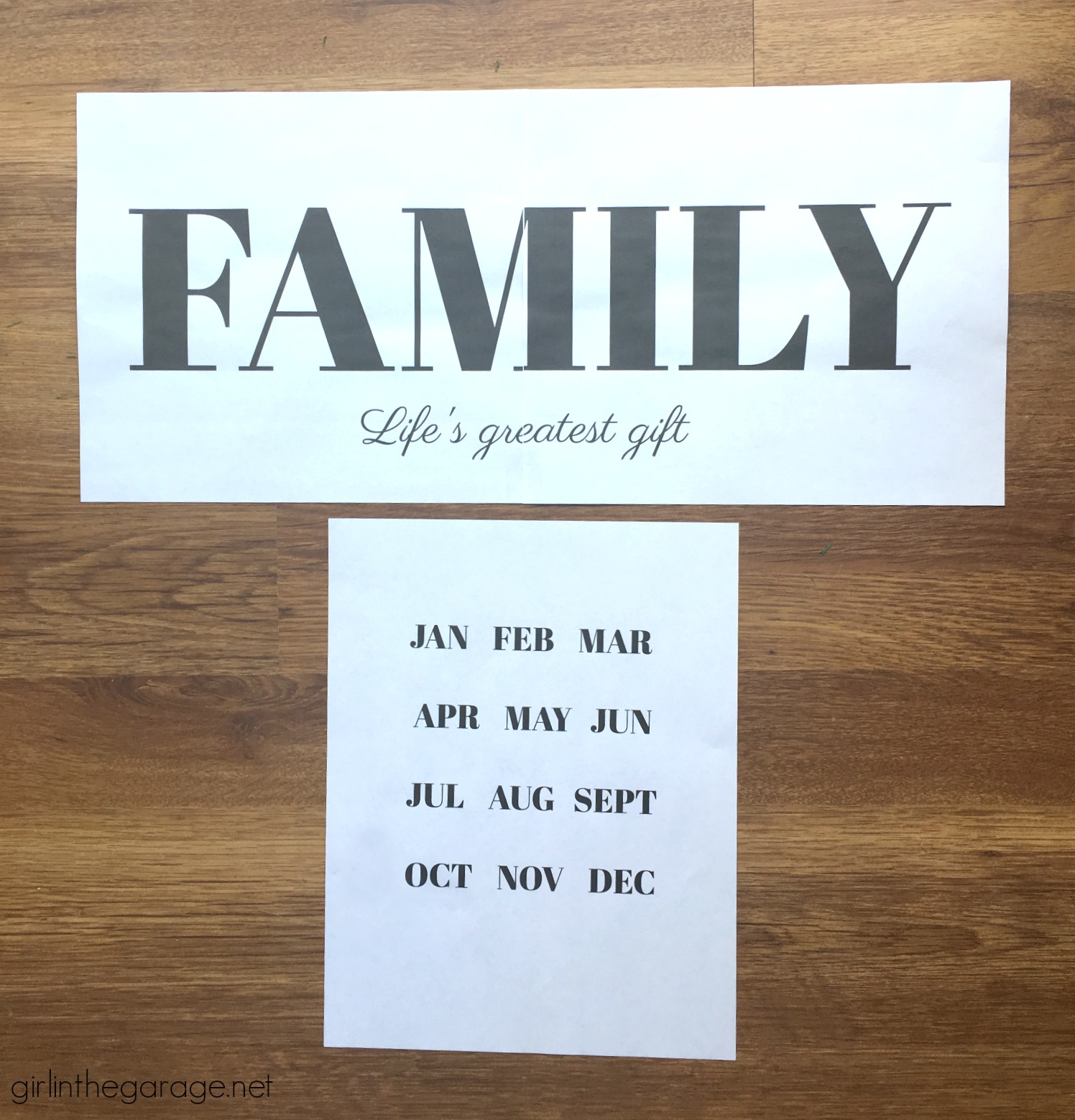 4. Then lay graphite transfer paper onto the sign directly under the words and make sure they're centered.  Trace the words with a pencil, pressing firmly.  I used a ruler as a straight edge.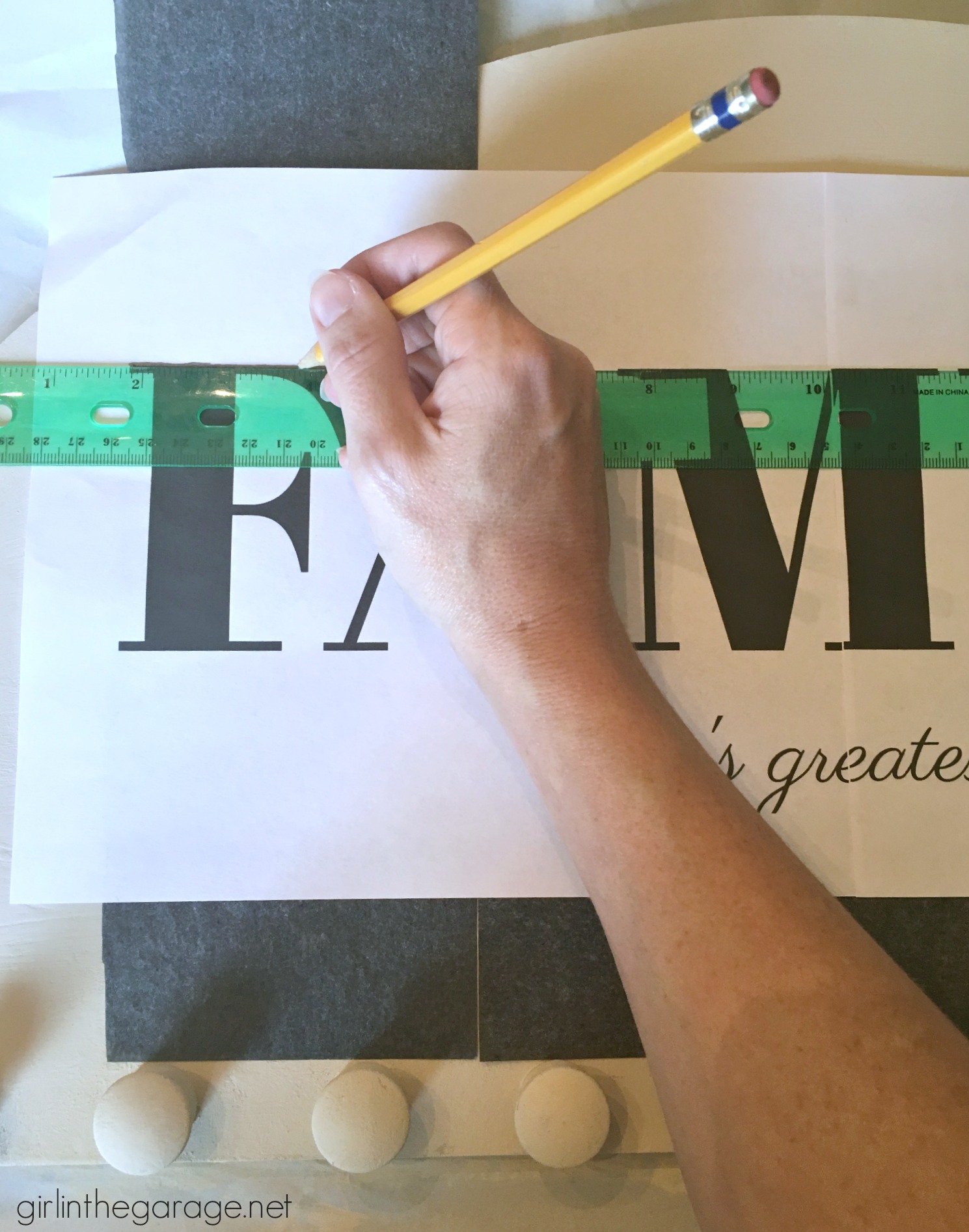 5.  Also transfer the months the same way, one above each pull.  Once all the words are transferred, I like to outline the bigger ones with a Sharpie.  This helps me stay in the lines when I'm painting later.  🙂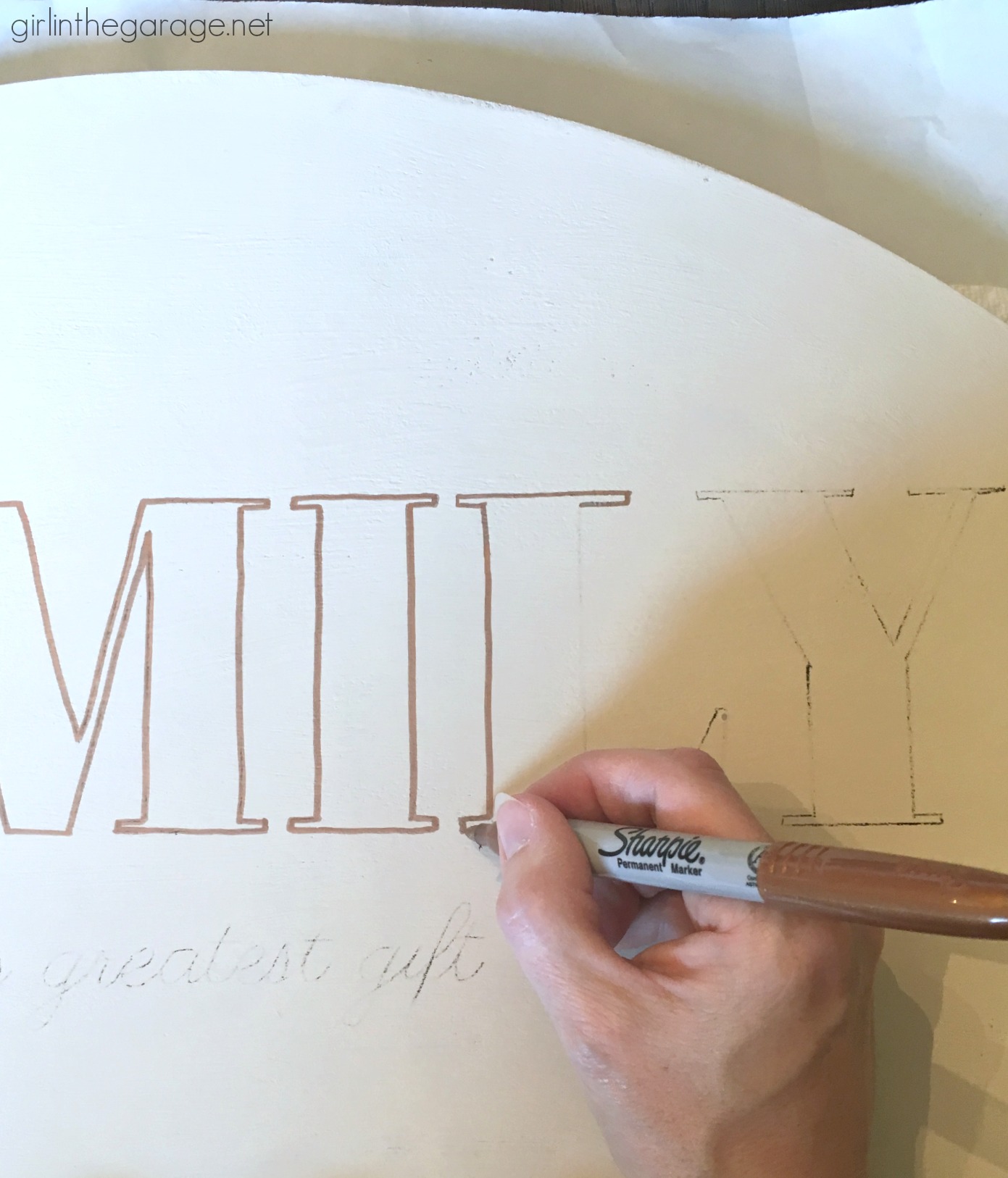 6.  I used supplies I already had for the letters – I painted Annie Sloan Chalk Paint in Honfleur for FAMILY, used a bronze Sharpie for Life's greatest gift, and a brown Sharpie for the months.  (My mom's decor is mostly browns and creams, but you can choose any colors you want.)
Finally, write the dates and family names on the tags.  (I used a brown colored pencil because my handwriting is too large with a Sharpie.)  You can choose to include anniversaries too, like I did.  Loop a cotton cord around them for hanging.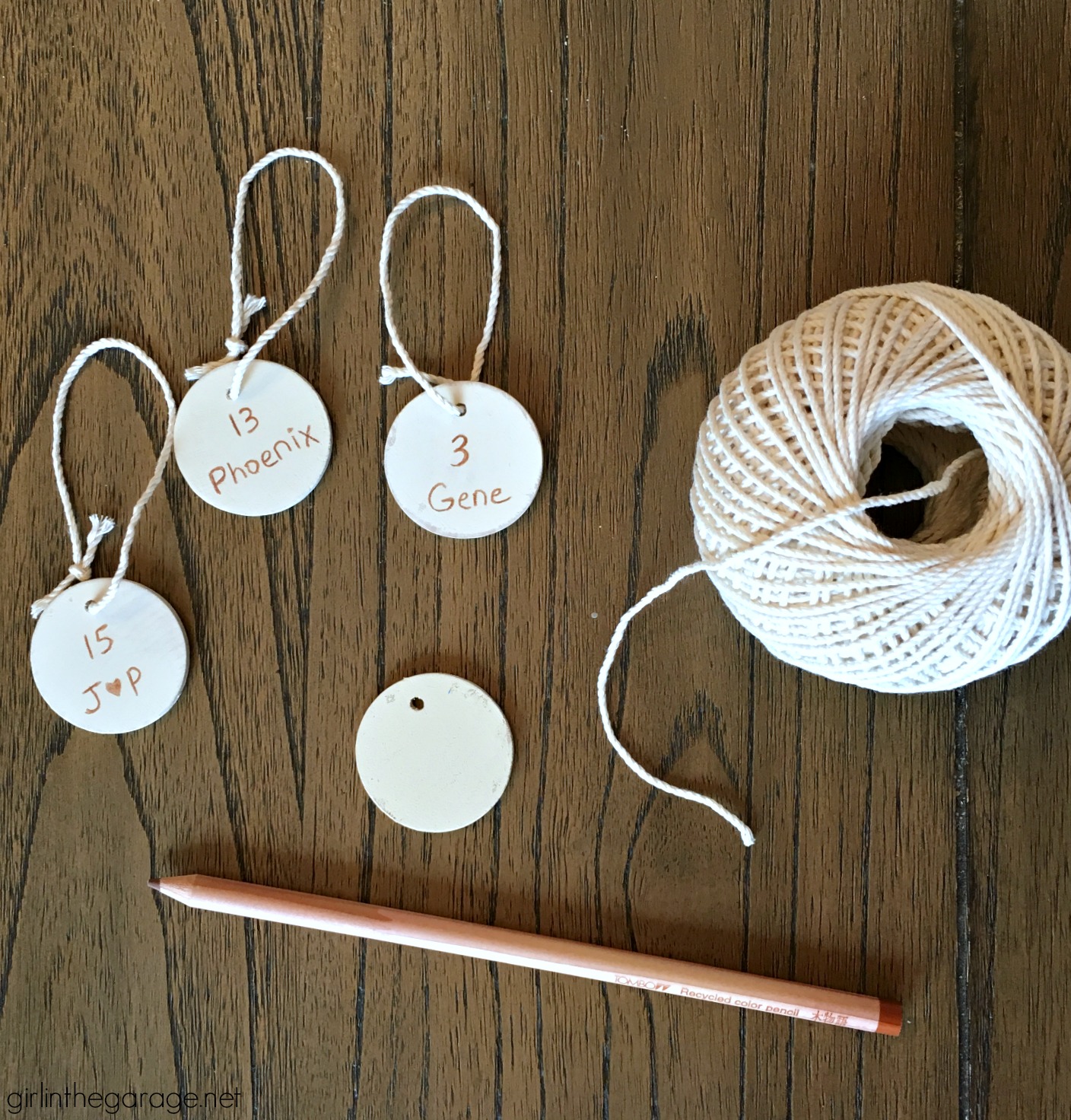 Variation:  I have seen similar projects where people have used little S-hooks and let the tags hang down from each other instead.
You might also want to stencil something on top (I added a laurel wreath in Annie Sloan Chalk Paint in Old White).
When you're finished the DIY family birthday calendar will look similar to this: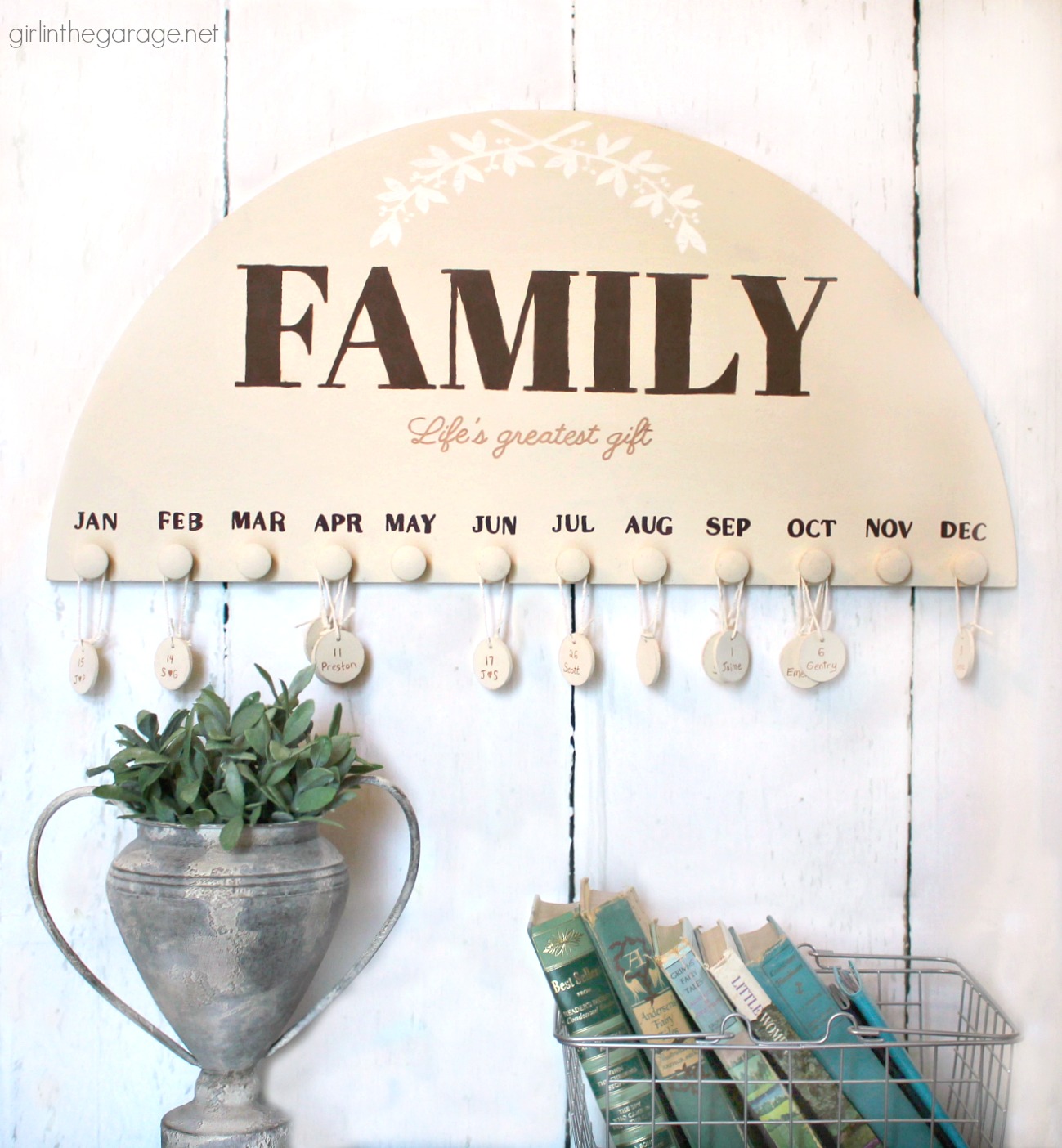 I'm so happy with how it turned out!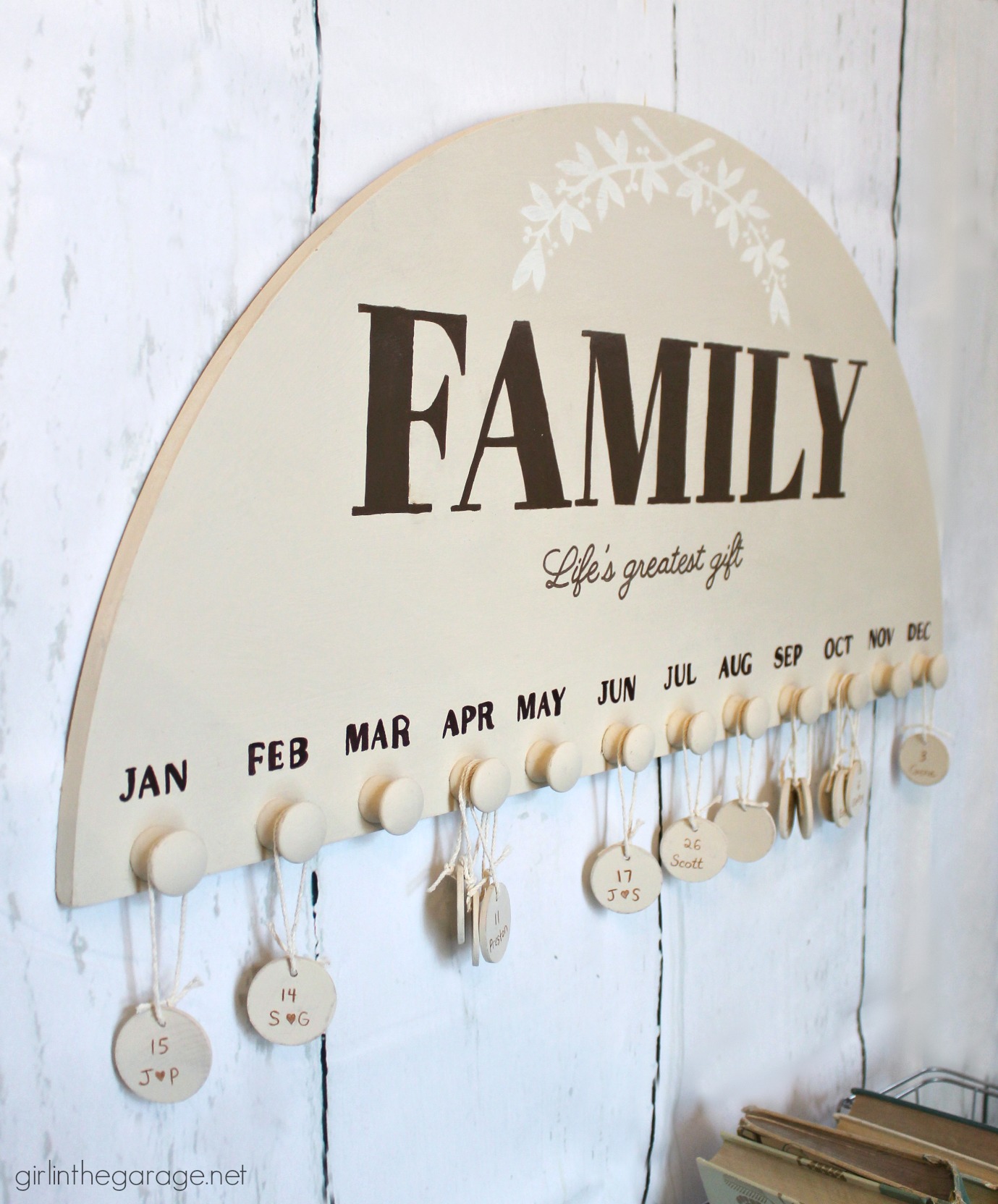 I surprised my mom with it last night and I'm pretty sure she likes it too.  🙂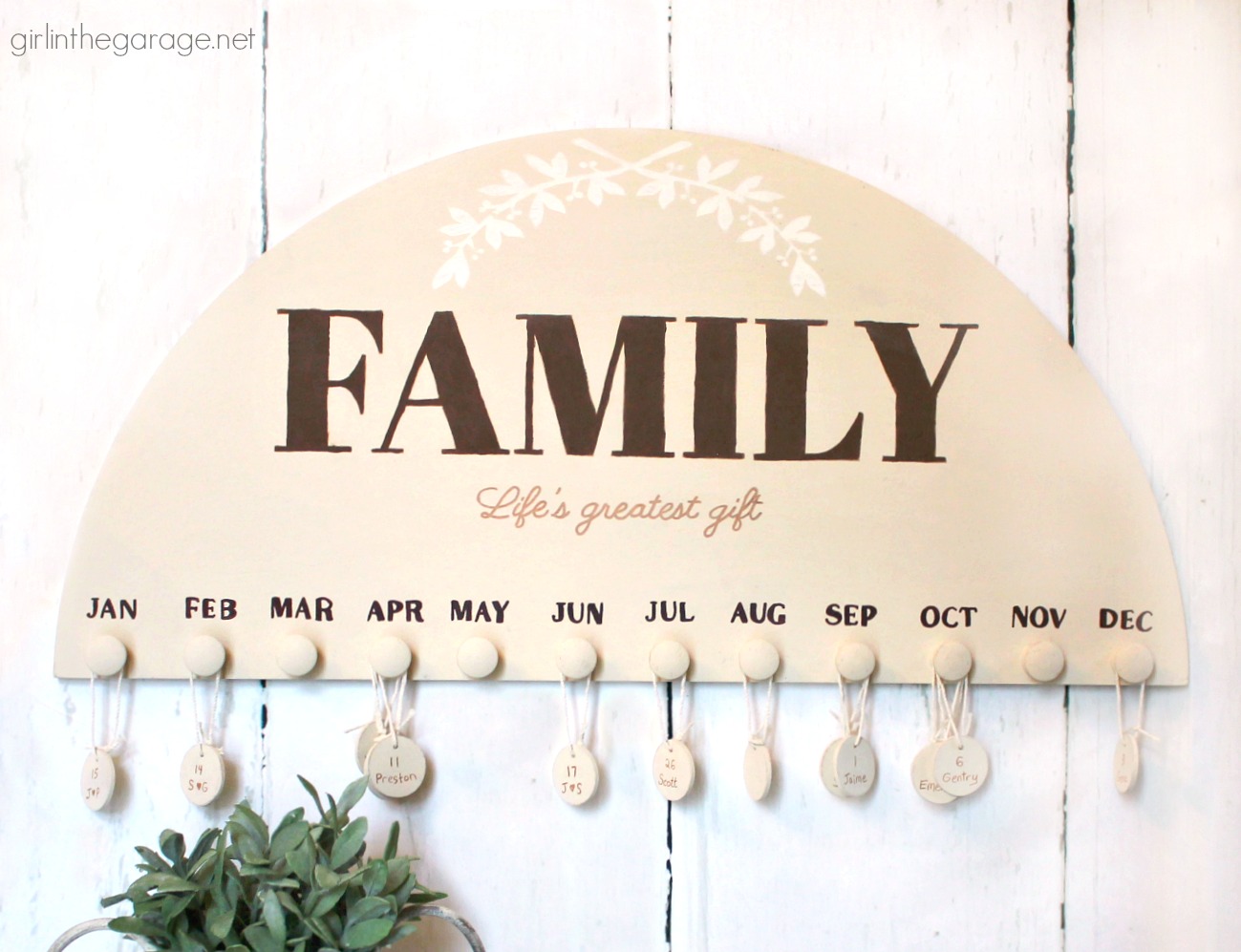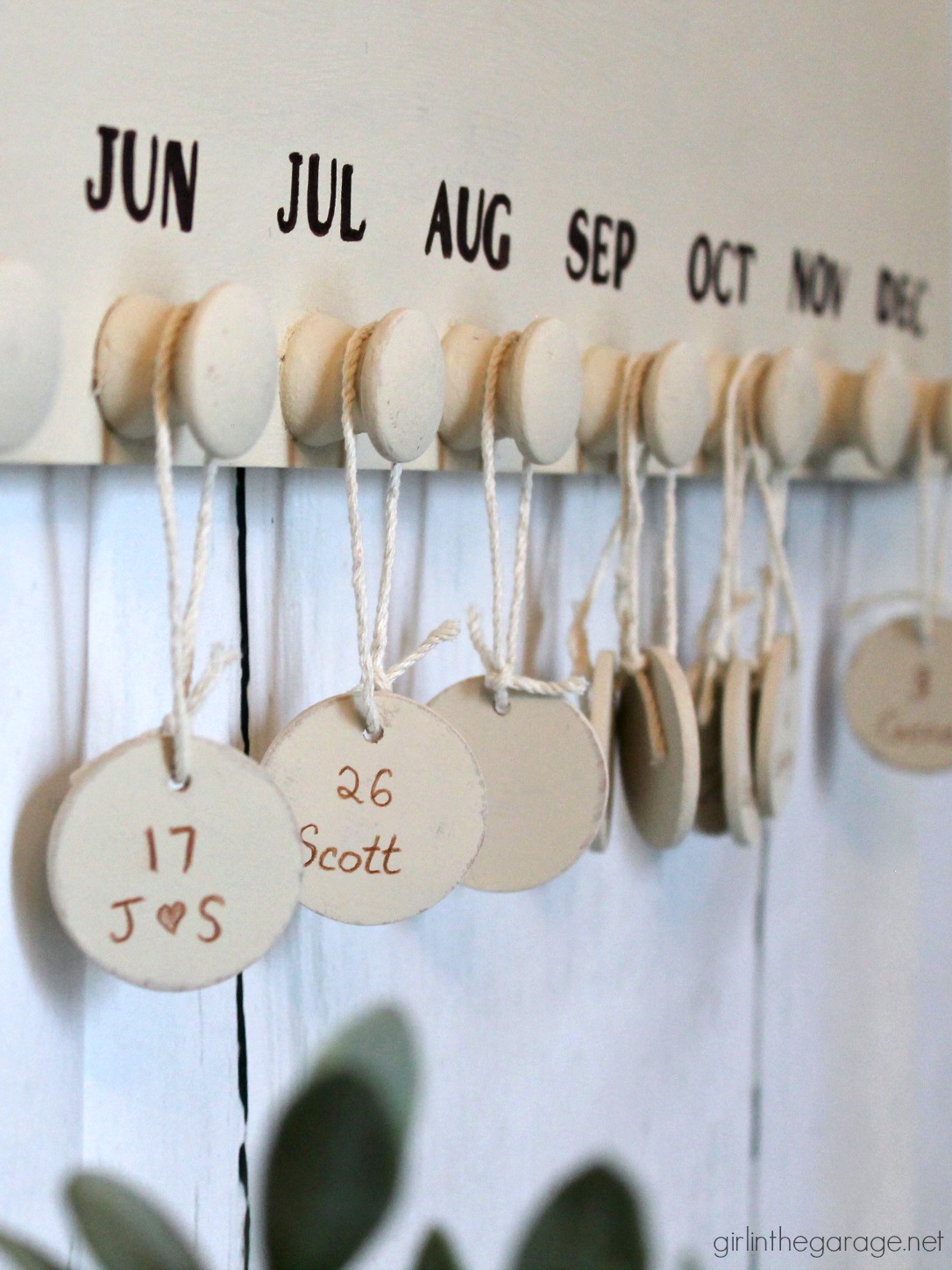 Here's another look at the before and after – you can Pin the image below to easily find this project later: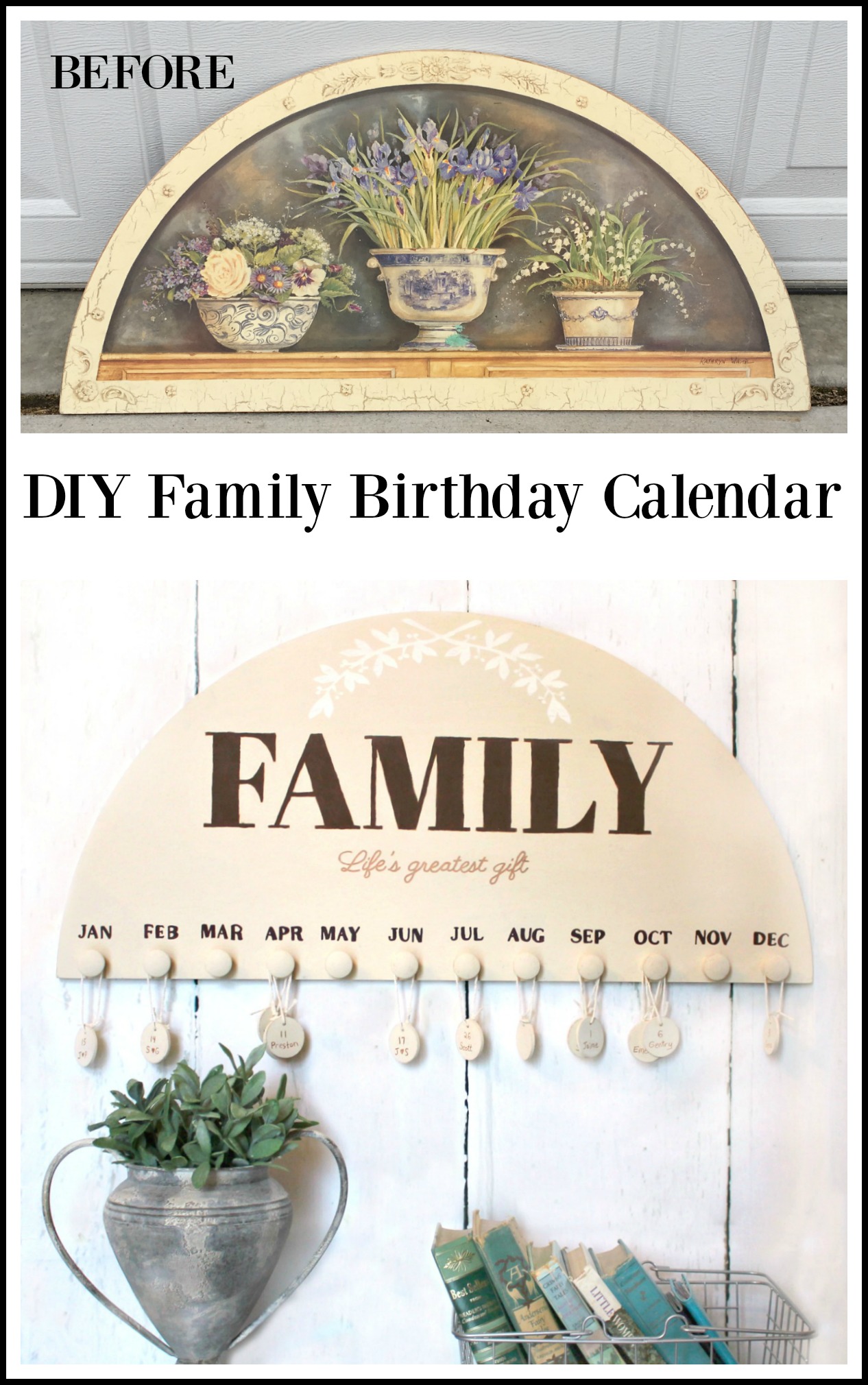 I hope this DIY family birthday calendar inspires you.  Maybe you'd like to make one for your home, or as a gift for someone special?  Leave me a comment below and let me know.
.  .  .
Now it's time again for Trash to Treasure Tuesday with my creative blogging friends.  Woot!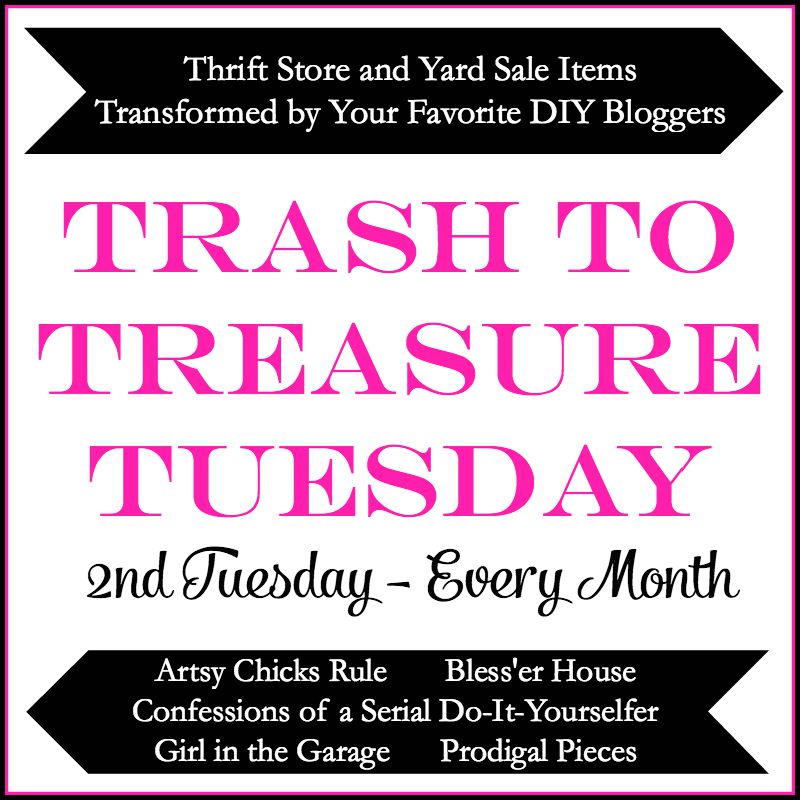 Below are the Before photos – visit the links underneath to see the After and to learn how they did it.  I always love seeing their creative makeovers!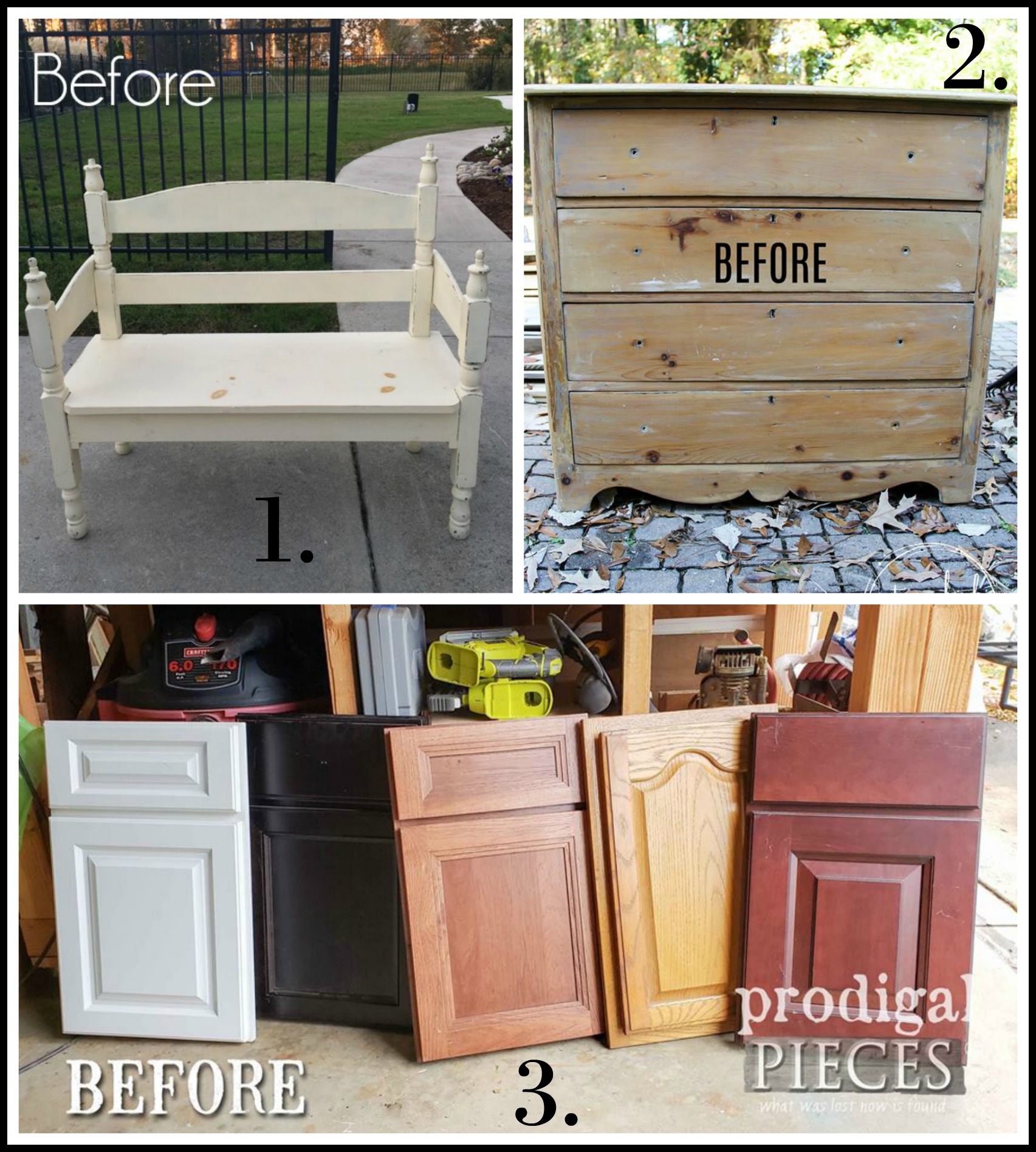 1. Confessions of a Serial DIYer
2. Artsy Chicks Rule
3. Prodigal Pieces
Lauren is still out this month taking care of her precious new baby girl.