Hello again, dear friend!  Today's new project – an antique serpentine dresser makeover – is what you'd call trashy to classy.
My sweet mom found the listing on one of those yard sale apps, and we ended up rescuing it from the back of an old shed in the middle of winter.  I'm pretty certain most people would've been scared off by its awful condition, but I was dead set on finally getting to work on a serpentine dresser.  They're so hard to find around here, and usually very expensive!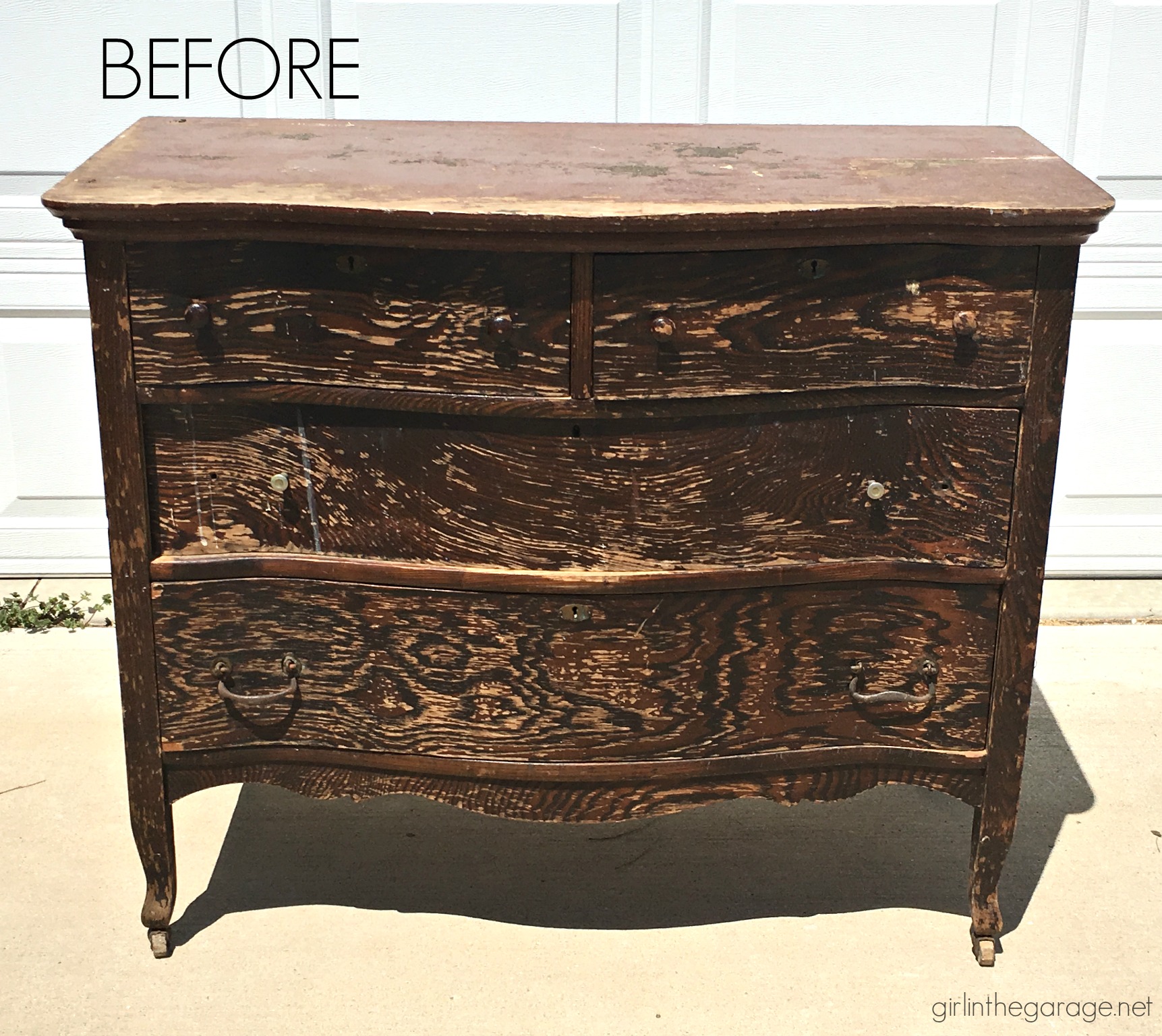 **Today is Furniture Fixer Uppers day with four of my blogging friends, so be sure to take a look at their projects at the end of this post.  Also, this post contains some affiliate links so you can easily find the products I use and recommend.  Here is a list of all of my favorite products for refinishing furniture.
It's at least 100 years old, and it was definitely showing its age – scratches galore, broken and missing hardware, stuck/broken drawers, broken wood casters, and layers of dirt and grime from years sitting unused.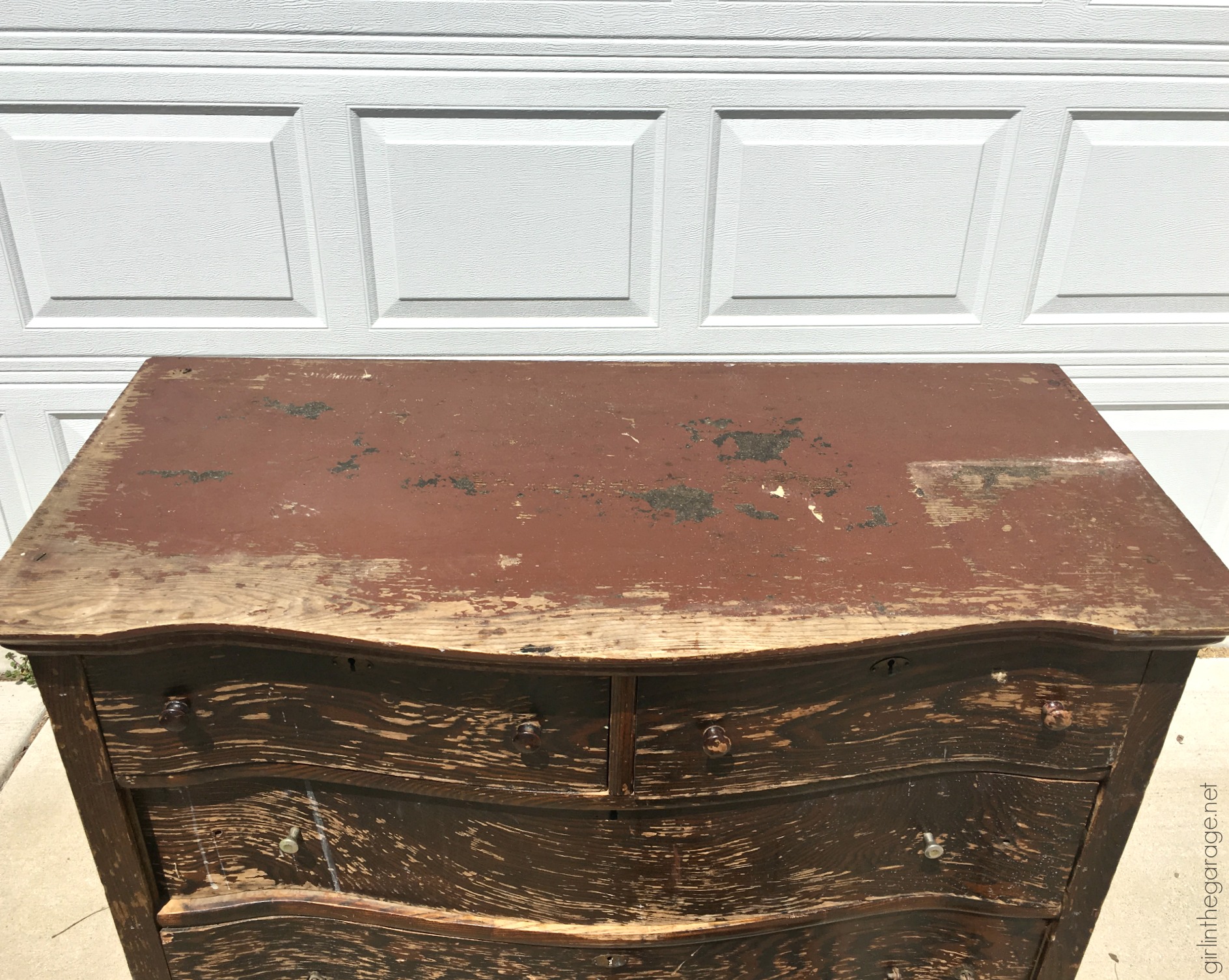 After looooooottsss of cleaning, I passed the project over to my handsome Guy in the Garage (whose birthday is today! Happy Birthday, Babe! xo) to give it a good sanding all over with our random orbit sander.  
This is not a great pic, but you can get an idea of how it looked after sanding.  The wood actually came out kind of blotchy all over, except the top was in beautiful condition!  Go figure.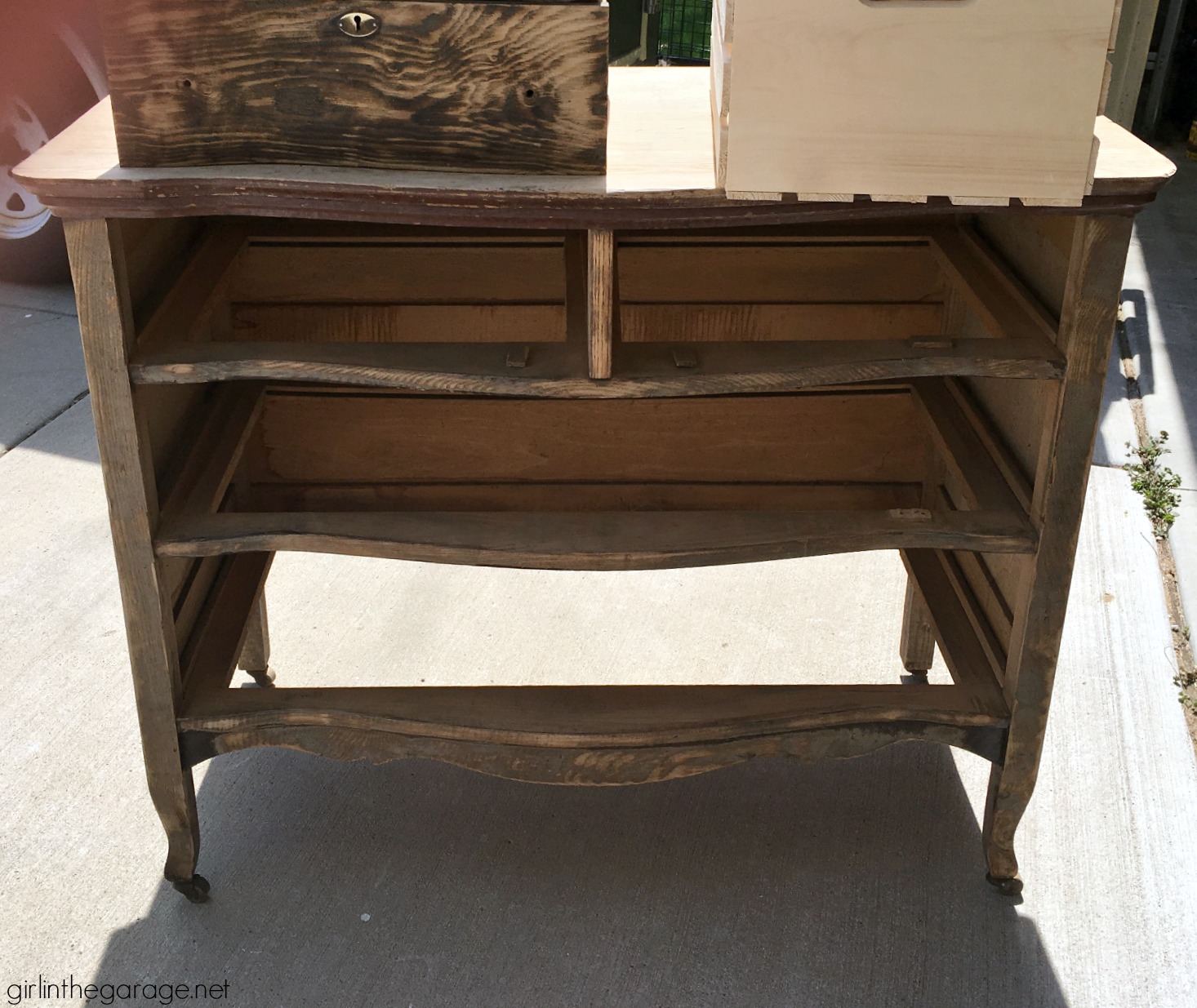 You can see the top a little better in the photo below.  We opted to just re-stain it and then paint the rest of the serpentine dresser.
Mr. GITG used Minwax stain in Espresso and then Varathane matte crystal clear polyurethane as a topcoat.  You can see how it turned out further down in this post.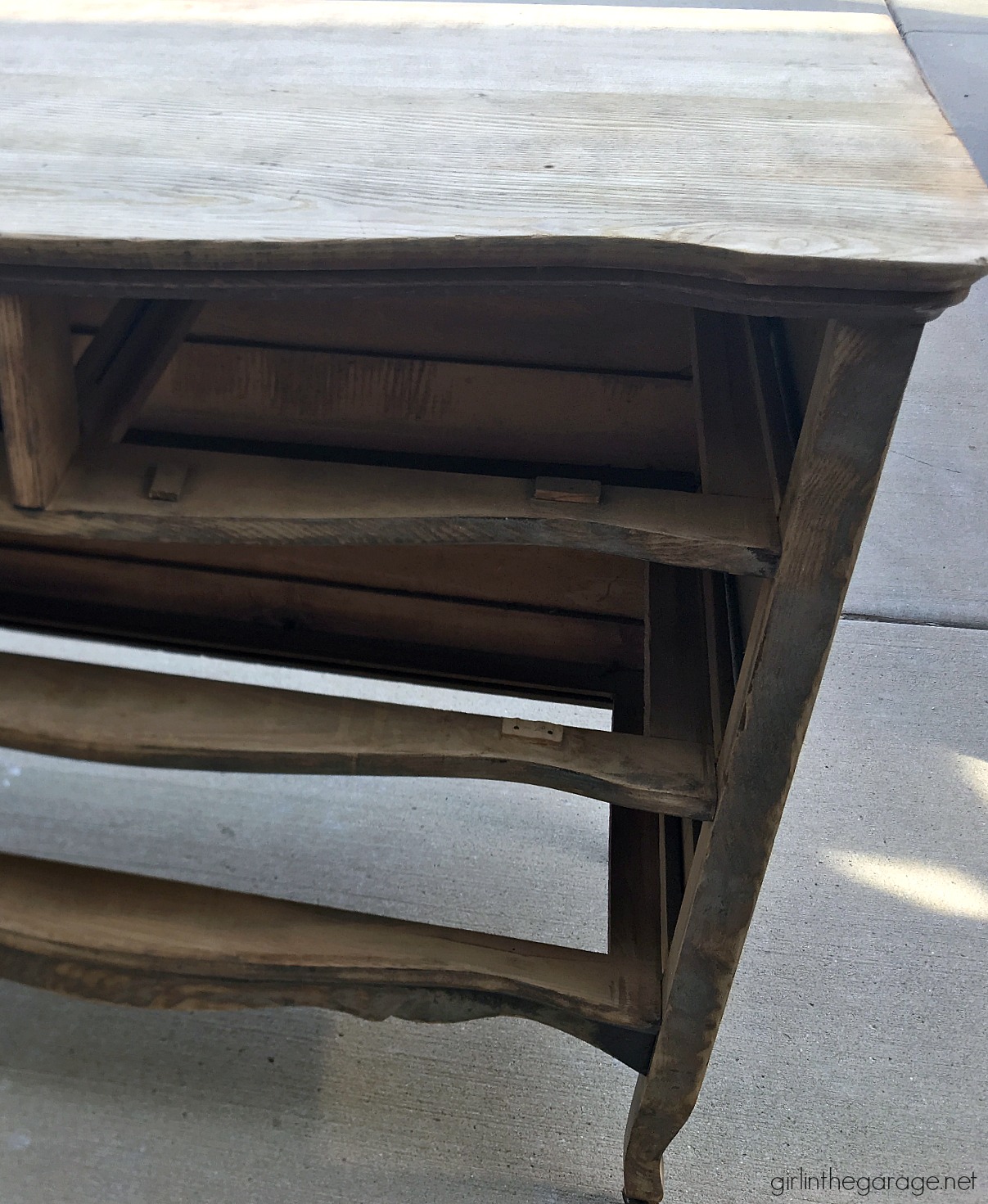 Inside, the bottoms of the drawers were all warped and damaged.  Mr. GITG took on the task of cutting new pieces by using the old ones as a guide, and I painted them so they wouldn't just look like new unfinished wood.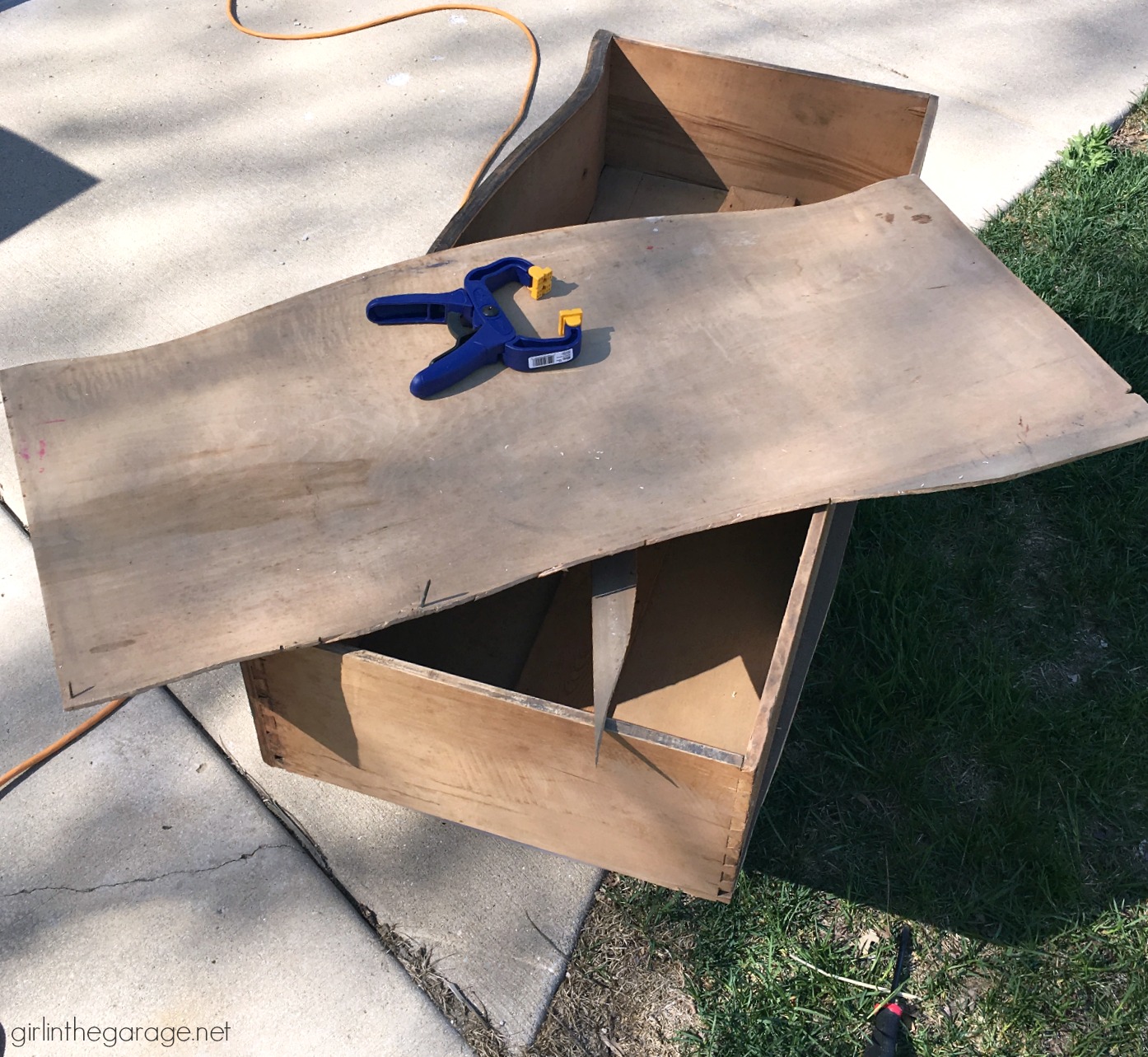 TIP:  Rub candle wax on the bottoms of drawers for smoother sliding.
Since I was painting this a light color, primer was a necessity.  It got two coats of my favorite Zinsser BIN primer and then a couple coats of Annie Sloan Chalk Paint in Old White.  Then it was distressed with 220 grit sandpaper and finally protected with clear wax.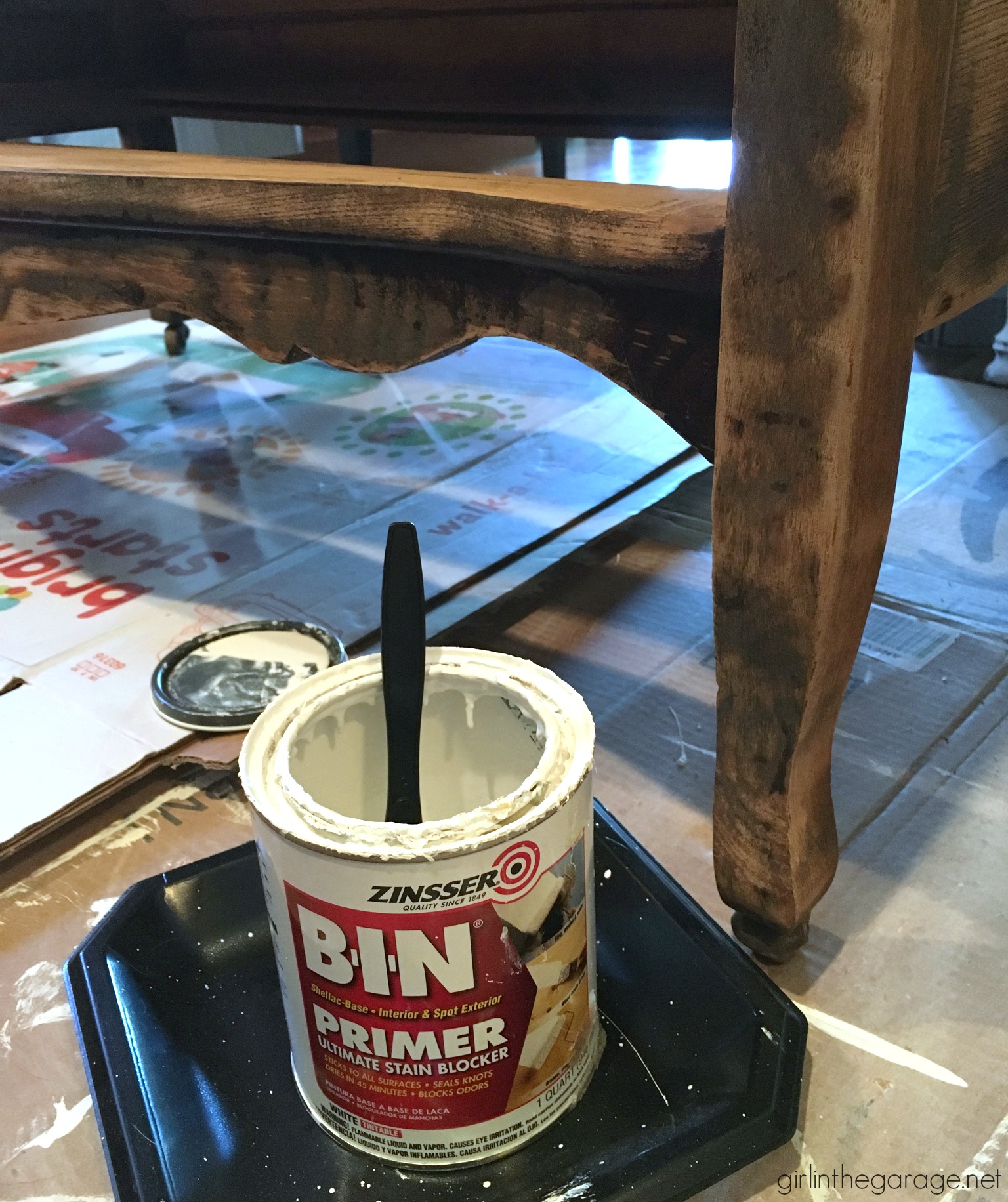 The old casters were replaced with shiny new ones from D. Lawless Hardware.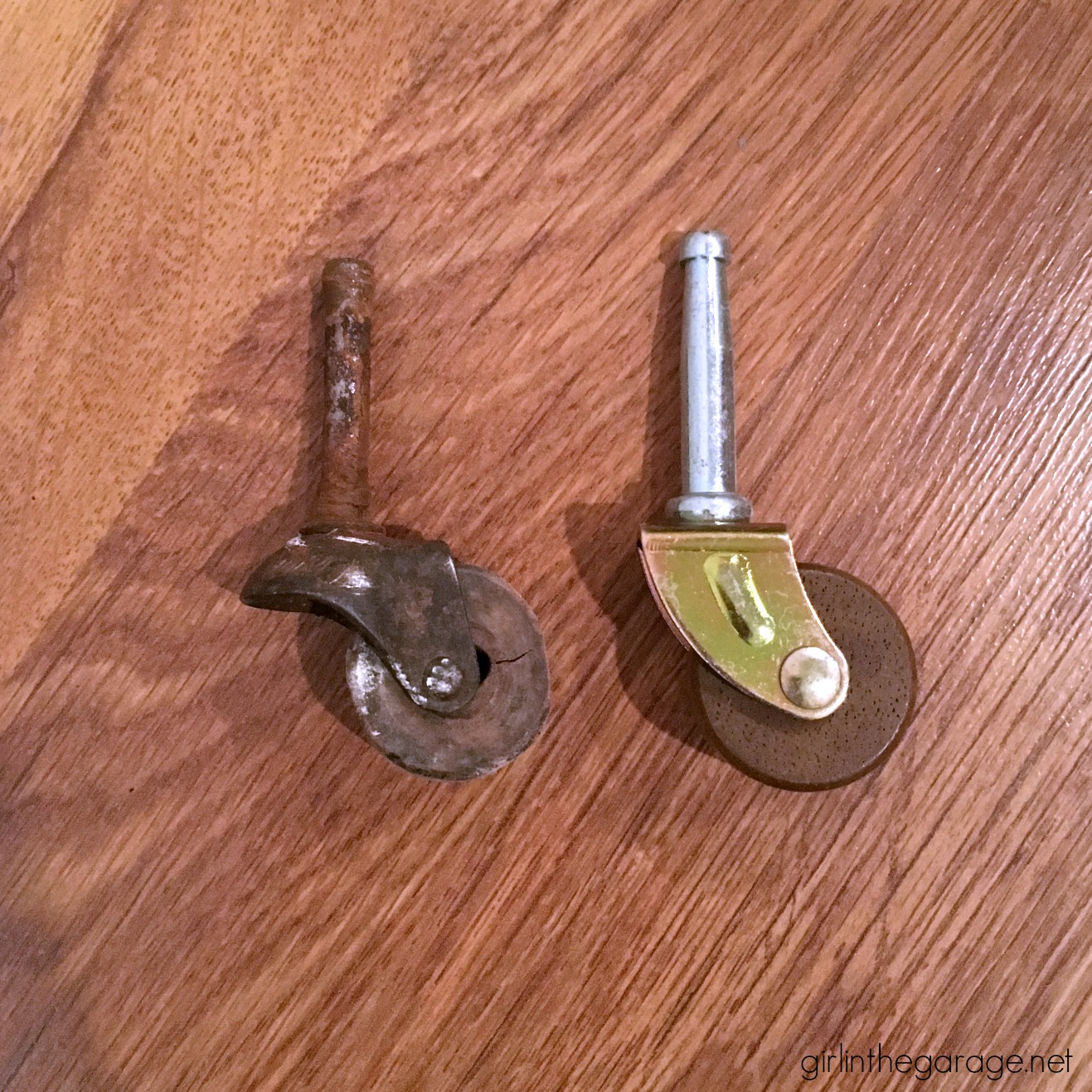 Lastly, it got new feminine ceramic knobs from Hobby Lobby, and was finished just in time for my most recent market.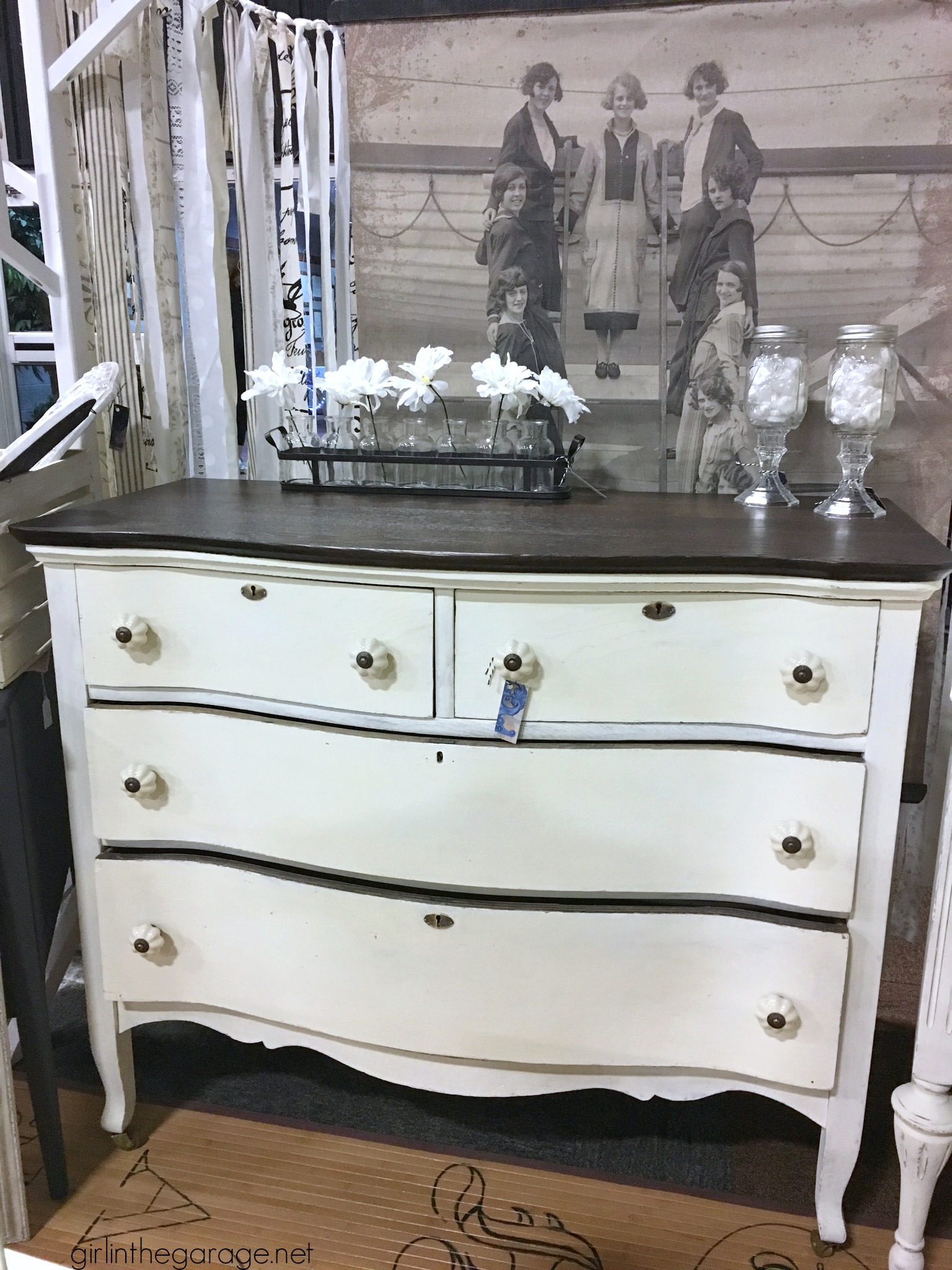 I love how much better you can see the curves now and the keyholes aren't invisible anymore either!  Such a versatile, charming piece.
Below you can really see the newly stained top and the new painted panel inside the drawer.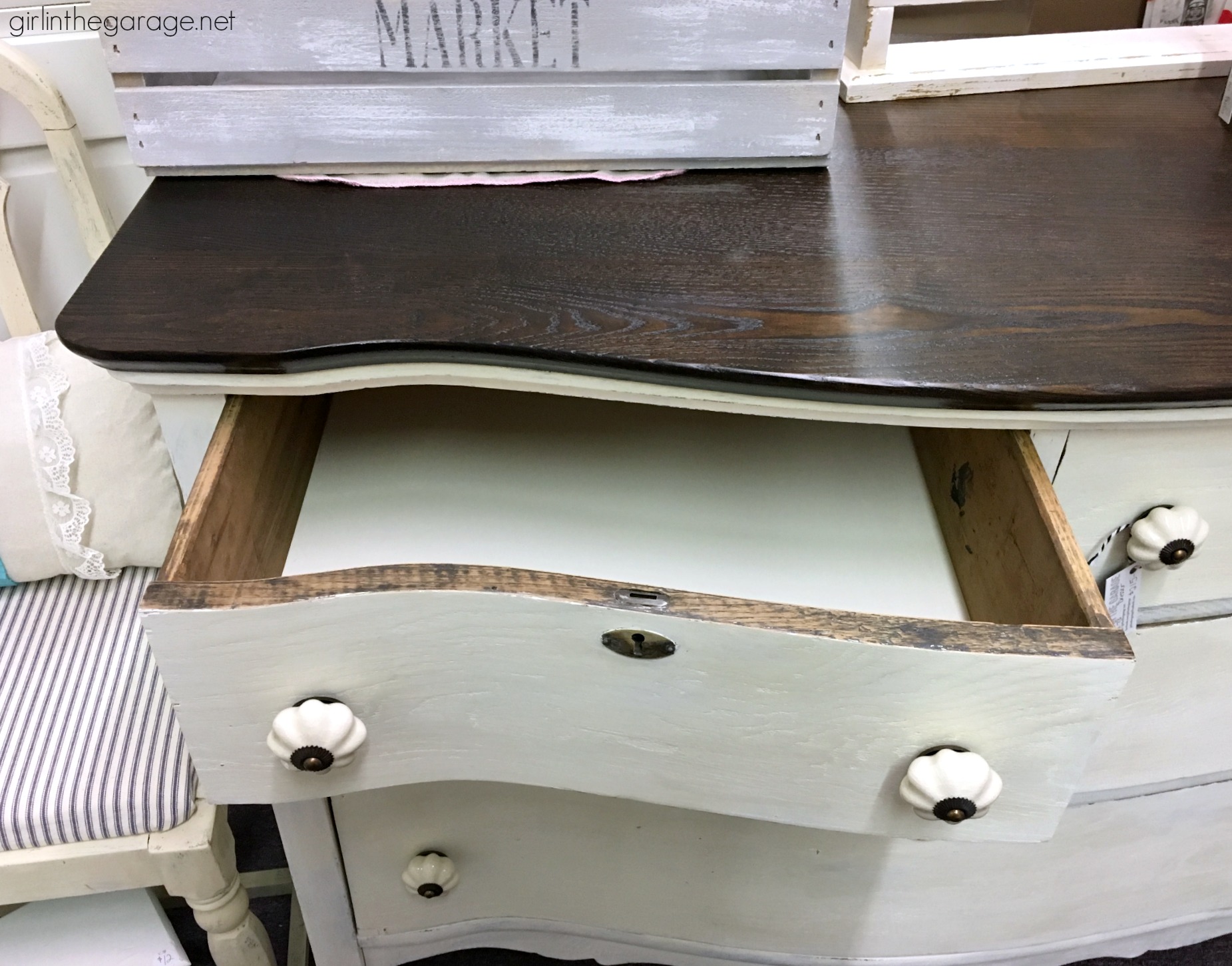 Here's a reminder of how this antique serpentine dresser looked before, with a handy pinnable graphic: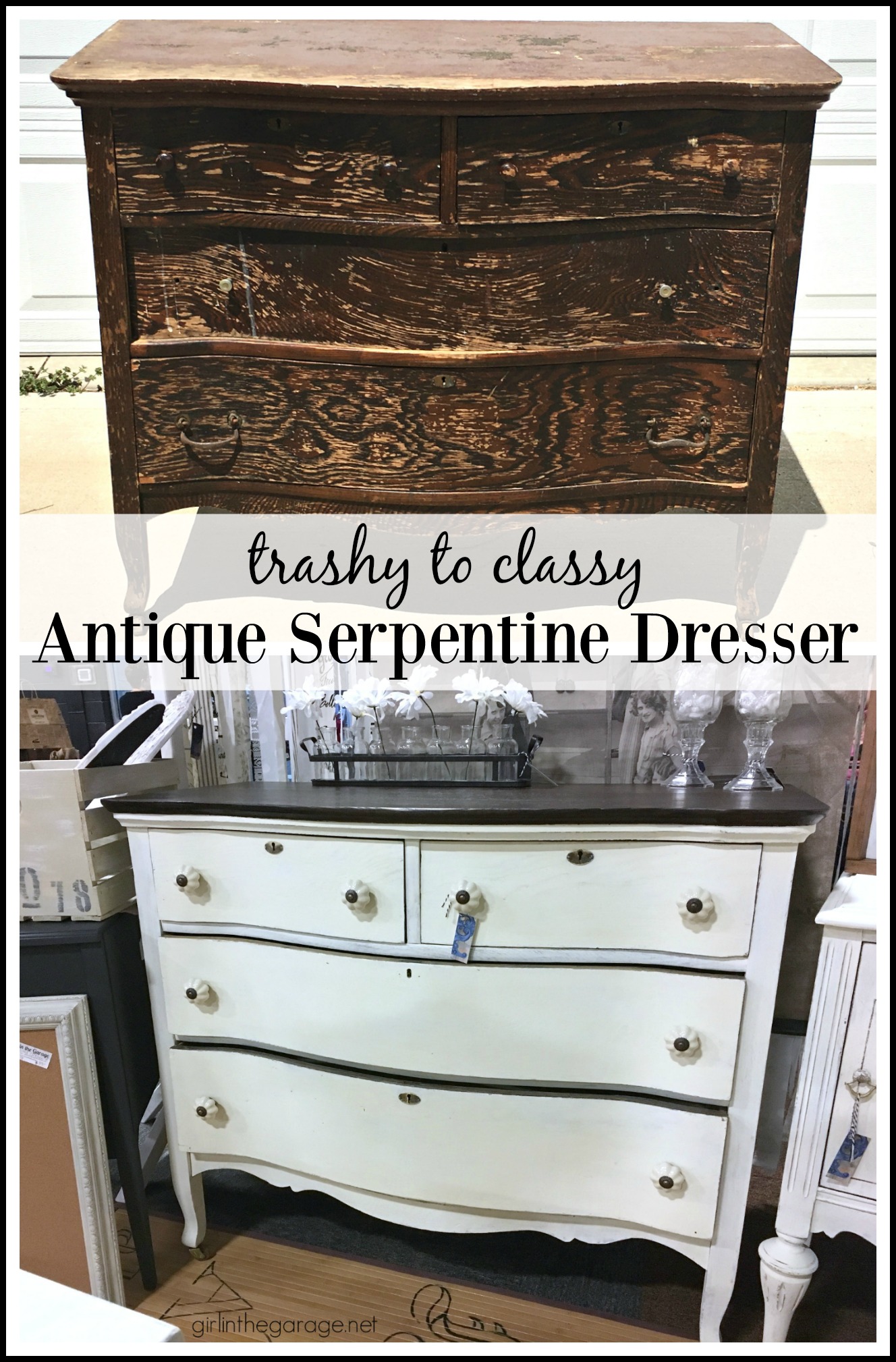 And its been a while, so here's a booth update!  The dresser didn't sell at the market, so here it is in my booth, sitting pretty: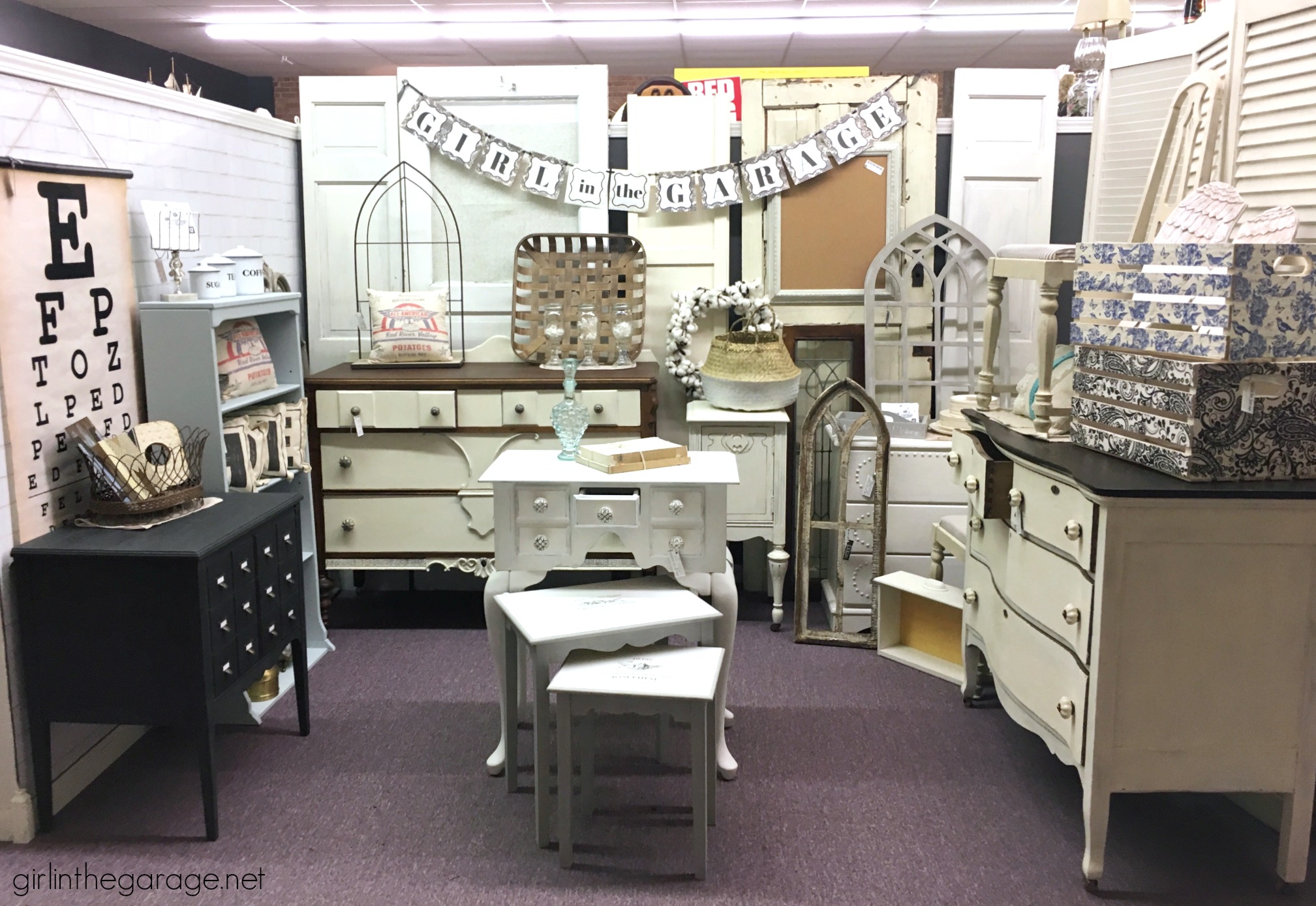 Here are a few more photos to get a better look (some of these items are no longer available):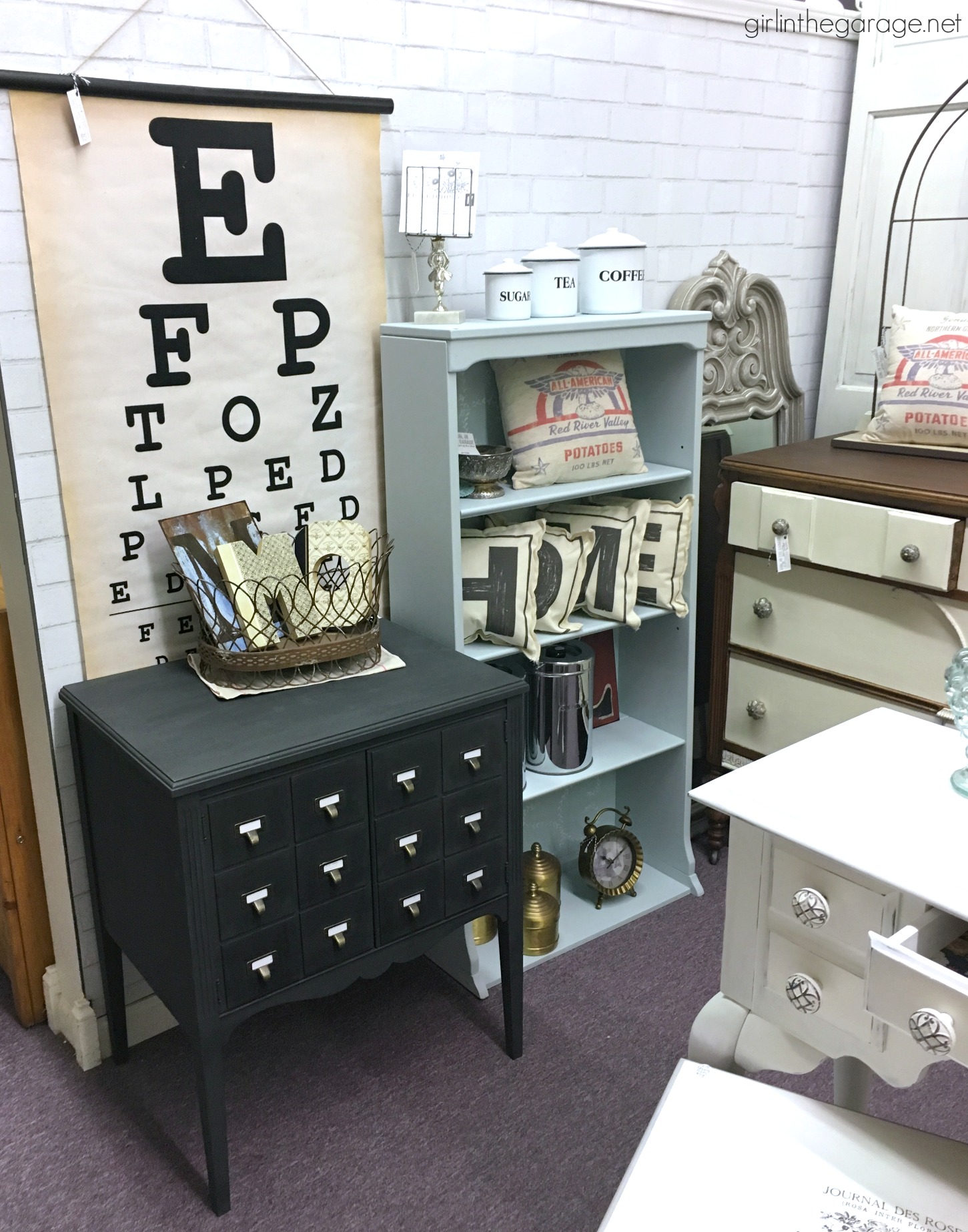 If you're looking for advice for starting your own booth, visit this popular post I wrote a while back: Thinking about renting an antique booth to sell your goods?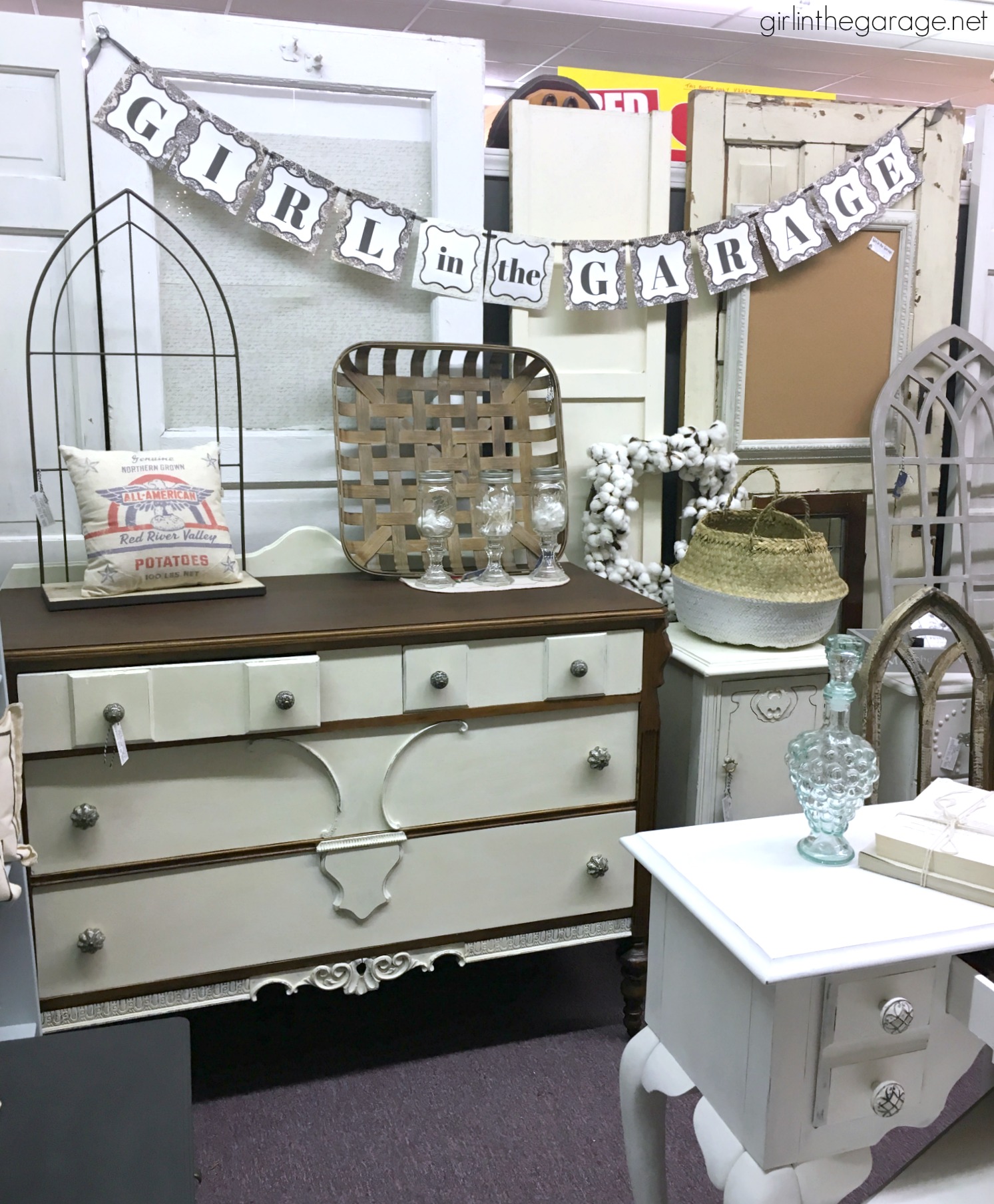 If you ever want to come visit, my booth is in Antiques on Main in Crown Point, Indiana, and they're open 7 days/week.
My next market will be Fetching Market in Lansing, IL, on Sept. 7-8th.  Hope to see you there!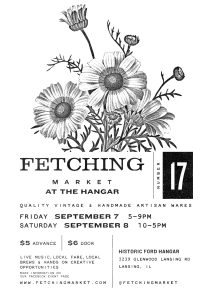 Now it's time for the Furniture Fixer Uppers girls…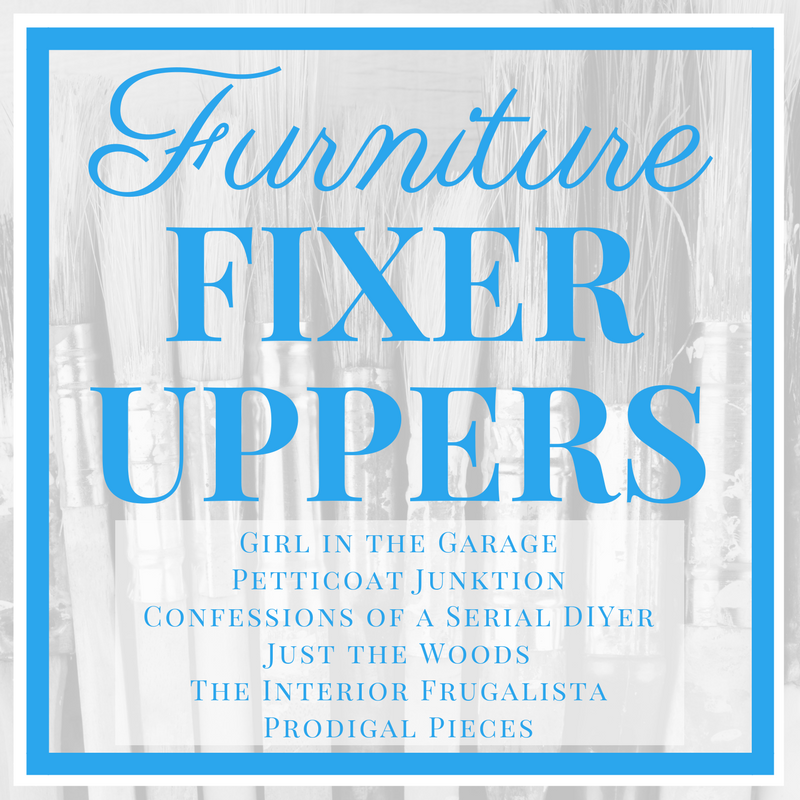 Below are the Before photos – visit the links underneath to see the After and learn how they did it: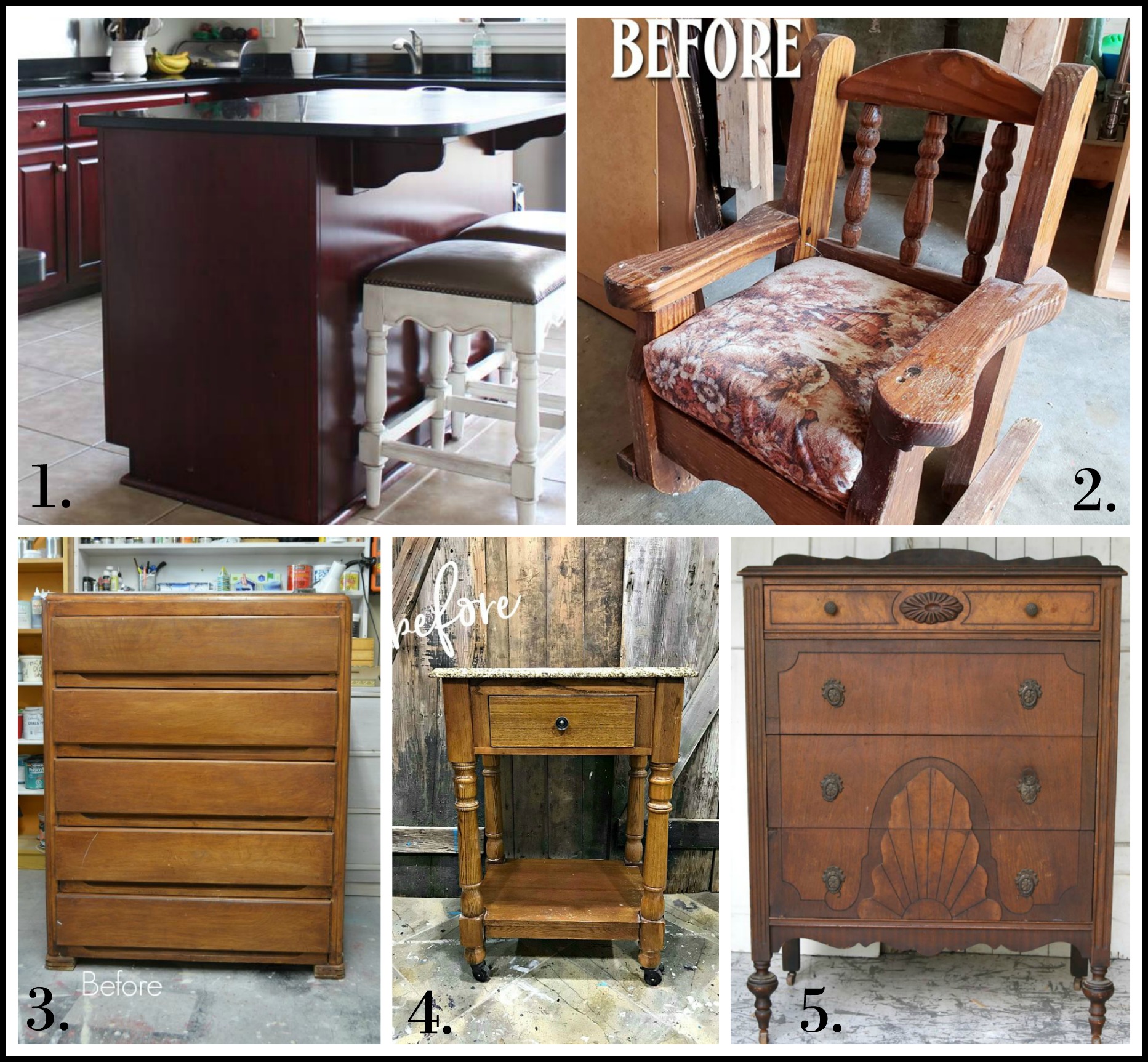 1.  Confessions of a Serial DIYer
2.  Prodigal Pieces
3.  The Interior Frugalista
4.  Just the Woods
5.  Petticoat Junktion