Winter is a tough season, isn't it? With the freezing temps and tons of snow we get in Indiana, I don't do as many furniture makeovers. So I try to get creative in other ways – like with projects small enough to do in my house where I can stay nice and warm. 🙂
This piece was just the right size for an indoor makeover to start getting me back into the groove. What really grabbed my attention on this little curio cabinet was the curves on the doors and the skirt underneath. Plus, the condition was perfect (although a little dated) and the $35 price was definitely appealing.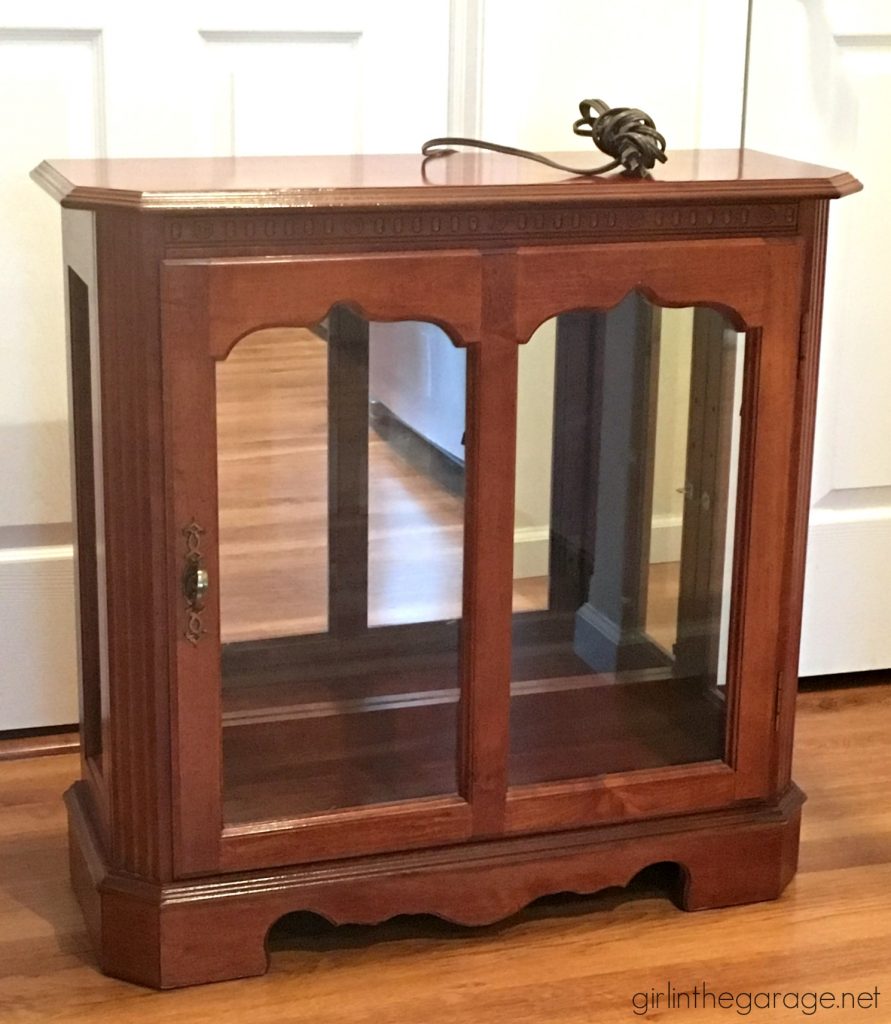 ** Guys today is Furniture Fixer Uppers day with some of my creative blogging friends – see their furniture makeovers at the end of this post. Also, this post contains some affiliate links so you can easily find the products I use and recommend.
Here was the plan for this painted curio cabinet makeover:
Remove and ditch the light

Remove and replace the mirrored back panel

Remove and replace the glass sides and shelf

Add visual interest to the doors

Add height

Paint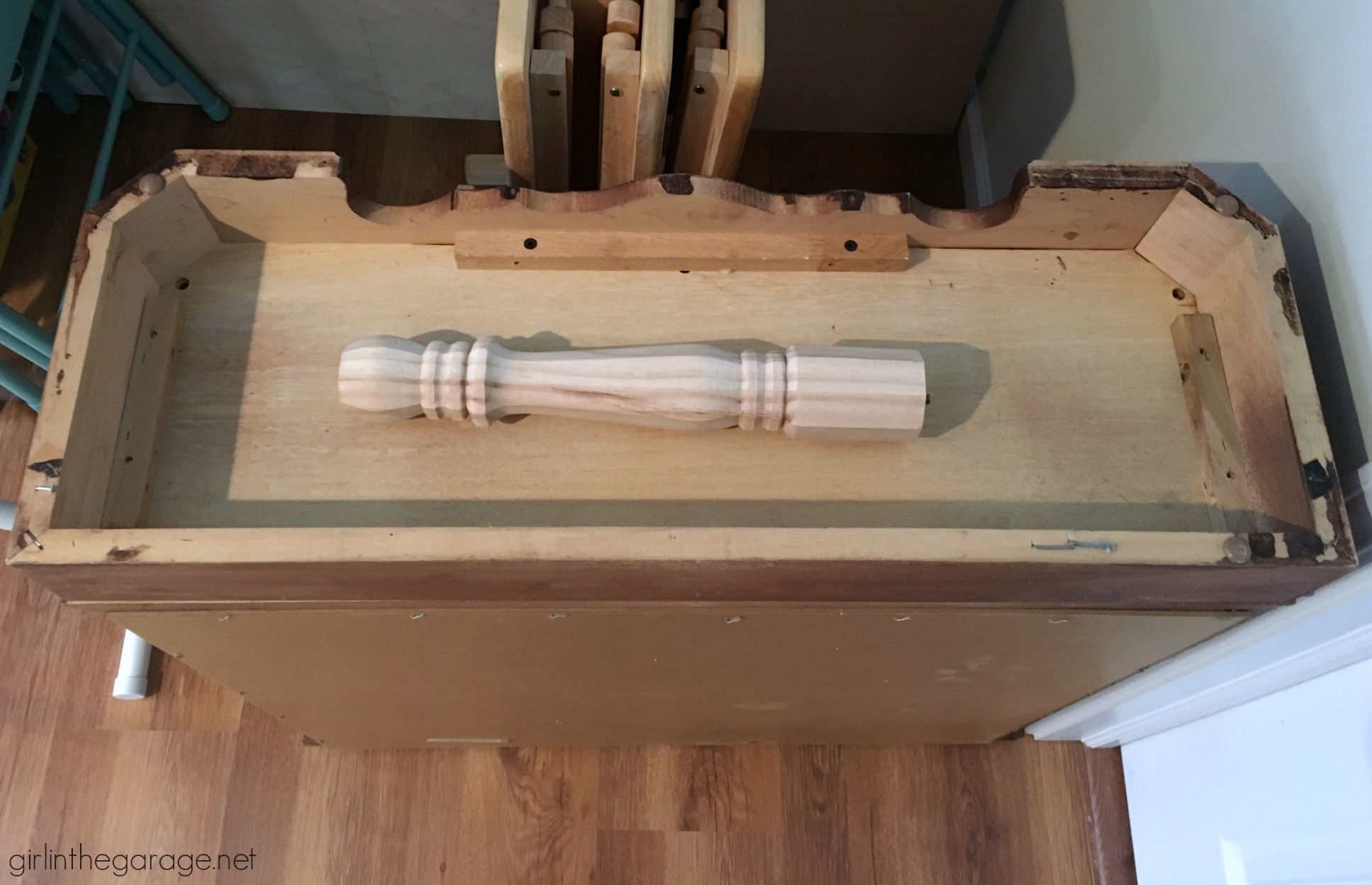 After flipping the cabinet over, it was obvious that the legs couldn't just go in the four corners because the front didn't have a 90-degree angle.
How to add legs to furniture:
My husband, aka Guy in the Garage, stacked and glued some scrap wood in place to match the height of the skirt. He then screwed two triangle brackets into the back corners (from Home Depot) and two square brackets in the front (from Lowe's).
The brackets cost almost $10 for all four and the legs we chose were about $20 for all four (from Lowe's). You can definitely choose chunkier or taller legs and the price will increase quickly. I liked some other legs but they were $12 a piece which was out of my budget since I'm planning to sell this cabinet makeover.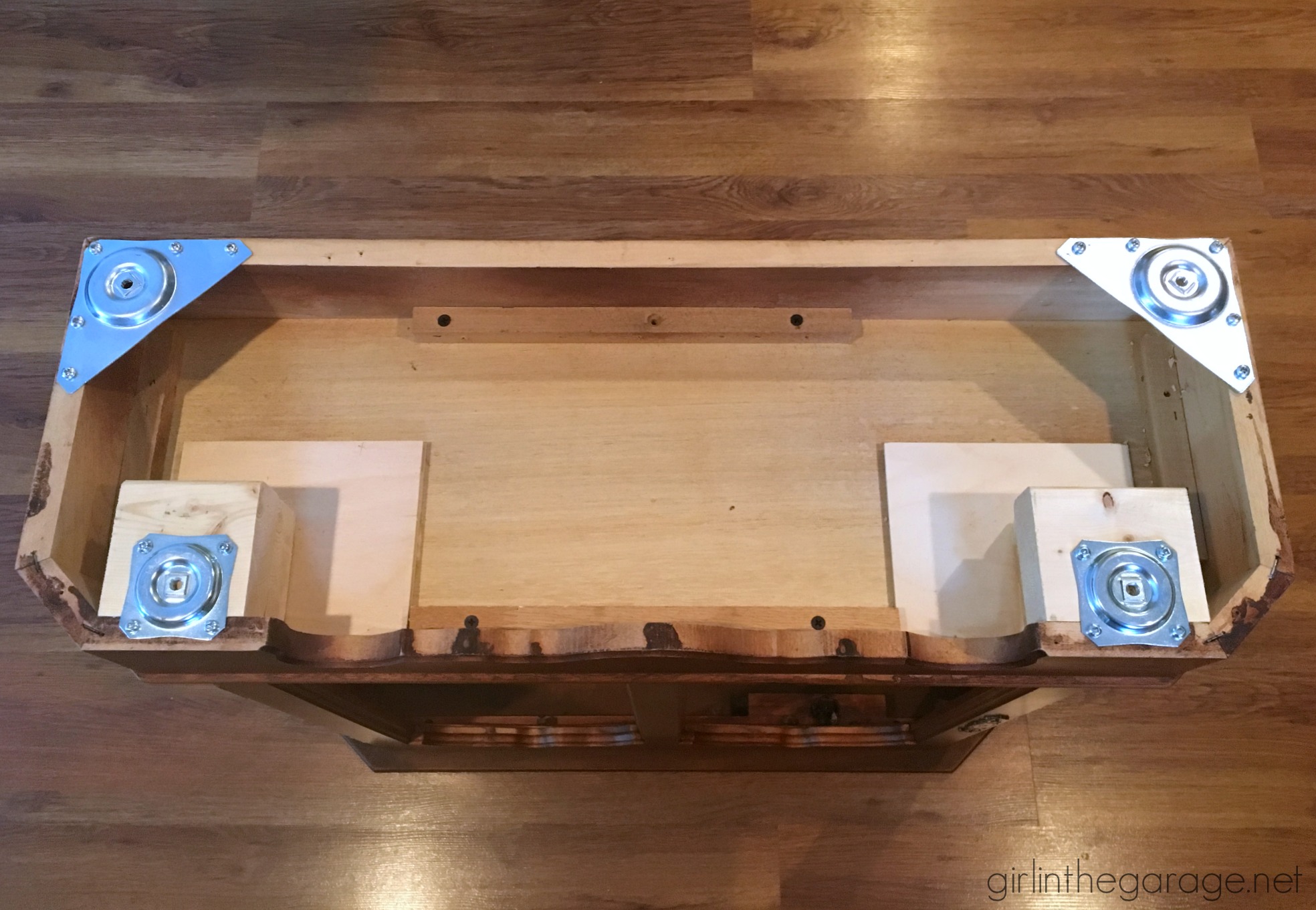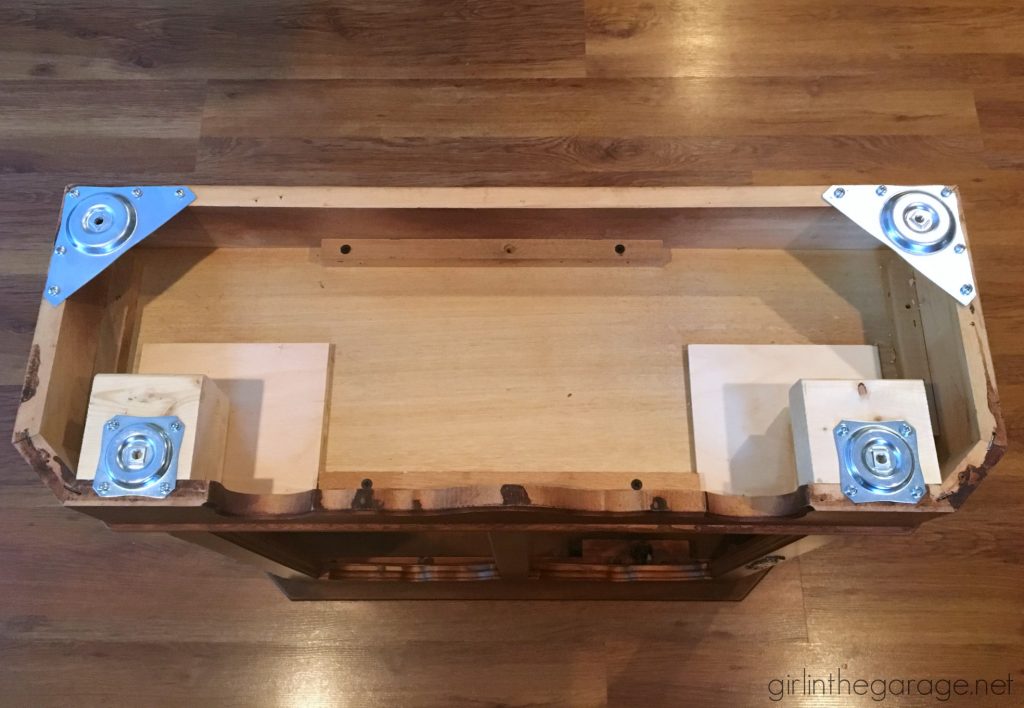 I had wood pieces cut for the back panel, sides, and the shelf. Hammering the back panel on was easy with little finishing nails.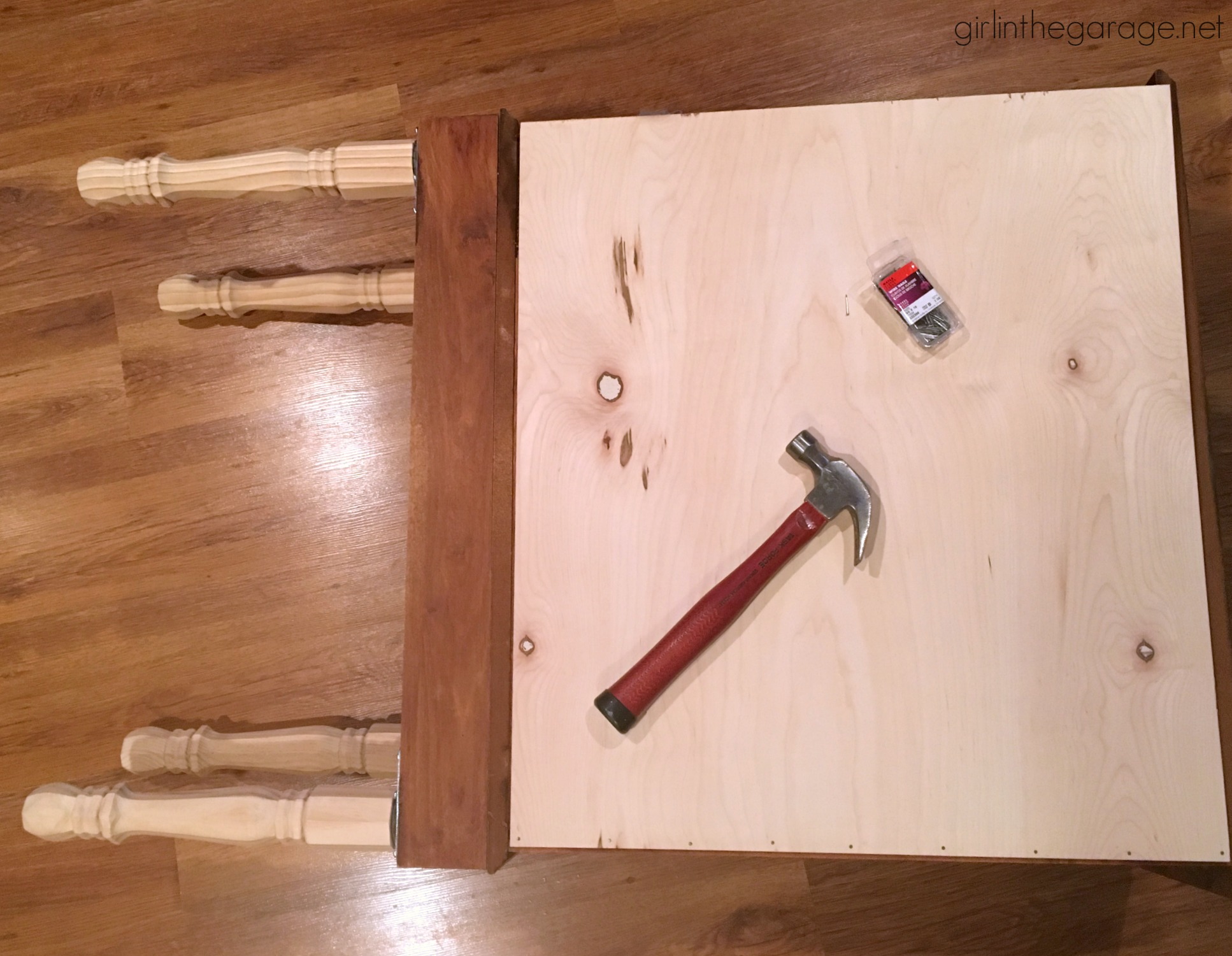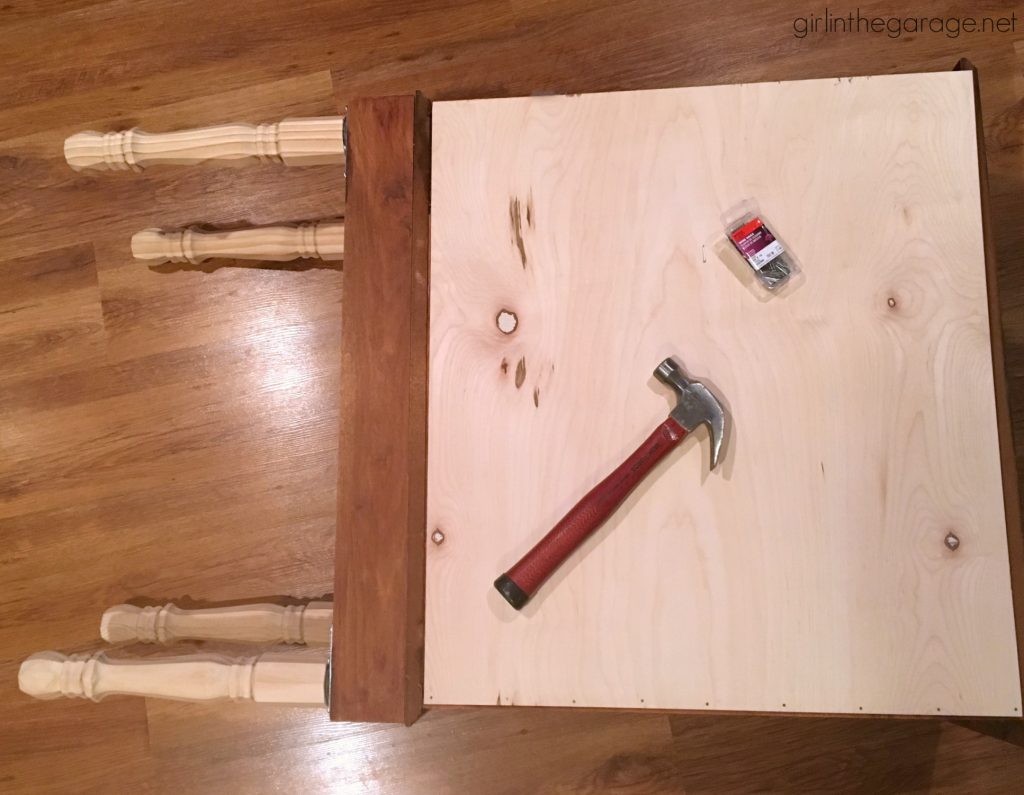 Updating Glass Doors on the Cabinet:
A lot of options for the doors went through my mind but ultimately I chose this aluminum sheet in the Cloverleaf pattern from MD Building Products (learn more Here).
I have been wanting to try this product out since meeting the reps at the Haven Conference last summer (for DIY and decor bloggers) and finally had a reason now. Woot!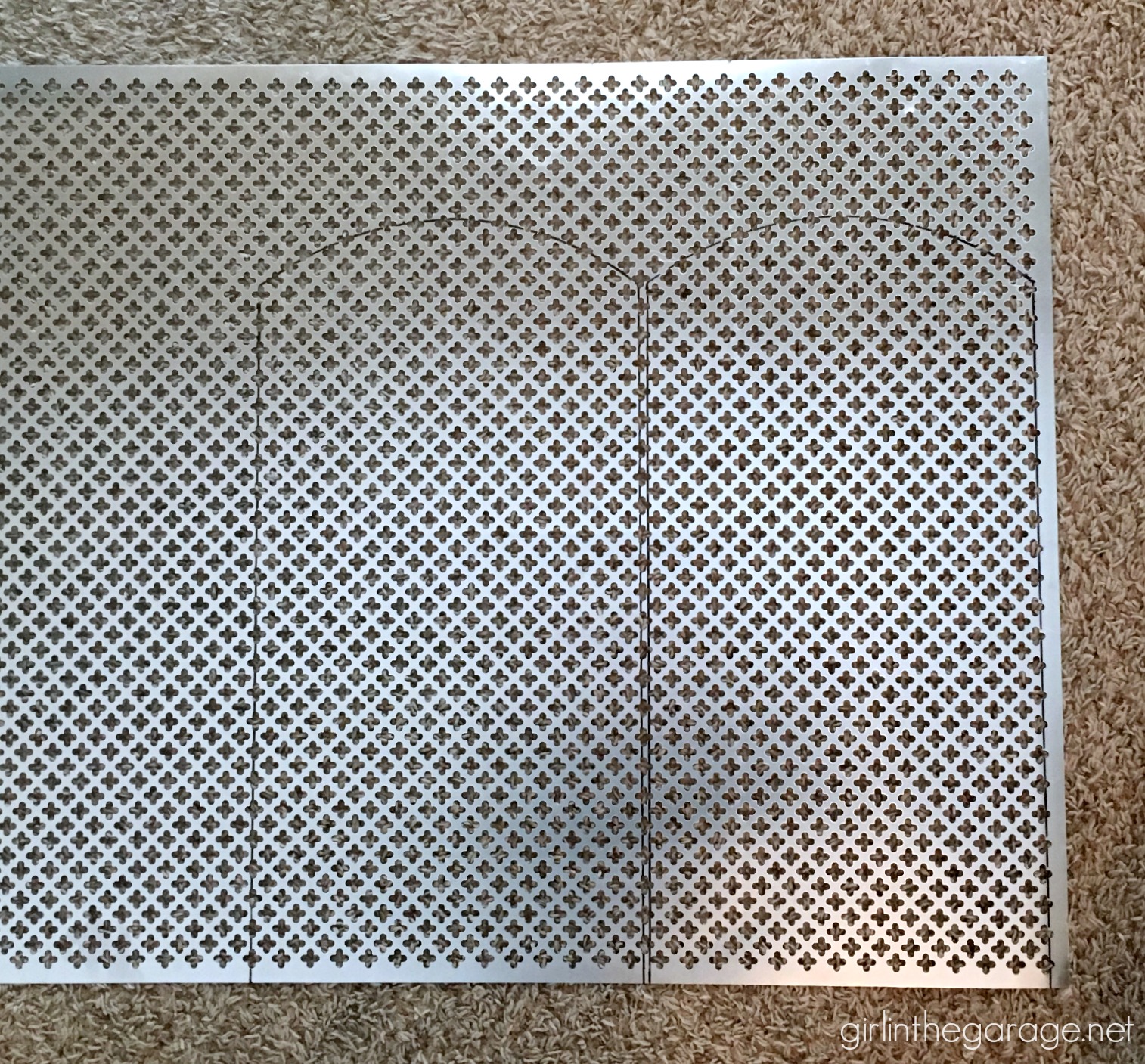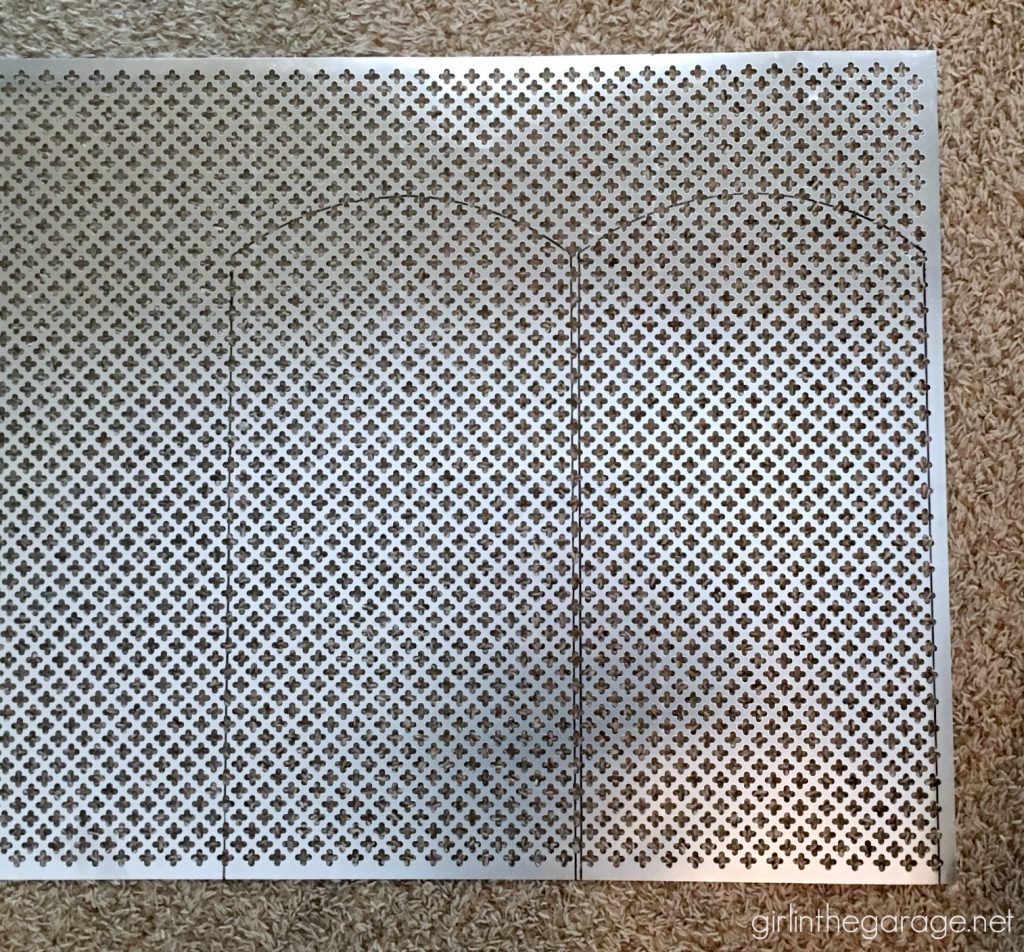 I traced the glass from the doors onto the aluminum with a Sharpie and it cut easily with tin snips. (The metal edges are pretty sharp though, so be careful!) Again, you can read more about this product and see all the other patterns and sizes available Here.
All the new pieces fit thankfully, and next up was painting everything in Old Ochre Chalk Paint by Annie Sloan (separately) and then reassembling it all back together.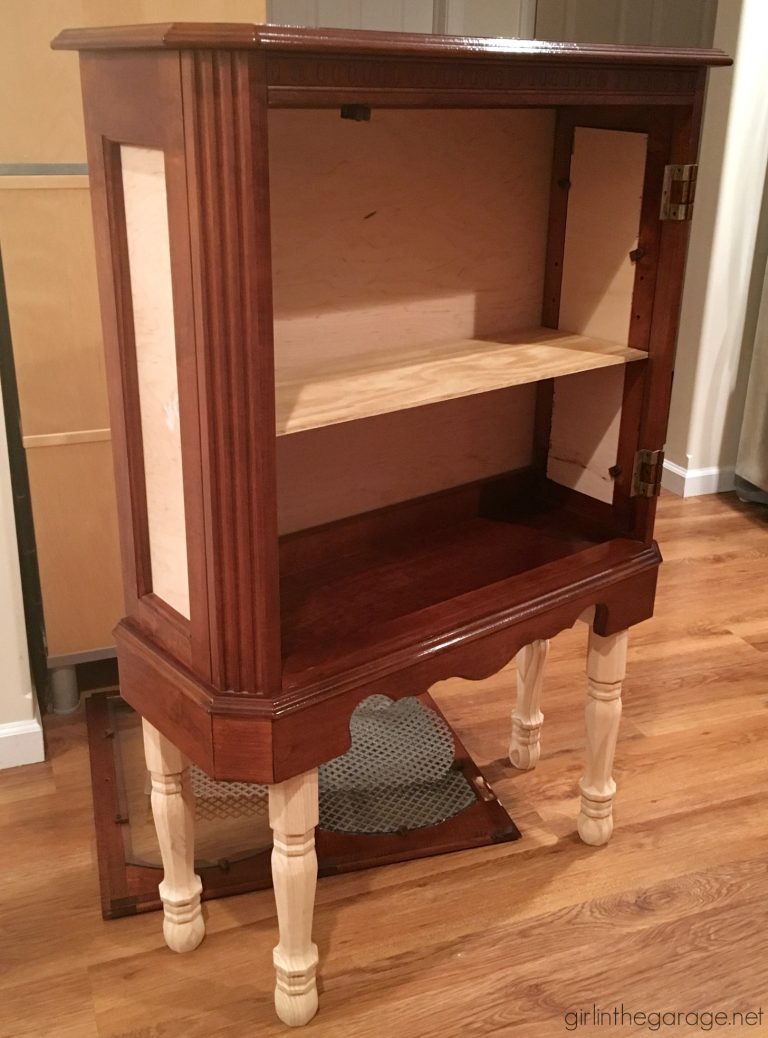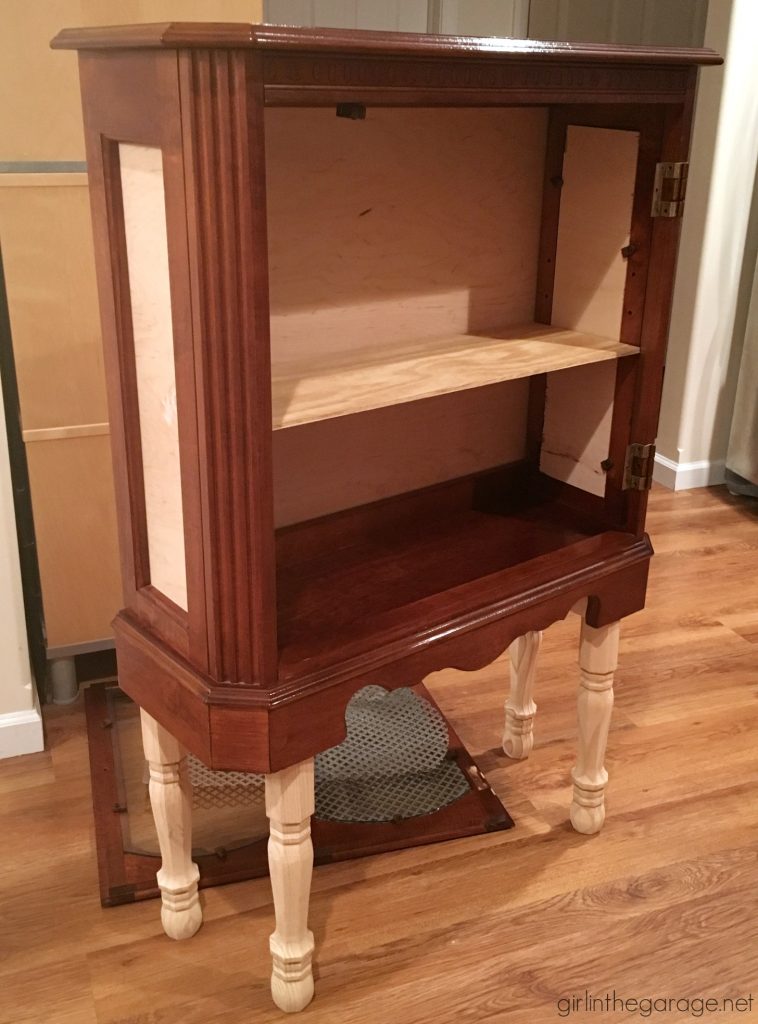 And here's the new and improved curio cabinet makeover…….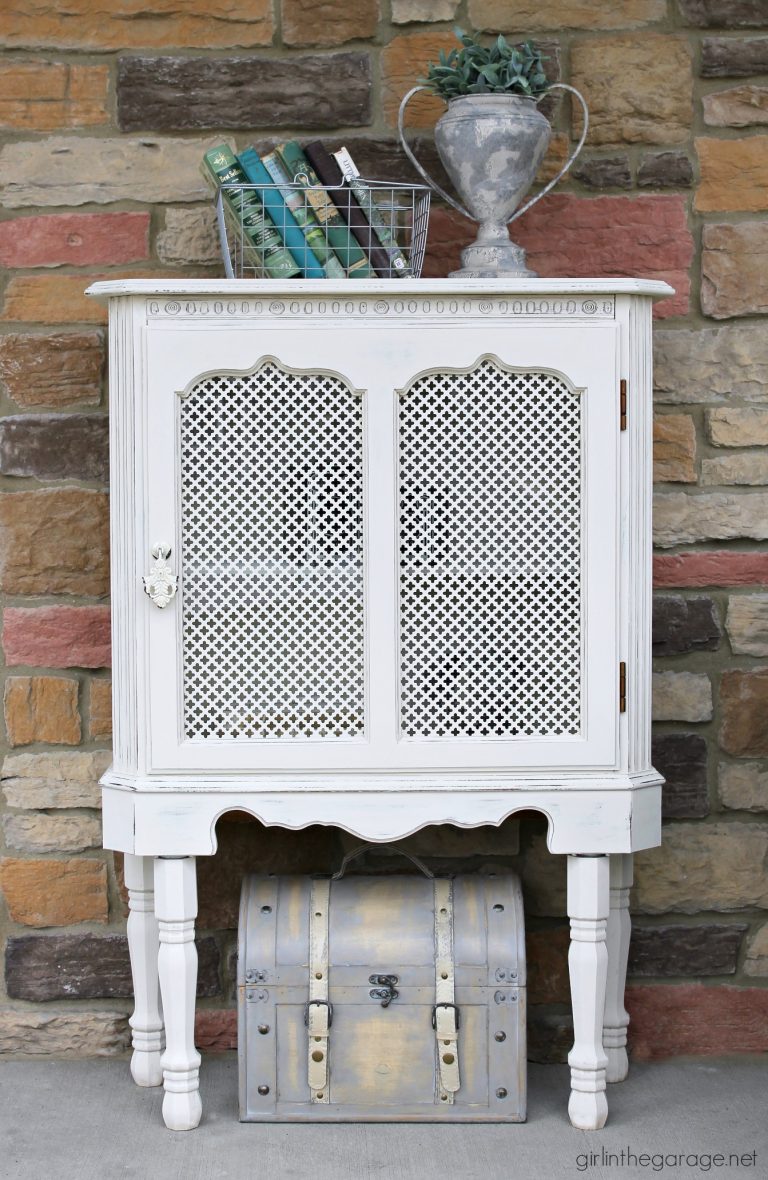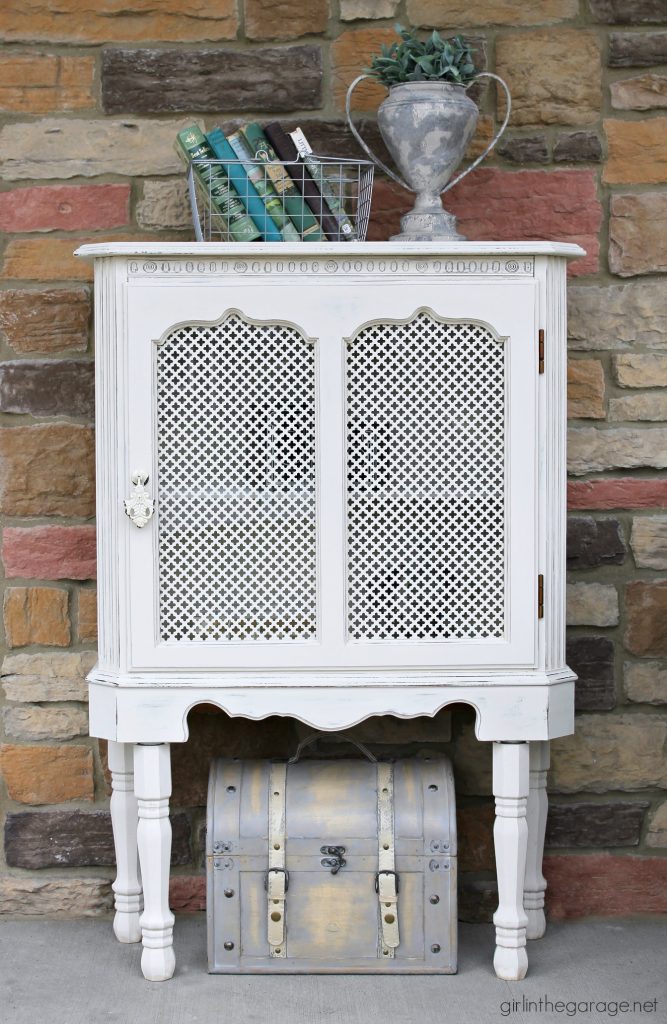 I did forget to mention that I sanded by hand and distressed it to make all those pretty lines and curves more noticeable. I made quite the mess in my kitchen. 😉
The old hardware was also replaced with a new, vintage-looking pull that was on clearance. The color was spot on, I didn't even have to paint it.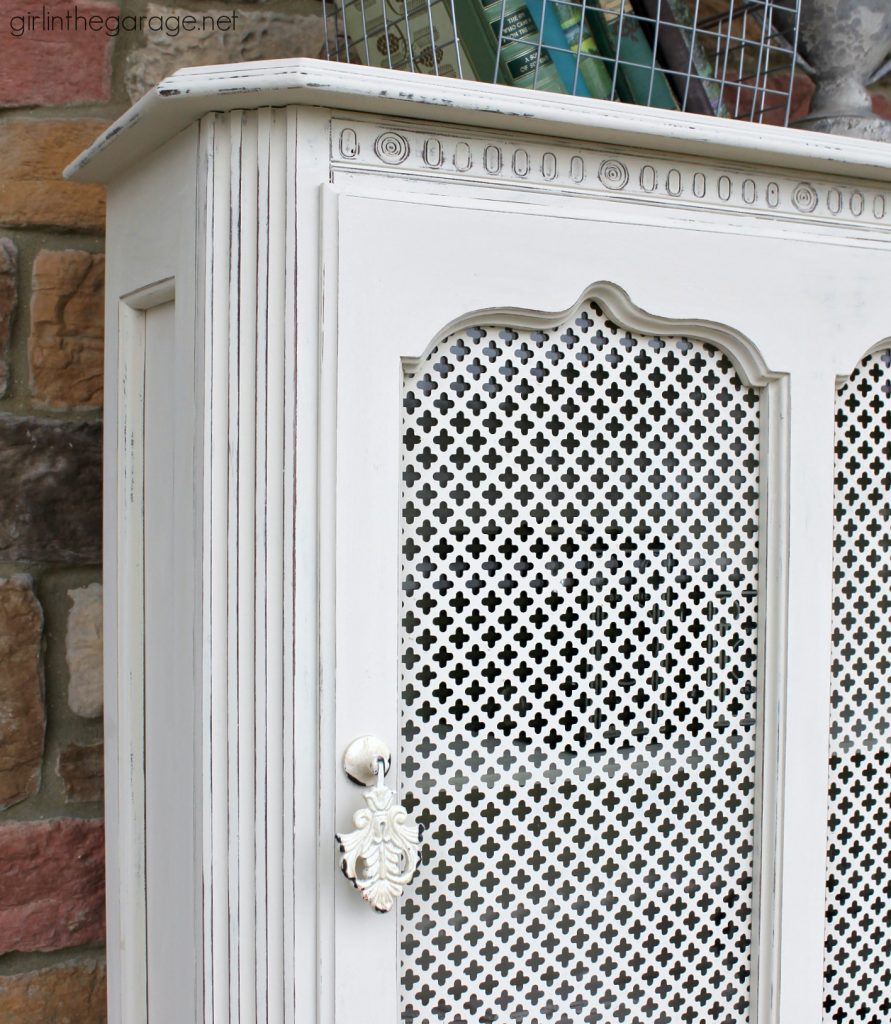 A few more photos (that I took in 25 degrees yesterday, haha)…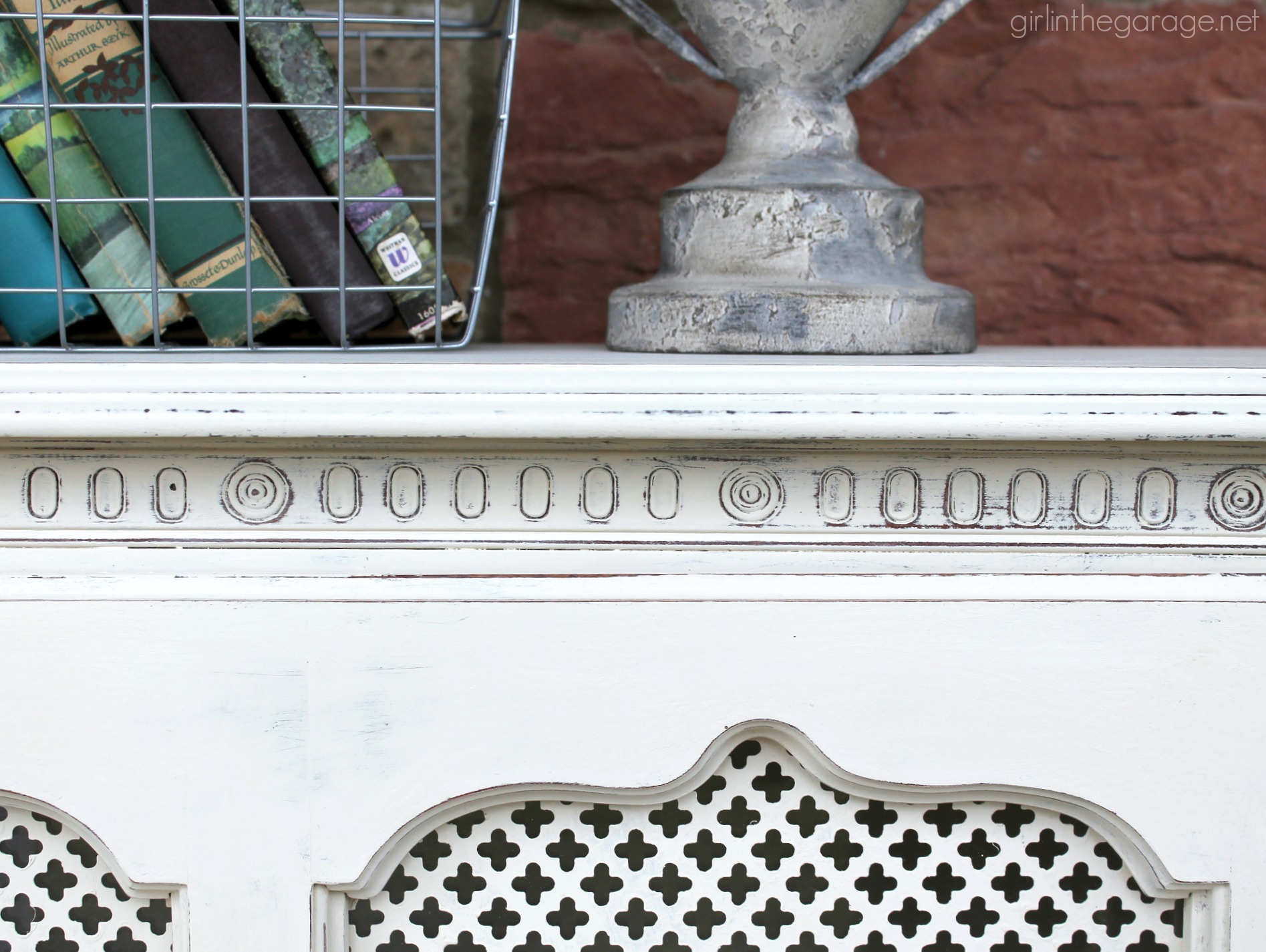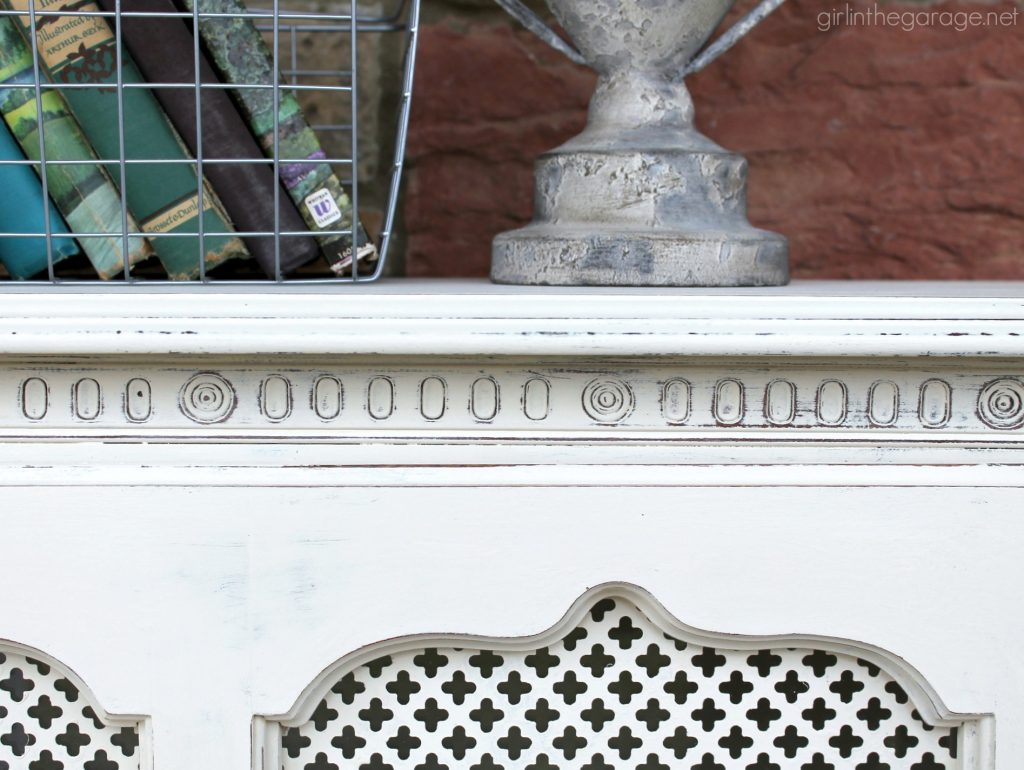 ❤️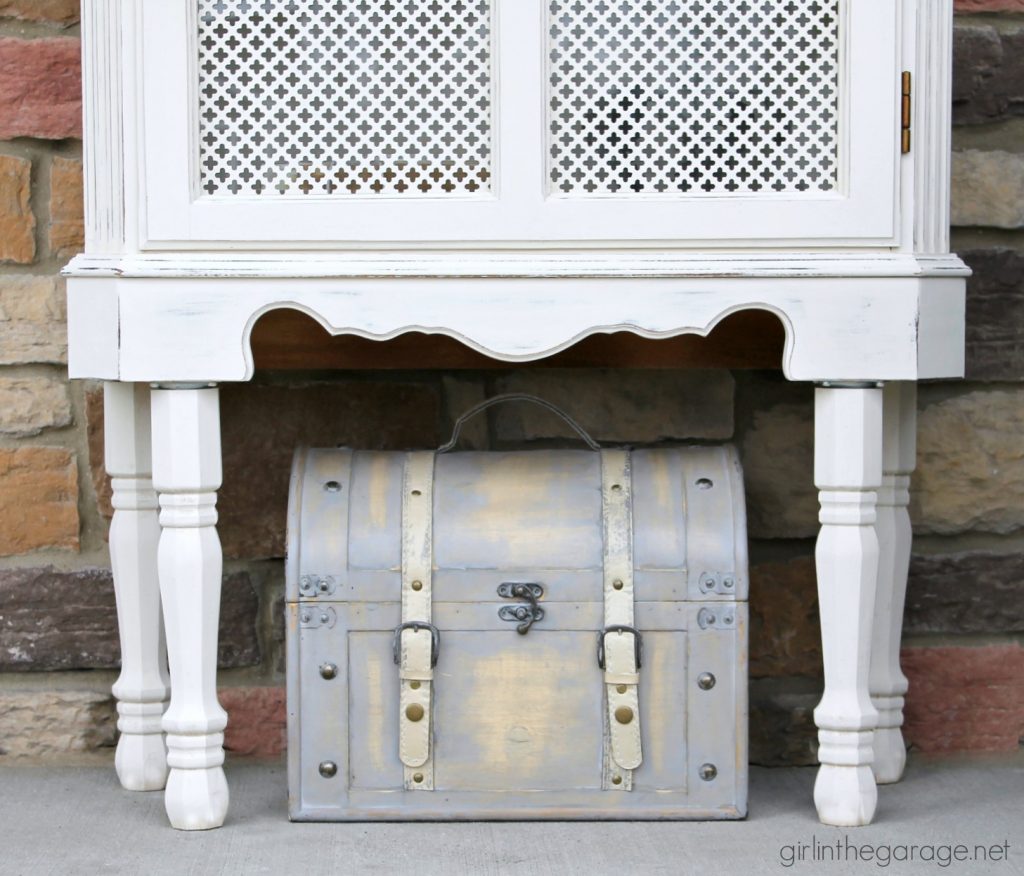 The side panels fit just right where the glass used to be. I prefer the closed look myself.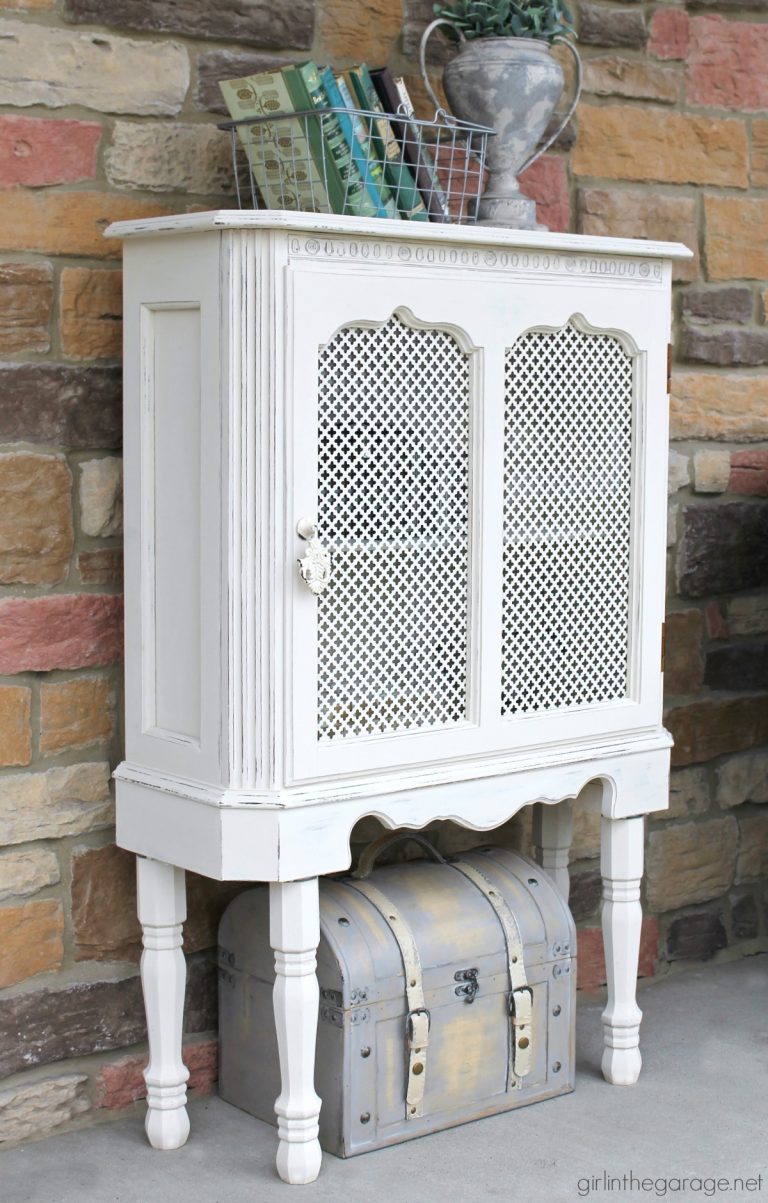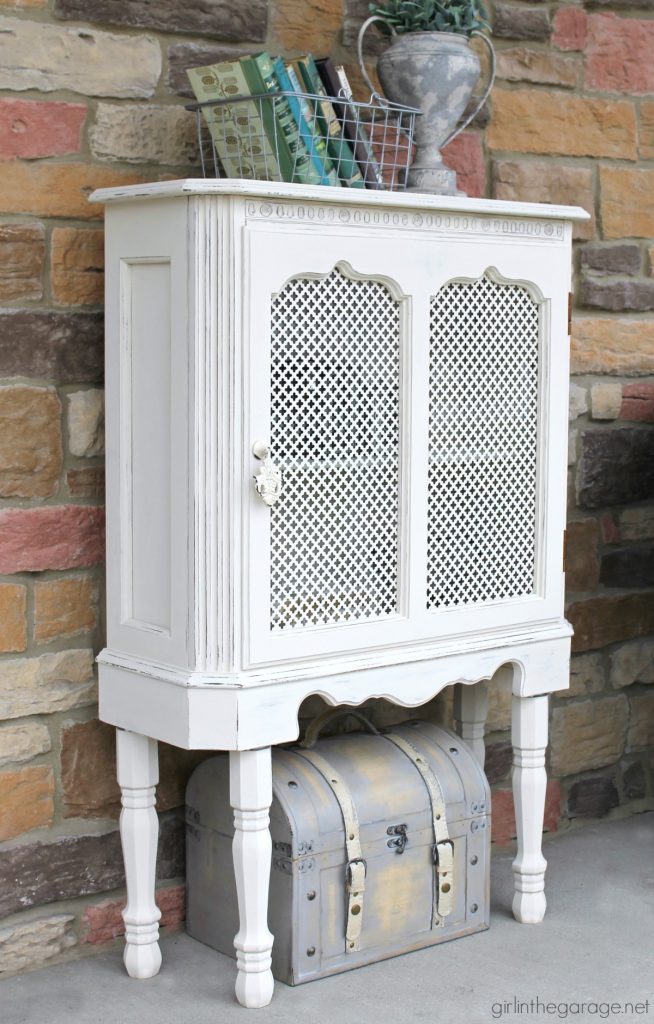 And here's a look inside. The glass is still there on the doors, helping to hold the metal in place. The metal panels are actually removable if someone just wanted plain glass on the front.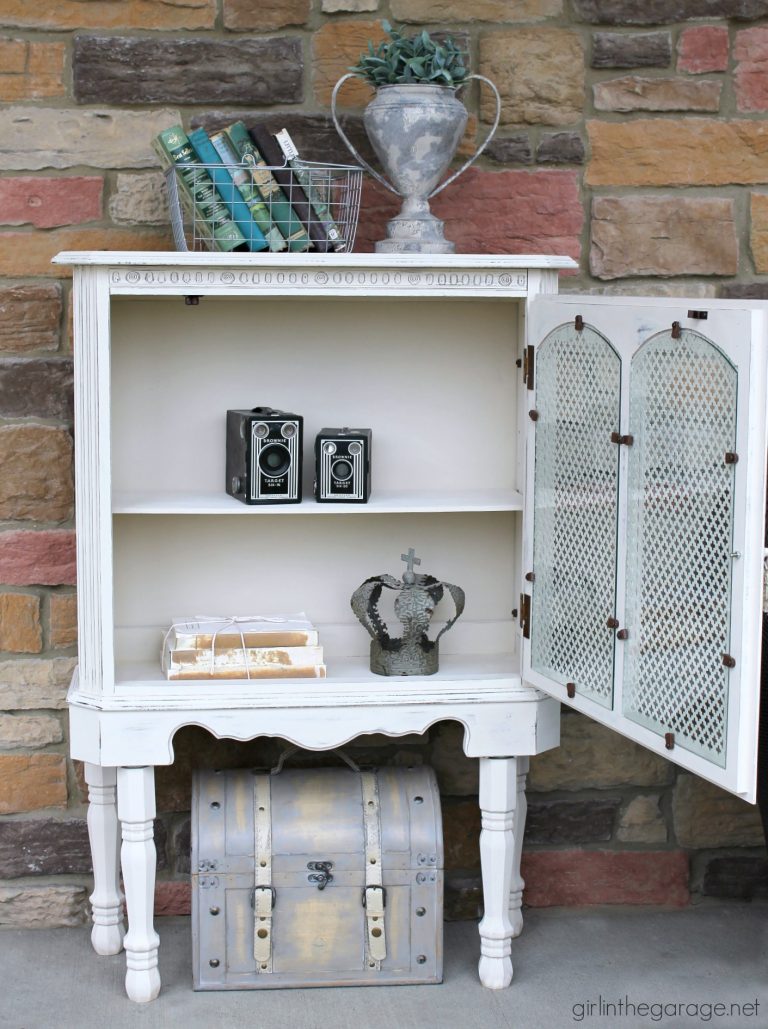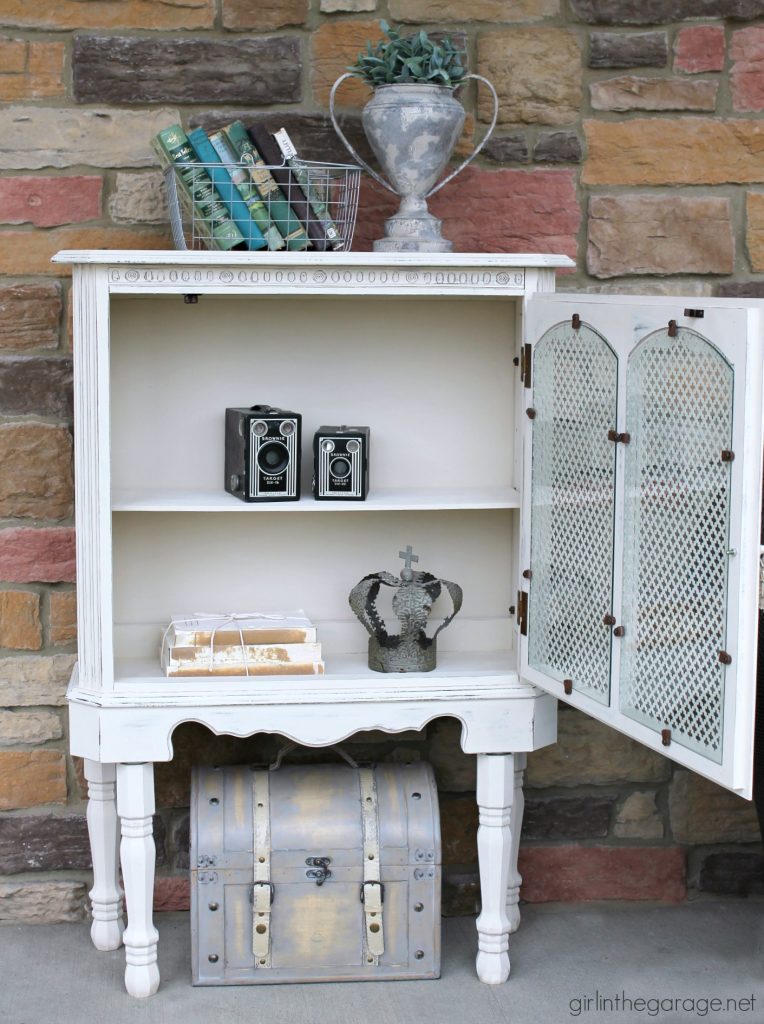 Here's one last before and after for this petite painted curio cabinet makeover that got about a foot taller with new legs: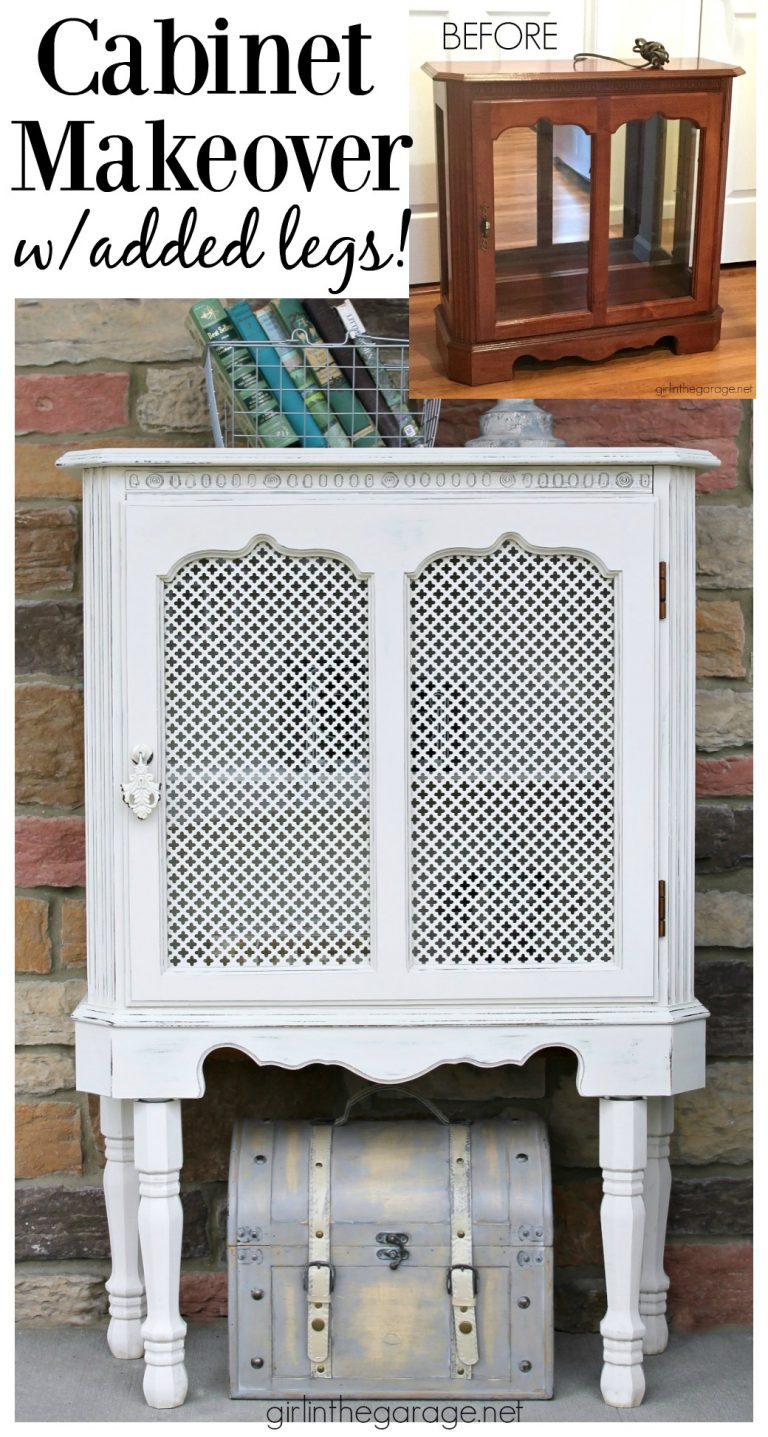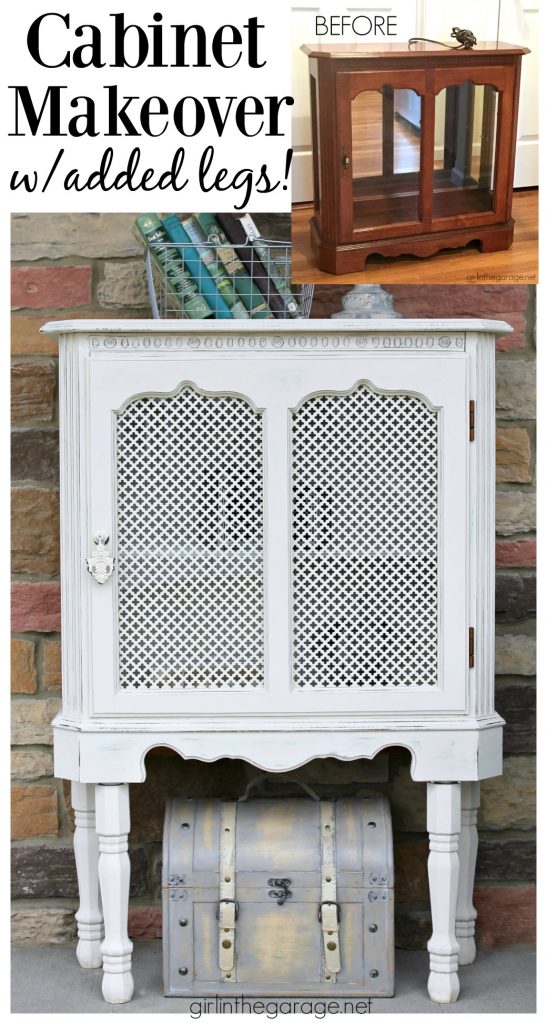 As always, please leave me a comment so I know you stopped by! Let me know what you think, if you've done something similar, or what you might've done differently.
I'd also love if you'd Pin or share this post with others. It's easy to do from the very top or bottom of the post.
Thank you! – Jen
.
Now it's time to see what my friends have been up to for this month's Furniture Fixer Uppers day!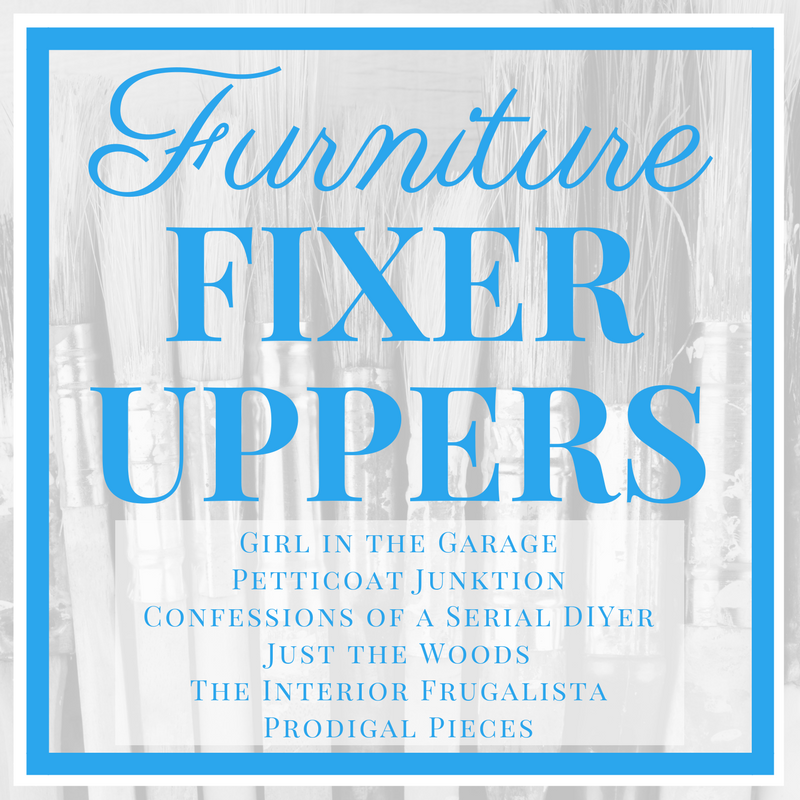 Below are the Before photos – visit the links underneath to see the After photos and to learn how they did it.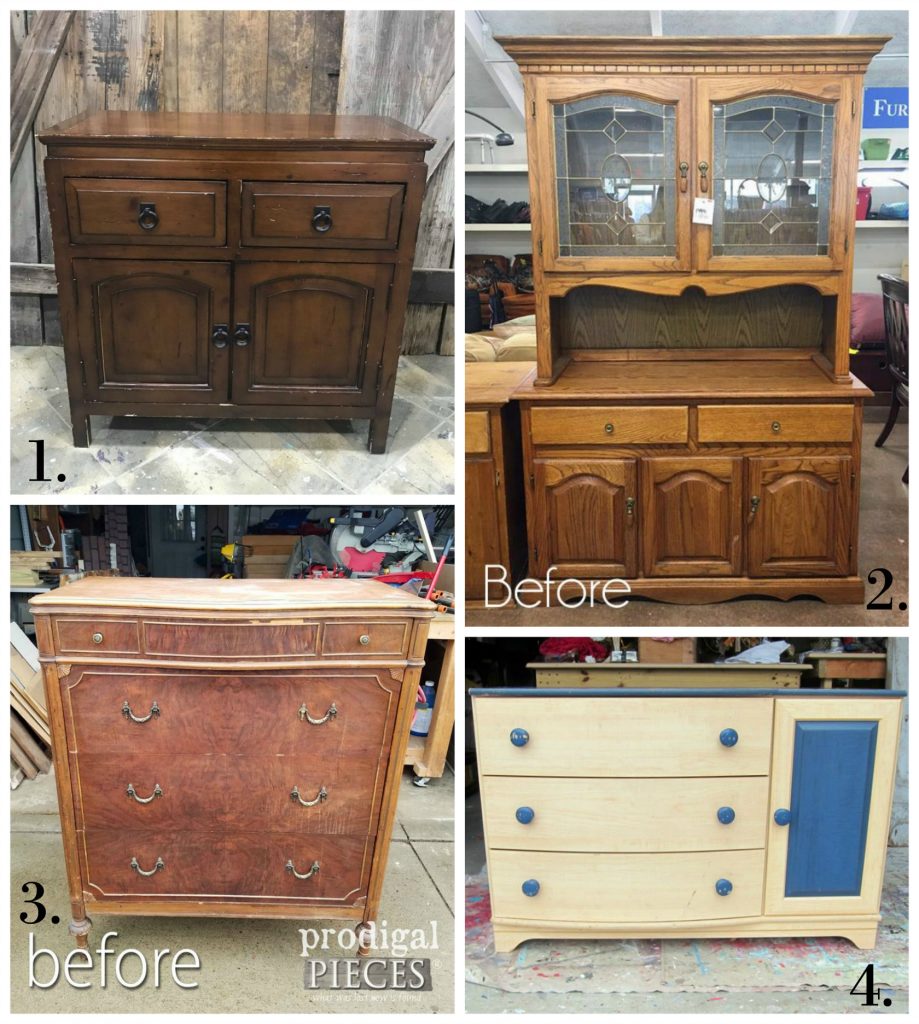 1. Just the Woods
2. Confessions of a Serial DIYer
3. Prodigal Pieces
4. Petticoat Junktion
You might also like… Repurposed Antique Radio Cabinet Makeover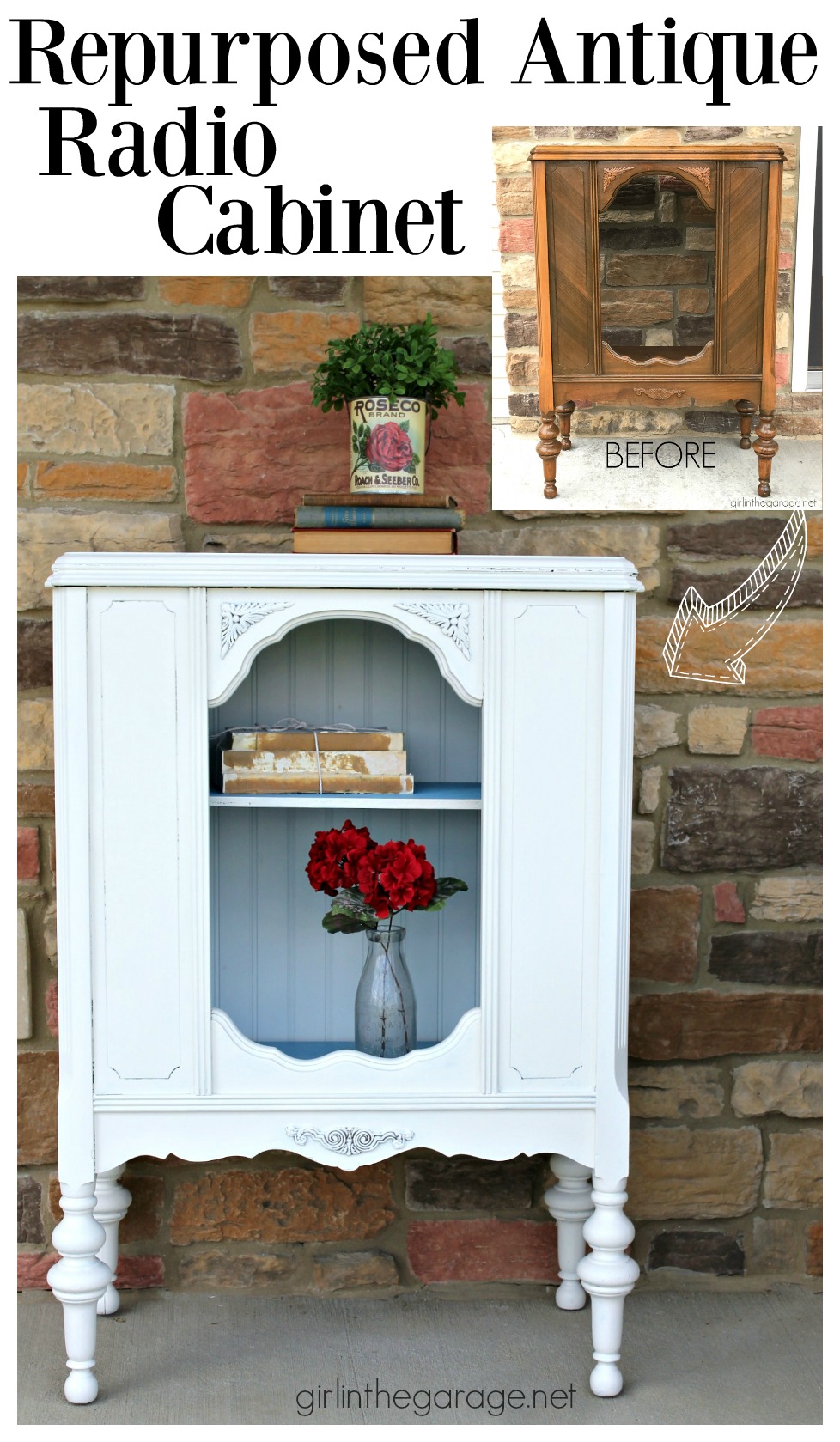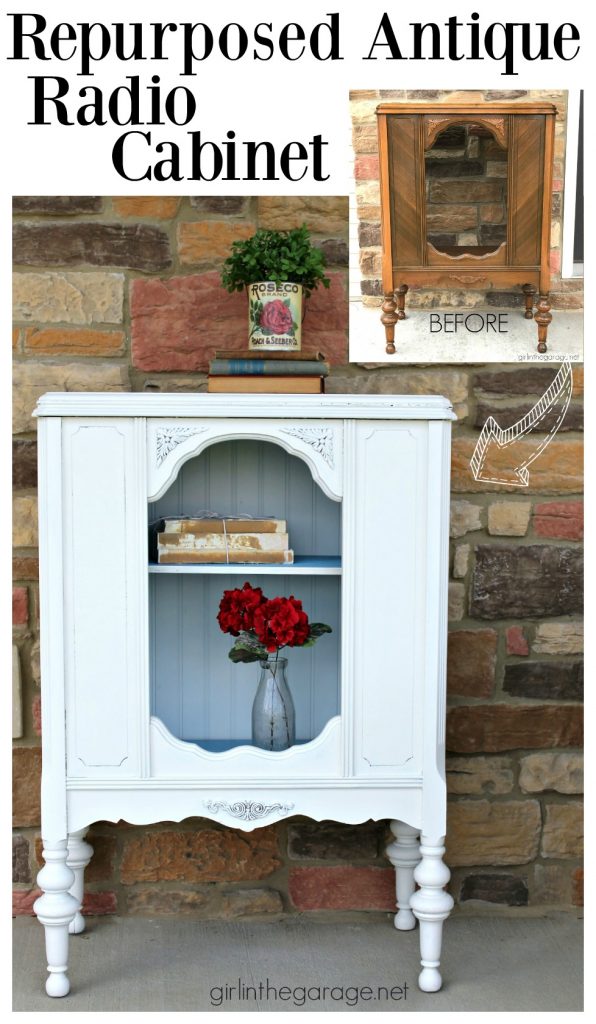 Join the GITG Community
When you join this thriving online community of 90,000 creative souls, you'll be inspired to discover hidden artistic talents and learn skills to boldly face DIY projects with confidence.
You'll also receive my free guide "Just Paint It: 7 Tips for Transforming Furniture with Confidence."