You guys, I am really excited about today's post because it means we're making progress on the basement renovation and on my future home office space!!!  This mama needs a quiet place to work and just chill sometimes, can I get an amen?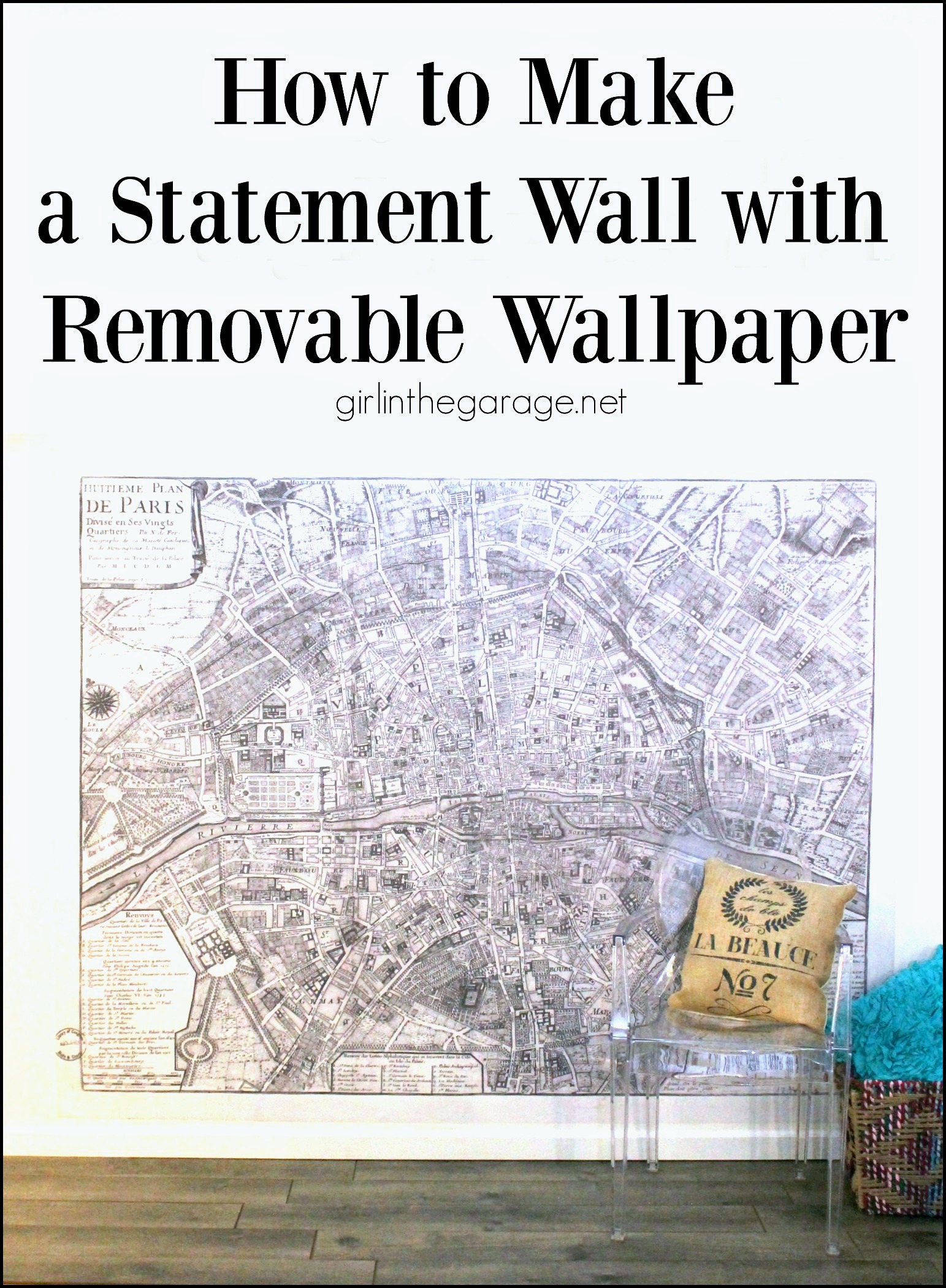 Today's post is sponsored by hayneedle.com but all opinions are entirely my own.
Last month I shared the design plan for my new office area (see it HERE).  That included a big vintage wall map of one of my favorite cities, Paris (j'adore) from hayneedle.com.  Not only is the map totally gorgeous, but it's printed on self-adhesive and removable wallpaper.
But before I get ahead of myself, here's the wall I chose for the project.  Since there's a bulkhead on the left and a small window at the top, I chose the 7ft wide x 5.6 ft tall map, which I taped out first.  I decided to center the map directly underneath the window.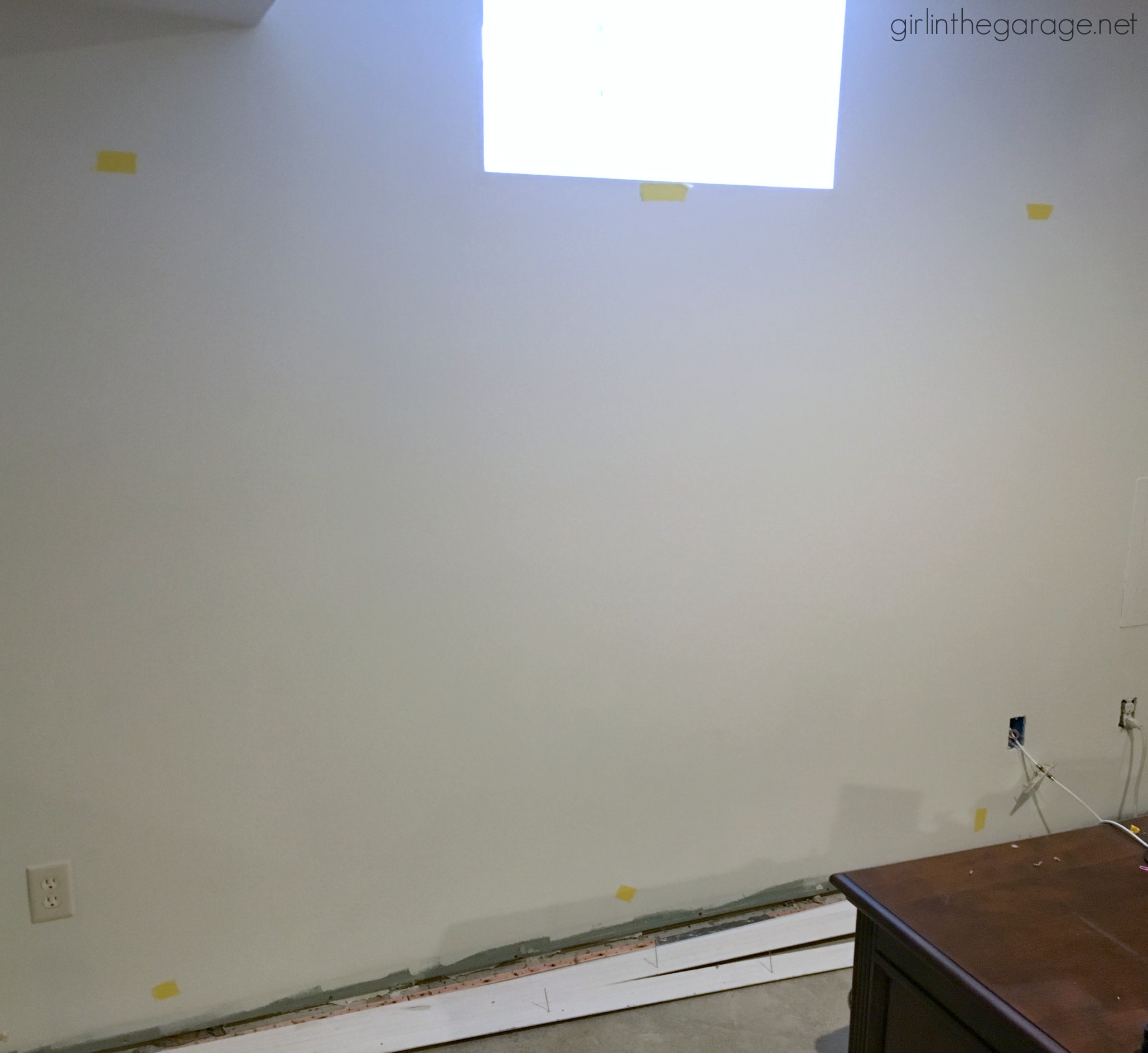 The size I chose came safely wrapped in 4 panels.  The paper is textured vinyl with a vintage look and feel to it.  First, you want to make sure your wall is completely clean and dry before starting.  I measured again and marked the approx. dimensions with a pencil on the wall.
Now, if you try this yourself you'll probably want to start your project on the top left or right of your chosen wall space.  Since I chose to center this under the window, I decided to start with the 2nd panel first so I could line it up correctly.
Start by removing the sticky paper from the back – about 12 inches at the top.  Gently press down and smooth out any air bubbles with a straightedge or credit card.  Keep working in about 12 inch sections until you finish the panel.
Now when you start your next panel, you'll notice that it's printed so that there's a one inch overlap to make sure everything lines up perfectly.  I got halfway through the second panel when I realized that I was working at a slight angle, so I peeled everything off and redid both of the panels.  Removing a panel isn't super easy (because you wouldn't want it falling off the wall at any given moment) but it's definitely not difficult either.  I managed to remove and rehang them within just a few minutes.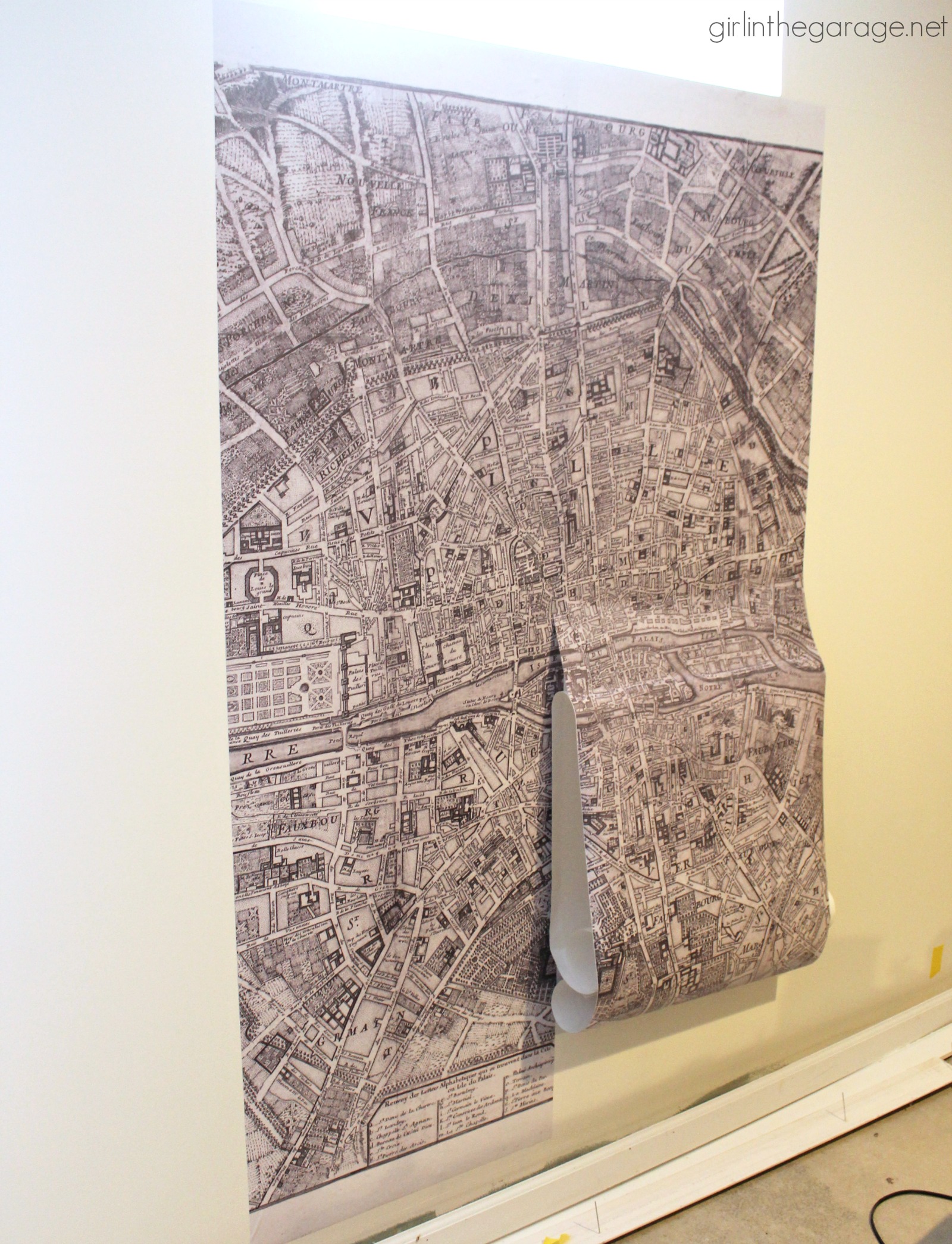 Here's a closeup of one of the seams: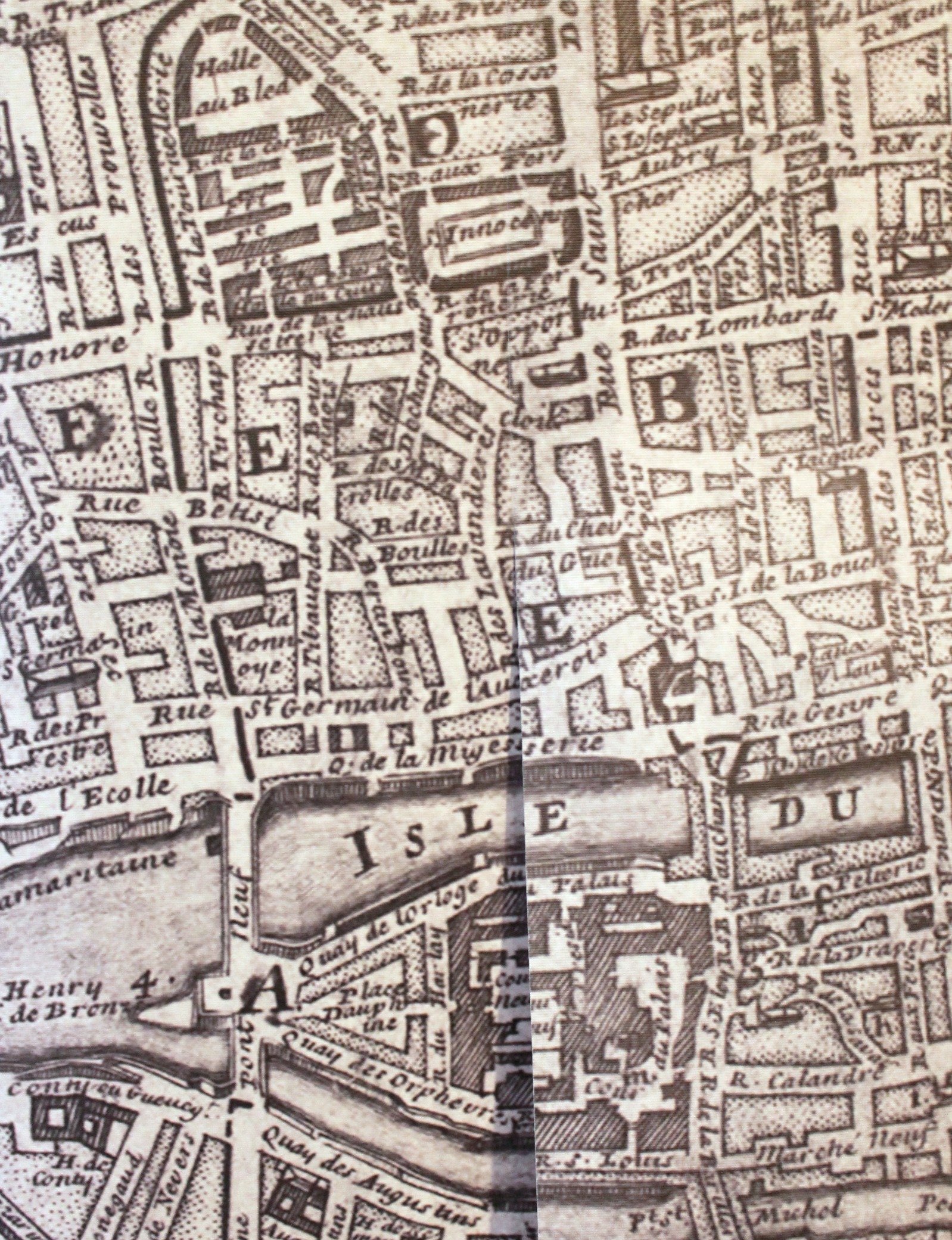 They are almost impossible to spot!
Here I went back and hung the panel on the far left: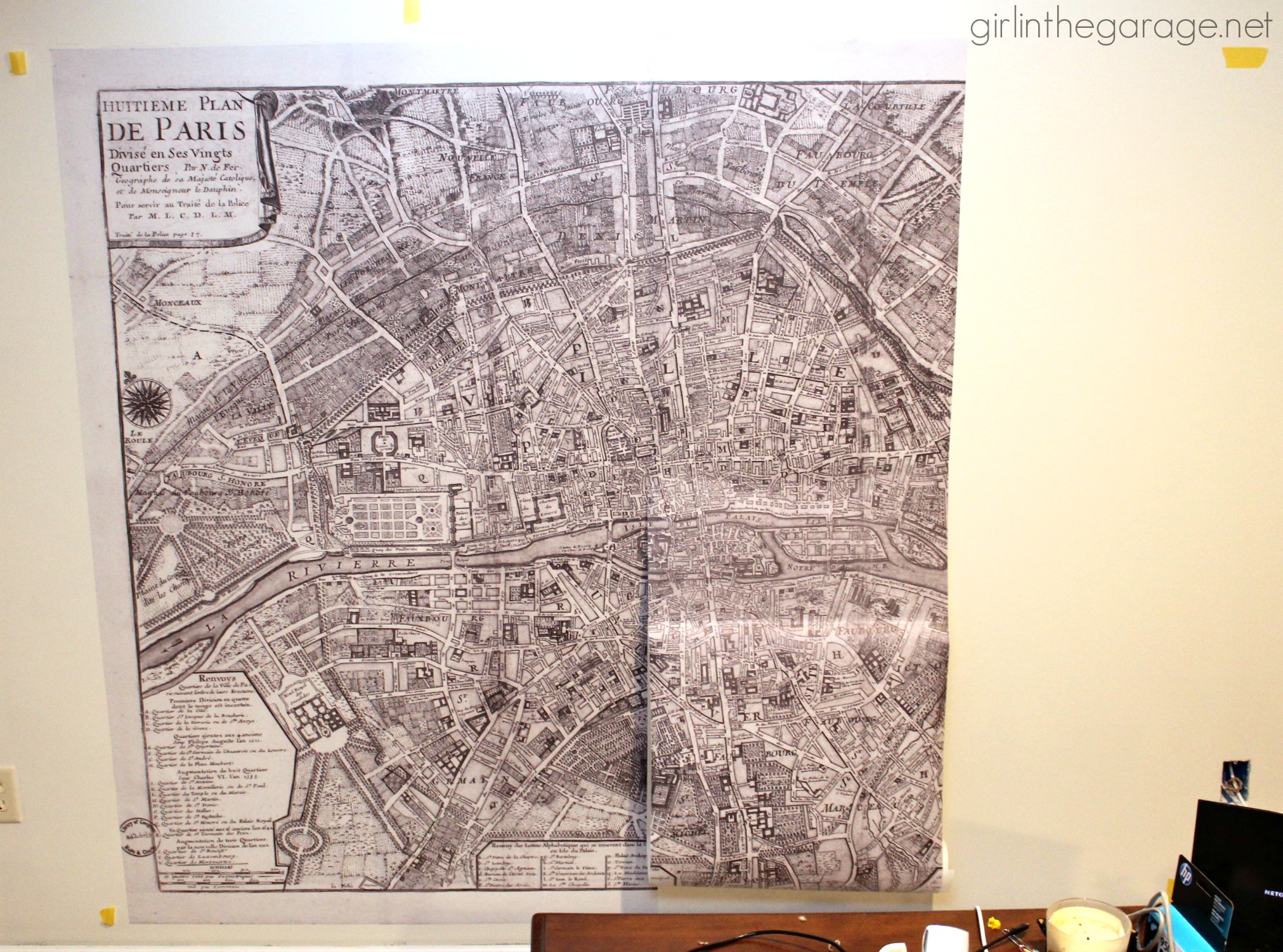 It wasn't long until I was all finished and now I have a statement wall which I am totally in love with.  I can't wait until the rest of my office is finished and I can see everything together!
Here's a pretty styled shot with my super-bright little window and oddly glowing flowers: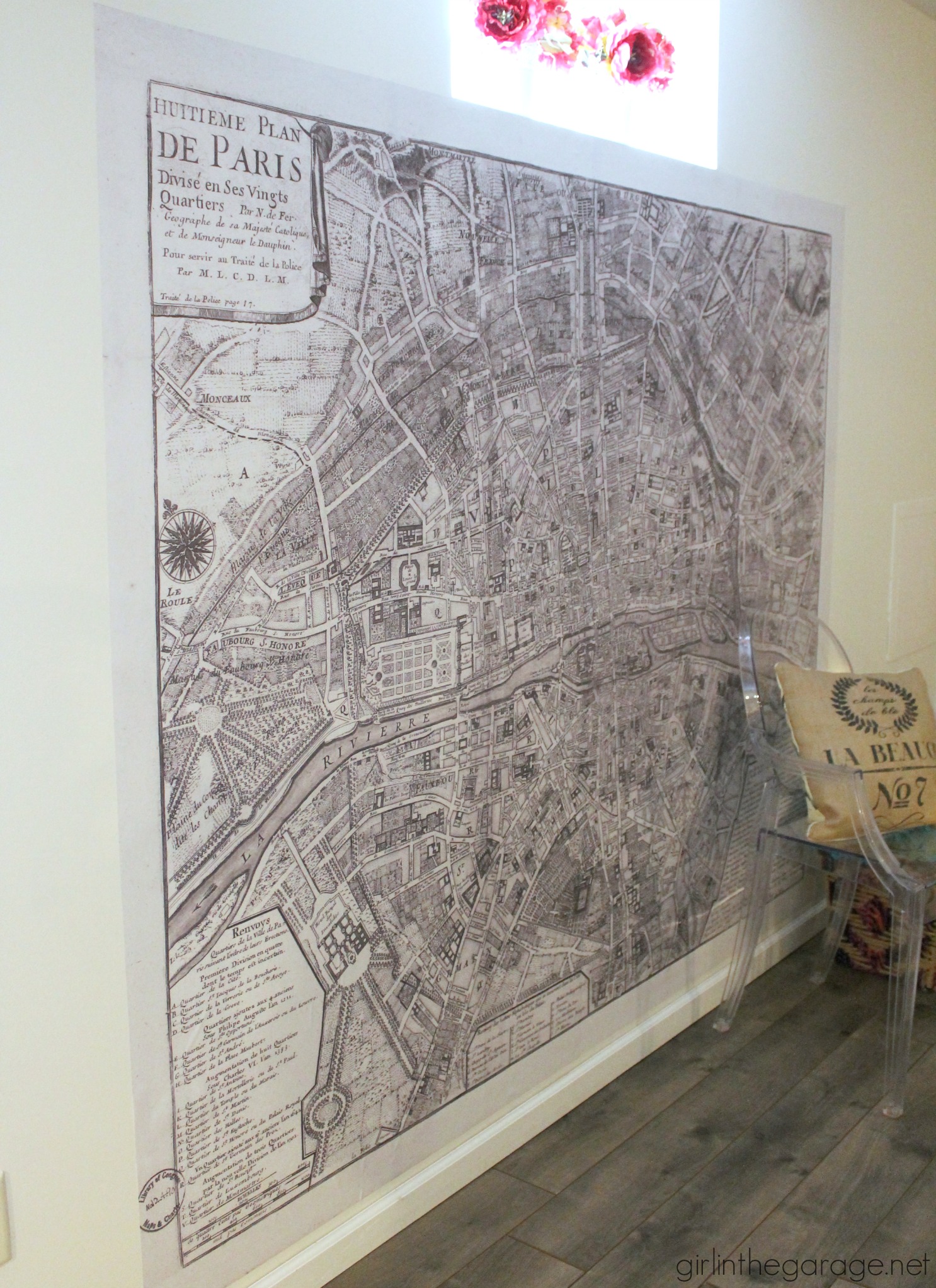 Here are a few closeups so you can see the detail in the map… monuments, streets, different parts of town, etc.  It's a replica of a 1705 map, so there are still a lot of fields and undeveloped areas.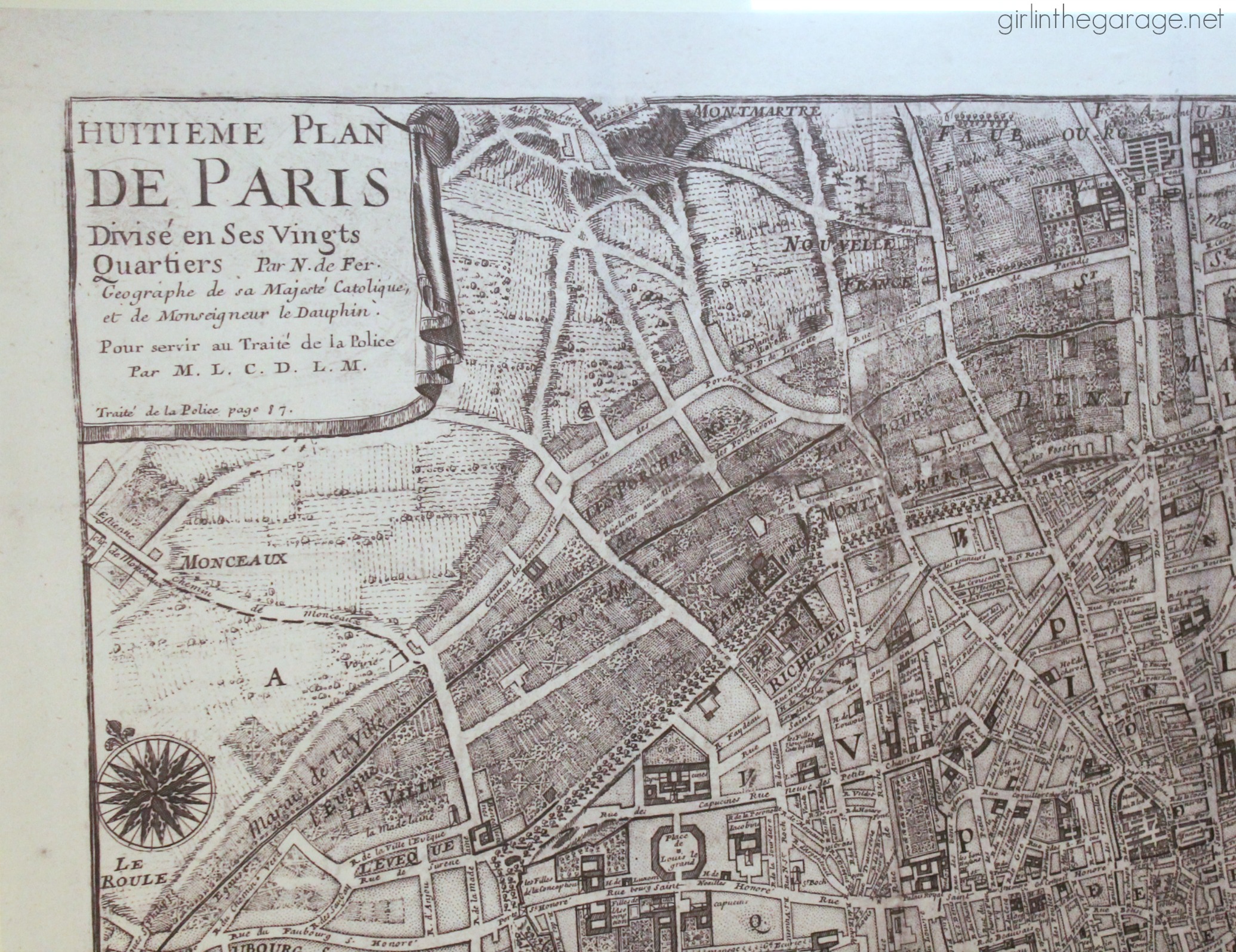 Another part, with Notre Dame and the Seine River: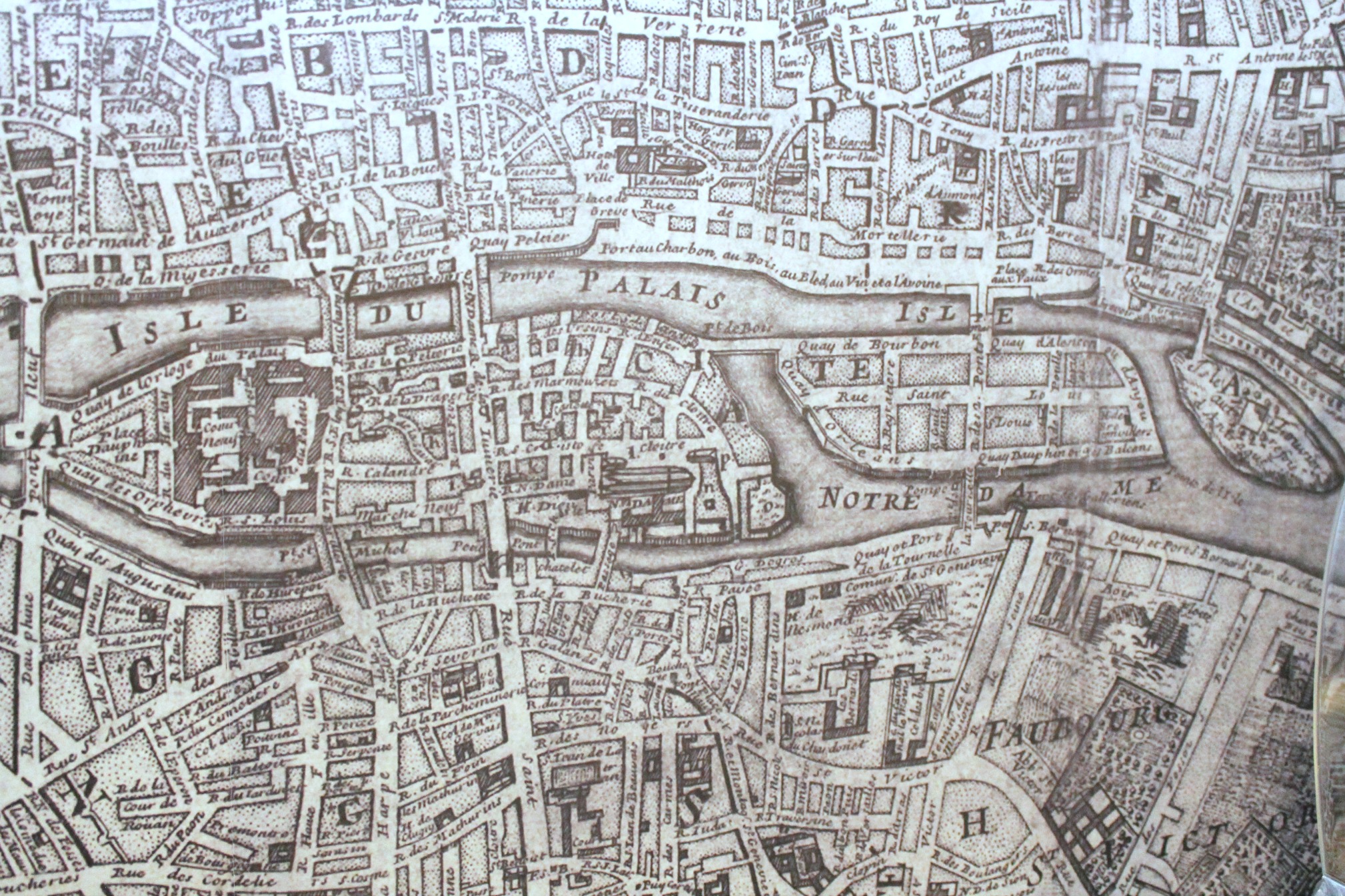 Since we're still finishing the basement, I staged it for now with my new desk chair (which the boys absolutely love, by the way).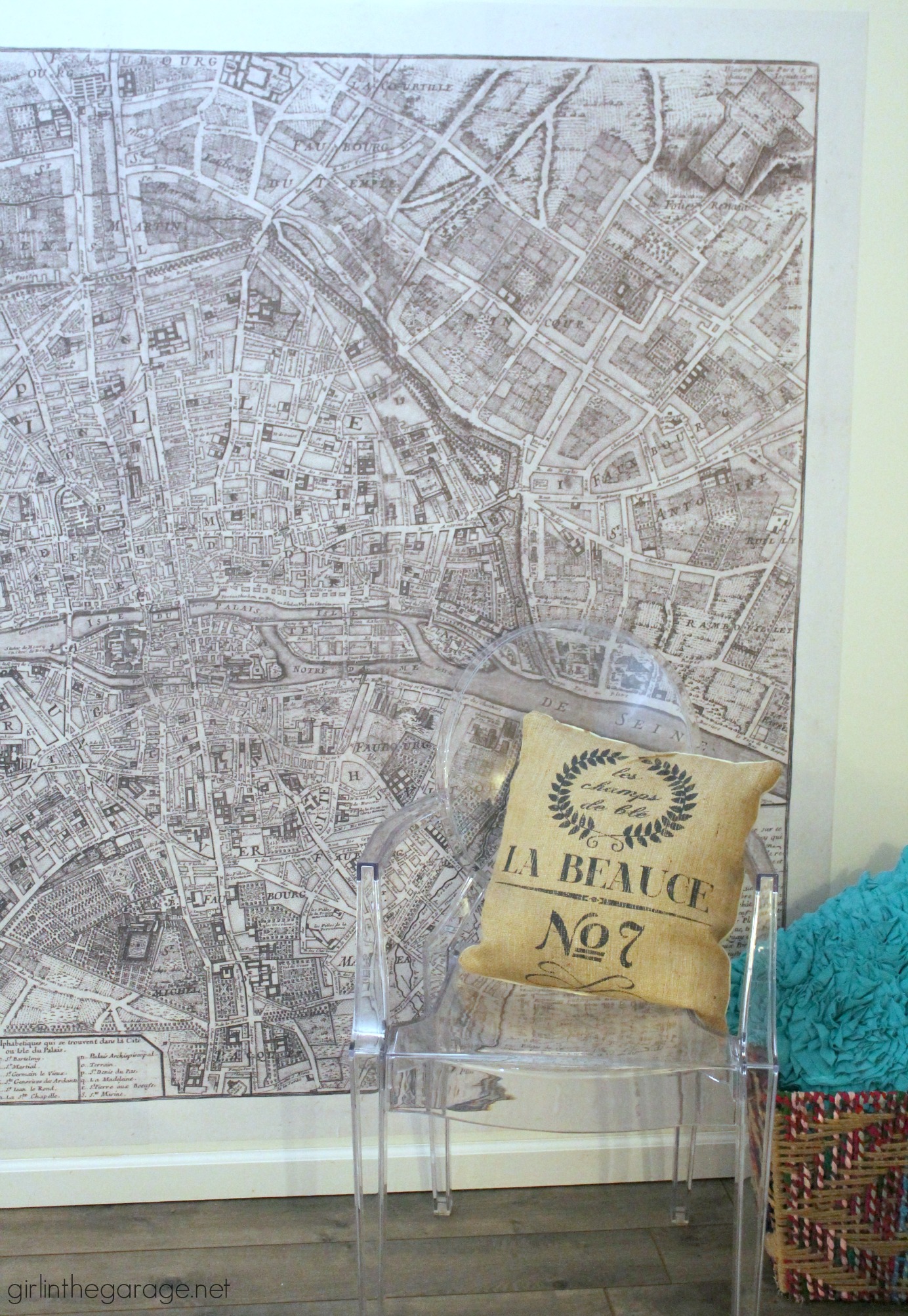 The entire process took me only one hour – I was amazed at how quickly I finished, even with a few small hiccups and some breaks to take photos.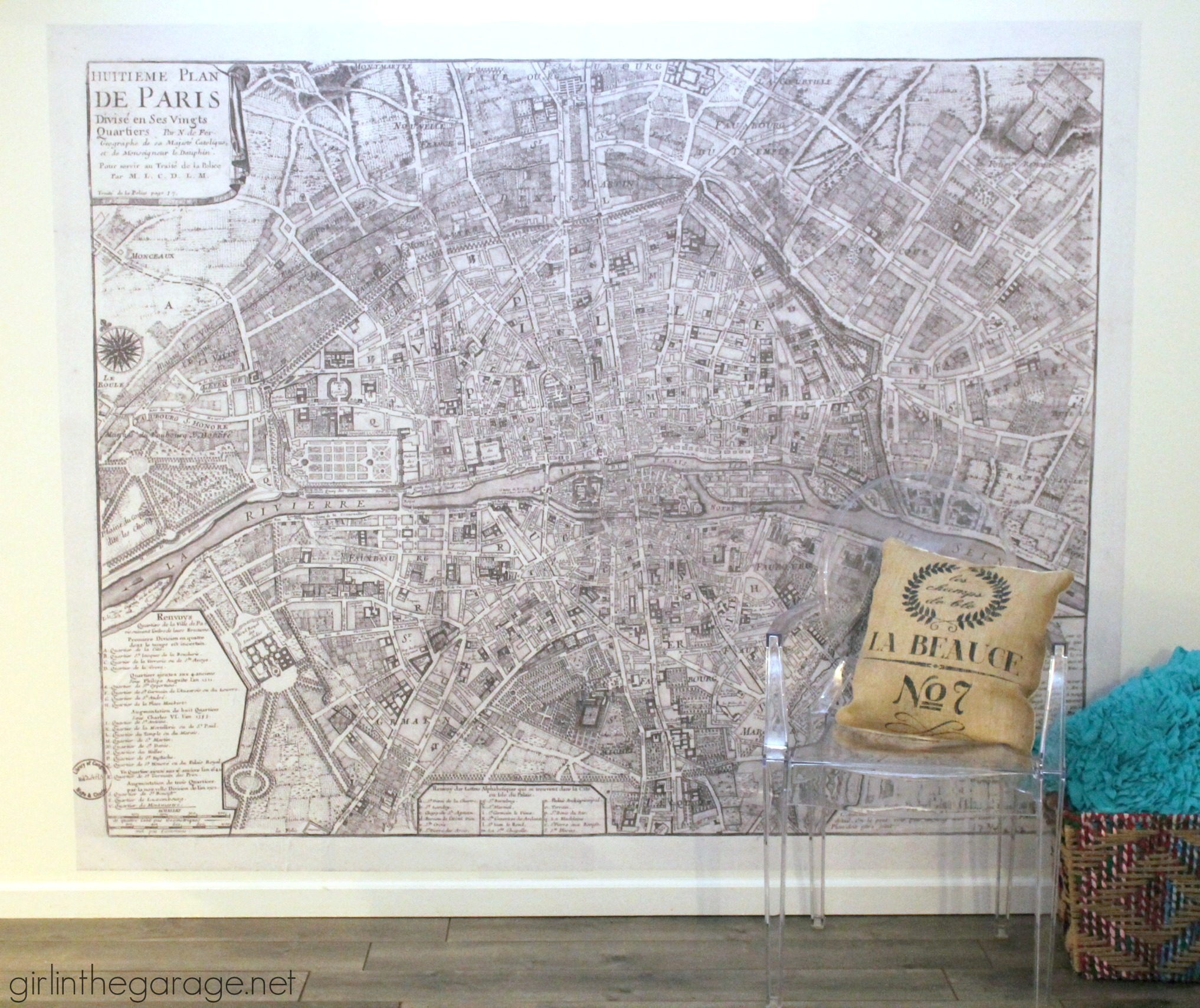 So, are you a fan of wallpaper?  I've never hung traditional wallpaper, but I have had to remove it and it was AWFUL.  I love that this map is self-adhesive and repositionable, if I ever change my mind about where to hang it.  It's also crinkle-free and printed using eco-solvent ink.  There are 6 different sizes available on hayneedle.com – you could completely cover an entire wall if you want!  Oh, and did I mention it's a map of Paris? What's not to love?  🙂
Jen