Hey guys!  We are in the midst of a big basement overhaul.  We have a full basement and at one time it was usable space, but over time it has become a big messy storage area.  Well we decided to make it into a nice living space again, with half of it becoming my future home office area.  I Am So Excited.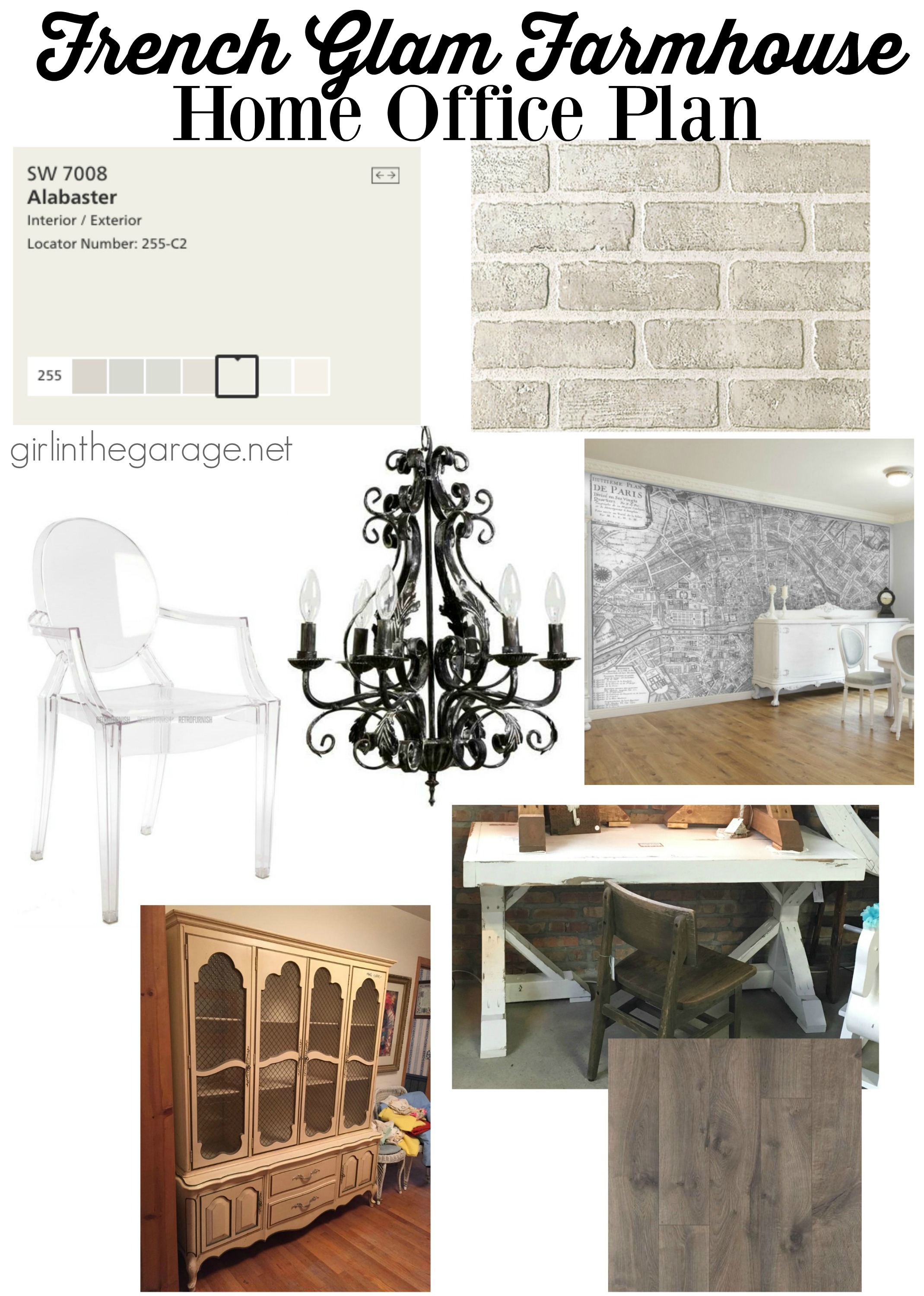 Here's the plan:
1. I've already repainted all the walls from tan to Sherwin Williams Alabaster.
2.  One large focal wall in the basement will have faux brick paneling. (It's in our garage right now, and it is gorgeous!)  The color is a little off in this picture – the grout lines are definitely more white.
3.  I have wanted a ghost chair FOR-EVER so this one from LexMod will be my new desk chair.
4. Fancy black chandelier for over my desk (it's from Antique Farmhouse, and came rather bronze instead of black, so I'll have to do some painting).
5. Giant Paris map self-adhesive wallpaper for one wall – from hayneedle.com <3
6. This vintage china cabinet from my stash will likely be used for storage shelves – it will probably be painted dark gray with white details.
7.  I got this white chippy farmhouse desk last month at a market I attended (it was built by local carpenter Rough Edges).
8.  New flooring!!!  We had carpet before, but it was ruined by some water in the basement a long time ago.  We have a backup sump pump now and we chose Pergo laminate flooring in Southern Grey Oak from The Home Depot.  It is gonna look FAB.
Can you tell I'm a little excited?!?  Haha.  After we get back from our 10th Anniversary vacation we are diving in to the rest of the basement makeover and it will be finished around mid-July – and of course I will be sharing all the details with you guys!  And if you're thinking how neutral it is, don't worry, I'm adding in some bright colors with artwork, pillows, and other accessories.
Next up, Thursday is Themed Furniture Makeover Day – come see what 15 of my friends and I come up with for the Coastal theme.
Jen
Join the GITG Community
When you join this thriving online community of 90,000 creative souls, you'll be inspired to discover hidden artistic talents and learn skills to boldly face DIY projects with confidence.
You'll also receive my free guide "Just Paint It: 7 Tips for Transforming Furniture with Confidence."