Friend, I have such a sweet little piece to share with you. My mom found this for me at a yard sale for just $20. It was in pretty good condition, although fairly small. Today I'll show you how to prep and paint a nightstand white, and how to add some fun pattern and color – after a frustrating fail that made me rethink the whole design.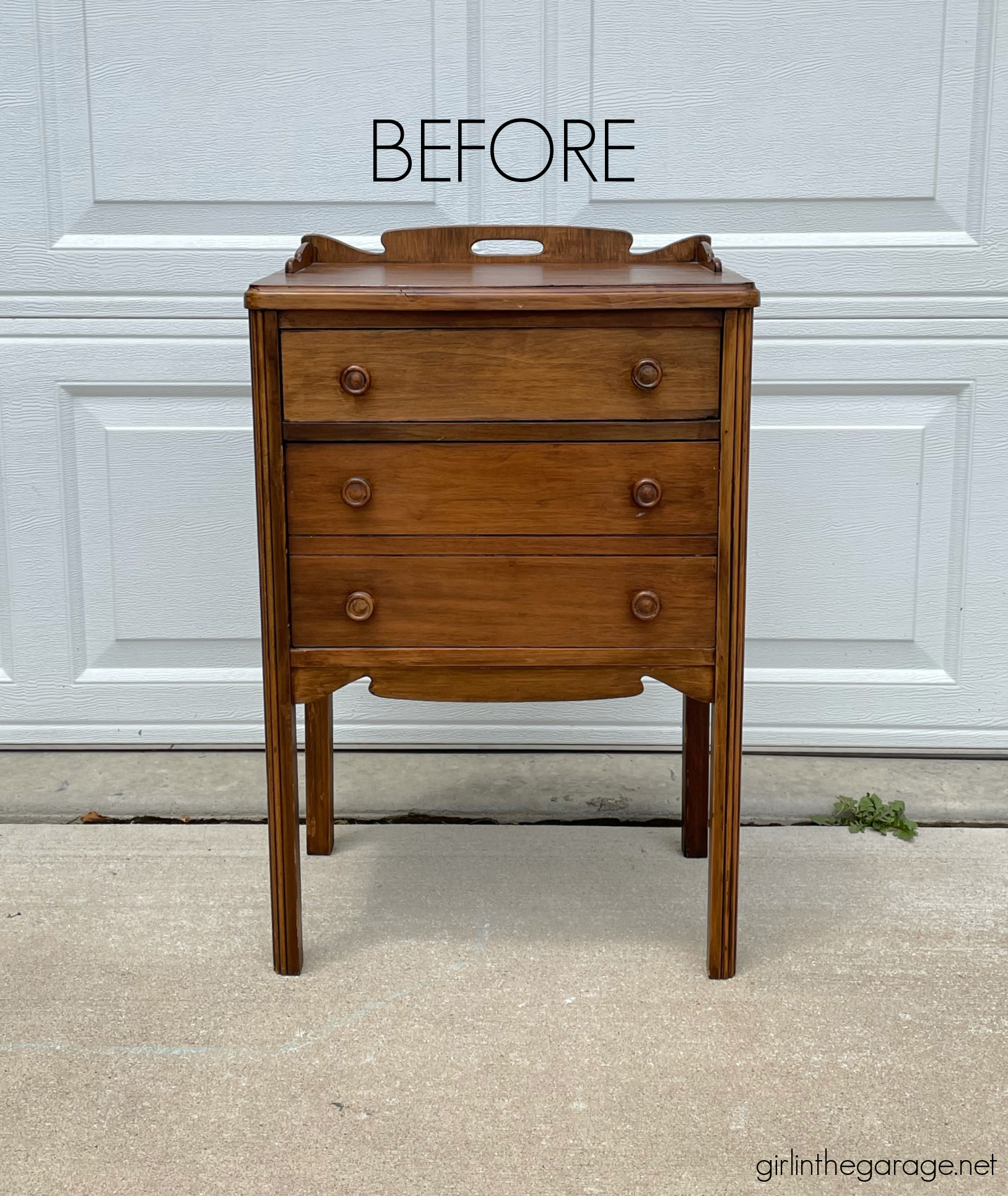 First though, this vintage nightstand has one deep drawer on the bottom and then this secret turning "drawer" on top that I assume used to be for sewing supplies, but is also perfect for hiding jewelry. Pretty neat, right? You push on the left side and it spins to open.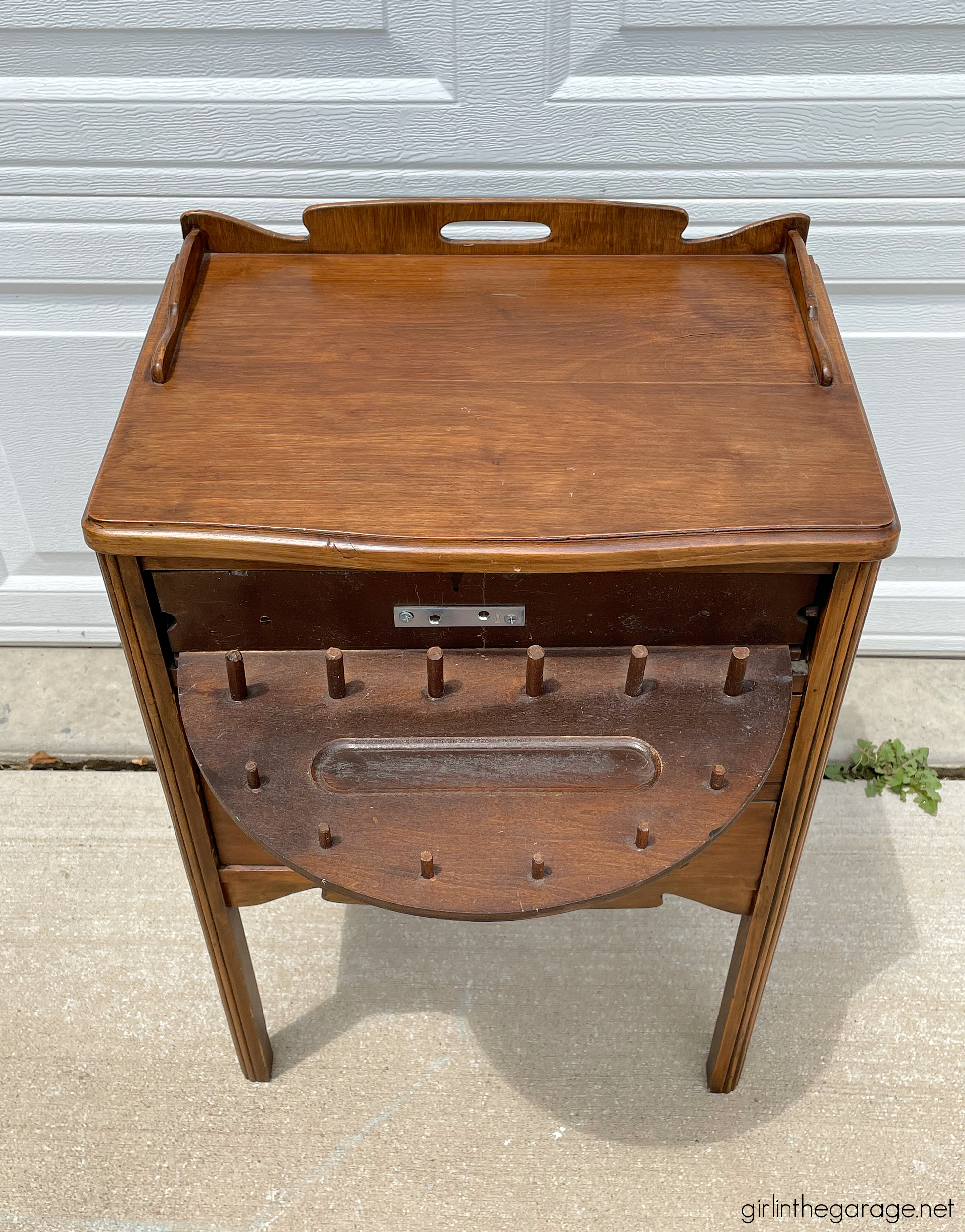 This post contains some affiliate links so you can easily find the products I use and recommend. Discover all my favorite brands and tools for doing DIY makeovers here.
I cleaned the piece and removed the knobs. I knew this would have trouble with bleed-through, so I primed it with two coats of my favorite shellac primer – this stuff dries super fast! It does have a smell before it dries though, so make sure you're in a well-ventilated area. You can grab my free guide for how to properly prep furniture for painting here.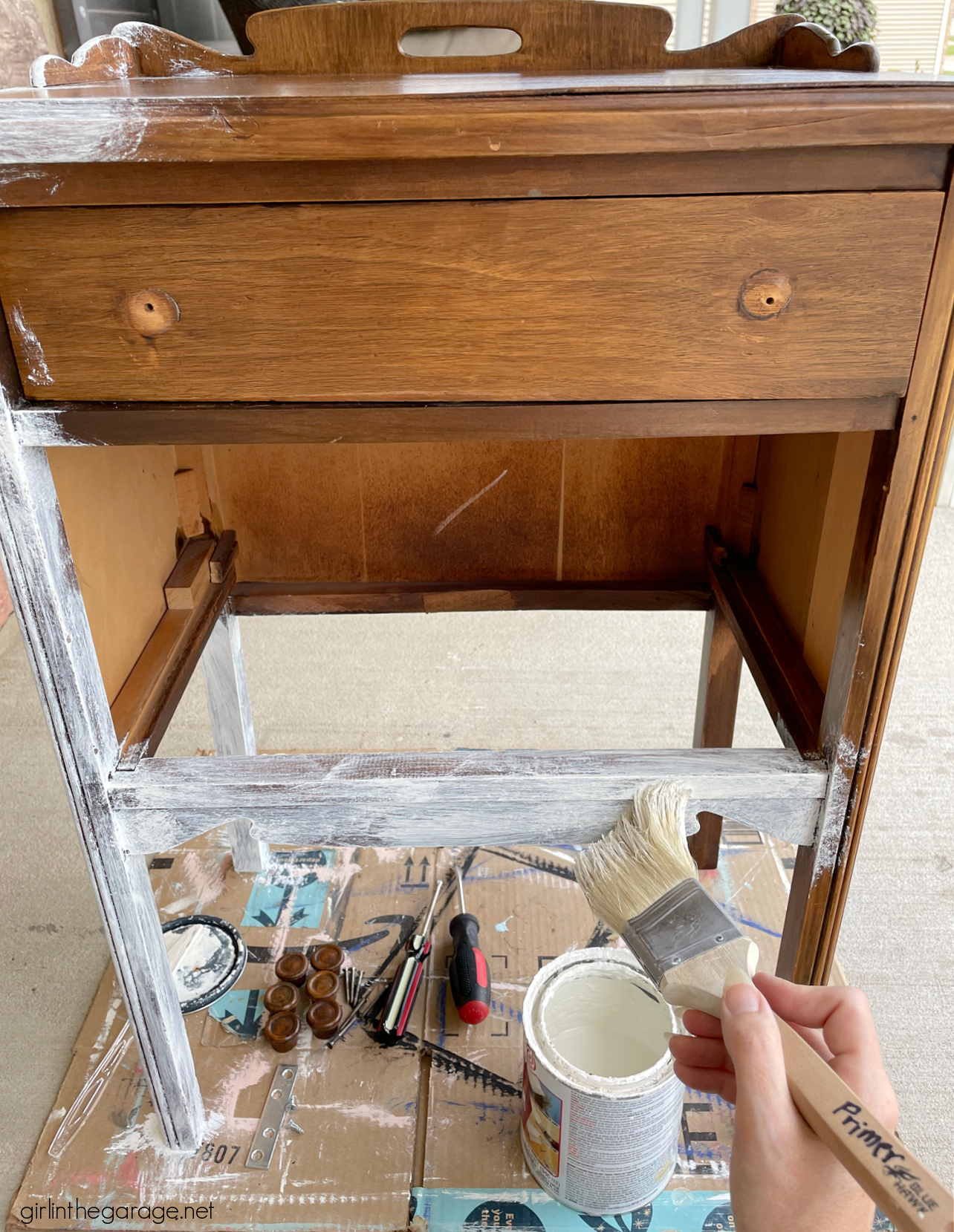 This actually stayed primed for a few weeks while I was working on other projects and having quality family time. (This will be relevant in a moment…)
My plan was to use a gorgeous rub-on furniture transfer (from a new brand which I found on Amazon) on the front. I painted the inside of the jewelry drawer in Ooh La La by Country Chic Paint to coordinate with the flowers on the transfer.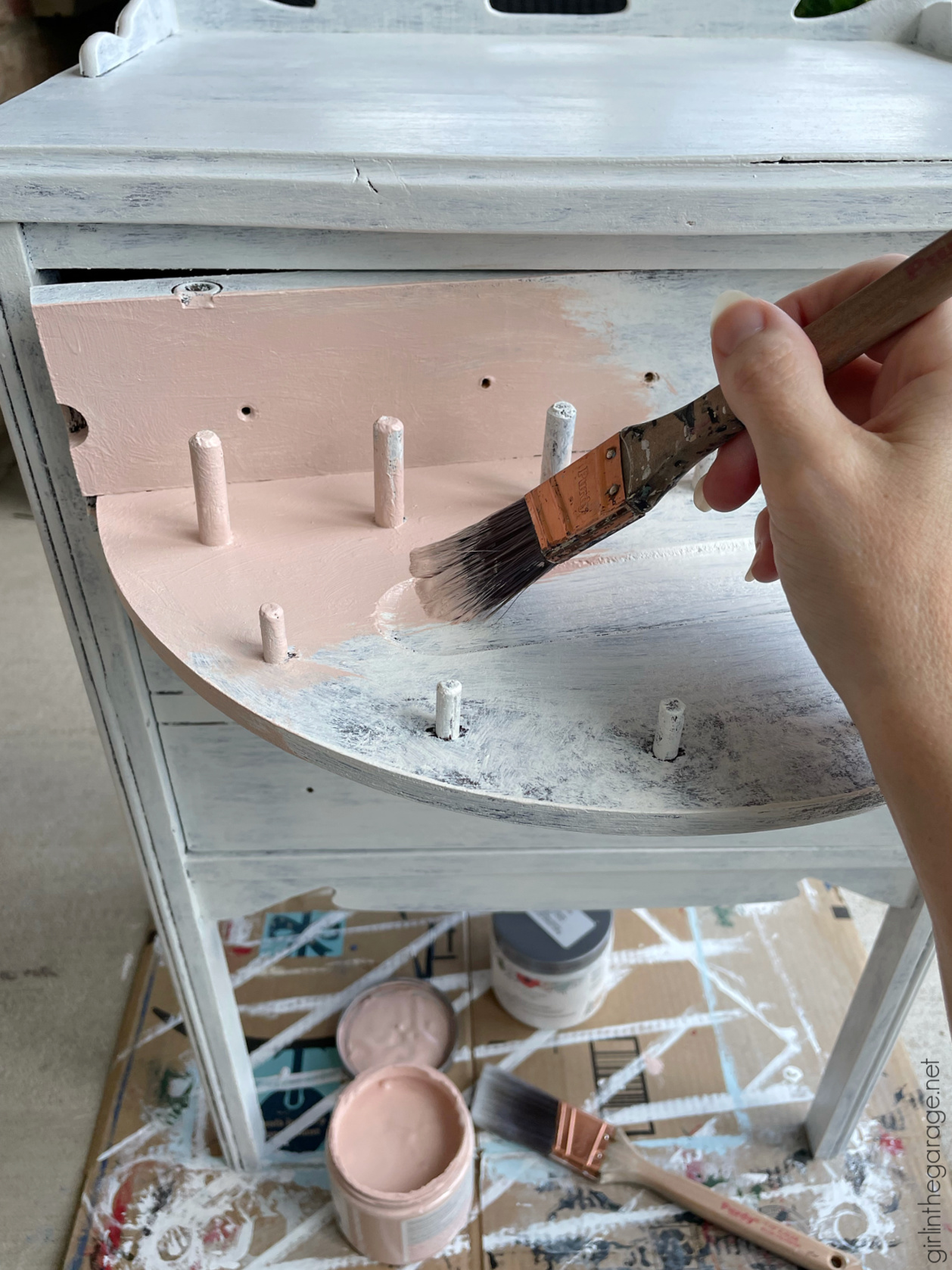 Then I chose to paint the nightstand white (Simplicity by Country Chic Paint) with one of my favorite Purdy paint brushes. I applied 2-3 coats for even coverage. When dry, I sanded all over with 320-grit sandpaper for smoothness.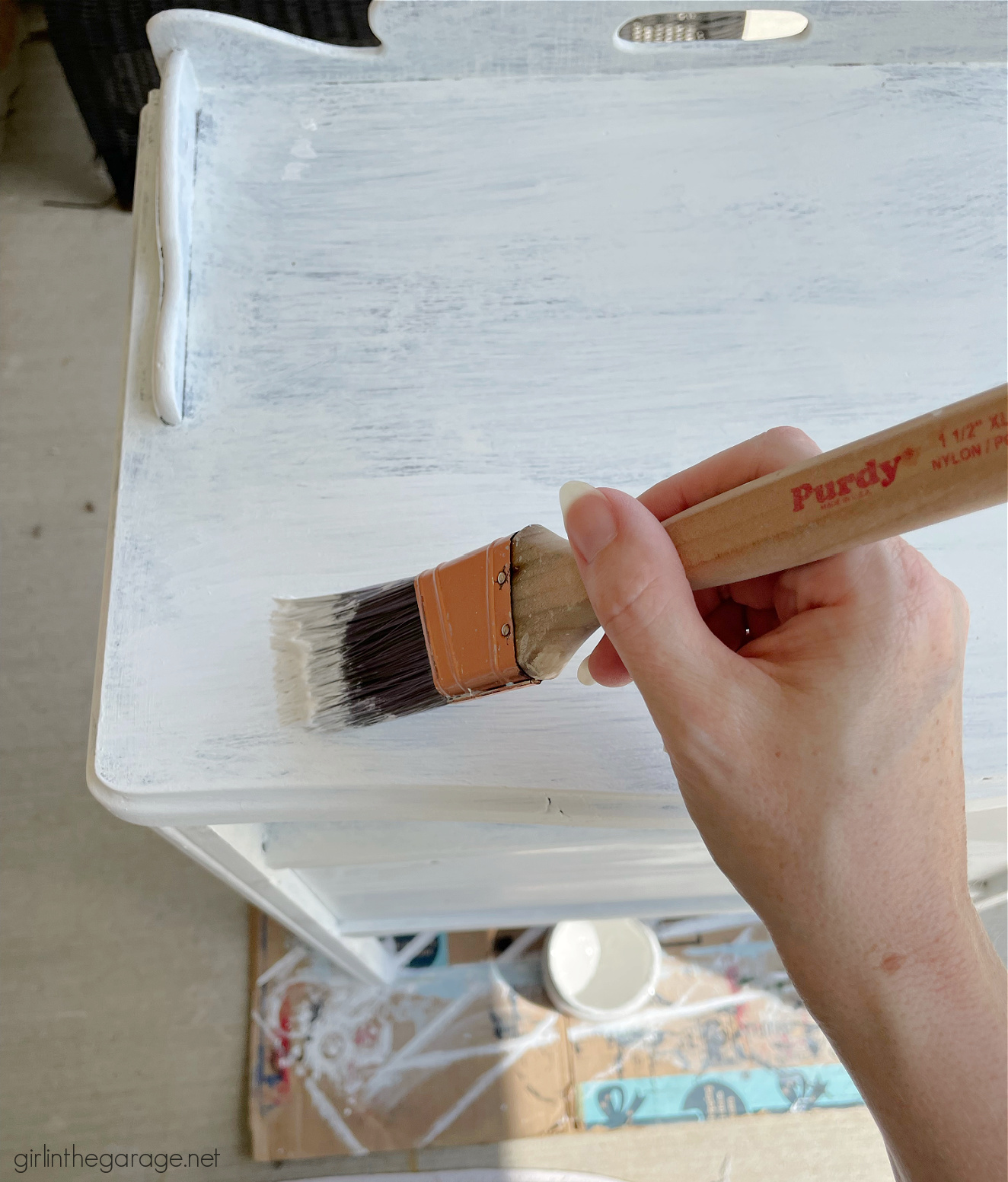 This is where things went wonky. The transfer I ordered had three different sheets, all very similar. I chose one and it was pretty much the perfect size – wonderful! I planned to start rubbing on the transfer and then cut as needed for the drawers.
You guys know I've been painting furniture over ten years and I've used dozens of rub-on transfers, but I've never had an experience like this before. I started rubbing on the transfer and when I gently lifted the plastic, it had completely removed the paint which had already cured for a couple days and the primer which had cured for almost a month. Crazy!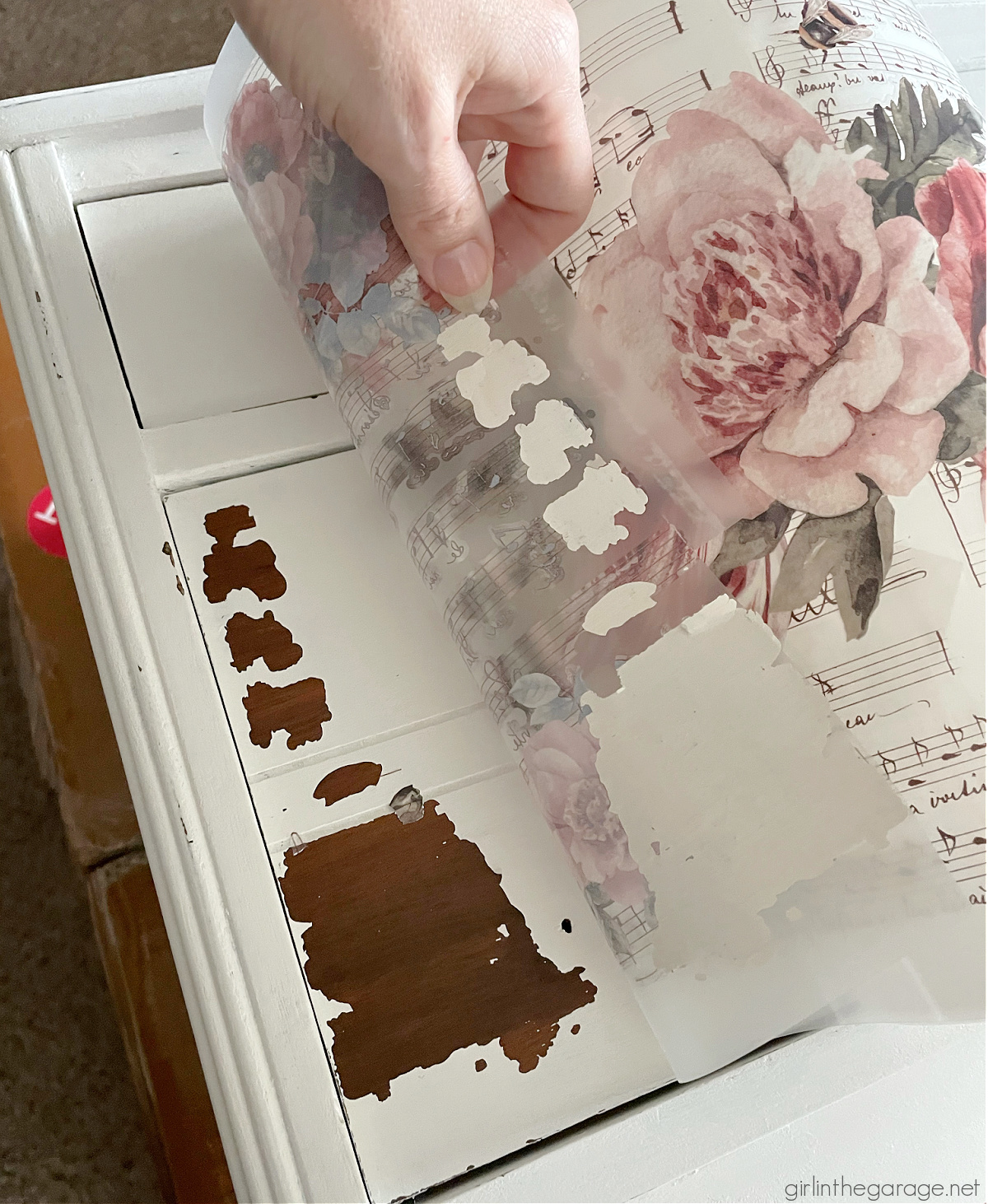 I don't know if the transfer got too hot in the warehouse or during shipping, or what could've happened. Even though it was a small company I've never heard of, there were good reviews. Hopefully it was just a fluke, but I plan to stick with well-known transfer brands in the future like ReDesign with Prima or Iron Orchid Designs (there are others, but I'm most familiar with these).
I had to rush and find a Plan B though, because I needed to finish this project for Furniture Fixer Uppers day today! I didn't have time to apply a couple more coats of primer and paint, so I decided on decoupage. No one would ever know the big fail that happened. I found a floral-design poster board in my stash, measured, and cut three pieces for the drawer fronts.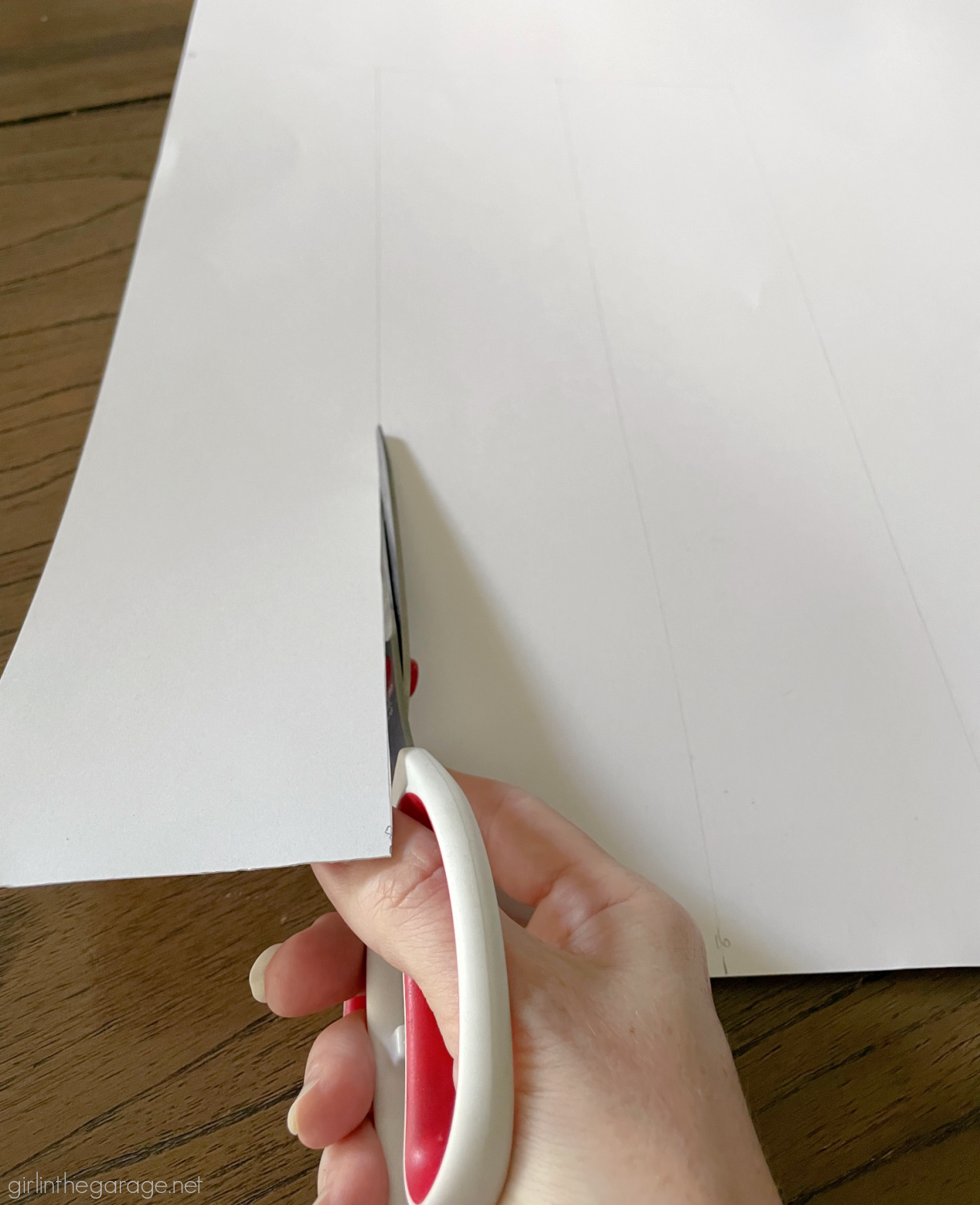 Then I decoupaged the poster pieces on with a thin coat of Mod Podge, pressing down for a couple minutes with my hand while it dried.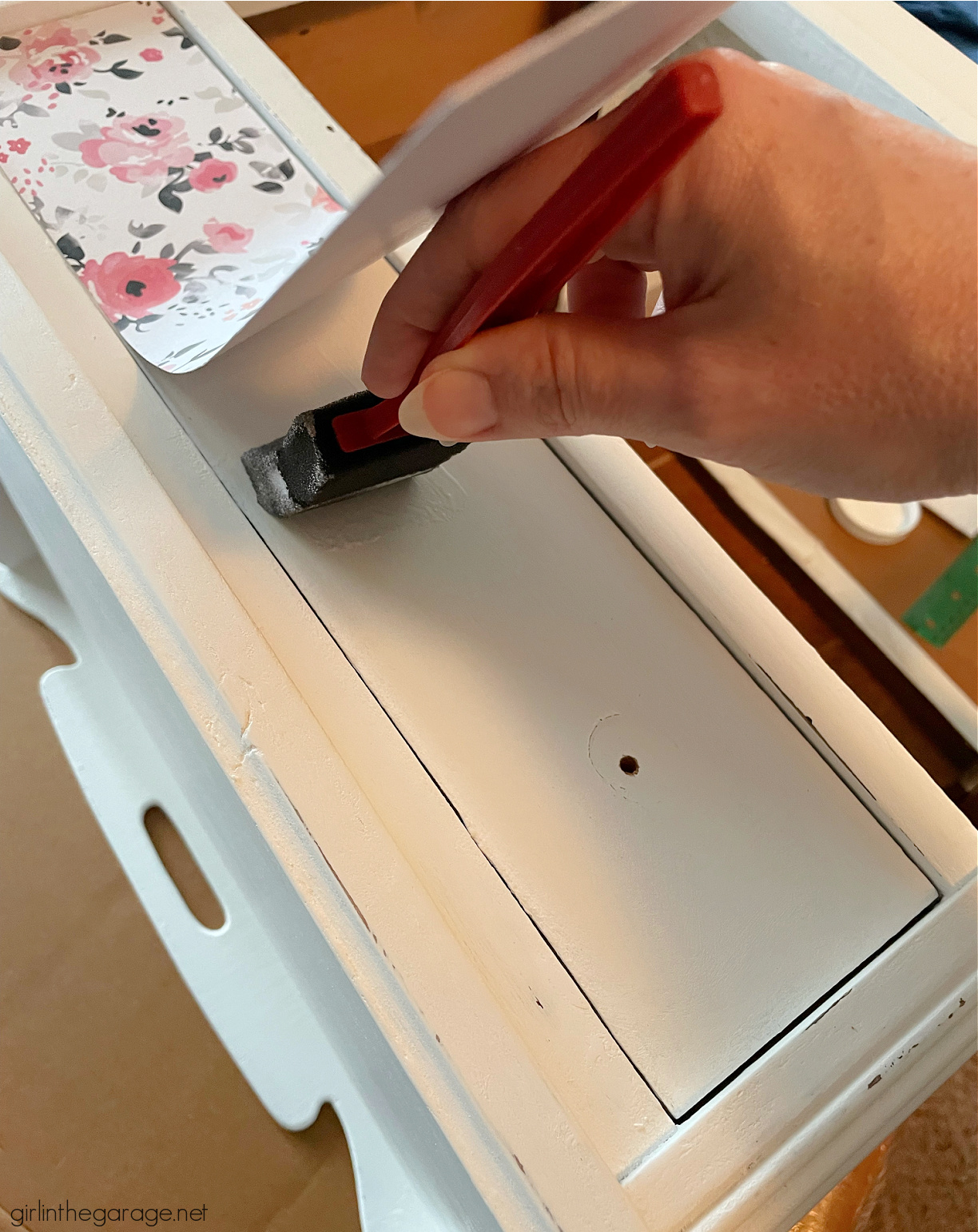 Finally, you'll want to protect your painted nightstand with a topcoat like clear furniture wax (don't wax over the decoupage area).
And now we have the exciting reveal of Plan B: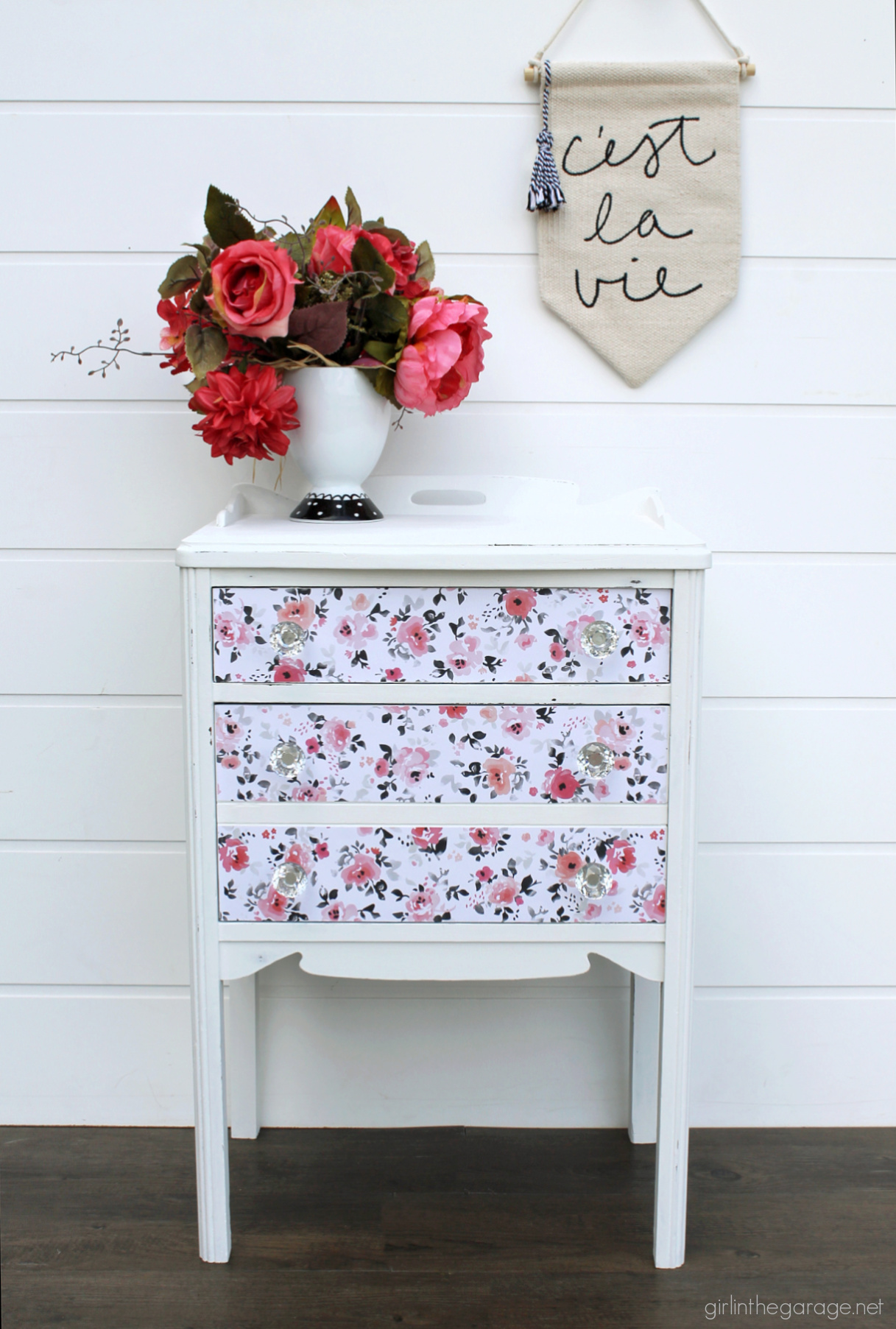 It's not what I planned, and I'm super bummed the transfer didn't work out, but I really like this outcome too. What do you think?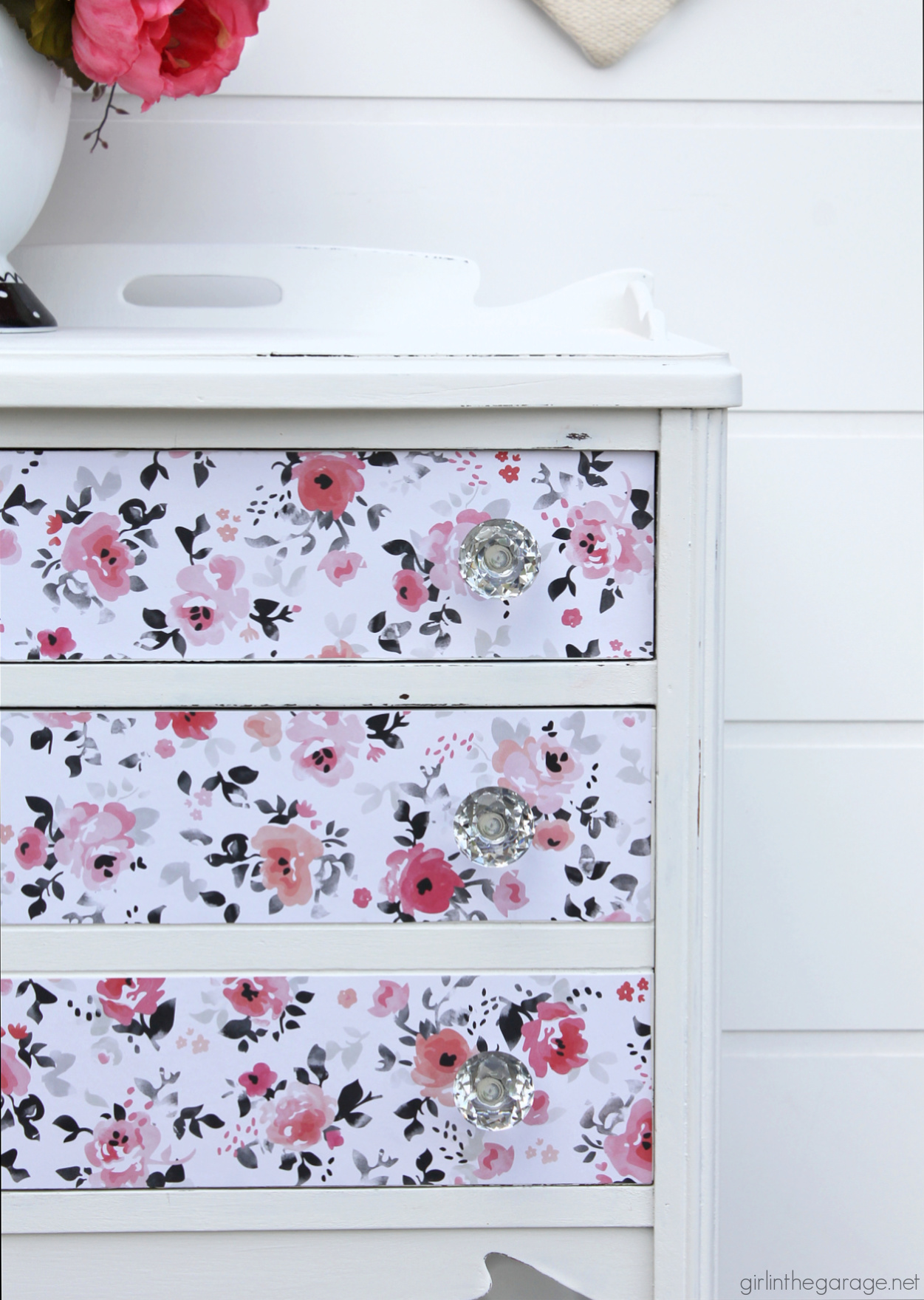 I also added new glass pulls (an amazing deal from Amazon here) that lets the pretty paper have the spotlight.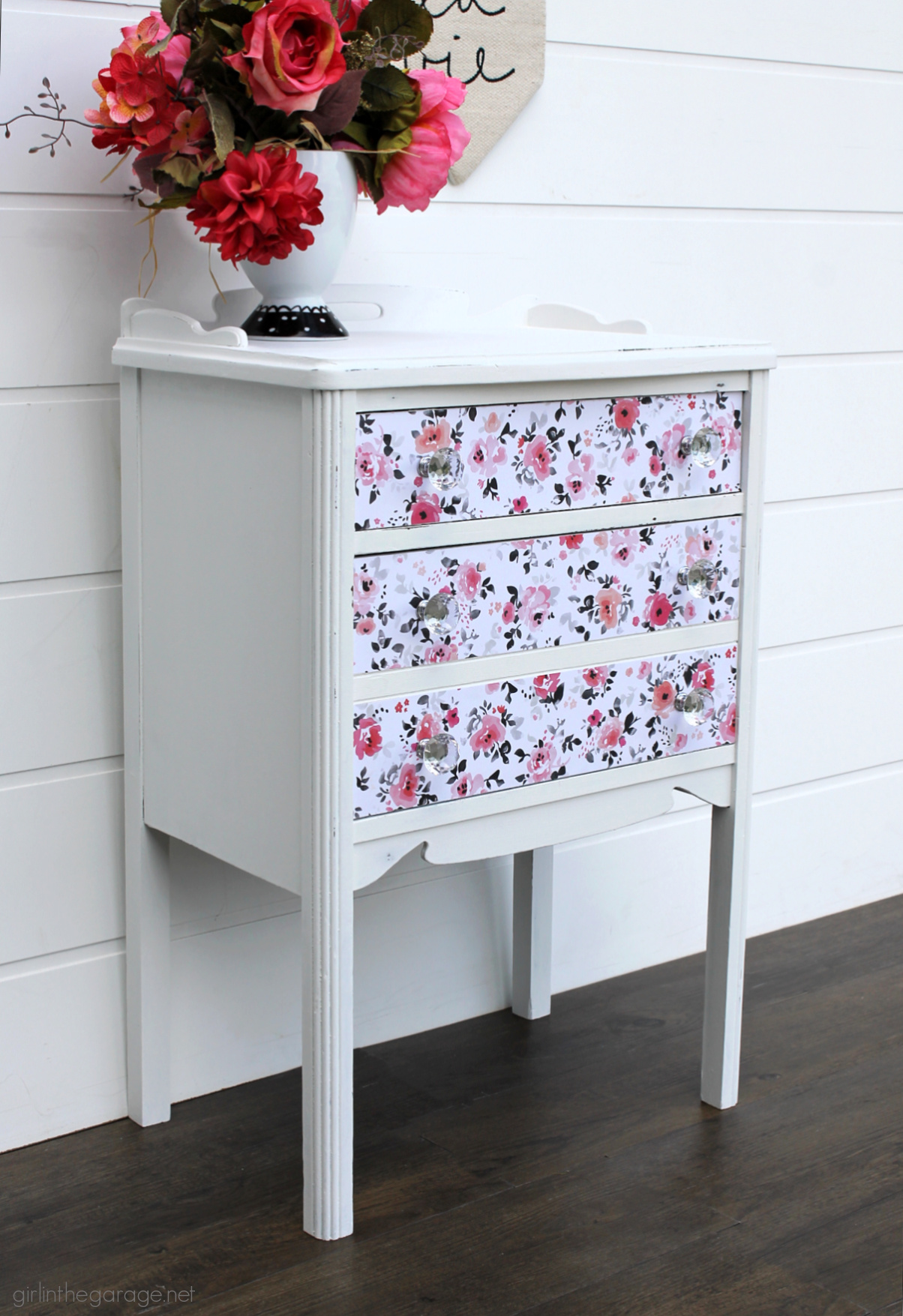 And here's a peek inside the secret jewelry drawer with some of my goodies: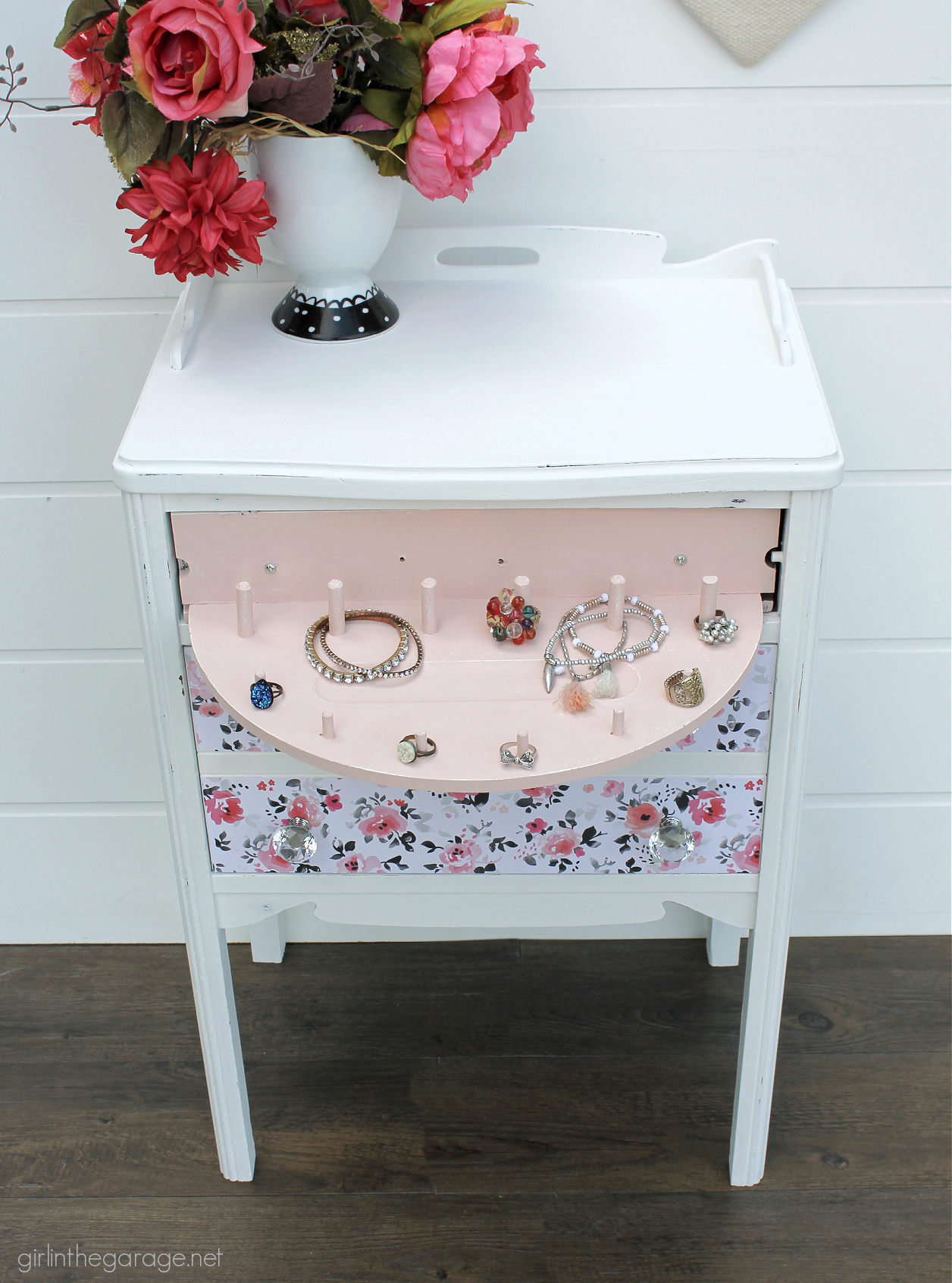 Remember that when you plan to paint a nightstand white (or any furniture white), that it's a great idea to prime first to avoid pesky bleed-through.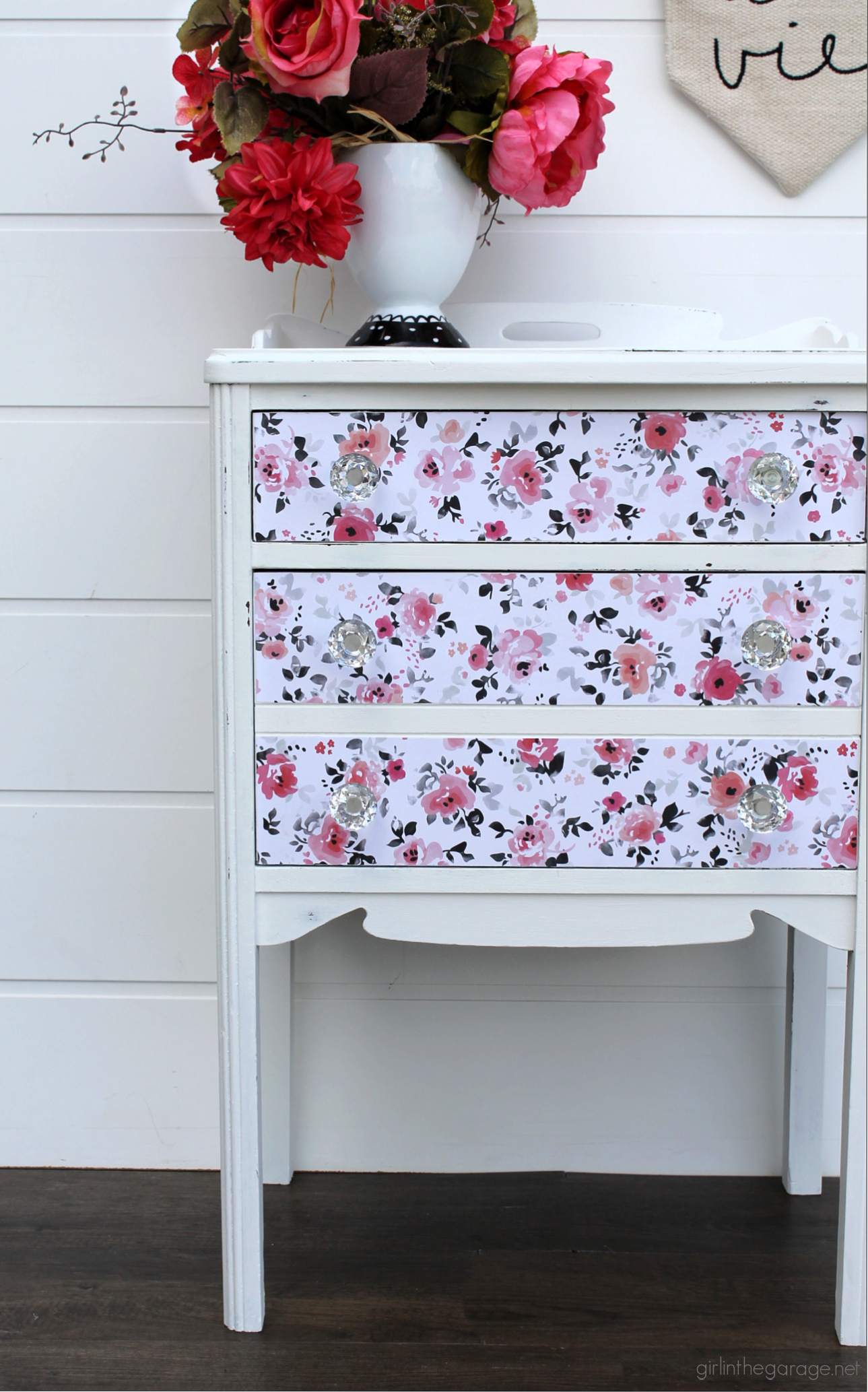 I hope this project has inspired you! Please feel free to share this painted nightstand with a friend or Pin it to easily find again later. I appreciate you!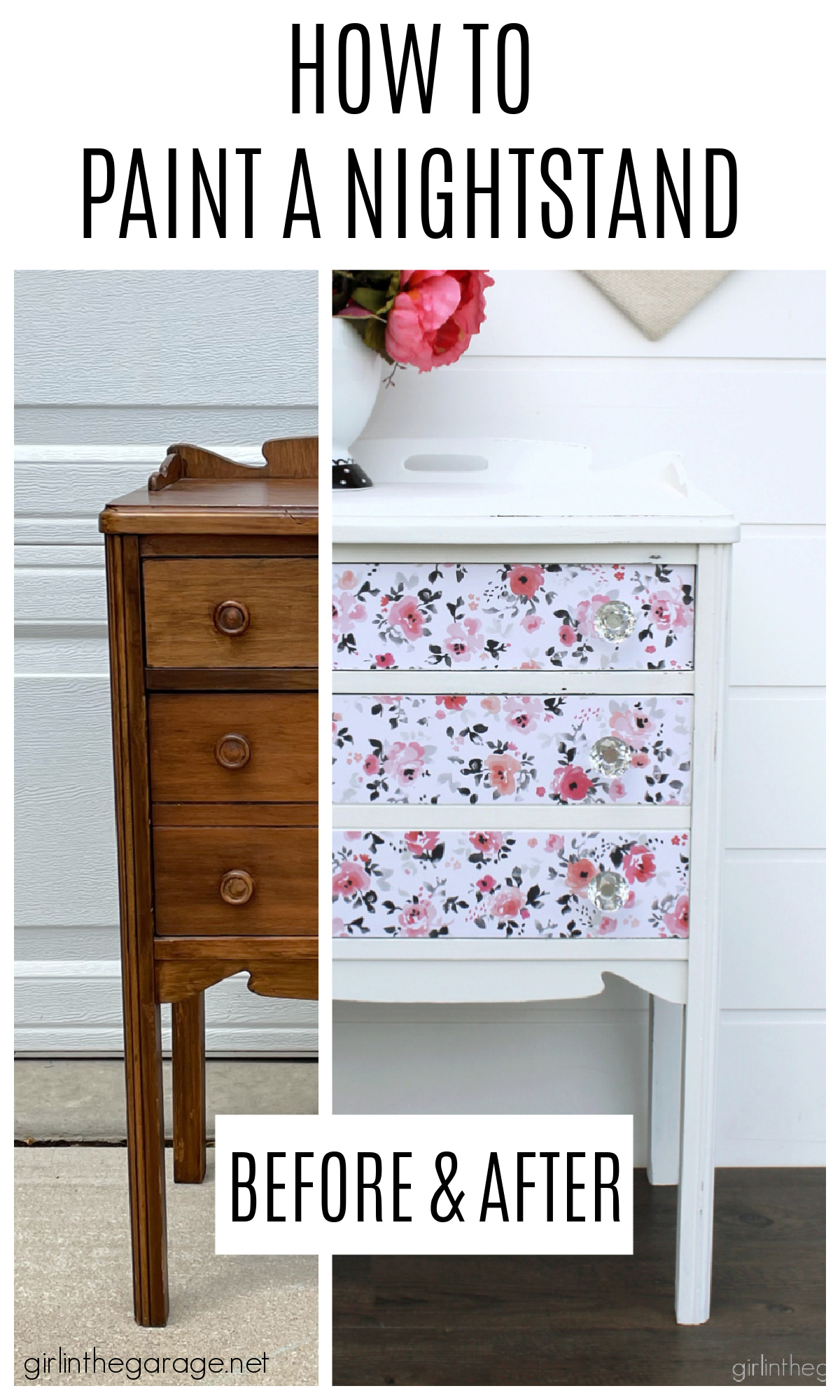 Now it's time for some Furniture Fixer Upper fun with my blogging friends.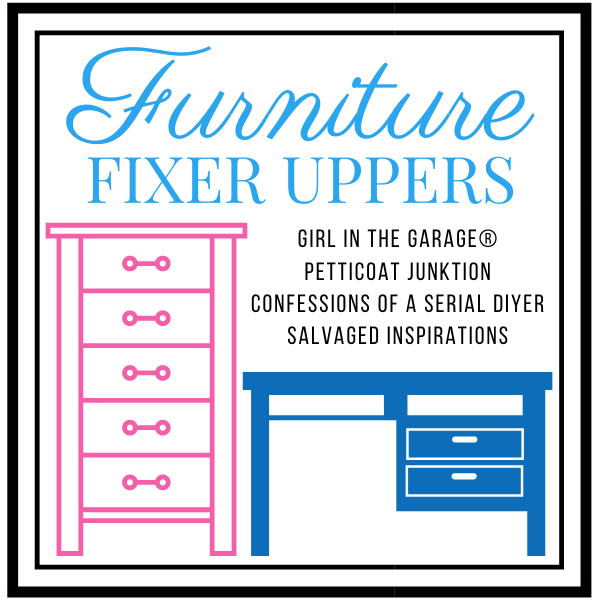 Below are their Before photos – visit the links underneath to see the stylish Afters and to learn how they did it: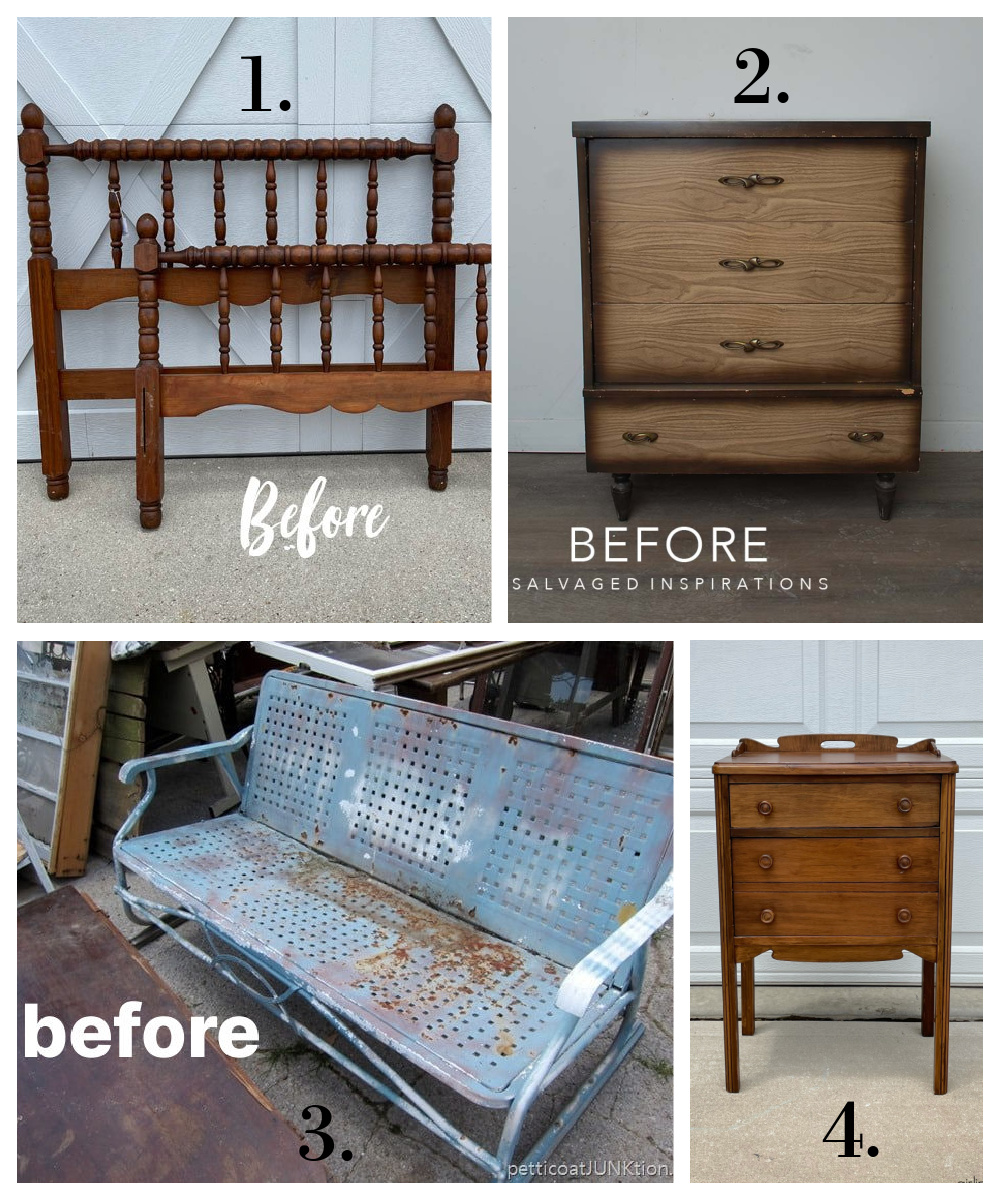 1. Confessions of a Serial DIYer
2. Salvaged Inspirations
3. Petticoat Junktion
4. Girl in the Garage (you're already here)