Welcome back, friend! Today I'm sharing an easy and adorable way to upcycle an art frame. This vintage frame was just $4.00 at the thrift store, and I'd never pass up a deal on such a cool piece. I've had this for a while, but finally had a great makeover plan for Trash to Treasure Tuesday today. This project is all about using what I already had at home.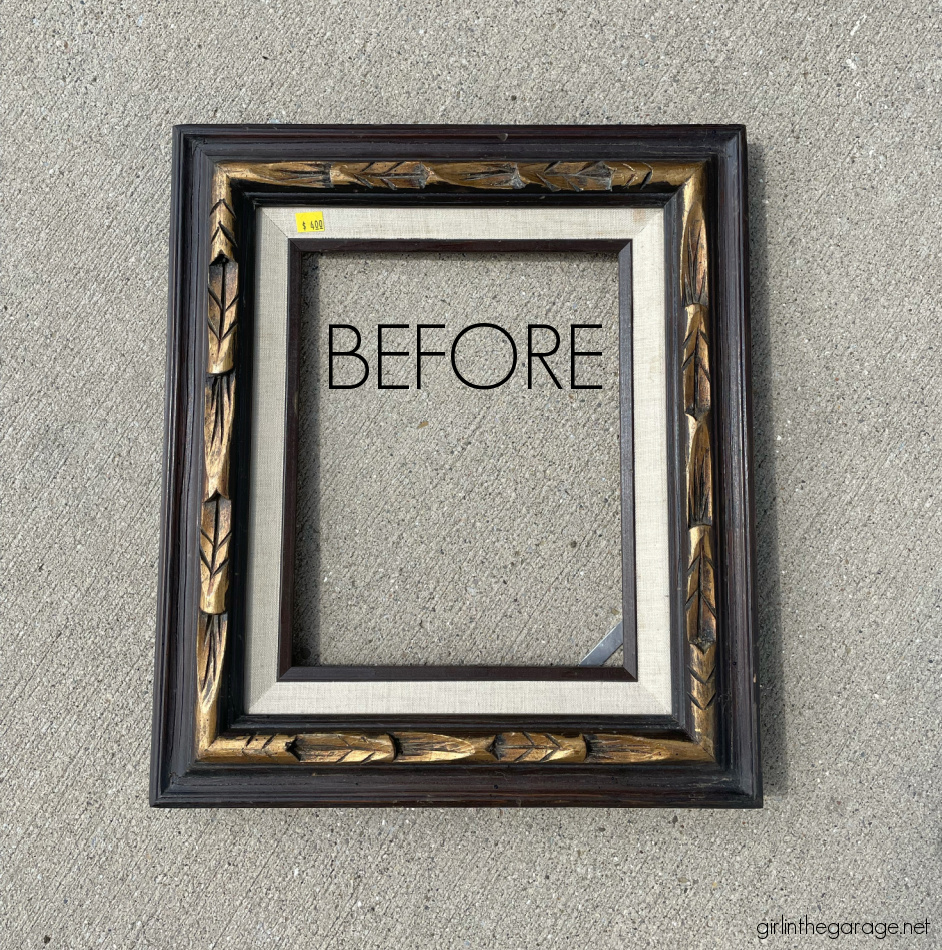 This post may contain affiliate links so you can easily find the products I use and recommend. Discover all my favorite brands and tools for doing DIY makeovers here.
On the back, someone had hot glued a pop tab for hanging purposes. Haha! Kind of genius though.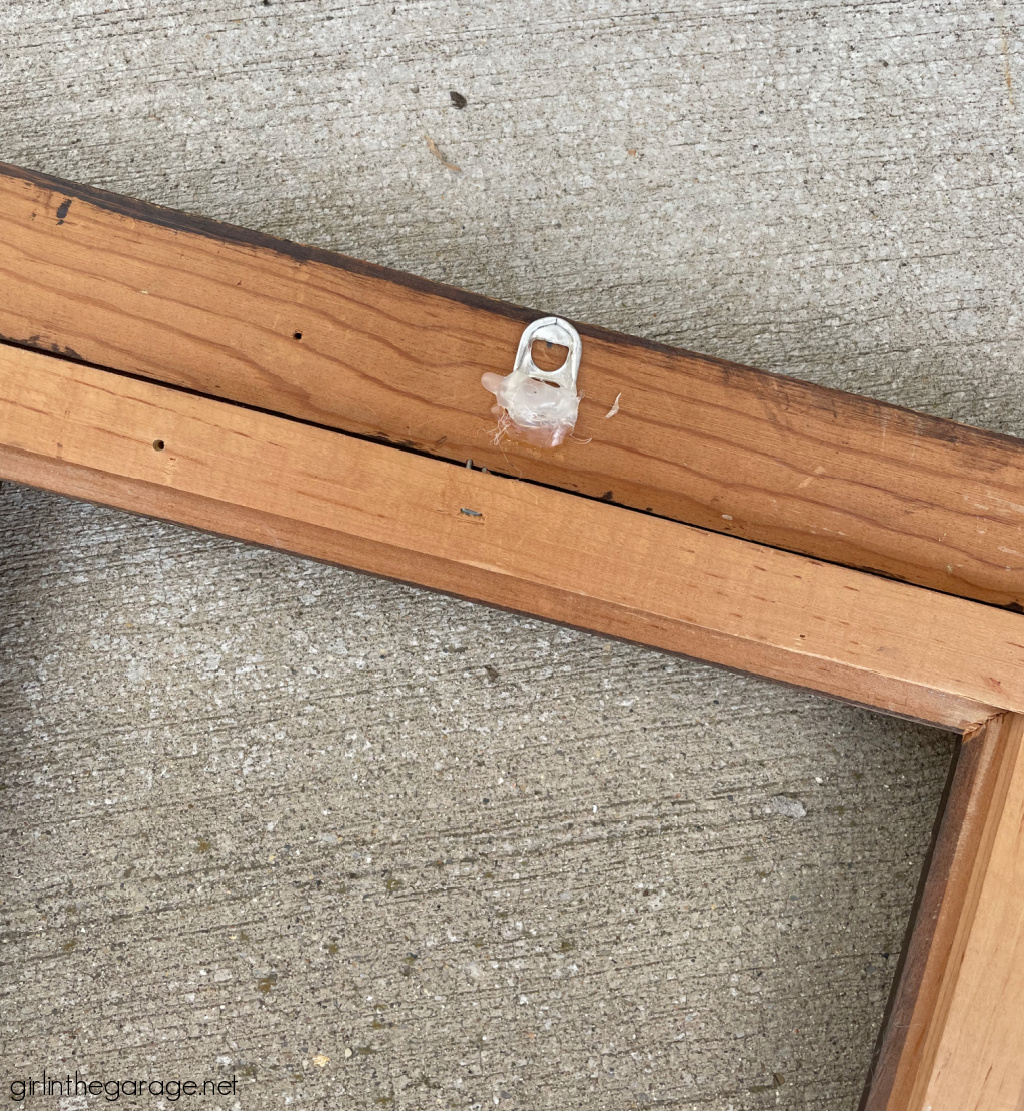 First I cleaned the frame and removed the unnecessary back pieces.
Then my plan involved painting it a fun, bright color. I chose Purrrfect by Country Chic Paint, which I also used for stripes on this dresser. This was a special color from a themed collection and I'm not sure if it's available anymore. It's sort of a cranberry color. Of course I used one of my favorite Purdy paint brushes.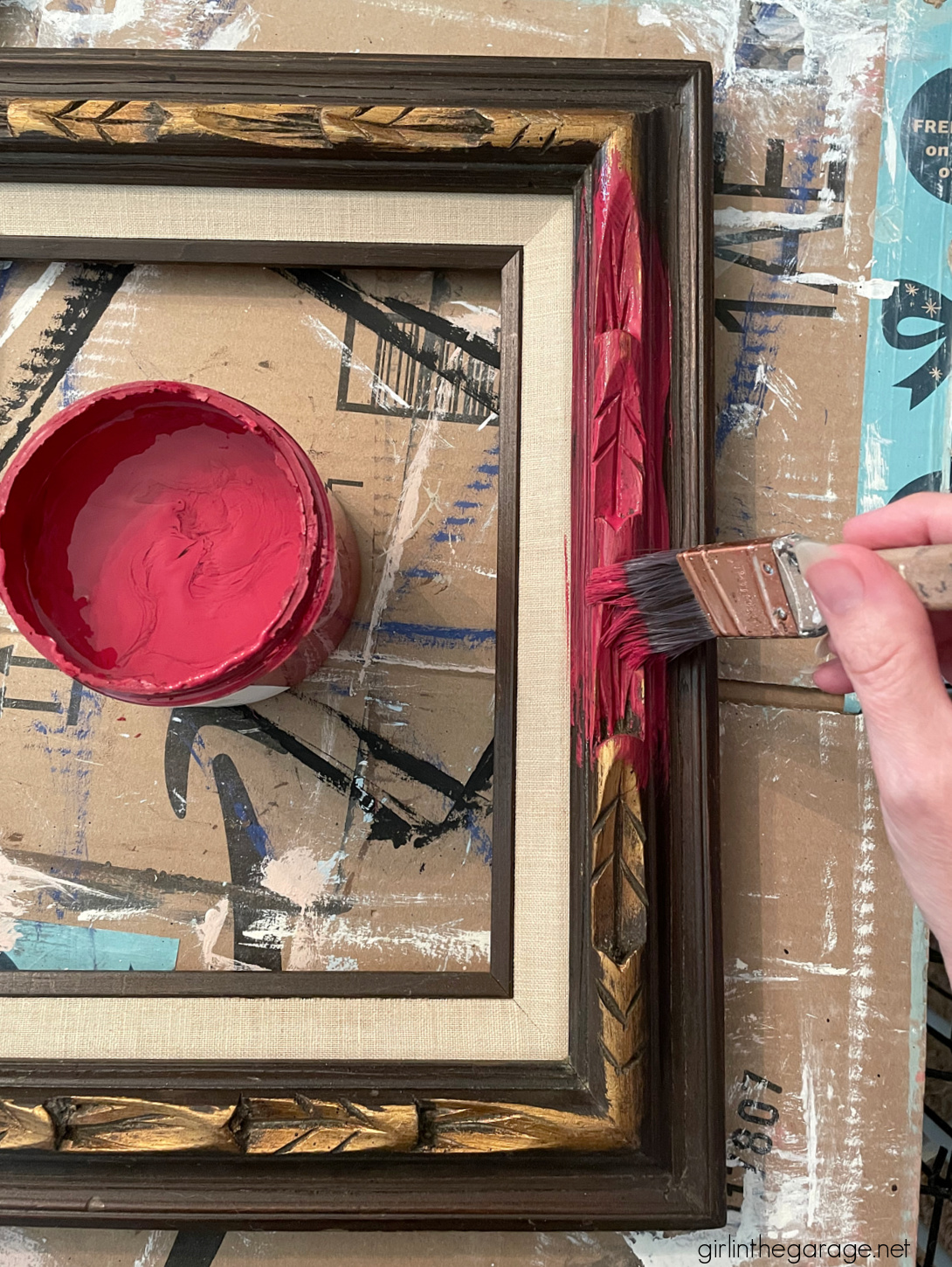 I don't usually paint furniture with bright colors, because I'm more attracted to neutrals. If you're like me and don't want to commit to a large bold painted piece, then painting smaller decor is an easy way to add some color without feeling stuck with it forever.
I chose a brightly colored piece of scrapbook paper that was larger than the frame opening, and then made a graphic in Canva (website for creating graphics and documents) on 8.5×11 paper. I played with the font colors to coordinate with the scrapbook paper.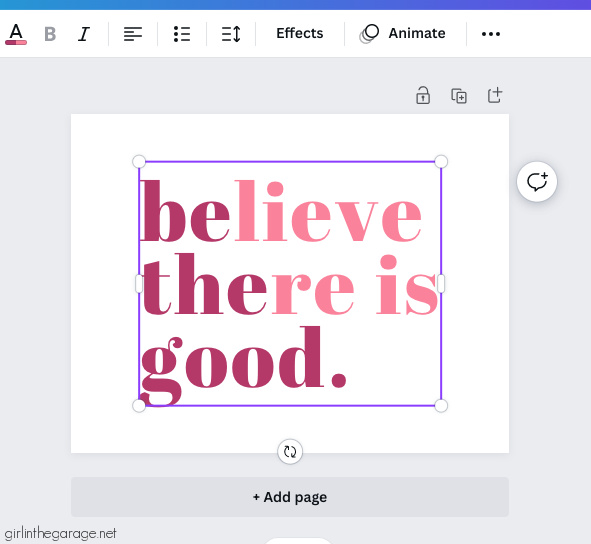 Click here to download this PDF for free, no strings attached: Be the Good – Canva File . I printed mine onto white cardstock paper.
I measured the frame opening, cut the scrapbook paper with my paper cutter, and then cut some leftover cardboard the same size.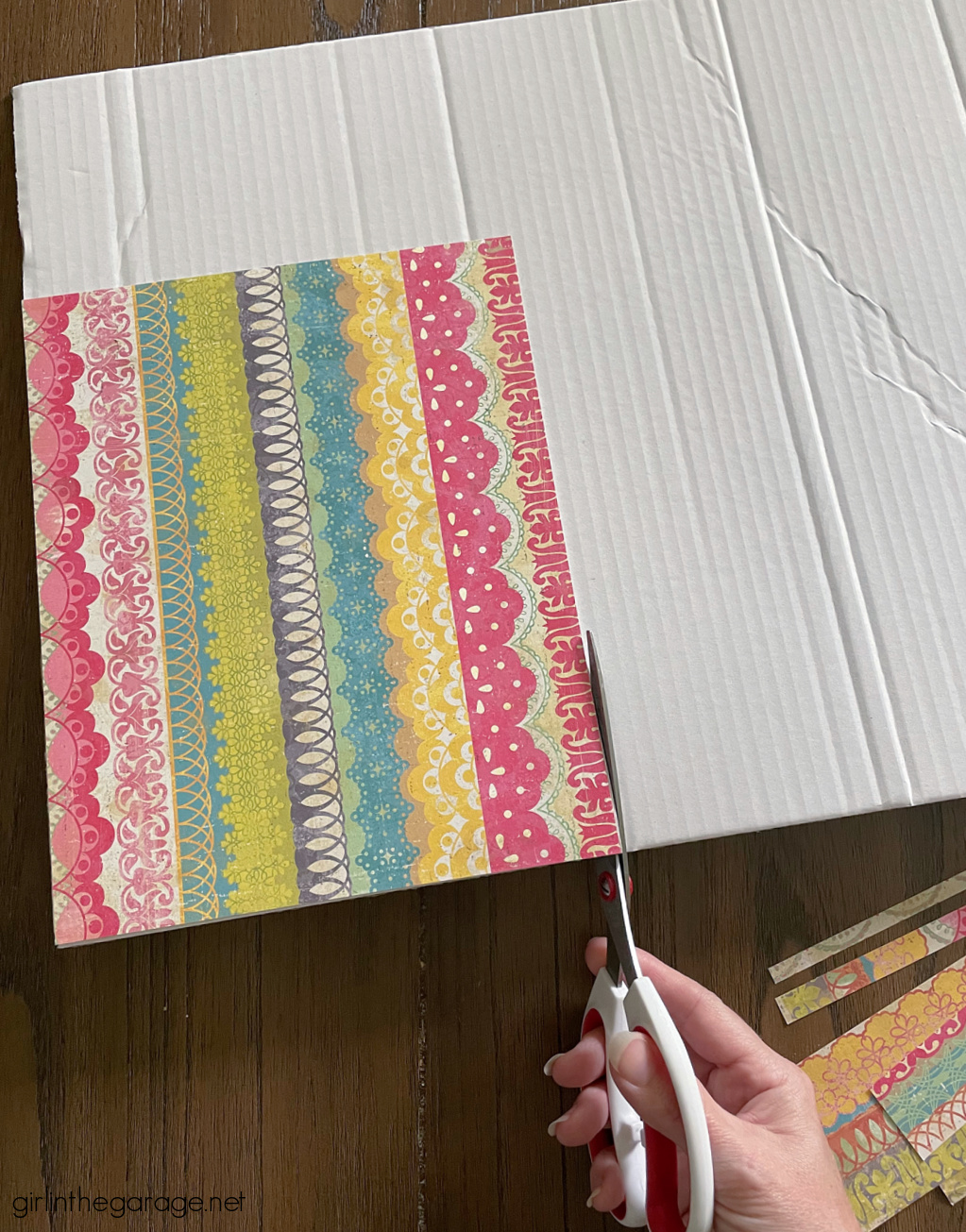 I glued the scrapbook paper onto the cardboard.

And then I cut the quote with my paper cutter and also glued that onto the center of the scrapbook paper.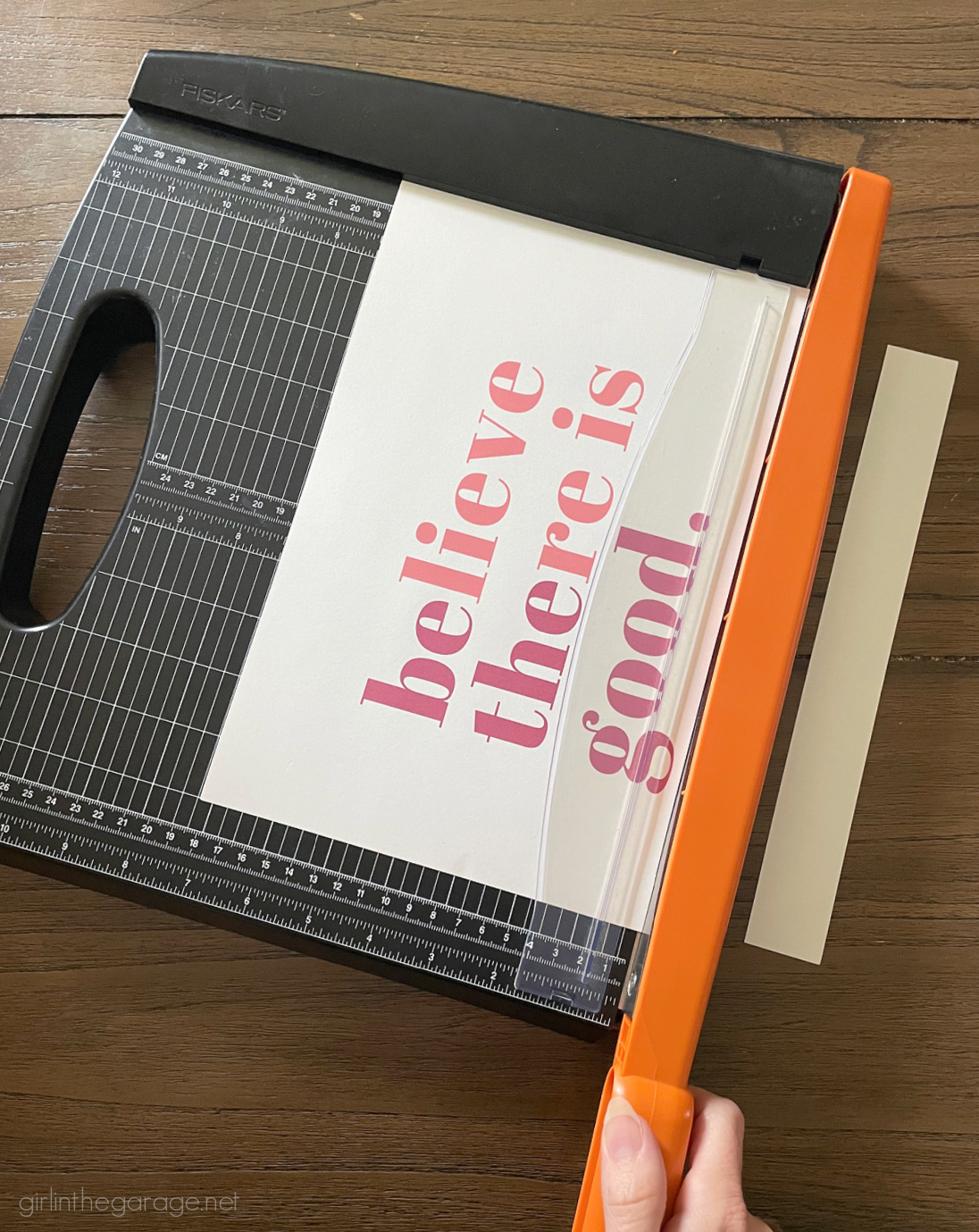 Finally, you can glue or staple the cardboard onto the back of the frame.
And now you have an easy but cute idea to upcycle an art frame!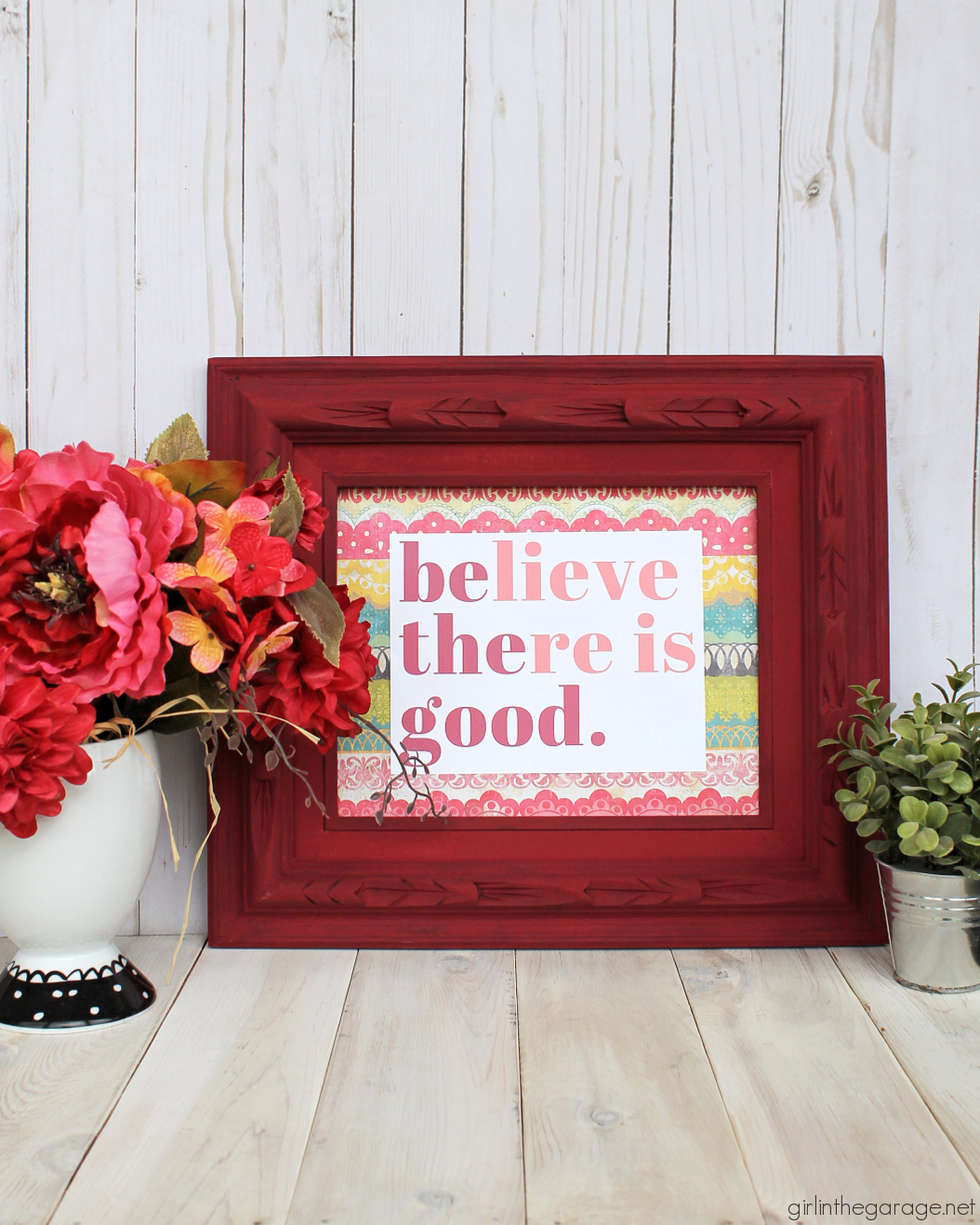 This project seems so girly to me, and I don't get to do these often as a mom of three boys. If I had a daughter though, I would totally hang this in her room.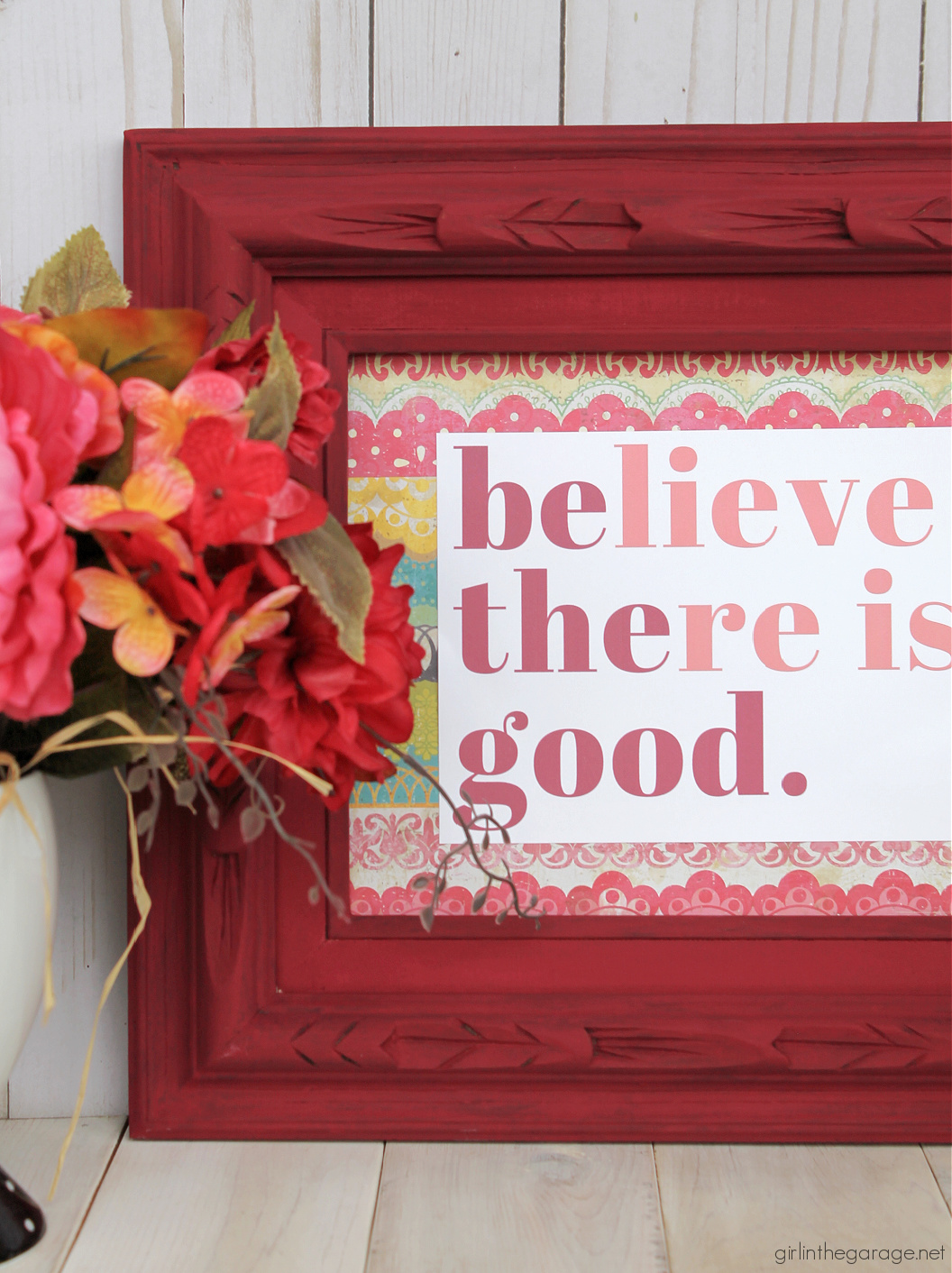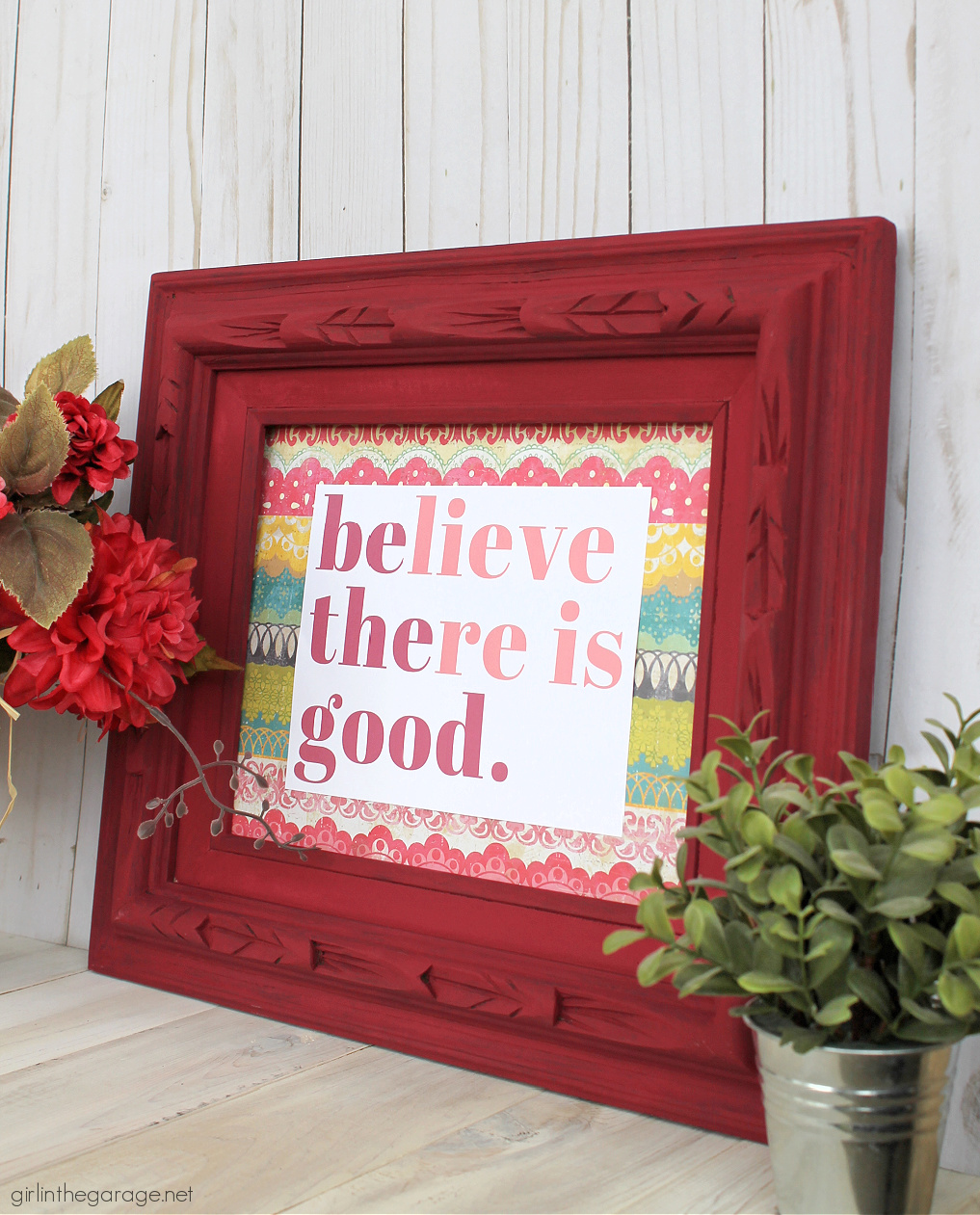 Honestly this upcycled art frame project didn't take much time at all, and I already had all the supplies at home. No one can tell that there's cardboard instead of wood behind the frame – and you could even do a framed stencil or fabric that would make it a quicker project (so many possibilities). I hope you're feeling inspired!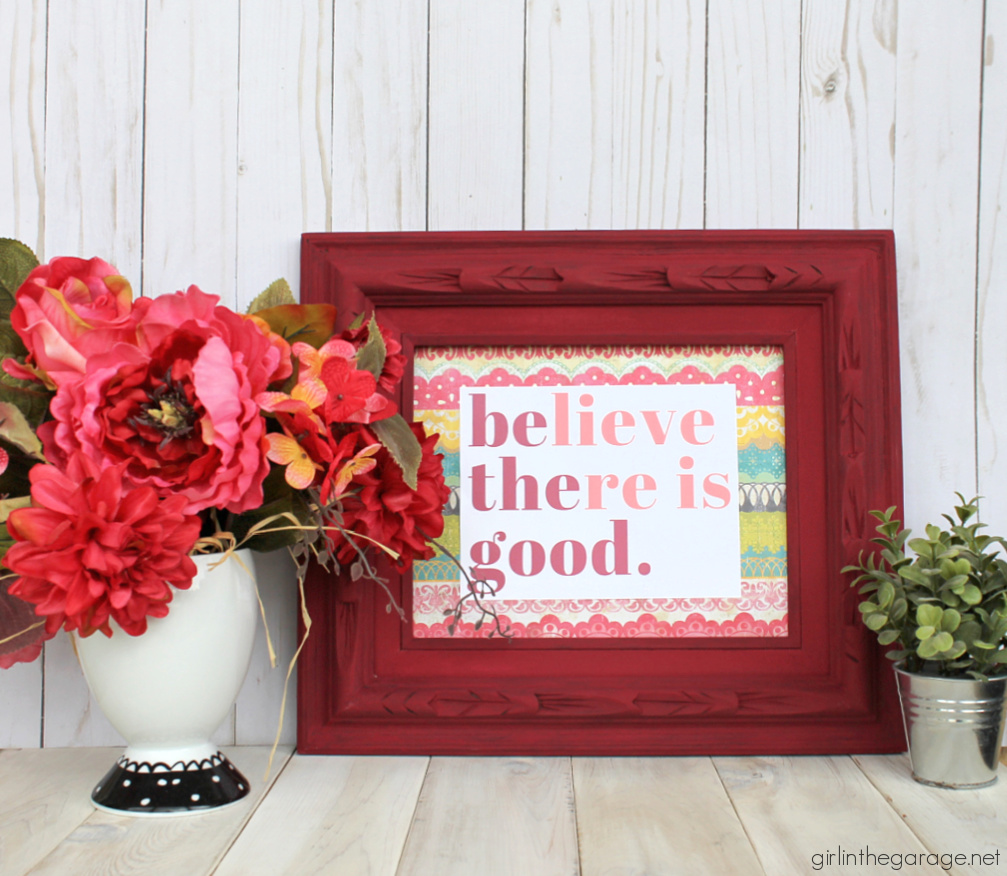 Please feel free to share this project with a friend or Pin it to easily find it later. Here's another look at the before and after.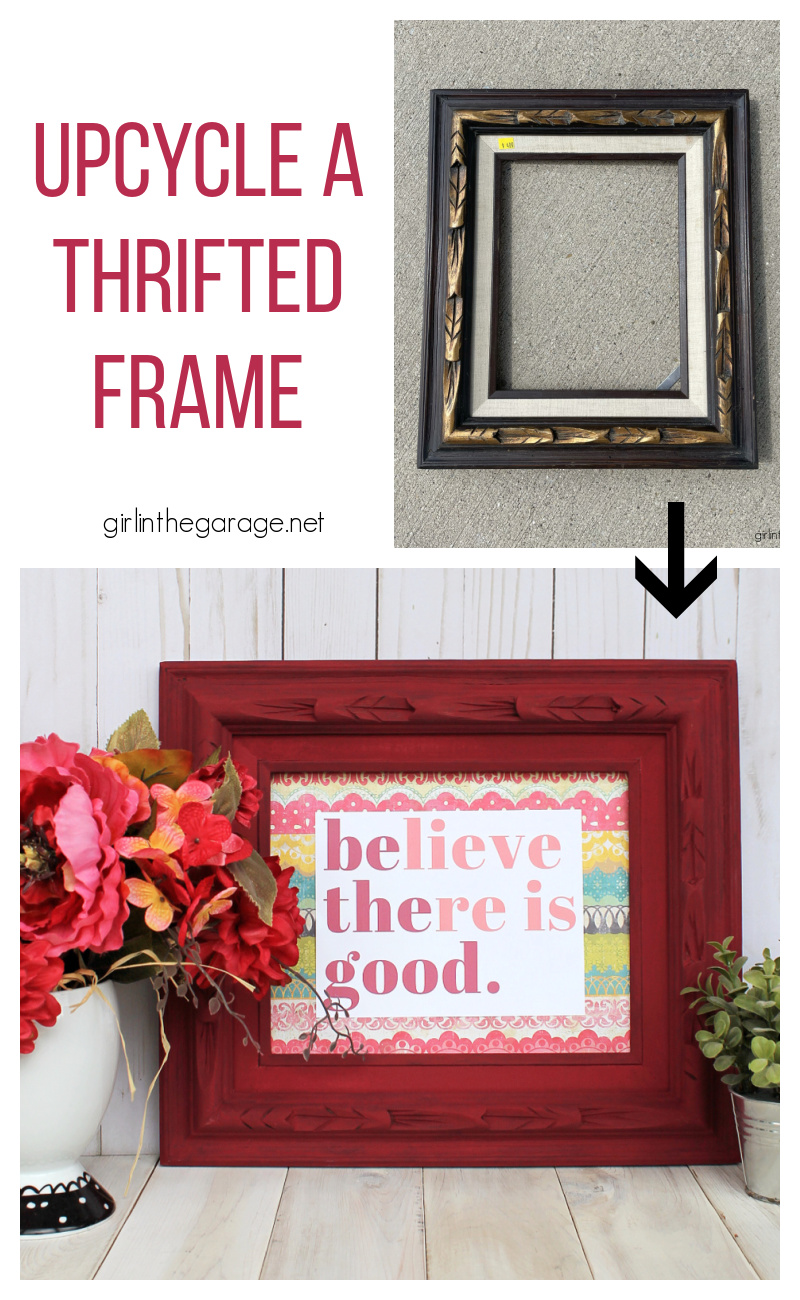 Now it's Trash to Treasure time with my talented blogging friends! I can't wait to see their thrifty projects this month.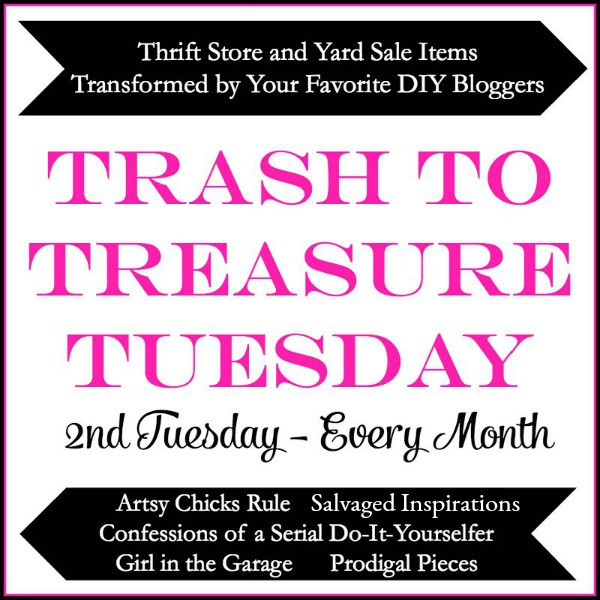 Below are the Before photos – visit the links underneath to see the amazing Afters and to learn how they did it: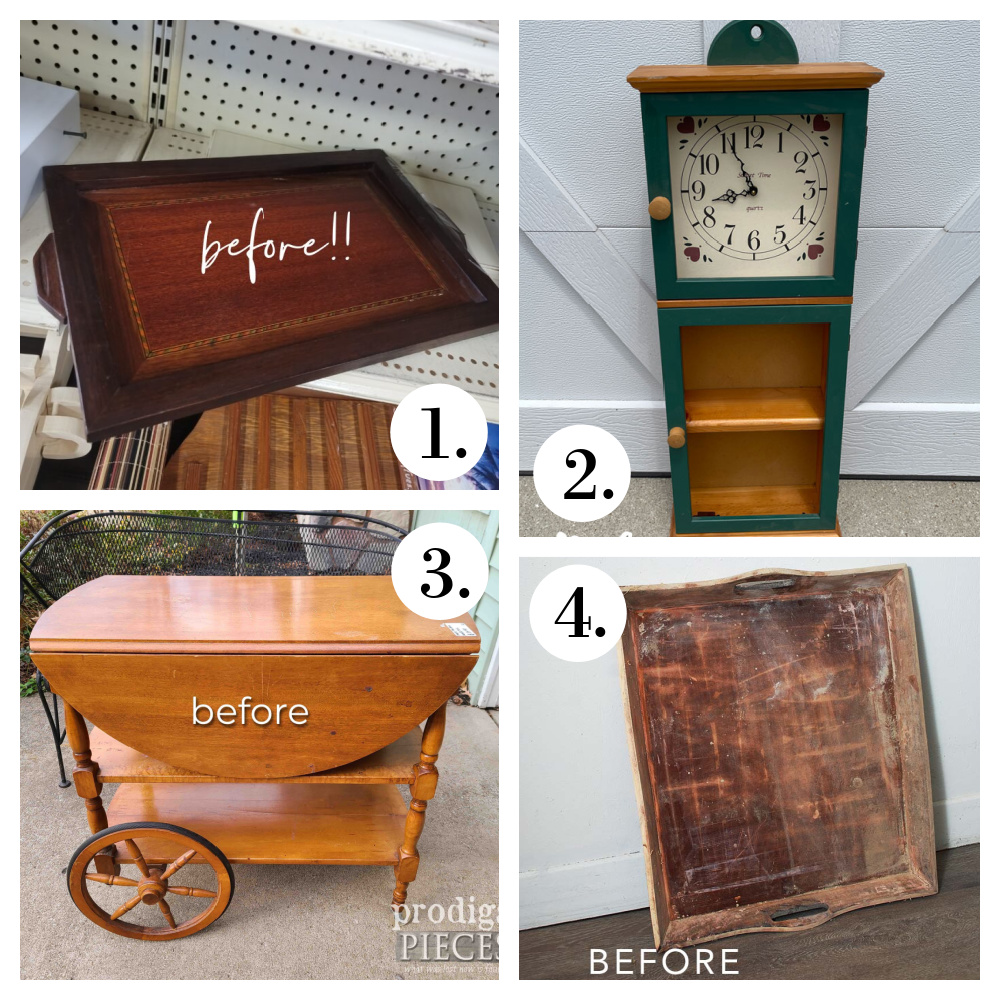 1. Artsy Chicks Rule
2. Confessions of a Serial DIYer
3. Prodigal Pieces
4. Salvaged Inspirations