Friend, welcome back to GITG! It's Furniture Fixer Uppers day again with my blogging friends (you can see their awesome projects at the end of this post) – and today I'm sharing a new makeover for a repurposed radio cabinet that I already fixed up and painted several years ago.
Here is the original before photo…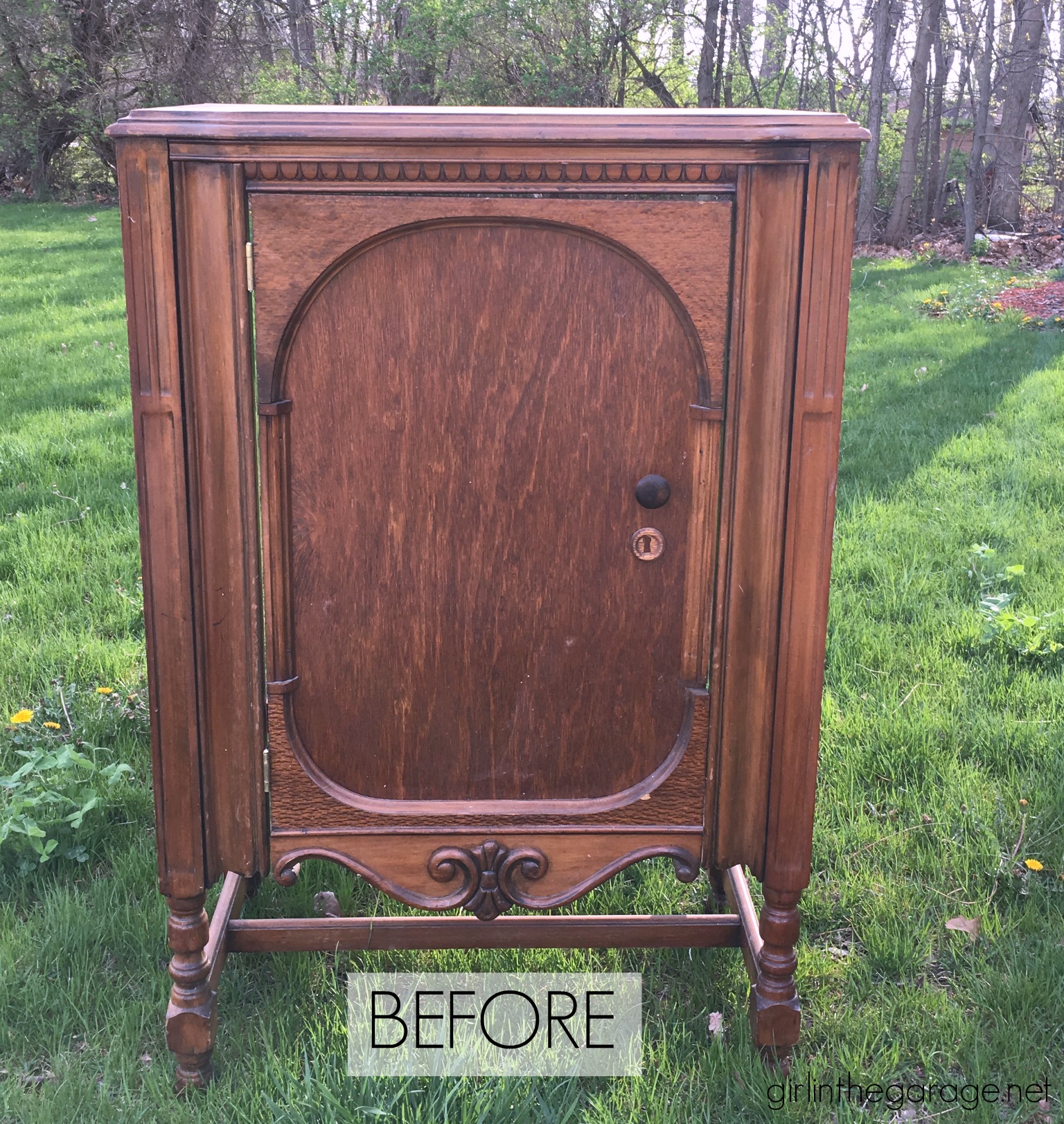 This post contains some affiliate links so you can easily find the products I use and recommend. Discover all my favorite brands and tools for doing DIY makeovers here.
I got this piece for only $20 (gosh I wish I could find deals like that now), but it was missing some very important parts!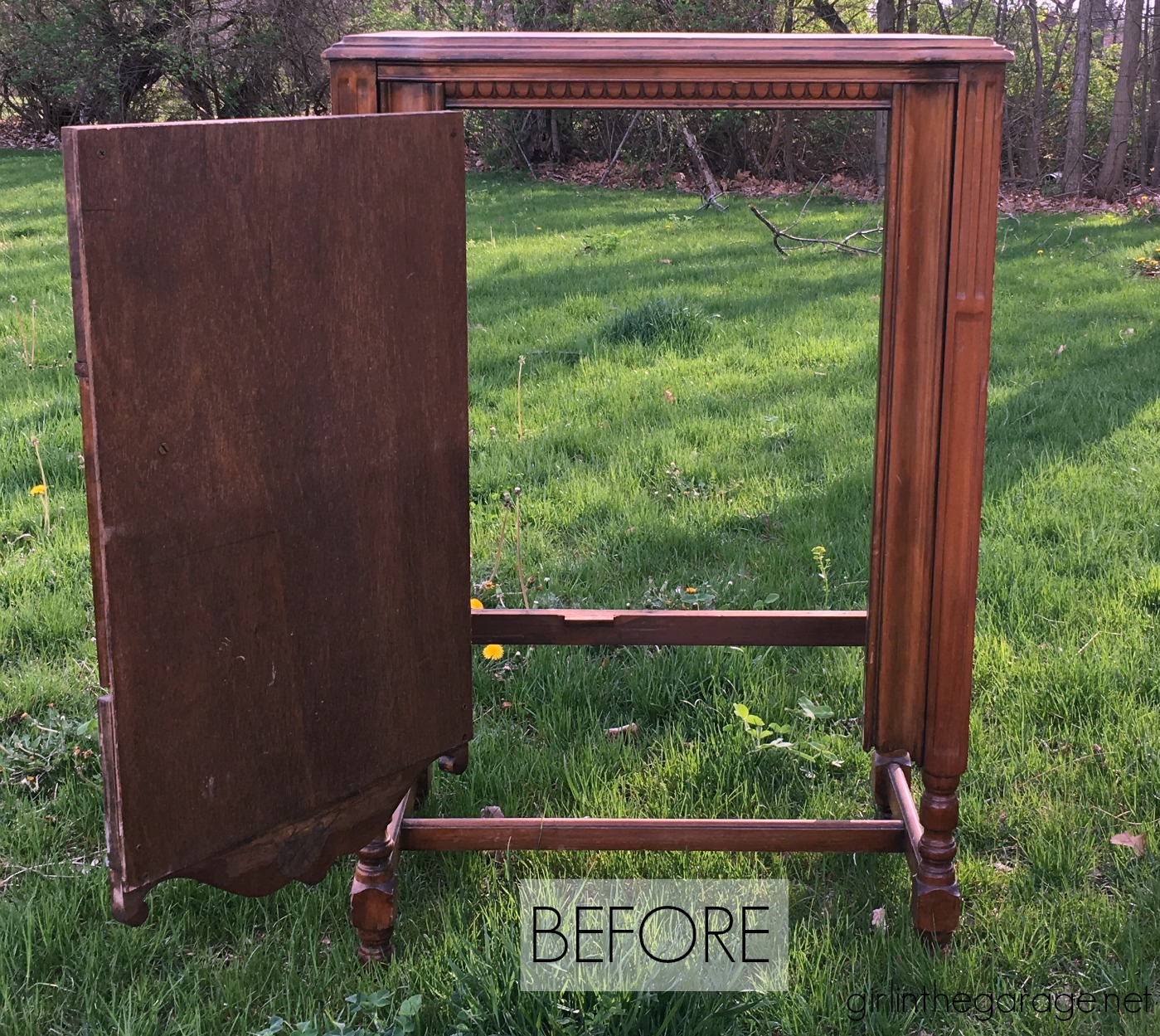 This antique radio cabinet was missing everything inside and also the back panel. Mr. GITG and I worked together to clean, sand, fix, cut new wood, assemble, and then I painted it. Read the whole tutorial and see all the photos here.
I also had to add a new magnetic closure so the door could stay shut. Below is the view looking in from the back side after we added shelves.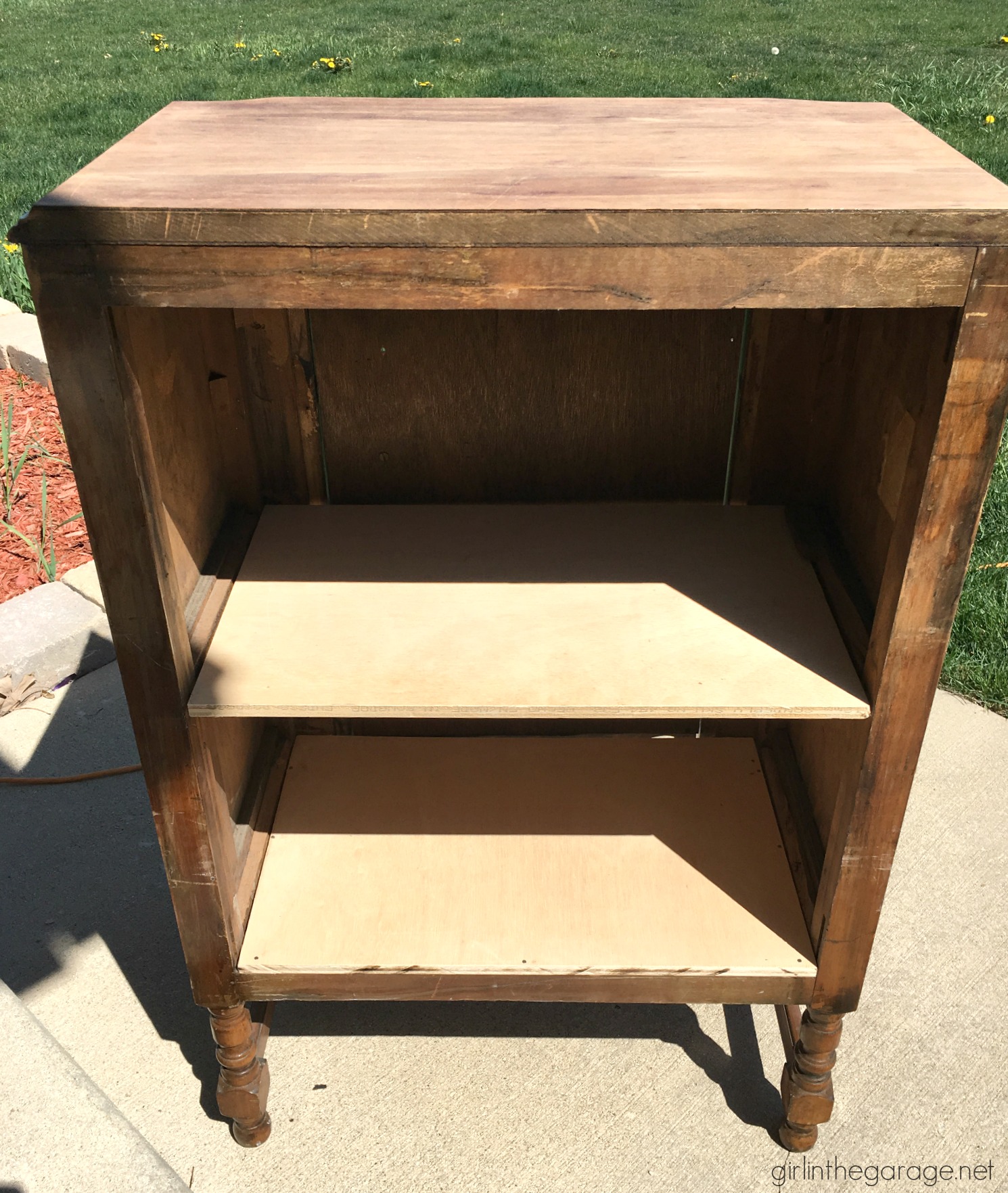 It was painted in Annie Sloan Chalk Paint in Provence, which is a lovely turquoise color, and then lightly distressed. I also used a light creamy color for the shelves inside.
Read all my best advice for how to Chalk Paint furniture here.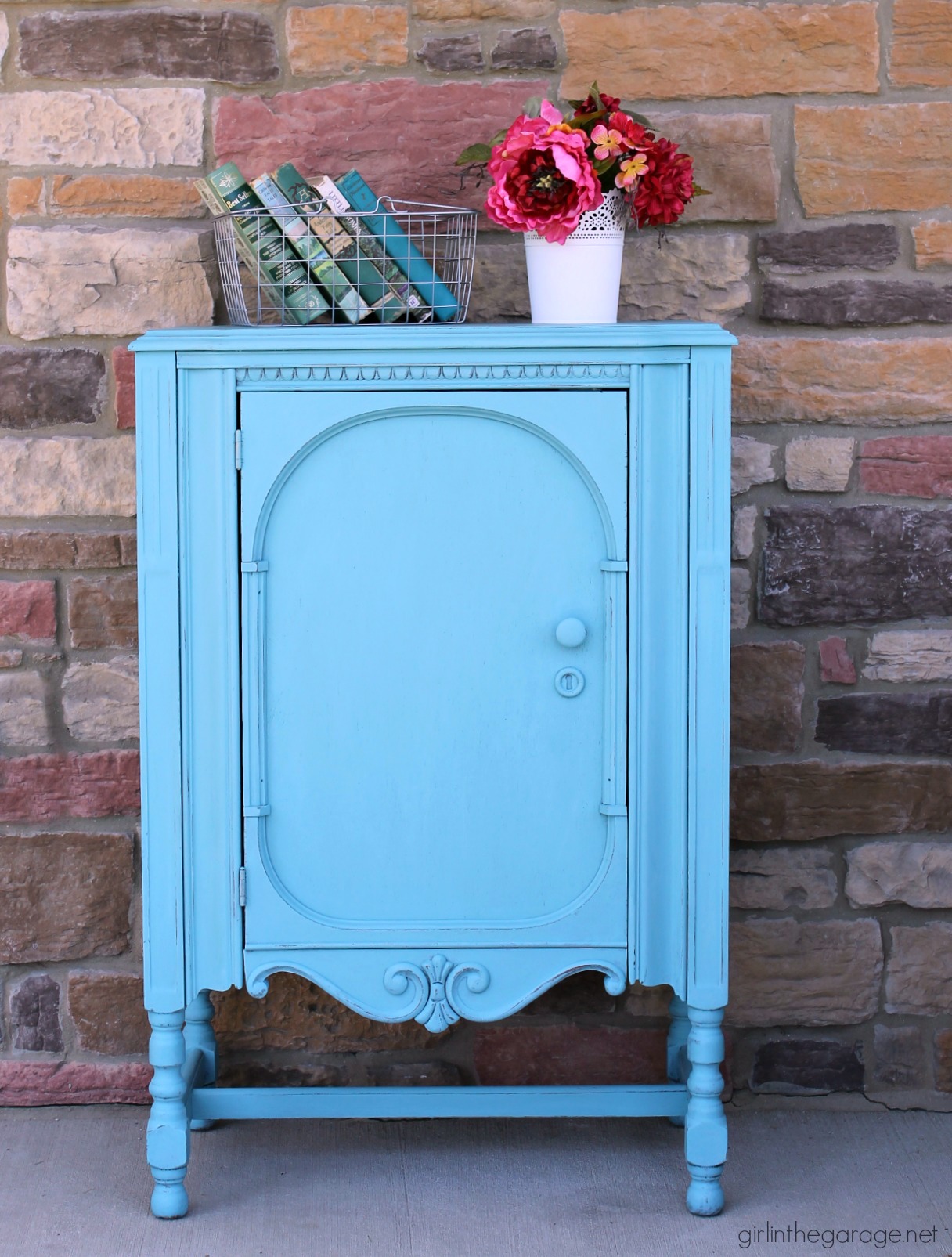 I thought this cabinet was absolutely gorgeous! I took it to a market and it didn't sell. Then I took it to my booth for awhile and it didn't sell… I was stumped, so I brought it home just to move inventory around.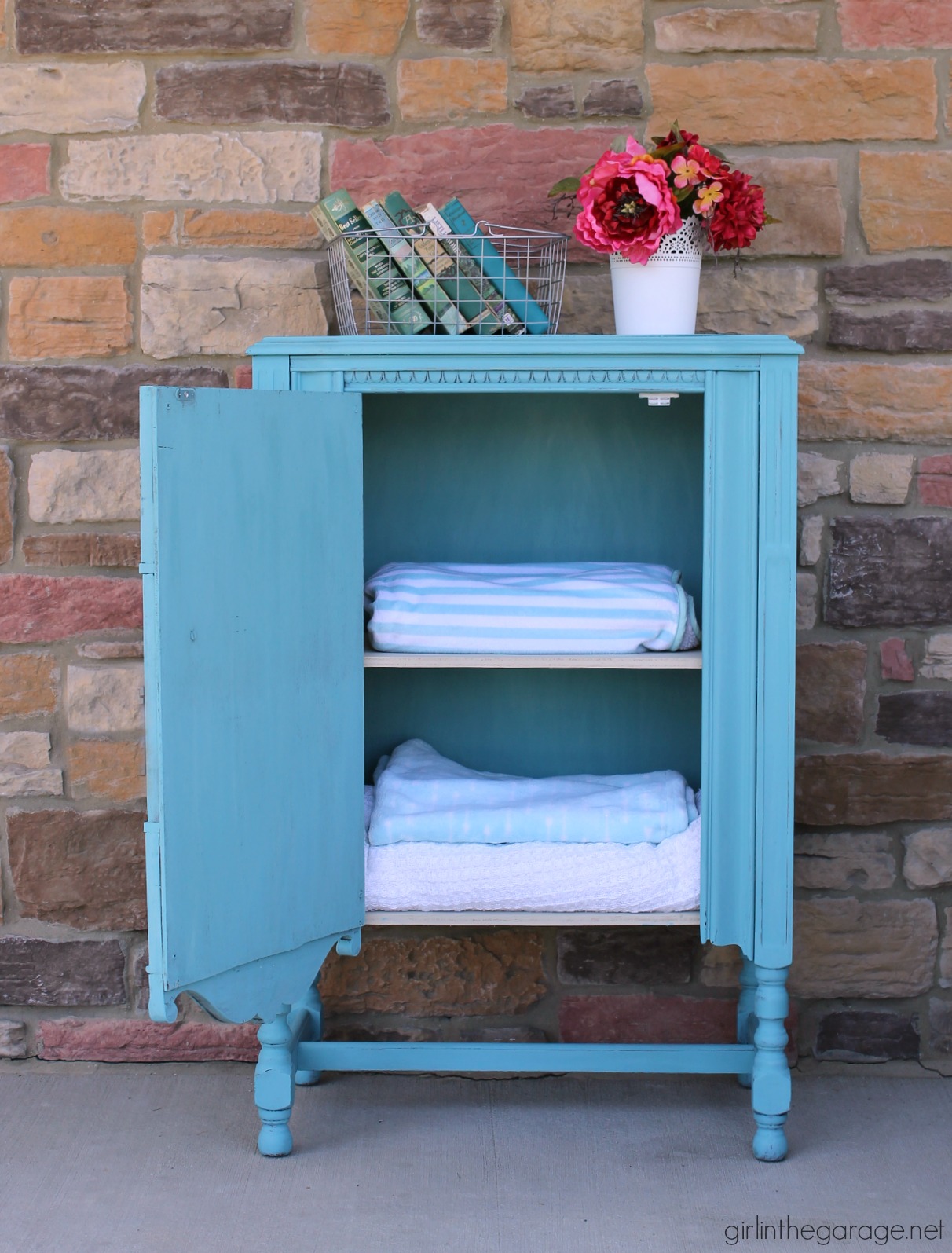 It ended up going in my storage trailer for several months with a few other pieces. One day I opened the trailer and looked inside… and some of the painted pieces were basically ruined. It wasn't traditional bleed-through because plenty of time had passed, but I think some moisture or just the change in temperatures (fall season) was to blame.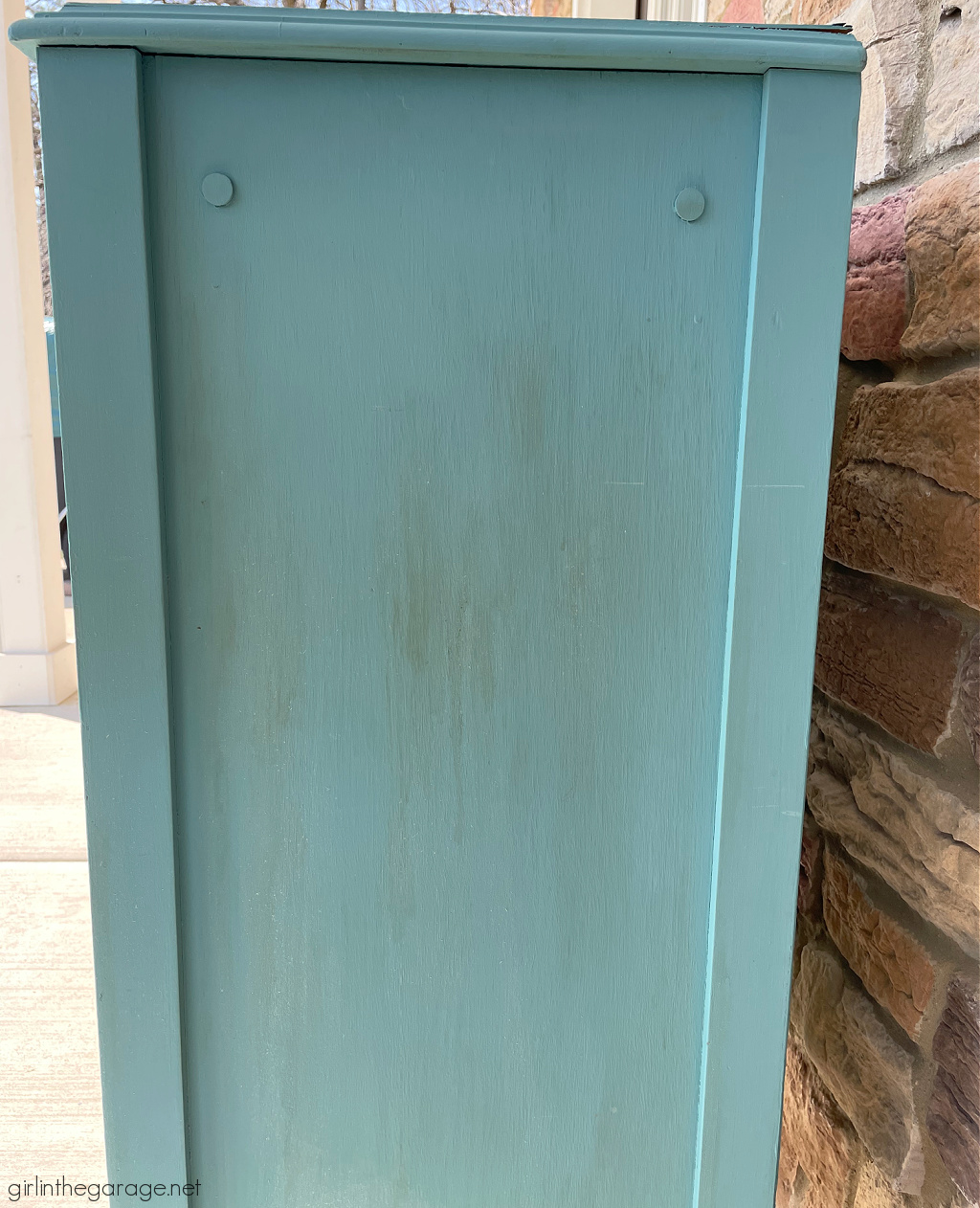 …and I have never left another finished piece in my trailer again. It was a tough lesson to learn.
I was understandably upset and this cabinet went into my garage to sit for a long time until this month's Furniture Fixer Uppers project.
Not wanting to prime and start from scratch, I chose a darker color this time. Grab my two free guides – including how to properly prep furniture for painting – here.
Since my Annie Sloan stockist has been M.I.A., I tried Rustoleum Chalked Paint in Charcoal (I wanted a true black, but there is no black in this brand).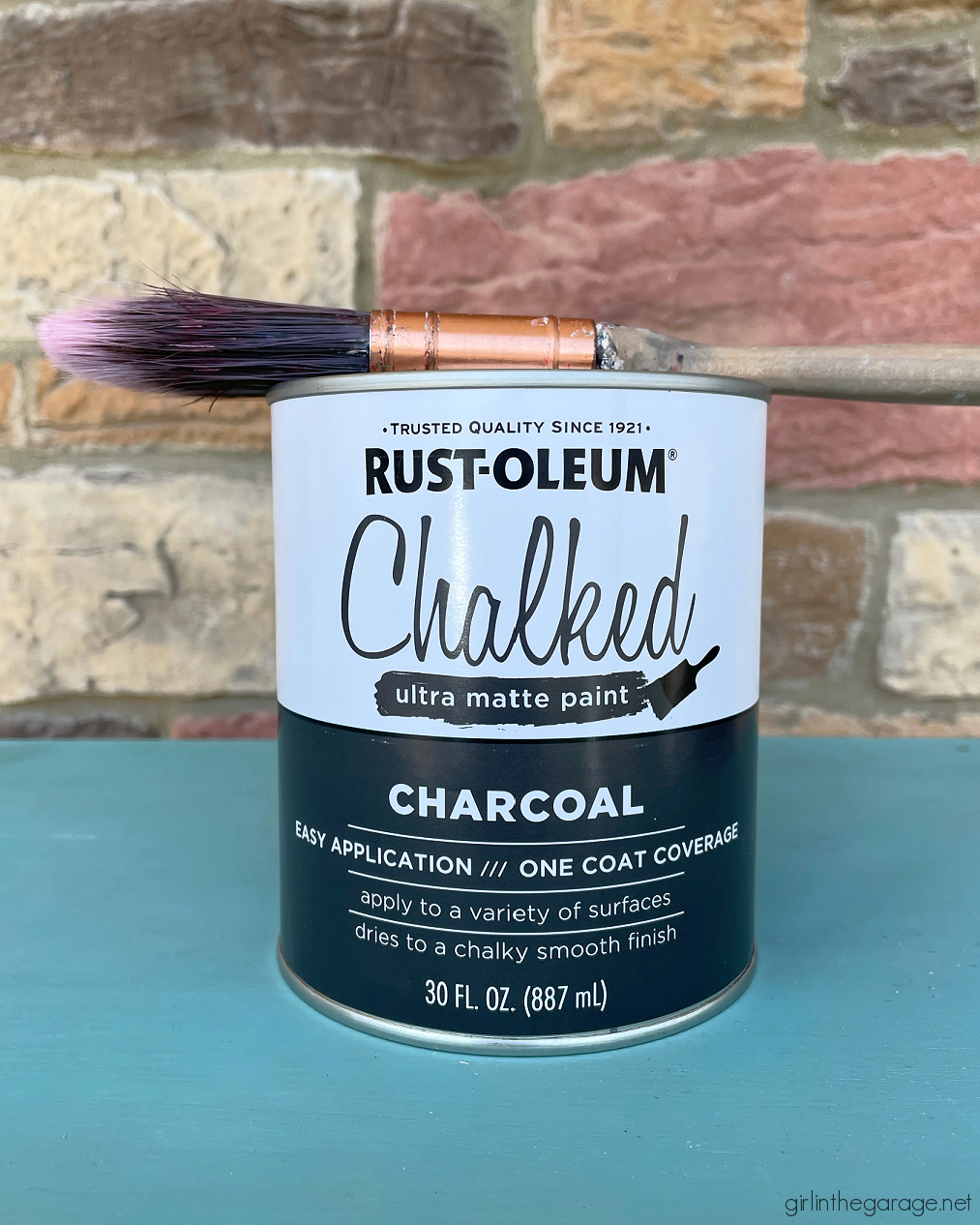 You can read my full honest review of Rustoleum Chalked Paint here.
After a gentle cleaning, I brushed right over the old paint with one of my favorite Purdy paint brushes.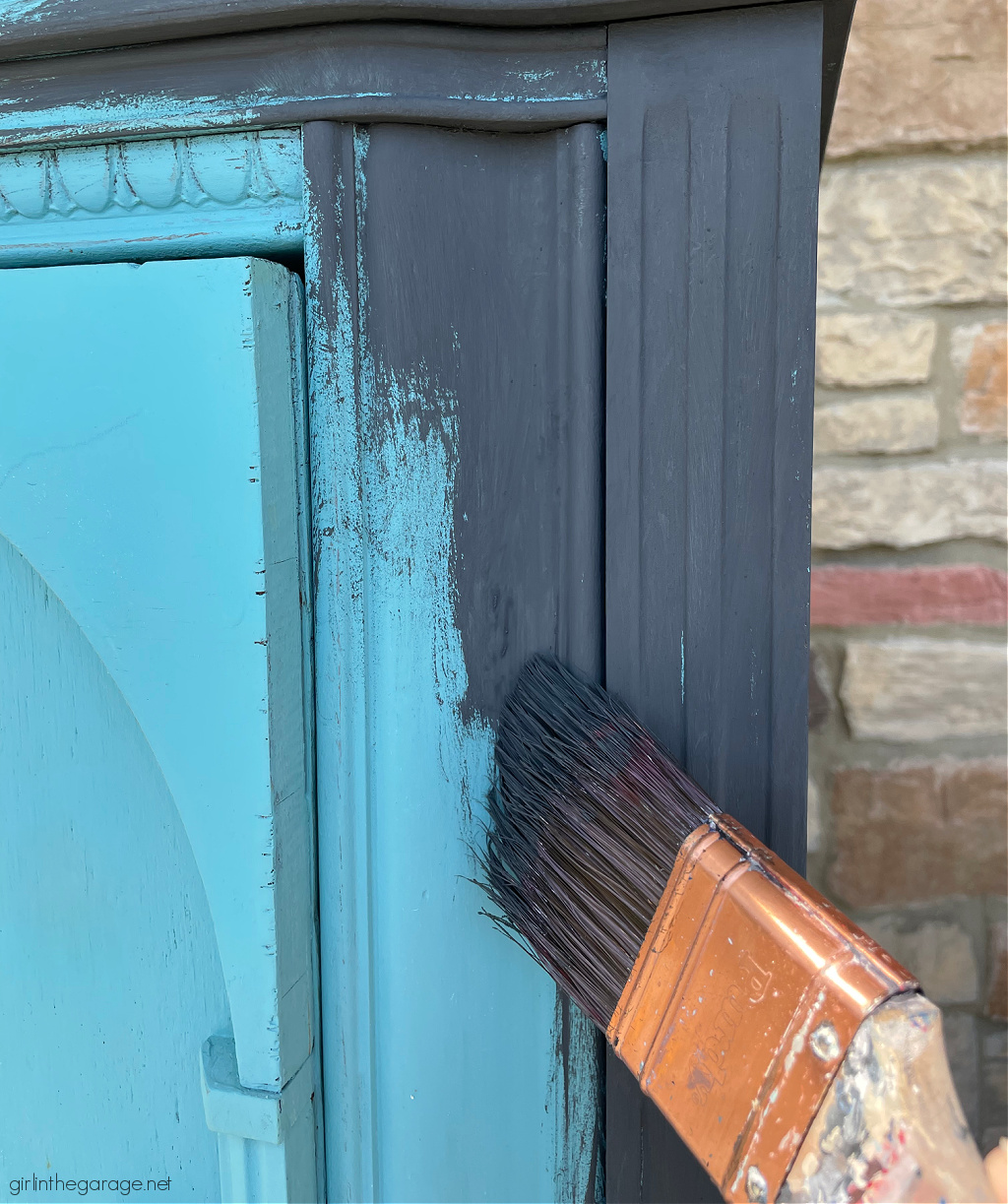 Not wanting three different colors, I also painted the inside of the cabinet.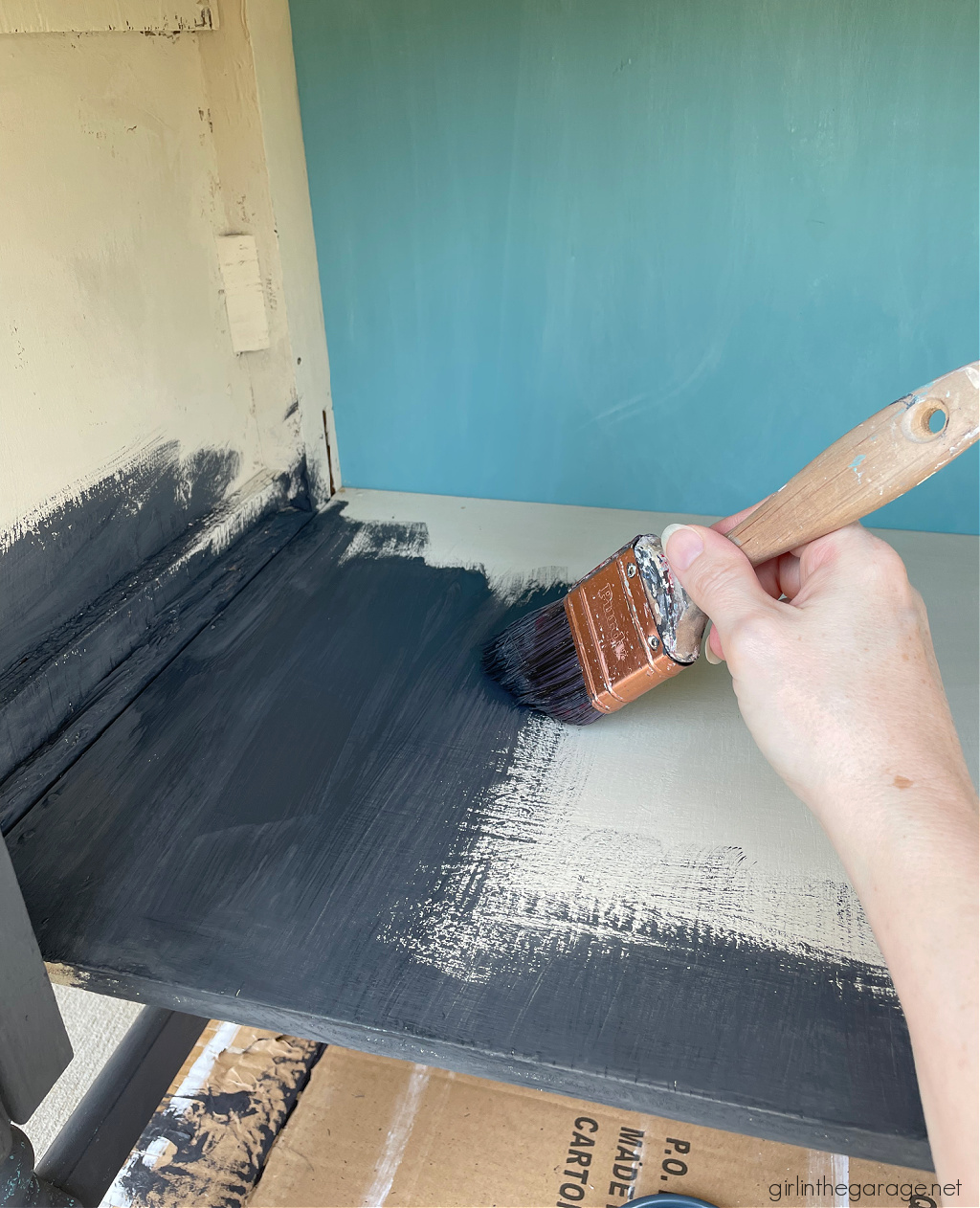 I applied two coats of paint on a gorgeous spring day, so I absolutely didn't mind the work, although I do hate having to repaint a piece that I already put a lot of effort into.
Then I sanded all over with 320-grit sandpaper and distressed it some. When you sand over black or dark gray paint, you'll end up with light colored streaks. I explain it more here in this post How to Paint Furniture with Black Chalk Paint, but the quick solution is to apply a black wax after painting.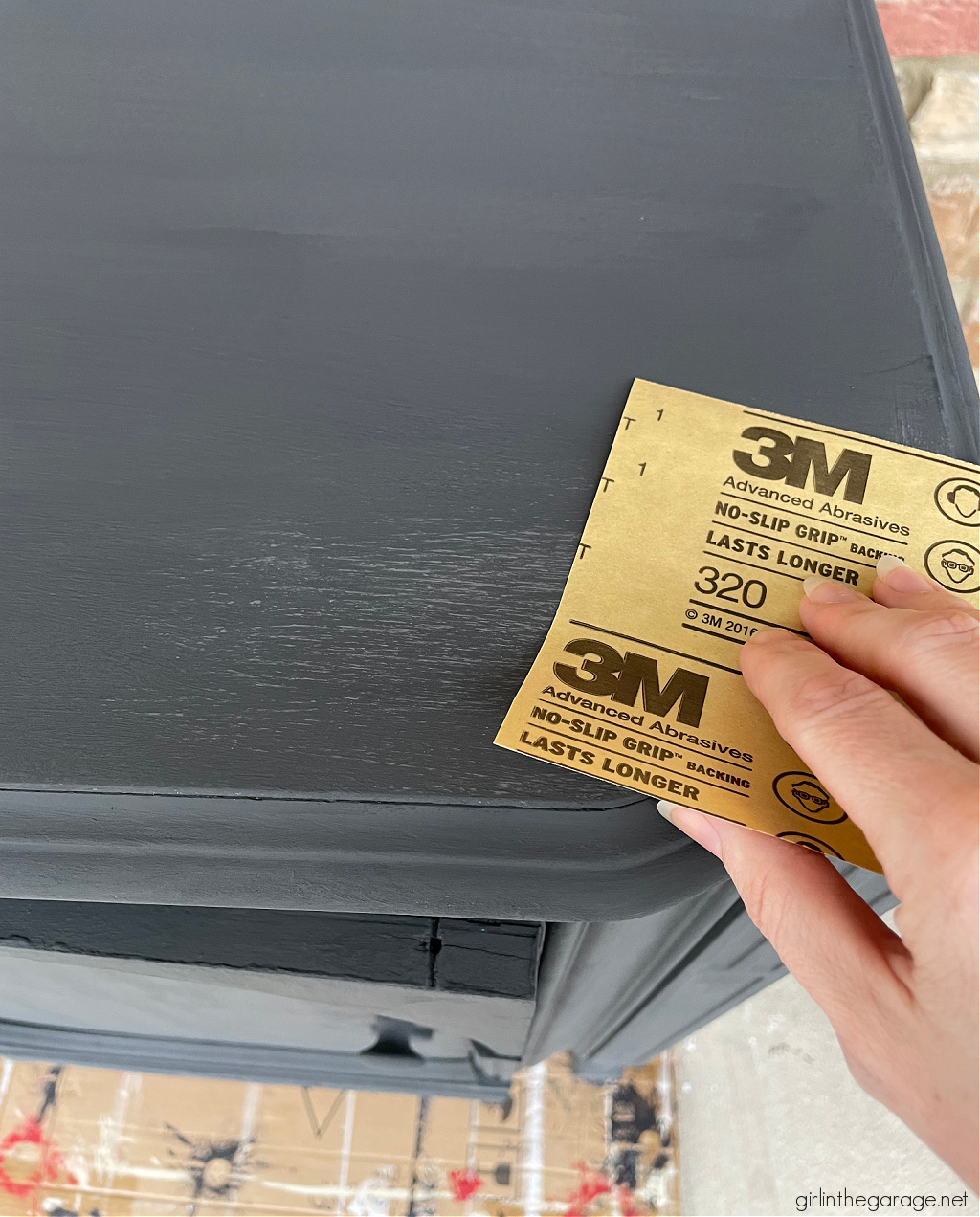 You can see below how the right area where I've applied Annie Sloan's black wax with a lint free cloth looks much more black than the left side without the wax.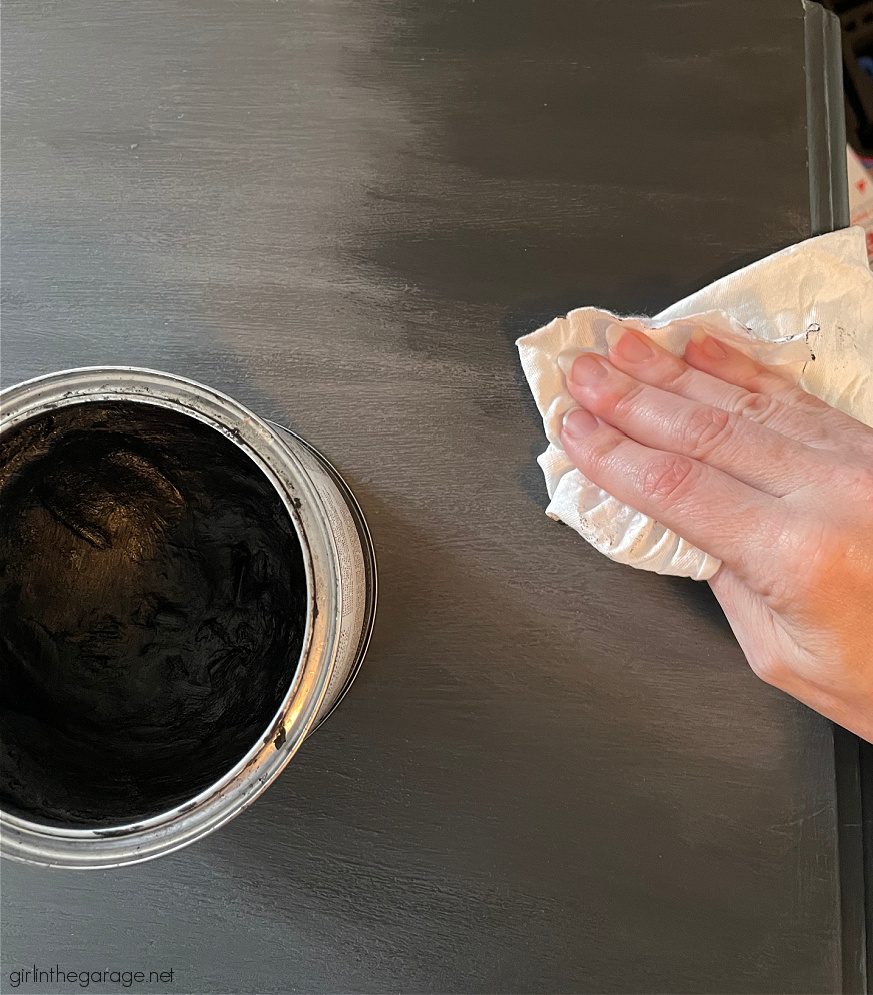 This repurposed radio cabinet looks much different now than the turquoise before, but the distressed "black" looks very industrial chic.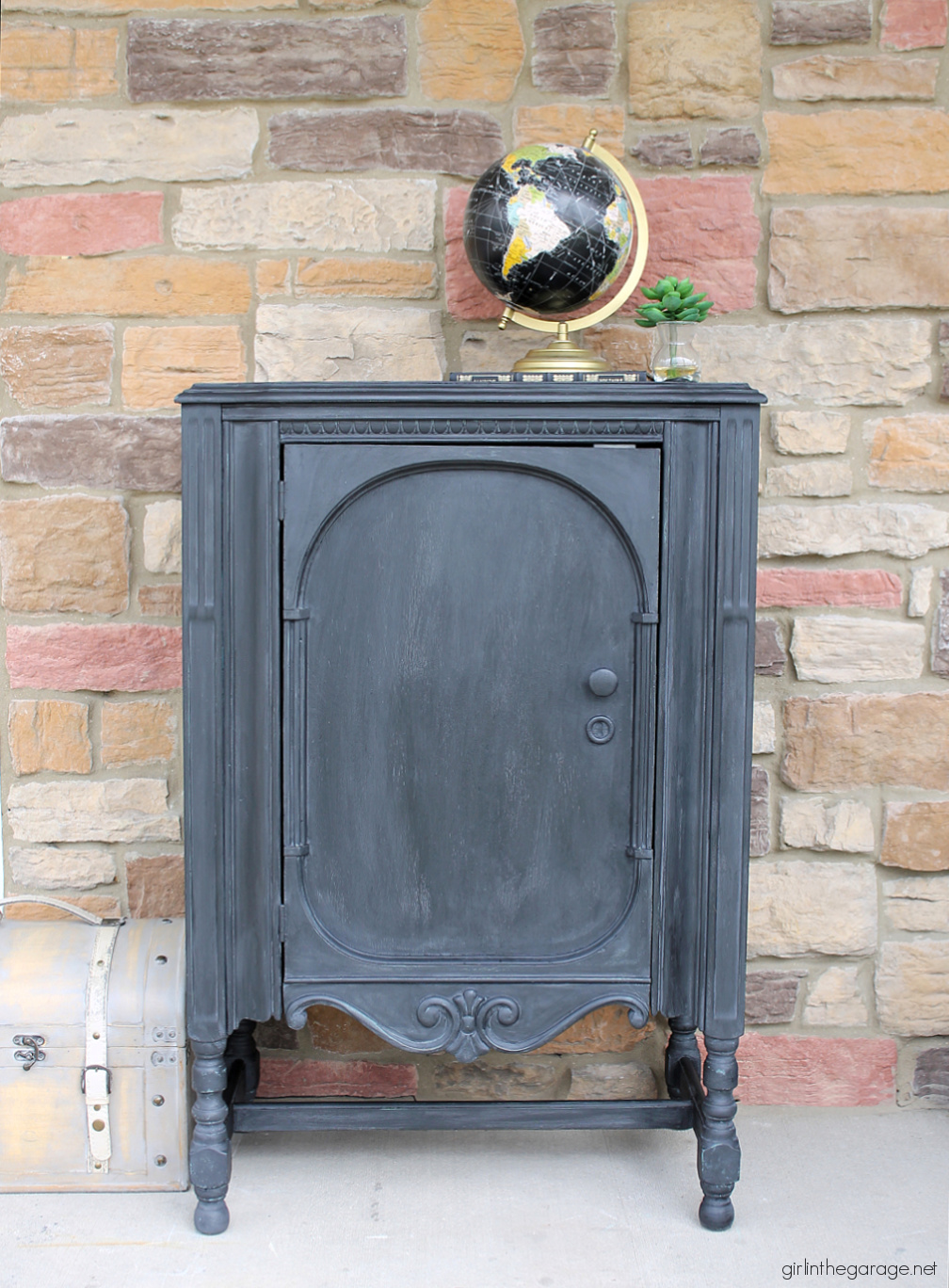 Rustoleum Chalked Paint in Charcoal reminds me of Annie Sloan Chalk Paint in Graphite – I always used black wax over that too (before they came out with Athenian Black) to darken the hue.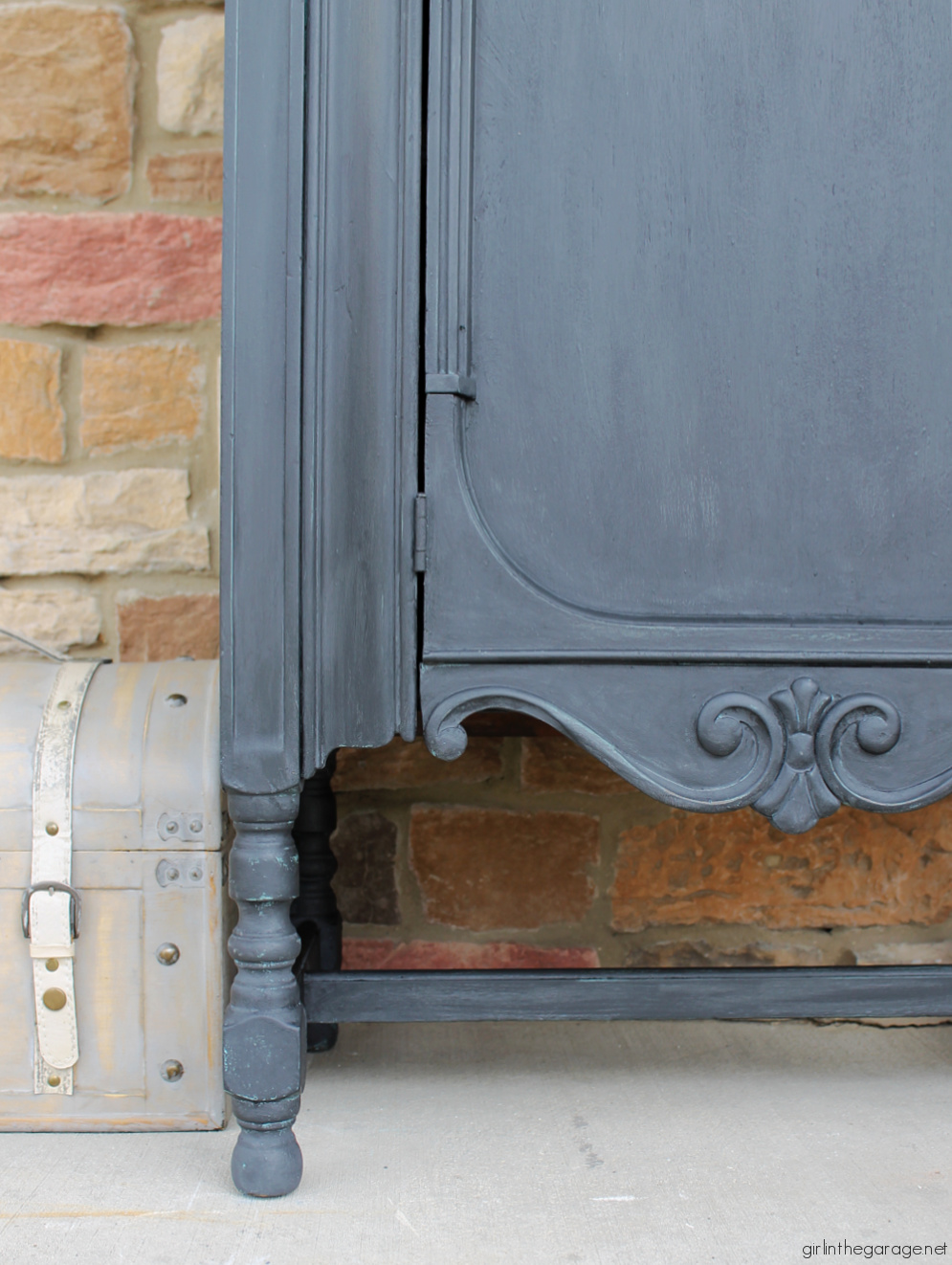 If you look closely, you can see where the distressed paint shows a little bit of turquoise peeking out from underneath.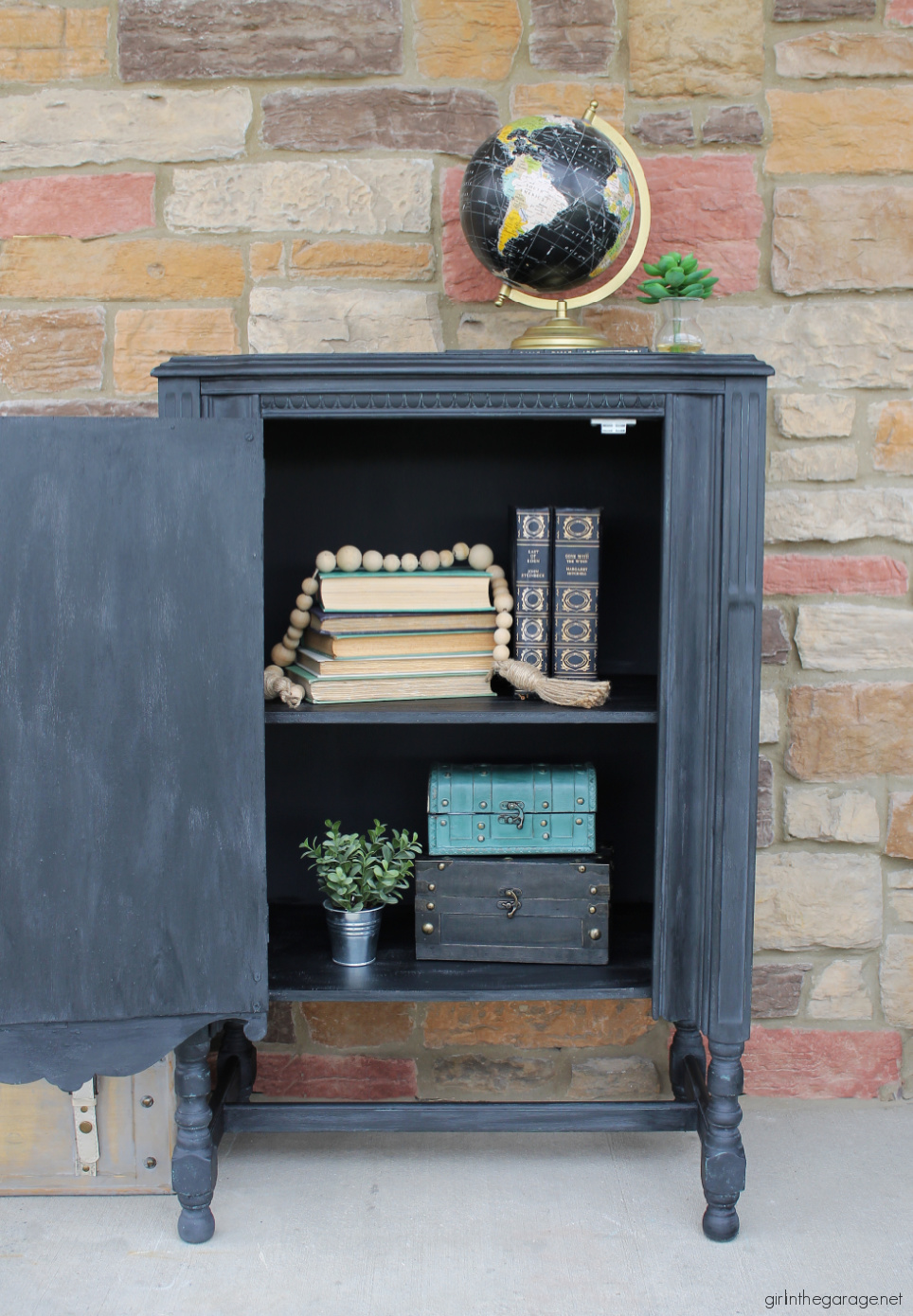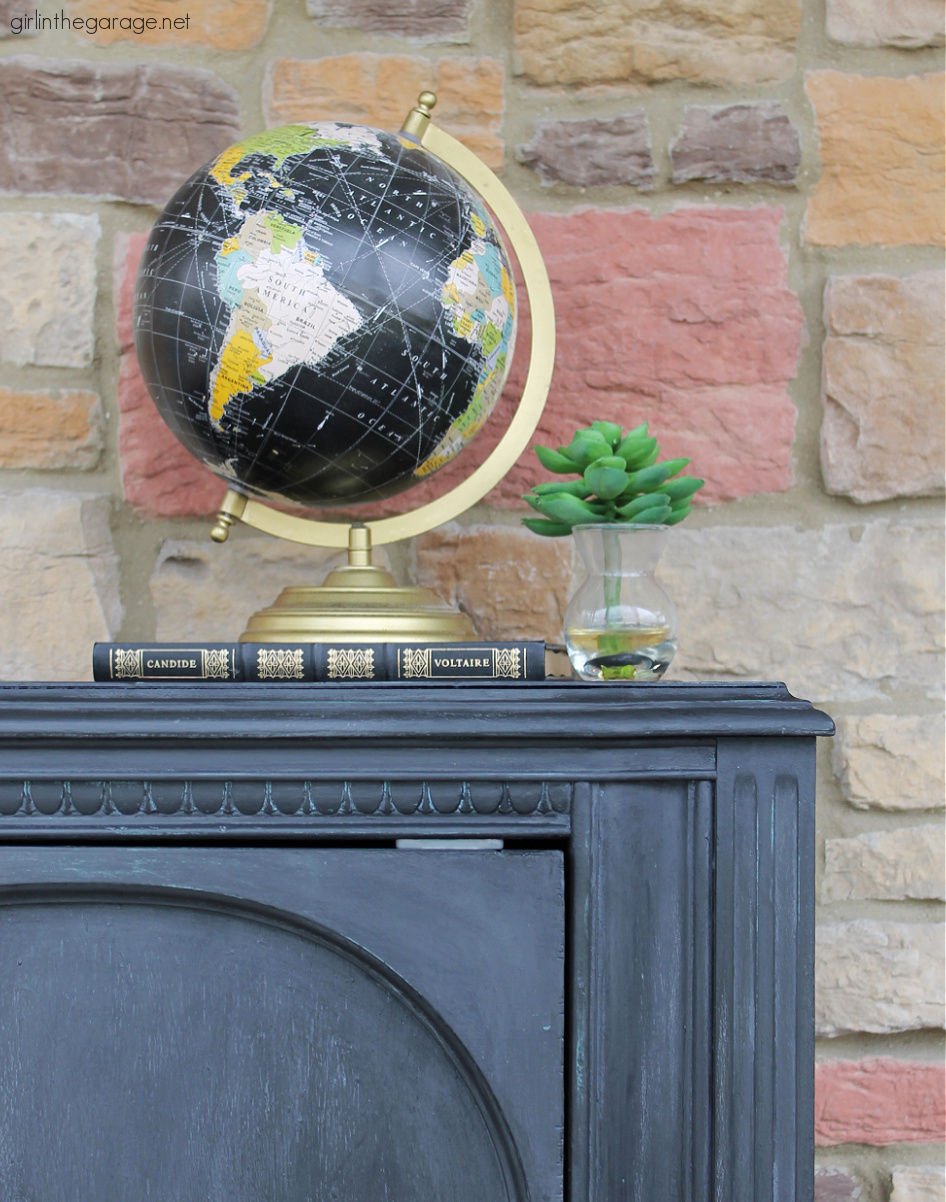 Hopefully, with its new look this piece will find a new home quickly!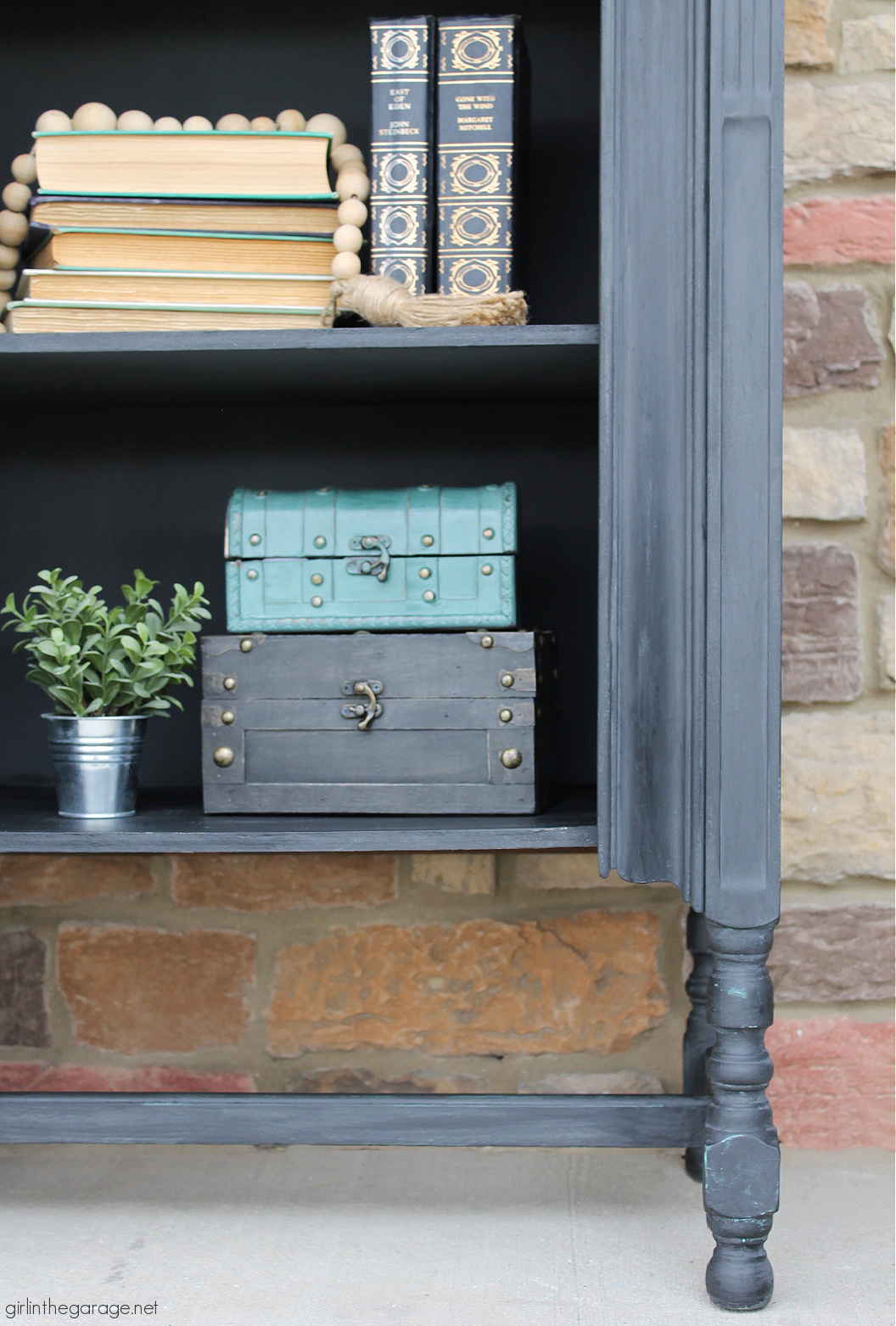 It's fun to see how one piece can look painted two different ways, isn't it? I loved the turquoise and I'm surprised it didn't sell. Which way do you prefer this cabinet?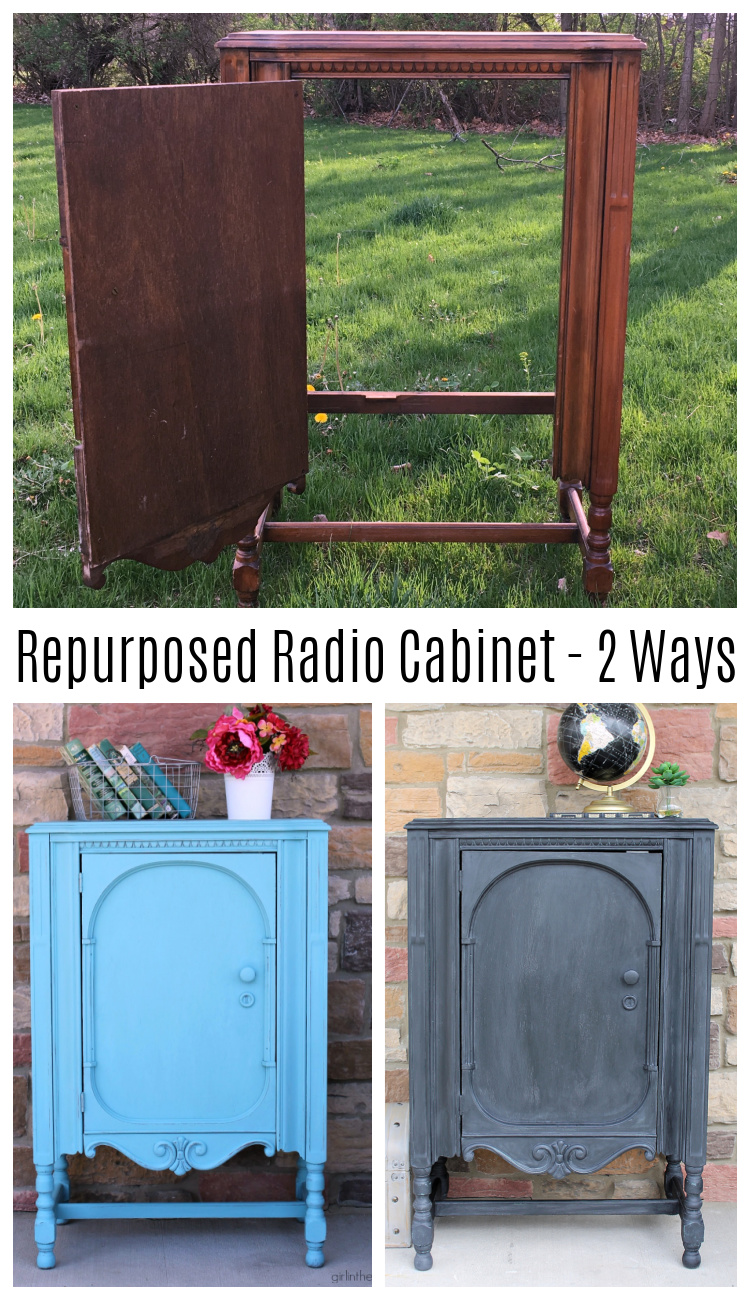 Please feel free to share this project with a friend or Pin it for easy access later.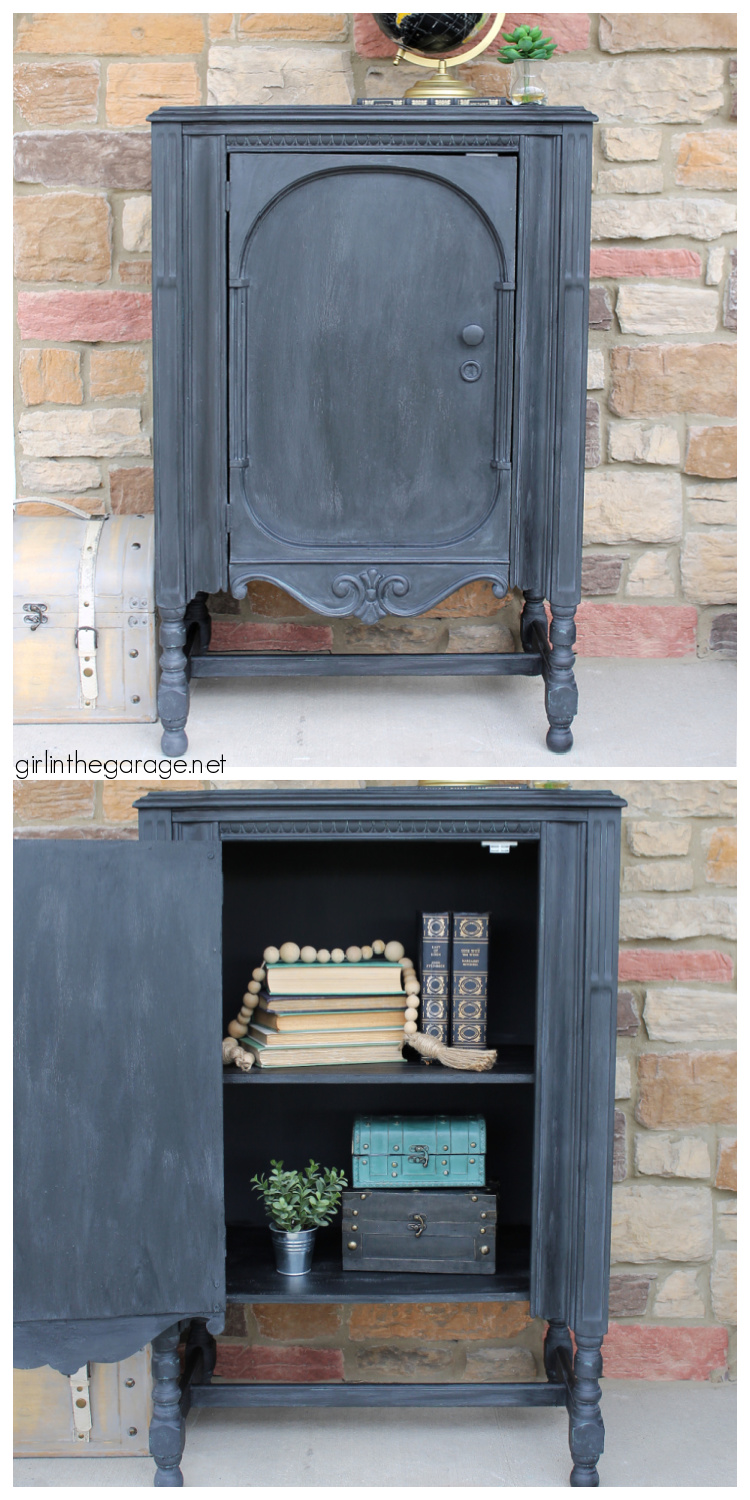 Now it's time for Furniture Fixer Uppers with my talented blogging besties!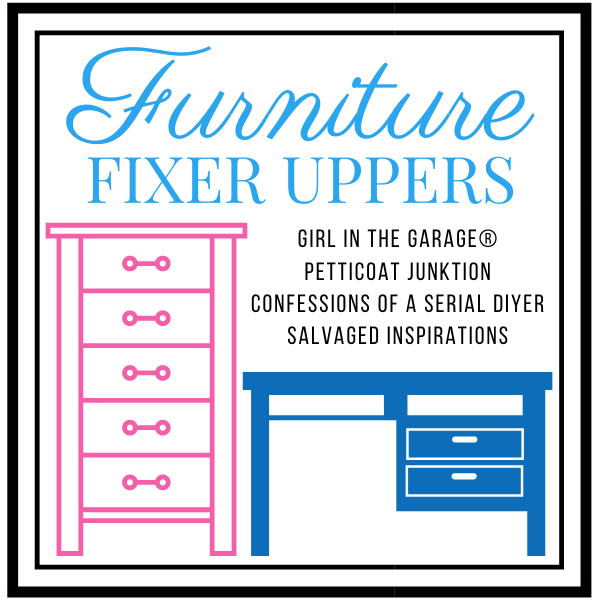 Below are their Before photos. Visit the links underneath to see the amazing Afters and to learn how they did it: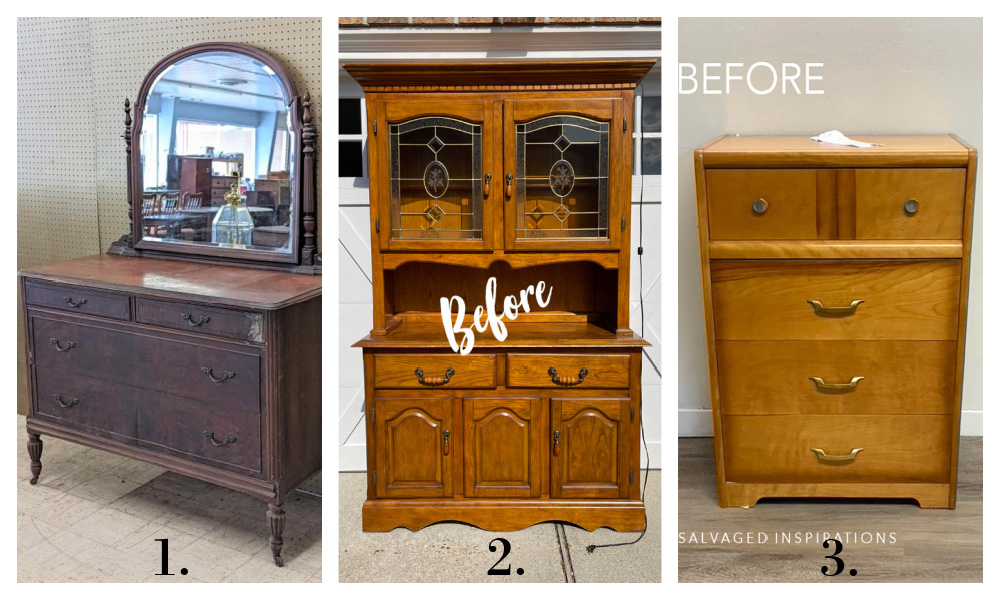 1. Petticoat Junktion
2. Confessions of a Serial DIYer
3. Salvaged Inspirations