Hello again, friend! Things have been super busy around here lately (it's December after all!) but I managed to do a small makeover on this thrifted, already-painted box that was $3.99 at Goodwill. I think it was meant to be a recipe box, but it's got such a sweet shape that you can use it for almost any kind of small storage.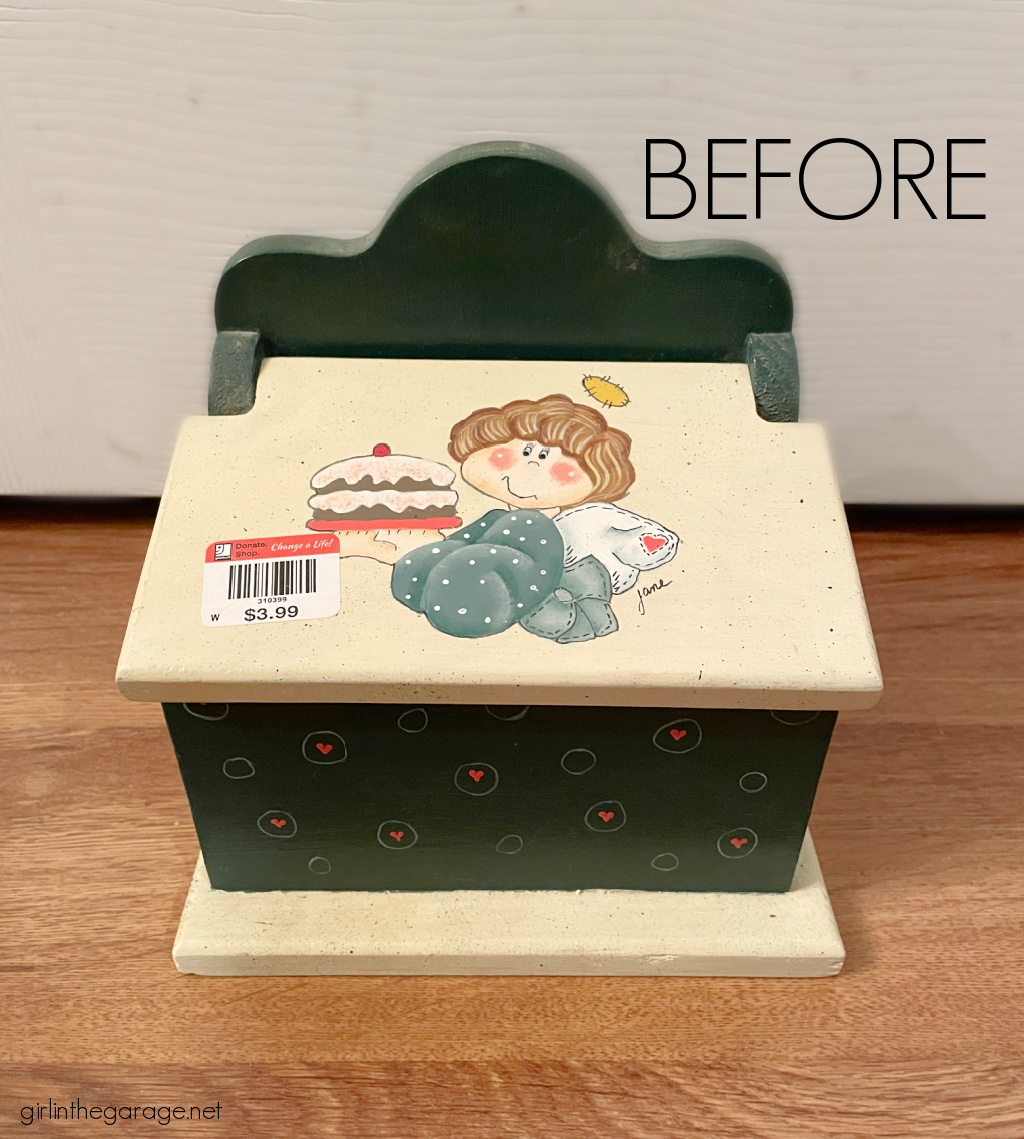 The green and interesting pattern continued all the way around the box, and the texture was very much raised. My 6-year-old son liked the artwork, but I had to disappoint him because this piece was getting a brand new look for Trash to Treasure Tuesday (see my friends' makeovers at the bottom of this post).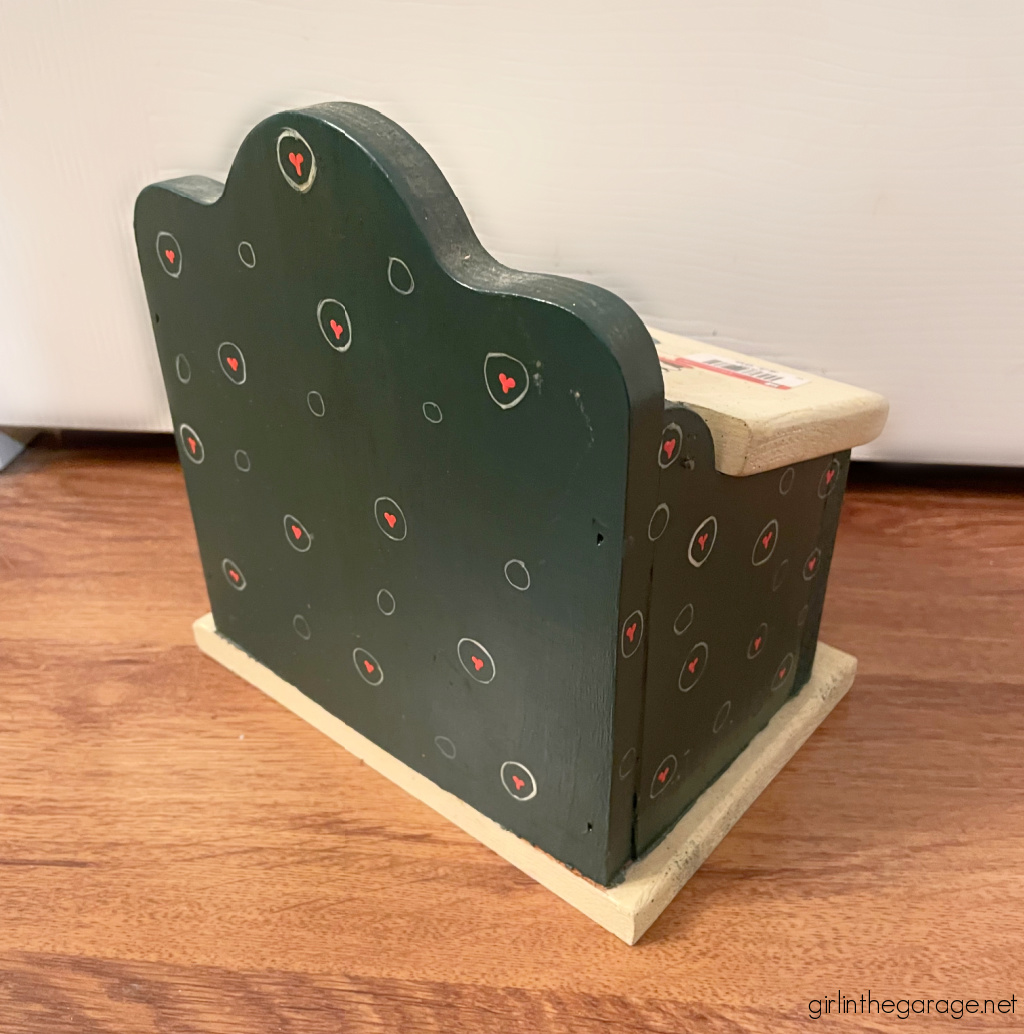 *This post contains some affiliate links so you can easily find the products I use and recommend. Discover all my favorite brands and tools for doing DIY makeovers here.
First, since there was so much texture, I had to sand it smooth. I used 220-grit sandpaper, but the paint was on so thick that I could've used 120-grit. Completely removing the paint wasn't necessary, but I didn't want the old pattern showing through the new paint.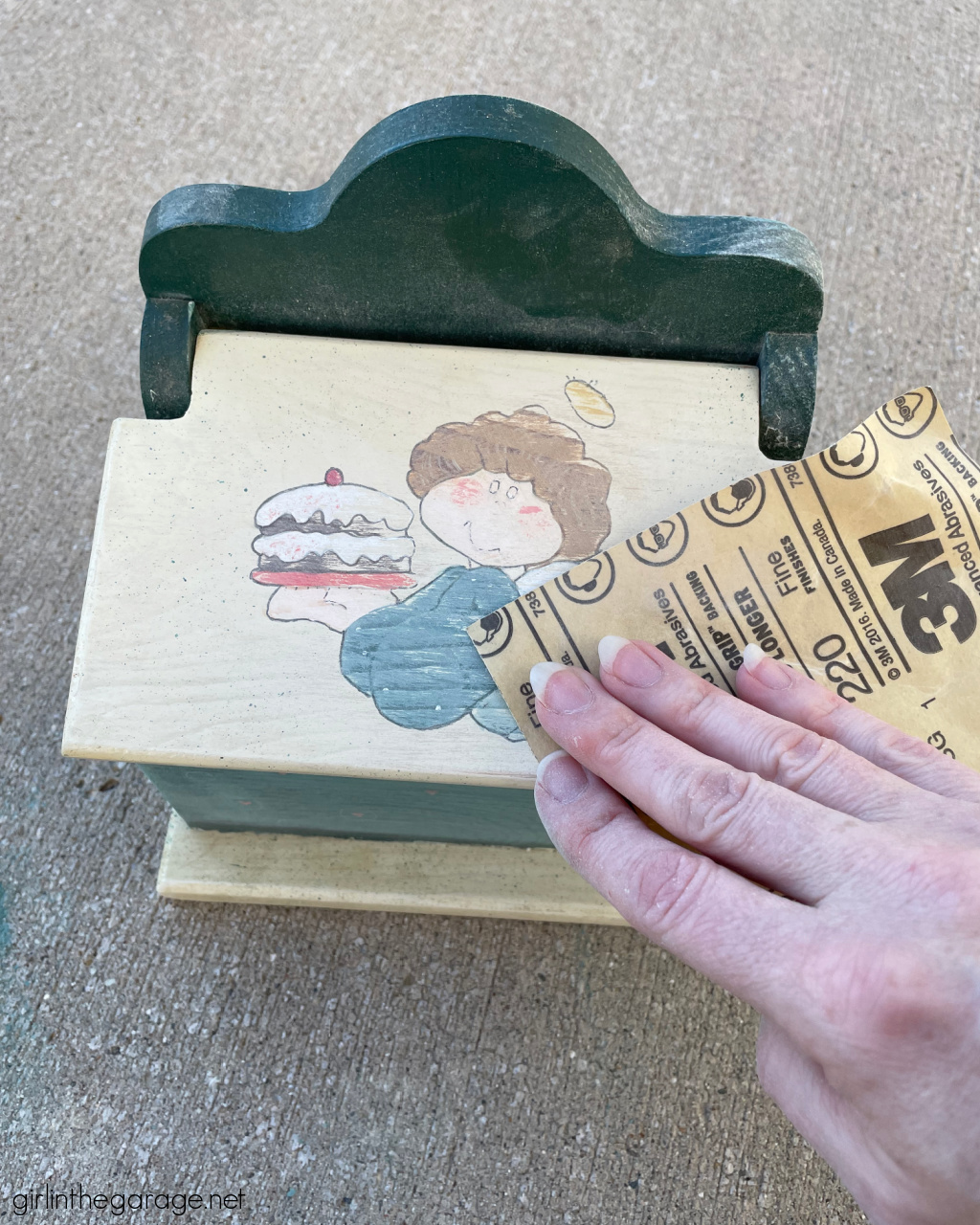 After wiping away the sanding dust, I could start painting. I had a fairly new can of Rustoleum Chalked Paint in Linen White nearby, so I used that as the base for my project. You can see below how one coat definitely wouldn't cut it, and I'm starting on a 2nd coat. I ended up doing 3 complete coats of the white paint. (Annie Sloan Chalk Paint is thicker so you might be able to get away with only 2 coats.) Read my honest review of Rustoleum Chalked Paint here and how it compares to Annie Sloan Chalk Paint.
I brushed it on with one of my favorite Purdy paint brushes – this one is 1 inch wide.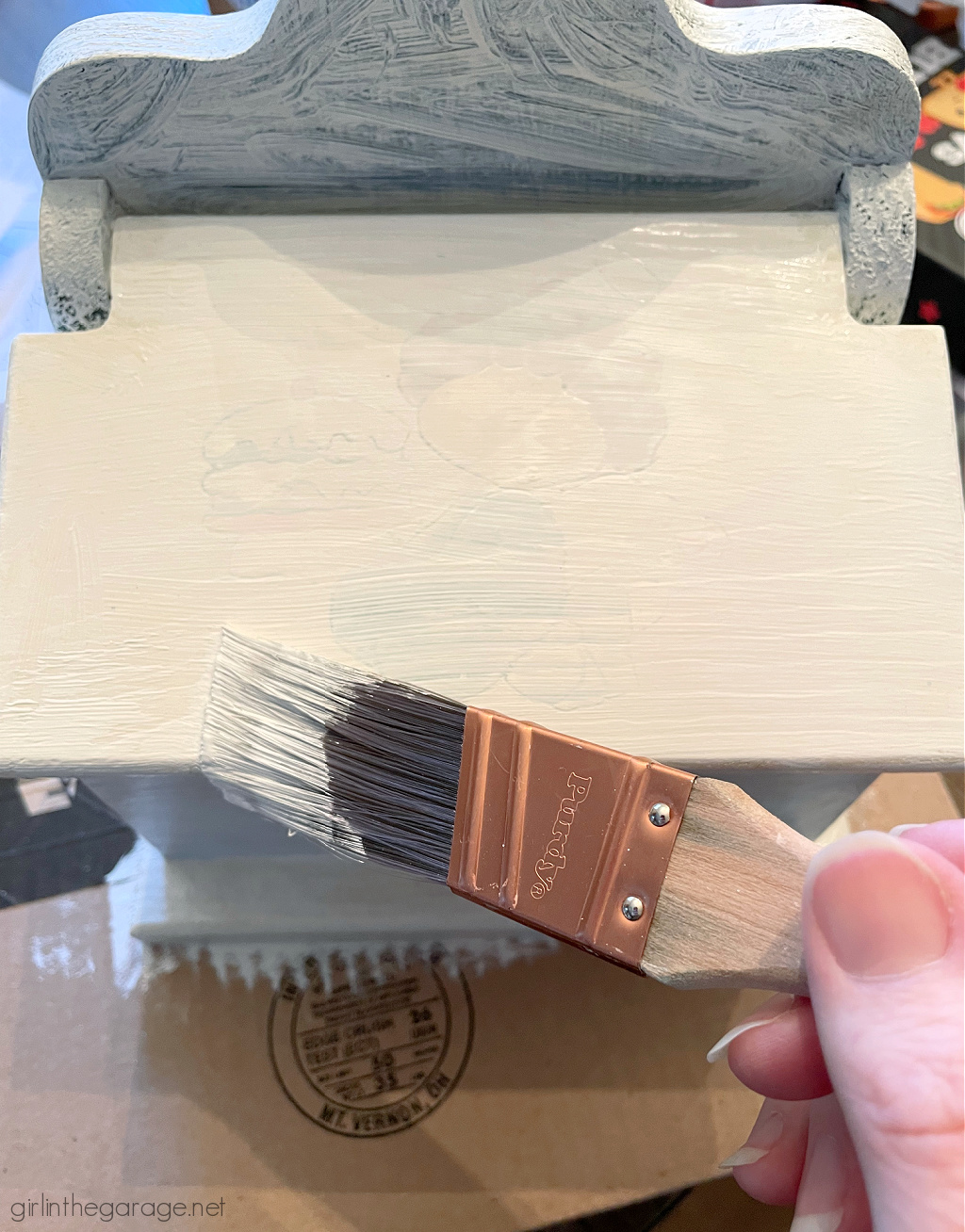 After it dried, I sanded it smooth with 320-grit sandpaper – perfect for finishing when you're almost done with a project. Then wipe away the sanding dust with damp paper towels.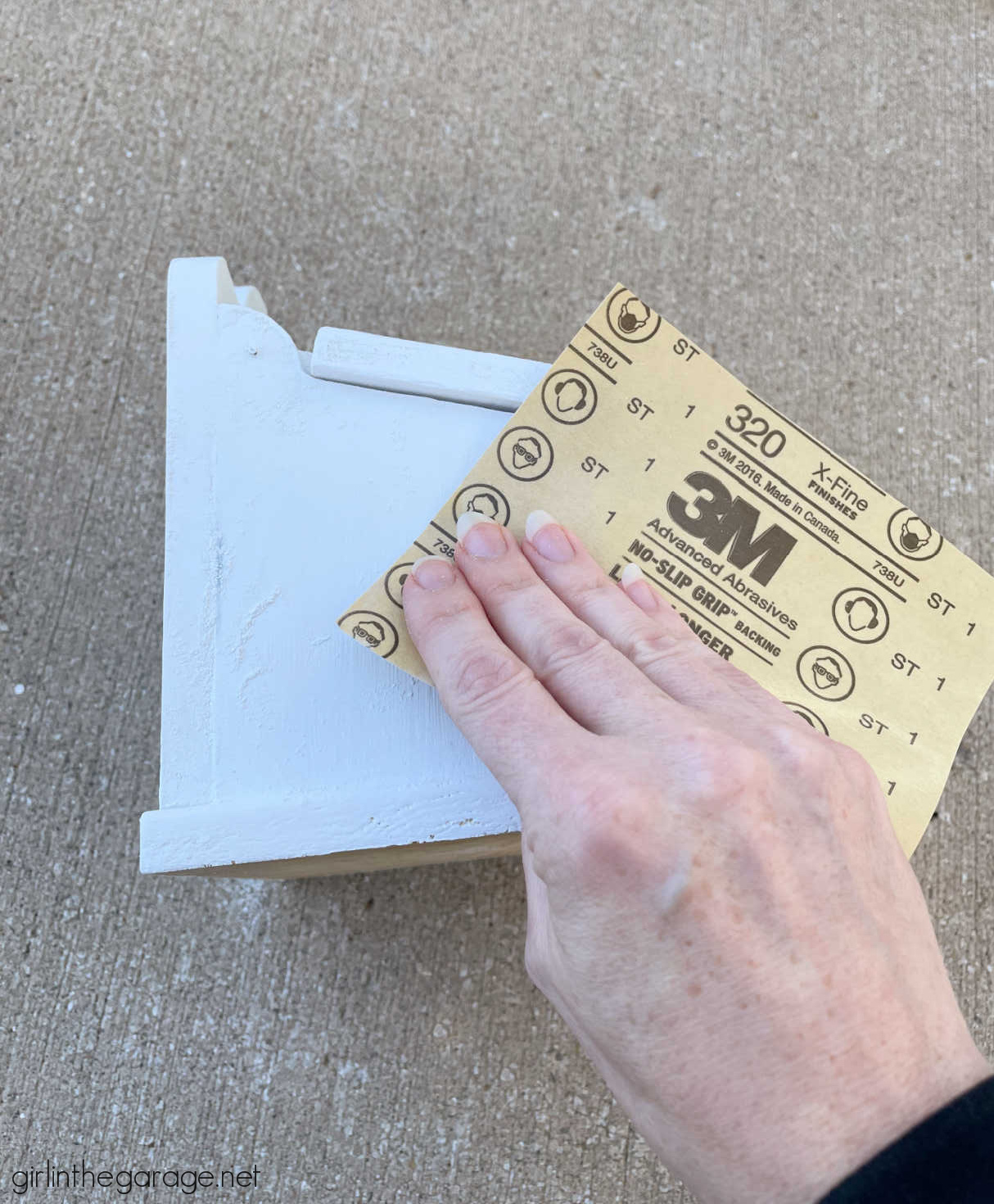 Next I added a floral image transfer for fun – this one is "Rose and Rouge" by ReDesign with Prima. Learn more about how to add image transfers to furniture here.
First I laid out some leftovers from a previous project (this floral and striped dresser).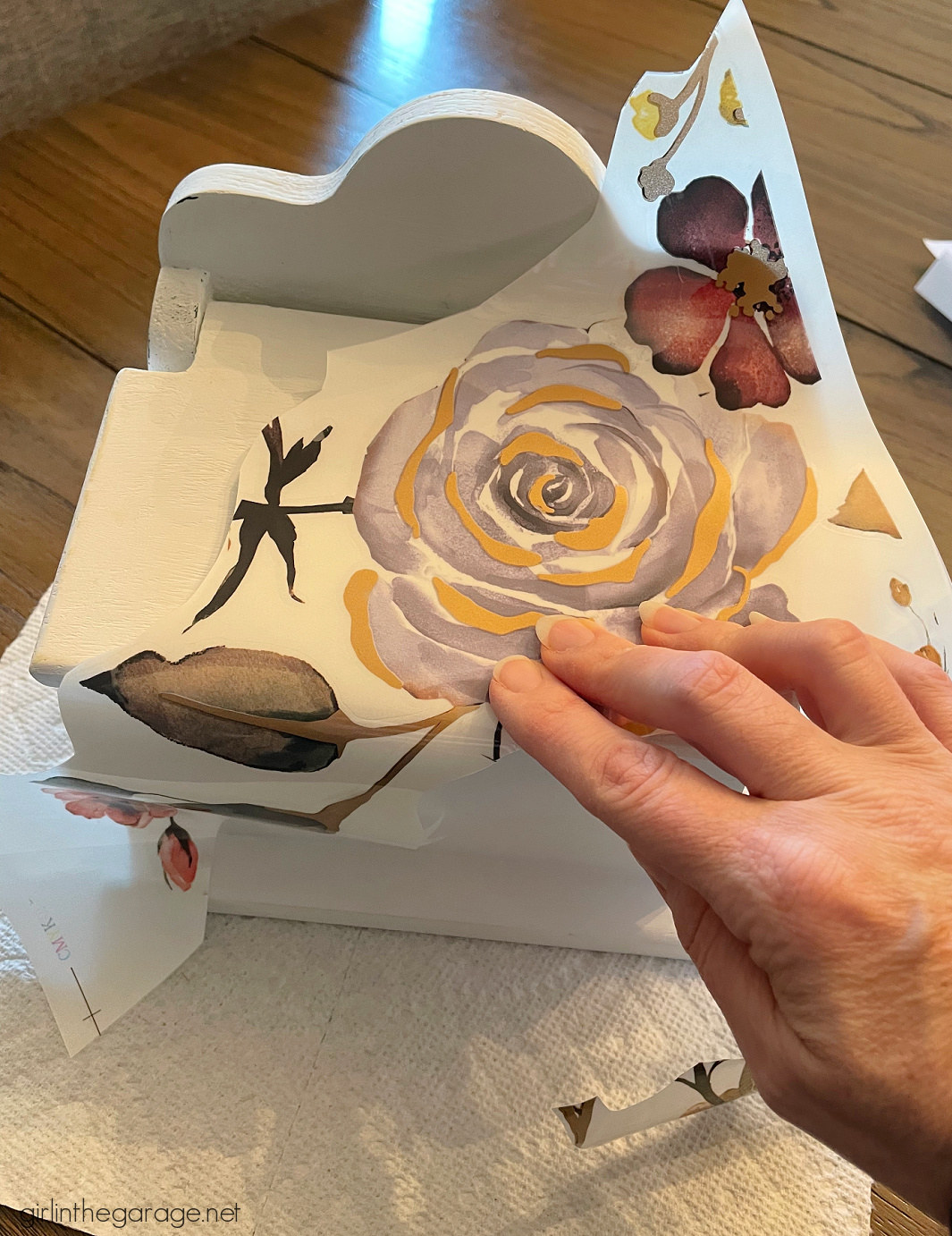 Cut around the excess and remove the backing when you're ready to apply the transfer. Be careful because it sticks very well and you won't be able to reposition it once it's down.
Can you see the metallic gold running through the transfer? So pretty!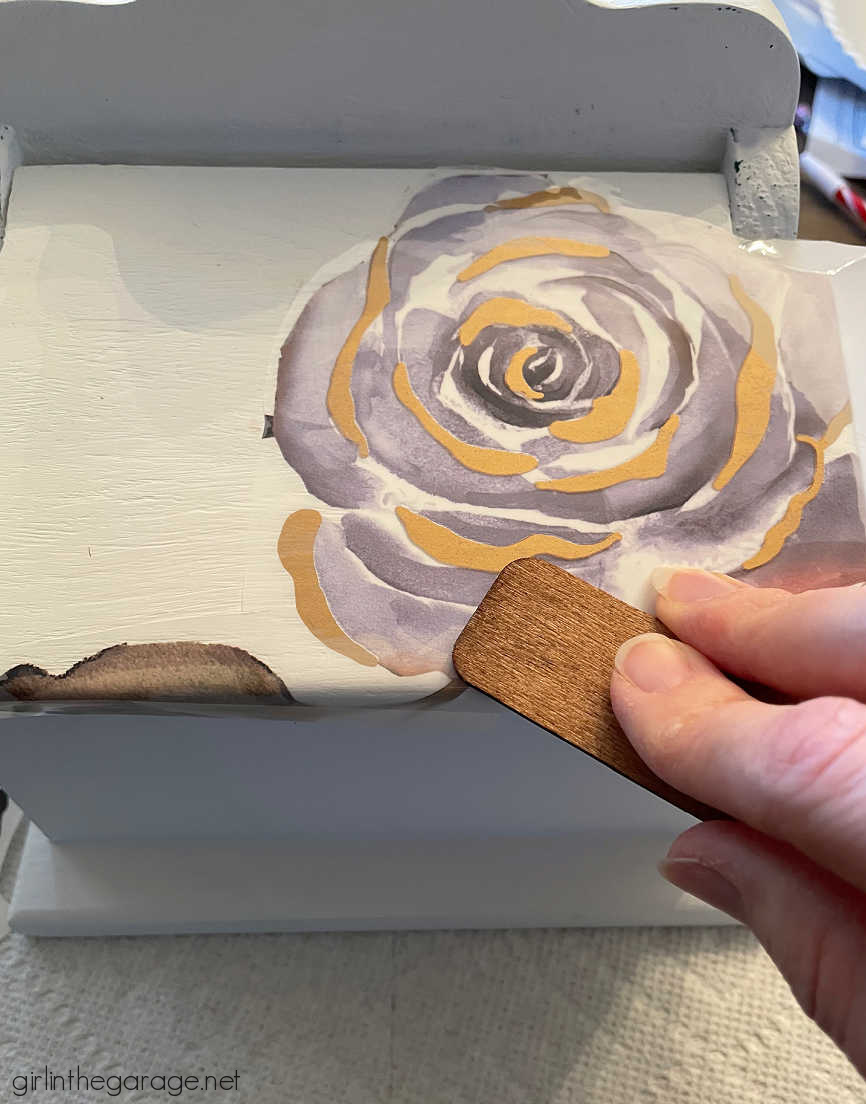 Rub gently with the included stick and carefully pull the top layer away – and you're left with a gorgeous design that almost looks like it was hand painted!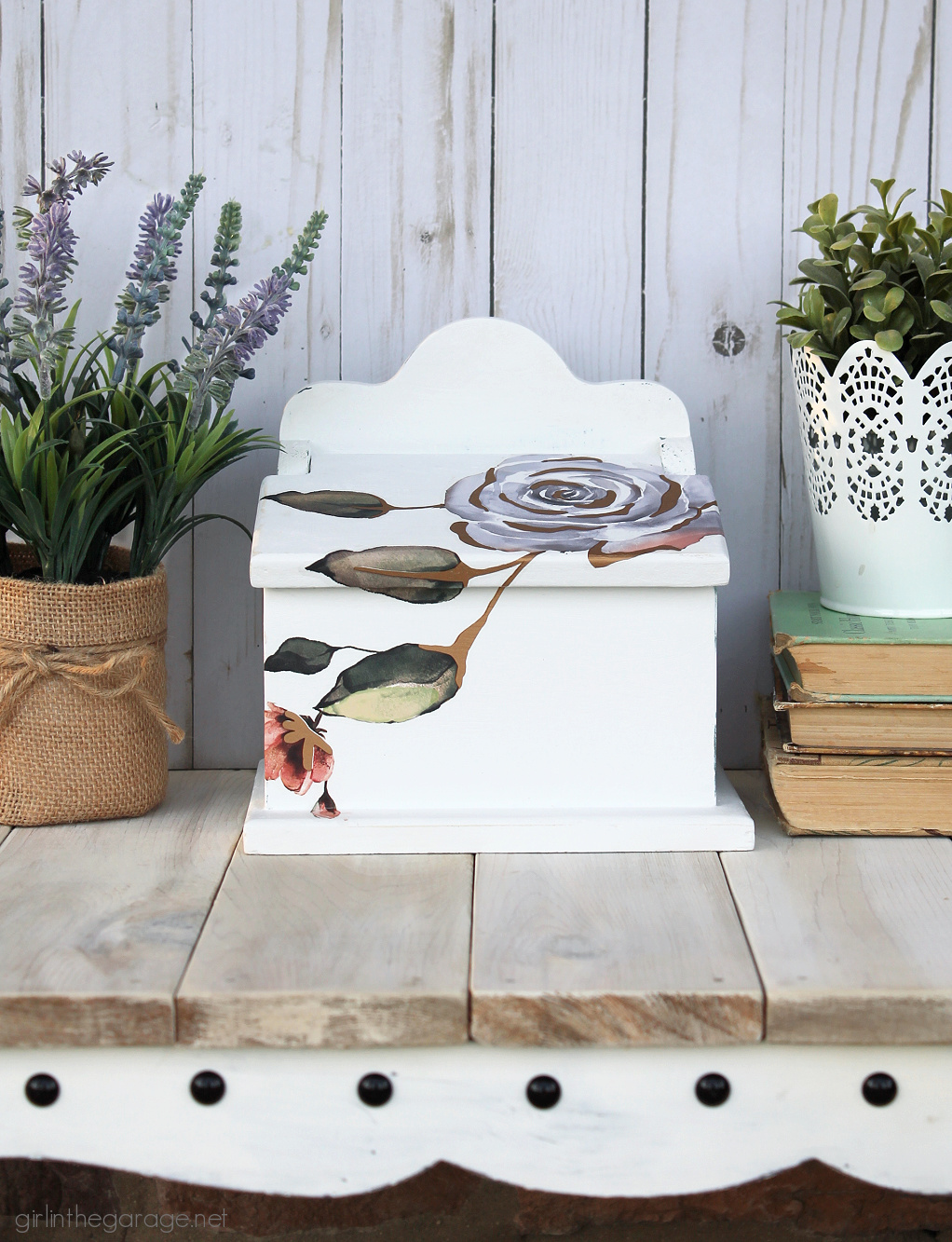 I folded the transfer around the edges and cut it across the middle where the box opens. I also added a little extra on the side.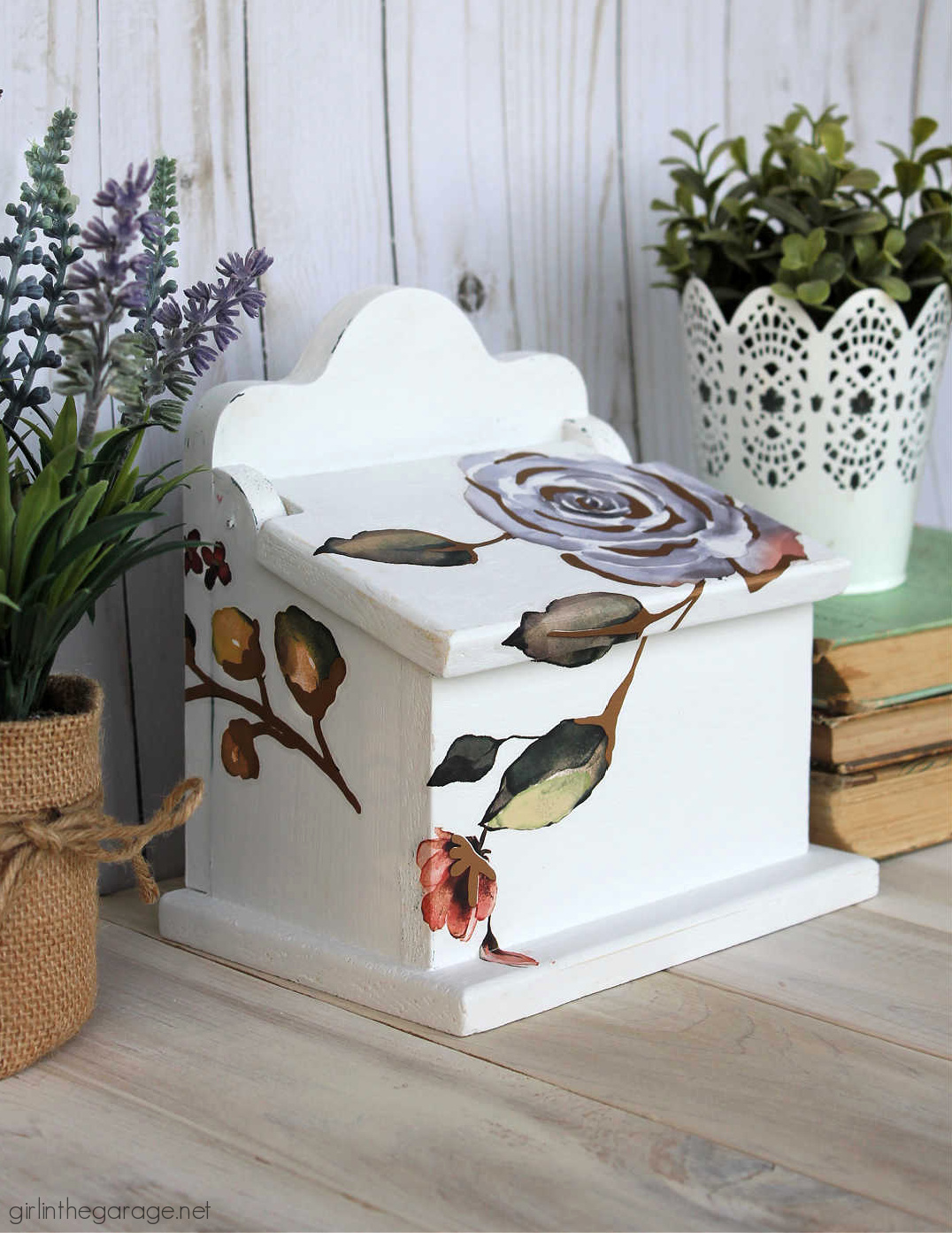 This little wood box has a whole new look now, and this makeover was quite easy. If you don't have a transfer you could always add a stencil instead.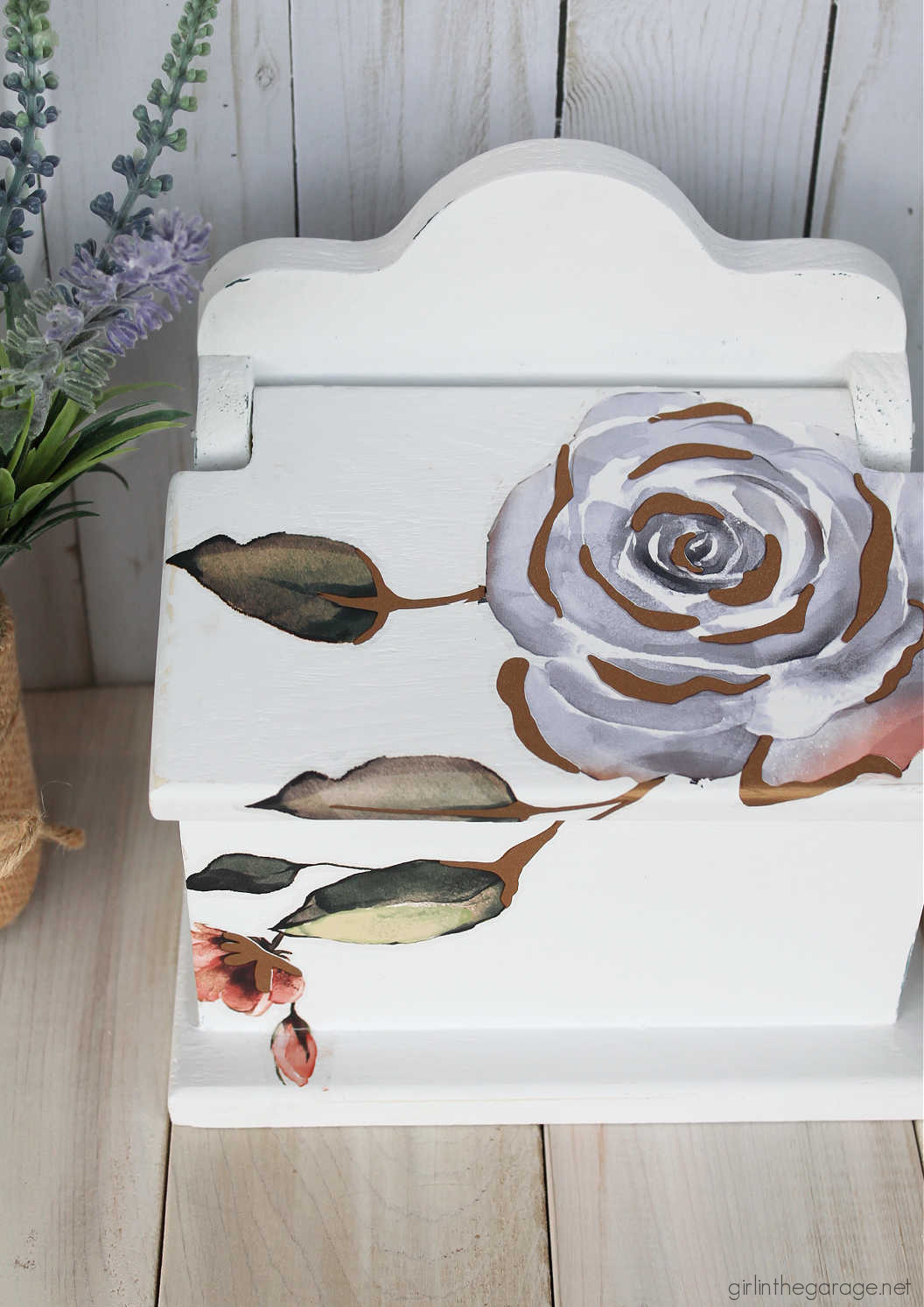 Here's a reminder of the before and after of this painted recipe box makeover – feel free to share this project with a friend or Pin it to find it again later. (Thank you for sharing!)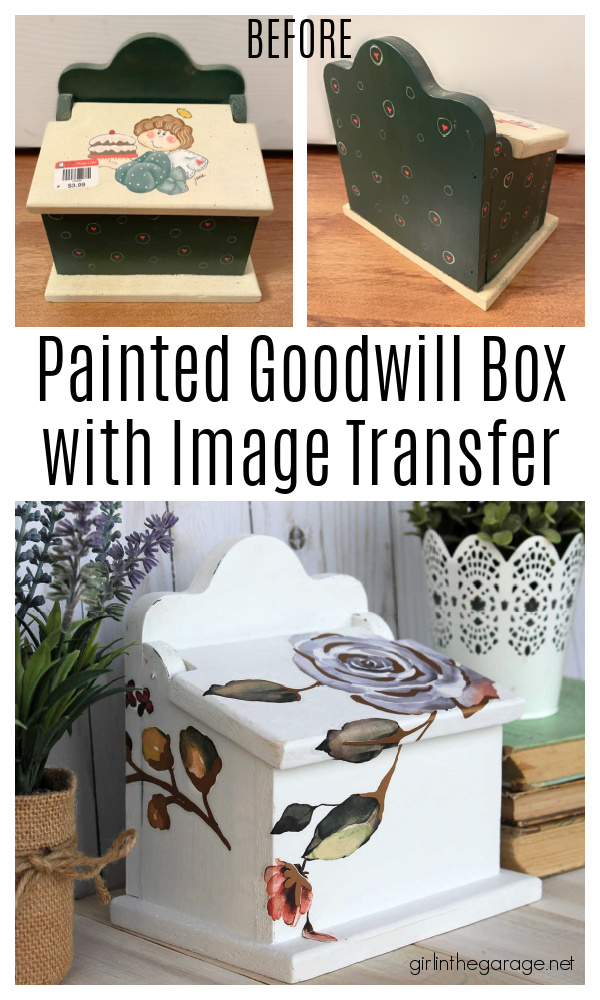 And now it's time for Trash to Treasure Tuesday fun!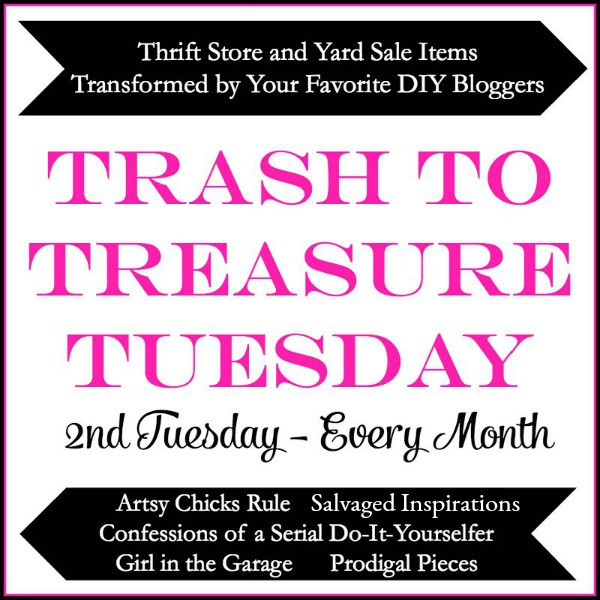 Below are the Before photos – visit the links underneath to see the fantastic Afters and to learn how they did it: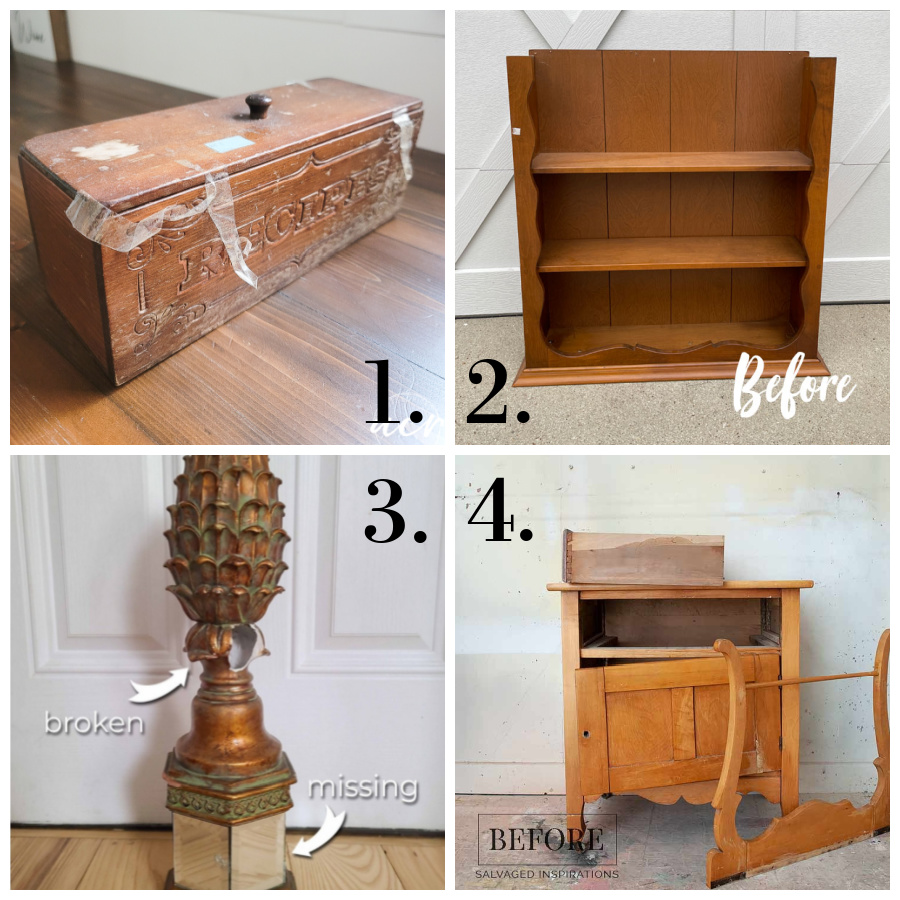 1. Artsy Chicks Rule
2. Confessions of a Serial DIYer
3. Prodigal Pieces
4. Salvaged Inspirations