Friend, what do you do with framed art that no longer brings you joy?
Instead of throwing it out, look past what's inside the frame (especially if it's a cheap reproduction print) and look at the frame itself. If it's decorative and there are unique or ornate carvings, why not ditch the print and repurpose the frame into something you'll actually use every day?
Take a look at these lovelies…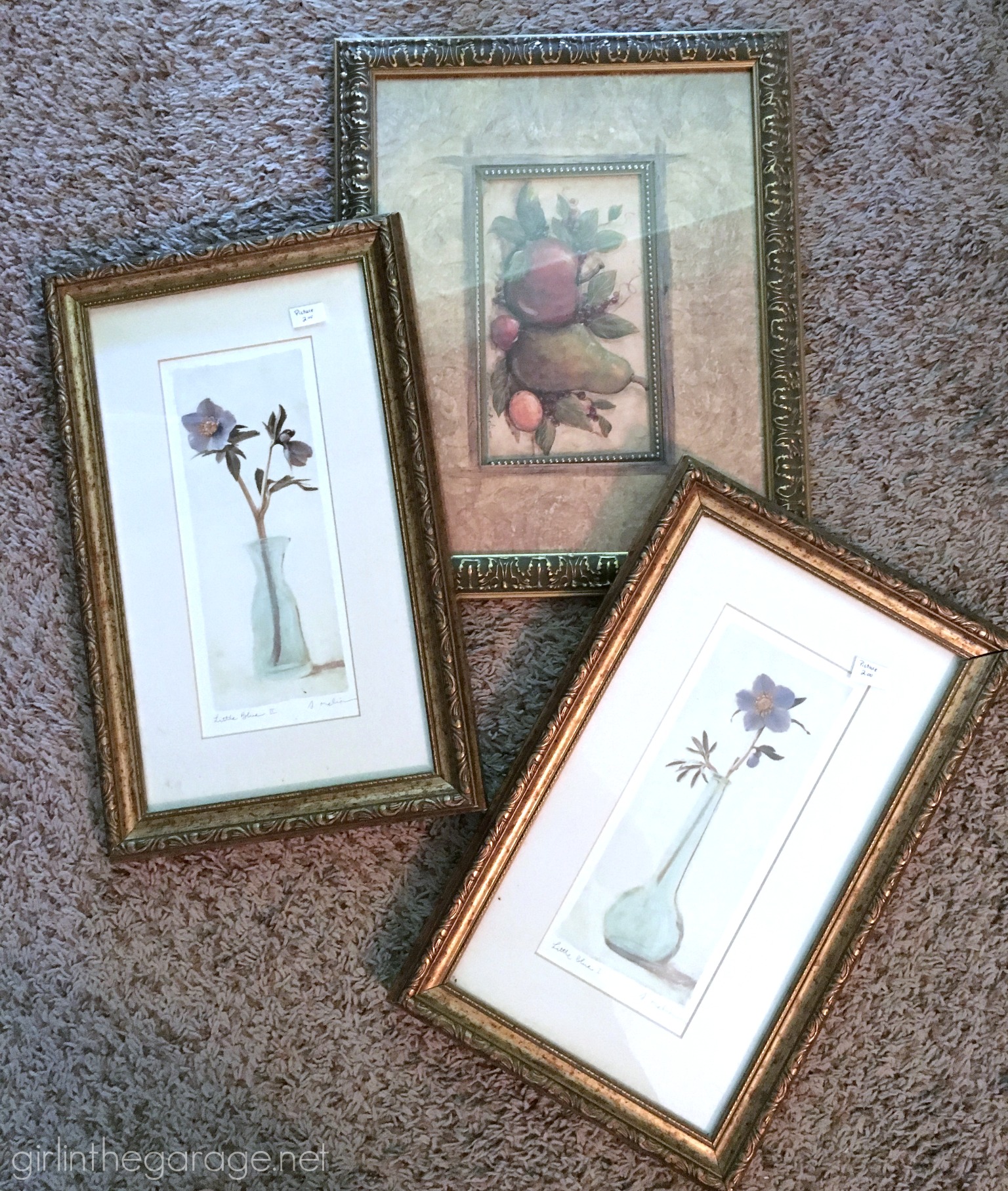 These were actually thrifted for a couple bucks each. I'm always on the lookout for frames like this – there are so many awesome ways to repurpose them. (And this is a stylish, practical, and budget-friendly gift idea!)
Guess what? After you're finished reading, you can discover four more thrifty trash-to-treasure makeovers at the end of this post.
First, remove the paper from the back and then the staples and cardboard.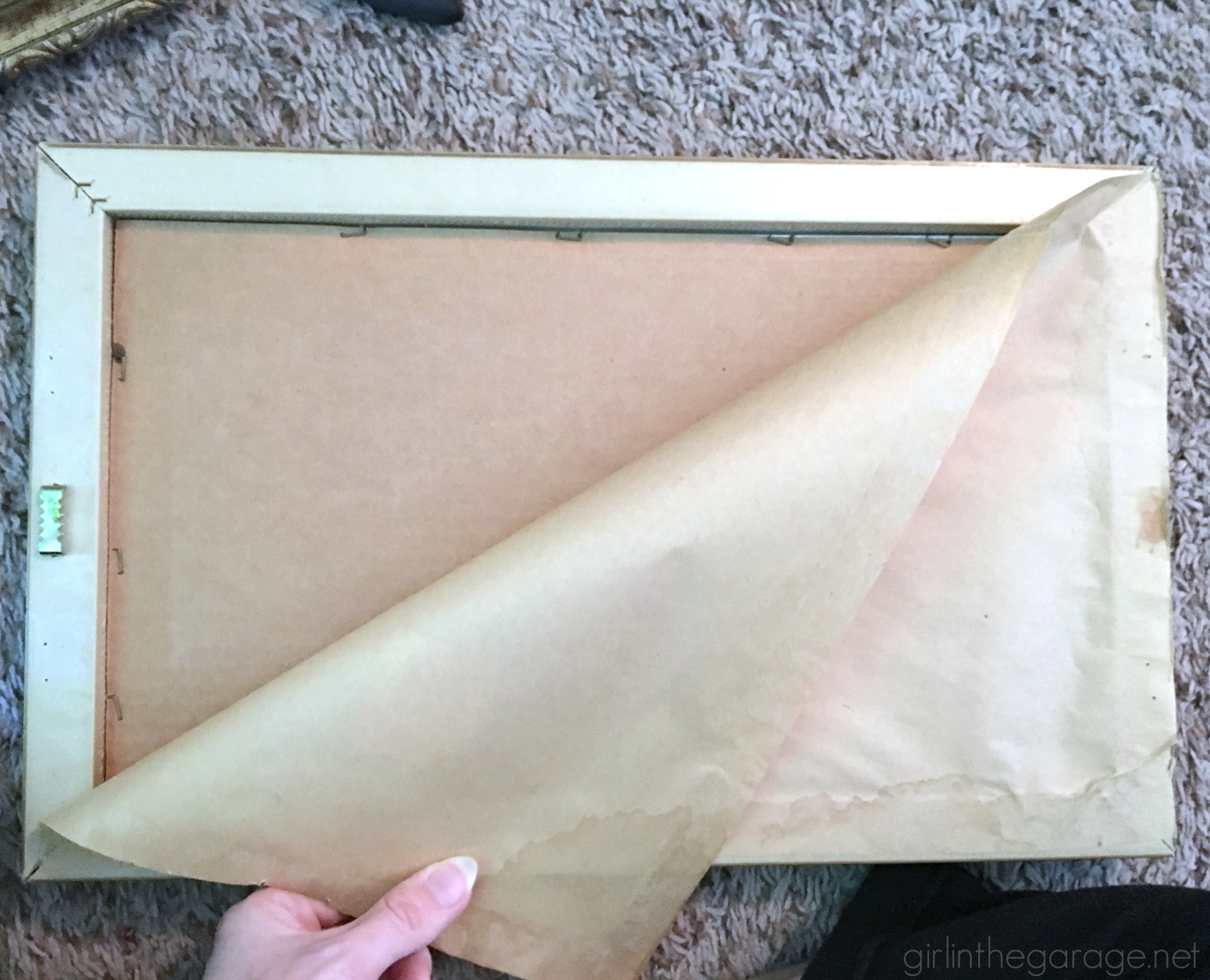 Leave just the frame and glass behind, and then set the glass aside (I keep it in my stash for a future unknown project) – you'll only need the frame for this project.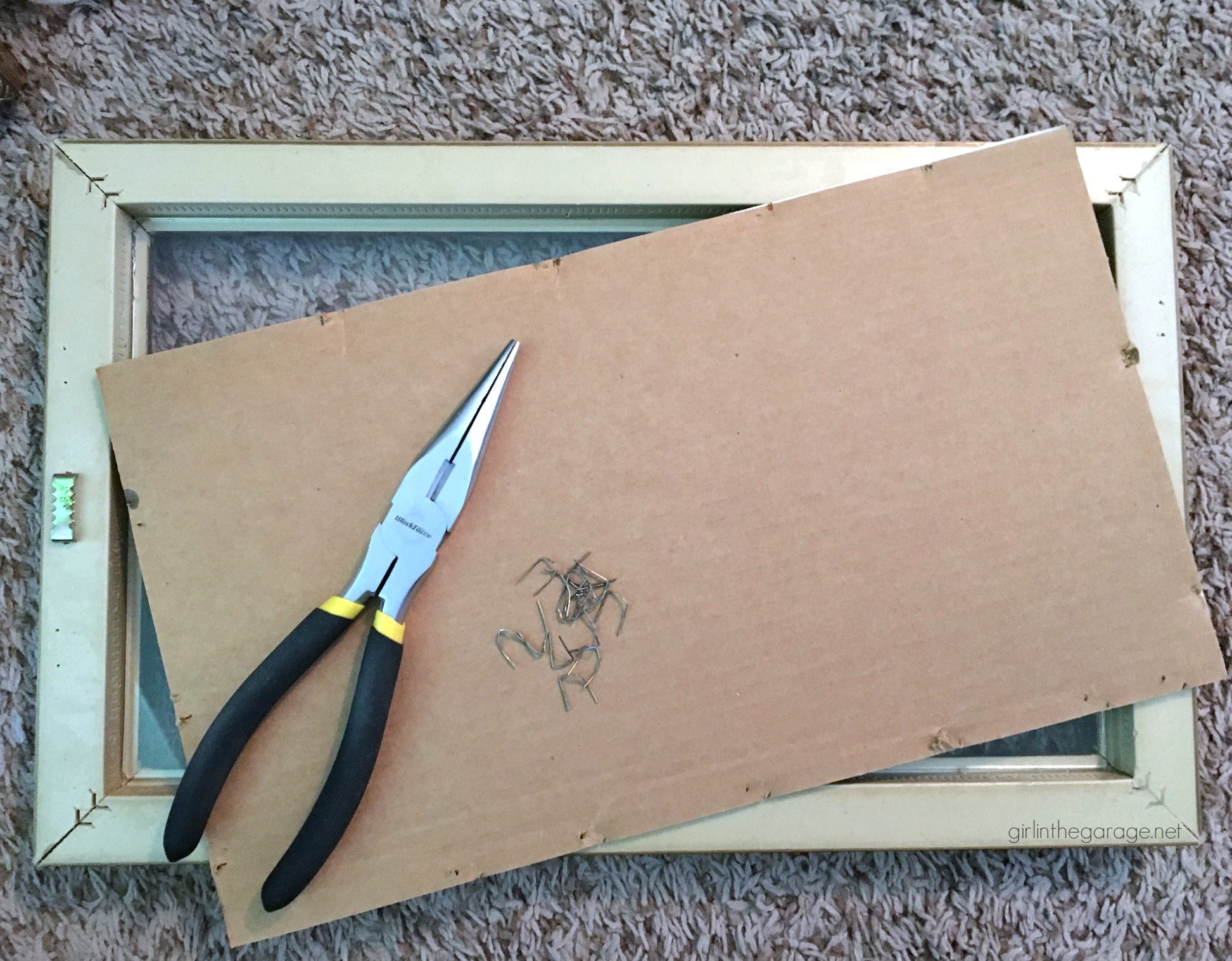 Looky there, I found a couple more frames to work on: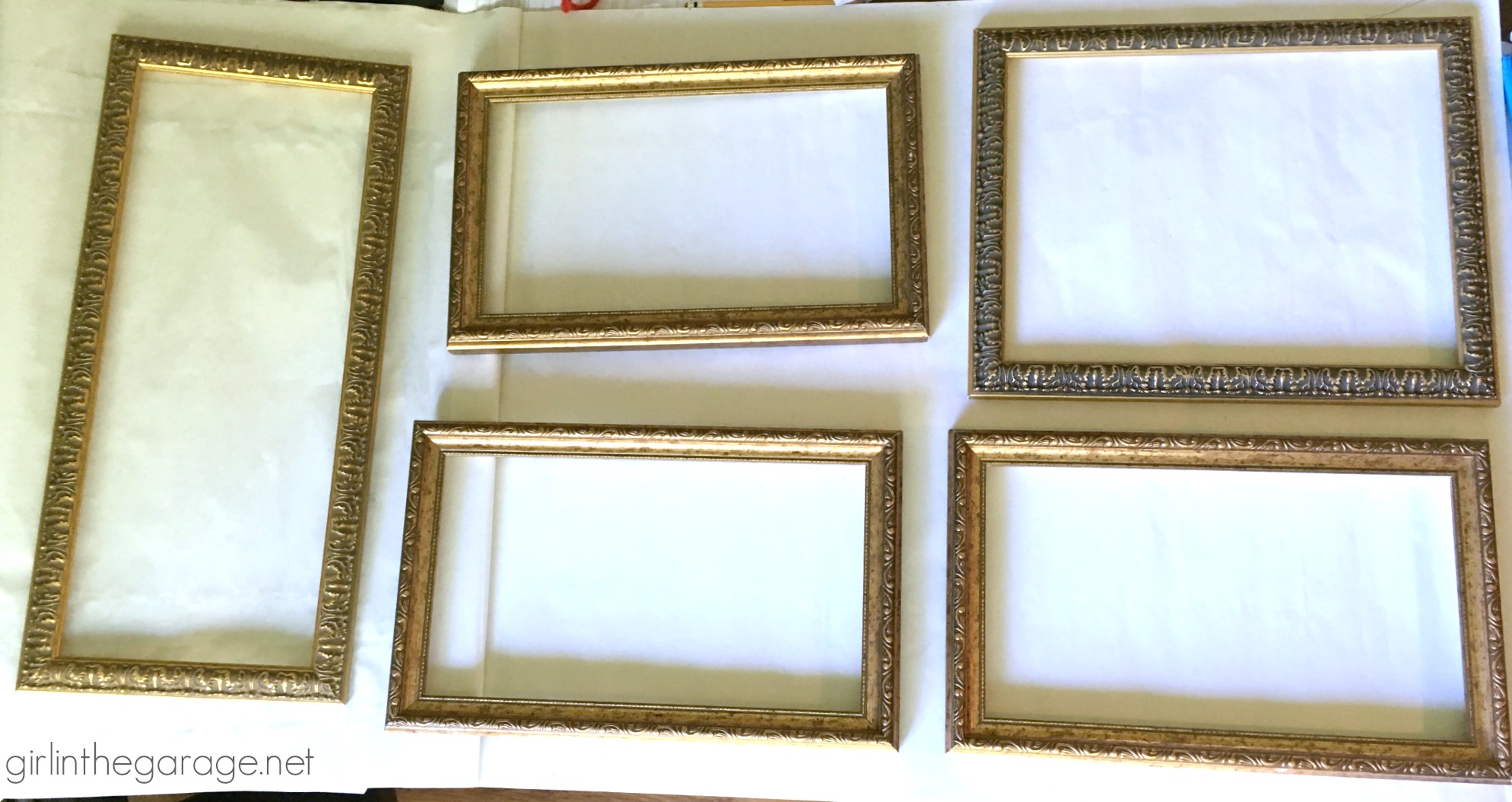 I painted them in Chalk Paint – Pure White, Duck Egg Blue, and Aubusson Blue. I mostly just dry brushed them so the beautiful details would be highlighted and not hidden.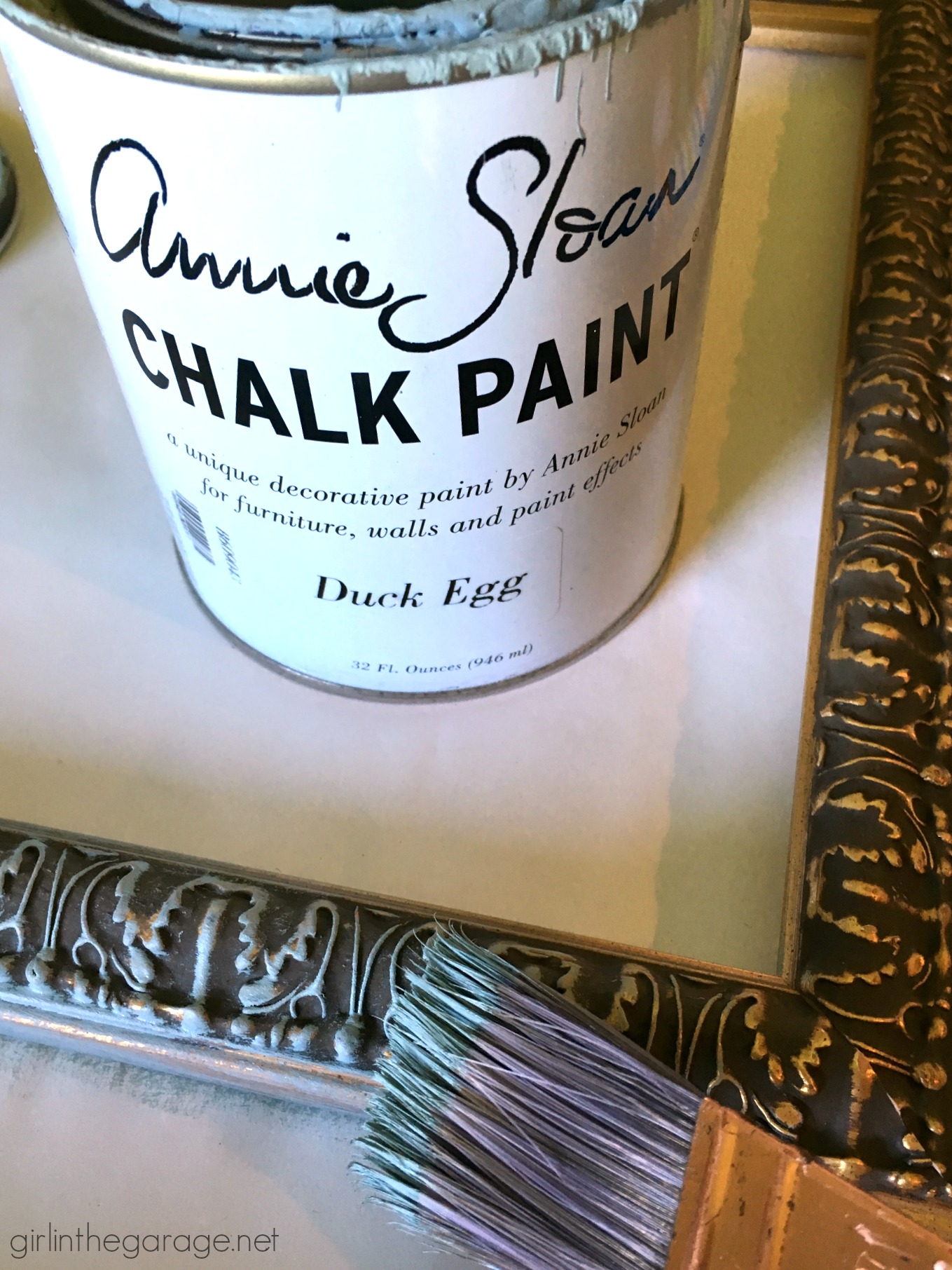 Next, I measured the frame openings and Mr. GITG cut a couple big cork boards into pieces with the table saw. I glued them in place with E6000, taped around the edges, and then stapled a poster board over the back to hide the not-very-pretty parts. (More step-by-step photos are in this previous post I wrote.)
Here's what the back looks like. I left the hanging teeth alone since they work fine and these are small boards, but if you've got a bigger board or are planning on hanging something heavier than paper on it, you may want to have a hanging hook on either end for more stability. You can buy the hanging hardware cheaply at home improvement or craft stores and then hammer or glue them in place.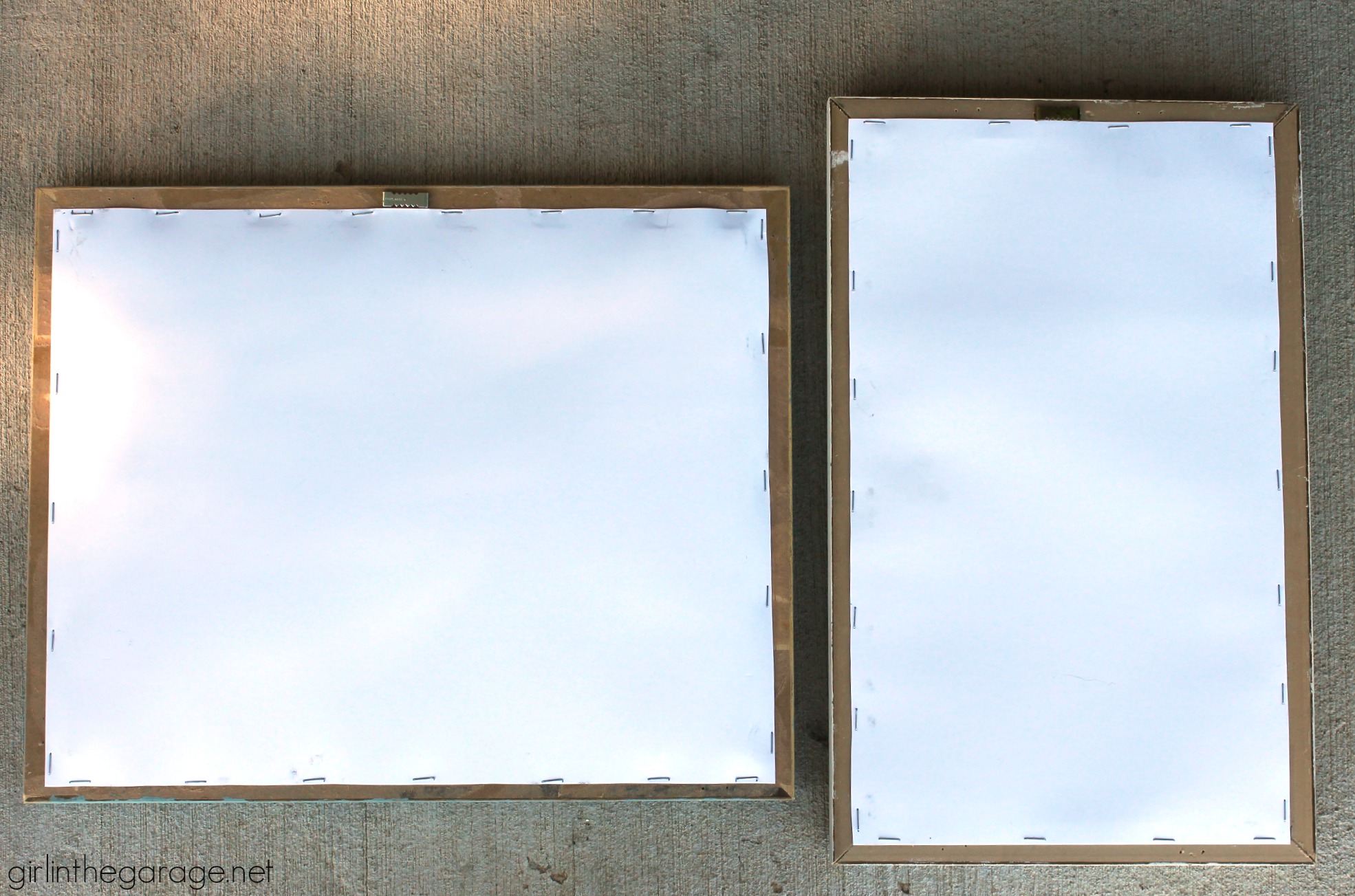 And voila…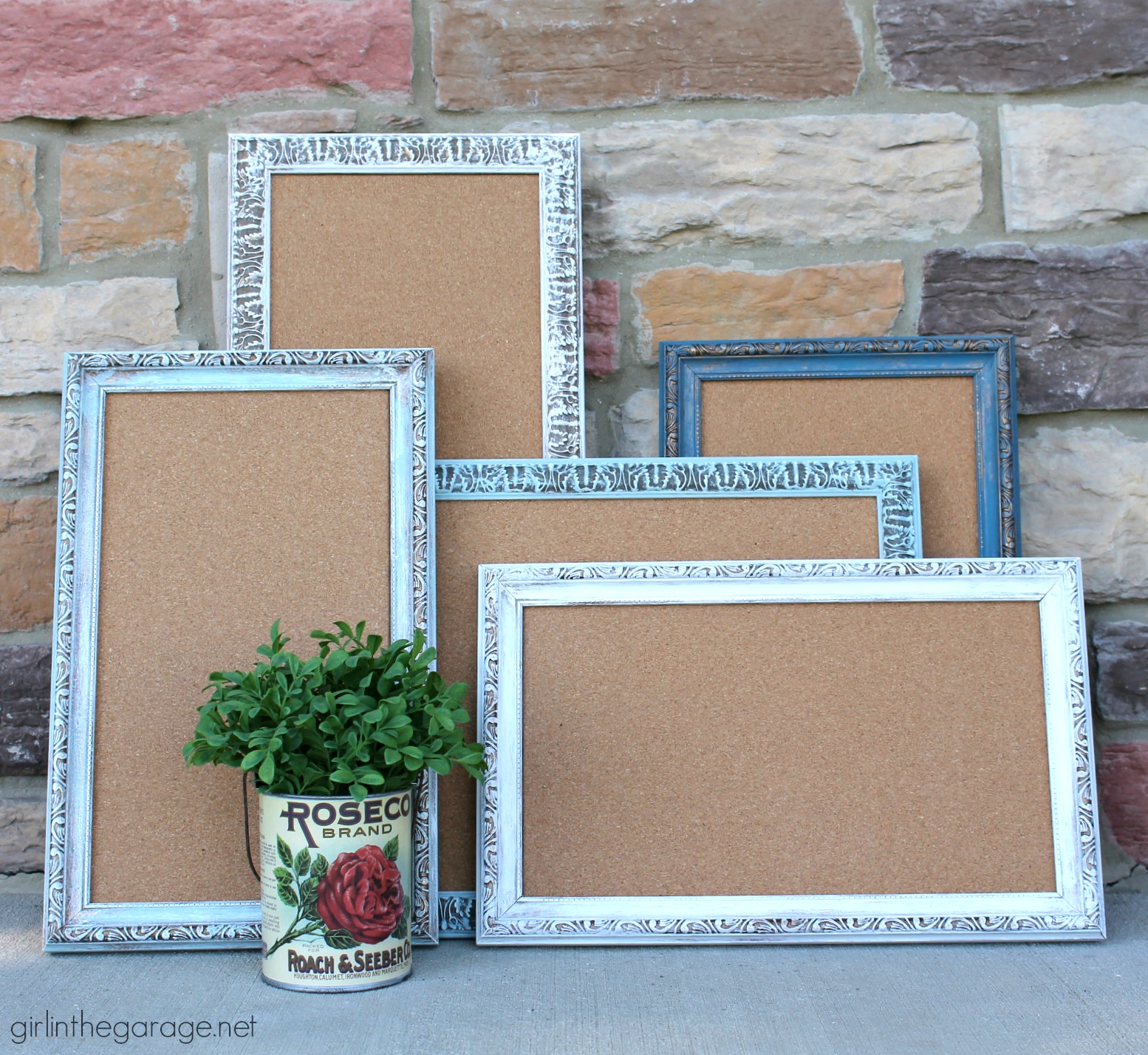 I love the effect of dry brushing, especially with the original gold peeking from underneath the Aubusson Blue. (heart eyes)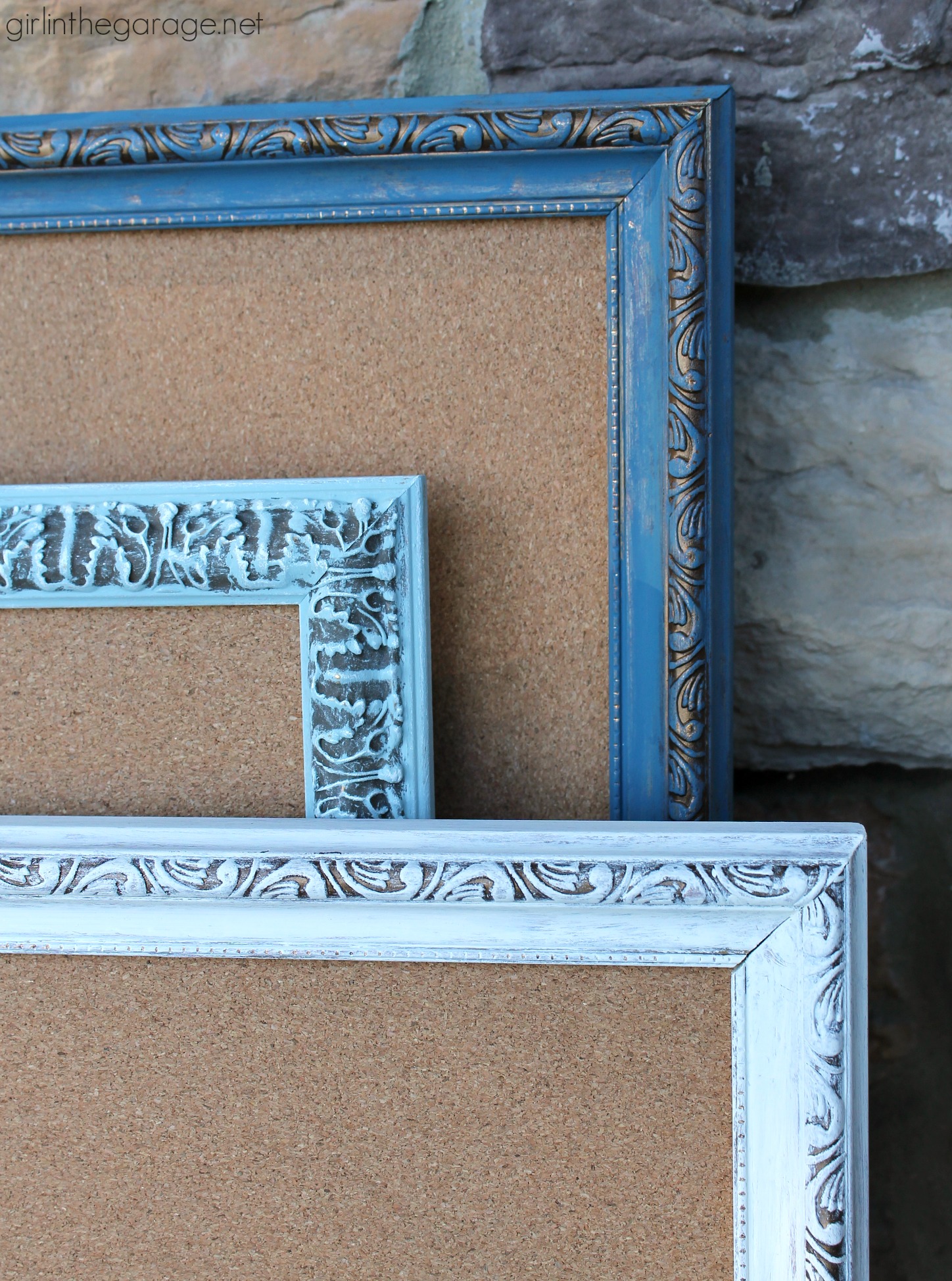 The frame furthest left was dry brushed in both Pure White and Duck Egg for a layered look.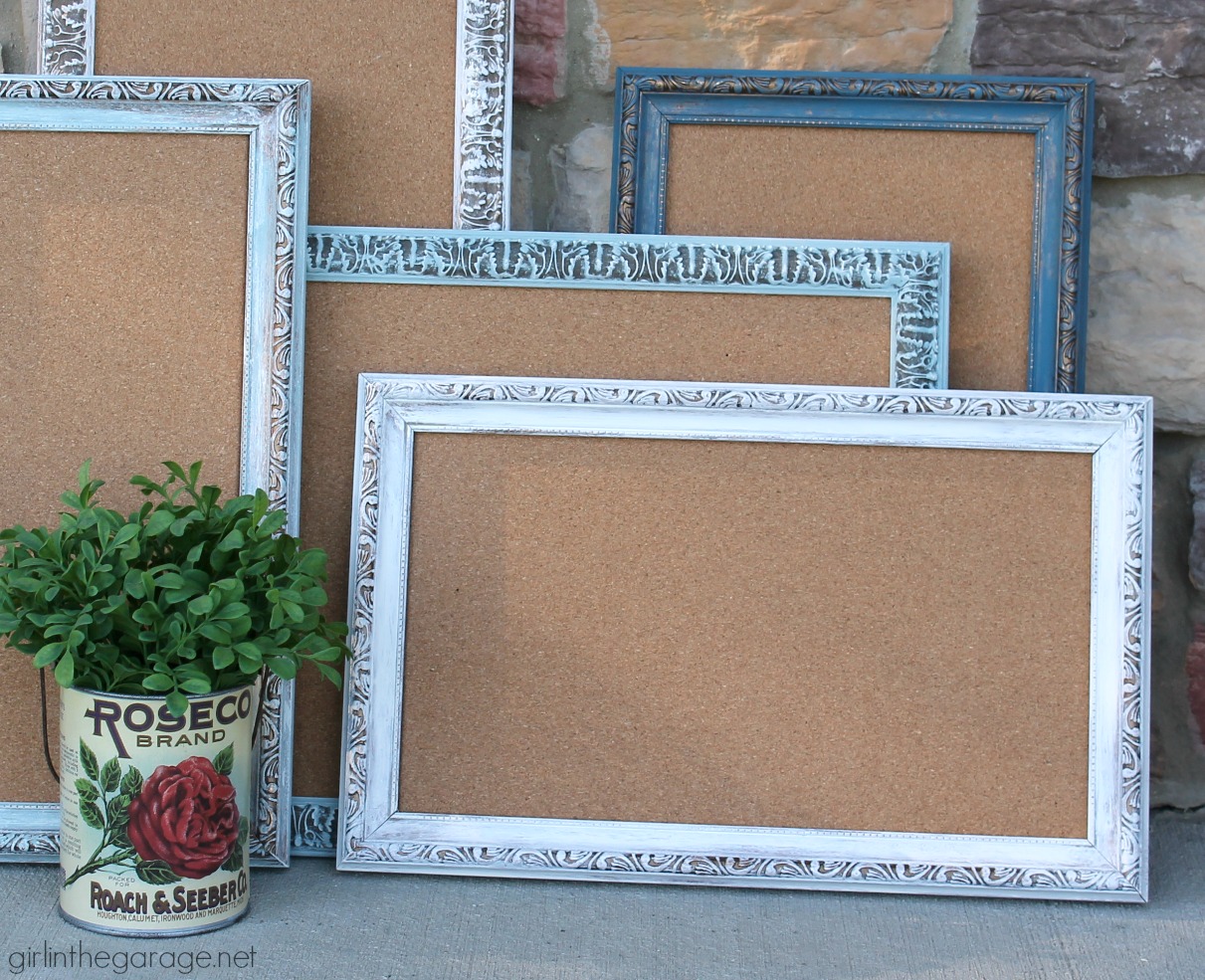 Don't assume that DIY projects have to cost a lot of your money and time. This one was pretty quick and budget-friendly, you just need access to a saw to cut the cork board.
And it's an awesome, creative gift idea that will look fab as part of a gallery wall, home office, or hanging near the front door for important reminders.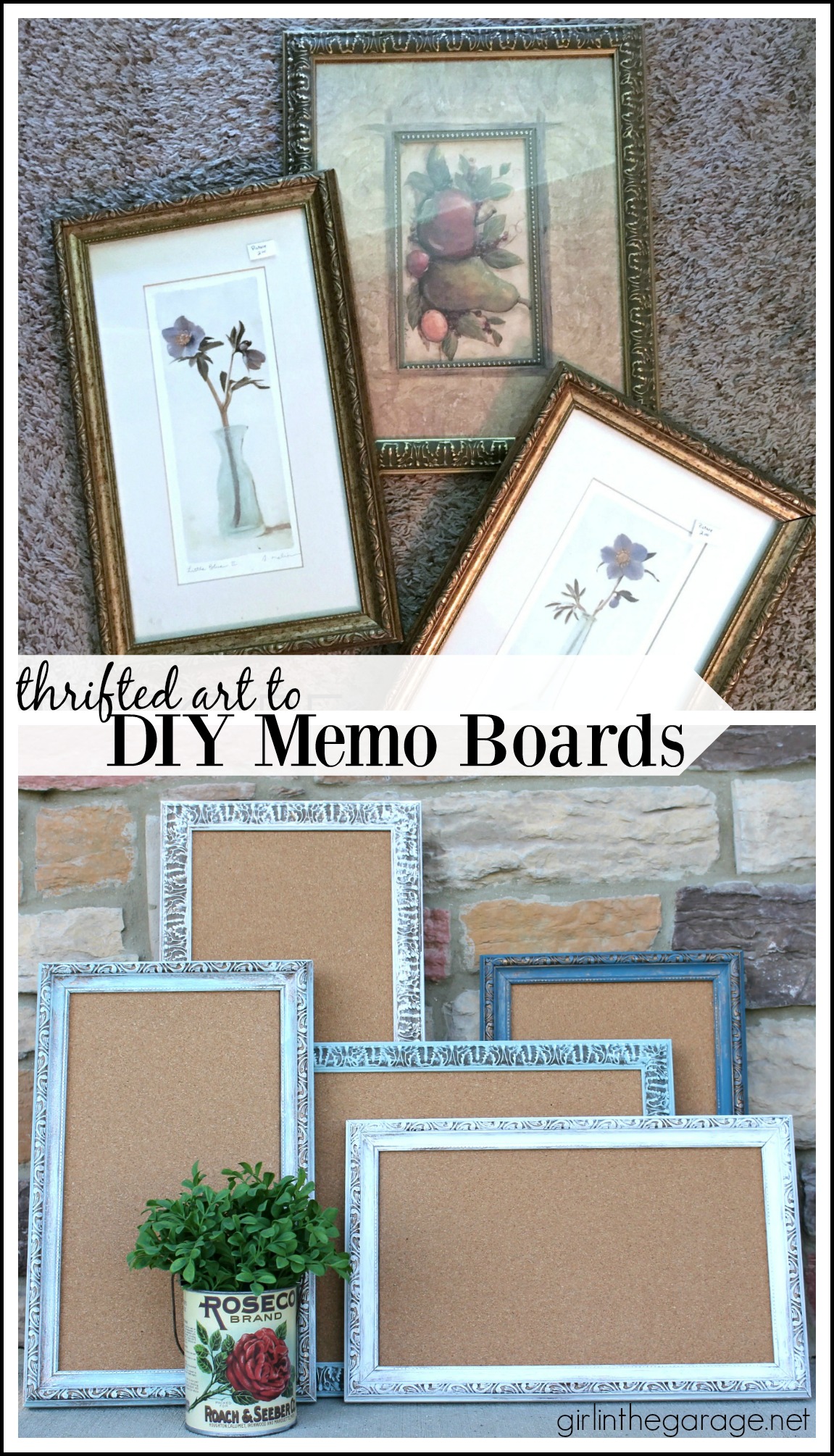 I have sold these at markets before and I'm going to take these to my booth soon. I've also seen painted frames filled with chicken wire instead of cork board – definitely an easier alternative if you don't have access to a saw.
Can you imagine making a DIY memo board for yourself or as a gift?
– Jen, Girl in the Garage
P.S. It's Trash to Treasure Tuesday with my friends! We love to upcycle free or thrifted items and share them here to inspire you to be creative in new ways.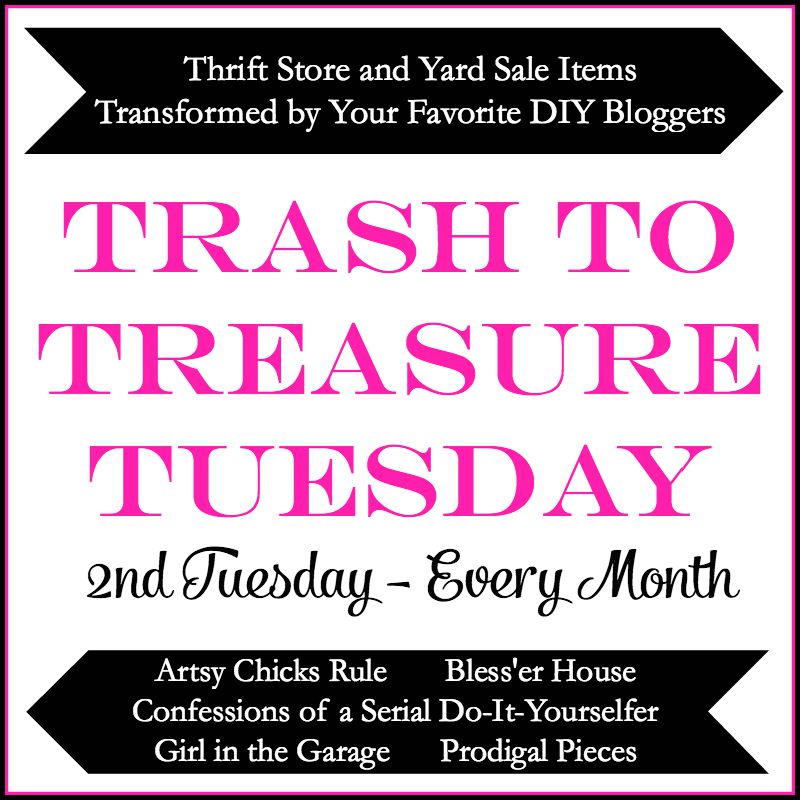 Below are the "Before" photos of their projects – click the links underneath to see the amazing "Afters."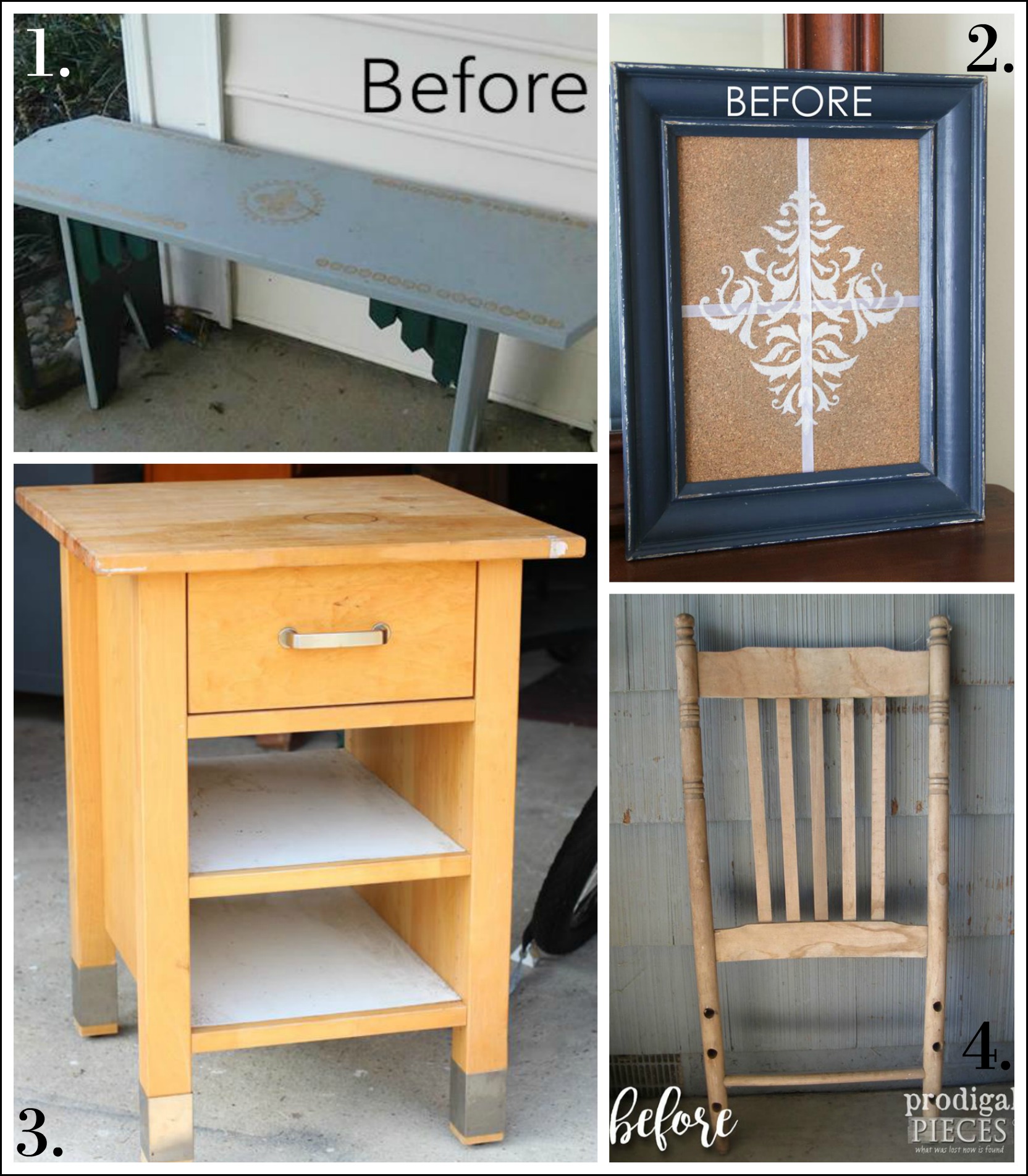 3. Confessions of a Serial DIYer
Friend, if this project has inspired you, please share it so that others may be inspired also!