Sometimes, you head one direction with a project and when you're halfway through you realize it's completely different than what you envisioned in your head.
In a bad way.
Like this midcentury coffee table – a great size for any living room, with lots of storage space inside.  But the bottom platform was warped, and the top was covered in scratches and some water marks.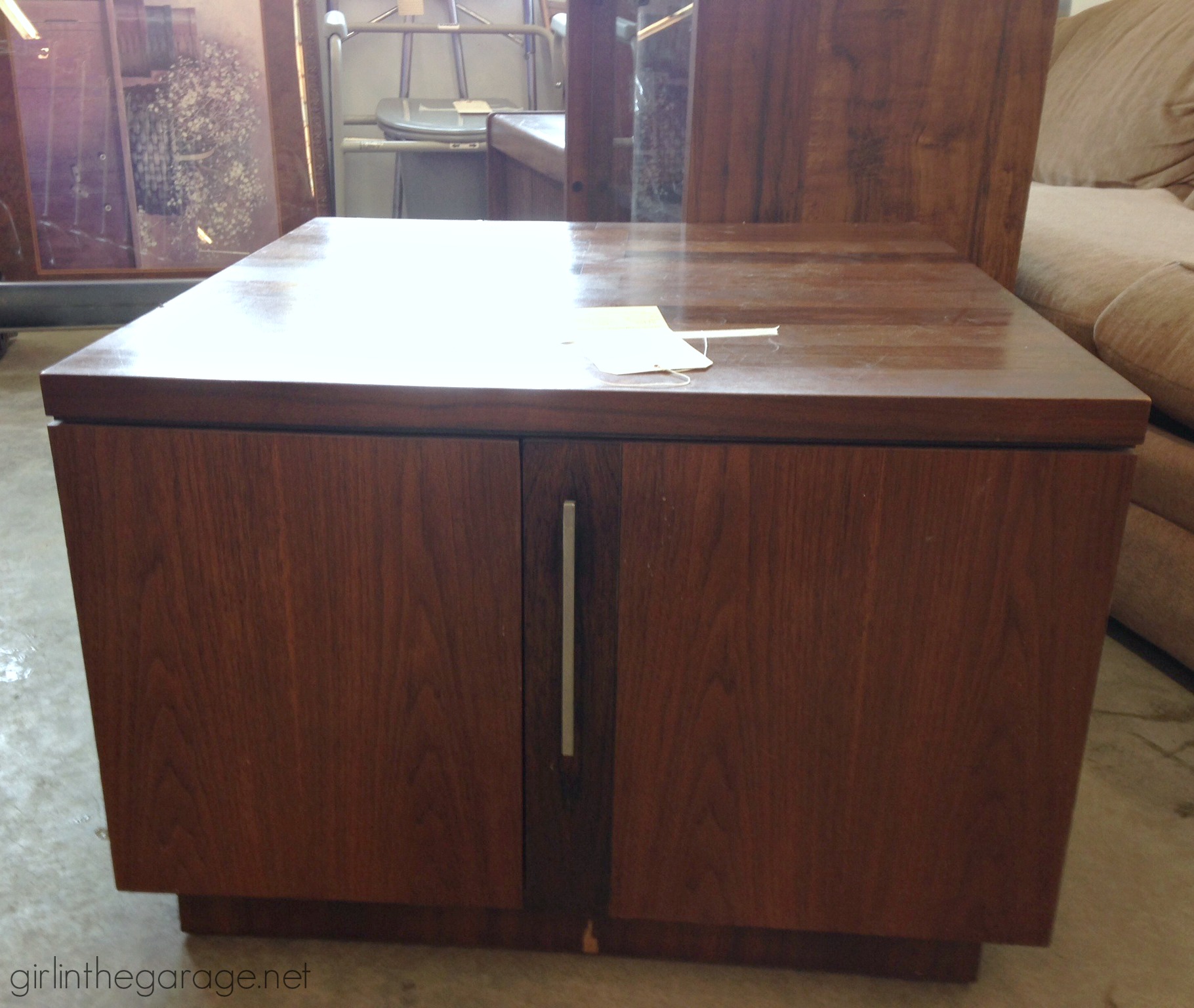 After sitting in our basement for a couple years because I couldn't decide what to do with it, I finally just dove into the project.  I wasn't sure at first which direction to go, but I knew it needed primer.
So first I primed it and then gave it a couple light coats of white paint, then sanded most of it away.  I was planning on a weathered finish where the white peeked through the wood grain, but it wasn't turning out at all how I'd hoped!  (see below… yuck)
That's the awesome thing about painting furniture – it's just paint, it's not permanent.  Remember that it will always look worse before it looks beautiful.  But in this case I knew halfway through that a weathered finish was not right for this table.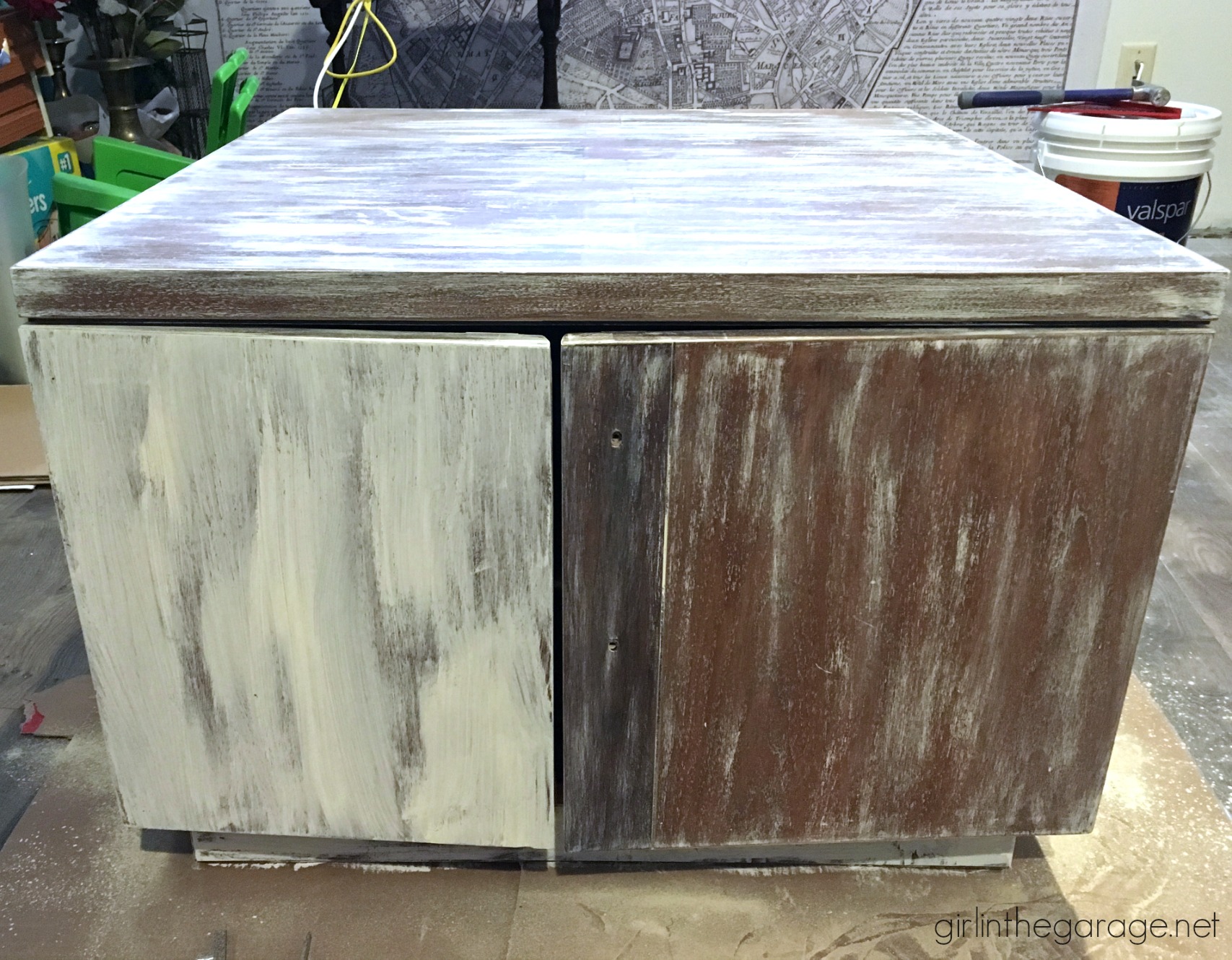 I was frustrated, but instead of giving up altogether or setting the table aside for another year or two, I kept trying.  This time I painted it in Country Grey Chalk Paint with a smooth finish and some light distressing around the edges – just right for a vintage industrial look.
It needed a different style of handle, so Mr. GITG let me repurpose one of his old J. Crew leather belts…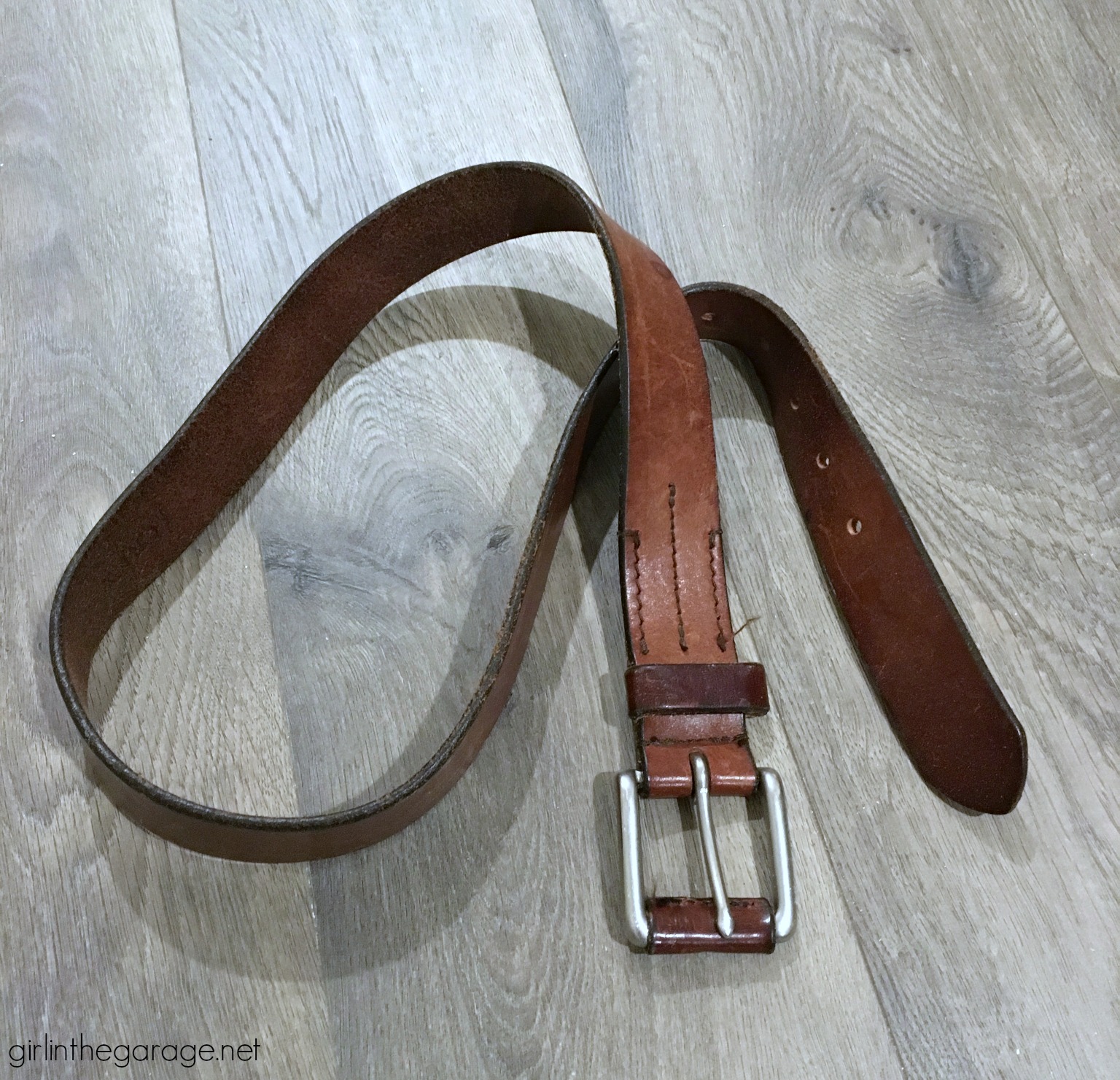 I laid it out to measure the exact placement and length, and cut it with regular scissors.  (Next time I'll score it first with a straightedge and X-acto knife, because my cut was a bit not straight.)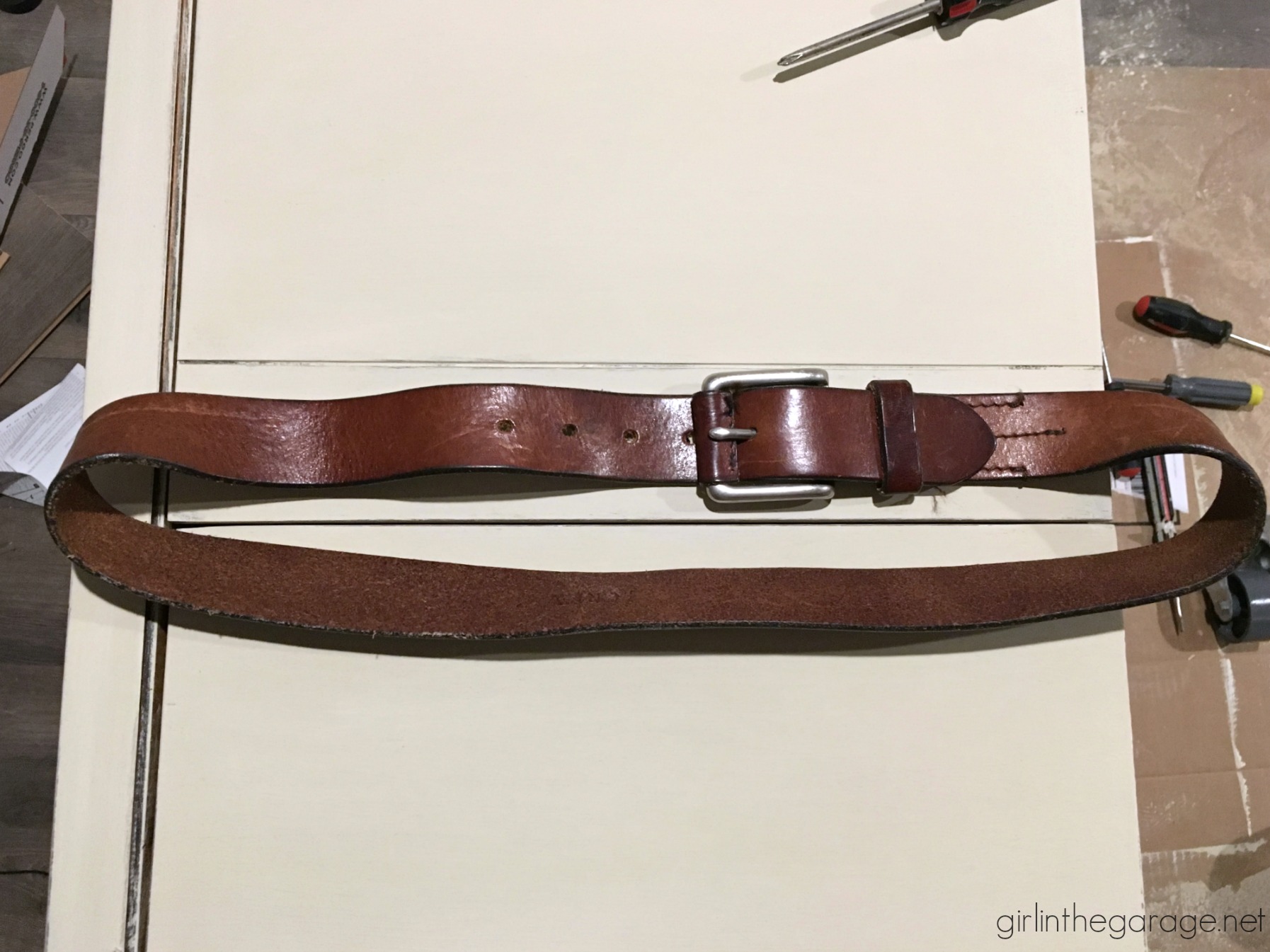 This post contains some affiliate links, at no extra cost to you, so you can easily find the products that I use and like.
A new hole was needed in the top, so I used my inexpensive leather punch set which makes it super easy.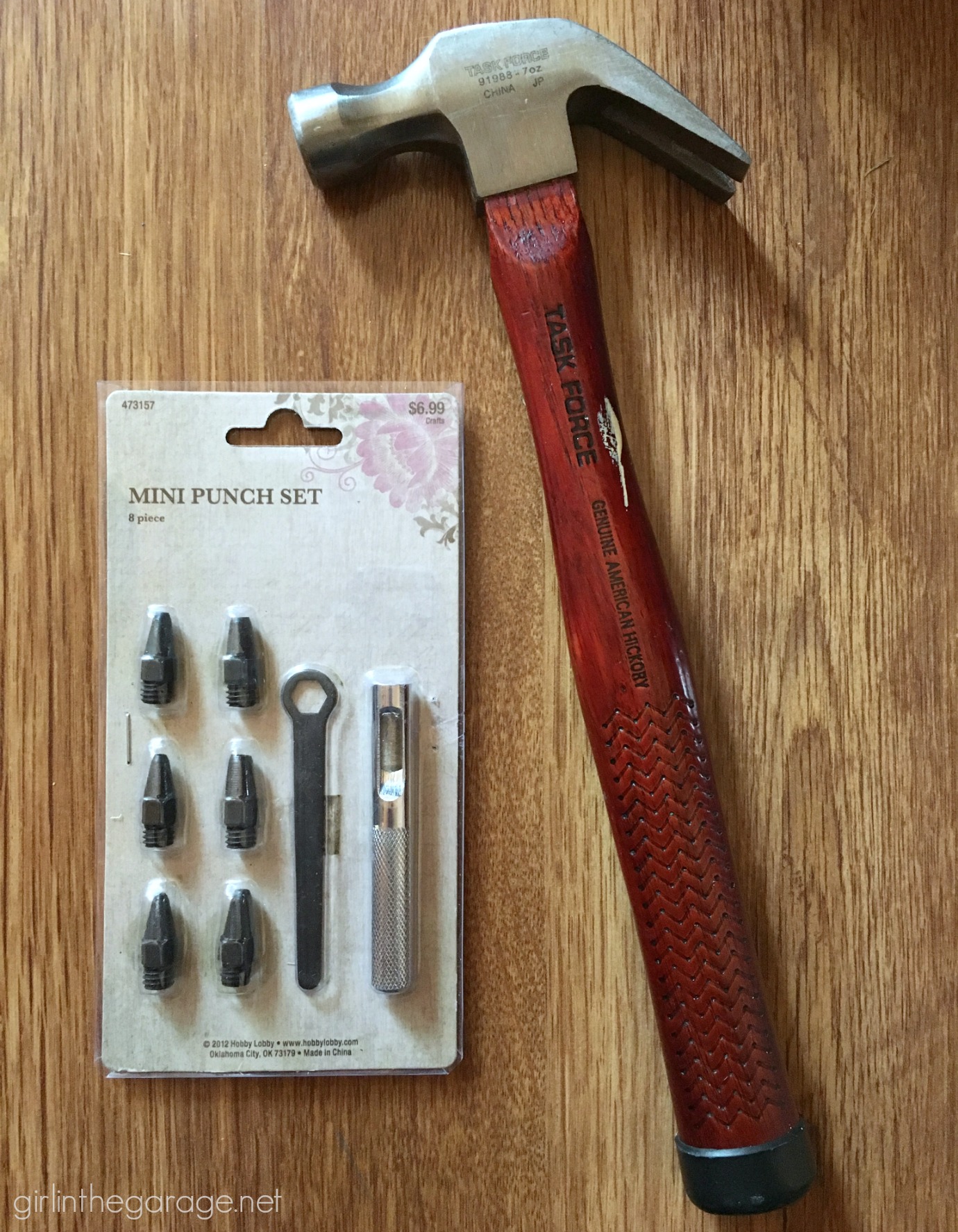 When punching a new hole in leather, measure and make a little hole with a small nail.  Then center your hole punch around the circle and push down, turning it gently at first, and then more firmly.  Keep pushing and turning until you get through the leather.  You might need to tap it with a hammer if you get stuck.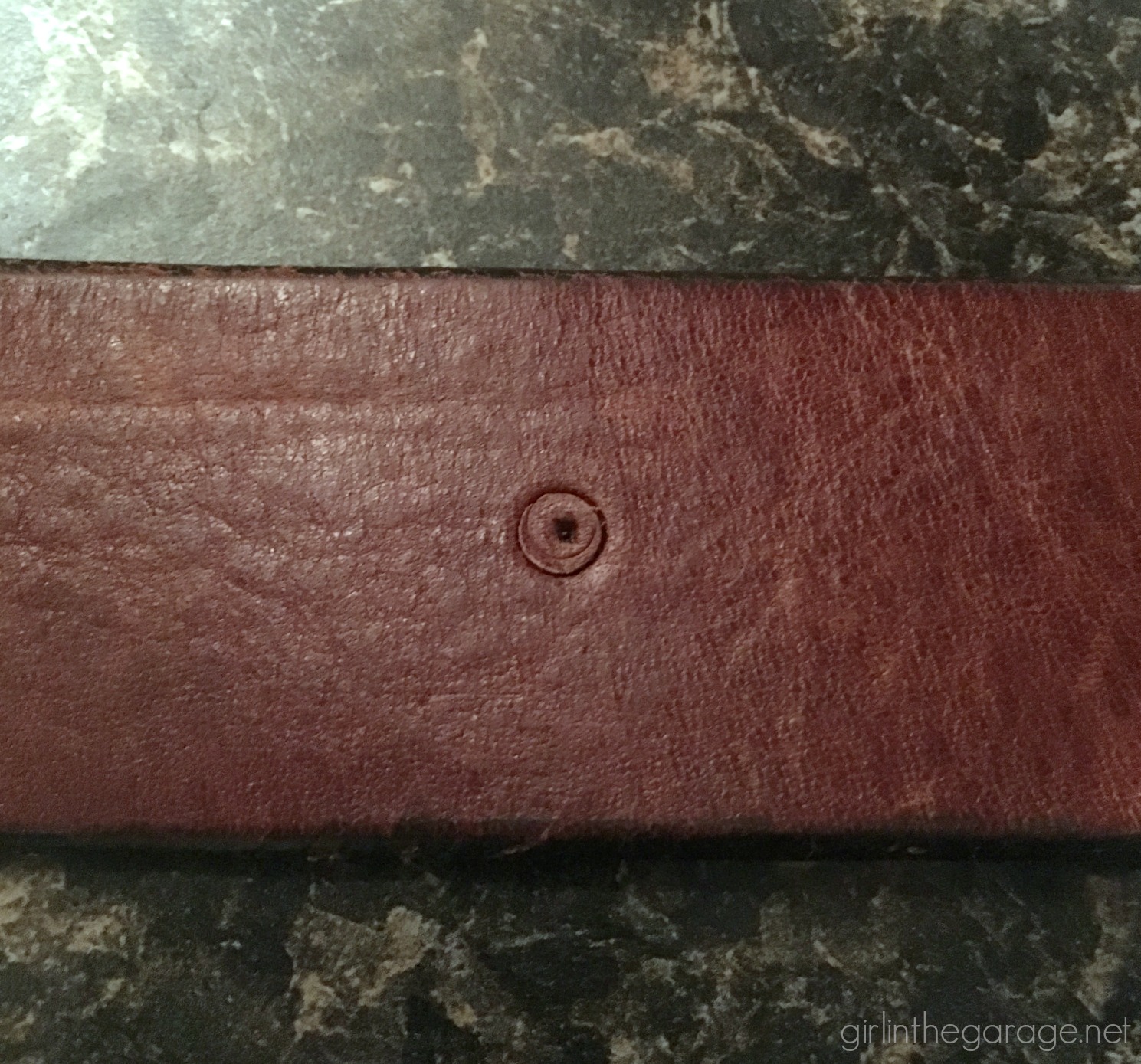 You'll end up with a hole like this.  The back side doesn't have to look perfect because it will be hidden anyway.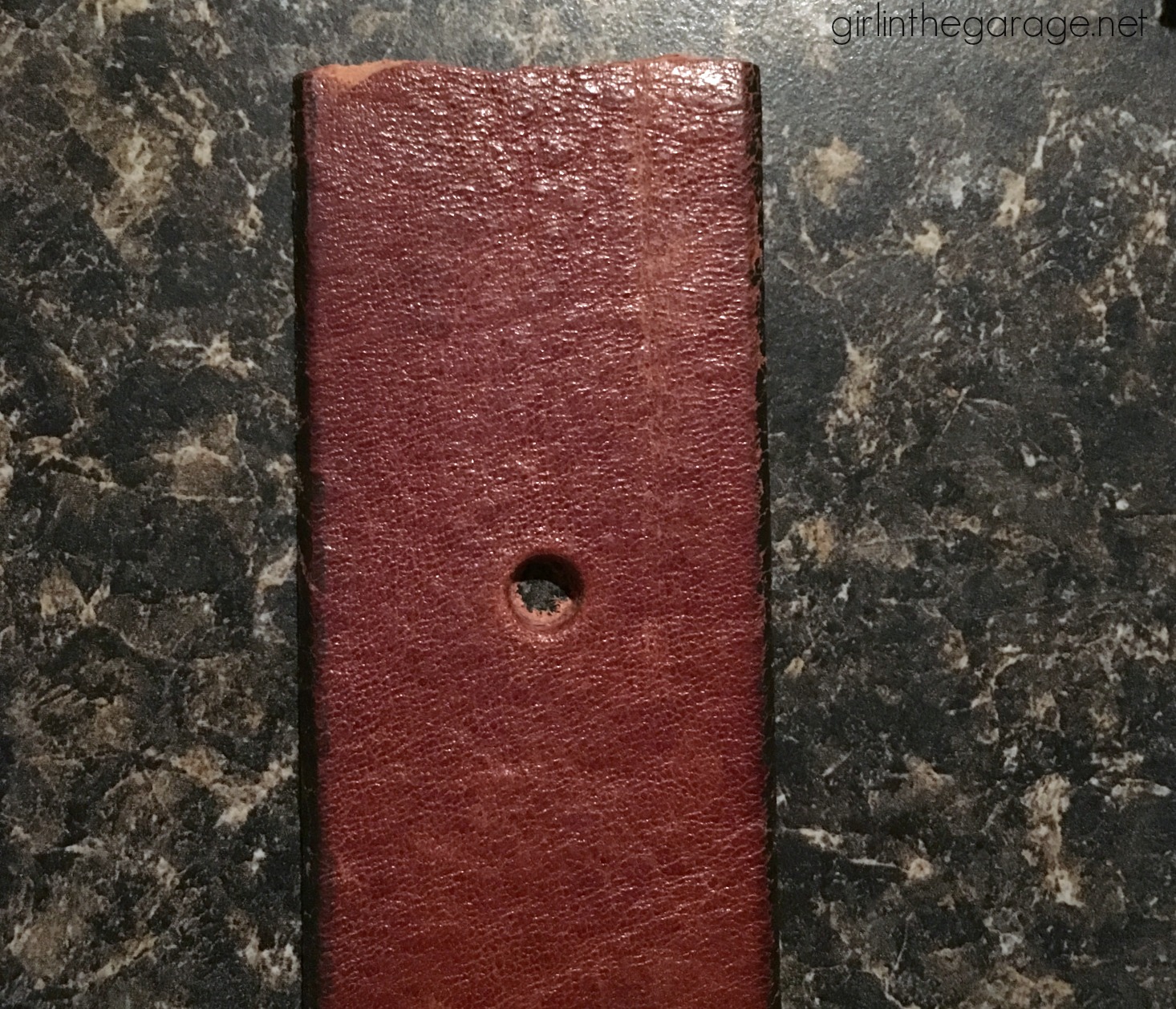 I had to drill one new hole in the door and then attached the handle with two carriage bolts.  Since my handle was so long, I also added some E6000 glue to the very top and bottom of the leather (see below how it was just hanging there before I glued it).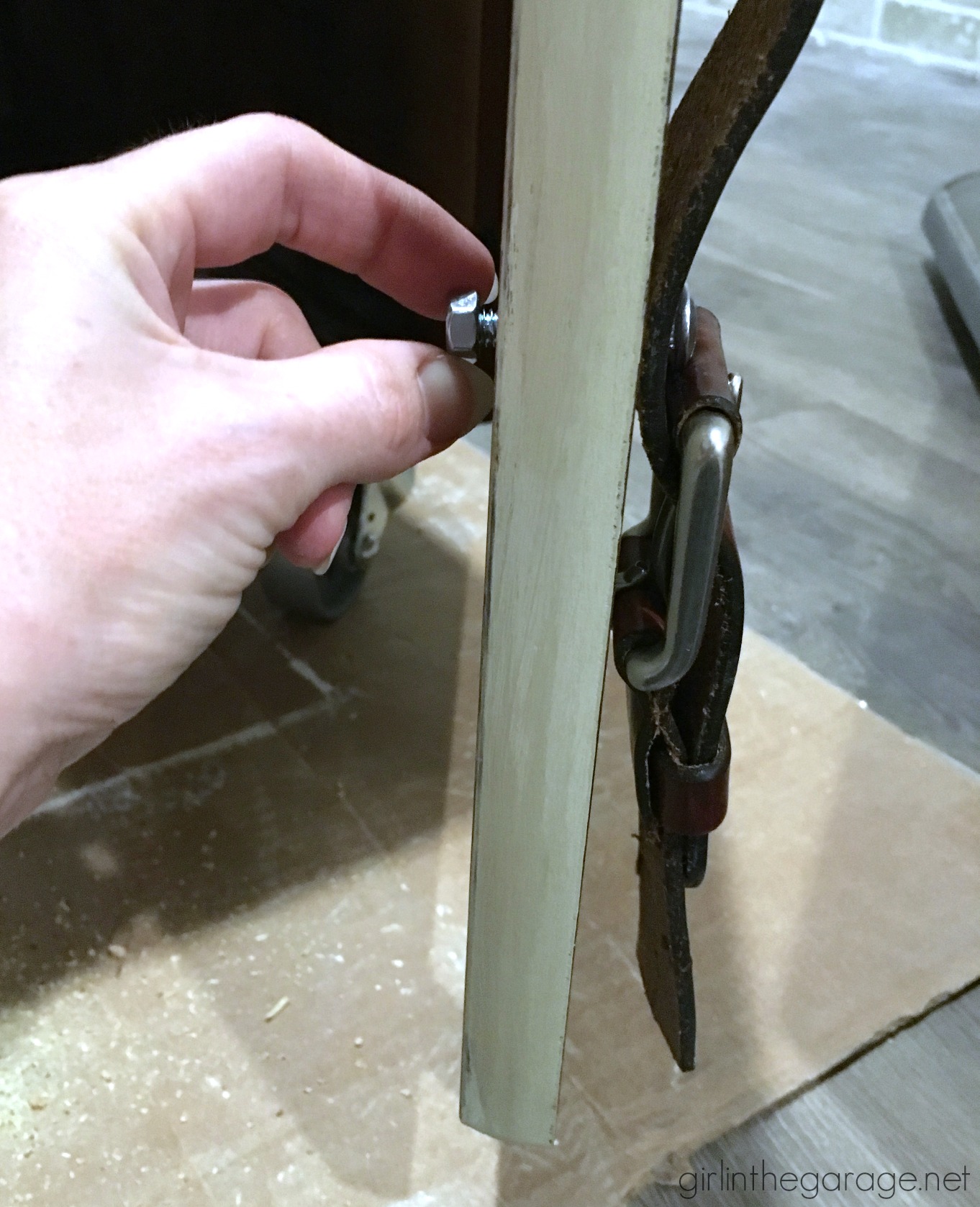 Since the bottom platform of the table was so warped, we removed it and added metal casters.  First I measured and marked the four corner holes and then predrilled where the screws would go.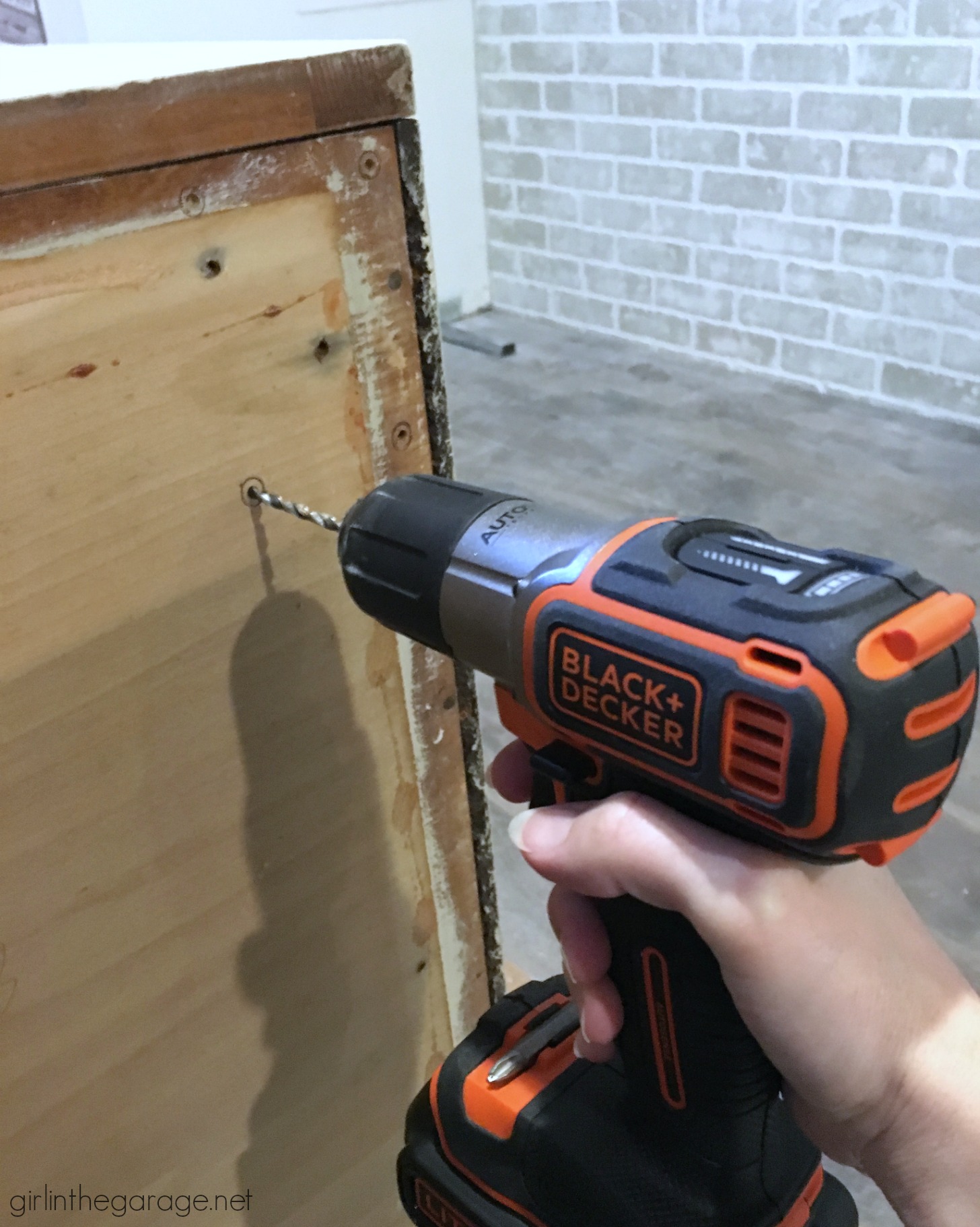 (I love my Black + Decker with Autosense drill/driver combo – it even has a light that shines directly on where you're working.)
Here's the caster screwed into place: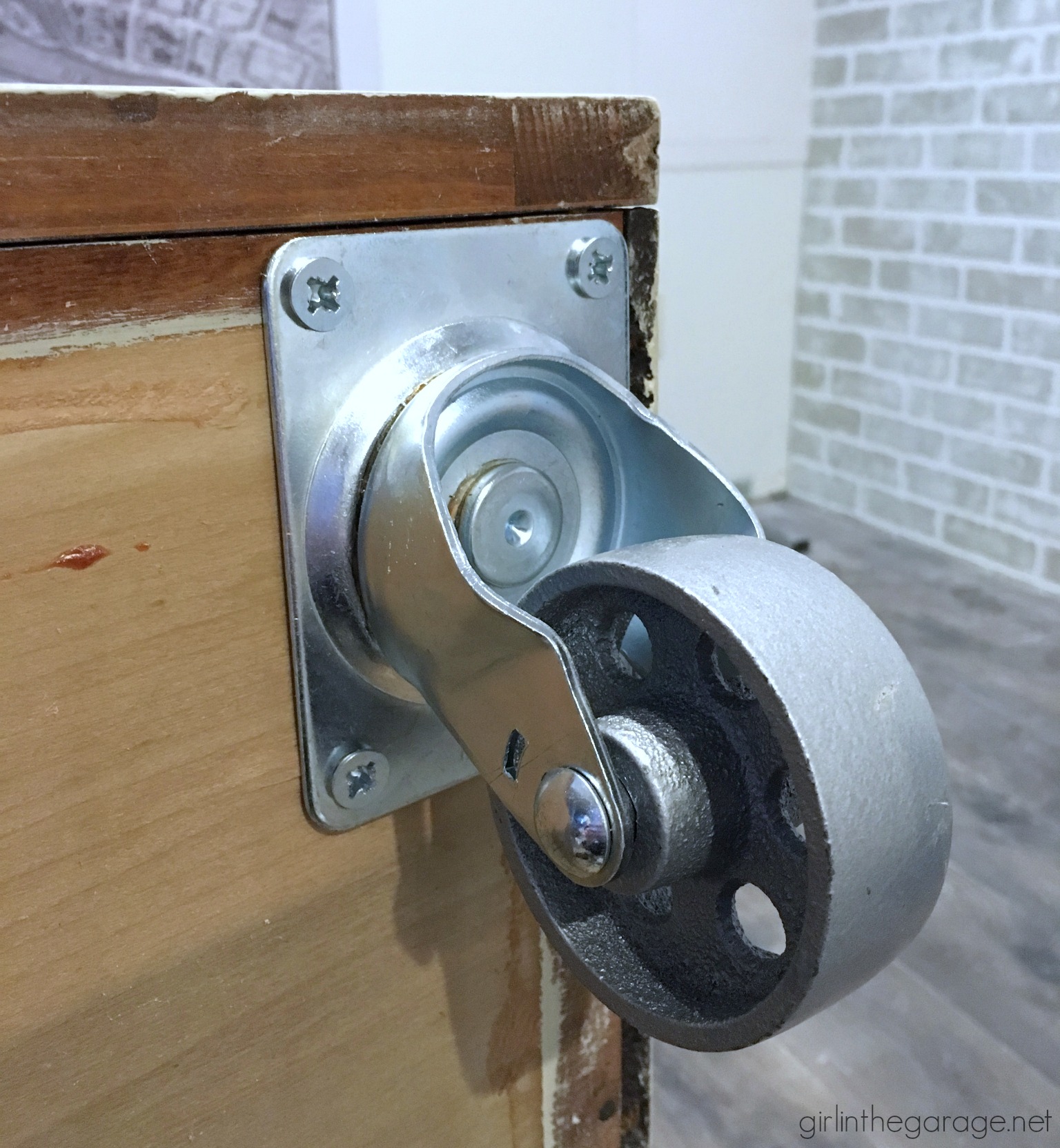 Yes you can see our basement makeover progress in these photos – so exciting!!
Here's the finished midcentury table turned into a DIY rolling industrial coffee table…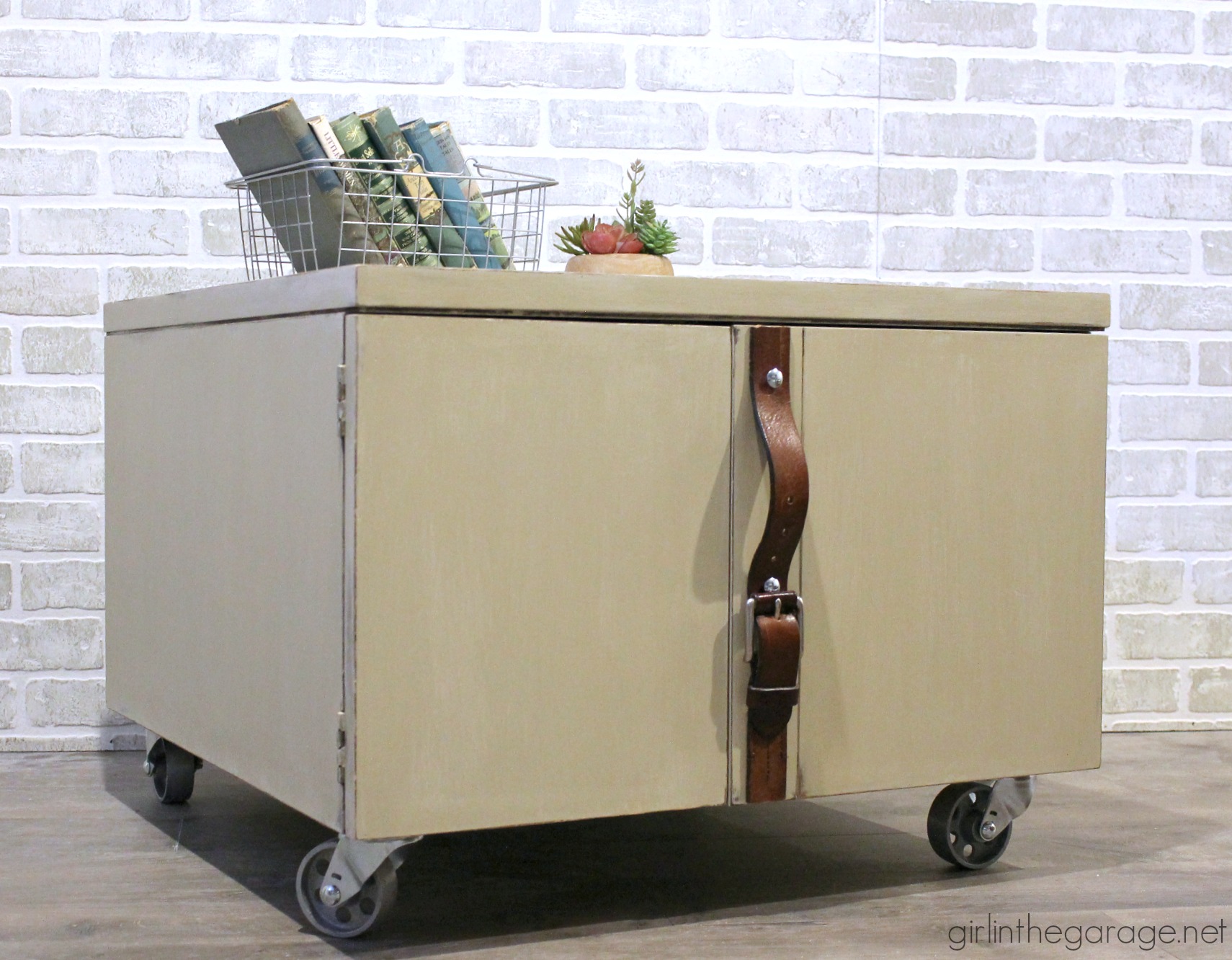 And a closeup of the repurposed leather belt handle: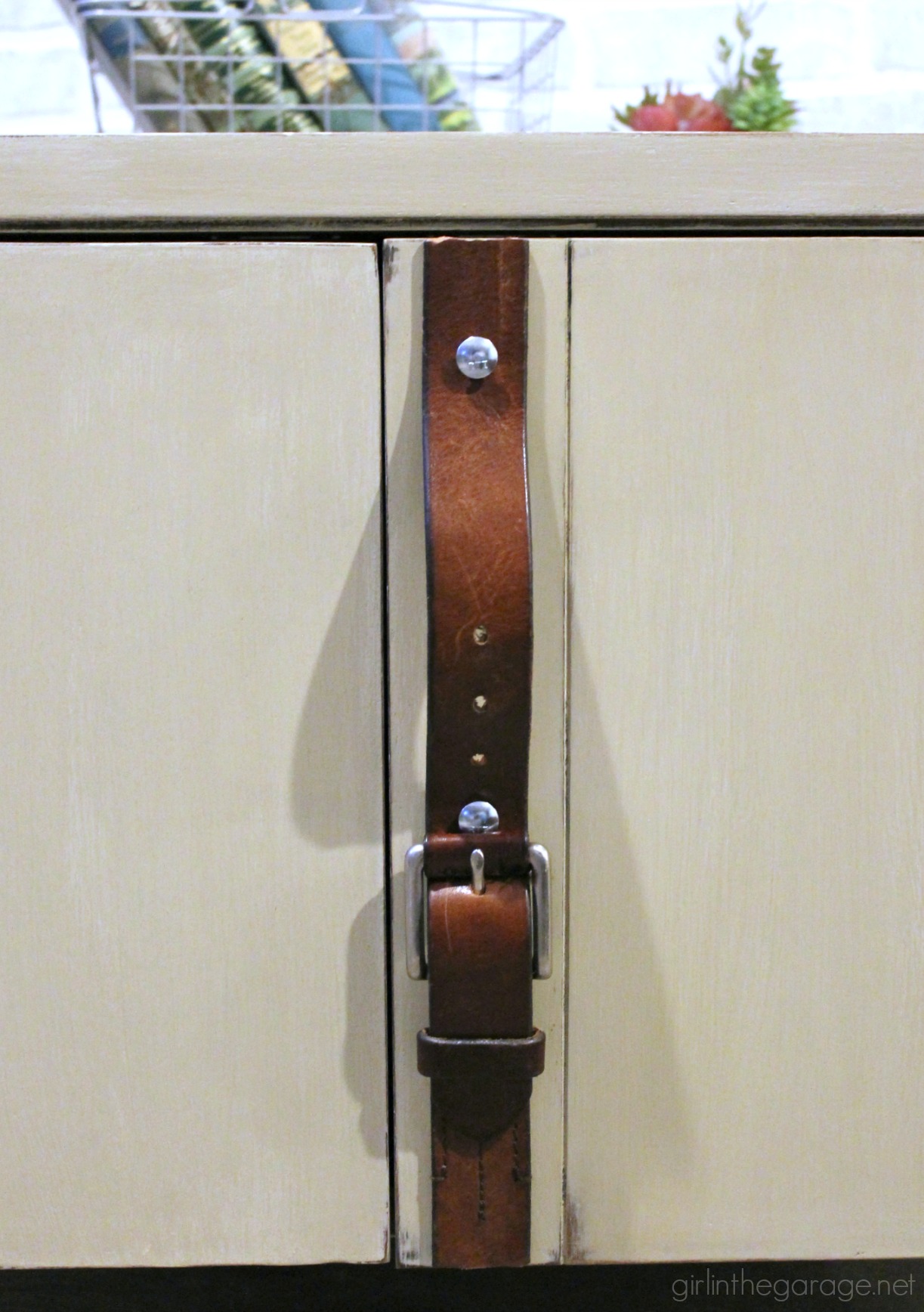 There's just enough distressing to add some vintage character.  Plus the brown looks good with the handle.   😉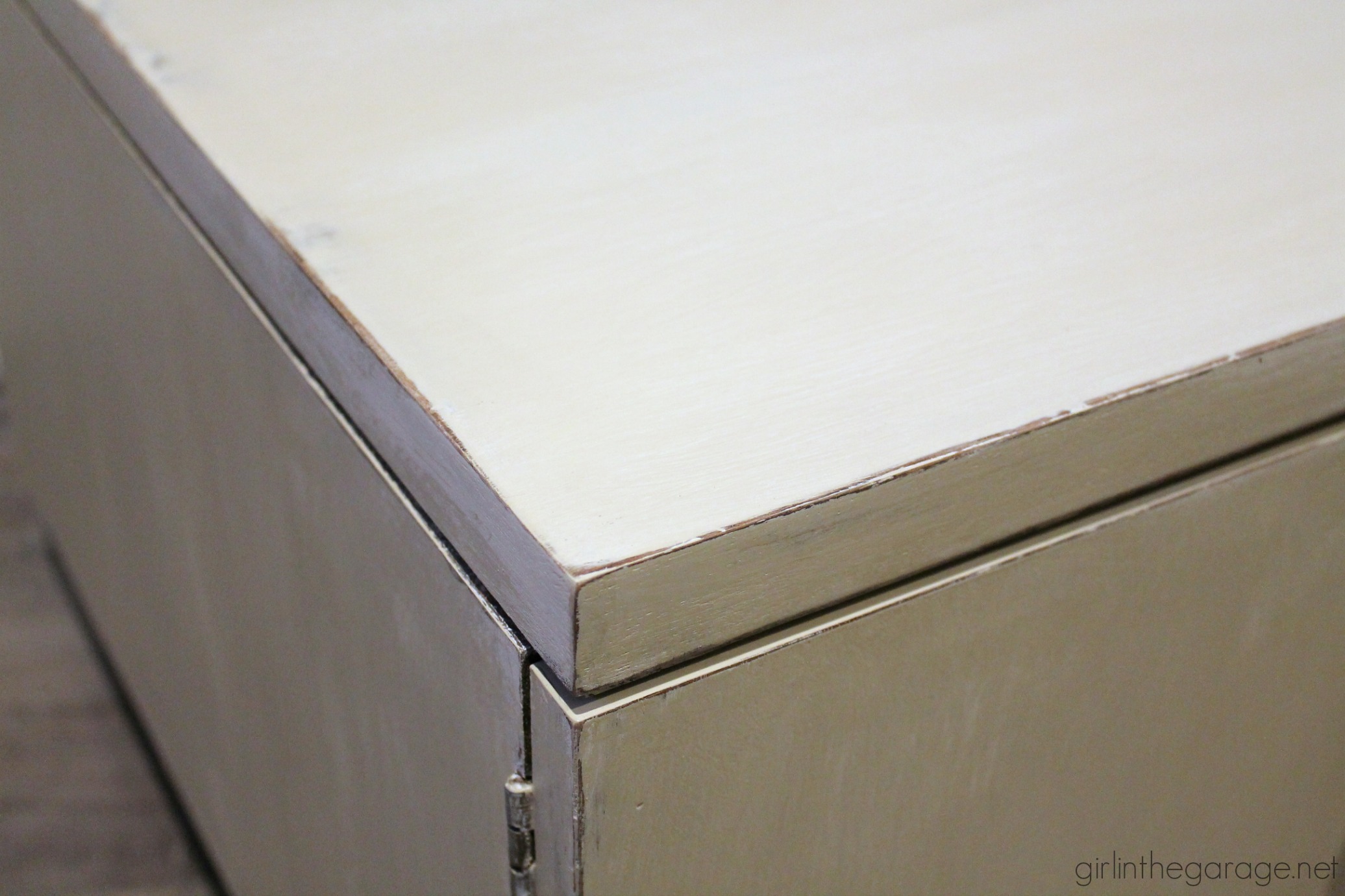 And how 'bout those fancy casters?  I've been wanting to use them for a while now… so glad I finally found the perfect project, even if I didn't realize it till halfway through!
This coffee table sold at the market last month.
Sometimes you need to be patient and see a project through before giving up or changing directions.  BUT if your vision obviously isn't coming through in the way you'd like, it's okay to pause and try something else like I did with this table.  Paint isn't permanent.  You can always repaint and redo.  Just don't let indecisiveness keep you from finishing your project!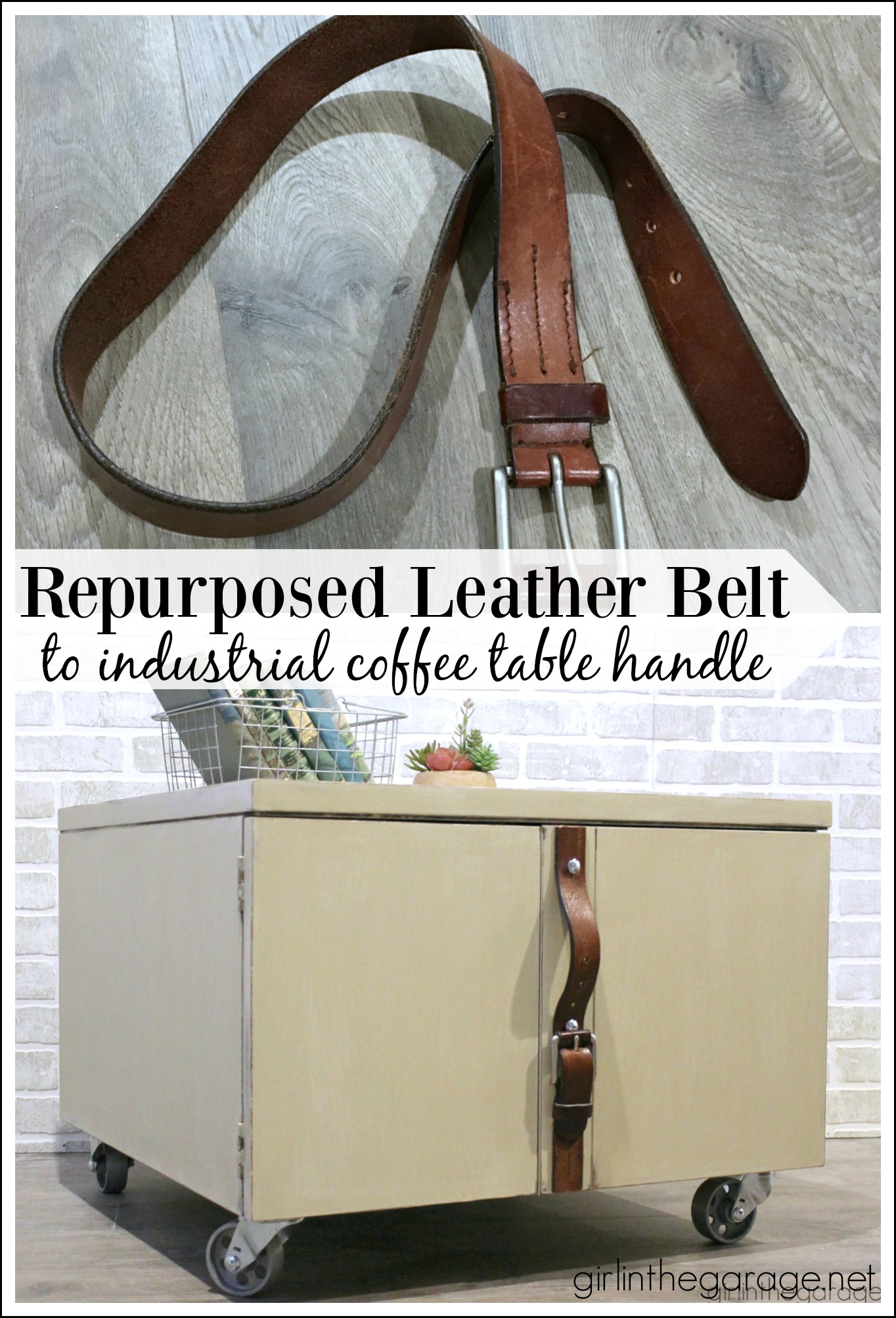 Do you struggle with indecisiveness when doing DIY projects?  Leave me a comment below – I'd love to hear about your situation and maybe I can help you in a future blog post.
Jen
If this post has inspired you, please share it so that others may be inspired also.