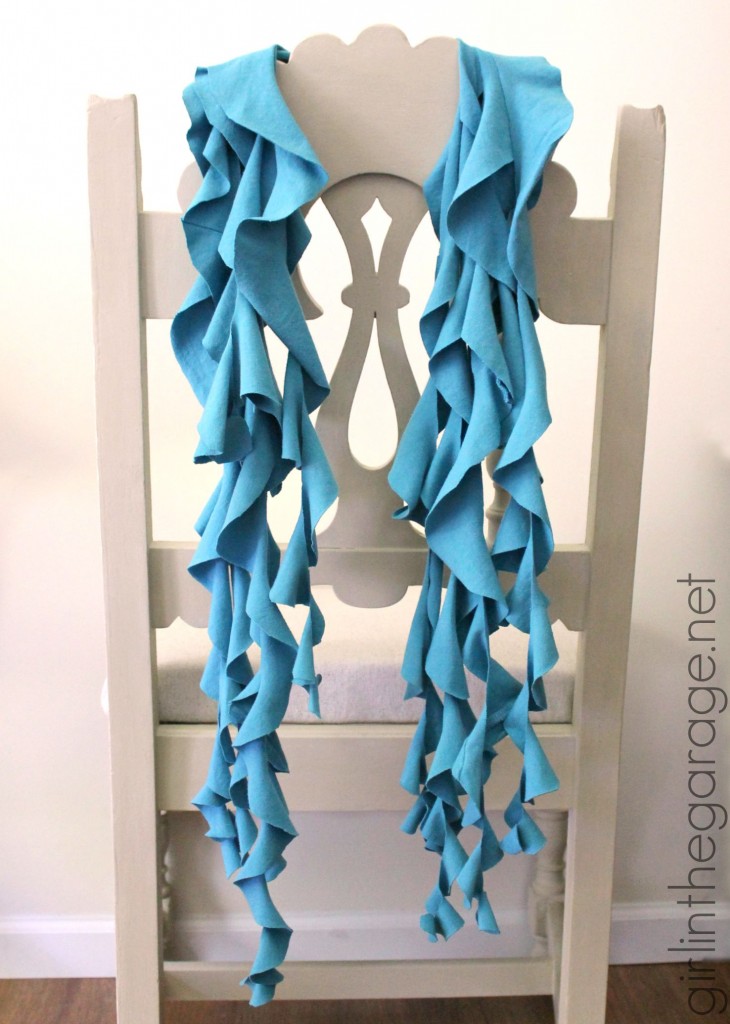 Hi friends, today I'm sharing a fun no-sew project that you can do in about in hour – upcycling a men's t-shirt into a stylish ruffle scarf.  The tutorial is one of 50 from the new book DIY T-Shirt Crafts: From Braided Bracelets to Floor Pillows, 50 Unexpected Ways to Recycle Your Old T-Shirts
 (affiliate link) written by my friend and fellow blogger Adrianne Surian who blogs at Happy Hour Projects.  At the end of this post, you can enter to win one of five copies of this awesome and inspiring book!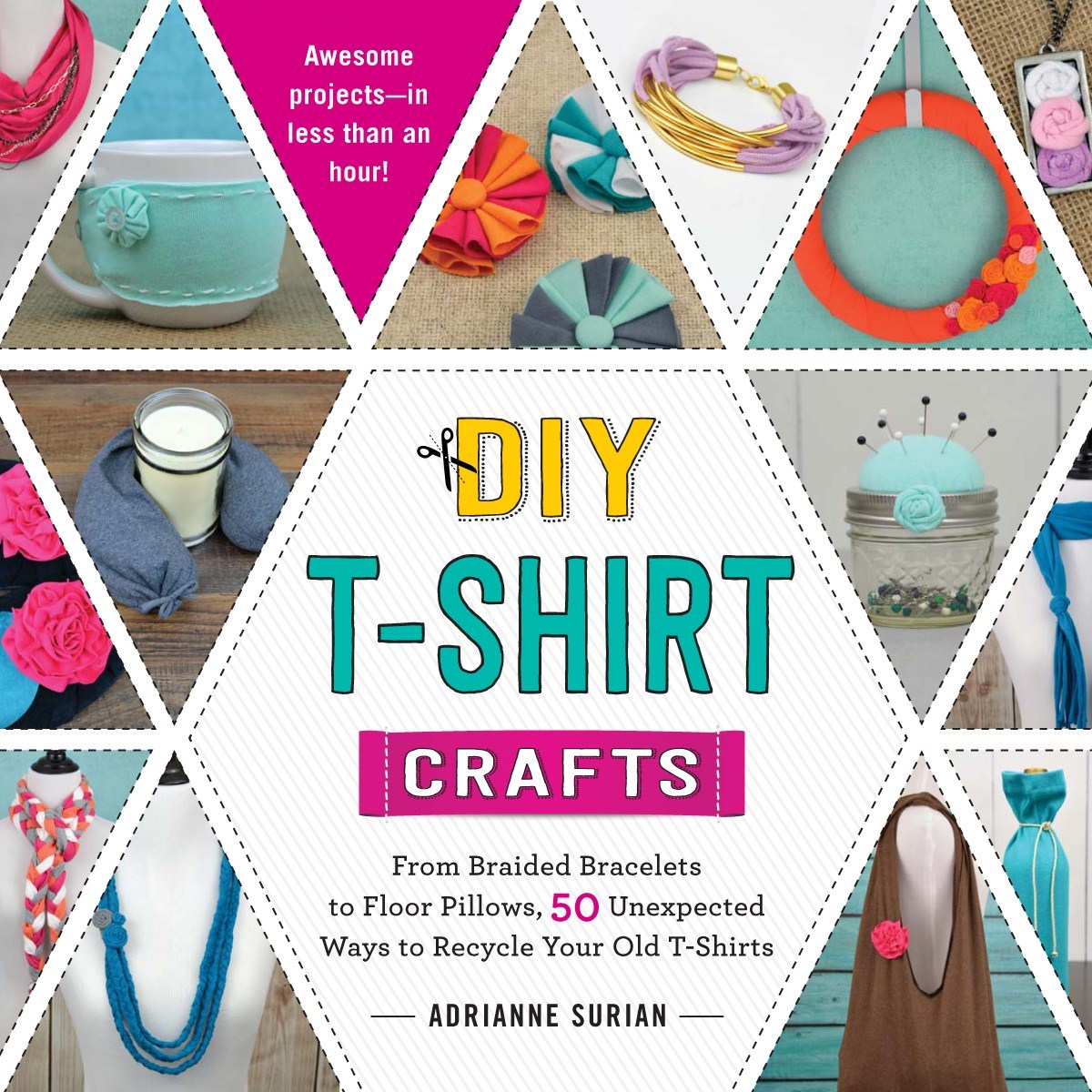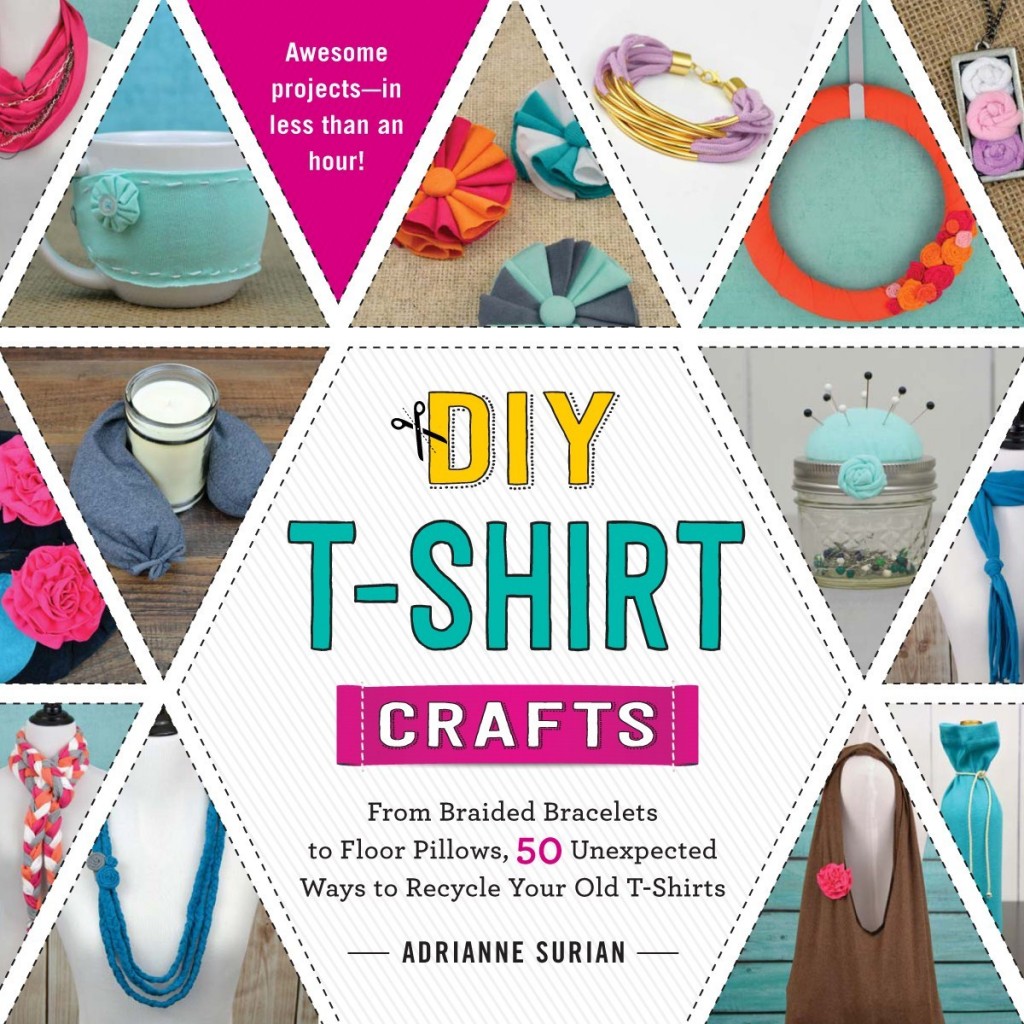 For the DIY ruffle scarf project, start with a big t-shirt – this is a men's XLT which I bought on clearance for $7.00.  I did wash the shirt first.  (You'll also need good scissors, a paper plate or similar round object, marker, and fabric glue.)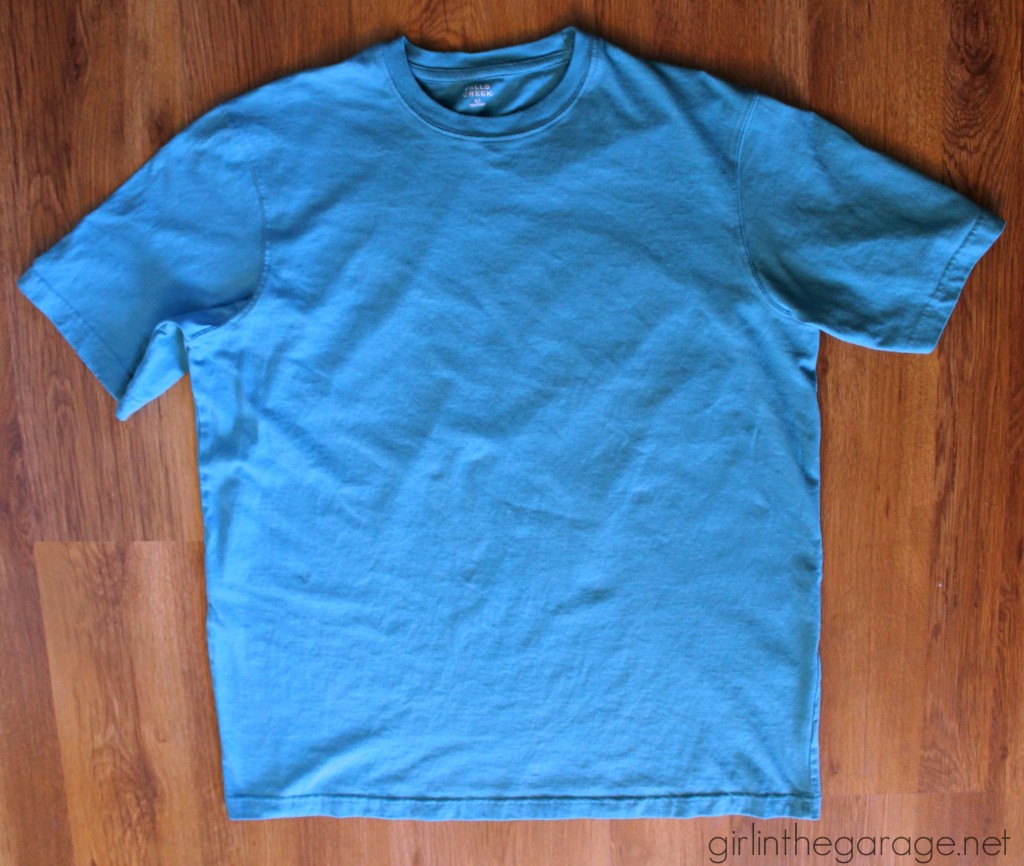 Cut off the sleeves and across the shoulders near the seams.
With your plate, trace circles onto the shirt as closely as possible.  You should end up with at least 10 circles total.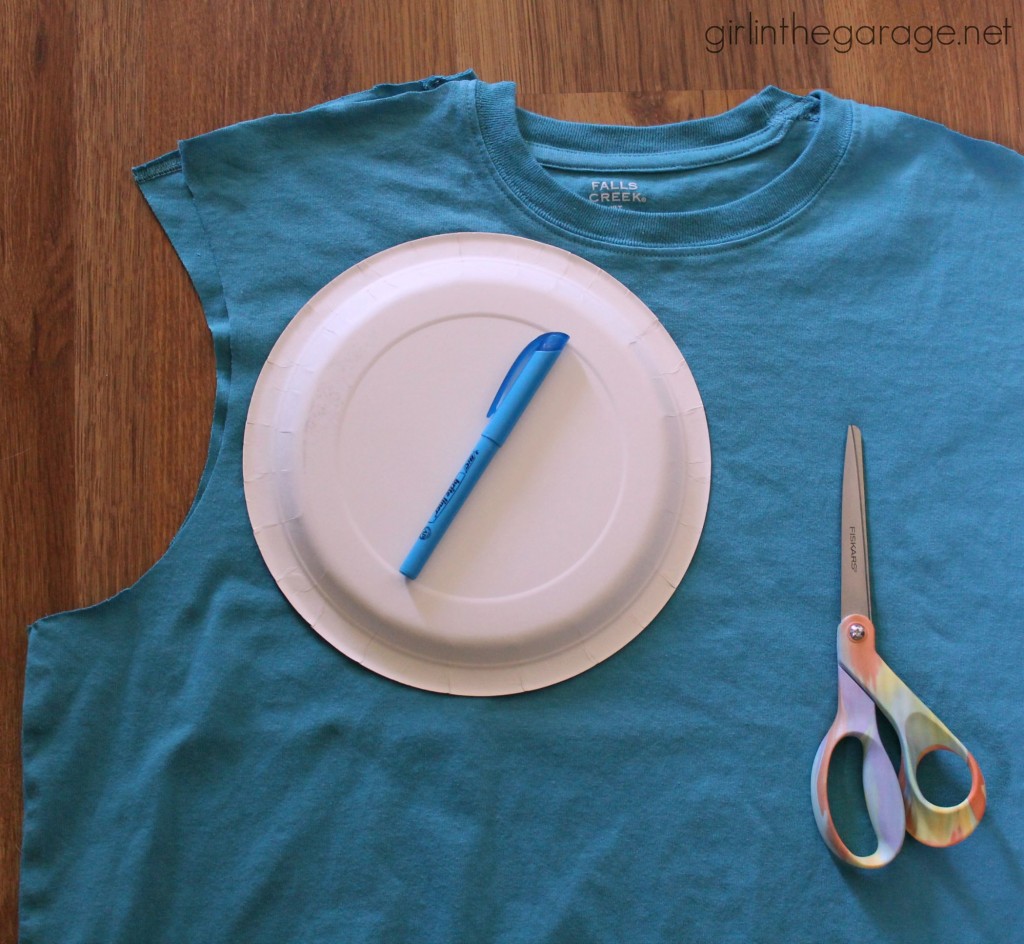 I had 10 good circles (5 from each side of the shirt) and then I cut 2 more over one of the side seams to maximize the fabric.  Cutting over a seam is optional – I wanted a fuller scarf, and the seams aren't very noticeable when you're wearing it.  It's totally up to you though!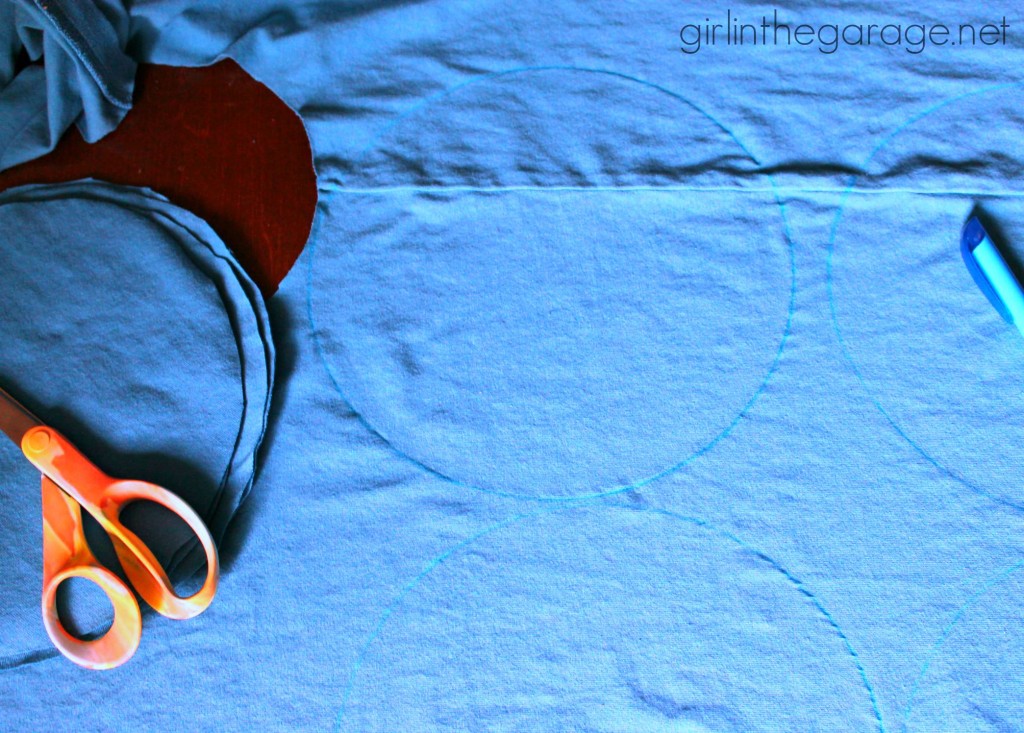 After all the circles were cut, then I cut a spiral into each.  The outer ring is about 1.5-2 inches wide and then it gets thinner closer to the middle.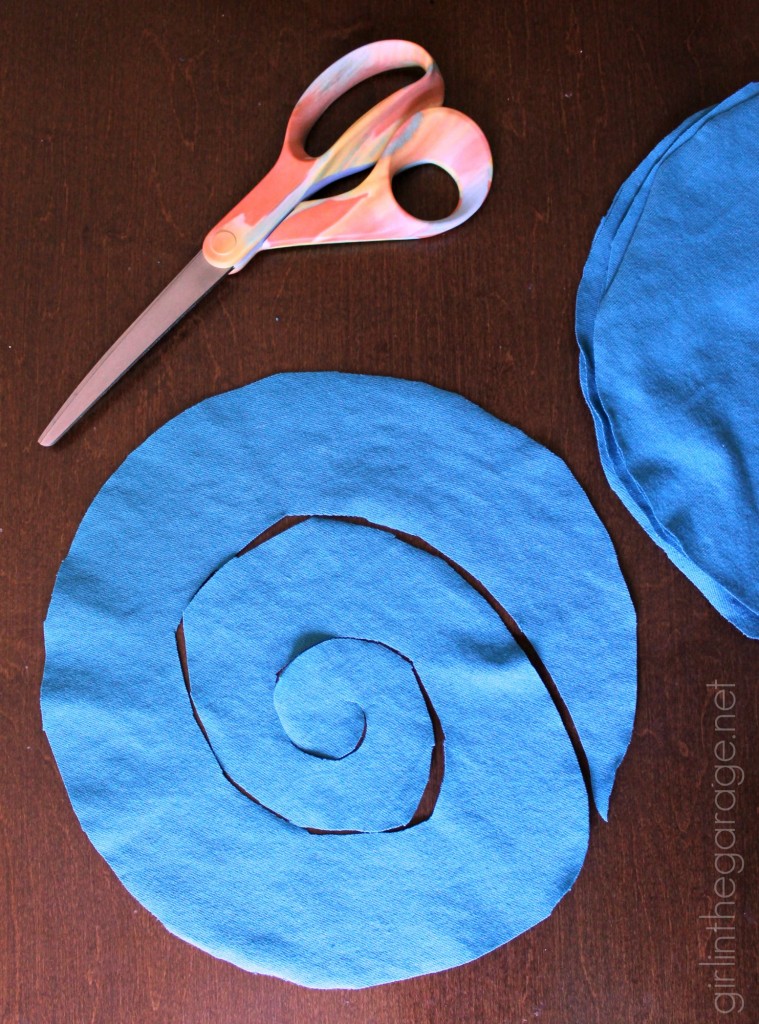 When you have all your spirals, they will naturally curl into a ruffle while holding one end up.  Pretty cool, right?  Next glue the ruffles together at the pointy (thicker) ends with fabric glue.  You'll end up with 5 or 6 strands depending on if you had 10 or 12 circles.  (If you had 11 that's fine- you'll use the extra piece in the next step.)
Now you can choose to wait for the glue to dry before finishing – which is what I did – or finish the scarf and let the glue dry afterward.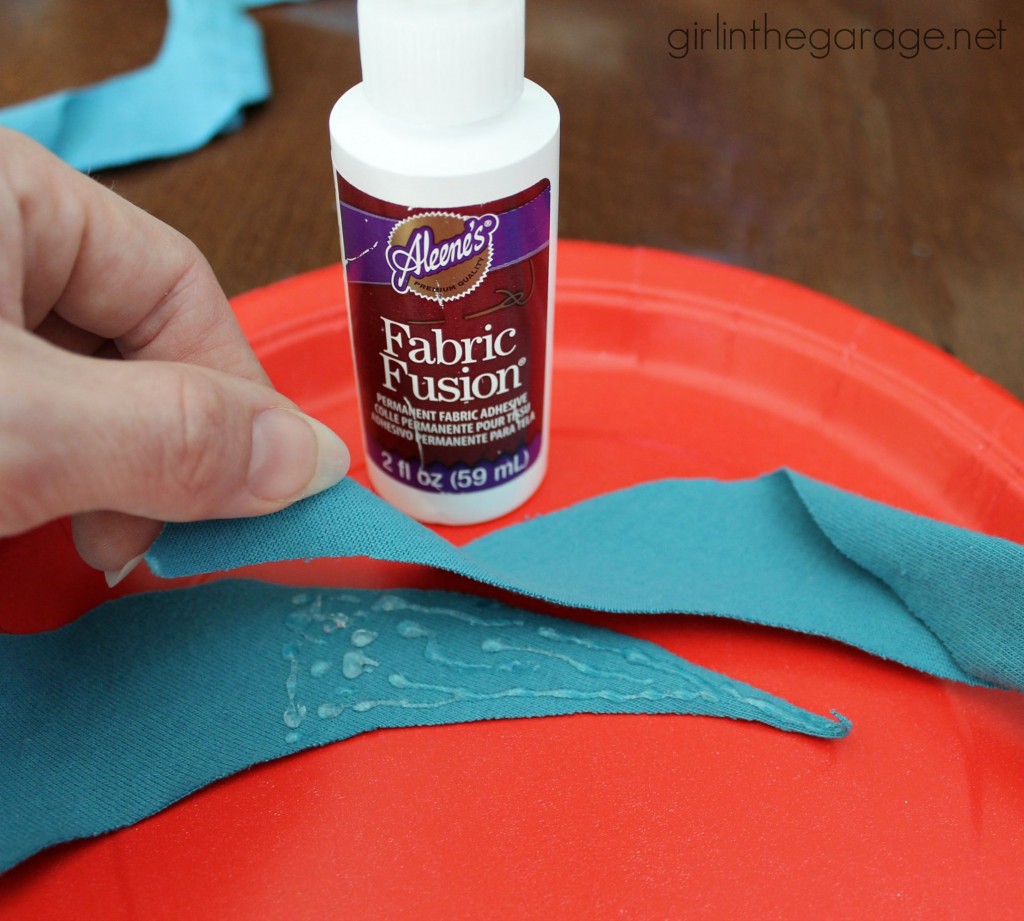 For the next step, use your 11th spiral if you had one, or cut another piece that's also 1.5-2 inches wide and as long as possible.  I cut mine into a bit thinner spiral, but cut whatever you can out of the t-shirt leftovers.  Gather your strands together where they were glued…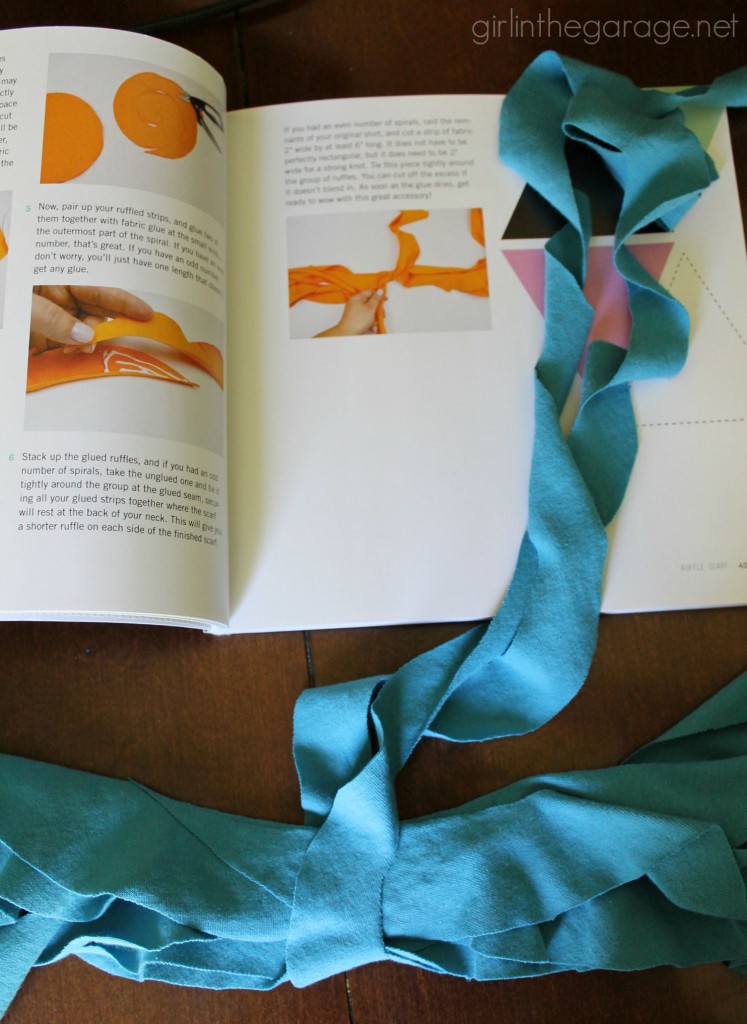 Wrap around and then tie into a tight knot.  If the last piece is long enough, you can let it blend into the other ruffles or you can cut off the excess.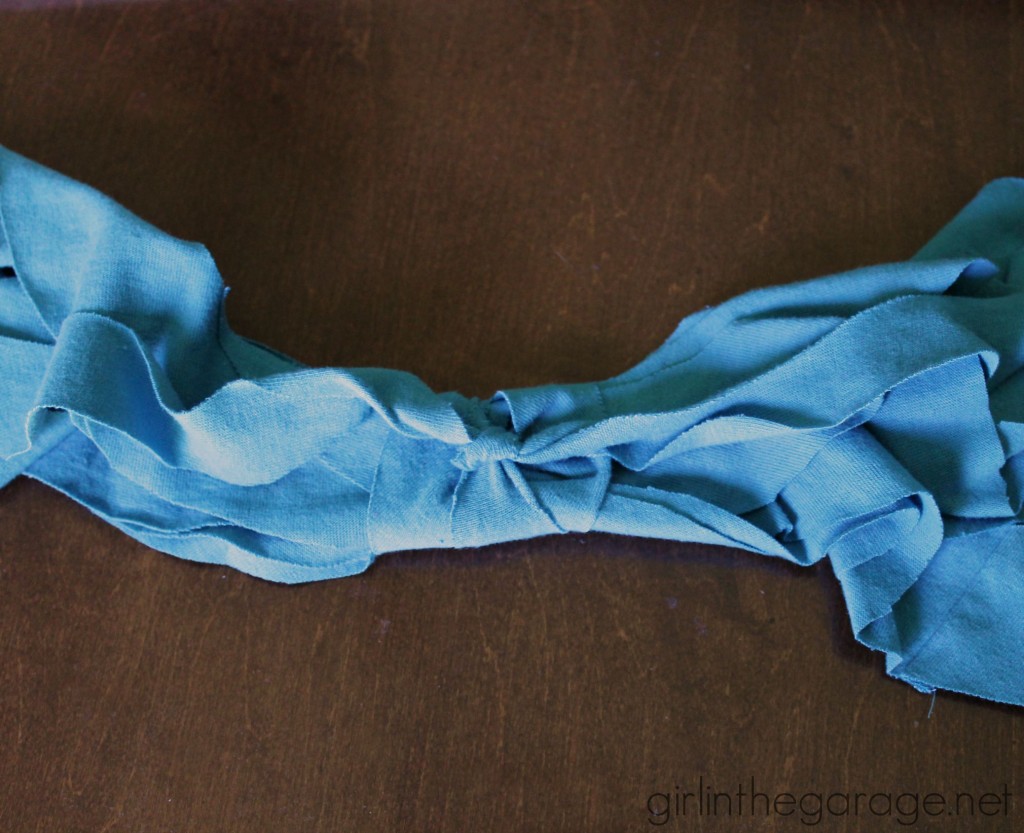 The ruffles came out perfectly – and there's really no way to mess up while cutting them.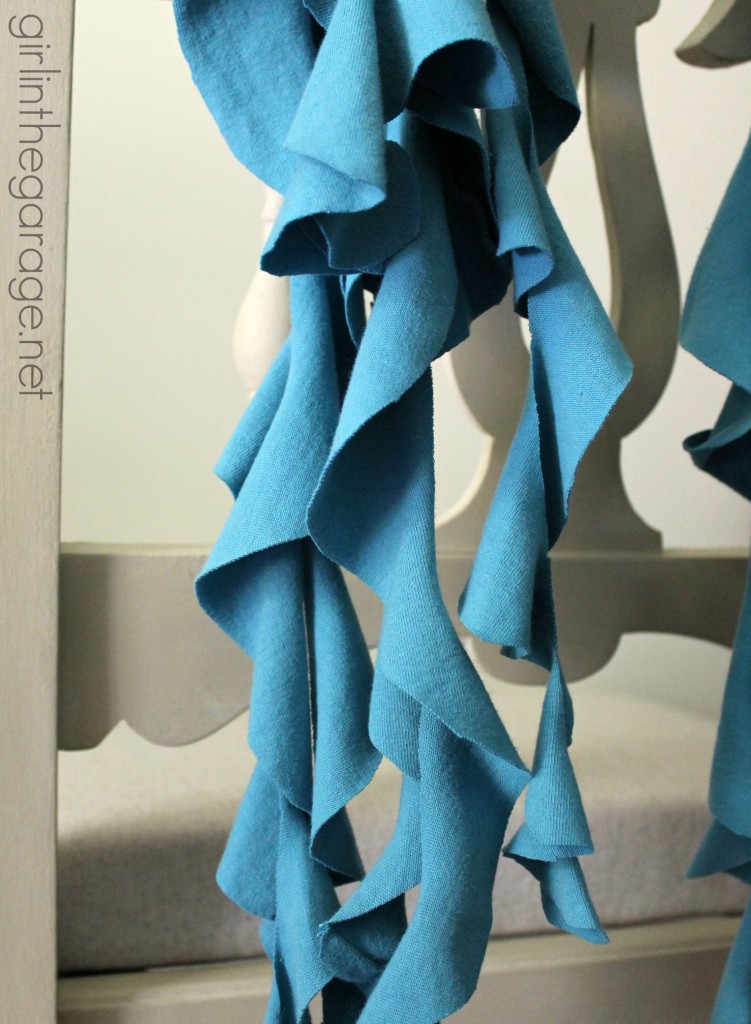 I love the look, softness, and color of my new scarf!  And it really wasn't difficult at all to make.  (I was going to model it for you guys but it wouldn't lay right over my big pregnant belly to get a pretty picture… LOL)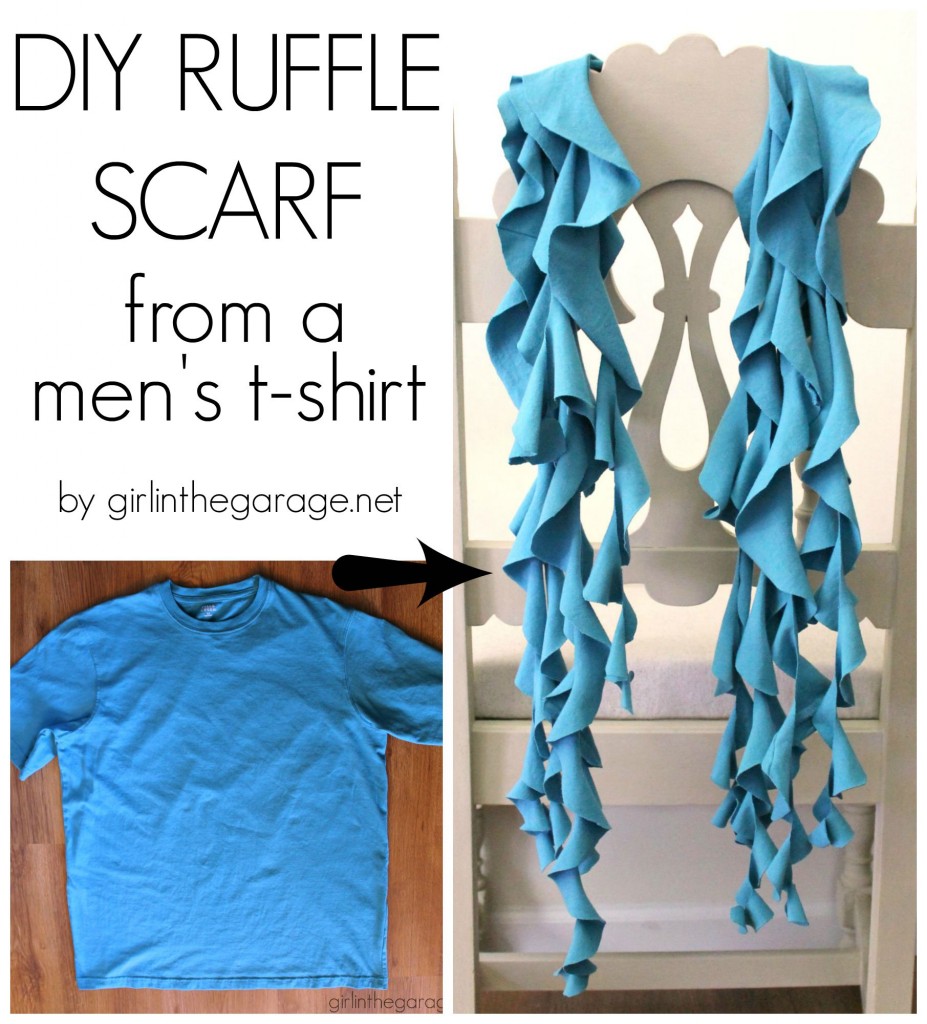 Here are just a few of my other favorite projects from the book: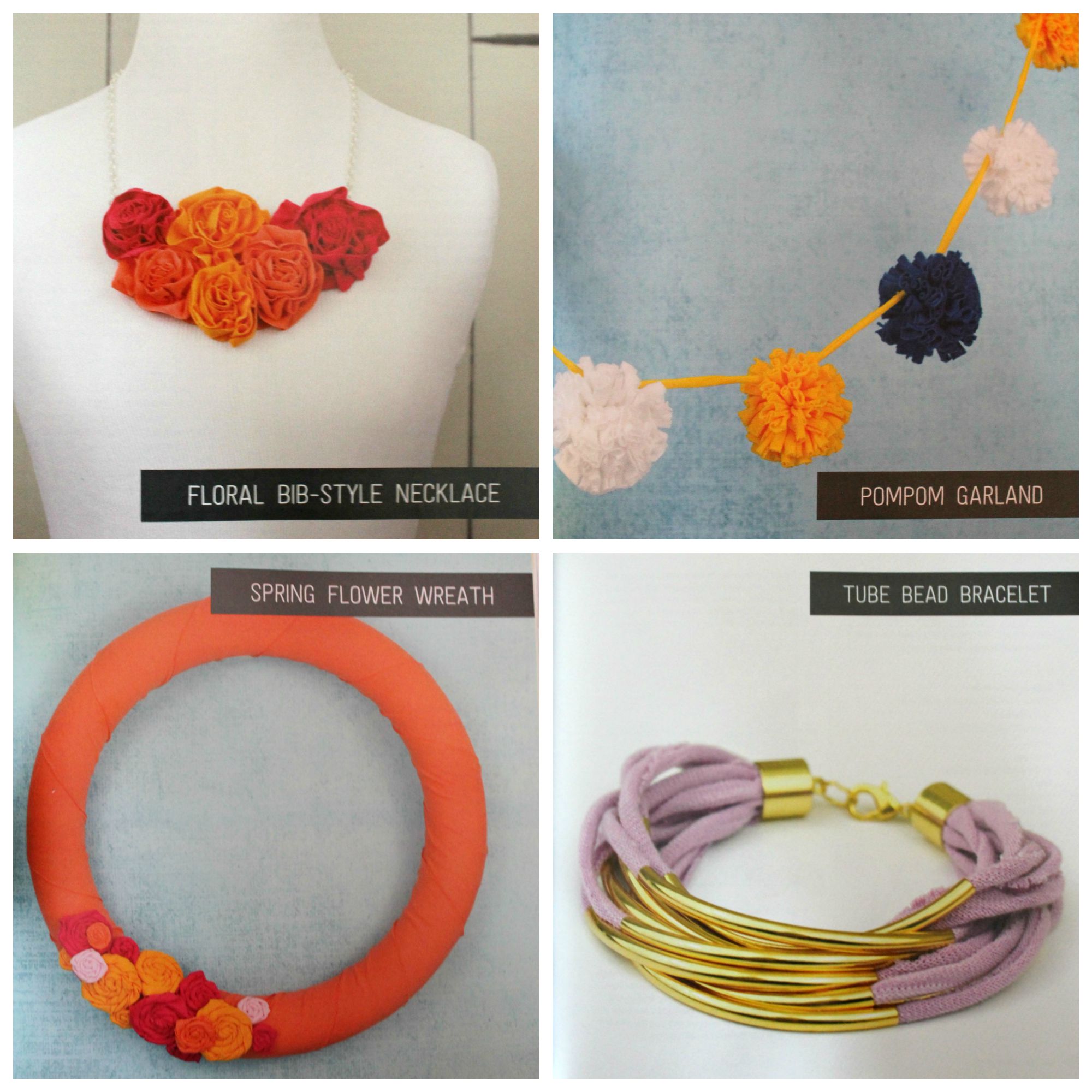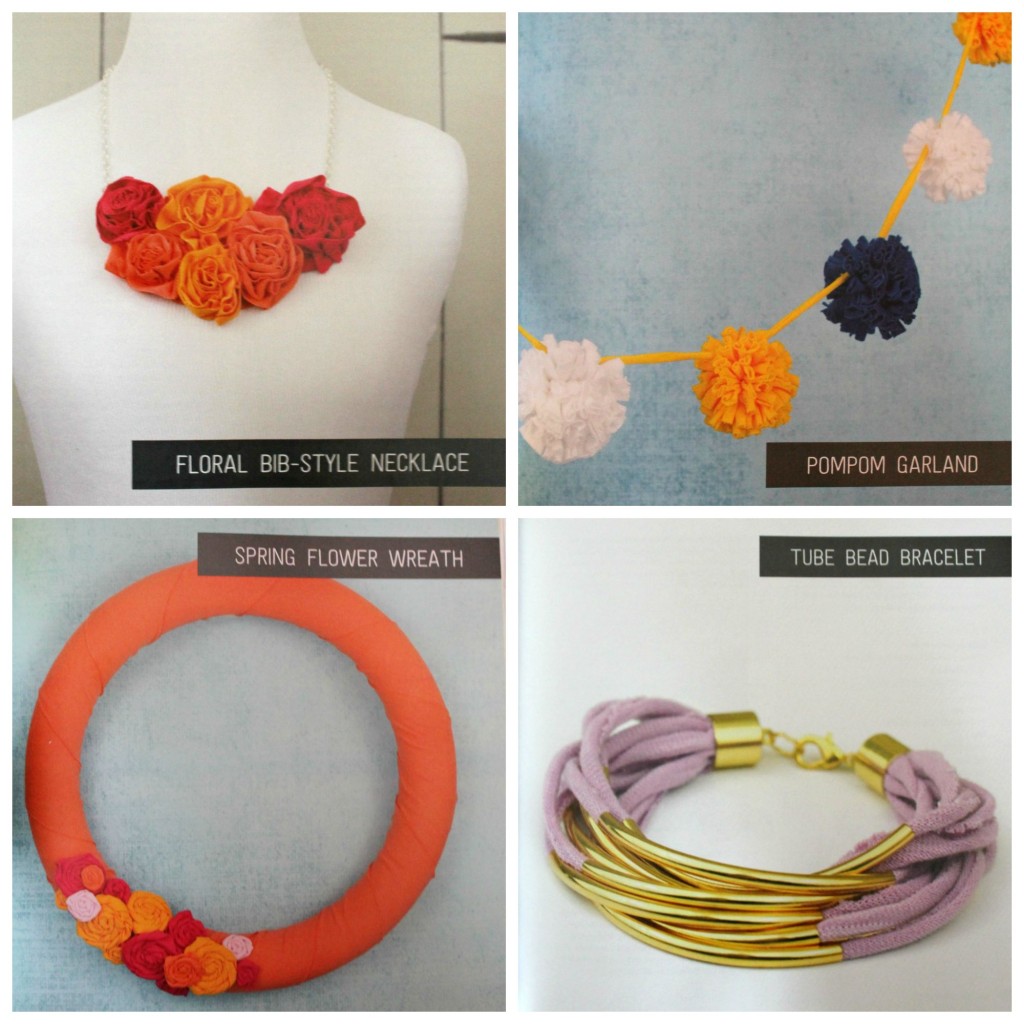 Giveaway details:
Open to US residents.  Enter on the form below now through Aug. 7, 2015 (11:59pm Eastern time).  No purchase necessary – void where prohibited.
For more details or to buy a copy yourself, click HERE
. (affiliate link)
GOOD LUCK!
Lastly, here are a few other scarves I've made from clothes: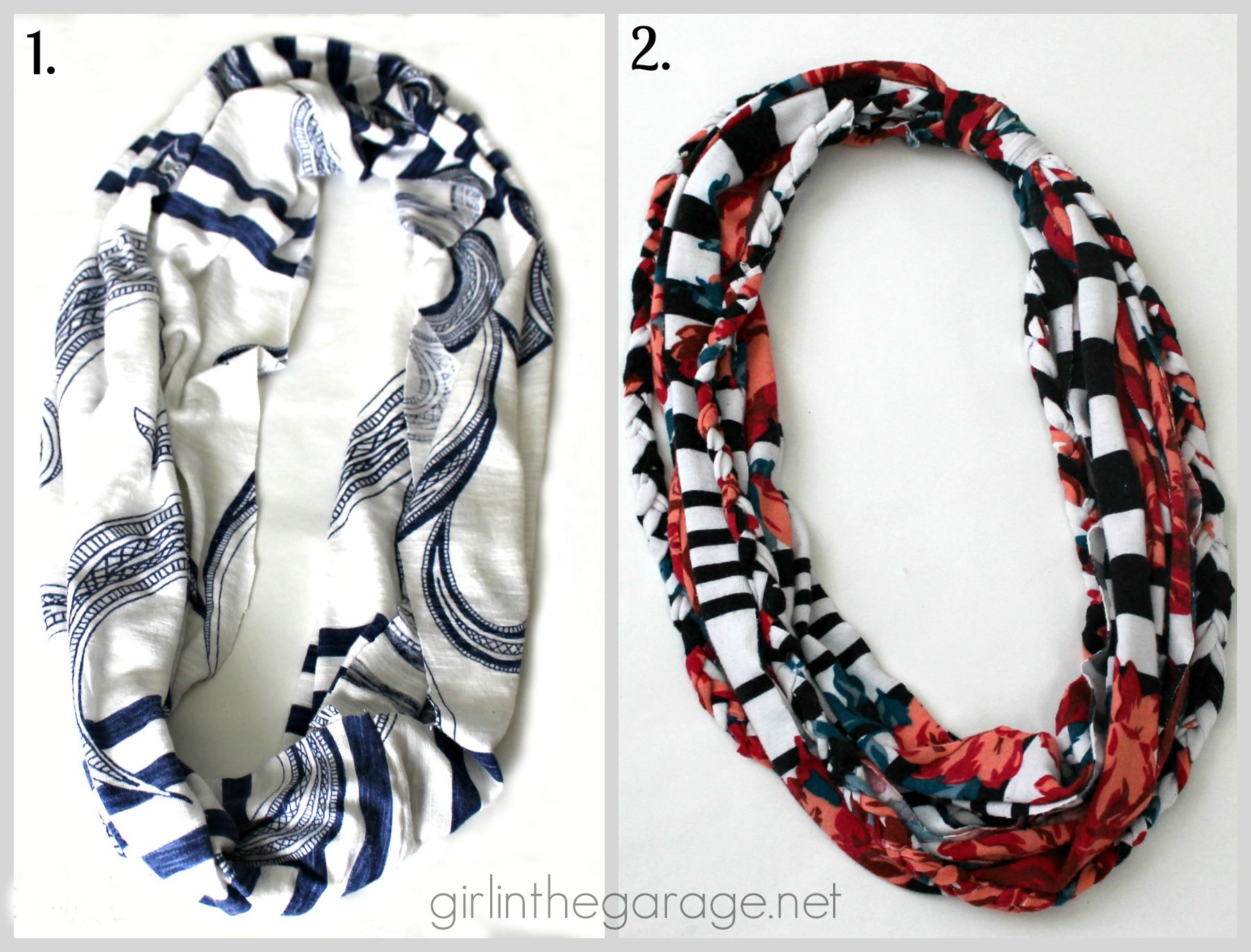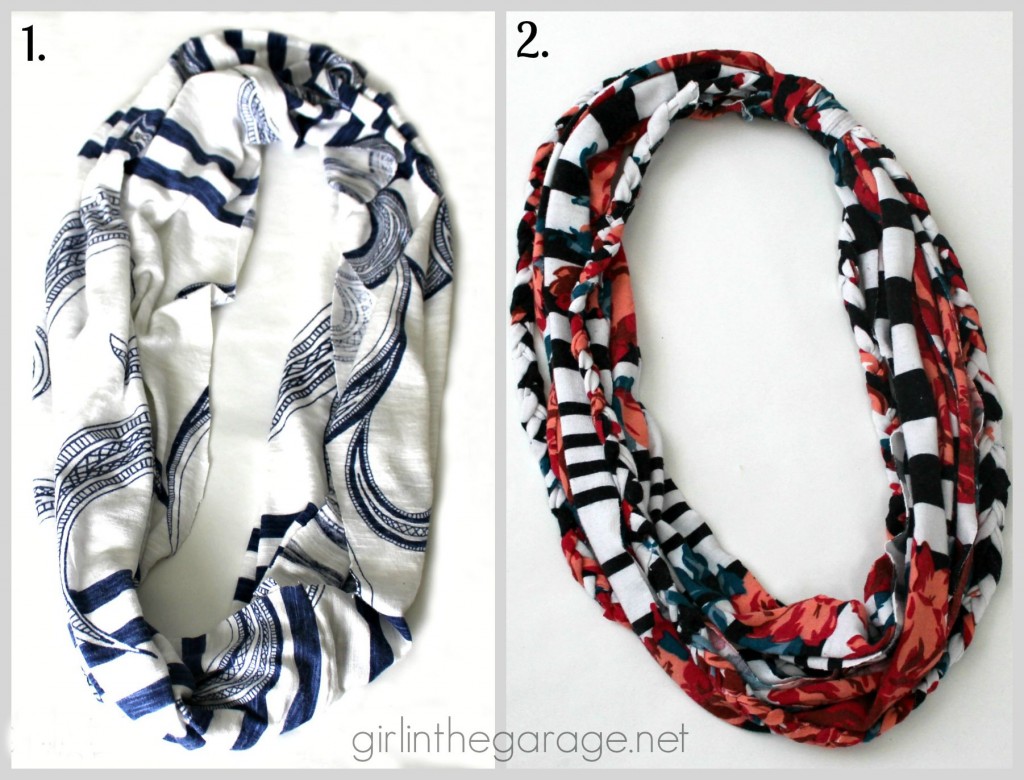 1.  DIY T-Shirt to Infinity Scarf
2.  DIY Infinity Scarf from a Maxi Dress 
.
I did receive a free copy of this book for review, but all opinions are my own.