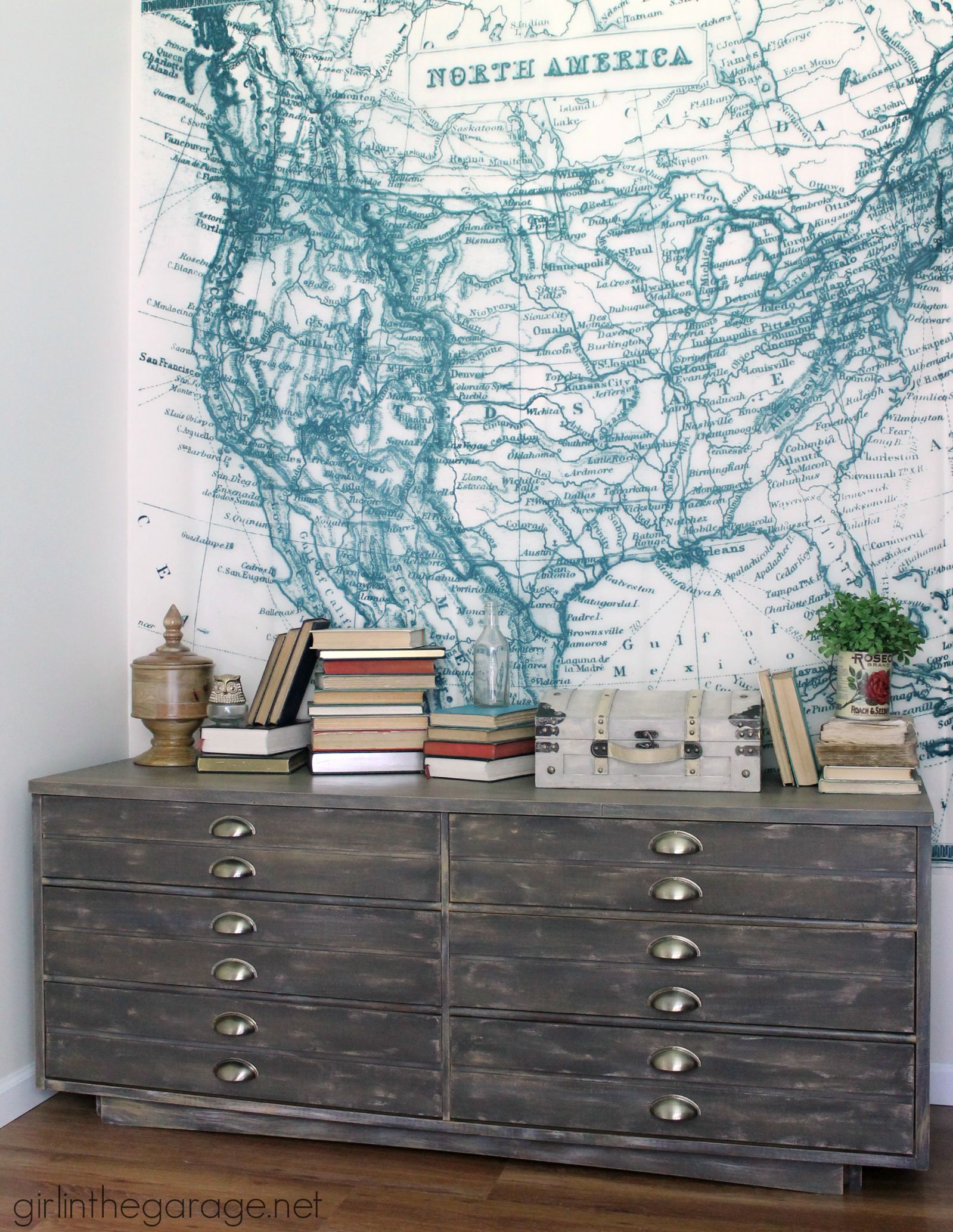 Hi friends! Today is Themed Furniture Makeover Day with 18 or so of my close blogging buddies. This month's theme is Industrial, which we all interpreted in our own way. See all of my past TFMD projects HERE.
This is how my piece started: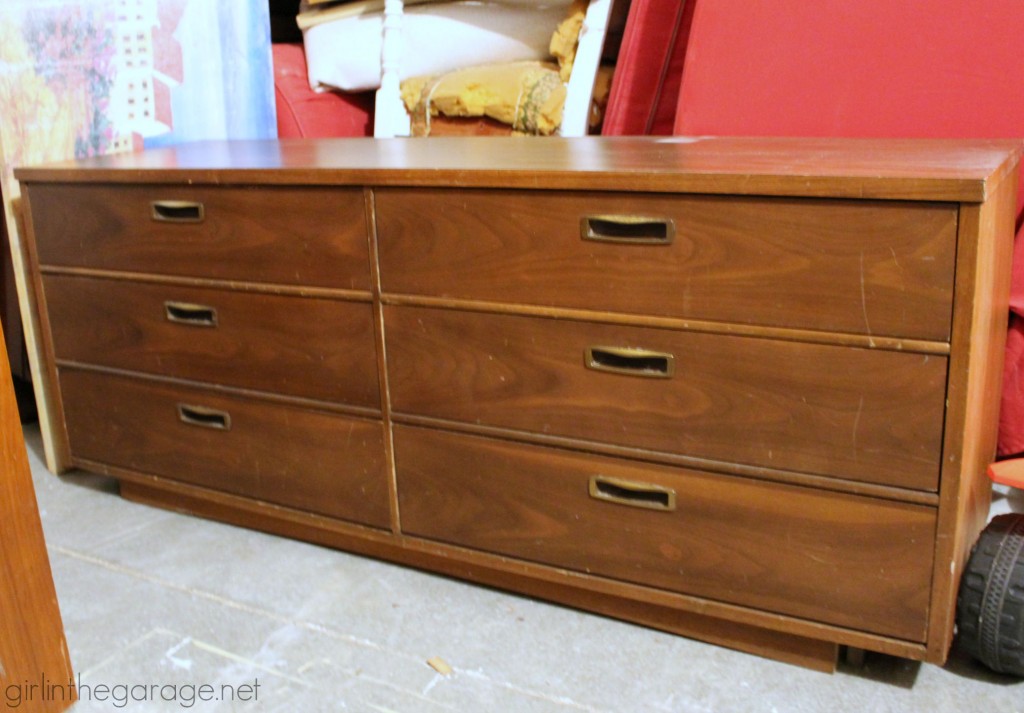 Several months ago I went with my mom to look at a dining set that someone was selling on Facebook. When we got there, the seller had already loaded this dresser into his pickup to take to Goodwill. Of course I couldn't help checking it out, and he said I could just have it since it would save him from driving it to the store. When someone says that, it's really hard for me to say no. (Oh, and my mom bought the dining set – thankfully everything fit into our vehicles!)
I knew I wanted to completely transform it, and I found my inspiration piece for a DIY industrial dresser: the Illusorio Cabinet from Anthropologie which retails for $1698. (Isn't it gorgeous?!)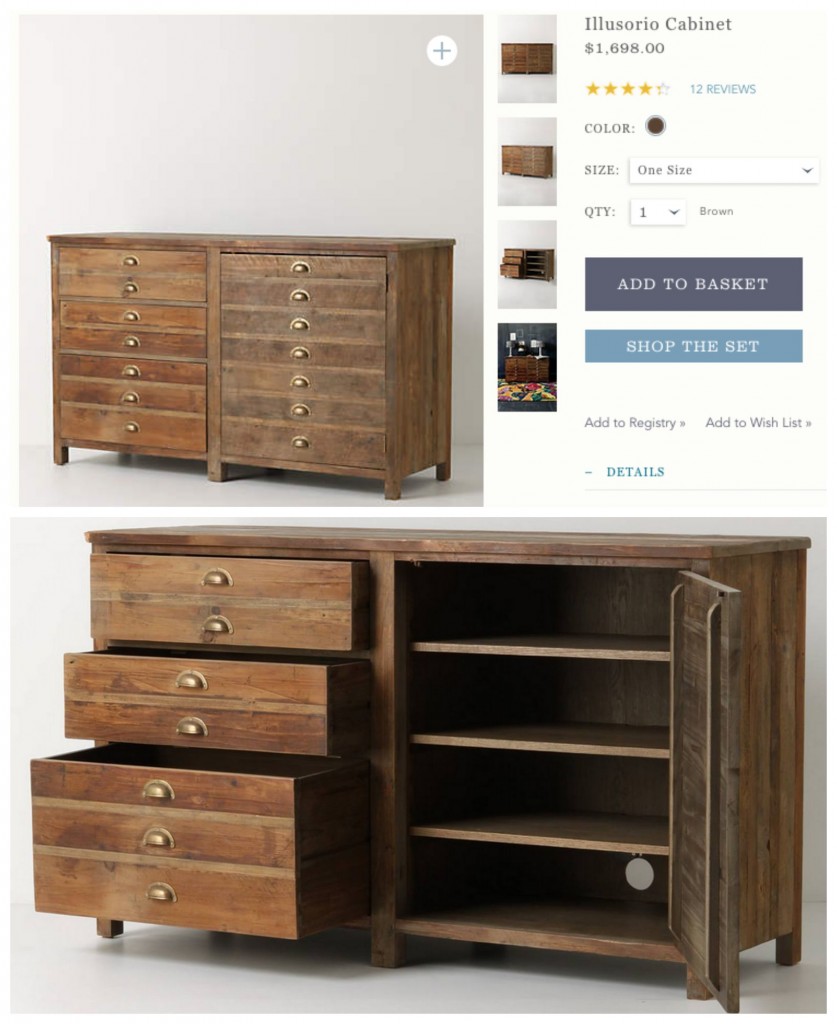 I took the drawers out and removed the old hardware.
To mimic thinner drafting drawers, I bought balsa wood strips, cut them to size, and glued them on with E6000 (seriously like the strongest glue ever). I purposely left a gap between the balsa strips on each drawer to look like the Anthro version.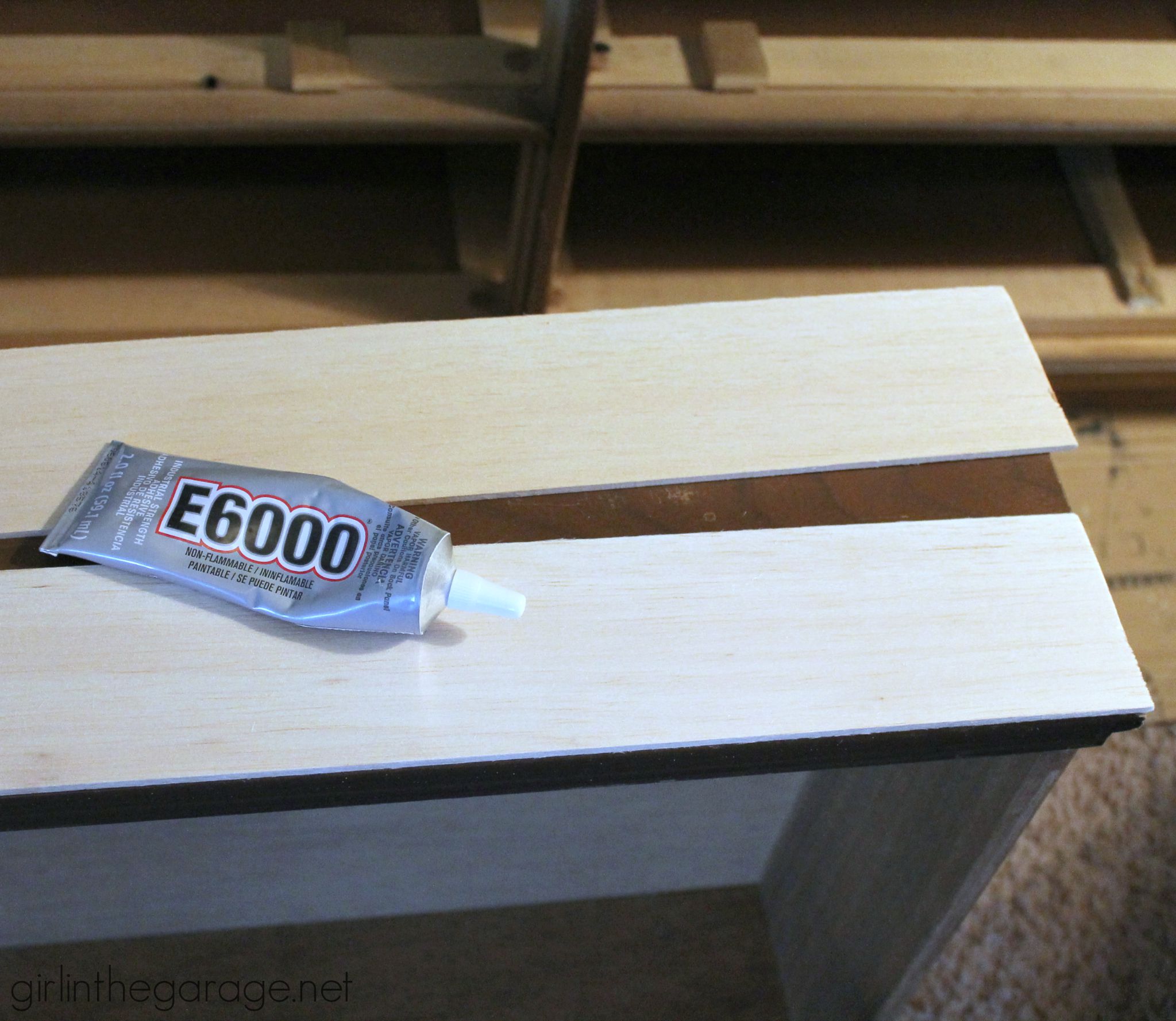 The lengthy part was measuring and drilling 24 new holes for the 12 new cup pulls I got from D. Lawless Hardware.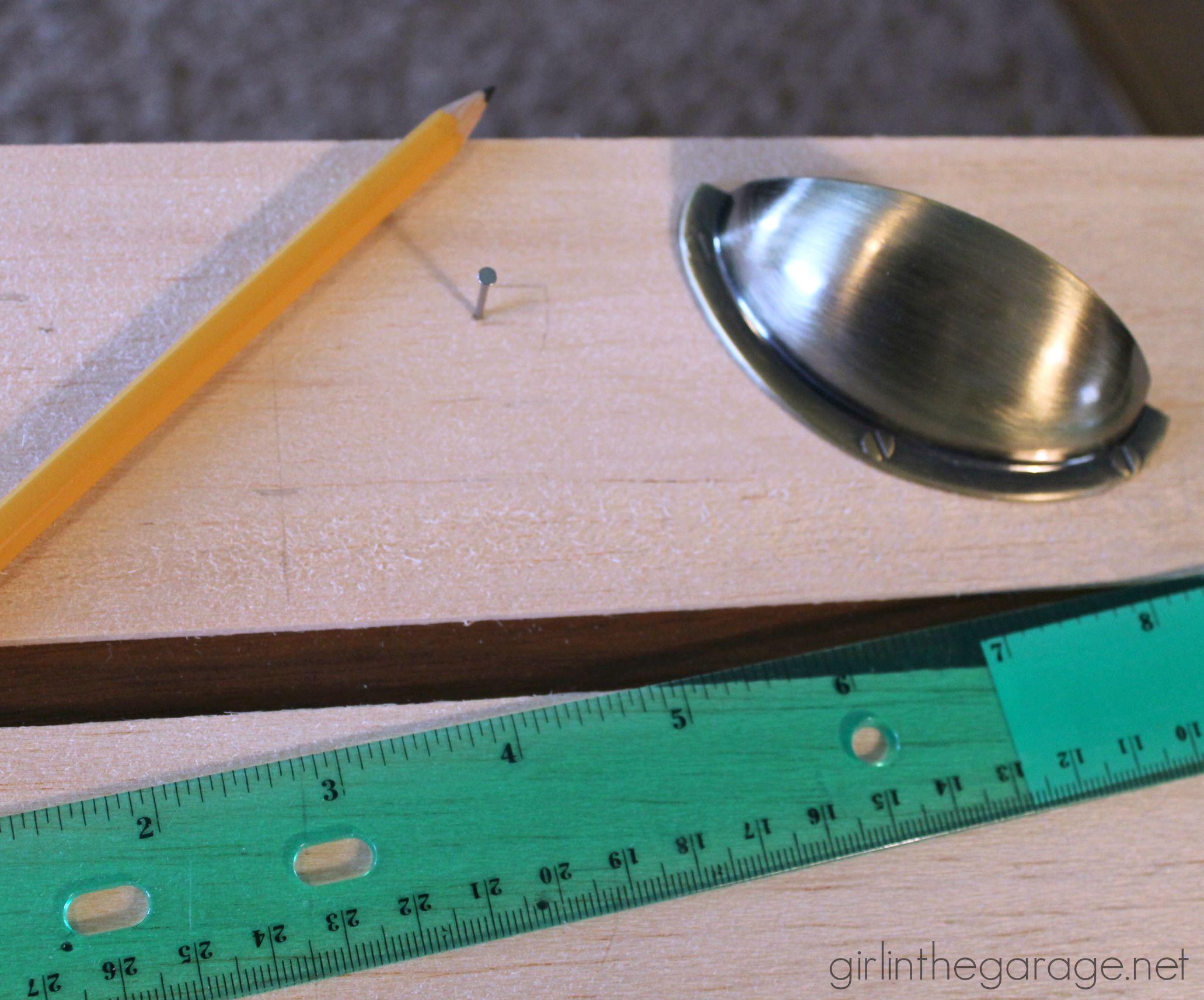 The first drawer was finished! The hardware was just on to see how it looked, of course I had to remove it to paint. I was just really anxious to see if my vision was going to turn out like I hoped.
I tried to use paint I already had at home, so first I painted the entire piece in some leftover dark brown/gray. Then I dry brushed a light tan over the entire piece, but I didn't like the way it looked with the pulls. Finally I caved and bought a sample size of Leather Satchel (Valspar latex) and dry brushed it over the other colors. I think it accents the antique bronze in the pulls perfectly.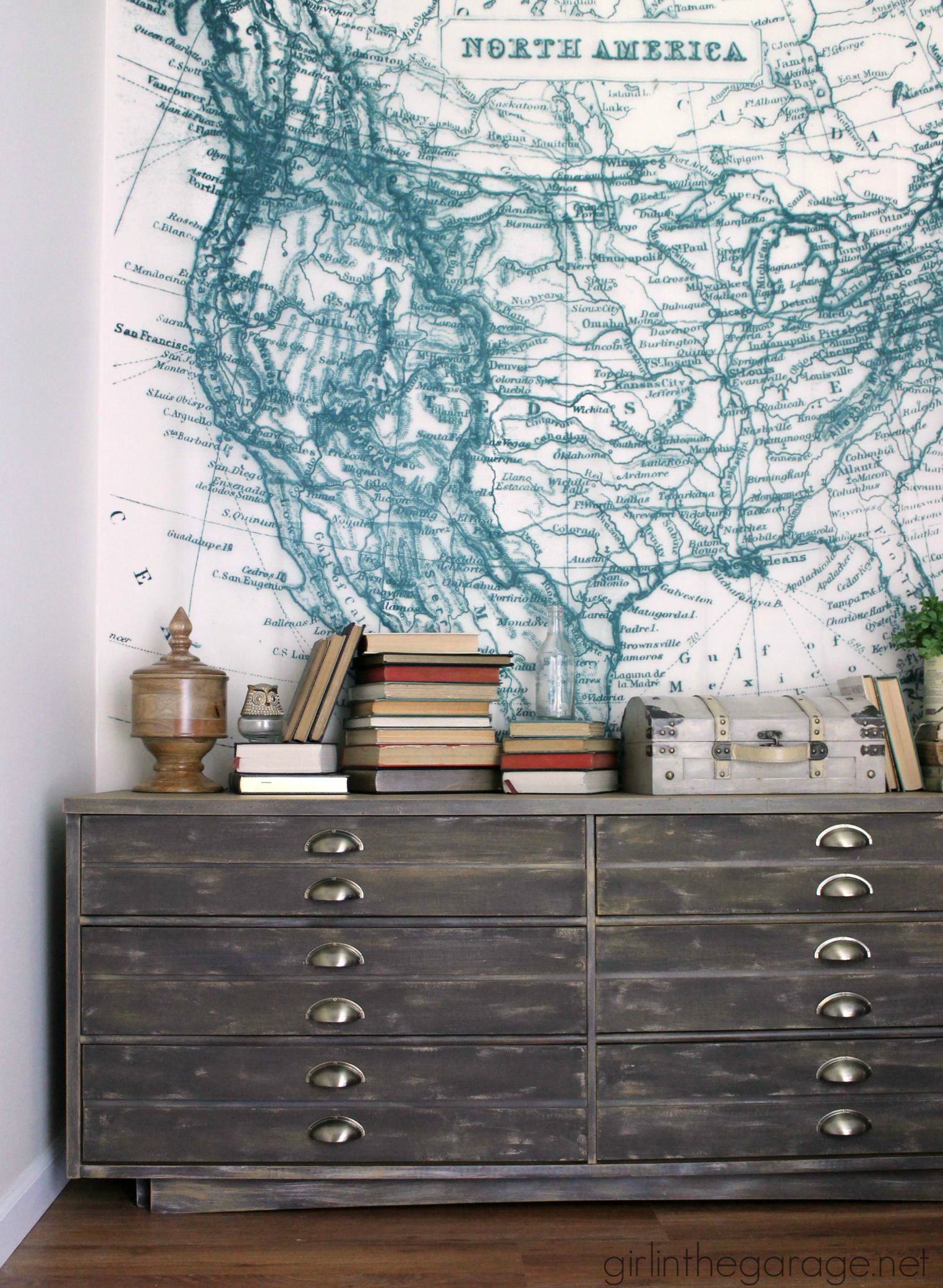 My industrial dresser is darker than the Anthropologie version, but I still love how it turned out.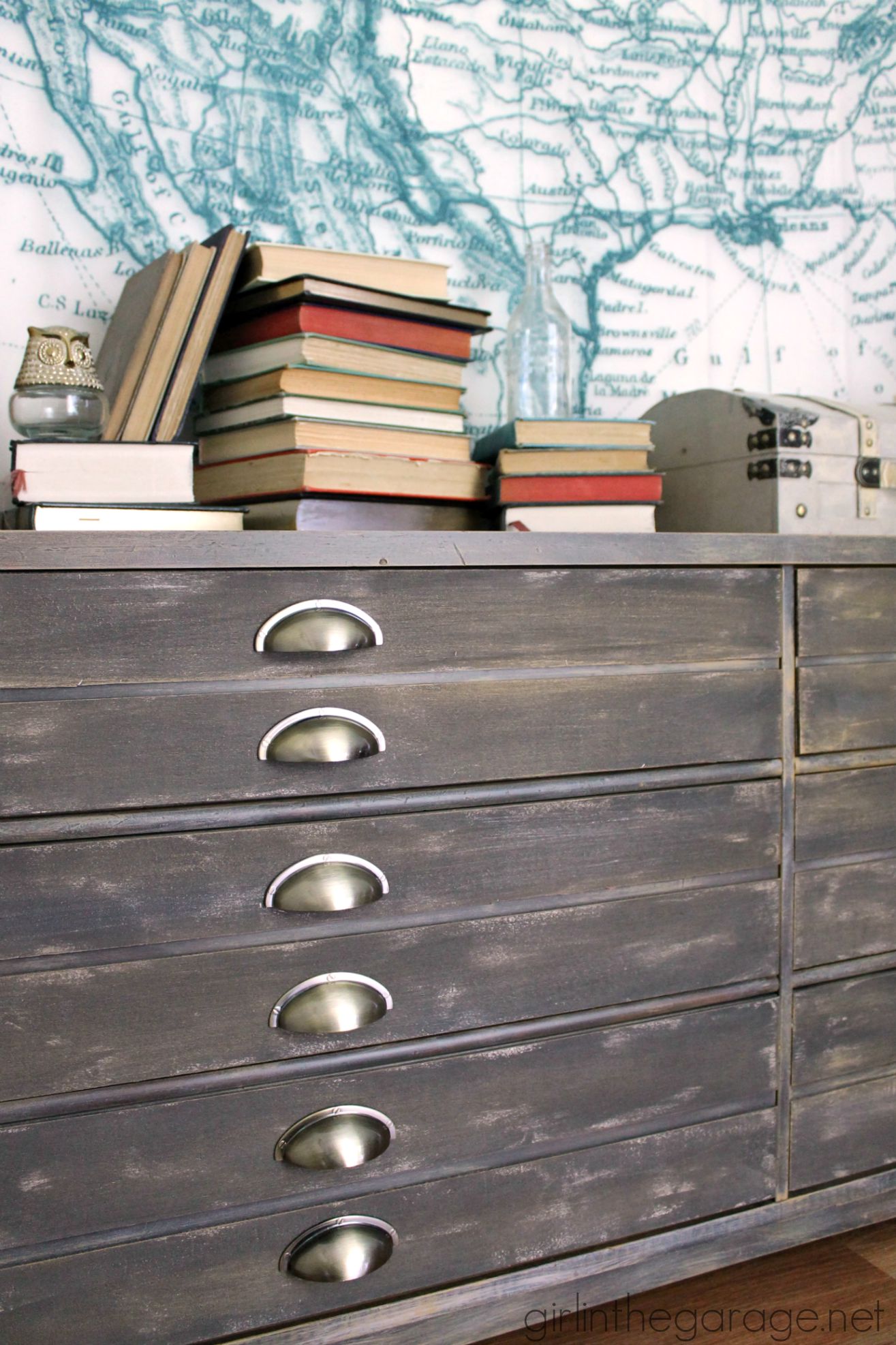 Here's a closeup of the absolutely gorgeous cup pulls from D. Lawless Hardware – I don't even think this photo does them justice!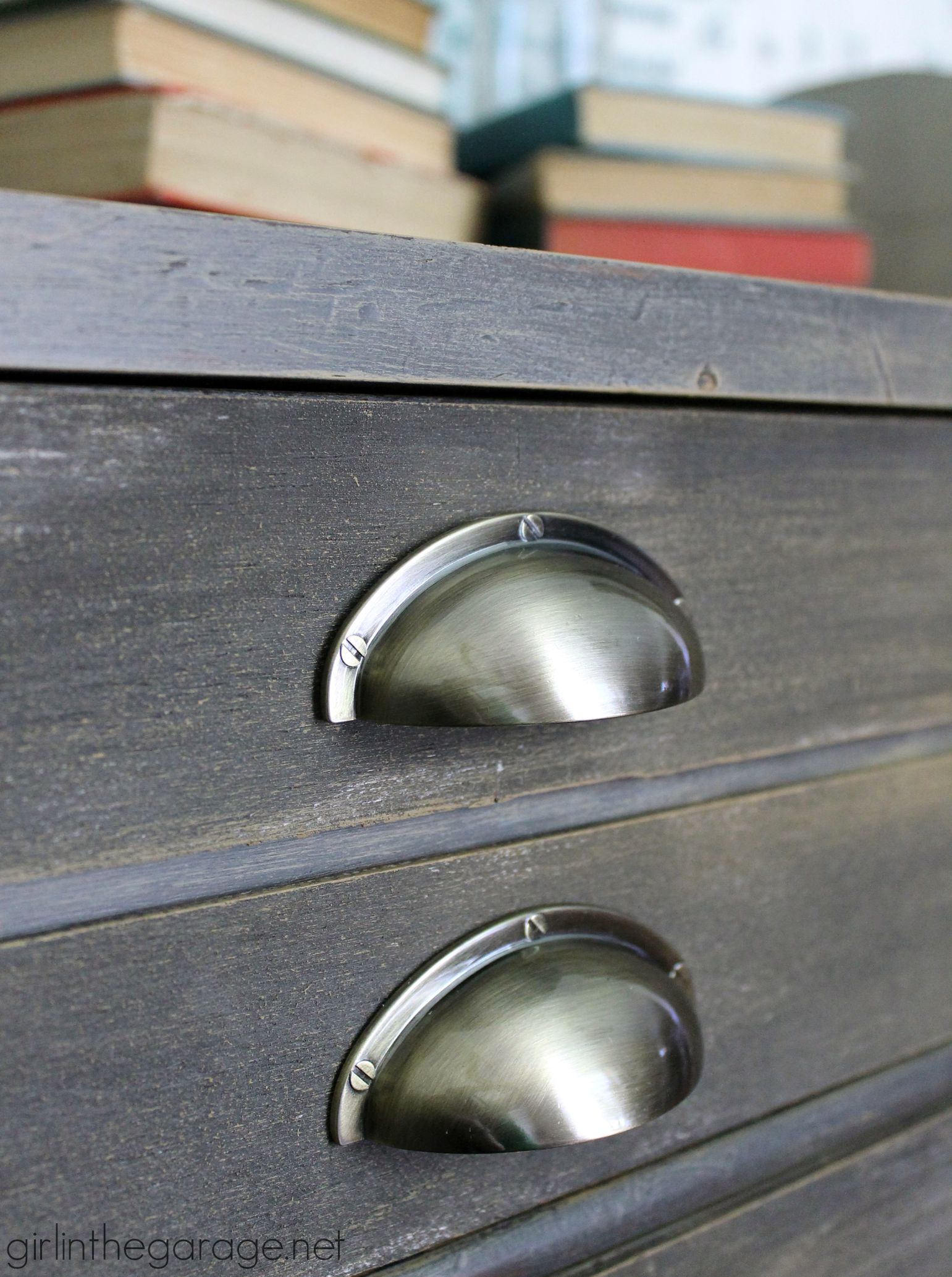 And SHHHH…. no one has to know that there are only six drawers instead of twelve.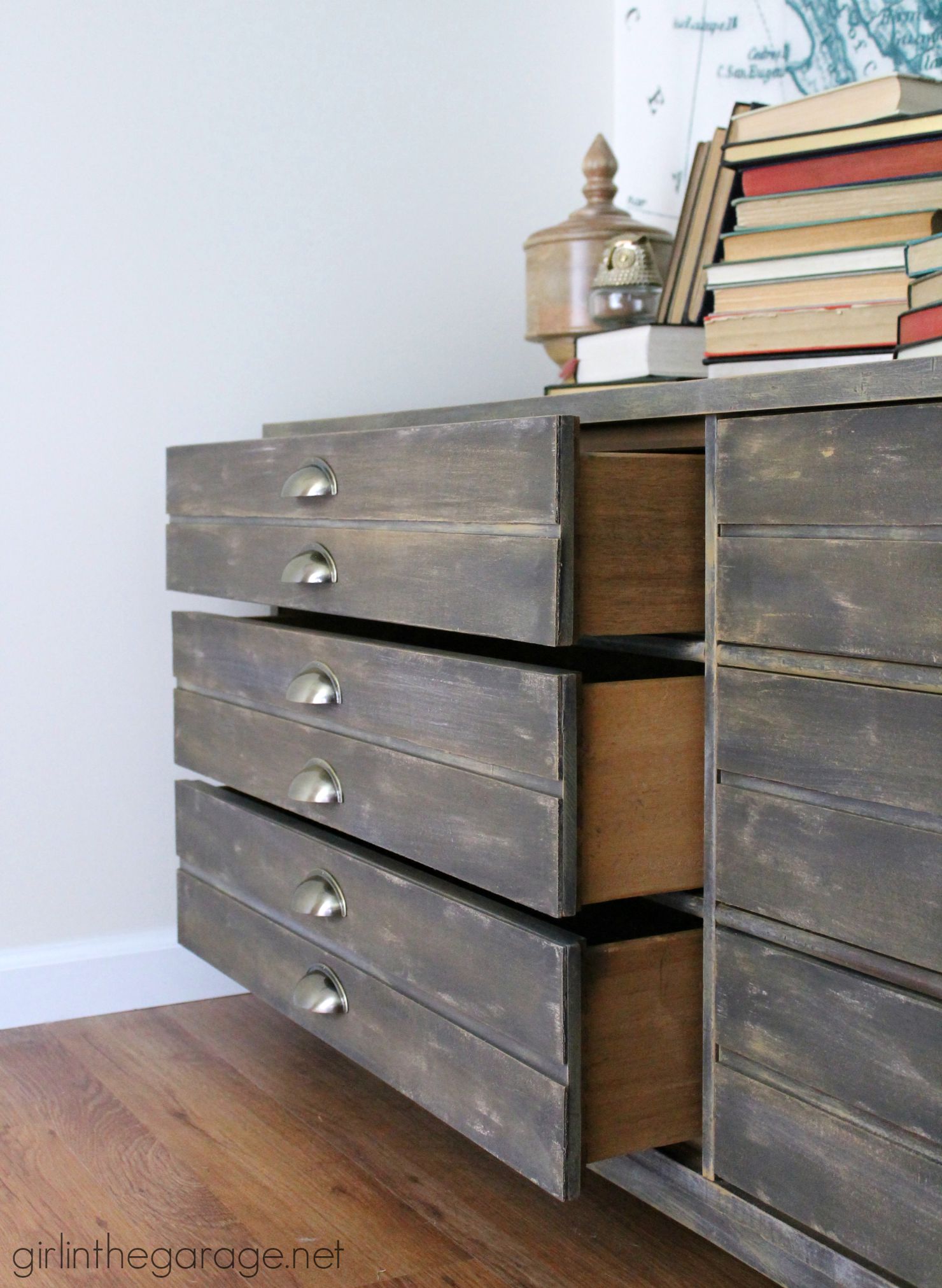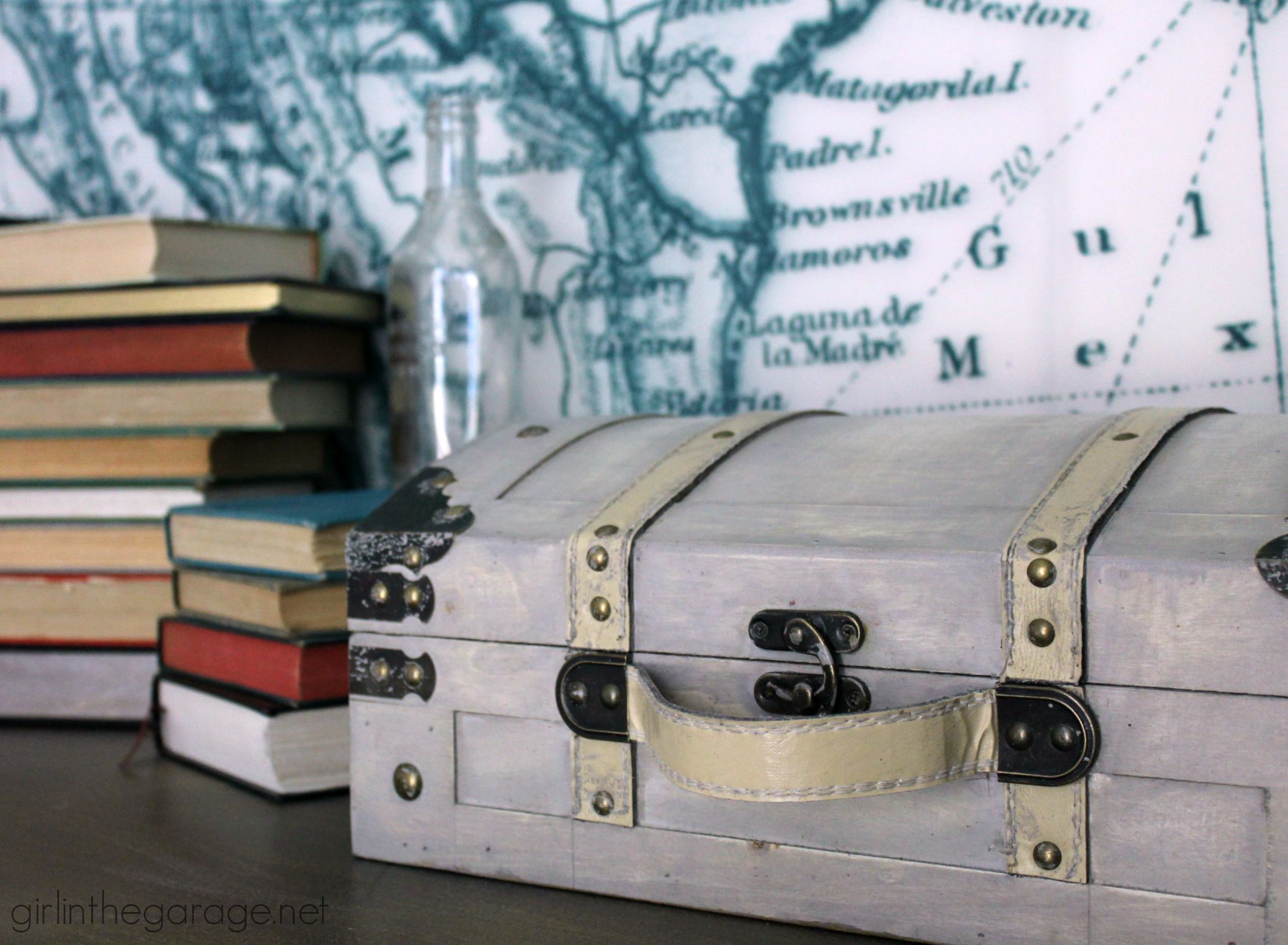 Someone got jealous that I was taking photos and not giving her any attention. FYI Abby is doing great – she's still doing chemo for her lymphoma but she's in remission now. <3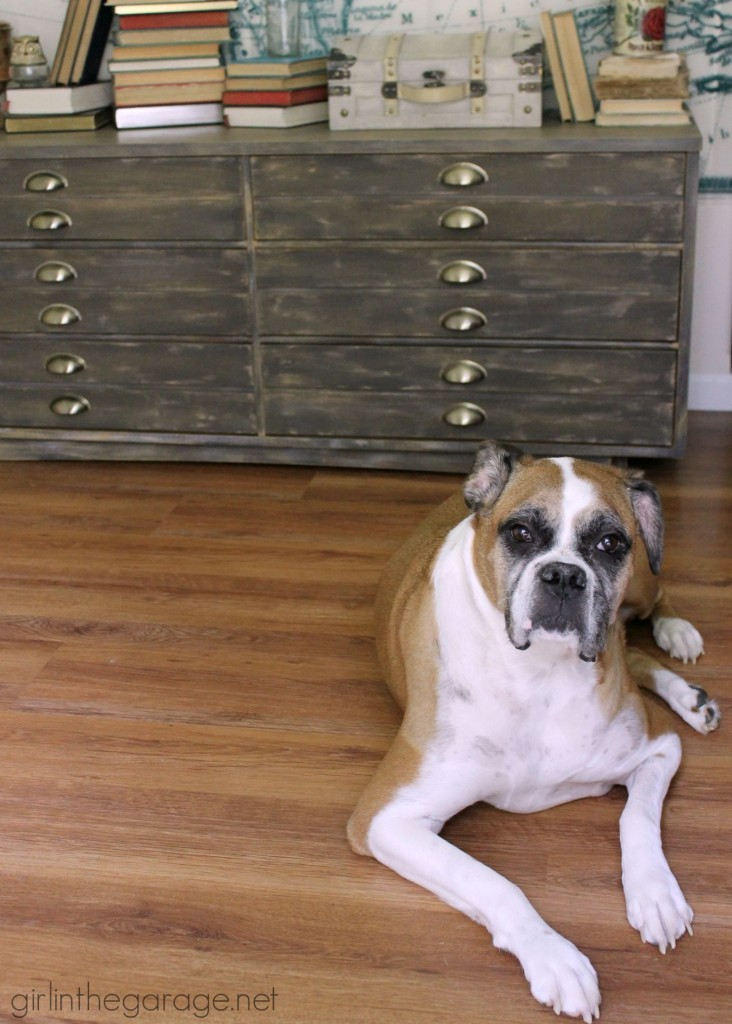 Here's a handy before/after graphic if you'd like to Pin it for easy reference later: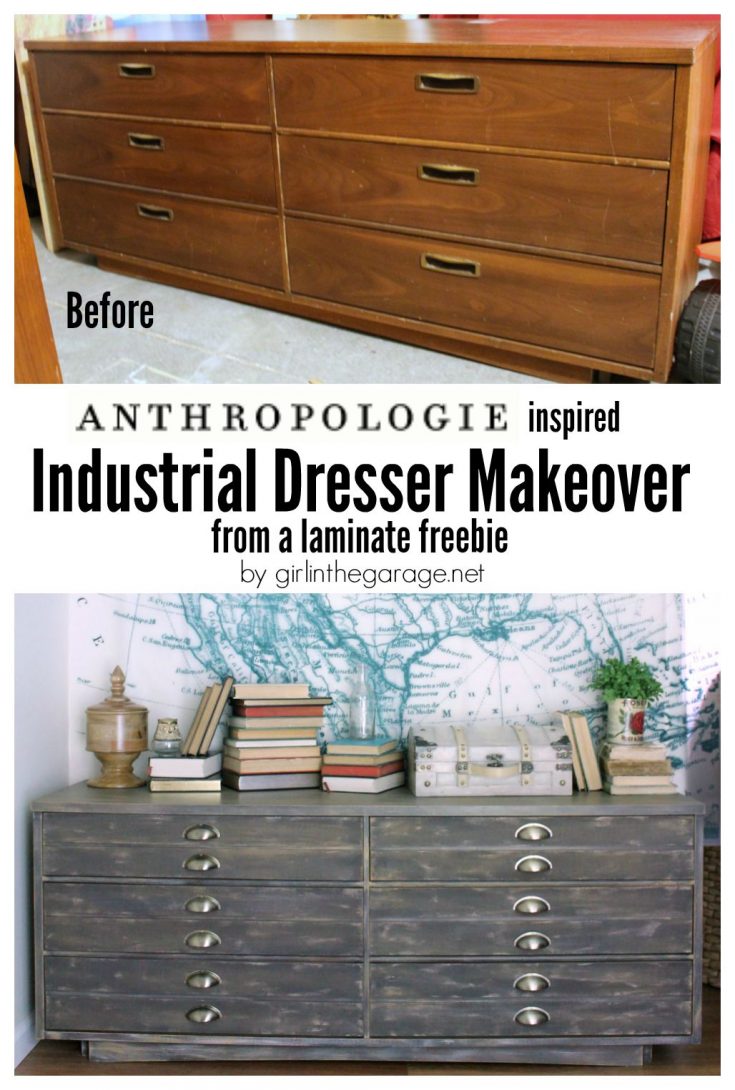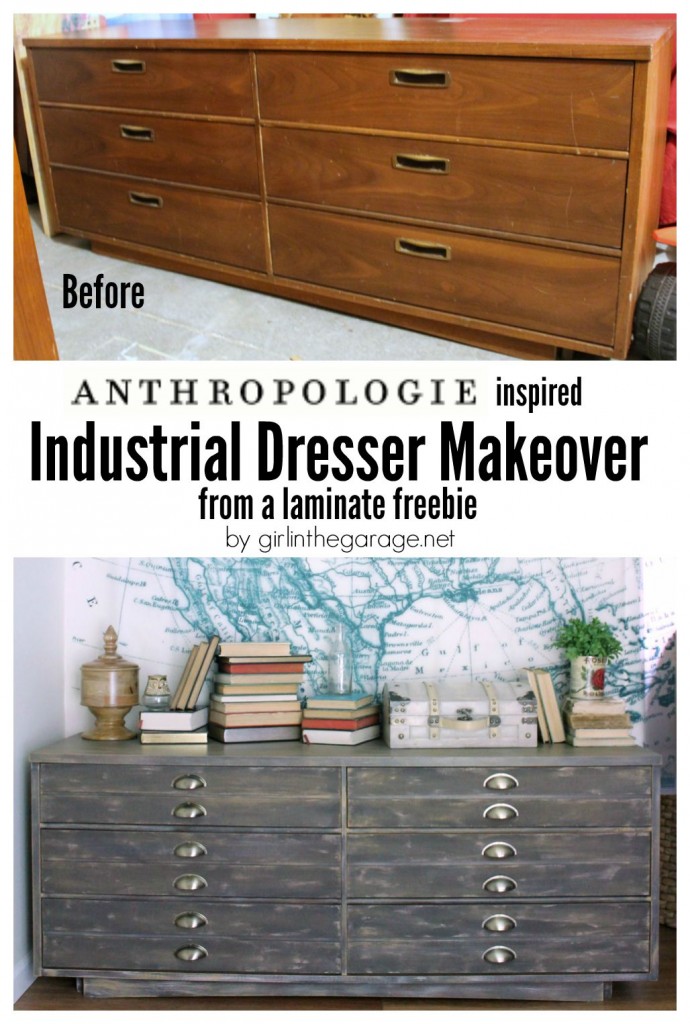 Thanks so much for visiting with me today! I hope you've been inspired by my industrial dresser makeover. It can be used in a bedroom, in an office as a credenza, a foyer, etc. It will be going to my booth as soon as I wax it.
Disclosure: I did receive free hardware for this project. In no way does that affect my opinion of the product.
– Jen
Next up: Visit my friends' projects below!