Hey guys!  Thank you so much for all the sweet comments when I made my announcement earlier this week.  🙂   I have an update but I'll save that for the end of this post.
I've still been working on projects, and have several upcoming posts for next week – an interview for Porch.com, Themed Furniture Makeover Day, and a fun project with supplies from Lowe's.
Here's a Before photo for my Themed Furniture Makeover Day project:
I started working on these night stands a few months ago and I'm finally (FINALLY!) nearing the finish line.  They look completely different now!  I'll post the full reveal on Thursday.
Here's a hint at the Lowe's project I'm working on… curious now??
Lastly, I had another ultrasound and doctor appointment yesterday, and it was confirmed that I'm at risk for preterm labor.  I'm not super high risk – so no bedrest or anything, but we're waiting on more test results and I have to go back every 2 weeks for monitoring.  The baby looks perfectly healthy on the ultrasounds, but my body is doing some weird stuff.  I still have 3+ months to go, so I just have to keep doing whatever I can to make sure our little cutie stays in there as long as possible!
Ok, one more thing –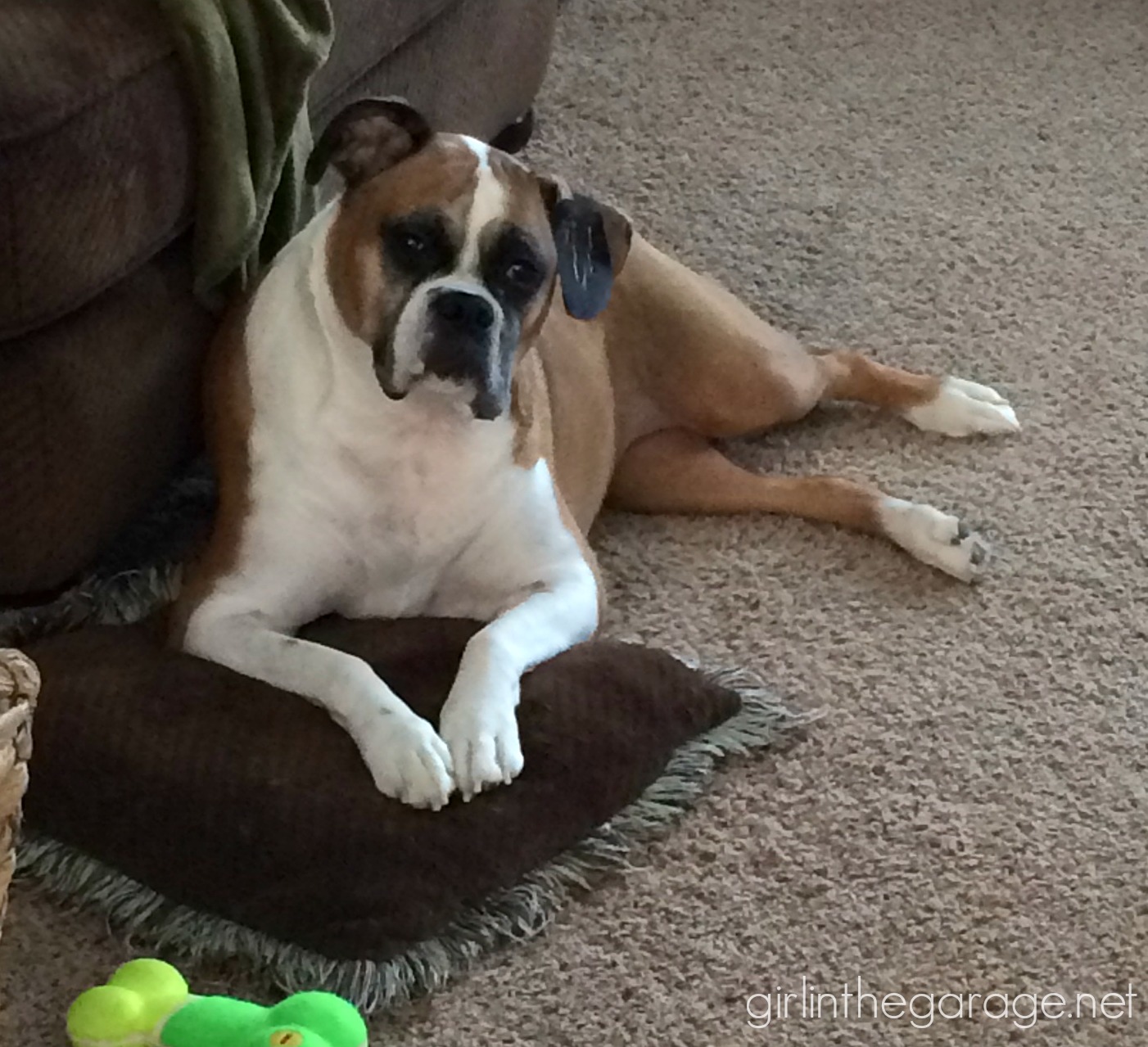 If you don't mind, please remember our sweet boxer Abby in your thoughts/prayers also.  She turned 8 years old last month, and a couple weeks ago my husband noticed lumps in her neck (enlarged lymph nodes).  She had a biopsy, and she was diagnosed with lymphoma.  Yesterday my husband took her to a specialist an hour and a half away and she had more tests and her first round of chemo.  The specialist says she seems to be doing pretty well given the circumstances.  She's a brave girl and an important part of our family!
The next few months might be a little rough, but we will get through this.  Thanks so much for your patience, prayers, and support.  <3
Jen
Join the GITG Community
When you join this thriving online community of 90,000 creative souls, you'll be inspired to discover hidden artistic talents and learn skills to boldly face DIY projects with confidence.
You'll also receive my free guide "Just Paint It: 7 Tips for Transforming Furniture with Confidence."