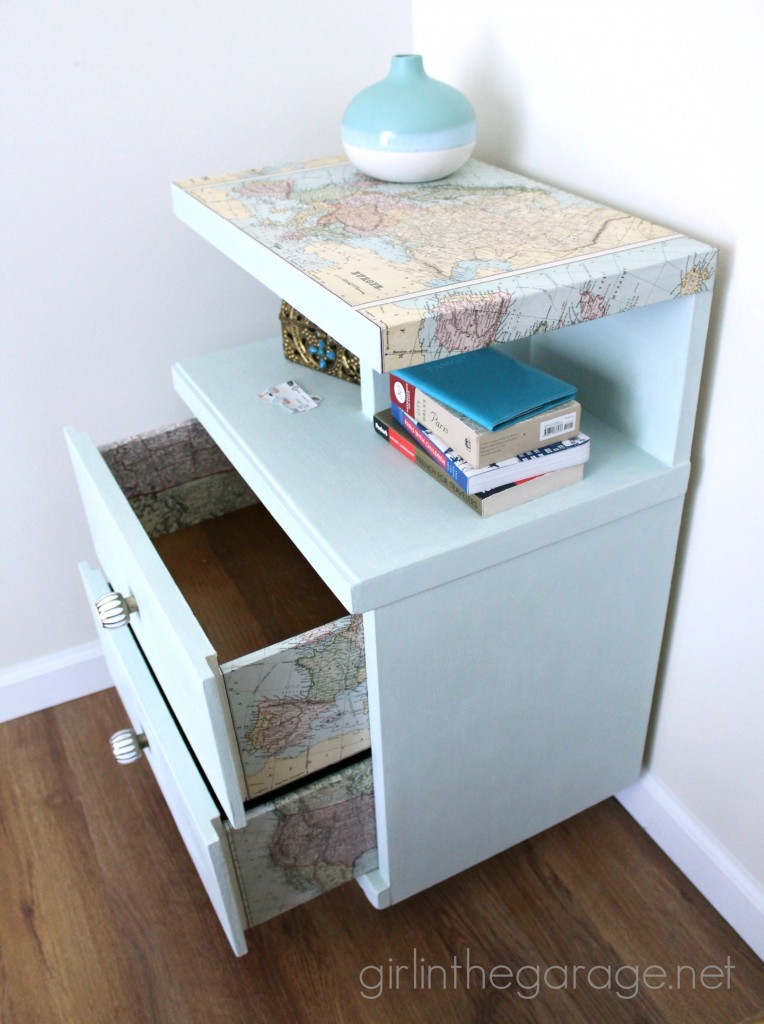 Hi guys!  Today is themed furniture makeover day- one of my favorite days every month.  If you're not familiar with it, some of my blogging BFF's and I choose a different theme each month and then we all create a new furniture makeover and post it on the same day.  We don't even know what projects everyone else is doing until that morning, so it's pretty fun and a little mysterious too.  😉  (You can see all my TFMD posts since January by clicking HERE.)
June's theme is Travel… which I've been really excited about!  It seems like June is a popular month for vacations so this is perfect timing.  I hope you're inspired by my decoupaged map table – and check out all my friends' projects at the end of this post!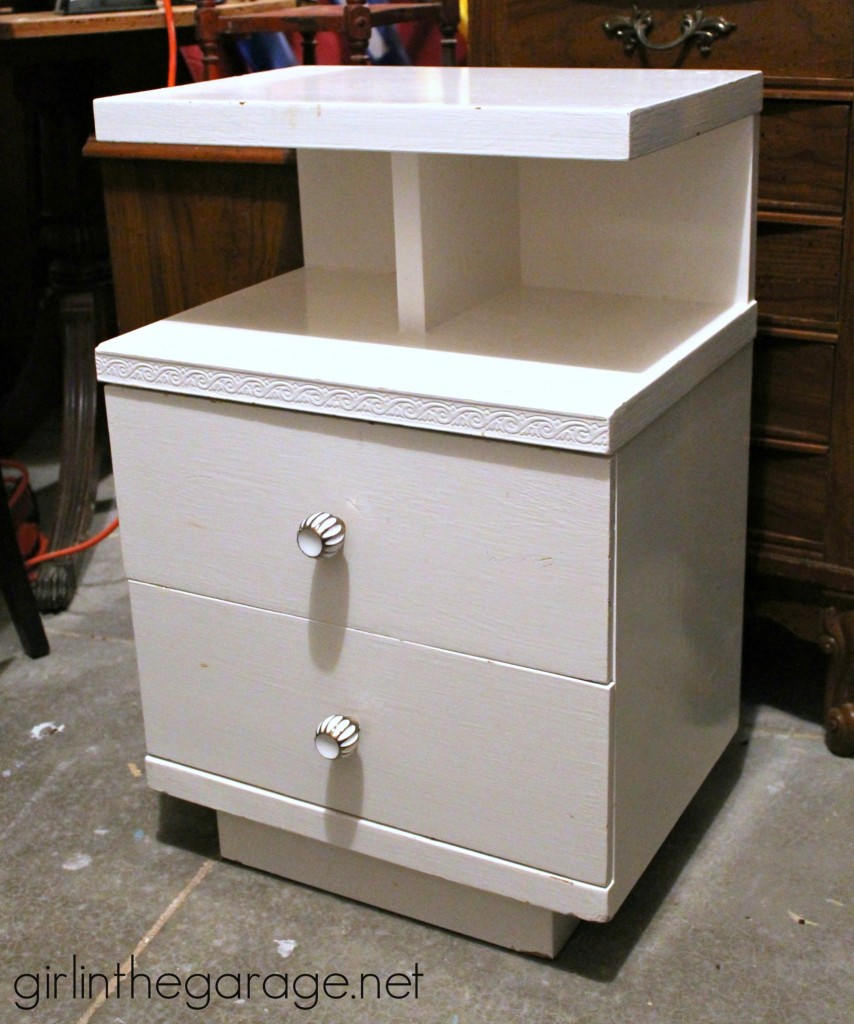 The Before was pretty basic – a cute vintage table with nice lines, cool hardware, and some unbecoming shiny latex paint.
I didn't have the paint color I wanted, so for the first time I tried mixing Chalk Paint.  (Annie Sloan totally encourages people to mix her paint colors, and she even wrote a whole book about how to do it – but I haven't read it yet and I've always been too nervous to try it!)  I poured some Old White in a clean extra can and added a little bit of Aubusson Blue.  At first it looked pretty gray and I was nervous!  But it ended up the most lovely shade of light blue.  (I shared this sneak peek the other day on Instagram- do you follow me?)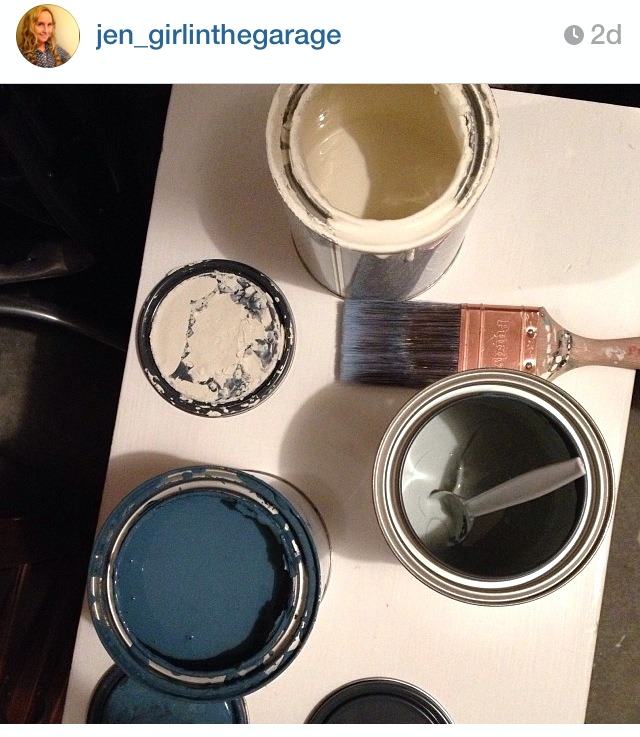 All of the painted areas got a coat of clear wax and then I used Mod Podge and map paper (specifically made for these kinds of projects) to decoupage the top of the table and the drawer sides.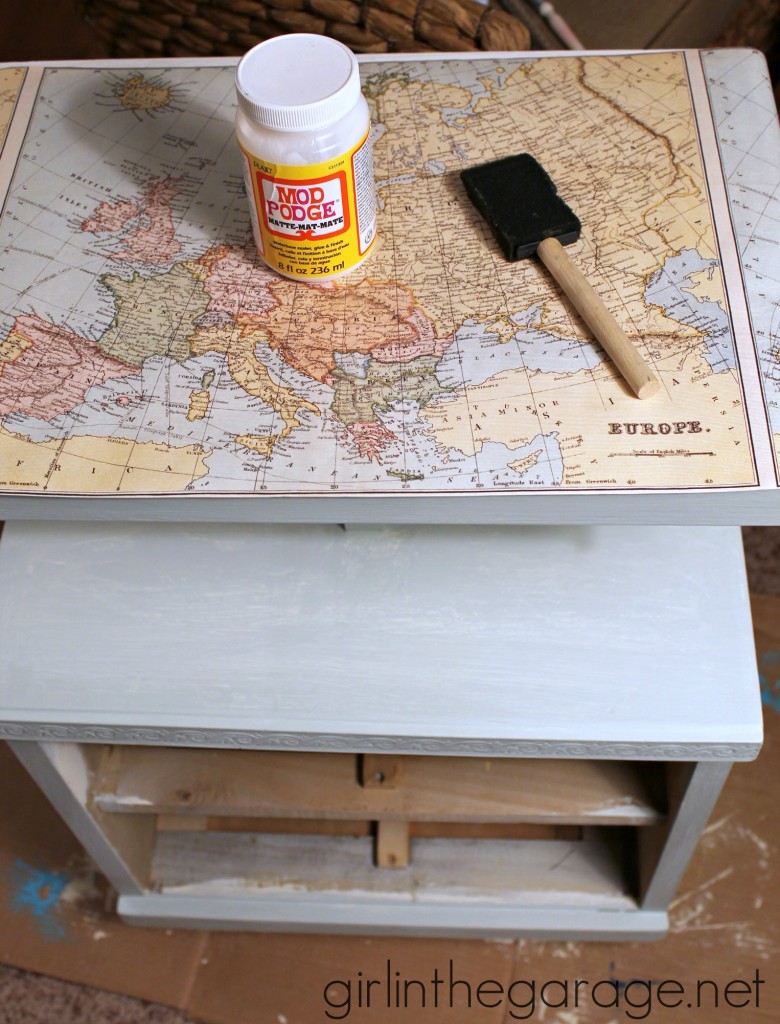 When applying Mod Podge, be sure to take your time and don't use too much glue.  Thin layers work best.  Also apply a few light layers (allow for drying time between coats) over the paper to protect and harden it.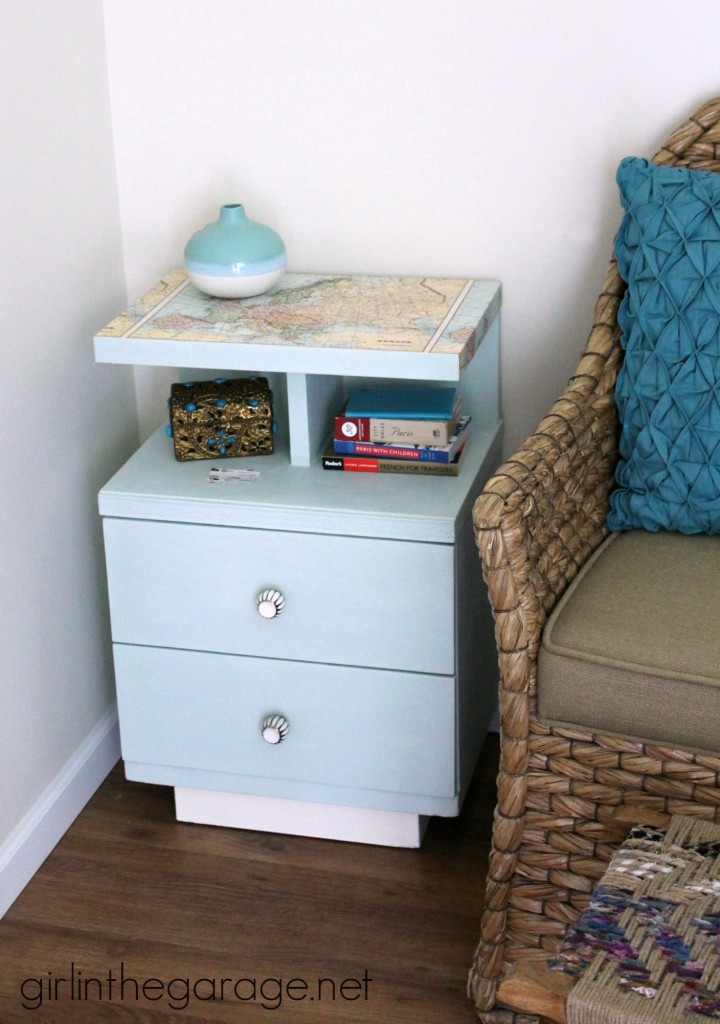 Here's a closeup of the drawers: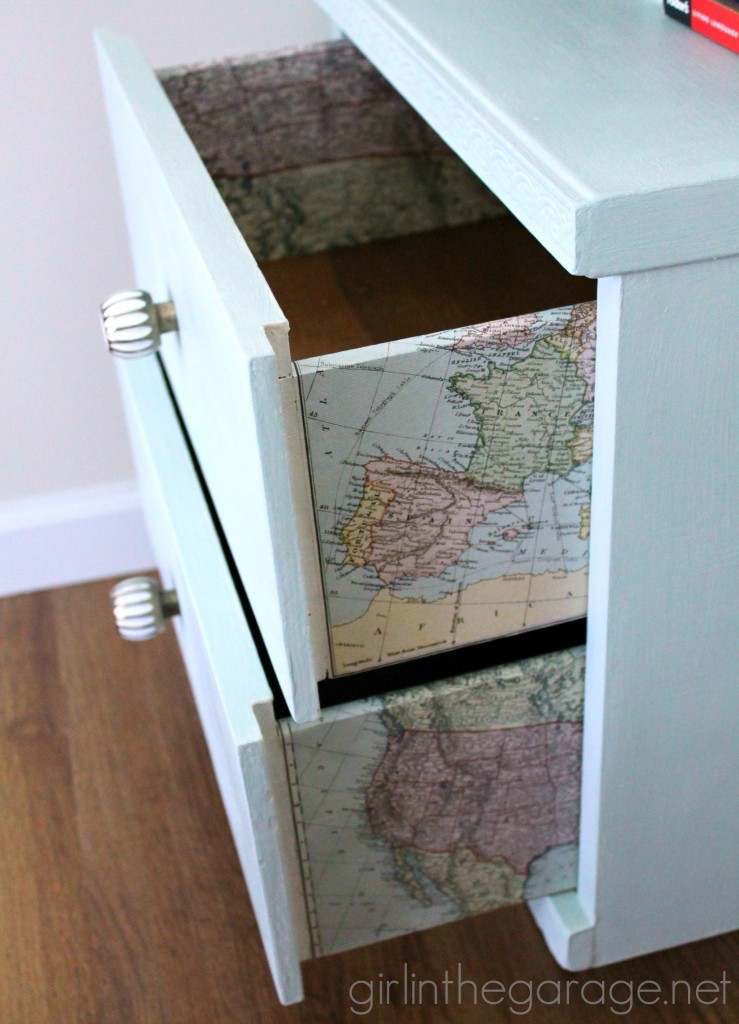 I love the hardware but I'm not sure they're right for this piece anymore.  What do you think – keep these on, or replace with clear glass or white knobs?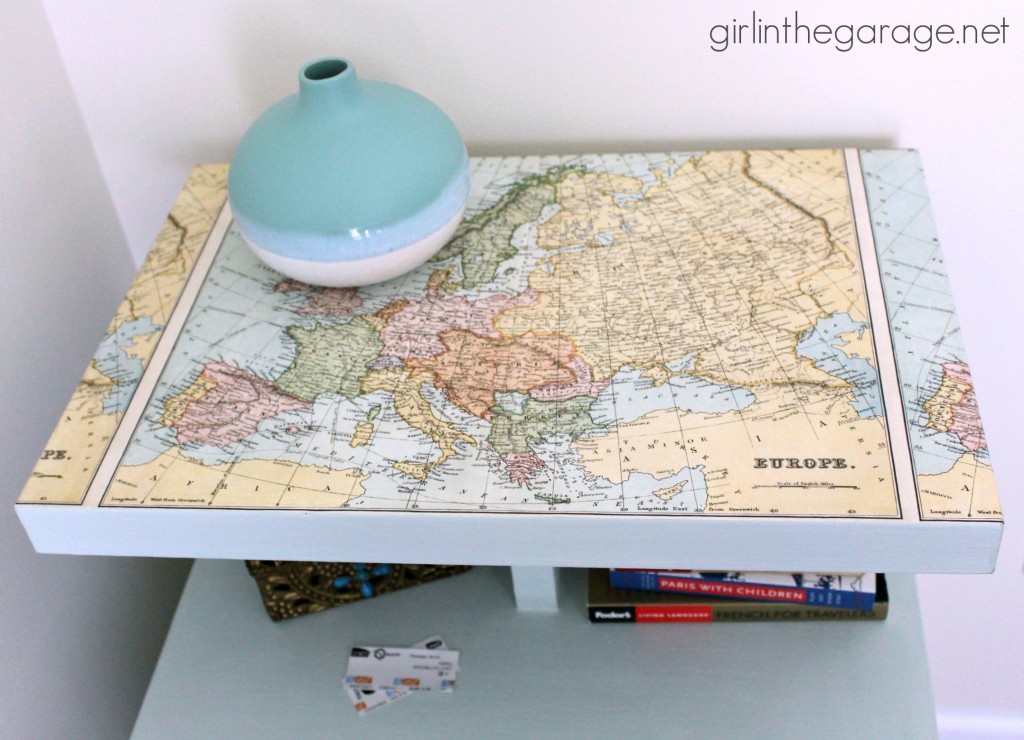 Any traveller must have a passport and guidebooks for their destination…  (p.s. You can read about my Paris vacation HERE.)
And mementos from favorite places!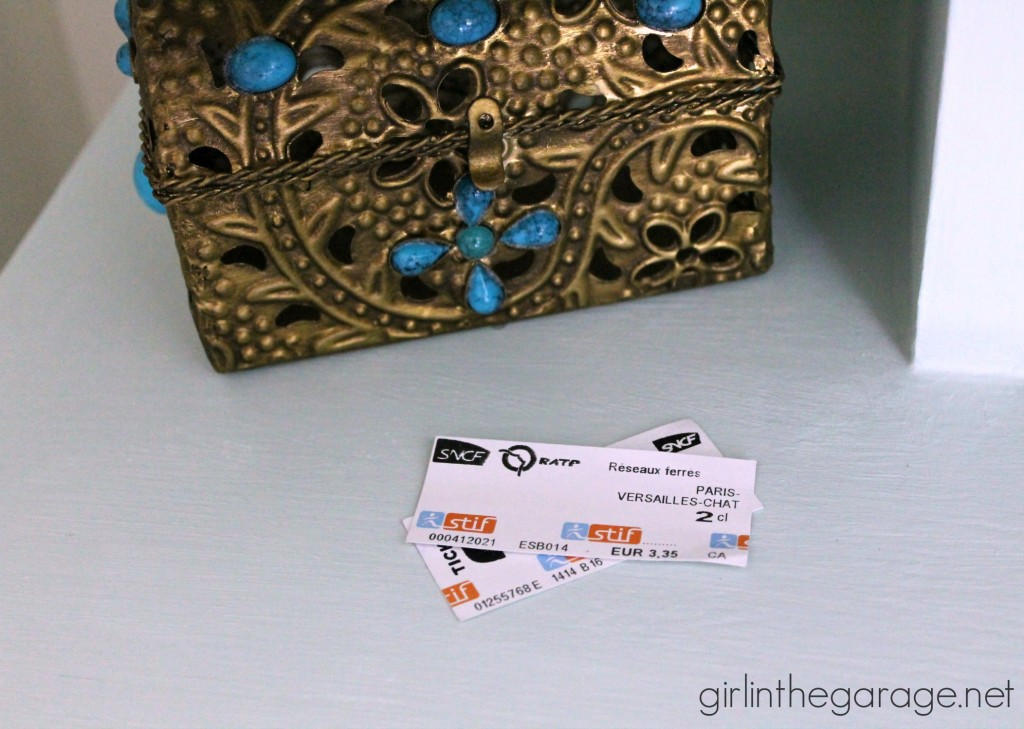 Thanks so much for visiting today!
Let me know what you think by leaving a comment below and also please check out my friends' projects below.
Jen
Other Popular Posts:
* Easy Patriotic Bandana Wreath
* Seeing Stars: Patriotic Mobile