Folks, this is going to be a photo-filled post.  If you missed the first part of our Paris trip, you can go read it now if you'd like.  I had to split up the recap because there are so many photos!
After walking through Montmartre, we reached Sacre Coeur at the top of the hill.  It's a stunning basilica about 100 years old, and it's made of travertine stone that constantly exudes calcite- which keeps the structure white at all times. (Source: Wikipedia)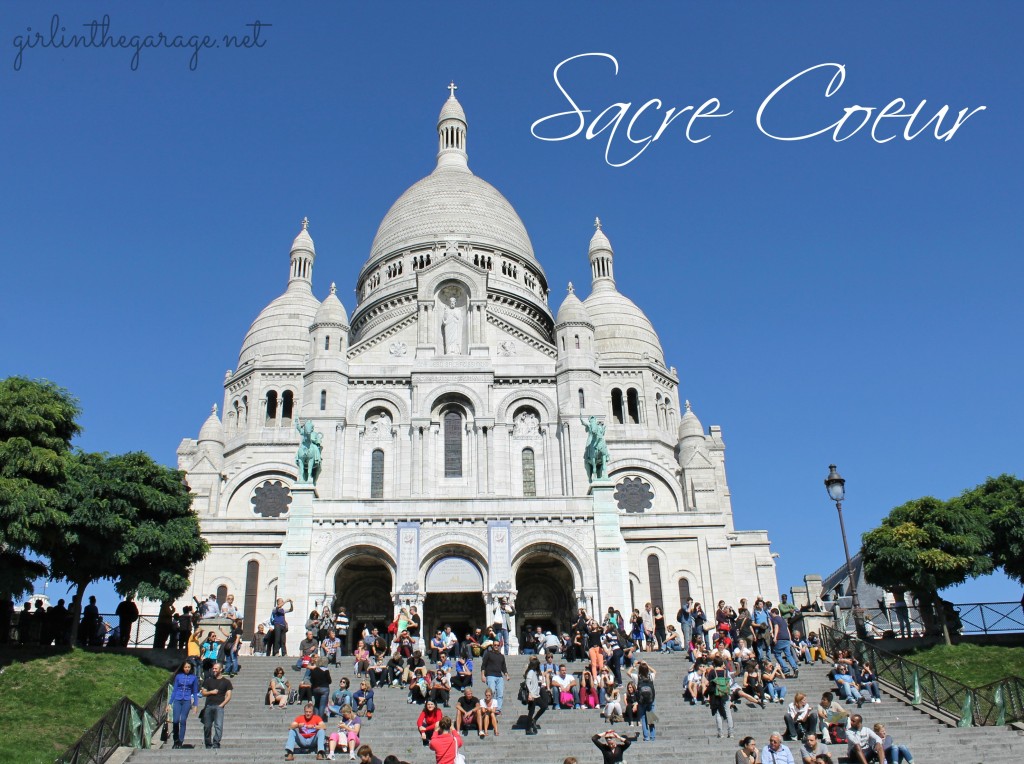 There are hundreds of stairs and a few platforms in front of the basilica which offer breathtaking views of Paris.  On this platform there was a harpist and also some vendors selling souvenirs on the ground.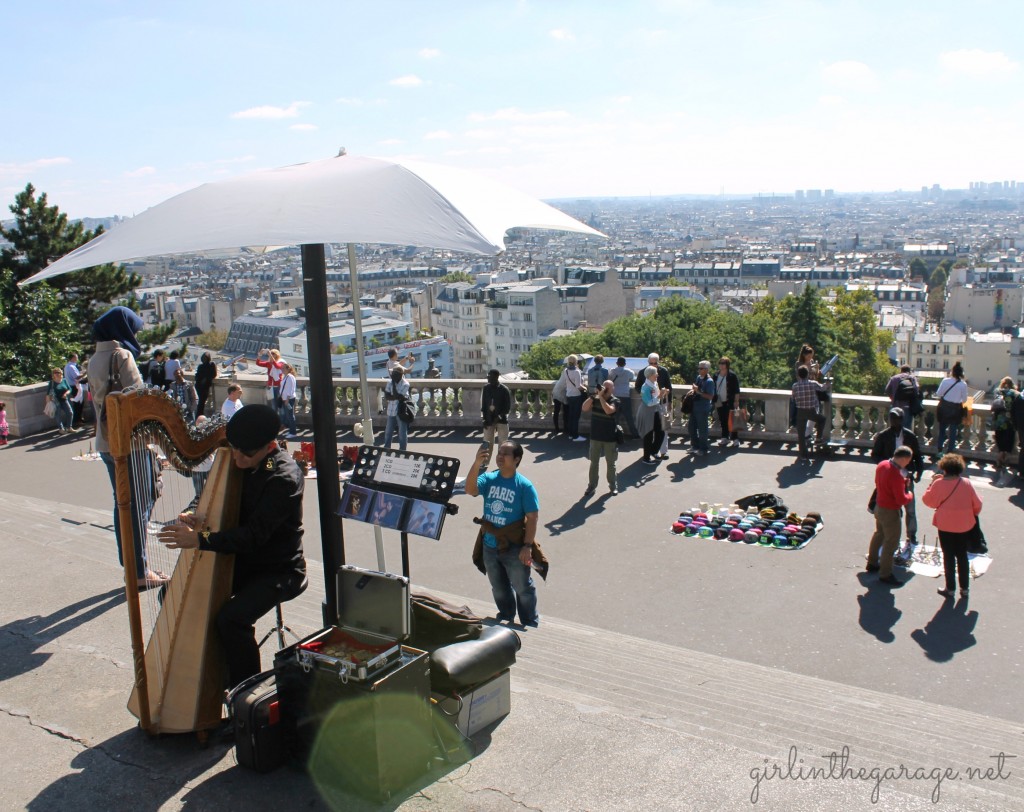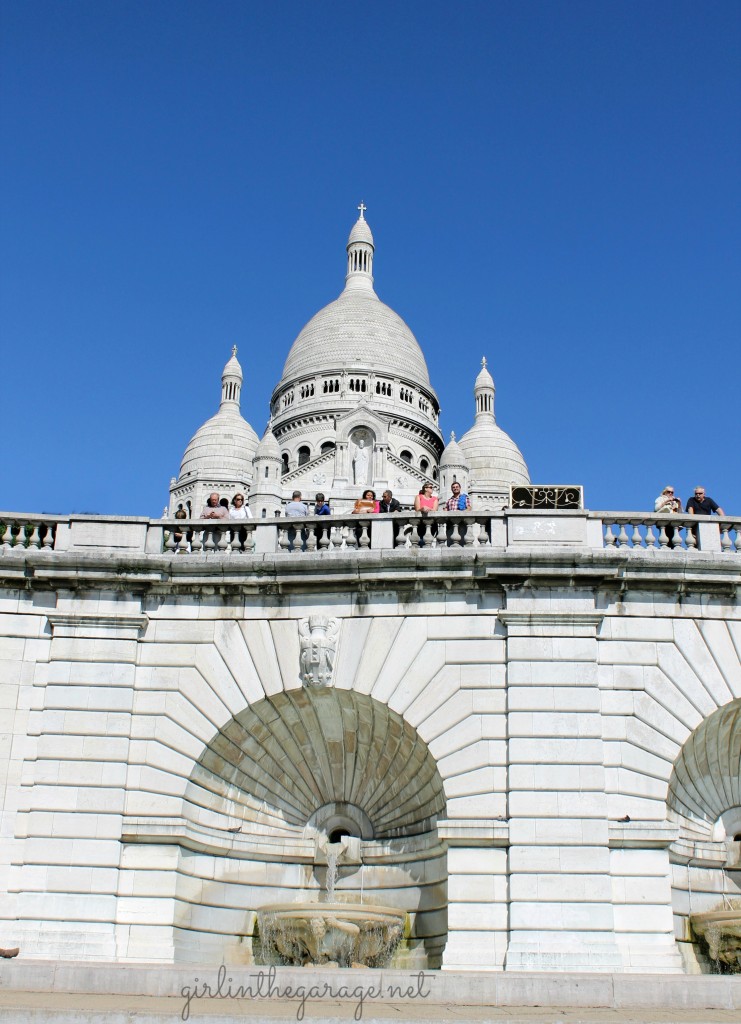 At the bottom there is a carousel and a place to rest your feet after all those stairs!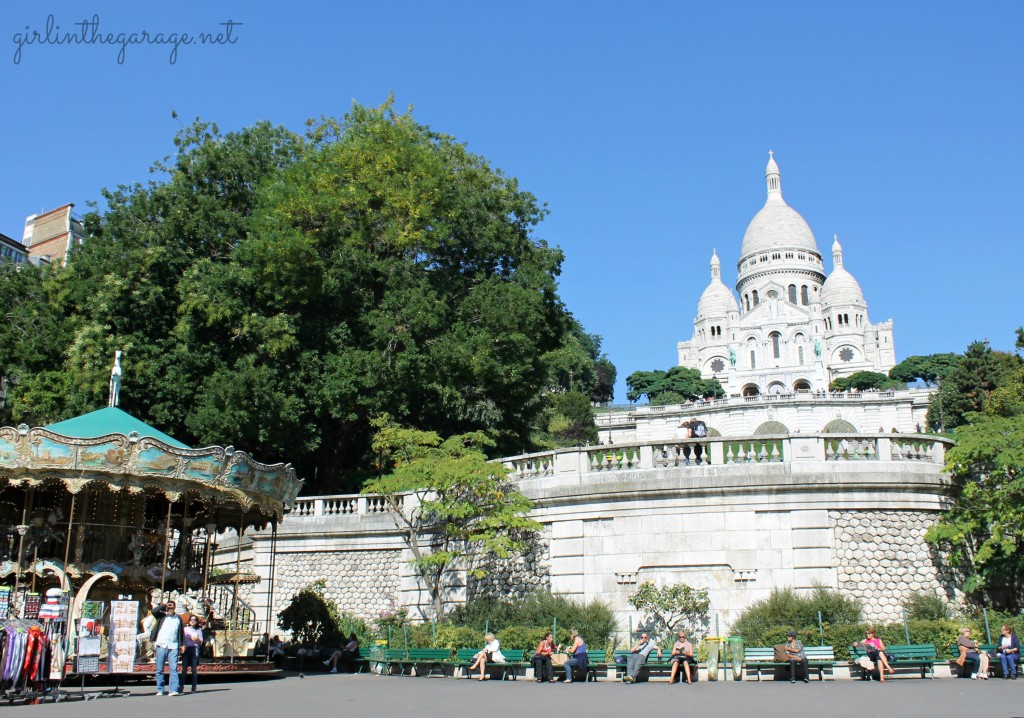 After visiting Sacre Coeur we had to head back quickly to make it for our Eiffel Tower appointment.  When we visited 5 years ago we didn't go up into the Eiffel Tower (but we did go to the top of the Arc de Triomphe) so I was really looking forward to it this time.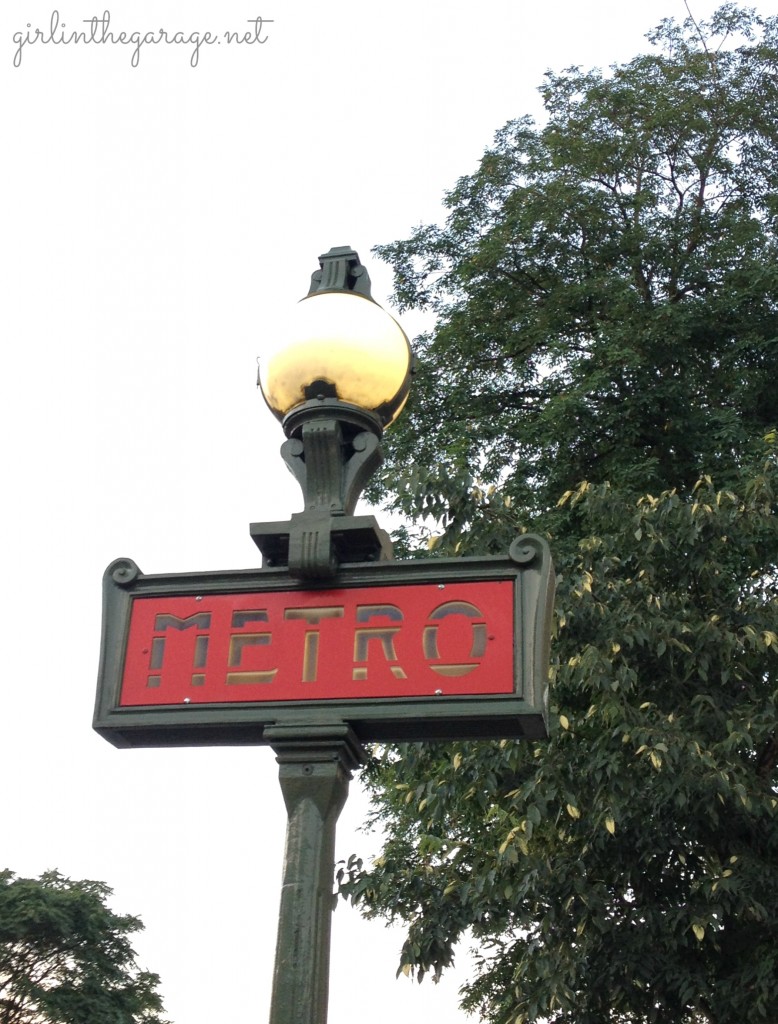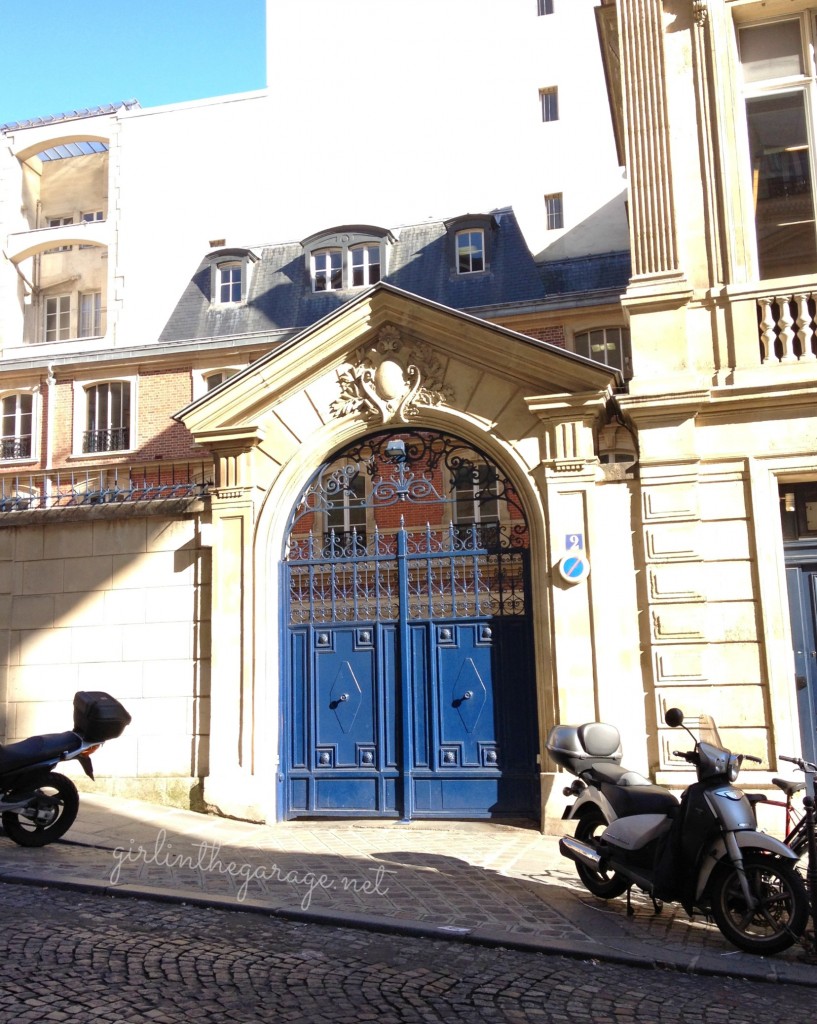 Ahhh, the Eiffel Tower.  A place I dreamt of visiting for so many years and I'm lucky to have been there twice now!  It's so amazing in person that I don't think pictures even do it justice.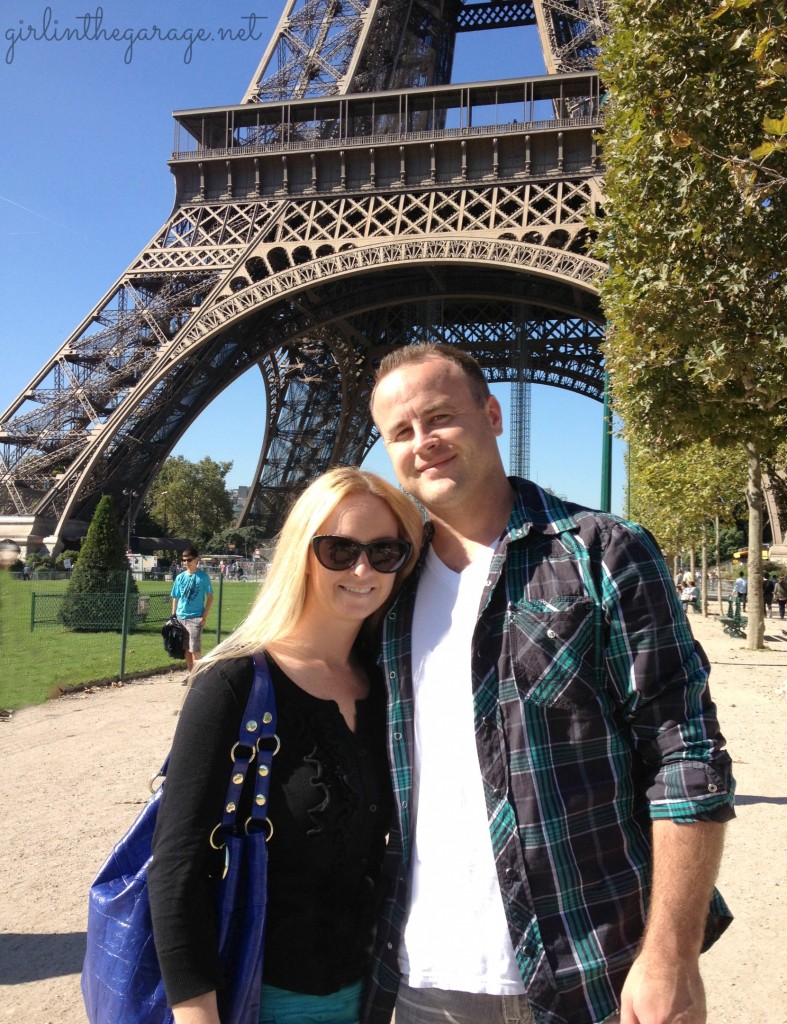 We bought tickets to visit the 2nd level by elevator- the 1st level is under renovation and the top was already sold out for that day.  If you're planning to visit, I definitely suggest buying your tickets in advance (I purchased them the day before, and the hotel staff was nice enough to print them for me).  You can also buy tickets to walk up the stairs instead of taking the elevator- but it's a long way up!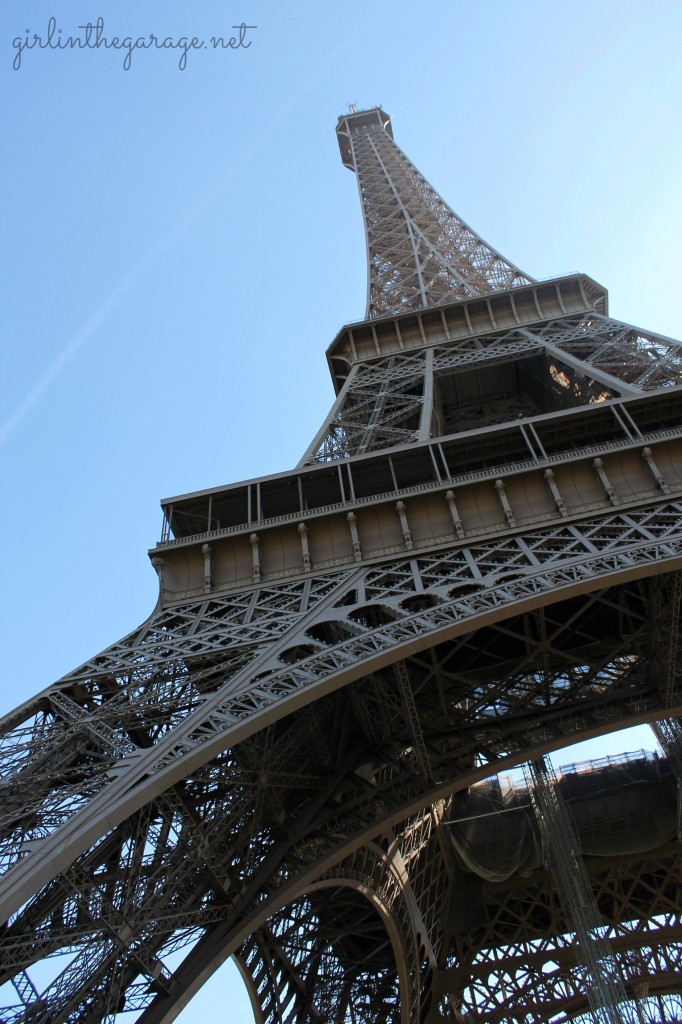 Even though we were on the 2nd level we still had amazing views of the city!  Can you spot the hot air balloon in the photo below?  And there's the Seine River of course… and students outside for gym class.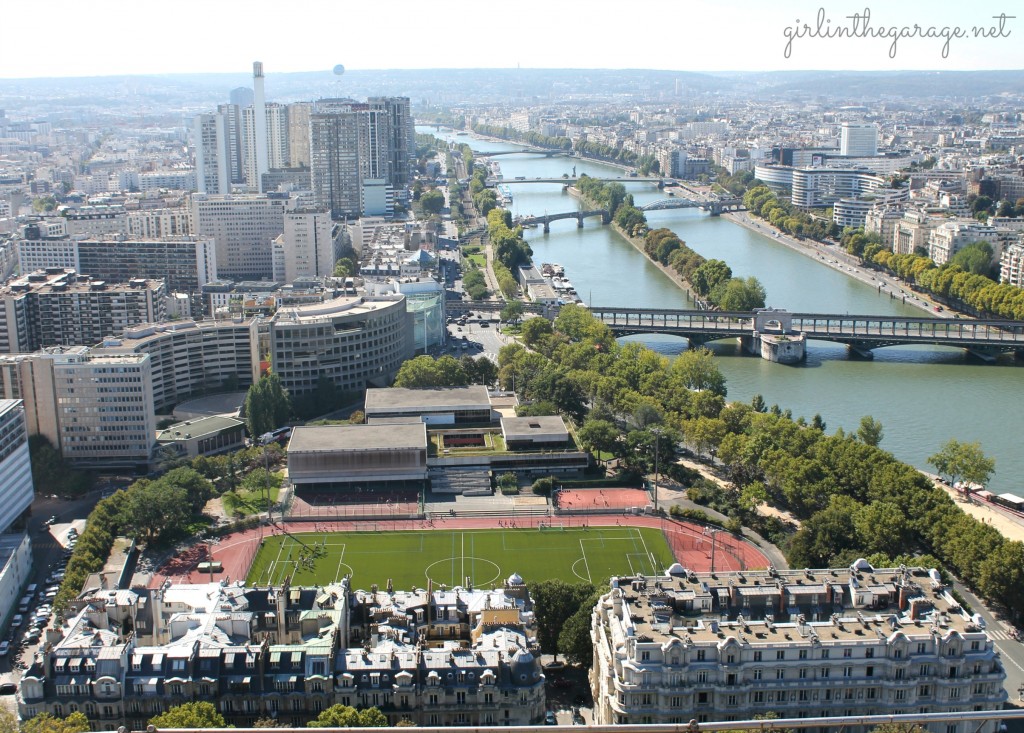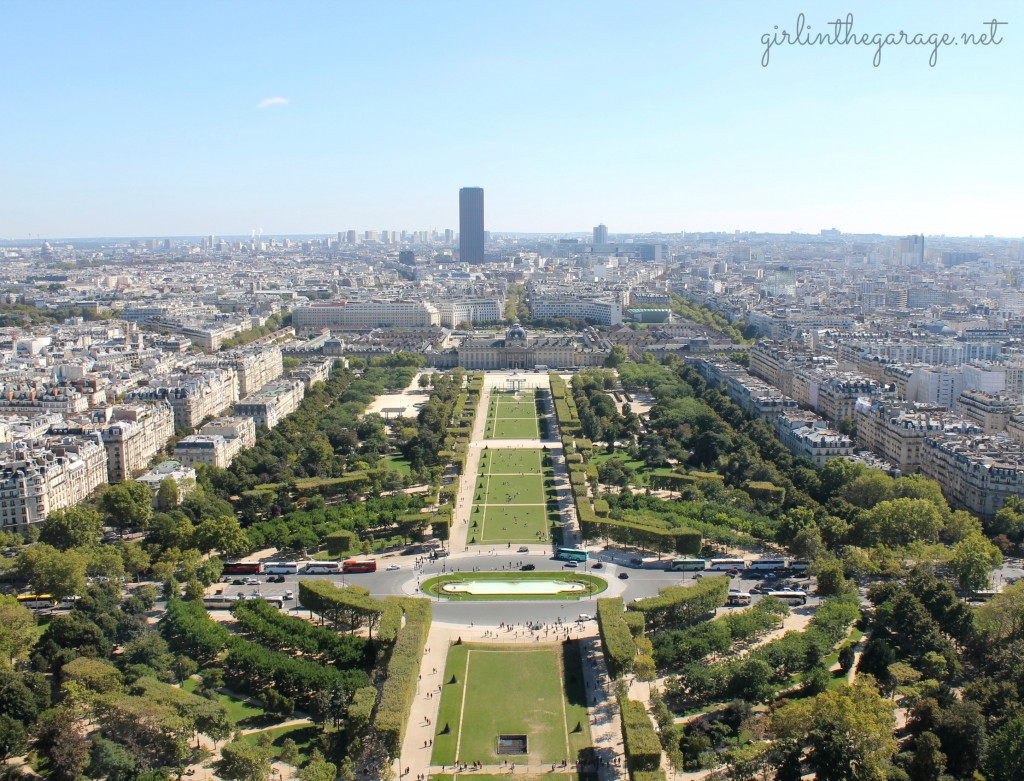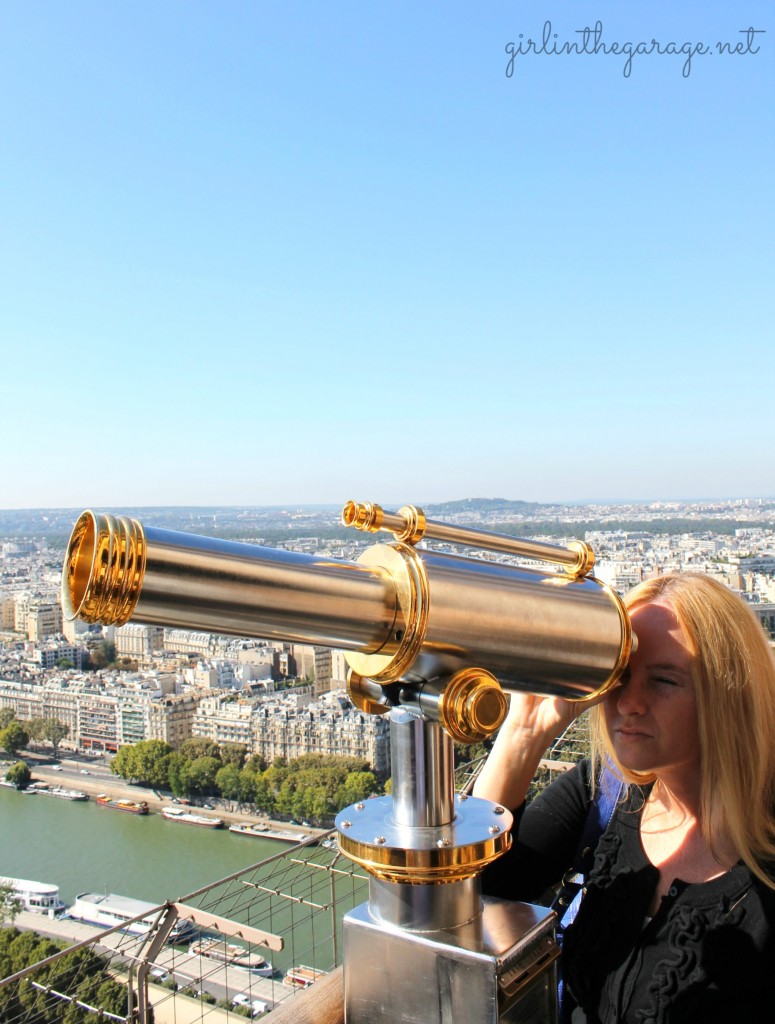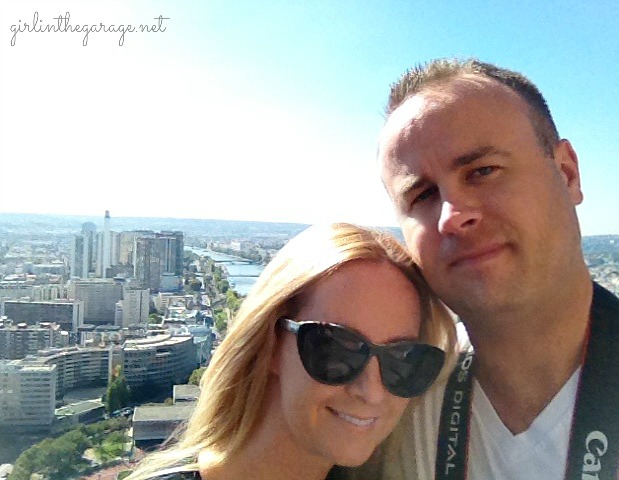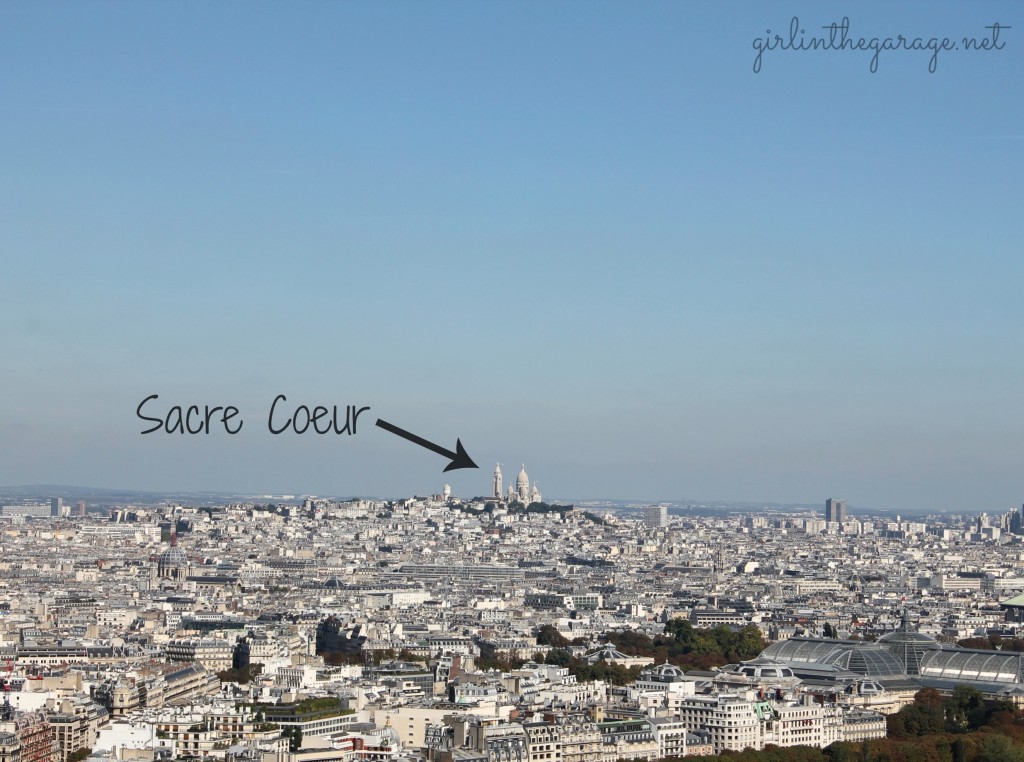 After making a few rounds around the viewing deck we headed down.  Just across the street from the tower is the Seine – next time we visit I'm going to make sure we take a long leisurely walk down along the river!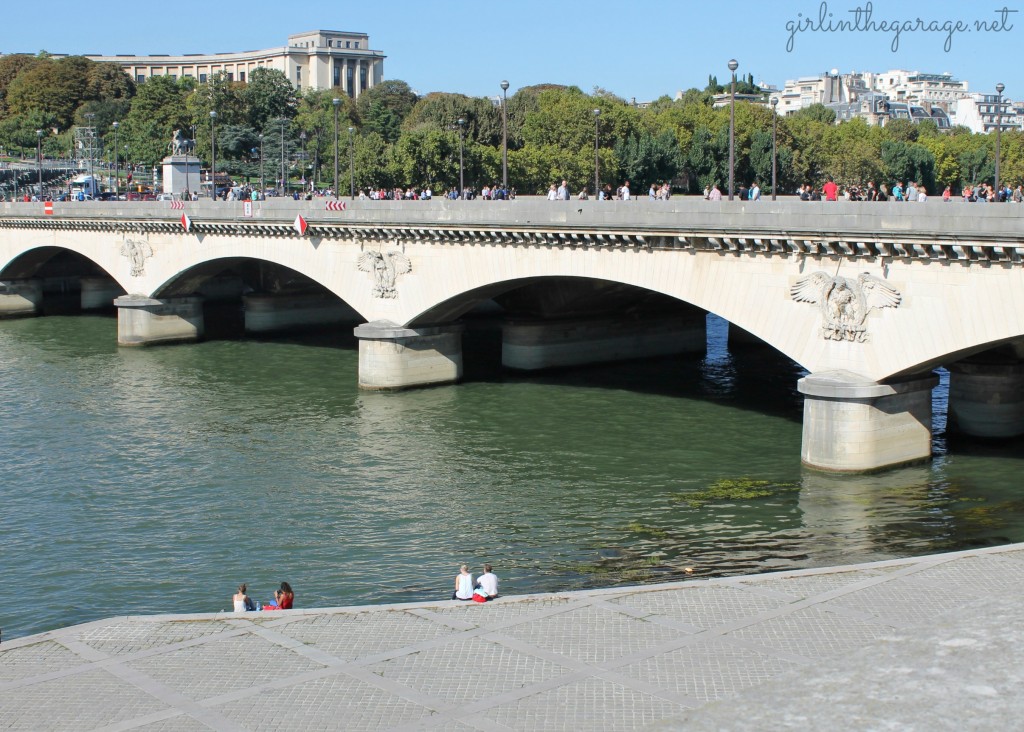 And when we turned our backs to the Seine there was a colorful vintage-looking carousel – LOVELY!  You can also spot one of the red elevators traveling through the interior of the tower.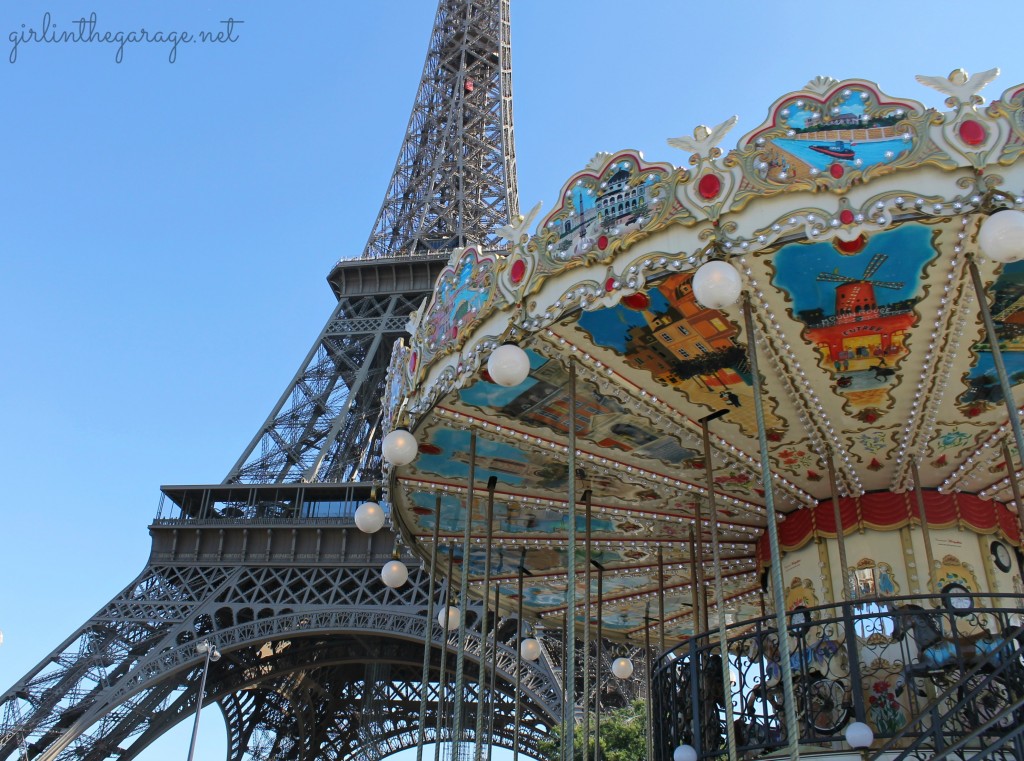 Next we took the metro to the Arc de Triomphe (we didn't stay long since we spent a while there last time).  It's probably the second-most recognizable monument in Paris and it honors those who fought and died for France in the French Revolutionary and Napoleonic Wars.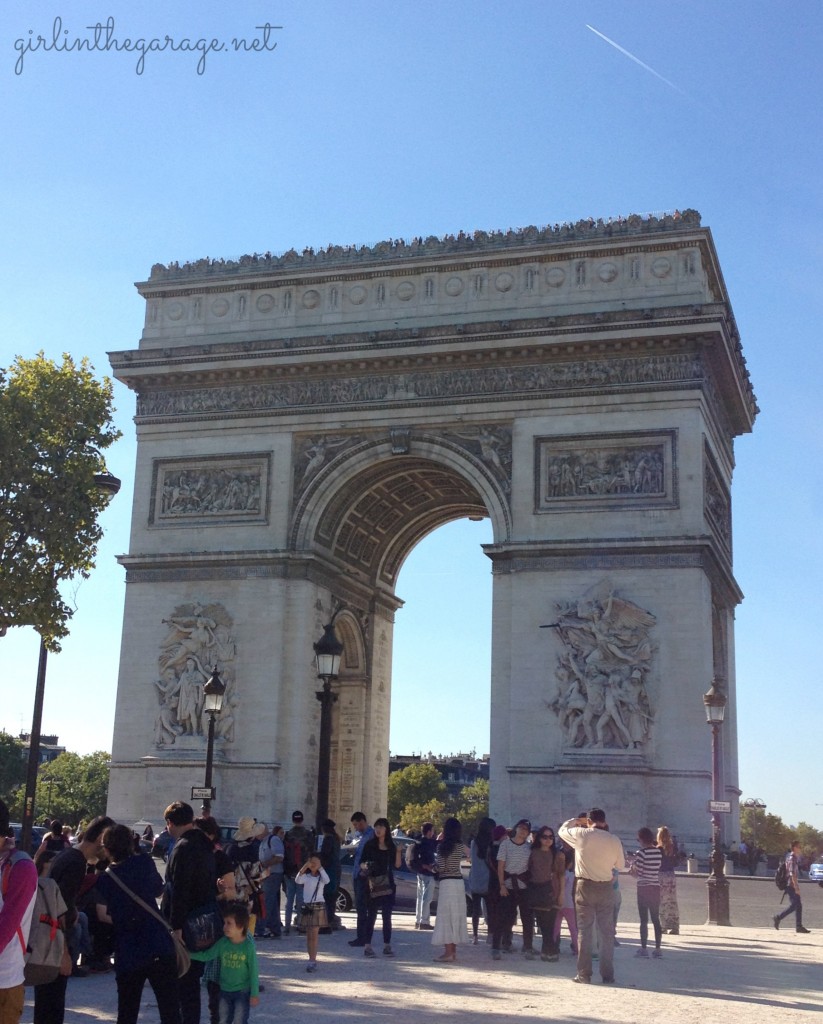 Just a few steps away is the Avenue des Champs-Elysees, filled with shopping (including many luxury retailers) and cafes – and is one of the most famous streets (and most expensive strips of real estate) in the world.  I just had to stop in the middle of this intersection to take this shot (and you can see the top of the Louis Vuitton store on the left):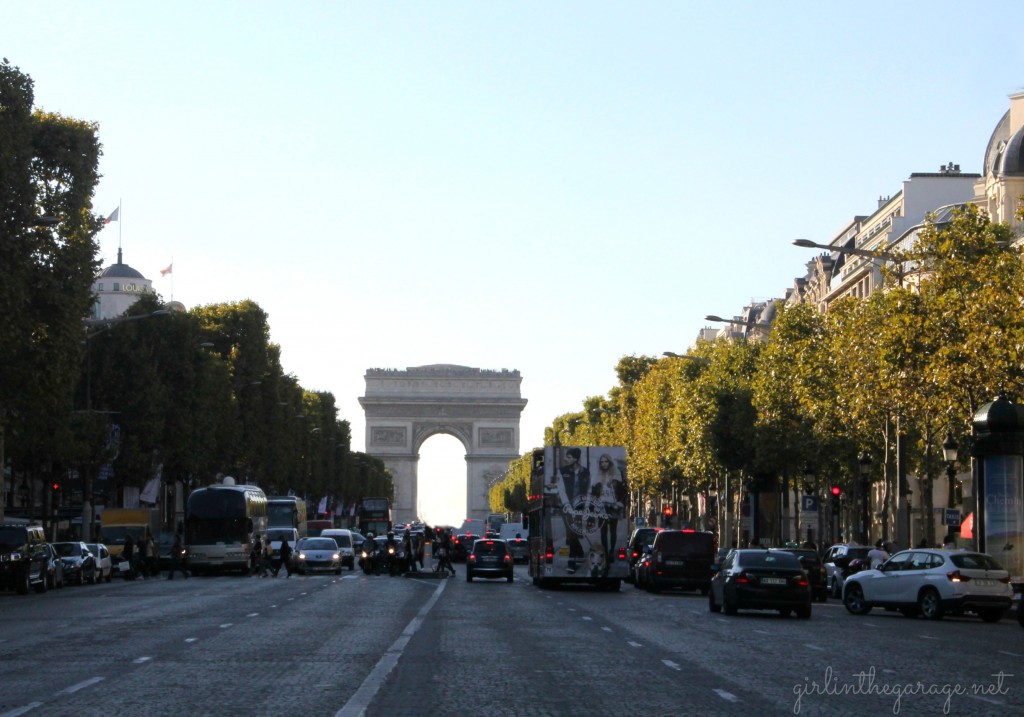 After some window shopping and dinner we went back to the Eiffel Tower.  We knew this would be our last chance to see it up close on this trip so we found a bench near the grassy common area and just sat for awhile.  There were lots of people picnicking and having a good time around us.  We were there at the perfect time because the lit tower was so gorgeous at dusk with the ombre sky behind it!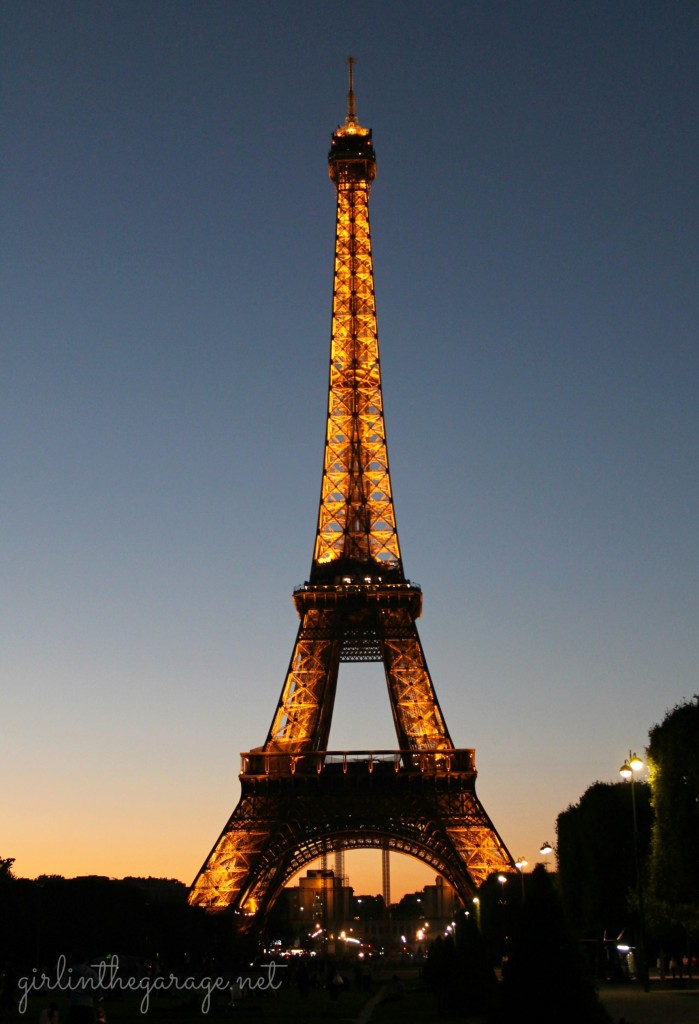 Then it got darker and at precisely 8pm hundreds of people immediately OOHED and AHHED in unison  – we looked and saw the Eiffel Tower was sparkling before our eyes like the world's biggest Christmas tree!  It was one of the most awesome things I have ever seen. My photos of it don't look great but thankfully my husband recorded some of it on his cell phone.  After 5 minutes the sparkles were gone but then a beacon started turning in the sky from the top of the tower.  It was all so magical!  You can read more about the lights on the Eiffel Tower HERE.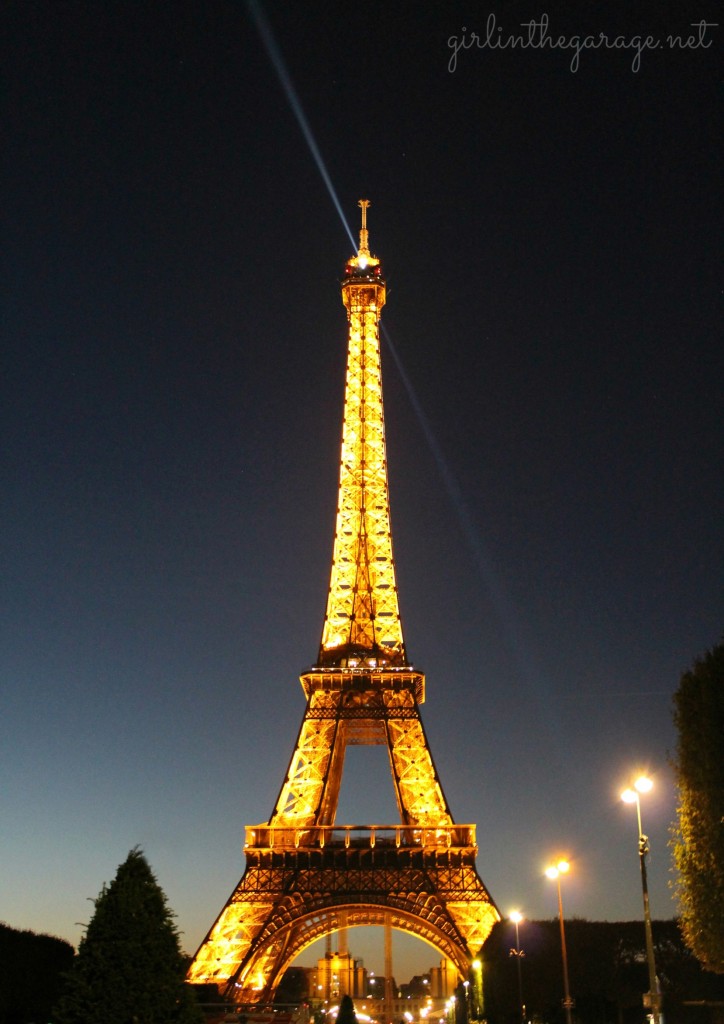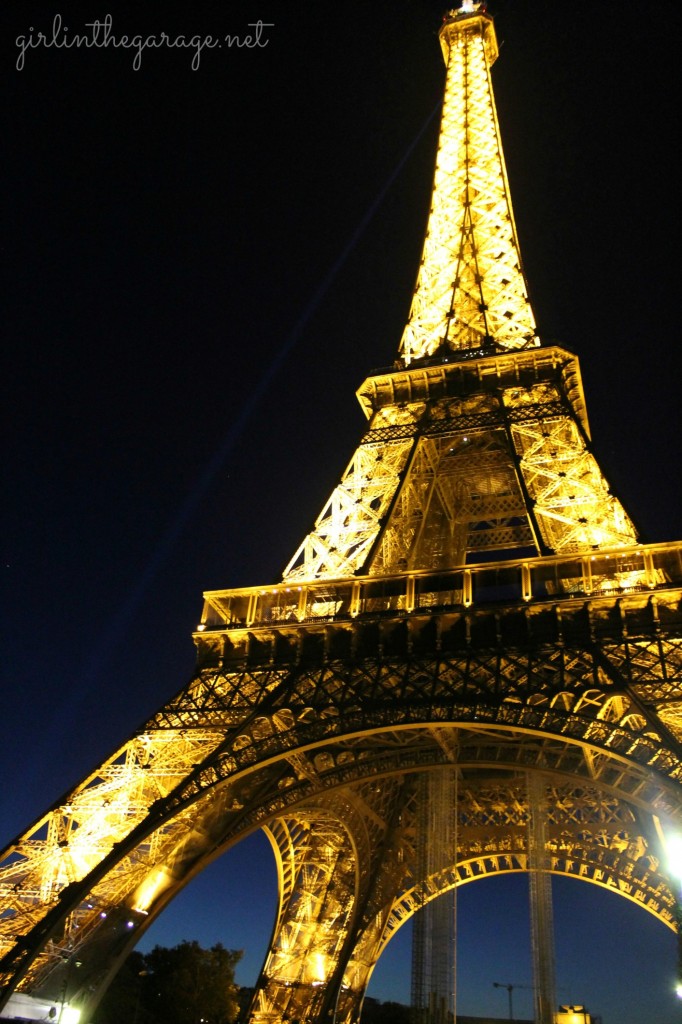 There were still long lines of people waiting to go up and see Paris at night.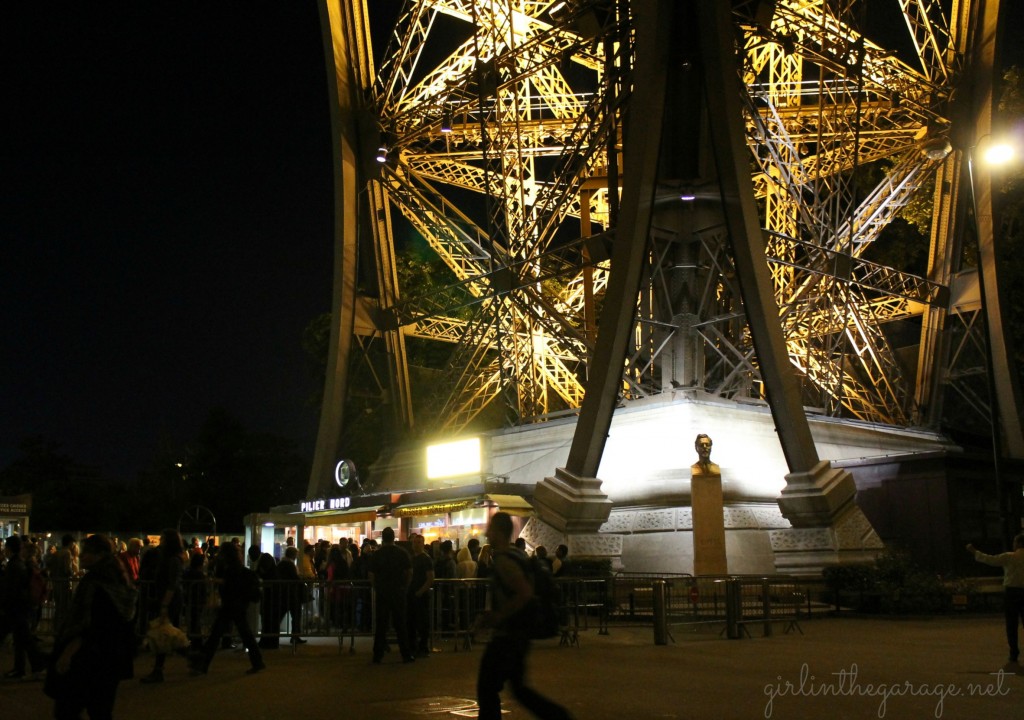 As we were leaving, hubby had a sweet tooth craving so we stopped at an ice cream vendor nearby.  😉
And this lovely cafe we passed looked straight out of the 1950's (can you see the gorgeous mural on the back wall inside?):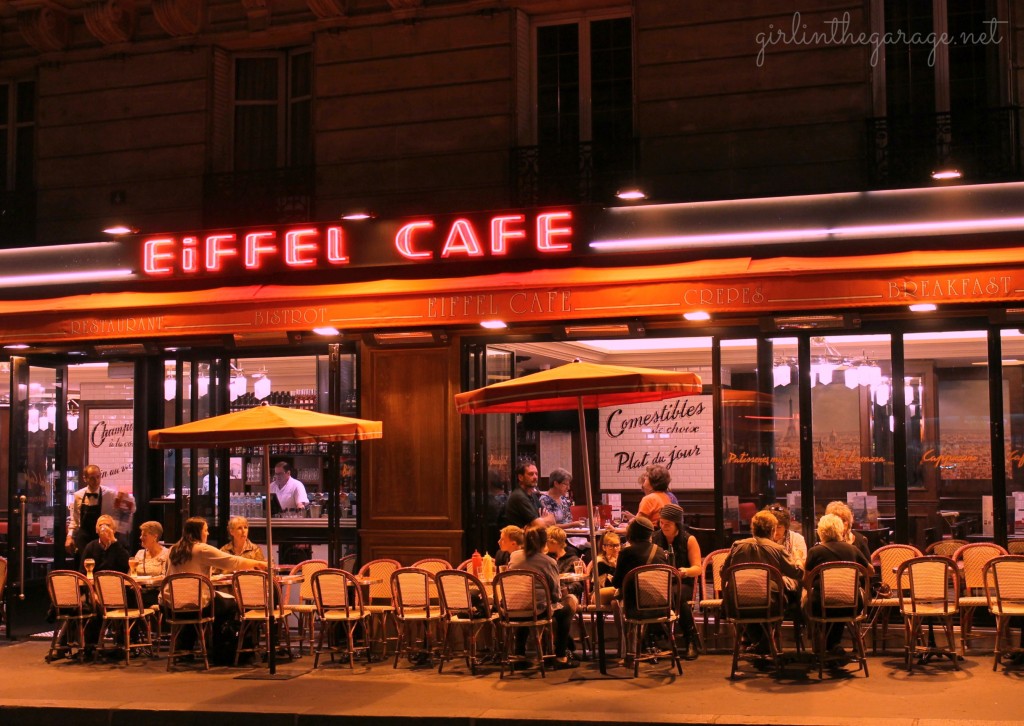 Our day was crammed full of activities and sightseeing – exactly what you'd expect to do in Paris.
It was an awesome day but we had to rest up because the next day we were heading to Versailles, one of my favorite places on the planet!
Jen
Miss my other recent vacation posts?
1.  Girl in Notting Hill: Portobello Road Market