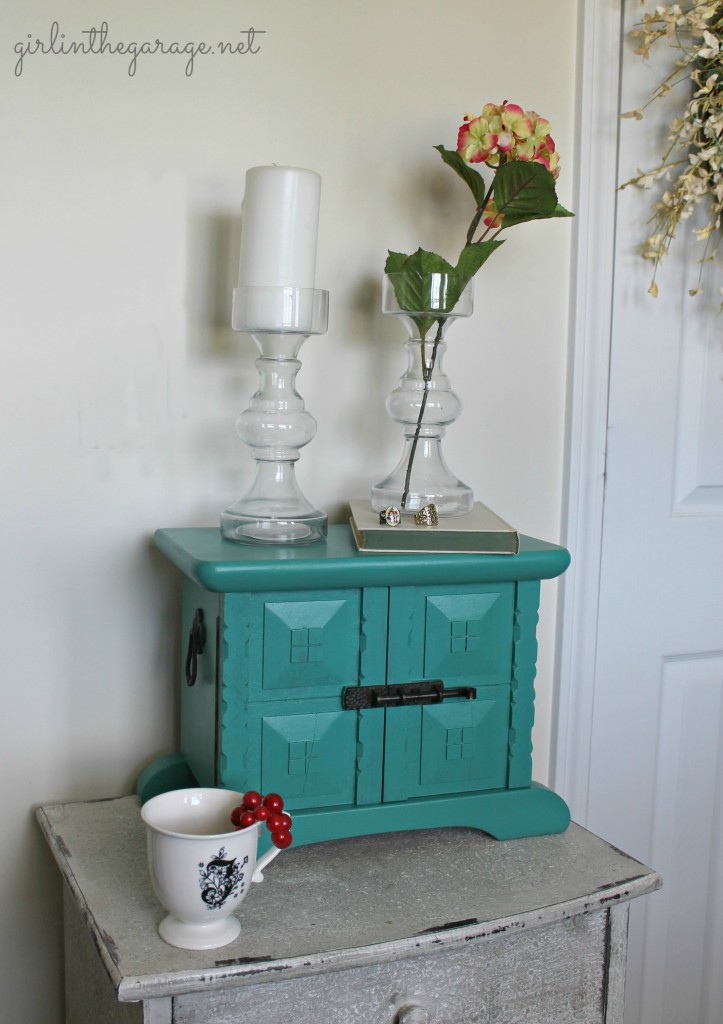 I immediately fell in love with this jewelry box when I saw it at a yard sale.  I know I say that a lot – that I fall in love with something old/ugly that I plan to beautify – but I truly believe that you have to be passionate about your projects for them to successfully transform into something you're proud to share with others, whether it be on the world wide web or just inside your home.  I scooped it up fast and clung to it so no one else would take it.  Here are several Before photos just so you can see all the details:
Someone put a lot of effort into making this box.
I thought this would be fun as a bright accent piece so I looked through my Valspar sample paint stash and found an emerald green that I hadn't used yet.  Perfect- an emerald for someone's jewels!
Painting was a simple process although I had to be careful around the side handles (which were nailed AND glued on- no removing those!) and the little drawer pulls.
And here is the little gem now:
How awesome is it that there are 11 little drawers to keep precious treasures?
 I love giving accent items bold color makeovers- it's not a huge commitment and can mix well with other colors in the room without being overbearing.  If you liked this post then you'll flip for this one! —> 10 ways to go BOLD with your furniture colors. (Click HERE)
Jen
Recent posts:
Don't forget to click HERE to enter a giveaway for a $120 Target gift card through July 26!