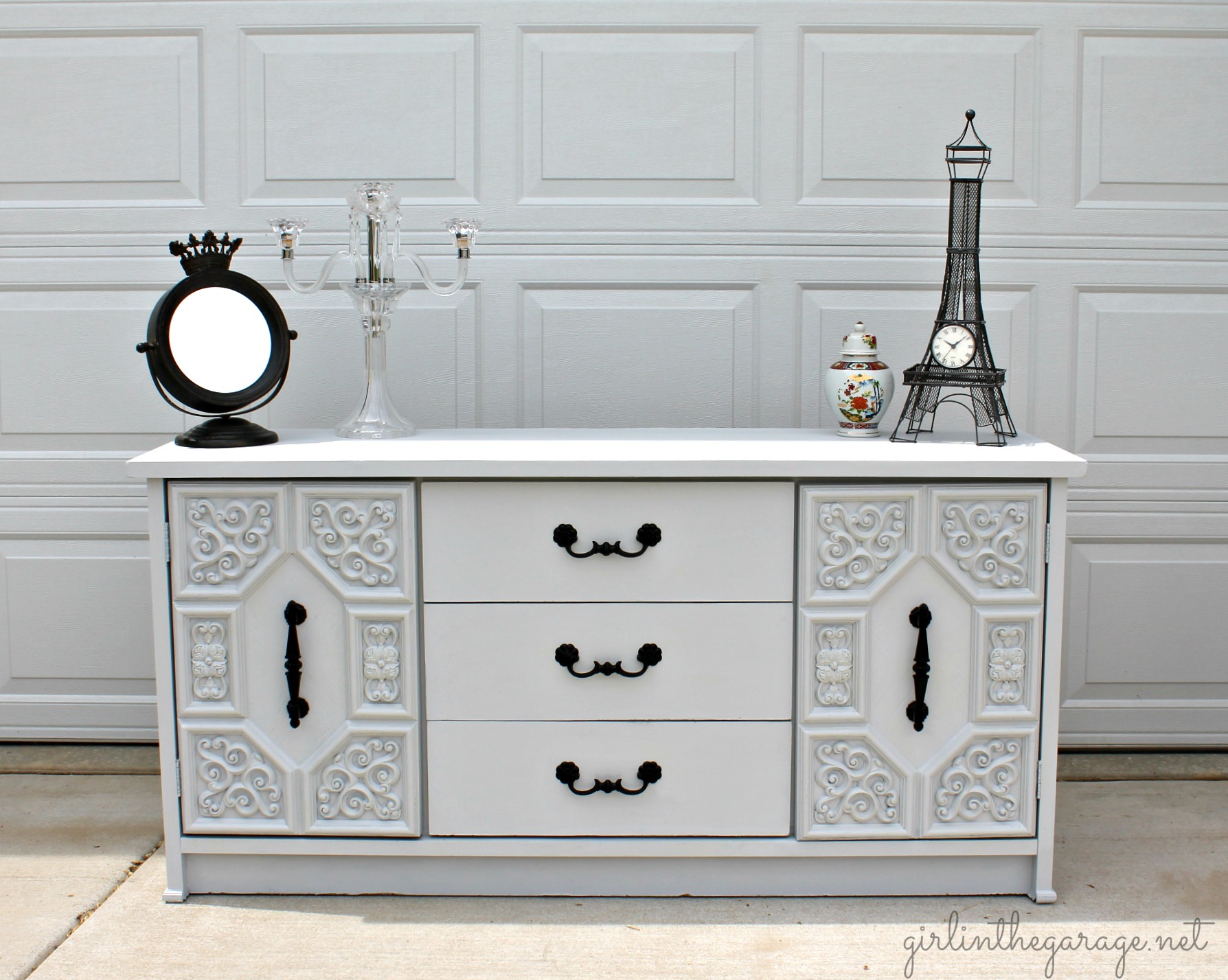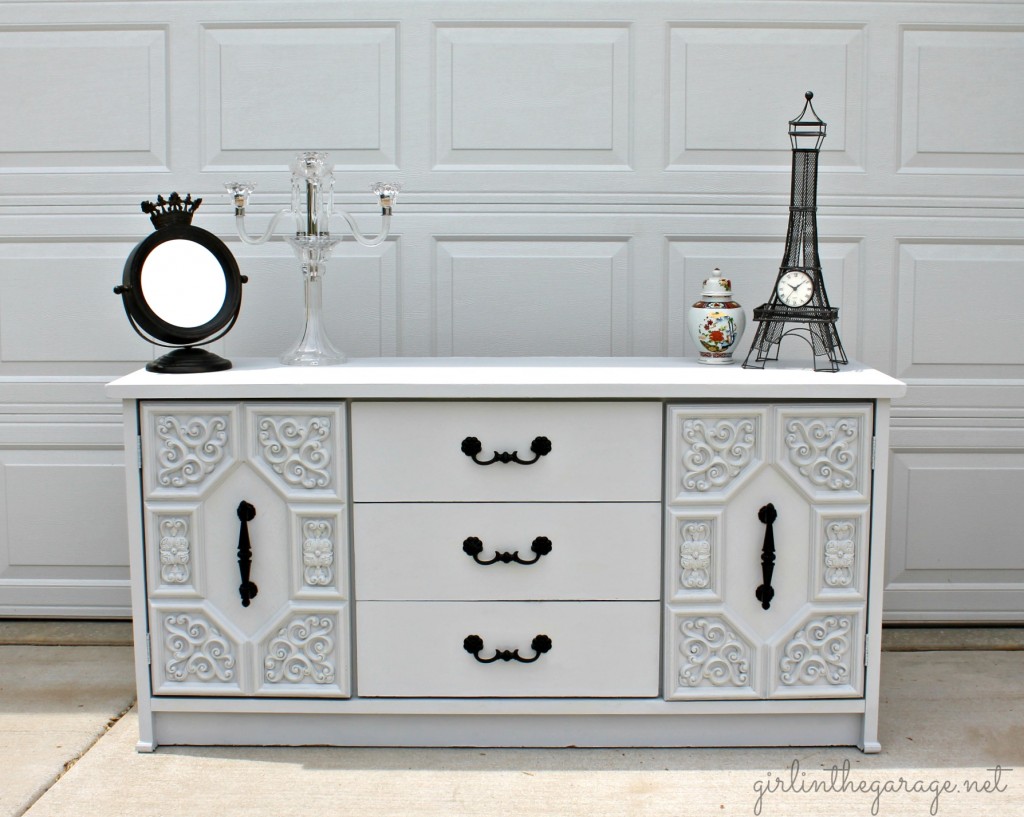 Since I've owned this dresser, I have had such a range of feelings for it… First, sadness… then hope… then discouragement… then apathy… then apprehension… then hope… then frustration… then hope… then relief and satisfaction.  And now a little pride.
I remember distinctly one warm day back in September.  I was heading to a somewhat unfamiliar area to look at a small dresser that I saw on Craigslist and I had my mother and two boys in the SUV with me.  I took a wrong turn and ended up in a semi-ghetto area.  (You know the kind of neighborhood!)  Then on the side of the curb I saw this huge, sad, ugly dresser.  I cannot even imagine what kind of hideously 80's bedroom decor this was once a part of.  It looked like someone had just thrown it out there because all of the drawers were out and one was busted on two of its sides, and the metal track was bent.  But I immediately fell in love with the doors!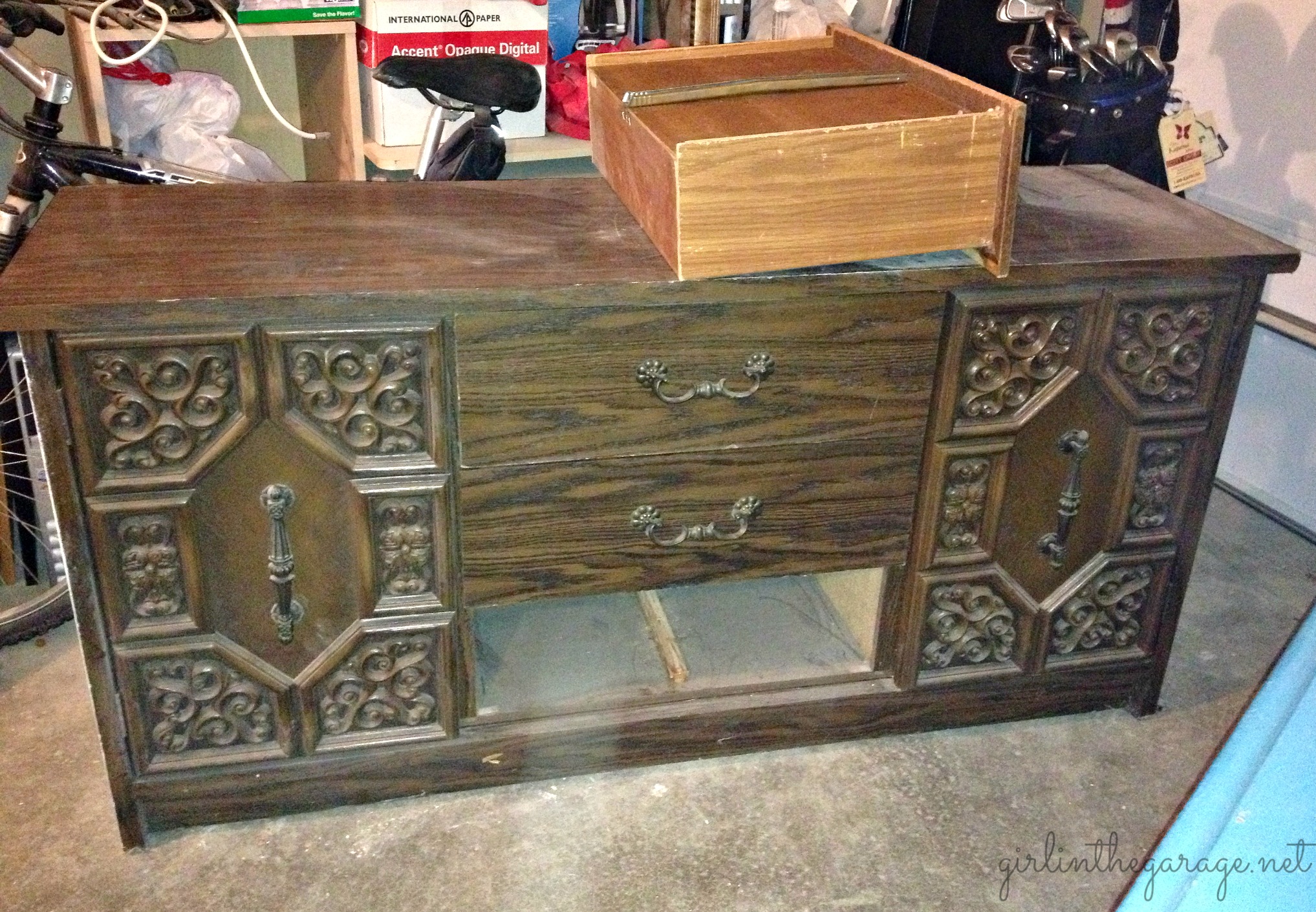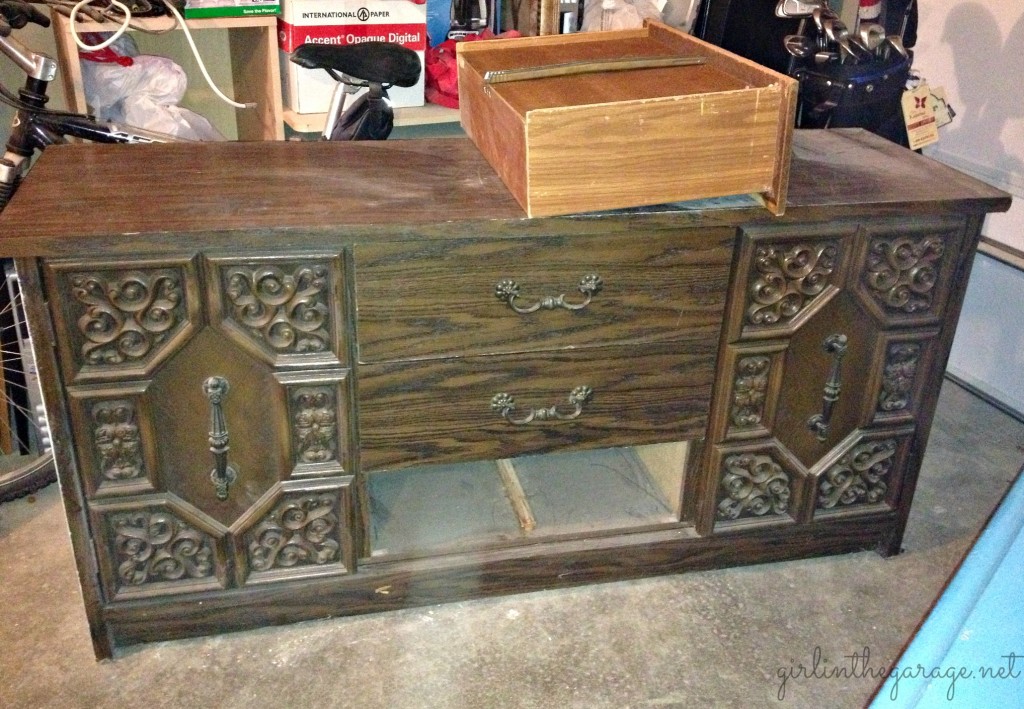 Since I was just starting out in blogging and low on funds for projects (aren't we all budget conscious these days?) the idea of a free dresser to experiment with (even in its terrible condition) was SO exciting.  Much to my mother's dismay and embarrassment, she got out and helped me quickly attempt to load it up… thankfully a man was driving by and jumped out to help us.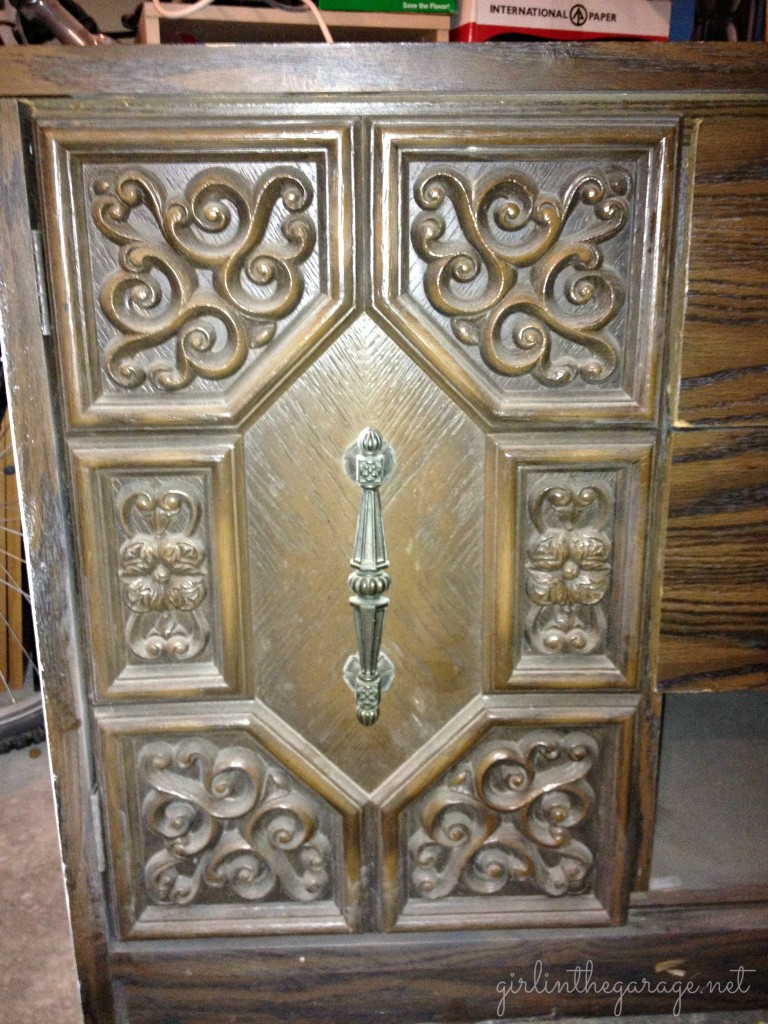 We did finally end up making it to look at the Craigslist dresser, but needless to say, it did not compare to my newly acquired curbside treasure.  I'm not sure if it's a blessing or a curse that I see so much potential in old ugly furniture!
First I started working on the broken drawer.  Wood glue, clamps, and several nails did the trick – and a swift hammer straightened out the track.  Then I started to paint it (the same pale gray as my armoire) but I didn't get very far.  The dresser was disgustingly filthy, there were a million little grooves on the doors, and I got discouraged.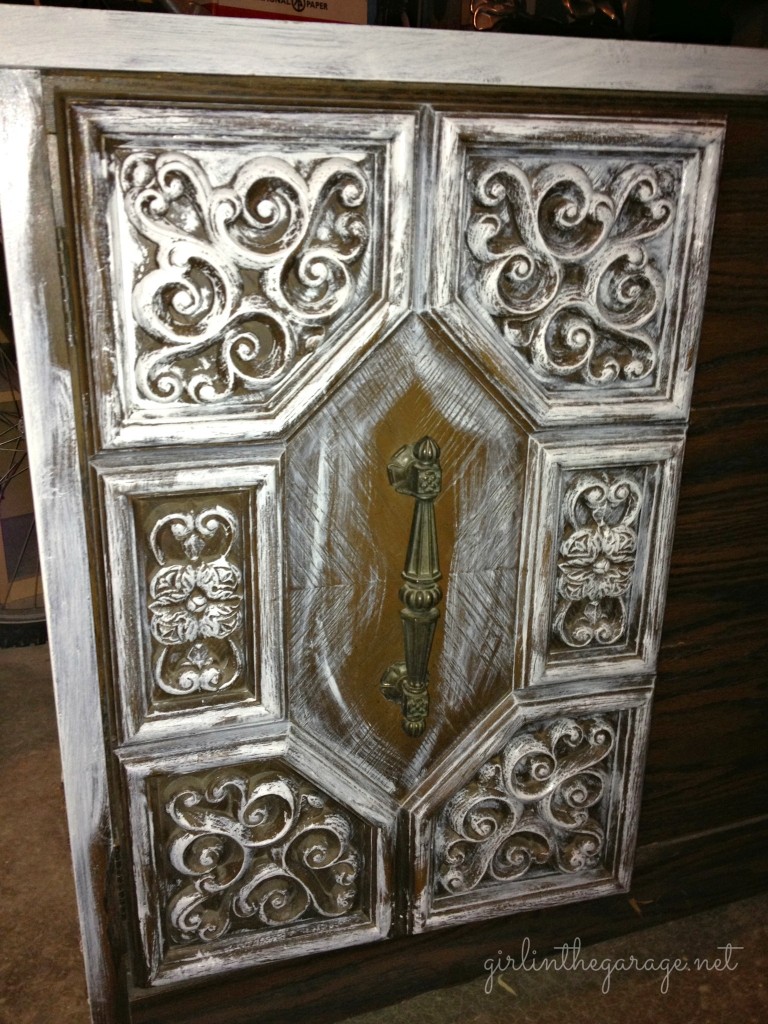 Then the cold weather came and I found myself spending less time in the garage and more time inside doing crafts or smaller painting projects.  I got bored with the dresser because of the slow progress, which was my own fault.  Things got piled on it and I forgot about it for a few months.
With spring's arrival and renewed optimism, I decided I had to finally finish this dresser.  It was taking up way too much room and I was sick of looking at it partially finished.  Have you ever had a project that seemed to take forever?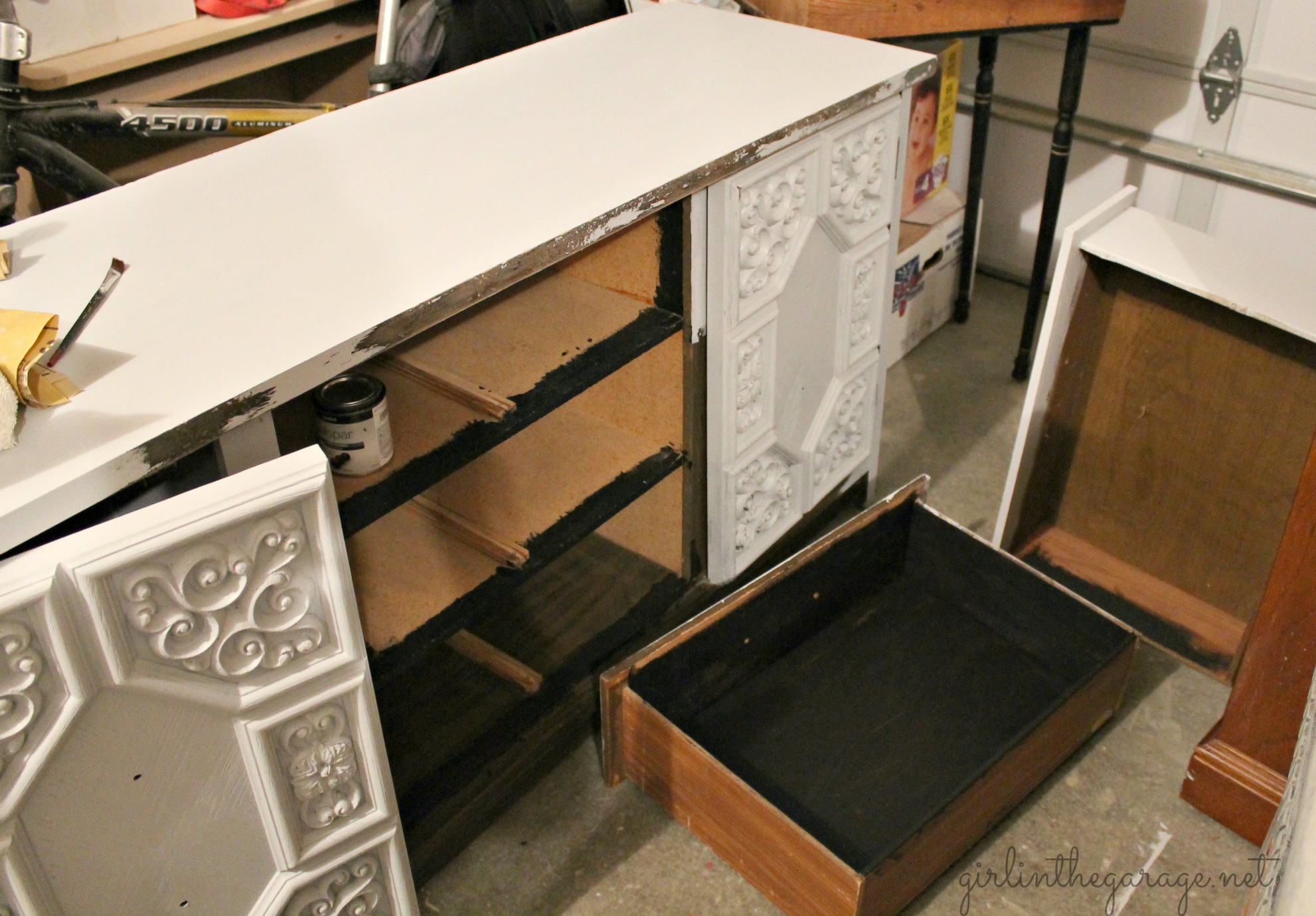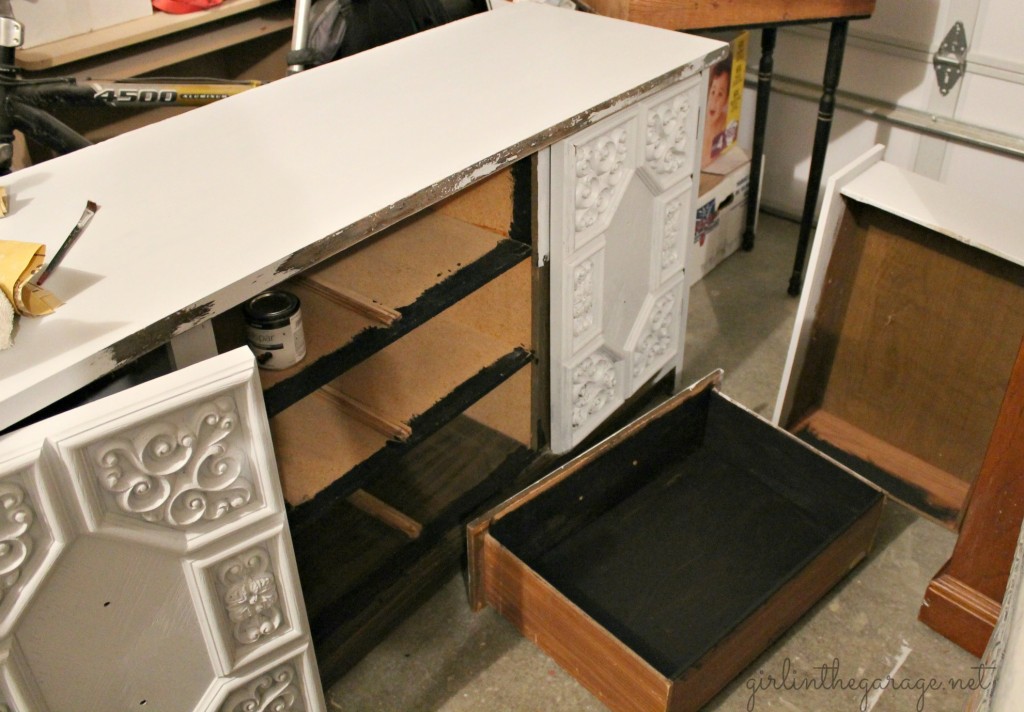 I did a lot of sanding and painted it with about billion coats of gray, especially on the doors which seemed to lose the paint in all its grooves.  Then I decided to paint the handles with Valspar glossy black spray paint (3 coats of black followed by a spray protectant) and painted the inside of the drawers black also.  When it was all done, I added about 4 coats of matte soft touch polyurethane.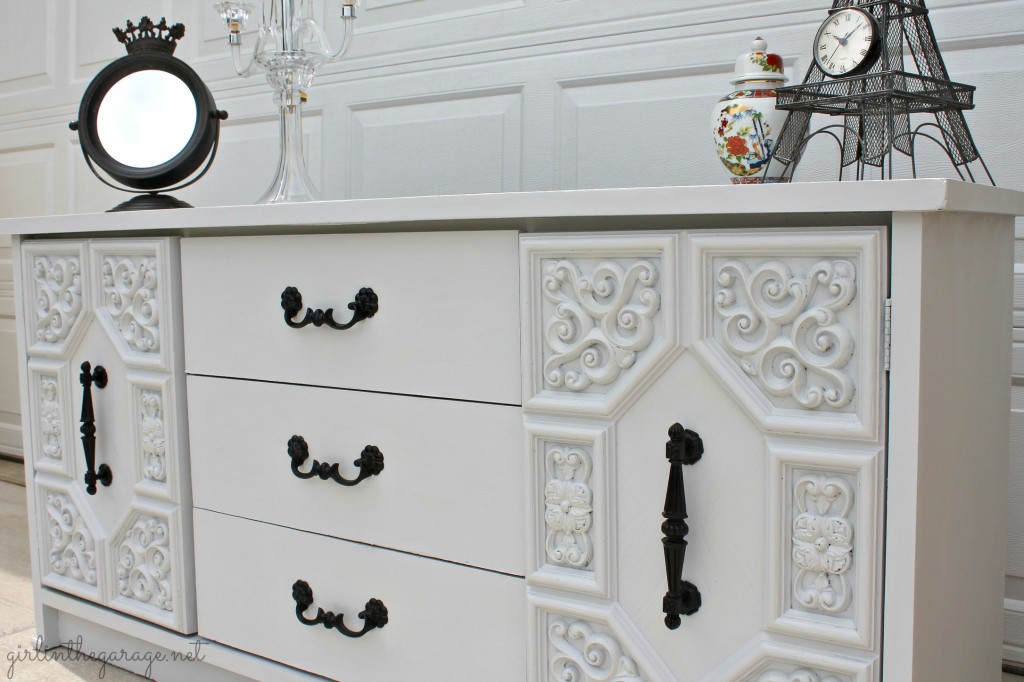 To me, it gives off a little "French luxury" vibe, or a little throwback Hollywood glamour.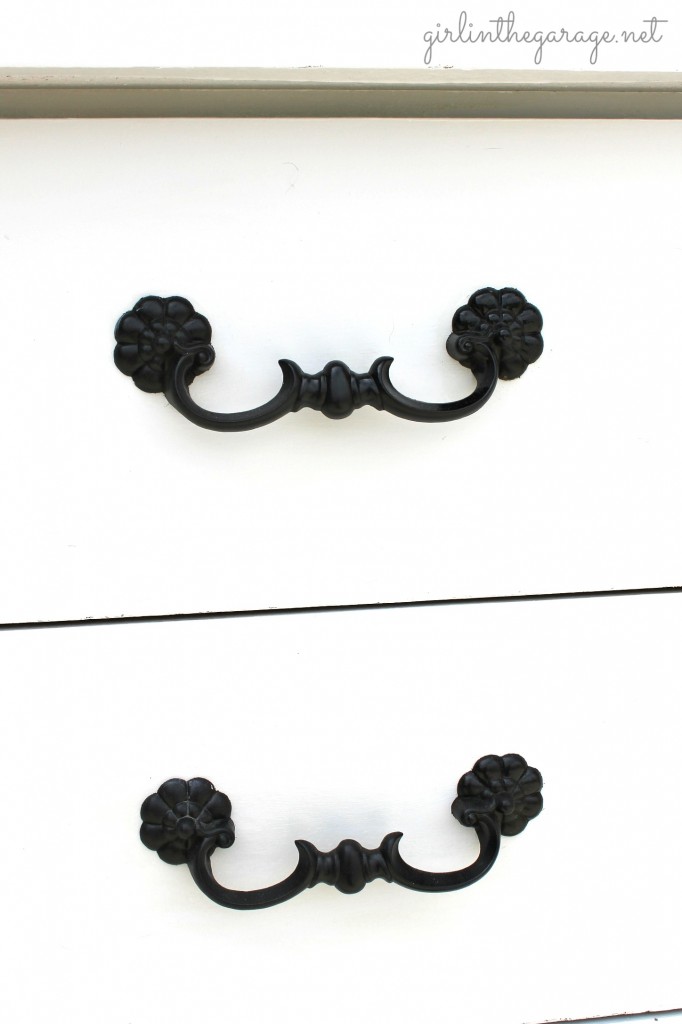 C'est magnifique, non?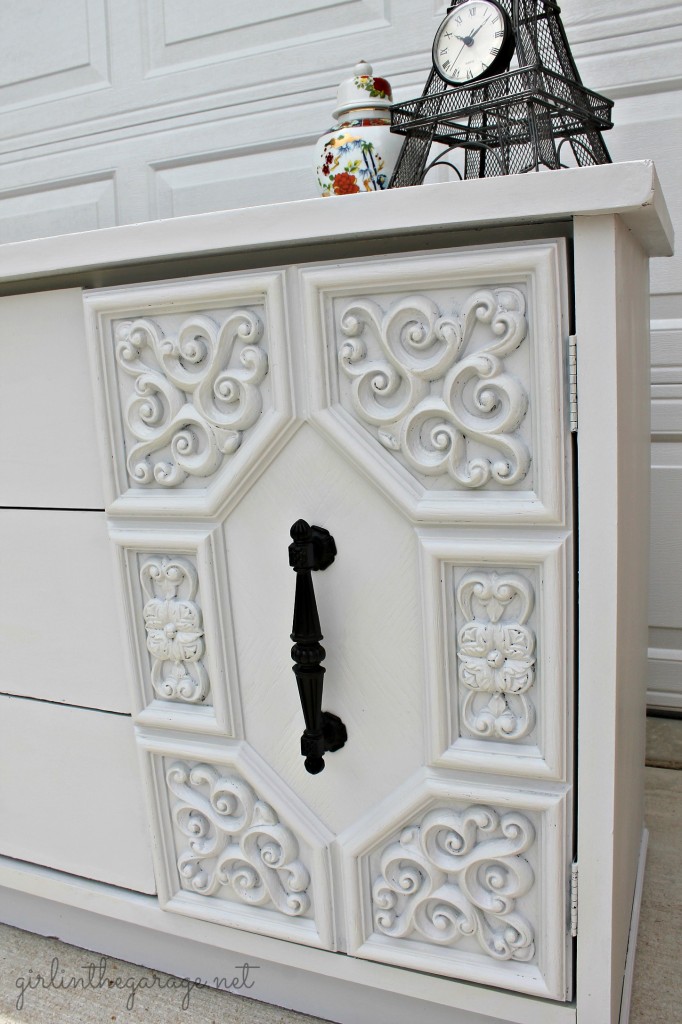 I also added some trim to the sides where the wood was damaged at the bottom.  It was so easy to do and adds some extra detail.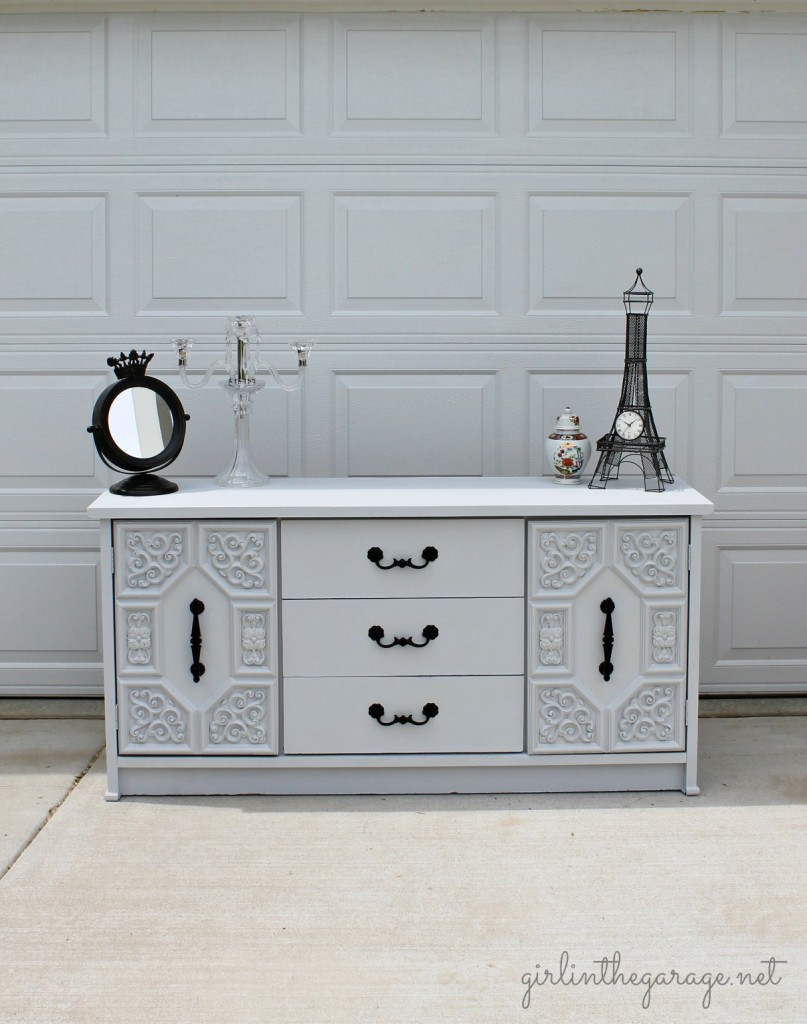 As perfect as it would look in my bedroom with the armoire, I took it to my booth this weekend.  I hope someone buys it who loves it as much as I do!  Do you ever get emotionally attached to your furniture, especially things that you've spent a lot of time and effort on?  I don't ever plan to spend 9 months repairing and painting a dresser again, that's for sure!
Jen
Miss any of my recent posts?  Catch up here:
Upcycled Antique Sewing Drawers
Fabric Garland and Bunting Tutorial
The Good Life: Overcoming Fear to Reach Success